Silva blames lack of focus and aggression for cup disaster
Monday, 28 January, 2019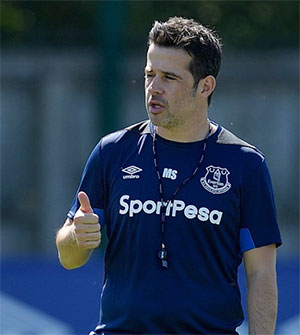 Marco Silva has blamed a lack of focus and aggression on the part of his players rather than his hybrid "zonal marking" system for Everton's abject failure to defend routine set-pieces against Millwall on Saturday.
The Blues' last hope for success this season rested on winning the FA Cup but those Wembley dreams crumbled along with their defence as the struggling Championship side scored off three free-kicks.
That has led to further scrutiny of Silva's penchant for deploying zonal marking as opposed to man-to-man marking when defending dead-ball situations as Everton have been vulnerable on those situations all season.
Silva rejects both the notion that he uses a true zonal system, however, and says that his players knew their responsibilities at The Den but weren't strong or focused enough.
"If I remember correctly, maybe one club in the Premier League [goes man-for-man at free kicks]," Silva explained in the Liverpool Echo. "Normally we don't do it and 99 per cent of clubs in the Premier League don't do it.
"But to be clear, whether you use man to man or play zonal marking, what you need to do differently is you have to be more aggressive, which is something we didn't do in the last game. We have to be more aggressive."
"When we lost that first ball from the free-kick, our player fighting for the ball with the Millwall central defender was Mina - our tallest player on the pitch," said Silva.
"We knew the Millwall No.5 would attack the ball which is why we put Mina in that position. Mina was there, but he lost.
"Of course we then had to prepare to be more aggressive for the second ball and that moment is more a matter of focus. It is clear if you play man to man or zonal and if you don't have the right focus you can forget it.
"We need focus, concentration and to be more aggressive. What I am 100 per cent sure is that [my players] knew everything about the opponents and what they would do in that moment. They had all the details about our opponents.
"Zonal marking we do, and sometimes one or two players go man to man," the Portuguese continued. "That's what we did with Millwall, with Mina going man to man with one player and Gylfi going man to man with the other.
"Free-kicks are a little different. We do something different at free-kicks with some man-to-man also. Of course when something happens, and if you look at all the set pieces on Saturday, it wasn't just our first ball.
"They scored in second moments also, which meant we lost the first ball and lost concentration on the second."
---
Reader Comments (33)
Note: the following content is not moderated or vetted by the site owners at the time of submission. Comments are the responsibility of the poster. Disclaimer
Marcus Reynolds
1
Posted 28/01/2019 at 18:17:17
That's a big statement. What about the other preceding 9 games that we have lost?
Dave Ganley
2
Posted 28/01/2019 at 18:42:24
Yeah it may well be down to a lack of focus and aggression but surely it's down to the manager to instil these traits? Now I'm not one of those who wants to be sacking yet another manager but Silva doesn't make it easy for himself at the moment. It should be a given that players at the top level shoukd have the necessary focus and aggression but they haven't over the last few weeks. A dip in form, even a dip in team play happens, but to not show passion, desire and a will to win is just unforgivable.
Millwall probably deserved the win if only because of where they are in their respective to be league. The upped their game and we didn't. The last 10 minutes we should have dominated possession but we didn't. We let them come onto us and the inevitable happened. It was all a bit predictable and I can't believe I'm saying this but there are so many similarities with the Martinez reign already. Don't tell us what the problem was that led to all 3 goals, we all watched the game, do something about it as its bordering on negligent to carry on as we are. Same mistakes keep hapoening. Even the beeb commentators kept telling us what millwall would do. Pump high balls in the box from set pieces because Everton aren't very good at it. Low and behold 3 fucking goals from it and a lost FA cup tie.
I'm still seething that we lost on Saturday. There was no way we should have lost that but we had "no focus and aggression" sorry Marco that's entirely down to you. I get that he's only been here 6 months but it only takes a few weeks to instil the necessary focus and aggression. That should be a template of how you want to play. Poor form or not any professional player should be able to give 100% effort and not leave anything on the field. Form returns, effort shoukd be there as a constant and if it's not then they shouldn't be playing. Little Leon Osman had more aggression in his big toe than this lot combined. It's a big last half of the season for Silva now, show he has learnt harsh lessons and get the team playing with pride or carry on like this and probably look forward to your p45 come the seasons end. The supporters forgive most things but gutless football isn't one of them.
Jobe Nineteen
3
Posted 28/01/2019 at 18:51:18
Were not pressing teams, were not counter attacking, were clueless at defending, worse at scoring, woeful at controlling leads and fucking useless at changing tactics. Silvas stubbornness to address zonal marking which has not worked at all and cost us at least 6 games this season will be his downfall. Martinez mark 2.
Tony Abrahams
4
Posted 28/01/2019 at 18:57:54
Aggression is the name of the game, and Everton haven't had it for years.
Stand up and be counted, and if they knew everything about their opponents, then they would have known that the only way they could lose that game, was by giving away stupid set-pieces?
Digne was stupid, but so are the tactics that leave us exposed, so I hope the players are telling the manager before it's to late, which also equates to stand up and be counted, before it all falls apart once again.
Jason Wilkinson
5
Posted 28/01/2019 at 19:05:31
F**k off Marco. How about showing some balls yourself?
We have been utter shite defending set pieces all season. listen to your players, they hate zonal marking.
Richarlison, Gomes and Gylfi are not the best at beating premier league fairies to the ball. Why would you expect them to suddenly man up against a group of players with less talent but bags of desire to rub your nose in the dirt?
Poor choices, piss poor tactics and a refusal to see a different approach is required leads to one outcome. FAILURE.
Jim Bennings
6
Posted 28/01/2019 at 19:06:29
I don't think aggression and hunger is something you can teach players to have.
Wayne Rooney at 16 had it.
Ross Barkley at 21 did not have it.
That's just one comparison.
You either have fire in the belly as a personality trait or you don't.
Players can have talent without fire and passion in them, but very rarely will they reach the heights of the players who forge the best careers at the top level.
We have had limited squads over the years but they have had fight, aggression and fire in them to make up for a lack of talent.
This current Everton squad might have some talent (I don't think it's necessarily as good as some people think) but the key elements missing from this group are aggression, passion, and fire.
The current Everton squad has a blatant lack of outright leadership qualities on the pitch and a lack of characters that can dig in during horrible games like at Millwall in Saturday night.
Silva can be criticised for many things, but once the players cross the white line, there just aren't enough of them with a burning desire to succeed.
Doug Harris
7
Posted 28/01/2019 at 19:10:29
Lack of focus and aggression – that's down to you Silva and your coaching methods. Time and again, there has been not one Everton player marking the last man – be it from corners or set-pieces – all season. That's down to your coaching methods.
Primary school kids set up at defensive issues better than we do. What were 4 Millwall players doing unmarked nearer to our goal than any one of 8 or 9 Everton players for Millwall's last goal?
Get this right, Marco or its Aufwiedersehen. January is still with us and our season is over, unless we have a relegation battle on our hands... Again.
James Marshall
8
Posted 28/01/2019 at 19:10:48
I'll keep this brief - he's full of shit.
Jim Bennings
9
Posted 28/01/2019 at 19:36:39
Just to really rub salt into the wounds even more, I see if we had beaten Millwall, a home draw in the 5th Round against Wimbledon would have been the reward.
A lack of success at this club is everything they deserve.
Dave Ganley
10
Posted 28/01/2019 at 19:41:29
Beat me to it Jim. Wide open now especially as the chavs play United too. As you say, just rubbing salt in the wound
Stephen Brown
11
Posted 28/01/2019 at 19:42:30
Jim #9
My worst fears realised plus Chelsea and Man Utd draw each other. What an opportunity missed.
Sickening!
John G Davies
12
Posted 28/01/2019 at 19:43:11
100% correct.
No aggression whatsoever.

Pat Kelly
14
Posted 28/01/2019 at 19:56:43
Having read his comments above, it's no wonder the defence is all over the place. "Zonal marking we do and sometimes one or two players go man to man. Free kicks are a little different. We do something different at free kicks with some man to man also." He's right about one thing, we certainly do something different to most teams at free kicks. He's making it up as he's going along, isn't he.
Jason Wilkinson
15
Posted 28/01/2019 at 20:07:10
Pat #14
Do you mean "Only unto them shall be given..." as in Brian who shall be known as Brian?
"he's making it up as goes along"
"what have you got against the birds?"
Sadly no one is laughing at Marco. We are all too pissed off!
James Marshall
16
Posted 28/01/2019 at 20:13:27
When we start resorting to Monty Python, you know it's gone too far!
Taxi for Marco!
Christy Ring
17
Posted 28/01/2019 at 20:15:25
Lack of aggression and desire, it's being like that for the last 6/7 games. Against Milwall and Southampton, it was so embarrassing,
why won't you make changes, and drop the chosen few.
Martin Berry
18
Posted 28/01/2019 at 20:27:34
It nothing to do with aggression unless your talking about kicking somebody up in the air and get a red card. Its about competitiveness ! !, ability, organisation, drills, working on set pieces, having a tactical plan, we have non of this at the moment, we cant even find our man from a corner !.
How many of us would not have said at the start of the season, that bar replacing Lukaku, the summer signings and the team on paper looks good ? yet we have this awful run of results.
Somehow with Silva I cant see it happening, because we don't have bad players, there is real talent but something is not happening on the training ground, we are a mess !.
I agree he should be given a fair shake and I am not into knee jerks sackings of Managers early into their tenureship, however I think this time next year he will be gone but I would love to be wrong and of course I wish him success for Evertons sake.
Mike Benjamin
19
Posted 28/01/2019 at 20:30:57
Cheer up. The number allocated to us in the draw would've been different so forget about the salt.
Pat Kelly
20
Posted 28/01/2019 at 20:35:04
Jason #15,
I wish to complain about this manager what I purchased not half a season ago.
Oh yes, the, uh, Portuguese Blue, what's uh, what's wrong with it ? .
I'll tell you what's wrong with it my lad, E's dead, that's what's wrong with it.
No no , e's uh, e's resting (players).
Look matey, I know a dead manager when I see one, and I'm looking at one right now.
Ken Kneale
21
Posted 28/01/2019 at 20:43:35
In addition to the evident self serving nature of the comments and they fact they make him look rather weak and attempting to deflect the blame, what is the excuse, for that is what these statements are, for the lack of creativity in midfield and complete absence of attacking threat evident for a vast proportion of the season event when we winning games, the threat rarely lasted the ninety minutes of any game. Once the wheels have fallen off, we offer negligible attacking threat in terms of goal production which highlights the lack of defensive organisation. As Churchill said, not the end, not even the beginning of the end but certainly the end of the beginning me thinks for Silva with these results and now attacking his own players publicly on an individual basis.
Dave Abrahams
22
Posted 28/01/2019 at 20:48:46
I would love to believe the manager read these posts, more importantly I would love those players who spewed
it against Millwall, and other teams, read it as well.
Neil Copeland
23
Posted 28/01/2019 at 20:52:47
Pat #20, "so what's your favourite colour?" Marco - "blue
Correct! "What is your favourite marking system"
Marco - "oh, erm, man to man . No hang on oh I don't know". Aaaaaaaasah!
Peter Jansson
24
Posted 28/01/2019 at 21:05:13
We have no strategy anywhere on the pitch.
Goalie - does not work
Defence - does not work
Midfield - definitely does not work
Attack - works a little, but does not really work because the other areas does not work.
This is because we have the wrong setup of the team. A setup that does not work, a setup that our opponents know how to deal with. And even though it does not work Mr Silva go for the same strategy again and again. This has nothing to do with the players, it is down to the manager.
He has to instruct the players what to do and not do. He has to tell Pickford and the back four not to hoof long balls to bernard and richarlison. He has to tell Digne not to give away freekicks etc. Somehow I believe he does not, therefore he is done as amanager. Things does not improve, they get worse.
Nothing to do about it, his management skills and strategic thinking is not good enough so he will be gone rather soon than lately.
Jason Wilkinson
25
Posted 28/01/2019 at 21:49:08
Pat#20
I'd forgotten the old parrot sketch. Our back four must be getting instructions from the Ministry of silly walks. Looking back at the "defending" or complete lack of it. I think there was a bit of the upper class twits Olympics as well.
I look at the RS and wonder how the hell did they cobble together a back four from the dross they've turned over? We on the other hand have only had to replace one at a time over the last 8-10 years and made a pigs ear of a job.
We had reasonable defenders (not world class I know) Yobo, Jags, Baines, Hibbo, Distain, Duffy, Stones, Williams etc. say what you like about them, they would not have conceded three goals from three free kicks.
Who are we getting next? The Black Knight? "come back i'll bite your legs off"

Eddie O'Neill
26
Posted 28/01/2019 at 21:58:27
Hi guys, I appreciate everyone's point of view here; however, I have to say I disagree with some comments.
I was never that sure of Silva... still not, but I'm not sure this is all his fault. I think something's been wrong here for a long time... about 5 or 6 years to be exact. It's been like this under the last 4 managers.
To be honest, I watched the game on Sunday to see if these guys were trying or not... and I honestly thought they were. However, they are all playing terrible. They are all better than that, I don't care what anyone says.
One of the most overlooked aspects of the game of football is psychology. These players are petrified. They cannot do even the most simple thing in case of making a mistake. They are so afraid, it's unbelievable.
This is not new to Everton. I have no idea why this should be so, but it's true. And I think this is all over the club from the players to the manager and other coaches to the board and the fans. We have lost our identity big time, and we are trying too hard to get it back, it is making things worse.
Make no mistake, we have some good players, but my god – the fear in their play is so obvious. Just take a close look at Michael Keane, for instance... my god! When he is on the ball, he looks like his life depends on what he does with it. Jesus, it's crazy.
Everybody is so scared, we are beaten before we leave the tunnel. This is the main problem in my opinion. It's not tactical, or quality or systematic... it's fuckin fear!It's got to go or we are in the Championship in a season or two.
Everybody involved (including us fans) need to let go of the fear, and start believing again. Yes, I know its not easy when you get tonked every week, but we need to think big again and remember who we are... Everton FC. A club that nobody wanted to play against 10 years ago. Good night.
Jason Wilkinson
27
Posted 28/01/2019 at 22:23:04
Against Huddersfield, I would start with the following eleven. 4-4-2 and no fucking about. If anyone looks like they're not up for it, off after 20mins:
Stekelenburg (Pickford needs knocking down a peg or two)
Jonjoe Kenny (Seamus needs a break)
Jagielka (we need a calm head at centre half)
Zouma (Mina is crocked, Keane is a nervous wreck)
Baines (see Seamus)
McCarthy (Gana is off to PSG)
Bernard (at No 10 Sigurdsson needs to fight his way back)
Lookman (on the left wing; best game he had was here)
Walcott (last chance saloon; step up or fuck off)
Tosun (came on and scored; one chance – one goal)
Richarlison (do better than Cenk or you're in the ressies)
This should put the fear of god into those picked to realise its now or never. The rest of them might just have a think about how shite they have been as well. If you have anything about you, Marco?
Dick Fearon
28
Posted 28/01/2019 at 22:27:46
In six months, he has failed to rectify our defending or attacking free -kick problems, in fact, they are getting worse. His incompetence is glaringly obvious and makes his words utter gibberish – like those of Bobby Brown shoes.
Jack Convery
30
Posted 29/01/2019 at 06:39:29
I wish I was in the wilds of Canada chopping down trees with my best girl at my side – much better than being a pissed-off EFC fan with a missus who is a RS. I'd have a decent chopper too.
Mal van Schaick
32
Posted 29/01/2019 at 15:35:27
I never thought that having got rid of Martinez, Koeman and Allardyce that we would have their 3* multiple shite talked by Silva.
I hope Silva turns it around for his and the clubs sake, but I fear in blaming Mina for Silvas own tactics, that we are on the road to nowhere again.
Frank Crewe
33
Posted 29/01/2019 at 18:53:16
So it's all the players fault eh? Silva's borrowed time has begun.
George Stuart
34
Posted 30/01/2019 at 02:57:22
We lost, because we conceded three goals,
against Milwall ?
FFS.
Or maybe we lost because the defences chakra wasn't centred, and the attacks quantum milieu was unaligned.
I hate it when managers talk vague bollocks and
I hate it when they blame the players. He even NAMED Mina in the
media.
FFS. Whats he thinking about his manager now ?
Tear the back out of them in private, or maybe in front of the rest of the team but not in public.
Yup, the clock has started ticking.
Liam Reilly
35
Posted 30/01/2019 at 07:01:51
He shouldn't be calling out players in public, although in fairness to him; I believe he was just attempting to make a point about lack of cokncentraion on the second ball.
Whats clear is that the side misses a real leader, a shouter; a little bit of nasty that opponents fear. Doesnt have to be the best creative footballer, but players respond to that type of player.
One for Brands to address.
Simon Dalzell
37
Posted 01/02/2019 at 20:32:12
A good manager does not preside over a team lacking focus and aggression (not just this game, but for the last 6 or 7). It's an admission of guilt.
Add Your Comments
In order to post a comment, you need to be logged in as a registered user of the site.
Or Sign up as a ToffeeWeb Member — it's free, takes just a few minutes and will allow you to post your comments on articles and Talking Points submissions across the site.