Bolasie heads list of outbound deadline-day loan deals
Thursday, 31 January, 2019
2nd PSG bid for Gueye rejected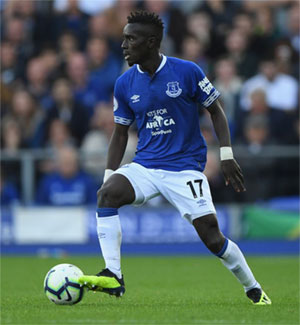 Idrissa Gueye saw his dream move to PSG fail after Everton rejected a second bid that failed to reach their valuation of the player
As expected, Everton made no incoming signings today while they refused to budge on selling Idrissa Gueye to Paris St Germain, Yannick Bolasie joined Anderlecht and Cuco Martina switched to Feyenoord.
Gueye had reportedly restated his desire to leave Goodison for PSG following their month-long pursuit of him but with the the Ligue 1 giants unwilling to bring their offer up to £35m, there was no prospect of a deal.
Having knocked back a £21.5m bid earlier this week, Everton rejected an increased offer of around £26m late this evening, leaving Gueye "upset" according to Sky Sports sources but still a Blues player for the remainder of the season at least.
Meanwhile, Bolasie secured a loan switch to Anderlecht in the waning minutes of the transfer window and Martina had his season-long spell at Stoke City terminated early so that he could join Feyenoord instead for the remainder of the season with the view to making the move permanent in the summer.
James McCarthy, said by the Irish Independent to be the on the verge of securing a loan move to Crystal Palace did not end up leaving Goodison Park this month.
Elsewhere, a report from Italy that Fiorentina were interested in making Kevin Mirallas's loan move permanent and were quoted a price of €7m for the Belgian seemingly came nothing, as was the case of Derby County's interest in signing Matthew Pennington on loan. The defender stays at Ipswich Town until the summer.
However, Beni Baningime secured a loan move to Wigan Athletic for the rest of the season while Antony Evans joined Blackpool and Callum Connolly traded Wigan for Bolton Wanderers, also on loan. In total, Everton will have 20 players out on loan now for the rest of the season.
Talk that Everton were still interested in signing Michy Batshuayi resurfaced via Guardian reporter Ed Aarons late last night but his assertion that Chelsea have quoted a price of £35m for the striker likely makes that a non-starter.
Batshuayi ended up signing for Crystal Palace on loan after Chelsea turned down a £5m offer from Tottenham to take him for the remainder of the season.
---
Reader Comments (480)
Note: the following content is not moderated or vetted by the site owners at the time of submission. Comments are the responsibility of the poster. Disclaimer
Derek Knox
1
Posted 31/01/2019 at 07:06:14
Yes Lyndon, doesn't look like there is much to look forward to, however there may be a surprise or two in the last minute scramble associated with every window.
I find the McCarthy link a strange one, as he hasn't even had a run out or appearance from the sub's bench since his injury, how can Silva assess him on those grounds?
The other one that mystifies me to a degree is Bolasie, he terminates is own contract (loan) with Villa, has little or no chance of breaking in to the current squad. Unless there is a last minute development he is languishing around FF till next window, or, does he know something will happen?
Dan Nulty
2
Posted 31/01/2019 at 08:24:07
Probably going to be the most pointless thread to comment on today!! I think we will see Gueye go, won't be surprised to to see no one come in. Steve Walsh and Fat Sam spent far too much money on dross unfortunately. None left for the time being.
On the bright side we aren't in a relegation scrap at the moment.
Jim Bennings
4
Posted 31/01/2019 at 08:30:27
Gueye and McCarthy both likely to leave

Mal van Schaick
5
Posted 31/01/2019 at 08:31:52
Good time to offload some players who were bought by Silvas predecessors. We cannot continue with players who are'nt up for it. Sit tight for summer and this time hope we can bring in some quality players. This then will be the test of Silva, Brands and the board.
Ian Bennett
6
Posted 31/01/2019 at 08:35:10
Being Everton, we will sell Gueye and re-sign Gravesen or Scot Gemmill...
Geoff Trenner
7
Posted 31/01/2019 at 08:37:58
Moutinho spotted on the M6 near Wolverhampton. It's happening!!
Jim Bennings
8
Posted 31/01/2019 at 08:43:22
Sell Gueye and make a move for Aaron Mooy.
He won't want to play in the Championship and a Huddersfield will be needing some cash
Mike Gaynes
9
Posted 31/01/2019 at 08:45:14
I predict no business at all. We will end the day with the exact same roster we started with.
Allan Barratt
10
Posted 31/01/2019 at 08:45:41
Yes Jim Aaron Mooy - I thought that when he came on the other night, had a touch of the Gravesen about him.
Eddie Dunn
11
Posted 31/01/2019 at 08:59:25
Huddersfield will not sanction Mooy leaving- he is their best player.
Andy McNabb
12
Posted 31/01/2019 at 09:01:50
I saw Mooy play over here in the A League and thought he could do a job for us but you dread linking a promising player with Everton. After a few weeks, the life seems to get sucked out of them and they end up disappointing.
If Gueye does go he will leave a huge hole in the middle of the park. To replace him, would love Davies to put in a Huddersfield-type performance against teams who aren't bottom of the league but the jury appears to be out on that one.
Jim Bennings
13
Posted 31/01/2019 at 09:02:40
Money talks Eddie.
At least with Mooy we know the lad has played in the English league so there's none of that six months to acclimatise lark.
I'd make them a good offer.
Jerome Shields
14
Posted 31/01/2019 at 09:12:03
If we don't sell anyone there is no one coming in, reference Paul the Esk article 'Finance and Regulations. '
Unsubstantiated reports that Silva will resign if Gueye is sold.
Jerome Shields
15
Posted 31/01/2019 at 09:16:16
Mooy looked good playing against Everton as did Tosun and Valdic.
Jon Withey
16
Posted 31/01/2019 at 09:21:03
If we can't get rid of some of our unwanted players today then we never will !
I don't like keeping unhappy players - perhaps the Gueye thing is brinkmanship on our part to get a better deal.
You can imagine at board level they might be writing off anything special this season and considering profits from sales.
Lord knows Gueye was one of the few Walsh and Koeman got right - will he have to pay for the rest ?
Jim Potter
17
Posted 31/01/2019 at 09:21:10
We need to sign:-
A sign.
With a huge arrow on it.
Indicating that the opposition goal is THATAWAY!
James Marshall
18
Posted 31/01/2019 at 09:31:07
I knew it would be all 'Aaron Mooy' on here today. Please no, not another average player from a shitty team bottom of the league.
Jim Bennings
19
Posted 31/01/2019 at 09:35:27
James
What a brain dead statement to make.
Was Tim Cahill not initially a "shitty player" from a team in the Championship?
I'd rather take a punt on Mooy (who was head and shoulders above anything when he came on the pitch Tuesday night) than spend £40 million on another foreign mercenary that doesn't like the weather.
At least the Australians have a winning attitude when it comes to sport, something we have missed for years.
I'd personally love Mooy here after watching him last season and earlier this.
James Hughes
20
Posted 31/01/2019 at 09:43:19
Jim #17, I agree and get one of those blokes who hold the golf sale banners – GOAL HERE!
Brian Williams
21
Posted 31/01/2019 at 09:43:58
Silva (and Brands?) has reiterated that "the conditions aren't right" for us to bring in players during this window. It's been said that there would have to be outgoings for there to be incomings.
I don't think loan only outgoings will do it so I think it would have to be a sale/s. It would appear that the only player Silva wants to sell (if reports are true and they're probably not) is Tosun.
I can't see anyone offering the reported £20m price for Tosun so that looks like a non-starter. Therefore I, rather long-windedly, agree with Mike Gaynes that there'll be no business for us today.
Avoid Sky, watch a good documentary, or Winterwatch, or go out and get pished. Avoid bananas, custard or ANYTHING that's bright yellow and attached to a loquacious Jock (racist alert) with a penchant for talking absolute shite!
Amen.

Paul Cherrington
22
Posted 31/01/2019 at 09:48:11
I have to agree with James – we shouldn't be signing players from teams below us in the Premier League. they are part of the reason that team is below us after all and therefore are probably not good enough to take us forward either. promising players from the Championship doing well are a different matter – they could well come into the Premier League like Tim Cahill and smash it so are worth a punt at times.
in terms of winning attitude, I would again question that with someone from a rival team in the Premier League doing worse than us. It would seem to me if Mooy had that, he would be driving them on to at least perform better or win more games. I think it would be a mistake to keep signing players who have been relegated or are part of teams that do worse than us – their losing habit could end up infecting the whole club.
Seeing as we are short of goals and a proven Premier League striker, why not loan Lukaku back? I'm not saying he would come but I would be happy with that
Jon Hirshman
23
Posted 31/01/2019 at 09:48:12
Dan at 2, I think you meant Ronald Koeman and Steve Walsh spent far too much money on dross. I know it's fashionable on this site to demonise Allardyce's spell with us but let's not completely try and rewrite history.
James Marshall
24
Posted 31/01/2019 at 09:49:18
Jim – you can compare Tim Cahill to Mooy all you like but that in itself is a meaningless, 'braindead' statement (thanks for that gem by the way).
I'm of the opinion that our mindset needs to change – that's us supporters and the club – stop buying low level players from low level clubs, losers that have never played for higher echelon clubs like we've been doing for years.
It's a mentality issue that runs deep through Everton the club, and it's supporters. I'm just trying to promote a thinking process which doesn't see us constantly shopping in Lidl, perhaps not Waitrose, but maybe Sainsburys.
Everton is a mediocre club with a mediocre attitude, and that needs to change by not buying mediocre players.
Craig Walker
25
Posted 31/01/2019 at 09:57:07
If Gueye does go, is it not worth looking at Drinkwater at Chelsea?
Chris Gould
26
Posted 31/01/2019 at 10:02:08
If it was as simplistic as: keep Gueye and get nobody in, or sell Gueye and bring in Batshuyai, then I wonder who gets the final say – Brands or Silva?
Dan Nulty
27
Posted 31/01/2019 at 10:02:34
Sorry Jon, you are correct, I am sure it was Steve Walsh and Koeman who bought in Tosun and Walcott for £50M plus.
They weren't a waste of money.
Tony Everan
28
Posted 31/01/2019 at 10:10:34
I'm gonna guess that guy Gana Gueye's a gonner.
I think PSG will stump up a few extra million and we will grant him his wish to leave. Mainly because our season is over and also it generally isn't a good idea to keep players who want away.
I would like to see a quality loan reinforcement come in to cover the position. I'm hoping Mr Brands has someone lined up of quality who could become permanent if the loan is a success.
On the striking front, forget Batshuyai at £35M, stick with Tosun and Calvert-Lewin until June, see if they can justify us keeping them in the picture. There was a better showing from Cenk on Tuesday, can he build on it?
Then from now onwards plan for a quality centre-forward to join in June as a priority No 1.
The Gana money, if he is sold, would be better spent on making Zouma permanent if that is possible.
Andy Meighan
29
Posted 31/01/2019 at 10:12:48
Brian @21, Conditions aren't right for us to bring in players this window. We're Borrasic.
Ryan Holroyd
30
Posted 31/01/2019 at 10:20:45
Sell Gana and buy no one. We aren't going down and we're not finishing 6th.
Use the Gana money to buy in the summer.
Kim Vivian
31
Posted 31/01/2019 at 10:37:54
IF
Gana is away, is there no mileage in using the dosh to try and buy Zouma (who, incidentally, seems to quite like it here - witness his recent goal celebration) and get Batshuyai (spelling?) on loan for the rest of the season with an option to buy in the summer.
That's a lot to try and sort out in half a day though...
(Apologies if this has already been mooted)
Chris Gould
32
Posted 31/01/2019 at 10:38:16
Tony, we can't loan anyone else as two is the maximum per team.
James #24, I'm in agreement with you. Mooy is able to look pretty good in a poor team, but if we buy players who wouldn't make the bench of a top 6 team, then we'll never become one.
Sigurdsson looked fantastic at Swansea, far better than Mooy looks at Huddersfield. Yet, now we have Sigurdsson he doesn't stand out at all.
We need players that either stand out in very good teams or show huge potential in lesser teams. Mooy has looked pretty good in a poor team and wouldn't interest Brands in the slightest.
Fran Mitchell
33
Posted 31/01/2019 at 10:51:40
Players like Mooy almost always fail to reach expectations.
They look great at poor teams that lose, and are expected to lose. Their poor games are often ignored as with the weak elements of their game, and anything decent they do is highlighted.
I'd prefer going after someone like n'didi (think thats the name) from leicester, or put the trust in Brands to find a gem who won't cost the earth.
Mike Galley
34
Posted 31/01/2019 at 11:06:14
Ian # 6.
Haha. I'm not ruling out a third time for Peter Beagrie myself!!!
Jim Bennings
35
Posted 31/01/2019 at 11:10:51
Pretty much all of our recent signings fail to reach expectations.
There's only been a handful in the last five years that have actually properly made it.
Lukaku being the standout.
Sigurdsson has been fairly consistent goals wise but was grossly overpriced at the time.
Jury is out on Mina and Gomes and I wouldn't be spending £30-40 million on him unless he shows something I haven't seen in his game yet.
Digne is okay going forward but defensively very ordinary and found wanting.
Richarlison is faring the best but as stated whilst he's got an eye for goal his all-round game isn't great.
Pickford is just about making the grade at the minute but still for me has far too many lapses and erratic moments.
Tosun, not worth the money paid.
Walcott not worth the money paid.
Keane is maybe just about making it but still not totally convinced by him.
Bolasie, Klaassen, Williams, Sandro and Schneiderlin should all be filed under "to be destroyed ".
Since 2013, there's only been Lukaku, McCarthy (first season) Barry (first season) and maybe one or two others like Gana and perhaps Pickford sneaks in just about, Gylfi perhaps depends where you sit on the fence with him, who have really made a regular impact.
So when you look at the bigger picture it's not just Aaron Mooy that might not reach the expectations.
Very few Everton signings from recent years do.
Jack Convery
36
Posted 31/01/2019 at 11:18:43
Mooy puts in a real shift every time he plays – 7/10 each game. People said "Who the fuck is Bracewell?" when he came. It's not a gamble getting Mooy because, if it does not work out, it won't be £30m to 40m wasted yet again.
Name me an EFC midfield player you can rely on – apart from Gueye? No-one is my answer. A terrier is exactly what we need right now in that half-hearted midfield of ours.
Brian Harrison
37
Posted 31/01/2019 at 11:20:09
Well even Sky Sports News aren't even mentioning a possible move for Gueye – they seem more interested in Willian going from Chelsea to PSG. So I think he will be here for the rest of the season.
Can't take anyone on loan, and I doubt they're interested in spending any money on an already bloated squad. Doesn't look like that Bolasie will get his wish to go to a Premier League club either on loan or permanent deal. I bet Silva is none too pleased to have him at the training ground having already told him he has no future at the club. Soon to be joined in the summer by all the other deadwood returning.
How we get these players off our books must be the most worrying part for Brands and Silva. Most on wages that most Premier League clubs couldn't afford never mind the transfer fee. I would imagine Everton would have to agree with the buying clubs to pay a high proportion of their wages. How that will impact on our ability to bring in players in the summer will be interesting.
Tony Everan
38
Posted 31/01/2019 at 11:25:57
I agree with James #24 and other comments on Mooy, I like him a lot, a very tidy player, but not a top 6 player .
We need to find a way of getting 'proven or potential' top 6 players here and not settling for second tier players, otherwise how are we going to meet our objectives?
Bobby Mallon
39
Posted 31/01/2019 at 11:34:26
Can someone answer this question: Can the club just make the likes of Bolasie redundant, or sack them or give them away for nothing as they are not contributing anything to the team? Maybe put them on gardening leave to force their hand?
Phil Sammon
40
Posted 31/01/2019 at 11:36:18
I watched a heck of a lot of Mooy at Melbourne City. He was the best player in the league by a country mile...yet somehow never fully appreciated. The City hero was Bruno Fornoroli, a dog shit striker who managed to bag two out of the ten gilt-edged chances laid on a platter for him each week.
Mooy is a class act. I feel a completely unwarranted sense of pride that he's 'made it' in the Premier League.
I'd have him in a heartbeat at EFC. Very, very clever player.
Then again, I am someone who thinks Sigurdsson is still hugely underrated and under-utilised.
John Kavanagh
41
Posted 31/01/2019 at 11:38:00
Andy #12. I'd give Davies the rest of the season to try and establish himself in the first team. Far too many on here are writing him off and forgetting that at 20 he is not yet the finished article. The remainder of this season is the perfect opportunity to give some of the youngsters a chance to prove themselves.
Our signings have not overall been too clever anyway. A clear out of our forest of deadwood is needed before we risk bringing even more in.
Winston Williamson
42
Posted 31/01/2019 at 11:47:14
Bobby (39) - my understanding of it would be that if the club wanted rid of Bolasie (or any other player), they'd need to pay out his remaining contract in full. There could potentially be cancellation penalties included within his contract too.
However, we would miss out on potential transfer funds (after us making the initial outlay in the first place) or use of the player. So, from a business point of view it makes no sense to buy out the contract and forego any potential income.
The next best solution to not finding a permanent buyer, is to find a loan club, who could potentially pay a loan fee and pay some or all of his ludicrous wages.
Tom Bowers
43
Posted 31/01/2019 at 11:49:38
Everton seem to have some players who may be best let go even at a loss just to make room for newer, hopefully better players come the Summer.
There may be differing opinions to who these players are but certainly some spring cleaning needs to be done if this club is to move on.
They have a bunch of players who just don't measure up to top Premier League standard.
Geoff Trenner
44
Posted 31/01/2019 at 11:56:35
Looks like Crouch might be available.
James Marshall
45
Posted 31/01/2019 at 11:59:52
You can't just drop players, or end their contracts because you don't like them as footballers – that's not how employment or employment law works. Can you imagine if Everton just started terminating contracts left, right & centre in order to facilitate new players!?
Aside from the legality of such things, what message would that send to current players as well as potential new signings?!
That may well be the most mental thing I've read on here in a long time. :-)
Alan J Thompson
46
Posted 31/01/2019 at 12:00:12
It has been said that, if Gana goes, then Silva will resign. Imagine for a moment that this is true, who should we keep – an unhappy player whose mind is set on PSG or an unhappy Manager?
Kristian Boyce
47
Posted 31/01/2019 at 12:00:18
Anyone else get excited when the official app sent out a notification earlier, only for it to be about direct deposit info? Fun and games by someone in the marketing team, knowing it would cause some excitement.
Bobby Mallon
48
Posted 31/01/2019 at 12:03:30
Why are we going for Batshuyai (allegedly) when we should be going for a cheaper option in Billy Sharp from Sheffield Utd. He's scored 18 from 27 this season — go get him.
Geoff Trenner
49
Posted 31/01/2019 at 12:07:35
Chelsea have agreed terms with West Ham and Real Betis over loan deal for Michy Batshuayi. Barring a late bid from Everton, player will decide where to go soon.
James Marshall
50
Posted 31/01/2019 at 12:11:56
Sky sources: Idrissa Gueye definitely won't be leaving Everton in this window, and James McCarthy will also be staying.
Brian Harrison
51
Posted 31/01/2019 at 12:13:05
I think our highest paid player out on loan is Sandro who is on an eye-watering £120,000 per week. A journalist who has watched him for Valencia said he is very adapt at running down blind alleys.
I would love to know how much of his wages we are paying while out on loan. I would love to know if their is a player playing in the Premier League not at a top 6 club who is earning £120,000 per week. I would hazard a guess and say none.
I am baffled how Moshiri, a top accountant thought that this was good business. Schneiderlin another on a reported £120,000 per week and can't even make the bench, who is thinking "Oh he would be good for our team" earning that sort of money?
These 2 are just the tip of the iceberg, most of the on-loan players are on very good salaries. And, if you can't offload them in the summer, can you imagine what the atmosphere would be like at Finch Farm with 7 or 8 players who are not wanted at the club?
Mark Tanton
52
Posted 31/01/2019 at 12:16:30
Bobby have you seen Billy Sharp play? He's a fat little knacker with no chance of scoring goals in the Premier League.
James Marshall
53
Posted 31/01/2019 at 12:19:24
Dean Windass looked good in the Championship. Please stop looking down the leagues for signings! Eyes up gents!
Mark Tanton
54
Posted 31/01/2019 at 12:22:31
To be fair James, Windass hit double figures in a struggling Bradford side and is far superior to Billy Sharp. Trouble is he's about 50!
James Marshall
55
Posted 31/01/2019 at 12:26:31
In the Premier League, Windass scored, 1, 0, 1, 2, 3, 10 in the six years he played in it.
He was rubbish. I agree with you on Sharp, he'd also be rubbish!
Rob Halligan
56
Posted 31/01/2019 at 12:27:39
Mark, if you think Dean Windass is old, SSN reporting Notts forest have just signed Pele
And he's 78!!
Ryan Holroyd
57
Posted 31/01/2019 at 12:30:03
Brian Harrison,
Lots of Premier League players outside the top 6 will be on £120k a week.
Felipe Anderson at West Ham £140k; Vardy and Schmeichel at Leicester, to name three.
James Marshall
58
Posted 31/01/2019 at 12:33:48
Felipe Anderson, Vardy and Schmeichel are all quite good at football though. That's the glaring anomaly regarding Sandro and his wages.
Ryan Holroyd
59
Posted 31/01/2019 at 12:34:23
Mooy is 28, 29 in September. We need to sign young, non Premier League players so their value increases, not goes down like Mooy's would.
Rennie Smith
60
Posted 31/01/2019 at 12:35:19
I'd be surprised if those salary numbers are true for Sandro and Schneiderlin, Brian, some of it maybe bonus related (no chance of that then!). However, what it does highlight is the fact that these anomalies arise out of the constant turnaround of managers. These players are, previous managers' problems, and can be used to point the finger of blame.
Managers don't give a toss what players are paid, they just want them in their team, let the board worry about that. So if you're Koeman or Fat Sam, these players are a punt worth taking because they probably know they won't be at the club long enough to be held accountable.
Eddie Dunn
61
Posted 31/01/2019 at 12:41:51
I like Mooy and think he is a super player, but surely the cheapest option is for Davies to shave his head...?
Paul Birmingham
62
Posted 31/01/2019 at 12:51:10
Loads of rumours doing the rounds as expected. I'm not expecting anything, but I'm sure Silva and Moshiri will have their buttons on good value and proven signings rather than journeyman signings.
I reckon Bat would be keen and up for it at GP, but does he really have what it takes to perform week in week out in the Premier League? I'm not convinced but that's only my opinion.
Some nice surprises for Everton tonight? Wishful thinking. If Gana stays will it rock the boat, if he has submitted a written transfer request then, reluctantly I'd try and off load. If this is the case it's another kick in the teeth for Silva.
Mooy did run the show earlier this season when Huddersfield came and he ran the game. He looks the type who won't shirk, and gives 100% every game, but unless Huddersfield have given up for this season, I can't see them selling as they may try and achieve a great escape.
Interesting evening on TW, tonight and let's see what happens.
Steve Ferns
63
Posted 31/01/2019 at 13:05:59
Looks like Batshuyai is confirmed for a loan – so not us. West Ham & Real Betis have both been accepted and the player chooses. That's from Jim White on Talkshite. Anyone else heard anything?
Joe McMahon
64
Posted 31/01/2019 at 13:07:00
Billy Sharp, Christ it's like being stuck in a timewarp old stadium running on the pitch to some 60s black-and-white TV show with a lovey as chairman, banging on about the good ole days. Oh, hang on...
Sam Hoare
65
Posted 31/01/2019 at 13:09:57
If people are not content with Sigurdsson, then they will not be content with Mooy, decent player but inferior to the Icelander. Mooy has zero assist this season by the way.
No-one's coming today and that's no bad thing. We've got a pretty decent first XI who have not been at their best for the last month or two but getting in short term fixes is not the answer if we want to move forwards.
This summer will be a huge ask for Brands and hopefully he can manage to shift some of the deadwood off the wage bill and bring in a two or three more players to bolster the first team. We can't be buying 8 new players every year and building a team that way. Bit of consistency and a long-term plan is required.
Steve Ferns
66
Posted 31/01/2019 at 13:19:08
If people want Billy Sharp because he has scored 18 from 27, or something like that, then why not go for Britain's top scorer?
Stephen Dobbie has 37 already this season, surely an up and coming youngster like him would be worth a punt? That first goal of his hat-trick against Dundee a couple of nights ago was a cracker.
I think we could get him for about £250,000. Chump change eh? He's already got Premier League experience too. No-brainer for me.
James Marshall
67
Posted 31/01/2019 at 13:21:07
We're 8th, we're not going to trouble the top 6 even if we buy a striker so why bother? The club won't sanction a deal for Batshuayi and why should they? Just because the papers say so?
They'll hang on till the summer, get a few out the door then try to buy a striker. Nothing to see here.
Ernie Baywood
68
Posted 31/01/2019 at 13:21:53
First deadline day I've not followed.
I'm feeling at peace.
Off to bed. Get up in 7 hours and see what's transpired, if anything.
Ryan Holroyd
69
Posted 31/01/2019 at 13:22:57
James,
That wasn't Brian's question tho!
Craig Walker
70
Posted 31/01/2019 at 13:26:59
Jo Wilson and Hayley McQueen would struggle to make this transfer window look interesting. It must be the worst window since we got McGeady and Traore in 2014.
Jim Bennings
71
Posted 31/01/2019 at 13:27:35
We were never in a million zillion years spending £35 million on Batshuayi. It was pure gossipy bullshit nothing more.
I don't necessarily want to see anymore big money punts even this summer on players with very limited experience of English football or at least football in one of the big leagues.
Anton Holmes
72
Posted 31/01/2019 at 13:28:41
Did I see somewhere the Silva would resign if Gana was sold!!
This calls for International Rescue to get it done.

Steve Ferns
73
Posted 31/01/2019 at 13:28:58
James, I agree. We're just going to be somewhere in the middle. So why not use the rest of the season to develop a few players by giving them games? Players such as Lookman, Calvert-Lewin, Davies and Kenny.
With the exception of Davies, all three have a good shout for being in the first XI anyway. Sure, people might say Calvert-Lewin is not good enough, but most of them think Tosun is not good enough as well, and Richarlison should play on the wing.
Steve Ferns
74
Posted 31/01/2019 at 13:30:16
Craig, it's all gone downhill since they pensioned Natalie Sawyer off.
Derek Knox
75
Posted 31/01/2019 at 13:39:00
Anton @72, S I G Anton, Thunderbirds are go !
Steve Ferns
76
Posted 31/01/2019 at 13:42:22
I think this is unlikely, but I'll post it anyway.
Apparently Michy Batshuayi is going to West Ham on loan. West Ham actually want Maxi Gomez, but will sign him on a deal that sees him move in the summer. Therefore, Batshuayi will be brought in as a stop-gap. Everton do want him, but can only spend cash on him in the summer, and will wait to see how he gets on at West Ham before making an official move.
File under #too much time on their hands
Brian Williams
77
Posted 31/01/2019 at 13:43:33
Steve #63.
Chelsea have given the green light for either of those clubs for Batshuayi but he allegedly wants to come to Everton. It's basically down to the player. There was actually a little whisper that Everton would try to get Zouma on a permanent deal and then loan Bats but I think that's pie in the sky.
The same rag, by the way, that said Silva would resign if Gana was sold is now saying Gana's in Paris hoping something will happen. Meanwhile, the ever reliable Sky say he, and McCarthy, are going nowhere!
Paul Le Marinel
78
Posted 31/01/2019 at 13:54:24
If not Michi Batshuayi, then surely we will bring in a striker before the transfer deadline closes.
Regards up front, we do need a decent goal scorer, as Richarlison has done really well in his first season so far, but he can't do it all on his own.
If he got injured, we only have Dominic Calvert-Lewin and Cenk Tosun, as our other strikers. Since Romelu Lukaku left, we have never really replaced him.
Ronald Koeman brought in Sandro Ramirez but he wasn't any good, Henry Onyekuru was another but needs to play enough games to obtain a work permit that would allow him to play for Everton, and Sam Allardyce brought in Cenk Tosun, who did okay to a certain extent, but hasn't really been in the team much this season since Marco Silva has been here.
Richarlison has showed promise so far and is very talented but, as I said, he can't do it all on his own and we need a quality striker to strengthen our attack up front.
That should really happen in this transfer window and only time will tell as to whether or not that will happen.
Brian Wilkinson
79
Posted 31/01/2019 at 13:58:51
Chelsea will not let William to go to PSG, if he goes then PSG will not try to land Gaye, Chelsea want to offload Michy Bats so are banking on PSG getting Gaye then Everton using the money to bring Michy Bats in.
So if anything happens today, it will be Michy Bats and Gaye merry go round, or nothing.
That's my assumption anyway.
Christy Ring
80
Posted 31/01/2019 at 13:59:13
Dammit, Crouch signed on free by Burnley. 😎😎
Jim Bennings
81
Posted 31/01/2019 at 14:02:53
I'll tell you all what will happen.
Sweet titty all.
Batshuayi won't be signing permanently at Everton and we can't loan him.
Gueye will be made against his will to stay and then flogged in the summer (once a player wants away these days it usually does happen)
McCarthy will go on loan possibly, which is pretty pointless.
We can't allow Tosun to leave now not with no real striker replacement.
Craig Walker
82
Posted 31/01/2019 at 14:10:18
Steve @74. True.
James Hughes
83
Posted 31/01/2019 at 14:16:14
Lyndon, no live forum for TDD ? Do you know something we don't
Michael Lynch
84
Posted 31/01/2019 at 14:20:50
Steve @66 A 36 year old Dobbie would probably easily outscore all our current options up front. I'd sign him and I'd sign Crouch before I'd waste £35m on someone like Batshuayi, if we're really that desperate to get someone in for the rest of the season.
However, as has already been said a dozen times in this thread - we're finishing mid-table so why panic and spend at all?
Jay Harris
85
Posted 31/01/2019 at 14:25:47
Gueye will stay, Batshui wont be coming and the status quo will remain until the summer except maybe Henry Onykuru being sold to the Turks because he cant get a work permit.
The most boring window since Mosh took over.haha
Kieran Kinsella
86
Posted 31/01/2019 at 14:30:10
Gueye wakes up expecting to go to Paris, finds himself in a small Welsh village wearing a black and white suit. Portuguese voice comes over a hidden tannoy "You are my number 6." A giant white ball begins chasing Gueye through the village as he tries to make a runner for France.
Bill Griffiths
87
Posted 31/01/2019 at 14:34:04
I don't think we will sign a striker until the summer. Regarding strikers I'm surprised no one ever seems to mention Tammy Abraham as an option. I think he would be just as good a choice as Batshuayi.
Joe Corgan
88
Posted 31/01/2019 at 14:35:42
Anderlecht in for Bolasie?
Kieran Kinsella
89
Posted 31/01/2019 at 14:40:55
Bat is rubbish. The fact he is behind that profligate donkey (either Higuain or Giroud would fit that description) says it all
Kieran Kinsella
90
Posted 31/01/2019 at 14:41:55
Joe
Anderlecht can have Bolasie as long as they don't send us Radzinski
Geoff Trenner
91
Posted 31/01/2019 at 14:44:33
Joe, I think that's Andover Town
Jon Hirshman
92
Posted 31/01/2019 at 14:46:38
Idrissa is not a number he is a free man.
Derek Knox
93
Posted 31/01/2019 at 14:49:00
Geoff, as long as they Andover the cash, I don't really care where he goes!
Gavin Johnson
94
Posted 31/01/2019 at 14:51:20
Mooy, would be a great signing. As for this nonsense that you can't buy a top player from the Championship, just take a look at James Madison and David Brooks. I'd swap either of those for Sigurdsson.
Jay Harris
95
Posted 31/01/2019 at 14:54:26
Gavin, how many goals and assists have Maddison and Brooks got compared to Siggy?
Jon he is not a free man, he is under contract and all that is associated with that.
Chris Watts
96
Posted 31/01/2019 at 14:54:41
Very surprised we haven't identified a striker over the last 4 months. Settling for 7th then.
John Boon
97
Posted 31/01/2019 at 14:56:40
To sign a proven goalscorer we don't need to spend much or even go too far. Graham Sharpe even at 55+ would solve all problems. He also scores against the Reds. Also for a backup Neville Southall in goal. Forward and Defence concerns addressed and within our budget..
Len Hawkins
98
Posted 31/01/2019 at 14:57:33
Crouch's Judy is house hunting in Oswaldtwistle she gave up on the terraced gaff in Kirkdale when he wasn't considered by EFC.
Mark Tanton
99
Posted 31/01/2019 at 15:06:32
Our biggest priority, sadly, is dismantling the pathetic and useless squad expensively assembled by a series of managers since Moyes.
Steve Ferns
100
Posted 31/01/2019 at 15:06:36
transfer deadline day is so slow that talkshite are concentrating on the cricket!
Michael Lynch I hope you understood I was being tongue in cheek by calling him a youngster! As for doing a job in the premier league, I think he struggled in his prime. Still a cracking goal record and his first against the Dundee (available on the BBC website) is an absolute cracker.
Derek Cowell
101
Posted 31/01/2019 at 15:11:14
Haha big Nev in goal, good shout! He wouldn't have to move coz he's so big now he would fill the goal!!
Kristian Boyce
102
Posted 31/01/2019 at 15:13:03
Sky Sports saying Batshuayi has been offered to Spurs on loan, but they turned it down
Michael Lynch
103
Posted 31/01/2019 at 15:20:03
Steve @100 yes, I did get it! You're right about that goal v Dundee though, I wouldn't mind seeing a few of them flying in at the Street End.
Simon Jones
104
Posted 31/01/2019 at 15:23:28
Glad to see I'm not the only person thinking Peter Crouch to the end of the season would be a good move. Wonder if we could get Dzeko instead?
Gavin Johnson
105
Posted 31/01/2019 at 15:23:41
Jay, Sigurdsson is slow and doesn't offer much apart from goals. He's not been the No.10 we were all hoping. Brooks and Madison have been revelations this season and Leicester and Bournemouth's best players.
Go look it up Jay. I'm going on what I've seen this season. Madison also scores goals and is player I've followed since the championship. Brooks is another player that was linked to a lot of top clubs before Bournemouth took a punt. My point was that that you can find gems in the championship and the two I named are players in their early 20's while Sigurdsson is nearly 30 and cost a fortune comparatively.
James Hughes
106
Posted 31/01/2019 at 15:24:43
Just seen a hush- hush memo from recruitment about someone agreeing terms - we have defo got a new cleaner
Darren Murphy
107
Posted 31/01/2019 at 15:29:13
Fuck get Natalie Sawyer in she's good up top Steve
Jon Hirshman
108
Posted 31/01/2019 at 15:35:58
Jay, he's not a Prisoner though.
Andrew Ellams
109
Posted 31/01/2019 at 15:36:31
This has been the quietest transfer window all round since this media-driven farce was invented. Has there been anything even close to a major permanent signing in the Premier League?
Jamie Crowley
110
Posted 31/01/2019 at 15:36:46
No Natalie Sawyer, no player moves. What's the point, really?
What a let down!
Darren Murphy
111
Posted 31/01/2019 at 15:39:37
My thoughts exactly JC.
David Pearl
112
Posted 31/01/2019 at 15:41:44
Here we have it, the ToffeeWeb signings shout 11. Please feel free to fill in the blanks.
Marshall
Byron, Shawcross, Van Dijk (you can have one),
Mooy, McMananan, Ince, Eagles
Austin, Dembele
I could've put more thought into this, there have been some cracking shouts. Of course, with players like Dembele we could've blown another 40 Moshiri dollars.
Enough of the mediocrity. I'm still waiting for our marquee signing to show the football world we mean business and not blowing £250M to remain static as the 7th best team...
Tony Everan
113
Posted 31/01/2019 at 15:43:59
It is a quiet transfer window and I don't give a damn about that. I just can't see the point in panic buying a striker now. Give Cenk or Calvert-Lewin a run.
As has already been said, our season is over we will finish 7th-10th, why not use the time to maximise the opportunities for some of our young lads.
Unless a masterstroke can be pulled off by Mr Brands, forget it. This season is a write-off so start the planning now for our summer signings, then maybe next season we can achieve something.
Kristian Boyce
114
Posted 31/01/2019 at 15:44:41
Cuco the Clown getting recalled from Stoke and going to Feyenoord on a permanent deal. So all is not lost today...
John Hammond
115
Posted 31/01/2019 at 15:44:58
Bolasie in advanced talks with Anderlecht apparently. Let's hope that goes through. Not sure if it's a loan or purchase.
Sam Hoare
116
Posted 31/01/2019 at 15:48:23
Gavin@105, I agree. I was championing Maddison this Summer. Think having a no 10 who can beat people will make a big difference to us. Brooks I was less sure about but he has been a revelation this year. Could just be a one season wonder but looks very classy, strange to say it but a snip at £11m (especially compared to Gylfi).
I think our days of paying large sums for players in their late 20's is over. Brands likes younger players with potential and resale value.
Michael Kenrick
117
Posted 31/01/2019 at 15:50:35
Kristan #114,
The Echo has a slightly different reading of this — it's only another loan, more's the pity:
Cuco Martina is not in new Stoke boss Nathan Jones's plans and has been allowed to cut his loan short so he can make the switch to Feyenoord.
The move to Holland will be for the remainder of the season with Everton saying, at this stage, there is no permanent deal in place for the end of the campaign.
Kristian Boyce
118
Posted 31/01/2019 at 15:54:41
Well there goes my excitement...
Kieran Kinsella
120
Posted 31/01/2019 at 15:57:05
I think wages are "killing the transfer market" to paraphrase Paul Merson. Nobody wants to stump up £50 million when they all have these huge liabilities with payroll.
Arsenal say they can't pay any transfer fees, Chelsea couldn't bring anyone unless they sent one out so they loaned in and out, Spurs saying they can't sign anyone.
The only team spending is Newcastle and that is probably because their pot of gold has burst at the seams after years of frugality. I think it is just a matter of time before transfer fees become a thing of the past in this era of jokers making £600,000 a week just to post on Twitter and take regular vacations back to Chile.
Brian Harrison
121
Posted 31/01/2019 at 16:06:14
Sam
I don't know if you knew but we did put a bid in for Maddison and it was a straight choice between us and Leicester. Unfortunately he chose Leicester, some you win and some you lose. I do think that going forward Brands and Silva are both committed to bring in younger players. Seeing the money isn't as plentiful in Germany as over here their clubs are targeting young players playing at Premier League clubs.
Danny Broderick
122
Posted 31/01/2019 at 16:07:20
We could do with a striker on loan, to give the place a lift and replace Niasse if nothing else. We cannot finish the season with only Tosun and DCL to rely on up front. Neither of them has convinced as yet.
I'm assuming we aren't going to buy someone, especially if we keep Gueye, so that seems to rule out Giroud or Batshuayi from Chelsea. Charlie Austin on loan? He seems to be behind Ings and Redmond at Southampton. He would be a punt though.
Hopefully Brands and Silva have something up their sleeve anyway. I hope it is just their poker face when they say no one is coming in...
Chris Watts
123
Posted 31/01/2019 at 16:15:24
When you think of the money we've spunked in players in their late 20s or 30s in the last 2 years it makes you weep. Bolasie schnielin tosun Williams gilfi Walcott. £130m right there
The only reason I think, is koeman thought we were white close to having a top 4 side. These finished products were supposed to provide instant improvement and propel us into the champions league slots. And then we'd go from there. Unfortunately they all flopped so in hindsight it is just terrible business. No short term gain and no resale value. So it's put us back years. Weep weep
Chris Watts
124
Posted 31/01/2019 at 16:22:30
Ps Roberto gets a lot of flak on here but I don't think his signings were bad - clearly there were a couple of duds.
Lukaku McCarthy Barry Del Boy. Good signings that improved the team hugely. And he brought stones in and played Barkley. That first season is still our best in the last 20 years.
Craig Walker
125
Posted 31/01/2019 at 16:28:26
Riquelme has been spotted at LJL airport.
It wouldn't be deadline day without someone mentioning his name would it?
Brian Harrison
126
Posted 31/01/2019 at 16:43:47
I was listening to Simon Jordan who was Chairman at Palace, and he was asked about signing players on a free transfer. H e said he once tried to sign a player on a free, and the players agent wanted £9 million to set the deal up. So as he said never call them free transfers as quite often they can be very costly.
James Marshall
127
Posted 31/01/2019 at 16:44:10
So according to the Internet, Batshuayi wants £170k a week.
Jester.
Len Hawkins
128
Posted 31/01/2019 at 16:50:09
I thought Moyes signed Stones.
Steve Ferns
129
Posted 31/01/2019 at 16:51:26
Brian, Maddison wasn't just choosing between us, he was choosing between playing for Leicester or being sub for us. We were never really a fair choice for him.
Sam Hoare
130
Posted 31/01/2019 at 16:51:43
Brian@121, I didn't know that. Wasn't reported. Take it you have an ITK? I'm glad though as I do think that's the type of player we need to be targeting.
The trouble is that the likes of Leicester, West Ham, Wolves and even Bournemouth have pretty good squads and a fair bit of cash to splash around these days. We are way off the top 5 and will do quite well just to stave off competition for 7th over the next few years. Its an increasingly tough league the PL. We all dream of winning titles and competing in the CL but the reality is you can spend £250m and not make a dent. I expect those with lofty expectations to be frustrated for a while longer!
Tim Taylor
131
Posted 31/01/2019 at 17:01:54
Kieran #86 - excellent! I am not a number 17 I am a Gueye
Bill Gienapp
132
Posted 31/01/2019 at 17:04:04
I know Maddison's playing very well for Leicester, but my enduring memory of him this season will be Sigurdsson fitting him for a clown suit on his game-winner.
Mike Gaynes
133
Posted 31/01/2019 at 17:06:41
Del Boy didn't improve the team "hugely" by any means. He created some nice goals for Lukaku and scored a handful himself, but he was a one-way player with little long-term value.
Steve Ferns
134
Posted 31/01/2019 at 17:06:45
Good point Bill. Sigurdsson cops a lot of flak for his transfer fee and wages, but no one can deny that he is effective. Just how effective and could we do better are the things you can question.
Brian Williams
135
Posted 31/01/2019 at 17:07:48
Doesn't matter to us what Batshuayi wants moneysise coz we're not buying him! 😁
Steve Ferns
136
Posted 31/01/2019 at 17:08:41
Gaynes, you obviously don't scour every inch of every page of this site, like I thought. So, I'll ask here. How's your long lost son getting on? I've not heard about him for ages. I hope he's not going the way of Garbutt and Galloway.
Dave Abrahams
137
Posted 31/01/2019 at 17:11:46
Danny (122), you might be close with Charlie Austin on loan... I don't know if he would improve us, if it happens.
Frank Wade
138
Posted 31/01/2019 at 17:12:56
James #127, According to Sky, Batshuayi's agent only wants £160k a week (the 170k may have been euros). Isn't it mind-boggling that such a limited player could demand so much???
Jimmy Hogan
139
Posted 31/01/2019 at 17:13:16
Craig #125, Arshavin spotted at Burtonwood Services...
Mike Gaynes
140
Posted 31/01/2019 at 17:14:57
Andy Hunter reports Bolasie has completed a loan move to Anderlecht for the rest of the season. He'll return to us come summer.
Derek Taylor
141
Posted 31/01/2019 at 17:15:06
For all the mocking of the Crouch move to Burnley, I wouldn't mind betting he will not be outscored by any of our super strikers, bar Richarlison!
Steve Ferns
142
Posted 31/01/2019 at 17:22:20
DT, Crouch has one for the season and Calvert-Lewin is on 6. He's got a long way to go.
Bobby Mallon
143
Posted 31/01/2019 at 17:22:35
Look, we don't need to buy a striker. We have Fraser Hornby. Give the lad a go – he will come good and be our Harry Kane, I'm sure of it.
Oh and on people saying don't buy from the lower leagues... tell that to Spurs over Aili. There are loads out there and the Sheffield Utd forward would be great.
Mike Gaynes
144
Posted 31/01/2019 at 17:25:40
Hey Steve #136, no, I pick and choose and flit in and out as the mood strikes.
Assume you're referring to Antonee Robinson, and the news isn't good. His recovery from November ankle surgery has been slower than anticipated. I don't think he's even back in training at Wigan.
Mike Gaynes
145
Posted 31/01/2019 at 17:27:40
I'm one Yank who doesn't rate MLS at all, but I can tell you the Barcodes just got a whole lot better bringing in Almiron from MLS. He is a very, very good player.
Steve Ferns
146
Posted 31/01/2019 at 17:36:59
Mike, Yep. Sorry to hear about that, it explains why everything went quiet about him. Big shame really as I hoped he would come back to Everton and take the backup left-back slot from Baines.
Baines is out of contract in the summer. He's on big wages, although not Batshuayi wages, and we might have to pay more than the going rate for a backup left-back to secure Baines for another 12 months, and that would still mean Baines taking a pay cut, and it might be he's able to get a better offer elsewhere. That's a real headache for Brands in the summer.
Kieran Kinsella
147
Posted 31/01/2019 at 17:37:25
Ken Buckley on a free?
Kieran Kinsella
148
Posted 31/01/2019 at 17:38:37
Steve,
I would keep Baines.
Geoff Lambert
149
Posted 31/01/2019 at 17:42:33
Some rubbish on here about great players in poor teams not good enough for us...
How do the top teams get their players then? Rooney, Stones, Arteta etc. Great players in a poor team and thats just from us. Mane, Van Dijk and a few other RS signings from poor teams come to mind.
Utter bollocks that one.
Christy Ring
150
Posted 31/01/2019 at 17:42:38
I wouldn't take Batshuayi, has done nothing at Chelsea, or on loan, and wants £160,000 a week. Giroud would be the ideal striker, but won't leave London, unfortunately I can't see any in comings.
Christy Ring
151
Posted 31/01/2019 at 17:48:31
With Niasse gone on loan, why not offer £6m/£8m for Austin, a target man and good in the air?
Steve Ferns
152
Posted 31/01/2019 at 17:49:28
Kieran, we'd all keep him. The problem is he's on £70,000 per week. He'd want a 2-year deal as well. What's he worth and what would he accept?
Maybe someone like Newcastle would want him for free, and so can offer him more than we would and, more importantly, give him first team football?
James Hughes
153
Posted 31/01/2019 at 17:50:25
Derek #141, That sounds like an offer... You're saying Long Tall Sally will score more goals than Calvert-Lewin. Not this season he won't – even starting from now!
Bobby Mallon
154
Posted 31/01/2019 at 17:53:03
The live forum would be great tonight. Get it on, boys!
Jim Bennings
155
Posted 31/01/2019 at 17:55:10
I'm hearing from a usually reliable source (one who first gave me the Lennon to Everton story in 2015) that we are trying to push through a loan deal for Charlie Austin.
Southampton are unwilling to let him leave until they sign a replacement but Everton are in advanced discussions about him, so I'm being told; let's see what happens.
Steve Ferns
156
Posted 31/01/2019 at 17:56:16
https://twitter.com/adaml1878/status/1089646178499813377?s=21
This video is horrifying.
John Keating
157
Posted 31/01/2019 at 17:58:38
By now Silva and Brands must have an idea who's coming and going this window and who they hope to get and offload in the summer.
As this season is over for us, Silva should play the players he expects to be here next season – so Keane with Mina. Davies a good run in midfield. Calvert-Lewin up front. Kenny a good run st right back.
If Zouma, Gomes, possibly Gueye, Tosun are not in his long term plans then put them on the subs bench intermixed with youngsters who Silva & Brands think have a chance.
We will never have a better chance to look at what we already have than now.
Mike Gaynes
158
Posted 31/01/2019 at 18:00:41
Steve, stop posting porn.
Roger Helm
159
Posted 31/01/2019 at 18:03:53
Kristian #114, pretty disrespectful I thought. Martina isn't the best footballer in the world, but he did a job for us, including playing out of position, without whining or slacking, which is more than can be said for many at the club.
Christy Ring
160
Posted 31/01/2019 at 18:08:02
The sooner our 'friend', bullshiting Jim White, is on, the better. He'll have it from the horses mouth, who we're signing.
Brian Williams
161
Posted 31/01/2019 at 18:08:39
Jim #155.
Southampton are allegedly unwilling to let Austin leave on anything but a permanent deal.......
Tony Abrahams
162
Posted 31/01/2019 at 18:08:45
I would honestly be made up with Charlie Austin, because we haven't had an arl arse centre-forward for years.
My son told me about this today, but he's never right, so I'm surprised to be hearing this now!
Brian Wilkinson
163
Posted 31/01/2019 at 18:15:50
I would take Charlie Austin – good shout from posters.
Brian Williams
164
Posted 31/01/2019 at 18:17:32
The only Austin we'll be signing tonight is Austin Powers!
Ohhhh behaaaave!
John Malone
165
Posted 31/01/2019 at 18:18:36
Fucking Charlie Austin – you must be having a laugh!!!
I'd take Ings but not that fat carthorse!
Pat Kelly
166
Posted 31/01/2019 at 18:20:53
The loan arranger rides again.
Dave Abrahams
167
Posted 31/01/2019 at 18:21:26
Tony (162), he told me as well, that's why I got in first (137), I wouldn't say he's never right, he told me something about seven or eight years ago that turned out to be true, but I forget what it was now, takes after his dad in many ways.
Steve Ferns
168
Posted 31/01/2019 at 18:30:14
Niasse is better than Austin. He's a Championship player. No thanks. Next!
Eddie Dunn
169
Posted 31/01/2019 at 18:34:20
Steve Austin will never wear out.
David Morris
170
Posted 31/01/2019 at 18:34:44
We should've gone for Perez from West Ham.
Rob Marsh
171
Posted 31/01/2019 at 18:38:40
James Marshall #24
I suspect most players are taken from lower clubs to the big boys, why should we pay a premium by going to the big boys first when we can go straight to the wholesaler?
Mooy, if he keeps playing like he did against us, will end up at one of Rupert Murdoch's favourite teams. He wouldn't represent such a huge gamble for us.
Don Alexander
172
Posted 31/01/2019 at 18:40:55
I see Cuco Martina has gone to Feyernoord on loan.
Chris Gould
173
Posted 31/01/2019 at 18:46:42
Austin won't be coming on loan. Pretty sure a Premier League club can only register 2 loan players in their matchday squad at any one time, which we already have. So, if we bring in Austin on loan, which one of Gomes and Zouma would drop out of the matchday squad?
Joe McMahon
174
Posted 31/01/2019 at 18:48:52
Charlie Austin is a tosser, end of. Fights in night clubs, etc.
Derek Taylor
175
Posted 31/01/2019 at 18:49:41
Steve Ferns, I bow to your superior knowledge on all matters Everton but my Crouch v Everton strikers comment was meant to reflect goals scored from today on.
John Audsley
176
Posted 31/01/2019 at 18:50:37
We can only loan 2 players.
I really hope we sign Zouma and force a loan through but it's very doubtful.
Jay Harris
177
Posted 31/01/2019 at 18:51:06
What happened to Gabbiadini?
Steavey Buckley
179
Posted 31/01/2019 at 18:55:22
Everton could be nicknamed the Loan Rangers with many players gone out on loan or going out on loan in various stages of their careers.
Anthony Flack
180
Posted 31/01/2019 at 18:55:23
How's Sandro doing wherever he is in Spain – rubbish?
What about Kevin Mirallas?
Maybe Jose Baxter on loan?
Is James Vaughan still around?
Apologies as I guess I'm not cheering anyone up...
Stick with Calvert-Lewin and Tosun – focus on creating more chances... and FFS mark that zonal chap at set pieces!
Neil Cremin
181
Posted 31/01/2019 at 18:56:39
Well said, Roger #159.
I totally agree.
Jay Harris
182
Posted 31/01/2019 at 18:59:04
Gavin #105,
I totally agree there is latent talent in the championship but Maddison (who is not getting a regular game at Leicester) and Brooks are still not producing what Sigurdsson does which is score goals and provide assists. I agree, he is not the quickest... but I would put his workrate above the majority of Premier League players.
The two lads you mention are no more impressive than Tom Davies was in his first season so it is too early to judge them, IMO.
David Hallwood
183
Posted 31/01/2019 at 18:59:34
Breaking news! Sky Sports have just announced that there's fuck-all going on here!
See if there's anything worth watching on the other channels...

Kieran Kinsella
184
Posted 31/01/2019 at 19:04:55
I will be delighted if we sign no-one. After McGeady, Sandro etc I am tired of seeing jokers and sketchy agents take the club for a ride, window after window.
John Malone
185
Posted 31/01/2019 at 19:07:11
David 170, are you on spice?
John Keating
186
Posted 31/01/2019 at 19:10:21
I don't think Gueye has put a transfer request in as such, just some sort of letter asking for him to be released.
Does this make a difference if he went, financially to him?
Regardless if he wants out, Bon voyage!
Simon Smith
187
Posted 31/01/2019 at 19:12:32
I've said it all along that we needed to concentrate on selling more than buying, this has been my biggest disappointment.
Players like Schniederlin are not even making the bench yet they take £100k+ a week home with them.
We should have moved out at least 4 or 5 on permanent deals through this window, not brought back balloon heads to reloan out at different clubs.
Niasse should have been sold not loaned, Cardiff have the money as they had it for the lad who died in the plane crash.
Alan McGuffog
188
Posted 31/01/2019 at 19:13:33
Joe 174. If that's the sort of thing he's into, we've got just the coach to bring him on!
Jim Bennings
189
Posted 31/01/2019 at 19:17:49
Shittest transfer window in memory.
They need to fuck off the January transfer window now in my opinion and just go back to the good days of having it open right through until March.

Brian Patrick
190
Posted 31/01/2019 at 19:21:15
Everton's track record in the transfer market doesn't inspire confidence. Always paying over the odds, I remember under Moyes they signed a player without scouting him which was okayed by Bill Kenwright...
Phil Greenough
191
Posted 31/01/2019 at 19:31:49
Simon, to sell some of the "balloon heads", you have to have clubs stupid enough to buy them. Easier said than done.
Mike Gaynes
192
Posted 31/01/2019 at 19:35:55
Jay #177, Southampton sold him to Sampdoria a few weeks ago for €12 million. He'd scored 12 in 60 for the Saints. A bust by any standards. Glad we never got him.
And re your post #182, agreed, although both Brooks and Maddison do have skills that Davies doesn't, and a higher ceiling in my opinion.
Neil Copeland
193
Posted 31/01/2019 at 19:39:07
Breaking News; the Arteta money has been found! Oh, hang on, no sorry it was just Kenwright's wallet.
Brian Harrison
194
Posted 31/01/2019 at 19:39:15
I think most clubs are realizing that the January window is not usually money well spent. Yes, the teams in relegation spots will maybe buy the odd player, but the days of the record transfers in January seem to be gone.
Kim Vivian
195
Posted 31/01/2019 at 19:42:55
Agree with Jim – shittiest final window day in history and to cap it all, and make it shittier, my fucken house sale blew out today. Hoping to complete and move next Friday as well.
Roll on Summer.
David Pearl
196
Posted 31/01/2019 at 19:47:13
So that's Austin and Ings up front for Everton. Is this the twilght zone?
Bobby Mallon
197
Posted 31/01/2019 at 19:49:19
So fucking Charlie Austin is our saviour, Jesus keep your money in your pocket Moshiri Tosun is miles better needs a run of games.
Dave Abrahams
198
Posted 31/01/2019 at 19:49:50
Neil (193), and although Kenwright's wallet was dead thick, all that was in it was a photo of a fella with a hump on his back.
Don't worry — I've got my coat.
Brian Williams
199
Posted 31/01/2019 at 19:50:48
It's only the shittest transfer deadline day if you chose to ignore what Silva and Brands said and instead fell for the usual media shite.
They're now saying Batshuayi wants a move to Spurs. Funny how that's only come to light since it was announced that Everton have no interest in buying him.
Sky continue to go live to Finch Farm where the reporter reports the same thing over and over again.
Joe McMahon
200
Posted 31/01/2019 at 19:55:09
Brian @199,
Spurs are in London, of course, but they can have him, we don't need any more overpriced flops.
Andy Crooks
202
Posted 31/01/2019 at 20:09:49
Dave @198, I have never heard that one before, honest. Made me laugh.
Tim Smith
203
Posted 31/01/2019 at 20:19:32
I said on the live post before the Huddersfield game that Charlie Austin would be a great short-term solution for this season. He'd add a bit of muscle and aggression upfront which might give Tosun more lay-offs.
I was at Saint Mary's last season when we were stuffed 4-1 and he out-muscled our defence easily. I know the purists will shudder but I think it's a good call.
Jim Bennings
204
Posted 31/01/2019 at 20:20:02
Kim 195,
Sorry about your house sale news, from my own experience not something that ever runs smoothly, a bit like our transfers... lol.
Kieran Kinsella
205
Posted 31/01/2019 at 20:22:14
ToffeeWeb deadline day 2016 check out this prophetic post from Frank Thomas then be thankful we kept our powder dry today .
"I hope I am wrong but I have grave doubts about signing Niasse. He seems to have a good football brain but almost all the goals and assists that I have seen of him on YouTube would not result in a goal in the Premier League and his footwork seems poor.
At the reported £13M~15M it could be way too much. Remember, McGeady came from the same league; his goals and skills looked great against Moscow teams prior to buying him and he was reputed to be only cost about £4M. I think it is another panic buy."

Jim Bennings
206
Posted 31/01/2019 at 20:22:58
I think Austin might have been a bit like a modern day Kev Campbell signing.
Obviously the landscape was different when we signed Campbell in 99' but the principle is pretty much similar to us right now.
We are limping over the line this season and look woefully short of attacking options, hopefully Richarlison, Tosun and Calvert-Lewin remain fit, albeit two of the three are better substitutes than starters.
Steve Ferns
207
Posted 31/01/2019 at 20:23:22
Sorry to hear it too, Kim.
Tony Abrahams
208
Posted 31/01/2019 at 20:28:52
People say you don't get value in January, but I'm not sure how true this is?
Maybe we are seeing the root of all evil, coming to the fore right now, with clubs beginning to realise how much of the gravy train, players/agents are taking out of every new television deal that is made, and despite all this money, most of them are either going backwards or just standing still.
Len Hawkins
209
Posted 31/01/2019 at 20:35:25
Do Everton have any dealings with Dr Doolittle as Harry Kane has just been spotted going to see him in the West End.
Steve Ferns
210
Posted 31/01/2019 at 20:40:26
Come on Jim. Campbell left Arsenal for a big money move to Turkey for the Souness revolution. It was a nightmare for him and he needed the first plane out.
It's a world of difference from Austin who can't get a game for a team that barely stayed up, is struggling again, and is only wanted by Championship clubs.
Jim Bennings
211
Posted 31/01/2019 at 20:46:30
You'd never really know, Steve, how Austin would get on here short term.
He's not world class but what he probably would do better than any of our current strikers is hold the ball up, back to goal, and dig in during games like Brighton away, Southampton away, Leicester at home — where we had bully arse centre-backs.
Tom McEwan
212
Posted 31/01/2019 at 20:48:11
James Marshall @45, just exactly what is "mental" about asking a question about something you don't understand?
On the Mooy debate I would agree with Jim Bennings and others.
People who go on about 'top six players' should perhaps realise that the only players who could be classed as such, are players who play in a top six team at any given time. So, it begs the question, do we currently have any "top six players"?
The obvious answer is a resounding NO. Because we are currently not a top six team. Therefore, it follows that we should be looking at players who could possibly help make us into one of those teams.
Like it or lump it the table doesn't lie. We are in desperate need of players who put a shift in and have an end product.
If that is "unfashionable" names like Mooy, we should remember names from the past such as Alan Harper, Kevin Sheedy (yes I remember some of the scorn at the time regarding Sheeds, being an RS reserve), oh yes and in even brighter times, Paul Power.
Even I raised an eyebrow when Howard signed him, but what a fucking brilliant job he did in every position he was asked to play and I think he played virtually all positions excepting GK an CF.
So, lets stop being snobby eh boys, cos its laughable in our current position. At the moment I would wish for a Paul Power in every outfield position because even an "average" player like him could find a team mate from 3yds and we could be certain he would bust a gut for the right to wear that shirt.
I am sure Paul himself would agree, its not a lot to ask is it?
Dave Abrahams
213
Posted 31/01/2019 at 20:48:40
Tony (208), a few years ago, Arsene Wenger predicted there would be no money paid for transfers in the future and players would play for the length of their contract and either renegotiate a new one or move on.
He also predicted that the FA Cup and the League Cup would not have the prestige they had then in the coming years. Very knowledgeable man Mr Wenger, and I think he still has a role to play in the game.
Neil Copeland
214
Posted 31/01/2019 at 20:48:45
Dave #198, ha ha, nice one!
Tom McEwan
215
Posted 31/01/2019 at 20:52:32
David Pearl @196. Yes please!
Steve Ferns
216
Posted 31/01/2019 at 20:54:09
Depends what you're after, Jim. I don't like players like him. I want more quality. Do you really think Silva / Brands is going to go more direct, and play in a more traditional English way?
Or perhaps do you see him adapting to our current style of play? I doubt he has the fitness to play the way he'd have to. He also lacks the pace. He might be a presence in the box, but Marco Silva wants a "different profile", in other words, a different type.
Dave Abrahams
217
Posted 31/01/2019 at 20:57:56
Tom McEwan (212), good post with a lot of common sense in it, well said.
Richard Mason
218
Posted 31/01/2019 at 21:00:48
Beni going to Wigan and Evans going to Blackpool. That's quality signings for those clubs.
Kieran Kinsella
219
Posted 31/01/2019 at 21:03:31
Steve Ferns 210
Usually you're on the money but the old memory must be going a bit. Campbell left Arsenal for Forest. He was playing for them in The Championship when he decided to join Trabzonspor in 1998. Souness was the boss at Galatassary until about 96.
Jim Bennings
220
Posted 31/01/2019 at 21:04:24
Steve,
I myself want better quality than Austin but sometimes it's just having that alternative. I feel our attacking play is too predictable at times and we can't mix it up when Plan A hasn't worked.
It's not an ideal world but then we can't go out and sign Salah, Mane, Aguero, Kane, Higuain.
We took a punt on players for big fees from abroad, like Tosun and Niasse; they have not worked out.

Steve Ferns
221
Posted 31/01/2019 at 21:06:25
Antony Evans left on loan for Blackpool. Interesting. I thought he was better than that.
Kieran Kinsella
222
Posted 31/01/2019 at 21:08:32
Beningame is essentially replacing Connolly who has now been shipped off to Bolton.
Tony Abrahams
223
Posted 31/01/2019 at 21:15:00
Steve @216, not being funny, but what way are we really playing at the minute? We don't create that much, and we have fullbacks committing absolutely stupid fouls near the halfway line when they shouldn't even be out there in the last minute of a cup-tie.
Lookman, and Bernard, not quite wingers, they come in off the line and try and play inside, but this isn't easy when you don't have a centre-forward, who really gets hold of the ball?
I'm not sure on Austin, but when I've seen him he's big, strong, and aggressive, and that is something Everton are lacking all over the park. We go side to side, we go backwards, but it very rarely goes forward, into the forward's feet, and this to me is what football, should always be about.
Liam Reilly
224
Posted 31/01/2019 at 21:23:13
£25M now on the table from PSG, according to Sky, for Gana.
Kristian Boyce
225
Posted 31/01/2019 at 21:36:03
Campbell left the Turkish team after being racially abused by their president. We originally got him on loan as he was desperate to get away from them. He basically refused to play for them anymore, despite having some relative success out there.
Pete Hughes
226
Posted 31/01/2019 at 21:38:49
We have rejected PSG's latest £26M offer.
Christy Ring
227
Posted 31/01/2019 at 21:40:14
Too late for Gueye, no chance of bringing in a replacement?
Joey Brown
228
Posted 31/01/2019 at 21:42:37
Just let him move to PSG. Decent money for someone his age, this season is mostly over anyway.
Paul Bernard
229
Posted 31/01/2019 at 21:43:34
Strange one regarding Baningime. I honestly think he is more disciplined than Gana and a better passer of the ball. If we sell Gana, it may be worth Beni getting a proper run in midfield.
We will be safe and with being out of both cups it may be the best time to test some kids fully. If he fails then we take our time getting Gana's replacement in the summer.
Conor Skelly
230
Posted 31/01/2019 at 21:45:31
I think we're playing hardball trying to get £30M. We'd be mad not to do a deal.
League's done now and we haven't exactly been pulling up trees with him in the team. Stupid if we don't cash in.
Paul Gallagher
231
Posted 31/01/2019 at 21:47:27
If we can get £26 million for any of our players, I would have bitten the hand of any club. All are dispensable as none of them are top 4 calibre.
Simon Dalzell
232
Posted 31/01/2019 at 21:48:04
Absolute madness. Just let him go. Replacement or not. How motivated will he be now?
£26M is fair. We're not going down, we can manage okay.
Ian Edwards
233
Posted 31/01/2019 at 21:48:58
The decision to turn down £26M for a very average 29-year-old is one of the worst decisions by the Club in a generation.
If Gueye was a football ground he would be a rabbit hutch in Kirkby.
Ian Bonnette
234
Posted 31/01/2019 at 21:49:56
Everyone's after Ferraris and Lambos and we go for an Austin....
About right for us.
Jim Bennings
235
Posted 31/01/2019 at 21:50:09
Paul,
It's a bit early to say Baningime is more disciplined than Gueye.
Gana is a poor user of the ball but he's miles ahead of the rest when it come so to putting out fires in our midfield.
£26 million? I'd take that for him but it's come too late now to replace him probably.
Brian Williams
236
Posted 31/01/2019 at 21:51:00
People going on about Gana's age. He's 29. Now I know it's never a straight forward comparison but David Silva is 33.
Using a very simplistic comparison, that's at least another potential four seasons Gana could play.
Not all players' careers are over at 30. Imagine if a club had "ditched" David Silva because he was approaching 30.
Kristian Boyce
237
Posted 31/01/2019 at 21:51:17
The Gueye saga is very reminiscent of the Arteta transfer. Hopefully we won't be asking 'Morshiri, where did the Gueye money go?' in years to come...
Steve Ferns
238
Posted 31/01/2019 at 21:52:23
Tony, we're playing shite at the minute. Even with the recent win. No doubt about it. But do you seriously expect Silva to just forget all he's done and start knocking it long to a yard dog up front.
Sorry about Campbell. I was in the gym so didn't have time to check. I think he's a different level to Austin and I think this Everton is a different level to that side who looked down until Campbell's 9 goals in 7 games.
On Gueye, some really really rate him, and the manager is amongst them. Why not dig his heels in now and sell in the summer?
Conor Skelly
239
Posted 31/01/2019 at 21:53:39
The Gana money (if he goes) will be absorbed by the club and rightfully so.
Ian Edwards
240
Posted 31/01/2019 at 21:53:40
Brian 236. Comparing Gueye with David Silva is like comparing a carthorse with Red Rum.
Paul Smith
241
Posted 31/01/2019 at 21:55:23
Take £25 million for Gana.
How much was Klaassen?
Steve Ferns
242
Posted 31/01/2019 at 21:55:38
Brian, at 29, you're a bad injury away from being done. It's not just that – you get old fat and slow.
He goes to ground a lot, you pick up knocks. You stop being able to run them off. Those knocks see you out longer and longer.
Those downward spirals can often come out of nowhere.
Brian Williams
243
Posted 31/01/2019 at 21:55:47
Ian, I was using their ages as a comparison – not their playing skills. I thought that was quite clear.
Neil Carter
244
Posted 31/01/2019 at 21:56:28
No-one coming in?

Ryan Holroyd
245
Posted 31/01/2019 at 21:59:01
Our transfer dealings are so stupid. He's 29, the only way is down, his value isn't going up.
Take the £30M, save the money til the summer to replace him with a better player.
John Malone
246
Posted 31/01/2019 at 22:02:23
I agree with all of the above — £26 million for a 29-year-old water carrier who will be totally disheartened by not getting his dream move back home the Champions of France and to get to play with Neymar, Mbappe, Dani Alves, Thiago Silva!!!
I actually feel it's a massive mistake and will cause a lot of resentment toward's the management from the dressing room.
Silva can hardly preach on the matter after his behaviour when we came calling for him.
Ash Coakley
247
Posted 31/01/2019 at 22:02:42
Gana bid with an hour and a half left of the window rejected - I reckon it will be £35m or he stays.
Around the Mooey discussion, why not sign from teams beneath us? Them lot signed Robertson, Van Djik, Shaqiri, Wijnaldum & Mane from lower teams and play a part in their first team, I could pick a starting eleven from teams below us that would likely beat our strongest 11.
The biggest challenge is value for money, half the reason that most of the recent signings are deemed unsuccessful is we pay huge fees and/ or huge wages.
I'd rather us look at players in the under-24 bracket that could come in for a reasonable price on reasonable wages and have a hunger for the game. It's less pressure than a big signing & If they don't work out, it's easier to get them off the books than a Niasse, Bolasie or Schneiderlin.
Given recent and current DOF and Managers, how have we not taken a few more £5m -£10m punts on Championship, European and South American players, you could argue that Lookman, Vlasic & Onyekuru are players most likely to develop in to either good players or ones we make good profits on.
I reckon it will take a few years to undo the poor recruitment since we have had a bit of money. We need an inspired signing soon...

Chad Schofield
248
Posted 31/01/2019 at 22:04:06
Palace got Batshit.
Mike Jones
249
Posted 31/01/2019 at 22:05:39
Sell him when it gets to £30 mill.
Brian Patrick
250
Posted 31/01/2019 at 22:07:23
Gana is by far our best player. Without his effort and tackling, we lack any defensive ability whatsoever.
I wouldn't let him go for £40M at the moment; yes, at the end of the season... but it's too risky now!!
Brian Williams
251
Posted 31/01/2019 at 22:08:02
Steve. You're a bad injury away from a downward spiral at any age mate.
I'm not saying it's good or bad to keep hold of Gana. The only point I'm making is that using his age "alone" as an argument to let him go is a faulted one.

Paul Gallagher
252
Posted 31/01/2019 at 22:09:09
It makes no sense to bring anyone in tonight, our season was over last weekend.
The players will definitely be on holiday mode going forward, although you could argue their season ended due to their fragile mentality on 2nd December.
Gana not getting his move, may create an even worst atmosphere in the team. It never tends to work well for us when we stop players from leaving. "Money Can't Buy You Stones" didn't last too long..
John Malone
253
Posted 31/01/2019 at 22:12:43
Allardyce talking perfect sense on Sky Sports News, saying he'd sell Gueye and use the money towards a top striker!
Come back, Sam — all is forgiven!
Neal Kernohan
254
Posted 31/01/2019 at 22:13:45
If he wants to leave, he won't want to play for us if he stays...
Brian Williams
255
Posted 31/01/2019 at 22:13:56
On another tack Sly TV and fucking Allardyce saying how the club should give Gana his wish, a dream move etc. Fucking condescending twats expect small time Everton to let him go at PSG's price.
If Everton set a price and decide what the club would require to let him go, why should they then fold when their valuation is nowhere near being met?
Mike Jones
256
Posted 31/01/2019 at 22:16:20
Fat Sam is looking slimmer, to be fair. Doctor's orders?
Kase Chow
257
Posted 31/01/2019 at 22:16:37
So we didn't get Batshuayi... Well done, Everton. Let's persist with the ineffective attack we currently have.
How many goals between Calvert-Lewin, Tosun and Niasse?
Did you REALLY give in to the naysayers that said we didn't need a striker? How blinkered they were and as a club we are! A top striker becomes available and we turn up our nose!
Well done, Everton. Well done, ToffeWebbers.
We get the team we idiots deserve...
Mike Benjamin
258
Posted 31/01/2019 at 22:16:57
John # 253. If that top striker is available now? Why weaken a midfield that is already weak when we are not desperate for money?
Brian Hennessy
259
Posted 31/01/2019 at 22:17:41
I couldn't care less if this is a dream move for Gana, all I care about is Everton.
He signed a contract; if we don't want to sell him, so be it. I don't think he is the problem with how we are playing and I think his passing is not as bad as some make out.
In fact, after a very promising start, Gomes's passing has been pretty poor for several recent games.
£25 Million in today's terms buys you very little. We have 6 or 7 wasters that we need to flog on and hopefully Brands can do that in the summer.
Brian Williams
260
Posted 31/01/2019 at 22:20:22
Batshuayi, a top striker? 🤣
Tom McEwan
261
Posted 31/01/2019 at 22:20:50
Dave @217 thanks. Steve @216, so could you explain, just exactly, how Marco's "different profile" for a striker is working out at the moment?
Again, Steve @238, I for one, would seriously love Silva to "forget all he's done" cos even you as his agent (haha) must see that "all he's done" amounts to fuck-all.
A good coach is adaptable and my main contention when arguing with you before he was appointed was that his record in the Premier League proved he was unable to adapt and therefore, not a good coach.
Even your espousal of his tactical "genius" proved his intransigence. "He always plays with a 6ft 4 centre back", "He always plays with" a certain type of defensive midfielder etc.
Now your "yard dog" description of Austin bears out my earlier post regarding snobbishness.
If something isn't working then fix it! Even if it means getting a "yard dog" in like Austin. Because, in my opinion, he is infinitely better than the dozing "pussy cats" who don't give a shit, that we currently have in "our yard"!!
Dave Abrahams
262
Posted 31/01/2019 at 22:20:56
Whatever PSG are offering now, they will not offer it in the summer, as Mike Gaynes said the other day PSG want Gueye now for their attempt at the European League Cup, they most probably will not want him in the summer.
Game of bluff going to the wire, I think we will get the £30M — or very close to it.
Steve Ferns
263
Posted 31/01/2019 at 22:21:25
Okay, Brian, fair enough.
Christy Ring
264
Posted 31/01/2019 at 22:21:34
My big problem is, Gueye will be totally dejected.
I know he's a professional but what about his mindset? How will he perform?
Mike Jones
265
Posted 31/01/2019 at 22:21:47
I'd buy no-one. We aren't going top 6 or being relegated. So wait for end of season.
Kevin Prytherch
266
Posted 31/01/2019 at 22:22:03
John 253 - is that the same guy who spent £27million on Tosun??
If we compare Gueye to Tosun we should hold out for £75 million!!!
Paul Gallagher
267
Posted 31/01/2019 at 22:23:04
You can't blame Gana wanting to leave, he could actually win something at PSG. Pity the other players weren't overtly ambitious, then we could actually sell them, instead of some happy to take their over inflated wages.
Moshiri will have to take a big loss as their contracts run down. It's a good transfer window for the board, there is no pressure to bring anyone in.
Mike Jones
268
Posted 31/01/2019 at 22:25:06
Non football related observation. I'm just watching Peter Crouch...
Why, when people get famous, do they get their teeth done too big? What's wrong with making new teeth fit your mouth??
Kenn Crawford
269
Posted 31/01/2019 at 22:27:06
I was a season ticket holder for the Western Sydney Wanderers when Mooy was playing for them. He was a decent player and, when he went to Melbourne City he improved slightly.... but sorry, he is nowhere near good enough for us.
A decent Championship player at best.
Brian Williams
270
Posted 31/01/2019 at 22:27:43
Mike #268.
LMAO. That's so true mate!
Mike Jones
271
Posted 31/01/2019 at 22:27:45
Been watching Sky for the last 20 minutes. They have nothing to say. Hayley looks fabulous though. Well worth a watch just for her.
Steve Ferns
272
Posted 31/01/2019 at 22:29:29
Beni Baningime off to Wigan on loan.
Paul Birmingham
273
Posted 31/01/2019 at 22:32:10
Beni to Wigan... It seems Silva doesn't either rate him as a player?
There's worse midfielders still training at Finch Farm. I hope he does well and proves a point.
Interesting to see if PSG up their offer in the next few minutes.
As expected, very little dealing this window for Everton.
Christy Ring
274
Posted 31/01/2019 at 22:32:20
Looking at Jim White, did his trousers have a row with his shoes?
Paul Gallagher
275
Posted 31/01/2019 at 22:32:21
January should be a loan month only and no signings should be made until the summer.
Brian Williams
276
Posted 31/01/2019 at 22:32:58
No striker tonight but there'll be another TW Deadline Day come the summer! 😁
Tom McEwan
277
Posted 31/01/2019 at 22:34:06
Ash Coakley @247 — great post!
Steve Ferns
278
Posted 31/01/2019 at 22:35:17
Paul, he needs games. He's still young. He's not better than Gueye. So it's him or Davies and it's obvious who the manager prefers.
So letting him have half a season to get games and get fit for next season after his injury problems early this season? Well I think it makes sense.
Brian Hennessy
279
Posted 31/01/2019 at 22:35:37
Might be a good move for Beni to get some game time and I think he is one player who will return to Everton and make it here.
I was really impressed with how he played when he got the chance last season.
Kunal Desai
280
Posted 31/01/2019 at 22:37:32
We effectively have very little to play other than picking up one more win which would keep us in the Premier League.
The remit to Silva would have been to prove himself to the board that he is the manager to take this club forward beyond next season. Turn the form around without any additions; if not, then he may not be the manager at the start of next season.
Kase Chow
281
Posted 31/01/2019 at 22:43:20
i just can't understand ToffeWebbers and Everton not wanting a goalscorer when it's so patently obvious that that's what we need.
It's really honestly remarkable. Let's persist with Calvert-Lewin!!! Wow!!! That will be fun to watch...
Wake up, guys. It's pathetic what we're aiming at: Calvert-Lewin (Under-21 striker) vs Batshuyai (World Cup semi-final striker).
Some fans on here really need to understand football and how to judge a footballer properly. Living in some weird wonder-world 'Tosun & Calvert-Lewin will see us right...'
Well done, guys!
Paul Gallagher
282
Posted 31/01/2019 at 22:44:20
Will 11th be enough to keep Silva in a job?
Plus the usual humiliation from the RS??
And more losses against the other Sky 6???
Paul Birmingham
283
Posted 31/01/2019 at 22:46:12
Steve, I agree, but he's allegedly fit, and not close to Gana, in terms of ability, but he done well last season.
I'd like to see also what's gonna happen to quite a few of the U23s, as some are at the end of their time at EFC, and will have to move to continue playing at a decent level (Foulds, Sambou)
I hope Baningime is not forgotten, and the usual loan clauses are set up, just in case.
Let's see if Jimmy McCarthy stays, as I think he has a role to play during the remainder of this season.
Anthony Flack
284
Posted 31/01/2019 at 22:47:37
Jeez, Kase
Calvert-Lewin has potential — and maybe more!

Steve Ferns
285
Posted 31/01/2019 at 22:48:46
Paul B, that he stayed with the first team all season tells you that Silva does rate him, he banished others to the U23s (like Bolasie), so he'd have had no issue doing that with Baningime.
Steve Ferns
286
Posted 31/01/2019 at 22:50:49
Callum Connolly mentioned on Sky Sports News too. Where was he before? I think he's just joined Bolton now.
Christy Ring
287
Posted 31/01/2019 at 22:51:39
Good for Beni to get game time; he will come good.
Ray Roche
288
Posted 31/01/2019 at 22:53:24
Steve, wasn't he at Wigan?
Tom McEwan
289
Posted 31/01/2019 at 22:53:29
Kase @281,
Do you honestly believe that any amount of shouting on this site re: a striker, or any player, has any leverage with the powers that be at EFC?
Steve Ferns
290
Posted 31/01/2019 at 22:54:56
Yes, Ray.
Connolly's loan cancelled at Wigan and then he's joined Bolton.
Beni Baningime joins Wigan. Both in the Championship.
Antony Evans in League One with Blackpool.
Is Beni replacing Connolly? Or was Connolly playing full-back?
Paul Birmingham
291
Posted 31/01/2019 at 22:55:28
Steve, that's Beni, knowing his place for sure.
Skills, attitude and personalities, as in all jobs, it's finding the right chemistry.
I recall Unsy, saying once he had it in his locker. It seems the only youngster with a remote chance of coming through is Tom, but he's gonna have his work cut out, but I hope he gets his belief back.
Let's hope so.
Brian Williams
292
Posted 31/01/2019 at 22:56:06
Kase. We DO want a goalscorer, just not Batshauyi, especially not for £35m.
He's not that good, and you can't use a World Cup semi-final appearance in isolation as ammunition. How many goals has he scored since? Where's he been since?
Oh and if you can use the World Cup for ammo, then Calvert-Lewin scored the WINNER in the U20 World Cup Final!!!
No Batshuayi for us, thank fuck!
Kase Chow
293
Posted 31/01/2019 at 22:56:31
Anthony @284,
Oh yes! Calvert-Lewin has potential – how could I forget???
Potential is so much better than getting in someone that can actually make an impact.
I'm so annoyed, so angry that we still persist with these rubbish strikers (5 league goals a season???) instead of a proven striker.
What is our mission statement exactly? To be a mid-table rubbish Premier League club? Okay fine. Brilliant transfer window...
But, if it's to attempt to launch into top 6, then be honest, we are not really going for that... are we??
The club and the fans don't know how to judge a player and that's why we end up with Niasse, Calvert-Lewin & Tosun up top... Brilliant. What a great transfer window. And, worst of all — we are okay with it!
ToffeWebbers — you ARE the problem!
Ray Roche
294
Posted 31/01/2019 at 22:57:28
Kase @281
Or, put it another way: "Under-20 World Cup Winner" versus "Flop wherever he's been"...

Derek Knox
295
Posted 31/01/2019 at 22:57:49
Breaking news: Churchill, Stalin and a guy called Roosevelt have all signed, but I'm not sure who for!
Brian Williams
296
Posted 31/01/2019 at 22:57:54
Listen lads, on a serious note: don't lean out when that fucking window slams shut! Take yer head off, that will!
Jon Hirshman
297
Posted 31/01/2019 at 22:58:06
Batshuayi was part of the Belgium squad – not 1st choice, Kase, you overrate him. It's not like he's set the Premier League alight with Chelsea or La Liga with Valencia, is it?
Dave Bowen
298
Posted 31/01/2019 at 22:58:22
Anthony @# 284,
Calvert-Lewinis a Championship striker or impact sub at best. He should be nowhere near our first XI. I've never seen a player 2nd to every ball so often.
Jerome Shields
299
Posted 31/01/2019 at 22:58:58
Brands has continued his policy of reducing the wage bill, but no sign of sales yet.
Frank Wade
301
Posted 31/01/2019 at 22:59:20
Kase #281,
Have you been reading from Batshuayi's agent's glossy brochure?
"World Cup semi-final striker" indeed, injury-time sub, if you read the small print.
£160k a week wage plus £35M is a bit of a leap of faith in my opinion. He hardly played in the World Cup, playing 2nd fiddle to the Man Utd reserve striker. May be better options available in Summer, so in the meantime, let's see if Calvert-Lewin has what it takes.
Paul Gallagher
302
Posted 31/01/2019 at 22:59:32
At least we haven't bought anymore flops!
Brian Williams
303
Posted 31/01/2019 at 23:00:18
SLAAAAAM!
Paul Birmingham
304
Posted 31/01/2019 at 23:00:28
The team's in rotten form, and we are in need of quality in many positions, but let's get good deals in the summer, than waste money on journeyman.
Marcel Brands will run with ruthlessness and will be wise to the fortune frittered away on crap, these last few years.
Let's see what the summer transfer window, brings in.
Jay Wood
[BRZ]
305
Posted 31/01/2019 at 23:00:47
"ToffeWebbers - you ARE the problem!"
Don't be so silly, Kase.
Geoff Lambert
306
Posted 31/01/2019 at 23:01:52
Well that's a couple of hours of my life I won't get back.
Worst window in living memory...
Paul Birmingham
307
Posted 31/01/2019 at 23:02:37
So that's our lot, and now for a performance vs the in-form Wolves, who well beat our neighbours a few weeks ago.
Geoff Lambert
308
Posted 31/01/2019 at 23:03:16
10 layers on now and take the dogs out for an hours walk...
Paul Gallagher
309
Posted 31/01/2019 at 23:03:55
Our season hinges on the RS not winning the EPL, you cannot get more midtable than that.
Rob Halligan
310
Posted 31/01/2019 at 23:04:31
I gather nothing's happened then? I've been watching the cricket all day!!
Kase Chow
311
Posted 31/01/2019 at 23:04:38
Tom #289, 'No'.
I'm just so frustrated that we're happy to go with the guys up top vs Batshuyai instead
I hope I'm wrong but if not then the club and ToffeWebbers should be big enough to be accountable and say "Yes, we should have bought Batshuyai" instead of being stupid.
Brian Williams
312
Posted 31/01/2019 at 23:05:42
Behave, Kase. You'll be stamping your foot next!
John Malone
313
Posted 31/01/2019 at 23:06:18
I would have liked us to have took the £26 mill for Gueye and took a punt and tried to get Batshuayi for £30 mill.
Would we miss a good defensive midfielder as much as we would benefit from for a proven international goalscorer??
I'd say he would have gave us the focal point and finishing ability up top we have been badly missing.
I have no doubt he will do well for Palace.
Steve Ferns
314
Posted 31/01/2019 at 23:08:27
Kase, I don't think he's good enough. He's 25. He's a speedy player. Right now he's as good as he will ever be. Calvert Lewin will get better. A panel put him on FIFA 19 future stars list. It's not a lengthy list either. So impartial people think he's that good.
More importantly, Brands really rates him. Silva might not as much, or he'd have started more often, but let's wait and see. The proof of the pudding will be in the eating, as the saying goes.
James Stewart
315
Posted 31/01/2019 at 23:08:37
Harsh on Gana, I'd be furious if I were him. You have to question the club's thinking.
Steve Ferns
316
Posted 31/01/2019 at 23:11:14
Why James? He's extremely well paid and has a lengthy contract. If PSG really wanted him then they should have offered more than £26m.
Christy Ring
317
Posted 31/01/2019 at 23:11:24
To be fair, Gueye only signed a new deal awhile ago, tough.
John Keating
318
Posted 31/01/2019 at 23:13:04
Agree that Gueye will be pissed off. Last thing we need is someone who doesn't want to be here.
Here, with half a dozen others who don't want to be here!
Chris Hockenhull
319
Posted 31/01/2019 at 23:13:58
Harsh on Gana??? Oh my blue heart bleeds!!!
Am I right over the past year he has signed maybe two extensions to his contract? A massive add-on to the existing daft salary... only to do what?
To fuck off when it now suits him? Get real. This is what's wrong with this game now.
Derek Knox
320
Posted 31/01/2019 at 23:15:11
I agree, James, regarding Gana, I think €30M was a great offer, and he wanted to go too.
He'll have a cob on now, and will deliberately misplace passes... so nothing has changed there then!
James Stewart
321
Posted 31/01/2019 at 23:15:35
€30M is fair for a 29-year-old defensive midfielder. PSG are an elite club, he is unlikely to ever get that chance again.
Let's be clear: we have priced him out of a move. I can only imagine that doing that does wonders for moral!
Jay Wood
[BRZ]
322
Posted 31/01/2019 at 23:16:57
James @ 325.
I take a completely contrarian view to you.
Harsh on Gana? We have invested heavily in him with a long term contract.
If he is furious, suck it up.
Question the club's thinking? It makes a change we didn't lay down and have our bellies tickled and take the money as we traditionally do when clubs come calling for our better players.
I'm delighted he is staying.
Steve Ferns
323
Posted 31/01/2019 at 23:18:04
Bolasie confirmed at Anderlecht on loan.
Anthony Flack
324
Posted 31/01/2019 at 23:19:45
I get the uncertainty fellow TWs express about Calvert-Lewin.
I, for one, have started to come around and reckon we might have something worth working with.
So take your mission statements and terrible transfer windows and have a decent kip...
Ian Bennett
325
Posted 31/01/2019 at 23:19:49
£26m second bid is an absolute joke bid. Yet another club trying to get a prime player on the cheap late in the window... à la the John Stones joke bids.
Gana can be upset, but he needs to look at the little value that PSG put on him. If they wanted him, pay his market worth.
Derek Knox
326
Posted 31/01/2019 at 23:20:07
Any news on Schneiderlin signing for a Club in Outer Mongolia?
Please let it happen...
Steve Ferns
327
Posted 31/01/2019 at 23:20:33
PSG are not an elite club. They have no history at all. They just happen to be in Paris, and being the only Paris club, they got Middle Eastern investment. They'd won nothing until recently.
Don't give me this 'elite club' crap. They're no Marseille or St Etienne or Lyon.
Ian Edwards
328
Posted 31/01/2019 at 23:22:18
Ian Bennett. Gueye's market worth is about what we paid for him. Turning down the last bid is criminal mismanagement.
Brian Hennessy
329
Posted 31/01/2019 at 23:23:45
That's good news on Bolasie, Steve.
Steve Ferns
330
Posted 31/01/2019 at 23:24:16
Depends on the wage contribution.
Lee Paige
331
Posted 31/01/2019 at 23:24:18
I'm glad he is staying.
Also, I'm glad we didn't go blowing insane money on desperation signings, like last January.
Gavin Johnson
332
Posted 31/01/2019 at 23:26:53
Jay #182,
James Maddison is a regular at Leicester. He's currently out with a knee injury. If he was fit, he'd be one of the first names on the team sheet, such has been his impact.
Personally, I prefer a No 10 who can run and carry the ball. Sigurdsson can't do this because he's too slow. I'd like Sigurdsson played deeper as a traditional No 8 (alternated with Gomes) and Bernard or Lookman tried centrally as our playmaker.
James Stewart
333
Posted 31/01/2019 at 23:30:03
PSG are not an elite club? And I suppose we are? Some of you on here are utterly deluded.
No player in their right mind would turn down PSG to stay here under the present circumstances.
All we are left with now is an unhappy player who will most likely down tools and be sold for even less in the summer.
Steve Ferns
334
Posted 31/01/2019 at 23:31:40
James, they are rich, not elite. They have no history. It's all the last 20 odd years.
Lee Paige
335
Posted 31/01/2019 at 23:32:17
I don't think so with Gana, If he does replacements are at hand, does he really not want to be playing at his age?
Bill Gienapp
336
Posted 31/01/2019 at 23:33:34
Kase, the majority of us are simply taking the stance that it's better to wait until the summer to recruit a proper striker, rather than allow Chelsea to extort a fee for Batshuayi that's frankly twice his actual worth just because they think we're desperate... especially when his arrival would hardly make any difference this season and he's not even a significant upgrade on what we already have.
And, as others have pointed out, I suppose you *can* call him a "World Cup semifinal striker" in that he *did* sit on the bench for Belgium... except for that one time they let him onto the pitch and he kicked the ball off his face.
Also, I think you seriously overestimate how much collective pull we have with Marcel Brands.
Neil Carter
337
Posted 31/01/2019 at 23:34:53
Our transfer strategy remains the same as our ambitions — to stay in hibernation!
Colin Wordsworth
338
Posted 31/01/2019 at 23:35:03
In my opinion, total mismanagement by the club.
A player who no longer wants to play for the club and we are offered over his market value? A player who never shows up against the big boys and has been found wanting against the little boys this season!
Are we really going to build a team around this player at 29... really? Shocking decision. We should be looking to the future; this season is over. Crazy.
Roman Sidey
339
Posted 31/01/2019 at 23:35:29
Sorry Steve, but these days, rich equals elite really. They play Champions League every season and usually make the knock-outs. No amount of history at Everton will compete with that at the moment.
Liam Heffernan
340
Posted 31/01/2019 at 23:35:29
We were right not to go with Batshuayi. His record is abysmal, the Sky pundits talk him up, but his measly stats do the real talking...
We dodged a bullet there!!
Danny Baily
341
Posted 31/01/2019 at 23:38:58
Bolasie and Martina off the wage bill is good business.
No need to bolster the squad now.
Let's hope we're already hard at work on getting a few cut-price deals in early on this summer.
Mike Price
342
Posted 31/01/2019 at 23:40:09
We have the reverse Midas touch, as usual... even when we get a gift horse, we turn it away!
He's not very good and that was a lot of money and now he's pissed off. It was a chance to cash out on a very limited player which is unusual because most of our players you couldn't give away.
We don't have a clue.
James Stewart
343
Posted 31/01/2019 at 23:40:21
Do think what happened in the last ten years, let alone 20, is important to modern day players, Steve? I can guarantee you it isn't. All that matters is the Champions League and PSG will be at the business end of it for the foreseeable future. We and St Etienne will not.
Too much "remember when" on here and I agree with Tony Soprano on benefit of that topic.
Lee Paige
344
Posted 31/01/2019 at 23:41:44
Well obviously PSG think he is good and it seems so do Everton.
Steve Ferns
345
Posted 31/01/2019 at 23:44:22
James,
Liverpool and Man Utd are the two biggest clubs in England. They've won less than Man City and Chelsea recently. It takes time to change the natural order.
It's the same in France. It takes time for PSG to knock Marseille off their perch. The difference being PSG didn't exist 50 years ago, whereas Man City and Chelsea at least have a long history.
Tom Bowers
346
Posted 31/01/2019 at 23:45:06
Not sure what to think about the Idrissa Gueye scenario.
If he handed in a transfer request then he may now be pissed off at management for not accepting the PSG bid (low or high).
The question is now whether he will be in the starting eleven after stating he wanted to leave; and, if so, how will he perform thinking how he could have been playing for a top team and in the Champions League.
If having his head turned is likely to affect his game then we will soon find out but it may be better for Silva to start making changes anyway given there is nothing to lose.
Trevor Peers
347
Posted 31/01/2019 at 23:47:06
Makes you cringe when you think of some of the fees we have coughed up recently, Gana has to be worth £35 million but PSG never had any intention of meeting that fee, they aren't allowed to – some financial fair play rule is preventing them.
That hasn't stopped them badly unsettling the player and even the manager by all accounts. The whole transfer system worldwide is corrupt from top to bottom and the entertainment value of the game has plummeted dramatically because of it. Most top players are more skilled at diving than playing football.
Iain Johnston
348
Posted 31/01/2019 at 23:47:42
Kase #281. It has nothing to do with not wanting a goalscorer.
It has more to do with not wanting to pay a £6M loan fee and £160k a week to a mercenary Chelsea player who, from the perspective of our league position, won't do anything to improve our final outlook... We can finish 7th with what we have, we won't finish any higher if we signed Messi, Bale & Mbappe.
We need to wait until the summer, wait until the wages of Baines, Jagielka, Williams, Mirallas, Dowell etc are off the books and we've also moved on the likes of Schneiderlin & Sandro as the wage bill has already spiralled out of control for a club with our turnover.
We can then offer a Premier League salary to a striker who will genuinely give us something rather than wasting money on club draining journeymen... which last January's £40M and £180k a week has, as so often has been the case over the last three windows, proven to be.
When the club says we can't sign anyone else until we lower the wages or we sell a player means exactly that. Personally, I'm all for a bit more due diligence when it comes to player signings.
Conor Skelly
349
Posted 31/01/2019 at 23:51:53
More poor dealing today. Failed to sell one player all window. Niasse especially should have been sold and not loaned. I was not expecting any signings. The main objective during the window was to make sales and Marcel has done a donut.
John Pierce
350
Posted 31/01/2019 at 23:52:52
PSG - relevant, Everton - an irrelevance.
Robert Williams
351
Posted 31/01/2019 at 23:53:24
Far too much reliance on these pages as to what Steve Ferns has to say. And that is far too much. He is obviously in (and I mean so far in) to the Silva camp that it is becoming embarrassing listening to him. I am all for free speech but this fellow just spouts the same garbage over and over, albeit in a different way.
If only there was an ignore button!! He must be on the EFC payroll or lead Defence Lawyer for Silva. I feel really sorry for them both!!
Eddie Dunn
352
Posted 31/01/2019 at 23:54:15
Steve ~314, don't make out that Batshuyai at 25 cannot improve. That is simply ridiculous.
Leon Osman got better in his late 20's, as did Peter Reid and many others. Personally, I think Batshuyai was overpriced but will prove to be an excellent purchase for Palace.
Whenever I watched him play for Chelsea, I was very impressed with him. He will get better and better and we will rue the day we missed out on him.
Brian Williams
353
Posted 01/02/2019 at 00:03:33
Jeez! You can't force clubs to buy your players ffs. If the only way to get their wages, or part of their wages, off the books is a loan then a loan it is.
Why is that so hard for some to understand? You can only sell players other clubs are willing to buy!
Kase Chow
354
Posted 31/01/2019 at 00:07:17
Bill #336,
Even handed/minded response – fair play. However, with all due respect – winning games/ scoring goals and enjoying matches is what being a fan isn't all about.
We may still finish 7th and we may not. It's a risk. But, if we aren't gonna win the Premier League nor challenge, then let's at least win a few games eh! But we can only do that with a goal scorer – not Calvert-Lewin.
Mark Wynne
355
Posted 31/01/2019 at 00:08:22
It's always about the hidden costs of wages. As much as we'd like to conduct accountancy with headline transfer fees, we cannot forget the wages we have to pay out*, particularly when trying to attract top notch players to a team that have no realistic chance of Champions League football probably in the next five years.
After splurging money in wages for the likes of Sandro Ramirez, Morgan Schneiderlin and Cenk Tosun, Moshiri can be forgiven for not splurging a further (rumoured) £160k a week or £8.3M pa on a huge punt on Batshuayi. As much of a farce FFP appears to be across Europe, you know that Everton would probably fall foul of it.
* don't get me started on agent fees.
John Pierce
356
Posted 31/01/2019 at 00:08:30
Question, is it more important to stand up to bigger clubs or keep an unhappy player?
Jack Woods
357
Posted 01/02/2019 at 00:22:46
I find PSG claiming they couldn't spend more than £21M for Gueye because of FFP interesting when they were able to find €40M a few days later to sign Paredes from Zenit.
Clearly they thought they could low-ball & force Everton's hand. I feel like just about every club in the world is confident they can mug Everton off in transfer dealings.
Derek Knox
358
Posted 01/02/2019 at 00:23:12
John Pierce good point regarding Gana, it's one thing making a statement to other clubs that you are not just a selling club, but in this case the player wanted to go, he's 29 and will be unlikely to get a deal like that offered again.
Then there's the knock-on effect: the player will be gutted that his dream move never came off, his mind will not be settled for the next week or so, and probably won't be selected. Poor decision all round from my perspective.
Simon Dalzell
359
Posted 31/01/2019 at 00:23:42
£26M Is a good offer. Anyone saying this is a 'joke' figure is not being realistic. It's what right for club and player. This is not a case of a club being held to ransom, but an opportunity missed.
We're bad at selling as well as buying. Whatever you say his obligations are now, he wont be giving maximum. His mindset should surely be considered not just the replacement.
I also think we could get a better player with not much more. Maybe one that could even pass or shoot!
Roman Sidey
360
Posted 01/02/2019 at 00:28:41
John @356, tough question, and hard to answer without knowing just how unhappy the player is.
There is the chance a player puts in a request but is more than professional when he doesn't get his wish. But in this case, with PSG bidding the highest they were allowed, I think rejecting them was the right move.
If Gana really wants to leave, he'll play his arse off for the next four months, and perhaps stoke the interest of a couple of other big clubs in Europe, creating a bidding war. You never know...
David Pearl
361
Posted 01/02/2019 at 00:29:57
I don't think it's a good offer if you consider the cost to replace him. And that's all that should be considered.
Simon Dalzell
362
Posted 01/02/2019 at 00:32:49
Colin # 338. Spot on.
Mike Gaynes
363
Posted 01/02/2019 at 00:32:55
Steve F., I know you define "elite" by the club having a long and distinguished history, but Forest and QPR have magnificent histories and nobody would call them elite. In 48 years PSG have won seven league titles and 28 domestic cups. In 120 years Marseilles have won 10 and 13 respectively. In my book that's elite.
John P, Derek, Roman and Tom, I for one don't expect Gana's performance to fall off based on this mess. He's a complete professional who gives his all every moment on the pitch, and I think he'll put his disappointment aside and put in his best as he always does.
Brian #353, give it up. People who think that way aren't open to basic common sense like yours.
John Pierce
364
Posted 01/02/2019 at 00:34:53
All I believe will happens is, the player no matter how professional will not be as good. He may well go on to be sold in the summer, almost certain for less than we were offered, given less contract and age.
Not really seeing an up side.
Rob Marsh
365
Posted 01/02/2019 at 00:40:03
I read Gueye as the type of person who will roll up his sleeves and just get on with like he does, week-in & week-out.
I might be wrong, but my instincts tell me he's a different type of person to the likes of Lescott, Lukaku and Barkley.
Frank Wade
366
Posted 01/02/2019 at 01:08:06
Bill 336, Thanks for reminding me of Batshuayi's key contribution to my World Cup entertainment.
Link
I tend to agree with Mike and Rob, Gana is the sort of player who gives his all in every game.
I wonder how is our old boy Ross feeling these days, one year on. Sitting on the bench watching your team getting stuffed 4-0 at Bournemouth and not considered worthy, but hey, he's at an elite club now.
Tony J Williams
367
Posted 01/02/2019 at 01:39:26
If he should be pissed off with anyone, it should be PSG. If they truly wanted him, then don't arse about with derisory offers an hour before the end of the window .
Derek Knox
368
Posted 01/02/2019 at 01:39:53
Mike G, I appreciate that Gana is a good pro, but after the way Tom Davies played on Tuesday (okay, Huddersfield were no great shakes) and got MotM, but will he drop Tom in favour of Gana?
Doubt that will happen, does he drop Gomes? He's tried Gana and Davies before with little notable success, so what does he go for, in which will be a much more difficult game.
Confidence should be boosted after Tuesday, but can't see us getting back to back wins either. There again, Wolves have been very hit and miss themselves, so I think a lot will depend on which Everton, and which Wolves turn up.
Gaute Lie
369
Posted 01/02/2019 at 02:12:30
I would not have said no to reinforcements, but I'm not too sad no one came in.
What worries me is the Money situation. Did we not have the Money to buy anyone, even an affordable youngster?
I know we are high on salary and one want the total team salary Down. Understandable. But if there's no money for a striker when a striker is so much needed
Perhaps Moshiri is tired, or broke? I donno. But when we used so much Money last couple of Seasons? Oh, wait... that was the Lukaku money. And a couple of others.
Do they really know red from black? Starting to think not.
Bill Gienapp
370
Posted 01/02/2019 at 02:47:00
Kase (354) - Indeed. In spite of my snarky reference to Batshuayi's World Cup gaffe, I actually would have been open to us signing him if the asking price was more like £17 million (and his wage demands weren't as insane as had been reported).
But for £35 million, I just feel like we're better off waiting and trying to bring in someone we can feel a lot more confident in.
Mike Gaynes
371
Posted 01/02/2019 at 03:00:36
Derek, in answer to your question, I assume Gana will start against Wolves simply because he is the better player. Davies did a fine job at Huddersfield but I don't think it makes him the starter.
Alan J Thompson
372
Posted 01/02/2019 at 03:37:29
Same again then. All the kids on loan are loaned out again while those really high on the wages list are still here even if they are nowhere to be seen.
This is the management team that said they think it is important and are keen on giving youngsters a chance to prove themselves. I'd have thought a series of almost dead rubber matches until season's end would have been just the chance, but then, we need the money a Premier League finish brings.
It's a hard life, this management thing.
John Boon
373
Posted 01/02/2019 at 04:42:31
Mike (363)
Could you please expand on your notion that QPR have a great history. I have been around supporting Everton for seventy years and I must have been asleep during their Historic reign. They have made the odd visit to the top level during their tenure in the football leagues. There are at least fifty teams that have more History than them. I agree that Notts Forest have more history as do their competitors Notts County.
Michael Kenrick
374
Posted 01/02/2019 at 05:22:21
Sorry, Kase (#311 etc),
"No, we shouldn't have bought Batshuyai." And I'm so glad we didn't.
There, I've said it. Does that make me stupid too?
But you know what it does mean? Count the hundreds... no, thousands of posts over the last few months that said "we absolutely MUST sign a striker in January".
Didn't happen. But that won't stop the flood of posts saying, "Now, we absolutely must sign a top striker in the summer."
[Drops the green flag and starts counting...]

Derek Knox
375
Posted 01/02/2019 at 06:00:07
Alan @372, as has been said on here many a time, you can only offload 'senior' players to other clubs if they are prepared to meet a) the asking price and b) the ridiculous salaries that many are on.
No-one would have been happier than myself to offload the likes of Schneiderlin and many other non-producers, but unfortunately they are still with us, I am sure that M Brands did try, but not an easy task at all.
As for the youngsters, although I hate to agree with Allardyce (Sky Sports Transfer Deadline Studio guest), he stated that between the first team and Under-23 squad there are about 50 in number, each squad is split to 22 so there are a surplus to requirements, even with rotation. It doesn't necessarily mean these lads have no future, but it is better for them to get experience playing, than just training and hanging about.
Of course they are easier too, to loan out because they are on manageable wages for clubs to accommodate them, albeit temporarily.
Jamie Crowley
376
Posted 01/02/2019 at 06:20:32
I think in the end, we did the right thing. To sell, what I believe is, our best player in Gana, and use those funds to sign a striker whom no-one is really sure will be lighting the world on fire, is prudent.
We didn't cave to a club not meeting our valuation of a player. How often have we been able to say that over the last decade (and beyond, before my time)?
I agree with Rob Marsh. Gana doesn't seem to be the type of individual to pack it in when he doesn't get what he wants.
People will continue to call for a striker. Why? Because we really, really need one. But we need the right striker, not just the available guy who to obtain, would necessitate selling our best player this season, with apologies to Zouma who's been pretty fantastic too.
I've said all along I trust Brands. He didn't "fancy" a move for Gana, or signing Batshuayi. Fine.
To splash the cash now? What does it get us? It won't even get us 6th place, FFS! Save the money, see how some of the younger kids do these next few months, reassess, and make your moves in the summer. Prudent.
We're in really, really good hands with Marcel Brands. Trust the guy. I do and will continue to do so.
Off to bed to dream about Natalie Sawyer on Sky announcing we've just signed Mbappe. Topless.
Bobby Mallon
377
Posted 01/02/2019 at 06:25:41
Steve Ferns @334,
History means nothing, absolutely nothing; location means everything.
Derek Knox
378
Posted 01/02/2019 at 06:33:03
Jamie C, have a word with yourself mate, why on earth would you want to see Mbappe topless? :-)
Benjamin Dyke
379
Posted 01/02/2019 at 06:59:15
I for one am glad to see restraint. I thought Gueye would go but I'm pleased we didn't give in to PSG trying to get him on the cheap and late in the window.
I personally feel a bit ashamed with the money spunked by Moshiri over the last few windows on crap – it's embarrassing and it's got us no further up the table... Arguably, we're further away from the top 6 than ever, and with a greater list of failed transfers to get over added in to the mess
Lev Vellene
380
Posted 01/02/2019 at 07:01:40
Jamie, I'd prefer to see Mbappe with an Everton shirt on!
Peter Warren
381
Posted 01/02/2019 at 07:07:00
I'm amazed Gueye didn't get sold. Correct call too. Well done, Board!
Brian Porter
382
Posted 01/02/2019 at 07:10:39
Iain #348, whilst agreeing with most of what you had to say, I really can't believe you want Leighton Baines 'off the books' in the summer. Did you not see the Huddersfield game the other night?
Until his injury, Baines was one of the best of our players out there, despite his age and, after Digne was sent off, our only full back option was to send on an out-of-position Kenny. Do you really want to leave us even more bereft of natural left sided defenders? Please don't say we need to buy a replacement as I think, come the summer, Brands and Silva will have other priorities on their mind.
With Lucas Digne as first-choice left-back going forward, I'd say we're lucky to have a player of Baines's ability and experience as a back up to Digne. It was a one-off to see one left back injured and another sent off in the same match, so overall I think we have that position covered for the time being.
To include Baines in your otherwise accurate list of deadwood is, purely in my opinion, grossly unfair and unwarranted when speaking of one of our most reliable and committed players.
Paul Smith
383
Posted 01/02/2019 at 07:16:38
I can't understand the venom directed at Everton by Evertonians sometimes.
Darren Murphy
384
Posted 01/02/2019 at 07:18:13
Bet you lot were excited... lmfao. At least some of us got lucky. Glad we kept a player who doesn't want to play for us. Can't wait for Saturday... good night!
Tony Everan
385
Posted 01/02/2019 at 07:26:44
You don't sell players and weaken the squad. £26M was a fair price, but if we cannot improve the squad as part of the process forget it. We don't need to do it.
If Gana wants to go he can go in the summer when we can get in a better quality replacement that [in theory] improves our midfield and team set up.
We don't need to pander to other clubs or any player's personal whim . PSG can wait till June, Gana can wait. Mr Brands is trying to do what is best for Everton FC, and the No 1 rule is don't sell players and make your squad weaker. Only sell when you can have the opportunity to strengthen.
Good on the club for rejecting PSG's offer.
And as for Charlie Austin, yes he has got his qualities, but is limited, is mediocre at best at the top level. If we are targeting journeymen like Charlie Austin there is no hope left for us.
This is Everton — we need to be targeting players who have the ''potential'' to be top 6 or, dare I say it, top 4 players. Getting players with potential on the upward curve is the toughest thing to do in football recruitment, but it's the type of player who may that will come to us and be played; established top 4 players won't.
Stephen Davies
386
Posted 01/02/2019 at 07:28:53
Did he actually put a transfer request in?
Ralph Basnett
387
Posted 01/02/2019 at 08:23:53
Maybe Gana had been told to "keep quiet, you will get your move in the summer".
Beni, get to Wigan, toughen up and show me your ready for it next season!!
Ray Roche
388
Posted 01/02/2019 at 08:40:07
Jamie @376
A topless Mbappe?
You need help.
Andy Riley
389
Posted 01/02/2019 at 09:04:40
I'm glad we turned down PSG. It sends a message that the days of us being mugged are over. Bearing in mind the prices paid for the likes of Keita then Gueye is worth £40 million minimum.
If Gueye wanted to go, then it's his agent's job to get the buying club to pay the going rate; so, if he's upset at anyone, it should be his agent.
Eddie Dunn
390
Posted 01/02/2019 at 09:09:59
Tony #385, I disagree about Austin. I think he would have helped our attack, giving us an aerial threat and a target for our wingers, who have been wasted.
As for mediocre, well that's fine just look at Laurente at Spurs. A second string average striker who is now linking play up, scoring goals and getting assists.
He is a similar case to Austin. They know their trade and can play. Remember when Andy Gray arrived after many injuries and more clubs than Gary Player. Loads of people questioned why we went in for a guy past his best. Paul Power was another ordinary player who came in and did a splendid job... good pros that can do a job.
John Hammond
391
Posted 01/02/2019 at 09:20:09
I haven't watched a deadline day in many a year but saw a bit last night and boy it was it horrendous.
Good to see we kept Gueye in the end. He seems like the kind of player that wouldn't cause disruption in the dressing room for not getting his way.
I'm one of those that doesn't think Batshuayi is a load of rubbish but the wage numbers being thrown around were ridiculous. On reflection, it was probably the right choice not to go for him. Having said that, I think he'll do well at Palace.
John Hammond
392
Posted 01/02/2019 at 09:36:53
Eddie #390: Not sure getting in second string average strikers is going to solve any of our problems.
Brian Harrison
393
Posted 01/02/2019 at 09:37:31
Well, isn't it refreshing to see clubs getting back in control. Arnautovic being denied a move to China and now Everton refusing to see Gueye to PSG. Maybe this will encourage clubs to stand firm against agent and player power.
For me, the balance since the Bosman ruling has swung way to much into the players' favour. They want the security of 3- or 4-year contracts but want to tear up the contract if a better offer comes along. There are very few jobs were people get 3- or 4-year contracts and irrespective to what happens to that company, I bet many people would like that security.
I always remember an interview with Brian Clough a couple of years before he died and he was asked how he would handle a player who had still 2 years on his contract asking for an increase. He replied:
"I would get him and his agent into my office I would then produce the contract they had both signed. I would then ask them to confirm it was their signatures on the contract, then I would tell them to fuck off and not waste my time."
Pity more clubs and managers don't adapt like that today. I know the world has changed since Clough's days... but sadly, in football, not for the better.
Alan J Thompson
394
Posted 01/02/2019 at 09:41:47
Derek (#375): So we want to lower the wage bill but can't work out that a wage subsidy goes someway to that end. As for Allardyce putting all players into their respective basket or two, that is as much as can be expected from somebody who says he'll only play those who are 27-28 years old without any reference to their ability.
As for only being able to sell only to those willing to meet the asking price, that's a sure way of going out of business. You don't keep stuff you can't sell or won't use or will lose anyway in the fullness of time, aka an employment contract. If it means selling at a loss to cut your overheads, then that is what you do; it is pointless holding on to a drain on your resources rather than lowering your own costs by helping the buyer with theirs.
Ray Roche
395
Posted 01/02/2019 at 09:48:22
Brian@393
Brian, I agree with your sentiments but I think that the Chinese club removed the Arnautavic offer from the table, meaning he had to go back to West Ham with his tail between his legs. Won't be long before he's badge-kissing again.
Jon Withey
396
Posted 01/02/2019 at 09:53:12
Not a thrilling transfer window – but the PSG stance was interesting... I still expect he'll be gone in the summer – but why weaken the team without a replacement?
Whether he could now be bothered to play will be interesting.
Sam Hoare
397
Posted 01/02/2019 at 09:59:24
For once, I'm realtively happy with bringing in no players. It seems abundantly clear to me that our squad is horribly bloated and, much as fans hate to admit it, Everton is a business.
My only regret was that we were not able to see any permanent outgoings. It would have been nice if a juicy bid had come in for the likes of Sandro, Mirallas, Bolasie, Schneiderlin or Niasse. As it is, Brands will have to work hard to shelve that deadwood in the summer.
I expect Gueye to leave this summer. Hopefully he has a good end to the season and if so then he will probably be allowed to leave this summer for £25M+. I expect Brands to target younger players and I think central midfield and up front will be the main areas of focus. Possibly a right-back as well depending on the form of Kenny and Coleman over next months.
Drew O'Neall
398
Posted 01/02/2019 at 10:13:36
Nice to see Everton's stance changed from reluctantly allowing players to leave to digging in for their valuation, and a mark of our financial stability.
I hope the 'drains' aren't up in the boardroom with Brands having to defend his decision not to cash in the context of another mid-table finish looming.
Brian Williams
399
Posted 01/02/2019 at 10:22:09
Rather annoyingly on TalkShite this morning Jim White trying to make things exciting by stating "and Idrissa Gueye's move to PSG falling through."
What a tosser that man is. For a transfer to fall through an agreement has to be reached and an agreement was never reached between the clubs.
If it didn't cost I'd join the phone in but fuck lining their pockets!
For those still angry at Gueye not being sold, and there were some late on (no doubt after a few swallies) it was a simple matter of Everton placing a value on the player and no club offering that amount.
I'm convinced there actually ARE some on here who wanted him, and were sure, he'd be sold so they could tear into the club and when it didn't happen they've done a complete 360 and are tearing into the club for NOT selling him.
Gareth Leek
400
Posted 01/02/2019 at 10:25:04
Prices are massively over-inflated in January, if you're trying to avoid relegation or consolidate a European position then purchases are probably valid. We need to keep our powder dry until the summer.
Iain Johnston
401
Posted 01/02/2019 at 10:25:39
Brian #382. I agree Leighton isn't deadwood in the sense others are but age catches up with every player; at 34 it's time to put Baines out to grass now he's out of contract in the summer.
Have you considered that the player might want to walk away? It's time to give him a decent send-off, thank the guy for his contribution, wish him all the best and promote Matty Foulds to No 2 to prove his worth.
Personally I'd rather do that rather than cling to the memory of a player who will just become a shadow of his former self and end up being abused when a 20-something no-name winger goes passed him like he's not there.
The same goes for Jagielka – please not another £70k a week extension. Let's promote Morgan Feeney and give him the opportunity to show what he's got.
If we don't utilise and promote from within, what's the point of having the Academy?
Jimmy Hogan
402
Posted 01/02/2019 at 10:33:29
You can't blame Gueye for handing in a transfer request. Who wouldn't want to be eligible to play in the latter stages of the Champions League? However, I would be very surprised if he pulls a "Mahrez" on us and acts all depressed and hurt.
Silva and Brands have been true to their word, They both indicated back in the summer that they are not fans of players coming in or going out in the January window.
Anthony Flack
403
Posted 01/02/2019 at 10:48:53
Very glad he stayed.
Funny how the club gets battered for keeping perhaps this season's strongest performer!
Ian Pilkington
404
Posted 01/02/2019 at 10:56:28
Excellent post by Tony @385.
Gana is a highly paid professional and will have to get over it. I am saddened that so many posters thought that collecting a derisory fee for our consistently best-performing player was good business. It was also important for Brands to demonstrate that we are no longer to be bullied by predators like PSG.
Summer is the time to attract quality players to improve the squad and the highest finish possible (7th) is essential. Why pay a hugely inflated fee for Batshuayi or sign a journeyman like Austin?
Loaning Baningme to Wigan will hopefully give the youngster the experience to step up next season and offloading Bolasie to Anderlecht was a bonus, so I believe we have had a very good January window.
Tony Abrahams
405
Posted 01/02/2019 at 11:01:48
Ian @401, one of my biggest worries about Silva is he had already put Baines, out to grass, IMO, when he should've definitely still been using Leighton from time to time.
Big teams, have big squads full of good players, whereas Everton have a squad of about 10 good players, and if that is the reason we have failed to rotate our team, then not playing Baines to give Digne a rest every so often ranks as very poor management to me?
I know, if I was Digne, I would have apologised to my team-mates last Saturday, then turned straight to the manager and questioned his tactics because our defence just don't play as a unit and get very little protection off the men in front of them.
Is this the tactics that Silva should keep working on?
James Marshall
406
Posted 01/02/2019 at 11:17:48
This obsession with Gana being 29 and therefore too old is fantasy. It's not the '70s anymore and players are quite capable of playing well into their 30s. If anything he's in his prime at 29 and could easily still be quality for another 5 years.
Manchester City's most consistent and arguably most important player is Fernandinho, who will be 34 in May. Matic at Man Utd is 30. Busquets is 30. Kroos is 29. Age doesn't mean anywhere near as much as it did 30 years ago.
Rob Halligan
407
Posted 01/02/2019 at 11:25:22
Question, if Gueye is too old at 29, then why did PSG want him?
And also, according to rumours, Arsenal and Man City?
Tony Everan
408
Posted 01/02/2019 at 11:37:08
Yes, Rob.
It's interesting that Man City wanted him.
I wonder if we can explore Fabian Delph coming to us as a regular starter and mainstay to our central midfield? He is a part-time player for Man City and the business would be good for us if Gana did want to move.
Delph is a player I like, and maybe a decent replacement.
Brian Harrison
409
Posted 01/02/2019 at 11:45:25
Tony,
I don't believe Silva has put Baines out to grass, and he always says how important it is to have Leighton and Jagielka around.
Leighton was in the team and I cant remember which team it was that Leighton made a mistake that lead to a goal so was quite rightly dropped. Then after a mistake by Digne last week Leighton was recalled against Huddersfield and was playing well only to pick up an injury which meant he had to be taken off.
I like the fact that Silva never uses excuses for a defeat or poor performance and, unlike a certain manager I doubt he would ever blame snow on a pitch for a poor performance. When he has criticised his team its always as a collective and not singled out a particular player, even though some of our losses were down to individual mistakes.
Rob Marsh
410
Posted 01/02/2019 at 12:34:24
I would say that every professional football club in our and every other league suddenly become very firm and top end in their value estimates for their players in the January window; why shouldn't we?
Gueye is a class act and would do well in any team, the £26M PSG offered for the time of year (window) was definitely low end, I feel reassured to see the club take a hard line like this. It also sends a message to the players, in the words of Mick Jagger: "You can't always get what you want!".
I'm not too sure about our youth being loaned out, we're safe and could have afforded the likes of Baningime and others playing time.
Bolasie, Niasse and Mirallas are dead losses – any way we can get them out the door, we should take.
Tom Bowers
411
Posted 01/02/2019 at 12:38:20
Sometimes the tactics used by Silva are okay providing you have the personnel who can make the best use of it. Everton don't!
Having forwards and wingbacks who have speed and tenacity at getting back quickly and tackling well are the key to being a successful team.
In the meantime, teams like Everton should be playing as a tight unit to at least give themselves a chance of sharing the spoils instead of going gung-ho for a win and getting caught out.
When they have some new, capable players, perhaps the Silva strategy will come good.
Denis Richardson
412
Posted 01/02/2019 at 12:48:48
Regardless of Ganas age (and him being 29 is not really relevant when Barry played for us up to 36!), I still think we should have taken the £26M on the table. Whilst a decent player for what he does, there are enough other defensive midfielders we could have looked to replace him with in the summer. Also not great having an unhappy player in the squad.
We mainly need to trim the squad so I'm not bothered we didn't sign anyone this window. Our season is completely over and we have zero chance of relegation. We may as well shift players when we can and focus on who we can sign in the summer.
Still loads of deadwood to chop down but at least, come June, Williams will be gone and I read Fiorentina are looking to sign Mirallas for €7m, so that's at least £100k/week off the wage bill.
Also, Rooney (remember him) will officially be off the books as his contract with us is over this summer. I believe the deal we have with DC United means we're still on the hook for some of his wages! That really was one of the worst transfer decisions made in recent times, never mind forcing him on a manager who didn't want him, it massively restricted our ability to replace Lukaku.
Fuck-all to look forward to over the next 3 months. Awesome being an Everton fan these days.
Sam Hoare
413
Posted 01/02/2019 at 13:20:27
Denis, that's interesting about Fiorentina making Mirallas's move permanent. I hadn't realised he was doing so well, instrumental in their recent hammering of Roma!
I'm excited to see what Brands can do this Summer with a load of tosh cleared off the wage bill. Losing the wages for Rooney, Williams, Mirallas, Martina is a good start. Hoping that Bolasie and Sandro have good loans if we could shift those two we'd really have some room to operate in.
Dunno why, there's not substantial evidence yet, but I really feel Brands is our best bet of bridging the gap. He will aim for young players and it will take time; there will be more 'transition' which will frustrate many on here but I do feel we are going the right way after the terrible damage done in the Walsh & Koeman era.
Stan Schofield
414
Posted 01/02/2019 at 13:36:57
What we've just done with Gana is good. We should have done the same with Lukaku, given that his contract didn't end until July of this year. Imagine how we'd be potentially with this current team and a striker like Lukaku, given the way we were playing up to and including the derby?
The £75M we would have lost in transfer fee could well have been at least offset by having him knock in 20 goals or more for another two years.
Let's hope the Gana situation signals a new way of handling players at Everton. Player power rules only if you let it rule.
Matthew Williams
415
Posted 01/02/2019 at 13:41:26
The good news... we didn't piss away more funds.
The bad news... we still have Gana Gueye.
Eddie Dunn
417
Posted 01/02/2019 at 14:03:08
Stan, Lukaku was promised to be allowed to go if he stayed for one more season. Having a want-away massive ego on the training ground is no good – especially when big money was on offer. I doubt he would fetch that much again.
Denis Richardson
418
Posted 01/02/2019 at 14:03:27
Sam 413, I agree with you re Brands. I certainly have a lot more faith in him than Silva and hope he can tell Silva (and future managers) to behave if they ask for ridiculous transfers. Hopefully he does well and is here for a while.
It's not easy, I know, but we should really be trying to sign young decent hungry players from the lower leagues rather than prem mercenaries or go for young players at top 6 clubs who've got no chance of getting into their first teams. If they don't work out then at least we (hopefully) didn't spend too much.
The transfers over the last 3-4 years have been nothing but diabolical. Even the 'good' players cost us far too much. We paid at least £15-20M too much for Richarlison (Fernandez at West Ham cost £35M and he's quality), before adding the £10M compensation for Silva. No wonder the taps's now run dry.
Brands will hopefully focus on getting permanently rid of at least 4-5 senior players between now and the summer, on top of the 3 whose contracts run out. It really is amazing how bad we've been in the transfer market recently. Literally wasted about £250M!
Stan Schofield
419
Posted 01/02/2019 at 14:14:31
Eddie @417: The bottom line is he had a contract, and we could have kept him to it. I realise there are always risks either way you do something, but let's face it, letting him go has not exactly been good for our goal tally.
If we really intend being back at the top, and not just talking about it, we have to keep players like that, hold them to their contracts whether they like it or not.
If we accepted the argument you've put forward about ego, players with ego would always get their way, and player power would always rule. It would be like letting a spoilt child get their way when they throw a tantrum.
Sam Hoare
420
Posted 01/02/2019 at 14:17:02
Yes, Denis. Ludicrous waste. Premier League talents, even young ones seem to cost the world – look at the £19M Bournemouth paid for Solanke – but there are some good deals to be had and like you I think the lower leagues can be a good hunting place as the likes of Maddison and Brooks have shown this year.
Spurs have shown the way in recent years, not often overpaying on players or wages and picking up young talent with the time to blossom so even some of the flops (like Lamela and Janssen) can be sold without much loss.
Stan Schofield
421
Posted 01/02/2019 at 14:23:36
Mike @416: No surprises there. Cheating bastards, have been for a long time. Poor losers and graceless winners.
John Pierce
422
Posted 01/02/2019 at 14:44:41
Marco Silva on not selling Idrissa Gana Gueye:
"It's good for us as a club and for me as a manager. When a club like Paris Saint-Germain has a big interest, it means we're doing a good job. I know he is a good professional and a fantastic boy. He enjoys playing here."
Good one, Marco – 'Merthy chuckle that laa'
Rob Marsh
423
Posted 01/02/2019 at 14:49:33
Is it just me or do others (strangely) feel happier that we didn't buy anyone and especially at silly prices.
The team will not go down and now the players have to be what they're suppose to be – professionals and not a bunch of frightened pansies. The manager has also to show us what he can do, he's cornered!
I shouldn't feel excited about the rest of the season but strangely do?
Steve Brown
424
Posted 01/02/2019 at 14:53:16
First transfer window under Moshiri where we didn't squander money on average players. I read that the priority in the summer is a central midfielder, right-sided player and forward and Brands already knows who he wants. He is professionalising the recruitment side of this club.
He also needs to remove Mirallas, Martina, Sandro, Schneiderlin, Tosun, Jagielka, Williams, Vlasic, Browning, Galloway, Garbutt and Bolasie from the wage bill, plus decide whether a raft of loaned young players have a future. Lots to do!
John Boon
425
Posted 01/02/2019 at 15:08:12
I agree, Steve @424.
If Brands could REALLY use his magic, he could convince the RS to sign all the ones you named.
Jamie Crowley
426
Posted 01/02/2019 at 15:10:35
Is it just me or do others (strangely) feel happier that we didn't buy anyone and especially at silly prices.
It's not just you Rob. I'm pleased we didn't overreact and sign just for signing's sake.
Two bulls, Papa Bull and Son Bull, at the top of the hill. They're looking down in the valley, full of cows.
Son Bull says, "Oh! Dad! There's one! Let's run down and fuck that cow!"
Papa Bull replies, "No son. Let's WALK down and fuck them all."
Marcel Brands is Papa Bull.
Derek Knox
427
Posted 01/02/2019 at 15:15:50
Jamie C, at least they didn't have the hots for a topless Mbappe! :-)
Brent Stephens
428
Posted 01/02/2019 at 15:16:37
I agree, Rob and Jamie. Watch out now for a big signing (and a big bull fest) in the summer.
Ed Prytherch
429
Posted 01/02/2019 at 15:17:45
Nice one, Jamie.
Eddie Dunn
430
Posted 01/02/2019 at 15:41:00
Stan,
I wish the clubs had the power but they don't. The players and coaches are earning far too much and the TV money has created a weird business scenario. It really is a house of cards which could come tumbling down. All we need is a tech breakthrough, a war, or an economic problem. The top players want it all.
They want to live in a nice place, they want to play for a winning team and they want to be the biggest earners.
We only have to look at Hazard at Chelsea to see he doesn't give a fig for his bosses ideas, and he will be off in the summer. Pogba had a big problem with Mourinho but look which one of them left his job. Coutinho got his move, a year later than he wanted, Saurez got his. Lukaku was just the same.
If a top, top player downs tools, his value drops and the clubs panic, try to placate him with a promise of a move soon, or more money, or both.
The only reason we held on to Gana is that PSG didn't offer the proper rate. Simple as that. If the buggers had offered £35M, he would have gone.
Sam Hoare
431
Posted 01/02/2019 at 15:42:46
Steve@424,
I'd go with most of that list but Tosun will get a few more chances now to show that he could contribute. I'm unconvinced but he was better vs Hudddersfield.
Also I'd try to hold onto Vlasic, he's not on huge wages and I think is a player on the up. He's been the best player in Russia this year ahead of Paredes who PSG just bought for £40m so, unless we get an offer in that region, I'd keep him a little longer.
Tony Everan
432
Posted 01/02/2019 at 15:59:47
Rob #423
The reason we may be 'strangely happy' about signing no-one is because when we do sign someone it is more often than not an expensive mistake .
Buying in January for big money is panic buying and is even more risky . With some of the signings we have made over the last few years we don't need any more risk factors added on top !
Simon Smith
433
Posted 01/02/2019 at 16:16:10
The biggest disappointment for me in this window is the lack of outgoings.
Players like Sandro and Schniederlin take £100k+ out of the club without putting anything in, other players like Jagielka and McCarthy (done a good job in the past but paid handsomely for it) needed shifting too.
Niasse on a permanent rather than loan would have been more useful, and a few of the younger lads who haven't made the grade (Browning, Pennington and Garbutt to name a few) would have been worthwhile moving to free up wagers.
Hopefully Bolasie and Martina changing clubs is beneficial in the summer, where they move on permanent deals, but even Besic, who is loaned out, could have done with becoming a permanent deal.
All-in-all, we're still left with a lot of deadwood, we were right not to spend with all the above taking money out of the club, and I'm far from surprised that Moshiri didn't want to throw more money away.
All of the above moved on in the summer along with Williams, Tarashaj, maybe Baines and Tosun too would free up a lot of the wage bill.
We have a lot of talent out on loan in my opinion too, Vlasic and Onyekuru can easily be first team players next season, while Antonee Robinson, Baningime, Connoly and Dowell should be ready to strengthen the squad.
Brands has a huge job of changing around this squad, we have far too many idiots taking money out of the club so much so that huge losses will be made on players but it's inevitable and a must to get the decks clear for the new blood.
For me, the season is pretty much over, we now need to concentrate on players like Calvert-Lewin, Davies, Kenny and Lookman so they are ready for a big push next season.
Brian Wilkinson
434
Posted 01/02/2019 at 16:17:56
John @425, knowing our luck, they would turn out to be world beaters after signing, the luck they have.
Michael Kenrick
435
Posted 01/02/2019 at 16:35:16
I'm glad about retaining Gana and rebuffing PSG for the reasons cited. I understand and support the reluctance to go for Batshuayi — way over-priced and over-paid, so lessons painfully learnt there.
What I'm less pleased about is nailed by Alan (#394) in his second paragraph: "You don't keep stuff you can't sell or won't use or will lose anyway in the fullness of time" — that covers a host of fringe players, Simon (#433) also says, who will likely not be used, plus a good proportion of our TWENTY loaned-out players.
Brands, for all his glowing reputation, was completely unable to offload a single one of them to any other club by way of permanent transfer. Not even for reduced (or no) valuation in terms of fee. We couldn't even give them away!!!
That's assuming he tried... And I may be wrong here in that there is some fiscal reason (related to player amortization?) whereby it makes more sense for us to keep them on the books this season (at least until 31 May – the end of our current financial year) rather than sell off in January at a loss.
Paul the Esk... help?
Tony Abrahams
436
Posted 01/02/2019 at 16:36:42
Brian@409, fair enough, but if Baines was motm, in his last appearance against Lincoln, then why wasn't he used against Millwall, in the next round, especially considering they were also another lower league club?
If you don't think that the manager could have rotated these two players in a more professional manner, that's your opinion, but Baines wasn't even used over the Christmas period, which tells me, how much he's been in Silva's plans.
Anthony A Hughes
437
Posted 01/02/2019 at 16:52:20
Maybe we didn't bring anyone in because there's a possibility that Silva could be gone in the summer and we weren't about to bring players in that a new manager may not want?
Kieran Kinsella
438
Posted 01/02/2019 at 16:57:12
Michael Kenrick @435,
It may be that Brands skill is in identifying talent rather than being a salesperson which is a different skill. The one and only thing I will give Kenwright credit for is his sales skills. He always managed to talk up our players so we received inflated transfer fees for the likes of Rodwell, Fellaini, Lescott, Jeffers.
In contrast, the regimes in recent years have shot themselves in the foot. Case in point, Koeman very publicly dismissing Niasse. Hardly a way to attract buyers.
Similarly, Bolasie is back from an okay-ish spell at Villa but, when club sources say "Everton were unhappy that he ended his loan early" and that "he does not feature in the first team plans", the message is that the people who know him best think he is shite. Tough to pass his £75k a week wages onto someone else with that kind of a sales pitch.
Ditto remarks from Unsworth on the likes of Browning, Galloway and Garbutt. Yeah okay, we aren't going to fool Real Madrid into buying them, but when we publicly talk about NEEDING to offload them, and HELPING them find a team. It smacks of desperation and doesn't invite interest.
It is kind of like saying "Hey I have got this older Mercedes... but it is an absolute piece of crap... I am trying to dump it off on some mug... do you want to buy it?"
Michael Kenrick
439
Posted 01/02/2019 at 17:10:24
Great points, Kieran. Buyer beware!!!
Frank Crewe
440
Posted 01/02/2019 at 17:21:54
Out of the cups. Out of the running in the league. Probably out of the running for a European place. Destined for a mid table finish. No point in buying anyone really. Best wait until the summer so we can get more deadwood off the wage bill and then see where we stand.
Rob Marsh
441
Posted 01/02/2019 at 17:28:13
Jamie Crowley #426
I'm beginning to get that feeling about Brands, someone at last has their hands on the stearing wheel and feet on the pedals.
Pappa bull is doing a good job of guiding his young bull at the moment.
Simon Smith
442
Posted 01/02/2019 at 17:36:28
Although Brands seems to know what he's doing, let's not forget most of us (me included) actually thought soft arse Steve Walsh knew what he was doing!
Rob Marsh
443
Posted 01/02/2019 at 17:36:41
Tony #432
I think there's only two types of business to be done in the January window. The first, you're in the relegation quick sand and are absolutely desperate to survive; the other, you're selling at outrageous prices to the desperado mentioned above!
Chris Corn
444
Posted 01/02/2019 at 17:44:11
I think if Brands can shift Sandro on during the tenure of his contract he will earn his money. £120k a week and he's scored once in two separate loan spells in Spain, hasn't he? Who's going to take him on even for nothing?
John Pierce
445
Posted 01/02/2019 at 17:56:39
I think it's possible that some of the fringe players taking a wedge may well be bought out/cancelled to mutal agreement.
Whilst the club may have to take the hit, perhaps a player or two might feel disposed to agreeing to a cancellation to pick up what remains of their career.
Most, rightly, for them will not be interested one iota in this idea but Everton must explore all avenues to allow us space in the wage bill to get fresh blood in.
Mistakes have been made, time to own them and find creative ways to manage players out.
Derek Taylor
446
Posted 01/02/2019 at 18:03:41
Rob Marsh, I bet 'your' Tony don't share your view that this is success.
Brands has signed as many bummers as his predecessor!
Mike Gaynes
447
Posted 01/02/2019 at 18:12:25
Jamie C, whatever you had for breakfast (or sprinkled on top of it!) is really good stuff.
David Midgley
449
Posted 01/02/2019 at 18:15:08
Moo !! Not Mooy.
Pat Kelly
450
Posted 01/02/2019 at 18:24:21
Everton have thrown money around like confetti in recent years and will be picking up the pieces for years to come. Tens of millions going down the drain every year until the useless players that were signed are off the books. This will hold back progress into the top six. It had to stop.
Rob Marsh
451
Posted 01/02/2019 at 18:28:05
Derek #446,
Have a look at the records of any DoF in any club they're all buying duds as well as the good ones.
The wealthier clubs tend not to be noticed so much for it because of their wealth-driven success.
It's his performance over the long-term I'm watching; for the present, though, he hasn't done too much wrong.
Derek Taylor
452
Posted 01/02/2019 at 18:34:15
You are kidding, of course, Rob ?
Jamie Crowley
453
Posted 01/02/2019 at 18:37:17
I'm not sure Brands has done a single thing wrong to date to be honest.
And insofar as offloading all the loan players, the excellent rhetorical question from Michael Kenrick regarding amoritization aside, I don't think Jesus could move on some of our players!
I had a weird dream last night. Mbappe was standing in front of me, shirtless, and said, "Hello big fella. My name is Natalie Sawyer."
Thankfully I woke up immediately. Quite disturbed I might add.
Mike Gaynes, I sprinkled that shit over my dinner last night. I wonder if there's any connection with the dream?
Rob Marsh
454
Posted 01/02/2019 at 18:42:26
Michael Kenrick #435
"Brands, for all his glowing reputation, was completely unable to offload a single one of them "
If you were the DoF of another club would you be in a rush to buy either of Niasse or Bolasie after previous performances and at the prices EFC are asking?
Heaven knows what Bolasie's salary must be, he'll probably resist any move with a dip in salary. Niasse just hasn't got what it takes. It's the Koeman era that really did the damage.
Brands has something of a job on his hands, some of them may go on frees.
Darren Hind
455
Posted 01/02/2019 at 18:42:58
Lyndon / Michael,
Enough already. Let's have a Wolves thread!
Rob Marsh
456
Posted 01/02/2019 at 18:44:38
Derek Taylor #452
No Kidding.
All clubs/DoFs make mistakes.
Jamie Crowley
457
Posted 01/02/2019 at 18:47:07
Darren's patience is gone.
I agree - Wolves thread please! :0)
Eddie Dunn
458
Posted 01/02/2019 at 18:52:29
Finally, it's amazing what we all found to talk about considering not much happened. Mmmm.... Wolves!
Derek Taylor
459
Posted 01/02/2019 at 19:01:04
Rob, that's because it's a 'none job' a sinecure for failed managers and tired scouts. In Everton's case, a kicking horse for Moshiri's ignorance of all things football.
If Silva isn't inadequate as manager, most of the players he has to work with are. And surely that's down to him as he signed them!
Being mealy-mouthed because you hope things are going to suddenly come right is purely a delusion.
Jay Harris
460
Posted 01/02/2019 at 19:08:08
I think TW has broken the record for one topic totally dominating the site for 3 days running. Out of interest Michael/Lyndon what is the record number of posts on one topic?
Jimmy Hogan
461
Posted 01/02/2019 at 19:13:03
Can I just say how relieved I was to see Martina go out on loan to Feyenoord. You know, left-back problem and all that. I was getting seriously worried.
Derek Taylor
462
Posted 01/02/2019 at 19:16:19
Much ado about nothing, eh Jay?
Darren Hind
463
Posted 01/02/2019 at 19:17:20
Wolves were some force back in the day. Used to stop of at Penkridge, few pints and over the border into the Black Country. What a ground Molineux was back then. Their fans made Millwall look complete fannies, screaming aggressive "what-yow-fookin-lookin-at?" And It was always fucking dark – even at 3 o'clock..
Derek Dougan would fight anybody, any time. His partner John Richards was hard as nails too, but fuck me, did he know where the net was. If you wanted a bevy this was the place, great fun... and if you were stupid enough to go looking for a fight, there would be plenty to accommodate you.
They'll be bevying all over County Road tomorrow. It'll be good to see them back.

Eddie Dunn
464
Posted 01/02/2019 at 19:29:41
Yam-Yams.
Derek Taylor
465
Posted 01/02/2019 at 19:42:31
'Yom a good'un, Darren'. Wolves have always held a special place in my football memory. The year Everton got back into the First Division, my Christmas present was a visit to Molyneux on Christmas Day and to Goodison Park two days later for the return game.
Wolves were top of the League at the time and us in midtable but we did the double over them thanks to goals in both games from my hero, Dave Hickson!
I know Wally Fielding got one and maybe Eddie Wainwright and there was, I'm sure, another Blues scorer but the games have merged into one for me although I'm sure someone can provide scores and scorers. I seem to remember that the oddly named Jessie Pye got one for them!
Ever since, and although they've plumbed the depths, there has always seemed something magical about the Gold and Blacks. Roll on tomorrow!
Mike Gaynes
466
Posted 01/02/2019 at 19:59:54
Jamie #453, no doubt. And that is some durable shit.
Send me a package. I'll trade you some local Oregon pot.
Dave Abrahams
467
Posted 01/02/2019 at 20:17:23
Derek (465), I got locked out of that return game at Goodison, Dave Hickson scored two in that game which we won 3-2.
Billy Wright, the England and Wolves captain, marked Davie that day, he never finished the game, carried off and taken to Walton hospital with concussion, I think he spent the night there.
There was over 75,000 at that game, I was in Stanley Park hanging on a tree trying to see glimpses of the game.
Rob Marsh
468
Posted 01/02/2019 at 20:38:49
Derek Taylor #459,
If I had my way we would go back to the old system, the manager has total control over the entire system (this is providing you have a good manager); if it goes wrong we then know who to sack.
The world has changed; Moshiri type owners are more and more common, turning up with bundles of money and not a clue how to run a football club. Managers tend to want to be successful at any cost, whereas owners don't like the 'any cost' part of it and employ a DoF to insulate themselves against cost.
Failed managers and tired scouts, generally speaking no arguments there, though an exception would be Zidane at Real. We are, were we are though and every club now seems to have one and we have to work with them.
I will reserve judgement on Silva; he's now backed into a corner and we're about to find out how much ability, fight and motivational skills he possesses.
If I've come across as mealy-mouthed that wasn't intentional, I made a concise statement that I believe is true. Mistakes are made by clubs and DoFs often, we can both probably research this one and come with the right answers as we see them, it won't solve anything.
Yes, I hope things will come right with Silva and also hope for the next manager as you and I will do if Silva is sacked. His back is to the wall now and it will either break him or make him, if it makes him we might have a decent season next time.
There was calls for both Kendall and Ferguson to be sacked before glory came, I was one of those calling for Kendall. I don't believe my view of this is delusional, it's realistic if anything. I'll give him to the end of the season.
Matt Woods
469
Posted 01/02/2019 at 20:42:33
For me this window has been one where we haven't been behaving like mugs Good to see we are not having the piss taken out of us for a change.
This I assume is down to Brands being a serious operator. No panicking, just sticking to our guns and not getting shafted. PSG deliberately came in low and wouldn't meet the asking price. Fuck them.
Gana seems a good lad, is a multi-millionaire and will get over this. We put him were he is now. Punted on him when he was relegated. Don't cry for him, he has already won the lottery of life. He also knows football is a business and how it works.
Now pull on that Royal Blue Jersey and continue to play your heart out for us.
Andy Crooks
471
Posted 01/02/2019 at 20:42:42
Darren, the Doug was a mad and amazing man. If it is not out of print, check out his book, "The Sash I Never Wore". His thinking was way ahead of his time.
One of the most remarkable, single-minded and free-thinking men ever to play football. He was, in many ways, as mad as a fucking snake.
Derek Taylor
472
Posted 01/02/2019 at 20:56:10
I get your drift, Rod, and hope, as you do, that this time Moshiri might get something right. The trouble is, I've been following the game too long not to see through the bullshit and bullshiters who control clubs these days. Veritable armies of advisers, support staff and charlatans who milk the cash cow that the Premier League has become.
The players are no better, of course – the Labbies and Westiies of another lifetime – and all that's left for me is the cynicism that comes with old age and broken dreams!

Rob Marsh
473
Posted 01/02/2019 at 21:06:43
Derek #472,
At the end of all this it will come down to the fact that we either have a good coach/manager or we don't, the good ones will get any team playing to their abilities.
Silva is more important than Brands or the PR machine that spouts crap.
We're all bit tired of this year-on-year failure, but something catches my interest about Silva cornered and having to prove himself.
Laurie Hartley
474
Posted 01/02/2019 at 21:27:34
Derek #472,
Everton over the last 3 seasons has nearly knocked the dream out of me; in fact, after Millwall, I came very close to crumbling.
But the dream won't go away. We will be great again.
Bobby Mallon
475
Posted 01/02/2019 at 21:49:48
Look, we keep moaning about all the fringe players and players out on loan... well, I have a novel idea.
Maybe we should never have bought anyone in the summer and Silva should have used his managerial skills to get a tune out of the likes of Vlasic and Co.
Don Alexander
476
Posted 01/02/2019 at 21:52:34
Andy Crooks and Darren touch on Derek Dougan. At his last match for Wolves he said to the crowd, with mic in hand, "I can't tell you how much I love you. I love you so much I want to come amongst you!" Classic Degsy!!
Tony Hill
477
Posted 01/02/2019 at 21:54:28
Matt @469 and Rob @473 have it right. Millwall was a nadir but I sense a long overdue hardening of the Everton mind, and I now share the instinct (bereft of any serious evidence) that this manager will do it for us. Far from being a tedious finale to the season, I think the next few months might be fascinating.
I echo the views about Wolves. A great club with serious supporters and I'm really looking forward to tomorrow.
Steve Ferns
478
Posted 01/02/2019 at 22:22:28
Rob, you're dead right about the world having changed. The days of the old fashioned manager are over, never to return. Everton is a Premier League club. We have 23 first team players. We have 20 players out on loan. We have 28 U23 players (as listed on ToffeeWeb). There must be another 20 or so that are U18s only. Forgetting the U18s for now, we have 71 professionals. 71. Let that number sink in.
On top of that, there is 21 members of staff employed to handle the first team. There is 5 staff for the U23s. There are four different guys for the U18s. According to LinkedIn there are 55 scouts employed by Everton.
The club, like every other Premier League club, is massive. They keep getting bigger. The manager cannot do what they used to do. There's too many people and not enough time. The job had to be split into two. One guy to train, coach and pick the side, the other to handle the transfers, the contracts, and all the off-the-field stuff.
Alex Ferguson was the last proper manager, or maybe Arsene Wenger. Alex Ferguson did change his job significantly at the end. He stopped coaching the side years before. Like Koeman, he used to stand and watch whilst others did it.
Then in the last few years, he didn't even bother watching the coaching. The stories were he watched out of a window from an office inside Carrington. He became a supervisor. He was essentially a Director of Football, but one that took charge of the team on match day. He had great instincts and experience, and so it did not matter that he did not have the first-hand experience from coaching the players day in, day out.
This is not something that can be replicated. I'm not sure about Wenger, but I hear he also was not coaching the side in the latter years. He also had David Dein doing a lot of the Director of Football type tasks and did not take them on himself after Dein left, although he made sure everyone knew he had the final decision.
I hope everyone can understand that a Director of Football is not an option. It's a necessity. One man cannot do everything. Clubs are too big, too bloated, and they keep getting bigger. Marcel Brands says about his phone ringing non-stop all day with agents calling him. When would a manager take these calls? There's not enough time in the day.
Rob Marsh
479
Posted 01/02/2019 at 22:58:45
Steve Ferns #478
We look back to our last glory time under Howard Kendall. Back then he would ring up Cloughie, "I like that boy you have at Number 10, can we do a deal" Cloughie "Yes why not", the price would be agreed shake of hands, medical and all done.
These days, there's so many legal and financial requirements nationally and internationally to meet before a deal can be done and also terms and add-ons, it probably is well beyond any manager to do on his own. DoF is probably an administrative roll as it is a football one.
The sad thing is though, this DoF roll will take away some of the manager's authority, I'm sure them Man Utd players put that bit extra in knowing SAF was the one who upped their wages, would they have tried so hard if he no influence and a DoF carried all the clout?
I didn't know it took so many people to run the club.
Steve Ferns
480
Posted 01/02/2019 at 23:01:20
I suspect many don't Rob. Everton is a massive company these days and there's a lot on the payroll.
Bob Parrington
481
Posted 01/02/2019 at 00:16:44
Good information Steve. I didn't realise it was quite so bloated.
I started supporting Everton in the mid-1950s. Everton is a big business and, after decades of running even our family SME's I have to admit that nothing is a it used to be throughout even the 70s - 2010's. There are far more demands from every quarter. Therefore, I have no problem whatsoever with the need for a DoF role as well as Manager, Coach, goalkeeping coach etc.
I believe we have started to get some things right again in catch-up from our drop back from reality. Now we need continuing high performance from the first team in response and confidence that the investment in the new ground so that that it does truly happen.
Jamie Crowley
482
Posted 02/02/2019 at 00:26:19
Everton is a massive company these days and there's a lot on the payroll.
The thing with the size of Everton, and the Premier League in general, is so many talk about the TV money.
It's not going away. If one network said, "Nah! Too much to stump up." Another network would slide in and probably pay more for the rights.
Wait until Facebook or some other massive social media giant buys the internet and streaming rights in a few years. It will be an absolutely astronomical figure. Seriously off the charts.
And the beast that is the Premier League, and the individual teams within the Premier League, and the players salaries, will grow and grow to the point of absurdity.
And if you're thinking, "But Jamie, we're already certifiably at the absurd level!"
I think you're so, so wrong. We're just beginning to scratch the surface. Five years from now an average striker will set you back £100,000, and teams won't even blink at that number.
Could be wrong. World-wide recessions and depressions change things. But right now the way it's going, and with the internet giants starting to seriously take note and plan to bid for Premier League rights, I think it's going to get laughably absurd with the economics very soon.
Everton will be massive. Problem is, other clubs will be circus-massive.
Bill Gienapp
483
Posted 02/02/2019 at 00:44:07
Bobby (475) - I would love to have seen the comments on here if we'd announced that strategy last summer, LOL.
Ian Linn
484
Posted 02/02/2019 at 01:54:36
No issues in my mind from not signing anyone, we have decent players, we need the bloke in charge to get his act together.
I think January buys are often panic buys – remember how we dodged a bullet on Sissoko a couple of years back.
A win tomorrow please, Blues.
Bob Parrington
485
Posted 02/02/2019 at 02:48:11
Jamie #482. Yup Mate! How true! That's how crazy it is odds on to be. As if current crazy is not so bad already. The rich get richer and the poor get poorer and, somewhere in the middle, the rest manage okay.
Then there'll be the European Super League and what happens then??? How does your crystal ball advise on this?
Jamie Crowley
486
Posted 02/02/2019 at 06:22:42
Bob -
I break the crystal ball when looking into the future and the prospects of a Euro Super-League.
It would ruin football. Full stop, ruin it. I can't think about it because the prospect of such would kill the game I've grown to love.
Bob Parrington
487
Posted 02/02/2019 at 07:43:56
That's a me too! scenario Jamie. Maybe Brexit will get in the way but, personally speaking, I am no fan of Brexit. I think the polls need to listen to the younger people, not those of my age who don't have to bear the consequences.
Oops! sorry for getting somewhat political. ToffeeWeb shouldn't be a soapbox!
Alastair Kelly
488
Posted 02/02/2019 at 08:52:57
I've a funny feeling we'd have got Batshuyai in if PSG had come up with our £35m for Gueye. Coincidence we asked for what Chelsea were demanding?
Glad it didn't come off and hope Gueye stays committed. Not sure was good idea letting Baningime out as could be needed if day Gueye attitude not right and McCarthy too fragile.
Add Your Comments
In order to post a comment, you need to be logged in as a registered user of the site.
Or Sign up as a ToffeeWeb Member — it's free, takes just a few minutes and will allow you to post your comments on articles and Talking Points submissions across the site.