Silva: We gifted the game to Wolves
Saturday, 2 February, 2019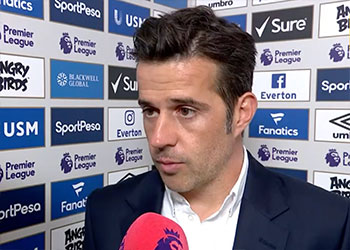 Marco Silva admitted that his players made it too easy for their opponents at Goodison Park today with sloppy ball possession and poor defending.
Everton went down to their third home Premier League defeat in four as Wolves came away with a comfortable 3-1 victory despite a brilliant first-half equaliser by André Gomes.
The Blues recovered from the concession of an early penalty when Leighton Baines clumsily fouled Matt Doherty in the box to level when Gomes started and finished a rare incisive move with an emphatic finish but then gave away the points with awful defending.
Michael Keane's needless foul set up a free-kick that almost inevitably ended up in the back of Jordan Pickford's net via an unchallenged Raul Jimenez header that made it 2-1.
Then, in the second half, Seamus Coleman's ill-advised pass to Ademola Lookman was easily intercepted, leading to Leander Dendoncker scoring after Kurt Zouma had blocked Diogo Jota's shot.
"Of course, we are not happy with the result or with some things we did on the pitch either," Silva said. "If you want to win a match at this level, you cannot give many things to your opponent like we did.
"When you analyse the match you can see that, yes, the opponents were organised, they created and congratulations to them but we conceded three goals that we gave to them.
"We reacted [well] to a difficult moment and scored a good goal but we gave a goal to them with that free kick, something we knew and something we worked on.
"We changed some things at half time but, again, with our ball possession, we gave away the ball and gave them the chance to score the third goal. We made it so easy for our opponents."
Silva was asked if his team's susceptibility to conceding from set-pieces was becoming a psychological problem for his players and the Portuguese agreed while insisting that if they carried out his instructions, the systems employed can work.
"Of course, it could be but I am 100% sure that if you do the things that we plan and work on all the time as normal then things would be different.
"We worked on that, we analysed it but in that moment you have to be more aggressive.
"I understand why the [fans are disappointed]. Of course, they expect a good afternoon again after our last good win at Goodison, they expect to come here and we win again and achieve the position we want in the table.
"Of course, after that moment they are not happy and I am here to say that [openly] because I''m not happy and the players aren't either.
"But it is up to us to keep fighting and improve, as we must improve, and stop giving things away too easily to our opponents."
---
Reader Comments (91)
Note: the following content is not moderated or vetted by the site owners at the time of submission. Comments are the responsibility of the poster. Disclaimer
Jim Bennings
1
Posted 02/02/2019 at 20:54:41
Copy and paste after Millwall last Saturday and Southampton the Saturday before.
Peter Gorman
2
Posted 02/02/2019 at 21:01:33
"Silva was asked if his team's susceptibility to conceding from set-pieces was becoming a psychological problem for his players?"
One of many. Time for Marco to earn his wage or fuck off, to be quite blunt.
Jim Bennings
3
Posted 02/02/2019 at 21:07:30
I don't know what's going to happen with regards to conceding set-pieces. Do our defenders have enough aggression to actually attack the ball?
Are they just brainless? It's instinct to jump and attack the ball whether you are zonal or man marking surely to God?
Will coaching them make a difference or do they just genuinely not like defending as personalities?
It's hard to imagine leaders of men and granite bastards like Dave Watson, Kevin Ratcliffe, Alan Stubbs and Richard Gough relentlessly conceding these types of goals on set-pieces.
John Audsley
5
Posted 02/02/2019 at 21:27:22
You can't believe how badly we defend. Every team knows the weakness at the back and exploits it every time.
Silva changes nothing and is a busted flush.
I started this season full of hope and was happy to give him as long as he needed but he has lost it. He lost it last season after we showed interest in him at Watford. He has done the same since the derby this season.
It's fucking crazy how we play; the team is full of talent and they don't seem to know how to play together.
Brands really has to earn his money over the next few months, Silva is a waste to space and we deserve something much better.
The way we play is killing the fanbase.
Sort it out, Silva, or fuck off.
Benjamin Dyke
6
Posted 02/02/2019 at 21:28:35
We've become a Portuguese team playing English Premier League football...
Rob Marsh
7
Posted 02/02/2019 at 21:32:08
Jim Bennings #1,
He's not in the same league as Roberto Martinez when it comes to spinning and spouting though.
He just can't seem to find a rock big enough to hide under at the moment.
Joe McCormick
8
Posted 02/02/2019 at 21:34:53
Benjamin,
Wolves have a Portuguese manager and a number of Portuguese players. We just have a manager and coaching team that can't organise a team!! We haven't really had a defensive coach since Alan Stubbs left.
Scott Hall
9
Posted 02/02/2019 at 21:34:54
Why don't the players, knowing that zonal marking doesn't work, just fuck off the tactic and pick a fucking man each when defending set pieces? That way, we don't concede and Marco can hardly have a pop at them if we go in at half-time with a clean sheet.
If I was captain, that's what I'd be demanding on the pitch.
Roger Helm
10
Posted 02/02/2019 at 21:41:54
Yet again, we get beaten by a team who are fitter, stronger, faster and better organised and motivated. It has been like this for years, under several managers, ever since the Moyes years. Didn't we get rid of his American strength and conditioning coaches?
Something more fundamental is wrong with our club and I suspect Ferguson and his mate Kenwright are something to do with it.
Tony Everan
11
Posted 02/02/2019 at 21:44:39
''Of course, it could be but I am 100% sure that if you do the things that we plan and work on all the time as normal then things would be different.''
If the players can't execute the zonal marking plan and instructions week after week after week, something is busted .
The defensive plans and instructions are great in theory, but the opposition amazingly seem to know how to counter our strategy every single game.
We lose because of it. Confidence is drained because of it. Marco Silva may lose his job because of it –if he doesn't wise up.
The zonal marking and instructions to the defence are too confusing. Defenders are thinking more about the plans and instructions and the zones than the reality of the dynamic and changing situation unfolding in real time. Our defenders are carrying too much mental clutter and need to get back to the basics of defending.
Its got to the stage were every free-kick or corner seems like 50/50 that the opposition will score.
Marco! Change before it is too late!
Ross Edwards
12
Posted 02/02/2019 at 21:47:59
Every interview he does is the same rubbish but spouted differently. 'Difficult moment, we gave poor goals away, need to improve' only to make the same mistakes again the following week.
Daniel Bentley
13
Posted 02/02/2019 at 22:10:38
Someone from up stairs in the club needs to tell him: Sort the zonal marking out or get on your bike. End of. And it's that fucking simple.
Ian Riley
14
Posted 02/02/2019 at 22:31:43
Anyone surprised about that result? No! That's the problem. Who is the leader? Who is fighting to win the battle? Who cares? Until those questions are answered we will struggle? Next season will be the same or a relagation battle.
We are not boring but predictable. Who next in the hotseat?
Tony Twist
15
Posted 02/02/2019 at 22:50:12
Has he gone yet?! Silva and the majority of this team do not have the strength of character to be successful. The club is an embarrassment and we are slowly becoming insignificant. Where is the pride? Without that, we are nothing.
Andrew Keatley
16
Posted 02/02/2019 at 22:54:52
I had expectations of Silva being able to at least move us on from where Koeman and Allardyce had us. He hasn't managed it, despite bringing in a number of new faces – and four or five highly-rated individuals.
I see no green shoots of recovery. I see no style of play that gets me excited. I see poor organisation, a team of individuals who do not help one another out, and a persistence with zonal marking that shows Silva to be Quixotian.
Half a season is not enough time to turn things around completely (unless you are Ole Gunnar Solskjaer), but I thought we'd be moving forward at least. So, with a grimace, I say it's time to get rid. Silva's not the man to take us forward; in fact, I am starting to believe he's not the man to take anyone forward.
Andy Crooks
17
Posted 02/02/2019 at 22:58:33
Roberto is back. Inane ramblings from a man not fit to coach our club. It's over for him. The gamble failed. He is abject.
Phil Sammon
18
Posted 02/02/2019 at 23:01:35
One interesting aspect of this zonal marking is that Silva always mans up the opposition's best header of the ball. The thing is, he gets a fullback to do it. This week, it was Coleman. In the past it's been Kenny up against Maguire (Leicester) and Duffy (Brighton).
Put your smallest player on their biggest lump. What kind of a tactic is that? Talk about destined to fail.
Thank goodness we have such a frenetic, creative forward line to take our minds off the defensive deficiencies.
Brian Patrick
19
Posted 02/02/2019 at 23:05:09
But there's always Everton in the Community..,,
Andy Crooks
20
Posted 02/02/2019 at 23:07:56
Just switching off MotD now, because Silva we be on soon and I can't fucking face listening to him. He must be sacked. He is fucking clueless.
Dave Lynch
21
Posted 02/02/2019 at 23:08:12
It's a good job we have 30 odd points now because, the way we are playing, we would be relegation fodder with 5-10 less.
I don't know the answer and neither does anyone on here with all due respect. It has to be though, a number of things, poor management, poor attitude, a general malaise around the club a curse put on us by some shaman?
Whatever the factors are they need addressing, we need to be run as a professional outfit, ruthless and one-track minded. We are none of those.
It's churlish to blame Kenwright, he just turns up like the rest of us these days.
The visit of Man City may be his downfall, if they turn up properly then, oh my god, we are in for a night...
Frank Sheppard
22
Posted 02/02/2019 at 23:10:39
Newcastle beat Man City last week. If they can, we should be able to. Sounds simple on paper, but we don't play on paper... but, then again, we can't play on grass either.
Joey Crawley
23
Posted 02/02/2019 at 23:11:59
Ever since Marco took up the reins, our players don't seem to be able to head the ball, either in the goal or away from it.
As Duncan was the best header of the ball I've ever seen, I can only imagine that Silva has told the players to stand still, watch the ball and just hope it drops to them, whereas Duncan would make a little run, jump, head, job done.
I'm not seeing any one-twos, no balls through the middle to Gylfi where he should excel at turning and shooting, no through-balls for Richi to run on to, no nothing, just headless chicken football.
Marco's tactics suck; sack him – give Duncan and Unsy the job till the end of the season... it might just have the Ole Gunnar effect.
Sean Kelly
24
Posted 02/02/2019 at 23:17:14
Our zonal marking is crazy. I've seen more movement out of mannequins.
Andy Crooks
25
Posted 02/02/2019 at 23:18:02
Joey, I would like Marco to go but you actually think that the fraud that is Ferguson should not be fucked off with him?
Duncan may well have been a great header of a ball, when he could be arsed earning his money, but his best talent has been scrounging a living and he is a fucking superstar at that.
Jay Harris
26
Posted 02/02/2019 at 23:29:31
Dave Lynch, you are absolutely correct, none of us really have the answer.
There is some disease/curse running through the club but, as sure as hell, Denise Barrett-Baxendale, Kenwright remaining as chairman, and Marco Silva are not the solution.
We need a hard nut who relates to the players, wont take any shit from Kenwright or the board and runs the club just like Moyes used to.
At the moment, it seems like too many different factions are at work within the club and none of them helps teambuilding.
Jim Bennings
27
Posted 02/02/2019 at 23:35:06
Jenas on MotD put it really well.
"I don't quite know what Everton are anymore."
None of us do, Jermaine.
Jerome Shields
28
Posted 02/02/2019 at 23:44:52
The real problem is that I think sacking Silva will make little difference to the direction of Everton Football Club.
Jerome Shields
29
Posted 02/02/2019 at 23:49:13
Andy #25,
Duncan should be with his pigeons.
Stewart Lowe
30
Posted 03/02/2019 at 00:55:25
1: Silva = Martinez
2: Mourinho is available
3: 30-38% of goals scored against Hull, Watford & Everton were from set pieces.
4: No fight whatsoever
Shaun McGough
31
Posted 03/02/2019 at 01:14:51
How we used to laugh at Rafa and his zonal marking till he had the bottle to change it.
This system and personnel have been used now by Marco since August; it is now February... GO FIGURE, MARCO!!!
John Pierce
32
Posted 03/02/2019 at 01:28:02
How sad the argument for keeping him and sacking him is tragically the same. There's not much point to either, the club is in purgatory. Something seismic needs to happen for the scales to fall from the eyes of a club which falls all too readily on its past.
I dare say only the spectre of relegation, maybe even actual relegation or Moshiri pulling his investment, à la Lerner, would pull the club together.
A joyless experience, one many feel obligated to.
Arggh!
Lee Brownlie
33
Posted 03/02/2019 at 02:03:39
Silva has to accept that he isn't capable of giving the players, individually or as a team, the 'focus and aggression' he blamed our Millwall loss on!!!
Again, he clearly picks a team, a formation and sits back... (and it's just so glaringly obvious – and THE ONLY recurring theme for me – just now!!!)... to simply let the game play out like its fucking Football Manager or something!!!
Doesn't he, at least, get mad with the players that they're going to get him the sack, because he can't get them to apply his 'play ethic' with any 'work and fight ethic'???.. Or does he just know how impotent he is, and so his teams are, in this – absolutely fucking essential – department???
He's clearly just another one of these ten-a-bastard-penny merchants who come in to our league, flatter to deceive a short while, then when their team goes back to their shit ways (Yeah ours again!!!) – has NOT ONE idea of how to instill ANY battling qualities into their charges!!! I don't even think that he thinks its part of his job, or what's needed... like setting up what on paper is a half-decent team will – SOMEHOW – see it all magically come together!!!
Again, its what I now truly think of as the 'Armchair Football Manager Syndrome' and its driving me up the fucking wall!!!
So... absolutely, yes, he can fuck right off... and right now!!!
David Hamilton
34
Posted 03/02/2019 at 03:13:20
I find it hard to believe that we are defending as instructed. Even Wikipedia notes that most teams switch from zonal to man-marking when defending free-kicks and corners. If Marco is not giving that as an instruction, then he is the problem.
If the defenders aren't doing it are can't get their heads around it, then they are the problem. I don't know which it is. I just know that against Millwall there were 'zones' with no Everton players in them!
Alan J Thompson
35
Posted 03/02/2019 at 03:56:15
Not for the first time, this manager's excuse is that it is not his fault because the players won't do as he tells them. So why does he persist with them and Everton with him?
Charles McCann
36
Posted 03/02/2019 at 06:20:42
We need to act quickly if we are going to salvage something out of our season. Get Arteta in to get us back playing some decent football. I still believe we have enough quality in our squad but Silva can't even get the basics right like selecting a decent starting lineup.
Walcott playing today... What the fuck? He is so low in confidence and out of form yet two of our most creative players Lookman and Bernard are sitting on the bench. James McCarthy should have had some game time long before now but yet never is given a chance to get himself any match fitness. Even young hungry youngsters like Baningime and Dowell would be better options off the bench than say the likes of Sneiderlinn but unfortunately they are not even at our club at present.
I'm not against Zonal marking but the starting position of our defenders looks all wrong when defending set plays. Surely Silva has to take responsibility for this. It doesn't matter whether you are man-marking or using zonal, the players have to attack the ball but, if your starting position is too high leaving a big gap between the defence and goalie, then it's always going to be really difficult.
Jenas is right. Who are we now? From the kick off we just launch the ball aimlessly forward and in recent weeks Digne started firing long throws into the box more in hope than anything. Are we a team that likes to try and play football or have we decided to go against our principles and become like another shite long-ball team like Stoke or Burnley. It's a bit of both at the minute.
I'm very worried that Moshiri will panic and be badly advised by the likes of Kenwright and replace Silva with a dinosaur like Moyes or, as he did the last time, with Allardyce. I would have faith in Brands to get us a decent manager for next season but in the interim period give Arteta a go. It could be like a turning point like Ole at Man Utd.
Bobby Mallon
37
Posted 03/02/2019 at 08:01:55
Charles @ 36. Lets be honest here. Sam Allardyce got us into 8th with so called inferior players than what we have now. Would Silva have achieved what Sam did last season. I think he would have got us relegated. I know the football was not very good but was it any worse than what being served up now, no it was not and we would not have got beat by wolves so easily. I wanted to give Sam another season for stability. Will Silva get another season If he does not change his philosophy I doubt it.
Bobby Mallon
38
Posted 03/02/2019 at 08:16:15
What I'm saying is stop knocking Sam all the time. He did a job a good job, football was dire but what's changed there the only difference is we are getting beat even easier now. I remember people saying (me included) that I wouldn't mind getting beat so long as we played well. That's just nonsense I fucking hate getting beat especially by teams like wolves. Give me shitty 1.0 win every time
John Pickles
39
Posted 03/02/2019 at 08:22:39
Well the joke's on Wolves manager Nuno Espírito Santo. There's no way Wolves will be relegated now, so he has no chance of being considered for the Everton job.
Charles McCann
40
Posted 03/02/2019 at 08:37:46
Bobby I totally get what your saying and I agree that we're not doing much better under Silva but I don't accept that we should go in the direction of the types of manager who just grind out enough decent results to maintain mid table mediocrity with there crude ugly style of football.
We have to aim higher than this. Look at Wolves and how they're playing.They are not resorting to the outdated tactics of the likes of Allardyce to get some stability. They're building a team with skilful players and playing a nice brand of football. We actually have some real quality in our team with the likes of Gomes, Lookman, Bernard, Digne. Good footballers but the problem is that Silva seems to be unable to now get our team to play with any cohesion or confidence that is why he I believe he needs to go.
We've already shown earlier in the season that we can match the league leaders away from home whilst playing decent football. only for a poor goalkeeping error we should really have won that match. The talent is there but unfortunately their potential is not being fulfilled under Silva.
Frank Sheppard
41
Posted 03/02/2019 at 08:48:38
MOTD has a stat showing Silva teams (Hull, Watford, EFC) conceded more goals from set pieces than any other teams. So his approach/training on that simply does not work. On top of that, I can't remember when we were last so toothless and ineffective from our own attacking free kicks, and corners. Not a great combination.
Bobby Mallon
42
Posted 03/02/2019 at 08:56:16
So do we honestly give silva more time. I would love to say yes but I believe he is to stubborn to change tactics and zonal marking and unless we put in performances against city and the shite he will be gone. Then what.
Alastair Kelly
43
Posted 03/02/2019 at 09:17:42
The only reason our season improved with Allardyce was that he had players come back that were out injured for Unsworth. The guy is unprofessional and has no integrity(England job). Let's have standards please- no board should employ big Sam.
However, a manager that can organise the team and get us keeping clean sheets is no bad thing. We don't need to risk another foreign (for sake of it) or unproven manager. Keep it simple, let's not run before walking.
Moyes &Wagner would be good candidates.
Paul Mackay
44
Posted 03/02/2019 at 09:27:50
I'd even take Moyes back over this fella
Tony Abrahams
45
Posted 03/02/2019 at 09:40:41
Joe@8, Alan Stubbs, is doing nothing at present, and might just be a good appointment to make at this present time?
Silva has got to change, and bringing in someone to try and help sort out the defence, might not be the worst decision to make, the way things are panning out right now?
John Keating
46
Posted 03/02/2019 at 09:44:44
Tony good call on Stubbs as defensive coach, however, I think he's angling to go back to Hibs as interm manager until the end of the season.
Tony Abrahams
47
Posted 03/02/2019 at 10:03:14
I didn't know that John, he's also his own man, and probably still wants to make his own mark on the game, so that might be a good move for him, Just like leaving Hibbs to soon, was a very bad career move.
Paul Jeronovich
48
Posted 03/02/2019 at 10:10:37
You gifted them the game Marco with your inability to tactically change anything during a game. We could all see Jota was running us ragged so why not deploy the same tactic with Bernard being brought on in place of the quite frankly terrible Sigurdsson and trying to go through the middle. The one time we did it we scored so what happens next ?? We revert to passing slowly to our wingers again.
Paul Ellam
49
Posted 03/02/2019 at 10:17:11
All we need now is the usual "we know we must do better" and "we will work hard to put things right" guff from one of the senior players to complete the groundhog day feeling at Everton.
How about saying nothing but DOING lots to make sure the same mistakes don't keep occurring?
The zonal marking isn't working - why not try a different way?
Certain players don't have the stomach for a fight, replace them with motivated players who will have.
Change the formation if necessary.
We are repeating mistakes over and over and have become a soft touch for opponents who know how to play us and how to be more aggressive than us.
If Mr Silva aka Bobby Martinez 2.0 doesn't switch things up he will almost certainly lose his job - so why not approach it all a bit differently and prove what a good coach he is?
Adapt and be flexible - it's the modern way!
Mal van Schaick
50
Posted 03/02/2019 at 10:23:58
If Brands is the man to take this club forward, having been given his place on the board, he should end this painful saga. It's obvious that this set of players aren't gelling, either because of the managers tactics or a lack of collective responsibility, with no leadership on the pitch. We have to stop the slide in form.
Wolves were organised and disciplined. Everton weren't. Simple as.
If Everton persevere until the summer, then it's either sack Silva or have a player clear out or do both and start afresh for 2019/2020. That's if the Owners and fans ambitions are to be realised.
Paul Kennedy
51
Posted 03/02/2019 at 10:45:36
How much longer do we have to endure this clueless idiot going on TV and saying what is obvious to everyone? Yet he has not got the ability to change it.
I cannot believe we are going to go more games without any prospect of keeping a clean sheet and ultimately winning a game, our only salvation is that there are a couple, maybe four teams worse than us at present so we should avoid relegation.
On a plus note, I would like to thank the manager and team for helping me to embrace disappointment, ridicule, and crush any hope or expectation I had with Everton. I no longer allow it to ruin my weekend.
It is so long since I have been able to watch MotD – has Jimmy Hill done anything with his beard?! You have to laugh or you really would cry...
Paul Birmingham
53
Posted 03/02/2019 at 11:04:13
I was listening to my Talking Heads CD last night lamenting another shocking but not unexpected let down as transpired yesterday at Goodison Park.
Predictable and pathetic, the players are scared of their own shadows. They are scared of playing and don't believe in the Everton cause.
The song Blind, by Talking Heads, sums up the state of this club.
"No sense of harmony, no sense of time", that's this team and tactics. Every week the same after match review, it's so predictable like, the set-up of the team.
I don't see any sacking imminent unless there's some mega scoring defeats the next 2 games, but what ever they do at Finch Farm, must change.
The club is in dire straits, without doubt, but the manager must take stock and hold his hands up and stop playing in this "can't be bothered" manner.
It's killing the club and there's no joy, hasn't been any joy for donkeys years now, watching EFC.
Is it too much to have a rethink and admit it's not working, and start fresh before the team sinks further into the abyss?
Stewart Lowe
54
Posted 03/02/2019 at 11:16:21
There is no way we are going to beat Man City at home, Watford away, and a rejuvenated Cardiff who are playing out of their skins for Sala. Followed by Liverpool at home, and I just don't see us being able to raise our game from where we are now.
How do we sell this club to the new players we have brought in, when we can't even go for 7th now with 13 long hard games to go. This feeling is reminiscent of old Allardyce territory where we genuinely didn't know where the next point might come from, let alone 3 points.
Every team from in the country now knows to get crosses and free kicks into our box as often as possible because we can't deal with it. I did rally behind Silva in the end after not being happy at his appointment, but he has become so predictable, I can't any longer.
Can't we get a tried and tested manager next time that's won lots of trophies, rather than this long line of pretenders to the throne? Not some chancer who won Micky Mouse trophies in much weaker countries.
Stewart Lowe
55
Posted 03/02/2019 at 11:30:21
I can't describe how loathe I was at reading or listening to Martinez say the word, "phenomenal". Now. in the same way, Silva infuriates when he says the word "moment". It's grinding on me.
John Audsley
56
Posted 03/02/2019 at 12:04:49
Stewart
Exactly, how many times do we lose things in the "moment"?
Fucking idiot, I hate the way he sets up defensively. It's crazy and after so many goals conceded at set-pieces it's also unprofessional – unless he wants to get sacked and another pay-off??
Drew O'Neall
57
Posted 03/02/2019 at 12:12:24
The set-up for the set-piece was wrong. I expect this to be the responsibility of the keeper.
We were too close to our own goal line and made it easy for Neves to float a ball between our back line and the goal.
When the kick was taken we were flat-footed, which is inexcusable, but we should have been blocking the runs so the runners couldn't meet the ball.
The whole piece was naive from start to finish. I don't put this solely down to the manager, I put it down to inexperience on the part of the goalkeeper and a lack of winning mentality, concentration and leadership on the part of Seamus Coleman and others.
Bobby Mallon
58
Posted 03/02/2019 at 12:16:39
I say get Tim Cahill in as boss if he has his badges.
Stewart Lowe
60
Posted 03/02/2019 at 12:36:01
Sorry, Bobby #59, but whoever gets the job after Silva, which won't be too long surely, should not be appointed on sentiment.
A huge No to Ferguson, Cahill, Stubbs, Neville, Unsworth etc. Great if you want to set us back 5 years. No pretenders to the throne.
John Wilson
61
Posted 03/02/2019 at 12:39:23
It's psychological. Get a behavioural psychologist in. This conceding goals really is psychological. We have a defeatist mentality. It's not entirely Silva's fault.
These are millionaires with no confidence in their selves as Premier League football players. It doesn't take much to knock them off form, which is very concerning. No matter what manager we get in, it's still Everton and their own psyche.
John Wilson
62
Posted 03/02/2019 at 12:44:42
I think the problem is really about how they think as Silva alluded more than it would be for any previous or new managers such as Silva, his predecessors or successors.
The last several years with below-par performances and more derby losses or faux pas (Pickford etc) have created a type of long-term negative psychological profile.
Peter Gorman
63
Posted 03/02/2019 at 12:48:47
John Wilson, a psychologist may improve these clowns to a degree but they'll still be clowns. They just are weak-willed, almost convinced me for a short while that last season was a blip but the truth is out.
The long-term solution lies with better scouting. Hungry, young players from lower leagues always seem to have a point to prove regardless of their talent. What I wouldn't give for a Cahill.
Frank Sheppard
64
Posted 03/02/2019 at 13:42:12
Some posts are too anti on here and OTT. Surely it's the case we have some very talented players, this forum was full of such comments pre Anfield, but the squad is lacking confidence, not defending well, and playing like a mid-table inconsistent outfit.
I am not sure the players know what it is the manager wants, or if he is not getting it across, or they listen and don't buy into his methods.
Karl Meighan
65
Posted 03/02/2019 at 13:43:57
Same shite defending and we now have to score 4 times to win a game. It's a joke and Silva has had how long to drill his defenders and keeper? Even Allardyce had these mugs defending as a unit.
Silva has them picking up that top striker Space who bags shedfulls of goals; we should have signed him in the last transfer window.
Paul Hewitt
66
Posted 03/02/2019 at 13:47:16
I know this will get me slated, but I would give the job to Duncan till the end of the season. Even if we didn't win another game, 33 points will be enough to keep us up this season.
But I'm sure the players wouldn't take liberties with Big Dunc. We might even see some passion and fight in the team.
Jay Harris
67
Posted 03/02/2019 at 13:52:11
It's always easy to blame the players.
Players don't play bad on purpose and I'm sure many will agree we potentially have a better squad than Leicester, Watford, Bournemouth etc.
We have had 4 different management styles in the last few years, all of them polar opposites to what went before.
Koeman sorted out the defense after Martinez but then threw the towel in when they sold Lukaku from under him and didn't replace him.
Then we get anti-football from Sam and, all the while, the 12th man becomes more depressed to the point it can be genuinely called a library.
Then Silva comes along with his cavalier kamikaze philosophy which does have moments but they are more often than not in our penalty area.
I said a few weeks ago that the players and the crowd need some inspiration and motivation but I didn't think Silva was the right man to do it as he hardly inspires himself.
Good coaches make a world of difference; just look at Wolves and Man Utd.
Silva out.
Tony Abrahams
68
Posted 03/02/2019 at 13:58:54
Good shout, Paul, especially if we can finally get rid of him if he fails.
John Wilson
69
Posted 03/02/2019 at 14:09:40
Everton are a progressive team and want European, ie Spanish, Italian, Portuguese, fast-flowing, attractive football. The Premier League have evolved and Everton are trying to get in on that evolution of 'attractive football.' Hence they brought in Silva.
Allardyce's football, Moyes etc...is a relic in the adoption of modern European evolving football for the new Premier League. Man City and Liverpool have created the standard. It's now, accept and apply or fall behind.
It's therefore not about finding a replacement for Silva but finding a solution in Everton to match the modern football. It is psychology to an extent but it is also Everton's batch of Premier League players who have no fight; this is evident if you watch Championship games. I even watched Palma vs Juventus and the way the weaker team battled against the best team really does speak volumes.
European and South American football has largely changed the Premier League landscape. It requires the aggression of the Championship, but also the sophisticated, attractive fast-flowing football from said international countries.
Karl Meighan
70
Posted 03/02/2019 at 14:13:46
It's obvious this idiot isn't going to change anything, struggling to 1-0 wins against shite like Huddersfield as him believing his way of playing is the right way.
Just put the ball in the box and you will get your rewards, they are the simple basic tactics needed to have a chance against this Everton side.
Paul Brierley
71
Posted 03/02/2019 at 14:32:51
Desperate times.
I was in the "leave Marco, have the rest of the season" camp but my patience is wearing thin due in main to there being absolutely NO progression.
You can say we have been unlucky in games but look at the wins we've had post the derby and they, Burnley aside, have been lucky wins with fine margins. God only knows where we would be if we didn't sneak points in them.
I am concerned at 33 points particularly given our dire form and lack of correction. A rudderless ship can come to no good.
Tony Hill
72
Posted 03/02/2019 at 14:47:34
We all know that a high class striker will make an enormous difference, in fact we need two. I have every expectation that Brands will deliver.
That will change us dramatically because our good play will be rewarded, so we will avoid frustration and the sapping of confidence (which is what has happened recently), and we will win games we don't deserve to win because very good strikers do that for a team.
The other essential is, again as we all know, a true leader in midfield to set the tempo in games and to manage the shape of our play and our reaction to adversity. Again, Brands will find one.
I expect us to finish around 48 points. A big disappointment but it doesn't matter now. We have to draw together and not panic.
Joe Corgan
73
Posted 03/02/2019 at 15:12:20
Tony 72 - No disrespect intended but we don't know that a high class striker will make an enormous difference. A striker needs service and we're not even creating any real chances.
Until yesterday, even after the Millwall game, I was of the belief that Silva should get until the end of the season at least. After yesterday, and seeing absolutely nothing positive, I'm now of the belief we should cut our losses and get rid of the busted flush.
Matthew Williams
74
Posted 03/02/2019 at 15:13:49
Wonderful awareness, vision, poise and pace from our black cat... just a pity the rest of the team played like catshit.
I believe that, if we lose our next two games, then Silva will get the bullet, it looks like the timing of it would be ideal with a 2-week break looming, then a winnable game ahead at Cardiff followed by a derby win (maybe?) for our new gaffer could start to galvanize a poor side, ready to build again in the summer with real purpose this time.
Back to basics, methinks, but we ain't done yet, Blues!
Jay Harris
75
Posted 03/02/2019 at 15:22:07
We only have to look st Silva's history — as soon as the going gets tough, he quits.
It's no wonder the team look listless because that's what he portrays every time you see him.
And Tony, I would love to see how you've calculated we will get another 15 points this season.
Tony Hill
78
Posted 03/02/2019 at 15:31:48
Joe @73,
I recall off the top of my head a Coleman cross yesterday which was screaming out for someone to put it away from 6 yards. There was no-one to be seen.
Think back to the good performances against Man Utd, Chelsea, Arsenal and Liverpool. We created big chances, mate, but we were frightened to take them.
I agree that we're not creating much at the moment but that is because we've lost all confidence – precisely as a result of our good play not leading to results.
Get in finishers, real finishers, and watch us rise.
Anthony Murphy
79
Posted 03/02/2019 at 15:50:42
John #69,
Given what you have said, would you take Bielsa? A founding father of the high-intensity pressing style who has now tasted the English game and has got Leeds (a big club with expectations to match and years of underachieving frustration) on the brink of promotion.
He believes in youth players and Leeds, more often than not, play like their lives depended on it and never say die. Something we could do with. Dunno really, but he may be worth consideration?
Tony Hill
80
Posted 03/02/2019 at 16:07:18
Well we'll see Jay @75. I think we'll get points out of Watford, Cardiff, Newcastle, West Ham, Fulham, Burnley and I also think we'll beat at least one of the big boys at Goodison.
George Cumiskey
81
Posted 03/02/2019 at 16:24:50
Tony, that's either fantastic optimisim or blind faith, I know which I think it is.
John Keating
82
Posted 03/02/2019 at 16:35:14
Tony,
George thinks that's either fantastic optimism or blind faith. Sorry, mate, but I think it's just crazy!
Geoffrey Williams
83
Posted 03/02/2019 at 16:45:03
Martinez at least gave us one season of excitement and entertaining football whereas Silva has yet to give us a full 90 minutes of enjoyment.
Tony Hill
84
Posted 03/02/2019 at 17:04:04
We need craziness and blind faith, John @82. Anything to shake us out of our coma. I don't really care how many points we get but I do care that we don't all just give up and accept that we're doomed.
God knows I've been tempted many times to surrender with our team but I realised very recently that we as fans are a big part of the problem. Not just the fanatasists on here who think we're a fraction away from being the Everton of 1963 or 1970 or 1985 if we just get the tactics right, but also the miserable old sods like me who secretly relish a good moan.
It will turn for us and I'm determined to enjoy my remaining years as a Blue. Enough of the wailing and the gnashing of teeth. I'm sure you feel the same.
John Keating
85
Posted 03/02/2019 at 17:17:32
I wish I did Tony but apathy has hit me big time since Martinez arrived
When Bobby Collins left I thought we were lost. When my heroes Young and Vernon departed another end of days. But we always had people left who would get stuck in.
Since Martinez there's been zero passion, not a sign of it.
No, I would love to be as optimistic as you but unfortunately they've sucked me dry
Michael Mcloughlin
86
Posted 03/02/2019 at 17:36:26
Everton now hold the record this season for the most goals conceded from set plays. There are only two other occasions were that record was equalled or worse:
1 – Hull managed by Marco Silva;
2 – Watford managed by Marco Silva.
Paul Tran
87
Posted 03/02/2019 at 17:56:51
Stewart #55, the reason most foreign managers use words like 'moment' & 'phenomenal' is a linguistic trait called code sharing, where people speaking a foreign language use words similar to those of their own language. They do it more when they're under pressure. Brits abroad do it all the time.
I'd be more concerned with Silva's demeanour and mumbling, as well as his constant shuffling of the team (shades of Koeman) and picking a clearly unfit Baines.
Managers who can't get their message across to their players don't last. I suspect we've got another one.
George Cumiskey
88
Posted 03/02/2019 at 18:17:40
John @ 85, I remember all those times well, today's but today's losers would bring a tear to a glass eye.
Ashley Roberts
89
Posted 03/02/2019 at 18:23:04
Just watching Man City carve open Arsenal. It is going to be very painful in mid-week. I can see them scoring a hatful of goals against us, especially if Silva perseveres with his trusted 4-2-3-1 formation.
It has been too painful for me to watch both the Millwall game and Wolves yesterday. Having been a supporter for over 50 years, I cannot believe the lack of passion from the Manager and the team. Most of the players are journeymen who are just playing for a pay cheque; they have no affinity with the blue shirt.
Everybody defending Gana Gueye must realise he wanted to go and so he has no loyalty to the club. For those also saying we cannot get sucked in to the relegation battle — just look at the next fixtures and tell me where we are going to pick up any points???
Reading the views of all the pundits (Jenas, Nicholas and our own Andy Gray), they see us as a bloody joke. This cannot go on!! For me Sílva has to go now. He has shown absolutely nothing to show me he knows what he is doing or how to get us out of this mess.
At the moment, this is ten times worse than under Koeman. Both of them have the charisma of a muppet and both have no idea how to change tactics. I will not be watching again until Sílva is gone.
Jay Harris
90
Posted 03/02/2019 at 19:12:36
Tony,
I wish I could share your optimism mate and up until the last few weeks I was advocating giving Silva till the end of the season in the hope we would see some green shoots but since Millwall I have totally lost what little faith I had in the man and am slowly losing faith with the club I have supported for 60 years.
For Sir John Moores read Bill Kenwright, For Howard Kendall read Silva, for Colin Harvey read Duncan Ferguson. Is it any wonder we're being run like a championship side.
Phil Greenough
91
Posted 03/02/2019 at 20:58:30
Posters asking for "Big Dunc" to be interim manager until the end of the season, citing "He will sort them out", are living in the last century. Gone are the days of threatening players with violence. If Ferguson gets in the faces of these prima donnas, they would probably run to their agents, no sorry, get their personal assistants to contact their agents to get a move.
I don't know how you can motivate multi-millionaires to do anything they don't want to do. As for personal pride, what do they care? They've no affinity to our club, and they get paid regardless. If we bench them, it's money for doing nothing.
And the icing on the cake is, if we sell them there's always some other mug of a club who'll buy them. It's a fucked-up situation.
Neil Carter
92
Posted 03/02/2019 at 22:09:14
One word describes Everton Football Club's present owners to manager to players and that is soft.
Soft in the head when it comes to business- paying over the odds for average players and then not being able to sell them on – sure take him on loan we don't mind a ridiculous wage bill – won't hold us back much!!!
A soft manager who doesn't seem to be able to chastise his players for making the same mistakes every single game and being soft in the head for not trying to fix things.
And then the players- what I saw yesterday was the soft underbelly of the whole team-no leadership, no fight, no character, no idea and most infuriating the body language of half-arsed individuals happy to take big money for small performances.
Everton needs to man-up, grow up and start showing the fans they care. If they can't be arsed, why should we be?
This is not the Everton I grew up with and watched for the last 50 odd years – if you know your history – you know this lot, on the whole, not wanting to be proud and fit for the shirt, like most players in the past, aren't fit to wear it.
From the top to the pitch, let's see some tough action and changes now!!!
Simon Dalzell
93
Posted 04/02/2019 at 02:29:21
I wonder if Silva also trains the stewards. When the now famous feline came onto the pitch, they stood like statues for about 5 minutes, looking disinterested.
Matthew Williams
94
Posted 04/02/2019 at 14:16:59
The question should be... Who is Farhid Moshiri answerable to?
The Board?
The Shareholders?
The Chairman?
The Fans? ...
Or... no-one!
He wanted Silva right from the off... therein lies the real problem.
Niall McIlhone
95
Posted 04/02/2019 at 21:47:54
John Wilson@61. Good shout, however, we don't need behavioural psychologists, we actually need an exorcist.
Fr Merrin to the demon: " which of those within you lack good heart, spirit and commitment to your club?. "
Reply:
We are many Father, for we are Legion".
Kieran Kinsella
96
Posted 04/02/2019 at 21:55:56
Next 4 games are Silva's nightmare:
City (obviously need no introduction)
Watford (former employers grudge match)
Cardiff (Niasse to show him up)
Liverpool
Make or break time for his "motivational" skills
Add Your Comments
In order to post a comment, you need to be logged in as a registered user of the site.
Or Sign up as a ToffeeWeb Member — it's free, takes just a few minutes and will allow you to post your comments on articles and Talking Points submissions across the site.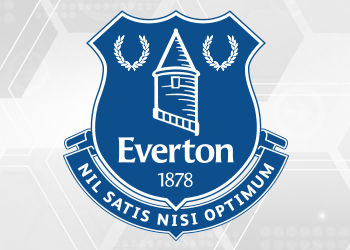 ---
Bet on Everton and get a deposit bonus with bet365 at TheFreeBetGuide.com
---