Gueye still targeting 'golden opportunity' with PSG
Sunday, 17 February, 2019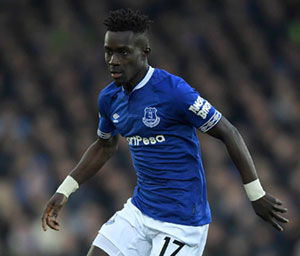 Idrissa Gueye has expressed his hopes that a "dream" move to Paris St Germain can be resurrected in the summer after Everton refused to sell him during the January transfer window.
The 29-year-old midfielder was the subject of two bids from the Ligue 1 giants, the second of which was submitted in the final hours before the deadline, and both of which fell below the Blues's valuation and were rejected.
In an interview with L'Equipe in France, Gueye reveals that, per reports last month, he did meet with the Everton hierarchy to request a move to PSG but that he was denied his "golden opportunity".
His sights are still on securing the move at the end of the season by which point Everton boss Marco Silva and Director of Football Marcel Brands might be more amenable to letting him go provided the price is right.
"It is a dream that sadly did not come true. Every player works to join the best teams, to play in matches in the Champions League," Gueye told L'Equipe.
"But I was honoured that PSG were interested in me. Now, I know that I am of interest to these types of clubs, I am ready to go to the final level to join a top European club.
"I am going to work even more so that they come back to me. Maybe it is not finished with PSG," continued the former Lille man who has been on top form for the Blues since returning from a minor groin problem.
"PSG asked my leaders to find out how I could leave but Everton put the brakes on right away. They did not want to sell me. I pushed.
"I saw the directors to tell them of my desire to go to Paris, it was a golden opportunity, a huge challenge not to miss at 29 years old."
---
Reader Comments (197)
Note: the following content is not moderated or vetted by the site owners at the time of submission. Comments are the responsibility of the poster. Disclaimer
Jamie Crowley
1
Posted 17/02/2019 at 06:07:47
I'd be stunned if he's not off in the summer. Stunned.
I wish him the best. He's always given his all while wearing the jersey.

Alex Kociuba
2
Posted 17/02/2019 at 06:12:11
Here's a challenge you can still attempt at 29 years of age, Gueye; keep your gob shut for 6 months.
Steve Solomon
3
Posted 17/02/2019 at 06:36:01
Huh, don't let the door hit you on the way out.
Alan J Thompson
4
Posted 17/02/2019 at 06:41:50
Do Everton sanction these interviews beforehand or is it just further pushing from the player or was the precedent set by Lukaku? He obviously rates us as better than Aston Villa but never one of those top clubs who will win things and qualify to play in the top European competitions, never your dream club. Then there's the question of the Left Bank or somewhere in the Cheshire countryside, Montemartre or Mathew Street?
Everton could play hardball and tell him he's going nowhere until his contract runs down but whichever way they go it has to be a subject of discussion in the dressing rooms.
Gerry Quinn
5
Posted 17/02/2019 at 06:42:32
Lukaku Mk 2! "I am soooooo loved elsewhere..." Sickening behaviour.
You have a contract with Everton – so Shut The Fuck Up until they decide what happens to you!
How I hate today's over-privileged players...
Jason Leung
6
Posted 17/02/2019 at 07:19:16
He is totally different from Lukaku. Lukaku didn't give 100% like Gueye. Lukaku thought he was the best thing since sliced bread. Gueye is totally different, he's a hard worker who gives his all for a club and had done for the time he has been with us.
There's no such thing as loyalty these days, so we're just gonna have to move on from him when he leaves.
Gerry Quinn
7
Posted 17/02/2019 at 07:28:30
Of course we all accept there is very little or no loyalty nowadays, but if we gobbed off in work about working elsewhere, we would be out of a job.
Maybe there should be a new agreement sentence written into these contracts ordering them to shut the fuck up whilst working at your current employer!
Gerry Quinn
8
Posted 17/02/2019 at 07:30:14
...and no different to Lukaku in shit-on-you attitude.
Mike Gaynes
9
Posted 17/02/2019 at 07:33:52
Sorry, Gerry, but I couldn't disagree more. I don't blame him a bit.
Every player looking at the end of his career wants an opportunity like PSG is offering – one we cannot, and will not, offer anytime in the foreseeable future. Anybody who expects him to say something different is dreaming.
His contract runs through June 2022. So long as he continues to honor that commitment by giving every ounce he has on the pitch in Everton blue – and he has never once given anything less than his very best – he has every right to say whatever he damn well pleases. He has earned that right as a quality professional with nine years of top-level performance.
Over-privileged? Not in my book. This is a grown man at the top of his profession, probably the best in the world at what he does, and he has earned every cent in his bank account. He sure as hell is not some young punk that you can tell to sit down and "shut the fuck up."
Jerome Shields
10
Posted 17/02/2019 at 07:41:03
Idrissa Gueye is Everton's best player, stats-wise. Not only that, but he has worked hard to improve his game. His long passes, which were below power, have improved so much, he is now Everton's best performer in this regard.
Because of weaknesses on the right flank, less so when Kenny plays, he is stretched, but manages to acquit himself well and avoids yellow cards, which is a danger in his role.
He was a Steve Walsh find in the Kante mode at £7 million. Unfortunately, the team he joined hadn't the Management nor the players to make the most of him, in their overall performance.
Gueye deserves success, he has worked hard for it. I doubt at 29 he will get another opportunity of his dream transfer, but he will work hard and never give up trying. It's a pity Everton didn't have more like him and the Management to suit. Kenwright would have had him cashed in, and will be thinking about it.
Sam Hoare
11
Posted 17/02/2019 at 07:54:46
I agree, Mike. He's worked damn hard every time he's stepped onto the pitch and would go with my best wishes. He's near the end of his career and entitled to his dream move.
For Everton, the model of Gueye is a good one to follow. Buy talented, hardworking players at a bargain price in their early or mid 20s, get 3-5 good years out of them, and sell for a handsome profit as they get near or into their 30s.
It's all about who the replacement is.
Tony Everan
12
Posted 17/02/2019 at 08:12:30
He is a grafter and has given 100% to us, a proper professional. I will be sorry to see him go.
However, he should put a cork in all this gushing 'dream move' talk. It is unnecessary to be spouting that when we have important games to play. It can affect team spirit and morale at a time when the club needs all it can get.
I expect Marcel Brands will be sourcing a top replacement. There will be more than a few names bandied around, I'll chuck one in for starters: Kovacic?
Gerry Quinn
13
Posted 17/02/2019 at 08:18:42
What are you doing up at this hour, Mike? :)
Gerry Quinn
14
Posted 17/02/2019 at 08:23:23
Sorry to disagree, Mike, but this "come and get me" is
NOT
the way to behave – even if he continues to give 100% for the team – it sets a very bad example and is extremely selfish.
Shut the fuck up – you will go when WE are ready to sell you (replacement signed).
Darren Hind
15
Posted 17/02/2019 at 08:36:55
For a man who can't give or receive a pass, head a ball, beat a man, score a few goals, or regularly create opportunities, he's done alright for himself and he does have the right to want to do even better.
PSG obviously feel they could use a destroyer and are prepared to pay a decent price for him and decent wages. I think we can see and understand everyone's point of view.
I don't think anybody is asking him to give up on a dream move, but he could do it with a little more respect and discretion... or, as Gerry says: Shut The Fuck Up!
Martin Berry
16
Posted 17/02/2019 at 08:41:01
I think it's obvious he wants the move. He did not kick up a fuss in January, like some because he did not get his move, but expresses his desire to get it in the summer.
The club may have told him to stay until the summer, when we can get a replacement. Whether PSG will still want him is another matter; if they do, then he will be gone.
Hugh Jenkins
17
Posted 17/02/2019 at 08:54:39
I see Lukaku has been mentioned – his "dream move" doesn't now seem to be turning out too well... He is apparently to be offered to Juventus in the summer as part of a swap deal. The old "be careful what you wish for" adage does seem to have a habit of coming true.
Eddie Dunn
18
Posted 17/02/2019 at 08:55:06
I suppose it's just the reality that they are almost all mercenaries with no big affiliation to Everton. I don't know if this was squeezed out of him in an interview, or his agent thought it was a good angle to remind PSG that he wants in. The mitigating factor is his attitude and application has always been spot-on.
He is 29, unlike Lukaku who was 21 or 22. There probably won't be another opportunity for Gana, unless he goes to China or the USA. Unlike Rom, he isn't Billy Big Bollocks spouting out every six weeks; just a jobbing pro hoping for a move to a country where he has lots of friends and family, where he speaks the language.
We will find a replacement easily enough... unlike Lukaku, whose loss is the main reason for our demise since.
Martin Nicholls
19
Posted 17/02/2019 at 08:58:05
Darren (#15) has it spot on in his second paragraph. Players can covet a "dream move" without going public about if.
As for working "even more" to secure a transfer, I wish the rest of our squad would follow suit!
Rob Dolby
20
Posted 17/02/2019 at 09:00:21
I don't blame him for wanting the move. He is a professional who wants to play in the top competitions. The club either have to match his ambition and try to improve or move him on. We have 6 months to find a replacement.
On Lukaku, he told the club well in advance that he wanted to go; the club did nothing to replace him and still hasn't. Tosun was a panic buy by Allardyce and Calvert-Lewin was bought for the future. We got £75M for Lukaku and bought a stack of Number 10s. I would have our Premier League record goalscorer back tomorrow.
The pattern of selling our best players has continued despite having more money. Before Moshiri, we sold our best player nearly every other season. Now we have money we still sell our best players.
Challenging the top four is the only way to keep the best players so not buying anyone in January sends a message to our better players that the club have little ambition other than staying in the Premier League.
Dave Abrahams
21
Posted 17/02/2019 at 09:09:32
We signed for a very agreeable price (for us) and we will make a very good profit on him. If as (Mike @9) says, he is probably the best player in the world, in his position, then we will get around ten times the price we paid for him.
If he works on his distribution of the ball before he goes we might get even more for him, not to mention other attributes of his game, the price could get bigger and bigger.
Ken Kneale
22
Posted 17/02/2019 at 09:10:52
Martin. Genius. I think you should approach the club with that strategy to rid us of the deadwood. Can you do "buy one get one free" in football. That should trim our wage bill.
Paul Jeronovich
23
Posted 17/02/2019 at 09:15:12
He's not long signed a new deal which he was more than happy to do rather than chase his 'golden opportunity' at that time so he just falls in line with the modern-day whinging prick footballer. So who is really arsed or surprised by this statement?
Dermot Byrne
24
Posted 17/02/2019 at 09:18:43
Mike G:
I rarely disagree with you but I struggle with "has earned every cent in his bank account." Personally, I cannot deal with the obscene money these football players earn (yeah, just football players). But hey, that is just my lefty view of the world.
But, if we accept the reality of the market system, he must have every right to want to play for a more successful club and do what he sees the best way to market himself.
Sadly loyalty has no place in this footy world and leaves us fans looking back to times when players were committed to our club. Yet, at the same time, we want Brands to make us the equivalent to PSG in every transfer window.
I am realising that for the foreseeable future the market system will ensure Premier League equivalents of McDonald's will have the power to beat the community cafe that is Everton. But, I seem to recall the dominance of Woolworths, BHS, C & A.
Can hope be found in free-market economics and the possibility of change of the big players?
I flap around helplessly trying to find a reason for hope but, to be honest, not getting anywhere really as I watch the rich clubs buy our players in what is the equivalent of the takeover in other markets.
So, whilst by nature, I applaud rather than moan when people try and develop our club, I would be so grateful if anyone could give me a reason to believe the Premier League will ever be more than a 6- or 7-team league with 13 other clubs there for them to play against, after they have bought their best players.
Mal van Schaick
25
Posted 17/02/2019 at 09:26:46
You can go – and take a lot more squad players with you. Time for yet another rebuild.
Tony Waring
26
Posted 17/02/2019 at 09:28:39
Dermot – you're right. The wages paid (not earned!) are obscene and maybe we can hope that the equivalent of BHS, Woolworths etc, will come to pass in football. That would sort out a few egos and concentrate minds.
Andy Meighan
27
Posted 17/02/2019 at 09:34:21
Mike Gaynes @9:
"The best in the world at what he does"? How laughable is that? He's an average player who can't pass a ball forward.
Gerry got it spot-on – he should be told to shut up; think it by all means but don't come out and rub our noses in it by spouting off.
If Silva had anything about him, he'd bench the little gobshite until the end of the season. Let's face it, he'd hardly be missed.
Paul Smith
28
Posted 17/02/2019 at 09:43:44
Can you blame him after the shite being served up this season?
If we were performing better, he might want to stay.
Stan Schofield
29
Posted 17/02/2019 at 09:48:56
I can fully understand him wanting to play for a top team, because there's no sign that Everton will be much better any time soon. Just like Lukaku and Stones.
But, at the same time, it's surely wrong for a player on contract to be talking publicly this way. I would have thought that, while you're on contract, you should always act in a way that's good for the public image of the club, and refrain from doing or saying things that can detract from team spirit and morale. Similar to any job where you have a contract.
This happened with Lukaku, and similarly Koeman habitually made public comments that were not in the best interests of Everton. Surely Everton should not be letting this happen, from a contractural perspective, and irrespective of how overpaid or privileged modern players and managers are.

Colin Leckey
30
Posted 17/02/2019 at 09:54:55
I don't really understand why we didn't accept the £26M we were offered in January. Okay, he's not one of the roughly 53 overpaid squad players it's more of a priority to get rid of, but he's 29 and his heart's not in it any more. While he puts in a shift, his quality levels are erratic and I'm pretty sure we could manage without him...
Derek Knox
31
Posted 17/02/2019 at 09:59:07
Picking up on what Dermot and a few others have referred to, the obscene amounts that Premier League players are on. Okay they are in the entertainment business, but the truth is they rarely 'entertain' but still walk away with a Lottery win.
I watched the Newport v Man City FA Cup match, the commentator made a point of stating that Newport cost a total of £70k while City cost a mere £317M, with a £150M on the bench.
For the first half (on a deplorable pitch) it was hardly discernable the difference in the two sides. It ended 0-0, and the only noticeable factor that City were obviously fitter come the half-time whistle.
The second half, City's superiority in fitness told, and it ended 1-4 but hardly a reflection on the game as a whole. Newport's players fought with every sinew to get something from the game.
Gerard Carey
32
Posted 17/02/2019 at 10:04:44
I like the idea "Buy one get one free".
PSG can buy Gana only if they take Morgan as well.
Stan Schofield
33
Posted 17/02/2019 at 10:30:25
Dermot @24: Back in the good times, when Everton were a top team, we attracted the best players because we had the money and status to do so. That's why we were able to get the likes of Alan Ball, and also retain other top players. It's just that nowadays we're mainly a club providing players to the very top clubs. We're trying to progress from that, to restore our former top status, but it's obviously very difficult.
For me, I've never regarded money paid to players as 'obscene'. I'd rather reserve that term for bad things that come higher up the scale of badness. We either keep watching top football, or we choose not to. We either use Sky, or we choose not to. And so on, it's a matter of our choices.
George Orwell in his Road to Wigan Pier proposed that we should introduce a constraint on the ratio between the highest and lowest earnings, and he suggested a factor 10. It might reduce poverty whilst maintaining the motivation to do well and earn more, and it always seemed sensible to me, but I'm no economist.
Personally, I'd go for a system run by the State, with State control of most things that are important, football perhaps being one of them (judging by its popularity, although it's no doubt not as important as many other things). But people seem to want less State control, and they effectively vote for less, which arguably maintains the big disparities between the richest and poorest.
Anyway, that's politics, and I only mention it because of the repeated labelling on ToffeeWeb of footballers' salaries as 'obscene'.
Eddie Dunn
34
Posted 17/02/2019 at 10:32:10
Derek, I was impressed at the skill levels in the Newport team. The Irish lad who scored the goal has a lovely touch on him and I think this Newport team have shown that there are so many players who don't get a look-in in the Premier League precisely because of journeymen like Idrissa, and others.

Keith Gleave
35
Posted 17/02/2019 at 10:37:25
I have no issue with Gana leaving, he has generally given his all in every match for us. It is also right to point out that he is paid a large amount of money for what he does.
For me, when he has spoken to the press, he needs to be more respectful of the club, his team mates and the supporters. He has not achieved this by stating "my dream move" and "pushing and requesting a move". He could have simply said it is very flattering to have my name mentioned in connection with PSG and It would be foolish of me not to consider it at the current stage of my career. This respects everybody, including himself.
The other side of things is that the club could easily make good money on him and so I'm sure, if the correct bid came along, they would sell; football is a business these days.
Colin Glassar
36
Posted 17/02/2019 at 10:45:30
Totally agree with Darren #15. Gana is a great little defensive player who never gives up but, he is very limited technically. He reminds me of Lee Carsley who was quite similar but Cars had the advantage of having Tommy Gravesen next to him who could receive and then use the ball. Gana doesn't, or hasn't had that advantage.
So, imo, he's been great for us. We'll make a big profit on him and we can use that money towards someone like Doucoure who can actually play both roles.
Merci, Gana, au revoir.
Gary Carter
37
Posted 17/02/2019 at 10:59:58
I just don't get why people whine about things like this and label players as mercenaries!
It's a job, plain and simple. A better job opportunity has come up and he wants to go, just like I would!
It's not like he's moving to Palace or Brighton because they offered him £10k a week more! He's 29 and has the opportunity to win trophies and play in the Champions League, he hasn't downed tools or kicked up a stink.
And also, why the hell would he want to play under a League Two level manager with a 28% win ratio in the Premier League? Silva struggles to win a game – never mind a trophy.
Terry Smith
38
Posted 17/02/2019 at 11:07:15
I would sell. This lad is 29 years old and a bid of £30m plus would be too good to turn down. He is not constant enough for me and doesn't seem to turn up in the big games. The lad at Watford (Doucoure) would be an ideal replacement.
Oliver Molloy
39
Posted 17/02/2019 at 11:24:25
If he stays true to his word and keeps giving his all until the end of the season, that is a great attitude as far as I am concerned.
How anyone could begrudge him a move to the likes of PSG at 29 years of age is beyond me.
ToffeeWeb seems to be split on his football skills etc, but one thing I'm sure we all agree on is his work rate, he gives as best he can on the football pitch.
If PSG come in for him, playing well from now to the end of the season will add a few more millions on... what's not to like?
Len Hawkins
40
Posted 17/02/2019 at 11:48:21
Oliver, his comment about giving his all in the hope the big clubs keep an interest in him is, in my mind, an insult to everyone at Everton Football Club and their supporters. I couldn't go to work and think "I'm not bothered today, I'll still get paid" – I would have been out tout suite. I earned n a year a fraction of what he earns a week so, for equity with him, I would have worked 24/7 until I dropped – not a few hours a week.
In the '80s, my brother was talking to a striker from a club I shall not mention and he was talking about the crap he got from rival supporters; he openly admitted he had no loyalty, only a financial obligation, and he would have played for the rival club had they offered the money he was getting. I will leave the two clubs to your imagination but they are very close together.
Derek Knox
41
Posted 17/02/2019 at 11:51:35
Eddie @ 34, there were a couple of lads there you could probably get for peanuts (in Premier League terms) but the transfer fees alone would transform Newport County.
It is truly a sad indictment at the disparity between the lower divisions of the Football League and the Premier League when you witness the effort those lads put in to a man (okay, it was a major cup tie) and compare it to the effort some of our millionaires have expended, week-in & week-out, it amounts to a travesty. That's not to mention the ones who are not even playing (Schneiderlin and Co, thank God) yet picking up a King's Ransom!
Jim Bennings
42
Posted 17/02/2019 at 11:55:24
It's no wonder why there's such little love from the fans towards this current Everton squad. I personally couldn't give two hoots if we offloaded the lot of them.
All the rave this squad gets yet remind me how many matches have been won since early November? Oh, of course – it's all the manager's fault, isn't it, just like the guy before and the guy before.
I'm sick of the lot of them, they should have been playing at Wimbledon yesterday, a virtual bye into the FA Cup Quarter-Final but they even managed to screw that up.
Blame the manager all we want but the buck stops with the players and their disgraceful attitudes once they set foot on that green turf.
Andy Crooks
43
Posted 17/02/2019 at 12:04:34
Of course he is entitled to be privately ambitious. In my view, however, to say blatantly and publicly what he said demonstrates that he is, like all of them, a hired hand, but a particularly odious one.
Paul Tran
44
Posted 17/02/2019 at 12:10:27
I don't blame him. A much bigger, more attractive club has come in for him. He's being honest. I'd be the same if I was in his position.
He works his socks off on the pitch, can't fault his attitude.
Yet another good player who's got fed up waiting for us to be a well-run, well-coached club.
John Raftery
45
Posted 17/02/2019 at 12:12:43
Gueye is one of our very few players among the current squad to have increased in value during the past two years. The new contract he signed last year was obviously designed to protect the club's interests as well as provide the Gueye with some long-term security. It made the club's decision last month to keep hold of him very straightforward. It would have been much less straightforward if he had had only a year or 18 months remaining.
He will be an important player in our remaining games as we try to stay clear of the relegation dogfight. Once that has been achieved, hopefully sooner rather than later, both parties can start to explore the options available.
Anything like a £30M fee would seem to represent sound business for a player of his age but finding a comparable replacement will likely require a significant financial outlay. There is of course no guarantee PSG will maintain their interest with more options available in the summer.
Raymond Fox
46
Posted 17/02/2019 at 12:23:28
dup
Paul Tran
47
Posted 17/02/2019 at 12:30:16
Raymond, they do it because that's the best way of making sure the move goes through.
It's business, just like it would be if we got a tackling midfielder who could pass, dribble and shoot better than Gueye. Just like it was when we told Lineker he was going to Barca.
If we had a team full of players with Gueye's attitude on the pitch, I think we'd be far better off.
John Raftery
48
Posted 17/02/2019 at 12:37:21
The fact he went public is of passing interest only to the fans. It will not affect morale in the dressing room. The club hierarchy were already well aware of how he felt.
Players talk to each other so the rest of the squad would not have needed to read the gossip columns to know Gueye aspired to a move to a Champions League club with loads of money, some world class players and every chance of winning medals. Most if not all of Gueye's team mates will be looking at him with considerable envy and wishing they could swap places.
Brian Harrison
49
Posted 17/02/2019 at 12:40:08
I think there are 3 things that have changed football forever, and sadly in my view not for the better.
The first thing was Sky, this poured untold fortunes into clubs and overnight changed the fortunes of players.
The second thing was players' agents, again another group of parasites bleeding football dry, is it any wonder that grassroots football is so badly funded when this group takes so much money out of the game.
The third and final change was the Bosman ruling, which originally was brought in to stop clubs holding the registrations of players out of contract, which was a good thing.
But agents have turned it into something completely different; players now have all the power. They all want 3-year deals and the better players get a release clause inserted in their contract should a better offer come along, long before their deal is due to finish. Never seen a player offering to take a pay cut because his team got relegated, unless it was written into their contract and I couldn't see many players agreeing to that clause.
James Hughes
50
Posted 17/02/2019 at 12:41:38
Ray #46, his teammates and manager won't really be bothered by his comments. Football is now very transient. Players and managers move on all the time.
Ray Smith
51
Posted 17/02/2019 at 12:52:06
Paul 44
I totally agree with you.
On our current form, year-in and year-out he will never play Champions League football with us for the rest of his playing career.
I only hope Brands secures Gomes's signature before even he changes his mind.
Why the delay? Others are now circling which in turn will push the price up.
Derek Taylor
52
Posted 17/02/2019 at 12:54:06
Perhaps today's players don't go all dewy-eyed over playing for Everton anymore. Perhaps 'once Everton has touched them' some can't wait to get away from the present manager and his band of coaches?
Sad to say, the magic talked about by Bally, Labby and more recently, Aussie Tim, seems to have disappeared and, if there's a few more bucks for playing elsewhere, then why not grasp it?
Certainly, the much longed for move away from Goodison – if it ever happens – will see the end of such sentimental nonsense (as my missus describes it) from us mere speckies as we join the likes os Bolton and Leicester in yet another concrete jungle!
Jim Harrison
53
Posted 17/02/2019 at 12:55:10
Eddie @18,
They are employees. And when an employee gets offered better wages at a higher-profile outlet operating at a higher level and they are prepared to go to their current employer with an offer, it's not being mercenary. It's making a career choice.
Everton didn't want to sanction. Fair enough. And whilst it is not to my taste that he talks about it his ambition, it is totally understandable.
Perhaps we all need to have a bit thicker skin and not get quite so upset about such a small thing. As many point out, it isn't Lukaku pimping himself to anyone who would listen at every given opportunity. He has just been offered the chance of a lifetime in the latter stage of his career. He has spoken about it truthfully, and in further comments said...
Gueye: "I'm not the type to clash with Everton [over the non-move]. I respect Everton, I respect the shirt. They allowed me to grow, to become known. So I remained pro, didn't strike. Although I'm disappointed I'll keep giving everything for Everton."
When he plays below his standard he gets dogs abuse on here. When That great opportunity came along he did everything right. And now knows that if he wants that move he needs to play at his best, which if he does we actually benefit from.
Andrew Laird
54
Posted 17/02/2019 at 13:12:55
A stat fan's wet dream, a panoramic nightmare. He would excel next to prima donnas like at PSG who can't be bothered to run as much as him but are on a different planet to what we have with the ball at their feet. Let's face it Everton are light years away from having those calibre of players.
He should've been sold when we had the chance.
Keep your trap shut, especially with the ink barely dry on a new contract. You won't be missed at all by me, might even force us to have 10 outfield players who can use the ball when we have it as we sure as shit aren't good enough with a maximum of 9 every game.
Peter Gorman
55
Posted 17/02/2019 at 13:15:08
Gana is probably my favorite Everton player at the moment and I couldn't give a solitary shit if he left the club tomorrow.
Not sure if that says more about me or the current flops we have in the first team.
Oliver Molloy
56
Posted 17/02/2019 at 13:16:14
Len,
How is it an insult to the fans and the club that he wants to play well in order for the likes of PSG to keep their interest in him?
The one thing I always agreed with Martinez was when he said "We should all take it as a compliment when the big clubs come sniffing our players, it's a sign we are improving and it's incredible motivation for the player."
He's 29, not 21 - it's PSG, it's no contest vs Everton right now. The fact is we miles away from the Champions League and Gueye knows it. Would you rather he spat his dummy out and didn't give his all for fear of injury or whatever?
We make a load of money and we replace him... or he might just decide to stay, even if PSG come in for him, and then he will get ripped to pieces by some on here.
John G Davies
57
Posted 17/02/2019 at 13:18:06
I admire his honesty.

Mick Roberts
59
Posted 17/02/2019 at 13:24:38
He will be sold, along with Richarlison...
The question is: Who will be bought in to replace them? The answer will speak volumes about the ambitions of Farhad Moshri.
Oliver Molloy
60
Posted 17/02/2019 at 13:32:40
Mick,
If any club offers the reported £80 million Everton have slapped on for Richarlison, then we would fecking mad not to take it in my opinion.
Mark Dunford
61
Posted 17/02/2019 at 13:33:52
I agree with those who think Gueye has been a good servant to Everton, yet consider it reasonable to sell him this summer. He will be 29 and, with just a few years left in his career, it seems sensible to let him go for a decent fee.
His quote cited in post 53 is very reasonable and – given we need the points – he will be motivated and is one of our most consistent players. We need him now.
Raymond Fox
62
Posted 17/02/2019 at 13:43:50
Paul and James,
I agree, it's strictly business and it's a career move for the player; I don't blame him for that.
Wouldn't it have been better, though, if told he PSG he wants to sign for them in the summer and told Silva and the club he no longer wishes to play for them after this season, privately???
We could say "You're not going" once more, I suppose... but I don't think it pays to keep a player when they don't want to play for the club.
Gordon Crawford
63
Posted 17/02/2019 at 13:54:04
What angers me is:
1. The fact that he is saying that he will work harder for the move. If that's the case, then he isn't giving his all for us and that I'm not okay with.
2. He is publicly expressing his desire to go and in the middle of the season. These should be behind closed doors and at the end of the season.
Disgraceful comments.
Paul Tran
64
Posted 17/02/2019 at 13:55:27
Raymond, he wants to go now because he may not get the chance in the summer. They may have an agreement for the summer for all we know.
It's simple for me. If anyone wants to leave, make sure the price is right, line up a replacement and let them go at a profit.
Dermot Byrne
65
Posted 17/02/2019 at 14:04:18
Stan: pushing against an open door with that post mate.
Dave Abrahams
66
Posted 17/02/2019 at 14:07:07
It should also be remembered that, when we signed him for a relatively small fee, it enabled his agent to get a very good signing-on fee for him as well as very decent wages.
That signing-on fee, I wouldn't mind betting, would have been a good six-figure sum. How many chances of a lifetime does he want? He's a millionaire already... Still, he's far from unusual in this money grabbing game. As Paul Tran said (above), if he had the chance, he'd do the same, so I suppose a lot of us are greedy bastards at heart.
Definitely no offence to you personally, Paul.
Gordon Crawford
67
Posted 17/02/2019 at 14:09:11
Sorry but you wouldn't go running around your place of work saying that you want to leave and work for someone else. You would be told to clear off then.
And let's be honest here, if he said he wants to cross Stanley Park to play for that shower, then we would all be up in arms.
If it's not okay for managers to speak of others players, then likewise – players shouldn't get away with speaking of other teams.
Jimmy Hogan
68
Posted 17/02/2019 at 14:19:12
Compared to all that nonsense from Mahrez when Leicester wouldn't let him go to Man City in January, Gueye has been very professional. I seem to remember Mahrez being "hurt and depressed" and dropped from the Leicester team until he sorted his head out. This hasn't been the case with Gana.
Steven Astley
69
Posted 17/02/2019 at 14:25:52
Fuck him!
Kim Vivian
70
Posted 17/02/2019 at 14:29:07
Fuck me – if anyone credible was to come in at £80m for Richarlison what that tells me is that we should be keeping him.
Referencing Gana – Jim at 53 says it for me.
Gerry Q – I've no idea what you do, but if someone was to headhunt or tempt you with better things would you say to them "Fuck off – I've got an employment contract (and better prospects) with xxxxxxxx..."? Of course you wouldn't.
I like Idrissa, would love him to stay but if he moves on (unless it is across the park) I say good luck mate. I do think we should be doing our utmost to keep theses better players though, because we are starting to look like a feeder farm.
Paul Tran
71
Posted 17/02/2019 at 14:31:45
No offence taken, Dave. People don't usually put 'greedy' before that word regarding me!
It's not just the money; he's a Francophone African being offered winning trophies and Champions League footy in Paris.
To any thinking observer, it's a no-brainer.
The next decent signing we make may well be doing the same thing to his current club. Will there be any outrage on here over that?
Paul Tran
72
Posted 17/02/2019 at 14:48:22
Gordon #67, the point is that indeed you would be told to leave. To leave straight into the other job you want. Or be put on gardening leave and be paid for doing little or nothing till you move.
If you're wise, you force through the move reasonably, while working hard and maintaining your reputation.
Eddie Dunn
73
Posted 17/02/2019 at 14:59:01
I think we need a game of football to talk about.
Fran Mitchell
74
Posted 17/02/2019 at 15:11:53
The lad has been arguably our best performer since he came. He can stand up and say 'I did my part'. The club languishes in mid-table with no prospect of European football, silverware, no recognition. He must be as disillusioned with the current team as any of us.
When an opportunity arrives to work for a top manager, alongside world class players and the real chance of winning the Champions League, of course he would push for the move. At 29, it would be due credit to someone who has used all of his talents and has improved himself year upon year.
Jay Wood
[BRZ]
75
Posted 17/02/2019 at 15:16:02
Thank you to Jim Harrison @ 53 for including Gueye's full comments and not just the cherry-picked ones so many are morally outraged by:
"I'm not the type to clash with Everton [over the non-move]. I respect Everton, I respect the shirt. They allowed me to grow, to become known. So I remained pro, didn't strike. Although I'm disappointed I'll keep giving everything for Everton."
In the games he has played since the aborted move, he has been all of the above, arguably our best player in our last game v Watford.
As Paul Tran @ 71 says: "It's not just the money; he's a Francophone African being offered winning trophies and Champions League footy in Paris. To any thinking observer, it's a no-brainer."
Sorry, but claims by the morally outraged that this is damaging to team harmony are being OTT on this IMO. They are all contracted professionals and if they have any ambitions for their careers, they are all going to be tempted when a club like PSG comes in for them. Envy there may be, resentment, I very much doubt it.
Shouldn't we be recruiting more players like Gueye who honestly express an interest and desire to play for a Champions League club, all-conquering in its own country, when they come calling?
The fact PSG do want him is a compliment to Everton and the player.
Or would you prefer a meeker and safer transfer policy that only recruits players without the potential to play at the very highest levels of the game?
The failing here is the club's, that we don't compete for domestic trophies, that we don't regularly qualify for European competitions.
Unless and until that is the case, the better players won't hang around for some dewy-eyed promised of jam tomorrow.
John Pierce
76
Posted 17/02/2019 at 15:24:22
I viewed PSG's interest as purely a stop-gap move, a winter window. Remember Gravesen to Madrid?
PSG will have a much wider selection to look at in the summer, Gana will be nowhere near the top of that list.
I believe Everton have passed up a good deal for a limited player, a player who despite the energy actually is not a good fit for the football Silva is trying to implement. Gana is not going to get better nor adapt to that style.
Poor decision from the Brands & Silva. The trick is – well exploited by Ferguson – to sell just as a player is over the hill. You get good money but the good days will rapidly vanish.

Gerry Quinn
77
Posted 17/02/2019 at 15:27:10
Kim Gerry Q – I've no idea what you do, but if someone was to headhunt or tempt you with better things would you say to them "Fuck off – I've got an employment contract (and better prospects) with xxxxxxxx..."? Of course you wouldn't.
I have been head-hunted, Kim, on more than one occasion, but I certainly did NOT tell anyone in the office or those I would not trust. I certainly wouldn't advertise the fact like these overpaid twats do!
Rob Marsh
78
Posted 17/02/2019 at 15:49:35
When are we going to make a stand against this sort of behaviour?
If every player who comes to us with some ability and then uses us publicly as a stepping stone as soon as an offer comes in, we'll never hold onto the quality ones if they think they can get away with it.
If the club makes his price so high for PSG, say £35M as Swansea did with Sigurdsson, we can send a message to the likes of Richarlison (when he comes in to form) that you might as well settle down and play, you're not going anywhere without a whopper offer.
Rob Marsh
79
Posted 17/02/2019 at 15:55:21
Just aside from this thread, I see it's Doncaster vs Palace 5th round FA Cup on the BBC, I'm pissed off!
We should have been watching us play in a game like that, right now. Only a few Premier League teams left in the thing and a big chance to win it with Euro football to follow, what a fuck-up this season has been.
Jay Harris
80
Posted 17/02/2019 at 16:12:20
Rob,
I agree the club needs to grow some balls.
I noticed that Gueye said he had spoken to Tuchel. Surely this is tapping up and should warrant a Fifa investigation. Why do we always roll over and act nice?
Can you imagine the RS. It would be on every media channel and brought to task.
Len Hawkins
81
Posted 17/02/2019 at 16:18:09
Oliver #56,
It's an insult saying "I am going to play harder to impress other clubs". If he isn't already playing the best he can for the Lottery winning wages that Everton pay him, then it is a smack in the face to Everton FC and all concerned.
I didn't put a notice on the board at work saying I was looking for a better job paying me more money but I'll still put a shift in so that I'll get a better reference when I go. The pity is, managers of other companies didn't come watching me do my job and then offer me a great deal; the 3 months notice would have pissed them off.
Unfortunately I have lived and worked all my life in the Real World (not Madrid).
Danny Broderick
82
Posted 17/02/2019 at 16:59:25
I've got no problem with a player wanting to leave us if he has the chance to go to one of the planet's top clubs, with whom he could possibly win the Champions League. Add in the fact that he is a French speaker, it's a no-brainer.
It's exactly the same if we attempt to sign a player from the Championship. You'd expect that player to want to test himself at a higher level.
Bit of a non-story this, especially as we know that Gueye is of good character and will always give his all for us. Nothing wrong with ambition.
Mike Gaynes
83
Posted 17/02/2019 at 17:22:17
Gerry and Darren, PSG already came to get him. He wanted to go and the world knows it. There's no "come and get me" – it already happened. Gerry, your being headhunted wouldn't be headlines in the worldwide media – everything in a top athlete's career is public property, and Gana didn't advertise it, he just responded. He said nothing derogatory about his current employer. And he can't be fired, which is another difference.
John #48 and James #50 are right. There's no way this will bother his mates. Players talk about this kind of thing amongst themselves all the time. The idea that a world-class athlete is a lackey who should Shut The Fuck Up out of loyalty is 20 years out of date.
Sure, the fans get offended... So what? We've seen this sort of controversy over here with NBA stars like LeBron. Seeing it right now with Anthony Davis, a dominant player who has given everything he's got for five years with a shit team and is ready to move on. This is sports today, and there's no going back.
Andy #27, he is probably the best ball-winner in the world. Over the past three seasons, he has led not just the Premier League but all of Europe's top leagues in tackles and interceptions. PSG has plenty of players who can pass and shoot. They want him for what he does, not what he doesn't. But of course you know more about footy than those idiots at PSG. Obviously they are clueless about how terrible he is.
Jim Harrison #53, thanks for posting that quote. That's what I was talking about.
Mike Gaynes
84
Posted 17/02/2019 at 17:43:39
Jay #80, it's not "tapping up" when you put in an offer. PSG put in two of them. Do you think they'd buy a player without the manager asking him if he's interested? That's not tapping up either. And there's nothing to investigate because everything was right out in public and above board.
Rob #78, not sure what kind of "behaviour" the club should stand against, but apparently they did. They turned down £26.2m and may well be holding out for your suggested £35m.
Gerry Quinn
85
Posted 17/02/2019 at 17:56:27
Mike, I just get so pissed off with football, and all it stands for nowadays – in fact, I so fucking hate the way it has gone over these years (especially since the Premier League flashed up) with zero player loyalty to their team and zero local fan support for your local team (here it should be Aberdeen).
Here I live in the small town of Turriff (pop. 5,000) and all the guys I talk to about footie support Manchester fucking United — there are tons of them here. This is Scotland and they don't even play in this fucking league!!!!!!!!!
I suppose it could be a lot worse for me if they all supported the fucking red shite! Watch them come out of the woodwork if they win the league.
"Born, not manufactured" means the world to me.

Jay Harris
86
Posted 17/02/2019 at 18:01:39
Mike,
the rules are that a club "bidding" for a player can only speak to the player once they get the other club's permission. I would imagine Everton did not give permission for Gueye to speak to Tuchel as they "apparently" rejected the miserly offer.
Now I may be wrong and Everton did give permission but, in either case, I think EFC were very weak.
I like Gueye, both as a player and a person, and wouldn't want to lose him despite the fact some Evertonians think he has one foot in the grave at 29 but what I object to is Everton's reluctance to "bounce" these unwelcome advances.
We have now had "assumed" illegal approaches for Moyes, Lukaku and Gueye and I just wish we would take a hard line in these matters.
Mike Gaynes
87
Posted 17/02/2019 at 18:04:40
I get it, Gerry. But we grew up in a different world. Kids today will have seen Man Utd on TV or online a hundred times before they're old enough to go see an Aberdeen game in person, and then they'll be frustrated because there's no instant replay. And the guys you talk to may not have grown up in Aberdeenshire, because society today is so much more mobile.
I grew up living and dying with my hometown Chicago Sting. They won titles both outdoors and indoors. But I moved away from Chicago and the Sting eventually folded, and then I went looking for another club to live and die with. Finally chose a club on the far side of the pond that I wouldn't see in person for 32 years. And so it goes.
How did you wind up in Turriff after leaving the US? From there originally?
Jay Harris
88
Posted 17/02/2019 at 18:12:37
I am one step behind you, Mike.
I thought Gerry was on the Florida/Georgia border.
I didn't know he's been repatriated to Scotland.
John Hammond
89
Posted 17/02/2019 at 18:13:07
No point getting worked up over his comments. PSG came in for him and we said No but we've obviously told him he can go in the summer for the right price. There'll be other Champions League clubs in for him if PSG don't come back.
As good as he's been for us, he's still been part of the failures of the last few years so I think him moving on would be the best for everyone. He gets a big move and we get decent cash for a replacement.
Jay Harris
90
Posted 17/02/2019 at 18:15:42
John,
We need some foundation to build on and can't keep chopping and changing players.
Gueye has been one of our most consistent players and rarely cries off injured.
Rob Marsh
91
Posted 17/02/2019 at 18:27:48
Mike #84,
I didn't realise how much of a toe rag Gueye is until I read this article.
Your right they did turn this one down, but I'd like to hear or see the club play more of a psychology/spin thing when these offers come in, if we know we're going to sell him, talk the up the player, sound amazed at how low the offer is, our refusals seem so polite and seem to encourage tiny incremental offers.
And if we aren't going to sell him, then deny his existence!
I hope we are holding out for a whopper, these vultures who hover above us (and let's be honest here we've done it to clubs further down the pecking order) should be made to pay big time (like we have).
A situation whereby they feel it's pointless approaching us, unless it's a big and serious offer, is one I'd like to see; this will calm down feet that want wonder off.
Andy Crooks
92
Posted 17/02/2019 at 18:32:09
Rob @ 79, that is exactly how I feel. Year after year after fucking year. You look at the teams left and lament that we are not there. Frankly, it sums us up. Inept, feeble and spineless.
Billy Roberts
93
Posted 17/02/2019 at 18:47:58
I never understand the confusion when agents or players quotes occur like this between Evertonians. All sensible Evertonians realise playing for PSG is a lot more attractive for any player now nevermind French speaking players.
The obvious distaste it causes is the open crass flirting with the desired club. What proud Evertonian can't be fucked off with a player talking like this? We know we can't presently compete but have a bit of fuckin respect eh, if he had been paid buttons and been treated bad by the club, yes... but the man is paid handsomely and should remember that.
Any pretend union stewards trying to compare his situation with people working on sites and factories, stop being fuckin silly.
I have always been a union member and official; to try and compare professional footballers situations to working people on any level is frankly ridiculous.
As for "he always gives his all blah blah". Yes, well done, lad – that's what you get paid for. This move is inevitable but why can't Idrissa handle it in the same way as he plays his football? Quiet, efficient, smooth, move the ball or career on.

Gerry Quinn
94
Posted 17/02/2019 at 18:50:29
Mike, these are guys in their 30s and 40s (however, they have now passed it on to their kids). Been looking at houses here and it is sickening to see Real Madrid and Barcelona stuff hanging in bedrooms. FFS – this is the UK!
Darren Hind
95
Posted 17/02/2019 at 18:50:50
No, Mike, you are wrong.
When we signed Gana. We hardly had to beat off the top boys for his signature with a stick. He was Championship bound and, but for the clause in his contract, that is where he would have ended up.
You need to stop this foolish "He's the best in the world" nonsense. Cue a whole world of shite drawn from fanboy websites. He isn't even the best in the northwest of England. Have you not seen Man City?
As you say, it was no secret PSG came in for him, but he could easily have let them know he was still interested, without spouting it out in public.
Lack of discretion, lack of respect... lack of class.
Minik Hansen
96
Posted 17/02/2019 at 18:58:26
I'm just happy for him to be recognized like that, after putting such an effort on the pitch. I hope this really means that he works his best until the summer, so Everton can get a good deal out of him. I guess we're on the right track again, our players being recognized, Brands will just have to work his magic to bring in a younger hungry top midfielder.
I like Gana, I'll be following his progress when he leaves, but right now he is here with us, let's get behind him and help lift his game up. The team needs inspiration, including from us fans. When he remembers his last time with us, he will have a positive feeling for our club, even though we didn't let him go in January. All the best to him and us fans. COYB.
Paul Kennedy
97
Posted 17/02/2019 at 19:00:22
On another note, remember a few years ago watching a young centre halve playing for Celtic and thinking why is no one going for him the potential was so obvious, I hate to say he now plays for the dark side of course Van Dijk.
Having nothing else that I really fancied today I watched Celtic and got the very same impression about Dedryck Boyata. Looked so assured in defence great ball distribution got to be a future star.
Also got a short glimpse of George Weah's son – he looked very sharp, something we have not got!
Paul Hewitt
98
Posted 17/02/2019 at 19:07:24
This is his job. If any of us was offered more money from a bigger company that we already worked for, we would also leave.
Billy Roberts
99
Posted 17/02/2019 at 19:26:18
Paul @98, you missed the point of most Evertonians ire by a country mile, mate, a bit like Idrissa in front of goal.
Daniel A Johnson
100
Posted 17/02/2019 at 19:35:37
Can't blame the lad he's french!!!
So to be 29 and have the opportunity to play in Paris for PSG with superstar players and champions league must be mouthwatering.
The alternative being to grind away at EFC for another 3 years and fade away into obscurity.
Good luck lad hope it comes off.
Rob Marsh
101
Posted 17/02/2019 at 19:36:38
Andy #92,
That FA Cup exit has soured things for me, all we had to do was keep the fucking ball, fall over when fouled or welly it into the stands.
Millwall what are they? A team full of inbred Phil & Grant Mitchells wearing Burberry.
Derek Knox
102
Posted 17/02/2019 at 20:04:25
Andy @ 92, how are you doing there, mate? In relation to your comments about being inept, feeble and spineless, I totally agree but think Silva has modelled this side on himself.
Although some of the players he inherited admittedly, he does nothing whatsoever to inspire me. I had hoped, although he was nowhere near my choice, that he may prove me wrong, but alas he is worse than I had ever anticipated.
I honestly can't see him having the wherewithal to turn milk, let alone turn this mess around, unfortunately we need a strong no messing character at the helm.
Raymond Fox
103
Posted 17/02/2019 at 20:07:49
As an Everton supporter, my main beef is what chance have we of becoming a top 4 side if, every time we have a player that shows above average ability, he is tempted away to the clubs that are regularly in Europe??
It's a vicious circle; it's little wonder we can't compete successfully against these clubs... What's the answer? Search me.
Tom McEwan
104
Posted 17/02/2019 at 20:15:17
I agree with Gana, it's time he moved up another level, where he can learn to pass a ball to a teammate, because it's obvious he is not learning that here at 'this level'. If only he could just master that most difficult of things, he would be truly world-class!
Good luck mate, you deserve a lot better and I'm glad you found the time to give an interview to a 'rag', when you should be training in an attempt to put right the woeful side you are a part of.
Andy Meighan
105
Posted 17/02/2019 at 20:17:41
Them statements of "If you were offered a better job etc, a bigger salary etc, blah blah blah" are fucking ridiculous!
This is football!!! A profession where young men don't live in the real world. A profession where the said young men don't probably have to tie their own shoelaces or wipe their own arses because clubs employ people to do it for them. They don't live on Planet Earth. They're cocooned in a bubble.
So please don't insult my intelligence by saying what would you do if a rival firm offered you this and that because I'm sure, like most on here, those rival firms don't come knocking every few months once a window opens.
Yes, I'm sure there's a few who have been headhunted in their various careers but they wouldn't get headhunted if they were working for a shit firm which basically is what Everton are. My point is, we are so detached from these people, it's untrue. Gueye has no loyalty to Everton and I'm okay with that.
What I'd like is for him and his ilk to keep his fucking trap shut because he's not even a decent player – just average. Don't let the door bang your arse on the way out!!!
Mike Gaynes
106
Posted 17/02/2019 at 20:26:00
Rob #101 and Andy #92, me too. Actually, all we had to do was not foul (love Digne but that was 15 minutes of the dumbest fucking football of the season) and mark somebody on a free kick.
Darren, please do not edit my sentences to make your points. I didn't say he was the best in the world. I said he was the best ballwinner in the world. And he is.
His other limitations as a player don't change that. PSG know he can't score or create. They don't need him for that. They need him to get the ball back for the players who can.
Andy Meighan
107
Posted 17/02/2019 at 20:26:54
Mike Gaynes,
So you think he's better than Fernandinho? Yeah, right...
He's not even good enough to lace Carsley's boots.
And as for me knowing more than them idiots at PSG, that's one thing you got right — I probably do!
Paul Birmingham
108
Posted 17/02/2019 at 20:30:22
If this story is true, then his heart isn't here, and the board knows why a deal wasn't sanctioned in January, may be they are going for more at the end of this season.
He's seeing it as last chance saloon, but loyalty is no longer a virtue in modern football.
It makes you think what's gonna happen in the summer, as we have no-one who can replace Gana, and it seems Beni, isn't favoured by Silva.
Bramley-Moore Dock has deflected some focus off the Premier League, plus a blank weekend, but the next couple of games will bring this season to a positioning point. But after spending so much more and being worse than 3 years ago, in any role in life, questions would and will be asked.
It's a stinking nightmare and, as Izvestia said for Donkey's years, watching, supporting EFC, carries a public health warning.
Joe Corgan
109
Posted 17/02/2019 at 21:15:40
If PSG had come back in the summer with a fair offer, I'd have waved him off with my best wishes and gratitude.
Now he's shown a complete lack of class and bundles of naivety.
Do we actually have *any* players with both ability and character?
John Boon
110
Posted 17/02/2019 at 21:39:07
I think he has every right to want to move to PSG. However, it is a complete lack of class to air his feelings in public.
I agree with those who feel that think a gag order should be imposed on players before they move to any other club. I also think that players with the minimum sense of honour and integrity should never make negative comments even after they have left.
I think the fact that he is French and 29 does not give him the right to move. He certainly didn't mind leaving France to improve his career. He has a lot to be grateful for towards Everton as he picks up his huge salary each week.
Simon Dalzell
111
Posted 17/02/2019 at 21:43:32
Spot on, Joe #109. He could easily let PSG know of his ambitions behind closed doors. Doing it publicly, as he has, is disgusting. No class (or brains) whatsoever.
Eddie Dunn
112
Posted 17/02/2019 at 21:46:27
Let's just get this into perspective. Last night, I saw some of Newport v City, today a watched a bit of Swans v Brentford. There were plenty of players that I would hope Everton have run the rule over.
If we went in for, say, the quick kid at Swansea, would any of us give a shit if he had recently signed a contract for 4 years. No – is the answer!
Mike Gaynes
113
Posted 17/02/2019 at 21:51:11
John #110, good luck with your gag order. It wouldn't be remotely legal or enforceable, and no player would ever sign a contract that included one.
As for his "huge" salary, he's on £70,000 a week, which puts him nowhere near the top of Everton's wage scale. Among those making a whole lot more are Mina, Schneiderlin, Gomes and Walcott. And, unlike those, he has earned every dime, IMO.
Billy Roberts
114
Posted 17/02/2019 at 22:12:23
Mike, what's the correlation with wages earned got to do with anything? I personally don't care what any Everton player earns as long as they're producing on the pitch.
Off the pitch, is it too much to ask for an employee of Everton to conduct themselves with a bit of dignity?
Tom Bowers
115
Posted 17/02/2019 at 22:25:38
Gana is an average player who looked okay with an average Aston Villa side but he has disappointed me personally as have quite a few others in the last few months.
I think he should be benched in favour of others who want to stay and play 100% for Everton.
Rob Marsh
116
Posted 17/02/2019 at 22:44:50
Billy Roberts #114,
My father once said to me "When poverty walks in the door, love walks out", concerning love and marriage.
The same can be said for money and huge sums of it "When money walks in the door, dignity walks out".
It's disgusting what some people will do to get their hands on money (heroin dealers, arms dealers, bankers, politicians and footballers). We're all relative to them living like paupers and watching them try to increase £70,000 to £100,000 per week because they're hard-up on £70,000 per week.
Billy, You're 100% right, they should run their hearts out every game, but they don't.
And that's my 2nd rant for the day on TW!
Paul Birmingham
117
Posted 17/02/2019 at 23:00:39
Billy@114, Rob, @116, spot on.
That nails the issue. There's no genuine respect for the club any more, and as football has become a business, the ethics of trust, loyalty, honour, don't mean a bean in today's world, driven by agents, making millions off the players.
The game is in trouble and, in the UK, could burn out many football supporters. It's not the same and EFC needs some loyalty and ethos code.
In terms of excellence and aspiration, and looking at Barca's academy, this must have some conduct code, but in values, it's society and in football, agents rule. Can EFC survive, and thrive in the next few years?
Back to the game. Will I do a Sunday free gate at Wembley, again, like vs Blackburn in 95? I doubt it. No the old Sunday by law for football, and a free gate at any game.
The new Wembley now is for me sterile and lacks character. Digressing, Wembley, despite my view of the new Wembley, is as far away, sadly, as ever.
What next, this week?

Mike Gaynes
118
Posted 17/02/2019 at 23:11:09
Billy #114, I agree with you. Personally, I don't care about the size of his paycheck. I only mentioned it because multiple folks brought it up, under the general theme that he's overpaid and overprivileged.
However, I most strongly dispute the idea that Gana's comments are somehow undignified or improper. He hasn't insulted anyone in any way, just honestly expressed his wishes, as any man has the right to do, especially a classy professional like he is.
And he sure as hell isn't an arms dealer, a drug runner or an agent because he does so.
Paul Birmingham
119
Posted 17/02/2019 at 23:11:10
Looking at Wolves on the box, and they are better than a month ago, when they beat us, and have the tempo and spirit.
All the key requirements that EFC can't find this season, in any form of consistency.
Where are EFC going?
Rob Marsh
120
Posted 17/02/2019 at 23:12:20
Paul #117
What next, this week?
Haven't you heard the players union will announce it wants a collective pay rise for all Premier League players because they're beginning to suffer due to prevailing economic conditions?
Some of them a really quite hard up and a cannot afford super cars in the Bugatti Veyron or Piganni Zonda class yet.

Mike Gaynes
121
Posted 17/02/2019 at 23:13:14
Rob #120,
What do you have against a professional making all the money he can?
Rob Marsh
122
Posted 17/02/2019 at 23:17:32
Mike #118,
A touch of dramatic effect in my post there, what they do (obviously) for a living does not compare, but they seem to be every bit as ruthless when chasing the root of all evil.
Paul Birmingham
123
Posted 17/02/2019 at 23:20:18
Rob, in my time, it's evolved, as life evolves to survive, but at EFC, evolution is not straight forward.
The game's changed, no values and it won't go back to the old days. That's reality, and they are last, crap houses, on a good day, in terms of this season.
Everton FC, must instill a work and respect ethic to deliver. The players this season, so far, generally have taken the piss out of EFC.
Kunal Desai
124
Posted 17/02/2019 at 23:25:35
Why don't we look at this situation with the shoe being on the other foot.
A club who for over 20 years has been nothing but mediocre, making up the numbers to stay in the league.
A club for the majority owned by Kenwright who has had zero ambition to move the club forward and, let's be honest, that status has continued since relinquishing his shareholding in the club over the last few years.
Nothing has changed. No plan or strategy in place by the board to show signs of improvements season after season and convincing better players they can actually be a part of a successful footballing side. Yep, I wouldn't want to work for this circus either.
Rob Marsh
125
Posted 17/02/2019 at 23:29:34
Mike #121,
That's actually a complex one to answer concerning among other things morality, relative morality and existentialism.
I have a little dog who hasn't had a walk for 3 days, he's climbing up the walls and it's getting late over here in the UK, so I'll take him for his walk.
I'll have a think while on the walk and answer that one later.
Simon Smith
126
Posted 17/02/2019 at 23:30:09
Fuck me if Barkley, a lad who is from Wavertree, an actually life long Evertonian, a lad who was treated and nursed back from career-threatening injuries can leave us after allowing his contract to run down to sweet fuck-all, then nothing will shock me at Everton ever again.
Gana has been a good player for us, but the truth is he's almost 30 and were not pushing for honours any time soon. Top that with the fact all the big boys pay much bigger wages than us and you will see how obvious a decision Gana is making.
He should remember though that there weren't any big clubs knocking the door down for him after his relegation with Aston Villa so he should be more respectful in his attempt to leave.
My guess is Gana will be gone in the summer, it's a shame though as we have a squad of 30 players, and I'd sell at least 25 before selling Gana given the choice.
I hope we get past all this scrap though, we need a mega clear out, if we don't have investment then we have to blood a lot of youngsters as well as crossing our fingers on the likes of Vlasic, Onyekuru, Dowell and Holgate returning as determined professionals who are ready to make it at Everton.
We've spent the past few years buying average players who are no better than the players they've replaced; that takes it's toll on a club and giving them stupid wages has made it even harder to get shut.
Hopefully Moshiri has wised up and not become bored; he needs to remember he was the man who's brought these idiotic managers to the club. He's ultimately making these decisions and he needs to start getting them right or were never going to get out of this rut.
Recent events have put us back much further than the Moyes era and only one of two things will fix it: that's time or money.
Mike Gaynes
127
Posted 17/02/2019 at 23:30:57
Rob, I think lots of us are ruthless in that way. (And it's the love of money, not money itself, that is the "root of all evil.")
As to whether pro athletes are ruthless, the fact is that they're in a ruthless industry. They're among the very best in the world at what they do and have beaten out mind-blowing competition to get there (fewer than one in 100,000 youngsters in professional academies, who have already beaten steep odds to be there, become top players in top leagues). Their careers end around age 32 if they're lucky enough to stay healthy that long.
Furthermore, their jobs support a multi-billion-dollar worldwide industry of ticket sales, TV rights, gear sales and advertising money. Their performance is crucial to the success of a company that rakes in hundreds of millions of dollars a year, and they understandably feel they deserve a big piece of that.
It drives me crazy that people here say Gana's ambition is "disloyal" – as if Everton will keep him on out of loyalty when he gets older and his performance flags. That's the ruthless side of this business, not player ambitions.
I think top athletes deserve whatever they can get. Not only is it free enterprise, it's justice in a system that for far too long allowed wealthy owners to hoard all the profits while casting aside the athletes who generated them.
Am I jealous? Hell yes. I wish I'd been born with the kind of talent and work ethic that could earn me £70,000 a week. I'd love to have been a footballer. But I'll never contest their absolute right to make what they can. Agents, on the other hand...
I look forward to your existential answer when your puppy finishes pishing.
Paul Birmingham
129
Posted 17/02/2019 at 23:49:41
Simon@126, a very good and precise summary, of the plight of EFC.
It's Biblical, and more complicated.
Ian Brandes
130
Posted 17/02/2019 at 23:57:17
PSG would be mad to have him, he is not that good. Maybe he needs to learn how to pass to players on his own side, and score some goals. Consistently over-rated, perhaps because he is a member of our very poor team.
Michael Lynch
131
Posted 17/02/2019 at 00:00:56
Dear Footballers.
Please shut up and play football.
Yours sincerely,
A Fan.
Kiern Moran
132
Posted 18/02/2019 at 01:26:19
Sell him. Getting on. Weak passing ability, especially wrong. Unbalances us when we play Davies and I would base the team around Davies. Good service but goodbye.
Mike Gaynes
133
Posted 18/02/2019 at 02:35:40
"PSG would be mad to have him, he is not that good."
Uh-huh.
PSG's DOF is Antero Henrique, who oversaw Porto winning 15 league titles and cups in 11 years, including a UEFA Cup.
PSG's manager is Thomas Tuchel, who won 68 of 108 games at Dortmund and took them to a German Cup win and a German Cup final. And who currently has PSG 12 points clear at the top of Ligue 1.
Definitely two football fools given to "madness", eh?
Please.
Darren Hind
134
Posted 18/02/2019 at 03:26:20
Mike
I didn't edit your sentence to make a point.
Gana is not the "best in the world" at anything. This is yet another example of somebody taking misleading stats from fanboy websites and failing to understand them. You, my friend are mistaking quantity for quality.
Gana is both fireman and arsonist. He often causes the problem in the first place with a misplaced pass. When he does "win the ball" it is often to knock it out for a throw in, or knock it away from danger, or straight to different opponent from the guy he just dispossessed. When he does gain possession he is just as likely to re-ignite the fire by giving it straight back.
Best I the world? Do me a favour. He may make the most tackles (that's what tackling machines do) but top quality "ball winners" make tackles at the right time and they come up with the ball. Take a look at the guy down the road playing for Man City. When he wins the ball, it stays won
There is a very clear difference between a "ball-winner" and destroyer. Fernandinho is one, Gana is the other.
If you want to claim he is one of the most prolific tackling machines in the world, you'll get no argument from me, but to call him a word class "ball-winner" is an insult to those who have mastered the art.
Mark Andersson
135
Posted 18/02/2019 at 04:45:24
Once again some great posts... truth is: Everton are bang average both on and off the field.
Born a blue, seen the brief good times in the 80s. Realistically, I can't see us reaching those heady days again in what few years remain in my lifetime...
Mike Gaynes
136
Posted 18/02/2019 at 05:06:43
Yes, Darren, I know you love to sneer at my uninformed opinions because of my disgraceful habit of researching them on what you love to deride as "fanboy websites" (you really do need to come up with another description -- that one is getting pretty hoary) instead of your preference of bestowing opinions upon the board supported by... uh... your opinions. But what else can I do? I must compensate with silly statistics for my
"failing to understand"
what I'm seeing when I watch the games. Thank you for explaining it all to me.
What you completely ignore about Gana's tackles are that so many of them come after his teammates have lost the ball in critical positions, which happens all too frequently in the current Everton side. And yes, sometimes those tackles are, by necessity, performed in desperation – destroyers that stop an attack by knocking the ball out of danger or into touch. But you can repeat "tackling machine" as many hundreds of times as you want (groan!) without convincing me that a majority of those tackles (he has twice as many as Fernandinho) do win possession of the ball.
Furthermore, you utterly ignore the other half of Gana's defensive brilliance, the interception, by definition a change of possession – actual "ball-winning" at which Gana and Kante have been far and away the best in Europe over the past three seasons.
Of course Fernandinho is a much better player than Gana -- as are Kante, Sergio Bousquets and Casemiro among others. They all play the full game, which Gana can't, and they do it for top clubs that don't require desperation tackling from their defensive mids because they rarely lose the ball in bad spots and have top defenders behind the play. But what Gana does, he does better than any of them.
That's what PSG needs, which is why they want him. For all their brilliance, they have an unfortunate habit of turning the ball over in the middle of the pitch, and their tendency to give up counterattacks could be fatal in the Champions League. So they need Gana to get the ball back when Draxler and Parades give it away. And as I mentioned above, PSG's decision-makers aren't idiots. They don't "fail to understand" what they're seeing.
Darren Hind
137
Posted 18/02/2019 at 06:39:37
Mike,
I think you are one of the most informed people on this site. You certainly watch a lot of football. So don't start spitting the dummy claiming I am sneering at your ill-informed opinions.
You're right about one thing though. I do deride any argument based entirely on stats gleaned from fanboy websites... No matter who is serving up the argument. If I was going to get personal, it wouldn't be with you
You once again fall into the trap of believing this hokum by telling me about Gana's fantastic record for interceptions. I have spoken about those myself recently, but once again he demonstrates no touch at all and most of them go into touch, out for a corner, back to an opponent, or simply up for grabs. This is NOT ball-winning, it is a disruption to opponents attacks and yes given how poor we are defensively its crucial to us at the moment.
I don't offer up mere opinion. I offer up the evidence of my own experienced eyes.
Show me a guy who calls Gana world class and claims he has twice as many tackles as Fernandinho and I will show you are a guy swayed by quantity over quality, a stats fiend.
Show me a guy who thinks Gana and Fernandinho belong on different levels and any comparison made is a foolish one and I will show you somebody who uses the evidence of their own eyes.
It never ceases to amaze me how intelligent, football savvy people can be so totally swayed by figures designed to guide rather than inform. These Fanboy websites have their uses (I guess) but they will never replace thinking for yourself.
Ian Brandes
138
Posted 18/02/2019 at 08:21:48
Darren v Mike – Darren every time!
Gana is NOT world class, not even approaching it. I am just surprised that PSG want him.
Put it this way Leon Osman, at his peak, was far more accomplished in the way he passed, held up the ball, changed a game, and actually scored goals from midfield, which nowadays seems a rare event under our hopeless all-at-sea manager.
Jim Bennings
139
Posted 18/02/2019 at 08:47:35
Ian 138
I'm starting to believe that I did a disservice to the likes of Leon Osman, Tony Hubert.
Osman was a far better footballer than people gave him credit for and fans perhaps thought because he was slight and slow he was not good.
What Osman was however was a very tenacious strong willed character and his technique was underrated, some of the goals he scored live long in the memory, the Larissa one in 2007 a real standout.
What I'd give for a similar type to Osman now.
Tony Abrahams
140
Posted 18/02/2019 at 09:01:28
Funny thread, talking about a lack of class, no dignity, and all because a player has opened his mouth?
Barkley kept his shut but his intentions were very clear. Gueye, who is touching 30, has said he his going to work even harder (is this possible?) and play even better (this is definitely possible?) to get his dream move. If he is true to his word, then I hope he gets what he wishes for.
Actions speak louder than words, which is why mid-table Everton always have a player telling us that we are going to do better next week, after another loss, instead of just rolling up their sleeves and getting on with it.
Gueye could have said nothing, "I know," but maybe he feels his chance at the big time has gone, and this was just his way of showing his natural frustration?
He said he's going to keep working hard, and surely that's the most important thing, because I for one wouldn't begrudge him his dream move, especially if Everton can get top money for him, and also because I think when we are ready for a player with little Gana's qualities, then Gueye will be way past his best.
Tony Abrahams
141
Posted 18/02/2019 at 09:05:20
Jim, I've been watching Everton for 45 years now and, in all that time, I've not seen many players in a blue shirt who've had a better first touch than Leon Osman.
Laurie Hartley
142
Posted 18/02/2019 at 09:31:20
Here is a little "pick me up" for us :

Up the Blues!!!
Brent Stephens
143
Posted 18/02/2019 at 09:52:12
Ian #138,
You say Leon Osman was a better player at his peak than Gana, because of his hold up play and passing. I was a great fan and defender of Leon because of his perception and passing ability – but Leon would lose the ball in possession much more than Gana does – and as for his tackling ability...! A totally different type of player for a totally different role. Better comparisons to make if we want to find fault with Gana.
Roger Sunde
144
Posted 18/02/2019 at 09:58:16
Laurie #142,
A brilliant-counter attack started by Tim Cahill, an overlapping run from Leighton Baines, A flick from Steven Pienaar and a swerving finish from Leon Osman.
God, I miss people I cared about in Everton.
Clive Rogers
145
Posted 18/02/2019 at 10:04:42
Ossie did have some qualities, but what let him down was that in the 12 seasons he was established, he averaged less than 4 Premier League goals per season.
James Hughes
146
Posted 18/02/2019 at 10:05:41
Laurie, that brought a little tear to my eye. EFC attacking at pace and passing to each other!!! Sheer class. Hopefully those days will be back soon. COYB
Paul Cherrington
147
Posted 18/02/2019 at 10:13:14
Both Leon Osman and Tony Hibbert are Everton legends in my eyes - gave their all for the club, were great players and a key part of the Moyes era that was the last time we were actually consistently good. The stick they got was ludicrous and they were much, much better than they were given credit for. As others have said, we would take them back into this side in a heartbeat which says it all.
As for Gana – no problem with a player at the stage he is in his career wanting to take the kind of opportunity on offer. The issue I think is the club have cocked it up a bit. We should have got as much for him as we could in the last window. He could well get injured before we can now sell in the summer or PSG could find someone else in the meantime. Also, we don't know how annoyed he really is about it all – you do not want a negative atmosphere coming from one player into the dressing room now, with the mess the club is already in.
John Daley
148
Posted 18/02/2019 at 13:18:10
Personally, I was half hoping the club were going to take the money for Gueye back in January, despite him being one of a very select few within this squad to not let his form slide off the edge of a cliff and plummet, Wile.E. Coyote style, toward complete wankery.
He is very good at what he does, but what he does is not a fit for the demands of the system Silva is seemingly intent on sticking with through hell and high water. It cannot be denied that our defence has been consistently poor and naive, but it should also be recognised that they have been afforded negligible protection in a team shorn of a specialist sitting midfielder with the result that they now visibly shit themselves every time they see the vast reaches of space opening up right before their eyes, like a mid acid-sesh Dennis Hopper during the making of Easy Rider.
The team is crying out for somebody disciplined who will rarely vacate that one vital position, not a player who loves to buzz about all over the place, looking to pick up more loose balls than Lexi Belle at a 'bring your own packed lunch' Bukkake party.
Prior to the start of the season, Silva was giving it the 'studied and measured' spin about how pivotal a holding midfielder was to his plans, with Schneiderlin clearly pegged to perform that role:
"Depending on the profile of my No 6, I can play one and two or I can play two and one behind the striker depending on the profile of our No 6. If we play Schneiderlin he is a player who likes to play more alone which gives more freedom to the other two midfielders and this is the system I use more."
After the season started and Schneiderlin (predictably) proved a huge let down, Silva again stressed how crucial such a role was to team structure, but in his very next breath went on to say something to suggest that, in practice, he had either (a) tossed off the fundamental nature of the position and now thought he could get away with a non-sitting player filling in every now and again when he needed a breather, or (b) had been taking in every game with a fucking Tesco grocery bag pulled over his gormless face:
"It is an important position to me and to our squad. He [Gueye] is playing more like our holding midfielder, in the No 6 position. In our plan, it is a really important position. Gana is improving and understanding what I want."
Mistake there, in my opinion, Marco. Gueye has not been "playing more like" a holding midfielder at all. I would go so far as to say he cannot. Gueye is playing exactly the same as he has always done ever since first donning an Everton shirt. His game has not altered one iota to compensate for the omission of a more conservative, position-conscious, sitting player.
This is not a slight against the player at all, but rather a manager who has judged that a midfielder merely covering a lot of ground can somehow compensate for the jettisoning of a central component he previously pointed to as being absolutely key to how he sends his team out to play.
Eddie Dunn
149
Posted 18/02/2019 at 13:50:14
John Daley, you sum-up one of the two main problems this season.. The other is the lack of a striker.
Mike Gaynes
150
Posted 18/02/2019 at 15:44:37
Darren, again I did NOT, did NOT, call Gana "world class." I called him one of the best in the world at one thing. I stand by it, based on the
"evidence of my own experienced eyes"
supported by statistics -- NOT based only on the statistics. We have both formed opinions from watching him. They're just different opinions. But neither is "evidence" except to ourselves.
Paul #147 and John #148, I can only assume the club expect to get much more for him in the summer than the £26.5 million. Usually that is the case. Time will tell if they are right.
Laurie #142, that was indeed a wonderful pick-me-up, involving some of my all-time favorite players. Thank you. And Roger #144, AMEN.
Dave Evans
151
Posted 18/02/2019 at 17:09:28
PSG aren't going to buy a 29-year-old who 'isn't very good'. They think Gana will improve their team. A good team, who have just made Man United look silly.
Gana probably should have let this lie until the end of the season but I don't see it as an issue for a hissy-fit. At a difficult time for the club, Gana has always given 100% when in the blue shirt. In recent times, players who have done that are rarer than hen's teeth.
John G Davies
152
Posted 18/02/2019 at 17:19:46
Tony 140,
I could not agree more. I much prefer a player who gives an honest statement than the one who will make PR statements or say nothing when it's obvious they want away.
Leon Osman? A far better player than he was given credit for. A pure footballer who would have graced any top team who played one- and two-touch football. He would have fitted perfectly into the current Man City team for example
Phil Smith
153
Posted 18/02/2019 at 17:30:46
Gerry Quinn – No!
Mike Gaynes – Yes!
He's done as much as he can with our team. Time to sell at a great profit and give his role to one of our lads. I want more of the U23s in the squad. I'm sick of our overpaid, underperforming "first-teamers", week-in & week-out. He goes with my best wishes.
Darren Hind
154
Posted 18/02/2019 at 18:03:34
Mike,
When you describe a player as the "best in the world" at what he does, you are claiming he is world class and when you compare him favourably to a pair of proper world class players You are basing your argument purely on stats.
If you were basing your opinion on the evidence of your own eyes, you wouldn't put Gana in the same sentence as Fernandinho or Kante, let alone try to show him to be superior.
Winston Churchill – "The only statistics I believe are the ones I have doctored myself."
Mike Gaynes
155
Posted 18/02/2019 at 18:08:35
John #152,
I loved Ossie too and thought he took lots of unfair stick, but I think you are over-romanticizing him more than a bit. He never had anything like the pace or the creativity to fit into today's Man City side.
For us he had a goal every 8 games, an assist every 11. He played the role for us that David Silva (same height) plays for City, and there's simply no comparison there.
John G Davies
156
Posted 18/02/2019 at 18:18:25
Very rarely am I accused of over-romanticism, Mike. Do you think he was as quick as Gundogan, Bernard Silva?
Pace, when you have a high football intelligence, is not the be-all and end-all.
Mike Gaynes
157
Posted 18/02/2019 at 18:26:23
Darren, re your first paragraph, no, I am NOT, and I'd appreciate it if you'd stop telling me what I'm "really" saying, because I write well and clearly.
Mark Crossley in his day was the best penalty saver in the world, but nobody would have called him a world-class keeper. Nor am I calling Gana "world class" by proclaiming his ball-winning talents, no matter how much you want to misrepresent my words.
And as to my trying to show him superior to Fernandinho and Kante, perhaps you need to clean your glasses and re-read this sentence from my post #136: "Of course Fernandinho is a much better player than Gana – as are Kante, Sergio Bousquets and Casemiro among others."
Nothing unclear about my words there either.
Mike Gaynes
158
Posted 18/02/2019 at 18:39:31
John #156, you're absolutely right that pace isn't everything, but you'd better have something else special going for you.
But, in answer to your question, no, I don't think Ossie had anything close to Bernardo Silva's quickness, and certainly not his creativity or attacking talent.
Gundogan is a different kind of player altogether, but suffice it to say I don't think Ossie would have played in a World Cup for Germany.

Tony Abrahams
159
Posted 18/02/2019 at 18:40:45
Interesting that about Crossley, Mike. Did he really save more penalties than the other keepers, or is it also because of his cup final save against Spurs?
John G Davies
160
Posted 18/02/2019 at 18:49:59
Mike,
I didn't compare Ossie as a like-for-like player to Gundogan. In my opinion, he had the ability and vision to play for any top four side.
On another Man City player, Fernandinho, he probably wins less tackles and interceptions than Gana because City's opposition don't have the ball that much.
Rick Tarleton
161
Posted 18/02/2019 at 18:56:37
I'm quite intrigued by those fans who expect loyalty from players, managers or directors. The only loyalty in football is shown by fans, we choose a team at a fairly young age and then we stick to it, usually through thick and thin.
Players go where they are offered more money, as I did in my job. Likewise, managers and even owners and directors can go to another club and reinvest their money.
Quite often the Peter Principle works and managers and players get the "promotion" they desire, but like Rodwell at Man City or Moyes at Man United, they find themselves out of their depth.
No, I'm sorry, it's only supporters who are loyal and in it for the long run.
Andrew Laird
162
Posted 18/02/2019 at 20:12:05
Thank you, John G Davies, re Man City possession not requiring Fernandinho to tackle as much! saves me pointing out the bleeding obvious (although it's another amusing fallacy of stat loving).
Mike, you seem a well-educated fellow who clearly loves his football but I seem to remember you saying that Gana was the "best in the world" at 3 disciplines which irked me during the transfer speculation so perhaps tread carefully. Gana is obviously a favourite of yours and you are welcome to your opinion.
Darren Hind
163
Posted 18/02/2019 at 20:18:47
I think you are selecting certain parts of your comments, Mike.
"But what Gana does, he does better than any of them" (Bousquets, Kante, Casemiro and Fernandiho)
"Furthermore you ignore the other side of Gana's "brilliance", the interception, by definition a change of possession (no it isn't). Actual ball-winning, at which Gana and Kante have been far and away the best in Europe over the past three seasons"
"He has twice as many (successful tackles) as Fernandinho."
Not comparing him favorably, Mike? ... maybe I do need to clean my glasses.
John Pierce
164
Posted 18/02/2019 at 20:28:02
I see Sarri-ball is every bit as inflexible as Silva's silhouettes. The similarities between both managers to show any pragmatism in plain slight of a failing system is really frightening.
Perhaps both have already shot their load, but Chelsea look every bit as predictable as we do. They've both been worked out.
Silva, with the pressure mounting has finally 'clogged up our back door' with a change of formation; Sarri from what I know is prepared to die on this particular tactical hill.
Man Utd a veritable snowball gathering size, from a coach regarded as a complete novice, even though they really do have a poor defensive unit. Albeit a reality check in Europe, Solskjaer has instilled a verve and telling won over the squad.
Maybe Sarri & Silva could learn a thing or two about creating an environment where players feel empowered to give their all?

Dermot Byrne
165
Posted 18/02/2019 at 20:35:48
Yay Mike and Darren have handbags.
May be a game soon!
Brent Stephens
166
Posted 18/02/2019 at 20:42:47
That's one well worn handbag. Possibly in both senses!
Darren Hind
167
Posted 18/02/2019 at 20:50:06
Andrew
You are right. Mike is clearly and educated fella and yes he does love his football – knows it too. You complete your hat-trick when you say he has a soft spot for Gana.
I've been crossing swords with Mike over this particular player since we signed him from Villa. Not sure why I bother, I've got more chance of winning an argument with the missus.
Thing is with Mike. he always has something interesting to say... Know what I mean?
Peter Gorman
168
Posted 18/02/2019 at 20:52:48
John Daley - "After the season started and Schneiderlin (predictably) proved a huge let-down."
Is that actually true? I can't stand the man but thought he was far, far, better in his few performances than last season and only fully lost his place once Gomes approached fitness.
I thought he had a good game against Wolves, got injured against Saints and was no more gash than the rest of them against West Ham (and certainly no worse than the recent shit-shows we've endured). He hasn't played ahead of Davies, Gana or Gomes for a long time.
Perhaps if what you say about Silva's system is true, then he is worth another look, heaven help us.
Mike Gaynes
169
Posted 18/02/2019 at 21:22:12
Tony #159, yes, as I recall he saved about 40% of them in his career, which put him right up there with the just-departed Gordon Banks as the best ever at that time. In the Premier League, he stopped about 32%, ranking with Seaman and Tom Heaton.
All have since been far surpassed by Diego Alves of Valencia and Flamengo, who is an absolute freak at it – he has stopped almost half of the penalties he has faced in his career. But, like Crossley, he's never been considered a world-class keeper.
Mike Gaynes
170
Posted 18/02/2019 at 21:30:10
Andrew #162, yep... in fact I pointed that out as well in a previous post, citing not only Fernandinho but Kante, Bousquets and Casemiro as playing in much better sides that don't require desperation tackles from their defensive midfielders. So of course stats never tell the whole story (which Darren always accused me of doing), but they do help fill out the picture.
But I've seen Gana tackle, and I've seen Fernandinho tackle, and – in my opinion – Gana is better at it.
Steve Ferns
171
Posted 18/02/2019 at 21:33:37
Or John, Sarri is being made to look a fool by his players when he is one of the world's best coaches. So, even if you are a great coach, your tactics can look as bad as Chelsea's did today and it can appear you do nothing on the training pitch.
In reality, this is Conte's side, who let him down and got him sacked, and Conte played very differently to this. They are also mostly the same players who got Mourinho sacked.
There is a lot of similarities to Everton, you are right. But we draw opposite conclusions. This is what happens when the players know they can get rid of you easily.
Tony Abrahams
172
Posted 18/02/2019 at 21:34:52
I think, if he played today, then Crossley, would be a much better player, Mike, simply because he played at a time when keepers, could get away with being 2 stone overweight?
I didn't know his penalty stats were so good, which shows he must have been a very good shot stopper, even though I'm surprised that any goalkeeper could have such a high percentage of saves from penalty kicks.
Thanks for that info, Mike, because I always liked Mark Crossley, and was glad he had such a decent career.
Brent Stephens
173
Posted 18/02/2019 at 21:37:06
Mike #170 yes and one of Gana's abilities is tackling and winning the ball while staying on his feet more than most. Superb balance.
Darren Hind
174
Posted 18/02/2019 at 21:39:44
It's not personal, Mike. It's bullshit I have such contempt for.
BTW, Churchill was on the money.
Steve Ferns
175
Posted 18/02/2019 at 21:45:21
Mike, your boy is gone at the end of the season for sure. Enjoy him whilst you can.
He had a lot of qualities and I shall enjoy him displaying those qualities in his remaining games, try to ignore the massive flaws, and remember him as a player who always gave 100%. If only his effort was matched by the entire squad.
Jay Wood
[BRZ]
177
Posted 18/02/2019 at 21:56:27
Milwall drawn at home to Brighton in the FA Cup quarter-finals.
What might have been (again...!), eh?
Steve Ferns
178
Posted 18/02/2019 at 21:58:13
I suppose so, but if we'd have beaten Millwall, we'd have drawn Man City. You know how it goes for us.
Andrew Laird
179
Posted 18/02/2019 at 21:58:38
Mike, like I say everyone's entitled to their opinion but I think love makes people say crazy things.
Jay Wood
[BRZ]
180
Posted 18/02/2019 at 22:00:30
Strewth Steve! Has Jim Bennings hijacked your TW account???!!!
Darren Hind
182
Posted 18/02/2019 at 22:09:38
Indeed, Steve.
Rob Marsh
183
Posted 18/02/2019 at 22:27:04
Mike Gaynes #121,
I'll presume we're talking about professional footballers and not the normal world that exists outside their bubble. This makes answering the question easier; no need to explain it in philosophical terms of existentialism & morality.
I'll throw you a curve ball (as I've heard said on your side of the pond) and give you two answers.
The first answer:
I've got no problem whatsoever with then earning big bucks! Providing they play like they're earning big bucks!

The second answer:
We've focused on the footballers, their wealth and their consuming need for it; it's the potential consequences of it that I'm more interested in.
When I was a lad and first started going to Goodison Park in the very early 80's we were just past the worst of a football hooliganism issue the country as a whole had, but still had elements willing to do battle. There was a completely different atmosphere to what's happening now and also a different demographic in the ground, I am convinced the average age in the ground has risen considerably. And the relationship between age and the energy those fans bring into the ground is an inversely proportional one: the older they get the less noise they make!
There were many more younger men and lads like myself and my mates in groups and we sang our hearts out, you can have a nice little nap in between songs at Goodison Park now, back then you had about 30 secs, we were bouncing up and down win, lose or draw. We had all standing in the Gwladys Street, Lower Bullens, Park End (away fans) and what's now the family enclosure, I mention this because it has had an effect on the energy levels within the stadium. My season ticket worked out about £1.60 per game to get in to the lower Gwladys street (standing) and this encouraged groups of young terrors to turn up and it also ensured the next generation were coming through.

Okay, why the history lesson?
Hypothetically, let's suppose things pick up for Everton and we find ourselves doing well and in the Champions League (what a strange thought!) and attracting big players with big salaries, we're suddenly paying £70-80m for our strikers and lo and behold ticket prices suddenly take a massive hike up, the fans complain. The new owner (Moshiri has made his profit and sailed off in his yacht) knows there's that much interest in Everton now, he can take the wealthiest of the Local support and sell the rest of the tickets to Scandinavians and wealthy cockneys looking for a wild weekend in Liverpool. Does this sound familiar? It's happened to a team close by and another one not too far away!
History might repeat.
Mike you said:
"I think top athletes deserve whatever they can get. Not only is it free enterprise, it's justice in a system that for far too long allowed wealthy owners to hoard all the profits while casting aside the athletes who generated them."
I'm going in the opposite direction, I don't mind the owners winning the wage battle with the footballers and controlling their wages, if it makes the game more accessible to everyone. The players will just have to make do with £50,000 per week, It's terrible, I don't know how they'll be able to survive on such a piddling little amount (please forgive my sarcasm)?
Mike, the bosses in the rest of industry have pretty much won the wage battles with their workforces and if it helps many more to go to games I really don't mind footballers losing this one, whether right or wrong.
I've been to a few Bundesliga games and their stadiums are absolutely rocking! There fans a singing throughout the game and take Schalke for instance, you can get in for £12 adult, £43 at Everton?
I get to about four games a season at Goodison Park and although sometimes entertained, feel something is missing. I can easily afford a season ticket but don't want to be tied every weekend to what's happening at Goodison Park.
John Pierce
184
Posted 18/02/2019 at 22:35:33
Ferns, Twittering like an angry 'berd' today.
Go'ed, Steve, proper at it today. 😡
Jamie Crowley
185
Posted 18/02/2019 at 22:36:18
Laurie @ 142 -
That was my "first season". I went absolutely berserk. What a freaking goal.
John Daley @ wherever it was -
Oh John. . . I saw you post, stopped dead in my tracks (or scrolling if you like), and read your words, as I do every time you post.
looking to pick up more loose balls than Lexi Belle at a 'bring your own packed lunch' Bukkake party.
Did I read that right? Surely I must have as I copy and pasted? I just shook my head, laughed, and said, "Yup."
Brilliant. I need to shower, but brilliant.
For the record, as if it mattered, I'm with Mike Gaynes. Clearly Gana is the best in the world, or that argument can be made, at his craft of tackling, ball-winning and interceptions. That doesn't make him the best holding midfielder in the world.
I'll miss him, whether he "fits" or not. And in regards to all these, "He doesn't fit in the system" sentiments? I'll bet dimes to doughnuts we miss Gana terribly.
At least for a time. Great little footballer whom I could watch play all day long.
Don Alexander
189
Posted 18/02/2019 at 23:59:00
Pete Gorman (#168), aw, don't be so mean, it must be hard enough thinking up such hi-falutin', erm, jests without having to take account of the full picture (slaps thigh in self-adoring congratulation)!
Anyway, to me, Gana Gueye is mainly "workman-like" but, as with every other player in the squad, is having to labour without much of a threat of ever causing an opposing defence to have any real worry that we might just score. That surely dulls any latent sense of enterprise right throughout the team.
Walcott and Tosun were silly but desperate buys, the first being a guy who from the off, extreme pace aside, had football awareness on a par with the legend that is the Chelsea midfielder, Ross Barkley. The latter looks like a very expensive Stracqualusi Mk 2. Calvert-Lewin is still in the seemingly endless "promising" stage and Brazil's most recent centre-forward may just be looking at teams in warmer climes where he might win trophies before his hair goes grey.
Still, at least we still have Fraser Hornby....... and Mirallas of course...... and Bolasie.
Derek Thomas
190
Posted 19/02/2019 at 00:39:45
Mike Gaynes @ many;
Re penalties: A study of 1,500 penalties...as viewed from the keepers perspective... showed that the way the takers none kicking foot points – centre / left of centre; centre / right of centre and dead centre. Was a 95% predictor of which side of the goal the ball would go.
Of course, there are some that you'll never save because keepers can dive... then they're on the way down, but they can't fly. Anything in the top corner is in.
Maybe those keepers with good records are picking up on this and that half a stride time gap gives them an advantage. Look at a few recordings with your finger on the pause button and see.
John Daley
191
Posted 19/02/2019 at 01:45:56
Peter @168,
Schneiderlin certainly hasn't been a let down to me, as I had no great expectations of him in the first place, having failed to be even slightly impressed by him ever since his first season when he gave one of the worst performances I have seen from an Everton player in a game against Spurs.
My assertion was that Schneiderlin has been "a huge let down" to Marco Silva, given the initial build up he gave him and evidenced by the fact he subsequently hasn't had so much as a sniff of getting back in the side since being dropped months ago. Pretty damning considering he was the one player whose importance to the system the manager chose to highlight when he first walked through the door.

Mike Gaynes
192
Posted 19/02/2019 at 02:54:30
Wow, take a few hours off to hit the gym and the beach, and miss all this fascinating stuff! Great posts here. I'll take 'em in reverse order.
DT #190, that's fascinating. Would you happen to have a link to that study?
Jamie #187, I went straight onto the floor reading that, and I'm not ashamed to say I know exactly who Lexi Belle is.
Rob #183, fascinating post, thank you. I take all your points, particularly your note about the changing age of the fans at the games. That's why I was so struck by those 20 teenagers singing thru the U18 game the other day. And I've noticed what you noticed about the Bundesliga – I watch a lot of Dortmund games since Pulisic The Yank has been starring there, and you can feel the energy right through the TV screen.
Steve Ferns and others, condolences on your Brexit traumas... I've been watching but don't always understand what I'm seeing. Could have an interesting debate sometime on whether it's worse for a nation to be led by raging incompetents or corrupt racist megalomaniacs. And Steve, I agree, Gana is gone in the summer, and wish him the best.
Darren #174, I did take "fail to understand" a bit personally, but I really think it's just "fail to agree", which we are both experts on.
Tony #172, glad you found the info enjoyable. Personally I think Crossley's problem was blunders, not poundage -- I remember a couple of howlers from his later years at Oldham. Got a treat for you, my friend -- this Crossley anecdote about Brian Clough making him play for his son's Sunday league team is absolutely hilarious: https://www.youtube.com/watch?v=5W5ZEK9jnwg
Mike Gaynes
193
Posted 19/02/2019 at 03:04:26
Gerry Quinn
194
Posted 19/02/2019 at 07:45:05
Nice one, Mike - did they know each other? (I can't access the stories for overseas reasons - same as cannot get my favourite KHOU any more.)
Tony Abrahams
199
Posted 19/02/2019 at 08:56:13
I don't do Twitter or Instagram, Mike, but I went onto Crossley's page, after reading what you had told me about him, and I found that interview very funny.
It brought back loads of memories to be honest because I used to live in the same digs, that he mentions during his early years at Forest but I know he already had a car before Clough gave him one, because soft-arse me fucken crashed it into a wall one day.
I felt like a proper dickhead, when I did it, but the big fella was a good kid, and just shrugged his shoulders laughing, after calling me a "fucking stupid scouse divi" because he used to love me saying that word.
It happened for a reason, everyone had something to slaughter me about for once! but I made sure I came home that summer and took a crash course in driving, just to disappoint them all when I returned for the next season!
My memory was trying to work out his story because I remember coming off the pitch in Holland, after beating a supposedly Russian national team 2-1 in a big tournament in Groningen, with this result getting us into the final.
My head was spinning honestly because these Russians, should have beat us about 7-2, (some of Crossley's saves were right out of the top-drawer) and I remember Alan Hill, grabbing Norm, giving him a big hug, and telling him he was a first division goalkeeper.
That's the reason I'm telling this story, because when we got back to Nottingham having won the cup, mainly thanks to the keeper, we were going to get the train home for the summer, and he was told he was getting a 4-year contract which was unheard of for a young keeper at Forest so, as you can imagine he was buzzin.
"I'm fucking made up for you Norm," was what I told him laughing (I genuinely was though), "you will be able to get your car fixed now, won't you lad, you fuckin big divi!" And as you can imagine, he just shrugged his shoulders and laughed his head off!
Very happy times Mike, thanks, because I don't take many trips down memory lane.
Derek Thomas
203
Posted 19/02/2019 at 09:56:52
Mike @ 92; Sorry, no link on that, I'm sure there are enough shot-outs to google with your finger on the pause button.
Steve Ferns
204
Posted 19/02/2019 at 14:01:56
Mike Gaynes – what a claim to fame!
John Daley – it's very confusing. I believe that the "Schneiderlin type player" that Silva described is absolutely essential to his tactics. He's always utilised such a player, and this is the player that sets the tempo. I think it's the most important player for Silva.
Therefore, it is very confusing with the comments you posted above and then two things. Firstly, that Schneiderlin has not been back in the team. Let's remember he lost his place because his Dad died. He played in the immediate aftermath of that, had a stinker against West Ham, and since I don't think he has played at all, maybe a brief cameo off the bench, but I'm pretty sure he hasn't.
So that Silva has not used him since, with significant problems in midfield, says a lot about his lack of belief in Schneiderlin. He's clearly fit and he has started getting back onto the bench.
Has Silva changed his mind? Not likely, not on the position, it will remain important to him. I think we still play this player, but it's Andre Gomes doing his best impression of the No 6. Sadly, he's not a No 6 and it shows badly at times. Gueye is often just ahead of Gomes. Gomes will hold and Gueye will go forwards and close down. Fair enough, Gueye does this brilliantly and Gomes would be terrible at it, and lacks the build and the stamina. But it means that the No 8 is playing as a No 6 and our defensive midfielder is ahead of him most of the time.
I fully expect that in the summer Gueye will be moved on and Gomes will be retained (purchased) and pushed further forwards and we will sign a player to play the No 6 role properly. That is someone who is disciplined and holds position. A player who can tackle, but will never get close to Gueye's stats as he does not deviate from his position. But most importantly a player who can pass and whose primary attacking role is to set the tempo. That is to be in and around the ball when it is won, and to get on the ball and to get it moving quickly forwards, by incisive passes to Sigurdsson or the centre forward or by knocking it wide into space for Richarlison or Walcott (or preferably Lookman) to chase after.
Intensity is one of the words Silva says the most (after "moment" of course). Intensity means a lot of things, not least the closing down, but also the tempo of our attacking play. Our tempo has been far too slow in both and attack for a while now. That is not something Silva wants, and this one player can change that dramatically.
Tony Abrahams
205
Posted 19/02/2019 at 14:08:29
I think the real meaning of the word 'intensity' when relating to sport is aggression, Steve?
Mike Gaynes
206
Posted 19/02/2019 at 15:50:30
Tony #199, that's a wonderful story. No wonder you have such an affection for the man. Thanks for sharing that.
Derek and Gerry, sorry about the link, but either Lyndon or Michael apparently fixed it late last night, so you should be able to click on it and read the story now. George was quite a character.
And Gerry, no, he just grabbed the girl in the excitement of the moment. Decades later, after they were both eventually identified, they did swap letters.
Martin Nicholls
207
Posted 20/02/2019 at 08:08:41
Steve#204 - is William Carvalho that No 6 you are describing?
Eddie Dunn
208
Posted 20/02/2019 at 08:52:13
Mike- thanks for sharing that Crossley interview- so good!
Eddie Dunn
209
Posted 20/02/2019 at 08:55:05
Steve- people talk about not replacing Lukaku, but we have never really got over losing Gareth Barry.
Steve Ferns
210
Posted 06/03/2019 at 12:06:06
Interesting quotes from Gueye coming out of an interview with French TV (canal +):
"It's really not in my nature to make a scene and clash with the board knowing they've done everything for me, that they've already been correct with me. They allowed me to stay in the Premier League after Aston Villa got relegated. I owe everything to this club and will continue to give everything for the club as long as I'm there."
Steve Ferns
211
Posted 06/03/2019 at 21:23:41
"Everyone knows I was a little disappointed not to join Paris Saint-Germain because they are a big club and every player dreams of playing for this kind of club, to play in the Champions League, to win trophies.
"I managed it rather well, I was able to quickly resume and focus on my club Everton and try to finish the season.
"I was ready to go, but it did not happen. We move on and try to work for our club.
"It's really not in my nature to make a scene and clash with the board knowing they've done everything for me, that they've already been correct with me. They allowed me to stay in the Premier League after Aston Villa got relegated.
"I owe everything to this club and will continue to give everything for the club as long as I'm there."

Add Your Comments
In order to post a comment, you need to be logged in as a registered user of the site.
Or Sign up as a ToffeeWeb Member — it's free, takes just a few minutes and will allow you to post your comments on articles and Talking Points submissions across the site.