Bernard insists players are behind Silva
Tuesday, 19 February, 2019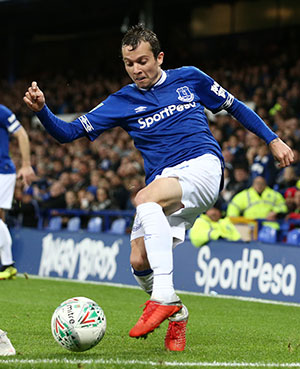 Bernard is the latest among Everton's players to express his support for Marco Silva, insisting that the squad has a lot of respect for him.
The Blues are on a terrible run of 10 defeats in 16 games in all competitions which has ended their FA Cup hopes and seen them fall away from the top seven in recent weeks.
Bernard, who was attracted to join the Blues last summer from Shakhtar Donetsk by Silva and Director of Football, Marcel Brands, was speaking to Record in Portugal and was asked if the players still have confidence in the manager.
"Yes, and our work shows that every day," the Brazilian said. "The squad is dedicated and seeks to understand each tactic, because each game requires a tactic.
"The concentration and the delivery of the players shows that we are with Marco Silva.
"As I said, each game requires a strategy and in every game he presents us with the smallest details, whether it be set-pieces, or how to surprise the other team offensively, for example.
"He is a coach who talks a lot with the players and who, if necessary, explains things five or six times if the player is not aware.
"He has great leadership and a lot of respect from the squad."
---
Reader Comments (210)
Note: the following content is not moderated or vetted by the site owners at the time of submission. Comments are the responsibility of the poster. Disclaimer
Alan J Thompson
1
Posted 19/02/2019 at 05:41:36
Gueye talks to a paper in France and now Bernard to a Portuguese paper, it's a small world where The Echo doesn't get a look in.
Mike Gaynes
2
Posted 19/02/2019 at 05:58:51
Very glad Bernard set the record straight. Now I can stop worrying.
Phillip Warrington
3
Posted 19/02/2019 at 06:13:35
it's a pity the players don't implement what they are being taught considering they are told 5 or 6 times if they don't get it.
Peter Bourke
4
Posted 19/02/2019 at 06:23:13
Mike, I love your humour 🤣🤣
Frank Sheppard
5
Posted 19/02/2019 at 06:41:09
Perhaps when he says "seeks to understand" he means "struggles to".
Anthony A Hughes
6
Posted 19/02/2019 at 07:15:01
"Sometimes explains things five or six times if the players are not aware."
Okay, Bernard – Who are the dumb-as-fuck players???
Sam Hoare
7
Posted 19/02/2019 at 07:18:55
I think Bernard's career at Everton echoes Silva's in some way. A decent start with some lovely moments that has faded somewhat into a more lethargic run of games with very little end product.
I still believe that both are capable of much better and hope we will see that realized at Everton sooner rather than later.
Unlike Koeman who was by all accounts on the golf course most days by 4 I get the impression that Silva does work extremely hard, however the issue at the moment seems to me to be one of player confidence, or lack of it. There's a nervousness and fragility in the play with individual mistakes simple passes being misplaced. Hard work alone cannot fix that.
Jim Bennings
8
Posted 19/02/2019 at 07:59:07
Wouldn't it be nice for a change to have the players/chairman etc start talking directly to the fans via local media outlets? Someone coming out and genuinely reassuring the fans with serious direct talk.
The players are clearly very very slow learners I assume then, if they are constantly being told to do things yet set foot on the pitch looking like they have just landed from another galaxy.
John Pierce
9
Posted 19/02/2019 at 08:07:51
This fella has done alright in my book. He clearly is adapting, not there yet but he is figuring out the physicality of it all. Once he has that down and he effing learns to put the right studs in his boots, never seen a player slip more than this lad, then he'll be right.
He reminds me of Arteta, initially he had no clue on how to handle the physical aspects of the Premier League, constantly fouling after being dispossessed through frustration mostly. But it clocked and he learned to protect the ball, a clocked up foul after foul.
Bernard just needs to work that part out and I think we have a player.
I've decided to post this rather than the regular moan about players trotting out shite like above.
Eddie Dunn
10
Posted 19/02/2019 at 08:23:52
Revealing if the coach has to explain things 5 or 6 times. Could it be that Mr Silva's communication skills are lacking. Perhaps it isn't a problem with the Portuguese speakers but for all of the others?
I like this player. Although he has much to improve but I will only believe this guff when I see us win in Cardiff next week, and then give the Reds a run for their money in the derby.
Jim Bennings
11
Posted 19/02/2019 at 08:28:52
John 9
From what I remember Arteta, took to the league like a duck to water when on loan in the second half of the 2004-05 season, dictating the play so much that we didn't even remotely miss the departed Thomas Gravesen.
Arteta had no such problems with the pace or physicality of things as he'd played in the Scottish league for Rangers (back when that was still a pretty competitive league).
Bernard has proven to be technically pretty sound but at the age of 27 it concerns me he won't get much better now. He looks okay until he reaches the penalty box then his head falls off.
I like him but he's needs to start adding more end product to his game and some goals if we are ever going to see a truly valuable player here.
James Power
12
Posted 19/02/2019 at 08:47:29
Anything that needs explaining five or six times which isn't 'how to work the Large Hadron Collider' has a complexity too great for the receiver.
Gaute Lie
13
Posted 19/02/2019 at 08:48:22
I guess this means Silva will stay til the summer, then.
Does anyone really know why Silva was so in demand With Everton at all? Why the Board gave him the job is beyond me, cause he has not shown anything while at Everton, that's for sure.
This season, and the last five seasons makes me sleep bad at night, and it makes my days look grey and dark. Also, my hair has gone and my beard is going grey. I wonder why..
Sam Hoare
14
Posted 19/02/2019 at 09:49:36
Jim@11, Wiki says he's 26.
I agree with you that he needs more end product. Though so do most of attacking players.
He's done okay for a foreign player in a new league and notably makes twice as many tackles as Lookman or Walcott per match.
Dan Hollingworth
15
Posted 19/02/2019 at 09:59:51
10 February: "Everton are right behind Marco Silva" — Michael Keane
15 February: "Marco Silva has helped me express myself on the pitch" — Ademola Lookman
17 February: "Marco Silva has improved me" — Kurt Zouma
18 February: "Everton dressing room is fully behind Marco Silva and his attention to detail on set pieces is complete" — Bernard
Call me a cynic but I think the media department is doing their best to stop the knives sharpening. Either that, or they all genuinely like him, which I can't tell if they do or they don't.
Whos next? Gylfi/Theo to say "Marco Silva will help me rediscover my form"?
NI'm not having that "attention to detail" set-peice quote either.

Peter Thistle
16
Posted 19/02/2019 at 10:00:10
"Each game requires a tactic". Pity Silva doesn't have a clue which one to use.
Ray Morgan
17
Posted 19/02/2019 at 10:00:39
They might be behind him, but they do not play for him!!
Tony Everan
18
Posted 19/02/2019 at 10:18:45
What concerns me more is our team is too soft, too lightweight and too nice to play against. There is no question that Bernard and others have talent and are technically gifted.
I watched Chelsea vs Man Utd last night, and what struck me was the extreme level of physicality and power play. The massive motivation to battle for possession and the physical presence to back it up. It was relentless.
We can't match that at the moment at all.
I was watching their wide man Marcus Rashford and comparing him to the likes of Bernard. Rashford's performance was scintillating. Power, aggression, closing down at lightning pace, breaking out at screaming pace. All this and still providing a great assist.
What I'm saying is it is okay having the technically gifted players, but the reality is that you have to battle like hell with the required players to allow the likes of Bernard to flourish.
As far as those live-or-die battling attributes are concerned, we are lacking. Bottom half status.... Most teams probably look forward to playing us these days.
Brian Harrison
19
Posted 19/02/2019 at 10:21:16
I don't remember too many players coming out and saying anything good about Koeman; now, unless they can turn things around, I guess it means nothing. Seems both Sarri and Emery are both struggling trying to change a style of play at their clubs, I think Emery will get time but Chelsea's record with managers could well mean the end for Sarri.
I think confidence plays such a massive part in any professional sport, before the derby we were a side playing with confidence and looking like we could beat any side. I said after the game, I was concerned about the impact that mistake would have on this team.
Yes, I am sure many will come on and say players should be able to put that defeat behind them but I have seen one game change a season for a club. You just have to look at Man Utd under Mourhino – he fell out with a different player every week and confidence hit an all-time low. Solksjaer comes in puts confidence into everybody and now they look a completely different team.
Seems by and large the players like Silva which wasn't the case under Koeman, so let's hope Silva and the players can turn things around. I am sure he and Brands realize that their failure to buy a striker when they came is having a big impact. Even if we sell more than we buy in the summer, a top striker would make a big difference to this team.
John G Davies
20
Posted 19/02/2019 at 10:51:57
Cards on the table time for me.
Silva, given time, will get it right. Judge him when he has his own squad to work with not on the unbalanced squad he had put on him.
Clive Rogers
21
Posted 19/02/2019 at 11:07:52
Bernard is not going to add many goals to his game. He has never scored many. 14 in five seasons and 96 games at Shaktar. A few more assists would be welcome.
Tom Bowers
22
Posted 19/02/2019 at 11:20:31
It means nothing when players state publicly good things about their managers. It is obvious they are currying favour for their own positions.
Bernard has really done nothing since he came and like quite a few others is just picking up a paycheck when not earning it.
Silva, like Sarri at Chelsea, is treading water.
John Keating
23
Posted 19/02/2019 at 11:28:31
Just gets more embarrassing each week.
Tony Marsh
24
Posted 19/02/2019 at 11:32:14
Weak links not being addressed will undermine any good work being done at any club. Here at Everton, we have allowed the striker issues to reach farcical proportions. The goalkeeper situation has now become a massive issue with Pickford going down the Joe Hart route. Factor into the equation the abysmal zonal marking system and it doesn't matter what players say about Marco Silva.
In my opinion, Silva has morphed into a Bobby Martinez mindset stuck in the glare of the headlights with the I don't know what to do expression all over his face.
Both Ronald Koeman and Sam Allardyce learned the hard way about being in charge at EFC. Don't come here thinking the ambition is lacking in the fans and survival will satisfy the Evertonians. Everton supporters want passion and progress – not the treading water mantra David Moyes instilled into the clubs DNA.
For me Marco Silva lacks passion and emotion which doesn't endear him to the fans. Love him or hate him, Klopp connects with the Kopites and they feed off each other's energy. The job here is way too big a puzzle for Marco Silva to figure out. Marco looks lost so do his players and it can't be allowed to fester much longer.
I would sooner give the hapless David Unsworth another crack at the job until the end of the season rather than suffer more of Silva's dire brand of losing football.
Dave Abrahams
25
Posted 19/02/2019 at 12:07:25
Tony (18), I watched the Chelsea v Man Utd game and you are spot on with your description of the game and how United won it. They battled for every ball, they are a completely different team now to when they played for Mourhino (or rather when they didn't play for him); now they want to win, believe they can win and fight for every ball to prove it.
We have very few fighters and grafters in our squad and without these type of players will continue to struggle to get a grip on the game. As Tony says, we are a soft touch and it will be difficult for Brands and hopefully Silva to turn it round.
Eddie Dunn
26
Posted 19/02/2019 at 12:23:23
John G Davies #20.
The problem is, John, that coaches rarely have the luxury of putting their own squad together. Perhaps if a coach stays in the job for four or five years, the players could end up his signings but most of the time managers have to work with what is already available.
Management and coaching is a mixture of improving what you have and adding what you need. Silva is failing to get the best out of a reasonable squad.
Paul Burns
28
Posted 19/02/2019 at 12:50:43
Same old shite; come the next game nothing will change.
Off on a tangent, back in the '80s, players trained then went home, now they fuck off on a plane all over the place. They must spend half their lives flying around.
Clubs should put a stop to it, they're employed here, are paid enormous wages, yet treat it like an inconvenience and can't wait to disappear and squeal like a pig to some foreign hack.
Brent Stephens
29
Posted 19/02/2019 at 12:52:00
Paul, I wonder if players today might spend more time visiting kids in hospitals etc?
Franny Porter
30
Posted 19/02/2019 at 12:55:47
Anthony @6,
"Who are the thick as fuck players?"
All of them, mate.
Roger Helm
31
Posted 19/02/2019 at 13:20:31
I have been posting for some years now that our players, while technically gifted, are physically and psychologically weak, and the club needs to employ people to somehow make them stronger and harder, because at present we just are not competing.
Jim Bennings
32
Posted 19/02/2019 at 13:21:28
I agree with the assessment of comparing that match last night, the tempo and gusto it was played with and that of watching Everton's slow weak approach.
You look at clubs near the top and they all have fit athletic strong players that can last a full 90 minutes, the pressing and harrying is incessant and the ball is moved quickly and incisively.
Look at our players that simply take too many touches, move the ball too slowly sand aimlessly and simply just hook the call on into space.
When do we see any Everton player beat an opposing player?
Do any of our forwards pick the ball up go past a defender and shoot?
Why don't our defenders work hard enough at defending?
I've seen the tenacity at how Wolves have defended recently an it's a "thou shall not pass" mentality.
Everything we do seems slow, half-baked and frankly just half-hearted.
John G Davies
33
Posted 19/02/2019 at 13:22:30
Eddie,
He inherited an unbalanced squad, by and large he and Brands are addressing the imbalance. Their signings have improved the squad.
Leaving the squad to one side for a minute and concentrating on the starting eleven. I reckon we need a right back, right-sided winger /midfield, a centre half to play with Zouma (I would prioritise his singing and make him captain), a box-to-box powerful midfield player, and a centre-forward.
Jury is out on Mina.
That's half a team to get us anywhere near top six. Another two transfer windows... then I will judge it.
James Stewart
34
Posted 19/02/2019 at 13:32:37
@33 That is subjective at best John. I was intrigued to see how Silva got on when he was appointed, as he had a reputation for improving players.
I can't think of a single player you could say he has improved. In fact, I can name quite a few who have gone backwards.
The narrative is very predictable and we are currently just in a slow death. Owner comes out to back manager, check. Players blather on about being as one, check. What comes next? 2 more defeats and he is gone.
Steve Croston
35
Posted 19/02/2019 at 13:55:10
Bernard says he "presents us with the smallest details... including set pieces".
I don't fucking think so mate. That is without a doubt the most stupid thing I've heard anyone from our club say in a long time! Either he doesn't mention them, or nobody listens.
Ken Kneale
36
Posted 19/02/2019 at 13:59:47
John G @33,
Is it the Everton First team you are watching? I cannot think of one player who has improved under this management and coaching team.
I cannot recall (apart from the Burnley fluke) one game all season where the team has put 90 minutes of quality football together without the inevitable mistakes that have cost us dearly - that extends from goalkeeper to forward line.
Some players looks shadows of what they were with us previously or other clubs for which they have played – many look disinterested, unfit and lethargic even when the chips are down – those aspects surely are the managers to sort out even if their ability is lacking. I really want to see positives here but there ware very few without being delusional about our whole set up.
This Club was supposed to be on the cusp of a renaissance but it has gone backwards at an alarming rate this season. I don't doubt the issues of inherited legacies but many of the factors appear directly linked to the current regime.
Derek Knox
37
Posted 19/02/2019 at 14:07:23
I think most of us are behind Silva, 'to the nearest exit' — especially if the next couple of results are anything short of miraculous, I can't see there being any other solution.
Like someone said above, certain players have got worse under his tutelage, there is little evidence of any improvement anywhere on the field, if anyone sees otherwise I must have gone to the toilet and missed that bit.
I know it's not ideal to get rid of another Manager, after all the turmoil of the past, but surely we cannot carry on with this load of rubbish, week-in & week-out?
Steve Ferns
38
Posted 19/02/2019 at 14:07:48
Steve, or maybe they do listen, but fail to implement it during a game situation.
If you are the manager and you choose man-to-man marking at set pieces then consider how you do it. We have Cardiff next. You know what our team is likely to be, have a look at their last side. Now mark them up against each other, any way you like.
If you actually do this, let us know the matchups and describe how you think they'll go. After Keane and Zouma, who's next to pick up their big men, because they have a few.
Zonal marking issues mask a real problem that our side is too small, too weak, and that even with man-to-man, we'd still get murdered in the air as a result.
Tony Abrahams
39
Posted 19/02/2019 at 14:13:20
Maybe Bernard will become a much better player at 28, Jim B, after he's had a proper pre-season and a year to adapt to a completely different style of football than he's ever played before?
Steve Ferns
40
Posted 19/02/2019 at 14:17:19
Derek, ever considered it's very difficult to do what we want him to do? Look at Sarri, a superb coach, struggling badly at Chelsea. For all his ability, and he was lauded by everyone for the last few seasons, he is facing the same problems Conte faced and Mourinho faced. The players know how easy it is to get rid of him and now they've almost done it.
Then what about Emery at Arsenal. Emery's Arsenal look identical to Wenger's side. There seems to be no difference at all there. All the same issues. Yet Emery is another great coach.
It takes a long time to fix these things, you don't improve a player in a couple of games, you improve him over a couple of years. A great coach doesn't whisper a few magic words and suddenly a player is transformed. We are talking elite professionals, nearly all the players are internationals. They are at the very top of the game. So, it's not easy to improve them, there's little room for improvement for many of them. It's about small details and constant and consistent efforts on the training ground over a very prolonged period of time.
As I keep saying, if Silva is a crap coach, find the evidence. All the evidence is out there, player after player, from his old clubs, with nothing to gain from saying so, yet all say, great coach, superb with the small details, improved my game. Player after player. Not one says the opposite. Not even Troy Deeney, who Silva dropped out of the side and marginalised. He still had good things to say about him.
Silva is a coach, not a magician.
Anthony Flack
41
Posted 19/02/2019 at 14:18:17
You could explain zonal marking 5 or 600 times and I wouldn't understand what you are supposed to do in the second phase.
In 40 years of watching and playing football, I have never seen the opposition so often, in the 6-yard box with the ball at their feet and all our defenders on the edge of the 6-yard box, on their heels, with their gobs open in dismay — bang, goal!
John G Davies
42
Posted 19/02/2019 at 14:19:32
Ken @36,
It's half the Everton first team I'm watching.
The other half are not good enough moving forward. And not one of them who are not good enough were or are Silva or Brands players.

James Hughes
44
Posted 19/02/2019 at 14:29:20
You should all just stop it now, or all of you will be on the naughty step for being negative.
Little Bernie will find his feet next season and we will have a cracker on our hands. He has already had Rudiger falling over this season pretending to be poleaxed by a player half his size. Despite the fact that Bernie would have needed a step ladder to headbutt him, that didn't deter Rudiger.
To my thinking, that showed he was worried about his pace and skill. He'll get used to the frantic pace soon enough.
Steve Ferns
45
Posted 19/02/2019 at 14:34:51
Anthony, the thing is, foreign players use zonal marking more than man-to-man, so they already understand it. So the British players failing to understand it are few: Pickford, Keane, Coleman, Kenny, Walcott, and maybe Calvert-Lewin are in our most used side. That's a keeper (who it does not affect), two defenders and at most, two forwards.
John Keating
46
Posted 19/02/2019 at 14:38:44
Sarri, great coach - failing. Emery, great coach - failing. Silva, great coach, apparently - failing.
Maybe we don't need a great coach.
Maybe we need an old fashioned motivator, a Kendall with a good coach in Harvey. A Clough with a good coach in Peter Taylor.
Whatever Silva is doing, it is not getting through to the players. Whatever he is saying, they are not listening. We are not only talking about the players Silva inherited, even his own guys are struggling. Regardless of his inherited players or his own, we are not carrying out the absolute basics and minimums required and expected.
All the players seemed to love Martinez but that was because they hardly trained and they had loads of time off. Maybe all Silva's past players loved him because they had nothing to worry about apart from picking up their inflated salaries – who knows.
The only thing we can say is that his "attention to detail" didn't do any of his past teams much good in the end.
Maybe these foreign coaches are the latest fad and the 'in thing' but maybe, like all fads, they will disappear sooner rather than later.
Rob Marsh
47
Posted 19/02/2019 at 15:02:31
James Power #12,
It sounds like he's trying to explain to the players how the ball moves through space and time (and up and down the pitch on a Saturday) with Einstein's theory of relativity.
For some strange reason they don't seem to be grasping it.
Jim Bennings
48
Posted 19/02/2019 at 15:15:05
I wouldn't need to go through small details if I was manager talking to my players.
When it came to defending set-pieces or crosses, I'd stick a plaque in the dressing room in big writing saying:
"Attack the fuckin ball with some bollocks and bravery."
If you are more hungry and eager to beat the opponent to the ball, then that's what should win over.
End of.
David Hallwood
49
Posted 19/02/2019 at 15:17:19
There's an interesting interview with Derek Mountfield on ToffeeTV and he was talking about how the team of 1983 no-hopers turned it around in 18 months, and at the time there were calls for Kendall to be sacked: the moral of the story is give it time.
I've posted this before but we play like strangers because we are; Gana is our longest serving player, next comes Davies and Kenny, all the rest came last season or this one.
Therefore, IMHO, we should stick with Silva, and try to get the nucleus of a settled squad; otherwise we start all over again.
But back to Bernard; to quote our American cousins: Walk it like you talk it.

Steve Ferns
50
Posted 19/02/2019 at 15:18:33
But other than Ancelotti, what have your motivators won in recent times? The game has moved on. You need much more than motivational skills. Every club in the Premier League top half (and down to Cardiff really) has a very good coach in charge. The only one without is perhaps Man Utd where they made sure that Solksjaer was paired with Mike Phelan, who might be a terrible tactician, but he is a good coach.
It's not a fad at all. With every passing year, the game gets more and more complicated. Analysts can do more and more, there's more and more computer programs, you have the likes of Nagelsmann with massive TVs at the side of the training pitch so he can halt training and demonstrate where the players are going wrong.
Sorry John, football has moved on. We need a great coach, if Silva is not the man, then we have to find someone else. The days of Harry Redknapp are over.
As for Silva's attention to detail doing any of his teams no good, then what about Estoril and their successive record breaking seasons? What about the Cup win for Sporting? What about the European Record breaking League win for Olympiacos. You think he did crap at Hull, yet the Hull fans thought he did great. The club begged him to stay. Watford fans are very bitter and twisted over him leaving, why if he was shite?
Jay Harris
51
Posted 19/02/2019 at 15:34:32
He may be a great man to man coach and he may well be liked by the layers but football is a results business and you have to put a winning team on the pitch.
The squad is huge and Silva was allowed the luxury of bringing in SIX players of his own choosing.
It is pointless comparing us to the top 6 because, under Silva, we can't even compete with the rest.
We are currently in freefall with only Huddersfield having worse form. This is a carbon copy of Silva's previous experience with two Premier League clubs one of whom is currently above us despite having a middle of the road coach and with us having taken their best player.
If that doesn't tell you all you need to know about Silva I don't know what does. Blind faith is telling us he will come good but where is the foundation for that???
Peter Gorman
52
Posted 19/02/2019 at 15:39:00
"The concentration and the delivery of the players shows that we are with Marco Silva."
Hahaha, with players like these, who needs enemies.
Eddie Dunn
53
Posted 19/02/2019 at 15:57:29
Steve, the Watford fans are bitter that he allowed his head to be turned – by us, and then their form dipped. It is a personal resentment they feel but the players knew the situation and everything went pear-shaped.
It wasn't because "he was shite" — it was because he was a shit.
Rob Marsh
54
Posted 19/02/2019 at 16:00:21
Jim Bennings #48
I was taught in school and Sunday league to get goal side of an opponent about your own size, be shoulder to shoulder and use your strength to disrupt him while doing what you've advised:
"Attack the fuckin ball with some bollocks and bravery."
Well said, Jim; it's a pity Silva is not reading this thread.
Frank Wade
55
Posted 19/02/2019 at 16:07:10
The key for me is in the original quote from Bernard that Silva "if necessary, explains things five or six times if the player is not aware."
A good coach is not a good coach, if he is not a good communicator. If a coach has to explain something 5 or 6 times, there is something wrong with the message. Most of the professional players left school at 15 and football is all they know. If the message is over-complicated, the message will not be understood. The messenger needs to understand his audience's intelligence and capabilities.
Anthony #41, laughing at your zonal marking comment. Exactly as I would describe the 2nd phase of a set-piece, our players rooted to the spot along the 6-yard line, mouths open. Maybe the zonal marking message was too complicated for our darlings. They got the bit about lining up and marking their zone, but then the message got complicated and everything went fuzzy.
When the 2nd phase kicks in, are we allowed to leave our zone and mark a man and anticipate danger? Jags has been a big miss for us this year for his defensive organisation, always had a nose for trouble, getting back to get a block or clearance, rather than ball-watching.
Laughing also at Bernard's comment about Silva providing the details of set-pieces, maybe, just maybe, too many details to process. These comments on the weeks off which cause so much anguish are often just answers to journalist's questions:
Do you think Marco Silva is a good coach?
Would you like to play for PSG?
Would you like to play in the Champions League?
Are you enjoying your football under Sam?
Are you working hard on set pieces?
All predictable answers.
Brian Wilkinson
56
Posted 19/02/2019 at 16:12:59
How many times over the years have we suffered to our neighbours, the injustices, from Bryan Hamilton's goal, to Emlyn Hughes balcony disgrace, the Hanson handball, Hutchinson's goal chalked out, Clattenburg's derby, the sickening Coleman chant, Klopp charging on the pitch, Jimmy Case's leg tackle on Geoff Nulty.
So, if Silva can get the players up for this game, if he can put a dent in their title ambitions, this is the one game he can pull a rabbit out of the hat, give us something back.
May only be 3 points, but to us Evertonians, it will be a lot more than 3 points.
So Silva, this is your big chance: go out there, get a result, and wipe the smug arrogant smile off Klippity and his supporters, not forgetting Carragher and Thompson.
Win that and I will echo Bernard's comments.
Raymond Fox
57
Posted 19/02/2019 at 16:15:23
Jim B @48 nails it again for me.
I think half the time players are over coached, they end up with too much theory and not enough action.
There's no substitute for class and ability that the very best players have, they can change a game at any time with some individual skill. Unfortunately our squad in the main lacks that little extra bit of class that can turn games.
We can sack managers till the cows come home but, unless we can sign players that are as good as Man City et al, our managers are handicapped from the off.
Kevin Prytherch
58
Posted 19/02/2019 at 16:38:05
Just posted on another thread but this one is relevant as well.
The Under-23s are top of Premier League 2. They play a 4-4-2 and press high up the pitch. No moments or second phases mentioned.
The first team play with 2 centre backs, 2 wing backs, 1 defensive midfielder, 1 creative midfielder, 1 number 10, 2 wingers, 1 striker, zonal defending, need to play better in moments and make sure you defend the second phase.
I know which I'd be more comfortable receiving instructions on.
Jim Bennings
59
Posted 19/02/2019 at 16:50:40
I'm old school and I feel if a ball is coming in from a cross or set piece, I want my centre-halves to be charging at that ball with gusto and bravery.
Too much overcoaching these days when the simple fact is if players attacked (or at least tried to attack the ball) then they might just find that they would win more headers than they actually concede.
It's embarrassing to see big lads like Keane, Zouma and Mina regularly concede headed goals and if I was one of those lads of those heights and physiques then I'd be personally embarrassed by it.
The trouble is with our players these days though, who hurts enough when we concede goals?
ps: I've seen the Derek Mountfield interview on Toffee TV also, the Final Word on the Watford defeat – very interesting video listening to a man who knew what old school defending was all about.
Mike Gaynes
60
Posted 19/02/2019 at 17:00:08
Tony #39, spot on. Bernard has averaged only one goal every six games and an assist every five for his entire career, none of which has been played at top level before this season. So he will need to up his game to have a consistent impact in the Premier League, and that takes time.
Tony #18, Bernard is actually among the players I see giving maximum effort every minute. Not always to great effect, but he never gives up.
John Keating
61
Posted 19/02/2019 at 17:00:49
Steve,
you mentioned Solksjaer – who good coach, bad coach who knows but without doubt he has motivated the United squad since he arrived – paired with a good coach in Phelan.
You can also say Simeone, who by his own admission doesn't really take training preferring to leave it to Vizcaino and Burgos. Great motivator though I'm sure you'll agree.
Even our friendly neighbour Klippety has always surrounded himself with good coaches like Krawietz and previously Buvac. And though I hate to say it Klopp can certainly motivate his teams.
Outside football, Eddie Jones, though admittedly a good coach repeats himself time after time saying that he sees a great part of his job getting the players up and motivated for games.
So saying, those " motivational" days are past may not necessarily be right. There is always a place for motivation in any sport at any level and to think otherwise I believe is nonsense.
Seems a bit pointless having a great tactician and coach like Silva is supposed to be, and at the same time, he's not able to get anything over to the players.
Tony Twist
62
Posted 19/02/2019 at 17:29:13
Same old same old, just like their performances on the pitch. Bullshiters the lot of them. It's all talk. Things just don't seem to be improving.
There is no excuse, coach just isn't up to it, players are lazy, spoilt and nowhere near as good as they think they are, and we are sinking fast. The players need some survival and character training with the Royal Marines; after that, football would be a walk in the park.
Steve Ferns
63
Posted 19/02/2019 at 17:42:51
Kevin, the U23s play the much-maligned 4-2-3-1. They do not play 4-4-2. They do get men forwards and they can look as if they have two up top, but at times it looked like we had Gylfi up top. Unsworth is a better coach and tactician than people give him credit for.
John, The "motivators" you mention ensure that the teams are properly coached. It's not training for fitness purposes or to keep them "sharp". It's specified coaching to do particular things tailored towards the next opponent.
Jurgen Klopp might be a bit of a clown, but don't mistake him as a Redknapp type. Klopp was the one who brought the pressing game to Germany. He and Buvac shared an idea there, and maybe he relied heavily on Buvac's intellect and tactical awareness, but they shared common ideas and goals, and between them they coached sides to be able to play a certain way. Klopp cannot be dismissed just as a motivator.
Simeone I'm very aware of which is why I asked someone to think carefully about why they thought Simeone would be a success at Everton. I think he probably would be too, but certain things would have to happen, including bringing his entire backroom staff, a few particular players and major funding.
And sure motivation is a big part of football. The motivational coach, like Redknapp, is done. An example of his coaching comes from Rafael Van Der Vaart:
"Harry is a very special man, that's why I already feel at home at Spurs. It feels like I'm back on the street.
"There are no long and boring speeches about tactics, like I was used to at Real Madrid. There is a clipboard in our dressing room but Harry doesn't write anything on it! It's very relaxed. The gaffer gives us the line-up 20 minutes before we go out to do our warm-up."
"And the only words he speaks to me are 'You play left or right, work hard, have fun and show the fans your best. Then the defenders get an instruction about who to mark at corners and free-kicks – and that's it."
"It's not that we do nothing – but it's close to that. For instance, last weekend Gareth Bale scored a header against Blackburn from my corner. But we didn't train one minute on it, it was pure luck. Good kicking, good heading, nothing more. And our win at home over Champions League winners Inter Milan was a clear example of playing on intuition. You can't train the goal I scored in that game.
"Of course the players need to have the qualities to end in the good position and the gaffer has to select the best squad. But in the end, it's all about feeling and that's what I have right now at Spurs. I try to give the best assist possible and guys like Bale try to score a goal out of it. That's our tactic!"
This is what is done, John. Old fashioned English managers without a clue. If someone is a good motivator but works with a great coach and they work in tandem or as part of a large team, then great, that's fine. Alex Ferguson was the master of that. You need a lot more than mere motivation.
Motivation only takes you so far. If Everton are to get in the top four, they need a manager who is either an excellent coach or works with an excellent coach, is an excellent tactician and can develop players. Motivation plays a big part for sure. All the elements need to combine.
The examples of Emery, Sarri and Silva surely show you that successful coaches cannot always get things changed quickly and successfully. They all had half decent starts (at least) and have since tailed off (at least). If they are all still at their present clubs in a year's time then I would bet their sides are doing a lot better than they are now.
If Silva is a poor communicator then his past players would complain about it. You don't see it because he's not. And he's at his best one on one. He's clearly not at his best talking to the press, and I don't understand why you guys would think that's how he is with his players.
Jim Bennings
64
Posted 19/02/2019 at 17:48:07
People who say motivation is a thing of the past are talking nonsense.
Having motivation, be it coming from within oneself or from a coach/person/psychologist is the key to any kind of achievement.
Look at tennis and how fit Roger Federer has kept himself well into his 30s – do people think he'd be putting his body through the rigours that sport brings if he wasn't such a highly motivated human being and super professional?
Our players seem to lack personal mental strength and motivation, why who knows, perhaps it's the fact that wages are now so high or they just genuinely don't believe they will ever achieve anything great at Everton Football Club.
Our managers of recent years have been unable to instil motivation into them and it's like a teacher at school who just couldn't ever quite get through to those kids that were only there just to arse about and didn't want to learn.
The principle is the same -in football and we have seen it here at Everton.
David Moyes, for all his downfalls on other aspects, put together a group of highly motivated men that were never quite good enough to win silverware and be world class but they worked their socks off for eachother and the manager.
I don't think we have a player in our squad with self-motivation like say, Tim Cahill, Alan Stubbs, Davie Weir, Nigel Martyn, or Lee Carsley to name just a handful there.
Those were players who wouldn't need a manager motivating them, and we don't possess players of that ilk anymore.
John Keating
65
Posted 19/02/2019 at 17:54:56
I agree Steve you do need more than just motivation but so far this season we have seen none of anything !
No tactical awareness and certainly no motivation.
In my mind a good coach can set a team up to play a certain way. If that doesn't come off then he can change shape, tactics, personnel mid-game to affect the game. Have you seen it happen so far this season??
Quite interesting article I have just noticed on the BBC seems the Rugby lads invited Terry down to give a motivational talk to the players. So motivation at the top level doesn't seem to be Luddite after all.
You mention top coaches and unfortunately so far Silva has shown himself anything but.
No doubt his phenomenal achievements at the mighty Estoril, Hull and Watford may be the nadir of his career. Maybe they were his level, who knows.
I would imagine players would rather get a chat from the likes of Klopp who deserves recognition than the likes of the unproven Naglesmann and his 42-inch tellys.
Steve Ferns
66
Posted 19/02/2019 at 18:09:00
John, we cannot just dismiss a European-wide record breaking season at Olympiacos where he won 28 out of 30 games, 17 games in a row, the league by a record margin, the 17 game run a record, and he took a team who's best player was 36-year-old Esteban Cambiasso (who just left Leicester as his legs had gone) and beat Arsenal at the Emirates, in the Champions League. A win in the Champions League is something we Everton fans can only dream of, yet our manager has managed wins (5 wins - 42% win rate) in the same competition.
Watch Chelsea and you see a team that looks to lack coaching and tactics. But Sarri was the world's most sought after coach last summer. For a lot of football writers, he was second only to Guardiola as world's best coach.
Can it not be that Sarri, Emery and Silva need time. that by simply allowing them this time and coming out the other side, you will then see the impact of his coaching, as the players appear "transformed" next season. That by signing the No 6 he needs to make his tactics work, they actually do work, and suddenly we're not crediting him with a good draw at Chelsea away, but we are actually beating them.
Little credit is given to Silva for the turning point in Sarri's season. Up to Everton playing Chelsea, they were flying. Silva was the one drew up the blueprint for targeting Jorginho. At this point, the Brazilian Italian was winning rave reviews and having a good season, yet Silva went after him with Gylfi and suddenly we found a way to stop them playing. Every team since has copied Silva's blueprint.
All of this is irrelevant anyway, Silva is guaranteed time unless Everton lose the next three games and make his position untenable. At the very least, I expect him to get Everton to limp home in no lower than 12th, for Brands to have already got the players sorted that we need and then for us to have a fresh start next season. That's the reality of the matter. I still wouldn't rule out beating Cardiff and Liverpool and then rocketing back up the table on the back of it.
Darren Hind
67
Posted 19/02/2019 at 18:14:52
"Unsworth is a better coach and tactician than people give him credit for"
Nonsense, he sacrificed dead rubbers in Europe to get us out of the relegation mire, he may have won 100% of the home games he has been in charge of, but we only averaged three goals a game.
And what about Southampton? Just because he inherited a team in free fall which couldn't buy an away win and every single one of his defenders were injured, doesn't mean he shouldn't have played them off the park.
Next you'll be claiming he didn't have any time on the training pitch with the players and he couldn't bring anyone in because the window was closed.
And Just because his peers voted him the best coach in the league and against all odds his team are leading the table again... doesn't mean he actually knows what he is doing.
Jay Wood
[BRZ]
68
Posted 19/02/2019 at 18:16:01
Steve Ferns @ various.
Steve I can understand you doggedly doing a Tammy Wynette and standing by your man, but in doing so your rationale and logic does wobble a tad as a result.
On the one hand you claim: "It takes a long time to fix these things, you don't improve a player in a couple of games, you improve him over a couple of years. A great coach doesn't whisper a few magic words and suddenly a player is transformed" — even though previously you constantly promoted the idea we would see a near immediate improvement in players and team performances under Silva.
You extend this claim to Emery at Arsenal and Sarri at Chelsea, but this ignores the fact that both these teams and their managers made storming starts to the season and that their falling away is only very recent, and certainly nowhere near as precipitous or as prolonged as Silva's Everton.
Chelsea were keeping pace with Man City and Liverpool early doors and Arsenal went on an all-conquering unbeaten run for I don't know how many games. So in comparison to what went on for both teams last season, the two new managers to the Premier League surprised me at how well they adapted and improved their sides.
That kinda undermines one of your claims.
You then ask people to find the evidence to prove Silva is a crap coach. The adjective you use is an extreme one, but it is more than reasonable that long-suffering Evertonians can point to (to date) half a season of benevolent fixtures since the loss at Anfield in early December - almost 3 months now – and say "play back our games in that time for evidence of a coach who is not improving our results or performances, either of the team or individuals".
And then you offer the idea that 'motivators' are a dying species amongst managers.
Seriously?
I agree with you, the game has moved on and a manager's motivational skills alone won't carry the day. The implication in your claim is that motivational skills are redundant, period.
I would vehemently disagree with you. I don't pretend to know what goes on behind the scenes or in the changing rooms of any football club, but given the attention to detail these days, I would hazard a guess that many a manager has many a psychological trick they pull to get a performance or reaction from his team or individual players. It wouldn't surprise me if many of the very best coaches actively study psychology and how to apply it in their work.
Now whether this is part of Silva's armoury, I don't know. You yourself flag up the difference, for example, of United this season under Mourinho (himself a Master of Motivation and psychology) and now under Solskjær. Same players. Same team. Completely transformed, and not primarily due to tactics or instruction, but simply by...smiling.
I get the argument about the modern day players' own motivational powers (or absence, thereof). I've long been posting we need more narks, more nastiness, more winners, at the club.
Clearly, we don't have anyone standing up and assuming that role on the pitch, so that is a squad personality failure that should be prioritized by Brands and Silva (if he is still about) in the summer.
But I am not so ready to exempt Silva from all and any blame as you attempt in this thread Steve as to the turn of events since the 96th minute of the derby game across the park.
Steve Ferns
69
Posted 19/02/2019 at 18:19:31
Darren, he only won 50% of his games in the Premier League, and had a positive goal difference. You know that's not good enough.
Steve Ferns
70
Posted 19/02/2019 at 18:31:04
Jay, I am talking the likes of Harry Redknapp, Neil Warnock and yes, Sam Allardyce. The guys who don't bother with coaching. And no, not because they have a top-class coach alongside them, but guys who don't actually bother with coaching. Read Van der Vaart's comments at #63 for precise details of Redknapp's management.
If you want to interpret that as "We don't need to bother with any motivation at all," then give your own head a wobble. That ain't what I'm saying.
Sarri did get out the traps well, but the wheels came off ever since they played us and it's inevitable that he will be sacked, despite the odd good win.
Emery did not, he had a stuttering start then that long unbeaten run where they ascended to 5th before stuttering ever since.
Both are undoubtedly top coaches and yet it's not working for them. It cannot always work immediately, and sometimes it does not work at all. It does not mean that "Sarri-Ball" is crap or doesn't work in England, or Sarri cannot do well in England or all the other rubbish I've read from clueless journo's who are delighting in a top-level coach failing in English football as if that somehow means English football is the greatest in the world. We need to win a few more Champions Leagues if we want to talk up the strength of our league.
Just because it ain't worked yet, does not mean that the penny will not drop soon, and suddenly we will start playing better and winning games. If a kid is failing at school, it does not mean the teacher is bad, there can be a number of factors and it might just take time for the teacher to get through to the kid. Chelsea's players have not performed consistently for Mourinho, Conte or Sarri. That's three of the best coaches in world football. Perhaps it's the players, not the coach eh? Our players haven't performed for Koeman, Allardyce and now Silva, some for Martinez as well, so perhaps the players again eh?
Derek Knox
71
Posted 19/02/2019 at 18:35:34
Jay @68, you made me laugh with your Tammy Wynette analogy for Steve Ferns with 'Stand By Your Man' but didn't she shortly follow that one up with 'D-I-V-O-R-C-E'?
The way things are going, my money's on the later hit!
Martin Mason
72
Posted 19/02/2019 at 18:36:25
My own thoughts are to take the pain and give time. I remember Howard Kendall and Alex Ferguson who would both have been fired if the fans had been listened to. It may be that this bunch of players won't gel but the chances of Kendall's misfits gelling was minus zero and yet they became possibly the best Everton team ever.
We're not going down this season so let's see how it goes looking for positives rather than being negatives. We're not going to win anything this year but we never do so he has the room to experiment, lose a few games but hopefully free from negativity pressure from the fans. It can do dreadful harm.
I'd say that next season is where we should be fairly judgemental. I don't blame the coach necessarily, they are much smaller cogs in the machine than they once were. We've shown how ineffective changing them is.
Mike Gaynes
73
Posted 19/02/2019 at 18:44:33
DK #71, actually "D-I-V-O-R-C-E" preceded "Stand by Your Man", but you gave me a laugh anyway!
Jay Wood
[BRZ]
74
Posted 19/02/2019 at 18:51:18
Derek @ 71.
Naughty Derek, naughty... but very funny!
Ken Kneale
75
Posted 19/02/2019 at 19:02:03
John,
Sadly I have yet to see the half-team you suggest are okay. Nobody has had a good season in terms of ability to turn a game in a positive way or show leadership over more than the odd flurry.
Terry Farrell
76
Posted 19/02/2019 at 19:09:17
Martin, I agree take the pain and give him time and, more importantly, can we have our bearpit back?
Tony, spot on. Not sure if I was wallowing in nostalgia watching Chelsea vs Man Utd but it reminded me of our great '80s team where we just steam-rollered the opposition.
Chris Gould
77
Posted 19/02/2019 at 19:26:05
Martin #72, I absolutely agree. Chelsea look set to sack Sarri who had a very good reputation as a coach. It would appear that the players decide who manages the teams these days.
Chelsea and Utd players got Mourinho sacked because some of their influential players didn't like him. The same Chelsea players got Conte sacked, and now they look to have seen off Sarri. It's a dreadful state of affairs.
The players have too much power. If a manager starts giving them drills or tactics that they don't like, they simply stop performing and get rid. A manager has to be a friend first and coach second. He spends the whole time walking a tightrope, knowing that he can only push so hard before the players push back.
Chelsea are more interested in keeping Hazard happy than their manager, so what chance does he have?
Silva needs to be supported by the club and supporters. At the moment there are too many players who know how to get rid of a manager.
A dozen or more players need to be sold at huge losses just to get the club into a state of neutrality. Remove the negativity, and players offering nothing, then slowly build again.
Silva gets a pass this season from me. We need to get behind him and show other clubs how to really support your manager and team.
Bobby Mallon
78
Posted 19/02/2019 at 19:38:10
John G Davies @ 20, I seem to remember Big Sam finishing 8th with a shittier squad than this and playing slightly better football.
Jay Harris
79
Posted 19/02/2019 at 19:41:41
Steve,
You lost me when you put Silva in the same bracket as Emery and Sarri – both enormously successful in quality leagues.
I think it is pointless point-scoring to carry on arguing fine points.
I would love to be proved wrong but I don't think Silva will ever make a top six coach in the Premier League.
John G Davies
80
Posted 19/02/2019 at 19:42:11
Ken 75,
You won't. It's like asking a great boxer to perform with one arm.
Bobby 78,
You will be in a very small minority with that one.
Tony Abrahams
81
Posted 19/02/2019 at 19:49:39
Or even a majority of one!
Jay Wood
[BRZ]
82
Posted 19/02/2019 at 19:57:04
Steve @ 70.
First up Steve, because I was writing my post @ 68 I had not seen your post quoting Van der Vaart on Harry Redknapp, so my post referenced your earlier posts critiquing 'motivational' managers in which you only offered Ancelotti as an example (a rather poor example, I would venture).
Now you extend your notion of 'motivational only' managers to Redknapp, Warnock and Allardyce, claiming they "don't bother with coaching".
To make and support that claim Steve I rather think you need to:
1) define what constitutes 'coaching', and
2) offer up evidence that they went/go into any game without any 'coaching' (by any definition) and that their teams just made it up on the hoof.
I think you are confusing different managerial styles and different coaching styles. Putting aside football aesthetics, all 3 of them are smarter tacticians then you seemingly want to give them credit for. All 3 of them can be considered to have had long successful careers in an extremely stressful and demanding job.
You quote Van der Vaart seemingly with the intention to deride Harry Redknapp (and managers of his ilk), as if this single example defines absolutely the limitations of a 'motivational manager'.
Have you considered that maybe, in the white heat of battle on match day, players don't need their heads cluttered with complicated instruction? That Redknapp was doing his players a favour by stripping things down to their dumbest basics?
The same can be said at the interval. There is no time or need to present a long tactical analysis and sermons on the failings of the first half. A good and effective coach can deliver with brevity a memorable message that a player, in the bedlam of the half-time changing room, can understand.
I'll give you an example. Bobby Robson. Would you dismiss him as 'just a motivational manager', or a 'shrewd tactician'?
He frequently used a very simple instruction to his defenders for set pieces: "You all know your jobs. Don't be the dummy that switches off".
Tactically decrepit, or motivational magician?
As for your re-writing of Chelsea's form, the wheels hardly "came off [IMMEDIATELY] ever since [Chelsea] played us" early November. That is more a recent phenomenon since the New Year, nothing to do with Silva 'exposing' Sarriball that others have copied, as you attempt to claim.
Similar thing for your claim about Arsenal. "Emery had a stuttering start..?" Did he bollocks! His first two fixtures were home to the reigning champions Man City, then away to Chelsea, both of whom went on long unbeaten runs themselves (City's run ending with a 2-0 defeat by Sarri's Chelsea. Guardiola obviously didn't watch the video on Silva's masterclass on how to negate Chelsea, I guess).
After those two tough opening fixtures, Arsenal then had a long run of unbeaten games stretching to 20-odd from the end of August to mid-December.
The 'stuttering form' both have shown in comparison to Everton's 96th minute defeat over the park, 13 games ago, places Everton 17th in the form table (ahead of only Brighton, Fulham and Huddersfield), with Arsenal 6th and Chelsea 7th.
I wish our form was so 'stuttering'.
On the question of the players, I've said my piece. We don't have winners or narks and it is something that needs addressing.
But again, Silva – as did Sarri at Chelsea and Emery at Arsenal – was getting a tune out of his players for the first dozen games.
Why isn't he now?
Use whatever verb you like Steve, but besides preparing and coaching the players, he needs to motivate them, inspire them, to better performances and getting results.
He is currently failing on all counts.
Tom McEwan
83
Posted 19/02/2019 at 20:03:38
Steve Ferns @40, take a look at Silva's record as a Premier League coach on Wikipedia or the Premier League website for evidence of him being a crap coach.
Also, didn't Deeney have a pop at him the other week before the Watford game?
I tell you what, Steve, never mind 'rose-coloured glasses' you have fuckin multicoloured psychedelic big fuck-off Elton John ones on when you 'talk up' this guy.
Ken Kneale
84
Posted 19/02/2019 at 20:18:13
John – I would love you to prove me wrong and turn around the desperate situation we have but I remain of the view members of this team will be remembered will little else but contempt in the history books and our minds, coached by a man (and sadly not our first in recent times) who's CV has much more failure than success within its content.
Bobby Mallon
85
Posted 19/02/2019 at 20:45:02
Steve Ferns,
Silva has a Premier League record of being a rubbish manager... a bit like Andre Villas-Boas.
Paul Birmingham
86
Posted 19/02/2019 at 21:15:33
Jim B, I'm with you. For the life in me, I knew after the "effort" the Everton team put in against Man City, that it would be too much to expect the same application and effort again, against Watford, and the mediocrity of this season was well maintained again in that game.
Bearing so much effort we barely troubled the City goalkeeper, and the Watford goalkeeper, it's very sadly, become expected now.
Basic defending and ownership and accountability is needed for any football team to tick over. This squad doesn't have it and doesn't have an effective captain, regardless if it's Seamus, Tom or Leighton.
The communication, spirit, guts, skill, motivation and mental capability of this squad does vouch for any level of consistency.
This season, even when we had luck, we barely scraped the wins at home that put us in the top 6.
Get back to basics, 4-4-2, else a system the players understand. This experiment is not reliable, isn't working and goals for chances created and goals conceded and set-piece mistakes and goals against us from dead balls, must provide the facts to show this.
If any statos, on this thread have such data to hand it would be interesting to see.
I don't want another Everton manager sacked, but the next few weeks could get very toxic. Hopefully in 2 weeks we upset the odds, and win. That would be a welcome change.
John Keating
87
Posted 19/02/2019 at 21:35:37
I agree, Paul.
The myth that we were playing some great football prior to the derby is just that, a myth.
I do think, however, that Silva will be given until the end of the season to show some signs of improvement.
Hopefully after sitting on their fat arses for 17 days Silva and the team will put in a vastly improved performance against Cardiff.
There can be no excuses now. Well, except from the usual mob.
Kevin Prytherch
89
Posted 19/02/2019 at 21:39:35
Darren – I like your comments about Unsworth. Very true.
Steve – I disagree. (Anyone who watches them live often please correct me if I'm wrong as I only catch clips and read commentary). The U23s will often line up 4-4-2. In the last game, they had Sambou and Hornby playing who are both strikers, where 1 might line up slightly behind the other, it is still in effect a 4-4-2 formation. In addition, Broadhead and Gordon don't line up as wingers the same way that Richarlison et al do; they are more like wide midfielders who, in turn, offer more protection to the team defensively.
Therefore it is nothing like the 4-2-3-1 that the first team do.
I've admittedly only seen them live once this season, vs Oldham in the Checkatrade Trophy, but they lined up 4-4-2 that day with the same principles I've just mentioned – 2 forwards, wide midfielders and 2 central midfielders who played like all round midfielders.
Like I said, I base this on little actual live viewing so, if I'm wrong, please correct me.
Tony Abrahams
90
Posted 19/02/2019 at 22:00:28
The more I watch football, the more I believe intensity is as good as any tactic, and definitely better than most.
Trevor Peers
91
Posted 19/02/2019 at 22:24:46
You're right, Tony@90, we've only played with intensity for 2 games this season: Chelsea and Liverpool away IMO. We matched both teams for effort but didn't win either game.
Silva's problem is his failure to get this team to perform well with any consistency. The players may be at fault but it is always the manager who gets sacked if the results are poor, never the players, and that will never change.
Tom McEwan
92
Posted 19/02/2019 at 23:37:34
I am just watching a programme called When English Football Ruled Europe and on the debate of whether its the players who are largely to blame or the manager or a combination of both. Whether or not motivation, intensity, coaching, morale or whatever is to blame. The following quotes have stood out for me.
During an interview a good manager named Brian Clough said, "You can't have a good team without a good manager, and a good manager makes a good team."
As an another example of a good manager and good players (and whether you like this or not) Graeme Souness said, after he had joined Liverpool, he complained to Bob Paisley, before his debut, that nobody had told him what to do or explained the way they wanted him to play. Paisley replied, "We have just spent all that money on you and you want us to show you how to play football?"
Simples, to me anyway: Good managers make good players better and good players know how to play football and what is expected from them.
Regardless of eras, style of play etc, good players should have high standards of their own, and a belief in their God-given ability. Good managers should be able to reinforce that belief.
I hope Mr Moshiri is watching the same programme.
Mal van Schaick
93
Posted 19/02/2019 at 23:56:14
Bernard... a good pint in Prague. Silva. Can we turn him to Gold? I hope so!
Tom Dodds
94
Posted 19/02/2019 at 00:06:00
James Power #12
LMFAO! (All night!!)
Jerome Shields
95
Posted 20/02/2019 at 00:10:44
I never liked players being wheeled out on Evertonfc. com, doing their public relations bit.
Don Alexander
96
Posted 20/02/2019 at 00:16:13
Tom (#92), I agree it was interesting but the fact, as televised, that Clough publicly crucified Trevor Francis for an inept performance in the first leg of a European Cup quarter-final would never be feasible these days, more's the pity. The players en masse, and their leeching agents, would simply down tools, as we've seen in recent years at Goodison.
The fact that Francis said his anger at being so crucified inspired him to score twice in the away match and thereby win the game would be inconceivable to our pampered lot.
Jerome Shields
97
Posted 20/02/2019 at 00:44:06
Tony #24
Hopefully Everton will get some results in the coming games and will improve. But I do have similar concerns. In my opinion, Silva has lost hope.
The tactics and selection in the last game, I found alarming. He tried to address problem areas but failed with tactics and selection that seemed to have no rhyme nor reason.
I think, like you, that Unsworth would be better till the end of the season. He would pick players who could do the job in the position selected and give clear instructions to them. . . He also would have the team set up in a more practical way to get a result. He would get the minimum points Everton need.
In my opinion, Silva has had opportunities to improve results, but hasn't capitalised on them.
Jason Broome
98
Posted 20/02/2019 at 02:47:23
Didn't Brutus get behind Caesar!? It's easy getting behind someone if you're pushing them over a cliff.
I'm so tired of empty words. How many more players are going to talk shit?
Fail to beat Cardiff in 6 days and that will speak volumes.
David Baxter
99
Posted 20/02/2019 at 04:42:59
Another Bob Paisley quote I remember. A Liverpool player complained to Bob that he didn't understand his role on the pitch.
Paisley said, "Look, son, if you get confused out there on the pitch and don't know what to do, stick the ball in the back of the net, and I'll explain the tactics later."
Darren Hind
100
Posted 20/02/2019 at 05:22:04
Fantastic work from Holgate again to set up the late winner.
Awful, awful decision to let this natural footballer go out on loan while the lighthouses continue to be exposed.
John G Davies
101
Posted 20/02/2019 at 06:48:24
What position did Holgate play Darren?
Tony Abrahams
102
Posted 20/02/2019 at 09:05:55
Just been on another thread trying to say the same thing, but in a different way Don, but I was accused of being to nostalgic.
So many contradictions in life, when people want a strong manager, but accept that these players can just down tools and even just stop trying.
The fact that Francis, scored two in the second game showed that Clough was right, and even Trevor Francis found character, which the powers that be have slowly but surely taken out of football, and the fans can just accept, that the game has just moved on?
Average footballers have got millions in the bank, and when you've got that much money, then nobody can tell you what to do!
Paul Cherrington
104
Posted 20/02/2019 at 09:20:45
I agree, letting Holgate go out on loan was a very bad move – he is a decent player and would certainly be better at centre-back than the current choices we now have there. For me, it seemed to go a bit wrong for him in terms of being picked regularly after that Firminio argument against Liverpool a while back, for some reason.
I think the most telling info from the Bernard interview is that a lot of the players do not know what Silva is on about half the time and he does not explain himself clearly. If you have to explain the same thing 5 or 6 times to groups of players, that is not them being thick – it is him not doing it in a concise, easy-to-understand way. When you see how we are playing at the moment, it explains why.
Tony Everan
105
Posted 20/02/2019 at 09:24:44
To lighten the mood, can we have a game of who will be next on this P.R. run, and what they'll say.
7/4 fav Lucas Digne
''How class act Leighton Baines and Marco Silva has helped his move into the Premier League.''
Dave Abrahams
106
Posted 20/02/2019 at 09:26:26
David (99), did Paisley tell the player which net?
Dave Abrahams
107
Posted 20/02/2019 at 09:35:11
Tony (105), I'd go for Dominic Calvin Lewin with " I'm striving to put the ball into the back of the net butI wish Jim Bennings, and a few more, would get off my fuckin' back"
Sorry Jim, just a bit of fun.
James Marshall
108
Posted 20/02/2019 at 10:32:37
Much like the players, when I watch Silva's interviews I have no bloody idea what he's going on about. When I watch Everton play I also have no idea what they're trying to do.
It all makes perfect sense now, thanks to Bernard explaining how confusing things are under Marco Silva.
Excellent interview.
Steve Ferns
109
Posted 20/02/2019 at 14:05:45
Jay, yet another example of your extreme pedantry. You say Arsenal were on an "all conquering unbeaten run", yet before this all conquering run was over, before they even lost a game, they were in 5th position. They did make a stuttering start, for me, if you want to disagree that's fine. But you seem to agree that results tailed off, so pedantry aside, you agree with the point I was making. I fail to see what you are getting at other than point-scoring and deflection. I'm not getting into a pedantic debate about that. Arsenal and Chelsea are on a much poorer run of form than they were on earlier in the season, as are we, and three managers that have all been appointed in the summer, and have been acclaimed (rightly or wrongly) for their coaching have seen a downturn in results. Whatever the reasons, there is a parallel there.
As for Harry Redknapp. He may have had success, but for me, he is a terrible manager. Disagree if you want, that's fine. Van der Vaart was actually trying to praise Harry with what he said, but for me it was just yet another example of his poor coaching. This thread is not about Redknapp and I'm far too busy to go and start posting quote after quote of players who are not quoting him slamming him for his coaching, his tactics, and his match preparation.
Bobby Robson is someone, that you know, I know, managed Sporting, and so I am fully aware of his excellent reputation there as a "tracksuit manager" on the coaching ground and getting his hands dirty. Bobby was a very underrated manager. He combined good coaching and motivational skills.
Back to Silva, of course he needs to motivate the players, to coach them and inspire them to better results and performances and he is failing to do so. So is Sarri. So is Emery. Good managers cannot get it right every time. They can even have disastrous seasons, such as Bielsa taking Lille from 11th (they sacked their previous manager for dropping from a 5th place finish the year before) to bottom of the league. This is the guy that Guardiola and many others call the "best coach in the world" and had Leeds top and steaming towards promotion (although Bielsa fatigue may have set in now). Sometimes, things just don't work. That does not mean they won't work. And it does not mean that Silva is coaching the players badly, it does not mean he cannot motivate them, and it does not mean that he is not working hard. Each defeat hurts him. He's not shrugging his shoulders, knocking off at four, and going golfing with his mates, or being pictured all smiles with celebratory friends in fancy Manchester restaurants.
Brian Harrison
110
Posted 20/02/2019 at 14:26:30
Steve
I like you wanted Silva and I still believe we should give him till at least next December. But as previous Prime Minister said when asked about what made the job so hard and he replied " events dear boy events". I think the same applies to managers what kills them is results dear boy results, plus how fans react to the poor results.
Maybe it would make a lot of sense for Brands to suggest to Marco to promote Unsworth to work with the first team. Now I know a lot of managers take the same backroom staff around with them, but it can also mean if there were faults at previous clubs having the same backroom staff maybe the same faults will re occur. I think thats were Ferguson was clever he changed his assistant managers every couple of years.
Tony Abrahams
111
Posted 20/02/2019 at 15:00:18
Promote from within? it worked for Kendall, but it was his old mate that was coming to work with him, whereas this wouldn't be the case if Unsworth moved up.
One thing that looks impressive, is how few goals the Under-23'S, have conceded, but maybe if we started working on defence, it might destroy our fine offensive play!
Jay Wood
[BRZ]
112
Posted 20/02/2019 at 15:41:50
Oh Steve @ 109, don't be silly and try to claim my response to you is "yet another example of [my] extreme pedantry."
I offer a different opinion to yours, that's all. And I do so with supported facts, not fabrication. Stop being resentful all the time whenever people do not accept absolutely your worldview on all matters related to Silva and Everton. There are perfectly good reasons why you are challenged on some of your posts.
Take responsibility for your own exaggerated claims in this thread that I (and others) legitimately counter, Steve. And indeed your OWN pedantry you present in your latest post.
Tony Everan
113
Posted 20/02/2019 at 15:57:19
Brian #110
I am with you, up to a point . I want him to turn it around and stay and build.
I wanted Silva too, and I was thinking the other day he is desperate to succeed here. Too desperate. He is overthinking things and almost trying too hard. As a result of it common sense and the basics are being forgotten about.
I am hoping this prolonged break has allowed him to take a step back from the storm and have time to reflect . Come back with new ideas and fresh outlook. With our problems on the way to being mended.
Where I differ is with our squad we were expected to finish 7th according to the spread markets in August. If we continue to nose dive and carry on the same form until May and labour to 45 points, to me that is relegation form.
There's no way if there is no improvement between now and then he can be trusted to turn it round next season. It would be reasonable to say we would get more of the same. Better to part ways than risk that.
This break has given Marco an opportunity to recover, I am expecting a lot better, starting with Cardiff and I want a result against the RS too.
He is most definitely on probation in these last 11 games. I want him to succeed . The last thing the club needs is more upheaval .
But upheaval in May it must be, if Silva doesn't show he is turning it around.
Mike Gaynes
114
Posted 20/02/2019 at 16:34:16
Darren and John G, Holgate has been played exclusively at RB by West Brom.
Jay Harris
115
Posted 20/02/2019 at 16:37:20
Watched Holgate the other day v Aston Villa.
He looked OK at RB but not a patch on Kenny.
John G Davies
116
Posted 20/02/2019 at 17:02:16
Mike 114,
Thanks,i didn't think he would get a game at centre back.
Even in the Championship.
His best chance of a career in the Prem, in my opinion, would be if he forgot about centre half and tried to develop himself as a right back. He has the attributes to do that.
Darren Hind
117
Posted 20/02/2019 at 17:35:43
What a moronic statement
John G Davies
118
Posted 20/02/2019 at 17:46:15
Which one?
Mine?
If so could you expand on why.
Craig Walker
119
Posted 20/02/2019 at 17:47:56
Was it Tommy Docherty who said about chairmen that he liked them in front of him rather than behind him, then he could see what they were up to?
Dermot Byrne
120
Posted 20/02/2019 at 17:49:23
John G
Coz!
The language that encourages debate is back.
Dermot Byrne
121
Posted 20/02/2019 at 17:57:03
Nature of the game Craig.
For £xmillion for being shite, I could just about deal with it!
Off to see gaffer tomorrow to renegotiate contract
Brent Stephens
122
Posted 20/02/2019 at 18:14:22
What's the "moronic statement"??
Eddie Dunn
123
Posted 20/02/2019 at 18:19:50
As for Holgate, I think he will become a tremendous centre half and if he wanted, he could play defensive midfield. He has pace, good touch, reads the game well enough, is incredibly cool on the ball and once he puts a few pounds of muscle on and gets another 50 games under his belt, he will be a hot property.
He is well worth persevering with. I hope we get him back bigger and stronger for preseason and don't make the mistake of letting him slip from our hands.
John G Davies
124
Posted 20/02/2019 at 18:20:50
Dermot Byrne
125
Posted 20/02/2019 at 18:38:12
Brent...you ask!
Mike Gaynes
126
Posted 20/02/2019 at 18:41:22
Eddie #123, only under a different manager. As I mentioned in the other thread, Silva likes his CBs the bigger the better. Holgate is Jags' height and much lighter.
Darren Hind
127
Posted 20/02/2019 at 18:47:19
Darren Moore had wanted Holgate long before he actually got him. He thought he was a fantastic center half. He was particularly won over when witnessing one of his many performances in the PREMIERSHIP at center half (even though he was only 21).
Soloman Rondon may not be the most prolific scorer, but he is one hell of a handful for any premier league center back, it was after watching Holgate fold him up and put him in his arse pocket That Moore decided he wanted him. His first attempt failed. we wouldnt let him go, but Silva then spent a fortune on a lighthouse and decided (for reasons known only to himself ) that the persistently poor Keane was his man.
Moore got his man, but while his center backs were doing ok, his full back - Tosin Adarabioyo - was having a Weston. He couldnt adjust to the championship.
It was a no-brainer for Moore. In went mason and he has been outstanding for them.
Silva doesnt fancy Holgate, but every other manager he as played for has been happy to put him in at centre back at 20 + 21 years old.
It takes a rare level of ignorance to claim a young man who has acquitted himself against some of the best foward's in the premiership while still a baby, is not good enough to play center back in the championship . . simply because he is naturally skilled enough to replace a full back who was giving his manager nightmares. The fact is, West Broms other two center halves simply don't possess the required skill.
Its a wonder any kid is prepared to play for this club, the level of ignorant criticism must make them want to run a mile.
Still I expect nothing more from a guy who cheered the arrival of Ashley Williams as loudly as he cheered the departure of John Stones.
John G Davies
128
Posted 20/02/2019 at 19:01:10
"Darren Moore had wanted Holgate long before he actually got him. He thought he was a fantastic center half"
But doesn't play him at centre half.
Can you post a list of Premier clubs who wanted to take this fantastic centre half on loan with the majority of his wages paid by Everton?
Who was the guy "who cheered the arrival of Ashley Williams as loudly as he cheered the departure of John Stones."?
John Pierce
129
Posted 20/02/2019 at 19:12:18
Silva the very picture of a modern sophisticated coach failed Holgate on his height requirements, known for employing bean poles at the back has decided most simplistically Mina & Keane are therefore streets ahead of Holgate.
Our survey says. ❌❌❌
Darren Hind
130
Posted 20/02/2019 at 19:24:20
"I watched him play against Salomon Rondon in a goalless draw at the Hawthorns last season and I thought he was outstanding"
"First and foremost, He is a good, good player. He is quick, agile, athletic and comfortable on the ball" - Darren Moore
Poor Mason wont get a wink of sleep when he finds out the guy who criticised John Stones relentlessly, doesn`t rate him
Like I say. I'm astounded any kid stays here to listen to the relentless shite from the philistines.
"Ah want ma defenders to bluddy well defend . . av it"
Mike Gaynes
131
Posted 20/02/2019 at 19:25:07
Darren #127, Koeman didn't appear to really rate him as a CB either. Two seasons ago Holgate made more appearances at RB than CB (12-9) and last season RK/Uns/Sam combined gave him only 12 starts at CB in all competitions.
I'm one who always agitated for more chances for him there (especially instead of Gashley), but with Silva here now and the purchases of Keane and Mina, I think that boat has sailed.
And with Holgate's blazing pace, he might make a hell of a RB if his passing has improved.
Darren Hind
132
Posted 20/02/2019 at 19:28:35
Mike is that a serious post ?
John G Davies
133
Posted 20/02/2019 at 19:30:02
"I watched him play against Salomon Rondon in a goalless draw at the Hawthorns last season and I thought he was outstanding"
"First and foremost, He is a good, good player. He is quick, agile, athletic and comfortable on the ball" - Darren Moore
I won't play him centre half though
Second time.
Who was the guy "who cheered the arrival of Ashley Williams as loudly as he cheered the departure of John Stones."

Mike Gaynes
134
Posted 20/02/2019 at 19:31:08
It is, Darren. I think he's a tremendous talent who needs to stay at Everton. And I think he's not going to get another shot at CB unless we change managers. You think different?
Darren Hind
135
Posted 20/02/2019 at 19:46:45
"I won't play him at centre-half though"
Talk about an inability to understand the situation... If Moore had a right back. Holgate would be playing Center half. He doesn't and the other two can't play ful... ah forget it.
Mike.
Holgate was probably a teenager when Koeman arrived. When Coleman wasn't available he still trusted his young footballing centre-back to play in a different role more than he trusted seasoned pro's to move out of their one-dimensional comfort zone.
Jagielka had played at right back and was absolutely gash. Williams was, well Williams. I didn't think I would ever defend Koeman, but his situation was similar to the one Darren Moore faces now... what choice did he have
Gavin Johnson
136
Posted 20/02/2019 at 19:52:59
Given that Holgate is playing as RB we won't get to see what a great CB he is. For this season at least. It's a shame because CB is his stronger position. IMO, he won't have a future as a RB at Everton. Kenny is better in this position.
John G Davies
137
Posted 20/02/2019 at 19:53:13
"Talk about an inability to understand the situation . .If Moore had a right back. Holgate would be playing Center half."
How can you possibly know that?

Mike Gaynes
138
Posted 20/02/2019 at 20:03:31
Good point, Darren, but even when he wasn't needed at right back last year, he still didn't get much of a chance at CB from any of his managers. He should have (f---ing Williams!!), but he didn't. And if Zouma stays, he likely won't get a chance next season either.
Maybe, just maybe, Moore has taught him something about passing the ball -- he has three assists now in seven games at WBA, two more than in his entire Everton career -- and maybe, just maybe, Silva (if he's still here) will give him a chance to compete for RB minutes next year. I don't care where Holgate plays as long as it's with us.
Darren Hind
139
Posted 20/02/2019 at 20:15:59
Not many managers prepared to play teenagers at centre-back Mike. Try counting them – dear me I'm defending Koeman again.
Moore didn't teach Holgate to pass the ball. He just introduced him to a group of players who actually make the pass possible.
Plattini would have struggled to pass the ball playing for Koeman or Allardyce.

John Pierce
140
Posted 20/02/2019 at 20:18:17
Mike, if Darren Moore has enlightened Mason how to pass in little more than 4 weeks what does it say about Marco?

Darren Hind
141
Posted 20/02/2019 at 20:22:06
It says Marco didn't trust Mason, especially when it came to zonal marking.
Unfortunately for Mason – Mina, Zouma, Coleman, Digne and Keane took to it like ducks to water.
John G Davies
142
Posted 20/02/2019 at 20:31:23
I think you exaggerate Mason's current level of ability, Darren.
Why didn't managers from the Premier League take him on loan? Especially as Everton were paying the majority of his wages?
Mike Gaynes
143
Posted 20/02/2019 at 20:35:34
Darren #139, I hate to give Roberto Martinez any credit either, but he did give Stones more than 40 starts before his 21st birthday. So it does happen.
And that cross Holgate made last week for the goal was better than any cross I ever saw him make for us -- good lord, he made Hibbo look like Arteta on the ball -- so he and/or Moore must take credit for some improvement in his game.
Jay Harris
144
Posted 20/02/2019 at 20:40:36
I've watched Holgate in a couple of West Brom games now and, while I would say he is competent at right-back, I would also say he is not a patch on Kenny.
His deficiencies for me are occasional lapses of concentration and a suspect temperament. It doesn't seem to take much to light his fuse.
Having said all that, I still think he has potential because centre-backs tend to mature much later than other positions.
Darren Hind
145
Posted 20/02/2019 at 20:49:26
Stones was a rare exception rather than the rule, Mike.
I don't know what it is about Some Evertonians and younger players (I keep meaning to do a piece about it) but Stones was hounded at this club.
A brilliant, brilliant player who committed the unforgivable crime of making a few errors while he was learning his trade.
Tony Abrahams
146
Posted 20/02/2019 at 21:03:51
I think you speak a lot of sense in that post Tony@113.
I agree with you about Holgate, Darren, and I also agree with the words of the WBA manager, but the one thing he omitted to mention was that Holgate was strong, and this has got to be one of the major requirements of a top class centre-half?
I think if Holgate can beef up, up-top, then he can go all the way to the top, but if he doesn't, then I'm not sure that he's going to reach his natural potential?
Jay Wood
[BRZ]
147
Posted 20/02/2019 at 21:08:01
On Mason Holgate, good player. Got some much needed nark in him which is sadly absent in so many of the squad at Everton. Got to be retained.
Nicely set up the winning goal for WBA last night, but it shouldn't be ignored that he was partly culpable in QPR's first goal also, way behind the wide man who was his responsibility and who had a free run on goal to score.
John G Davies
148
Posted 20/02/2019 at 21:08:22
Staying on topic.
Not one Premier League manager came in for Holgate. Despite Everton paying the majority of his wages. That has got to tell you something.
Darren,
My last post on this one for tonight. Do yourself a favour when debating (haha) – stick to the points and facts. Making things up does nothing for the continuity of the thread.
Steve Ferns
149
Posted 20/02/2019 at 21:08:57
Silva has played 6'-2" centre halves before. Namely Yohan Tavares. He played him 102 times, which is more than any other centre half except for his long time partner, the giant 6'-5" Steven Vitorria.
If we had a taller keeper and Holgate played well enough, why wouldn't Silva play him. He played him early in the season without a problem, he only made way for Zouma. Silva said a lot of positives about Holgate too. If he didn't think he was tall enough he'd have shoved him to right back and he didn't seem too keen to do that.
Tony Abrahams
150
Posted 20/02/2019 at 21:14:21
I thought exactly the same thing when I saw the QPR goal Jay. It's not just Everton who push the fullbacks on, even when the ball is on the opposite wing? It might be great for the switch and a fast counter, but it's fucking fatal, if your team doesn't win the ball back.
Laurie Hartley
151
Posted 20/02/2019 at 21:25:45
I want Marco to succeed so Cardiff is a huge game for him. Neill Warnock might not be the worlds greatest tactician but he knows how to get a team fired up – eight promotions in his career attests to that.
Bernard – I love this footballer for his attitude and his unbelievable ball control. He plucked one ball out of the sky on the left wing at Watford which even brought a round of applause from their fans.
Jay Harris – on Holgate "It doesn't seem to take much to light his fuse." A quality I like to see in a footballer – we just need to teach him how to control it.
Steve Ferns
152
Posted 20/02/2019 at 22:18:29
Laurie, he'll have had 17 days to prepare for it. If he loses to Cardiff he'll limp into the Derby and if the RS slaughter us like they slaughtered Martinez' side then like Martinez, he would not survive much longer despite whatever time Moshiri May want to give him.
Cardiff is a chance to show what he can do on a training ground. 17 days is a very long time and you would hope they've organised a behind clothes door friendly so as not to get ring rusty.
Darren Hind
153
Posted 21/02/2019 at 05:34:00
"Not one Premier League manager came in for Holgate. Despite Everton paying the majority of his wages. That's got to tell you something" ...
Actually it doesn't tell me much, but it does kinda confirm what I always suspected... what a question!
Why didn't a Premier League rival not approach Everton about a player they didn't know was available and who could make them a greater threat to us and ask us to loan him out to them and pay the "majority of his wages"? ... Hmm, Tough one.
After seeing and admiring Holgate's performances at centre-half, Darren Moore made repeated discreet inquiries. How do I know? Because he fucking told us. That is how Holgate ended up at West Brom. It suited the decision-makers at Goodison.
I can find no evidence that Everton are still paying "the majority of Holgate's wages" ... I'd be interested to see that report.
Tony
That's just it. Moore`s team score a lot on counter-attack, West Brom commit a lot of men forward, but there is a risk involved. If the centre-backs or the defensive midfielder surrender possession, they are likely to catch most of their team mates bombing forward. It's not the full backs fault; it's a calculated risk taken by the coach.
John G Davies
154
Posted 21/02/2019 at 06:30:12
"Why didn't a Premier League rival not approach Everton about a player they didn't know was available and who could make them a greater threat to us and ask us to loan him out to them and pay the "majority of his wages"? ... Hmm, Tough one"
I see, that's obviously the reason not one single player went from one Premier League club to another Premier League club on loan this season? (Not)
Do your homework before jumping in.
Tip: look at our squad for examples.
Mike Gaynes
155
Posted 21/02/2019 at 06:59:22
Jay #147, good for Tyias, wish him the best. He's been drawing rave reviews from Rhino this season. And he's lucked into a great situation in China... Guangzhou Evergrande is one of the top clubs and Guangzhou is a terrific city for Westerners.
Darren Hind
156
Posted 21/02/2019 at 08:11:30
Still laughing at the absurdity of the claim that we have allowed players out on loan to another Premier League club whilst "paying the majority of their wages"...
Tip – Stop making moronic statements about youngsters' situations you clearly know nothing about and you won't need to spend the rest of the thread digging yourself deeper making even more nonsense up.
Your non-stop criticism of John Stones when he was learning his trade now makes you look very foolish indeed. Don't make the same mistake by battering away at the latest young centre-half.
Most people are delighted to see one of our youngsters do well on their loan periods. It takes a rare kind of malevolence to use a great piece of work as an excuse to attack his ability to play in his natural position.
You've made my mind up though. I will definitely be penning a piece about the destructiveness of youngster bashing.
Perhaps you can simultaneously pen one about its merits?
John G Davies
157
Posted 21/02/2019 at 08:37:01
Another foolish retort.
I will give you one thing: You have got a better swerve than George Best in his prime.
Tony Abrahams
158
Posted 21/02/2019 at 08:38:11
I knew the love-in wouldn't last!
John G Davies
159
Posted 21/02/2019 at 08:38:55
He's chucked Tony.
Tony Abrahams
160
Posted 21/02/2019 at 08:41:16
He said he's made up, John G!
John G Davies
161
Posted 21/02/2019 at 08:49:44
He will be back, mate.
Martin Mason
162
Posted 21/02/2019 at 09:35:25
I like Mason Holgate (and Jonjoe Kenny) and believe that he will develop into a very stylish and talented centre back for us and a right back too. He is in that gap between academy and first-team squads that can be hard to bridge and going out on loan will surely help him do this.
Getting on the backs of young players is poison; we need to get behind them as we need to get behind the team in these difficult times. Social Media gives us a platform to complain but it isn't mandatory, is it?
James Hughes
163
Posted 21/02/2019 at 10:19:50
There was a few posts about Simeone the other day. Have you seen the latest about him.
Simeone apologises for cojones celebration, but says it came from the heart. He turned to the home fans and grabbed his crotch. Saying he did it as a player as well, to show the fans that we have cojones and fight for them.
A manager with fight in him, please get him here. We have Silva who looks lost most of the time and no fight in him at all.
John G Davies
164
Posted 21/02/2019 at 10:51:43
Martin,
"Getting on the backs of young players is poison, we need to get behind them as we need to get behind the team in these difficult times."
I agree 100% and have posted advocating that regularly.
Please don't be swayed by the imbeliic comments made by a poster suggesting I made "non-stop criticism of John Stones" or indeed any other young player. The comments are from a poster using his usual tool of fabrication in an attempt to enhance his silly points.
An example from Darren "Most people are delighted to see one of our youngsters do well on their loan periods. It takes a rare kind of malevolence to use a great piece of work as an excuse to attack on his ability to play in his natural ability." — If I could work out what he intends to portray in that comment I would respond.
Further to your invitation to pen an article on the merits of youngster bashing. If you can show one example of where I have done that I will happily respond. But you can't, can you?
Darren Hind
165
Posted 21/02/2019 at 12:12:36
I found some gems from you John G Davies. All from one thread, after hammering away relentlessly at Stones throughout his career. You couldn't even let it go when he left and came back for a day.
"To get £# for a defender as poor as John Stones is unbelievable"
"I didn't understand how one or two TW members Labeled Stones the new Bobby Moore. I didn't rate him at all and was happy we sold him. A poor centre-half who won't be playing for Man City next season. I have never wavered in my support for Ronald Koeman. He will be a great Everton manager."
And what about this gem after claiming Holgate isn't good enough at centre-half:
"Holgate is a better defender than Stones even at this early stage of his career. A Rolls-Royce of a player."
Stop digging. The relentless nastiness you leveled at Stones when he was here is still on these pages for anyone who wants to search for it. You wouldn't even leave it alone when he was gone... just as you are pursuing Holgate with your snidey "not good enough for the Championship" comments when he is playing elsewhere.
Fabrication? ... My Arse.
John G Davies
166
Posted 21/02/2019 at 12:38:46
My compliments for your tenacious research, Darren.
Can you dig feverishly through my further posts when I mention I underestimated John Stones's ability while maintaining the fact that he has a mistake a game in him, and further mentioning his undoubted improvement?
I did indeed post that I considered Holgate a better defender at the same age as John Stones. I still do.
Now back on topic. Can you post any examples of my youngster bashing?

Sam Hoare
167
Posted 21/02/2019 at 13:12:09
John, did Stones not count as a youngster?
John G Davies
168
Posted 21/02/2019 at 14:26:42
Sam,
I gave an honest opinion on my evaluation of Stones ability as a defender at the time.
I praised his football ability but criticised his defensive ability AT THE TIME.
Not "youngster bashing" (an emotional term formed by a regular poster) in my opinion.
Steve Brown
169
Posted 21/02/2019 at 14:28:33
I rate Jonjoe Kenny at right back and Mason Holgate at centre-back more than the established players in those positions, in terms of performance, potential and motivation.
Darren is right though: Youngsters at Everton are not allowed to make a mistake before they are criticised and written off.
Most club supporters have a high level of patience for their local lads trying to break through, but not us. I have never really understood it as it is guaranteed to shatter their confidence.
Whereas mediocre players are able to win Everton fans fondness and adoration simply by running round like headless chickens and working up a sweat. I give you Stracqualursi and Niasse to name but two.
Steve Brown
170
Posted 21/02/2019 at 14:31:54
John, Stones was a youngster when you were bashing him. But that doesn't count as youngster bashing? Interesting logic.
John G Davies
171
Posted 21/02/2019 at 14:36:21
Steve,
If you consider my posts giving an honest opinion on a player as "bashing" you must have led a very sheltered life.
Mike Gaynes
172
Posted 21/02/2019 at 14:50:45
James #163, I hate to shatter your dreams, but in the highly unlikely event that Simeone would leave Atletico -- he's been there since 2011 and just signed a new contract -- there's no way in hell he'd move from an annual Champions League contender to a mid-table English side with zero current CL hopes. He will move up in the world (Inter? Juve? Bayern?), not down. Sorry.
Darren #165, how did you find all that? Is there a search function in TW that I didn't know about?
John G Davies
173
Posted 21/02/2019 at 15:03:30
Mike,
No link as far as I know, be interesting if there was that facility.
You just have to scroll through post after post from over 3 years ago.
It will take hours upon hours of research, but if you have a point you think the research will enhance you may consider it worthwhile.
Sam Hoare
174
Posted 21/02/2019 at 15:54:23
John @168 and 171, i'm not sure the opinion being honest has anything to do with it. I assume most people's opinions on here are honest.
I would understand ''bashing'' on here to mean repeated criticism. Not sure what you are referring to.
It's not really my argument but it seems strange that when a poster has dug up repeated examples of you criticising a player who was about 20-21 at the time, you then ask him to provide evidence of "youngster bashing".
John G Davies
175
Posted 21/02/2019 at 16:23:12
Sam,
In answer I can only refer you to my point made to Steve at 171
Eddie Dunn
176
Posted 21/02/2019 at 16:24:14
I think there is often good reason to criticise youngsters.
Lukaku was still quite young while with us but was often criticised for lack of effort or being unable to trap a bag of cement.
Stones was criticised for his repeated defensive errors, mostly to him overplaying. Very different criticisms. Indeed, these gifted lads and the likes of Barkley were probably criticised more because they were capable of more.
Kenny, on the other hand, is a young lad openly giving his all, not flash and so is spared too much stick. In retrospect criticism of Barkley, Stones and Lukaku made no difference to them staying with us, as all 3 had their eyes on bigger things.
The problem all youngsters have is the availability of fully-fledged foreigners in their mid-to-late twenties ready to pop in and do a job straight away. Coaches don't have to be patient.
Mike Gaynes
177
Posted 21/02/2019 at 16:31:27
Eddie #176:
"In retrospect criticism of Barkley, Stones and Lukaku made no difference to them stayin with us, as all 3 had their eyes on bigger things."
Spot on.
And the same is true of the criticism (often seen here) of the club for not keeping them and building around them. It was never an option, except maybe Barkley. Those guys wanted to go. And I don't recall us ever selling a talented young player who didn't want to go.
John G Davies
178
Posted 21/02/2019 at 16:44:13
Eddie,
Constructive criticism, during debate on the pages of a forum does no harm to the player. Never, ever have I or will I boo a player at the game.
The young "shot scuffing player who was unable to trap a bag of cement" (20 - 21 years of age) was lambasted on a weekly basis by one particular poster.
Perhaps that poster could explain the merits of doing so in his forthcoming "piece on the destructiveness of youngster bashing"
Darren Hind
179
Posted 21/02/2019 at 17:20:35
Mike,
The "hours and hours of research" took about 30 seconds.
I wouldn't have bothered to be honest, its not nice to cast stuff up. We all make mistakes and forget what we said. But John G got nasty and accused me of lying.
I simply typed four words and the proof was right in front of me in seconds... all on one thread. There are numerous examples. of his Stones bashing.
It would appear that hammering a very young talented center half on a regular basis, is now called "giving an honest opinion"
If John Stones is not the most coveted defender in world football he is certainly one of them. It's amusing that a guy who criticised him all through his apprenticeship now claims Holgate who "couldn't get a game in the Championship at centre half" is better than him.
A classic example of a confused fool chasing himself up his own arse desperately trying to score a point.
He'll keep digging that hole. I'll get to work on that piece I was talking about...
Dermot Byrne
181
Posted 21/02/2019 at 17:41:32
If anyone thinks the views on TW mean anything to anyone other that us, who share our views on TW, then it is time for a dose of reality and analysis of perception of self-importance.
Hey that just went viral!
Chris Gould
188
Posted 21/02/2019 at 18:57:54
John G Davies, there's a search engine at the top of the homepage. It's a Google custom search for ToffeeWeb articles. If you type in: 'John Stones, John G Davies' then you'll find articles about Stones that you have commented on. It is quick and easy.
Mike Gaynes
191
Posted 21/02/2019 at 19:19:42
Oh, brother. The evil genies are swarming out of the bottle now.
Dermot #181, great chuckle. I've been saying that for years now, but nobody has ever paid attention. The membership here has always fantasized that our views get read by club management, our manager and the players. But I'm convinced we're all sitting around a virtual clubhouse, enjoying each other's company and shooting the shit, with the unheeding world passing by outside. I don't know what 22-year-old footballers read these days, but I'm pretty sure it's not an old-farts fan site.
Darren Hind
192
Posted 21/02/2019 at 19:25:11
He'll be gone for hours looking for stuff I said about Lukaku... why doesn't he just ask me?
John G Davies
193
Posted 21/02/2019 at 19:26:21
Dermot 181; Mike 191.
Bang on the money. Some on TW apparently believe the opinions expressed on here affect the players' performances. Delusions of grandeur methinks.
TW is an excellent forum for Evertonians to exchange opinions and views, the best around in my view, but that is all it is. A football forum.
Mike Gaynes
197
Posted 21/02/2019 at 19:55:44
Maybe I should have said virtual sandbox.
Dave Abrahams
198
Posted 21/02/2019 at 20:05:59
Mike (191), you could be correct in your view that the posts on here are virtually never read or are of interest to modern day players or mangagement, I think however that some views,if they hit home and are obvious, do get through to those who count.
I base this on the fact that years ago, supporters points of view edited in the " Pink Echo" were acted upon by the managers of Everton and Liverpool at that time, and I'd say the teams improved with the changes suggested.
Brent Stephens
199
Posted 21/02/2019 at 20:15:07
More points scoring here than at Goodison!

Rob Halligan
200
Posted 21/02/2019 at 20:15:53
Wow, hey John, that tool works. (Don't mean you Darren).
Chris Gould
201
Posted 21/02/2019 at 20:50:40
Dave #198,
I agree. Fan sites are an obvious way for clubs to gain an insight into the general feeling towards the manager, players, owner, stadium etc. If anyone was discussing you as a person/performer wouldn't you be intrigued to know what they were writing?
A young professional footballer who is a regular user of social media will find the temptation too much. Of course, they'll check the reports and comments of fans. I expect they're advised not to, but once they're home and flicking through their phones, some will undoubtedly read through articles and discussions about them.
I always felt that Barkley was the type of lad who would go home and read through the fans' reactions to him. Lukaku probably not so much.
John G Davies
203
Posted 21/02/2019 at 21:41:36
Work on developing your inner strength of character, Darren. It's a sure sign of a lack of masculinity, the overwhelming desire to start a website conflict with anyone who disagrees with you.
With that thought, I bid you good evening.
Andy Crooks
204
Posted 22/02/2019 at 04:49:28
The first piece I ever wrote on this site, many, many years ago, was to voice my concerns that some players might be impacted by negative comments. It never entered my mind that they would never read them.
If I was a player I would most certainly be scouring fan sites. I would simply have to know what they thought. Are they now so protected from the real world that it would not enter their mind? I suspect that Toffeeweb does have some influence.
Yes, Mike, I know it is a forum for old farts to vent. But... there is some pretty good journalism on this site. Some pertinent, articulate comment and a lot of people who don't post but read.
In the last days of the lamentable Martinez, I asked Lyndon to use this site to call for his dismissal. Wisely, he continued to report the facts, which, as it turned out, were enough.
Does, or has Blue Bill ever read this site? Does anyone at the club ever look at it? They really should. Does Toffeeweb reflect the views of most supporters or is an online pub for cynics? I honestly think it counts.
Mike Gaynes
205
Posted 22/02/2019 at 06:27:45
Andy mate, if I was a professional athlete, the last thing in the world I would ever read would be a fan forum like this. Simply too time-consuming to sort through the chaff, and they're far too busy on Twitter/Instagram/Facebook. They're the opposite of "protected" from the real world -- they're immersed in it, in real time.
As to whether Moshiri or Bill read TW, I have no idea. The DOF and manager definitely wouldn't. Brian Doogan probably does, because his job description as a corporate PR director (which I once was myself) would generally require reading everything that's printed or posted about the club and alerting his bosses (I assume Richard Kenyon) to anything controversial or defamatory.
Darren Hind
206
Posted 22/02/2019 at 07:59:04
Mike the point has been missed here.
The is no suggestion that the players or any of the management team comes on TW and are affected by posts or that anybody outside its membership cares about what is written - That's just DB missing the point again.
You've been to the old lady, you have will have witnessed first hand how the stuff you read on here very much reflects what you will hear at the game.
I watched in disbelieve as one poster went from thread to thread after our last defeat ignoring the shortcomings of players who have cost 100 of Millions to single out a young substitute who cost 30 bob. He was only on for a quarter of an hour . . Do you think that poster will see things differently at the match ?

Eddie Dunn
207
Posted 22/02/2019 at 08:40:18
In reference to the modern player and whether he reads fan-site comments, I would think very few would read ToffeeWeb. Many years ago, when I was in my 20's I recall hearing Pat Nevin talking about his musical tastes, which were similar to my own. He was into indie guitar music and he mentioned on the Everton coach, none of the team wanted to hear his tapes played on the bus stereo. Instead they all listened to George Benson.

These days, they all have their own music in their headphones, I wonder if they have time to speak to each other.
Back then, I was surprised that even macho guys like Rat and Van den Hauwe would rather have disco groove music on on the way to a game rather than something rousing.
God knows what they listen to thesedays but who knows what they read.
My kids are 24 and 29 and neither of them read books or papers. They do read online but mostly watch videos, live tutorials and play games.
The players are around the same age group and they will all be on Insta, Snapchat, and all of the other social media stuff. They do, however listen to 5live and Talksport and the makers of these shows are aware of fansites like ours when checking on the zeitgeist.
I would think that with so many of the players now coming from foreign lands that the chances of them even listening a podcast is remote.
If they are on Twitter the vile abuse would upset them a lot more than the measured moans and groans on here.

The modern player is in a bubble. He has no need to care what we think. He won't be in the pub in some little Dutch town on a preseason jolly. The closest he get to the fans is taking a throw-in or getting off a bus to sign autographs. He might notice that he only has a few thousand likes on instagram but there are plenty more likes to be had tomorrow.

The only player who reads this site is Leighton Baines and he sometimes contributes, but not often, under a pseudonym. He told me this a few years ago at a friend's wedding.

Chris Gould
208
Posted 22/02/2019 at 08:55:24
Eddie, after suggesting that no player would read this site, you actually just gave first hand evidence that a current player reads it AND contributes!
So why not others?
How on earth could you know that he is the only player?
I very much doubt that he is. I expect many have at one time or another read through various articles. It's nonsense to suggest that they don't have time or that they wouldn't be interested. Certainly boyhood fans like Barkley and Davies would be interested to know what their fellow fans think about them.
Tony Abrahams
209
Posted 22/02/2019 at 09:12:42
I'm Leighton Baines, and so is my wife! Come on Bainsey lad, who are yer?
Eddie Dunn
210
Posted 22/02/2019 at 09:27:00
Chris- I said "very Few"! I am wondering which one of you he is?
Chris Gould
211
Posted 22/02/2019 at 09:46:07
I expect he was on here venting his frustration during Martinez's reign.
Tony Abrahams
212
Posted 22/02/2019 at 10:03:00
Didn't that fella who described Martinez as a snake-oil salesman also came from Wigan?
James Hughes
213
Posted 22/02/2019 at 10:12:13
I reckon Leighton is posting under Jim Bennings :)
Steve Ferns
215
Posted 22/02/2019 at 10:12:19
I am Spartacus
Brian Harrison
216
Posted 22/02/2019 at 10:57:17
Steve,
I didn't think you would be old enough to have seen Spartacus when he played for us in the 50s. I liked him but a lot thought he was too gladiatorial.
I will get my coat.
Jay Wood
[BRZ]
217
Posted 22/02/2019 at 12:21:55
Interesting side topic on whether players would read (or even contribute) to a fans forum such as TW.
Only very recently did I learn about The Secret Footballer (thanks to Brian Williams, I think it was), an ex-pro, who writes for The Guardian and has published four books.
I reference that because TSF was very categoric in his own view of fans and forums: he never reads them because the fans know bugger all about the inside workings of pro football and so their opinions were not worth reading.
Now that might put a few fans noses out of joint, but it is a view I can at least acknowledge. I am not saying that TW or other fans forums do not have knowledgeable or insightful contributors but, at the end of the day, we are 'mere fans' chewing the fat between us in a virtual pub.
To believe that our posts are'relevant' and that our ideas should be implemented to ensure an immediate improvement in the team's fortunes is vain in the extreme, IMO.
For one, there is such a wide range of conflicting opinions on every conceivable subject – the club ownership, direction, finances, manager, players, tactics – that there is never ever a consensus on any one of them.
And that diversity of opinion and human nature being what it is, no one can categorically say one way or the other if players read the likes of TW or not.
Equally, you cannot categorically say what are the motives of individual players should they read fans forums and how they react to what they read about themselves and the team.
Who knows? Maybe they read it for a laugh, a diversion. Maybe others take comments more seriously and are avidly interested in fans' assessment of their performances. Some may laugh comments off. Others may take them more to heart.
The players may live in a privileged bubble on one level, but in spite of what some believe, they are not totally stupid or so removed from life that they don't know of the existence of fans forums and their nature.
I wonder if footballers get advice and instruction on the merits and risks of reading such forums from their clubs. A confident character may visit a forum and laugh it off; a less confident player could have his self-belief undermined.
Whilst it is a great unknown if and how many Everton players may read (even post!) on TW, like Mike Gaynes @ 205 I am quite sure that the club monitors the site for any number of motives.
In closing, Eddie Dunn tells us Leighton reads and contributes, albeit rarely, to TW.
There is some sport in this: if an Everton player – past or present – were to post on TW under a pseudonym, which regular TW poster d'ya think they would be...?
Dave Abrahams
218
Posted 22/02/2019 at 12:37:23
Jay (217), Fair comment Jay, I agree with a lot of what you say, however how many of us write thinking that it will read by anyone at the club whatever their status.
Now and again, dozens of fans write their posts on here with the same moan or complaint about how a player makes the same mistake game after game. We point it out as constructive criticism, to try and improve their game, not for the sake of moaning. Some of the mistakes are that obvious, they are surely pointed out by their coaches, but the mistakes carry on... Maybe some players are just naturally thick, I've heard of one or two.
Jay Wood
[BRZ]
219
Posted 22/02/2019 at 12:53:49
Players? Thick???
NEVER Dave, NEVER!!!
(Tongue firmly tucked in cheek).
Scott Hall
221
Posted 22/02/2019 at 13:01:58
"The manager is clueless. I've played under some cowboys in my time but this guy is another level. He has us marking fresh air during set pieces, and despite his system resulting in 9 defeats from the last 11 games, he continues to deploy it like somehow it's suddenly going to get better. We all take the piss behind his back."
He can't really come out in the press and say that, can he?
Dermot Byrne
222
Posted 22/02/2019 at 13:30:40
I missed the point a poster suggests.
At least it has bigger all consequence.
Tom Bowers
223
Posted 22/02/2019 at 13:40:49
Like many fans, I was willing to give this manager some time from the very first game but, although it appeared he had done something to up the quality of the team, he has become stonewalled either because he cannot motivate the players to an acceptable intensity level or the strategies are just not good enough.
When he is seen on the touchline his body language is not good and always gives the impression he is out of his depth and hasn't a clue what to do next. All this after Moshiri and Co went crazy to get him!
It's hard to be optimistic for what's ahead, no matter who they are playing, and the likes of Bernard defending him is ridiculous especially when he has been a no-show for many games himself.
Steve Ferns
224
Posted 22/02/2019 at 13:44:32
Scott, if you were a player,of course you couldn't see that. But surely you would be on to your agent with a phone call going something like this:
"Agent, I'm a bit worried here, Silva has brought me in and we are playing shite, and we keep losing. I think he's about to get sacked.
"What's that? Yeah, Agent, it does worry me, what if the next manager doesn't like me?
"Yeah, it's not what I signed up for, they told me they were pushing for the top 6 and will be in the Champions League in a couple of seasons, but the way they are going, they are more likely to be relegated. So what do I do?
"Yeah okay, right, okay. So you will leak a few stories to the press and put it about that I'm unhappy here and try to get some interest in me and get me a move in the summer and you'll also tell the press what a crap manager Silva is so my bad form will all be blamed on him and not on me?
"Oh, you'll keep me as an 'unnamed source' so that no one knows it was me. Okay, so you think that'll work? Cheers Agent"
Mark Andersson
225
Posted 23/02/2019 at 05:19:11
Silva is on a win-win situation – he will get paid whether results improve or not... even if he gets sacked.
I'm sure players have a good laugh reading some of the polarized views on fan forums.
I bet they have wages on who gets the best player ratings on Toffee TV...
Harry Hockley
226
Posted 24/02/2019 at 01:00:50
Silva deserves time; another season.
Terence Leong
227
Posted 28/02/2019 at 05:50:28
Some perspective here:
1. We have a new manager.
2. The start of the season has been pretty decent actually, where we saw significant improvement in our creative and forward play.
3. We signed 6 players for the 1st team for this season.
4. All of these 6 players are heavily involved in the first eleven this season.
5. Michael Keane is the only regular player from last season's back four, and he was only signed from last season. Basically, we lost most of the back four.
When we look back at Big Sam, Koeman and Martinez, besides #1 that they had in common with Silva, they didn't have to contend with any other of the pointers, each in and of itself, creates a significant upheaval to a team's performance.
Put all these factors in together, it's a little more than complex, isn't it?
Marco Silva deserves at least one more season, give the man some time.
Phil Sammon
228
Posted 28/02/2019 at 08:16:51
Terrence,
Point 4 – Yerry Mina £27M.
Can't even get a game when our first-choice centre back is suspended.
Paul Smith
229
Posted 28/02/2019 at 08:24:33
People seem happy with Brands overall and he escapes being dugout on here, but any of our previous managers would have been abused rotten for buying Mina.
Silva will probably be here next season but we need a forward this summer. Over to Brands.
Add Your Comments
In order to post a comment, you need to be logged in as a registered user of the site.
Or Sign up as a ToffeeWeb Member — it's free, takes just a few minutes and will allow you to post your comments on articles and Talking Points submissions across the site.