Silva happy with success of Zouma's loan
Wednesday, 20 February, 2019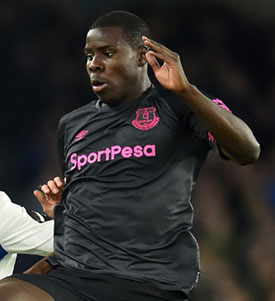 Marco Silva has been speaking in glowing terms of Kurt Zouma's impact at Everton since arriving on transfer deadline day last August.
The France international was snapped up on a season-long loan from Chelsea and has arguably been the Blues' most consistent centre-half this term.
That has led to inevitable talk about just how feasible with would be to sign Zouma on a permanent basis this summer but while Silva couldn't answer that question definitively, he did express his satisfaction with how well the defender has slotted into the side.
"I am really pleased, to be really honest with you," Silva said in the Liverpool Echo. "Really pleased.
"I took the decision on the last day of the market. I had the name in my mind, always, and was in contact with people who are close to him but I had that solution in mind, even if you know the club doesn't want to sell him.
"I am pleased because he is helping our team, he fits well in our squad, he is a little bit different in terms of profile to our other central defenders — he is a little bit faster when we lose the ball. He is different to Jags, Mina and Michael.
"But to be honest with you, I see many, many conditions in which he can improve, and he knows because I speak to him everyday what I am demanding of him.
"But I am really happy with him, he is improving, trying, he is a good professional, he is happy in our club, he is a good team-mate and a really important player.
"Let's see what we can do or not in the future but it's also about his opinion, about his future. But we are really happy with him."
Zouma has been quoted, quite understandably, as saying that he is looking forward to returning to Chelsea this coming summer as an older, more rounded player after successive seasons on loan at Stoke and Everton and there have been no indications that the Londoners have any intention of selling him.
Zouma's success at Goodison Park means, however, that the Blues' hierarchy will almost certainly make inquiries over whether they would entertain letting him go and how much that would cost, providing the player himself is willing.
---
Reader Comments (76)
Note: the following content is not moderated or vetted by the site owners at the time of submission. Comments are the responsibility of the poster. Disclaimer
Alan J Thompson
1
Posted 20/02/2019 at 07:04:17
Unlike some of his players who seem to be in France and Portugal, Silva speaking to The Echo must be on Merseyside and after that glowing reference of Zouma, and confirmation neither the player nor his parent club are about to part ways, it would be interesting to know who he intends replacing him with next season, the out of contract Jags, the on-loan Holgate or the up and coming Feeney?
Bobby Mallon
2
Posted 20/02/2019 at 07:45:15
I just want us to be like Dortmund, scouting and bringing through top young talent that can be sold for bigger money later. Oh and have a wage structure of £50 grand a week and no more. We need to stop being a retirement home
Derek Knox
3
Posted 20/02/2019 at 07:48:49
At last he has said something I agree with, but having said that, it also seems futile as he claims to be improving aspects in his game, while the player himself has declared several times his dream is to go back to Chelsea.
Like I have said and believe, many times, I don't think a lot of our players are that bad, it's the system that Silva is trying to implement is neither practical or suited to those players' talents, and that makes them look inept.
Kunal Desai
4
Posted 20/02/2019 at 07:57:13
At the right price Zouma would be a good acquisition, still has a lot to develop in his game but has all the attributes to become a powerful strong defender. Under the right manager he'll develop his game, but uncertainty surrounding the current manager manager future perhaps puts a hold on thiis and Gomes deals.
Kevin Prytherch
5
Posted 20/02/2019 at 07:59:18
Bobby - I think we were going that way with Stones, Holgate, Calvert Lewin and Lookman. We also got Henri, Foulds, Gibson, Bowler, Sambou and Donkor.
Much of that however (as much as we criticise) came under the stewardship of Walsh as DOF. (Stones obviously wasn't)
I'm surprised we've left that model as every couple who don't make it (Foulds, Donkor) could be countered by one who does.
Obviously the academy transfer ban doesn't help!!
Jim Bennings
6
Posted 20/02/2019 at 08:36:04
Zouma is physically our best defender let's be honest.
Mina needs to get himself sorted out on the injury front because that's becoming a big letdown after paying £20 plus million.
Keane needs a man leading by example next to him because he himself seems to be a very anxious timid individual and always seems susceptible to confidence problems.
I'd keep Zouma most definitely but it's debatable whether that's really going to happen.
John G Davies
7
Posted 20/02/2019 at 08:45:51
My priority signing before Gomes or any other player.
I would make him captain straight away.
The only one who looks hurt by defeat.
Phil Sammon
8
Posted 20/02/2019 at 08:53:33
If Zouma has taught us anything it's that there's no point having quality defenders when you can't organise them.
Silva doesn't deserve any more transfer money until he can demonstrate he understands the fundamentals of football.
John G Davies
9
Posted 20/02/2019 at 09:14:23
Understands the fundamentals of football?
Come on Phil.
Paul Cherrington
10
Posted 20/02/2019 at 09:24:25
I think that, when our team is so badly organised and poorly set-up tactically by the manager, then it is fair to say he does not understand the fundamentals of football. If he did, he would change it and not just stand there on the touchline like a rabbit in the headlights. Or not just play the same system and players over and over as we continue to lose most weeks.
Phil Sammon
11
Posted 20/02/2019 at 09:30:11
What, John?
Don't you think the manager of a Premier League team should be able to organise his side to defend a set piece?
Clive Rogers
12
Posted 20/02/2019 at 09:52:16
If Zouma does return to Chelsea, it will be difficult and expensive to sign someone as good or better. Mina doesn't seem PL standard to me, apart from his injury problems. If someone breaths on his foot, he's out for four weeks.
Tony Everan
13
Posted 20/02/2019 at 09:55:15
Zouma is the first name on the team sheet for me, then Gana Gueye .
Its's disconcerting that it's likely neither will be playing for us next season and shows that we need to strengthen the quality of the squad when they leave.
Anthony A Hughes
14
Posted 20/02/2019 at 10:09:21
Looking at Chelsea's defensive woes lately i'd be surprised if they didn't want to keep him next season
John Raftery
15
Posted 20/02/2019 at 10:58:48
It was a good thing Zouma was signed in the 11th hour of deadline day. He has looked a class above the rest of our squad. At the moment if we had another option in central defence I would play him in midfield. Apart from a strong physical presence he has a decent touch and the passing ability to drive the team forward from deep positions.
Holgate is earning some positive reviews with the Baggies but he is playing at right back. That is not helping him prove he could cut the mustard at centre back in the Premier League.
John G Davies
16
Posted 20/02/2019 at 11:14:59
Phil,
A touch over exaggeration from yourself.
Jimmy Hogan
17
Posted 20/02/2019 at 11:34:29
Blimey, you would think we were talking about Van Dijk or something. Has Zouma contributed to countless clean sheets for our defence? I think not. Dodgy at set pieces more like.
Bobby Mallon
18
Posted 20/02/2019 at 11:42:08
I must be in a minority but don't know what people see in Zouma. He's a good defender, but how many goals have we conceded this season due to bad defending. It is not all down to kean, give me a young Distin anytime and Zouma is not that.
Ajay Gopal
19
Posted 20/02/2019 at 11:42:35
If we manage to sign Zouma, I would play Holgate and Zouma as our CB pairing. Both are quick and strong, Holgate still some way to develop, but his loan at WBA seems to be coming along well, quite a few clean sheets since he has joined them. Mina should be sold as he is not consistent enough. Keane and Feeney as back-ups should suffice.
Bobby Mallon
20
Posted 20/02/2019 at 11:45:27
Also Holgate is playing a blinder at right back for West brom so no need to buy in that position.
David Pearl
21
Posted 20/02/2019 at 11:59:10
AJay, Mina shouldn't be sold, he should get a bit of time don't you think? We have about 15 players ahead of him that should be sold or let go. Holgate might develop into a centre back but I've always seen him as a right back or right of a three. I'm not holding my breath for Silva to get the best out of anyone. Zouma has done well for us, yes he has switched off a couple times, he's human. Young enough to have a lot of improvement in him, we should try to sign him if not too expensive. However we need to get some players off the books first, obviously. And we all know we are talking 10 outgoing players.
Brent Stephens
22
Posted 20/02/2019 at 12:08:23
Bobby #18 is it Zouma or Zonal at fault in our shipping goals? Bench Zonal now!
Fran Mitchell
23
Posted 20/02/2019 at 12:12:59
The situation of our defense, considering the quality of our defenders, is damning for Silva.
Zouma is a top quality, and very young defender who will only get better.
Any chance of keeping him depends on a) whether chelsea's next manager wants him (with Luiz on the decline, Cahill on his way out - he probably will have a role) and b) us improving. Why would Zouma want to join this team on a permanent basis?
In terms of Mina he needs to play, he has hardly had a chance. For me, Mina and Zouma until the end of the season. And maybe see if there is a defensive coach willing to come in and sort this lot.
James Marshall
24
Posted 20/02/2019 at 12:27:41
It's no good having one decent defender when the rest of your team is shite, and our defensive tactics make about as much sense as a chocolate teapot.
We could have Franz Beckenbauer playing centre half with this lot and we'd still be rubbish.
James Flynn
25
Posted 20/02/2019 at 12:41:56
I'd like him to stay. But his competition next season at Chelsea will be 32-year old Luiz. I'd imagine he'll see his chances good to play.
And agree with Bobby on Holgate. The manger pushed him straight into the side at RB and he's held the position since, 7-8 games. The Championship has 4 teams in or within 3 points of 1st place and West Brom is one. So he's not just playing but playing under some promotion pressure. Maybe RB is a better position for him. Baines and Coleman were pretty scrawny and had fine careers.
Sean Patton
26
Posted 20/02/2019 at 13:34:17
Has been average I think and certainly not done enough to suggest we should pay what Chelsea are asking for there will be better options out there in the summer.
Brian Harrison
27
Posted 20/02/2019 at 13:40:07
I think Zouma has done OK, but last season he partnered Shawcross at Stoke and they got relegated.
Brian Williams
28
Posted 20/02/2019 at 13:50:03
Brian#27.
Gana came from Villa and they got relegated.
You can't load a team's achievements or failures on one player mate.
Brian Harrison
29
Posted 20/02/2019 at 14:11:58
Brian 28
I didnt say because Stoke got relegated that means we shouldn't sign Zouma, I just stated a fact Zouma partnered Shawcross ( who many on here were saying we should buy) and Stoke went down. I also said I thought Zouma had done OK and if push comes to shove he has probably been our best centre back.
Tony Abrahams
30
Posted 20/02/2019 at 14:53:03
I think it was Charlie Adam, who slaughtered Stoke's squad Brian, saying that to many players didn't care, and were just happy to shrug their shoulders and pick up their wages every month?
Don Alexander
31
Posted 20/02/2019 at 15:28:19
It was Charlie Adam (and he knows about not putting a shift in from his Rangers days) but it saddens me to see something very similar among our squad.
John G Davies
32
Posted 20/02/2019 at 15:41:54
One of the worse things on a football pitch is not giving 100% in every game.
Let's not use the shit house Adams as a guideline though.
An out and out over the top merchant.
A coward on a football pitch.
Mike Gaynes
33
Posted 20/02/2019 at 16:01:00
Zouma is a good defender with pace, strength and a good, confident touch on the ball. Far and away our best passer out of the back, and also the best ballwinner among our CBs.
He is also a ballwatcher who loses opponents off his back shoulder repeatedly, especially on set pieces. It is a major flaw, and one that is likely to go unrepaired -- after 170 top-level games, he has developed as far as he is going to IMO.
DK #3, I believe he has publicly declared his desire to return to Chelsea only once, back in August after he joined us. Whether Chelsea want him back will be up to their next manager. I personally doubt it. Too many rumors about them shopping for CBs in Italy and France.
And as I've said before, Holgate will never be in the CB picture as long as Silva is the manager. Holgate is the same height as Jags and 20 pounds smaller. Silva likes bridge towers in the center of his defense. Whether Holgate can make it for us at RB will depend on improving his godawful attacking skills, because he's a superior defender to Coleman and Kenny. He did create a goal last week with a perfect cross.

Mike Gaynes
34
Posted 20/02/2019 at 16:18:56
And he just assisted on WBA's gamewinner today at QPR. Great overlap and a good tight pass.
Derek Knox
35
Posted 20/02/2019 at 16:24:45
Hi Mike it will be interesting to see what Chelsea do, both with the current Manager, and their ageing Centre Backs, Cahill is very rarely seen these days and I believe he is out of contract in the Summer.
I think we could do a lot worse than hang on to Zouma, even though he does have that tendency to ball-watch. Like some of our fellow TW'ers have pointed out, he is one of the few who really does appear to care and gives 100% even though those round him don't always appear to do likewise.
Mike Gaynes
36
Posted 20/02/2019 at 16:29:44
DK my man, yes, I agree it would be nice to keep him. It would certainly give us three passionate CBs, because Keane's commitment is self-evident (can't believe the injuries he has played through) and Mina is all enthusiasm.
They'd make quite a back three if Silva ever decided to coach that.
Jay Wood
[BRZ]
37
Posted 20/02/2019 at 16:36:46
Mike Gaynes. Can't remember the thread where you referenced your connection to that iconical photo at the end of WWII of George Mendonsa kissing Greta Zimmer Friedman, but I presume you have seen this story of a statue of the pose being defaced with #Me Too graffiti, just one day after Mendonsa's passing:
I 'get' the cause driving the #Me Too movement and I sympathize with it, but this is way, WAY too disproportionate and a severe disconnect by the perpetrator of a split second event from 70 years ago as the world took to the streets in celebration of a murderous and bloody World War.
Rob Dolby
38
Posted 20/02/2019 at 16:44:09
Zouma has done well and proven to be a good bit of business by Silva given Mina's injury record. He seems to have all the required attributes to be a top centre back.
Without doubt tactics are making all of the defence look poor though if we have a chance I wouldn't hesitate buying him.
Holdgate is flying at WBA, hopefully he will come back and strongly challenge for a spot at the back.
Mike Gaynes
40
Posted 20/02/2019 at 18:18:24
Jay #37, I did see that. Interesting the statue is in Florida, an odd location.
Agreed that the vandalism is ridiculous, but to be fair Mrs. Friedman (who was actually not even a nurse, but a dental assistant) was not at all thrilled to be grabbed, overpowered and forcibly kissed by a stranger. George, a very nice gentleman, did come to recognize the issue... and I would venture a guess that he apologized at some point during their correspondence in their later years (they both lived well into their 90s).
Jay Harris
41
Posted 20/02/2019 at 18:26:06
Rob,
I have watched Holgate in a couple of West Brom games including against Villa recently but I would hardly call his performances flying.
He is playing at RB alongside Dawson and Hegazy and while he looks steady he is not a patch on Jonjo in that position.
He put a nice cross in from which West Brom scored but still looked to have suspect concentration and temperament when under pressure.
Mike Gaynes
42
Posted 20/02/2019 at 18:35:26
Thanks for that scouting report, Jay. I haven't seen him with West Brom, but based on his RB appearances for us, I rate him higher defensively than Kenny. He's much faster and a better tackler in my book.
And if he is in fact improving his attacking skills at WBA, I think he has greater potential than JJK.
Bobby Mallon
43
Posted 20/02/2019 at 18:50:39
Oh jay
Martin Berry
44
Posted 20/02/2019 at 19:07:07
A good player, but we let a good one go a while ago, his name? Shane Duffy!
How many has he scored this season? And don't anyone say he can't defend in a relatively poor team
Christy Ring
45
Posted 20/02/2019 at 20:00:45
I like Zouma, it depends how much Chelsea want for him, because when Holgate played centreback, he didn't do anything wrong.
Eoin O Donnell
46
Posted 20/02/2019 at 20:08:17
On an unrelated note let's hope SportPesa paid us up front! It's amazing who we get into bed with commercially. An €80 million tax bill that you're refusing to pay is never good.
https://www.sbcnews.co.uk/africa/2019/02/20/sportpesa-denies-e80-million-kenya-player-winnings-tax-dispute/?utm_source=dlvr.it&utm_medium=facebook
Jay Harris
47
Posted 20/02/2019 at 20:30:21
Sorry, Bobby, I can only call it how I see it and I concentrated on Holgate the whole game.
For me, he is still learning the game but, as a full back, I rate Kenny much higher which is why I guess they let him out on loan.
People's memories are a bit short too. Him and Keane did not make a good pairing. The only time he looked good was with Williams alongside him talking him into position.
I think he has a lot of potential but, like Keane, his awareness and concentration are still suspect for me.
Paul Birmingham
48
Posted 20/02/2019 at 20:34:00
I like Zouma, and hope he stays, as he tries and plays like he cares – unlike many this season.
Depends also on the plight of Chelsea, but he may fancy a clean break from them and maybe Everton.
On a different note, just looking at the goal difference between us and the teams above us. It's as if we are in a separate subdivision of the Premier League.
Frightening with the way we leak goals game-in & game-out, and make very few chances, but that because this squad perhaps has no balance, and the rest of the basic attributes needed in any good team, spirit, belief, guts, etc.
What a summer is in stall, for Everton.
Jerome Shields
49
Posted 20/02/2019 at 22:24:01
Glad to hear Holgate is playing well.
Lee Brownlie
50
Posted 21/02/2019 at 02:31:08
Not sure that Marco Silva should be 'happy' with anything or anyone just at the moment. He clearly doesn't know how to fire players up to give their all, and/or doesn't really think that's a major part of his Premier League coaching remit!!
Not saying our manager should be head down, mumbling negatives, but until he starts proving me wrong – which I hope upon hope he does and can!! – then I'm hanging back on being particularly interested in these kind of 'nice' but wholly unhelpful, devoid-of-meaningful-relevance, statements from within our club.
We need some fire!!!
Frank Sheppard
51
Posted 21/02/2019 at 14:33:58
I wish we had some football to talk about.
Neil Cremin
52
Posted 21/02/2019 at 15:28:42
We keep commenting about our ability to defend set pieces and all the focus is on the centre backs, zonal marking. My understanding is that most clubs do some form of zonal marking as the risk of man to man markings is players tend to pull and tug on their direct opponents as they move about in penalty box increasing the trial of giving away a penalty.
The idea is to attack the ball. Be first to the cross. In my opinion, the most important player in zonal marking is the one with the greatest height advantage and with the best view of the ball and all the attacking players, player. This player is our goalkeeper was is rarely criticised for his role as a defender.
For his first season, he could do no wrong on TW. This season he is exposed for the erratic player he is. Poor passer of the ball, how may kickouts go out of play. How may parries back into play resulting in goals from rebounds, How may rash rushing out of defence causing mayhem in defence.
Great shot stopper but that's is not enough and he should be taking responsibility for the zone and organising the defence and claiming most of these crosses which have resulted in us conceding.
A goalkeeper is supposed to organise defenders not go ranting when we concede. Therein lies the problems in my humble opinion which Silva needs to address.
Sam Hoare
53
Posted 21/02/2019 at 16:12:39
I wanted us to get Zouma. He's got fantastic physical attributes, fast tall and strong with decent enough touch. And he's been pretty decent for us.
But I wouldn't be too sad to lose him. He's been part of a defence that has struggled often. He makes fewer tackles, clearances and blocks per match than both Keane and Mina. And wins less headers. He is very prone to ball watching as Mike @33 points out and has certainly been directly responsible for a few crucial goals against us.
He does make more interceptions and that's probably because of his pace. Which we need, especially if we are going to persist with this high line.
So i'm on the fence. If we could buy him for £10-15m then i'd be up for it but no doubt Chelsea will want double that and I think we really need to stop overpaying for players. The purse strings will be tightening and we need to be more clever.
There are a fair few, strong and quick CBs out there, some of whom may not have Kurt's propensity for bal-lwatching.
Tom Bowers
54
Posted 21/02/2019 at 16:31:36
Zouma is a solid sort but I am not sure having two big physical players alongside each other really works.
I would have liked a player similar to Jags. who has speed and positional sense to ''sweep up'' but overall the defensive set up has been very poor and has cost many points this season even against lower opposition.
Seamus was always good at doing that when in his prime but has not been the same since coming back from that horrible leg-break.
The whole defensive side of things needs to be looked at before next season as the defensive midfielders have also played below par in many games no matter who has started.
Derek Knox
55
Posted 21/02/2019 at 18:07:11
Frank @ 51, true but looking the other day to the following fixtures, I only realised that we do not actually play till Tuesday 26th, which I fail to understand why.
It's not as if either Club is involved in Europe or any Cup competitions (chance would be a fine thing in our case) so fail to see why it is that date.
Darren Hind
56
Posted 21/02/2019 at 18:32:32
Its ironic that Chelsea are all over the show defensively.
Lets hope he dents RS title hopes by bulleting a header into their net before he goes back
Rob Dolby
57
Posted 21/02/2019 at 18:55:12
Neil 52. You make a great point about Pickford. He doesn't like coming off his line which doesn't help the defence.
Keane and Zouma are good in the air but we concede from set pieces and don't score from them.
We have a keeper coach, a defensive coach, an attacking coach and a manager who is supposed to be tactically advanced.
Doesn't this all come back to the tactics of the manager and coaches.
Look at the difference at United since they took the shackles off.
Unless he changes part of his philosophy we aren't improving at set pieces anytime soon Zouma or no Zouma.
Denis Richardson
58
Posted 21/02/2019 at 19:37:02
Think Zouma is decent enough and is certainly one of the better CBs we currently have. Early days but from what I've seen I'm yet to be convinced by Mina and hope we don't regret the £23m we paid, never mind his wages - think he signed a 5 year contract...
Its hard to see Zouma making into the Chelsea team, even with their current troubles. I can't see him being ahead of Christensen or Rudiger and Azpilicueta plays CB for them in a back 3. Even if Luiz leaves, can't see Zouma making the first team there next season although Chelsea may take him back as back up.
I wouldn't mind another 12 months loan with us to give us decent cover and time to find someone else - at least that way we can focus on a striker. However, Cahill will also leave this summer so doubt Zouma's future next season will be sorted until the end of the transfer window depending on who the Chelsea manager is and if they sign a CB in the summer. May be leaving it too late for us.
Alex Fox
59
Posted 21/02/2019 at 20:39:22
Speaking of on-loan defenders... Kieran Dowell has apparently been playing at left wing back at Sheffield United and earning rave reviews. Early days, but would be quite the reinvention if he made that position his own.
Fran Mitchell
60
Posted 21/02/2019 at 21:24:41
Indeed Alex, saw that too. However, from what I saw, it was one game, a bit of a wild card by the manager, and it worked wonders. Man of the Match performance; 2 assists.
I don't see it in the long run, however, if he does continue there, could be a heck of a learning curve,as at wing back he'll have to run, defend etc, which are essentially aspects of his game most people think he didn't show at No 10 or No 11.
Bale certainly didn't suffer from starting his first-team career at wing back.
Neil Cremin
61
Posted 22/02/2019 at 01:16:52
Sometimes I think we are treating the wrong symptoms.
We are giving out about our centre forwards but if you don't get a decent supply you cant score. Our system of one centre forward who is expected to run all over the front line to break up the defence leaves no chance for them to score but should open opportunities for wingers such as Richarlison (Bernard) or Lookman (Walcott).
Alternatively, have a playmaker in a dominant midfield who can provide the defence-splitting pass for them to take the opportunity. Neither is happening.
Add this to my earlier rant on our defensive misgivings. I believe we need to have a strong commanding midfield to dominate games which provides opportunities for the front players and protection for the defenders especially against counter-attacks when we do press.

Tony Everan
62
Posted 22/02/2019 at 08:37:09
Sam #53
I know what you mean about the ball-watching, but is this an inherent flaw in his play or a a symptom of the ultra- confusing zonal defensive tactics .
The ones he gets drilled into him 5 or 6 times every day before every match, with 200 multi-coloured scribbles on Marco's whiteboard?
Liam Reilly
63
Posted 22/02/2019 at 09:59:17
Doubt it's going to happen now as Chelsea have just been hit with an incoming Transfer Ban for the next 2 Windows for breaching FIFA rules; so they'll probably be reluctant to sell their players.
Chelsea transfer ban: Club to appeal against Fifa decision
So it doesn't just happen to Everton then!
Will be interesting to see how their lawyers react to this.

Lee Jamieson
64
Posted 22/02/2019 at 10:30:26
Bad news for us and Kurt, this. If the ban stays in place, I would imagine Chelsea will retain all Premier League proven players and loan out the rest with a clause to end the loan at any point. It may still be possible to loan him again.
On a side note, how long will Abramovich hang around for when he can't buy players and can't watch them unless they play abroad?
Sam Hoare
65
Posted 22/02/2019 at 10:35:14
Yup, I'd say this transfer ban on Chelsea (if upheld) would remove any chance of us signing Zouma permanently.
Mina might well be fit now and I think we should probably persevere with them for the rest of the season, even though I worry they make a fairly immobile pairing if we persist with a high line.
My biggest question mark so far over Brands was the pursuit and purchase of Mina (who is not quick) as a partner for Keane. Given Silva's propensity for a fairly high line, I'm surprised we didn't buy a faster centre-back to partner the slow Keane.
Joe Corgan
66
Posted 22/02/2019 at 10:51:07
It's highly unlikely Chelsea's transfer ban will stick. They'll appeal then take it to CAS and probably beyond if they don't get a result.
If they decide to also get rid of the manager, I'm sure they'll hire the best sports lawyers on the planet to get the ban overturned lest they become unable to attract a top replacement for Sarri.
Tony Everan
67
Posted 22/02/2019 at 11:40:42
Agree with that Joe, it will downgraded soon to a 2 yr suspended ban .
ie they will just tell them to behave
Fran Mitchell
68
Posted 22/02/2019 at 13:24:50
Barça had a transfer ban and were unable to overturn it. Madrid had one and managed to delay it (giving them on transfer window to prepare).
So it is not a given that Chelsea will avoid, with Cahill leaving in the summer, and David Luiz getting on, I guess Zouma will be very much part of the Chelsea set up next season, and if Zidane is their next manager, the French connection will certainly aid Zouma's cause.
Steve Ferns
69
Posted 22/02/2019 at 13:37:17
Sam, I think Mina is quicker than you might think he is. He's one of those, though, who is slow over 5 yards, but quick over 100. He's 6'-5" and maybe he needs to sort his legs out before he can get into his stride.
We've yet to see a charging Mina, but from what I saw for Barca, Colombia and on YouTube in Brazil, there's a quick player there. In addition to being slow off the mark, he's also slow on the turn, as we've seen a couple of times, ourselves.
I think Mina will be nurtured. He will not be discarded. He is a talent. He has a lot of things to offer that we need. He is big and strong, he is good in the air. Then there is also his off-field persona. He is undoubtedly a big personality. He is one who can unify that dressing room.
If Yerry can grasp a first-team place, can perform well and keep it, then he can assert his authority on the rest of the team and he could be a leader we are crying out for. Whereas Keane and Zouma are quiet, Mina is loud and outgoing. He is there high fiving them all, he is the one putting his arm around the others, he is one to gee them up. He often has a smile as wide as the Mersey tunnel.
To me, on the outside looking in, he has an infectious personality and could be a real positive influence in the dressing room. I would bet this was a major factor in bringing him in. We lack personalities in that dressing room, and here is one, we just need him to be in the side and playing well so he can become that unifying personality who can rally the rest of the side.
Derek Knox
70
Posted 22/02/2019 at 15:02:32
I have just noticed that Cardiff are playing tonight, hence the reason for us playing them on Tuesday. It will be a good benchmark as they are playing Watford, who we recently lost to at home (apologies for reminding).
Brian Wilkinson
71
Posted 22/02/2019 at 15:15:22
Chelsea have 41 players out on loan, I very much doubt they will recall all 41 players, it all depends which players leave but, even if it stands, it is only going to be for one full season, so I would not worry too much about Zouma just yet.
Mike Gaynes
72
Posted 22/02/2019 at 16:20:33
Steve #69, something's wrong here... suddenly I find myself agreeing with everything you write. Great post.
Steve Ferns
73
Posted 22/02/2019 at 16:24:32
Haha Mike, well I often don't post because you have said everything I wanted to.
Jason Wilkinson
74
Posted 22/02/2019 at 21:49:44
Steve #69
Good post pal. I agree 100% about Yerry Mina. I'm getting a bit fed up with people wanting a root and branch clear out of every player we have bought in the last five years.
The vast majority are under 25yrs of age for Christ's sake!
I still believe Marco Silva will turn our fortunes around. He needs time, a decent budget to spend in the forthcoming transfer window, help from Marcel Brands and some good luck in the sales department.
If we can keep Kurt Zouma on loan for another season (can't see Chelsea selling him outright). Either partner him with Mina/Keane or play a back three. I think we would have a strong starting line up at the back. We may need to get another centre half in for back up/squad rotation. Digne and Baines will keep us going next season down the left. Seamus and Holgate (if recalled) would be ok down the right.
I've said in many posts before now our midfield needs a proper box to box ball carrier. Someone with a bit of bite to carry the less physical players we have. I am not convinced that Andre Gomes is that player. Gana is great at putting a foot in but lacks size and strength. If he truly wants to go to PSG then it might not be a bad thing as a replacement in the way of Doucoure from Watford or a similar midfield bully could be brought in.
It's amazing what one player in the right position at the right time can do for the whole team. Cahill made us much more competitive. As did Carsley when we found his niche (I could keep going back in our history but I won't). Chelsea looked unstoppable with Cante playing centrally but look how easy it is to play them now Sarri has him on the wing.
Now to the elephant in the room. WE NEED A STRIKER. No good team in the history of the game has or will win anything without an out and out goalscorer. They are hard to find and bloody expensive but it is essential that we start next season with a 20-25 goal a season man. Don't ask me who (take your pick, Werner etc)
There are eleven players on the pitch who ALL need to defend in one way or another when they lose the ball. We have six tops that work hard enough to stop the opposition from having 3-4 golden opportunities every game. This exposes the defenders badly. A stock check and some harsh words required post season me thinks.
Before all the Marco haters bite my head off for backing him. Please come up with an alternative who is a/ a proven winner. b/ available and c/ would come to us at this time. Good luck finding him/her as I can't think of anyone brave enough to take the job on.

Sam Hoare
75
Posted 22/02/2019 at 22:09:02
Steve@69, yes I agree. I think his top speed is decent but his acceleration is slow. Takes a while to get going. Like Michael Keane. I'd always want to have one CB who's quick out of the traps in case the line gets broken.
I too am excited to see Mina get a good run. I too think he has some much needed personality and leadership skills. Though I do worry that his partnership with Keane is too immobile (acceleration wise).
Ivan Varghese
76
Posted 23/02/2019 at 01:19:35
Zouma has been the best in an almost weak defense. Make him permanent Ligne is quick and able to transition from defense to attack. I have my issues with Keane's decision making and 2nd touch. But I like a Zouma (left) Mina (center) and Keane with Coleman's experience on the right.
The fact that we have Lookman and Walcott, the best combination player with Seamus and Gomes is weighing on the confidence of both. Overall, confidence seemed to go downhill after the Liverpool fluke and Digne's own goal; Everton need luck and confidence.
I believe Pickford is possibly the best at making reflexive saves but needs the confidence and in time would be the best in Britain.
Alan J Thompson
77
Posted 24/02/2019 at 06:06:15
BBC are reporting Everton's interest in Thomas Meunier from PSG. I don't know if he's a central defender or full back but it may cast some light on next years intentions.
Add Your Comments
In order to post a comment, you need to be logged in as a registered user of the site.
Or Sign up as a ToffeeWeb Member — it's free, takes just a few minutes and will allow you to post your comments on articles and Talking Points submissions across the site.