Silva happy with success of Zouma's loan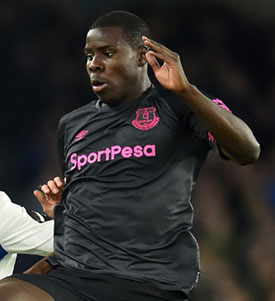 Marco Silva has been speaking in glowing terms of Kurt Zouma's impact at Everton since arriving on transfer deadline day last August.
The France international was snapped up on a season-long loan from Chelsea and has arguably been the Blues' most consistent centre-half this term.
That has led to inevitable talk about just how feasible with would be to sign Zouma on a permanent basis this summer but while Silva couldn't answer that question definitively, he did express his satisfaction with how well the defender has slotted into the side.
"I am really pleased, to be really honest with you," Silva said in the Liverpool Echo. "Really pleased.
"I took the decision on the last day of the market. I had the name in my mind, always, and was in contact with people who are close to him but I had that solution in mind, even if you know the club doesn't want to sell him.
"I am pleased because he is helping our team, he fits well in our squad, he is a little bit different in terms of profile to our other central defenders — he is a little bit faster when we lose the ball. He is different to Jags, Mina and Michael.
"But to be honest with you, I see many, many conditions in which he can improve, and he knows because I speak to him everyday what I am demanding of him.
"But I am really happy with him, he is improving, trying, he is a good professional, he is happy in our club, he is a good team-mate and a really important player.
"Let's see what we can do or not in the future but it's also about his opinion, about his future. But we are really happy with him."
Zouma has been quoted, quite understandably, as saying that he is looking forward to returning to Chelsea this coming summer as an older, more rounded player after successive seasons on loan at Stoke and Everton and there have been no indications that the Londoners have any intention of selling him.
Zouma's success at Goodison Park means, however, that the Blues' hierarchy will almost certainly make inquiries over whether they would entertain letting him go and how much that would cost, providing the player himself is willing.
---
---