Silva irked by Magpies' offside winner
Saturday, 9 March, 2019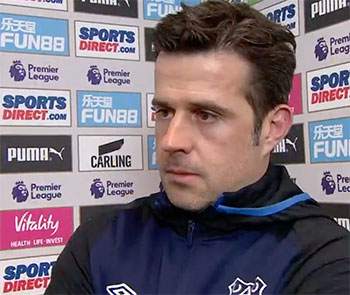 Marco Silva was left frustrated by poor officiating that allowed Ayoze Perez's winning goal to stand during Everton's 3-2 defeat to Newcastle this afternoon.
The Blues had already thrown away a 2-0 lead in the second half at St James' Park when Salomon Rondon and Perez wiped out first-half goals from Dominic Calvert-Lewin and Richarlison to make it 2-2 with nine minutes of the 90 to go when the referee's assistant failed to spot a number of Magpies players in offside positions prior to Perez notching their third goal.
Silva admitted that he had plenty of issues with the way his team failed to kill the game off after half-time and their failure to adequately deal with high balls and Rondon but he said he was mystified by the inability of the officials to spot a clear offside.
"We didn't expect what happened, but it's football," Silva said. "Even at half time I told the players that we had to keep doing what we were doing [in the first 45 minutes].
"We planned what our strategy was to score the third goal because we were very good in the first half with good quality. We scored a very good first goal and how we reacted to score the second goal also.
"Even in the first 15 to 20 minutes in the second half we had good counter-attacks - we must kill the game in that moment because we know in the Premier League that even at 2-0, the game can change completely [if the opposition scores a goal].
"They started to cause us problems with the two strikers and the long balls every time. We reacted with the change in formation with more central defenders but keeping the three forwards and, of course, they scored again by reacting faster than us and we have to be better in that moment."
Silva was shown to be visibly angry with the officials after the final whistle and let referee Lee Mason know his feelings in no uncertain terms at what he felt was a terrible decision for the winning goal.
Ayoze Perez was coming back from an offside position following a corner but was deemed not be interfering with play and eventually scored after Rondon, himself shown to be a yard behind the last man when the ball was played over the top, had knocked it into the Spaniard's path.
"I cannot understand," Silva complained. "One clear offside — five Newcastle players were in the same line and the player who touched the ball, Rondon, was offside and it's something really difficult for us to understand."
---
Reader Comments (94)
Note: the following content is not moderated or vetted by the site owners at the time of submission. Comments are the responsibility of the poster. Disclaimer
Paul Hewitt
1
Posted 09/03/2019 at 21:38:52
Always someone else's fault, ain't it, Marco??
Jerome Shields
2
Posted 09/03/2019 at 21:45:08
Marco,
You got it tactical right the first half, but made a complete mess of it in the second half.
Newcastle had a tactical plan similar to what they used at Goodison; you actually – with your substitutions – aided Benitez's tactical plan.
You really didn't have a clue. . . The first half tactics you must have stumbled on by accident.
Mike Jones
3
Posted 09/03/2019 at 21:48:06
He's shite isn't he.
He needs dismissing
David Pearl
4
Posted 09/03/2019 at 22:08:38
Yep nothing wrong with the shape. He over thought things when we only needed a couple fresh legs and a stern word to get them firing again. The players look to the manager... but he is made to look pretty clueless.
Jason Leung
6
Posted 09/03/2019 at 22:15:11
People were bagging out Marco and Pickford something special for this loss on the forum.
Pickford, for me, could do nothing about the goals conceded. A deflection, a bullet of a shot and an offside. All three goals were flukes.
We deserved to win. It just shows that we are capable of playing well. The players just need to finish the game off.
The Richarlison sub for Mina was a confusing one but still not one that led to the capitulation. We fully deserved the three points but, because of sheer luck and dodgy officiating, we didn't get them.
Jim Bennings
7
Posted 09/03/2019 at 22:31:48
Jason
Pickford is a disgrace, his concentration levels are a joke for a professional goalkeeper and he plays the occasion rather than the match. Too interested in stupid banter with Geordies rather than focusing on the job in hand, he should have been sent off for the knobhead foul that lead to their penalty.
This has not been the first time this season that Pickford has been erratic, Anfield derby he was a disgrace and the Spurs home game he lost his head again, Millwall away when he was shit scared to come off his line.
Overrated goalkeeper if ever there was one and he needs Neville Southall to come in and get inside his head and give him a few home truths.
As for Silva, the man made the most ridiculous decision ever by bringing Mina on, a defender that hasn't kicked a ball since when, the Cup loss at Millwall and basically has looked all over the place in his recent showings.
Silva brings a defender on for an attacker, simply inviting pressure and causing more confusion to our defence when surely it's not rocket science to know football games are won and lost in midfield battles.
he simple solution was to just bring Schneiderlin on who to be fair hasn't done anything that bad in the last two games and didn't really warrant being dropped today.
Silva is tactically inept; week-in & week-out, as the months have passed he hasn't learned anything from his own mistakes, we fans have however learned that he's less and less likely to be up to this job and sorting the mess out.
It will take an experienced manager now to give this club two seasons of top 8 finishes.
Time for Moshiri to simply accept his three years so far have been very fruitless and addled by poor decision making on his own part.
It can't be allowed to carry on next season, it just can't.
Jay Harris
8
Posted 09/03/2019 at 23:01:35
Jason,
You've obviously never seen big Nev. We wouldn't have conceded any of those goals with him between the posts.
Although the first was slightly deflected, it was an easy save for a good keeper.
What about the mess when he came out and Rondon lobbed it over him?
The lad is too busy messing about to concentrate on his job.

David Pearl
9
Posted 09/03/2019 at 23:08:05
Yep, Big Nev would've saved all 3... 2 on a bad day. We've not had anyone close to him since... maybe Nigel Martin who was half as good and the wrong age.
Pickford was jamming it up too much. As with a lot of our team, the talent is there buts its raw and it needs moulding.
Tony Twist
10
Posted 09/03/2019 at 23:09:26
Why do we always nowadays pick idiots to be our manager? Sorry, why do the Everton directors always pick idiots to be our manager.
Silva's weaknesses were fairly obvious to most Evertonians but not to the chumps making the decision. Maybe this will improve now Brands has the job.
James O'Connell
11
Posted 09/03/2019 at 23:13:59
I don't want to be a club that keeps sacking managers but I'm not sure why Silva was appointed. What did they see in him that made him 'their' man?
We have wasted so much money on bad appointments, average players and compensation payments.
We probably won't get relegated but our club motto should be 'There's always next season' — seems like we have been saying that for a very long time.
Jim Bennings
12
Posted 09/03/2019 at 23:33:06
Agree with James 11.
Our motto should be "jam tomorrow ".
How long can we keep going on about transition when every block of six months is as mediocre as the previous block of six months.
We have actually gotten worse as the season has progressed, it should not be like that, we should have built some semblance of a platform by now.
How can we have had a 25 minutes like that today after keeping a clean sheet against Liverpool?
Surely it hit home last week the levels of attitude and game management needed to succeed at anything?
Clearly it didn't and as a result it proves Silva and the players just don't learn, they have clearly learned nothing since August, September.
Keeping Silva will mean that between now and autumn we will still be in the same position and having the same discussions as we are now.
Ray Smith
13
Posted 09/03/2019 at 23:39:49
Jason 6,
The only thing I agree with you is that their third goal was offside. However the rest of your post seems to be somewhat misguided.
Bad luck comes in many guises, but today wasn't bad luck, it was sheer ineptitude by one and all.
Pickford needs a coaching lesson from big Nev, preferably behind the bike shed!
I don't advocate sacking managers after less than a season, but Silva must surely be on borrowed time.
If he were to go, forget Simeone — he wouldn't touch us with a barge pole. What about Rafa?
Marcus Taylor
14
Posted 09/03/2019 at 23:44:09
A stat that sums up the magnitude/ineptitude of today's defeat:
Everton have led 2-0 at half-time 393 times in our history (all competitions) - and, before today, we'd only lost 1 of them.
Updated Record: Games: 394, Won: 365, Drawn: 27, Lost: 2
The only other HT 2-0: FT 2-3 defeat was at home to Sheffield United in 1975.
Jim Bennings
15
Posted 09/03/2019 at 23:52:32
Talking about stats that are damning.
Since December came we have won 4 in 17.
4 wins from 17, that's a sheer utter disgrace.

Jamie Crowley
16
Posted 10/03/2019 at 00:07:38
I'm irked by your substitution, you twit!
Peter Gorman
17
Posted 10/03/2019 at 00:26:22
"We planned what our strategy was to score the third goal"
Aaaah, now I get it. The strategy was to replace a goal-scorer with a lumbering, out-of-practice, defensive oaf.
Gotcha. Genius.
Martin Berry
18
Posted 10/03/2019 at 00:28:16
Rafa must have been secretly laughing his head off at that Sliva substitution.
Don't forget, we were holding our against Watford until he made a bad sub and the next thing we are 1-0 down.
A win against Cardiff, Huddersfield, and a 2-0 win against Bournemouth (lucky and I was there, as they let us off the hook that day) and that's all we have to show for it in 2019, a disgrace.
There is no way Silva will be in charge next season.

Tony Hill
19
Posted 10/03/2019 at 00:42:46
We lost one possible road to recovery by getting rid of Allardyce on a wave of anger; if we're not careful, we're going to lose another, in the same way, by getting rid of Silva.
He is working with three-quarters of a team (Allardyce worked with about a half, at best) and we delude ourselves if we imagine that any other manager would be doing significantly better. No side can be a potent one without an accomplished finisher and without a strong, directing intelligence on the pitch (there are, of course, other problems).
Brands needs to step up and I have every confidence that he will. If we get rid of Silva, we will once again be misdiagnosing the sickness and, therefore, failing to cure ourselves.

Simon Smith
20
Posted 10/03/2019 at 01:01:54
Sometimes we all look for the solution, sometimes we look for the problem, sometimes we blame the manager, and sometimes we blame either a single player, or a few of the players.
Well after losing a 0-2 lead to Newcastle, a team who gain results by keeping it tight, here's my opinion.
We really are just shite.
The manager came out last week after the derby and spoke about the atmosphere during the derby, he has a cheek, the fucking lot of them do.
We're no further along than when Martinez was dismissed, imo we clearly have the 7th best squad in the league yet we continue to act like a no-mark side who seem happy to make that 40-point mark.
Not sure how to get up for anything else this season, one thing I can say is Marco won't be hearing that derby atmosphere again this season, and possibly never again.
John Pierce
21
Posted 10/03/2019 at 01:07:08
Tony. I might suggest whoever the manager, whatever the expectations, no Everton manager should ever have a record of 12 defeats in 18.
That's nigh on half a season with a team far better than two-thirds of this league. That's classic relegation form, and worthy of the sack regardless of the previous succession of hires.
In an era of money and debt, we're standing still, this is the same as going backwards as other strengthen. I'm afraid as much as many will have distaste for burning through managers, it has to be done until you find your man.
Until we spend serious money on a proven winner instead of picking half-baked coaches from the likes of Wigan, Southampton & Watford then we will slowly sink closer to a bottom-half club.
Darren Murphy
22
Posted 10/03/2019 at 01:13:10
Just Fuck Off...
I just saw this, lads... I've been away doing a real job. You're a disgrace.
Anyone who wants my STH...feel free, I'll PM you. I'm now done.
Darren Murphy
24
Posted 10/03/2019 at 01:15:24
Realises I can't PM lol... you get the jist, offer open still/reality.
Simon Smith
25
Posted 10/03/2019 at 01:24:51
Infuriating and embarrassing, isn't it, Darren? Shit thing is, all of us actually care. No-one who matters gives two fucks.
Jim Harrison
26
Posted 10/03/2019 at 01:49:04
Big Nev. my childhood hero. But great goalkeeping coach? Not sure there is much evidence of that!
I"ve not seen the match, so can't comment on Pickford's performance yet, but I do agree with another poster than he plays up to the occasion, and it seems to get the better of him.
It's still early days for him. If we want to use Big Nev as an example, he wasn't in the first team for his first two seasons as he wasn't that great, but blossomed in around 83. I think that makes him around 25 at the time?
And I distinctly remember him making some horrible errors. At least one catching the ball outside the area (I think actually twice). And one time, misjudging a shot so badly that he ducked his head in an over pronounced way indicating it was going over when it actually went in, I think might have been against Sheffield Wednesday.
Fair play, he had a long and successful career, and it's easy enough to pick out a couple of mistakes from such an extended period, but we are hyper critical of Pickford, and he is only just starting out at the top level really. Hopefully he can develop. He clearly has the skill set.
As for Silva I really want it to work out, but how long do you give him? I would say let him have this season and 10 games of next, but the run of games coming up could destroy the confidence of the players and set them back mentally to such a level that they don't recover.
Think what a state they were in when Koeman left. And who comes in now?
Jim Harrison
27
Posted 10/03/2019 at 01:53:14
John @21,
That's the stat that hammers it home. That's relegation form. Good job the points were gained early season!!
Tony @19,
We didn't miss anything by getting rid of Fat Sam. He came in and did what was required. He wasn't going to make leaps forward the next season.
Tony Hill
28
Posted 10/03/2019 at 02:11:31
John @21, I opposed this manager's appointment and for reasons which are now apparent. However, I have changed my mind about him because he has also produced, amid the mess of this season, a type of football in patches which I have seen from no Everton side since the sixties. A one-touch joy – we saw some of it in this match. Martinez in his first season got close but not as close as Silva.
We would have lost fewer matches under Allardyce and I remain convinced that he would have salvaged us through tough, mean football and that he would have expanded incisively and entertainingly (yes, entertainingly) on that had he been given a chance and had he not been hated at Everton before he got his coat off.
Both managers inherited the wreckage of the stupidly prolonged Martinez period, and the half-arsed/cripplingly expensive Koeman regime. Both have struggled with patently inadequate teams. We can keep sacking, but if we do we'll also keep missing the point, and we'll waste time and money.
Peter Gorman
29
Posted 10/03/2019 at 03:03:58
"We can keep sacking, but if we do we'll also keep missing the point, and we'll waste time and money."
Tony, I always thought the point was to challenge for silverware and stop being a 'museum'.
Neither Allardyce nor Silva (apparently) would be capable of delivering on this so what honestly would be the point of persisting with either, no matter the waste of time or money?
It is indeed a frustration, Tony. But money and time would be saved in the long run if the club doesn't make such a colossal balls of recruiting the next manager and make a competent assessment of his credentials.
The first tip would be shying away from someone who has been recently sacked or relegated by a shitter club.
Tony Hill
30
Posted 10/03/2019 at 03:25:10
Peter, I feel Silva will get us trophies if he's given the players we need. I may well be fooling myself and I certainly understand the opposing view to my own.
It's a troubling time to be a Blue – God knows, it has been for most of the last half-century – but there will arrive a point when we have to get properly behind a manager and accept that we're in it for the long haul. No-one is going to arrive and sprinkle stardust over the club.
Is Silva really the man? To be honest, I haven't the faintest idea and I recognise that there are good grounds to want him out. But I have a hunch about him, and I think that's about the best we can have about any possible manager of our infuriating club.
Jim Bennings
31
Posted 10/03/2019 at 06:47:43
Silva might sound like a trophy but he will not get us trophies.
We have been knocked out of the cups by two garbage teams this season; if anything, Martinez would have won a trophy at some point given the money that Silva and Koeman pissed away on shite.
Silva has a decent few of his own players, let's be honest.
Richarlison has been most effective but he even had to shell out £45-50 million to bring him in.
Mina has been a risk that hasn't paid off and some so-called expert needs to find out what the problem is with his ongoing problems.
Gomes is good when the going isn't tough but, as soon as the going is tough, the game leaves him behind and he simply goes AWOL.
Digne is better going forward than he is defensively.
These are Marco Silva players and he has not got a clue what to do with them.
He doesn't work on building platforms that can bring about stability, he changes the team far too often.
I never thought I'd say this but he shouldn't have dropped Schneiderlin because he has played in two successive clean sheets.
His substitution of Mina for Richarlison showed a poor Newcastle team far too much respect and that swung the game in their favour.
As I've said, I don't back sacking managers endlessly either but at some point you need to know you are flogging a dead horse.
I can't see the first three months of next season being any different than the last three months I've just sat and watched this team amble brainlessly through.
Keeping Silva on for me next season, it's just a non-starter and another season to be written off before it even starts.

Jim Bennings
32
Posted 10/03/2019 at 07:14:46
Our record since December.
Liverpool (A) 0-1 lost
Newcastle (H) 1-1 draw
Watford (H) 2-2 draw
Man City (A) 1-3 lost
Tottenham (H) 2-6 lost
Burnley (A) 5-1 won
Brighton (A) 0-1 lost
Leicester (H) 0-1 lost
Bournemouth (H) 2-0 won
Southampton (A) 1-2 lost
Huddersfield (A) 1-0 won
Wolves (H) 1-3 lost
Man City (H) 0-2 lost
Watford (A) 0-1 lost
Cardiff (A) 3-0 won
Liverpool (H) 0-0 draw
Newcastle (A) 2-3 lost
So that reads as follows.
Played: 17
Won: 4
Drawn: 3
Lost: 10
Can anyone seriously tell me that record is good enough for any manager at any club to keep his job?
That's not including the atrocious cup exit to the all-conquering Millwall.
Darren Hind
33
Posted 10/03/2019 at 07:21:12
It's possible to concentrate on the poor substitution without denying the evidence of your own eyes. Seems some are prepared to accept the appalling decisions as long as they can put the boot in.
We were robbed. The goal should have been flagged for offside — that's an irrefutable fact.
Jim Bennings
34
Posted 10/03/2019 at 07:31:24
Looks like we have been robbed of the last 17 games too then Darren?
I notice you go on about officials yesterday but fail to mention Pickford could well have seen a red card on any other given day.
Darren Hind
35
Posted 10/03/2019 at 07:41:48
Jim, talking complete shite isn't obligatory, you know.
I have slaughtered Pickford and would have been happy for him to get sent off as I don't think he did us any favours. But that winner was offside – that's the sort of fact even someone as daft as you couldn't deny.
And why does it look like we were robbed in the last 17 games? That's not what I said... it's just another half-witted attempt to change a simple fact.
I love that you have finally plucked up the courage to call for Silva to go. All those results you put up in the foolish belief that you are telling people something they didn't know make it look like it's news to you.
Perhaps that was because you have been concentrating on battering away at a young forward so much, you didn't have the savvy to pick up on where all the real problems lay.
Sam Hoare
36
Posted 10/03/2019 at 08:06:02
3 issues for me yesterday.
1. Silva's tactical swap. Bring on Mina obviously did not work. But it was not a crazy swap. There were 20 minutes to go and they were playing a lot of long balls into our box. Many good managers of good teams have made similar decisions in the past and it has worked out. This one did not but I did not think it was a ludicrous decision at the time and Richarlison was not playing well. Retrospect of course makes everything easy and maybe keeping more pace on the pitch would have helped, but in another world Mina has a Colombia vs England type 20 minutes where he wins every header, we keep it tight and that decision looks a good one.
2. Pickford. Yes, he saved a penalty but this was a terrible day for the England man. I counted at least 3 individual mistakes that lead to excellent chances for them. The crucial one was their equaliser. That shot should be held or at very worst it should be tipped over the top. To parry it out right in front of you is not just bad goalkeeping but terrible decision making. Similar to his efforts to catch the ball at Anfield instead of tipping it over. Got to play it safe in that situation! That puts him highest in the league for individual mistakes leading to goals. Not what you want from the goalkeeper to inspire confidence. This is a real issue for us moving forwards. If we had a decent second choice goalkeeper I'd put him in.
3. Refereeing. For their winner they had about 5 players offside. Its another kick in the teeth and I do think we have had more bad luck than good in the officiating department. To some degree you make your own luck but in a game of tight margins you do rely on the men in black to do their jobs right. Yes, perhaps Pickford got lucky but I think a yellow was actually right.
Silva has 8 games left to earn his job. If we see more of the stuff that we saw in the first half then he will be here next Summer. Firing and re-starting is never ideal. But if we see more of what we saw in the second half then surely the board will have to act?
Perhaps its as simple as Brands saying if you finish top 10 then you'll get another shot. If you don't then you're out?
There was a point yesterday when we were 2-0 up, West Ham were losing and Leicester were drawing and it was looking like a great weekend. How brutal this game is!
Paul Setter
37
Posted 10/03/2019 at 08:39:35
I'm sick of Silva, he offers absolutely nothing!
If, as expected, we lose to Man Utd, Chelsea, Arsenal, Spurs, and we chuck West Ham and Palace in the mix, we would have lost 19 of our 38 games this season. So for those of you who are defending him for what exactly?? A mid-table Championship manager at very best being paid a stupidly excessive wage to make this club a complete laughing stock.
Ian Brandes
38
Posted 10/03/2019 at 08:47:41
I am irked by Silva. This club really must stop recruiting managers whose over-blown reputations bear little or no relation to their paltry abilities.
Oh for the days of plucky little Everton punching above our weight. In those days, we did at least land the knock-out punch on many occasions.
Ken Kneale
39
Posted 10/03/2019 at 08:48:33
Tony Hill. I think your auto type kicked in. I presume you mean the road to nowhere. That is is the only place we are heading under this clown and the gutless crew we have assembled at all levels of the playing and coaching staff.
As for comparing any of this mess to great footballing teams of the sixties, that is somewhat facile given that virtually every season in the sixties we were challenging for or winning silverware.
Tudor Davies
40
Posted 10/03/2019 at 08:57:23
I've seen the Newcastle goals again and their all defensive errors. Yes the third was offside, and whilst I'm not in favour of defenders with their arms in the air appealing for offsides, in this case, it may have been enough to put doubt in the linesman's mind!
If it had been not given, the way we panicked in the second half and with 6 plus minutes to go, we would still have lost.
ps: If we had Neil Warnock as manager, I don't think the linesman would have got a good night's sleep!!! Lol.
John Keating
41
Posted 10/03/2019 at 08:59:16
Paul, don't be so realistic.
We haven't lost those games yet.
Paul Setter
42
Posted 10/03/2019 at 09:01:49
No, John #41, we haven't... but do you think we will win any of those? Considering some of muck that have beaten us recently.
James Hughes
43
Posted 10/03/2019 at 09:13:33
I have only seen the highlights but that second half was shocking. Rondon and Perez pulled our defence about at will. Pickford has an ego the size of Sunderland. Silva is a statue on the side of the pitch.
If Silva goes, please keep Moshri & Kenwright away from recruitment.
John Boswell
44
Posted 10/03/2019 at 09:24:28
Regarding the introduction of Mina, I do believe that our next match is against Chelsea which means that Zouma is not available. I am sure that it was always on Silva's mind that it would be useful to give Mina an outing. Small margins, COYB.
Mike Kehoe
45
Posted 10/03/2019 at 09:36:28
Just to interject with a bit of perspective: at the beginning of the season many realists on ToffeeWeb were talking about how this season was all about (the dreaded word) transition, how it was massively unlikely that we would see anything like a team until three or four transfer windows etc.
Just to remember, that was the general consensus, so while this season has been yet another typically shitty disappointing frustrating and occasionally incompetent state of affairs, it is what many predicted.
Breaking the top six will not be helped by the kind of leadership Silva treated Newcastle in the second half — but the first half performance will.
It hurts to watch Everton these days, but remember: it will take time.
Gary Carter
46
Posted 10/03/2019 at 09:38:45
Basically, we have appointed a manager with a big reputation, bizarrely based on getting two teams relegated and shipping goals like the Titanic let in water and now we are paying the price with it.
We did the same when appointing Martinez, he was a terrible bit of recruitment, as I thought at the time, and Silva is even worse! He'd done nothing to warrant getting the job and has done nothing but prove he's out of his depth since taking over!
Chris Gould
47
Posted 10/03/2019 at 09:49:21
Sam #36,
The Mina sub made sense at the time. As you say, Newcastle were bombing high balls forward. Our defence was becoming nervous and unsettled. Pickford was having a nightmare. I can see the sense in that decision, and nobody knows if that sub had any impact on the result. They were fired up, the crowd got behind them, and we capitulated. It was soul-destroying to watch, but it happens, even to the best teams.
I was thrilled by the first 60 mins. I thought we were excellent. I was entertained and excited by the football and some of the partnerships that were beginning to form. There were some confident performances on display. Sadly, there were nervy ones as well.
It absolutely sucks to lose a game that we dominated for large periods. But the fact that we played so well against a team that were on a run of home wins, and that we looked clinical going forward, is reason for optimism.
I said in August that I felt Silva would need a free hit of a season, and he gets it from me. He inherited a shit-show, but is trying to play decent football. There are signs that with a few additions we could really be on the verge of something exciting.
Silva's game management will improve with experience. A young coach will make mistakes, but I hope we hold our nerve and allow him time to learn.
I believe that Silva and Brands have a plan. Next season will be the time to judge. Speaking for myself obviously as some of you made your minds up months ago.
John G Davies
49
Posted 10/03/2019 at 09:54:24
Chris @47,
I agree, Keane was struggling badly in the last 30 minutes. It should have been a straight swap — not switching to a back 3.
Martin Nicholls
50
Posted 10/03/2019 at 10:03:11
Marcus #14 – we also threw away a 2-goal half-time lead against Carlisle to lose 2-3 in December 1974. That result, coupled with a 3-0 defeat in the away game, cost us the Championship.
Marcus Taylor
51
Posted 10/03/2019 at 10:13:00
Martin #50,
According to Everton Statto website it was 1-0 to Everton at half-time. Maybe some older Blues can confirm or deny that. I wasn't born until the early '80s – although I've heard of that match and the fact they beat us home and away (via my Dad) many times!
21/12/1974: Carlisle (L) 2-3 (HT 1-0)
http://www.efcstatto.com/fixtures-and-results/1974-75/
ps: The Sheffield United match was the second-to-last game of that season.
Mark Andersson
52
Posted 10/03/2019 at 10:48:57
Another game... another bipolar result... and another bipolar reaction from fans...
Mr Moneybags will back his man — get used to it!!!
Derek Knox
53
Posted 10/03/2019 at 10:50:32
Chris @ 47, the game is 90 minutes plus stoppage time, also there are two halves, I actually thought at 2-0 we had the game in our control.
How wrong to even think that positively, there is something amiss at the Club, how they continue with Jekyll and Hyde performances either in consecutive games, or, in this case, the same game, is bewildering.
However, anyone views the Silva situation, either critically, or making excuses for him — he is the Manager, and he is charged with that responsibility, for which he is more than adequately paid, so the buck has to stop with him.
The record books don't state played well for 45-50 minutes, but we're unlucky to lose or whatever — the situation should not have been allowed to get where it did second half. There seems to be a total lack of killer instinct, or to be able go defend a winning margin.
He (Silva) bemoaning an offside decision, but I'm afraid officials do get things wrong, and will continue to do so, but he should not make that the reason, that we lost this game. Be a man, Marco, and admit you are in the deep end and your feet will never reach the bottom.
Daniel Bentley
54
Posted 10/03/2019 at 10:57:34
Everton all over the place... Great for 60 minutes — then, the "small club" mentality comes in.
Martin Nicholls
55
Posted 10/03/2019 at 10:59:51
Marcus #51 – I was at a wedding that day but bailed out and arrived at Goodison at half time. My recollection is that Latch had scored twice before I got there and we were 2-0 up – they pulled first one back early on second half. As I say, going on memory so could be wrong!
Incidentally, the Sheff Utd game you mention was in that same season – from recollection (again!) it was in that game that David Smallman (a player with fantastic potential) picked up the injury that wrecked his career. We as a Club seem to suffer these kind of injuries to key players far too often.
On the Pickford incident, didn't they introduce a "double jeopardy" rule a few years back meaning a goalkeeper couldn't concede a penalty and be sent off for the same foul? If so, then (for once) Mason was right.
Dave Ganley
56
Posted 10/03/2019 at 11:17:34
Instead of blaming the officials, you should be apologising to the fans for not sending out a team who can actually defend and know what they're doing. They just panic and that's entirely down to the fact that they obviously don't do any kind of regular defensive drills.
The same mistakes just keep on happening too often for it to be just player error. Well-marshalled defences practice regularly and know exactly what they're doing. We look like we've never seen a defensive drill ever.
We will never move forward unless Silva acknowledges that defence is an integral part of the game. Martinez never got that and I fear Silva never will too as he has shown no desire to make the defence impregnable.
A couple of clean sheets in which Cardiff and Liverpool had a few clear-cut chances to score masked that for a couple of games but now we have reverted to type. So disappointing after the feel-good factor from those games.
We are now back to square one. Any kind of optimism I felt has crashed after witnessing that pathetic second half. I felt a strong finish to the season may be a springboard to next season but yesterday just showed we will never be more than a mid-table nonentity with managers in charge who can't even coach the basics.
Grant Rorrison
57
Posted 10/03/2019 at 11:20:56
Dave @56,
So who do you think we should get instead? Not another Moyes fan, are you?
Brian Harrison
58
Posted 10/03/2019 at 11:25:30
Yesterday encapsulates how hard it is to be an Evertonian. At half time we started to believe maybe the turn around of the season had begun only for that thought to be extinguished before the game had finished. We seem to have made an art form of dragging defeat from the jaws of victory.
We are now 3 points ahead of Newcastle and 4 points ahead of Crystal Palace, 2 teams who for long periods this season were looking like relegation candidates.
With every defeat it increases the possibility of Silva being sacked — not something I am hoping for but this is a results business and this season the results have not been good enough. But it just shows how low our self-esteem has fallen when some on here are suggesting appointing a man who publicly denigrated our club.
I admit that we are limited as to the pool of managers we can attract but that for me would be even worse than appointing Allardyce. Seems that Newcastle's tactic was right out of the Allardyce Book of Football — launch it 60 yards to a lone striker and compete for the second ball which led to their opening goal, despite the fact that when the ball left Rondon's boot we had 6 defenders in the box to their two attackers.
Obviously the 3rd goal should never have stood but inept officials missed not noticing 1 attacker being offside but all 5 of them. For me, VAR can't come quick enough, as FIFA judged with taking none of our refs to the last World Cup, our refs are the world's worst and need all the help they can get.
Paul Tran
59
Posted 10/03/2019 at 11:41:27
That Carlisle game was definitely 1-0 at half time. I went from the Boys Pen to the Street End to see Big Bob score the second.
That 3-2 win against Watford looks more illuminating, doesn't it? Some on here thought it was Unsworth's genius, I thought it was one of those lovely random nights when things went for us. Maybe it was a harbinger for the mental fragility we regularly see under Silva?
There's two reasons he's still in the job: he's Moshiri's chosen man and we've had so many managers recently, we *can't* sack another one.
I can't think of a positive reason for him staying.
Grant Rorrison
60
Posted 10/03/2019 at 11:42:51
Can anyone name me a manager that has consistently over-performed over the last 5 seasons and who we could realistically get to come here?
Dave Ganley
61
Posted 10/03/2019 at 11:43:11
No, Grant, that's just silly. The point I was making was that Moyes had a very decent defence with lower-league players and a Man Utd cast-off goalie.
Whoever is manager needs to have a well-drilled defence that knows what they are doing in any situation, not one that panics whenever they come up against sustained pressure. The evidence is there that Silva just doesn't pay enough attention to defence — otherwise, we wouldn't be shipping these kind of silly goals on a regular basis.
How many times have we seen opposition players score from close range completely unmarked in the box? It's just negligent to have these same mistakes happen on such a regular basis.
So do you think Silva is doing a fine job then? Do you think he pays enough attention to defensive duties? Or do you think it's just the players making a fool out of Silva? Well, if you do, then we shall have to agree to disagree. If players are well coached defensively, then these things just don't happen on a regular basis.
Ray Roche
62
Posted 10/03/2019 at 12:02:35
I noticed on the Live Forum yesterday a couple of comments stating that we should sack Brands and another suggested we appoint that ginger-headed bag of racist shite, Neil Lennon.
I read recently that we Evertonians are a well-informed crowd who "know their football".
Really? Lennon? Dear God in Heaven.

Brian Harrison
63
Posted 10/03/2019 at 12:05:09
Grant,
I don't know why Moyes is treated so badly on ToffeeWeb. When he took over from Walter Smith, we were heading for relegation. He then stabilized the club and for most of his time here had the club in the top 7 on a shoestring budget.
Not only that but he kept the club afloat financially with his brilliant buys which were bought for very little and sold for fortunes: Lescott, bought for under £5 million, sold for £24 million; Stones, bought for £3 million, sold for £50 million; Arteta, bought for just over a million and sold for £10 million; Fellaini, bought for £13 million sold for £24 million.
He had a well-drilled team who knew how to defend, that's why Ferguson recommended him for the Utd job. I thought he was unwise to try and follow directly after Ferguson especially as he had left an ageing side. And as history shows it didn't go well for him maybe Man Utd was to big a job for him.
I always say never go back as player or manager, as we know to our cost in reappointing Howard Kendall. It never gets better the 2nd or 3rd time. The one thing that was guaranteed under Moyes is his team gave 100% in every game, and if you weren't giving 100%, you would be dragged off.
I know many criticize him for the way he left the club and I agree. But I don't believe for 1 minute that he hadn't told Kenwright about his meeting with Ferguson months before he left; maybe Kenwright felt he couldn't stand in his way after the great job he had done here. I know some criticized his "knife to a gunfight" comment but it was true – you can't compete with the top 4 with a net spend of I think was £3 million a year.
Michael Burke
64
Posted 10/03/2019 at 12:17:56
I was sat in the Gallowgate right behind all 5 goals. It was truly brutal to see the second half capitulation.
First half saw us play some excellent football. Lovely little one-touch interplay. I also saw Lascelles applaud the referee after he was booked for his foul on Richarlison, so both teams should've been down to 10. Referee bottled both decisions.
I personally would've liked Schneiderlin on in the 2nd half to shore up our team, rather than Mina. I also wouldn't have taken a potential counter-attack outlet off for this (swapped for Lookman preferably) either. Gomes went AWOL when it got tough in the second half. The barcode fans around me were all purring about him in the first half.
Phil Sammon
65
Posted 10/03/2019 at 12:21:18
The way Moyes left was a disgrace, Brian. He was good for us but I'm afraid he messed it all up with the way he went.
Fran Mitchell
66
Posted 10/03/2019 at 12:22:01
At 2-1, we could have killed off the game. Richarlison miscontrolled, the chance was gone, but that was the blueprint for us to retake the game.
Rather than take Richarlison off for Lookman or Walcott, or shore up the midfield with the tiring Gomes for Schneiderlin, the manager chose to change the shape of the team and put 3 at the back.
I can't remember a single game where Everton have done well with 3 at the back; we always look a shambles. So that decision on its own was of a manager who doesn't really have the tactical nous to win games. It was a disastrous decision and it cost us the game.
Silva has 8 games to show he has the tools; as it stands, I have little to no faith that he will do.
Grant Rorrison
67
Posted 10/03/2019 at 12:39:05
Brian @65. You don't remember 11 years of largely depressing, boring, predictable football then? A little-man mentality where every big game and team were concerned. Or the way he left us and ran down the club despite his 'man of principles' bullshit position.
The guy was an arrogant little twerp by the time he left here and thought he was one the best in the business. It was funny to see his career turn to shit. The funny thing is, despite often being labelled as a 'Moyes hater', he actually managed to do much worse at Man Utd and any of his subsequent jobs than I would have ever imagined.
If you want to laud finishing best of the worst playing percentage football in a league with far fewer stand out sides than today. Making risk free loan to buy signings (Arteta, Pienaar, Yobo, Howard, etc) that surprisingly turn out well then so be it.
I could do that job and I am not praising someone else for doing so while getting paid a fortune for the privilege.
Jerome Shields
68
Posted 10/03/2019 at 12:45:45
Ray #62,
I had the same reaction when I read those two posts.
Dave Ganley
69
Posted 10/03/2019 at 12:55:05
So are you trying to suggest that it's much better now, Grant? You seem to forget the good football Moyes played 2007-09 and the fact that he left us a top 6 club in healthy state.
There's not many who would want him back and I think most, including myself, were appalled by the way he left and have shed no tears for how things panned out at Man Utd. However, that shouldn't detract from the fact that he took a team of perennial relegation candidates with a squad that included the likes of a washed-up Gazza, an over-the-hill Ginola, Gemmill, Alexandersson, Gerrard in goal etc, and turned them into a competitive outfit again whereby we expected to beat anyone at home and usually did.
To say it was dull was totally wrong, especially in the seasons I mentioned. We all know his limitations and he should have gone after the Chelsea FA Cup Final but, even so, he still put us on an even keel with Spurs by the time he left. Look how different we are now. Spurs are miles ahead while we have had a shocking array of substandard managers which culminates in our celebration of a 0-0 draw with Liverpool.
Even though I would never want Moyes back, it was much better than the shite we have witnessed since he left. Regardless of whether Martinez had a good points haul or not, in his first season, he destroyed any and all team spirit we had at the club and we have never got it back — look where we are now: a complete and utter shambles.
Jim Bennings
70
Posted 10/03/2019 at 12:55:28
Grant @67,
Some of the Moyes era might have been tedious at times but some seasons the football was fantastic especially when he had better players at his disposal, even some dramatic late exciting moments in his first season like the Southampton (Radzinski winner) or Rooney against Arsenal and Leeds are Elland Road, boring moments?
I think Moyes should be appreciated – not overrated, but certainly appreciated – and we would never have had fan favourites like Cahill, Arteta, Coleman, Baines to name just a few if Moyes has not been here, also his last ever signing, John Stones from Barnsley for £3 million wasn't too bad was he?
The thing that irks me most now about us is the lack of identity in the club and the simple willingness to just take accept defeat easily. That's why last Sunday was such a welcome surprise battling to a 0-0 draw (yes, just a draw but morale-boosting) against Liverpool.
Yesterday, though, it was back to the norm proving that every time we concede a goal, we collapse like a pack of cards.
Sean Patton
71
Posted 10/03/2019 at 12:58:40
Brian,
I completely agree. I cant wait for VAR, it is ridiculous that the Premier League doesn't have it when the other major leagues do. We would still be in the cup and have a shedload more points if it was used.
These things even themselves out over a season, though, so I'm looking forward to offside winners and blantant handballs going our way in the last 8 games!
Peter Gorman
72
Posted 10/03/2019 at 13:41:05
Grant "I could do that job" Rorrison.
Anthony Murphy
73
Posted 10/03/2019 at 13:41:33
Sean like you say these things tend to even themselves up over the course of a season, so maybe for every point gained by the introduction of VAR another will be lost to decisions gone against us via VAR?
Grant Rorrison
74
Posted 10/03/2019 at 13:53:16
Peter 72. Another Moyes fan, Peter?
Could anyone explain why a man of such outstanding managerial talent is currently unemployed? Why hasn't there been a rush of potential suitors trying to snap this fella up before the inevitable job opportunity at Real Madrid comes his way?
My answer: He's actually shite. Anyone got a better one?
Bill Watson
75
Posted 10/03/2019 at 13:55:43
At 0-2, we were well in control, and even at 1-2, had chances to make it 3 and kill the game off. We didn't because of atrocious final balls, Richarlisons cross that went into touch, on the far side, being a prime example.
On another occasion Richarlison was put clean through but his first touch was appalling and the chance was gone. So, although we were in their penalty area many times we failed to test the goalkeeper, at all, and this has been the tale so often, this season.
In the second half Newcastle started pumping in high balls so Mina was introduced to help deal with it. A sensible substitution? I don't think it was. It was an admittance we were rattled and couldn't cope with the barrage.
Silva should have addressed the cause of the long balls which was a tiring midfield who were allowing them the time and space to launch the long balls. Davies, or Schneiderlin, should have been brought on and I'm not saying this with the benefit of hindsight, I said it at the match. Better to snuff out the cause than deal with the effect.
Earlier in the season, I thought we would improve in the second half (of the season) as the new manager and players bedded in but the reverse has happened. Silva still doesn't know his best side, he persists, for far too long, in selecting out-of-form players and his substitutions are often very poor.
I don't subscribe to the view that we cannot sack him because we've sacked a few in the past few years, or that it would cost too much. (Compared to players, it's quite cheap to sack a manager.)
Johnny Carey was sacked when he'd put together a great footballing side. Although we were high up in the table the side lacked defensive stability and were often poor on the road. Moores wanted better so took him on the infamous taxi ride. Colin Harvey was sacked when the side was riding high but not as high as previously.
Silva's record is abysmal. It's relegation form and he should be dismissed. It's time for the club, from top to bottom including the supporters, to stop accepting mediocrity and to take action. This club would not have tolerated such poor results in the past so why should we now? Would any of the, so called, Top 6?

Denis Richardson
76
Posted 10/03/2019 at 14:18:29
Brian 63 - Moyes did a decent job up to 2008 when his then contract expired. He then got above himself and thought he'd walk into a job with one of the 'big boys' (I can still remember his cringing interview when he was expecting Spurs to come cap in hand begging for him).
None of the other 'bigger' clubs were interested, however, and after realising this he then screwed the club over for a massive pay rise and new bumper 5-year contract – his salary went from around £1.5m/year to £4m/year. Of course, Kenwright was only too glad to give him what he wanted, even though Moyes didn't really have anywhere else to go other than a step down. (Moyes then shortly after had the cheek to say the players earn too much and should take a 20% pay cut, all whilst he was to the top earner at the club!).
Over the next few years he grew increasingly bitter as his ego led him to believe he was a much better manager than he actually was and he just went through the motions with us until his last contract expired in 2013 – milking his £4m/year contract along the way. It was clear to see the fire in him had gone and he was just biding his time. Towards the end, it was a farce as it was obvious he was just waiting for another ('bigger') club to come along.
The way he left for Man Utd was truly cringeworthy, along with the whole Cahill / Neville farewell. Near vomit inducing. He should have left in 2008 on a high but instead far outstayed his welcome and by the end a large chunk of the fanbase couldn't stand him – me included.
The last 3-4 seasons of Moyes's tenure were a waste of time where we were just treading water. His subsequent managerial appointments have shown what we all knew, he is a limited manager who did a decent job for us at a given time. He hit his own personal jackpot getting the Everton job, which allowed him to learn on the job but a top manager he will never be.
As for Silva – I looked through his previous experience and cannot for the life of me work out why Moshiri when so hard to hire him. He did nothing at Hull or Watford and his single year at Olympiakos is irrelevant as managing them is like managing PSG. They have the best players and most money so winning the Greek league is not exactly difficult (they've won it 18 times out of the last 20 years...). I simply cannot understand why we'd chase a manager with zero major success so hard.
We hire a guy to build a legacy, even though coming to us would make us his 5th club in 5 years (ie, no experience of having done so/being able to do so) and he's won nothing in a major European league. Had he come to us on a free I may have seen it as a punt but we chased him hard and paid £10m compensation to sign him – why? Makes absolutely no sense. The guy is getting paid £4m/year to learn on the job.
The stats speak for themselves and we've already lost 13 league games this season. The only reason we're not near the drop zone is the luck that the likes of Cardiff, Burnley and Huddersfield come by every now and again which gets us 3 points. (These 3 clubs make up 3 of the 4 we've managed to beat in the lasts 3 months!)
I think we'll finish around 12-14th, which will be our lowest league position for 15 years, despite having spent £100m on transfers.
Here's another stat for Silva backers – 30 games in and we've only won 2 more league games than Cardiff.
Ken Kneale
77
Posted 10/03/2019 at 14:46:48
Grant,
I am not nor ever was a Moyes fan and a part of what you say is correct. Nonetheless, your replies to Dave are over-hyped – this guy Silva is out of his depth – his CV is one of failure and he should not have been appointed.
I do not feel you should try to justify him by attacking Moyes – for most of Moyes's reign, Everton were respected by the opposition – that cannot be said now.
Grant Rorrison
78
Posted 10/03/2019 at 14:53:59
Ken @77.
I haven't justified Silva. I think this season has been a disaster from the get go. His CV does have a title and a domestic cup on it though.
Daniel Thomas
79
Posted 10/03/2019 at 16:58:52
"I could do that job"
Hahahahahaha.
Ray Roche
80
Posted 10/03/2019 at 17:45:58
Denis @76,
£10M in compensation? Really? Are you sure of that?
Ray Roche
81
Posted 10/03/2019 at 17:48:04
Every article I see claims it was £4M.
Ken Kneale
82
Posted 10/03/2019 at 18:10:10
Denis. Well said
Jim Marray
83
Posted 10/03/2019 at 18:37:17
I watched from just before the penalty until the end of the match.
My dad always said the key to winning a football match is down to two key things, scoring more goals than the other team and then keeping possession so they can't score. Well at half time we had done the first bit, with a bit of luck around Pickford, but in the second half we didn't do the second step. And that is the story of our season.
We cannot control a game. Our inability to pass to our own players is extraordinary and makes me wonder what is happening on the training fields. Until we can keep possession and stop passing to the opposition, this problem will continue to cost us games.
I didn't want the "young hungry manager who had teams who could play great football" mainly because that was just trying to justify appointing Martinez Mk II but I also don't think that sacking Silva will fix the problem because who would we appoint (or worse who would want the job).
The best thing for me would be that the Board send Brands to Germany and say find us a coach or assistant manager who can come in and support Silva by reinforcing or even educating the players in the technical skills so that the basics are sound. Once the basics are in place then we can start to think about doing some of the nicer stuff but without the basics. Well I'm already planning on popping down to watch the local rugby team – at least they know how to win a game, home and away.
Steven Astley
84
Posted 10/03/2019 at 19:44:02
Jim, you think Neville Southall coming in to get in Pickford's head is a good idea?
Besides that it's a stupid fucking idea (as times have changed since the 80s), do you ever wonder why he is never invited back by the club to do anything? The very occasional appearance on Sky, but that is about it.
Max Murphy
85
Posted 10/03/2019 at 19:47:32
Jay #7, I totally agree with you on the joke of a goalkeeper who is Jordan Pickford. People defending this clown have absolutely no knowledge of the game, or for sport in general, if they cannot see what is glaringly obvious.
Pickford will be a distant memory in 18 months, apart from maybe in non-league football.
Rob Marsh
86
Posted 10/03/2019 at 20:13:23
Steve Astley #84
Many would regard him (Nev) as a forthright man who, for better or for worse, honestly speaks his mind.
I personally would not want to live in a world with everyone a politician, hiding their true thoughts and intentions, or a world where nothing is said through fear of embarrassment.
Eric Paul
92
Posted 10/03/2019 at 21:01:35
Rob
It's said you shouldn't meet your heroes and it's very true I've met big nev a couple of times and I found him very obnoxious and confrontational
Rob Marsh
93
Posted 10/03/2019 at 21:13:38
I've met him to.
I found myself standing next to him in WH Smith he was buying huge amounts of music, he was friendly to me and gave me some genuine time.
I don't know the circumstances of your meeting with him, but if you gave the kind of feeling to him that you think he's a clown, he's probably showing a natural reaction most would show.
I've often found most people become confrontational when they're in a confrontational situation.
Paul Hewitt
97
Posted 10/03/2019 at 22:00:49
How anyone can complain about Moyes's time as manager is baffling. Look at the mess we are in since he left.
Rob Marsh
98
Posted 10/03/2019 at 22:12:12
Paul
A lot of the fire directed at Moyes by many probably has as much to do with the way he left us as with his performance as a manager.
He was a decent manager who achieved all he could, but just didn't have the ability to get over finishing line where silverware was concerned.
Alastair Kelly
99
Posted 10/03/2019 at 22:45:51
One of the reasons we concede a lot of goals is that we have an inexperienced keeper who has been over-hyped by the media and many in football who should know better. For sure Pickford has potential but unless we have a better keeper we will continue to struggle.
He's like a cat on a hot tin roof when the ball comes anywhere near the 6-yard box. We need an experienced keeper such as Kasper Schmeichel with Pickford learning and competing for the jersey (and in time hopefully winning it back on merit).
Our defenders are not that bad but it must be difficult with a keeper behind you that you just can't trust. His distribution is poor and often hurried for no reason. When he makes a save, it invariably goes back out in front of him so the opposition often get a second bite of the cherry.
This guy has conceded a shed load of goals over the last three seasons and needs the pressure off for a bit and a spell on the bench. It's just a shame we got rid of Robles as Stekelenburg isn't up to the job either. Maybe Jags could do another shift.
Derek Knox
100
Posted 10/03/2019 at 23:38:16
Alastair @ 100, agree with some of your points regarding Jordan Pickford, but again it comes back to coaching, who is coaching him, Silva has enough of them in his entourage (more drains on the wage-bill) he's probably got a coach's coach too.
Whatever he has, it doesn't seem to be functioning very well, in all departments, it fluctuates between encouraging to downright amateurism.
Brian Wilkinson
101
Posted 11/03/2019 at 01:49:25
I never thought I would ever say this but the past couple of weeks with Schneiderlin in the team we started to pick up points.
I have given the guy countless stick for last seasons performances, but have to say this season he has been better, not hard I know, so at 2-0 up with 15 mins to go, I cannot fathom why we did not bring the guy on, or start with him.
An even more startling stat, out of the 11 games he has played this season, we only lost 2 of those games, three if you include a penalty shoot out.
For me to even mention Schneiderlin after last season is unique, but for all his previous faults, he has actually stabilised the team when he has been there.
But not many comments in regards to the guy not playing yesterday.
Simon Dalzell
102
Posted 11/03/2019 at 22:09:26
He should have gone after the surrender at home to Wolves. The powers that be just drag these situations out. Silva cannot motivate or even pick the correct team to start games, makes terrible belated subs, and has no tactical acumen. Apart from this he's okay !!! Just stating the obvious really.
David Connor
103
Posted 12/03/2019 at 04:10:16
I totally understand Silvas frustration at a very clear offside. But this is Everton, Marco, and we never ever get the rub of the green. It's just how it is. But we we're shite in that moment of the second half and you could sense it was coming. How predictable are we? Oh, and shite.
Justin Doone
104
Posted 12/03/2019 at 19:45:51
I'm sure we can all find stats to support arguments and there is some logic but in general I comment on what I see.
Pickford is a good goalkeeper but he's not one of the best in the Premier League. If we want to improve he needs to improve as well as we need a better second / new first choice. I think Butland and Forster are better keepers but they have both had injury problems and made a few mistakes occasionally.
I think Forster could be got at a good price as not Southampton first choice and he's a big beast which may give our defender a bit more confidence to hopefully command the box.
Defensively, Jagielka is still probably our best defender and Zouma next in line which is a problem as he's only on loan. Keane like Pickford is good but no team chasing top 6 would have him as first choice. So he needs to improve, be stronger and more aggressive in challenging for loose balls without resorting to being reckless. Mina is still a massive question mark that should start the next 5 games to assess.
Midfield balance is still a worry. Massive increase in skill and potential but too many inconsistent performances. I'd keep Gomes but, if not, get Mooy from Huddersfield, Drinkwater or someone for their passing, vision and controlling of games.
Schneiderlin offers nothing. He's not the midfield template I have in my mind.
Upfront, Calvert-Lewin is not a top 6 starter but very promising. We need better, much better.
Matthew Williams
105
Posted 14/03/2019 at 14:34:51
The answer is simple... just walk off the pitch!
The Kuwaiti team nearly did it in the '82 World Cup after a phantom whistle in the crowd cost them a goal. A team needs to have the bottle to walk off the pitch as a simple matter of principle, the bigger the match the bigger the impact.
I would be so proud if the club of firsts (ours) did this and brought the world of football to its knees... but of course, we're just too nice a club, sadly.
Sigh... I despair.
Add Your Comments
In order to post a comment, you need to be logged in as a registered user of the site.
Or Sign up as a ToffeeWeb Member — it's free, takes just a few minutes and will allow you to post your comments on articles and Talking Points submissions across the site.