Tosun was denied January loan move
Thursday, 28 March, 2019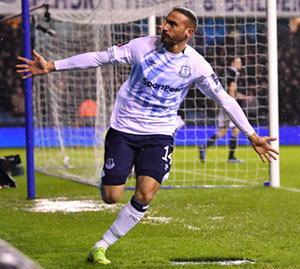 Cenk Tosun has revealed that he was unable to accept offers from Spain and elsewhere in England because Everton couldn't afford to lose one of their first-team strikers.
The Turkish striker, who joined the Blues in January last year for a fee variously reported as being either £21m or £27m, has struggled to make an impact in the Premier League and has only started nine times in the Premier League this season, scoring twice in 21 league appearances overall.
Tosun was a rumoured target of Cardiff City and Crystal Palace during the last transfer window but after Oumar Niasse was allowed to join the Bluebirds on loan Marco Silva was left with only two nominal strikers, plus Richarlison who has been used in a centre-forward role at times.
"I had offers from Spanish and English clubs," Tosun said this week. "I told the club I was ready to go out on loan to return stronger, but they told me they needed me here.
"I have still a lot to do in the Premier League. I still have a three-and-a-half-year contract with Everton. I want to continue in Europe. My aim is to play more."
---
Reader Comments (43)
Note: the following content is not moderated or vetted by the site owners at the time of submission. Comments are the responsibility of the poster. Disclaimer
Bobby Mallon
1
Posted 28/03/2019 at 06:12:01
He really does need to play up top with a partner
Kevin O'Regan
2
Posted 28/03/2019 at 06:20:46
Looked a different player this week for Turkey on Intl. duty with 2 goals. Pretty sure there's a decent player in there but he needs to show it not just against Moldavia and the likes. Would like to see him do well but it needs to be soon.
Robert Leigh
3
Posted 28/03/2019 at 08:58:17
I like the way he speaks about the club, wanting to go out so that he could 'return stronger'.
But I'm afraid young Dominic is now first choice, and is likely to be until the end of the season. He's getting stronger with each game, goals/assists are starting to come too.
One of those that if we get a decent offer for him we should let him go, allowing a new, young, hungry player to come in and compete with DCL (or get Giroud on a free!).
Dave Abrahams
4
Posted 28/03/2019 at 09:12:35
The way Everton have been run gets worse and worse with each passing story of the contracts players were offered, a five year contract for Tosun though? That will definitely take some beating, anyone got one to beat that.
Chris Gould
5
Posted 28/03/2019 at 09:24:02
Yes, Dave, thankfully Tosun and Walcott were the last purchases of the old reckless regime. Now Brands is here we have a more thoughtful and professional approach to our transfer business, but so much damage needs to be undone. We have so many players who will continue to refuse a move because of their long contracts on huge wages. It's sickening to think about how much money we've wasted on players who simply aren't good enough for us.
Sam Hoare
6
Posted 28/03/2019 at 09:45:53
Dave@4, I think the trouble partly was one that we will face again this Summer.
Goal scoring strikers are very hard to find, especially in January. Tosun came with a healthy goals record including a good number and ratio in the CL and at International level. He looked/is a hard working player with good character at a decent age and some decent clubs had been looking at him apparently. I'm no fan of Walsh/Allardyce but I can see the logic and like I said january is a tough time to find goalscorers. If we paid £27m for him then that is obviously way too much. £21m makes more sense. Not the worst of our signings over the last few years logic wise.
Sadly its not quite worked out for Tosun. He looked handy at the start of the season but the goals would not quite come for him and he wasn't quite doing enough to justify the drout. I think there's a decent player in there and would not be surprised to see him score 10-15 goals a season at Brighton/Burnley/Palace if starting every game. But i'd be surprised if he was to get that run of games now at Everton.

Jim Bennings
7
Posted 28/03/2019 at 09:56:29
He will go in the summer and I wish him well, he's never been a player that's rocked the boat, it just simply hasn't worked out for him.
I hope he gets a move back to Turkey as he's very highly thought of and the league there suits his abilities far more than the madness and frenetic nature of the British game.

Ajay Gopal
8
Posted 28/03/2019 at 09:57:33
We have a frightening number of players out on loan who will come back to Everton next season:
Williams (does his contract run out this summer?)
Martina
Besic
Sandro
Mirallas
Niasse
Vlasic
Apart from the youngsters (who are not so much of a burden, agreed, and some would have become better players due to their loan spells)
Onyekuru
Baningime
Connolly
Robinson
Dowell
Joe Williams
Pennington
Holgate
I am sure I have missed out a few others.
The point is that Brands and Silva have a massive job on their hands in moving out the deadwood, including the types of Tosun, Schneids, McCarthy, who are in the squad presently making up the numbers, then it slowly dawns on me that this is going to be a long rebuilding job. In the meantime, we need to retain our key assets and rebuild the team around: Pickford, Keane, Coleman, Digne, Mina (if he stays injury free), Gomes and Gana (if they stay), Davies, Siggy (for another couple of years), Richarlison, Bernard, Calvert-Lewin, Lookman (if he is willing to stay and work hard). Lots of ifs and buts, and I am sure it will be a bumpy ride, but I trust in Brands and, hopefully, eventually Silva will get it right, and we see a steady improvement, with the one bright hope being the number of very talented youngsters we seem to have in the younger age groups.
Dave Abrahams
9
Posted 28/03/2019 at 10:48:57
Sam (6), Iget what you are saying Sam, but how many times did they look at Tosun before agreeing to sign him, Walsh at the AGM last year said he and Allardyce would look at players and both of them would have to agree that the player was good enough before he was signed, the complete lack of pace was the first thing they should have seen and been instantly enough to give Tosun a swerve.
Mind you if clubs are still willing to sign him, as Tosun says, there is still hope we can recuperate a lot of the fee we paid for him.
Brian Harrison
10
Posted 28/03/2019 at 11:17:05
Dave,
You asked in your earlier post is there a worse deal than the Tosun deal, well I would imagine Sandro on a similar length contract and rumoured to be on £100,000 per week tops it.
Seems that different managers and DOF have wasted the best part of £250,000 million, and since the money has come in Everton have gone backwards. I don't know if its true but somebody said in the last 2 years there is only 2 clubs in the Premier League spent more than Everton.
This summer will need to see the biggest exodus of players that we have ever had, but shifting average and below average players on top money will be extremely difficult. I am afraid the only way to escape this mess is for Moshiri to sanction a giveaway sale of these players. Which will also have an impact on our transfer activity this summer. I think we will see very few additions until 10/12 players have been sold.
Mike Keating
11
Posted 28/03/2019 at 11:17:30
Dave @ 4
I think Sandro's contract beats the Tosun fiasco. But Walcott is the biggest disappointment. If Tosun can still catch the eye at international level we might still get some money back but who would pay Walcott's wages let alone a transfer fee as he gets picked every week only to go backwards?
Alan J Thompson
12
Posted 28/03/2019 at 11:19:29
While I think Tosun has something about him, this whole episode doesn't fill me with much confidence that we've moved on very much.
Tony Abrahams
13
Posted 28/03/2019 at 11:47:59
I thought Klassen, was another absolutely terrible choice, but not because of his ability, more because even the man who signed him, said on the eve of the season, that he wasn't sure if the player had the physical capabilities to adapt to English football?
After spending £25 million, Koeman decided that? And then he wanted Sigurddson for £45 million, to go and play him on the wing? Fuckin crazy, is putting it very mildly.
Dave McDowell
14
Posted 28/03/2019 at 11:55:44
If we agree that DCL has benefited from a run in the team, given that it is very unlikely we will catch Wolves surely it would be worth trying 4-4-2.
If anything it would see if Tosun would sink or swim plus throw a curve ball at the opposition.
Pickford
Coleman, Keane, Zouma, Digne,
Richarlison, Gana, Gomes, Bernard,
DCL, Tosun
Heading off the outcry what about Siggy, I love the guy but to play 4-4-2 he is the natural sacrifice.
Will we never try a different formation?
Tom Bowers
15
Posted 28/03/2019 at 12:27:22
Tosun was the latest of a long list of second-rate strikers Everton have brought in over the last ten seasons or more.
Sadly this trend has contributed to Everton's mediocrity.
Straquilursi, Niasse, Traore, Sandro, the list goes on and some may add DCL who has room for improvement but could still be the answer given the support from midfield.
Others like Walcott have been underachieving and that has added to the struggle this season.
It goes without saying that success and wages is a big draw in getting top drawer strikers and that is why the likes of City and RS are dominating at present.
Kevin Prytherch
16
Posted 28/03/2019 at 12:27:29
According to spotrac (someone else mentioned them a couple of weeks ago https://www.spotrac.com/epl/everton-f.c/payroll/ )we have the following players weekly wages...
Schneiderlin 100k
Walcott 100k
Bolasie 75k
Mirallas 70k
Williams 70k
Sandro 65k
Tosun 60k
Niasse 55k
McCarthy 50k
Martina 35k
Stekelenburg 30k
Basic 30k
Garbutt 28k
Galloway 23k
Tarshsaj 15k
That's 806k per week on players we probably want to get rid of, just shy of £42million per year. If we just managed to get £50m for the lot, then that's close to £100million saved over the course of 1 year.
Kind of puts Brands job into perspective.

Dan Hollingworth
17
Posted 28/03/2019 at 12:32:16
He is simply not good enough folks. He says the right things, he does try hard at times. But ultimately the prem is a step too far for him.
Given the fact he's still in his 20s and he has scored goals for Turkey and in lower standard leagues, he is one of the few we would get good money for as we look to rebuild again this summer.
Wish him well wherever he goes.

Mike Gaynes
18
Posted 28/03/2019 at 12:33:41
Off-topic, but you guys are not gonna believe this.
I just received my latest issue of Sports Illustrated magazine. On page 4, underneath a photo of Sadio Mane and the headline "Seeing Reds", is the following:
"SPORTS ILLUSTRATED is proud to announce an exclusive agreement that will bring hundreds of hours of Liverpool content to SI's streaming network. As... the 18-time English champions chase their first top-flight title since 1990, every Reds game in all competitions will be available in its entirety on SI TV on a same-day delayed basis Subscribers will also have access to classic LFC games, original club documentaries, behind-the scenes video, in-depth interviews and more. Available on the service right now: the Jan. 4, 1994 match against Manchester United that featured Liverpool's epic comeback from a 3-0 deficit, as well as two classic installments of the Merseyside Derby."
Marketing. What a concept.
Mike Gaynes
19
Posted 28/03/2019 at 12:40:32
Dave #14, right with ya, I've been suggesting the 4-4-2 for months (I'd sacrifice Gomes rather than Siggy), but it'll never happen. No way Silva would go for that. Probably wouldn't even know how to coach it.
Iain Johnston
20
Posted 28/03/2019 at 12:50:01
Ajay#8. Williams, Mirallas, Dowell & Pennington are out of contract in the summer I doubt we'll see them again.
I had high hopes for Foulds & Charsley but they've not been offered extensions to their contracts which also expire this summer.
Kevin16# those figures are a little off, Sandro is on over 100k, Schneiderlin is on 120k, he's the 2nd highest paid player at the club and Garbutt left last summer... but it's a well made point all the same.
Brian Williams
21
Posted 28/03/2019 at 13:29:41
Iain. Unfortunately Mirallas isn't out of contract in the summer. His contract's 'til 2020 worse luck!
Drew O'Neall
22
Posted 28/03/2019 at 14:10:36
I don't think Tosun is a bad player in the right system and with the right players around him.
I personally think he would have thrived with Richarlison had he been given a run in his preferred position when the latter returned from suspension at the start of the season but Silva elected to replace Tosun with Richarlison up front which did nothing for either party and our positive start to the season ended there and then.
I like Silva but you don't drop your one and only international striker from the team for three weeks when he hasn't built up his confidence in a new league yet.
Brian Wilkinson
23
Posted 28/03/2019 at 14:23:55
I would try Tosun and Calvert Lewin together for the remainder of the season, go 4-4-2, seemed to work for Sharp when we put Andy Gray alongside him, made Sharp a tougher player, same might help Calvert Lewin.
Nothing left to play for so why not go 4-4-2.
Tony Everan
24
Posted 28/03/2019 at 14:50:21
Tosun would be a decent signing for some club, as has been said he needs to be used in the right sysytem . We do not suit his game.
He was brought in at 21-27m to be the no1 striker, but the reality is the DCL is better . So Tosun just cant get a run of games, or find a rhythm or form.
To make it tougher for him DCL is improving . Tosun will get no meaningful game time.
On top of this Marco Silva will want to bring in a goal scorer of his own in the summer . I expect Tosun will be sold at 10-15m, it would be the best thing for all parties.
Christy Ring
25
Posted 28/03/2019 at 15:30:17
It's hard to know what system suits Tosun, he's not a target man, and has no great speed, and he won't want to leave, because the biggest problem we have of getting rid of the dead wood is there massive contracts. Remember Bogarde at Chelsea, he made no appearances in the Premiership, in his last 3 years at the club. He admitted he was on such a lucrative contract, why should he move. Ramirez, Schneiderlin and Mirallas won't go either, without a pay off sadly.
Derek Knox
26
Posted 28/03/2019 at 15:53:01
I watched Tosun the other night playing for Turkey against Moldova, and while he took his goals well, and was on a hat-trick, his movement or lack of it, stood out for me.
He is one of those strikers who expects 'it on a plate' without doing any running for it, which neither suits our style of play, or few others in the Prem these days.
Reading the stats on some of our deadwood on here and the salaries makes depressing reading, and a headache for Marcel Brands to sort out, I feel we will have to be patient for even longer, in the hope that we will eventually get there.
Jerome Shields
27
Posted 28/03/2019 at 16:04:21
I can't believe we are paying Walcott £100, 000 per week. No wonder he has to play.
I am of the opinion that a lot of Silva's selections are based on trying to get value out of this bloated squad. This Summer will also be dictated by Brands trying to reduce the wages bill and work within the Uefa regulations,
Everton have an absolute rake of Tony Cottee types on their books, Tosun being one of the biggest. His lack of pace means he can't beat a defender or move into positions fast enough. He needs other players to do the work for him, but his finishing is bad as well. He will probably end up being loaned out, but there is a danger he could flop.
Mike Gaynes
28
Posted 28/03/2019 at 16:18:10
DK #26, I think you're wide of the mark there, mate. Tosun made a 70-yard run to get into the box for his first goal, Turkey's second.
https://footy11.videostreamlet.net/player/html/4ev8MpoFbi?popup=yes&autoplay=1
Watch him start from the left touchline well inside his own half and then just drive. He spots the defender (#15) five yards and burns him. No lack of movement there.
Cenk comes up short in a number of areas, but for me movement isn't one of them.
Martin Berry
29
Posted 28/03/2019 at 16:53:45
Cenk is a poacher and its obvious he is not the fastest but surely this was evident when he was scouted ?
I feel for him, I think he genuinely wants to be successful at Everton, but unless we play him with a partner to give him space he will struggle.

Don Alexander
30
Posted 28/03/2019 at 17:18:17
I hope Mike Gaynes doesn't mind but this is the link to Everton player salaries that he posted on the Gomes thread;
2018 Active Roster
Bernard M 25 £6,240,000 £120,000
Yerry Mina D 23 £6,240,000 £120,000
Gomes M 24 £5,800,000 £111,538
Pickford GK 23 £5,200,000 £100,000
Schneiderlin M 28 £5,200,000 £100,000
Sigurdsson M 28 £5,200,000 £100,000
Walcott F 28 £5,200,000 £100,000
Richarlison F 20 £4,680,000 £90,000
Lucas Digne D 24 £4,680,000 £90,000
Baines D 33 £3,640,000 £70,000
Coleman D 29 £3,640,000 £70,000
Gueye M 28 £3,640,000 £70,000
Keane D 25 £3,120,000 £60,000
Cenk Tosun F 26 £3,120,000 £60,000
Niasse F 27 £2,860,000 £55,000
Phil Jagielka D 35 £2,600,000 £50,000
McCarthy M 27 £2,600,000 £50,000
Kurt Zouma D 23 £2,080,000 £40,000
Stekelenburg 35 £1,560,000 £30,000
Tom Davies M 19 £1,300,000 £25,000
Holgate D 21 £1,300,000 £25,000
Lookman F 20 £1,196,000 £23,000
Calvert-LewinF 20 £1,040,000 £20,000
Kieran DowelM 20 £780,000 £15,000
Jonjoe Kenny D 20 £780,000 £15,000
Baningime M 19 £416,000 £8,000
2018 Loaned Out
Yannick Bolasie F £3,900,000 £3,900,000
Kevin Mirallas F £3,640,000 £3,640,000
Ashley Williams D £3,640,000 £3,640,000
Sandro Ramírez F £3,380,000 £3,380,000
Cuco Martina D £1,820,000 £1,820,000
Henry Onyekuru F £1,612,000 £1,612,000
Muhamed Besic M £1,560,000 £1,560,000
Luke Garbutt D £1,456,000 £1,456,000
Nikola Vlasic M £1,300,000 £1,300,000
Shani Tarashaj F £780,000 £780,000
In short, I think M&M are largely fecked this summer.
I'm going for a lie down now.
Simon Smith
31
Posted 28/03/2019 at 17:29:02
For me Tosun is a genuine proffesional who always talks well, for that alone I like the guy. That said I don't believe he is a great forward, I don't think he still has the potential to grow, although I do think he's probably good for 10/12 prem goals.
When Sam signed him he claimed he was the best available at that money, that is how much of a pleb the guy is. At £20m+ there was hundreds of strikers who could hit close to double figures (look at Murray at Brighton), it's about buying the right player to suit what your team does.
We need Brands and Silva to clear a lot out of the club, whilst nurturing the potential of many others.
We potentially have a great young squad, we just need a few key players to see it through.
Pickford/Virginia
Coleman/Kenny
Digne/Robinson/Baines
Keane/Feeney
Mina/Holgate
Gana/Davies
Gomes (🙏)/Williams
Richalison/Bernard
Lookman/Onyekuru
Sigardson/Dowell/Vlasic
DCL and another.
See what comes of that, get shut of the rest, and buy players to replace those who need more time out on loan.
Minik Hansen
32
Posted 28/03/2019 at 17:56:16
All these salaries and prices and the pretty much limited impact the player's have had than expected, there's no question to it. But is there an upside to this? I mean somewhere we can still attract good players due to the salaries we can offer. And the reputation the club gets through our players to other clubs players that want them to come here, and the feeling of being one of the big clubs that can afford and have ambition to drive it forward and upwards. It just depends on time before they get it right and it just can't get fast enough.
Paul Tran
33
Posted 28/03/2019 at 19:07:36
Nothing new here, folks. We're a non-achieving club, so we take a punt on strikers with 'potential' and pay high wages to attract them.
Moyes bought Beattie & Johnson.
Martinez bought Lukaku, the only proper striker who scored goals and bailed us out regularly. And got us a large profit.
Koeman took a punt on Sandro which hasn't worked.
Allardyce took a punt on Tosun.
The only difference is the hike in transfer fees and wages.
Plus ca change and all that.
Jerome Shields
34
Posted 28/03/2019 at 20:25:12
Thanks Don for reposting the good work of Mike.
Didn't realise how much Bernard, Mina and Gomes where costing. They are no bargain. Mina's hamstring going would point to a player that is not training to the level he should.

Again Walcott at £100, 000 - Arsenal must have laughing down their sleeve. Tosun on loan may be a flop.
Definitely agree that the summer is a sorting out match, progress will be heading in the right direction to do that. That's not progressing Everton to the top four.
M&M will have to work as best they can with what they got. There is no point in changing the Manager. Review when the mess is sorted. Though I fear it is a sell at loss, loan out and run down contract job,
Moshiri needs to sort out the Board and back M & M to clean out the back room management, Martinez had a spat over the treatment of injuries, Everton brought back the guy that left - Mina hamstring,
Please, no extended contracts for aged players!
Bobby Mallon
35
Posted 28/03/2019 at 21:36:28
Tony everon at 24 DCL is not a better player than Cenk, he is just better at playing the loan role. Stick them side by side in a 442 and watch Tosun flourish I think it's a match made in heaven to be honest
Brian Wilkinson
36
Posted 28/03/2019 at 21:54:13
I agree Bobby
Bill Watson
37
Posted 29/03/2019 at 01:29:16
Iain #20
As far as I'm aware Luke Garbutt is still here. Unless he was transferred, in the last window, he's contracted until June 2020.

Mike Gaynes
38
Posted 29/03/2019 at 01:39:35
Garbutt is still our property. He's on loan at Oxford United in League One. Even there he has not been able to hold a starting job. Done at 25.
Robert Leigh
39
Posted 29/03/2019 at 07:43:41
I see Ellis Simms has been linked with Bayern as the next young English player to head to the continent having not been given the opportunities he deserves.
In no way am I saying let's start him until the end of the season, but surely having him on the bench at the expense of Tosun will do is no harm given our league position? If he comes on and does well, he's in the squad for next season.
If he doesn't, he can go on loan next year and get some experience.
Dan Hollingworth
40
Posted 29/03/2019 at 11:23:39
Murray at Brighton? He was 34 last January.
Tony Abrahams
41
Posted 29/03/2019 at 17:26:36
Honestly think Tosun, has been one of the worst forwards I have seen in an Everton shirt, but after reading what Silva looks for in a striker, I can see why Cenk, has been all over the place, and not really been just trying to play to his strengths?
Steve Hogan
42
Posted 29/03/2019 at 17:40:59
Dave (4)
Talk about contracts what about the contract given to Hibbo by Moyes during the last embers of his career? I think I'm correct in stating Hibbert started four games in three season's, but was given an extended contract at some point, talk about 'soft touch'.
He was clearly one of Moyes 'favourites', along with Phil Neville, hence the reward of a 'extended' contract for both players. I wondered how many younger player's were let go to accommodate those two.
Hibbo then had the audacity to complain bitterly in the Echo about the way he had been treated at the end of his contract. Apparently no-one from the club informed him it was not being renewed. This after stealing a wage for four seasons.
Had a laugh at that when I read it in the Echo.
Dave Abrahams
43
Posted 29/03/2019 at 17:55:33
Steve (42), yes It was surprising to say the least, Hibbo was a decent defender but that was a more than generous contract he was awarded by a man who had agreed to go and manage another club, while the chairman stood by and let Moyes walk all over us.
Add Your Comments
In order to post a comment, you need to be logged in as a registered user of the site.
Or Sign up as a ToffeeWeb Member — it's free, takes just a few minutes and will allow you to post your comments on articles and Talking Points submissions across the site.