Silva: It could have been five
Saturday, 30 March, 2019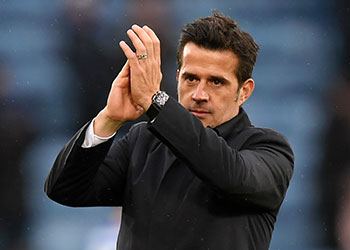 Marco Silva expressed his pride in the way Everton put West Ham to the sword at the London Stadium to record a second-successive 2-0 win over opposition from Capital.
A fourth-minute header from Kurt Zouma came from early pressure from the Blues that they kept up for most of the game, doubling their advantage later in the first half through Bernard and effectively shutting the Hammers' game down to run out comfortable victors.
Everton were by far the better team throughout and forced their hosts into what Manuel Pellegrini described as his side's worst performance of the season and Silva admits with more clinical finishing the scoreline could have been even more emphatic.
"I was very proud of our performance and seeing our desire from the first minute. West Ham have been in very good form at home in the last few games but from the first minute we were the [better] team on the pitch.
"It was 2-0 at half-time but if it had been could have been three, four or five no one would have been surprised because we created chance after chance.
"In some moments if we had been more critical we could have scored more but, of course, West Ham also have a fantastic goalkeeper who did well.
"We controlled the second half and the best chances to score were for our team.
"It was a fair result, a very good performance, three more points, another clean sheet and I'm really happy with the way we are playing."
Silva was asked if Everton were now favourites in the race for seventh and he said: "We haven't changed our goals since the first day of the season. Even in some moments when we haven't achieved good results, I didn't change our goal.
"I told them we have to prove on the pitch what we want, what is our desire. We are in a big fight, not just us, many, many clubs are there.
"We did our job really well this afternoon. Now is the moment to rest and analyse the match like we do always. Next match we will be at home at Goodison and we want to win again."
---
Reader Comments (66)
Note: the following content is not moderated or vetted by the site owners at the time of submission. Comments are the responsibility of the poster. Disclaimer
Tony Everan
1
Posted 31/03/2019 at 08:14:47
Fantastic to see a stable side selection, a stable formation, players understanding their roles, controlled aggression, confidence growing throughout the team. There was a team spirit on show yesterday a 'togetherness' that bodes extremely well for our immediate future under Marco Silva.
In the first half we would have caused any team on the planet problems our passing, movement and closing down was second to none. We could have scored more, had our most shots on target in a half for 7 years .
There were some sublime performances, Gomes and Gana shone like beacons on the pitch . A joy to watch them yesterday.
Well done to the manager and the team.
A great time to be facing Arsenal at Goodison, players and fans will be buzzing. It will be a way tougher match but more of that first half performance and we will be too good for them.
Richard Lyons
2
Posted 31/03/2019 at 08:37:58
By golly that was a classy performance - full silk on display from start to end. How did we suddenly get so good? Or was it simply West Ham being so poor? Whatever... If we can reproduce that kind of display against Arsenal, and continue the form (and why not, we did it in the 2nd half against Chelsea) then 7th place will be a cinch.
Michael Kenrick
3
Posted 31/03/2019 at 08:57:52
It
should
have been at least 5.
Some really horrendous shooting. I'm convinced they don't practice that in training.
Gerard Carey
4
Posted 31/03/2019 at 09:10:26
Can't argue with that display. Now let's beat a second top six side next Sunday.
Russ Quinlan
5
Posted 31/03/2019 at 09:15:19
Looked excellent but just highlighted the lack of a clinical finisher. I am sure DCL will mature into a good striker but if he had a good finisher alongside him to capitalise on his runs we could have some team.
Tony Abrahams
6
Posted 31/03/2019 at 09:24:59
It should have been five by half-time, such was the gulf between the two sides.
I couldn't work out if it was because Everton were great, or the hammers were so poor, but as some people have mentioned on the other Lyndon thread (it's normally negative Michael's, or maybe he's the jinx!) if the crowd over the park had dominated like this, it would have been all about how great they are?
I was made-up to be watching Everton make the game look so easy, but that would have probably changed if West Ham got one back, so we have definitely got to be scoring more, when we have created that many chances, because otherwise we just won't push on?
Justin Doone
7
Posted 31/03/2019 at 09:34:39
Great performance and win and DCL was excellent in all but his shooting. He needs to get more of them on target at least to work the keeper.
But I'm happy for him and happy he's enjoying leading the line making good forward runs. Using the channels and getting support upto him quickly.
It's simple but if the forwards make good forward runs its then down to the midfielders and defenders to make good, quick forward passes.
It goes wrong for us when we start playing backwards passes. The less involved our goalkeeper and central defender's are in a match the better.
There wasn't a bad performance but shout out to Bernard who was great, all action, good running and creativity. Gomes so relaxed and good in possession. Coleman who played well for Ireland and appears to have found an extra yard of pace again.
Stan Schofield
8
Posted 31/03/2019 at 10:04:11
That was a great performance. We've done it already this season, but not for a full game, so it wasn't really a big surprise.
I think folks should stop asking whether it was because we were good or because the opposition were shite. It's simple: We were good, the passing was accurate, we consistently made space, we consistently exploited the opposition giving us space, and we never gave the opposition a chance to settle. That display would have given us a good chance of victory against any team.
If we can develop this obvious ability into more consistency, there's every reason to anticipate us competing at the top quite quickly.
Derek Knox
9
Posted 31/03/2019 at 11:02:37
I can only echo the praises for yesterday's performance by one and all, although I will be totally convinced that the corner has been turned, if that effort and commitment can be produced on a regular basis.
The big thing that stuck out for me yesterday was that they gave West Ham no space whatsoever, closing down and winning the ball the majority of the time, this I hope will be repeated against all teams we are due to play.
I have always advocated that we have the nucleus of a decent team, but there are a few areas that need improving obviously, and also providing genuine competition for places.
There's still a lot of very expensive deadwood to offload which won't be easy, with the inflated salaries and contracts attached to many of them.
Jim Bennings
10
Posted 31/03/2019 at 11:21:50
Best away day of the season,- more complete performances than even Burnley because at times that score line at Turf Moor flattered us but yesterday we were amazing.
The midfield of Gana, Gomes and Gylfi has to be the mainstay now, it's the strongest trio we have there at our disposal and Bernard is a class above most on the left.
I think the defence should remain as it is now also regardless of whether Mina makes the last two weeks of the season or not, get him fit and sorted for next season not worth aggravating his injury even more.
DCL has improved his overall game and hes a miles better option than Tosun as he's far more able and mobile, but he really does need to fine tune that finishing especially when he has more time to think about it he so oftentimes snatches wildly but maybe that will come, I still think he will benefit from a top class experienced centre forward next to him next season rather than isn't having to rely on him as the most senior striker at the age of 22.
Jerome Shields
11
Posted 31/03/2019 at 12:07:43
Silva is achieving his objectives. He will see out his contract. To have Everton playing at this level in his first season is a major achievement.
This side will improve. I am not apprehensive about playing Arsenal next. I am actually looking forward to the litmus test.
Arsenal will find it more difficult to shepherd Everton down dead-end channels. Our midfield support and final-third play has improved so much.
Stan Schofield
12
Posted 31/03/2019 at 12:15:26
Derek@9: I'm not convinced that there's as much deadwood as many people think. We've been struggling as a team for some time, and when the team struggles even good players can look like deadwood. But when the team plays well, those same players can look a lot different.
I can imagine that Brands and Silva have a plan to make more use of existing players than many might imagine, particularly if the team starts gelling consistently and putting on displays like yesterday's.
Jim Harrison
13
Posted 31/03/2019 at 12:42:08
Take out that second half at Newcastle, and been a decent period. Going back to the Cardiff game, maybe the corner has been turned?'
Frank Sheppard
14
Posted 31/03/2019 at 13:09:47
Very pleased. Although we dominated 2nd hakes, Didn't kick on enough in 2nd half enough, but didn't lose the plot and capitulate either. An excellent away day performance and result.
Jay Wood
[BRZ]
15
Posted 31/03/2019 at 15:13:20
Stan @ 12.
Can't agree with your belief that there's not as much deadwood as many people think.
We have an awful lot of loan players on high wages with 2 years or more to run on their contracts that may prove difficult to shift because of the absurd salaries Everton pays them.
Sandro, Mirallas and Bolasie are the highest profile ones. Of the players at Finch Farm, Schneiderlin may have featured recently, but he is very much at the margins. Theo Walcott is possibly another unnecessary luxury.
We need the first three - minimum! - off our books to generate transfer money and free up their wages to pay incoming players.
Together with the 'natural wastage' of Jags and Baines' time coming to an end; the fact that both Kouma and Gomes are not our players; the possibility that clubs may come in for the likes of Gueye and Richarlison, and it's not difficult to see Brands and Silva will still have their work cut out to not only shape and add to the squad with ready-to-go players, but also to retain the bulk of players they genuinely want at the club.
It will be interesting to see who from the academy they wish to promote to the first team squad, also.
Tony Hill
16
Posted 31/03/2019 at 15:20:46
Keane's passing out of defence is becoming a real weapon. It's rare now that he wastes the ball. He often creates momentum for us, his pass to DCL for the missed chance being an obvious example.
Confidence is key, of course, but this chap is only 26 and he may turn out to be a top asset over many years. Not everything Koeman and Walsh did was bad.
Clive Rogers
17
Posted 31/03/2019 at 15:37:40
Tony, 16, Keane is much improved as you say. I think they must have worked on his sprinting as he seems to have speeded up since early season. His main fault now is when he has to turn. Experience should help to avoid or anticipate those situations. His strength is in the air where he excelled yesterday.
Derek Knox
18
Posted 31/03/2019 at 15:51:09
Jay @15 totally agree, I was going to respond to Stan's post but you have beaten me to it. In addition we have a lot of others on loan, who many have possibly forgotten about. Garbutt, Galloway (had high hopes for him) Pennington, Connolly, Baningime (another one I like) Tarashaj to mention just a few.
I am hoping Dowell will come good, the lad has talent, but each time he goes on loan he gets rave reviews then tends to fade out a bit. I know Forest had a change of Manager which didn't help him, but I have faith in Marcel Brands. Marco is not totally off the hook yet!
Mike Gaynes
19
Posted 31/03/2019 at 15:53:01
I'm going to call out several individual aspects of yesterday's game that haven't been mentioned.
One is Gomes' defense, of which I've been critical (OK, actually derisive). Yesterday was flat-out the best defensive performance of his career, going back through his Barcelona years. He was sharp into the tackle, winning ball after ball with perfectly timed challenges on his feet, no sliding or reaching. Only one dumb foul, and one really intelligent foul to prevent a Hammers counter. It was shocking. It was great.
Another was Coleman. Obviously his pace is back -- and to all the skeptics here who thought he was "done", hah! -- but it was his physical defensive work on Arnautovic and Antonio that really impressed me. Both are real physical handfuls, and both tried Seamus on the right side, but he muscled them off when necessary.
Tony mentioned Keane's passing, and I'd say the same about Zouma. And Picks' distribution yesterday was massively improved.
Next up is Richarlison. He was unusually indecisive on the ball yesterday, maybe because he's unaccustomed to the right side, and rarely tried to beat defenders off the dribble. But did anybody notice how often he and DCL brought down Pickford's long balls with a touch and then turned to distribute? And Rich stood up strongly to defenders on his back without once flopping onto the pitch and wailing for a foul. Instead he turned and created, and his release of Coleman for the second goal was elegant. This game was a big step in his maturity.
And finally, Bernard. So glad to see him score, because he's been working his ass off, but it was those bursts into space and those cutback dribbles that were slicing their defense to pieces. He's finally fully adjusted to the pace and physicality of the Prem. MOtM for me. Just think how good he's going to be next year.
Stan Schofield
20
Posted 31/03/2019 at 15:56:42
Jay@15: I would agree with you totally if we really knew that the players you list truly needed shifting. But I'm not convinced about who needs shifting and who needs to stay.
I think maybe Mirallis' days with us may be over, but then again who's to say how he might perform in a well functioning side? Regarding Sandro, the guy has struggled, but that doesn't necessarily mean he'll continue to struggle. Similar with Bolasie after his return from that ACL. Regarding Baines and Jags, the management have known for a long time about their twighlight stage, so we can only assume that's part of the plan.
What I'm saying is, players can come up trumps in a well functioning team like yesterday. Not long ago people wanted rid of Keane, and earlier this season Coleman. People say Kenny isn't good enough to replace Coleman, but maybe we should cut him some slack because he's come into Everton sides that have looked shite. Davies has come in for some terrible stick. I could go on.
We can be premature in our judgements in our eagerness for progress. Too often, we think the players are shite, need shipping out, when maybe they're actually very good and just need to be in a good set-up.
Mike Gaynes
21
Posted 31/03/2019 at 16:02:57
Derek #18, I wish I knew what was happening with Beni. He has played one game with Wigan. One. 90 minutes against Rotherham in February. That's it.
Connolly has started a string of games recently for Bolton.
And I don't know if you saw, but I posted something yesterday about Pennington, who apparently has been the sole bright light in a disastrous season for Ipswich. Sport Bury picked him as player of the season for them.
Stan #20, agree with your general point, but I don't think anybody's been premature about Mirallas.
Derek Knox
22
Posted 31/03/2019 at 17:37:14
Hi Mike G, yes it is strange with Beni, it doesn't seem that long ago he was a regular (ish) on the bench, for the first team. As for Pennington I am not convinced he is good enough to even be a regular squad player, Championship standard definitely.
Funnily enough too, I was reading about Mirallas who has been offered to Fiorentina (I think), for around 7M Euros, and they are not interested, so he could end up back with us.
Dave Abrahams
23
Posted 31/03/2019 at 18:09:41
Mike (21), Connolly scored the winner for Bolton yesterday, Beni hasn't been getting a game for Wigan, the reason being Wigan are still not safe from going down so Paul Cook is sticking with experienced players until they are safe.
Joe McMahon
24
Posted 31/03/2019 at 18:31:28
With a striker who can shoot more accurately it would have been 5. Just imagine if Rashford had been part of the Lukaku deal.
Tom Bowers
25
Posted 31/03/2019 at 18:49:35
Does anyone else think that RS will win the title as long as they get the last minute fluke goals. Unbelievable isn't it ????
Would love City to win the remaining seven and that our draw with RS a few weeks ago will be instrumental in RS losing it.
Mike Galley
26
Posted 31/03/2019 at 19:02:35
Don't count on it Tom. I've always said that you can't fluke the title. These look like proving me wrong!
Watched it in the Carters in Kirkby surrounded by them wearing replica tops, hats, scarves etc. One of them asked me if we 'show passion' like this at those ground.
I replied "Yes, maybe not in the pub but in the ground, yes."
Pricks!
Chris Williamson
27
Posted 31/03/2019 at 19:02:47
Never ever known anything like it, the RS are indeed the devils spawn, and the fuckin pan on klopp
Joe McMahon
28
Posted 31/03/2019 at 19:10:59
FFS, Lloris now joing Pickford in making sure the YNWA 5 Times always the victims FC win the title. It's gonna be horrible come May.
Jay Wood
[BRZ]
30
Posted 31/03/2019 at 20:28:54
Stan @ 20.
Not being someone given to being reactionary or too quick in dismissing players as being 'unfit for purpose', I don't agree with the opinion you are offering, that is:
The named players could still do a job for us in a well functioning side.
From your posts you are clearly someone who likes to apply rational and logic to your opinions.
Applying such rational and logic, is it not reasonable to conclude that Silva (and Brands) gave the likes of Mirallas, Sandro and Niasse (Bolasie was injured) every chance pre-season to impress and claim a place in the squad, but failed to do so?
Mirallas will be 32 in October. Since January 2018 he has not featured in a competitive game for Everton.
On returning to Olympiacas, a club where he is worshiped, he was one of many players the club president publicly criticized. They couldn't send him back quick enough at the end of his loan.
He has not held down a regular place for Fiorentina in Italy this season and, in spite of fishing for a permanent move, it doesn't appear as if they are willing to take him off our hands.
Sandro has not only struggled with us, he has totally, but TOTALLY, failed to revive his fortunes in La Liga, a league and culture he is familiar with.
Since joining Everton, in 54 competitive games with 3 different teams, in two seasons he has scored one single goal.
Bolasie turns 30 in May. It is 15 months since he returned from his ACL injury.
He chose himself to cut short his season long loan to Villa in January, much to the chagrin of Everton's management according to reports.
Rather than find a place for him on our roster, the club rapidly arranged another loan to Anderlecht, where he seems to be doing 'ok'.
Your examples of 'not long ago people wanted rid of Keane, and Coleman, that Kenny isn't good enough to replace Coleman' is, IMO, not the same discussion as the question of whether ageing and failing loan players can realistically return to the fold next season.
You could make a case for the loaned out players possibly if they were part of the squad at Finch Farm THIS season. They aren't. They were seen as surplus to requirements. They are not up to speed at all as to how Silva wants the team to play.
Our loaned out younger players fall under a different category. To give them valuable game time in league football they wouldn't get by remaining at FF. But you don't reference them Stan.
Now Sandro and Vlasic are similar in age and profile in that we paid for them and they are foreigners.
From what we know and how they have performed out on loan, Vlasic may fall into the category you argue for. He has a chance to join the squad next season. Sandro, I would suggest, does not.
As things currently stand we have a full roster with no vacancies. All our loaners WILL return in the summer meaning we will be overstocked with unwanted players.
I repeat, we simply have to find a way to move out players, to both generate transfer funds and free up wages. That way we can freshen up the squad as the manager desires
Jay Harris
31
Posted 31/03/2019 at 20:36:28
Does anyone else think Sala was offside for that header never mind the flukiness of LLoris spilling it onto his defender.
Including Pickfords cockup that 4 points theyve stolen that they didnt deserve.
They really must have a deal with the devil.
Jay Harris
32
Posted 31/03/2019 at 20:41:22
Back onto our lot I did think West Ham werent at the races yesterday but we absolutely tore them apart.
Thanks to the quality of our front three and some excellent MF work from Gomes and Gana the back 4 werent really troubled at all and I doubt if Pickford has ever had an easier game.
It will be a different game against Arsenal and will require patience and support if we are to continue our winning streak.
Paul Birmingham
33
Posted 31/03/2019 at 20:51:45
Great win, and weekend tarnished by Old Nicks, Omen type flukes outcome yet again at our sold ground.
Still some good signs for optimism at EFC,nin these final weeks of the season. In my view our best performance this season, and for the last few years at an away game.
Still the luck of the RS, will run out, before the season is over.
Andy Crooks
34
Posted 31/03/2019 at 21:04:43
Interesting post, Jay. I think it is bite the bullet time.
We signed some poor players on huge contracts. Gave new contracts to really,really poor players and now are funding their lifestyle. Chances have to be taken in the transfer market. Sandro is an example. However, the contract of the lamentable Mirallas is an example of incompetence that would, in the real world, result in those responsible being rendered unemployable.
I hate the phrase "dead wood" because we are talking about people here. I think we need to bring the young players back and give away the rest.
I like Bolasie and it is not his fault that an utter, out-of-his-depth, got-lucky, PE teacher – the biggest thief we have ever had (after Martinez), signed him. But we are going to take a huge hit. Let us get it over with.
Tom Bowers
35
Posted 31/03/2019 at 21:54:14
Have to agree with the posts here regarding players who are still with Everton but playing elswhere.
Most of them are tried and tested failures who weren't good enough or just didn't fit in. I suspect also there are a few others who have played this season but have also fallen short of Prem. requirements,.
Always hard to say about young prospects and whether they will progress if brought back and given time.
Sometimes one has to look at the likes of Rooney and say that if they haven't broken through by age 18 or thereabouts then they will just be fringe players or Championship fodder.
We raved for a while regarding some youngsters like Vaughan, Jeffers and even Barklay but they didn't do what we had hoped for at Everton. The same may be said of Vlasic, Dowell and Baningamee in due course.
Everton could be on a 5 game unbeaten run currently only for that pig of a second half against the Barcodes so that run could arguably be a turning point for Silva as a pointer for next season's hopes providing the right moves are made to further solidify the squad.
I don't think the likes of Niasse, Tosun nor Walcott should be part of next season.
Kevin Prytherch
36
Posted 31/03/2019 at 22:02:33
No deadwood?
We could field a team of deadwood...
Stekelenburg
Martina, Galloway, Williams, garbutt
Mirallas, Schneiderlin, Bolasie
Walcott, Sandro, Niasse
On the bench:
Tosun, McCarthy (questionable?), Besic, Tarashaj
Stan Schofield
37
Posted 31/03/2019 at 22:47:43
Jay@30: I'm not saying I'm right, only saying that we never know what the future holds. I may be talking shite, but then again maybe I'm not. None of our players are crap. We just need to organise them. If you organise them well, who knows what they can do?
There have been so many threads and posts on ToffeeWeb saying we need an overhaul, get rid of the deadwood (whatever that means, we're not pruning a fucking cherry tree!), criticising players, criticising the manager, criticising Kenwright et al. But who the fuck knows?
So far as I can see, we've got a cracking squad of players, and they just need organising.
Stan Schofield
38
Posted 31/03/2019 at 23:43:12
Kevin@36: Are you serious? About 10 of those players haven't featured anywhere near the 1st team for ages, so I can't see how they're relevant.
James Flynn
39
Posted 31/03/2019 at 23:54:04
Don Alexander
40
Posted 31/03/2019 at 00:01:44
Jay (#30), I too see getting rid of the dross (and they are dross) as being extremely expensive to us. The simplistic notion that getting rid, if it were possible, would free up wages for other signings is also way off beam in my opinion. Getting rid of these "characters" will be vital if we're to aspire, for once in recent season, to have a professional squad all singing off the same song-sheet at FF next season, but to get rid of them I suspect we'll have to pay any new club a significant portion of their bloated wages for as long as their absurd Everton contracts last, and in more than a few cases that's a very long time when we as a club, again, will have to tread water whilst the top six continue to float out of our sight.
Jay Wood
[BRZ]
41
Posted 01/04/2019 at 01:00:15
Stan @ 37.
And equally Stan, nor am I saying you are wrong and I am right. I am challenging your opinion with my own. That's all.
And I agree, none of our players are out-and-out crap. But with some of them, you can make a very reasoned and rational judgement call on whether to retain them, based on the known and a reasonable bank of data over a long time.
In the past, for example, I have defended Kevin Mirallas. Now, I see him as a liability, someone who is potentially occupying a locker on our roster and consuming a salary which could be better invested elsewhere. Given the direction his performances were going, it was folly on the club's part to offer him two quick (improved!) contract extensions when they did.
I have to say your view that we've 'got a cracking squad of players, and they just need organising' [in particular, the players popularly seen as needing to move on]' strikes me as a touch vacuous, simplistic and unrealistic.
If we followed that strategy, we would never move anyone on because we would be eternally hoping they will come good 'with a bit of organizing'.
The continual recycling and refreshing of the squad is a natural process in professional football. Players you sign in the hope they will be an asset prove to be a liability. Players who were good see their powers wane. Everton is not yet a club that (financially) can 'carry' as many players as we do who contribute nothing - absolute NOTHING - to our match day squad, but who continue to drain our financial resources.
Brands very early in his reign spoke in detail on this very issue: the need to get off the books players that are a financial drain, but who don't play.
It appears Stan you have a bit of a bee in your bonnet on this question, possibly motivated by your perception of having too many threads and posts saying we need a complete overhaul, as if it's a majority view.
I don't think that's the case at all. I'm quite sure the overwhelming majority of Blues accept we can't 'start over from scratch' and switch the whole squad. That we need to retain our better players, recruit better players to complement them, whilst thinning out those so far out on the periphery of things that they have fallen off the horizon.
To opine, as you appear to be doing, that such players need retaining 'cos we don't know what the future holds and that they will come good again with a 'bit of organizing' strikes me as optimistic in the extreme, to the point of being out-and-out folly.
Kevin Prytherch
42
Posted 01/04/2019 at 08:56:43
Stan @38,
They're all being paid by Everton, and are either not playing or not performing.
Therefore - deadwood.
And they're on around £800k in wages per week between them.
A lot of very expensive deadwood
Ray Roche
43
Posted 01/04/2019 at 09:46:59
Kevin, I think that Everton will only pay a percentage of a players wages who is out on loan and on occasions won't pay anything. They will also receive a loan fee for the player.
Do you think that Chelsea are paying Zouma's wages? Or Barcelona paying Gomes? We have paid a loan fee for those two as well because they sure as hell haven't just given them to us for a season.
Laurie Hartley
44
Posted 01/04/2019 at 10:03:41
Marcel Brands does indeed have a job on his hands selling on the players mentioned above. Probably Tosun, Walcott, Schneiderlin, McCarthy, and Besic would attract bids. The rest really are going to be hard to move on.
He has also got to find the cash to stump up for Gomes and Zouma, and a new deal for Gueye - they appear to me to be our top priorities so apart from those deals, or unless The Mosh's mate Alisher comes in with his spare £500million, I can't see us spending without selling.
The good news is that of the team that started against West Ham, only 3 of them are over 26 years of age - Coleman 30, Sigurdsson 29, and Gueye 29 and going on their performances on Saturday they have each got at least a couple off seasons left with us.
I have got a feeling that if we have a good run, in money will appear from "somewhere" - let's hope so. A win against Arsenal might be the catalyst. A big, big, game for us that one.
Stan Schofield
45
Posted 01/04/2019 at 10:18:42
Jay@41: OK, I take your point, and maybe there is a bee in my bonnet. I do think good organisation of the team is the main thing, and it's the thing we've lacked. But when there's not good organisation, there can be a tendency to blame the players, and to blame the manager, and to blame the board for being a gang of amateurs. Such criticisms are widespread when we lose badly, but none of us really knows what's wrong.
I'm not disagreeing that we need to offload players, as you say it's a natural process. But I can't consider them deadwood, that's a terrible term (IMO) for players who've been playing in a consistently dysfynctional-looking set-up.
The West Ham game was a beacon of hope against all this, and if we can continue such form then the problems of retaining the best players and replacing others will reduce. And good form like that is based on good organisation.
Russell Smith
46
Posted 01/04/2019 at 11:15:33
I think that the decisions that both Brands and Silva will make in respect of our "deadwood" will be a reflection of what they have both said they are trying to build, and that they have both stated that we need to reduce our wage bill.
They want a younger (and probably cheaper in wage terms), hungrier team, which in general the line up on Saturday was. They want forwards who are both physical and quick, hence why DCL is now being given time to grow into the centre forward role. He may or may not be the answer but over the past 5 games, including Newcastle, we have looked much better balanced with him at CF and Richarlison, another quick physical specimen, on the right.
They want a high pressing style which needs the forward players to be the first part of this method. On Saturday both DCL and Sigurdsson both pressed together quickly followed by Bernard and Richarlison.
They want central midfield players that are not only skilled but industrious, again which Gomes and Gana where on Saturday. We know Gana has and always will be industrious, but Gomes was also much more mobile and was putting his foot in more.
If this is the blue-print then it is not difficult to see which players must be on the list to move on.
The nucleus of the squad for next season should be
Goalkeepers Pickford, Virginia
Right Back Coleman, Kenny
Left Back Digne, Robinson
Centre Backs Keane, Mina, Holgate, AN other (hopefully Zouma)
Central Midfielders Gueye, Gomes, Davies, Sigurdsson, Baningamie
Wide right Richarlison, Lookman
Centre forward DCL, AN other
Wide left Bernard, Dowell
All the others could theoretically be sold to free up wages/transfer funds for the three areas where we need strengthening, although this may be more difficult than any of us imagine due to the distorted level of salaries and contract lengths that some of these players are employed under. (Sandro, Bolaisie, Schniederlin, Tosun, Walcott)
This would be the logical way of continuing to move towards the "planned" objective, which if Saturday can be replicated consistently the above "squad" wouldn't be too far off what both the managements and us the fans want.

Matthew Williams
47
Posted 01/04/2019 at 12:23:25
A superb TEAM performance finally!
Same again next week please, Blue Boys.
Oscar Huglin
48
Posted 01/04/2019 at 14:42:02
In case this hasn't already been mentioned, some good sounds coming from MS about signing Gomes after his fantastic performance this weekend:
"It is a very, very good opportunity for us," Silva said.
"Let's see what the position is of his own club, we know our position and we know Andre's position also, so let's see what we can do."
"Let's see if we can have Andre permanently in our club."
For me the most exciting takeaway from these quotes is "we know our position and we know Andre's position also" - sounds like both club and player are keen and that this going through really is going to boil down to money and Barca...
Have to say - we all lambasted Silva for dropping him after the last international break despite playing him in every game over Christmas, but he has been electric since.
Jay Wood
[BRZ]
49
Posted 01/04/2019 at 14:42:42
Stan @ 45.
I get your point about some of the 'doom and despondency' by some posters about all things Everton, but it's just venting IMO and is not to be taken seriously.
I wouldn't get hung up on a single word - 'deadwood' - as you appear to be also. The English vocabulary is what it is. And deadwood is being approprately applied in this case, I believe.
What are the alternatives? 'Leeches?' 'Parasites?' 'Freeloaders?' 'Sponges?' 'Blood-sucking-vampires?'
The truth of the matter is that in a short time successive managers have thrown a lot of money at a good number of players, given them long term contracts on inflated salaries, and too many of those players have simply not delivered. Recruitment has not been balanced or circumspect and this is the chaotic situation Brands and Silva inherited. On that they have my sympathy.
In an earlier post you railed at the use of deadwood because we are talking about people, not a cherry tree. But the analogy is a good one. You don't have to be a horticulturist to know trees - plants in general - benefit from removing deadwood and dead leaves and flowers, keeping said tree or plant healthy, and allowing new more vigorous branches and flowers to grow and bloom.
A professional football squad is no different. It is always in flux and MUST be periodically pruned and groomed to ensure it remains healthy, rather than wither and die.
And in your reply to Kevin's perfectly legitimate post @ 36 in which he puts up a complete XI, plus subs, as possible deadwood, do you not see the irony of your reply @ 38 given the point under discussion?
"Kevin@36: Are you serious? About 10 of those players haven't featured anywhere near the 1st team for ages, so I can't see how they're relevant."
They're very much relevant because Kevin's selection lists 15 players who potentially fill up squad places, at a cost (Kevin's estimate) of £800,000 per week in salaries.
It's not sustainable or realistic to retain them under the terms of your original premise, that they MAY come good playing in a more organized team.
For many of them, IMO, they have already shown themselves not to be fit for purpose and, if at all feasibly possible, we simply need them off our books.
Kevin Prytherch
50
Posted 01/04/2019 at 14:58:52
Russell 46
Looking at that squad it is easy to see where our targets are compared to those asking for a complete overhaul.
A centre back (hopefully Zouma)
A centre midfielder (hopefully Gomes)
A striker (tricky one this, someone to replace DCL, or a short term option like Giroud, Abraham on loan, or someone younger like that kid that's being compared to Mbappe)
I would personally say a wide midfielder as well as I believe that Dowell will be better in the centre. I'd also include Joe Williams in the squad.
That means a shopping list of 4 players, of which, 2 are already at the club.
Eddie Dunn
51
Posted 01/04/2019 at 15:48:09
Kevin, Giraud was unwilling to leave London to come here supposedly due to his wife's shopping habits. I liked the idea then, but now he is even older and what makes anyone think Tammy Abraham is any better than DCL?
For me Dom has improved as the season has progressed and more match time has been just what he needed. Unlike the likes of Odoi, he has kept a low profile, still not in the senior international squad and I would suggest that if he had been at Chelsea he would be taken more seriously.
Kevin Prytherch
52
Posted 01/04/2019 at 15:52:21
Eddie - I wasn't advocating someone like Abraham to replace Calvert-Lewin. It was a young temporary back up for a season while we see whether Hornby or Gordon might be able to step up. Same for Giroud, or someone similar, if he's willing for a years loan.
The last thing we need, in my opinion, is to sign someone who will block the progress of Calvert-Lewin, or someone like Tosun who'll be sat collecting big money on a 3 year contract. That's why it's tricky at the moment.
Tony Everan
53
Posted 01/04/2019 at 16:17:03
DCL is keeping a 27m striker out of the team, so buying a star striker is not going to be easy. Anything less than top class and the premier league chews them up and spits them out. I thought Higuain was going to be a hit, but even a lad of his quality is struggling.
DCL has come on again this season and will progress more . He needs to convert more of the half chances to cement his place. It will be interesting to see who Brands can bring here . A 25 goal a season striker would be a game changer for us and could get us into the top 6 maybe further [ calm down dear] .
Stan Schofield
54
Posted 01/04/2019 at 16:34:20
Jay@49: Since you ask me the question, I wouldn't choose any of those terms. In all my years of supporting Everton, I can't recall thinking of any player in such terms. My view of Everton players hasn't really changed from when I was a kid. When a player pulls on the Royal blue jersey, they're pretty much beyond my criticism of them in terms of their attitude. They might play badly, and do my head in in the process, but I simply cannot criticise their attitude. In my experience, good players perform badly either when their form drops (which it does because they're human) or when the set-up fails to use them to best effect. We have been beset with the latter problem for too long, and it has not helped the problem of bad form. Of course, nowadays, politics seems to occasionally kick in, where a team appears to have an attitude problem and down tools because they don't like the manager, but that seems to be a 'player power' issue with the modern game with so much money floating about, and I haven't really seen much evidence of such an attitude problem at Everton beyond the final days of Martinez.
Regarding the players you mention on £800k/week, the club will offload any players that Silva and Brands don't consider in their plans. There seems to be an assumption that such players will be difficult or impossible to offload, but the reality is that players do move on, usually willingly because ultimately they want to play football. Of course, the worst case scenario of not being able to transfer them is a possibility, but surely an improbable one if the management arrangements under Brands are clear enough.
So all-in-all, I agree that Brands has a problem to solve, but at the same time I think that on ToffeeWeb the problem is probably exaggerated.
James Hughes
55
Posted 01/04/2019 at 16:58:08
Stan. it may have changed but in most cases players who sign a contract get it paid unless they ask for a transfer. For players not in the squad regularly they either sit tight or look to move.
There are cases were a settlement can be agreed, usually 50% of the remaining value of the deal is paid to the player.
There also quite a few cases were players refuse to move or settle and sit there nice and tight. I struggle with the concept that somebody,say Mirralas, would agree a deal and move on for game time. He has played very little football over the past few years, so might not be that bothered.
At £800k per week that is worrying for us.
Kieran Kinsella
56
Posted 01/04/2019 at 17:27:47
Holgate is the only loanee I would definitely keep. I haven't seen enough of Williams to judge and am on the fence regarding Penn, Conn, Dowell.
Kevin Prytherch
57
Posted 01/04/2019 at 17:31:58
Stan 54
I'd hazard a guess that Brands tried to move Sandro, Williams, Besic, Bolasie, Martina and Mirallas on in the summer but couldn't find any suitors, hence why they have all ended up on loan, saving us a chunk of their wages in the process.
Stan Schofield
58
Posted 01/04/2019 at 17:50:02
Kevin, exactly, that's surely an example of moving on, albeit temporarily rather than a transfer, to free up money. By the way, I'm sure suitors could always be found for a transfer, but not necessarily at the price Everton would ask.
Jamie Crowley
59
Posted 01/04/2019 at 18:01:43
Kevin @36 -
Would that team avoid the drop? I wonder.
Andy Crooks @34 -
I couldn't agree more. It's time to cut the cord and move on, inasmuch as it's possible. Even if we take an economic hit for doing so, I think it would be in our benefit long term. Spot on.
Kevin Prytherch
60
Posted 01/04/2019 at 18:14:53
Jamie 59
How about that team vs the youngsters - who would win? Who would survive relegation?
Stekelenburg
Martina, Williams, Galloway, Garbutt
Mirallas, Schneiderlin, Bolasie
Sandro, Tosun, Niasse
Vs
Virginia
Kenny, Holgate, Feeney, Robinson
Davies, Williams, Dowell
Vlasic, Calvert-Lewin, Lookman
Steve Ferns
61
Posted 01/04/2019 at 18:44:03
Expect the cull to continue. Silva has made it clear he wants a smaller squad. I also think Brands doesn't want the current system of more players out on loan than in the first team squad, certainly not those over 23 anyway.
Silva feels that he can't work with more than 25 or so players. Probably in the same way teachers moan about teaching big classes.
I think if we cull enough that some of the "deadwood" come back into the first team squad of 25, then we might be surprised by a resurgence or two. For example, I cannot see how it is possible to offload Schniederlin. He costs £23,000,000 and picks up £120,000 per week, or £6,200,000 a year. Who's going to pay those wages for the next two years? Who's going to do that and give us some money on top as a transfer fee? I can't see anyone. So, he continues to be a (very expensive) squad player, as he is right now. I'm not saying he suddenly can become busquets, but maybe with better players around him, and some inspiring coaching, he can get back to his best and contribute more.
Bolasie and McCarthy are all about recovery. It appears to me that I and others wrote Coleman off a bit too early. Perhaps, Bolasie and McCarthy also need time and then they can overcome their own career threatening injuries. Granted, Bolasie is a limited player for me, but McCarthy was a big favorite of mine when partnered with Barry. If that McCarthy can be restored, then that energy and drive could work well with Gomes. This would mean that if Gueye does leave for PSG in the summer then we don't need to him and can spend the money on a different type of midfielder.
Brands has a few headaches to sort out in the summer, but I'm optimistic he'll get things sorted and learn lessons from Walsh's reign and not repeat the same mistakes.
Brian Harrison
62
Posted 01/04/2019 at 19:08:59
Alan Myers our former head of communications has just tweeted the club have released a statement it says. The Club has been made aware of an alleged incident involving one of our players and we are looking into the matter. Alan Myers or the club don't mention the player but according to social media its Jordan Pickford.
Eddie Dunn
63
Posted 01/04/2019 at 19:15:37
Kevin#52, yes I thought you meant that. Would it be worth getting someone like Giraud or Lorente as a stop-gap or splash a bit of cash on Rondon or Mitrovic. Both won't cost the earth but are decent pros with life in their legs. If we did manage to get 7th and Europa footy, we would need another target man.
Paul Burns
64
Posted 01/04/2019 at 20:06:52
One half decent performance isn't a beacon of hope, winning the Micky Mouse cup would be.
Jamie Crowley
65
Posted 01/04/2019 at 22:02:03
Kevin -
Oddly enough, I think the group of veterans win most heads up games, but the youngsters would stand a better chance of survival.
The younger kids play with heart, and don't put it in cruise control. I could see them battling to safety.
The older players are jaded often, and can't be arsed. They have more talent (presently! only more talent from experience and not "raw talent"), but I think they'd be more apt to "pack it in" as it were.
Who knows? Interesting!
Dave Abrahams
66
Posted 02/04/2019 at 12:01:00
Kevin (60), do a little bit of cheating, swop Bolasie for Dowell, and I think the youngsters would piss it.
Bob Parrington
67
Posted 03/04/2019 at 11:42:43
Whatever happened to the contractual rights of the employer? If you don't perform as an employee then go take a ride - you haven't fulfilled your side of the contract!
So, you go with no compensation other than untaken annual leave etc?????
Some of these players are taking their employer (Everton FC) for a ride! Frankly, that pussy-foot situation pees me off. Do the job or go!
Or am I delusional? Ant body else feel this way?

Add Your Comments
In order to post a comment, you need to be logged in as a registered user of the site.
Or Sign up as a ToffeeWeb Member — it's free, takes just a few minutes and will allow you to post your comments on articles and Talking Points submissions across the site.