Silva: It wasn't a good game for us at all
Saturday, 13 April, 2019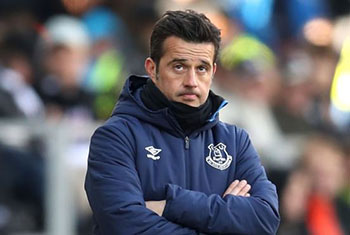 Marco Silva was forced to concede that his team failed to adequately compete against Fulham today in Everton's dismal 2-0 defeat at Craven Cottage.
The Blues turned in one of their worst displays of the campaign becoming only the second team after Huddersfield not to score against the Cottagers this season and spurned the chance to record a fourth successive win.
After a disappointing first half in which Aleksander Mitrovic had hit the bar amd forced a good save from Jordan Pickford, Everton fell behind within 30 seconds of the start of the second period when Ryan Babel set up Tom Cairney to score.
Dominic Calvert-Lewin squandered a gilt-edged chance to equalise when put into the clear by Gylfi Sigurdsson before Babel sprinted away to double the lead and effectively kill Everton off.
"It was a disappointing result," Silva admitted afterwards. "We didn't perform the way we want or the way we expect.
"We knew before the match and we spoke in the dressing room before how difficult it is to play here always. For us it's not important that they were just relegated — they always put big pressure on the player with the ball.
"in the first half, we didn't play really fast or cause them big problems. We had one or two transitions and we had one or two chances but it was not a good first half, that is clear.
"We tried to change something at half time but when they score in the first minute when we are not aggressive at all it makes a difference. Of course, we had a very chance to change the game for us with Dominic one-v-one with the goalkeeper. We didn't score and then they go and score again.
"It wasn't a good game for us at all — I think they were more aggressive than us and faster than us."
---
Reader Comments (45)
Note: the following content is not moderated or vetted by the site owners at the time of submission. Comments are the responsibility of the poster. Disclaimer
Kevin Molloy
1
Posted 13/04/2019 at 20:48:51
we've got good individuals here who are capable of raising their game and matching the best. But what they are not, is a team.
Peter Mills
2
Posted 13/04/2019 at 20:56:30
Our manager confounds me. He has got the team going over recent weeks, fair play, but when things are going badly in a game he appears to be unable to spot the causes and bring about the necessary changes.

Jerome Shields
3
Posted 13/04/2019 at 21:10:15
Silva actually trying to put a gloss on the performance. I would have preferred he told the truth. How can a team who played so well in the last two games, play so badly?
Welcome to Everton, Marco, the land of the suffering.
Dave Abrahams
5
Posted 13/04/2019 at 21:38:11
Peter, you will not be the only one confounded by the utterings of Silva, "We spoke in the dressing room before the game how difficult it is to play here, they always put big pressure on the man with the ball" Well Everton were one of the very few teams to find that out, and when they did, they just let them get on with it and offered little in return.
As you say he deserves praise for the last couple of weeks, which he got in abundance, today he was gripped by inertia, which usually happens to him when we go a goal down.
Dave Lynch
6
Posted 13/04/2019 at 22:07:56
Dificult to play there Marco?
How many games have they won at home this season? How many goals have they conceded?
Fuck off mate will ya!
Kase Chow
7
Posted 13/04/2019 at 22:24:38
Crap result
We almost always fold when the expectation is on
Derek Knox
8
Posted 13/04/2019 at 22:33:59
I have to agree with all the comments thus far, Silva identifies the threats after the event, surely as manager it is his job to assess the opposition, and formulate an appropriate game plan. Rather he goes in with the attitude that this team was good enough to beat Arsenal, Chelsea and West Ham, so they should dispose of relegated Fulham.
Having said that, it baffles me how if one player appears to be below par, they all follow suit, and furthermore, Silva must be able to see it, and leaves the possibility of substitutes, to alter or influence the game, till it is far too late to have any effect.
Dick Fearon
9
Posted 13/04/2019 at 22:41:29
I wish a pundit would ask Silva whether or not his game plan or substitutions had any bearing on the result.
His latest explanation casts blame on everyone bar himself.
Danny Broderick
10
Posted 13/04/2019 at 23:46:46
There is one word I am sick of hearing that we lack, and that is 'aggression'. Ever since Moyes left, we have lost our fight. Koeman was always banging on about this, and nothing has changed. Aggression should be like hard work, or will to win. Any player lacking aggression should hang his head in shame. We have half a dozen who lack aggression.
We are crying out for a leader. It doesn't have to be the best player in the world - Troy Deeney does it for Watford. Anyone having an off game, or not putting themselves about, and he is on them. Where is our Neville/Cahill etc?
When the going gets tough, our players wilt. We are never going to get anywhere with these nice players we have got. Backbone is severely lacking. How can you beat Arsenal and Chelsea and then lose to Fulham for God's sake?
Andrew Presly
11
Posted 14/04/2019 at 01:00:19
It was so boring watching that today. Just really really boring.
Jay Harris
12
Posted 14/04/2019 at 03:46:39
Danny,
Can I just correct you its all 11 not just half a dozen.
All of our players were second best today and did not play with any commitment or conviction from the first whistle.
As for the managers utterings they were just as shite.
I would give him to the end of the season but could not go through another season like this.
Brian Porter
13
Posted 14/04/2019 at 06:45:21
Silva's pressers remind me so much of Roberto. In other words, a load of bollocks.
Jim Bennings
14
Posted 14/04/2019 at 06:58:02
It was just collectively a load of rubbish, it's hard to lay the blame solely on Silva.
He picked the same team and they just didn't bother turning up in West London yesterday simple as.
Too many times we've seen this type of performance over the years with Everton, I recall under Moyes when we went to Wolves in May 2012 and they had lost NINE consecutive home games but held us to a 0-0 draw.
Yesterday proved again, well no not just yesterday but even last week and at West Ham, that we just aren't clinical in the final third and don't work the opposition keeper anything like enough.
We can say DCL works his bollox off, he does, he will put a real shift in for you, but he's just not a clinical striker, if he was then he'd have celebrated a hat trick at West Ham.
I look at the team and there still isn't enough goals in the mix outside of Sigurdsson and Richarlison.
Bernard is a beautiful footballer absolutely beautiful but if only he could finish more then he'd be the best thing since sliced bread.
Gomes is either amazing or absolutely abject, still throws in far too many performances like yesterday when question marks over mentality arise again.
Siggy has ran out of goals but it's hard to knock 13 from midfield isn't it, especially when no one else scores many.
Richarlison had one of his "just no" games again yesterday.
Lookman came on and as per usual did zilch, does he ever come on and do much or is it just me?
Walcott and Tosun were just, well Walcott and Tosun of 2018/19, enough said!
I'd like to say I was shocked by outcome but I've seen it too many times with this club over the years, too many false dawns and never any change.
Derek Thomas
15
Posted 14/04/2019 at 08:31:26
When your team consists of, can't play, won't play and plain too old, and your bench is much the same, well what do you do.
The same 12 players started Vs Chelsea, W Ham and Arsenal. This was all good, continuity etc. Jagielka came in at short notice and did very well, earned his place for the next game, this shows the bench see, you do well, you reap the reward. So far, perfect manager theory 101.
Up to them going on the field Silva seemed to have got it spot on. I mean how hard can it be? what else have you got to do?...Same again lads, you all know the drill by now, etc.
Firstly the players have to look at themselves. Also Silva must too, based on the first 20 mins Jagielka was a liability. Silva must harden up and stop being Mr Nice Guy.
We hung (luckily) on until half time, then there should've been major ructions in the dressing rooms, hairdryers AND tea cups kicked all about. Players left in no doubt about what will and will not do.
It was that bad the live forum was clutching at the Mourinho straw, who was just sat there in cognito, as a spectator.
Jim Bennings
16
Posted 14/04/2019 at 08:38:34
Derek
Watching the first half unfold it became clear by the 35 minute mark that it was a matter of time before Fulham scored, it was a miracle we got in at half time goalless.
Not one of our players was at the races and from the first minute with Pickford dicking about belting the ball at Jagielka it looked like being one of those days.
As I've said before, we've seen too many of these types of result and from Everton over the years under various management teams, it's a poor attitude and poor application that does it.
There seems to be no real standards set by the men at the top at Everton Football Club, no demand for success like that lot across the park for example and that's why these types of horror shows frequently come about.
Until standards are raised and people start looking at the club motto then I'd expect more like yesterday over the coming years, it's par for the course.
Tony Everan
17
Posted 14/04/2019 at 10:20:55
If we get beaten by brilliant football, youhave to take it on the chin and say well done to the opposition.
But if we get beaten by being less aggressive, less desire and slower to the ball than the likes of Fulham something is seriously wrong.
They were more fired up and more motivated. It is Silva's responsibility to make sure we match it at least or hopefully better it.
Not every now and again, but every single week, without fail and no excuses. When did Liverpool last look less motivated and play without desire? Not having the players fired up every week is the hallmark of mediocrity. Our club and fans demand more, being outfought and having less desire is unacceptable.
Whoever we play and whenever we play, if we cant match these fundamentals we will lose.
When will Everton learn that battles need to be won by matching or bettering opponents desire and aggression. Only then will superior footballers win the day.
Sean Kelly
18
Posted 14/04/2019 at 10:26:16
No shit, Sherlock!
Pat Kelly
19
Posted 14/04/2019 at 10:27:33
The message from the owner is that this is acceptable. Silva has his full support. Don't expect too much. The players, like the manager, realise they aren't under any pressure. Everything is calm in the doldrums. So long as the club stays in the PL that's all that matters financially. The wherewithal isn't there to go to the next level.
Clive Rogers
20
Posted 14/04/2019 at 11:03:50
Mitrovic had 7 shots on goal before half time. The comparison says it all really.
Frank Crewe
21
Posted 14/04/2019 at 11:33:17
Silva should have subbed Jags for Keane at half time. He would have handled Mitrovic better. Silva needs to be more active when it's going pear-shaped and not just stand there staring at the ground.
James Stewart
22
Posted 14/04/2019 at 11:52:42
"We tried to change something at half-time."
Tried what? @21 Exactly. Anyone who saw that first half could see Jags was toast. So what does Silva do? Sweet fuck-all. Who knows if Keane would have made the difference? I suspect not, but at least it would have been some reaction to a shameful first 45.
Ken Kneale
23
Posted 14/04/2019 at 11:56:49
This guy is a one-trick pony who does not seem to reflect on his own performance. His failure to instil a tougher mentality on this squad after three-quarters of a season shows why he is never going to be our long term manager if we really want to succeed.
He is, as Pat (19) points out, simply part of the malaise that has afflicted this club for 30 years. I would add, I remain of the view that the players themselves are gutless in his defence... but his inability to turn games around is down to him.
Frank Crewe
24
Posted 14/04/2019 at 12:20:33
@23
"This guy is a one-trick pony who does not seem to reflect on his own performance."
All managers do that. Judging by post match comments well beaten managers never seem to see the same match the fans saw and they certainly never own up to mistakes they made regarding tactics, subs etc. that may have contributed to that defeat.
I do wonder though after the mistaken subs he made in the Newcastle game by taking Richarlison off for Mina after they made it 2-1. It cost him in that game. So he may have been hesitant to make changes.
John Raftery
25
Posted 14/04/2019 at 13:05:38
I suggest the culpability for yesterday's performance rests with more the players than the manager. It is often said confidence is key in football. The problem is that confidence can quickly descend into arrogance and then complacency. After three successive wins it looked yesterday as though our players now believed they were an elite team which could afford to start slowly against the second worst team in the league. The players are nowhere near good enough to approach any game with that sort of 'big head' attitude.
If Silva had changed the starting line-up yesterday he would have been criticised for departing from that tired old mantra 'never change a winning team'. The problem with that mantra is that a winning team is not always the strongest team. I was very surprised he did not restore Keane to the starting line-up.
Rob Halligan
26
Posted 14/04/2019 at 13:36:13
I pretty much endorse what John # 25, says.
I said before we played Chelsea a few weeks back, that it was better we were playing the likes of Chelsea, Arsenal and Man Utd at home, rather than teams around us or near the bottom. By this I mean it would have kept the team fully focused on the match, and in turn help produce a good performance, after all we didn't want to be getting hammered by these teams. As it turned out, along with the good performance and result at West Ham, we did get good results, along with the performance against Chelsea and Arsenal.
Yesterday, however, it was probably over coincidence and complacency going into the match, which was our downfall. As John said on another thread, it was just as hard to pick our worst performer yesterday, as it had been our best performer from the last three games. Anyone of nine or ten could have qualified for worst player yesterday.
Hopefully next week man Utd can bring out the best in our team, and prove we can compete against the so called top six teams.
Just one final thing, when we got back into lime street last night, we went to Wetherspoons over the road. There was a girl there, a Man Utd fan, who had been to old Trafford. I asked her who she wanted to win the league, and what result she wanted in the forthcoming derby match. Naturally, she wants city to win the league and also city to win their derby match. She said this was pretty much the feelings of all United fans, certainly the ones who sit around her at Old Trafford. Just hope she's right.
Paul Tran
27
Posted 14/04/2019 at 13:56:56
The three previous good performances saw energetic pressing from the off, straight in the opposition's faces. This should be the bare minimum every game.
None of that yesterday. I went on Betfair after ten minutes; it was a matter of time until we went behind. In the old days the striker who many disliked would bale us out with a goal or two, but we haven't replaced him, so there's no outlet.
Somebody needs to grab this club and impose some winning habits and standards. By all means let's slate the players, but it's the management's job to organise & motivate the players consistently.
Ken Kneale
28
Posted 14/04/2019 at 14:20:16
Paul 27 - it truly is he managers role to motivate and this guy has had long enough to show at least some idea of his mettle - the complete lack of second half turnabout and change of personnel sadly shows he is not up to the job. This Club is mired in mediocrity at all levels sadly after 30 years of inertia
John Audsley
29
Posted 14/04/2019 at 14:31:39
Too many players who don't turn up and, when we go a goal behind, mentally collapse.

I don't understand Silva, we play so well at West Ham and then collapse pathetically at Fulham.
It's a mental thing: until he fixes this issue, we are going nowhere.
Jay Harris
30
Posted 14/04/2019 at 16:30:22
I just have one word desire.
They had it we didn't and until we instil desire into the club we will never get anywhere.
With the teams around us having games in hand we blew our chance at competing for 7th as if that wasn't enough incentive.
Everton never cease to let you down.
Brian Wilkinson
31
Posted 14/04/2019 at 21:04:34
Come on Guys, Jags had to do a Days shift for the season ticket holder, must have worked his plums off to put in that performance Saturday, but like others have said, hard to single anyone out for praise.
Just a bad Day at the office, move on to our next match, wheel the siren out and hopefully operation Goodison will kick in.
Derek Cowell
32
Posted 14/04/2019 at 23:24:24
I'm putting money on Benteke to score against us when we play Palace away. He hasnt scored in open play since January 2018 according to motd so its a nap!! Any team who needs a win or any striker who needs a goal after a long drought and we are always that gift horse coming to town, always!!
Derek Cowell
33
Posted 14/04/2019 at 23:43:23
We have always been so inconsistent. Even our greatest side from 84 to 89 despite 2 titles, an FA Cup and a Eufa Cup still managed to throw away a title and lose a League Cup final and 3 FA Cup finals. Out of 9 trophies we still lost 5 of them!
Roman Sidey
34
Posted 15/04/2019 at 00:07:50
It's as if the players are content to just have the fans slightly off their backs. A few good results, relegation no longer a possibility, and they decide they don't need to put in a shift.
Say what you want about Silva, but it wasn't him out on the field miss-trapping the ball over the sideline, kicking the ball nowhere near its target, or mistaking Mitrovic's shadow for the player when trying to mark him.
I've supported Everton since 2002, and yesterday is more the norm for my experience following the club than the exception. I'd say it's been nothing but disappointment since about January 2005. I'll never support another team in the Premier League, but I'm beginning to wonder if it's really all worth it anymore.
Alan J Thompson
35
Posted 15/04/2019 at 05:42:06
Roman(#34); Quite right, it wasn't Silva out there not properly controlling the ball, passing to nobody because nobody wanted it or not marking properly. But it was him stood on the sideline with the ability to substitute at least some of those players or even just those players who seemed completely disinterested but he didn't, nor did he seem to want to change tactics that weren't working. He did nothing despite having the ability and responsibility so to do, it is part of the reason he is there. Or does he also not understand why they did so well the week before. 3M pa + bonuses, is it, for what, having no idea if not to improve it at least change the players at fault. Oh yeah, that's right, he inherited a shambles of a squad and only had time and/or funds to sign six players.
I'm sorry but too many excuses are being found every time we return to what seems, overall, to be the norm for the season.
Martin Berry
36
Posted 15/04/2019 at 08:51:43
In some games you have to ditch the no 10 to get control of the midfield.
I would be very interested to see how it works with a Gueye/Gomes/Davies axis like Joe's dogs of war.
Eddie Dunn
37
Posted 15/04/2019 at 09:21:57
I was working in London all weekend- thank god I didn't waste my time going to the match. So often the complacency surfaces when we play so-called lesser teams. Why can't this lot and the coach get geed-up for this kind of match? It's so frustrating and we have witnessed similar performances for ages. It is obviously down to the players who can motivate themselves to put in a proper shift against Arsenal, but for the possibly worst team in the PL we lose by two- pathetic.
John Boswell
38
Posted 15/04/2019 at 09:38:10
Shocking performance at Fulham, terrible result, heads should roll, so who should be disciplined and dropped for next Sundays game. Who should be brought into the side, what shape should we set up and who gets to sit on the bench to provide options during the match.
I was not at the game last Sunday but followed it on the live forum. To me the consensus of opinion was that Everton failed to control the midfield. So why did Silva make the changes that he did? Was he making a point to the board about summer recruitment? Just asking, COYB.
Anthony Murphy
39
Posted 15/04/2019 at 11:04:07
I've seen enough to think we need to back the manager next season. I do worry however that he'll run out of time and patience from a fan perspective if we see more shambolic performances like this early next season. If we get off to a difficult and inconsistent start with poor performances propped up by the odd good one, I think fans will lose faith completely. This season can be excused as a 'free hit' given what had gone before but not next.
Dave White
40
Posted 15/04/2019 at 11:12:50
Am I the only one who thinks Mitrovic would be a cracking addition to our squad. He battered Jags and Zouma yesterday and it's not the first time he's done that to defences. With Fulham heading to the championship there's got to be a chance to get him. And he's only 24.
Ps Andre Gomes should be making a formal apology for what he did to Mitrovic, I can't call it a tackle, it was more of an assault. Embarrassing to see one of our own doing that.
Bill Watson
41
Posted 15/04/2019 at 12:38:32
The blame for Saturday's shambolic performance rests entirely with Silva. Changes needed to be made and he did nothing until late in the game when his substitutions were just like for like and gave Fulham nothing different to cope with.
He seems incapable of being able to change a game, when things aren't working, as we have seen at Southampton, Brighton, Millwall, Newcastle and now Fulham and the home matches v Huddersfield, West Ham, 'Spurs, and Wolves. These are just off the top of my head; there are probably other games I've wiped from my memory bank!
When the side clicks as v Arsenal and West Ham and the first half v Newcastle and second half v Chelsea we look a top class outfit but in far too many games we just aren't at the races and questions should be asked as to why that is.
The buck stops with Silva. That's his job and if he can't hack it he should be moved on. This seems unlikely to happen, this season, but we can't allow another shambolic season like this. He will start next season but if the same pattern emerges he should be moved on, sharpish.
How many other 'top' clubs would put up with the sort of stuff we had to endure last Saturday? It was a total embarrassment and shouldn't be tolerated at any club with an ounce of ambition.
Dave Abrahams
42
Posted 15/04/2019 at 13:04:10
Who, apart from Duncan Ferguson, are Silva's assistant coaches, I don't know the names of any of them, couldn't put a face to them if I did, have they always been with Silva, more importantly are they any good, what have any of them ever done that is noteworthy, do any of them get angry and have a go at the players, or are they like Silva, just think angry thoughts, the players are getting away with murder and being paid Brewsters while they are at it. Are there any vacancies, I wouldn't mind a stab at that.
Eddie Dunn
43
Posted 15/04/2019 at 16:00:39
Dave- I have often wondered who the heck thses guys are and what credentials they have. I presume it is visible somewhere on the official site.
Frank McGregor
44
Posted 15/04/2019 at 16:13:08
dup
Dave Abrahams
45
Posted 15/04/2019 at 16:20:22
Eddie (43), Steve Ferns is usually up to date with pieces of knowledge like this, beside the tactical side of the game, maybe he will fill us in if he reads this post.
I think he mentioned the goalkeeping coach's name, but it has come and gone in my head.
Brian Harrison
46
Posted 15/04/2019 at 17:01:17
Dave
The coaches at Everton under Marco Silva are his assistant is Joao Pedro Sousa who joined Silva when he took over at Estoril. Fitness coach is Pedro Conceiao again joined Silva when at Estoril. Goalkeeper coach is Hugo Olivera he was G/K coach at Benfica for 6 years and was also the Portuguese national team G/K under Carlos Queiroz.
I guess unless you could get inside Finch Farm, then I have no idea if they are shouters or not.
The only other first team coach is Duncan Ferguson.
Add Your Comments
In order to post a comment, you need to be logged in as a registered user of the site.
Or Sign up as a ToffeeWeb Member — it's free, takes just a few minutes and will allow you to post your comments on articles and Talking Points submissions across the site.