Holy Trinity statue unveiled outside Goodison Park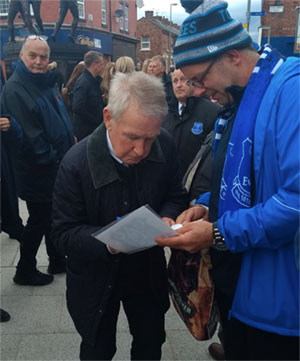 Jamie Taylor(@jamie_taylor_63)
Everton reveal the new statue dedicated to playing legends Colin Harvey, Howard Kendall and Alan Ball today Friday's home game against Burnley.
The statue depicting Colin Harvey, Howard Kendall and Alan Ball was installed on Goodison Road earlier this week and was officially unveiled at 5pm this afternoon.
Harvey, the last surviving member of the Toffees' most famous midfield contingent, was on hand to sign autographs after big reveal. The families of Kendall and Ball were also in attendance to see their loved ones recognised with the statue that stands outside St Luke's Church.
Kendall, Harvey and Ball formed a magical partnership in Everton's midfield in the 1960s and 1970s and were crucial to the club's title triumph in 1970. Though Ball was controversially sold to Arsenal in 1971 and would make a name for himself as a manager elsewhere, both Kendall and Harvey would go on to coach and manage Everton, initially in partnership during the spectacularly successful mid- to late-1980s and then separately in the 1990s.
Gary Evans, chair of the Everton Fans' Forum which has been a driving force behind having the statue commissioned and installed said earlier this week: "The idea came about through a combination of things. The iconic image of Ball, Kendall and Harvey used on the main stand got fans talking about their successes and when Howard Kendall sadly passed away, this seemed to galvanise fans and the Club even more to think of a way to honour them.
"I think that the statue will become a new meeting place for fans before the game. Its location means that as people walk toward the ground on the Goodison Road side, no matter which street they use, they should get a glimpse of the statue, and a reminder of our achievements as a club."
---
Reader Comments (44)
Note: the following content is not moderated or vetted by the site owners at the time of submission. Comments are the responsibility of the poster. Disclaimer
Bobby Mallon
1
Posted 01/05/2019 at 20:56:36
I hope it does the best midfielders (never to be talked about) justice.
Eric Myles
2
Posted 02/05/2019 at 00:26:51
Long overdue.
Gerry Killen
3
Posted 02/05/2019 at 01:42:07
I was lucky enough to have seen the Holy Trinity in action and words can do them no justice really. They were on a level over and above any other team in the land.

Whenever the ball went to any of them there was a sense that something was going to happen, got you on the edge of your seats, you didnt want to miss a single moment. If you wanted to go to the toilet you would force yourself to hang on till the whistle went in case you missed anything.

I'll never foget the night we won the Title, the crowd wouldt move till the players came out to wave to the crowd.

I just hope and pray all our younger fans will one day experience a team that will raise their spirits in the same way. COYB
Stan Schofield
4
Posted 02/05/2019 at 10:04:06
I was lucky and privileged to see them. They were arguably the best midfield in the world at the time, rivalling Brazil's 1970 midfield.
Gerry, that was a great night. I was in Goodison Road with my dad, and it was announced that the trophy would be presented on the Goodison Road stand. As a result, people on the terraces moved forward to get a look, and we were at the front by the wall, so ended up on the pitch. Our only time on the hallowed turf. Brilliant.
Tony Hill
5
Posted 02/05/2019 at 11:13:11
Harvey's goal that night was lovely and typical of him. He was my favourite always but the three of them were magnificent.
Brian Murray
6
Posted 02/05/2019 at 12:00:44
My dad threw me on the pitch that night. Besides getting a chunk of turf after Big Bob's 30th goal, that's the only time I've been on the pitch. Now. It's a hanging offence.
Shame money rules the game now but I'm sure we can still ruffle a few feathers next season, starting with at least 4 points off the Shiesters to derail them.
John Raftery
7
Posted 02/05/2019 at 12:35:38
All three turned football into poetry. At a time when teams increasingly were turning to destructive midfielders, our trio stood out as outstanding pass-and-move players. They would have thrived in the modern game with its pristine pitches and punishment of foul tackles.
Derek Knox
8
Posted 02/05/2019 at 13:12:07
What will happen to all the statues when we move to Bramley-Moore Dock? Or does this mean we are not moving now?
Stan Schofield
9
Posted 02/05/2019 at 13:21:00
Derek, no doubt the statues will be moved to Bramley-Moore Dock.
Peter Mills
10
Posted 02/05/2019 at 14:06:50
What would they be worth now?
Ball £110m?
Kendall £80m?
Harvey £80m?
Derek Knox
11
Posted 02/05/2019 at 14:15:16
Thanks Stan!
Stan Schofield
12
Posted 02/05/2019 at 14:23:55
Derek, I know I stated the obvious there!
Stan Schofield
13
Posted 02/05/2019 at 14:27:20
Peter, I would say far more judging by the fees for some of the so-called top players these days. If Pogba was £80M, Ball would surely be double that, with Harvey and Kendall greater than £100M.
Peter Mills
15
Posted 02/05/2019 at 14:43:43
Interesting thoughts, Stan. I have no doubt that all 3 would adapt to the modern game, indeed it would probably suit them better.
We were fortunate indeed to see them play.
David Pearl
16
Posted 02/05/2019 at 21:07:44
Well, I will have to be content with having seen Reid Bracewell Steven and Sheedy (sheedy, sheedy). Shame we don't have proper highlights of that era. A few more years of Siggy Gana and Gomez will do for this generation if we can add the goals ahead of them. You have to be proud of our history and equally as frustrated at the near misses.
Peter Mills
17
Posted 02/05/2019 at 21:43:35
David#16, we were very fortunate to see those guys too!
Jamie Evans
18
Posted 03/05/2019 at 18:50:39
Goosebumps on my goosebumps at the unveiling earlier on. Great words from all who spoke, particularly Derek Temple.
And how much does Bally's son sound like the great man?!
Anthony Murphy
19
Posted 03/05/2019 at 23:08:40
Derek #8, I read somewhere the statue would be staying put as part of the Goodison legacy.
Peter Mills
20
Posted 03/05/2019 at 23:41:02
It's impressive.
Steve Ferns
21
Posted 03/05/2019 at 00:04:25
Derek Temple was in the People's Club tonight. He made the following remark, "They should have made Alan Ball be the one facing the bookies!"
Bill Watson
22
Posted 04/05/2019 at 01:53:43
The best midfield trio bar none!
Harvey, one England cap, and Kendall, no England caps, at all. Both of then would walk into the current England side.
Derek Thomas
23
Posted 04/05/2019 at 03:02:15
Stan @ 4; I echo everything you say. That team won the League with 2 games to spare. They'd all be worth more than the overpriced Pogba.
The nearest team I've seen to the 69 -70 team is the current City team and I have a sneaky feeling that given the way of the football world now, one or more of them would be, by now, in that City team.
Ron Marr
24
Posted 04/05/2019 at 05:11:00
I was there for the WBA game in 1970. We were so fortunate to have seen such great players. I hope the younger fans who have endured mostly shite or mediocrity for the last 30 years will get to see their Ball, Kendall and Harvey.
Brian Murray
25
Posted 04/05/2019 at 06:51:03
Criminal the way we drifted through the 70s, I hardly missed a game but for most part we had some great support home and away.
Unfortunately, we don't do dynasties and failure to get Clough and Shilton proved costly. Anyway, I'm sure we are on the march again once a striker or a wide or forward player can be found to help Richarlison and Co get into double figures will make all the difference. Cmon City 👌
Alan McGuffog
26
Posted 04/05/2019 at 06:58:59
Agreed Derek although I would substitute 1968-69, for 1969-70. The football in 68-69 was sublime, the best club football I've ever seen. The following year was special, obviously, and we added a bit more "steel", and were able to grind out results when needed. Think we had a fair few one nil wins. Halcyon days.
Paul Burns
27
Posted 04/05/2019 at 07:08:47
Everton won more league points than anyone else in the much vaunted decade of the 1960's, a fact which is pretty invisible because no unbiased journalism exists any more and hasn't for a long time.
That deserves a statue on its own and another for winning the 20th century league.
We'll have to build 2 new grounds because we're running out of space for them.
Derek Thomas
28
Posted 04/05/2019 at 10:04:25
Alan @ 26: So very true; I was going to mention that, but got the hurry up off the missus and had to post what I had as we were on our way out.
Stan Schofield
29
Posted 04/05/2019 at 10:35:19
Alan@26: Definitely. The football we played in that season was fantastic. When the subject of Everton crops up with supporters of other teams, and they remark about our being midtable compared with Liverpool, I always relate the great Everton sides, particularly the 60s ones in terms of pure quality of football. I tell them we were the then equivalent of today's Man City, but they always express disbelief. The only other supporters who understand and know the history are Utd, City, Arsenal etc supporters of the same vintage as myself, who witnessed the football of the 60s. I was speaking to an old City supporter only the other day, who's in 7th heaven currently, but who remembers clearly their 68 title win and the fine team they had, and recalls how good we were, particularly Ball, Harvey and Kendall.
Alan J Thompson
30
Posted 04/05/2019 at 11:30:29
A midfield that not only could take on and beat players but quite often did. If you didn't see them you won't believe it, truly magnificent!
Dave Abrahams
31
Posted 04/05/2019 at 18:46:20
Steve (21), nice one and maybe a bit of truth in that and one of the reasons he left Everton.
Ron Marr
32
Posted 04/05/2019 at 20:34:18
Players gambling ? No surprise there. In 1986 I was in the Liverpool players lounge with my Red fan nephew before a game, and Ian Rush and Steve McMahon we're betting with each other on the horse racing on the Lounge tv
Andy Meighan
33
Posted 04/05/2019 at 20:46:57
Steve @21,
Good one, that. I was lucky enough to have seen them a few times in 69-70. Being only 10, my memories are of Bally and his shock of red hair and being my absolute idol right down to his E-Type Jag. The man to me was a genius.
As for Howard and Colin, well... what can you say? Absolutely superb footballers and served the club brilliantly. As Labby brilliantly said, the only 3-man team ever to win the league. God, what a side we were.
Alan J Thompson
34
Posted 05/05/2019 at 04:52:30
Axal, the horse owned by Bally and Alex. There was a photo in the Echo of Bally leaving a race track with his empty pockets inside out.
I remember the other lot's Secretary, aka now as CEO, name of Greenwood, I think, saying that all their players were advised to get themselves an Accountant (Agent?) but most just got a Turf Accountant which was seen as a reference to Betting Shop Hughes. Rooney and Owen show that little has changed other than the amounts wagered.
Andy Meighan
35
Posted 07/05/2019 at 14:25:41
Ron,
If that's the case and it was in '86, McManaman would only have been around 13 or 14.
Are you sure it wasn't '96? Just saying like...
Terry White
36
Posted 07/05/2019 at 15:15:55
Andy (#35), Ron mentions McMahon, not McManaman.
Dave Abrahams
37
Posted 07/05/2019 at 15:41:09
Alan (34), I read a story of Alan buying a horse and insisted on the great Lester Piggott riding it, after the horses first race, the horse finished fourth, Bally went to the enclosure and excitedly asked Lester. " will it make anything " Lester in his well known droll expression said
" Yes ——glue., !!!
Andy Meighan
38
Posted 07/05/2019 at 15:53:21
Sorry, Terry. I didn't have my glasses on when I read that. My sincerest apologies to you and Ron.
Alan J Thompson
39
Posted 07/05/2019 at 16:19:03
Dave(#37);I think it wold need a thread of its own to tell Lester stories.
Q;Who weighed 14 stone and rode the winner of an English Derby?
A; Lester Piggott's cell mate

Dave Abrahams
40
Posted 07/05/2019 at 16:56:21
Alan (39), no, Lester was too clever for that, he'd have paid someone to take the ride for him.
Darren Hind
41
Posted 07/05/2019 at 18:22:21
The American racing reporters absolutely hated Lester's arrogance, Dave
Reporter "So Lester, when did you think you had the race in the bag ?"
Piggot - "About a month ago"
Dave Abrahams
42
Posted 07/05/2019 at 18:56:09
Darren (41), yes remember that one Darren, I also think the Americans didn't like the way Lester rode from behind and won the race from there, they like their jockey's to lead from the front.
Lester is in the front of my all time sporting hero's along with Ali, Billy Boston ( Wigan rugby league player) Sonny Liston and Sugar Ray Robinson.
Mike Berry
43
Posted 07/05/2019 at 20:08:43
Thought it would not work - the boys facing away from each other - but it does. Hugely emotional night on Friday seeing the statues of 3 GENUINE legends. But one question when do we see a statue of the VISION?
Alan J Thompson
44
Posted 08/05/2019 at 05:19:05
Dave(#42);I think that about leading comes from racing on dirt tracks as when horses get dirt in their eyes they tend just to run with the pack hence the introduction of pacifiers and why so many winners on dirt are front runners.
Remember the story of Lester and the Hills boys flying to a York meeting?
We digress.
Martin Mason
46
Posted 11/05/2019 at 20:14:26
Steve, what do you mean by "Face the Bookies" and what evidence do you have if you're alleging some malfeasance?
Add Your Comments
In order to post a comment, you need to be logged in as a registered user of the site.
Or Sign up as a ToffeeWeb Member — it's free, takes just a few minutes and will allow you to post your comments on articles and Talking Points submissions across the site.