Opinion
The more things change, the more they stay the same…
Profit & Loss account situation, it is unlikely in the extreme that we will see significant inward transfer activity involving highly valued players this summer
Paul The Esk

09/07/2019
72

comments | Jump to last
Much has been spoken about Everton's approach to this transfer window, the first full summer window for which Brands & Silva will have had the opportunity to plan well in advance.
Whatever plans they have must be put into the context of Everton's financial position. Therefore, I thought it useful to look at what's occurred financially since Moshiri's involvement in Everton, our likely current position and, with one eye on profit and sustainability rules in the Premier League, a look at the financial year just started.
Moshiri initially acquired 49.9% of Everton's shares in late February of 2016. After more than a decade under the ownership and direction of Bill Kenwright, as is well documented, Everton's finances were in a parlous state. Heavily indebted with a combination of short- and long-term debt totaling £57 million and a net loss for 2015-16 of £24.3 million, Moshiri's arrival was critical in its timing. The negative value of the balance sheet (-£43.4 million) reflected the lack of capital and years of accumulated losses.
The assumption was that Moshiri would not only provide much needed capital but bring in the commercial expertise needed to grow the business, providing much-needed funds for improving the quality of the squad. In his first public announcement, he also made it clear that one of his greatest priorities would be to find a new home away from Goodison Park: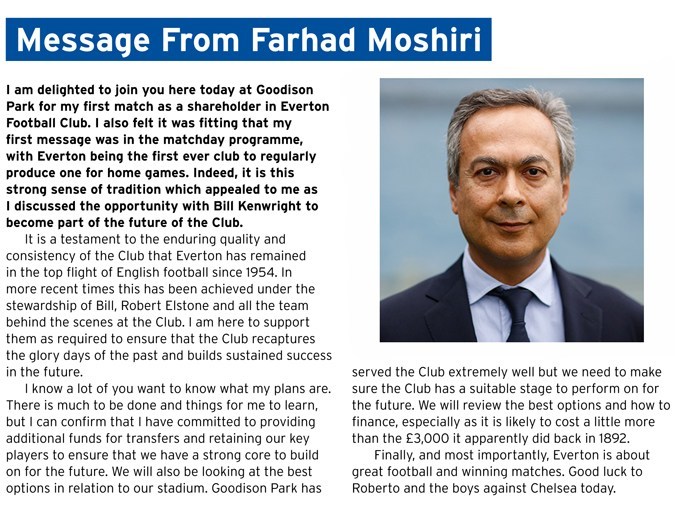 The next three years proved to be interesting, never boring (other than some of the football), resulting in great change on and off the pitch, with many expensive mistakes in recruiting players and managers. I don't propose going through that now in detail but just to highlight the financial aspect of this time.
Here's a summary of the published accounts from 2016 through to 2018:
Profit & Loss £000's
2015-16
2016-17
2017-18
Matchday
17,625
14,064
16,316
Broadcast
82,500
130,535
130,000
Commercial/Other
21,416
26,731
42,843
Total income
121,541
171,330
189,159
Wages
83,985
104,655
145,479
Other operating expenses
30,428
39,184
36,829
EBITDA
7,128
27,491
6,851
Depreciation
1,842
2,495
3,968
EBITA
5,286
24,996
2,883
Amortisation
22,398
37,298
66,933
EBIT
– 17,112
– 12,302
– 64,050
Exceptional costs
11,335
6,966
33,962
Profit on player sales
7,815
51,945
87,786
Profit before interest & tax

– 20,632

32,677

– 10,226

Interest income
1,354
1,801
3,094
Interest expense
5,055
3,818
5,938
Profit before tax
–

24,333

30,660
– 13,070
Tax expense
–
– 50
26
Net profit

(loss)

– 24,333
30,710
– 13,096
Points to note would be the increase in revenues mainly due to higher TV revenues and participation in the Europa League in 2017-18, increase in wages and amortisation (see below) and a large increase in exceptionals including former manager compensation and the costs associated with Bramley-Moore Dock preparation. The impact of very significant investment in players can be seen below:
Transfer Activity (£ millions):
| | | |
| --- | --- | --- |
| | Value transfers in | Value transfers out |
| 2015-16 (pre Moshiri) | 44.01 | 9.9 |
| 2016-17 | 77.31 | 54.72 |
| 2017-18 | 182.88 | 113.83 |
| 2018-19 | 89.82 | 25.79 |
| 2019-20 | 22.5 | 14.13 |
| Total 2016 to present: | 295.2 | 153.75 |
As a result of the transfer activity, wages and amortisation costs have grown substantially. I have included the estimate for 2018-19 as that becomes relevant when looking at the transfer activity for this window and season:
| | | | | |
| --- | --- | --- | --- | --- |
| £'000s | Wages | Amortisation | Total | % of turnover |
| 2015-16 | 83,985 | 22,398 | 106,383 | 88% |
| 2016-17 | 105,655 | 37,298 | 142,953 | 83% |
| 2017-18 | 145,479 | 66,933 | 212,412 | 112% |
| 2018-19 Estimated* | 140,000 | 85,000 | 225,000 | 129% |
Working Capital
When Moshiri first arrived, a lack of capital was a serious issue for the club. The huge expansion of investment and the associated increased cash and non-cash costs, combined with limited meaningful increases in revenue, have returned the problem.
The increased investment in players, and the resulting increase in wages, plus the costs associated with Bramley-Moore Dock, has meant the £250 million provided by Moshiri and the substantial player trading profits (circa £148 million over three years) have not proved enough to meet the club's capital requirements.
The club had its external debt cleared initially by Moshiri in 2016 but since has had to return to borrowing from external sources. The last accounts showed £75.188 million of external debt (ICBC and Santander) and £9 million of cash. Despite Moshiri having provided an additional £100 million since the last accounts, as I will demonstrate, we will continue to have a net debt position. Whilst that in itself may not be overly problematic long-term, it will affect our ability to trade in the transfer market – especially with a stadium to fund in the near future.
Financial years 2018-19 & 2019-20
So far, I have dealt with the known position as published in successive accounts. In order to understand our current position, I can only use forecasts as the accounts for 2018-19 will not enter the public domain until the very end of the year. However, as long as a reasonable margin for error can be accepted, it's possible to give a reasonable view of the last financial year and the current:
The main points are as follows:
Turnover falls due to non-participation in Europa League – itemised in reduction of commercial income (see below)
Wages fall slightly
Assume other operating costs and the exceptional costs relating to Bramley-Moore Dock remain broadly constant
Amortisation costs increase significantly, reflecting transfer activity
Player trading profits fall substantially
For ease of calculation, no change in accounting date but I have included June transfer activity
On that basis, my projected Profit and Loss account for 2018-19 looks as follows:
| | |
| --- | --- |
| Projected Profit & Loss (£'000s) | 2018-19 |
| Matchday | 15,000 |
| Broadcast | 130,000 |
| Commercial/Other | 32,000 |
| Total income | 177,000 |
| Wages | 140,000 |
| Other operating expenses | 39,000 |
| EBITDA | – 2,000 |
| Depreciation | 4,000 |
| EBITA | – 6,000 |
| Amortisation | 85,000 |
| EBIT | – 91,000 |
| Exceptional costs | 12,000 |
| Profit on player sales | 9,000 |
| Profit before interest & tax | – 94,000 |
| Interest income | 2,000 |
| Interest expense | 4,000 |
| Profit before tax | – 96,000 |
| Tax expense | |
| Projected Net profit | – 96,000 |
I'm happy to accept that these are projections and I'm sure there's a reasonable margin of error; however, it is clear that 2018-19 will produce a record loss for the club. The enormous increase in squad costs plus the costs associated with Bramley-Moore Dock have not been met with increases in income and have been exacerbated by the failure to qualify for Europe. It's important to note that fresh injections of capital alone, apart from reducing interest costs, do not impact the profit and loss account.
Cash flow
Companies can, of course, assist their cash flow by altering the balance between trade creditors and debtors. In the case of football clubs, they can perhaps adjust payment terms so that they receive funds from transfers more quickly than they pay sums owed for incoming players.
Assuming we have maintained that balance fairly constant, and given Moshiri's capital injection, we still have headroom with our cash and credit facilities. In addition, we will have received the latest installment due to us from Manchester United (albeit payable to Santander) of circa £18m which reduces our indebtedness to Santander.
Transfer Activity
However, and this is the crunch, we are not in a position to spend hugely in the transfer market unless we have significant outgoings in player sales (or very unexpectedly large increases in commercial income).
The reason for this is quite simple: the greater our expenditure now (assuming we have the capital available, which is limited as above), the greater the impact on the 2019-20 accounts.
The 2019-20 profit and loss account will, in the absence of significant player sales or unexpected income, look quite similar to 2018-19, with a similar scale of loss.
Now it's possible that, with astute player sales, the 2019-20 P&L loss can be reduced by a fair amount. Sales of players such as Gueye, Lookman, even McCarthy will generate profits without overly affecting our core squad (I'd love to keep Gueye but, at his age, the potential profit may be too tempting).
Impact of Transfers on P&L
Let's take Zouma for example – a £30 million transfer and £100,000 a week on a 4-year contract would increase the losses in 2019-20 accounts by £12.7 million (£7.5 million in amortisation and £5.2 million in wages). That's a real consideration, as you will see below:
Profitability and Sustainability Rules
The Premier League rules are very clear. The maximum permitted losses over a 3-year period are currently £105 million. How they calculate the losses is slightly different from what appears in the accounts. For example, the cost of academies and any costs on stadium development or improvement can be deducted.
If we assume we've spent £1 million a month on Bramley-Moore Dock to date, and that the academy costs £4 million a year, over three years that would add up to £48 million.
By my estimates (again, I accept there's a margin for error) without profitable player sales or a significant increase in income in 2019-20, our accumulated losses, after removing Bramley-Moore Dock and academy costs (£48 million), are in the order of £155 million, potentially £50 million above the permitted losses.
Those excess losses can be covered by player trading profits – I'm not suggesting we are breaching Premier League rules. I also accept that there may be a margin of error that reduces those figures further.
Conclusion
However, I am saying that it is unlikely in the extreme that we will see significant inward transfer activity involving highly valued players. Even if Moshiri committed to funding through additional capital injections, that does nothing to help the Profit & Loss account situation which, by my calculation, must be a critical consideration.
As ever, I'm only expressing my view of our current financial position. I am very happy to make good any errors or omissions, but I believe the above accurately represents the position we are in.
We still have the opportunity for a fantastic future ahead of us and, with Brands, future recruitment will be of a quality greater than we've ever had before. However, we need to address the legacy issues of the period from 2016 to January 2018 to move forwards.
Plus ça change, plus c'est la même chose!

Follow @theesk
Share article:
Reader Comments (72)
Note: the following content is not moderated or vetted by the site owners at the time of submission. Comments are the responsibility of the poster. Disclaimer
Peter Warren
1
Posted 09/07/2019 at 23:14:32
Good article - difficulty is we have wasted shitloads on transfers and wages! I'm actually more concerned with off loading players than getting players in.
If we could get rid of McCarthy, Besic, Bolaise, Niasse, and Mirallas, that would be great. Strikes me we must sell Gueye. Depressing.
Steve Carse
2
Posted 09/07/2019 at 23:26:30
I suppose the departure next year of Richarlison for c £100m will see us right.
Don Alexander
3
Posted 09/07/2019 at 23:43:52
Even by the standards of our competitor clubs, you know, the likes of Leicester, Wolves and the rest, we are uniquely burdened by a ginormous unwanted amount of very expensive deadwood in our squad. Koeman, Walsh and Allardyce, may have been significantly responsible but throughout it all we/they had Kenwright "meaningfully" employed as some sort of director/consultant. M&M aren't responsible at all for the shite they've inherited so if they can improve by even one place in next season's finishing position I think they should be beatified.
But why, after all the promises from the wally himself, is Kenwright still at the club, Farhad?
David Pearl
4
Posted 10/07/2019 at 00:21:48
Get in there, Don!
Frank Wade
5
Posted 10/07/2019 at 00:36:08
Don,
We are coming to a new season as Everton followers. Is there any remote chance you could ever post an opinion on an Everton related topic without making ever more bizarre, disrespectful, ludicrous comments about our chairman?
Every fucken post you make is exactly the same. It is boring in the extreme and a major turn-off for me as a ToffeeWeb subscriber. Since he bought into the club, Mr Moshiri has been making the calls on Koeman, Walsh, Allardyce etc, plus Silva and Brands, surely you can understand that.
Please, Please, Please Don.
Si Smith
6
Posted 10/07/2019 at 01:51:57
I'm with Frank here on the fact Moshiri, not Kenwright has been the man making the wrong decisions in regards to management.
Don't get me wrong – I'm thankful to have Moshiri as Kenwright simply couldn't keep us going for much longer, he created a miracle imo in finding Moyes as without him we would have long been relegated. Some may disagree but look at Moyes initial squad, then his net spend over the next 10 years, any other manager would have seen us off.
Anyway that's all another story.
Fact is Moshiri has employed managers and directors of football who spent all his money in the wrong way.
The above fact is simply that, a fact. Moshiri talked Koeman up and believed in Walsh and all his hype, don't get me wrong I thought he had made a decent choice as Koeman looked like he knew his onions at Southampton, and Walsh played a blinder for Leicester. That said them pair of gobshites wasted our biggest input of money the club has ever seen, between them they managed to spend £230m and give out stupid wages to average players.(Just imagine what a good manager would have bought with that money)
The above fuck ups lie with Moshiri, not Kenwright. The reason no one can overly call Moshiri is because he has thrown money at his mistakes to rectify them.
But in throwing money at the issues he brought in Sam Allardyce, this again was a horrendous decision. He then allowed Sam to go and squander £50m on Walcott and Tosun, taking the 2 seasons spending to almost £300m.
Hopefully we now have the right men in charge, and thankfully Moshiri is still interested, but for anyone to blame the latest cock-ups on Kenwright then your living in the past.
Take a look at something written back in February about what Moshiri has spent at the blues to take us from 11th to 9th (at the time of
Farhad Moshiri has spent £378m in three years to take Everton from 11th to 9th... from terrible transfers to a mishmash of managers, how the Iranian billionaire's Champions League dream has turned into a nightmare.
Tom Dodds
7
Posted 10/07/2019 at 06:13:15
Nah. Not havin that, re,Kenwright not being involved.
His theatrical finger prints where all over the Rooney comeback tour,and hes been in Moshiri's ear all along giving it the 'Grimmer Wormtongue' angle with him regarding new managers etc.
Remember this guy (Moshiri) didn't have a clue about how to run/steer a football club its only fairly recently that he's started to employ proffessionals,and 'the greatest blue ever' is still lurking and floating round in the bowl hoping probably to have a stand named after him at BM.
So lets hope they build a new Boy's Pen there then !
Jerome Shields
8
Posted 10/07/2019 at 07:16:45
Paul, thank you for your article. I have largely ignored the transfer window because of the inevitable speculative drivel that is press-released.
Your article is timely in that it shows the constraints that Moshiri, Brands and Silva are working under. We are all aware of the past failings in transfer policy and the incompetence and lack of ambition of the regime prior to Moshiri that needed a billionaire to save their asses and the club. Kenwright had been looking for one for some time. Unfortunately, it appears to have been a dig out, because that regime is largely intact.
Keep up the good work, Don (#3), in highlighting this fact. To those that blame Moshir Do you really believe that Kenwright & Co had no involvement? What are they doing there if they had not? Moshiri in his initial period was a leader as Chairman Mao described in his Little Red Book, as being a mile in front of his army and a fool. Kenwright & Co made sure he was out there and alone.
The present state of the finances are a return the finances of the old regime, Sod's Law. If Moshiri had have had better people around him, it would have been different. Fortunately, he now has Brands and Silva. Hopefully this season will see more progress in a necessary clean-out at Board level. I worry about idiotic Stadium involvement and inevitably increased costs.
On the playing front, Brands is making steady progress, hopefully he will be able to move more players on and strengthen the side with under 25-year-olds. Anything older is not in his remit.
Due to the legacy prior to Brands and Silva, they will make steady, but not spectacular progress. It is going to take another two Summer transfer windows, a few setbacks, and the winding down of the contracts of players that no-one wants.
The positive thing is that Everton are slowly heading in the right direction for the first time in 20 years. Paul will be able to highlight progress in the future.
Danny Broderick
10
Posted 10/07/2019 at 08:31:07
If I'm not mistaken, we had something like 37 professional players on our books a few years ago. The squad is still bloated now, it's not unreasonable for us to have to balance our books after years of excess spending (on bang average players generally).
We need to get the squad down to 25 or so players, which is a mammoth task as no one seems to want some of them! If we can sign just one player - a top striker - I will be happy.
Laurie Hartley
11
Posted 10/07/2019 at 08:31:35
Paul - first of all let me take this opportunity to apologise if I came across as dismissive of your financial nous when we were discussing the viability of the stadium capacity on the other thread. That wasn't my intention and no offence was intended.
Your projected P&L looks a great cause for concern and does appear to suggest we won't be spending a lot on players this window - certainly without selling first. And yet Silva is quoted as having 3 or 4 targets?
The wages bill is frightening!
It also indicates how important the performance of both Brands and Silva are if Farhad Moshiri is to get the club back on track financially.
Paul [The Esk]
12
Posted 10/07/2019 at 09:18:11
Laurie, thank you for your comment. Absolutely no need to apologise, certainly no offence taken.
Adam McCulloch
13
Posted 10/07/2019 at 09:23:02
Some of these numbers are pretty worrying. It does go some way to explain the strategy of Brands thus far this summer - the emphasis is very much on clearing the wage bill before any more significant transfers (I assume he thought Gomes was too good to pass up at that price, and I agree with him).
Got to remember that already this summer we've managed to remove Ashley Williams big wages, Jagielka also was on good money - albeit more deserved – and Sandro is back in Spain. It would be interesting to know how much of his wages are covered by ourselves, which obviously makes it incredibly tricky to calculate (but you've done a bloody fantastic job Paul).
We have also sold Vlasic for a small profit, loaned out Kenny and I'm sure there will be a hell of a lot more outgoings to come. The scattergun approach of previous regimes will take a while to fix but with a proactive Director of Football, I have faith that we will balance the books.
Although a return to the old days of "selling our best players" may be needed, there are caveats. Gueye is a wonderful player, but a substantial profit for a player approaching 30 may be too tempting to pass on. Our recent transfers have largely been a success too, and seeing Richarlison bagging in a Copa America final is great for the team now, and at worst great for the bank balance in the future.
Continued investment in our academy is also essential to improving our finances. Players like Pennington, Dowell and co may look like leaving this summer but they will do so for small but significant fees. Young recruits like Lookman, Holgate and Calvert-Lewin would all entertain more money than we spent on them initially. The academy transfer ban is a slight millstone but this is an area where we could recoup some of the losses made on disastrous signings like Klaassen, Bolasie and Sandro.
It seems frustrating but a mainly settled squad, trimmed of deadwood and with a few quality additions should be aiming for the top six. That chance to be in Europe again, giving us extra commercial income, with the mistakes of recent years fading into view should see us looking ahead once again. COYB
Steve Ferns
14
Posted 10/07/2019 at 09:27:04
Thanks for the article, Paul. It's great to know that you and your Everton Business Matters colleagues pour over the numbers, so we can just read your analytics.
I hope Brands continues to right the ship, and we don't get too carried away by trying to make the top 4, by throwing more good money after bad. We need to be smarter rather than just frivolous.
Sam Hoare
15
Posted 10/07/2019 at 09:53:25
I think with transfers it may be a case of 'speculate to accumulate'. Our best chance of turning more profit in future seasons may be to have more, buzzy young players to sell.
For example if we were to sell Bernard, Richarlison and Digne now we would presumably get somewhere in the region of £110-40m?
So long as we are not breaching spending rules I expect the spending to continue for now. Though clearly there will have to be player sales in the near future as well.
It would not surprise me to see Gueye (£40m), Lookman (£25m), McCarthy (£10m) and Besic (£6m) sold this summer and that alone would be enough to buy Malcom and Zouma for example with some left over to buy a Gueye replacement such as Sangare.

Pat Kelly
16
Posted 10/07/2019 at 09:53:43
Having a largely absentee owner, with little knowledge of how to run a football club, has resulted in the capital he brought being squandered. A salutary lesson, and more than a bit concerning in who we assumed was an astute businessman. Hopefully, he has now got a grip and put in people who he can trust at board and management level. No more snake oil salesmen.
Incomings this window may well involve more loan deals and lesser known players. If wisely chosen this could work as well as last season. The three or four targets Silva has spoken of will mostly be in this category. Unwinding the horrendous transfer business of recent years is a slow and painful process.
Forget the top six for a few years and the top four for a few more and we will have suitability adjusted our expectations to reality.
Steve Hogan
17
Posted 10/07/2019 at 10:30:59
Sam (15)
Think your being wildly optimistic if you believe we will get anything like those transfer fees for the player's mentioned?
Gueye won't be sold for anything like £40m, he's 30/31 years old...
Joe O'Brien
18
Posted 10/07/2019 at 11:31:07
Thanks Paul for the article... sobering to say the least. I don't think we should blame Mr Moshiri for the bad money that was spent. He backed the wrong horse. I as well as many others thought Koeman and Walsh were good appointments. We were sadly wrong and are paying... and still paying for those wrong appointments. Isn't hindsight a bitch?
Anyway I feel our best signing over the last two years has been Brands. He will get us back on track. It will be a slow process... but we're getting there slowly.
Pat @13, I don't think we have to forget about 6th place. We've got a great looking team at present. 4th spot is up for grabs this season. I'm not saying we will get that but the likes of Chelsea, Man Utd and Arsenal aren't a million miles away. I personally think we're on a par with them. Looking at Paul's analysis, getting into Europe this season is vital... and achievable in my opinion.
Bill Watson
19
Posted 10/07/2019 at 13:15:20
Steve, #17
Gueye will be 30 on 26 September so would still command a decent fee, if Everton chose to sell him.
Personally, I'd much prefer offloading the players who are never going to make the first team including those in the Under 23s. These players are sucking the life out of the club.
Brands has made a start but it's going to be a long process.
Bobby Thomas
20
Posted 10/07/2019 at 13:41:26
If anyone comes in with £25 mil or more for 29-year-old Gueye, we should definitely take it. He's peaked.
For example, I thought we should have sold Baines when he was 29 or 30 years old. Instead, we gave him a 4-year deal on a thick wedge. What did we get for it? A player on the downside. Dead money.
To replace Gueye, we should do something along the lines of when we signed him. Mid-20s, inexpensive, knows the drill. If that player can be found of course. We may need to go outside the Premier League. But it was a rare example of Walsh getting it spot on.
Jay Wood
[BRZ]
21
Posted 10/07/2019 at 13:48:14
A very sobering read, Paul.
Together with your own and Tom Hughes views and costings of the BMD build on your previous post, this is all very concerning.
The house of cards seems to be getting stacked very high. That debt is in the name of Everton Football Club.
There have been many examples in recent history of wealthy club owners trying to 'buy' their way to the top table, only for them to pull the plug, abandon the club, who as a result are left heavily in debt and go tumbling down the leagues.
Is the prime motive behind Moshiri's involvement at Everton to restore the club to footballing greatness, or are we merely a useful vehicle on which he and other interested parties can realise their money-making ambitions in property development and the like?
We have already blown the first tranche of money he 'invested' in the club, with poor purchases on high wages and long contracts who contributed (and in some cases, continue to contribute) NOWT! That goes for managers and back room staff as well as players.
Brands appears a safer, more savvy, pair of hands overseeing that sort of stuff.
But what if he, or Moshiri himself goes? Just how precarious a position would that leave Everton in?
Concerning, as I say.
Kieran Kinsella
22
Posted 10/07/2019 at 14:01:44
Brands has said often that the focus is on selling. I don't believe any of these rumors.
Sam Hoare
24
Posted 10/07/2019 at 14:21:17
Steve@17, optimistic perhaps but not wildly so.
As for Gueye: Firstly he's only 29. Secondly he's one of the best in world at what he does. Thirdly Tuchel at PSG is apparently still a big fan. Fourthly Silva likes him alot and won't let him go cheaply.
If he does go it certainly won't be for less than £30m. It could possibly be for £35m if he agitates for the move.
As for the other fees they are only what has been estimated by various media sources.
Si Smith
25
Posted 10/07/2019 at 14:32:45
Agreed Sam, I agree that 29 is a good age to sell, but we have enough dead wood to get rid of, our better players need selling only at a premium.
£30m minimum for Gana as far as I'm concerned.
Laurie Hartley
26
Posted 10/07/2019 at 15:03:36
Steve # 14 - I agree with you that we shouldn't be spending to try to get into the top 4 at this stage and, based on Paul's numbers I can't see Moshiri sanctioning that.
I take heart from the last eleven games of last season. We had 2 bad results away from home in that period at Newcastle and Fulham but we also had some terrific results including wins against Chelsea, Arsenal, and United. Our two draws against "them" and Spurs were also very good results.
Based on that run in perhaps Marco Silva is the coach you said he was.
Moshiri has made a few mistakes which have literally cost him dearly but to his credit I believe he took action when it looked like the ship was sinking, and yes I know the appointment of Sam caused almost universal angst among the fans but we lived to fight another day.
Again when things were looking grim in the middle of last season many of us would have sacked Marco but, to his credit, Farhad Moshiri held his nerve at the critical time and it paid off.
My feeling is that we now have the makings of a very good young team backed up by some decent squad players.
If we could possibly get Kurt Zouma back on a permanent deal that would be fantastic. It would be even better if we could bring in Malcolm and or that young Keane from Juventus but I wouldn't do it at the cost of selling Gueye.
Marco Silva has a huge responsibility on his hands next season but Marcel Brands is the key to the future of the club in my opinion. He strikes me as being heavy duty so I think he will deliver.
Tommy Carter
27
Posted 10/07/2019 at 15:06:59
@15
Sorry Sam but if you think any team is going to pay £10 million for James McCarthy, you're on another planet.
Likewise the fee for Lookman is absurd. Ask yourself this:
Everton got him for £11 million almost 3 years ago.
Is he any better now than when he joined?
Is he closer or further away to the end of his career than when he joined?
What exactly has he achieved in the game at the age of 21?
He was an England under 21 international when he joined. Is he still one?
Now ask yourself, who is paying over double what we signed him for.
Sam Hoare
28
Posted 10/07/2019 at 15:19:25
Tommy, what are you on about?!
You're talking as though I've set these prices! I haven't. If you'd bothered to read my posts, you'd see they are all taken from media sources, which may or may not be accurate.
As for who is paying double what we paid for Lookman, the answer is Leipzig who reportedly bid £22.5M for him. You forget what an impact he made when there.
If this is so hard for you to believe, then I suggest you take a closer look at the transfer market. Did you notice Villa spent £20M, rising to £26M, on Tyrone Mings?!
David Pearl
29
Posted 10/07/2019 at 15:20:37
Nearly every club would pay £20M for Lookman, Tommy. Mings was just £25M wasn't he? This is the current state of football. Especially UK players.
Bernard doesn't score goals so I don't think his resale value is going to be astronomical.
Sam Hoare
30
Posted 10/07/2019 at 15:37:08
Tommy@27
In case you think I made McCarthy's valuation up myself then:
https://www.footballinsider247.com/revealed-everton-ready-to-sell-28-yr-old-for-10m-after-silva-makes-up-his-mind/
Not suggesting that these sources are accurate but, given the lack of any reliable valuation information, they'll serve a purpose.
Karl Masters
31
Posted 10/07/2019 at 15:48:50
Tommy Carter - daft post about value of Ademola Lookman.
We've had bids of over £20m already ( £27m last season) and your point about buying him three years ago conveniently overlooks the inflation in World transfer fees since then. Neymar, Mbappe, Coutinho all upped the ante which feeds down to all levels.
Fran Mitchell
32
Posted 10/07/2019 at 15:50:57
It's difficult to value players.
Look at Tosun. I guess we'd value him at what, £15 million. But, in all likelihood, we'll only get loan offers.
Yet, Mings played a handful of times for Bournemouth and they get £26 million for him.
The lad at Newcastle who has played 9 games is valued at £50 million, yet Newcastle sold their only goal scorer and possibly best player for £30 million.
Tielmans signs for £40 million, yet Palace value Zaha at £80 million.
Man Utd may pay £75 million for Maguire, yet Alderweight is available for £25 million.
So there is little logic into transfer fees. It is just a case of demand.
Sam Hoare
33
Posted 10/07/2019 at 15:56:39
Fran@32. Yes, that's exactly right.
I'm guessing one of the reasons our business this summer has not gone as quickly as Brands might have liked is because there has not been sufficient interest in the players we are looking to sell.
It's a bit of cat and mouse with clubs deciding whether they might get better value by waiting a little longer and the selling club dropping their price in order to shift.
Fran Mitchell
34
Posted 10/07/2019 at 16:24:52
An interesting element of modern fees is this, the 'syar players' fees have rocketed to an absurd level.
Whilst on the other hand, barring a few anomolies, the fringe players who before were sold for a few million rather easily now seem only to be loaned out.
Terence Leong
35
Posted 10/07/2019 at 16:49:44
Regardless of how we feel about the "wastage", I think it's important to get some perspective here -
1. How many owners of clubs in recent eras got it right within the first few years?
2. How realistic is it to expect owners to be football persons?
3. How many owners today of successful clubs are actually football persons?
We've wanting someone with deep enough pockets to come along, but we are very critical of who and what this person is about.
I think all things considered, Moshiri is as good as it gets at this moment.
> Man City didn't get it right when they were first bought over - remember how they got Robinho and still didn't win the title?
> Liverpool almost messed up with the other American owners, and even the current Fenway team didn't do that well at the beginning too.
> PSG perhaps did well from the beginning, but they were already the dominant team in Ligue One.
> Chelsea spent huge amount and still finished 2nd during their first Abrahimovic season.
While they won the next season, the fact is that they were spending way ahead of everyone else.
I remember that they spent about 150 million during the first season.
And that was when top players were going for 20 to 30 million.
When you consider all that, and how Moshiri is not the top spender, we need to take things in perspective.
Nowadays, clubs spend, just to stay close to the pack, and keep up.
Under Brands and Silva, there are some genuine glimmer of hope that things will get better.
Tommy Carter
36
Posted 10/07/2019 at 17:07:37
To everybody that has criticised my prior response.
I quite clearly listen my rationale. All are facts and evidence based.
The only justification and argument people have offered are the 'bid' from Leipzig.
The fact that Neymar, Mbappe and Coutinho went for a big fee. All potentially the best in the world kind of player. Just because Zidane went for £50m in 2001 did not increase the price we paid for Tomasz Radzinski that summer. The two transfers did not affect each other, that was why. It probably influenced the value of Juan Sebastian Veron because he was considered of a comparable market value at that time. The price of Neymar may affect the valuation of about 5-6 players maximum.
And media reported transfer fees.
All speculation and nothing more.
He'll not go for anything near £25m if he goes at all.
As for McCarthy. The media can report whatever they want. He's 29 next birthday. Has made ten starts in 3 years. His contract runs out in less than a year. £10m? I don't think so...
Jay Wood
[BRZ]
37
Posted 10/07/2019 at 17:12:55
Terence @ 35.
The flaw in three of your examples is that City and PSG are pretty much funded by super-rich Arab states, and Chelsea by the mega-billionaire Abramovic.
Their credit is good and can cover the debt Everton is building up with loose change. Moshiri is not in that league. Hell! The man with the moustache at Fulham has three times Moshiri's wealth. Even Mike Ashley at Newcastle has double our man's wealth and look how penny-pinching he is.
It amounts to a financial high-wire walking act, based on the Esk's numbers, and no safety net for the club if we miss a step.
Sam Hoare
38
Posted 10/07/2019 at 17:19:26
Tommy, is Tyrone Mings of the 'best in the world kind of players'?
The only fact you offered is what we bought Lookman for 3 years ago. In no way does that bolster your argument that his price will not have increased in that period.
If you want facts then how about the fact that at Leipzig he got 5 goals and 3 assists in just 576 minutes for them. That may be why they are prepared to pay £22m+.
Obviously I don't know exactly what these players will sell for. But neither do you. So to call the valuations (taken from media sources) 'absurd' is needlessly provocative.
If you're prepared to put your money where your mouth is then I'll happily make a wager (to charity) that if we sell Lookman this summer it will be for an amount (including clauses) that is over £20m. Sure you won't back down as its so ludicrous to you.
Paul [The Esk]
39
Posted 10/07/2019 at 17:24:57
Interesting discussion on valuations. I often think football is similar to banking. Clubs exist by growing their balance sheet not through only profitable core business activities. In order to grow their business they need to buy assets (players) and sell them for higher prices in the future. Thus player price inflation keeps the plates spinning for all concerned.
As a result the select band of players who may only consider half a dozen largest clubs across Europe will see the greatest price inflation which is necessary to fuel their continued requirement for player trading profits to meet FFP and PL regulations.
Jamie Crowley
40
Posted 10/07/2019 at 17:28:32
All I can think of is
The Wizard of Oz
.
When the little folk say, "Follow the Yellow Brick Road!"
But my version goes something like this:
"Follow the Tottenham Road. Follow the Tottenham Road. FOLLOW, FOLLOW, FOLLOW, FOLLOW, Follow the Tottenham Road!"
We have a good squad. Let them grow together while not spending on stupid incomings. Let the team garner chemistry over the next couple years with very few incomings, a la Spurs.
We'll improve, and all the dead weight we can't offload will have their contracts expire, and we'll be in a much better financial position to make 2-3 signings to push up the table in a few years.
I still think the squad as it is can assault the Top 6. Man U is a mess, Chelsea are looking down the barrel of the proverbial gun, I still don't rate Arsenal that highly, Wolves will struggle on multiple fronts. Leicester scare the shit out of me because for all of Brenda's faults he's a pretty damn good manager and will have them playing well.
We'll see. One thing is for damn sure - financial irresponsibility will seriously hurt us.
It is what it is. Keep the team together, and make Silva earn the money he's paid, by coaching what he's got.
Justin Doone
41
Posted 10/07/2019 at 18:10:32
Schnides out ASAP. Stek is not needed.
McCarthy another big earner who doesn't play, time to go.
Loan out and shift wages of another 7-8 players.
I can't remember exact numbers but about 5 years ago avg wage was about £20k. It's now £50k, that's a week. Income hasn't risen in line. Most companies go bump but the crazy world is football keep demanding more and more.
FFP matters once we qualify for European football. At the moment it doesn't.
Justin Doone
42
Posted 10/07/2019 at 18:19:13
So keep on spending big to improve 1st team in the hope we can qualify for Europe and worry about it then.
Also I read it as 1 huge loss season is better than 3 smaller losses. So let's go for broke and win something.
We can worry about the rest later and sue UEFA for loss of earnings.
Tommy Carter
43
Posted 10/07/2019 at 18:40:14
@ Sam
Mings as you well know is not world class. But by your hypothesis, had we waited a week later to sign Gomes, after the Mings transfer then we'd have paid £50m?
Your proposal of £20m including any add ons is much different from £25m (you didn't state outright but you also didn't specify not outright).
However, if this summer you'd like to wage £10 on this. I'll gladly donate to charity if I am wrong. The charity of my choice.
£20 million total including add ons it is then and only if he goes this summer.
Can you suggest a source from which we can reference the fee when it happens?
Thomas Lennon
44
Posted 10/07/2019 at 18:47:01
Always puzzled by the crazy world of football finance. Amortization - we take the cost of each player and divide that by the number of years of their contract, then deduct that from the bottom line. If that takes us below £0 we have made a loss.
In reality we have done nothing of the sort. We have an asset we can protect for minimal new investment who's value can easily double. The actual cost occurred years before. These are paper losses? Please explain why that isn't so.
Paul [The Esk]
45
Posted 10/07/2019 at 19:21:50
#44 Thomas. Player transfer values are the cost of transferring the registration of a player from one club to another. As such they're considered to be intangible assets. Because the value of the registration at the end of the contract is zero the cost of the registration (known as the transfer fee) has to be reduced in a straight line over the length of the contract. ie amortised.
When a player is sold, the amount due to be received for the new registration to another club is recognised in it's entirety in the accounts. The difference between the amount received and the remaining book value (cost less amortisation) appears in the player trading profit entry in the accounts
Fran Mitchell
46
Posted 10/07/2019 at 19:23:26
Some on here mentioned we should sell Gueye for 25-30, as he is 29.
This is from the Gardian report today:
"Senegal show their class at last and help themselves to a brilliant goal! Gueye started it by fizzing a pass from midway to Mané near the D, then dashing forward for the return ball, which Mané provided. And Gueye crowned it with a sharp finish!"
"Mane and Gueye combine brilliantly again, the Liverpool man picking out the Evertonian's bursting run from deep. Verdon pulls him down at the edge of the area and there's only one thing the referee can do about that."
"Sané on, Gueye off. The Everton man took charge in the second half and showed the dynamism and quality that looks like sending his country to the semi-final."
Seems he is continuing with his end of season form. The lad is arguably our only world class player, and with his fitness, has another 4-5 years playing top-level football. We'd be mad to let him go for less than 50, which is what any replacement player of a similar level would cost.
Gueye will have a beast of a year if he stays with us, but if he does leave, the title of this article would more more true than ever - The more things change, the more they stay the same i.e. Everton losing their best players.
Jay Harris
47
Posted 10/07/2019 at 19:24:48
PAul,
A great and informative post.
I have 2 questions:
1. Don't the costs of BMD get capitalized and therefore show as an asset on the balance sheet and not expenses.
2. For those holding Moshiri accountable for the cockups who do they think the chairman and main protagonist was and remains to be to this day.
From day one of Kenwrights appointment the club has made consistent losses and turned a net asset position into a net liability.
Koeman was a good manager who decided to take his bat and golf ball home because he got fed up with Kenwrights interference and lack of support. It wasnt Koeman who told Lukaku he could leave despite having 2 years remaning on his contract.
It wasnt Koeman that decided to bring Rooney back on ludicrous wages and a dubious lifestyle no doubt as part of the Lukaku fee.
I honestly believe we will only turn the corner financially and operationally when he is removed.
.
Paul [The Esk]
48
Posted 10/07/2019 at 19:37:33
Jay, until we get planning permission the costs associated with Bramley-Moore are treated as exceptional costs and therefore hit the P&L.
When we get planning permission the accumulated costs will be capitalised appearing on the balance sheet as you say with an adjustment made to the P&L.
Just my own thoughts re Kenwright. He's had his own way for many years. Moshiri is effectively an absent landlord and relies heavily on Bill to run the club. We have a weak and ineffective board who appear unable or unwilling to challenge the status quo and drag us back kicking and shouting to the higher levels of domestic and European football again.
It is the board in its entirety that needs sorting not just Bill IMO
Bobby Mallon
49
Posted 10/07/2019 at 19:58:53
I just want to say that these blokes don't become billionaires by being stupid with money. Our club and it's balance sheet has always been shite. Stop all the worry ffs, we are going in the right direction and we will be in the top 4 in two seasons.
Si Smith
50
Posted 10/07/2019 at 21:14:36
Bobby I like your optimism, but theres loads of billionaires in the prem now mate.
Laurie Hartley
51
Posted 10/07/2019 at 23:03:43
Paul#48 - about the board - if you had the choice would you keep any of them?
Jerome Shields
52
Posted 10/07/2019 at 23:09:18
Paul #48
Totally agree with your assessment of Kenwright & Co at Board level. I would lump some of the backroom staff in as well. As far as the finances is concerned they have brought Everton back down to the level prior to the Moshiri sort of taking over. The only fortunate difference is Brands is in charge of transfers and contracts.
It's like someone building up debts of £50, 000 on a credit card, have someone pay them off, only for them to rake up debts of £50, 000 again. This is the mindset and capability of Kenwright & Co at Board level. The real danger is when money is made available for the new stadium they could further damage the Club's finances.
If Kenwright & Co in 20 years where not able the win anything, get into the top four or build a new stadium, there is no way they will be able to do it now or in the future. They will be looking for Moshiri to bail them out. They have no interest in the future of Everton Football Club.
Paul [The Esk]
53
Posted 10/07/2019 at 23:09:42
Laurie: Sasha Ryazantsev in his current position.
Laurie Hartley
54
Posted 10/07/2019 at 23:14:09
Paul - what about Brands?
Paul [The Esk]
55
Posted 10/07/2019 at 23:26:43
Sorry, school boy error - Brands of course!
Jay Harris
56
Posted 11/07/2019 at 03:43:20
Paul I totally agree with you but people like DBB in that position were put there by no less than Boys pen Bill. I have had dealings with Keith Harris in the past and I believe he is past his best.
It was he who couldnt find a proper buyer but also told a friend of mine that the terms set out by BK and cronies would put anyone off buying the club.
There is only Brands who I would describe as a football man but anyone put on the board still has to contend with Kenwright and his obsession for control.
Sam Hoare
57
Posted 11/07/2019 at 07:12:11
Tommy@43 Mings is more similar to Lookman than Gomes in that he is English and has not played much since Bournemouth bought him. Plus Gomes was less use to Barca than Mings may have been to Bournemouth. Lots of variables of course.
Glad you've accepted my wager! Source wise I'm not sure who is the most reliable but hopefully a variety of them might agree. Do you have a preferred source?
Laurie Hartley
58
Posted 11/07/2019 at 08:00:47
Paul # 55, 53 & 48 - more cause for concern. Do you think the chairman will ever sell his shares?
Kevin Prytherch
59
Posted 11/07/2019 at 09:11:01
Thomas 44 - I might be barking up the wrong tree here but... Is this what you're saying?
If we buy a player, then he signs a new contract in 3 years, in effect he is now worth more than we bought him for 3 years down the line due to age, inflation etc. However, his value on paper has diminished, hence looking like a loss on the P&L, instead of reflecting the real value of the assets.
This would be true; however, I guess that someone somewhere took this view when Mirallas and Pennington were offered new deals. What's the point of letting them go for nothing, when we can offer them a new contract and potentially get a few million for them. Unfortunately, these assets have now become a bigger drain on finances as they're worth nothing on the club finances, we'll likely get nothing for them, and we're paying them!!
Jerome Shields
60
Posted 11/07/2019 at 09:42:44
Jay #56,
I suspected that terms and conditions were agreed with Moshiri regards the takeover, though I find it hard to believe that a takeover is not a takeover.
Having said that, I know of a firm who took over a firm and the management of that firm took over that division in the parent firm. A reverse takeover cost them £20 million in lost turnover.
It seems that Moshiri had agreed that Kenwright should remain Chairman and be able to maintain power over the selection of a percentage of the Board. Moshiri being able to select so many Board members, this explains why certain backroom staff are kept. They are allies of Kenwright &
Co.
So the takeover panned out with Kenwright controlling the Board and effectively running the club, financed by Moshiri. Moshiri insisted on a Director of Football. Denise Barrett-Baxendale was appointed and the jobs for the boys her first decision. Moshiri paid for the extended Martinez contract and the Koeman debacle and all the transfers and contracts of that era. This was Kenwright & Co showing us what they were capable of with money. Moshiri decided to take over the football end and, via Walsh, got Big Sam. Walsh, an honest man, was way out of his depth. This was the start of the leader a mile in front of his army era. Well on the way to spending up to the Fifa limits.
Walsh sacked, though Kenwright & Co should have got the road. Brands appointed to sort out the main problem: contracts and wages, and Silva another Moshiri selection to sort out the team. Brands must have had some influence in Silva's selection, though not in contracts details.
Silva persists with his system, having got some of the players he needs. It was difficult to recruit players, given Everton's reputation as a graveyard for football careers, and lack of progress and getting rid of deadwood.
Brands appointed to the Board, not a textbook decision, but a necessary one for Moshiri to have a extra vote at Board level and get control over wages and contracts. Brands and Silva are getting somewhere on the field at last.
My advice to Moshiri would be: "You need to get similar control over the stadium project. If you don't, the Club will go bust. "
Good luck to Moshiri, working amongst that lot. We have had 20 years of it, fed bullshit about 'The People's Club'. This is the actual reality of Paul's figures.
Eric Myles
61
Posted 11/07/2019 at 12:34:09
Laurie #26,
"Our two draws against "them" and Spurs were also very good results."
I seem to remember Pickford gifting "them" 3 points?
Laurie Hartley
62
Posted 11/07/2019 at 14:49:50
Eric#61 - Pickford certainly did gift them 3 points in December at Anfield but I was referring to the home game in March when we drew 0-0.
That result may well have cost them the title. According to my figuring it was the only points they dropped out of a possible 33 in their last 11 games.
James Flynn
63
Posted 11/07/2019 at 16:36:22
Why would anyone still believe Kenwright is running anything? That he'd be gone altogether would suit me. He's still here. But that he retains any real power? Nah.
Michael Kenrick
64
Posted 11/07/2019 at 16:38:45
I see Everton creep in near the bottom of the
Top Twenty most valuable football clubs in the world list
at 19th — ahead of Newcastle but behind West Ham!!!
Pity the valuations are already a year out of date, being based on 2017-18 numbers! The full skinny on how they generate these numbers (Courtesy of Forbes magazine):
Revenues and operating income are for the 2017-18 season, converted to US dollars based on average exchange rates during the 2017-18 season. Team values are enterprise values (equity plus net debt) and are calculated in euros and converted to US dollars and British pounds based on April 19, 2019, exchange rates. The values include the economics of the team's stadium, but exclude the value of the real estate. Operating income is earnings before interest, taxes, depreciation and amortization, player trading and disposal of player registrations. Debt is interest bearing borrowings (including stadium debt) and is based on April 19, 2019, exchange rates.
Jay Harris
65
Posted 11/07/2019 at 21:03:25
A lot of truth in what you say, Jerome.
Kenwright has looked many a man in the eye and then stabbed him in the back.
Paul Hewitt
66
Posted 11/07/2019 at 21:26:45
Does this mean, we are skint?
Jerome Shields
67
Posted 11/07/2019 at 22:45:26
Jay #65,
Thank you for the information regarding Harris. There must be a shareholders agreement in place.
Unusually I never checked who actually was on the Board before this. Woods, who had to have some background in business, but is long gone being active. How Woods can be on the Board having sold his shares points to a shareholders agreement. Harris is another Kenwright pawn.
As for Denise Barrett-Baxendale, she definitely should never be there. She does not have background and is effectively a another Kenwright pawn.
No matter what the shareholding is, any decisions are under the control of Kenwright. He has three votes against two, without even using the Chairman's casting vote. The actual Executive management team is under the control of Denise Barrett-Baxendale. They were all kept sweet with new titles and a wage increase.
Kenwright can effectively poorly manage the Club and increase the value of his holding. He has Moshiri over a barrel regarding the buyout value of his remaining shares and shareholders agreement.
I myself would have never agreed to have parted with my money in Moshiri's case, foreseeing how such a Directors make-up on the Board would mean that I would have no control of my money and how it is spent in the Club. The Stadium project is similar.
Paul projected figures, actually is this situation materialising in the accounts.
Getting the team sorted is only the start. There is a lot more to be done if Everton are to gain the status in the Premier League they should be at. Kenwright & Co will have to go, but it's going to cost a lot of money and political savvy to do so.
Amit Vithlani
68
Posted 13/07/2019 at 09:43:11
I take a different view - emphasising perhaps how people have totally different prisms through which they view information.
1. I agree that we will be restrained in the transfer market. But not because of our P&L performance, but simply from a footballing perspective. A bloated squad full of under performing players is not just a drag on finances but a drag on morale, team spirit and coaching resources. Brands & Silva have publicly said the squad is simply too big and needs to be cut. I expect us to be selective in our acquisitions whilst waiting for transfer offers or for contracts to run down of fringe players. The legacy of the Koeman/Walsh/Allardyce era is there for all to see.
2. There are very few football clubs that are truly profitable. Partly the business model (where transfers and wages never seem to correct themselves) and partly because revenues and commercial success are closely tied to success on the pitch, which can be cyclical in nature.
3. I think it is therefore unfair to think Moshiri did not realise these risks when he bought in; and so would close the taps completely on injections. No investor will invest endless sums, true. But equally, with the likes of Sasha R (a very shrewd and experienced operator) he must have factored putting a sum of money into the club each year; and budgeted to do so. I expect you will find another injection this year although it will be to back the selective approach Brands & Silva are taking on transfers.

4. The P&L ignores the fact that the club has real assets it can trade. It is backward looking. By default if wages and transfer values will rise, then so should the value of atleast some of the players on our books. We are pursuing a strategy of actively trading players to aquire transfer targets as we have a pretty shrewd operator in Brands. The Gomes/Vlasic trade at a cost of 8m looks like an excellent piece of trading. The acquisitions of Digne & Richarlison were equally shrewd and I expect Brands, who garnered a reputation at PSV for cashing on 1 or 2 players at a healthy premium to strengthen the squad, I expect more of the same.

5. I think Moshiri is in for the long term. My biggest fear was the Broadcasting Revenue well would dry up. But Sky has a new owner with deep pockets. BT is going hard at domestic TV rights. Internationally the pay-TV players like DSTV, BeIn etc are getting richer and spending more on International rights. Lurking in the shadows are the OTT beasts. Amazon just acquired its first set of rights. Netflix, Facebook and Google are lurking. Overarching all of this are the potential billions on offer from China for Trophy assets. So far, Wolves, WBA, Atletico Madrid and Inter Milan have been the beneficiaries. Do not be surprised to see them attempt to buy into other household names.
6. The fact is, we do have a plan. It is fraught with problems, delays and risks - not least on the stadium issue.
7. There is simply no evidence that Moshiri has lost his his appetite to support the club. The P&L is a backward looking measure of performance and Accounting rules mean you cannot take forward looking measures of value such as likely growth in player values, the brand name of the club etc.
So, what we are seeing unfolding is, in my view, the execution of a plan and transfer strategy which is principally based on footballing principles. Build a more youthful team, cut the squad size, invest in a stadium, acquire transfer targets on a selective basis.
This is surely the right approach. The P&L could still look ugly for a few years, but, as someone who is involved in the infrastructure industry, my view is that as long as investors take a sensible long term view we will see continued investment and improvement. Moshiri seems to be in it for the long-haul.
Eric Myles
69
Posted 13/07/2019 at 19:15:28
Laurie #62, as I recall, it was US who dropped the points in both the derby games! ;-)
Eric Myles
70
Posted 13/07/2019 at 19:27:19
Jerome #67, didn't Moshiri recently increase his shareholding in the Club to around 75%? So the sway of his representatives on the board should far outweigh Kenwright's?
As for Woods, his family have a long history with the Club so his directorship may be a nod to that, even in a non-executive capacity?
Laurie Hartley
71
Posted 13/07/2019 at 20:56:21
Amit # 68 - great post - I love a bit of optimism.
Eric # 69 - nice body swerve ;-) but agreed.
Derek Taylor
72
Posted 14/07/2019 at 13:05:29
God forbid that Woods be retained as a director as reward for his dogged support of all Kenwright stands for in the Club's history. Credit where it's due, we'd be nowhere without his sparkling personality !
Jerome Shields
73
Posted 15/07/2019 at 05:17:18
Eric #20
Owning shares gives the rights you suggest, but a shareholders agreements terms and conditions can change that situation as regards Board representation.
It's seems that in his agreement to purchase the Club shares in a stage process that Moshiri has agreed to a shareholders agreement that has given Kenwright &Co rights of representation on the Board and maybe even rights regarding the selection of a number of Director positions. The exception to this was the selection of Brands as another Director.
No matter what the shareholding one Director has one vote at any meeting of the Board. In a tied vote the Chairman has a extra vote, the casting vote. On the Everton Board Kenwright &Co have three votes against two votes representing Moshiri This means they have control over any Board decisions.
Of course they have to keep the right side of Moshiri, him being the money man, but they still have a large say in Executive appointment and retention.
I am not party to any shareholder agreement which would be confidential, but can only form a opinion in what I observe. As you might have worked out I would not be happy if my money was involved. Moshiri has been happy to part with his money and let Kenwright &Co effectively control and run the Club
Moshiri has more of a say on the playing side, particularly as regards the Director of Football position, , which must be allowed in the shareholders agreement. The Board controlled by Kenwright decided who the Chief Executive would be.
Moshiri seems to have not wanted to be involved in the day to day running of the Club, but has found himself getting more involved in the playing side. This has been incentived, by not been happy how his money has been spent.
Hope this explains my opinion better Eric.
Jerome Shields
74
Posted 15/07/2019 at 13:43:47
Please note that a share holder agreement can have a time limit on it.
Add Your Comments
In order to post a comment, you need to be logged in as a registered user of the site.
Or Sign up as a ToffeeWeb Member — it's free, takes just a few minutes and will allow you to post your comments on articles and Talking Points submissions across the site.
---
---
© ToffeeWeb