Opinion
Our Proposed New Home
Like the overwhelming majority of Evertonians it seems, judging by the voting on our current poll, I was pretty pleased with what I saw when the first visuals of Bramley-Moore Dock were revealed. I'd love to see a couple of unique touches added to the inside, though.
Lyndon Lloyd

16/08/2019
60

comments | Jump to last
Like almost every Evertonian, I had been looking forward to the big reveal of the first visuals of the club's proposed new stadium at Bramley-Moore Dock on 25th July. Given that I'm constantly in touch with Everton news as part of running this website, it was very strange to have to wait another three days before I could actually see them.
I was in South Africa's Kruger National Park without a mobile phone plan, staying in a rudimentary rondavel completely cut off from the outside world — no wifi, just a couple of beds, a sink and shower, the sounds of hippos grunting in the night and an army of vervet monkeys on the scrounge in the mornings — and I was completely fine with it. Sure, I was aware that my Blue family was getting their first glimpse of Dan Meis and team's vision for our new home and either praising him to the rooftops, cursing his existence or, perhaps, just shrugging their shoulders in a state of underwhelm but I was in the middle of the African bush (as much of a spiritual home for me as Goodison Park) just revelling in nature, the wild, and peace and quiet. Bramley-Moore Dock could wait.
Still, I was pretty keen as I drove drive back through the park on the last day in Kruger to struggle onto the free airport wifi, slowly download the images and finally lay eyes on the designs. All the while, I'd tried to imagine how Meis Studio might interpret the remit of designing something for the 21st Century that was still sympathetic to the history of the site and its surrounding architecture and, like many, I had expected something more akin to the Indianapolis Colts' Lucas Oil Stadium.
There was a low-level fear, one not supported by Meis's previous work it has to be said, that Dan and his team might come up with something a little too twee and caricature-ish, mirroring the dock walls or the entrance towers or something like that. Or, just as unlikely, that they would go for a design so futuristic that it would look completely out of place in its dockside locale. Then there was the issue of what to make of Dan's teases on social media under the hashtag "BlueWave". Could he have been planning a huge wave-shaped stand next to the Mersey that, in a literary sense, symbolised Everton deluging our local rivals in terms of success, trophies and prestige in the yeas and decades to come?!
Like the overwhelming majority of Evertonians it seems, judging by the voting on our current poll, I was pretty pleased with what I saw. The Meis vision for Bramley-Moore Dock is a nice blend of the old and the new; a nod to the docklands' past with the brick facade on the base and the metal and glass evoking the modern and the cutting edge rising out of the dock. In that respect and in accordance with the notion that Everton's new ground will be unique among English football stadia, the designers and architects have fulfilled the brief to a tee.
Of course, one of the great selling points of BMD is its waterside location and the fact that the stadium will only fill three quarters of the dock itself means that there will be some water adjacent to the ground that will (provided it's kept clean and the Kopites are thrown over the right wall into the Mersey!) make it all the more attractive for those moody night games.
Indeed, while Goodison under the lights has always had that special appeal, our new home could establish its own magic when its dark and the stadium looks as grand from the outside as it does inside with 52,000 fans packed to the gleaming metal rafters. [I'll leave the argument over the capacity for another day but suffice to say 55,000 would make me much more comfortable if the club don't think 60,000 is feasible for whatever reason, be it financial or due to the physical constraints of the site.]
The lattice of darker bricks evoking the Archibald Leitch ironwork at Goodison Park is a nice touch that will further enhance the uniqueness of the structure and provide a link to the club's past and I'll admit that the more I look at the designs and watch the video, the more I like it. The same could not be said for Destination Kirkby and I think Meis's vision is a bolder, fresher take than original plans for the Kings Dock, as much as that particular location would have been so much better in terms of access and proximity to the city centre.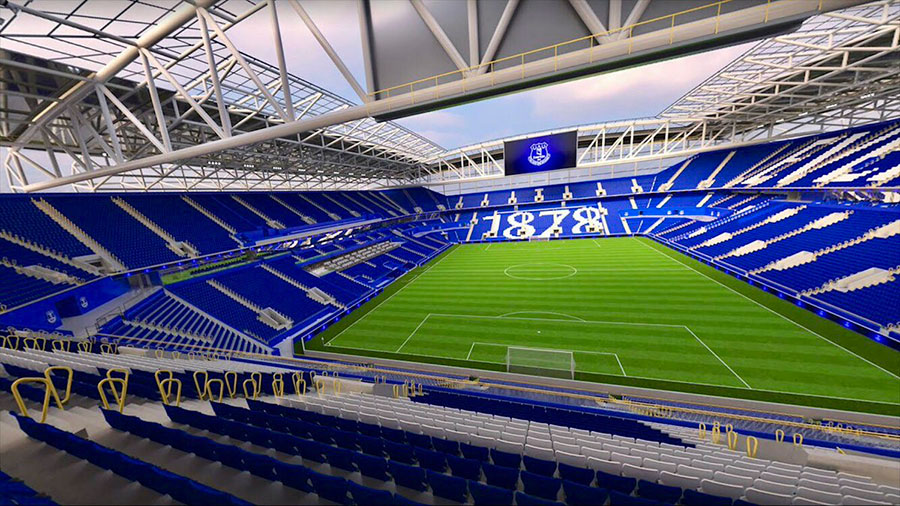 Where the interior is concerned, the designers appear to have remained true to one of the central goals of intimacy and closeness to the pitch of the crowd. There is a compactness as the 3D fly-through whirls you around the inside of the stadium and, with the configuration of boxes on the west stand, more than a hint of Goodison's Main Stand at first glance.
The glass and open sections beneath the roof lend greater weight to the modernity of the structure while also adding a feeling of spaciousness above the tight stands.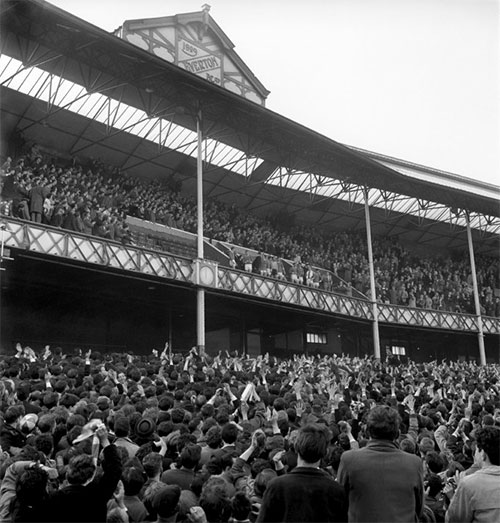 Could a modern interpretation of the old Goodison Park gable be added to Bramley-Moore Dock?
What's missing for me, however, is a touch of the one-of-a-kind and instant identification of this as Everton's Bramley-Moore Dock from the inside. The criss-cross Leitch design at Goodison provides a wonderful backdrop to photographs and footage of matches at the Grand Old Lady and I'm not seeing anything quite as distinctive in the new designs.
The interior has been criticised by some as being just being another standard bowl — I disagree — but it doesn't quite have the same unique stamp as the rounded summit of Tottenham's wall of home supporters topped by their famous cockerel, one that creates a visual statement to round off that stadium as being unmistakably Spurs.
Whether it is a large iron "EFC" lettering motif from the old days like that on the current gates at Goodison at the top of the home end or some modern take on the old Goodison Park gable that would go on the opposite side to the main television gantry, I would love to see something special and distinctive be added to the final look.
Those are the kinds of ideas and suggestions that could be added as the second phase of the consultation enters its final 10 days. If you haven't filled out the survey, make sure you do. And if you're appearing personally at one of the consultation stops — they People's Project will be at Goodison Park this Saturday for the Watford game, for example — then feel free to give them your thoughts.
I also invite comment here below so that this link could be shared with Dan Meis himself to add to the feedback he will have been receiving over the past few weeks. What are your thoughts, Blues?
Watch the People's Project video
Consultation visits Goodison Park this Saturday for Watford Clash

Follow @EFCLyndon
Share article:
Reader Comments (60)
Note: the following content is not moderated or vetted by the site owners at the time of submission. Comments are the responsibility of the poster. Disclaimer
Steve Ferns
1
Posted 16/08/2019 at 00:35:36
I like the idea about something that makes the "blue wave" instantly recognisable. What about NIL SATI NISI OPTIMUM in big letters at the top of the stand?
Don Alexander
2
Posted 16/08/2019 at 00:46:49
EVERTON - THE MOST SUCCESSFUL FOUNDER CLUB OF THE FOOTBALL LEAGUE.
Derek Thomas
3
Posted 16/08/2019 at 01:27:46
The Gable Lyndon, exactly this. I've been saying this for 2 yrs off and on (and if they want to stick the last surviving square clock in one corner, I wouldn't cry about that either) It wouldn't cost much in real terms.
Chris Davies
4
Posted 16/08/2019 at 01:52:31
Lyndon, the finesse in which you articulate all things Everton is always measured, insightful and a pleasure to read. I know you weren't searching for compliments, but ideas for the new home, I have none.
It's too upsetting to think of saying goodbye to Goodison to dream of a new version. It'd be like fantasising about your next girlfriend before she's even contemplated running off with the postman.
Jack Convery
5
Posted 16/08/2019 at 03:28:29
Agree fully with your idea of the criss-cross design, it would instantly bring Everton to mind whenever you saw an image of the ground.
I don't think Sunderland used it when they built the Stadium of Light as it would have made it stand out as only Sunderland could play there - Roker Park had the red criss-cross design.
It must be unique and whenever an image is used everybody would know thats EFC's stadium.

Peter Mills
6
Posted 16/08/2019 at 07:57:39
I like the idea of having something immediately identifiable as "Everton", although the images and location of the stadium so far provide a large element of that.
But we have to be careful. Goodison is Goodison, the legacy proposals provide for it to remain so, but in a different form. We do not want a pastiche at the new ground, which could happen if we try to incorporate too many people's wishes. What do they say, "a camel is a horse designed by a committee".
Having listened to Dan Meis, I think he is probably too sharp for that. I do have a slight concern that if Dan is novated to become employed by the contractor, his allegiance immediately shifts to his new employer, who have their own agenda. Personally, I would prefer for him to remain fully and firmly in the client camp.
Also, there is the concept of "value engineering", where the contractor identifies potential cost savings then takes a cut of such. The argument for this is that it is a "win/win", but there is always a danger that too much compromise is made. It's not unusual for new buildings, especially by the sea, to look very bright and shiny when new, only to become rather forlorn-looking a few years later. It's going to be important to ensure top quality materials are used. I guess if we can find someone who makes decent steel it will be a start.
Karl Masters
7
Posted 16/08/2019 at 09:03:27
I like the design, but you hit the nail on the head, it does lack something inside.
I've been sitting here on holiday in Canada looking at the images much more closely and I have spotted a few things I don't like such as the corners at pitch level where seats are replaced by spaces for who knows what or who. I also don't like the exit vomitories so close to the pitch, they should be further back so they don't break up the crowd close to the action ( Spurs have avoided this ).
I also think the ' main stand' looks very 'bitty' and I was hoping for this to be 3 levels to kind of mirror the feel of Goodison which he has obviously tried to follow.
Whatever logos or lettering you put in the seats won't make it instantly recognisable as Everton when it's full of fans and I think we do need to add something. I definitely agree with others about the balcony walls having Leitch crosses. To me this is the obvious thing to do. Either permanent or on the computer screen walls that they appear to have used in the images with multiple Everton crests so far. Alternatively, a modern take is glass walls with crosses etched on to them.
I'd also like to see the Tower in there somewhere, perhaps on the roof as a feature, a bit like Spurs and their cockerel. In fact we can learn a lot from Spurs ( on and off the pitch ) just now. I know a lot of Spurs fans and they all love their new stadium. That design took in a lot of fan feedback and whilst I think the exterior of BMD has been pretty much nailed, I think the inside needs more careful 'detail work' for us to find it replaces Goodison in our hearts.

Brian Williams
8
Posted 16/08/2019 at 09:03:27
Personally I'd like to see the NEW stadium be exactly that. I think trying to stick bits of this and that in there as memories of Goodison could take away from something modern, stylish, and fit for purpose.
There's a very fine line between a nod to the past and wallowing in nostalgia. I love Goodison as much as the next Evertonian and have been going there for over fifty years but time moves on and so should we (IMO).
Give this generation, and the next, a stadium to be proud of and one that's up to date in every way.
I think the red brick facade is enough of a nod to the past on an ultra modern design and I fear sticking on bits from Goodison would be akin to sticking the Ford badge from your old Cortina on a brand new Jag.

Dave Abrahams
9
Posted 16/08/2019 at 09:21:05
I'm in line with Brian (8) if we are changing then let's change, I loved Goodison Park and will be sorry we're leaving but the memories will stay. I hope future generations will have the wonderful memories of the new stadium that I have of Goodison Park.
Being completely honest the ground meant a lot and the new one will, but what made the ground was the people inside it, I've travelled all around England watching the Blues and always felt proud to be part of the supporters who made ourselves heard in great stadiums and ramshackle grounds, the fans made the stadium no matter what sort we were in, so I never get that much bothered about the stadiums but ultimately what the team does when it gets out there, nothing against sentiment but once I've seen Bramley- Moore arena I'll settle into it no matter what it looks like.
Mark Murphy
10
Posted 16/08/2019 at 09:42:55
Only a niggle perhaps but will it's proximity to the water mean a risk of games being threatened by the fog/mist?
Brian Williams
11
Posted 16/08/2019 at 09:57:54
Mark#10.
In a word mate, no!
And in a few more. This mythical weather that the river front is supposed to suffer is just that, mythical.
It's no better or worse than anywhere else in the area, and I've yet to experience this gale force wind that haunts the river.
Yes there's been strong winds there just as there has been throughout the area at the time.
Stan Schofield
12
Posted 16/08/2019 at 10:01:07
Lyndon, like you, I was impressed when I first looked at the design. But also, like you, I felt something was missing that could be called 'distinctly Everton'. I don't know what it is, and I have no real image of what it should be, just a feel of something extra that could be added.
Whatever it is that is needed, I agree with Brian@8 that it should not hark back to the past too much, since at the end of the day it's youngsters who become Evertonians and ultimately the whole thing is for the future and our desired successes.
When I started going to the match in 1961, I loved Goodison straight away, and feel that part of that was the criss-crosses on the stands. On photos, they tell you immediately what place it is, underlining the uniqueness. I think an analogous symbol is needed for the new stadium, not the same as the criss-crosses, but uniquely telling us what ground it is.
That photo of Goodison Road takes me back. It's obviously the team parading a trophy. At first I thought it was the 69-70 title, but then realised that was a night game (against West Brom). Anybody any ideas?
John Keating
13
Posted 16/08/2019 at 10:03:47
Stan
I used to stand where the photo was taken from.
I'm sure it was the last game of the season against Fulham when we got the 63 league title
Stan Schofield
14
Posted 16/08/2019 at 10:24:06
Cheers John!
James Hughes
15
Posted 16/08/2019 at 10:33:05
Stan -
When I started going to the match in 1961, I loved Goodison straight away,
I know exactly what you mean. My Dad was a red and my first game was at Mordor, I hated it. Went to Goodison and felt like I was home
Just hope the new ground will have the same feel, am sure it will. It will help us in getting back to the top of tree.

Mark Kelly
16
Posted 16/08/2019 at 10:41:29
I really like the exterior, it looks fabulous and makes a statement.
However I'm pretty underwhelmed by the interior. Dan talked of evoking Goodison, but I don't see it. The single tier home end, lesser opposite end and the sides as proposed are more of a nod to the current version of our original home.
I don't want that. I want a ground as unique and recognisable on the inside as it is from the outside. I also want it to be the best for the match goer.
For me the best sight lines at Goodison are from the upper Bullens. I would have liked to see him design a stadium with the top tiers projected over the lower tiers without the stanchions and obstructed views.
I'm not as concerned about the Archibald Leitch crosses (they're a nice nod incorporated in the exterior brickwork) as I am about the way he designed the corner of the Street end to the Bullens. Any image of that and you can instantly tell it's Goodison. I'd like to see a modern take on that design.
If Dan is able to project the top tiers over the lower tiers and incorporate the corners in an iconic way then the thorny issue of the capacity could also be addressed as 55 - 56k seats would be achievable on the same footprint.
Stan Schofield
17
Posted 16/08/2019 at 11:16:01
James@15: Goodison also struck me as 'grand' and big. Immediately understandable as a venue for the '66 World Cup. Something on a scale to be proud of. In contrast, Anfield struck me as like a sardine can, lacking in grandeur. It still does, but to a lesser degree.
Maybe that is the link that's missing for me. The criss-crosses maybe emphasised the scale of Goodison, which can be gleaned from that Goodison Road photo. The overhanging stand on a part of the ground that held 27,000 with stand and terraces. In this respect, I think Mark@16 has touched on something there, where overhanging tiers can bring scale and grandeur.
Alan McGuffog
18
Posted 16/08/2019 at 11:32:23
Stan, you're spot on. Besides, unless my memory is failing, that night we clinched it against the Baggies in 1970, the old Goodison Rd stand was already half demolished ?
Stan Schofield
19
Posted 16/08/2019 at 11:48:40
Alan, I don't think it was. They set to work on it the next day from what I recall.
When the new stand was built for the 70-71 season, I recall that Everton were the first club in the country to replace the pylon floodlighting, that was standard at the time, with lights along the top edges of the stands. We were also the first to have an electronic scoreboard, and I believe (but not sure) underground heating for the new pitch.
I don't wish to sound childish, but I think such firsts are important, they underlined how big Everton was (hopefully still is). Similarly the then grandeur of Goodison fitted our status. Whatever the detailed design of the new stadium, it has to have great grandeur, preferably grander than all other club grounds, to reflect our history as represented by Don's post @2.
Lyndon Lloyd
20
Posted 16/08/2019 at 12:04:02
Karl (7): "
I have spotted a few things I don't like such as the corners at pitch level where seats are replaced by spaces for who knows what or who
"
My guess is that those are the areas reserved for disabled seating which can obviously be better integrated into a new build rather than expanded retrospectively as it has been at Goodison
Alan McGuffog
21
Posted 16/08/2019 at 12:15:00
Stan I bow to your memory but I'm sure something was happening. The attendance that night was " only" about 58,000 I seem to recall, a significant drop on out 65,000 capacity.
Then again I've a memory like a bag of mince
Stan Schofield
22
Posted 16/08/2019 at 12:44:57
Alan, you're probably right, in fact it stands to reason because as you say it would have been 65,000 ordinarily for a match like that. The main thing I remember, apart from the goals, is being on the pitch at the end, because folks on the terraces pushed forward to see the trophy being awarded.
Danny Broderick
23
Posted 16/08/2019 at 13:29:06
I'd like to know what the plans are for modern technology in the new stadium. Do they have any plans to use blue LED lighting to create a visual effect? What about WiFi? Or screens throughout, or sound system?
Some of these modern touches will make us feel at home straightaway, if they are done properly, as they will enhance the match day experience and help us love it from day one.
John Barclay
25
Posted 16/08/2019 at 13:41:33
Mark, with current guidelines it's difficult to get the top tiers overlapping the lower ones - you either get low c-values (rubbish views) or the rake gets too steep for compliant steps.

Totally agree with all the comments about needing to stamp the clubs identity somehow in the stadium bowl - I would hope this will be considered in the next stage of design.

Never understood the references to Lucas Oil Stadium (a horrific building in my opinion) so very glad Meis has not gone down that route!
Steve Ferns
26
Posted 16/08/2019 at 15:14:44
Stan, but, but, but they've got a new big stand!
Peter Mills
27
Posted 16/08/2019 at 15:14:56
Alan#18, Stan#19, the new Main Stand was about 30% constructed (but not in use) during the 69-70 season, with about 60% of the old Goodison Road stand and terracing still being used.
The Championship trophy was presented in the old stand.
Stan Schofield
28
Posted 16/08/2019 at 16:02:57
Peter, yes, people on the terraces under the old stand pushed forward to see the trophy, which is why my dad and I, who were at the front, ended up on the pitch.
Steve, now it's a family size sardine can!
Alan McGuffog
29
Posted 16/08/2019 at 16:17:03
Thanks Peter...thought it was something like that. Regards to Charlie
Dave Abrahams
30
Posted 16/08/2019 at 16:23:25
Stan (19), yes I'm sure we were the first club to have underground heating, it was installed in the early sixties, and came in useful a couple of times during the dreadful winter of 1962-63.
While it was being installed I remember going to reserve team games at Anfield and Earle's ground, who were a small non -league team at the time.
Paul Columb
31
Posted 16/08/2019 at 16:36:31
I'm impressed by the initial renderings. The stadium is a contemporary take on the dock area's architecture with IMO a low risk on becoming quickly aged or out of fashion. I'm also relieved that an attempt to include a Rupert's Tower effort into the structure or an exterior dominated by royal blue was avoided as it could appear quite tacky.
The brickwork nod to Leitch is sufficient and adds to the aesthetic but the stadium is Meis's creation and should never have been too much of a tribute to Goodison's architect.
I'm really hoping the parking structure does not take away from the park's incredible location and that its rooftop is maximized with a plaza for bars etc. Also very much hoping that a sizable museum is included for housing the Everton Collection and trophy room.
The concourses could include sections of the Leitch crosses particularly in the home end and I'd love to see the Bullens floorboards used for panelling the bar walls or even repurposed as flooring there.
Overall, a very impressive initial offering and I'm very excited to see the final plans as planning applications are submitted.
Lyndon Lloyd
32
Posted 16/08/2019 at 16:54:51
Brian (8), Stan (12), I agree that we shouldn't be aiming for a pastiche of Goodison with bits borrowed and inserted here and there and I don't think the Leitch lattice design would work against the backdrop of a shiny modern structure; it might look a little out of place if done in the wrong way.
I'm not sure what it would be – maybe it can be done digitally in what appears to be a narrow band of continuous LCD around the middle of the stadium seating, although that would defeat the object of having something electronic (i.e. changeable) there in the first place – but for me interior needs something to make it immediately identifiable as Bramley-Moore Dock in pictures and on TV in the way that Goodison very much does.
Dermot Byrne
33
Posted 16/08/2019 at 16:57:33
I like it very much and agree about some logo.
But what I hope most is younger fans give their views. This is theirs to have their own memories in.
Steve Carse
34
Posted 16/08/2019 at 18:14:08
Karl (7), couldn't agree more on the positioning of breaks in the seating blocks to allow for entry and exit. They look awful in the pics/video. In fact, there looks to be too many than would be required. But if there are to be so many, why have them so close to the pitch? I thought the whole idea of the design was that its structure would be intimidating. The Street End has it right, with the openings at the centre and the rear of the terracing; getting the angry snarlers as close to the opposition as possible.
When you see film of the truly atmospheric modern grounds these days you can hardly tell where the exits/entrances and indeed gangways actually are. The Dortmund Wall is a classic example.
The new White Hart Lane has a number of poor features from the atmosphere perspective, and one is the ultimate mistake of aligning entrance/exit and gangways to split in half what should always be a single solid section of seating right behind the goal.
Karl Masters
35
Posted 16/08/2019 at 18:17:26
Lyndon (20) I thought the disabled areas were higher up - the bits they call 'Access' in the corners, the flat concourse balconies.
It's been said a few times that they don't want people in wheelchairs stuck at the front with poor sight lines and susceptible to bad weather.
Just to add to what I said earlier, I think they need to incorporate a silver/steel Tower into the front of the roofline. Modern materials, but something obviously Everton. Our badge is our past, present and future.
Karl Masters
36
Posted 16/08/2019 at 18:22:35
Agree Steve Carse
Joe McMahon
37
Posted 16/08/2019 at 18:45:39
Brian @8, with you all the way. No point looking back, Goodison has seen the good times but lack of trophies over the past 30 years says they have been limited. I'm not old enough to remember the sixties. The stadium is a dated relic, onwards and upwards!
Geoff Lambert
38
Posted 16/08/2019 at 19:17:41
Is it just my impression or does the overhang of the roof look like it would not cover quite a bit of the seated area underneath if there was a bit of driving rain? Everything else looks fantastic to me and with 50-something thousand unrestricted views inside, I for one can't wait.
Paul Birmingham
39
Posted 16/08/2019 at 19:46:10
I see scope to incorporate Everton themes within the plaza and entrance area to the stadium.
Interesting to see what will happen with the memory walls and if Dixie's statue will stay behind the Park End - Sir Philip Carter stand.
Maybe a 3D CGG view will help show the space and potential for building Everton themes in this area.
Exciting times but we need it very much on the pitch, too.
I've gone for 4-0, to us, not had a beer yet.
Well we must live in hope eternal.
Matt Doyle
40
Posted 16/08/2019 at 19:50:44
I'm a very long time reader of TW but very occasional poster. I'm also an architecture professional so I've been keeping a fairly keen eye on all the Bramley Moore developments.
For me the question about the slightly soulless interior is simple. I'd propose retaining a segment of the Bullens Leitch lattice, even if it were just a small part of it, and install it as a decorative feature in a similar position to where it sits at Goodison now. I can even see a few suitable places on the left hand side of that interior rendering above.
I think all blues would understand the symbolism of physically taking part of your old home to your new one. As some posters touched on above, designing modern 'replicas' of parts of Goodison could seem tacky if done the wrong way, so why not actually retain part of its most recognisable feature and bring it with us? That we we won't have to let Goodison go completely, it would be in keeping with the club's historic identity and would compliment the local industrial architecture around Bramley Moore dock.
The last few decades in has seen a trend for clever, modern refurbishments of historic buildings. There's no reason why it can't be done the other way around - installing a historic feature into a new build. It shouldn't add significant extra loading to the structure either.
Of course this depends on Goodison being completely demolished.
Joe Corgan
41
Posted 16/08/2019 at 20:20:31
I agree completely with the need for something inside the stadium to be instantly recognisable as Everton.
I feel it needs to be something "built-in" rather than "bolted-on." So a huge Nil Satis Nisi Optimum sign ain't gonna cut it.
The Leitch cross-crosses are an obvious choice, which shouldn't be too difficult to implement, perhaps amongst the metalwork supporting the roof so as not use to take up any of the space used for seating.
I also feel that the interior of the stadium should reflect the outside but, at the moment, there's no similarity whatsoever. I would like to see some brickwork, similar to the outside, inside the stadium. The wall running in a band between the upper and lower tiers (e.g. the corporate boxes) could incorporate this quite nicely.
We haven't heard much about the facilities inside the stadium yet. One would expect it to have all mod-cons but in the absence of official confirmation, it's something I've fed back to the People's Project. Tottenham's stadium may have cost twice as much but I'd still like to see Bramley-Moore offer a few firsts in a British stadium.
I'd also like to touch on the Goodison Park legacy. I really liked the concept images of part of the Bullens Road being preserved for future use. Perhaps a hotel and conference centre wasn't the best idea in terms of continuing to serve the local community but the idea of part of our original stadium living on is something that shouldn't be dismissed too quickly. I understand the issues around the condition of Goodison and the work that would be required to shore it up for the long term, but nothing's impossible. It's just a matter of how much cash you're willing to invest.
It's important that we each give our feedback during the consultation phase to try and get some of these ideas incorporated in time.

Brian Hennessy
42
Posted 16/08/2019 at 20:38:52
"staying in a rudimentary rondavel completely cut off from the outside world — no wifi, just a couple of beds, a sink and shower, the sounds of hippos grunting in the night and an army of vervet monkeys on the scrounge in the mornings"
Are you sure you weren't in a Travelodge in Manchester City Centre Lyndon, it sounds very familiar to me?
Ray Roche
43
Posted 16/08/2019 at 20:40:40
Brian. Classic!!!
🤣🤣🤣
Dennis Stevens
44
Posted 16/08/2019 at 21:09:41
Surely the unique feature should be a roof that can be closed to the worst of the weather?
Alexander Murphy
45
Posted 16/08/2019 at 21:56:23
Dennis #44
Absolutely NOT My friend.
Why would we need that ?
How many games were cancelled at The Grand Old Lady in (lets say) the last hundred years due to adverse weather ?
And why on earth sanitise Our conditions to the benefit of visiting opposition ?
Then do the cost vs effect arithmetic.
Pointless, I'm afraid.
Spend the money on ANYTHING meaningful.
David McMullen
46
Posted 16/08/2019 at 22:47:36
Totally agree about the criss-cross. I read once a comment that it wasn't unique because it's with other stadiums too like Rangers and Roker Park.
Actually the point is, when we do move, we want something that identifies it as 'home'. Unique to both us and the viewers. I think the Leitch criss cross would be just that. Home from home.
I will admit I'm not as enthusiastic as everyone seems to be about the designs. Could be better. Seems a bit generic inside.
As Lyndon suggested, I also was hoping for an Everton version of the Lucas Oil Stadium. Maybe a translucent retractable roof to make it unique. Could easily be added to the roof in the plans.
Eric Myles
47
Posted 17/08/2019 at 01:01:18
Maybe build a church in one corner of the home end?
Karl Masters
48
Posted 17/08/2019 at 01:35:40
If any local entrepreneurs have any sense, they will be buying up properties across the road from the Dock, knocking them down and building a giant two storey complex including a Winslow bar, a Goodison Supper Bar chip shop, a Rita's ladies hairdressers and a Chinese takeaway.
Mike Gaynes
49
Posted 17/08/2019 at 03:29:06
Lyndon, great article, generating great responses.
Karl #48, let's found a TW investment fund right now and buy into something. I'll drop a fiver in the mail to get it started.
Eric #47, in this day and age we'd also have to build in a synagogue, a mosque and a Buddha.
Murph #45, I'm with you. No roof.
Brian #42, that would also describe any Motel 6 in the US, only the grunting you hear through the wall won't be hippos.
Lyndon Lloyd
50
Posted 17/08/2019 at 07:03:44
David (46), I didn't mean I necessarily *wanted* something like Lucas Oil Stadium, more that that was one of the looks I imagined that Mies Studio could go for. I prefer what he and his team have come up with, I think.
David Cochrane
51
Posted 17/08/2019 at 08:45:53
I'm really happy that the outer detail of the stadium reflects in some way the Tobacco Dock and the roof structure looks amazing also from the outside. I think more external detail could have been incorporated.
Like the majority of the above comments, I don't think its going too far to add the Leitch crosses somewhere into the interior, but they have to be in a permanent material and integral to the structure, preferably of steel / iron. The interior for me has no individual design detail and could almost be any other ground.
I dislike the placement f the exits just a few rows back from the front, though I understand both the safety aspect and need for concourse space behind them.
I really hate that the carpark is located in front of the stadium from the riverside when it could have been below ground (could be).
I agree that there should be an upper concourse dedicated to the Everton Collection of David France and amazing cultural attraction to the stadium on non-matchdays.
The idea to retain a part of the Bullens Road stand and create an events complex is a great idea and could provide local people with the possibility of jobs and training and of course a reminder of what the site used to be.
Despite my comments above, I still think Dan Meis has done a great job in actually pleasing the vast majority of the fans.
Rob Marsh
52
Posted 17/08/2019 at 18:16:39
Hello Lyndon,
"The interior has been criticised by some as being just being another standard bowl — I disagree"
Lyndon, it's not a bowl, it's a square bowl! (yes, that's a contradiction but true!).
Have a look at the three stadiums below and then have another look at BMD images and when all is said and done there's not a whole lot of difference. The proposed BMD stadium is far more glitzy, especially on the outside much more than the three below, but I do wonder how much of that glitz came at the expense of the fan experience on the inside after being bullied by Unesco and the Council.
However, there was though an image in the original EFC presentation that showed a three tier main stand, a two tier bullens, the away end with its reduced capacity (in your image above) and a huge wall for the new Gwladys, these changes would go fair way to breaking up the bowl shape and would be very acceptable.
They really have done an alternate to the Spurs stadium.

https://www.google.com/search?q=stadium+of+light&client=firefox-b-d&source=lnms&tbm=isch&sa=X&ved=0ahUKEwiBgqKZpYrkAhVkqnEKHZrMDHQQ_AUIESgB&biw=1016&bih=570&dpr=1.33#imgrc=U9nAKndtqiVPuM:
https://www.google.com/search?client=firefox-b-d&biw=1016&bih=570&tbm=isch&sa=1&ei=9SZYXdHwCJKSaIfdgqAP&q=middlesbrough+stadium&oq=midd&gs_l=img.3.1.0i67l8j0j0i67.79059.80505..82232...0.0..0.81.305.4 0 1..gws-wiz-img.XhyZTbeaxPs#imgrc=jwV_gjFCFxnX3M:
https://www.google.com/search?q=madejski+stadium&client=firefox-b-d&source=lnms&tbm=isch&sa=X&ved=0ahUKEwjw5NC_porkAhWFQxUIHTGJBUgQ_AUIESgB&biw=1016&bih=570#imgrc=22fbDnoR2yKgWM:
Rob Marsh
53
Posted 17/08/2019 at 18:50:08
I meant to say in the last post:
They really have done a similar alternate to the Spurs stadium.
Terence Connell
54
Posted 17/08/2019 at 19:59:28
Looking at the People's Project app from the centre of the pitch, there seems to be a wall of blue in each of the four corners of the stands. I think they just have the Everton crest on them at the moment but they could be made to look much more distinctive with some kind of design on them. Not sure what but this could make the interior recognisably Everton and I agree with those comments.
Anthony Murphy
55
Posted 17/08/2019 at 21:23:58
I think all things considered most fans would be happy to see the Leitch criss cross incorporated in some way as part of the interior. Let's be honest, we (us blues) are going to find it hard to let go of Goodison, so a subtle nod to the old lady will sit well with most.
I know it's in the brickwork, but I think sitting in the new stadium and glancing over to see the criss cross design on the opposite stand will send shivers down the spine. Just spend some time looking over old pictures of Goodison - it's too great a part of the fabric to ignore
Alasdair Jones
56
Posted 18/08/2019 at 12:45:10
Lyndon,
As usual, your measured and observant style sets out a careful consideration of the new stadium proposals at Bramley-Moore Dock. I agree with much of what you say and a number of the other comments posted below your article.
I first became interested in the design and layout of the proposed stadium having read on TW Mike Owens excellent article Touchside at Bramley Moor, posted in July just before the present round of public consultation hosted by the People's Project. Indeed, I posted a number of comments in response to that.
I note that in your article you advise that you will be sharing this link with Dan Meis as a vehicle for conveying our views on the design and layout of the stadium. So having looked at the images and the stadium plan on line, visited the exhibition on 13th August, and followed that up with a visit to the site via Sandhills Station, my initial thoughts are as follows, which may or may not be worth conveying to the architect.
I find the design of the stadium, based on the elevations and the 3D fly-through available at the exhibition site, to be quite impressive. It is a modern fit-for-purpose building that will not result in the sort of almost modular and off-the-shelf style evident with so many of the new grounds that have emerged over the years without much thought given to their setting and relationship to the surrounds. I believe Dan Meis design achieves those aims without compromising the efficient functioning of the building whilst respecting the history of the surrounds and its historic buildings. The brick elevation and the detailing within that on the outer face of the main stand is welcome in that regard. One small concern, however, is that I have not seen a picture of the new ground from the west, looking from the river at the new car park with the stand rising up behind. The design of the car park and its waterside elevation will be important in that regard and should not detract from the brickwork face of thee new stand.
A number of commentators in response to your article have raised concerns about the appearance of the stands from within the stadium, and highlight in particular a desire to see an incorporation of the distinctive Leitch "criss-cross" on any balustrading which may separate the two levels. I would agree with that and also the prospect of incorporating the clock (in replica if necessary) from the church corner of Goodison Park. Some heritage from the old ground within the new would further help set the stadium apart from the tedium of others and give instant recognition to those important (future revenues) viewers on TV.
Now to the surrounds. In response to Mike Owens 'sarticle I raised a number of concerns regarding access to the ground. As I said above, I have walked from Sandhills station to the site on the basis that this station will provide an important public transport link to the site. To do so I crossed at least one main road at a junction with traffic light and pedestrian control. The pavements are narrow and I think it will be the case that the roads in the area will themselves, by default, become the main pedestrian link from the station. But only part of this route or routes will be the subject of the proposed traffic management and road closure proposals as shown on a plan at the exhibition. To my mind, the important pedestrian link to Sandhills station will need to be addressed in the upcoming planning application.
I like the idea of the large scale fans piazza on the Regent Road side of the ground. However part of this will be providing a route for vehicles accessing the carpark and/or the main stand. This needs to be clearly defined by reference, for example, to a change of surface treatment so that some degree of segregation and safety for fans is achieved.
Lastly, and related to this inclement weather. In the event that the weather is so bad that milling around in the piazza is a no no will the ground floor of the new stands provide a suitable refuge area of appropriate scale? I have not seen, or been made aware of, the internal circulation and layout within the new stands so at this stage I can do no more than highlight this point. Bear in mind that unlike Goodison the surrounds do not feature a lot of pubs, bars or social clubs that for our present ground provide refuge, shelter and refreshment on a grand scale before kick-off.
Kevin Harnan
57
Posted 19/08/2019 at 16:17:36
I just hope I can go and have a meal there without been ripped off during the week... or just a sit on the front, admiring the view...

Rick Barnes
58
Posted 20/08/2019 at 01:41:47
I love the new stadium, but was also concerned that some of the interior was underwhelming, especially the tunnel with basic white walls and childlike blue trophies painted on it. To me it was boring and clinical, like a hospital maternity ward...
...so I tweeted my thoughts to Dan Meis, and his response was fantastic, so I thought it might be of interest in this discussion. I suggested we do something bold, and sent him images of Schalke and St. Pauli's foreboding tunnels. His response was;
@toffeeroo @Everton "Yep not developed yet, those spaces were merely placeholders for the fly through. Love these references"
So we need to remember that the fly through is an early days artist's impression - as it progresses I'm convinced we'll see all the little details that will make it our home.
If anyone wants to see my tweet and the replies you should be able to see it all here...
Billy Roberts
59
Posted 22/08/2019 at 18:31:55
I loved the old "Littlewoods clocks" but there is no way something of its size is going to make it into the new stadium. I would have thought, though, one or two could be used as a meeting point in the fan zone, a great focal point, a pure unadulterated nostalgic nod to the past, a photo opportunity, and also a reminder to the fans to get their arse in gear as the match is about to kick off!!
I really think this could work and satisfy our need to bring some heritage with us. If anyone knows how to pass this idea on to Meis, let me know, I realise the consultation process has just ended.
Rob Halligan
61
Posted 22/08/2019 at 19:09:28
Billy, you say that there's no way the Littlewoods clocks will make their way into the new stadium. Actually sounds like a great idea to me. After all, Arsenal managed to get their "big clock" fitted into the Emirates, high above behind the goal where the away fans are.
I doubt, however, the Littlewoods clocks are still knocking around anywhere. They were probably destroyed years ago.
Billy Roberts
62
Posted 22/08/2019 at 19:23:43
Rob, I'm not against the idea of putting the clocks inside the stadium, I just can't see it happening, I think they would jar a bit with a modern interior but, like you say, they would have to be reproductions, I could live with that.
I like Lyndon's idea of the old EFC logo also being incorporated, I think that could be iconic.
---
Add Your Comments
In order to post a comment, you need to be logged in as a registered user of the site.
Or Sign up as a ToffeeWeb Member — it's free, takes just a few minutes and will allow you to post your comments on articles and Talking Points submissions across the site.
---
---
© ToffeeWeb