Opinion
'Money Can't Buy Us Love: Everton in the 1960s' – By Gavin Buckland
Two strong-willed, complicated, men form the axis of a new book by Gavin Buckland which explores, in greater detail than ever before, Everton during the trophy-laden 1960s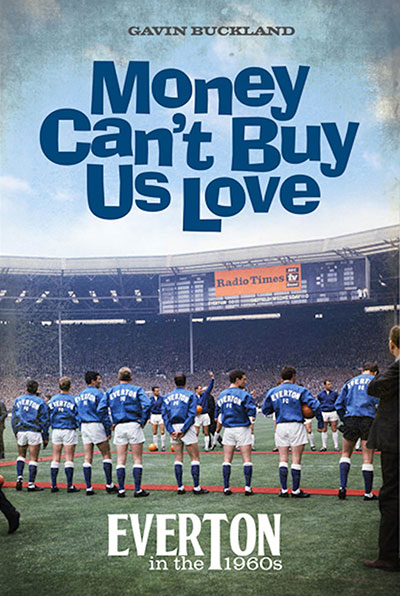 Reviewed by Rob Sawyer
For those who have only been following Everton since the 1990s, you'll have known the Blues as the plucky underdogs – the Dogs of War, even. It's been the People's Club, punching above its weight against opponents with much greater financial clout.  For these younger supporters - even in this more financially stable and ambitious Moshiri-led era - it must be hard to envisage a time when the Toffees were the much envied moneybags of British football. Yet, throughout the 1960s, thanks to the ambition of one man, Everton was treated with much of the same suspicion - and grudging admiration - as Chelsea FC was early in the Roman Abramovich era.
That man responsible was John Moores, the self-made multi-millionaire from Eccles who made his fortune in the Pools and Mail Order businesses. Although long-associated with both Mersey football giants, the Littlewoods entrepreneur threw in his lot with Everton when he joined the board in 1960, quickly rising to Chairman. He gave the club the financial muscle, ambition and ruthlessness to win honours after a fallow period. In came Harry Catterick as manager, given a clear mandate to bring back the glory to Goodison. By and large, that is exactly what Catterick delivered, under the greatest of pressure from a man who not only expected but demanded success in short order. 
These two strong-willed, complicated, men form the axis of a new book by Gavin Buckland which explores in greater detail than ever before, this trophy-laden and fascinating period.  Buckland's unstinting research has culminated in Money Can't Buy Us Love: Everton in the 1960s - the title and cover artwork are wry nods the club's unwanted Mersey Millionaires tag, referencing a certain mop-topped beat combo that hailed from the same city.
At over 350 pages long, it is forensic in the level of detail and insights into how the club functioned both on and off the pitch. Yet it is also easily digested - either by reading the cover to cover (very tempting) or through more piecemeal perusal of the subject matter covered in the 26 chapters.
After some biographical information on Moores life and journey the Goodison throne, the book plunges into his dismissal of Carey in April of 1961 and appointment of Catterick just days later - it does reveal that another leading manager had been sounded out for the post some months earlier. Buckland highlights the expectations on the incoming man, who had been an Everton striker before forging a managerial career in the lower leagues and at Sheffield Wednesday. Although not ignoring the Darlington-born man's shortcomings, it rightly hails his managerial acumen.  Catterick had, perhaps, the most high-pressure job in British football – and Buckland notes that he, by necessity, moved towards being more of a General Manager (or Director of Football, in modern terminology) than conventional tracksuit manager. 
Buckland gives Catterick due credit for blending Carey's entertaining but mercurial players, such as Vernon, Young and Bingham, with his own astute signings to create the robust yet attractive unit which won the title in 1963. The author covers the subsequent tactical evolution from the tried-and-tested 'WM' 2-3-5 formation, through to experimentation with 4-2-4 in the mid-1960s and the adoption of the fluid 4-3-3 set-up - with a core of locally nurtured talent – which secured the League crown in fine style at the end of the decade. As well as the triumphs, the book does not shy away from less savoury subject-matter. The life-ban for Tony Kay, lurid newspaper allegations in 1964, unexpected defeat in the 1968 FA Cup Final, a Greek tragedy in the 1970/71 European Cup, Catterick's health problems and Alan Ball's controversial departure for Arsenal all feature.
Aside from the two main protagonists, many of the 1960's significant figures at Goodison are profiled (Vernon, Labone, Kay, Young, Ball, Harvey, Kendall etc) whilst there are honourable mentions for rivals including Bill Shankly, Don Revie and Matt Busby. Tasty new nuggets of information served up for reader and Buckland also gives his own interpretation of events  - often persuasively challenging long-accepted wisdom (an example being a fresh take on the oft-strained relationship between Alex Young and Catterick). The author Buckland also gives context to Everton's lack of 'brand awareness' beyond its hinterland, in comparison to the other big clubs of the era.
Money Can't Buy Us Love will become a go-to reference tome for scholars of the School of Science for years to come. I heartily recommend it both to those wishing to relive a golden Goodison decade and those seeking a clearer understanding of a defining era for the club and an appreciation of why - and how - five decades later, its impacts are still felt in L4.
Money Can't Buy Us Love: Everton in the 1960s is published by deCoubterin books and is on sale now through the deCoubterin website (https://www.decoubertin.co.uk/Evertonin1960s/), Amazon and all good bookshops. 
Gavin will be signing copies of the book at the EFC Heritage Society exhibition, upstairs at St Luke's Church Hall before the Watford match on Saturday 17th August.
Reader Comments (15)
Note: the following content is not moderated or vetted by the site owners at the time of submission. Comments are the responsibility of the poster. Disclaimer
Stan Schofield
1
Posted 16/08/2019 at 13:24:05
Will definitely be getting this book.
It's difficult to convey the impact of Everton in that decade on a then youngster like me, who from ages 7 to 16 saw truly great Everton teams. For me, the 68-69 season was the pinnacle in terms of sheer quality of football, whilst the 69-70 season was the pinnacle in terms of achievement. The chasm between the expectations we had for Everton at the end of the 60s, and the reality during the 70s, is massive. Of course, the mid-80s brought a too-temporary return as top dog, but did not match the 60s for quality.
That team that won the 69-70 title could (should?) easily have been the England team in Mexico. Our midfield battling with Brazil's would have been something to behold.
In my lifetime I've seen 8 trophies, and I hope young Evertonians will soon see many more than that. Although we haven't won as many trophies as some other sides, the quality of how we played in the 60s is unforgettable. That is surely the goal of the current regime under Moshiri, to return us to top status, with trophies won in style that represents how football should be played.
Rick Tarleton
2
Posted 16/08/2019 at 13:37:19
62-3 remains my favourite team and my favourite season. I was 16 and "bliss was it in that dawn, but to be young etc".
Young, Vernon. Labone, Parker, Gabriel, Kay, Morrissey, Stevens, West, Harris, Meagan, Thompson, Veall, Temple. What players and what dominance.
John Raftery
3
Posted 16/08/2019 at 15:25:21
Gavin has done a great job revisiting the glorious sixties. The decade was far from a smooth journey from trophy to trophy as becomes evident in this well researched account.
The Kay betting scandal and the alleged drug taking were the two highest profile investigations conducted by The People newspaper but there was always a feeling the national press were intent on undermining the club in whatever way they could. Most certainly they missed no opportunity to publish anything negative including the coverage of fan behaviour. Understandably perhaps Catterick in turn treated most of the press with disdain.
In some ways the considerable financial advantage we enjoyed over our rivals in the early sixties came at the wrong time. It came before clubs were permitted to sign foreign players, making it difficult to compete with the big European clubs. Reading in the book about John Moores' wish to sign Ferenc Puskas makes one think about what might have been.
Very well written, with many well chosen quotes from all the key characters and some excellent photos.
Terry White
4
Posted 16/08/2019 at 17:01:24
Don't forget Scott and Bingham and the less-than-popular Albert Dunlop, Rick (#2). I shall be buying this book as well as Rob's homage to Roy Vernon, very much my favourite time to be watching the Blues. I was definitely a "Teenager in Love" with the Blues.
PS, A common misspelling of George's name, Rick. Thomson, not Thompson who played for the other lot at that time and was a good winger
Jay Harris
5
Posted 16/08/2019 at 19:11:08
I remember Jimmy Gabriel's sister telling me a few years ago that he hated Catterick because, even if the players had minor injuries or knocks, he would tell them to get out there and do the business. He was a real sergeant major type who had run-ins with a few players but you have to give the man credit for his success.
As for Tony Kay, both he and us were unlucky in that it was one game when he was at Sheffield Wednesday that he and a couple of teammates put a bet on them to lose, which was a foregone conclusion apparently, and he was banned for life.
John Keating
6
Posted 16/08/2019 at 19:49:55
Rick 2
Same here. Loved that team !!
Dave Abrahams
7
Posted 16/08/2019 at 20:11:52
When you look at the 1962-63 squad physically they were mostly all under six foot except for Labone and West, seems unusual or was that the norm in that era for most teams?
Tony Hill
8
Posted 16/08/2019 at 20:23:11
Tony Kay was pure Everton, Jay @5, and always will be. Those 62-63 boys are beloved ghosts in our minds and the whole era defined our club: style and grace and beautiful entitlement. My word, we were privileged; but it will come again for our younger fans, it will come again for sure.
John Raftery
9
Posted 16/08/2019 at 22:56:42
Dave (7) I think most players in those days were under six feet including the goalkeepers. As you know people reaching adulthood in the early and mid sixties had been born and brought up in the war and post war years of austerity and food rationing. People were generally shorter and thinner. Clubs liked to have a couple of big men in their side and would usually deploy them at centre half and centre forward. From what I can remember our club was the exception in using two physically lightweight players in Young and Vernon up front. Their output of skill and goals was of course anything but lightweight.
Gerard McGregor
10
Posted 17/08/2019 at 15:03:15
Re #3:
Surely Ferenc Albert not Ferenc Puskas?
Gerry Ring
11
Posted 17/08/2019 at 15:06:58
Received my copy in the post & just completed first 2 chapters. Great read so far. Don't want to spoil myself so am taking it slowly to extend the satisfaction.
Ray Roche
12
Posted 18/08/2019 at 12:06:33
Gerard, #10
Florian Albert and Ferenc Puskas. Oh, and Ferenc Bene as well.
John Raftery
13
Posted 18/08/2019 at 19:14:55
Gerard (10) It was Puskas not Albert. Moores was talking about signing Puskas in 1960 when he was a Real Madrid player. Albert only came to our attention in 1966 as a result of his exploits in his country's 3-1 World Cup win against Brazil at Goodison.
Chris Hockenhull
14
Posted 19/08/2019 at 11:51:50
Brief look at this in Southport on Saturday. Definitely will get it. My era and I agree 68-69 was the finest season... also, we should have retained the title in 63-64. We all have our views on what went wrong 70 onwards and I hope some new information and not the usual "Mexico Burnout" is offered.
Just brought back the memory of being at one of those football dinner events in Waterloo some 20 years ago. Somone asked something about the Alan Ball sale/leaving and Labone like grease lightening shot back... very tersely: "I'll tell you something about that little shit" and the moment was lost and never picked up as the evening continued. Was there issues there within the camp that we've never learnt that may have influenced Catterick's decision???
Bill Watson
15
Posted 20/08/2019 at 09:45:38
Albert was absolutely superb for Hungary, at Goodison Park. I'm sure that, with a half-decent goalkeeper, they'd have been a major force in 1966.
---
Add Your Comments
In order to post a comment, you need to be logged in as a registered user of the site.
Or Sign up as a ToffeeWeb Member — it's free, takes just a few minutes and will allow you to post your comments on articles and Talking Points submissions across the site.
---
---
© ToffeeWeb