Opinion
The Change Imperative
Marco Silva goes into a match that he himself has declared as "must-win" against a talented but unpredictable West Ham side.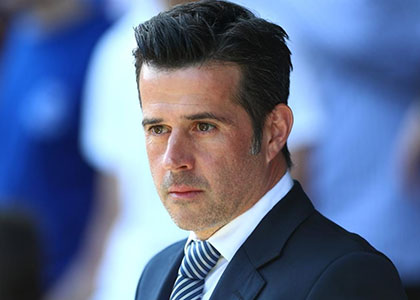 Marco Silva he went as far as making a rod for his own back by declaring that this weekend's clash with West Ham at Goodison Park is a "must-win" game
It's a measure of Marco Silva's confidence in his ability to pull Everton out of their latest rut that he went as far as making a rod for his own back by declaring that this weekend's clash with West Ham at Goodison Park is a "must-win" game. It very clearly is — the Blues can ill-afford to lose five on the bounce and a draw would be hugely unsatisfactory — but, wittingly or otherwise, the Portuguese has established the pretext by which his superiors could oust him if things go awry against the Hammers.
Whether Farhad Moshiri and Marcel Brands would act or not in the event Everton go down to West Ham remains to be seen but the pressure from supporters would inevitably be ratcheted up to an unprecedented degree, surely leaving Silva dangling by a thread going into a tricky away fixture at Brighton if he isn't sacked before then.
If Silva is to save himself, there is a broad consensus that he must, after months of frustrating intransigence, finally change some key elements of his team and tactics. There are no guarantees these alterations would succeed, of course, but unless he shows a willingness to adapt, his Goodison tenure will die in a similar manner to that of his similarly intractable predecessors.
Bin zonal marking
The arguments over the effectiveness and widespread adoption of zonal marking at set-pieces have been heard repeatedly since Silva took over and they have merit in the broader context of the European game.
What has become abundantly clear over the last year or so, however, is that no matter how successful the tactic can be, whatever implementation of zonal marking Silva and his staff are asking the players to deploy (be it a true zonal system or a hybrid as the manager has intimated), isn't working. Everton simply don't have the players to implement it consistently or successfully and Evertonians are fed up to the back teeth of watching their team routinely concede from dead-ball situations, sometimes in humiliating and predictable fashion.
It was a weakness that League One Millwall, arguably the most one-dimensional and "agricultural" side that a Silva team has faced since he took over, exploited with embarrassing ease last January and it was clear that Sean Dyche had done his homework prior to Everton's last match. Burnley had the luxury of a trial run in the first half of a corner delivery that would pay dividends in the second despite the visitors having been given a clear warning. Jeff Hendrick duly profited with a far-post finish where he had earlier been denied by Jordan Pickford. He even had the option of cutting it back to Ben Mee in a central position if he so chose, such was the space afforded by Silva's defensive setup.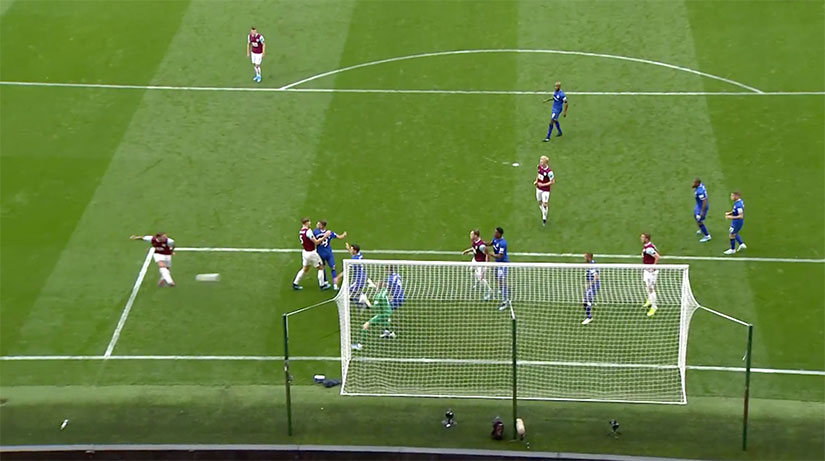 Despite being a man down following Seamus Coleman's dismissal, Everton have five players floating in zones, leaving three Burnley players unmarked, with Jeff Hendrick allowed to steal around the back to slam home the winner
Silva's rigid adherence to a defensive system that cost both Hull City and Watford goals while he was in charge at those two clubs looks likely to cost him his job at Everton unless he decides to scrap it or can find a way for his players to adopt it successfully. It's unlikely that many are going to have the patience for the latter scenario to play out if results don't improve and the defence doesn't stop leaking preventable goals from corners and free-kicks. Few expect him to abandon zonal marking and all the evidence to date points to it being his eventual undoing.
Ditch 4-2-3-1, drop Sigurdsson… or both
It's both baffling and worrying (in terms of the manager's continued tenure) that Silva hasn't been willing to experiment more with formations and the personnel at his disposal given how poor the performances and results have been so far this season. Everton haven't put in a decent display yet in 2019-20, they have lost five of their last six Premier League games and have scored just six goals in eight matches.
Whether it's through stubbornness, a fear of losing, or pandering to some of Everton's most expensive and highest-earning players, Silva has persisted in infuriating fashion with certain personnel and line-ups, even in the face of worsening results.
Last season, Theo Walcott was the man repeatedly called upon despite showing no evidence he could be effective; this time around, Gylfi Sigurdsson is selected week in, week out despite looking like a passenger for most of the new season. Perhaps because of the massive transfer fee and wages that Everton have spent on the Icelander and the goals he contributed last season, Silva has felt like Sigurdsson is undroppable but, again, for the sake of his job, he is going to have to either find a new role for him or drop him to the bench.
Sigurdsson as a nominal No 10 — "nominal" because he spends most of his time drifting wide to the right rather than staying central where he can better influence play — isn't working. His confidence appears to be shot and games are simply passing him by at the moment, with the consequence being that the lone striker is left isolated with no one to link play in forward areas.
The former Spurs and Swansea man, greeted with open arms as a set-piece king when he was signed by Ronald Koeman, has failed to score from a free-kick since joining Everton two years ago, produces very little from corners, and has been unreliable from the penalty spot. He has no goals and just one assist to his name this season and currently offers no justification for the fact that he is in the starting XI on a weekly basis.
At the very least, trying Alex Iwobi in the No 10 role, one to which he is much more suited than Sigurdsson, would be a welcome change. The new signing already has two goals to his name and, while he hasn't yet found consistency in Everton colours, he at least makes things happen in the final third.
Fundamentally, though, the 4-2-3-1 system and its two holding midfielders has, particularly at home, been an albatross around Everton's collective neck all season (and long before, truth be told). Together with the insistence on working everything out wide and trying to cross rather than mix things up occasionally by going through the middle, it has stifled the team's creativity and chance-creation abilities and needs to be changed immediately.
Silva's stated preference in the past has been to play 4-3-3, something that adds some context to reports that Everton were targeting Abdoulaye Doucouré over the summer, and while he will no doubt argue that he hasn't had the personnel to use that formation (a situation not helped by Jean-Phillppe Gbamin's long-term injury lay-off), he is running out of options to the point where he has nothing to lose by trying it now.
Whether it is dropping Sigurdsson or Alex Iwobi back to play alongside Fabian Delph and André Gomes or recalling Tom Davies, Silva has some things he can try in an effort to change the way his team goes about things in terms of build-up play and attacking. Of course, with Delph missing this weekend with a hamstring injury, Morgan Schneiderlin would be the more defensive of the midfield trio but the former Aston Villa and Man City midfielder's absence shouldn't preclude the manager going with something new against West Ham, even if it's going 4-4-2 for a change.
Play your most effective players
As a follow-on to the previous mentions of Sigurdsson and Walcott as players undeserving of repeated selection, there are strong arguments in favour of giving the likes of Iwobi and Bernard an extended run in the side, regardless of the formation.
Iwobi has been thrust into a failing team but has shown glimpses of what made a section of the Arsenal faithful disappointed to see him sold. Not everything he tries comes off but he has shown a willingness to at least do something other than continually float balls to the flanks where moves ultimately break down through lost possession or a cleared or blocked cross.
Similarly, Bernard can be hit and miss and, despite his ceaseless work-rate, isn't the best on the defensive side but the tricky Brazilian is guaranteed to produce two or three moments of class a game that can potentially lead to goals. More importantly, he brings the best out of Lucas Digne, perhaps the most reliable attacking outlet in the team over the course of the first 10 games of the campaign (including the Carabao Cup matches).
It's strange that Silva has consciously broken up what has clearly been the best partnership in the team by keeping Bernard on the bench in recent games and that is another black mark on the manager's awareness and utilisation of the various pieces at his disposal.
Pick a centre-forward
If there is one area of the side that has hamstrung Silva, it's up front but, again, he hasn't helped himself by not experimenting in this respect… except to throw on as many attacking substitutes as he can to vainly chase a losing position. The Portuguese has rotated through Dominic Calvert-Lewin, Moise Kean and Cenk Tosun without ever giving any of them a real opportunity to gather some momentum — although, again, the forwards' job has been made all the more difficult by a lack of support and a lack of decent service.
Calvert-Lewin has exhibited strength and aerial ability, Kean has shown he has trickery and a precocious desire to be direct towards goal, while Tosun's strengths are as a finisher. None of them can really succeed in an isolated role so it would seem to make sense to at least try deploying two of them together to see how the dynamic changes. Silva won't want to sacrifice width so Sigurdsson would be the obvious candidate to make way in the starting XI.
But if the manager refuses to countenance going 4-4-2, he should just pick one striker and give them a go at leading the line for a few games, particularly if he goes with 4-3-3 which could potentially close those large gaps between the centre-forward and midfield. Given his mobility and superior movement, there is a case to be made for Kean being given the job so we can finally see what he is all about.
Failing all of that, perhaps Richarlison is the one who can bail Silva out of this current mess. After all, he plays in a central role for Brazil and has scored goals worthy of any centre-forward already this season.
* * * * * * * * * * * * * * * * * * * * * * * * *
This will not be an easy game for Everton, who will make at least two changes given Coleman's and Delph's unavailability. There will unquestionably be unease among the Goodison faithful and the players would not be human if they weren't going into this one without a certain level of trepidation. Silva has called on the fans to give their backing and on his charges to show real strength of character but it won't count for much if some of the issues raised above haven't been addressed over the international break.
After flattering to deceive last season despite bringing in Manuel Pellegrini and a clutch of expensive acquisitions, West Ham look a more settled and dangerous side this term. In Sebastian Haller, they appear to have found a reliable, goalscoring centre-forward in a very English mould while Andriy Yarmolenko, a player the Blues know all too well, is in good form.
They're not infallible, of course, as their home defeat to Crystal Palace a fortnight ago and their humiliation at Oxford in the Carabao Cup showed but they will have more than enough to cause problems for an Everton team that has been suspect defensively and psychologically weak when falling behind. It doesn't help that the Toffees' record in these early Saturday kick-offs is poor.
This really will be a test of Silva's powers of coaching and motivation and, in the wake of the all commentary and analysis of his persistence with a failing system since the defeat at Turf Moor, a litmus test of whether or not he has the capacity or the awareness to change.
Kick-off: 12:30pm, Saturday 19 October, 2019
Referee: Paul Tierney
Last Time: Everton 1 - 3 West Ham
Predicted Line-up: Pickford, Sidibé, Keane, Mina, Digne, Schneiderlin, Gomes, Sigurdsson, Iwobi, Richarlison, Calvert-Lewin
Preferred Line-up: Pickford, Sidibé, Keane, Mina, Digne, Schneiderlin, Gomes, Iwobi, Bernard, Richarlison, Kean
Reader Comments (194)
Note: the following content is not moderated or vetted by the site owners at the time of submission. Comments are the responsibility of the poster. Disclaimer
Kunal Desai
1
Posted 18/10/2019 at 06:41:34
He has shown no indication he is prepared to change anything. This I think should be his final game, even if he manages a win he will always be one game away from the sack, its papering over the cracks. Berserk appointment in the first place.
Hugh Jenkins
2
Posted 18/10/2019 at 06:42:32
It will be truly interesting to see if Silva "grasps the nettle" tomorrow and tries a different formation with different personnel?
The turnaround last season followed an international break where Silva had had time to work with the new summer signings and integrate them into the system he wanted to play.
Maybe it will work again this time – but, if not, then he is I believe, out of options and so are we.
Alex Kociuba
3
Posted 18/10/2019 at 07:09:29
I have a horrible feeling that Silva will feel an obligation to pick something similar to the preferred line-up, it'll be a narrow win.
The cracks will be papered over and we'll be all having this same conversation this time next week, and likely the same conversation this time next year too.
Brian Porter
4
Posted 18/10/2019 at 07:20:04
I can't see Silva making the changes we all hope for. It'll be a case of 'same again' with this buffoon in charge.
People are mocking Moise Kean being nominated for the Golden Boy award, but what chance has he had under Silva. Two starts and a few cameo appearances from the bench. Not the way for him to integrate into the team. He needs a run in the first team to build his confidence and then I think we'll see the best of him.
He's just one example of Silva being disinclined to try anything new or different. Then there's his continued use of Walcott, surely the most ineffectual player we have at the club.
Gylfi? Morgan?
So many areas where he could and should have already made changes. Silva seems too intractable, unable or unwilling to sacrifice either his preferred favourites or his formation.
I see no point in continuing with him. He's never going to take us to where we want to be and is far more likely to take us the way he took Hull... Down to The Championship.
Ken Kneale
5
Posted 18/10/2019 at 07:22:54
Collins English dictionary
noun

1. (in the US and Canada) February 2nd, when, according to tradition, the groundhog emerges from hibernation; if it sees its shadow, it returns to its burrow for six weeks as a sunny day indicates a late spring, while a cloudy day would mean an early spring

2. a situation in which events are or appear to be continually repeated
Collins English Dictionary. Copyright © HarperCollins Publishers.
Word origin of 'Groundhog Day': sense 2 from the film Groundhog Day (1993), in which the lead character experiences the same day repeatedly.
Mike Gaynes
6
Posted 18/10/2019 at 07:25:55
Lyndon... a "preferred" lineup that includes Schneiderlin?
Really? Preferred for what exactly?
Did that earthquake shake you up?
Dave Evans
7
Posted 18/10/2019 at 07:32:20
Good summary, Lyndon.
Varying the attack with more central play allows our dangerous wing combinations to arrive late. Instead of predictably slow, with the opposition defence set and ready.
Getting a grip of central midfield, as in most games, is key.
I would prefer Davies in the line-up.
John Keating
8
Posted 18/10/2019 at 08:11:30
I think Silva is right – it is a must-win game – for him!
We have to ditch as many under-performers as we can. It looks as if Delph might miss out with a hamstring.
Pickford
Sidibe, Mina, Keane
Davies
Richie, Gomes, Iwobi, Digne
Calvert-Lewin, Kean or Tosun
Tony Hill
9
Posted 18/10/2019 at 08:16:21
Dangerous times for us. We're fragile and confidence-drained and we're lacking strength right through the team.
Forgive me for invoking the unmentionable Allardyce, but he was right about this: when you're struggling, the first thing to do is to make sure you don't concede.
We need some one-nils and to dig in. We're third from bottom and we need to realise what that means and the threat we face.
I would go with Iwobi at 10 and play Bernard, but I would have Calvert-Lewin up front for this game.
Martin Berry
10
Posted 18/10/2019 at 08:34:07
I think Lyndon is spot on. If the manager goes with the same formation, tactics and players as previous and expects a miracle, then he is preparing his own noose. It's ironic that Yarmalenko could hammer the nail in his coffin.

Peter Gorman
11
Posted 18/10/2019 at 08:35:31
Mike @6, - yeah, I had a little guffaw at that too.
For all his perceived sins, the midfield needs the pep of Tom Davies, not the cowardly Schneiderlin.
Trevor Peers
12
Posted 18/10/2019 at 09:15:31
Silva is due a mini revival after so many defeats; a victory is on the cards if only by the laws of chance, West Ham can be a bit careless away from home, we hope anyway. Who ever scores first will probably win this one.
But surely we know by now Silva is not the man for Everton, everyone except Moshiri, that is. Marco generally has these long losing runs every campaign and I doubt that he will be in charge next season. If he is, we could be playing Stoke and Barnsley.
Chris Gould
13
Posted 18/10/2019 at 09:22:58
West Ham have an opportunity to move up to 3rd. Hopefully, in much the same way that we would, they'll choke.
It will be interesting to see how the crowd react to what will be a challenging game. I hope they get behind the team from the start and show the boys that they have their full support, regardless of their opinion of the manager.
Confidence is low and understandably there is a lack of belief, the first goal is absolutely vital. I can only imagine the pressure that Silva will be feeling when he takes his seat in the dugout.
Dave Abrahams
14
Posted 18/10/2019 at 09:32:54
I don't know what team he will pick or what sort of formation he will use. I could have good guess. Whatever it is, I hope Bernard and Calvert-Lewin are part of it.
Just hoping for a win, that's all you can really do while Silva is manager: hope.
Jim Harrison
15
Posted 18/10/2019 at 09:35:24
Let's get Richarlison upfront again, and Iwobi and Bernard on the wings.
Sam Hoare
16
Posted 18/10/2019 at 09:35:29
Silva is scared at the moment. And I think his reaction to that fear is (or has been) caution. Which is why he won't start Davies. And will probably opt for the same system and players.
I suspect the result will depend a lot more on which West Ham turn up, as they have been brilliant and woeful in equal measures, whereas we have been mostly somewhere between poor and mediocre.
Alan J Thompson
17
Posted 18/10/2019 at 10:04:32
Well that's a start. The first step is to face the problem, admit that things are wrong and then take the necessary steps to put them right.
Tomorrow's team will indicate if it is more than just talk and the result may show if we are traveling in the right direction. After that, it becomes a matter of permanently losing old habits and moving toward the light.
John McGimpsey
18
Posted 18/10/2019 at 10:08:15
Same ol' same ol' tomoŕrow... Hammers full-backs are snide and we should exploit that... Davies is not good enough, end of – and if Calvert-Lewin plays, then I give up.
Silva must go either way after this game.
Denis Richardson
19
Posted 18/10/2019 at 10:16:33
Sam 16 - have to agree with you.
For all the talk of changed tactics and formations, the guy has been with us 16 months and in that time has played the exact same way, regardless of form or results. Is he really going to change now?
The result will depend on West Ham. If they carry on their form we may be in trouble. However, they tend to get a nose bleed whenever they venture this far north and their record at Goodison Park is not great. They only have one away win this season and that was against Watford.
The likes of Anderson and Yamolenko will be a handful and I'm not looking forward to Mina and Keane trying to cope with Haller. In saying that ,though, they are not great on the road so may be just the opposition Silva needs to get out of a tricky spot. They won't park the bus which will also be better for us.
I think it'll be a draw tomorrow personally: 1-1. West Ham are bad on the road and we're just bad.
Kim Vivian
20
Posted 18/10/2019 at 10:26:30
This latest break, off the back of where we found ourselves 2 weeks ago, has had me seething and sadly my natural optimism is on the deck right now.
Of course, like everyone I would like to see a convincing performance and win tomorrow, followed by a massive resurgence, but I'm not expecting much. Even if we do win (and we should) we will likely as not slip straight back into our September form.
I did have hopes when Silva joined us after reading much from various prolific commentators despite the evidence of my eyes with Hull City and Watford, but it seems those last couple of tenures are the barometer we should have paid attention to. As well as listening to the Watford fan base.
If it triggers Silva's departure I could stomach a defeat tomorrow. Words I never thought would leave my mouth (or put in writing).
Clive Rogers
21
Posted 18/10/2019 at 10:43:05
The way we have been playing, I just can't see us winning, especially with Delph out again. There is no alternative to Schneiderlin at present. Davies has been poor in his limited appearances.
Striker is a massive problem. Calvert-Lewinjust doesn't look suited to the role. Kean should be given a run of games as he will never get up to Premier League speed sat on the bench. Sigurdsson must be benched.
Jer Kiernan
22
Posted 18/10/2019 at 10:52:44
To be honest, it is going to take some run of good results to undo the damage caused by this shocking start to the season. I think Silva is damaged goods now and, barring a miracle turnaround, he is out the door.
Some of the players have been abysmal but we cant sack 8 players. At this stage, it should be Moise Kean sacking his agent, Zaha should be given his a pay-rise.
Jack Convery
23
Posted 18/10/2019 at 11:39:21
Bad bad feeling about this game. 3-0 to WHU. Toxic atmosphere - shouts of Silva out etc etc. I hope I am wrong, believe me, but that's how I feel about tomorrow.
Please, EFC, prove me wrong and make me proud.
Tony Abrahams
24
Posted 18/10/2019 at 11:45:52
If there is no alternative to Morgan Schneiderlin, then there is no alternative to this present system, which is very, very worrying indeed...
Especially when most of us on ToffeeWeb could pick a better team and a better system than what Silva is presently going with!
Derek Taylor
25
Posted 18/10/2019 at 11:51:06
In common with most Evertonians, I should love to ask Moshiri just what it was in Silva's job history that so obsessed his pursuit of the guy!!!
Kim Vivian
26
Posted 18/10/2019 at 11:53:36
Jack - if we lose 3-0 tomorrow, his feet won't even touch the ground on the way to the taxi.
Derek Knox
27
Posted 18/10/2019 at 12:05:50
Tony, @ 24, spot on there mate, as soon as I see Schneiderlin's name on any team sheet, I fear for the worst, and my fears are generally born out with a defeat or a poor performance.
Derek T, I think most of us have asked the same question over and over, but then again it should have been asked before as with Koeman, and Allardyce, and the massive compensations that were paid to Martinez, Southampton, Koeman himself, and of course Allardyce.
As for Silva, with his poor track record, why give him a 3-year contract? Contracts can be extended if results and performance merit it, but once they have been signed, it is an automatic recipe for compensation again should it not work out.
You would have thought with Moshiri being an Accountant he would have been more savvy in both his choices of Manager and lengths of Contracts awarded.
As for tomorrow's game, I am not at all optimistic, but hope upon hope that a win may be possible with the right team selection, but with Silva's stubbornness I don't envisage many changes apart from Seamus (who is suspended) but we'll see.
Andrew Keatley
28
Posted 18/10/2019 at 12:36:58
I find myself in a strange position regarding the game tomorrow – and I imagine other fans feel in similar territory.
For me, the team selection will dictate whether or not I can stomach Silva still being in the job come 2:30 pm. If he goes with his standard 4-2-3-1 approach, then I want him gone – regardless of whether it clicks for a game and we hammer the Irons 4-0.
If he shows some adventure – almost treats it as a 90-minute knockout game – then I'll have a modicum of respect for him, even if we lose. But even a free-flowing victory in a new system probably will not be enough to get me even remotely back onside...
I just had another look at the Premier League table; considering the fixtures we've had, the fact we are in the bottom three is the damning indictment that should have already delivered him his P45.
Darren Hind
30
Posted 18/10/2019 at 12:55:38
The crowd have a massive part to play tomorrow. If they are demanding, I think these players will crumble. Some players respond to stick (Reidy would visibly grow) but I don't think there is enough "fuck you" about this set of players to respond in the right way.
I don't like that it's an early kick-off either; that usually means a subdued atmosphere. I hate that. We all know how a quiet, nervy Goodison feels.
I think and hope the faithful will respond tomorrow by creating the bear-pit atmosphere which so intimidates the opposition. If Silva cannot lift this team, we're going to have to do it for him.
I don't mind admitting I am worried. This is a massive game for Everton Football Club. The term "must-win" is one of the most over-used in the game, but we really must win this fucking game.
Most of our team are soldiers. They are not leaders. I'm looking for three players to step up and lead tomorrow.
Sidibe: Needs to show the composure and belief others look for in a player of his stature.
Mina: Has to take control and boss everything. He can't allow himself to be dragged down to Keane's level. He has to drag him up to his.
Sigurdsson: He has to take a long hard look in the mirror and ask himself how somebody with his talent can be this shite, for this long.
Start early tomorrow, guys. Let's create the sort of atmosphere which will have the West Ham players wishing to fuck they were somewhere else!
Justin Doone
31
Posted 18/10/2019 at 12:56:00
I wanted to rant and rave but my stupid optimistic blue heart has over-ruled my head.
We just need to win. Hopefully keep a clean sheet and then slowly build momentum and fancy football.
Good luck everyone!
Peter Mills
32
Posted 18/10/2019 at 13:08:44
I wonder who is more anxious about the result tomorrow?
A) The man who stands to be paid about £8m if he is sacked.
B) An Evertonian
I'm afraid until that situation changes, and some kind of meaningful performance-related pay is introduced, we will continue to be a charity for spiv managers.
Martin Mason
33
Posted 18/10/2019 at 13:11:47
Lyndon, I think you could write the comments to your write up on the West Ham game now?
Steuart Hayes
34
Posted 18/10/2019 at 13:17:35
My preferred team is 4-3-3: Pickford, Digne & Sidibe, with Keane and Mina, then Gomes sitting with Iwobi and Davies either side; Kean upfront with Richarlison and Calvert-Lewin either side.
I think that offers pace with an attacking attitude. I'd much prefer trying that and losing than what he is doing, although I think that side would win 3-1: Kean first goal, Richarlison and Calvert-Lewin.
Ray Smith
36
Posted 18/10/2019 at 13:39:24
Dennis @19,
West Ham not good on the road!
We're you at Goodison last September? Everton 1 WHU 3. It was painful.
I hope your right.
David Pearl
37
Posted 18/10/2019 at 13:44:55
Tells you a lot doesn't it looking at the posts with so many different permutations. Wishful thinking? Will Silva try something different? Lyndon even gave us his predicted and preferred line ups. Showing us once again that none of us knows our best 11... or formation.
So for my shout:
Pickford
Sidebe Kean Mina
Davies Schneiderlin Gomes Digne
Richarlison Calvert-Lewin lwobi
3-4-3
I've left Bernard out as Iwobi carries more of a goal threat and ,with Digne as a wing-back, he won't be relying on Bernard much.
So... in conclusion: it's 4-2-3-1 then, isn't it?
Jonathan Tasker
38
Posted 18/10/2019 at 13:48:19
Silva v Pellegrini. There ought to only be one winner. But football isn't that predictable.
The Kenwrights are so desperate for Silva to get it right that I can see him surviving even if Everton lose the game. Fat Sam, or, more probably, Moyes are ready to be brought in. I expect the axe to fall in November and you'll never hear of Silva at this level again.
Tom Bowers
39
Posted 18/10/2019 at 13:48:55
Yes, I think it's D-Day for Silva. Nothing but a good win will suffice now. He has had long enough to show he has the mettle to make something better of this club and enough is enough.
West Ham can play a bit on their day but having beaten Wolves at Goodison one can hope that the Hammers are there to be had also. So much for the optimism as we know how disappointing the Blues have been since then. One thinks that Moshiri has a contingency plan in mind.
Christy Ring
40
Posted 18/10/2019 at 14:01:53
Tony@24 Agree 100%, No alternative to Schneiderlin, how many tackles has he missed in every game, how many free kicks, yellow/ red cards has he given away anyone else is an alternative.
Kieran Kinsella
41
Posted 18/10/2019 at 14:36:56
Everton are the cousin Eddie to my Chevy Chase Christmas. Here I am trying to have a nice week, reading about the Jelly of the Month club and here they roll up again in their clapped-out RV. I feel some kind of unhealthy fiduciary responsibility towards them but the thought of waking up tomorrow again and seeing them there makes me cringe.
Duncan McDine
42
Posted 18/10/2019 at 14:48:28
Love that Kieran - brilliant!!! I absolutely relate. Everton routinely let their big dog shit in my garden every weekend.
David Pearl
43
Posted 18/10/2019 at 14:49:34
Kieran, isn't Silva cousin Eddie?
Steven Kendrew
44
Posted 18/10/2019 at 14:56:41
I'm loving that attitude, Darren Hind (#30)! We need Dogs of War (but with more talent). Let's try 4-4-2 with Calvert-Lewin and Kean up-front with Bernard left.
As for the crowd, wouldn't it be great to have the bear-pit atmosphere, but I fear as soon as something goes wrong, say West Ham score, the crowd will wet their knickers as usual and it will all go negative.
Cripes, this is supposed to be fun!
Derek Knox
45
Posted 18/10/2019 at 14:56:42
Duncan @ 42, that sounds like a deliberate foul to me! :-)
Cristobal Aguirre
46
Posted 18/10/2019 at 15:07:02
Pickford
Sidibe, Keane, Mina, Digne
Davies, Gomes,
Richarlison, Iwobi, Bernard
Tosun
Subs: Stekelenburg, Holgate, Walcott, Schneiderlin, Simms, Sigurdsson, Calvert-Lewin
Manager: No Silva
John Keating
47
Posted 18/10/2019 at 15:22:38
Cristobal, unfortunately, Tosun is out with a groin injury.
Michael Barrett
48
Posted 18/10/2019 at 15:26:37
Silva's face in the presser looks like he is going to the gallows, Uninspiring fucker.
I gave my season ticket to my 18-year-old 2 years ago; I can't watch them, they have ruined more weekends than I can remember. My lad told me last night that he doesn't want to go tomorrow he said the 3 young lads he goes with are doing the same, He is embarrassed to be blue... how sad is that.
Sometimes I wish we live thousands of miles away from Goodison like some people on here. Unfortunately, we live right in the city centre, Scotland Road and are surrounded by Kopites. Even the out-of-town students have jumped on their bandwagon,
Sad thing is, we are never going to get one of those top managers who win trophies sad days indeed... One clinically depressed Toffee.
Bill Gall
49
Posted 18/10/2019 at 15:28:06
The only consolation a win will give me, no matter who or how Silva plays it, that would mean that Moyes would not return as some sort of saviour. Tactics and styles have changed since he left Everton and his managerial record is abysmal.
The present Everton team are supposed to have top-class coaches for different positions on the pitch, going from keeper to striker, so maybe these are the people that the criticism should be aimed at, as well as the manager?
James O'Connell
50
Posted 18/10/2019 at 15:29:36
Peter @32 I agree totally but this performance-related pay for managers or players will sadly never happen.
We as a club just show a total lack of ambition in our managerial appointments and waste millions on rectifying our own mistakes, and then repeat the process.
Jay Harris
51
Posted 18/10/2019 at 15:36:32
I think its wrong to make Schneiderlin the scapegoat. The whole squad have been in a state of slumber since pre-season and there is only one person to blame for that. I also think losing Zouma was more of a blow than we think.
Having said that I would prefer Davies energy to Schneiderlin's caution in this one or lets hope Delph is fit.
I would also like to see Iwobi and Bernard in the team.
West Ham took us apart at Goodison Park last season and they have better players this season so this will not be an easy game.
However, we should remember we are Everton and play like it. Wear the shirt with pride. 11 dedicated and motivated players are better than 11 skillful and talented players going through the motions.
Silva has worryingly been praising Walcott so I expect him in the predicted line-up.
Anyway here goes:
Predicted Line-up: Pickford, Sidibé, Keane, Mina, Digne, Schneiderlin (or Delph), Gomes, Sigurdsson, Walcott, Richarlison, Calvert-Lewin
Preferred Line-up: Pickford, Sidibé, Keane, Mina, Digne, Delph (or Davies), Gomes, Iwobi, Bernard, Richarlison, Kean
Optional 3-4-3 line up: Pickford, Sidibé, Holgate, Keane, Mina, Digne, Delph (or Davies), Gomes, Iwobi, Richarlison, Kean
Jamie Crowley
52
Posted 18/10/2019 at 15:38:08
I've never had a problem with the 4-2-3-1.
It's a few players implemented in that system that screw the whole thing up in my opinion. Schneiderlin as part of the two holding midfielders just kills our ability to move forward quickly. Sigurdsson at the 10 is, and has been, out of form for some time. I'd go with Kean up top in lieu of Calvert-Lewin, but I'd be clear to say there's a time and place to play Calvert-Lewin – he's a good player. The strikers suffer from a system of continually playing the ball wide, relegating most of their usefulness to trying to get a head on a cross or coming out wide just to get a touch.
Most see this, and Lyndon points out the deficiencies and the need for change. Most have been calling for change for quite some time now; having seen what only Marco can't.
If Marco doesn't become flexible, and fast, he's a dead man walking. And I fear this will be his downfall, not making adjustments.
He'll end up wielding the axe that falls on his own head.
For me:
Pickford
Sidibe Keane Mina Digne
Delph Gomes
Iwobe Bernard Richarlison
Kean
I'd bring Davies off the bench if my never-ending, never-likely, call for Bernard at the 10 wasn't bearing fruit. But God how I'd like to see a tricky, creative player behind the Italian wonder kid and the ball played down the middle more often.
Big game. We're reminded frequently how Sir Alex was ready to get the axe, and how we should be patient. Issue is, I don't see Marco having the intelligence to make the necessary changes to save his job. And comparing Sir Alex's last stand and Marco is a bit of a joke. One is a brilliant manager, arguably one of the best ever. Another seemingly can't adjust and stubbornly plods forward without results.

Jamie Crowley
53
Posted 18/10/2019 at 15:41:00
Kieran -
Marco is emptying the shitter in front of Goodison.
Bill Watson
54
Posted 18/10/2019 at 15:43:11
Win, lose or draw, I want Silva out of here ASAP.
Brian Harrison
55
Posted 18/10/2019 at 15:44:56
Given the choices we had when we sacked Allardyce, I thought Silva would be the right appointment, purely on the basis that Hull City and Watford both liked to attack teams. So, after Allardyce and Koeman, I thought what a refreshing change to have a manager who wants us to play on the front foot.
But the stats for Marco are so damming so far this season: we have conceded 46% of our goals from set-pieces – the highest in the Premier League – next highest is Watford who are bottom of the league and have conceded 36% from set-pieces. Now that's a pretty bad stat but when its coupled with the fact that we haven't scored in 50% of games then we have problems at both ends of the pitch. I think given the fairly easy set of fixtures we have had so far it makes those stats even more damming.
I just cant see Marco turning this around in the time frame needed to keep his job past December. Our fixtures for December are really tough so, even if we appoint a new manager, he will have a mammoth task turning this team around.
Jamie Crowley
56
Posted 18/10/2019 at 15:45:42
I think on the way home from work, I'll stop and grab a 6-pack of Meister Brau for the 7:30 a.m. game tomorrow.
If they don't even make that any longer (do they?), I'll grab some Natty Lite.
Help dull the pain.
I should state my choice of beer is only to channel my inner Cousin Eddie.
Kieran Kinsella
57
Posted 18/10/2019 at 15:52:45
Jamie, lol!
Silva has one heck of a big tank in that RV. As for Schneiderlin, far or not, he is the latest symbol of "false hope," just like James Beattie before him. We had that protracted chase for him and didn't get it over the line in the summer. Koeman banged on about Rolls-Royces and we got all excited when he finally arrived. Then, a few months of decent play followed but just dismal failure.
Steve Pickering
58
Posted 18/10/2019 at 15:54:16
For me, the preferred line up should have Davies, not Schneiderlin, with Calvert-Lewin and Kean upfront. I'm still worried about Keane at the back as his confidence will be shot after the internationals!
Please God – a convincing win on the back of a major tactical change!
Andrew Keatley
59
Posted 18/10/2019 at 16:03:39
Jamie (52) - "I've never had a problem with the 4-2-3-1. t's a few players implemented in that system that screw the whole thing up in my opinion."
If Silva lacks the personnel to play 4-2-3-1 successfully, then why does he keep square-pegging away like a stubborn toddler who has not yet developed the ability to think laterally? Surely this is Management 101.
The man is inept. He's like a gardener that uses a fork to dig a hole just because it worked well when he was digging bulbs out...
Jamie Crowley
60
Posted 18/10/2019 at 16:12:06
Andrew -
He does have the personnel to play 4-2-3-1. As you say, he plugs ineffective square pegs into round holes.
If anyone favors a 4-3-3, fine. But I'd say it's the implementation of the 4-2-3-1 that is the problem, not the formation or the players we have, if used properly, to play that formation.
And as you rightly point out, it's Management 101 level to be able to see this.
Now go grab a fork and start digging.
Danny Broderick
61
Posted 18/10/2019 at 16:12:28
The problem with 4-2-3-1 is it doesn't give you any intensity in midfield. And Evertonians love high tempo football with challenges flooding in. Having 2 midfielders instructed to sit doesn't inspire. Neither does playing with a number 10, whose instructions are to just float around the pitch and influence the game as and when possible.
I hate to say it but Liverpool have got it right across the park. The midfield should be the heartbeat of the team. They should run their nuts off and be involved at all times. Ours seem to play in 2nd gear. Delph is the only one we've got who plays with any aggression or tempo, and he looks like being injured for tomorrow.
We need to change something. I would try 4-3-3, with 3 midfielders who play side by side and who are asked to do a bit of everything. I believe Sigurdsson could play one of these roles, and I would bring Davies in for Schneiderlin for obvious reasons also. I hope Gomes is fit to fill the other role.
I'd play Kean, DCL and Richarlison as a front 3. Bernard and Iwobi just don't offer enough goals.
Hopefully the players will give us something to shout about. It can be a tackle, closing down the keeper, anything. Let's just see some tempo and aggression. Tippy tappy 4-2-3-1 is not Everton.
Steve Brown
62
Posted 18/10/2019 at 16:13:13
If Silva picks Schneiderlin, Sigurddson and Walcott in a 4-2-3-1 formation he will be finished. The fans will turn on him without doubt.
Jamie Crowley
63
Posted 18/10/2019 at 16:17:20
4-2-3-1 doesn't have to be tippy-tap.
Insert two types of players in that 2. A defensive cover for the back 4, and an aggressive ball winner who will play it forward quickly, and also be willing to move up in attack to support. One holder, one box-to-box, with the primary goal for each being defensive support.
It doesn't equate to tippy-tap, Danny.
It's how we're playing the 4-2-3-1 that's the problem. When you stick a player like Schneids in one of those 2 positions, you don't get the ball forward quickly enough, and you have a person of below-average ability to win the ball.
Recipe for disaster. But not the fault of the formation.
Jamie Crowley
64
Posted 18/10/2019 at 16:24:07
Steve @ 62 -
Never a truer word spoken.
John Pierce
65
Posted 18/10/2019 at 16:26:30
I think Silva's goose is already cooked. His tenure has shown wild inconsistencies with long runs of both winning and losing. Each dip has meant the next nadir has to be shorter, inevitably the fans become less forgiving.
He may well win tomorrow, even with 4-2-3-1, playing both Schniederlin & Sigurdsson. It won't disguise he is out of his depth, not brave enough to show the growing pains of a new formation even without key personnel. It would have bought him time and empathy. A self inflicted, probably lethal wound.
If I'm West ham, I give Everton the ball and let them 'piss around' with it. The crowd inevitably will become edgy and we will beat ourselves. Too many players are moribund and at the bottom of the barrel looking for form.
Everton are rumoured to be looking at potential replacements, unforgivable that a succession plan isn't already in train. It reflects very badly on Brands. If true, Silva is just a placeholder until they are sure they can get the guy they want. I'm fairly sure they don't want a rehash of Koeman's dismissal, the subsequent turmoil until they panicked and plumped for Allardyce 🤢.
The club needs new energy and a new manager. I predict a laboured 1-1, Silva sacked shortly after.

Andrew Keatley
66
Posted 18/10/2019 at 16:29:02
Jamie (60) - Is that "grab a fork and start digging" parting shot directed at me specifically - or just a pithy exit line? If it would get rid of Silva then I'd be on my knees, digging furiously with my hands...
"He does have the personnel to play 4-2-3-1." Hmm... does he? I mean he can put 10 outfield players into that formation, but is it advisable? The 8 Premier League games we've played this season, and the fact we are in the bottom three, would indicate no. If you think that he is simply just not selecting the right players for that system - and that, I don't know, Davies instead of Schneiderlin and Bernard instead of Sigurdsson, would see us setting the league alight - then I'm sorry but I think you and Silva are in the same kindergarten class bashing the same blocks into round holes.
For the record, I am not against 4231 as a formation. I'm against Silva using it time and time again despite recurrent evidence that it is not working, and irrespective of who we are playing, or where, or when, and which players we have fit or suspended or in form or... any other variable. 4231. Done. Decided.
And we are pinning our hopes on a mind like that?
Jamie Crowley
67
Posted 18/10/2019 at 16:32:49
Sir John -
Do you think they'll sack him with a draw? I personally think a draw extends his reign.
But then again, I'd have sacked him the second we were in the bottom three!
I think he survives and plods forward with a draw. Which begs the question - is a loss the worst thing?
I've seen people become very upset at the suggestion of losing being a preferred outcome. I generally agree with them. As a fan, the object is to win, surely? And what kind of fan wants his / her team to lose?
But there does come a point that if it's in the best, long-term interests of the Club you love to lose, and get a conservative, resistant Board to get off their collective asses and make a change, are you not showing more love for the Club because you realize they need that change in the end to ultimately move forward?
I should state, I want us to win tomorrow.
Dermot Byrne
68
Posted 18/10/2019 at 16:34:55
John #65: Umm...cooked goose. Fat on toast next day. Ummm.
Will do that tomorrow and miss game.
As if.
Jamie Crowley
69
Posted 18/10/2019 at 16:36:02
Andrew -
For the record, I am not against 4231 as a formation. I'm against Silva using it time and time again despite recurrent evidence that it is not working
We're on the same page. I believe with different players in that formation, and a tweak to the general flow of play (not continually down the flanks, American style), we'd reverse our fortunes.
And to answer your question, shite pithy exit line, not a dig.
Pun intended.
John Pierce
70
Posted 18/10/2019 at 16:45:27
JaC - a draw leaves us in the bottom six for two consecutive weeks, form of one win in seven. Completely unacceptable.
A guess even a win means nothing, he staves off the inevitable until a replacement is procured. If they have a guy set to go the result is irrelevant, I think it's over for him.
It might be one more game, could be even another six and if the right candidate won't come he may even limp to the season's end. Which ever way you cut it he will not be here next season.
His Hail Mary - an monster unbeaten run and a cup win, in England he's never gotten close to. It's over, terminal.
Jamie Crowley
71
Posted 18/10/2019 at 16:45:44
Actually Andrew, we're on the same page, and we're not.
I'm against Silva using the 4-2-3-1 time and time again, in the way HE implements it.
I do think we have the players to play in the 4-2-3-1, but would say the manner we approach the 4-2-3-1 is flawed. Couple that with Marco's insistence to plug players not suited to their position on the pitch, we're screwed.
So, we agree to an extent, but I'm in the same kindergarten class as Marco.
Dave Williams
72
Posted 18/10/2019 at 16:49:12
We can win this if he picks a team with pace which moves forwards. If he picks Siggy and Morgan then I can't see a win unless Siggy somehow finds his form which seems unlikely after his penalty miss for Iceland.
It cries out for something different to freshen up the mentality for fans and players alike but this guy seems averse to change. The players he trusts do not contribute and leave us playing effectively with nine or ten men.
I'd roll the dice:
Pickford
Sidibe Holgate Mina Digne
Davies Gomes Iwobi
Richi Kean Bernard
Digne is a different player with Bernard ahead of him. I like DCL but Kean has to be given more of a chance to show what he can do. Keane is in poor form and Holgate might be a good partner for Mina who could attack the ball with Holgate to cover.
Regardless of the team( I don't expect him to drop Siggy or Morgan and it wouldn't surprise me to see Walcott there either) the most important thing tomorrow is the crowd. Make a hell of a row and cheer the team on and we might just respond. A quiet crowd and we go a goal down and the team I suspect will be selected will fall apart.
It's a sad state of affairs when you can't look forward to seeing your team in action- I live in hope Silva will pick a team with energy which can win but I wouldn't like to bet on it!
Jamie Crowley
73
Posted 18/10/2019 at 16:55:08
To win this game, we'll need to dig deep.
If we can excavate our form from the Spring, we'll claw our way out of the grave.
If we don't we'll be shoveling shit.
Andrew Keatley
74
Posted 18/10/2019 at 17:00:54
Dave (72) - If Holgate plays then Haller will do everything he can to line up against him when the ball is in the air. I think Keane will - and should - be playing.
Andrew Keatley
75
Posted 18/10/2019 at 17:02:13
Jamie (73) - Glad to see you're keeping the digging analogy going 😉
Rob Marsh
76
Posted 18/10/2019 at 17:11:53
Peter Mills # 32
An excellent and prescient point you've made there peter.

Danny Broderick
77
Posted 18/10/2019 at 17:11:55
Jamie,
I think football has moved on from the 4-2-3-1 employed by Silva. This idea of having a number 10 is fundamentally flawed. The best teams play with an energy not previously seen. The work rate of Liverpool and Man City has seriously raised the bar. The best teams play with zip, tempo, aggression - call it what you like. There is no room for passengers. When we play with Sigurdsson, Schneiderlin and Gomes in this formation, we aren't mobile enough and we aren't direct enough. We play tippy tappy stuff that gets us nowhere fast.
If Sigurdsson is to play, it has to be as an orthodox midfielder. He covers a lot of ground, but it's all on the periphery. Let's get him involved. I'd play Gomes as well, and ideally Delph to add energy and some good, probing passes. But they have to play as a mobile 3, not 2 holding and one further forward.
Jerome Shields
78
Posted 18/10/2019 at 17:20:19
Great article describing weaknesses that have be address and reasonable and well thought out solutions presented.
Looking at the West Ham threat, I think the West Ham midfield trio of Rice, Noble and Lanzini have to be contained. At the same fixture last year, Everton where totally outplayed in the midfield.
Not marking forward players will result in a whitewash.
The operation. of West Ham Trio at Goodison. should have been a template for how Everton midfield operate. Interchanging and movement at speed, rather than static positions and slow support play in the final third.
Cutting out crosses from the right flank in particular and concentrating on getting in front of the attacker , should be a priority in defence . Attacking the near post and getting in front of the marker should be the forward play must.
Of course there has to be more attacks through the centre.
All these solutions have not been applied and good players have not been able to show of their best.
But the most important factor will be Everton's attitude and motivation on the pitch.
Mike Gaynes
79
Posted 18/10/2019 at 17:23:28
Jamie...
MEISTER BRAU??
Good lord, are they still making that piss? Good old hometown Chicago brand that I thought was dead and buried decades ago. What the high school kids used to drink when they wanted a step up from Hamm's and Heileman's Old Style.
I do love your allegiance to the belief that Bernard is "a tricky, creative player" ... tricky yes, but creative, no. When was the last time you heard anybody utter the words "great pass by Bernard!"? If anybody's going to replace Gylfi in that spot, it's Iwobi. I think his passing is very, very good.
For what it's worth, I actually do still like the 4-2-3-1... I just think Gylfi should be playing back in the DM slot next to Gomes or Delph. He'd have more room to pass, his lack of pace wouldn't be a handicap, and he could still get forward. Plus he works a lot harder defensively than Schneids ever will.
Jamie Crowley
80
Posted 18/10/2019 at 17:24:06
Danny -
My fear is that when you play a 4-3-3 against superior teams, you cede midfield.
Like I said initially, if 4-3-3 is your preference, God knows I'm no expert on tactics, and you may be right.
I still stand by the point that 4-2-3-1 isn't a poor formation for us. As you say, with Sigurdsson, Schneiderlin, and Gomes, we're not mobile enough. But if you were to play Gomes, Delph/Davies, and Bernard at the 10 in a 4-2-3-1, and most importantly play the ball through the middle occasionally, I think you'd see the system and formation work a treat at Everton.
Listen, I've been crying out for this for eons. It's not happened, nor has it even come fucking close a single time. So, believe me when I tell you, the thought has crossed my mind that my way is completely flawed.
But I'm a fan, and an American one at that who's never played the game at any level. So when I talk tactics, it's probably a prudent course of action to take anything I say with a grain of salt.
But I am a stubborn bastard. And until I see what I think will work actually tried and attempted, I'll bleat on about it until Jesus comes riding out of the clouds on His white horse.

John Raftery
81
Posted 18/10/2019 at 17:24:14
We have some front players who have energy and pace when they have a ball to chase. Simply give them that kind of service. Ditch the useless, counterproductive attempts to play out from the back. That includes playing ten yard goal kicks inside our own box. Mark up at set pieces.
We still might not win but without a change of approach defeat is inevitable.
Rob Marsh
82
Posted 18/10/2019 at 17:25:32
Jamie Crowley # 56
Get yourself a few cans of Tennants Export!
They should take the edge of any misery tomorrow.
Jamie Crowley
83
Posted 18/10/2019 at 17:26:48
Mike -
Natty Lite, the Meister Brau of 2019. Try it sometime. My college aged kids live on the shit. Awful gut-rot.
If Bernard was played centrally, I firmly believe you'd hear, "great pass by Bernard" more often.
Iwobe's a fine shout, too. At least you're plugging the proverbial round peg into a round hole.
Jamie Crowley
84
Posted 18/10/2019 at 17:27:39
Tennants Export - roger that Houston.
Jamie Crowley
85
Posted 18/10/2019 at 17:29:16
BTW Mike -
You notice how often Iwobe drifts inside? It just naturally occurs, it's his instinct.
I'm sure it infuriates Silva, who wouldn't know the middle if he was the stuffing in an Oreo cookie!!
Mike Gaynes
86
Posted 18/10/2019 at 17:31:19
By me, Jamie. I'm a one-beer-a-year guy. A Guinness at the Winslow. That's it.
Jamie Crowley
87
Posted 18/10/2019 at 17:33:07
At Mass on Sunday I'll be sure to pray for you Mike.
Anyone popping one beer a year needs some prayers chucked upstairs for him. ;0)
Mike Gaynes
88
Posted 18/10/2019 at 17:33:51
Jamie #85, yes I have noticed that, and I've also noticed that Bernard instinctively adheres to the touchline. Rarely cuts in on the dribble, and never stays central for more than a few seconds. That's why I think there's no trace of a #10 in him, but I believe there could be in Iwobi.
Tony Everan
89
Posted 18/10/2019 at 17:41:52
Well said Lyndon,
We need to change to system and drop players out of form. We needed to do it a Burnley, why couldn't he see that ? It is concerning. His game management is very concerning too, no tactical thought on his substitutions, . it seems like panic stricken decisions and hope for the best. poor standard. I am concerned for the club that after Burnley, the 4th defeat on the run, the board did nothing. Very worrying.
If there is no change in tactics or personnel tomorrow and we get the same ineffective play and lose by a set piece it is the end. Farhad Moshiri will have no option but to act to save his investment. He must have commissioned Brands to covertly prime 1 or 2 possible replacements over the last 2 weeks.
Maybe, just maybe, the 2 weeks break has pressed the reset button for all concerned, lessons learned and changes will be made.
If so tomorrow could be when our season starts.
Paul Hewitt
90
Posted 18/10/2019 at 17:43:31
Don't care if we win 10-0. I still want him gone.
James Hughes
91
Posted 18/10/2019 at 17:44:58
Jamie. stay away from the Tennants export unless you want to be gibbering wreck by midday.
Andrew Keatley
92
Posted 18/10/2019 at 17:50:47
Mike/Jamie - It's hard to know what players like Iwobi and Bernard are capable of doing in other formations as they - and everyone else - has been shackled by Silva's 4231.
A lot of fans still seem fixated on the idea of a singular creative string-pulling number 10 (maybe it's a 15-year hangover from those Riquelme rumours...) but surely we want a group of players all able to mix it up, take chances, be prepared to roam around the pitch, and express themselves when in possession. We are so predictable that a computer could just simulate 90% of what our players do when in possession. The players need to come off the leash; they've surely proven by now that they cannot be effective in this system.
Danny Broderick
93
Posted 18/10/2019 at 17:50:54
Good on you Jamie. I don't think Bernard scores enough goals unfortunately. He's a lovely little player - but he can't play as a 10 in my book because of his lack of goal threat. I also think these number 10s get picked up too easily when they come up against a midfield 3 - but then that's just my opinion! We have to change something anyhow - what we have been doing is not working...
James Hughes
94
Posted 18/10/2019 at 17:51:27
Kieran #41 Just want to say thanks for that post.
Jelly of the month,
Mike Gaynes
95
Posted 18/10/2019 at 17:53:48
Jamie #87, just never liked the stuff. Drank my share of California red wine over the years. Mostly a brandy man these days, and one particular special rum.
Darren Hind
96
Posted 18/10/2019 at 17:55:05
Straight to the top shelf for me tomorrow.
I'm very nervous. mere beer wont do it
Darren Hind
97
Posted 18/10/2019 at 17:57:00
Remy Martin mike ?
Lyndon Lloyd
98
Posted 18/10/2019 at 17:58:45
Mike (6), Peter (11) and others, I'm no fan of Schneiderlin and ordinarily he wouldn't get near my preferred XI but with Delph and Gbamin out, I just feel like we need someone to do the unfussy defensive stuff, keep it simple, play the short passes and (hopefully) allow the more forward-thinking players like Gomes do the rest attack-wise.
I think Davies deserves a chance but he is one of those more forward-looking players and he had a few rocky moments at Sheffield Wednesday in front of the back four. I'm just not sure that a game with so much riding on it provides the best conditions for a 21-year-old who has been on the fringes and in whom the manager doesn't seem to have much faith right now.
Schneiderlin can perform the basic duties of a DM well when he wants to. Hopefully tomorrow is one of those days... Plus, he's not all bad.
Mike Gaynes
99
Posted 18/10/2019 at 18:01:01
E&J VSOP, Darren.
And Cruzan Single Barrel rum from St. Croix. Elegant.
Kieran Kinsella
100
Posted 18/10/2019 at 18:04:39
James/Jamie
There's a museum here in Kansas City where they excavated a sunken 19th century steamboat. One of the items retrieved was a case of Scottish Tennant's lager or "beer". I couldn't believe the Glaswegians were subjecting Americans to that poison almost 150 years ago.
Mike Gaynes
101
Posted 18/10/2019 at 18:04:53
Lyndon #98, agreed on Davies. My preference would be to slide Gylfi back next to Gomes and get Bernard's little ass off the bench and back in the attack. I think Gylfi can do Schneiderlin's job and then some. In fact he has on multiple occasions this year, tracking back to win balls that Schneids doesn't even try for.
Steve Ferns
102
Posted 18/10/2019 at 18:08:52
I see there's no reporting of Schneiderlin's good deed on here. Only the negatives as usual.
Mike Gaynes
103
Posted 18/10/2019 at 18:16:12
What good deed, Steve?
Andrew Keatley
104
Posted 18/10/2019 at 18:16:54
Lyndon (98) - I imagine tomorrow's performance is going to give a pretty strong indication of whether the players want Silva here anymore.
If I was Silva I'd be a little concerned whether players like Schneiderlin and Davies really have a vested interest in going all out to save him from ignominy. His team selection is going to be interesting on so many levels. And while I am not suggesting that any of our squad would stop short of giving their all for the team/club, I am not sure who we will have on the pitch tomorrow with the fire in their belly to go above and beyond for Silva. I haven't seen it so far, and I don't expect to see it tomorrow either.
Dave Williams
105
Posted 18/10/2019 at 18:19:05
Andrew # 74 agreed- Mina would attach himself to Haller in that team but it really is academic as there's no way he will play Mason at CB.
Steve F- what good deed is that?
Paul Tran
106
Posted 18/10/2019 at 18:20:56
Mike, there's a lovely story on Twitter from a Blue. His Mum/Gran was struggling with illness and every night she mentioned something about Schneiderlin before she went to sleep. She died this week and the guy posted it to Morgan on Instagram. Morgan immediately responded by inviting him and his family to Saturday's match.
That's a top gesture by any standard.
Kevin Prytherch
107
Posted 18/10/2019 at 18:21:24
Steve - what was Schneiderlins good deed?
I hope we either go for a 4-3-3 or a 4-4-2.
Defence picks itself for both (although I would replace Keane with Holgate as he looks shot of confidence).
4-3-3
Schniederlin, Gomes and Davies in the midfield with Richarlison, Iwobi and Kean up front.
4-4-2
Richarlison, Davies, Gomes and Bernard in midfield with DCL and Kean up front.
Either would be a statement of intent.
4-3-3 would allow Richarlison and Iwobi to be more direct inside forwards, like what Liverpool and City do.
4-4-2 would hopefully allow space for Kean to play off DCL. I would play Bernard here as he is more disciplined defensively.
Steve Ferns
108
Posted 18/10/2019 at 18:24:35
Paul Tran
109
Posted 18/10/2019 at 18:32:16
On far more important matters, the best brandy is Landy. If I'm slumming it, I like a nice Courvoisier. No brandy is as good as a nice peaty whisky, like Laphroaig or Caol Ila.
Trump isn't running at the weekend, possibly Exeter on Tuesday.
I don't care who's playing tomorrow, as long as he uses the pace in the team and has them playing with purpose.
Mike Gaynes
110
Posted 18/10/2019 at 18:44:32
That's lovely, Steve. Well done to him.
Annika Herbert
111
Posted 18/10/2019 at 18:45:37
Siggy as the DM!!? Not in my opinion, he doesn't deserve to be I the team at all on current form.
Allan Board
112
Posted 18/10/2019 at 18:45:39
For me the result is secondary. He has had his chance, blown it, won't change, plays who he's told to or his mates. Whilst there at it, clear ALL of the first team coaches out because this is not working and they can't cut it.
Andrew Keatley
113
Posted 18/10/2019 at 18:45:47
Steve (102) - That's a lovely gesture for sure; wasn't aware of it. But the reason I (and others, probably) are being negative on here is very legitimate, and no amount of compassionate acts of kindness are going to change that - or distract me from the plight we find ourselves in.
We're in the bottom three. We're in disarray. We could have the kindest, most thoughtful group of professionals ever to be assembled at a football club, but I will predominantly judge them on their ability to do their jobs on the field, and unfortunately that is where a lot of our current squad are failing. I'm angry and I'm frustrated, and that isn't going to be dissipated because Morgan Schneiderlin is a decent human being.
Dave Williams
114
Posted 18/10/2019 at 18:48:27
Good on Morgan!
Now for him to play a blinder tomorrow?
He hasn't been too bad- it's Siggy who has really bombed and he and Morgan, to put it politely do not complement each other
Mike Gaynes
115
Posted 18/10/2019 at 18:54:09
Right-o, Annika.
Duncan McDine
116
Posted 18/10/2019 at 18:54:27
That's a nice story. Unfortunately if I said "see you in the Morgan Schneiderlin" to anyone that knew me well enough, they'd wonder why I wished to meet them in the toilet. Apologies.
Darren Hind
117
Posted 18/10/2019 at 18:55:34
Paul
That's your confirmation bias kicking in. You've been up there too long mate. Try a drop of Irish single pot
Disappointing news about GT as I'd accumulated a nice little war chest today. . It'll keep
Mike
Always happy to try a rum which is new to me. Not sure I can get it over here, but I'll keep an eye out for it.
I wonder what others have lined up as a pre game game plan for tomorrow ?
I'd go for. Cigarettes and whiskey and wild wild women. . cept the Cigarettes would fuck my breathing up. the whiskey would do my memory in and a wild, wild woman would probably be the fucking death of me
Darren Hind
118
Posted 18/10/2019 at 19:00:24
Dying at the hands of a wild wild woman. . or dying watching this current Everton team.
On a scale which ranges from "Really tough call" to "total no brainer" where does that one lie ?
Sorry guys. I started early today
Rob Marsh
119
Posted 18/10/2019 at 19:01:24
Danny Broderick # 77
Danny, It was one of the reasons why Barca sold Gomez, he slowed play down and didn't have that zip or energy you've mentioned.
Steve Ferns
120
Posted 18/10/2019 at 19:02:23
I think Schneiderlin has played well in recent weeks. But the narrative here on TW is set and has been since people jumped to conclusions about him based on conjecture from rumours about a training ground incident.
He certainly lost form and played badly that season before recovering at the end of the season. He then started ok last season with that precise pass for Walcotts goal in the Southampton win before losing form (and maybe his head) following the death of his father and the (with hindsight) bad decision to play him against West Ham. He then got back in the side at the end of the season and has been improving ever since. Few bad games here and there, but right now he's playing as well as he's ever done for us.
He might be limited. He might have a languid style that makes him look like he's not trying, but he's far from our worst player.
As Lyndon says above, there's no one else to play but him. Gbamin should take his place, but that's unlikely this season with the surgery. Delph can in certain games, but tomorrow is not one of them. We need someone to sit in against West Ham and their abundance of talent in the attacking third.
I like Kevin's 433 and would like to see us use some pace as West Ham look vulnerable on the counter and lack pace at the back. Sigurdsson might find it easier if noble plays, but I'd like to see us breaking from deep and hitting them with fast, direct passing on the counter. I also think that we can press West Ham high up the pitch with their tendency to play out from the back.
This is a very winnable game. They're a good side, probably the 8th best side in the league now we've plummeted. But they have weaknesses to exploit and we will beat them if we play well.
Paul Tran
121
Posted 18/10/2019 at 19:04:54
The Exeter race will be better for him, Darren.
Happy to admit I'm going native in lots of aspects. It's a good research project checking out these whiskies! What's your favourite Irish one?
Brian Harrison
122
Posted 18/10/2019 at 19:05:01
When the manager says the West Ham game is a must win, then by his own admission if we don't win he expects to be sacked. And lets hope we do win tomorrow, but when is the next must win game for Silva after the West Ham game. But because of the very poor player recruitment under Koeman and Walsh and now Silva and Brands, we are left with the most expensive set of mediocre group of players. So for me it doesnt really matter who plays or doesnt tomorrow as we will just be replacing one average player with another.
How this club could spend £450 million on player purchases in 4 years, and be going backwards is a sad indictment on the staff we employ. And what you can rely on with this club that when Siva and Brands depart they will be replaced with more dross.
Steve Ferns
123
Posted 18/10/2019 at 19:05:33
Rob, did you see Gomes playing for Benfica or Valencia. He's also shown what he can do for us. He just needs to get match fit and find some consistency.
Christy Ring
124
Posted 18/10/2019 at 19:08:34
Steve@102, I saw the link earlier about Schneiderlin, a lovely touch, there's no one questioning his compassion, it's our football opinion.
Rob Marsh
125
Posted 18/10/2019 at 19:09:43
Mike Gaynes # 86
Tennants is what's drunk by those folk who hang around subways over here and are one step away from graduating to methylated spirits.
Tony Abrahams
126
Posted 18/10/2019 at 19:11:18
Take the wild women Darren, the narrative has been set!
Paul Tran
127
Posted 18/10/2019 at 19:15:27
I agree, Steve. I think he has played quite well recently. And his languid style makes it easy not to like him, especially if you measure effort by charging around.
There have been numerous times when he has let himself down and gone missing like many others in the team.
All the players would benefit from stability and simplicity. That will give them a chance to gel, a chance they haven't been allowed to take so far.
Tony Abrahams
128
Posted 18/10/2019 at 19:17:38
Dave@72, I really liked the look of your midfield until you brought Schniederlin back-in @114!
Great gesture by Schniederlin by the way, and probably shows how much the death of his own father affected him, but I'd honestly prefer it if he was sitting in the stands next to his guests tomorrow afternoon.
Terry McLavey
130
Posted 18/10/2019 at 19:20:22
Every game should be a must-win, Marco, perhaps that's where you're going wrong?

Jay Harris
131
Posted 18/10/2019 at 19:22:39
Mike,
You might want to try a Janneau if you can get it. Smoother than Tennessee Whisky with a cutting edge that only good cognacs and Armagnacs can give.
Perfect for an after match tinkle after watching the Blues give us the blues every week..
Paul Tran
132
Posted 18/10/2019 at 19:24:09
Up here, Tennants is the bog-standard drink all night lager, but the Export or Super is for the brown bag merchants.
Buckfast is the 'gets you there' drink up here. Fortified tonic wine made by monks. When you drink it/chew it, you realise why monks are so quiet.
Nothing beats poteen, though. I remember buying some round the back of a pub on the outskirts of Dublin. The bloke gave me a rope and said 'you'll be needing that when you've finished the bottle!'
Tony Everan
133
Posted 18/10/2019 at 19:26:48
Rob, Mike
Tennants Super is 9% proof, in the eighties I had 4 cans in my student flat [why?] and wrote a garbled letter to Mr Howard Kendall, Bellefield. Amazingly the great man didn't write back. Thinking back , it was 1991 after that 4-4 match , very emotional after us equalising 4 times and precipitating Liverpool sacking a manager.
The reality is central heating inhibitor is probably better for you than tennants super
Darren Hind
134
Posted 18/10/2019 at 19:27:05
Red Breast Paul.
You'll pick a bottle of 12 year old up for about 40 quid on Amazon. Gets an awful lot more expensive for the really high end stuff. As always. You get what you pay for.
Tony A.
Fair enough mate. The no-brainer it is then
Neil Lawson
135
Posted 18/10/2019 at 19:29:58
I have to confess to not reading all the previous posts. I do wonder if Silva's comments earlier this week about the pressures of Richarlison's travels was the excuse for leaving him out tomorrow. Personally, I do not think he would be missed. He has struggled for form and a kick up the backside could help. With him out there could be 2 strikers. If Kean is worth the money paid then he should play and be given a proper chance to shine. Gomes is a shoe in if fit. No Delph. so pick Davies who, at least, provides energy and commitment. Bernard wide and Iwobi deeper. Shit or bust maybe. But it has been shit so far and who isn't impressed by a bust in royal blue?
I know this is cloud cuckoo land and that Silva will, at best, tinker at the edges. At least I have tried something a bit different. Would far rather go down fighting than with a whimper.
Rob Marsh
136
Posted 18/10/2019 at 19:31:25
Darren Hind # 117
I once had half glass of Potcheen (and you definitely cannot buy this stuff a your local supermarket), I can't begin to describe what that stuff did to me.
I drank it at my mates house just at half a mile from mine and nearly never made it home.
Ian Edwards
137
Posted 18/10/2019 at 19:37:13
We need to go 442.
One holding midfielder. Not Gomes as he's totally overrated.
I would have Tosun and DCL up front and bring Kean on for impact.
In my view Tosun is our best clinical finisher and would thrive if he had someone along side him.
Regardless.. I would sack Silva.

Paul Tran
138
Posted 18/10/2019 at 19:43:08
Rob, that night McGuigan beat Pedroza, three of us had a half-Smirnoff bottle full of poteen and none of could remember what happened the day after, never mind later that night!
Rob Marsh
139
Posted 18/10/2019 at 19:48:53
Steve Ferns 123,
No Steve, I haven't seen him at his best yet.
I have to say though he looks like a class act, he seems to have a lot of composure. He his I have to say worth what we paid and I hope under the right conditions a fair bit more.
Mike Gaynes
140
Posted 18/10/2019 at 19:54:18
Darren, you should be able to find that rum where you are. Don't go for any of their cheaper ones... the Single Barrel is magic. Only rum I have ever enjoyed.
Regarding Red Breast, I have a close Irish friend who loves Single Pot Still Irish whiskey. Years ago I brought him a bottle of the 15-year Red Breast for his birthday and we had a lovely, lovely evening with it.
Dave Williams
141
Posted 18/10/2019 at 19:57:53
Tony # 128 I did no such thing!!!!
I admitted he hadn't been as bad as Siggy and even ok by his standards but I would not play him though I am pretty sure Silva will. Tom or even Beni worth a try before him!
If my post was misleading then I apologise but I certainly don't want to be tarred with that particular brush!!
Jamie Crowley
142
Posted 18/10/2019 at 20:02:22
Steve Ferns -
What a fantastic gesture and act by Schneiderlin.
Cosmic juju tells me he'll play, and play a blinder tomorrow. Good deeds work their way into everything.
Regarding the drinks, and Mike Gaynes in particular, I love beer. Love it. BUT! At the ripe old age of 50 now, it keeps me up at night, peeing at least twice, and my belly can become unsettled. Lovely thoughts.. . . I drink a lot of the vino now. Love wine. Love it.
And when I'm going all out, I drink Bushmills for my mate Steve Ashcroft. Used to only pick the Irish stuff, now will only drink the Bushmills. It's solid. When I pull it out of the cabinet, I usually announce to my Mrs., "Switching to the Brown!"
She knows she's in for it. The hard stuff makes me think I'm 20 again, and I act age-inappropriate. Probably why I love it so much.
Jamie Crowley
143
Posted 18/10/2019 at 20:05:40
Final thought -
If Marco doesn't start Kean, and if we go 1-0 down and he puts him out there at the 75th minute, praying a 19 year old can change our fortunes and placing stupid pressure on the kid, I'm going to throw whatever drink I have in my hand through the TV.
And in an honest moment, at 7:30 a.m., that drink will undoubtedly be coffee.
Rob Marsh
144
Posted 18/10/2019 at 20:07:30
Paul Tran # 138
Marvellous stuff, it's just a pity you can't remember you had a good time!
Have you had Japanese Sake?
I once went to a party where some Japanese turned up with a genuine high strength version of it, they even brought tiny little white pottery bowls that it's should be drunk from.
It tasted to me like sweetened water and I put it away like there was no tomorrow. Some three hours later I attempted to stand up from my seated position on the floor, this was another one of those Potcheen moments, but the strange thing is I was fully aware of what I was doing and what was going on around me, but I just couldn't control my legs.
I was an embarrassment to those who invited me.
Jamie Crowley
145
Posted 18/10/2019 at 20:11:20
Poitin / Potcheen is just Irish Moonshine? The internet tells me so.
If it's anything like our American Moonshine, it's like drinking jet fuel.
And it certifiably messes you up.
How to ruin your reputation and lose your friends in under an hour?
Potcheen.
I have to try it.
Tony Abrahams
146
Posted 18/10/2019 at 20:16:47
Darren, Everton have been fuckin yer all yer life, and will probably do so until that wild woman helps you on your merry way, so just enjoy it mate!
Jamie Evans
147
Posted 18/10/2019 at 20:19:30
Wow Lyndon. I can't recall a match preview like this before.
You are usually so measured but I can sense the desperation in your words - a preferred line - up ?!
This is not a criticism by the way, far from it. This preview was excellent as usual, but there is no disguising how fed up you are.
I dread these early kick offs. The ground is always like a morgue. God forbid we go behind tomorrow.
Good luck blues.
Onward Evertonians. 💙
Kieran Kinsella
148
Posted 18/10/2019 at 20:20:04
Jamie 145
Yeah they make it from potatoes or at least my relatives in county Wexford do. May be mistaken but I believe Moonshine was developed using similar techniques by Irish immigrants in Kentucky.
Frank Crewe
149
Posted 18/10/2019 at 20:21:09
I don't think he has any real chance at all of hanging on to his job. OTOH he has the best hair of any of our managers since 1980's Howard Kendall.
Rob Marsh
150
Posted 18/10/2019 at 20:22:01
Jamie # 145
If you do try it, if it's your first time just make sure that you're handcuffed to your bed, this is where you can safely pass out and a kind soul to watch over you would also be helpful.
Paul Tran
151
Posted 18/10/2019 at 20:25:03
Rob #144, Ive never had sake, but I had a similar experience to you on the way to. the Charity Shield in 1985.
We'd done our then-customary pub crawl down Great Portland Street, before stopping for a 'last one' at the Baker & Oven right by Baker Street tube. It was full of blues and we were drinking with these navy guys stationed in Portsmouth where I lived at the time. They had this wine they'd brewed in the officers' mess. We swilled it. Oh dear.
All I remember is falling over backwards on Wembley Way - it took ages to land on my back and longer to get up. I could remember us scoring and keeping the ball for five minutes near the end of the game. On the train back to Oxford, someone asked us who scored - neither of us could remember. It was only watching the highlights in the pub that we remembered it was a Grobbelaar own goal.
As we regularly said in the 1980s, what a day that was!
Apparently.
Jamie Evans
152
Posted 18/10/2019 at 20:31:19
Never in all of my TW experience have I felt closer to my fellow posters than this evening.
Quite a lot of drinky - poos experience on this thread.
And there was me thinking that only I was a partial to a tipple or 2 when our team had upset me.
Yammas.
Jamie Crowley
153
Posted 18/10/2019 at 20:32:08
Kieran @ 148 -
You're 100% correct. The American Moonshine came from the Irish settlers, and was a southern thing to be sure. The Moonshine I think started in Kentucky, but has a ton of roots in Tennessee. But Tennessee is known for their whiskey, also from Irish settlers.
Kentucky and the deep south have their bourbon.
A proper Southern man only drinks bourbon. He also eats grits, addresses all women as "Ma'am", and knows his manners. He also owns multiple firearms. I've no problem in the least with any of that. The Southern man also overwhelmingly supports Donald Trump. This is where myself and the Southern man part ways.
Make of that what you will. ;0)

Mike Gaynes
154
Posted 18/10/2019 at 20:46:05
Rob #144, the Chinese version of rice wine (sake in Japanese) has destroyed me on more than one occasion. When I first met my father-in-law, he brought out the good stuff from his hometown in Hunan... 140 proof and drank like liquid sunshine. He put me to the test, and I must have passed it, because I'm still married to the lady and papa still likes me, but my memory of that evening has large gaps in it.
David Greenwood
155
Posted 18/10/2019 at 20:47:33
Tennents lager. Ice cold. It's the business. Nothing better.
Anyway, the team tomorrow will have Schniederlin and Walcott in it, will be set up 4231, will use zonal marking to defend set pieces and will lose. I wish I was wrong. Marco will spout some pish about the moment, confidence and decision making.
Utter fraud.
Brian Hennessy
156
Posted 18/10/2019 at 20:49:26
Jamie #145 If you ever end up in South East Ireland I usually have a bottle of Poitín handy for anyone crazy enough to drink it.

Jamie Crowley
157
Posted 18/10/2019 at 20:56:40
Brian -
Duly noted. I hope you like strange knocks at your door.
Derek Taylor
158
Posted 18/10/2019 at 20:58:47
As ever, a sneaky 2-1 victory tomorrow will see a halt to 100+ posts on 'sack Silva' threads on ToffeeWeb. It's never taken much to quieten the masses who will, I suspect, switch to 'Give him till Xmas' rather than the end of this month.
Moshiri will be relieved, I'm sure.
Brian Hennessy
159
Posted 18/10/2019 at 21:05:01
Jamie, fellow Evertonians are always welcome. If you ever do get some offered Poitín, make sure it is crystal clear. Any cloudiness stay well clear, it will make you sick for days.
I also keep a bottle of cloudy stuffy handy for my brother when he visits at Christmas - he's a Liverpool fan
Ray Smith
160
Posted 18/10/2019 at 21:05:25
Derek 158
Are you being serious?
Regardless of the result tomorrow he's got to go!!!
I'm not sure Silva has a plan A let alone a plan B.
Eric Paul
161
Posted 18/10/2019 at 21:08:10
Poitin is like dandelion and burdock compared to eau de vie in southern France, I had a few after a meal with colleagues on a Friday afternoon and woke up on Monday with a hangover til Wednesday.
David Greenwood
162
Posted 18/10/2019 at 21:10:14
Good enough for him Brian!
Darren Hind
163
Posted 18/10/2019 at 21:11:04
Jamie @145... Kinda.
By comparing it to Moonshine, you are definitely in the right post code.
I've always been involved in transport. from driving wagons to distribution management to CPC training. There was a period when Potcheen / potine / "Irish gear" was actual currency. Not quite legal tender, but seemingly more powerful than your dollar or our pound.
Irish wagon drivers had very little respect for English law back in the day – which meant they felt right at home in Liverpool.
Irish HGV driver waving what could easily be a container of anti-freeze - "Look guys. I need to make that boat." The deal would be struck within seconds.
DUP and the British government – look and learn. You only need to ask the Irish wagon drivers. They circumnavigated your problems 30 years ago
Tony Twist
164
Posted 18/10/2019 at 21:35:17
Not sure if anyone else has picked this formation but it should be a true 4-3-3 with a high line:
Pickford,
Sibibe, Keane, Mina, Digne,
Davies, Sigurdsson, Gomes,
Richarlison, Kean, Iwobi.
Job's a good 'un; 2-0 to the Blues.
Dave Abrahams
165
Posted 18/10/2019 at 21:38:52
Great thread this lads, I got bladdered just reading it.
Annika Herbert
166
Posted 18/10/2019 at 21:50:05
Mike@1 15, so let me get this straight, you feel that Bernard could not play the Number 10 role for varying reasons, the main one being he has never played there before. Yet you suggest Sigurdsson could play in a defensive midfield role, a position he has never played?
I think your infatuation with Sigurdsson is going a touch too far there! I am not an admirer of Sigurdsson at all but, if he were playing well, scoring and creating chances, then he would have earned his place. As he is doing none of that, he shouldn't be in the team in my opinion.
So how could he possibly play a role he has never been in before, yet Bernard could not?
Mike Gaynes
168
Posted 18/10/2019 at 22:17:21
Sigh... no, Annika. I believe what I believe because I watch the players play.
I don't believe Bernard could play the #10 because he lacks the passing creativity and the interest -- naturally gravitates to the touchline and generally avoids the middle of the pitch.
I believe Siggy could play DM because he has all the requisite passing skills and the obvious interest and capability in defending, because he does it all day long. He tracks back with great energy and solid fundamentals, which Schneiderlin lacks.
But if you really dislike Siggy so much that you think Schneids is part of our best 11 and not Siggy, then I'd say your obsession is more than comparable to my infatuation.
Jerome Shields
169
Posted 18/10/2019 at 22:23:41
Poitin is okay, as long as you don't get a bad batch. If you come across someone the worse for it, it is better to let them sleep it off outside in the cold, rather bring them into a warm house. They have a better chance of living. This is probably the traditional cure for a feed of moonshine as well.
Jamie Crowley
170
Posted 18/10/2019 at 22:29:06
Irish wagon drivers had very little respect for English law back in the day – which meant they felt right at home in Liverpool.
One of the funniest things I've read on TW.
Craig Walker
171
Posted 18/10/2019 at 22:30:29
If the performance is like it was in the equivalent game last season, then Silva's time is up. If it's like the West Ham game the previous season, with Unsy and Allardyce in the stands, then he'll live to fight another day.
My prediction is that we'll lose 2-0 and be looking for a new manager on Monday.
Brent Stephens
172
Posted 18/10/2019 at 22:45:53
Never drank poison without being sure of its provenance.
Andy Crooks
173
Posted 18/10/2019 at 23:07:43
Anyone on here ever snorted vodka off a spoon? As a student, it seemed fair enough, saved time, money and any unnecessary social interaction. Not quite the same as a half of bitter solving a cryptic crossword with friends.
One of the few pleasures of getting on a bit is having a glass of brandy (by mouth) and realizing that doing nothing is one of life's pleasures.
I am uptight about tomorrow, though. Big day in so many ways.
Bill Gall
174
Posted 18/10/2019 at 23:10:47
All this talk about drink makes we think that we should give the players some screech from Newfoundland, it will make them run; unfortunately, it will be to the nearest shitter.
Gary Willock
175
Posted 18/10/2019 at 23:11:29
Never going to happen, but would love to see:
Pickford
Sidibe Keane Mina Digne
Gomes Delph Bernard
Kean Calvert-Lewin Richarlison
Subs: Lössl, Holgate, Davies, Sigurdsson, Iwobi, Tosun, Gordon.
Andy Crooks
176
Posted 18/10/2019 at 23:13:30
I must add, as well as a hangover there was a sore beak. So, whatever the result tomorrow. DON'T DO IT.
Mike Gaynes
177
Posted 18/10/2019 at 23:21:04
SNORTED vodka? Oy vey, Andy.
Of course, some vodkas taste so terrible that it might be a viable alternative. But it doesn't sound like a whole lot of fun.
Don Alexander
178
Posted 18/10/2019 at 23:54:57
Slivovitz! Ironically it annihilates YOUR plums and is probably why Hungary's footballing prowess ended in the 50s.
Do not drink it with a lit cigarette in the room.
Jamie Crowley
179
Posted 19/10/2019 at 00:29:04
Andy Crooks -
We called them "upside-down shots".
Turn over the shot glass, and most have a shallow well at the bottom. Fill said shallow well, with shot glass upside down, with whatever is your choice of drink.
Proceed to snort the stuff up through your nasal cavity and down your throat.
I did a lot of upside-down shots back in the day. I don't advise trying them.
Brian Wilkinson
180
Posted 19/10/2019 at 00:39:24
When a player comes under flak and rightly so, they normally pop up with a goal. For that reason, expect a goal from Sigurdsson today.
Mike Gaynes
181
Posted 19/10/2019 at 01:32:56
Jamie and Andy, that explains a whole lot.
Ed Prytherch
182
Posted 19/10/2019 at 02:56:47
I stay away from illicit stuff. Soon after I moved from the UK to South Carolina in the early 80's I read a story in the local newspaper about a Sheriff busting an illegal still. He said that it was a nice one as they were using copper tubing for the condensor rather than an old car radiator.
John Pierce
183
Posted 19/10/2019 at 04:42:32
Andy - spoons to snort with at Uni? Lucky you. Vodka snorting definitely was a phenomenon for a while, we snorted from bottle caps.
Spoons. pfft! 🥴
John Pierce
184
Posted 19/10/2019 at 05:39:40
Selection is key tomorrow, you need players who will be brave. Silva has tended to go with experience and safer choices.
Delph has not yet been ruled out but is a doubt, his injury record was an issue before we brought him in. If he's even slightly doubtful, to pick him in game of this magnitude is folly. To see him limp off after 10mins would be has massive misstep.
Moreover to pick Schniederlin would be doubly so. He has never stepped up at Everton under duress. Sent off already this season mostly due to petulance, two reckless tackles against Bournemouth and City. All signs are he's simply isn't disciplined enough, when we need him to be.
If anticipated Silva sticks and doesn't twist Davies and Gomes are brave enough to be the two. Both possess more mobility and will attempt positive passes to get the ball to our most dangerous players.
He may ring the changes if not the formation.
Here's what I think would give us the best chance under the 4-2-3-1
Pickford
Sidibe Keane Mina Digne
Gomes Davies
Richarlison Iwobi Bernard
Kean
Annika Herbert
185
Posted 19/10/2019 at 06:47:04
Mike @168, then you must be watching an entirely different game to the rest of us sigh!! As previously mentioned Siggy has become a total passenger in recent games yet you see him doing all this defending.
I see a player who is woefully out of form and who isn't doing a job as the number 10. I also watch our games and nothing I have seen has given me the impression that he can play as a DM.
Nor am I an admirer of Schneids in any way, shape, or form. But DM is his natural position, no matter how poorly he performs in it. Siggys form is simply dreadful in his preferred position so I cannot for the life of me see how anyone can expect him to suddenly start performing well in a totally alien position.
Clearly you see something no-one else can. Also he has a tendency to drift out to the right, a criticism you make of Bernard where he drifts out to the left.
George McKane
186
Posted 19/10/2019 at 07:38:20
The darkness of the night sky is just beginning to give way to a lighter Blue while lighting up The River and glancing upon The Royal Blue Liver Birds and I can now see the roof of Goodison Park.
It's time to toughen up and be decisive and choose a team that will work for you - - if they cnnot do that - -- or don't wish to - - - then Silva is finished.
Gone Gone Gone Beyond
Gone Completely Beyond
Gone Gone Gone Beyond
Gone Completely Beyond
Gone Gone Gone Beyond
Gone Completely Beyond
Gone Gone Gone Beyond
Gone Completely Beyond
I am sitting here in New Brighton close to the window in my top writing room - - thinking about being a Blue and Fellow Blues - - as always I send Cosmic Blue thoughts and grooves all the way through the air to my Fellow Believers and sufferers.
Your friend - - with a firm handshake - - George
Steve Brown
187
Posted 19/10/2019 at 07:50:28
It is great to see Schneiderlin's good deed - well done and total respect. But he should still not be making the Everton side regardless - he never plays a constructive pass to transition into attack quickly. His coverage of the back four is also lacking, as he doesnt work hard enough, his anticipation is slow and his tackling his undisciplined. I know Tom can be inconsistent as all young players are, but at least he tries to influence the game.
Certainly don't see Sigurddson in that defensive midfield role as he also can't tackle. He doesn't deserve to be in the team either and Silva should play Iwobi in the number ten role.
Tony Everan
188
Posted 19/10/2019 at 08:54:05
Good morning George #186,
Throughout all this footballing torture and metronomic disappointment the cosmic grooves of love for our club are undimmed. When I close my eyes I can still see them, they are there, strong and full of the fans love of Everton. A timeless energy that we are privileged to be able to tap into. We will find our way eventually through this dark forest of poor form. One way or another.
Handshake returned.
George McKane
189
Posted 19/10/2019 at 09:00:04
Tony - absolute poetry - beautiful.
Oh there is blessing in this gentle breeze
That blows from the green fields and from the clouds
And from the sky: it beats against my cheek
And seems half-conscious of the joy it gives
Oh welcome Messenger. O welcome Friend.
George Cumiskey
190
Posted 19/10/2019 at 09:05:29
Mike I'm afraid I have to agree with Annika, that you must be watching a different game to the rest of us.
Because I haven't seen anything in Siggys game to warrant him even being on the pitch.
Dave Abrahams
191
Posted 19/10/2019 at 09:16:49
George (186) and Tony (188) my mind always goes back to a poor Everton team, Howard Kendall's second spell I think, we were playing Blackburn in a night game at Goodison, losing 1-0 at halftime, small attendance, 25,000 if my memory is correct, not getting into the game, then it seemed as if the crowd took over, thinking if keep playing like this we are in danger of going down, even though there were plenty of games left in the season.
The noise picked up little by little, so did the teams attitude, tackles were harder and successful, passes were connecting, any faults were overlooked, we got a goal back and the noise, from a small crowd was deafening and we eventually won 2-1, Mark Ward scored a penalty but don't remember if that was the winner or not.
What I do remember is the crowd took over and upped the team's performance, lifted them up and turned a very likely loss into a very welcome and needed victory.
That's what is needed today, Darren Hind summed it up the other day in a less long winded way than I have just wrote, the players need us behind them today during the game, every second of it.
Don't blame today, fuck the mistakes, cheer us on to a win and let's go home with a smile on our faces ready to enjoy the rest of the weekend. A big handshake back George and good luck with your 4-0 bet.
Derek Knox
192
Posted 19/10/2019 at 09:35:38
I can never remember being so uninspired before a match with Everton playing at home, which I obviously hope is a win, but I don't want Silva to be in charge any longer, I have well had enough of him.
A lot will hinge on his team selection I believe today, if he sticks with the usual, apart from Sidibe in for Seamus, I can't see us getting anything out of this at all. When has he ever been bold and surprised us with his team selection and tactics?
Peter Mills
193
Posted 19/10/2019 at 09:39:06
I admire the positivity, but I'm afraid I'm in that horrible twilight zone where, as always, I want Everton to win but fear that by doing so they will simply prolong the agony of our team being managed by Marco Silva.
Barry Gibbs
194
Posted 19/10/2019 at 11:03:50
If I was going 4-4-2, I'd go with:
Pickford
Sidibe Keane Mina Digne
Walcott Davies Gomes Bernard
Calvert-Lewin Kean
Controversial, I know, but think Walcott is better-suited to a traditional winger role. He could also swap out Bernard or one of the front two for Richarlison.
I personally think we have the personnel for 3-4-3:
Pickford
Sidibe Keane Mina
Holgate Davies Gomes Digne
Richarlison Kean Iwobi
I think that we really need to go for something different, used the static 4-2-3-1 for too long and it's doesn't seem to have suited any of the managers or players that have used it, bar a short period under Martinez or Koeman.
Dave Abrahams
195
Posted 19/10/2019 at 11:23:03
Peter (193), I fully understand your position and it puts lots of Evertonians in the same place. I do not think Silva is the long term manager to take Everton back to challenge the top teams for honours but at the moment every point is valuable so that the incoming manager,when or if he arrives, will be managing a premier league club. It looks to me that position is in the balance at the moment.
John Hammond
196
Posted 19/10/2019 at 11:31:03
I'd be surprised if he went with any other formation other than 4-2-3-1 despite the fact we could set up as a 4-4-2 and change back to 4-2-3-1 of it didn't work, with Calvert-Lewin or Kean going wide.
It's been said a million times that Sigurdsson should be dropped. Let's see. He's been out of form for a while and missed a penalty with Iceland over the International break. Iwobi should be given a chance at No 10.
Wonder if we'll see a huge shock with Walcott up front? It was planned for the City game so maybe he'll try again.
Tom Bowers
197
Posted 19/10/2019 at 11:36:31
Silva doesn't seem to inspire confidence and belief in the players nor the strategies he employs. Yes, he's been through a bad run and that may still continue today.
Every game is a tough one when the goals won't come even though there are people in the team who can score.
They need a good win to maybe turn the corner but I think Silva is running out of options and time.
Mike Dolan
198
Posted 19/10/2019 at 12:13:26
Great article Lyndon beautifully written. I can understand the general frustration of the fans given the abysmal football that has been played so far in this young season. After having a taste last year of some of the best football played by Everton in many years we looked to be on our way and confidence and expectations were high.
It seemed like we just had to pop a half decent striker in there and we would finally be off to the elusive promised land of the top four. But let's face it although we brought in some great talent we also lost our most vital players from last season in Gana and Zouma and the at this point there simply is not enough depth in the squad to withstand their absence the goal scoring is now worse than last season just by the cumulative effect of a general lack of service.
Marco Silva imho is a decent coach who like most of his predecessors is an abysmal public relations person. Should he be fired. Absolutely not. Let's just work on the basic things and stop shoe horning decent players into situations where they have little chance of success. We still have the same nucleus of players that we had high hopes for just eight games ago. We also still have a gaping hole in the middle of our defense, a massive Gana sized gap in the midfield and then there is still that Lukaku thing that we never really dealt with!
Cheer up lads. Three points today and the club begins to look like it had a clue and it will at least begin to feel a little different. Patience.
---
Add Your Comments
In order to post a comment, you need to be logged in as a registered user of the site.
Or Sign up as a ToffeeWeb Member — it's free, takes just a few minutes and will allow you to post your comments on articles and Talking Points submissions across the site.
---
---
© ToffeeWeb