Opinion
Football Shorts – Part I
Looking at the threats to football's income in the future and the impact it may have on Premier League clubs
Paul The Esk

17/05/2020
30

comments | Jump to last
In finance, short selling or "being short" of a stock, a bond or a currency means that the investor has a negative view on the future price of the asset and positions him/herself to make a profit from any future fall in price.
Assets can fall in value (price) for many reasons but usually it is a result of worsening prospects for the company or asset itself, that may be macro-economic (what's happening in the global or national economy), it may be sector (the industry the stock is in), or down to the individual circumstances the company finds itself in (competitive pressures, poor management, lack of resources etc).
So why "Football Shorts"?
Football is (despite the claims of many involved in running football) a relatively simple business. It has a small number of income sources, easily defined costs and – like most businesses – an ongoing working capital requirement to fund the acquisition of assets (players), have reserves to meet losses when they occur and – perhaps every few decades – fund new premises (stadium or training facilities) or the development of existing premises.
Broadly, a synopsis of the financial affairs of a Premier League football club would look like this:
| | | |
| --- | --- | --- |
| Turnover/Income | Expenses | Capital Requirements |
| Matchday | Wages | Working capital |
| Broadcasting | Other operating costs | Player acquisition |
| Commercial | Financing costs | Funding of Stadium/training ground development/construction |
| Sponsorship | Amortisation of player transfer costs | |
| European | Depreciation of assets | |
| Player trading* (key to the Profit & Loss account but not part of turnover) | Exceptional costs | |
| | Tax | |
The Premier League has boomed for many years. Going back to 1992, the growth in turnover is clear, rising from £205 million to more than £5.16 billion in the last complete season (annualised growth of 13% pa over the whole period):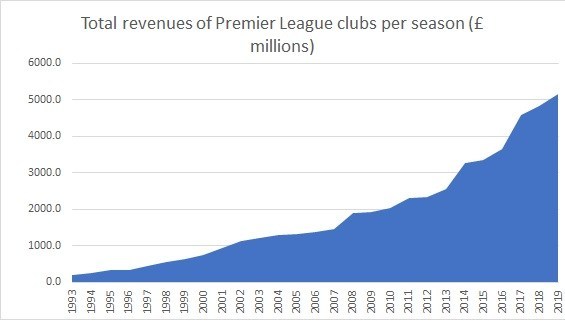 However, as income has risen, expenses have risen also. As is widely recognised, the biggest expense in the Premier League is wages. Total wages have grown from £97.1 million (no tittering at the back please) to £3.14 billion (annualised growth of 14.3% pa over the whole period). By another measure, from 47.3% of turnover to 60.8%.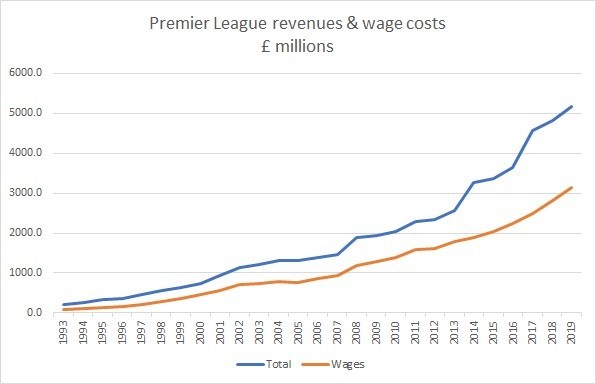 Wage costs have grown even faster than the increase in income – we can return to this later as much of this differential has been funded by asset (player) sales.
Analysing Turnover
As mentioned above, the key elements of turnover are matchday income, broadcasting revenues, commercial revenues & sponsorship.
Matchday revenues
Matchday revenues have grown steadily over the history of the Premier League. In 1992, total matchday revenues were £89 million; in the last complete season (2018-19), that had risen to £678 million – an annual growth rate of 7.5%.
As a percentage of overall revenues, matchday revenues have reduced over time. Whilst still significant, they now represent 13.3% of the total revenues generated by Premier League clubs.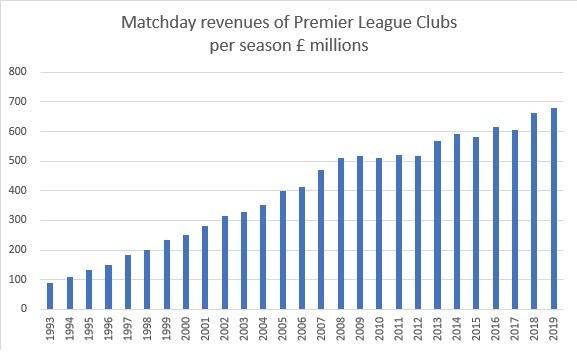 Impact of no games in front of spectators 
Currently, 25% of the season remains unplayed with no prospect of matches, if played, being played in front of paying spectators. Assuming that clubs refund all season ticket revenues, and taking into account away and walk-up tickets not sold, that amounts to a loss of revenue of £132 million (based on last year's figures).
In a worst-case scenario where no games are played in front of paying spectators for the whole of the next season, total lost revenue would amount to nearly £800 million (using  season 18-19) – figures, ranging from £128 million for Manchester United to £6.1 million for Burnley.  Tottenham Hotspur would lose an estimated £115.8 million plus revenues from the non-football use of their new stadium.
| | | | |
| --- | --- | --- | --- |
| £ millions | Lost matchday turnover  (2019-20) | Whole season 20-21 | Total |
| Manchester United | 17.0 | 110.8 | 127.8 |
| Tottenham Hotspur | 15.8 | 100.0 | 115.8 |
| Arsenal | 12.8 | 96.2 | 109.0 |
| Liverpool | 12.5 | 84.2 | 96.7 |
| Manchester City | 12.2 | 55.0 | 67.2 |
| Chelsea | 8.1 | 66.6 | 74.7 |
| West Ham United | 6.2 | 27.1 | 33.3 |
| Newcastle United | 5.7 | 23.9 | 29.6 |
| Brighton & Hove Albion | 4.2 | 18.5 | 22.7 |
| Southampton | 3.4 | 17.0 | 20.4 |
| Everton | 3.2 | 14.2 | 17.4 |
| Leicester City | 2.8 | 14.7 | 17.5 |
| Crystal Palace | 2.1 | 10.9 | 13.0 |
| Wolverhampton Wanderers | 2.0 | 11.5 | 13.5 |
| Watford | 1.9 | 8.0 | 9.9 |
| Burnley | 1.1 | 5.6 | 6.7 |
| Bournemouth | 1.1 | 5.0 | 6.1 |
| 3 promoted teams | 6.5 | 25.9 | 32.4 |
| Total | 118.6 | 695.1 | 813.7 |
Broadcasting revenues
Broadcasting revenues have been the principal revenue growth driver, as the following chart show: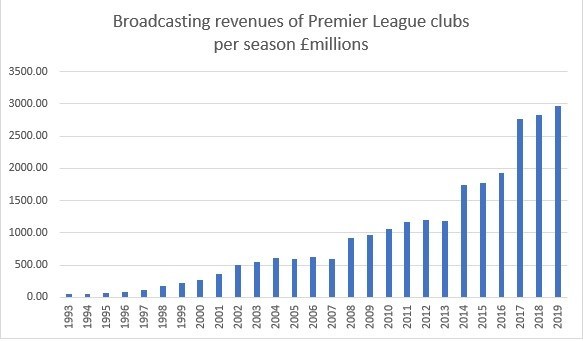 In the 26 years of Premier League football, revenues have grown at an annualised rate of 17%. Initially the growth was funded by competition between the domestic broadcasters but, in recent years, revenue growth has been achieved through the aggressive selling of broadcasting rights overseas. Overseas rights were acquired for an aggregate of just £40 million in the first round 1992-1997. By 2016-19 they had grown to £3.1 billion, and an incredible £4.2 billion for the current 2019-22 round.
Domestic payments fell in the last round, from £5.4 billion to £5 billion and, even prior to the Covid-19 situation, were expected to fall further in the 2022-25 round.  Market-leading analysts, such as Claire Enders, forecast 12 months ago – a further 20% fall in domestic right payments, despite more games being offered to broadcasters. One can only assume that figure today would now be viewed as highly optimistic.
For me, my primary concern is with overseas rights. Currently accounting for 45% of broadcasting revenues, both the number of broadcasters carrying rights and the amounts they will pay will drop significantly in the next bidding process (if not during this cycle). The impact of the Covid-19 crisis on the global economy, with a very severe recession and slow recovery, will see some of the weaker broadcasters disappear from the market, will see a reduction in subscribers (both personal and commercial subscribers), and a reduction in advertising expenditure. All of which will result in an enormous retraction in rights spending.
For ease, I've assumed similar falls in revenues for both domestic and overseas broadcasters. In practice, I expect overseas rights to fall more quickly than domestic.
| | | | | | |
| --- | --- | --- | --- | --- | --- |
| £ millions | UK rights | Overseas rights | Total | Shortfall over 3 years | Average per club per season |
| 2019-2022 | 5,000 | 4,200 | 9,200 | | |
| 2022-2025 | | | | | |
| -20% | 4,000 | 3,360 | 7,360 | -1,840 | -30.67 |
| -30% | 3,500 | 2,940 | 6,440 | -2,760 | -46.00 |
| -40% | 3,000 | 2,520 | 5,520 | -3,680 | -61.33 |
| -50% | 2,500 | 2,100 | 4,600 | -4,600 | -76.67 |
A 40% fall would see the larger clubs losing £200 million plus over three years and the clubs lower down the league in excess of £135 million.
Some point to the further involvement of the internet giants, Amazon and perhaps the over-the-top providers. Whilst I expect that they buy more of the rights packages, I do not see this resulting in higher revenues for the Premier League.
European revenues have become hugely significant to the top 5 clubs with Uefa rewarding clubs whose domestic broadcasters have paid the highest rights figures. Competition in previous years between Sky & BT pushed the English rights bids to record levels. In the last round, BT Sport continued to bid at extra-ordinary levels, paying £1.2 billion for the latest 3-year deal. However, Uefa could only command this amount by offering increasing numbers of games. The value of individual games is falling (as with domestic football) even at the top of the bull-market cycle. After Covid-19, the 2022 bidding will look very different.
Commercial and Sponsorship
The doyen of the modern sports business, Mark McCormack, had a simple philosophy when negotiating commercial and sponsorship arrangements. If one of his clients' career or, in the case of a team, their performance, was on an upward trajectory, relatively short contracts were negotiated. Someone at the top of their game, the strategy was to negotiate long-term contracts which protected against a future fall-off in performance. To an extent, that is the case in the Premier League with the most successful clubs negotiating long-term contracts with shirt sponsors and kit/apparel manufacturers.
Expiry of existing contracts, length of existing contracts and the strength of sponsor or commercial partner (combined with their business sector and operating locations) will play a big part in determining the quantum and the security of future payments to Premier League clubs.
Unsurprisingly, as a generalisation, the biggest clubs have the stronger, most robust commercial partners and sponsors. Thus the strongest clubs will be less likely than the weaker to see an immediate impact on the majority of their income. However, as I've stated previously, almost without exception, every partner is dependent upon consumer spending, much of which might be viewed discretionary.
The major kit and apparel manufacturers (Nike and Adidas, in particular) have spent increasing sums in recent years to secure the highest profile clubs in the Premier League. Whilst an element of this is associated directly with shirt and other club-related merchandising sales, primarily for both Nike and Adidas, this is viewed as marketing or promotional spend, extending their company brand and corporate profile over expanding international markets. In benign or developing market conditions, this is a wise strategy, both organisations increasing market share in growing markets. Covid-19 puts a stop to that. Market conditions are going to be extremely tough for many years ahead. Will that impact revenues currently paid to the major football clubs? It will depend, of course, on the contracts, but, for sure, deals incentivised on volume or future growth will pay significantly less than previously considered business plans would have suggested. Liverpool's new deal with Nike is heavily incentivised for growth. Projected annual rewards of up to £100 million were based on future sales. The guaranteed element (around £30 million pa) is less than the guaranteed element from existing providers New Balance.
The following charts show the size and duration of kit and apparel deals and the major shirt sponsor deals. Simply, the lower left corner shows lower income and shorter tenure of deals.
For kit deals, several points to note. As expected the largest clubs are higher and to the right of the chart (evidence perhaps of superior strategic planning?). Also, each of those deals are with multi-billion dollar turnover companies (2018 figures: Nike $31 billion, Adidas $21 billion and Puma $4.65 billion). Compare that with Umbro (shirt suppliers to Everton, Bournemouth, Burnley, and West Ham) whose parent company reported annual turnover of $225 million in 2017 and $187 million in 2018.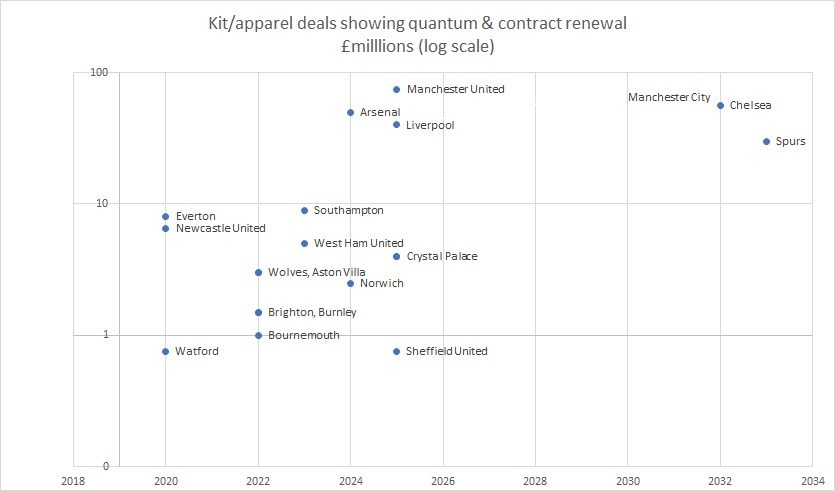 Given the turbulent nature of markets in the Covid-19 crisis, clubs having to announce new deals in the short term (Everton are expected to leave Umbro next month) will almost certainly have difficulties replicating or improving existing deals.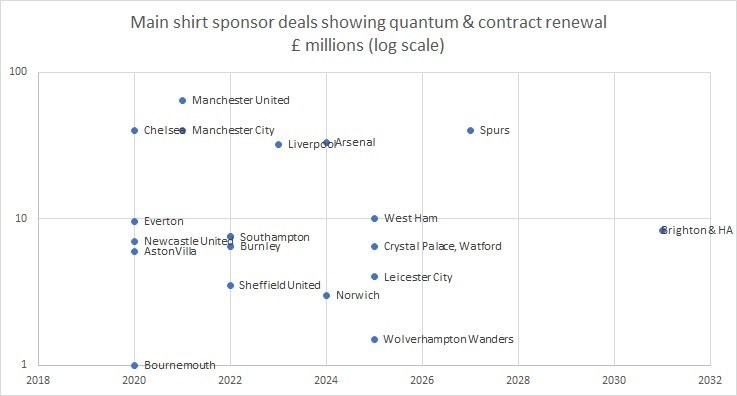 Main shirt sponsors is a really interesting field. Everton, Bournemouth, Aston Villa, Newcastle United and Chelsea have deals expiring next month. Chelsea have confirmed a 5-year deal with telecoms firm Three – this was announced in January prior to the outbreak of the crisis (ex China). Everton currently have not announced their replacement for SportPesa, although sources suggest another gambling company at a significant discount to the concluding SportPesa deal. Similarly, Aston Villa, Bournemouth and Newcastle United have made no announcements.  With the exception of the possible but increasingly unlikely takeover of Newcastle United, none of these clubs can expect an improvement in future terms.
In terms of looking at the security of future income, it is clear that length of term is important, but equally the size and strength of the sponsor or commercial partner. With the honourable exception of Brighton and their Amex deal stretching to 2031, none of the smaller clubs have secure long-term revenue from sponsorship. Indeed, the reliance on gambling companies may result in further sponsor deals being cut short.  Companies such as M88, W88, Lovebet, ManBetX, Fun88, Sportsbet.io pay close to £70 million a year in sponsorship to Premier League clubs – is it realistic that that can continue?
Although not detailed in this article, clubs rely upon a multitude of smaller deals, often regional by nature, to further boost their coffers. A severe global recession will significantly reduce the number and size of future deals.
Player trading profits
Despite the huge growths in income as seen above, player trading is a key part of major football clubs' financial strategy. In a bull market with increasing player values fueled by increased revenues flowing into the game (football's equivalent of quantitative easing, although sadly before the crisis – not after), the amount clubs were prepared to pay for players just kept increasing. As a result, clubs could effectively balance the books by selling players periodically for sums greater than their book value.
Player trading profit seasons 2013-19 £ millions
Chelsea
412
Liverpool
292
Arsenal
224
Everton
224
Southampton
213
Tottenham Hotspur
172
Manchester City
153
Leicester City
148
Norwich
99
Newcastle United
97
Manchester United
85
West Ham United
80
Clearly for some clubs, player trading is particularly important. Chelsea, Liverpool, Arsenal, Everton, Southampton and Tottenham Hotspur have used this method to maximise expenditure whilst maintaining compliance with profit & sustainability rules in the Premier League and Financial Fair Play in European competitions
Player trading profits are relatively easy to maintain in a rising market. However, if player values flatten out or – as projected in a post Covid-19 environment – fall, and some commentators suggest significant reductions, particularly in older player values, then this source of funding and profit will disappear very quickly.
Transfer activity will reduce in the short term. Partly due to cash considerations, partially due to uncertainty over future abilities to generate cash, but also because players on existing generous contracts may not be able to find a new club willing to meet previous contract values. All of these factors will place significant pressure on future player trading profits.
All revenue streams under pressure
To conclude the analysis of future turnover and player trading profitability, all Premier League clubs will face extreme pressures in the near and medium term. Aside from the loss of matchday revenues for the remainder of this season, the primary concern may be the potential cash penalties imposed by broadcasters for the failure of the Premier League to deliver its product already paid for.
However, that is only the beginning of the story; the potential for the whole of next season to be played behind closed doors, the uncertainty of some broadcasters, sponsors and commercial partners to continue existing contractual obligations, the likely reduction in new commercial contract values and a significant reduction (if not complete destruction) of future player trading profits in the next few future seasons paints a bleak picture for a group of clubs/companies who failed to profit and make reserves in the good times.
The old way of running a football club is finished. The old way of being rewarded as a participant in football is drawing to a close. Has the mentality changed yet within football? I doubt it very much.
Hence football shorts…

Follow @theesk
Share article:
Reader Comments (30)
Note: the following content is not moderated or vetted by the site owners at the time of submission. Comments are the responsibility of the poster. Disclaimer
Derek Thomas
1
Posted 18/05/2020 at 02:09:20
Someday, Football has to come off the life support of the mega money ventilator. There may be casualties if the plug is pulled. I just hope it's not us.
Of course, it may also be out of the clubs' hands if the ventilator providers decide they want them back, as they're only going to fund 6 ventilators (or maybe even 4) and they're also moving them abroad to Europe.
Eric Myles
2
Posted 18/05/2020 at 03:33:42
"
European revenues have become hugely significant to the top 5 clubs with Uefa rewarding clubs whose domestic broadcasters have paid the highest rights figures.
"
Paul, can you explain what you mean by this?
Tony Abrahams
3
Posted 18/05/2020 at 09:54:09
I was thinking the same Eric, and also thinking is this a legal loophole in FFP?
Paul [The Esk]
4
Posted 18/05/2020 at 11:02:10
Morning Gents. When UEFA calculate the revenues due to each club as they advance through the competition, part of the calculation considers how much the club's domestic broadcaster has paid for the European broadcasting. The higher the payment made by the broadcaster, the greater the increase in revenues received by their domestic participants.
Paul Tran
5
Posted 18/05/2020 at 11:43:29
Why would the broadcasters pull the plug? They need football more than football needs them. I hope the football authorities remember this when the inevitable negotiations start.
Tony Abrahams
6
Posted 18/05/2020 at 11:56:44
Possibly why they are desperate to finish this season Paul T, to tighten their bargaining hand even more?
I've been reading about Saudi Arabia, and some experts saying it's the end of an era, for these oil rich Middle Eastern country's. Ed Miliband, is already talking about a greener environment and it got me thinking about how valuable an asset Usmanov and his steel, might just become, once this pandemic is over?
Paul [The Esk]
7
Posted 18/05/2020 at 13:21:14
Paul #5. The broadcasters rely upon subscriptions and advertising to fund their acquisition of sporting rights. A severe global recession will see a dramatic reduction in subscription levels and advertising rates. As a result, weaker broadcasters be forced to drop football (assuming they survive).
Alan J Thompson
8
Posted 18/05/2020 at 13:29:28
It would seem that clubs need to insert clauses into all their contracts in case the impossible should again raise its head, certainly the TV companies did, and then make allowance for reserves, or insurance, to cover such an eventuality as it would appear that their attitude has been one of "that will never happen".
Anyone remember the Monty Python sketch about University Challenge?
Karl Marx, your starter for 10, when did Coventry City last win the FA Cup?
Turned out to be a year or so later.
Jerome Shields
9
Posted 18/05/2020 at 18:57:12
Alan #8
This seems to have been the glaring weakness that was exposed regarding the Premiership Governing body. They have assumed the gravy train would just keep running. Maybe they have no choice as far as the Top Six are concerned( a give me solutions not problems scenario).
Its not surprising given the lack of leadership in the Premier League, what has unfolded since the crisis started, where the interests of key pressure parties, can paralyse the whole leadership process. It also gives rise to the possiblity that the richer Clubs are able to manipulate the direction the Premier League takes and players have a adnormal amount of power.
There is a clear demarcation between the Top Six and the rest of the Premier League, in the analysis that Paul the Esk has provided in his article. Spurs did well to bridge the gap, though they have got rid of the Manager that got them there. It obvious that the Top Six will want to protect their financial interests and the Premier League will not want to antagonise them, towards the muted Uefa plans for a European Super League.
John McFarlane Snr
10
Posted 18/05/2020 at 19:40:33
Hi Jerome [9],
Approaching my 82nd birthday and being exceedingly selfish, it would give me great pleasure if I could witness the formation of the much mooted European Super League, because it would restore our football to a predominately British institution, populated by predominately British clubs who would (in my opinion) be forced to return to the system of paying sensible transfer fees and sensible salaries, to predominately British players.
To those who would claim that it would lead to a decline in playing standards, I would readily agree, but whatever standard that clubs attain, there will always be winners and losers, better and worse teams, delight and dejection, just as there are now, which has always been the case. I know the likelihood is less than slim, but I can live in hope, can't I?
Jerome Shields
11
Posted 18/05/2020 at 23:51:11
John #10,
I know where you are coming from.
I have often thought that Everton would be better in the Championship. As there would be more equitable competition and all clubs stand a chance of winning or even getting into an exciting playoff competition at the end of the season. I also think that there are some awful games in the Premier League and some players who can put in woeful performances are still being paid enormous wages. I hadn't thought like you regarding the European Super League, but thanks for awaking me to the advantages, which I do think you are correct about.
I can see the scenario developing as I described materializing, because I do think the top six clubs will take any opportunity to maintain their status, and use it to suppress competition.
I have always felt that winning against Wimbledon all those years ago was a missed opportunity to get relegated, giving us a better subsequent 20 years than we had. I am sure the fan that kissed the Centre spot at the end of the game in hindsight would feel the same.
Brian Williams
12
Posted 19/05/2020 at 00:08:57
I am sure the fan that kissed the centre spot at the end of the game in hindsight would feel the same
.
I wouldn't bet on that mate!
Jay Wood
[BRZ]
13
Posted 19/05/2020 at 01:00:04
"I have always felt that winning against Wimbledon all those years ago was a missed opportunity to get relegated, giving us a better subsequent 20 years than we had. I am sure the fan that kissed the centre spot at the end of the game in hindsight would feel the same."
That really is going some Jerome. That is possibly the most bizarre, cringeworthy and warped words I have ever read on TW.
Eric Myles
14
Posted 19/05/2020 at 08:50:31
Paul #4, thanks for the explanation, I was thinking it could be a more duplicitous reason.
But even so, you're saying that two teams that play in the same round will receive different amounts from UEFA for progressing, and for getting there, based on external factors out of their control.
And nobody has ever challenged that?
Tony Abrahams
15
Posted 19/05/2020 at 09:07:55
Your broadcaster gave us more money than their broadcaster, so we are giving you more money than them. Sounds fair to me, Eric, keeps the littler countries in their place, whilst showing the bigger countries that there is plenty more where that come from, if you eventually want to break away, or maybe just another loophole, to help keep some clubs more financially complient?
Jerome Shields
16
Posted 19/05/2020 at 09:28:19
Jay #13,
Thank you for your comment.
I felt over the years that Everton have been quite delusional in winning anything and have only got into the top four once, only to be dumped out of the Champions League in the play-off stages.
This is because, in my opinion, though they have all the trappings of a Premier League side, even an appropriate history, and theyfound a goose with a golden egg, they have not achieved anything, but everyone at Everton has done quite well out of it.
Everton never faced the reality of having to get back to football basics. To win anything, that is where Everton had and have to start and build from. Changing Managers, buying in players just glossed over what was and is needed.
Ancelotti is the first Manager who has tried to address these basics and even he, given the Culture of the Club, has had to tread carefully.
Relegation all those years ago would have forced the club to address these basics, without doing too much damage, and we all would be looking at a different Everton today and would not be on this god-forsaken roundabout we have been on for over 20 years.
Jerome Shields
17
Posted 19/05/2020 at 09:30:15
Brian #12
You are probably right.
John McFarlane Snr
18
Posted 19/05/2020 at 09:57:19
Hi Jerome [11],
My vision of a restructured League system did not include the relegation of Everton, quite the opposite in fact. I feared on the occasions of the narrow escapes against Wimbledon and Coventry City, that relegation, if that fate befell them, could lead to them spending years in the wilderness, or that they could become one of those yo-yo clubs, too good for one division and not good enough for another.
I can't agree with your view but I respect your right to express it.
Jerome Shields
19
Posted 19/05/2020 at 13:21:35
John #18,
Than k you for your reply. At that time, it was the only time I considered such a solution, when I believed the damage would have been limited. As you correctly point out, there are dangers with such a solution after that time that would have resulted in the scenario you described.
But when you see Ancelotti concentrate on getting players to attack space, particularly the near post, and wanting positive passing forward from midfield, and good distribution from the back. I realise how much fundamentals have been lacking before his appointment and how far players are off speed in these fundamentals.
Back then, Peter Johnson was Chairman and Kenwright was his loyal Director, the Club just drifting down on pitch quality and basic play, though he made considerable money on his investment when he sold.
What Ancelotti, one of the most experienced Manager there is, has concentrated on are the fundamentals of play and a more effective backroom structure, issues that have been left unaddressed for over 20 years.
It is by no means certain that Ancelotti will be successful, the crisis has interrupted his momentum. But the crisis will also cause fundamental changes in the Premier League, where those with the most resources come to the fore. It may go the way you hope, but it also could result in increasing dominance of the top six.
I would rather watch competitive football in the Championship, rather than predictable exhibition play in the Premier League, with the football equivalent of the Harlem Globetrotters.
Eric Myles
20
Posted 19/05/2020 at 13:47:59
Tony #15, exactly, it keeps the littler clubs / nations from 'getting above their station'.
Similarly with not allowing the real champions of littler countries into the "Champions" League but allowing 3rd- and 4th-placed teams from some bigger countries to enter.
Eric Myles
21
Posted 19/05/2020 at 14:12:54
Jerome #19, Johnson just about broke even with his sale of the Club, it's Kenwright that has made a considerable profit.
Dave Abrahams
22
Posted 19/05/2020 at 15:13:39
Jerome (11), regarding the feelings of Everton fans after the Wimbledon game, I know my own after the initial relief and great feeling of elation was the enormous anger I felt towards Mike Walker and whoever appointed him the following day.
My anger was greater towards Howard Kendall and whoever appointed him after the Coventry game. That such a great club like Everton was allowed to drift into such distress and despair was scandalous, and we still haven't really been pointed in the right direction, although I feel more hopeful (there's that word again) recently that we are moving forward.
Paul [The Esk]
23
Posted 19/05/2020 at 16:26:09
Eric, the system (Uefa payments) is even more insidious – the payments reflect the position you qualified from in your domestic league and your European coefficient. All geared to giving the established successful clubs the maximum share of the revenue.
Eric Myles
24
Posted 20/05/2020 at 02:29:06
Insidious indeed Paul and not in the interests of the perennial Champions League qualifiers to object.
Is the Europa League payment system the same?
Jerome Shields
25
Posted 20/05/2020 at 17:43:59
Eric #21.
For some reason, I recall that Peter Johnson bought his share the Club for the ridiculous amount of £8 million and sold his share for £20 something million. Could be wrong, but I remember coming across a very down hearted Everton fan who asked me what I thought was the problem. I said it was all about money, not football, and quoted him similar figures.
David #22
I despaired regarding those two appointments also. A Liverpool fan whose father-in-law knew Ronnie Whelan told me that the Liverpool dressings room was alive with rumours regarding Kendall's problem, giving themselves a break from whining about Souness. I understood the situation after that.
The other thing that angered me was, after winning the FA Cup, Joe Royle found himself with a sizable number of the team with contracts coming to an end and looking to move on, meaning he faced a rebuild, and Peter Johnson not wanting to spend. I also think we got Kenwright, a Johnson man, whose sole objective was to stay in the Premier League at as little cost as possible.
Moyes lasted so long because he could achieve that, but that was his comfortable limit. Meanwhile, other teams kept investing and moved on. I don't really think things changed with Kenwright, he just went ahead with the existing plan, and we were all that sick of the Johnson era that we let it go.
Terry White
26
Posted 20/05/2020 at 18:08:31
Eric (#21), evidence that "Kenwright has made a considerable profit?"
REAL evidence, actual numbers, not newspaper stories and gossip please.
Kevin Prytherch
27
Posted 20/05/2020 at 18:26:52
Terry - looking through various sources, it would appear that both Kenwright and Johnson made a profit.
Johnson invested around £10million, then sold for around £25 million 4 years later. When you take inflation into account, that was around a £13.75 million profit.
Kenwright invested £9million, then sold for around £22.5 million. However, due to the length of time he was in charge, his initial investment would have been worth about £15 million once Inflation was taken into account, so he made around a £7.5 million profit.
Jerome Shields
28
Posted 20/05/2020 at 21:36:40
Kevin #27,
Those are round the figures I remember regarding Johnson. The figures I remember were he bought for £8 million and sold for £26 million. I think Johnson's holding in his Food Hamper business was worth £26 million, which I initially thought of when challenged by Eric, which caused me to doubt. He made an absolute killing, was able to off-load all and move to Monaco.
Kenwright will make a lot more than £7. 5 million, he still has a shareholding, which will cost a lot more to buy out than the intial individual share value Moshiri bought at. He can sit back with a new Stadium project and any progress adding to his share value. The £7. 5 million is on the shares he sold which cost him part of the £9 million he invested.
Johnson may have put £2 million into the Club, but Kenwright did not put in one sausage. Everton would have done better without either of them, both of one and the same mentality.
Thanks for taking the trouble of doing the research, Kevin.
Tony Everan
29
Posted 25/05/2020 at 20:17:42
It's going to be a different financial football world. Lower transfer fees, agent fees, lower wage contracts, more loan deals and more swap deals.
We will struggle like hell to shift players on big money, there will be no takers because of their massive wages. Mr Brands has to find a magic wand. For the most part it will be a case motivating and organising the squad that we have got, through necessity.
Clubs will have to get creative when it comes to assembling a team without the suicidal risk of spending recklessly, because future income streams are very uncertain.
David Ellis
30
Posted 29/05/2020 at 08:28:20
Alan (No 8),
"Anyone remember the Monty Python sketch about University Challenge? Karl Marx, your starter for 10, when did Coventry City last win the FA Cup? Turned out to be a year or so later"
Forgive the pedantry but it was Leicester City. They still haven't won it. And Coventry won it in 1987 - at least 14 years after the Live in Drury Lane Album that I heard that Lenin/Karl Marx sketch.
---
Add Your Comments
In order to post a comment, you need to be logged in as a registered user of the site.
Or Sign up as a ToffeeWeb Member — it's free, takes just a few minutes and will allow you to post your comments on articles and Talking Points submissions across the site.
---
---
© ToffeeWeb