Michael Keane signs new 5-year contract
Sunday, 30 August, 2020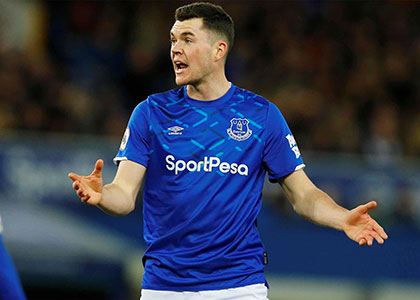 Michael Keane has agreed a new 5-year contract with Everton, underlining Carlo Ancelotti's confidence in the England centre-back.
The 27-year-old impressed in his performances under Ancelotti during the season run-in and and played every minute of the last nine games of the Premier League season after it resumed in June following the Covid-19 shutdown.
On Tuesday, Keane was recalled to the England squad by boss Gareth Southgate for the Nations League games against Iceland and Denmark next week and he will be buoyed by his new deal which ties him to the Blues until June 2025.
The centre-back, who had two years left on his previous deal, has scored three goals in 94 Premier League appearances since signing from Burnley in a £25m deal in 2017.
"I have loved my three years at Everton and am looking forward to seeing what the future holds," Keane told the club's website.
"I am learning every day on the training pitch with the manager and all his staff. The manager is one of the best there has been.
"I am not happy just staying where I am at the minute. I want to keep improving and keep learning. My best years are definitely ahead of me.
"It's time we started producing results on the pitch. We want to finish higher in the table than we did last year and get into Europe.
"The Club has been investing in the team and it is time we started producing results on the pitch," he continued.
"We want to finish higher in the table than we did last year and get into Europe. And if we can win a cup that would be brilliant".
---
Reader Comments (82)
Note: the following content is not moderated or vetted by the site owners at the time of submission. Comments are the responsibility of the poster. Disclaimer
Andrew Keatley
1
Posted 30/08/2020 at 15:32:04
I believe Keane had two years left on his contract. He's 27 years old. Would you rather we didn't offer him a good contract, so he doesn't sign, and then next summer - with only a year left on his contract - run the risk of having to offer him a markedly better contract just to guard against him leaving on a free at the age of 29?
I think getting Keane to sign on improved terms until he's 32 is a promising sign, but then again I'm not of the opinion (like a fair amount on here) that Keane is a major barrier to the team's significant improvement. And it seems like Brands, Ancelotti et al either agree, or at least do not want a valuable asset to leave the club for free.
Mike Gaynes
2
Posted 30/08/2020 at 15:51:17
This is gonna be a rough one for Steve Ferns. We're all here for ya, mate.
James Marshall
3
Posted 30/08/2020 at 16:01:15
Hahaha, Mike, I came on here for the same reason – to see Steve Fearns losing his mind over Keane! I haven't laughed this much all day! :-)
Ajay Gopal
4
Posted 30/08/2020 at 16:02:04
Great news! I don't care what our armchair analysts think - I think Carlo knows a thing or two about footballers, and he has had a close look at Keane for over half a season. If he thinks MK-1 (damn the Moise Kean signing!) is good to sign up for 5 more years, that is good enough for me. Good luck, fella!
Colin Glassar
5
Posted 30/08/2020 at 16:03:49
Well done Michael. Condolences Steve Ferns. Has Iwobi left yet?
Jim Bennings
6
Posted 30/08/2020 at 16:06:06
I don't see any real problem with this?
For me (just my opinion) but Michael Keane is our best defender at actually defending.
Holgate isn't a great defender, again just my opinion, Mason may be better with the ball at his feet but old-fashioned defending no.
Mina has proven himself far too unreliable especially last season, probably even in his first if truth be told.
Branthwaite is a novice and won't play every week.
Cast our minds back to Marco Silva's first season, the outstanding partnership was Keane and Kurt Zouma by a country mile.
As I say, don't see any problems with this deal.
Mal van Schaick
7
Posted 30/08/2020 at 16:22:55
He has definitely become more consistent and it's good to see him sign a new contract. Clear the midfielders out should be next On the agenda.
Steve Ferns
8
Posted 30/08/2020 at 16:23:06
Mike, already knew this yesterday, hence the comments on his bumper new deal.
Jim, I don't actually disagree with you. For pure defending in his own penalty area Keane is great. He's big, strong, he's great in the air (in both boxes), he stands tall and gets blocks in.
My issue is that he can only play in his own box. So if we play a low block, aka the way Burnley always played with him, then he excels. It's playing to his strengths. If we play a very high line and press high up the pitch, like we did under silva, then there's so much space behind him and he's no pace to recover. He also turns slower than an oil tanker.
Other issues are his lack of leadership, his lack of communication, his tendency to drop his head and be deeply affected by mistakes.
Gylfi Sigurdsson in a recent club interview was talking about adapting to his new position. He talked about how the centre back stopped him going too far forwards. That centre back should have been Keane, but no it was Holgate.
In essence, if you want to sit deep and play backs to the wall, then there's few better English defenders. If you actually want to attack teams and play good football, he's a liability.
Alan J Thompson
9
Posted 30/08/2020 at 16:23:45
Perhaps Mr Ancelotti has several plans in mind for playing various teams and one of which might include sitting deep with 3 central defenders, I've no idea but did anyone actually see how he set up Napoli when they played across the park?
Kim Vivian
10
Posted 30/08/2020 at 16:23:58
All I can say on the subject is if it's good enough for Carlo, it's good enough for me. I hate seeing us making mugs of ourselves and hope the Keane is right when he says his best years are ahead of him.
Starting to actually get excited again now... Reservedly!
Barry Shearer
11
Posted 30/08/2020 at 16:25:40
This is a good move. Keane has been excellent since Carlo arrived and he will get better. I believe he has the right attitude and temperament as well as ability to take us where we need to go.
Pat Kelly
12
Posted 30/08/2020 at 16:27:15
I'm not sure the edge of my seat has another five years in it.
Benn Chambers
13
Posted 30/08/2020 at 16:33:28
I'm not Keane's biggest fan, far from it. Having said that, if Carlo Ancelotti rates him and wants him in the squad, then who the fuck am I to question that?
He's 27, a good age, entering his peak years and protects his value in terms of any possible future transfer. He's a solid enough performer when he has a partner with pace next to him and is very comfortable with the physical side of the league so let's see if Holgate can cement a partnership with him.
I personally still think Mina, when fit, is the much better defender. Just opinions though. One thing you can't question, is Keane's desire to play for Everton. The more of them we have, the better. COYB
Tony Hill
14
Posted 30/08/2020 at 16:35:17
His slowness on the turn is there to be seen and I still recall the ease with which Lukaku did him at Goodison. I think Steve Ferns is right but there we are. I hope he flourishes.
Mike Gaynes
15
Posted 30/08/2020 at 16:42:07
Benn #13, agree with every word.
Steve #8, I would just make the point that we can't play a high line and press up the pitch, at least against quick teams, and Carlo knows it. It's not just Keane who's the problem -- we have no pace anywhere on the back line except perhaps Holgate. We'd need 3-4 pacy defenders to play that way, not just one.
For the way Carlo needs us to play right now, Keane is just fine. And I still think he'll usually be third choice behind Holgate and a healthy Mina, who passes the ball better and will meld better with our new South American midfield (please please please get these done!).
Tony #14, I remember that play so vividly. Keane was already rumored to be headed our way, and after watching that moment I was dubious to put it mildly. He's actually been a bit better for us than I expected.
Pat #12, good 'un as usual.
Tony Everan
16
Posted 30/08/2020 at 16:44:53
It's a business decision just as much as a football one. It means he won't be sold on the cheap as his contract was diminishing.
Whatever anyone thinks about his pace or his turning circle of the Arc Royal we need four central defenders. As part of that mini squad this makes good sense, gives us strength in depth and dependability.
Mina may be the one to be moved on and be sold if a quality central defender like, the one that got away, Gabriel is bought.
Steve Ferns
17
Posted 30/08/2020 at 16:55:03
Mike, precisely why I'm so pissed off. We need to sign a quick central defender. Keane getting a bumper new deal, instead of being sold, shows this looks very unlikely. Digne is quick enough for me though. Coleman ain't slow, even if he ain't as fast as he was.
I want to see a better brand of football than we witnessed at the end of last season, and covering for Michael Keane's flaws won't allow for that.
Brent Stephens
18
Posted 30/08/2020 at 17:00:54
Curious that the new contract should be for so long. I can understand perhaps focusing on other areas for new signings for the next couple of windows and then focusing on central defence. But that would only call for a season or so extension for Keane.
John Pierce
19
Posted 30/08/2020 at 17:03:01
Steve, I'm dying here. On one hand I want to agree with every word you say, it's a utter disaster to invest in player who at best is only a moment away from losing his conference completely. On the other hand it means agreeing with you!!! Dilemma.
Capable of one trick and not a very good one at that, we are never seeing the money we paid for him again. He must be jigging around his mansion.
This is a massive waste of money. Given his 'best' performances were after lockdown, although the bar was lower than a snakes belly his value as a player is surely at least the price we paid for him. A lower half team who played defensively who have bought him and helped fund a better player. This has priced him out of any move.
It's a big mistake for me.
Kieran Kinsella
20
Posted 30/08/2020 at 17:12:16
I remember when Steve Ferns thought we'd be better without Gana and now he's crying out for such a player to cover the deficiencies of the same players we had when Gana was sold. I think the whole Marco Silva fiasco pushed Steve over the edge.
Martin Berry
21
Posted 30/08/2020 at 17:13:30
The player has been working hard on his game especially on the turns.
Carlo knows what is required and in him we trust.
Jay Harris
22
Posted 30/08/2020 at 17:19:37
I don't know if Paul the Esk or someone can answer this question but by extending his contract can we also extend the amortization of his puechase price? If so, this could just be a creative accounting tactic to get round FFP.
For once I agree with Steve. Keane has very poor concentration and awareness.
His only saving grace is he is not bad in both penalty areas and god knows we need more goals from elsewhere in the team other than the front two. This was supposed to be Mina's strength but he hasnt been that productive.
I was also a bit concerned about Holgate's performance against Blackpool after his article saying we would be going all out to improve this season. Although to be fair the back 4 had no protection whatsoever from midfield.
Frank Sheppard
23
Posted 30/08/2020 at 17:22:14
Since coming back from his horrendous toe injury (which he played through & nearly lost his toe) he has been very consistent for us. If Carlo has confidence in him, then he is likely to get better.
Tom Bowers
24
Posted 30/08/2020 at 17:32:25
The lad has talent and after a somewhat shaky start could be another Brian Labone with the right man alongside him.
Holgate has also shown good progress so defensively they could be very strong. Just needs the rest of the team to come good.
David Connor
25
Posted 30/08/2020 at 17:37:54
Absolute desperation giving Keane an extended contract. For me, he is no more than a squad member. He panics far too easy and he has zero pace.
Hope to god he isn't going to be a regular starter or we are in trouble, especially with Pickford behind him. Offload Mina and buy someone else to partner Holgate.
Colin Metcalfe
26
Posted 30/08/2020 at 17:37:55
Awful player and very surprised about this news he is the weakest link in our defense and and I was hoping him and Pickford would be the first ones out the door, doesn't bode well for this season with those two still in the team.
Jerome Shields
27
Posted 30/08/2020 at 17:46:01
Agree with Steve Ferns regarding Keane. Mina can get caught as well. But I think that Ancelotti is happy how the backline is coming on and has bigger concerns further up the pitch, when it gets Coleman's position covered.

Christy Ring
28
Posted 30/08/2020 at 17:53:08
With Mina so injury prone, I don't see a problem giving Keane a new contract, he's a good defender, and did nothing wrong this season. He's back in the England squad, so he must be doing something right, and with a better midfield in front of him, should be fine.
Steve, regarding Sigurdsson talking about adapting to his new position, still never saw him make a tackle, just ran beside the opposition player with the ball, that was his contribution.
Tony Hill
29
Posted 30/08/2020 at 17:53:59
Mike @15, I respect and admire Keane. I think he is a sensitive man who has shown considerable courage for us. I just wish he was sharper.
Anyway, I think we're going to be ok at centre-back over the next few years. I have high hopes of Branthwaite but I also think we may have a gem in Gibson. There's an interesting thing in the Echo about us lending him to Huddersfield (though Fortuna Dusseldorf are also interested, it is said) because we think their plan under Corberan is properly aligned with Lewis's development and Ancelotti's proposed style.
Apparently, we rate Corberan generally; he's 37; I know nothing about him.
It's pleasing to see that sort of intelligence going into our loan policy.
Dan Parker
30
Posted 30/08/2020 at 18:26:29
I think we'll see his best years under Carlo, started to get back on track end of last season. Good news IMHO.
Gordon White
31
Posted 30/08/2020 at 18:29:47
Keane's performances in the past have concerned me. TBH, the entire defence has been sh#t at times!
For me, as with many of our players, the key is consistency.
Time tells all.
Kim Vivian
32
Posted 30/08/2020 at 18:50:04
I'm starting to get the feeling that Mr Ferns is still smarting from the Silva debacle.
Reading between the lines.
Ciarán McGlone
33
Posted 30/08/2020 at 19:00:53
In answer to the first post.. I would happily let him leave on a free.. right now.
Derek Moore
34
Posted 30/08/2020 at 19:10:48
Lovely to see you again Ciarán!
Your temporary departure managed to raise the average age of Twebers whilst simultaneously lowering the average IQ. A truly impressive feat!
I'm hoping we see you more frequently here moving towards this new season. I truly missed your observations and I've seen at least two other posters make similar statements.
As for Ferns keeping a low profile regarding the Silva debacle...unlikely! Mr Ferns is a lawyer, and having a sister in law recently divorce one I'm familiar with the breed. More cheek than a sumo, more neck than a giraffe....that's lawyers. He'll be back, louder and larger than before, virtually nothing more certain in this world.
Ciarán McGlone
35
Posted 30/08/2020 at 19:15:22
I'm not a whippersnapper anymore Derek!
Trying to drag myself into faintly liking football again.. fingers crossed.
Dave Abrahams
36
Posted 30/08/2020 at 19:17:29
Michael Keane, "My best years are definitely ahead of me", we'll I hope and pray that they are not behind you or we'll never fuckin' get rid of you.
Filipe Torres
37
Posted 30/08/2020 at 19:17:32
It seems most of you saw a Michael Keane that I haven't. I would never use "excellent", "our best defender", "has been great" to describe him. With a 5-year contract and a huge salary for what will he fight for?
Derek Moore
38
Posted 30/08/2020 at 19:25:14
So few of us here are whippersnappers Ciarán! You're first among equals.
I hear you on the enthusiasm front. Football isn't what it used to be that's for sure. I'm giving my all one more time because I'm convinced it's Ancellotti or bust. If this fellow can't get us going in the right direction, then the alternative is truly dire. Here's hoping the football itself can fire up the enthusiasm for both of us, and the positive results we'll get keep it burning.
Still good to have you back, even temporarily.
Dan Sanderson
39
Posted 30/08/2020 at 19:25:20
I just hope this is signing him up because he's set to be back up until he sorts his shit out, flog him, as soon as possible for as much as possible, he's dreadful
Kevin Prytherch
40
Posted 30/08/2020 at 19:35:24
I like Keane and I'm glad he has a new contract, I hope it wasn't a pay rise though.
Keane is better than Mina when we defend deeper. He is ideal against teams who are likely to attack us, allowing us to soak up pressure and try to hit teams on the break as he is excellent at defending the area in front of him. He is poor at defending the area behind him - ie a high defensive line.
Alex Ferguson used to be brilliant in saving players for certain games, I believe that we should do this more. I would play Keane at home to the biggest 5 teams and away against the top 5 and potentially the likes of Leicester, however I wouldn't play him against the weaker teams who we should be looking to attack. It might only mean that he starts around 12-15 games, but it would be the 12-15 games that suit his style of play, Mina should be first choice for the other 23-26 games.
Neil Copeland
41
Posted 30/08/2020 at 19:55:48
Dave #36, classic! Made me laugh out loud and scare the dog.
Paul Birmingham
42
Posted 30/08/2020 at 19:57:54
For me, I don't rate him, and with an erratic goalkeeper, their combined lack of confidence and decision making, invites the opposition on, and has proven costly, but the lack of a cohesive midfield the last couple of seasons, has meant by default the EFC, defence is under the cosh.
But I'd not disagree with Carlo Ancelotti, and it will be interesting to see what style or system Carlo, aims to play this season, so hoping for some quality incoming
transfers and a solid, functional defence.
I've a hunch, probably miles off, that he could even become Captain as perhaps Carlo sees this in his development plan.
As ever, interesting times at EFC.
Stephen Vincent
43
Posted 30/08/2020 at 20:30:17
I don't think Michael Keane is an awful player, he's just one-dimensional and the thing that scares me is that no amount of coaching by Carlo is going to make him quicker.
He might be able to coach awareness but, if he is slow now, he is going to be positively pedestrian by the time he's over 30.
Whoever on here compared him to Brian Labone – shame on you.
Neil Cremin
44
Posted 30/08/2020 at 20:43:58
Paul,
Perhaps Carlo sees that the biggest weakness in Kean's game is the erratic 'keeper and has a plan. Romario of Man Utd.
Andy Crooks
45
Posted 30/08/2020 at 20:44:59
If, God forbid, we are scrapping in the bottom half of the table, Michael Keane will be the first name on the team sheet and we will sing his praises for getting us the goalless draws we will be happy to get.
If, please God, we are aiming at the other end of the table, he won't be in the team. Giving him an extended contract suggests a certain lack of confidence for the season ahead. He is the epitome of a confidence player and I think he will get better. Southgate and Carlo like him and that's good enough.
Tony Abrahams
46
Posted 30/08/2020 at 20:47:05
I think it's the awareness issue that needs to be coached more than anything if Keane stands a chance of improving. A better starting position is crucial because he really gets lost by movement, often taking his eye off the ball whilst looking for the man who's just lost him, which instantly puts him on the back foot.
Soren Moyer
47
Posted 30/08/2020 at 20:52:29
Colin @5. No Colin. Iwobi hasn't left. He's been offered a 5 years extension as well.
Ken Camara
48
Posted 30/08/2020 at 21:03:46
Agree with others who say Keane is very one dimensional, solid in a low block, but no pace. I think that tying him to a longer contract might pro-rate his FFP impact, which could be helpful this year. But is the secondary reason for this - to maximize the $ if Barcelona come calling for him? I saw that Koeman had short listed him as potential target.
I prefer Mina and Holgate to start, Keane as third, with either Branthwaite or Gibson as sub (the other going on loan to develop).
Bobby Mallon
49
Posted 30/08/2020 at 21:06:12
It's not Kean I'd be looking to offload... it's Pickford – he's a menace.
Will Mabon
50
Posted 30/08/2020 at 21:14:16
"I saw that Koeman had short listed him as potential target."

Keane for the future rebuilt Barca. Also immediately told Suarez he isn't wanted, and upset at least one other, I forget who.
No-one can accuse the guy of having an inconsistent management style.
Bill Gienapp
51
Posted 30/08/2020 at 21:16:30
Keane's a bit of a conundrum. You certainly can't question his heart (as evidenced by his attempts to play through that nasty foot injury, or when he rushed back from a skull fracture), but when you talk about the club's mental fragility, he's one of the most obvious offenders.
He's more than capable of stringing together some solid performances, as shown during the restart... but, as Steve notes, he's arguably a liability in the sort of style we ultimately aspire to play. He's not a bad player to have in the squad, but personally I think Holgate and Mina should be first choice... and if Branthwaite and/or Gibson develop as we're hoping, that could leave him even more surplus to requirements.
Justin Doone
52
Posted 30/08/2020 at 21:31:09
Unbelievable. Rewarding a very limited defender after another average season.
Sell, sell, sell.
He's not our best defender. He's good in the air, gets a few blocks in but I'm not sure how many successful tackles he makes due to his slowness and poor positional play outside of the keepers box.
This is why Everton, our once great club has become a bottom half team.
He's had a 30% payrise apparently and a large signing on fee.
No official new signings but let's publicise this. Unbelievable, just un-fk-believable.
Ian Bennett
53
Posted 30/08/2020 at 21:31:36
He's survived for now because our midfield is so very bad.
The complete fall apart after lockdown has necessitated all transfer funds to be directed in the engine room. I can't blame Ancelotti for that. It was woeful.
He's not for me, but he will do for another season and with long enough on a contract you'd still get something for him in the future.
Christy Ring
54
Posted 30/08/2020 at 22:07:47
Have to say, Keane gives 100% every time, had a good season, but the negativity unreal, Mina injury after injury, and the last one, no one near him, and it's all anti Keane, unbelievable.
Robert Williams
55
Posted 30/08/2020 at 22:12:08
KK @20: 'I think the whole Marco Silva fiasco pushed Steve over the edge.'
Ha ha, made me laugh that!
Tommy Carter
56
Posted 30/08/2020 at 22:52:44
Plays like he's on the verge of a catastrophic mistake at all times.
Lacks confidence, always.
Shits himself against challenging opposition.
Completely undeserving of a new contact. Put it this way, anyone out there who'd buy him from us now?
On a human level, seems a thoroughly decent guy. But he's not being paid on a human level.
Steve Ferns
57
Posted 30/08/2020 at 22:56:53
If I went over the edge, then it's the pathetic performances and the shite football I had to witness after lockdown was eased, when we seemed to have turned the corner.
I don't want an Idrissa Gueye type player. Allan is more or less that anyway. Sam Hoare gave the stats on them both on the other thread. Allan is not as prolific in winning the ball, but he's not far off. Allan is far superior on the ball in terms of touch, dribbling, and passing. I'm happy that we've replaced Gueye, at last.
Under Silva, I wanted to see a holding midfielder to anchor the midfield and allow us to play a 4-3-3. This player would allow the fullbacks to push on and would move in and out of the back line as necessary, and plug the gaps when we get counter attacked. This was when we could count on the pace of Zouma as well.
Since Zouma and Gueye left, we have become a team that is very susceptible to a counter-attack. I doubt many teams conceded a higher % of goals from counter-attacks than we did. I think that this can be solved by a static holding midfielder screening the back four, again allowing the fullbacks to push on, and to allow Gomes higher up the pitch and to allow Allan to push higher up the pitch and win the ball in dangerous areas like he does.
I'm talking a player like Fernandinho, or Diawara (of Roma and formerly Allan's teammate at Napoli until Carlo sold him).
Sure, we don't have to have such a player. But whilst we employ Michael Keane in defence and the lines become as stretched as they always do for us, then having a screen in front of the defence will make us a much harder team to pass through. If we sign James Rodriguez and he operates in his preferred Number 10 role, then we need to accept that he won't contribute much defensively, and again we need the holding midfielder to add balance. I'm thinking a 4-4-2 diamond (4-1-2-1-2) or a 4-3-3 here.
Chris Mason
58
Posted 30/08/2020 at 23:18:39
I think this locks him in to helping us sell him in two years time for a decent value, having been a squad player. Nothing to see here.
And I hope we play a flexible 4-4-2 or 4-3-3 in our new lineup. I don't have stats to support this, I just know it would be enjoyable to watch for a change.
Mike Gaynes
59
Posted 30/08/2020 at 00:02:21
Steve #57, as I mentioned in the other thread in replying to John P, I don't think our vulnerability to counterattacks is just down to the loss of Zouma and Gana. I think the primary culprit has been losing the ball in midfield. Our midfielders are giveaway machines, making bad passes in bad places and being taken off the ball with ridiculous ease. We haven't been giving up one-man breakaways behind the backline. We've been giving away 4-on-3 counters -- and lots of goals -- from losing the ball in the center circle.
By contrast, Allan and James are smart, accurate passers and damn near impossible to get the ball from when they're on it. They'll be the cure to the giveaway syndrome. And that, far more than any defensive changes, will reduce the issue of counterattacks. James won't contribute defensively? Like hell he won't. He'll help us keep possession. And he'll keep opposing midfielders deeper in their own end, and less likely to join a counter, just by his presence... something Iwobi, Sigurdsson, Gomes and Davies can't do.
Even if he never wins a ball -- and he won't -- Rodriguez could be the best thing to happen to our defense in years.
Graham Hammond
60
Posted 30/08/2020 at 00:04:38
Chris #58. I would have thought that playing a 4-3-2-1 formation should now be considered given how we love to collect attacking midfielders or sign players that are only really best suited to a more advanced role. I am thinking Gomes, Sigurdsson, Iwobi, Bernard, Gordon, Davies and even James (if we got him) are all probably best suited to playing in the '2'.
Signing Michael Keane on an extended contract seems prudent but I would hope we can sign a pacy centre-back to go with him and make his selection realistic and viable. I am pissed off we piss-farted around on the Gabriel fee and lost him as a result. If we can 'find' £30M for Doucoure and Allan then we should have found it for Gabriel.
Steve Ferns
61
Posted 31/08/2020 at 00:13:18
Can't disagree with what you said Mike. I also think our defence being so deep, and so not condensing play and limiting the area to play in, is a big factor.
Don Alexander
62
Posted 31/08/2020 at 01:06:54
With the plethora of TW opinion re other teams' players being accomplished in tackling, passing, shooting, scoring, headling, saving et al (in other words, the basics of the game), am I the only one wondering who, players aside, is chiefly responsible for the crap football we fans have had to endure for the past 25 years?
Lester Yip
63
Posted 31/08/2020 at 01:19:09
Just read the news that Lewis Dunk also signed a 5-year contract extension. I had a look at the stats between Dunk and Keane. Pretty similar. If the rumour about Chelsea after Dunk for close to $50M is true, then Keane will still at least worths $25M?
I think a reliable centre-back with Premier League experience is hot commodity. Keane may be slow and not suited to play a high line, but he's not injury-prone. He won't commit rash tackles and he's brave. To get him a longer contract to protect his transfer value is a right move.
Paul Jones
64
Posted 31/08/2020 at 01:27:27
He lost confidence after head injury and played for a long time with a foot injury. If he has made a full recovery, then maybe we will see the form that saw him awarded England caps whilst a Burnley player and us subsequently sign him.
We have a manager that will change his formation depending on the occasion and opposition, so I expect he has good reason to retain him.
Jim Harrison
65
Posted 31/08/2020 at 01:42:59
I think this season the priority is to strengthen the middle of the park, and the majority of resources will be directed there. So there is the money to go out and get an upgrade on Keane in defence
He needed to be sold or offered a new contract so as to not allow him to get into his final season on his existing one.
Next season, or indeed the following one, he will still be at a good age and have 4 or 3 years on his contract. He will be a valuable player to a team looking to shore up a defence so should hold his value.
By that time, we will have a good idea how good Holgate, Mina and Branthwaite are and decide where to invest.
And I think there is a lot of truth in saying that a reliable, trustworthy 'keeper would see an improvement in the defence as a whole.
Bob Parrington
66
Posted 31/08/2020 at 01:56:24
Good move IMO to lock him into a new contract for a few years, even if just for the 'not so obvious' negotiating strength if another club wants to buy him sometime.
Frankly, watching him train and play during the Covid-19 restart, I was quite impressed particularly with the way he has started to attack the ball when heading in the opponents' area. I had the impression that this was due to some recent coaching.
Danny O'Neill
67
Posted 31/08/2020 at 08:11:09
It's pretty much been said already on this and other threads. Keane looks fine in a team that sits deep, goes compact and defends the box with the hope of nicking one from a set-piece.
Keane gets exposed in a team that wants to attack quickly and play high up the park. For me, his major deficiency in a team playing with this approach is his awareness and concentration. How many times do we see him watch the ball go over his head and have that "oh fuck" moment of realisation?
Players with a lack of pace can compensate by anticipation and reading the game. Keane lacks this on too many occasions. I feel unclean saying this, but Carragher was a good example.
In his defence, as mentioned above, he, and the Everton defence in general were not helped by our consistency, bordering on voluntary willingness, to give away possession too cheaply in the middle of the park.
I concur with many, you cannot doubt his commitment. Is he the standard we want? No. Is he where we are now? Yes.
Hopefully we get the midfield signings that appear to be in the pipeline. A midfield that can retain possession, create attacking options and protect the defence is an absolute priority. I hate using them again, but goalkeeper & central defence were the last pieces of Klopp's puzzle. He got the rest of the park sorted first.
Seb Niemand
68
Posted 31/08/2020 at 09:33:06
If it's okay by Carlo, it's okay by me.
Allan Board
69
Posted 31/08/2020 at 09:36:44
He is slow, but he is a good defender when the ball is there to be won. He also gets a few goals from set-pieces for you. The issue is when any clever movement from attackers takes place, he had been programmed to follow the ball at Burnley and doesn't read the movement. He is a bit too nice also, is it too late to coach the dark arts now?
Perhaps Carlo is on the case, or a bid for him is coming? A good example of the dark arts was Ratcliffe, I bloody loved him, but boy could he be a nasty bugger when required, all apologetic and concerned after just mullering some poor bugger!
Clive Rogers
70
Posted 31/08/2020 at 09:39:43
The fact is that he is a much improved player under Ancelotti. I wouldn't like to have been without him for the games after lockdown, especially the away games. We all know his faults and they have obviously been working on them. I look forward to further improvement to a player approaching his peak.
Drew O'Neall
71
Posted 31/08/2020 at 11:34:03
Steve @ 8
I agree with all your points apart from the one about him not being able to play in an attacking team. Keane has the best eye for a through pass of all our defenders, including the full-backs.
He can't turn and recover so can't play too far up but the manager should be able to mitigate that and that's his job.
Tommy Carter
72
Posted 31/08/2020 at 11:40:00
Looked good in a Burnley team that is designed to sit deep, and press teams into wide areas. The result being that the opposition struggle to break them through the middle, forces into wide areas and forced to play crosses and speculative through balls.
The result of that? Balls to be won in the centre and plenty of blocks to be made. Keane, Mee, Tarkowski etc all being good at this means that they shine in this system.
Defending at the elite level of the game requires an astute footballing brain. Pace may enhance the ability of a great defender but it does not define it.
Keane is unable to operate at that elite level. Sensing danger, positioning himself well and anticipating the play. For that reason he will always be exposed by players and systems that are too clever for him.
It's not his fault, it's just the way it is. For all of Van Dijk's physical gifts, his best attributes are the qualities I have just mentioned. Hence why he makes it all look so effortless.
If we aspire to be top 4, then we require elite defensive players. Keane is not one of these.
Graham Mockford
73
Posted 31/08/2020 at 11:49:41
Jay Harris 22
In answer to your question, yes they could now extend the amortisation to the end of the new 5-year contract.
As 60% has already been amortised there probably only about £10M left on the books so I suspect it wouldn't be hugely significant.
Clive Rogers
74
Posted 31/08/2020 at 12:27:35
Tommy, 72, of course you are correct, but finding a player such as you describe, and who would want to come to us nowadays, is not easy. We are a small club now thanks to Kenwright.
Possibly Gibson and Branthwaite could develop into such a player but, in the meantime, Keane is the most reliable we have got.
Tommy Carter
75
Posted 31/08/2020 at 12:46:48
@ Clive
They are indeed very few and far between.
I am just trying to offer reasoning behind why people thought he was a world-beater at Burnley and how he's just a bog-standard centre-back at Everton.
Put better players around him and he'll be less under pressure and his flaws less exposed. That may be our only solution as he's now going to be an integral part of our squad for at least 5 years it seems.
Justin Doone
76
Posted 31/08/2020 at 12:58:03
If we all know Keane's weaknesses, why have so many managers insisted on playing a high line with him in the team?
Repeatedly giving the ball away cheaply in our own half is another fault. We don't have the defenders or team to play that way and yet many managers, including Carlo, insist they play out from the back.
If players can't play how the manager wants too then the manager needs to change tactics or players. We can't just swap 7 or 8 players in to improve the play so the manager needs to adapt tactics.
This is where we have repeatedly failed. Blame the players, sack the manager and then reward underperforming players.
If we can't sell a player, loan them out, compromise a pay out or let them run their contracts down. What we shouldn't do so is pay them more on a longer contract.
Lessons not learnt.
Clive Rogers
77
Posted 31/08/2020 at 14:35:45
Tommy, 75, true. We haven't any elite players in the squad at all. Digne and Richarlison are the nearest. We just can't attract them at present.
Tommy Carter
78
Posted 31/08/2020 at 17:21:51
Clive. Agreed. Richarlison is good enough to be playing Champions League football.
I think he's the best all round forward that we have had at the club for a very long time.
He's another that will only get better with better players to support him.
I hope it's with us.
Joe McMahon
79
Posted 31/08/2020 at 17:26:05
Justin, yes agree he's no Vincent Kompany, but Kompany standard player would want Champions League football. Who knows maybe in 2 seasons time, if Carlo stays we may be nearer. Top 4 is harder than it's ever been now.
Frank McGregor
80
Posted 31/08/2020 at 22:14:23
I believe that Carlo Ancelotti knows what he is doing by giving Keane a 5-year contract. He is most probably reviewing who is being brought into strengthen the team and Keane is fitting into his future vision on how he wants the team to play.
With regards to Mina he does not have the strength to handle the Premier League and should be moved on at the right price.
I would believe he and Delph created the best partnership this year, in the treatment room.
Philip McKeown
81
Posted 31/08/2020 at 00:51:10
I've enjoyed reading some of the varying opinions about this player on this thread. So much so, I would like to add some intellectual debate myself.
He's shite.
Dominic Tonge
83
Posted 01/09/2020 at 00:26:55
There are some interesting and eloquent opinions put forward, and some fairly blunt ones too.
I'm hoping against hope (and history too sadly, or at least recent history), that we will have a bit more tactical nouse moving forward. We have a manager who I would hope is astute enough to realise the deficiencies in Keane's game, and to play him when and where required. There are things he offers that we need, he is a good out and out defender who, in a deeper defensive unit can be a useful tool. Keane is good in the air, is a threat from set-pieces.
Quick, and agile in the turn, he is not. I'm hoping that a seasoned manager like ours can communicate that to the rest of his defensive amigos, and formulate a plan for them to follow to compensate, I have heard tell that people refer to this chicanery as tacky-ticks or some such. Who knows, it could catch on.
Seriously though, surely the manager can utilise Keane effectively, and take him out for games when or indeed if we are playing a higher line, or against out and out pace? Please?
We have also secured a higher chance at a decent fee should he be moved on, and also have stopped him from asking for a larger wage in twelve or eighteen months time, or walking away on a free. It kind of makes sense from a business perspective.
I will also say that Keane is in no way one of the priorities to move on. When you think we have players like Besic, Sandro, Bolasie, and up until recently Garbutt and Dowell, who we are paying and who offer no value to us. We have secured a player who will do for now, and hopefully secured some cash in future transfer fees when he is deemed surplus to requirements.
I will say, watching him trying to get to grips with Rodríguez in training might be worth it for the comedy value alone in Carlo's eyes. Although knowing our luck, Keane will end up smashing James and put him out for a year.
" Who crocked JR?" will be the header on sky news, as a teary centre-back is driven out of Finch Farm under a blanket to protect his identity, while an on-the-scene reporter has questionable purple vibrating thing stuck in his ear by a cheeky scamp amongst the assembled blues.
Sorry, think lockdown affected me more than I realised.
---
Add Your Comments
In order to post a comment, you need to be logged in as a registered user of the site.
Or Sign up as a ToffeeWeb Member — it's free, takes just a few minutes and will allow you to post your comments on articles and Talking Points submissions across the site.