Doucouré set to complete Goodison switch
Wednesday, 2 September, 2020
Fee Agreed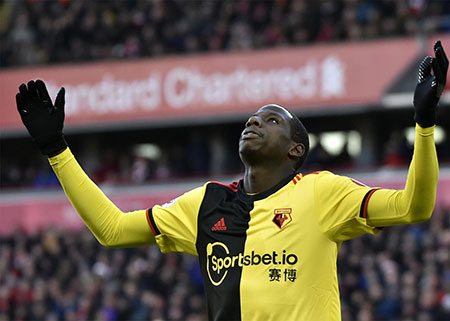 Everton and Watford have come to an agreement over a fee for Abdoulaye Doucouré, paving the way for the Frenchman to join Everton, possibly before the end of the week.
According to Paul Joyce of The Times, Andy Hunter of The Guardian and Dominic King of the Daily Mail, all three of whom broke the news on Twitter at the same time after being briefed from Goodison Park, the two clubs have hammered out a £20m deal for Doucouré that would entail a further £5m if certain appearance-related clauses are triggered.
A separate report had suggested earlier that the Blues will pay £8m up front, with the rest due in instalments so as to ensure they could bring the midfielder in alongside the imminent transfers of Allan and James Rodriguez.
Update 03/09 Doucouré was reported by The Athletic's clued-in Watford correspondent Adam Levanthal to have passed his medical on Thursday afternoon, with confirmation of his move coming "within 24 hours".
---
Reader Comments (242)
Note: the following content is not moderated or vetted by the site owners at the time of submission. Comments are the responsibility of the poster. Disclaimer
Julian Wait
1
Posted 02/09/2020 at 18:25:17
Holy Trinity - the Repeat Threepeat?
Mark Dunford
2
Posted 02/09/2020 at 18:29:18
Looks like we now have a competitive midfield in place and can expect to lose some of the excess baggage. All three incoming players seem to have cost significantly less than Iwobi which simply shows the importance of acting quickly and decisively.
Tony Hill
3
Posted 02/09/2020 at 18:30:38
Good. I think he's going to be important.
Ajay Gopal
4
Posted 02/09/2020 at 18:31:09
£20 million sounds a lot better than £35 million. I think Brands has done a terrific job in getting in the 3 players at reasonable prices.
I would not mind if he now spends the rest of the transfer window trying to get the excess players out – namely, Sigurdsson, Bernard, Delph, Walcott, Besic, Sandro, Bolasie, Tosun. I suspect that is a far more difficult job than the new signings.
Alex Gray
5
Posted 02/09/2020 at 18:31:35
Excellent news! Must be some outgoings arranged to balance the books.
Stephen Vincent
6
Posted 02/09/2020 at 18:32:13
Surely no one can complain about support for Carlo from Moshiri and Brands now.
What the long term consequences are, is anyone's guess.
Paul Smith
7
Posted 02/09/2020 at 18:32:47
Possibly getting aroused a bit now.
Mark Tanton
8
Posted 02/09/2020 at 18:32:54
Wow.
Are we really buying a whole new midfield? Pinch me Blues.
And finally a replacement for Gueye.
Daniel A Johnson
9
Posted 02/09/2020 at 18:35:44
I think this guy's gonna be brilliant for us. A real physical menace and finally some backbone to the midfield.
Graham Coldron
10
Posted 02/09/2020 at 18:37:08
Great news all this. Looks like the Carlo effect is paying dividends now. Onwards and upwards, Blues.
Ian Horan
11
Posted 02/09/2020 at 18:37:13
So Brands appears to have got the new midfield for the price of one top 4 midfielder.
That should stop the undeserved critism he has been getting off our residential fantasy football managers here on TW.
Thank you, Marcel Brands. Now, for your next trick, Sandro, Bolasie, Wallcot, Besic, Davies and Delph – your taxis are waiting.
To be fair, Walcott, Besic, Bolaisse, Sandro are all out of contract next summer anyway.
Tommy Carter
12
Posted 02/09/2020 at 18:37:18
8 Mark
Doucouré is absolutely nothing like Idrissa Gueye.
Alan Johnson
13
Posted 02/09/2020 at 18:37:41
Great news. This is a massive statement of intent from Moshiri that he is up for it. COYB.
Daniel A Johnson
14
Posted 02/09/2020 at 18:38:01
Fingers crossed now that the transfer window shuts without the names Phil Jones and Jessie Lindgard being mentioned.
Mark Tanton
15
Posted 02/09/2020 at 18:39:00
I was taking about Allan, in the context of three midfield signings.
Nigel Munford
16
Posted 02/09/2020 at 18:42:06
Ajay, what's wrong with Bernard? Agree with the rest on your list though.
Tommy Carter
17
Posted 02/09/2020 at 18:42:09
@ 15 Mark. Okay, mark thanks for clearing that up. Hope so. Hope he's even better than Gana.
Iakovos Iasonidis
18
Posted 02/09/2020 at 18:42:22
I like what I see so far. If DC United buy Sigurdsson as it is rumoured, that would be great too.
John Pendleton
19
Posted 02/09/2020 at 18:49:02
Very decent upgrade if all three come off. And at 'reasonable' prices – no doubt holding a little cash back to trigger a certain Argentinian's release clause?
Charles Towers
20
Posted 02/09/2020 at 18:49:34
A new winger and a centre back and we will have a balanced squad.
Fingers crossed for Boga and Tarkowski.
Si Pulford
21
Posted 02/09/2020 at 18:51:23
I really hope this one works out. He's exactly what we're missing. Legs, energy, bite and class.
Everyone keeps bemoaning the lack of carbon copy Gana replacement but Allan and Doucouré will simply not be waltzed through like last seasons mess and will be able to turn us around quicker. We still have Gbamin to come back eventually (fingers crossed) who can shield the back 4 if needed.
Unpopular opinion klaxon: Delph may be needed this season as, when fit, he shields the back four and has played left-back for England, so is useful for the squad.
Hugh Jenkins
22
Posted 02/09/2020 at 18:51:33
Lakovos (18) from what I've heard DC United are only interested in Gylfi when he sees out his contract with us – in another two years. I suppose we might offer to let him go now and pay a part of his wages?
Colin Glassar
25
Posted 02/09/2020 at 18:55:24
Wow, we finally have a midfield of men – not boys or crocks.
Mike Gaynes
26
Posted 02/09/2020 at 18:56:55
Damn, Carlo and Marcel are
really
getting their business done. I'm not as high on Doucouré as some here, but give the guys at the top maximum props for identifying some big-name targets and getting them in at reasonable prices. And, most of all, addressing our biggest need first. Well in.
Paul #7, too much information.
Joe Corgan
27
Posted 02/09/2020 at 18:59:23
Bloody hell, now I'm excited. If these three can gel quickly we've got a half-decent chance of 7th.
We're still going to need a right-back and centre-back at some point. Possibly a striker too. But perhaps with a half-decent midfield in place, we can get more out of the likes of Iwobi, Calvert-Lewin and even Bernard (whom I still like, even if the end product hasn't been there).
If nobody else comes in then, on paper, we'll still have had a good summer. More will be needed down the line but, please God, let these three work out..
Eddie Dunn
28
Posted 02/09/2020 at 18:59:46
Incredible intent from the club – I did suggest that they must have given Ancelotti some assurances or why would he risk his reputation trying to make a silk purse from a sow's ear?
These three bring plenty to the table: instead of a plate of mash and boiled hogget, we can now find noisettes of saltmarsh lamb, feijoada and bistec encebollado.
I just hope we don't get indigestion.
Justin Harris
29
Posted 02/09/2020 at 19:02:33
I'm really excited about this guy as have wanted him last couple of seasons. He's physical, will carry a ball and gets the odd goal too.
Also, with these three signings, it may enable Delph to provide the cover at left-back that we need – as he did at Man City.
Colin Glassar
30
Posted 02/09/2020 at 19:02:45
Tommy 12, you're right. Doucouré can actually pass the ball.
Apologies to Marcel Brands btw. I have been quite critical of him lately.
Good job, Marcel... now just get rid of the stiffs!
Hugh Jenkins
32
Posted 02/09/2020 at 19:06:26
I see the beginnings of a structured approach.
This midfield will suffice for the next 2 to 3 seasons whilst allowing our DoF to start to put into place the system he developed so successfully as Eindhoven.
Mick Davies
33
Posted 02/09/2020 at 19:07:39
Let's party like it's 2013!!!
David Pearl
34
Posted 02/09/2020 at 19:08:14
Get in. Talk about putting your finger on the problem.
Martin Berry
35
Posted 02/09/2020 at 19:08:16
Everton's new midfield? The Dogs of War with a bit of Crufts thrown in.
Thou shalt not pass, and for sure it will not be easy now for any opposition to get through.
Richard Duff
36
Posted 02/09/2020 at 19:09:52
If you are in the Everton midfield pool today (not tomorrow), you really are now going to be talking to your agent about getting out of Goodison sharpish. At least one new signing in your place, perhaps two, maybe three!!
At least that's what I hope.
Brent Stephens
37
Posted 02/09/2020 at 19:09:54
I've got a little stiffy! All the doom and gloom early in the transfer window – what for?
Tony Everan
38
Posted 02/09/2020 at 19:10:39
We have officially got a quality midfield *. How long has it been since we could say that?
Pleased with Doucouré, he will be an important signing, just as much as James and Allan.
It is getting interesting, Carlo means business.
[* If, as expected, all three sign.]
Alan McGuffog
39
Posted 02/09/2020 at 19:10:44
I would start with Bernard, James and Allan in midfield.
If it doesn't pan out, they could set up a ladies hairdressers.
Andrew Ellams
41
Posted 02/09/2020 at 19:10:58
I don't see anybody going from the current midfield except maybe Delph once Gbamin is fit. It's a squad game and Allan, Doucouré and Gomes will be first choice with Davies, Sigurdsson and Davies or Gbamin the cover.
Outgoings will come from the wide players.
Brian Williams
42
Posted 02/09/2020 at 19:12:33
Gareth Bale on loan next!
Joe Corgan
43
Posted 02/09/2020 at 19:14:09
Alan 39 and 40 – I've been saying for years we should get Malcolm and Fred in as well. Nevermind a salon, we could have an entire 1950s market.
Sean Callaghan
44
Posted 02/09/2020 at 19:21:09
As someone said on here a few years ago (maybe in Walsh's first window), it's raining men!
Brian Wilkinson
45
Posted 02/09/2020 at 19:22:58
This is the one I wanted, well over a year ago.
Happy as a pig in muck with this signing.
Tommy Carter
46
Posted 02/09/2020 at 19:23:25
I'd sell Gomes if we could get rid and get our money back.
Patrick McFarlane
47
Posted 02/09/2020 at 19:25:32
Let's hope all of the new arrivals add a great deal to the storied history of Goodison Park before we leave for Bramley Moore Dock in a few years time.
I wasn't missing going to the match too much, during the lock-down, but if we sign these three and possibly another one or two, I'll be raring to go when we are welcomed back to our seats. So long as we don't have to sell any of our current better players we should hopefully see signs of a recovery in the coming season:
Richard Duff
48
Posted 02/09/2020 at 19:26:25
Allan, James, Bernard & Gordon – looking after all of your solicitor needs. Wills, Tax avoidance, Employment disputes, Medical Malpractice, sticking it to your midfield!
John Graham
49
Posted 02/09/2020 at 19:27:03
Quite a few players are going to need to up their game just to get on the subs bench by the look of it: Delph, Davies, Walcott, Sigurdsson, Bernard will all be thinking their time is up.
Hopefully the new players will gel straight away and we can start performing like a proper team.
COYB
Jack Convery
50
Posted 02/09/2020 at 19:27:17
It's getting better all the time
I used to get mad at my school (No, I can't complain)
The teachers who taught me weren't cool (No, I can't complain)
You're holding me down
Turning me round
Filling me up with your rules
I've got to admit it's getting better (Better)
A little better all the time (It can't get no worse)
I have to admit it's getting better (Better)
It's getting better
Since you've been mine
Me used to be angry young man
Me hiding me head in the sand
You gave me the word, I finally heard
I'm doing the best that I can
I've got to admit it's getting better (Better)
A little better all the time (It can't get no worse)
I have to admit it's getting better (Better)
It's getting better
Since you've been mine
Getting so much better all the time!
Lets bloody hope so - its not as though we've been waiting for long is it ?
Dan Sanderson
51
Posted 02/09/2020 at 19:27:20
I think we should acknowledge here that a lot of flack has been thrown at the management for not coming up with certain players recently yet, over the last few years, we have signed an awful lot of basically championship players.
Turns out they will sign for us but some players just feel a bit better in West London at a Champions League club in a brand new stadium.
This is incredible work; of course we must hope they settle in and gel but it looks like these are real feats of signings the likes of which I think only Lukaku and Kanchelskis can compare in my lifetime.
Nil Satis Nisi Optimum, wow!
Tony Everan
52
Posted 02/09/2020 at 19:28:35
There will be one or two raised eyebrows tonight from the top 6 clubs. We are going to be a totally different proposition next season.
I think they will turn their attention to right back now. Possibly Emerson or Arias in next and that maybe it. Unless Moise is adamant about returning to Italy, then a more proven goalscorer will be brought in. Carlo will have a shortlist already.
I can see us wheeler-dealing from now on in, swaps, loans, player plus deals. They'll need to move on three or four too through sales or loans.
Tommy Carter
53
Posted 02/09/2020 at 19:29:13
For me - Iwobi can go at 50% of what we paid if anyone will take him.
Walcott for free if anyone will take him.
Cenk for free if anyone will take him.
Bernard for any kind of fee. £5m plus
Kieran Kinsella
55
Posted 02/09/2020 at 19:30:08
Reminds me of when we signed Dacourt, Collins and Materazzi. Hopefully we don't sell Richarlison to Newcastle in October...
Geoff Lambert
56
Posted 02/09/2020 at 19:30:56
My Redshite mate has just said to me, "Fuck me, you are going to be up there now. Bale next??"
Will Mabon
57
Posted 02/09/2020 at 19:33:29
Patrick @ 47:
That's a great link. The description of the stadium when new, fantastic!
Geoff Lambert
58
Posted 02/09/2020 at 19:36:11
Please don't let this be another false dawn, I am trying not to get to excited but going to have to open a bottle of Casillero del Diablo that's looking at me from the wine rack.
Even the Sky pundits bigging us up!!
John Hammond
59
Posted 02/09/2020 at 19:36:58
A whole new midfield in one swoop (if they pass their medicals...).
Good work by Brands if we're paying the prices quoted in the media. Ancelotti a factor at play here too – if he wasn't manager we'd only realistically be able to get Doucouré. Let's hope James still has some magic left. Big fish in a medium-sized pond etc.
Will Mabon
60
Posted 02/09/2020 at 19:37:31
Glad to see business being undertaken efficiently.
I hope we see the earlier Doucouré.
James Flynn
61
Posted 02/09/2020 at 19:40:24
Myself, I feel James will be perfectly happy to play with Sigurdsson. As will Allan and Doucouré. Siggy himself must be delighted he's no longer a defensive-midfielder.
Kevin Prytherch
62
Posted 02/09/2020 at 19:41:54
What a difference having a respected manager makes. People actually want to come and play for us.
I've been critical of Brands, although I think he has underperformed to now and hasn't found anywhere near the young prospects I was hoping for, it sounds like he's saved us at least £10m by being patient. He also said that a couple of years ago about Mina.
The only other central midfielders I would now keep are Gomes and Davies – although I would look for a loan for Davies when Gbamin is nearing fitness.
Sean Callaghan
63
Posted 02/09/2020 at 19:42:03
Gotta take my hat off to whoever's been doing the negotiations if reports are to be believed. Apparently Watford wanted £35 million but Everton offered £25M... then got him for £20M! Don Carlo clearly doesn't do haggling!
Soren Moyer
65
Posted 02/09/2020 at 19:47:15
Excellent! Good! Good!! Now let's get a decent goalkeeper because the clown guarding our goal is simply not good enough.
Mal van Schaick
66
Posted 02/09/2020 at 19:50:42
Good to see three new players who want to play for Everton. Now get rid of a few midfielders who let us down last season and others on the books who don't play. I would like to see another three players in. Two other midfielders and another forward.
Sam Hoare
68
Posted 02/09/2020 at 19:51:55
Brands getting Rodriguez, Allan and Doucouré for around £60m. Walsh paid over £65M for Sigurdsson and Bolasie.
If we could get a dynamic right-back on loan (Emerson, Arias, Florenzi) then that would represent a pretty effective window I think.
It's a bit more short-term than I'd have gone myself but I guess sometimes, if you look after the present, the future will get better by itself. Certainly makes for an interesting spectacle!
Tony Everan
69
Posted 02/09/2020 at 19:58:57
Sam, bringing in class youngsters into an organised, stable and performing side with a quality core is the new strategy. I think we are getting there with the core bit. Better for us and better for them to adapt and develop.
I fully expect us to revert back to the quality, under-24, younger recruits In forthcoming windows.
Also, I think we will see a much more targeted approach, focusing on one or two signings per window, but real quality (and probably expensive) young players.
Joe McMahon
70
Posted 02/09/2020 at 19:59:50
Sam, how about £100 million for Sigurdsson, Pickford and Keane???
Patrick McFarlane
71
Posted 02/09/2020 at 20:02:25
Apparently Watford would like to take Tom Davies on loan with a view to a permanent deal once the loan has ended – not sure if it's tied to the Doucouré transfer or a separate entity.
If Tom isn't going to be involved, it would be best for him to move but, despite everything, I still think he could become a very good player.
Andrew Keatley
72
Posted 02/09/2020 at 20:03:15
Sam (68) - Ancelotti must (presumably) have been sold the job on the back of an immediate rebuild with established names. It makes sense, as he has the status in the game to attract players - especially ones that he has managed elsewhere - that anyone else touted for the role at the time might have struggled to bring in.
Who knows how it will all pan out. Nobody can guarantee translating previous success in other leagues to Premier League excellence, but hopefully this sort of influx of talent, energy and excitement might serve to awaken some of our existing squad to significantly up their own levels. Here's hoping.
Shaun Laycock
73
Posted 02/09/2020 at 20:11:37
This could be pretty tasty first XI (4-3-3):
Pickford
Coleman Keane Holgate Digne
Allan Gomes Doucouré
James Calvert-Lewin Richarlison

Kenny Smith
74
Posted 02/09/2020 at 20:11:39
Finally a proper box-to-box midfielder. If we get him for £20 mil it's a steal. If we offload some tosh on Watford, then even better.
He's exactly what we need.

Andy Crooks
75
Posted 02/09/2020 at 20:12:42
Good post, Sam @ 68. You get it. Not what you would want in a perfect world but you can feel the buzz on this thread.
We Evertonians are not hard to please, a kind word now and again will almost suffice, but this week has made me smile. Our club have that effect now and again.
Shane Duffy to Celtic has also made me smile. It was destined.
Jason Li
76
Posted 02/09/2020 at 20:21:58
Better engine and tackler than Bruno at Man Utd, passing almost as good as Pogba. A top four midfielder on his day.
Trophies here we come!
Are we believers now that good times lie ahead under our blue Mr Ancelotti, or still cautious?
Jay Harris
77
Posted 02/09/2020 at 20:25:30
Shows the benefit of a strong manager.
Things weren't happening and Carlo put his foot down and we get our problem area sorted in the swish of a pen.
Would it be too much to ask to get a quality right-back and a new goalkeeper?
Then Christmas will have come early.
Does this get exciting:
Clown's replacement
Arias Holgate Mina Digne
Rodrigues Allan Doucouré Gomes
Richarlison Calvert-Lewin
Danny Baily
78
Posted 02/09/2020 at 20:29:04
Great signing!
Geoff Lambert
79
Posted 02/09/2020 at 20:30:54
In with a shout of winning someting with a line-up like this:
Pickford
Arias Holgate Mina Digne
Rodriguez Allan Doucouré Gomes
Richarlison Costa
Tasty!!
Geoff Lambert
80
Posted 02/09/2020 at 20:32:12
Tasty, is not a new signing by the way.
Brian Murray
81
Posted 02/09/2020 at 20:34:28
That's a ten-man team with that whopper in goal!!
Bobby Mallon
82
Posted 02/09/2020 at 20:36:29
Rodríguez is not even in Liverpool, he's in London. Just ate at Babba in Mayfair. He was with jockey Rossa Ryan. Let's not get too excited, they still haven't been signed.
Philip Bunting
83
Posted 02/09/2020 at 20:38:49
I'd imagine the media team must be working overdrive on this announcement. Vids, etc etc... that's the holdup.
I wonder how our 2019 season midfield is feeling? They had their opportunities and can only look into the mirror and ask themselves how they ended up in the Championship. Hopefully a lesson learned for some of them... of course, that is if they actually care.
Benn Chambers
84
Posted 02/09/2020 at 20:38:52
I don't know what to do with myself. Is this actually fucking happening? Is our midfield going to be Gomes, Allan, Doucouré and Rodriguez?
No one can accuse Carlo of not addressing the issues (as obvious as they were). No one can accuse Brands of not being good as his job of negotiating. £60M for them three is borderline shoplifting.
Lastly, no one can accuse Moshiri of not backing his manager. We don't get these players without Carlo but Moshiri has put his money where his mouth is. If we get our team playing European football in Bramley Moore Dock, he'll double his entire investment anyway as the club will be valued at £1.5bn Plus but the fella has ambitions, I'll give him that.
This new midfield is going to make last season's look like a Piss take. Them shower last lesson didn't know if it was fucking Pancake Tuesday or Sheffield Wednesday!!!! Tits!!!
Roll on the new season! COYB!!!!
Benn Chambers
85
Posted 02/09/2020 at 20:46:49
😂😂😂😂 if you do one thing this evening, watch this! 😂 I love Evertonian's! Creased me this has 😭😭😭😭
https://mobile.twitter.com/adamsg1878/status/1301198821335199748
Colin Glassar
86
Posted 02/09/2020 at 20:48:53
Tommy 53, I'd give him away for free never mind 50% off. Same as the others. Cut your losses and carry on is my motto!
Stephen Brown
87
Posted 02/09/2020 at 20:54:02
I'm checking twitter, ToffeeWeb a record number of times!!
Please don't be another false dawn!
This is torture!!
Anthony Jones
88
Posted 02/09/2020 at 20:56:09
If this comes off, we will be a force next season. Centre midfield is where we have been poorest for years now. The most important positions to fill.
This lad is an absolute beast and he puts in the kms. With Allan fighting alongside him, I can see an effective 4-4-2 on the cards.
Great effort by Marcel and Carlo.
Carl Manning
89
Posted 02/09/2020 at 21:11:55
The Carlo affect! It was a given he would be given funds this summer, despite the doom mongers on here, it was whether his charm would be enough to entice players to come to a bang average middling Premier League team. He has proven his point!
A top class right-back and goalkeeper and this could be a heck of a summer. May take a few weeks to click but, once again, the owner has shown his mettle and commitment to the club!
Dan Nulty
90
Posted 02/09/2020 at 21:12:37
I'm still to be convinced. Never saw him play and thought we have to sign him.
Peter Roberts
92
Posted 02/09/2020 at 21:25:24
So with the back 5 fairly solid, the front 6 could be a number of variations:
4-3-3:
Gomes Doucouré Allan
James Calvert-Lewin Richarlison
4-4-2:
James Doucoré Allan Gordon
Calvert-Lewin Richarlison
4-2-3-1:
Doucoure Allan
James Sigurdsson Richarlison
Calvert-Lewin
With Kean, Walcott, Gordon, Davies, Gbamin, Bernard all in reserve. I'm not going to lie, I'm licking my lips in anticipation.
Simon Dalzell
93
Posted 02/09/2020 at 21:29:23
Entrer en toi beaute!!!!! This is one I really wanted.
Rob Dolby
95
Posted 02/09/2020 at 21:30:06
I am still none the wiser on expected formation with these signings.
We all knew that we needed a whole new midfield and by the looks of it we have one.
Am I being greedy in wanting a proven goal scorer to help out Richarlison?
Last season, a lot of teams kicked Richarlison out of the game knowing that Calvert-Lewin isn't the same threat. A Diego Costa type would do me.
Danny Broderick
96
Posted 02/09/2020 at 21:30:07
I live near Watford and know a few Watford fans. The consensus is that he was great the year before last, but when he didn't get the big move last year that his form deserved, he wasn't quite the same player last year.
In any case, he's a clear upgrade on what we've got. Hopefully he will be more like the player he was 2 years ago than last year. Having him and Allan at least restores the engine we have been lacking for 3 years.
Alex Gray
97
Posted 02/09/2020 at 21:31:52
I can see us playing the same formation as the RS if we get another centre-back in.
Pickford
Keane Holgate Tomori
Coleman Digne
Allan Doucouré
Sigurdsson
Rodriguez Richarlison
Calvert-Lewin
Chris Williams
98
Posted 02/09/2020 at 21:35:40
Alex,
That looks like 12 players. No wonder they're champions!
Richard Mason
99
Posted 02/09/2020 at 21:35:40
Alex, we can't play with 12, I don't think the red shite do either.
Geoffrey Hall
100
Posted 02/09/2020 at 21:36:47
Alex, that's 12, my friend.
Alex Gray
101
Posted 02/09/2020 at 21:36:51
Oops! Thought it looked a bit too good to be true haha!
Alex Gray
102
Posted 02/09/2020 at 21:40:25
Tomori alternating with one of the other centre-backs should fix it!
Danny Broderick
103
Posted 02/09/2020 at 21:41:09
Calvert-Lewin or Richarlison could get 20 goals next year in front of a proper midfield.
There was a stat on Twitter recently about all our midfielders. If you put all of them together, they have made over 400 performances, from which they contributed 40 goals and created 26 assists. So basically, from the lot of them, you get one goal in 10, and one assist in 16. It's remarkable Calvert-Lewin and Richarlison got 15 goals in front of that lot!
I predict we will get more output from a midfield 3 this year than we got from a midfield 4 last year. And at least one of our front 3 (Richarlison, Calvert-Lewin and Rodriguez) will get more than 20 goals.
The attackers feeding on scraps is hopefully a thing of the past. So is nobody tackling in midfield. We are going to be a proper team again next season...
Ian Bennett
104
Posted 02/09/2020 at 21:41:18
Should give Gomes a kick up the backside with a new midfield.
Martin Berry
105
Posted 02/09/2020 at 21:42:44
Signing as expected after the board had tied down Allan and Rodriquez.
I would not be surprised if Walcott or Sigurdusson move across the pond as for sure some players have played their last game for us. The books have to be balanced (somewhat) and the wage bill reduced.
Karl Meighan
106
Posted 02/09/2020 at 21:45:10
Undeserved stick for Brands? Let's see how they perform for a start, plus these players will arrive for Ancelotti with Brands doing what he is told. The list of blunders he, Walsh and Koeman made will take years to undo.
Nice to have players coming in as that squad of last season had 'relegation battle' written all over it.
Kris Boner
107
Posted 02/09/2020 at 21:48:56
https://youtu.be/vwl7jbQRacQ
Link to his YouTube compilation. I think the stark thing to notice is the sheer amount of interceptions and powerful running with the ball. As deceptive as YouTube videos are, they are the hard things to disguise as they aren't caused by poor defending or players standing off of him (as you would expect in montages for forwards from substandard leagues).
I for one am genuinely excited by all three signings. Keep them all fit and I feel we will be all good this season.
Craig Walker
108
Posted 02/09/2020 at 21:51:36
Today's been great but I'm keeping my feet on the ground: we've been here so many times. If these players live up to their potential, then we should see our midfield vastly improved.
The only decent midfield recently was with Barry and McCarthy in Roberto's first season. We still only have Richarlison as a regular goal scorer. I'm not convinced by Kean and I think we should offload whilst there's reported interest in him.
The goalkeeping position definitely needs strengthening because Pickford costs us too many points. We also need a decent right back. We'll need to ship out as many as we can from Bolasie, Besic, Sandro, Sigurdsson, Bernard, Davies, Walcott and Iwobi.
A good day but there's still a lot to do to even compete with the likes of Wolves. Promising though.
Robert Williams
109
Posted 02/09/2020 at 21:52:58
Alex 97,
Same formation as the RS?
No wonder they won the league playing with 12 men!!
Tom Bowers
110
Posted 02/09/2020 at 21:54:31
With these three (if all sign) then we should have a stronger midfield after the initial settling in and avoidance of injuries.
Some players already here will no doubt be more ready to compete or else will want out soon enough.
Not expecting a much-changed starting lineup for the first game from the season finale against the Bees but let's see how things pan out over the first month or so.
Jay Wood
[BRZ]
111
Posted 02/09/2020 at 21:55:03
Steve @ 64. Oi mano!
You probably missed this story during your hospital stay. Here is the thread covering it here on TW:
Historic England Object to Everton's New Stadium
Given the government - local and national - will be desperate to kick-start the economy post-Brexit and with Covid-19 lingering, I would hope it's not a deal breaker.
Saw your reply on the Blackburn game off thread. Double angioplasty! Not a man to do things by half, eh?
I resided in Belo Horizonte about 8-9 years ago where, of course, I adopted Cruzeiro as the only blue-shirted club in Serie A as my Brazilian team. And didn't they do me proud... up until last year's debacle and fall from grace to Serie B for the first time in their history.
Love MG. My type of country. Mountains. Forests. Great trails. Far more benevolent climate than steamy Belem!
Looks like Everton may get the pulse racing this season if these signings come off, so be careful Steve!!!
Keep well, fellah.
Christy Ring
112
Posted 02/09/2020 at 22:29:30
Thrilled to have a midfield, of power pace and vision now. Great that Moshiri has backed Ancelottiand Brands; Carlo like the rest of us could see how poor we were in midfield. I'd still keep Davies in the squad, and hopefully Gbamin will be back to add bite to the bench next month.
The biggest problem Brands has now is how to move on players on massive salaries: Sigurdsson, Bolasie, Ramirez, Delph (too injury prone), Besic, Iwobi, a huge task.

Geoff Lambert
113
Posted 02/09/2020 at 22:36:09
I hope we don't have to wait till the next window to see that we need a proven goalscorer, or that will be another season lost.
Bren Doyle
114
Posted 02/09/2020 at 22:46:39
Could we consider offering Palace, Iwobi, Bolasie and a bit of cash for Zaha? That would be the icing on the cake!!
Colin Metcalfe
115
Posted 02/09/2020 at 22:59:01
I have gone on record that, without new signings, we would be looking at relegation however with this revamped midfield we are looking pretty awesome, keep Gomes and Bernard and get shut of Iwobi, Sigurdsson, Davies, Delph as for Gbamin we just don't know how good he is or whether he will come back from those two devastating injuries.
Hopefully James and Allen will sign tomorrow, my wife is Colombian so she is over the moon although can he keep fit? That's my one big worry about James.
Certainly we seem to be going in the right direction now to get that 3rd choice keeper at Man Utd who Is still well better than that clown we currently have between the sticks!
Philip McKeown
116
Posted 02/09/2020 at 23:01:11
I'm devastated that I might not have to watch Tom Davies slithering across the turf anymore.
John Kavanagh
117
Posted 02/09/2020 at 23:03:16
Robert @109 - You are forgetting the RS ALWAYS have 12 men counting the ref.
Mat Thompson
118
Posted 02/09/2020 at 23:04:37
Best news of the three, I say, made up with this one.
Colin Glassar
119
Posted 02/09/2020 at 23:05:56
Bren,
Bolasie, Walcott, Iwobi and Iwobi's shadow would do it – plus a bit of dosh.
John Raftery
120
Posted 02/09/2020 at 23:09:11
The midfield was rightly identified by Ancelotti as the area for priority attention. We badly needed to add pace, power, quality and a few goals. The three signings appear to have addressed those needs.
Doucouré should be able to settle in very quickly as an experienced operator in the Premier League. On the occasions I have seen him play against us, he has always struck me as the sort of player we were missing.
There is greater risk concerning Allan and James who each may take a few weeks to acclimatise to a different country, league and club. How quickly they settle in the team is likely to determine the shape of our season.
Mike Gaynes
121
Posted 02/09/2020 at 23:23:30
James #61, I question whether Sigurdsson would be the 4th midfielder with the three new guys. There wouldn't be anybody on the wings at all. Doucouré and Allan work the center of the pitch, and James cuts in from outside when he gets the ball. Interesting alignment either way. We'll need some pace up the touchlines.
Rob #95, yes, you're being greedy. I think Rodriguez turns Rich into a 20-goal scorer with his through passes, and if Calvert-Lewin simply maintains his level from this past season, that's a potent frontline.
Benn #84, Pancake Tuesday?? I love your posts. Colorful.
Karl #106, patience, patience, patience. A whole new midfield, two of whom have never played in England, will take time to jell. Especially with limited preseason training together. Don't get grumpy if it looks a little disjointed for the first month or so.
Jack #50, not a false note in there.
Alan #39, not bad.
Don Alexander
122
Posted 02/09/2020 at 23:24:16
Three things concern me. First, none of the three have actually signed a contract; second, two of them have never played in the Premier League; and lastly, and hugely importantly, have they all got what it takes between the ears to deal with the perpetual miasma that seems to engulf USM Finch Farm and all who extract a living there?
Sorry to sound sceptical but supporting Everton since the Premier League was created (and decades beforehand, when a mere 14 trophyless seasons was rightly deemed totally unacceptable) has done that to me.
Kenwright (and his clan) out!
Mike Gaynes
123
Posted 02/09/2020 at 23:26:02
Don't ya wonder what Sigurdsson, Iwobi, Davies and Delph are thinking tonight?
Ernie Baywood
124
Posted 02/09/2020 at 23:30:03
Don 122, I can understand the cynicism... but it's time to enjoy these signings (if and when they sign).
Big names, exciting players, positions that we needed filled.
I mean, enjoy it while you can.
Danny Baily
125
Posted 02/09/2020 at 23:35:50
Don, what does Kenwright have to do with this anymore?
Derek Knox
126
Posted 02/09/2020 at 23:50:45
Great news, and I think he will gel with the quality players we have (allegedly) brought onboard. Let's be honest, this guy has been linked with us since the mistake of Silva being appointed Manager! (Sorry, Steve F.)
I am not being greedy, well maybe a tad, but if we could land Odsonne Edouard and Emerson too, okay (I did say greedy), that would make this Transfer Window the best!
Oops, almost forgot there, Romero from Man Utd on a 2-year contract!
Steve Ferns
127
Posted 03/09/2020 at 00:07:48
I always thought Doucouré was a smokescreen for Allan. It'll be interesting to see how the team will line up and who will sit in and hold the midfield. I've got a feeling that such a person will actually be André Gomes.
I think Allan and Doucouré will flank him and have licence to get forwards, both in the attacking sense and also to hunt the ball and win it back. Gomes then being the easy pass backwards and able to spray the ball about from deep to our much improved forward line.
Mike Gaynes
128
Posted 03/09/2020 at 00:34:15
Steve #127, Gomes can certainly sit deep and spray the ball about, but "hold the midfield"? There are traffic cones that hold better. I think we're much more likely to see him either on the flank or on the bench.
DK #126, sorry, mate, but according to Spotrac, Romero is on £70,000 a week. Unless he's willing to halve his salary (unlikely) or Pickford is about to be sold (also unlikely), I don't think it'll happen.
Laurie Hartley
129
Posted 03/09/2020 at 00:39:27
Steve # 127 - I think you have read Carlo's mind their.
I always get nervous when Everton are on the cusp of something – then they let you down.
It won't happen this time.
Graham Lloyd
130
Posted 03/09/2020 at 00:52:53
I'm also unsure how Gomes will fit into the picture now unless we end up with some sort of 4-3-3 which seems unlikely with Carlo. Doesn't strike me as a wide player or a holding player like Mike@128 says.
If the default is that Gomes starts on the bench then I wonder how long he will remain a blue. If he does leaves, it will be a real shame as I think he has found his home here after his problems at Barca.
Bob Parrington
131
Posted 03/09/2020 at 01:03:19
Bobby Mallon @82,
Inside info from James's family is that it's a done deal!
Chris Mason
132
Posted 03/09/2020 at 01:16:24
Gomes could play in the middle of the three man midfield perhaps, shifting to one of a central pair in 4-2-3-1.
He'll certainly stay, as will Pickford, Sigurdsson, Iwobi, and probably Walcott and Bernard. Bolasie, Sandro, Besic and (unfortunately) Delph will go in one form or another. I think Walcott might go if we get a good offer. Tosun is injured so I don't see how we can sell him until the next window.
Delph, unless a bad apple in the dressing room, would be a very handy squad player.
Derek Thomas
133
Posted 03/09/2020 at 01:29:54
Mike 123;
I hope they are on the phone to their agents saying get me out of here, but I doubt it. They're more likely doing a mental calculation of so many weeks at this many thousands of pounds and then sitting back with a smile of the... Nothing to see here, I'll worry about my future in 18 months or so, sort.
As to Gomes, he looks the part, but he's all show and no go and I don't want him in the holding role, your granny on a zimmer frame could ghost past him. In fact, I don't want him anywhere near our box... too many rash tackles.
He'll drift into the deadwood, must get rid of, list in 12months... if not sooner.
Mike Gaynes
135
Posted 03/09/2020 at 01:57:24
Derek #133, sorry, no, I don't buy it. I've known a great many professional athletes (I was what you lot call a sports "journo" in my previous life), and I never met one who was satisfied just sitting and collecting his checks (cheques?).
The fact is you don't get to be a top player without a powerful competitive drive. Players want to play, and most of the guys who find out over the next four months that they can't get on the pitch with our new midfield are going to be on that phone call with their agents. Pro careers can be pretty short, and nobody wants to be replaced, bypassed and left sitting and watching other guys play for an entire season. Nobody.
I know your cynical view is popular among the fans, but I can tell you with considerable conviction that it's mostly untrue.
Jim Harrison
136
Posted 03/09/2020 at 02:08:04
I don't think Iwobi is going anywhere. Aside from how much he cost, he is a young player. He had a bad season but he wasn't alone in that. At Arsenal, he played some good football.
We should also learn from last season. These new players are just as likely to get injured. It is no good getting rid of all Sigurdsson, Delph, Iwobi and Bernard! We have seen how effective a midfield of Gomes and Davies is!
Christopher Nicholls
137
Posted 03/09/2020 at 02:11:42
Excited by the prospect of these 3 midfield signings, but most excited for this fella. For my money, Doucouré will be the biggest impact, this season.
I think it would be fair to think that some of the others may also raise their game, with better players around them. Midfields are generally the sum of their parts and these additions make tactical flexibility a reality.
Stephen Vincent
138
Posted 03/09/2020 at 02:12:49
Sorry, Mike, I enjoy your posts a lot but on this occasion you are wrong. In support of my argument, I give you Gylfi Sigurdsson.
Against Spurs and Wolves, he didn't even trouble the laundry lady, everyone saw it, it was pointed out on live TV. The stats say that in those 2 games he didn't make a single tackle.
Kieran Kinsella
139
Posted 03/09/2020 at 02:39:57
Mike Gaynes,
Unfortunately in the Premier League we've seen the likes of Winston Bogarde of Chelsea who happily and publicly stated his intention to pick up a colossal paycheck for doing nothing. Similar to the attitude Gareth Bale now has at Madrid.
However, next year we have the Euros, African Nations Cup and Copa America. So I'm hopeful our various current internationals (just about all our rejects minus Walcott, Davies and Sandro) will have enough professional pride to seek a move elsewhere for the sake of their international careers.
I would think Sigurdsson and Gomes are particularly "at risk" right now assuming Bernard has already accepted his fate. I'm unclear exactly how we will line up next year but with three predominantly central midfielders being signed maybe the wide boys have a glimmer of hope?
Steve Brown
140
Posted 03/09/2020 at 03:00:29
Brands having a good third transfer window after his poor efforts last summer. His first transfer window was also good – Richarlison, Digne, Mina and Bernard (in a minority in still liking this player!).
I still think there are 1-2 more players to come in at right-back and left-sided centre-back but then it is clear-out time. Then over to Carlo to see if he can knit this new squad into a functional team.
Mike Gaynes
141
Posted 03/09/2020 at 03:09:09
I believe Lyndon just posted a link (or is about to) to a Times article that Sigurdsson, Walcott, Bernard and Delph are all officially in our shop window and Marcel will inspect all bids for them.
Kieran, I knew somebody would bring up Bogarde, but he's the exception. And my impression of the Bale situation is that he tried to leave Real Madrid last summer to get back on the pitch but was stymied by the club's financial demands.
I too expect that, once veteran players like Sigurdsson and Bernard know they're out of the picture, they'll be eager to move. Not so with Davies, since this is the only club he's ever known -- he'll want to stay and fight for his place. I'm just saying he's going to be very, very worried about keeping it.
Stephen #138, playing badly is not the same thing as being willing to sit in the stands and watch and collect paychecks. For most of his career, Gylfi has been one of the hardest-working players in the Premier League. Obviously he went stale this season. But he's not going to reject a move someplace else just to cash in, as Derek predicted.
Christopher Nicholls
142
Posted 03/09/2020 at 03:20:13
I'd like to see Gomes stay as there are permutations that may well include him and he still looked like he was getting over that horrific injury.
For Davies, the best option all round would seem to be a smart loan. Barring injuries, difficult to see him getting ahead of the other players and he really does need regular football to kick on.
In an opinion that is not likely to resonate with all, I think we will see a better Iwobi, this season.
Bob Parrington
143
Posted 03/09/2020 at 03:36:38
Christopher@137. My thinking too, that certain players will perform better being in the company of the new, "quality" players. Bernard is one that springs to mind; Sigurdsson also.
I don't know much about Iwobi and so cannot comment too much. I watched him 'live' vs Man City last September and he looked like there is a player in there somewhere.
Much will now be down to Carlo to spin the web as per Steve Brown's comment @140.
Chris Mason
144
Posted 03/09/2020 at 03:49:36
I agree about Iwobi getting better next season, if Bernard and Walcott go then he will get more opportunities higher up the pitch to be more direct in his play.
Mike Dolan
145
Posted 03/09/2020 at 03:56:47
Gomes is a sublime player. Don't anyone ever forget that.
Michael Low
146
Posted 03/09/2020 at 04:04:40
I've never seen James and Allan play, but if they are as good as what you all are saying then we're in for a very good season. I've been holding my breath with fingers crossed that these three transfers get across the line and I'm now just about ready to exhale. Just need to see the official announcements and I'll be all made up!
Without Carlo Ancelotti, I think it is unlikely we would have got to this point. Hiring Ancelotti and Brands was a major statement by Moshiri – I'm hoping this is our watershed moment! COYB
Mike Gaynes
147
Posted 03/09/2020 at 05:07:37
Gomes is a sublime player?
Mike, you are one funny dude.
Oy vey.
Bill Watson
148
Posted 03/09/2020 at 06:27:47
Mike. I'm with Mike. I think we'll see the best of Gomes when he's surrounded with decent players and the best of Gomes can be sublime!
Mike Gaynes
149
Posted 03/09/2020 at 06:44:12
Bill, I'd love to see a sublime Gomes.
Been watching him for five years now and have never seen it yet, but hope springs eternal.
Steve Brown
150
Posted 03/09/2020 at 07:03:15
Chris @ 144, I agree that Iwobi might improve with better players around him and playing closer to the forwards. To be honest, given the crazy investment we made to sign him, we do have to persevere with him as we will lose out massively if we sell him this summer.
Sigurdsson, Tosun, Delph and Walcott will only decline further, so the best option is to try to lessen the losses we will make on their transfer fees (unlikely), but more importantly get their wages off the salary bill.
Dan Nulty
151
Posted 03/09/2020 at 07:30:20
I think I'd alter that and say Gomes can be a sublime player, the problem is it is 1 in 5 or 6 games he does it. Good players do it every other game and class players show it nearly every game.
Having looked on various Watford fan sites, none of them seem to be particularly bothered about losing Doucouré so I will judge when we see him play.
Geoff Lambert
152
Posted 03/09/2020 at 07:43:31
Dan. if you looked at verious Everton web sites when Lukaku and Stones left, you would come to the same conclusion. Fans are fickle when a player moves on.
Martin Mason
153
Posted 03/09/2020 at 07:58:01
This is amazingly positive for a club in the financial position the Everton are. Where we would have been without the money that the owner has put in, I just don't know. Three new midfielders and a new contract for Gordon is great.
Steve Shave
154
Posted 03/09/2020 at 07:58:52
I'm in the defend Gomes camp, a three man midfield (either 433, 532 or 352) will free him up with those 2 around him. I love the guy and I think he will have a good season. Arias and Stones on loan please next! Now I am being greedy.
Eddie Dunn
155
Posted 03/09/2020 at 08:12:32
Martin - indeed! Now they need to actually all train together, so we may have to wait to see all three on the pitch at the same time. We can all surely feel positive now.
David Nicholls
156
Posted 03/09/2020 at 08:12:51
I could envisage a 4-4-2 compact diamond formation with Gomes at the base. More of a deep-lying playmaker than a defensive shield with Allan and Doucouré either side and James at the tip given a licence to thrill.
This could easily become a 4-3-3 with Richarlison and James operating as wing forwards. We will have a lot of options.
Steve Shave
157
Posted 03/09/2020 at 08:16:45
David 156,
I'm not sure Gomes would suit that role, nor do envisage Carlo playing there (happy to eat my words if true and it works btw). if Carlo does want to play 4-4-2 with all fit I fear Gomes may be warming the bench. I
agree totally with you that we have lots of options, let's trust the old boy knows what he is doing. A young high potential left-back on the cheap, centre-back on loan (if Tomori with an option to buy) and a solid right-back.
Let's watch Kean tear it up this season.
Christy Ring
158
Posted 03/09/2020 at 08:21:03
Jim #136,
How ineffective has Sigurdsson been, and Delph is never fit... get rid. Gomes can play, in his proper position, and Davies is worth having on the bench.
Danny Baily
159
Posted 03/09/2020 at 08:23:39
I doubt Gomes will be a regular starter if we pull these transfers off.
Andrew Ellams
160
Posted 03/09/2020 at 08:35:03
Danny, I think he will. He'll have more licence to carry the ball forwards than he has had before.
John Zapa
161
Posted 03/09/2020 at 08:48:21
Mike 135#
Ever heard of Winston Bogarde?
Kevin Prytherch
162
Posted 03/09/2020 at 08:59:13
I think the one person who has been missed on these posts is Bill Kenwright. He needs a massive Thank you and a massive pat on the back for getting these deals done.
After all, so many posters have been quick to criticise him for every failing and failed transfer and even an editor has thrown their hat in, pointing out that he is still chairman and therefore has sole responsibility for all the transfer mess. It's only fair that he gets the praise when we sign a decent player or two.
Thank you, Bill.
John Pickles
163
Posted 03/09/2020 at 09:09:23
So when can we start the sweepstake as to which order and weeks the three will be out injured for the rest of the season?
Danny Baily
164
Posted 03/09/2020 at 09:10:18
Andrew 160, I suppose it all depends on what system Carlo has in mind. If it's a front three, then there might be a role for him, but where does that leave Rodriguez?
Ken Kneale
165
Posted 03/09/2020 at 09:14:27
Kevin – that is like thanking a man for not robbing a Bank when he walks past the door.
This is what a Chairman and former owner should be doing as part of their duties. His dereliction of duties for the past decades cannot be eradicated so easily.
Michael Connelly
166
Posted 03/09/2020 at 09:16:21
I don't get this obsession with Gomes from some of the posts above. Slow; poor tackler as a result; not a goal scorer; few assists; lots of wayward passing. He is strong on the ball, and can keep things ticking over, but he is a limiting factor in terms of our progress.
Steve Shave
167
Posted 03/09/2020 at 09:23:05
Kevin @162,
I think I'd like to have a beer with you sometime. :)
Ernie Baywood
168
Posted 03/09/2020 at 09:40:23
Michael 166... I'd argue he's been a limited factor to date. The player you describe has great attributes surrounded by an improved midfield.
We've asked him to be many things that he isn't. To be honest, you could say the same about most of the decent players we ruined.
Bobby Thomas
169
Posted 03/09/2020 at 09:57:26
Doucouré is exactly what we've needed. Legs, energy, can carry the ball, get us up the pitch, can break lines. We may even be able to entertain the thought of playing a 4-3-3, when required. Heady days.
However the thought of Gomes playing in the middle of it, or a 4-4-2 (or anything other than a 4-2-3-1 as he needs a babysitter), would be enough to give our centre-halves panic attacks. What sublime protection one of, if not the most, dribbled past players in the Premier League would provide.
Nice beard and knocks a cracking cross-field pass once a half though. At home. Away, it's just the beard. There's no substance to his game. He personifies Marco Silva's Everton.
Graham Hammond
170
Posted 03/09/2020 at 10:03:17
Things are obviously starting to move for the new season. Although I have seen very little of the seemingly incoming players, it seems clear that the midfield will be improved, it would be hard to go backwards in that department!
Competition for places will be improved so that should be a good thing and would suggest that Carlo is looking towards a 3-5-2 or a 4-2-3-1 or even a 4-3-2-1 formation to accommodate the many Midfielders he will now have at his disposal.
I haven't seen Allan play but I hope he will be one player who can improve things defensively which I think we badly need.
I would have really liked to have seen a 'keeper come in, hopefully, there is still time yet, the sooner we see the back of Pickford the better. I would take the £30M back in a flash but no-one would be stupid enough to offer the money we paid.
Paul Kennedy
171
Posted 03/09/2020 at 10:18:28
The reported interest in Romero is the most exciting for me. I never feel confident with Pickford between the posts because he has not got it between the ears.
Nathan Jones
172
Posted 03/09/2020 at 10:39:10
I haven't seen the three of them in blue shirts yet, but assuming there all done deals and they are first choice who leaves:
Bolasie – get rid.
Besic – Get rid.
Sandro – get rid.
Tousun – get rid. (I actually think he is a good finisher and could flourish as the centre in a 4-3-3.)
Wallcot – keep we are going to have injuries and he has pace.
Davies – keep, he's young and has potential.
Gomes – keep, he is very handsome.
Sigurdsson, Bernard & Iwobi – I've put these together as they all play in a similar position: attacking midfield, No 10, on the left. I think only one goes, but who?
Sigurdsson – we have had him for 3 seasons only one of these did he play in his prefered place, 38 games 13 goals. I'd keep him.
Iwobi – he didn't do a lot last season but we paid a lot for him and he's young; whatever people might want, he is not going anywhere.
Bernard – I like watching him play, but there doesn't seem to be any end product and Carlo doesn't seem to rate him. So it's probably bye-bye.
That said, there is probably some economics in here, and we will listen to offers for all of them.

Alex Kociuba
173
Posted 03/09/2020 at 10:50:38
I agree with pretty much all that, Nathan, except the part about Tosun being a good finisher! 🤕
Jim Harrison
174
Posted 03/09/2020 at 10:57:35
I love this:
Bobby 169
"Gomes. No substance to his game."
Represented Benfica, Valencia and Barcelona.
He has been inconsistent, yes. But when he has been on it, Everton have looked good. How good would any player have looked in that midfield last season – let alone one who had that injury
I think, in a team with better players and a more defined role, he will be an asset.
And yes, he gives Ginola a run in looks.
Michael Connelly
175
Posted 03/09/2020 at 11:06:07
In fairness to Gomes, Bobby (169), I seem to remember him knocking 2 cracking crossfield balls in one half, once. That was at home obviously.
Steve Shave
176
Posted 03/09/2020 at 11:24:28
Well said, Jim.
Derek Knox
177
Posted 03/09/2020 at 11:26:42
This is indeed good news, for a player we have long been linked with, and furthermore has proved he can cut it in the Premier League. I have little doubt that Allan and Rodriguez will blend in too.
What a transformation our midfield will be, with these 3 added, I just wonder how many more we will get in before the window officially shuts. Got a feeling Romero the now 3rd choice goalkeeper at Man Utd could be next.
If we could get Emerson, and Edouard too, I think we would definitely be a different proposition against the so called top six, not to mention the also-rans. As someone else mentioned I think the entertainment factor will be back, and hopefully some Silverware.
Rob Dolby
178
Posted 03/09/2020 at 11:26:57
I am a fan of Gomes. He knits play together and is strong on the ball. Too easy to look at negatives in players. No doubt the 3 new signings have faults.
A fully fit Gomes is in my starting 11. Be interesting to see what formation Ancelotti picks.
Kim Vivian
179
Posted 03/09/2020 at 11:30:06
This is starting to feel like one of our games... lots of build up and anticipation – but when's something going to hit the back of the net???
Looking for 3 today.
Sam Hoare
180
Posted 03/09/2020 at 11:40:56
My worry with Doucouré is that actually he's not been that great for the last two seasons. He's got a handful of goals (which will be very useful admittedly) but beyond that he's not been great for Watford. I worry that he's still trading a bit on memories of the 2017-18 season when (under Silva) he was really excellent.
Has he gone off the boil a bit? Or was the one season the exception? A lot of watford fans are not too sad to see him leave and claim they will miss Capoue more. Doucouré is accused of being too lazy and giving the ball away too much. Is this just bitter fans or did he down tools a bit after not being allowed to leave?
Allan and Rodriguez have been excellent over a long period but Doucouré has only had one season in his life where he has really looked like a top class player. If he can hit that level again then great but sometimes when signing players we can be guilty of just remembering the highlights and the two or three match-winning games they had when the cameras were on. Hopefully Carlo gets him back to his best.
Brian Harrison
181
Posted 03/09/2020 at 11:44:27
This is what happens when you employ a world-class manager. Would Rodriguez or Allan have even considered coming to Everton if Carlo wasn't in charge? Absolutely not.
Also adding Doucoure to his purchases which will completely transform our midfield, anyone could see our midfield was woeful, but getting quality players in to replace them was the hard bit. Whether Brands had anything to do with the prices agreed I don't know, but these buys are solely down to Ancelotti.
I am sure there are even more changes he would like to make but with the impact of Covid-19 and the FFP rules he may have to settle with these 3 for now. I am sure in an ideal world he would like to bring in a quality striker, but that might have to wait till most of the deadwood has been moved on.
Surely even the most pessimistic Evertonian must be a little excited over the 3 players coming in. I know some will question whether Rodriguez and Allan will be able to adjust to the Premier League, but I am sure Carlo knows them better than any fan and I trust his judgement.
Carlo is a shrewd operator and when he said some weeks ago that he had been given assurances by the board that he would be able to spend then maybe we shouldn't be surprised at how quick he has identified the players needed.
And just as important he has also got Gordon to extend his contract and will no doubt do the same with Branthwaite, so he is not only looking at bringing in new players he is also looking after the young players.
Maybe the doubters will see that this isn't a guy just here to top up his pension.
John Boon
182
Posted 03/09/2020 at 12:00:59
Thanks Moshiri. Hope all signings are a success and must be much better than recent mistakes. Now they just have to gell.
Dan Nulty
183
Posted 03/09/2020 at 12:02:34
I have to say, Sam, I agree with your sentiments. However, it must be really difficult to be hearing a new voice and new tactics when they change manager so often and also to stay motivated. I don't watch them enough but was he asked to play a different role after Silva left?
Given he has apparently told them he wanted to go to Everton only and play for Ancelotti I think he will be extremely motivated at least. The only thing holding him back will be whether he is good enough or not which remains to be seen for me.
Daniel A Johnson
184
Posted 03/09/2020 at 12:17:25
Watford has been a circus for 18 months – how many managers?
All the players during that time suffered – not just Doucouré.
He will do just fine for us.
Tony Everan
185
Posted 03/09/2020 at 12:17:28
Sam,
I agree about Doucouré last season. I thought the player had mentally already moved on from a disjointed Watford side and was in a sort of holding pattern mentality, keeping a few percent in reserve. Hopefully he will turn on the gas for us these next few years.
He will realise this is it for his football career, it's now or never. So I think we may see the previous form from him come back to the surface. He will be inspired playing alongside better players and for Mr Ancelotti.
Paul Birmingham
186
Posted 03/09/2020 at 12:31:02
Hopefully with plenty of good luck as EFC don't get much in general on or off the park, this could be the road to a better place, hopefully deliverance and playing consistent football. Let's hope the players pass their medicals.
Time will prove, but if as it stands these three signings all get delivered, then fair play to Carlo, Brands and The Everton Board.
Looks good value and hopefully a rock solid midfield.
On the goalkeeper note, you'd like to think that Jordan Pickford will take proper stock of the team situation and realise that there's no given in any team and every player earns his position in the team on merit.
I hope also we see a new Captain and I'd start with Lössl as goalkeeper if no new keeper comes in.
No more on the scale of self-inflicted disasters we've seen the last two years from our goalkeeper.
Hopefully a big welcome to Everton for the new signings.
Mike Gaynes
187
Posted 03/09/2020 at 12:38:31
Kevin #162, you only caught one! I think your bait was too obvious.
Paul #186, ever seen Lössl play?
Derek Knox
188
Posted 03/09/2020 at 12:48:26
Whilst we're plundering Watford's remains, any chance we could get Delboy back? Although he does seem a bit injury prone these days but has greatly improved as a player, to when he was with us, capable of winning a game on his own.
Paul McCoy
189
Posted 03/09/2020 at 12:52:06
Not sure we need another inconsistent winger, Derek! I loved Deulofeu while he was here, but he was still blowing hot and cold for Watford last season before he was injured.
Kevin Prytherch
190
Posted 03/09/2020 at 12:54:32
Mike 187 – who said it was bait!!!!!
I'm thinking of penning an article called "Bill Kenwright – Everton's Saviour" to see how many responses I get!!!
Stephen Vincent
191
Posted 03/09/2020 at 12:55:37
Daniel #184,
I hope I detected a liberal sprinkling of sarcasm.
Derek Taylor
192
Posted 03/09/2020 at 13:01:19
I'm as enthralled by news of likely signings as anyone but then so were most of us with most of those made since Moshiri started throwing his money around.
Trouble is we haven't seen much of any of them yet and they are all obviously superfluous to the rosters of their selling clubs.
So don't get carried away by statements that xxxxxx and xxxxxx will necessarily solve our problems in midfield, lets see them in our team before we pass judgement.
I for one have suffered so much disappointment in reason seasons that I'm holding my water. I recommend you all to do the same.
Jamie Crowley
193
Posted 03/09/2020 at 13:10:45
Get impatient with a lack of transfers, decide to watch some hockey, tune back in and BANG! We've got a new midfield.
Jesus above that was like cray-cray. That's us sorted.
Someone above said that's our midfield sorted for the next 2-3 years while Marcel does his thing and brings in the young, eventual replacements. Couldn't agree more.
Now my goal for Everton is to NOT go into Administration / file bankruptcy.
We need to begin to make money and become a self-sustaining Club, not an owner-injection Club.
Rome wasn't built in a day. Moshiri will sort it out in time.
Mike Keating
194
Posted 03/09/2020 at 13:11:36
After Højbjerg went to Spurs, we seemed to make it pretty obvious that Doucouré was the preferred alternative. Should we have been more interested in scouring the market for other possibilities rather than cherry-picking relegated players?
Sangare was one but not sure he was ever on Everton's radar. I've read good reports about the guy but never seen him in action. On the other hand, I've seen Doucouré a few times and never been blown away.
Mike Gaynes
195
Posted 03/09/2020 at 13:12:25
Go for it, Kev. You can wear that flak jacket you got for Christmas. And I'll loan you my old hockey helmet.
Michael Barrett
196
Posted 03/09/2020 at 13:12:25
Well said, Derek, there is more chance of them flopping than anything else. We just cherry-pick expensive signings every season and only a handful of players in 20 years have worked out.
Kieran Kinsella
197
Posted 03/09/2020 at 13:21:45
Derek Taylor and Michael Barrett,
I thought Collins, Dacourt and Materazzi would turn us around. But hopefully this will go better. I'm just glad we won't see Schneiderlin out there any more.
Sam Hoare
198
Posted 03/09/2020 at 13:44:57
Mike @194, I'd say that Allan was the alternative to Højbjerg; both are players who focus on winning the ball and making recoveries whilst covering a lot of grass.
Doucouré has never been much of a ball winner. He's better at it than the likes of Davies, Gomes and Sigurdsson but he's more of a rounded box-to-box player who carries the ball and gets on the end of balls into the box. More Cahill than Gana in a way though it depends on where Ancelotti plays him.
If we play 4-4-2, Carlo needs 2 energetic midfielders who can cover a lot of ground at decent speed and can tackle, pass and carry the ball. We had no players like that last season. Now we will have two...
Alan Rodgers
199
Posted 03/09/2020 at 13:50:01
Derek @188 , I don't think Deulofeu has enough end-product and I really wouldn't want him back. Besides, it's much too cold for him up North; he wears gloves, long johns and a snood in summer – even in sunny Watford!
Santa Krsh
200
Posted 03/09/2020 at 13:56:50
Gareth Bale on Loan? Any chance we will be interested if Madrid agrees to pay 75% of his salary? Presumably had his best year in Madrid under guess who???
Rennie Smith
201
Posted 03/09/2020 at 13:57:30
Jamie @193, the club activity is a bit similar to this site, one minute it's "Sack Brands, the world is coming to an end"... the next, it's "He's a business god and we're gonna win the league".
I suppose it makes things interesting.
Tommy Carter
202
Posted 03/09/2020 at 14:25:13
@197
Smith assembled a superb team in 1998-99. When big Dunc left, we had nobody to get us a goal. The problem was scoring goals. And we didn't have a good goalkeeper.
Campbell came in and formed a partnership with Jeffers who began to break through and results thereafter were outstanding.
But a midfield of Barmby, Dacourt, Hutchison and Collins would've been amongst the best in the Premier League at that time.
Bill Gall
203
Posted 03/09/2020 at 14:25:54
Kevin, don't worry if these transfers are a flop; we can all blame Kenwright as he will not get any credit if these moves are a success.
ps: I am not a fan of Kenwright.
Steve Greir
204
Posted 03/09/2020 at 14:46:48
Bill (91) - cheers Bud. Likewise, I'd been channel-hopping on the lookout for transfer 'gossip' and hit TalkSport just as the piece on Bramley Moore Dock was coming to a close, explaining how we had to "put the water back in dock, when we relocate again in 2123 ". Wasn't sure if it was a new development, or not, but thanks for the clarification. Did make me wonder though, where we'll be keeping all that water for the next 100 years.
Jay (111) - much appreciated also. I DID miss that thread, and will go back for a quick peak soon. By the way, I almost got in touch the other week, when to my utter, gob-smacking surprise, I saw that the Blackpool game was 'live' on ESPN Brasil. Unfortunately, I only stumbled across it after 65 mins on the clock! How crazy is that! Am hoping now to catch Burscough v Chorley at some point!
Ticker is battering away quite well now, with much less work to do, now that the channels have been expanded with the aid of four old valve springs from a '73 Allegro. Gives me hope that I will more easily survive the coming weeks, in spite of all the 'usual' excitement.
As for our 'other' team: I've never really bought into the 2nd Team thing that heavily, but have to admit to being seriously gutted when Cruzeiro were relegated last season. Bit like seeing a majestic structure reduced to rubble, or sink below the waves. And have to admit, I lost sleep over it, fearing omens of what might befall the other boys in Royal Blue and White Umbro kits.
On this thread in general, and subject of who to release. I fervently believe we need to retain Gomes, Bernard, and Davies. If we demand a 'Plan-B', even a 'Plan-C', then we need the tools (oh dear) to implement these.
Is winter in Belem any different than the Summer...? Enjoy the fish and the cold beer. Look forward to chatting again soon.
Take care, and all the best, Steve
Brian Murray
205
Posted 03/09/2020 at 15:24:01
Paul, also it might coincide with our roaring back to prominence and help us out big time if it's more of an even keel. Let the good times roll, go Carlo!

Hugh Jenkins
206
Posted 03/09/2020 at 15:38:57
Bob(82) - note what you say, but I believe that in the past we have conducted medicals and signings in London, then travelled north for the "revealing".
Paul Stevenson
207
Posted 03/09/2020 at 15:41:10
It is the hope that kills you. This time next week, Rodriguez is at Man Utd, Doucouré is at Spurs, and Allan is at Liverpool. But we did sign Billy No Mates from Aldershot Town, "Wee" Jock McGregor from Inverness Thistle, and Ivor Bunion from Pontypridd (Reserves).
Anthony Hawkins
208
Posted 03/09/2020 at 15:51:37
Those calling for Bale are mad! He's about the age where he's one injury away from being crocked.
I want our current transfers to be completed... they seem to be taking forever!
Max Murphy
209
Posted 03/09/2020 at 16:36:50
Amazing how a few transfers can liven everyone up. Same old story – repeated during every transfer window. These players are coming to Everton FC! The curse will be upon them!
Reminds of the Animals song:
"Oh mother, tell your children
Not to do what I have done
Don't spend your lives in sin and misery
In the House of the Rising Sun"
Jay Wood
[BRZ]
210
Posted 03/09/2020 at 17:13:38
Steve @ 204.
Like you, I'm gob-smacked that Blackpool-Everton was on ESPN Brasil! I had no idea! That has got to be the Richarlison factor, even though he was nowhere near the game.
Glad to hear the ole ticker is behaving itself.
As for this line: 'Is winter in Belem any different than the Summer...? Enjoy the fish and the cold beer.'
Forgive my outbreak of manic laughter! I wish!!!
Pretty much 30C+ all year round. Rarely drops below 25C even at night. If - once-in-an-Everton-trophy-winning-season! - it does drop below 20C at night, my esposa Paraense wraps herself in a blanket. Me? Shorts, t-shirt and flip-flops year round. And that's overdressed!
As for the fish and cold beer, you missed out the obligatory acai with the fish, otherwise you were spot on!
Take care fellah.
Bill Watson
211
Posted 03/09/2020 at 18:42:47
The waiting is the worst. How long is this going to take?
I've been checking the official Everton website every hour for days but nothing, at all.
However, what is very noticeable is that nothing has been posted on the 'News' section, today. This is very unusual as, usually, even the most trivial things are on there.
Could it be they are poised (all day) to make an announcement?
Steve Shave
212
Posted 03/09/2020 at 18:57:42
Kev you could follow up with a sequel "Calvert-Lewin, championship at best"!
Tony Everan
213
Posted 03/09/2020 at 19:05:42
Bill, We are all assuming the medicals will go without a hitch. Maybe there is some concern from the results. Who knows? I am starting to get the heebeegeebees.
Joe McMahon
214
Posted 03/09/2020 at 19:11:25
What I don't understand is, if Everton medicals are so thorough, why did we sign Delph, James McCarthy and Darren Gibson whose injury records were not good before they signed???
Mike Gaynes
215
Posted 03/09/2020 at 19:13:22
Tony, I'm gonna have somebody come over and slap you. I mean it.
Colin Glassar
216
Posted 03/09/2020 at 19:13:39
Is this Groundhog Day? I just got home and see there are no new developments. Only Everton, eh?
Paul Hewitt
217
Posted 03/09/2020 at 19:27:17
Everton must have the longest 24 hours in history.
Conor McCourt
218
Posted 03/09/2020 at 19:30:35
Yes, Paul, even Kiefer Sutherland refused this role on stamina concerns.
Tony Everan
219
Posted 03/09/2020 at 20:08:13
Kiefer passed it to Eddie Murphy, and said ''It's Everton, it's gonna take 48."
Victor Johnson
220
Posted 03/09/2020 at 20:36:06
They say a day is a long time in politics; with Everton, that same day feels like a bloody eternity!
Bobby Mallon
221
Posted 03/09/2020 at 20:50:41
Joe @ 217,
And Gbamin and Mina!
Tony Everan
222
Posted 03/09/2020 at 21:27:55
Bobby, Joe,
They got lucky and miraculously were healthy for a few hours on medical day. I think we need to invest in a top-of-the-range MRI scanner so we can have a good butchers at what's going on inside.
Kunal Desai
223
Posted 03/09/2020 at 21:50:01
Doucouré medical complete. Announced tomorrow. Wonder if this is part of a triple unveiling and who will be the sad one donning the nasty green jersey?
Geoff Lambert
224
Posted 03/09/2020 at 22:08:25
Niels Nkounkou could well be our best signing this window. I think this guy looks like a great prospect.
Gary Carter
225
Posted 03/09/2020 at 22:08:27
Why is everyone talking about who we can get rid of in our midfield because we have made three new signings, we've signed 1 player so far, a French left-back for the U23s so at the moment we can't afford to lose any of our crap midfielders, get a grip people!
Geoff Lambert
226
Posted 03/09/2020 at 22:10:19
Gary! It's ringfenced, in the bank, sorted, get real lad...
Will Mabon
227
Posted 03/09/2020 at 22:20:29
There was film of some of Richarlison's medical at Finch Farm. Maybe we'll see more.
Bill @ 91:
Good! No more bad news for now.
John Raftery
228
Posted 03/09/2020 at 22:39:15
Joe (217),
As far as I can recall, James McCarthy's appearance record was very good at Wigan.
James Flynn
229
Posted 03/09/2020 at 22:44:55
Joe (217) - Those 3 were Ironmen compared to Arouna Kone.
Injured on arrival and we waited, what, 18 months before we saw him play? Basically one-legged.
I cannot see how the medical staff missed the fact he had a bum knee.
Peter Thistle
230
Posted 03/09/2020 at 23:13:13
Allan, Doucouré, Gomes – not a bad midfield with Rodriguez and Richarlison either side.
Derek Knox
231
Posted 04/09/2020 at 07:04:11
Peter @233,
I agree but, without sounding ungrateful or greedy, I hope we recruit a few more. I think we can cope with the centre-backs we have with Mina (if fit), Keane and Holgate plus Branthwaite and hopefully Lewis Gibson, who I rate fairly highly.
If we could get Emerson (right-back) and Edouard too, it would be a total transformation. I don't know about whether Pickford can be relied upon for another season, or whether we could do with back-up, or replacement (Romero or Rulli).
Colin Glassar
232
Posted 04/09/2020 at 07:25:56
All Three Amigos should be unveiled this afternoon.
Dan Nulty
233
Posted 04/09/2020 at 07:32:29
If Colin says it, I can start to get excited...
Andrew Ellams
234
Posted 04/09/2020 at 07:39:23
James, Kone wasn't injured on arrival. He bust his knee a couple of games into his career. One of those things in football.
Steve Shave
235
Posted 04/09/2020 at 07:49:46
Colin has spoken! :)
Derek Knox
236
Posted 04/09/2020 at 07:56:56
Steve @238, they don't call him Glasstrodamus for nothing! :-)
Andrew Ellams
237
Posted 04/09/2020 at 08:14:09
Have we nearly signed anybody else yet? About time we got a full-back and a centre-half in.
Christy Ring
238
Posted 04/09/2020 at 08:26:17
Joe #217,
There was nothing wrong with McCarthy's medical, he played 39, 39 & 37 games, including League Cup, in his first 3 seasons. Then he had hamstring problems, but Martinez kept rushing him back.

Ken Kneale
239
Posted 04/09/2020 at 09:52:43
Kev – 'Kenwright saves Everton from success' would be appropriate and accurate...
Alan Johnson
240
Posted 04/09/2020 at 11:31:58
This smacks of Mr Showman antics...
Tony Shelby
242
Posted 04/09/2020 at 12:57:32
I understand that Everton now insist on new players' contracts being written in copperplate script by bona fide trappist monks, hence the delay...
Craig Walker
243
Posted 04/09/2020 at 14:47:48
Have Mueller, Riquelme and Ravenelli signed yet?
The club certainly knows how to keep its fans waiting doesn't it?
Tony Shelby
244
Posted 04/09/2020 at 15:08:50
Craig (246) - Benni McCarthy is there too.
James Flynn
245
Posted 04/09/2020 at 15:32:34
Andrew (237) - I know that. I'm talking about when he came in with Roberto. He was out injured immediately. Somehow that bum knee of his wasn't detected during the physical, which makes me wonder if he even took one.
Nothing against Kone, though. Alcaraz was a joke signing, but I thought Kone was going to be a pretty good one to add to our attack.
Mike Connolly
246
Posted 04/09/2020 at 15:56:48
Christy @241,
More like Martin O'Neill and Roy Keane rushing James McCarthy back.
James Flynn
247
Posted 04/09/2020 at 22:52:55
Mike (249) - McCarthy's downhill slide is on Roberto.
One of those games in the Europa when we were wearing out Wolfsburg. Mac had been out with little niggling hammy problems, then a more serious one. Then he's sent out to play that game. 15 minutes in, he's walking holding on to the back of his leg.
There's a fair argument that James should have taken better care of his career. What we know is, Club or country, when they called his number Mac suited up and went out there. A fellow like that needed to be looked after a little bit by management.
He was not, especially by Martinez.
He was Roberto's boy, no question. Martinez brought him out of Scotland's weekend pub league into big time footy, then took him along to Everton.
Then fucked him over.
Sukhdev Sohal
248
Posted 05/09/2020 at 11:04:33
James, I mentioned that a week ago too. Martinez angered me so much when he was here.
Kunal Desai
249
Posted 05/09/2020 at 17:50:10
He'll be officially announced on Monday.
James Flynn
250
Posted 05/09/2020 at 00:01:55
Sukhdev (248) - Yes.
I'm no big fan of McCarthy. As I've mentioned more than once, without Roberto signing Barry, we would have wound up with Fellaini out and Mac in.
Not good.
With that, baseline requirement for we supporters being when players come out there wearing the shirt, they bust their ass for it they'll get respect.
McCarthy earned his.
Jack Convery
251
Posted 08/09/2020 at 15:27:32
Abdoulaye Doucouré is a new Everton player, here-we-go confirmed. Total agreement reached with Watford and paperworks signed. The club is already preparing the official announcement. After Allan and James it's time for @abdoudoucoure16. 🔵🤝 #EFC #transfers

Jack Convery
252
Posted 08/09/2020 at 15:41:09
Marinez tried to blame the physio and sacked him.
Rob Halligan
253
Posted 08/09/2020 at 18:34:26
He's on board.
---
Add Your Comments
In order to post a comment, you need to be logged in as a registered user of the site.
Or Sign up as a ToffeeWeb Member — it's free, takes just a few minutes and will allow you to post your comments on articles and Talking Points submissions across the site.