Sigurdsson heads list of players Everton would sell this summer
Thursday, 3 September, 2020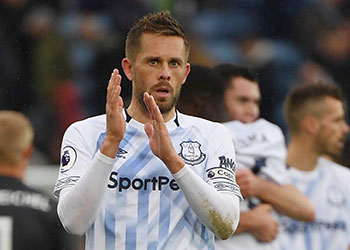 Everton will listen to offers for a few first-team regulars as well as fringe players who spent last season on loan as the club continues its preparations for the new campaign.
With three new signings expected through the door this week totalling a reported £60m-plus, Director of Football, Marcel Brands, will be under pressure to recoup transfer funds before the transfer deadline.
According to Paul Joyce of The Times, one of three go-to journalists for Everton's communications team, Brands would consider bids for any or all of Gylfi Sigurdsson, Theo Walcott, Fabian Delph and Bernard.
Muhamed Besic, Sandro Ramirez and Yannick Bolasie, who have been available for the past couple of seasons but have been sent out on loan, are also on the "transfer list" at Goodison Park.
Should Allan, James Rodriguez and Abdoulaye Doucouré all arrive before the start of the season, the Blues will be overloaded in midfield, making the likes of Sigurdsson, Delph or even Tom Davies potentially surplus to requirements.
Davies has been mentioned in terms of a season-long loan move of his own, perhaps to the Championship. Meanwhile Sigurdsson, Everton's record signing who has generally failed to live up to his billing since joining in 2017, has been the subject of talk linking him with a move DC United in America at the end of his contract in two years' time.
---
Reader Comments (128)
Note: the following content is not moderated or vetted by the site owners at the time of submission. Comments are the responsibility of the poster. Disclaimer
Bill Gienapp
1
Posted 03/09/2020 at 03:01:40
I think we can all agree who's on the list. The question is how to get them *off* the list (and out the door).
Kieran Kinsella
2
Posted 03/09/2020 at 03:04:19
It's a long list. About 35 on it with the Under-23s.
Mike Gaynes
3
Posted 03/09/2020 at 03:33:21
Not surprised at any of these names, and while the transfer fees are important, I'd bet Marcel is even more motivated by the fact that getting all four out the door would save £400,000/week in salaries.
I also think he would at least listen to reasonable offers for Gomes if Carlo is willing.
Iwobi, Davies and Gordon are perfectly adequate reserves and their combined salaries are less than £100,000/week.
Chris Mason
4
Posted 03/09/2020 at 03:52:29
I think Bernard would be a great squad player at No 10, but his wages are just too high to sustain. If we can shed at least five of seven, it would be a good window.
Adam Oakensworth
5
Posted 03/09/2020 at 04:45:43
Mike #3 - I disagree about Iwobi. He's one of the worst players to ever pull on the blue jersey. I'd take any offer for him in a heartbeat. Gomes has been mostly played out of position and has a level of class and ability that Iwobi could only dream of.
Paul Kernot
6
Posted 03/09/2020 at 05:15:11
Money apart, I personally think Bernard offers more than Iwobi. I was surprised we bought him in the first place but now he's just added to a long list of average players who offer very little.
Alan J Thompson
7
Posted 03/09/2020 at 05:23:04
Even though we've near enough signed three midfield players, I think we need at least six in the first-team squad which I think would be Gomes, Gordon and Davies. I wouldn't include Gbamin until his recovery is complete and quite possibly retain Delph as possible cover for several positions.
As yet, it is all wishful thinking without approaches from interested buyers or (is loanees a word?) others.
Jerome Shields
8
Posted 03/09/2020 at 05:24:37
Everton need to move out the players on the list and more to reduce loses in net profit at the end of this financial year. Getting rid of the players on the list would result in a profit, even at greatly reduced transfer fees.
Everton have a new youth development policy, but they will still have to offload those that are not making it, such is their finances. .
I would put Pickford (hopefully the rumours are true regarding a targeted goalkeeper) and Mina in the list as well.
Good luck, Michel Brands.
Mike Gaynes
9
Posted 03/09/2020 at 05:26:28
Adam #5, I actually expect both to stay, since Carlo likes 'em both.
But look at this from Marcel's perspective. Gomes is on a whopping £112,212/week, for which he has produced one goal and three assists in 49 games.
He has also produced approximately 187 stupid fouls around his own penalty area, at least three of which have cost us points.
None of this is new -- I watched the guy play probably 40 or 50 times for Barca. All he's got is great first touches and elegant crossfield passes, both of which James does much, much better. Don't get me wrong, I think Gomes is a wonderful guy, but if you think he can't be sold, I think you're dreaming.
Iwobi is three years younger, costs less than half as much per week, and has about the same dismal level of production -- 2 goals, one assist in 29 games -- while also being played out of position.
Obviously it's ultimately Carlo's call, and again I think probably both will stay, but if it comes down to shipping one and keeping one, it'll be no contest.

Mike Gaynes
10
Posted 03/09/2020 at 05:29:48
Paul #6, we didn't buy Bernard, he was a free transfer. I agree with you that he's the better player than Iwobi. But at £120,000 a week he's our highest-paid player, and Marcel's gotta want to get him off the books given his limited goal production.
Jerome Shields
11
Posted 03/09/2020 at 05:56:46
Mike, I agree also regarding Gomes and think Iowbi will be kept. I think Iowbi will improve with better players around him and will benefit from Ancelotti's coaching.
Definitely put Gomes on the list. Mina changed his agent in June.
Benjamin Dyke
12
Posted 03/09/2020 at 06:08:41
I think it's going to take a miracle to shift these players as they're mostly on silly money and they're not young and not producing on the pitch... why did we end up in this position, overpaying for average players?
Good luck, Mr Brands. Keep up the good work!
Chris Fidler
13
Posted 03/09/2020 at 07:13:25
Davies, Tosun and Iwobi need to be offloaded too.
Sam Hoare
14
Posted 03/09/2020 at 07:20:45
So much deadwood! Their high wages mean it will be hard to find homes for the likes of Sigurdsson, Bernard, Bolasie, Delph and Sandro.
It could be that they are loaned out with us still picking up 30-50% of their wages which is what happened to Sandro and Bolasie last year.
Much easier to buy than sell in this window so Brands will have to be creative.
Adam Oakensworth
15
Posted 03/09/2020 at 07:22:15
Mike, I respect your opinion but I just feel that a fully fit Gomes with quality players around him could play at a higher level. I just don't see anything like that potential with Iwobi. As you say, Carlo will ultimately decide and I trust his judgement, whichever way he goes.
Ken Kneale
16
Posted 03/09/2020 at 07:27:43
Mike G said this about Gomes when we signed him and has been, sadly for Everton, correct – for that reason, he can go too. His really stupid and often costly fouls are a very negative part of his game and very detrimental to his overall contribution to a game and he is easily nullified by the opposition. The fact he often looks elegant is irrelevant – he is flattering to deceive most times he is on the pitch.
Neil Cremin
17
Posted 03/09/2020 at 08:06:50
Be careful of what we wish for. The last time we bought in a large number of players from outside leagues, there was the same excitement – only to realise that many of them couldn't gel as a team or adapt to the demands of Premier League football. Hopefully Carlo can manage this transition – unlike Koeman.
Richard Parker
18
Posted 03/09/2020 at 08:11:30
I'd keep hold of Bernard, with a better midfield around him I'd be keen to see what he can produce now. The black hole in the middle of our team killed us going forwards and gave no protection to the defence.
I'm not convinced that Calvert-Lewin is up to the task, nor Iwobi or Kean. However, it would be really interesting to see how they play now. Also these new signings (barring last-minute up-fucks) should hopefully settle our defence & Pickford.
Unless there is a really great opportunity to sign a top-class striker or centre-back, I wouldn't be surprised if our incoming business is pretty much done now. It would make sense to bed these 3 in and then re-evaluate who is going to step up with a better midfield and who is still not up to the task.

Christy Ring
19
Posted 03/09/2020 at 08:14:39
Brands is going to find it tough to get rid of Sigurdsson because of his massive contract; Delph for the same reason and because he's constantly injured... and Bernard because he's on £120k – but they have to go, as well as Ramirez, Besic, Tosun, Wallcott and Iwobi was a panic buy.
I wouldn't sell Gomes; back in his proper position, he would fit in with our new signing. But the deadwood have to go.
Jerome Shields
20
Posted 03/09/2020 at 08:19:46
Richard #18,
Because Bernard was brought in on a free transfer, his sale would help the bottom line. Everton have to sell players.
Richard Parker
21
Posted 03/09/2020 at 08:31:10
Jerome #20,
It doesn't matter who we sell, in terms of bottom line. We have a set of assets, some of which are more valuable than others and each of those assets has a cost – wages and any ongoing transfer payments.
If we sell Bernard for £10M or Kean for £10M, apart from wages, the net result is the same – £10M in and ongoing payments out for Kean to Juventus.
Trevor Peers
22
Posted 03/09/2020 at 08:39:55
It's going to be a fascinating start to the season watching these new guys bed in and seeing if it adds to the entertainment value of the team that's been badly missing. For so long now watching the blues had become a chore, a bit like shopping with the missus.
I still have doubts about the goalscoring aspect of our game unless Carlo has a new striker up his sleeve. I think huge pressure will fall on Gomes now to become more productive in terms of goals and assists. I can see Sigurdsson, Bernard and Walcott getting some game time, it's up to them to shine if picked.
Getting rid of players on long contracts will and has become a nightmare; signing these new players has only added to the problem. Let's see if Brands can earn his corn and shift the deadwood.
Mal van Schaick
23
Posted 03/09/2020 at 08:51:53
Great news that Ancelotti has seen what we have all seen, under-performing players who are happy to pick up the cash with little effort or commitment.
I agree with the list the sooner they are gone the better and also good news that we are rebuilding with Ancelotti's targets, aside from the three we know about, I would like to see two more in midfield and a striker.
Peter Roberts
24
Posted 03/09/2020 at 08:56:34
One of the things we moaned at last season was the lack of options and quality in the squad. We appear to have addressed the latter but need to be careful of a fire sale, as we won't address the former otherwise.
In terms of who is surplus to requirements the below are all shoo-ins:
Sandro
Besic
Tosun
Bolasie
Which leaves us with a number of players who could be useful squad players but whose wages are too exorbitant to justify keeping as just squad players:
Bernard – I don't think he ever has adapted to the Premier League, a shame because I think there is a decent player in there. He can go for me and shed his wages.
Walcott – occasional flash of what he can do still and a hard worker. A victim of being bought by Allardyce and a panic buy. Contract expires next year, could we try and offer him an extension on reduced wages, or offload him to a lower Prem club?
Iwobi –- see Walcott, but replace Allardyce with Silva. A useful option on the right-hand side but I wouldn't be averse to one of him or Walcott leaving.
Sigurdsson – the enigma that is Sigurdsson. Last season was a strange one (does he fit Ancelotti's system?) but useful as an option in midfield, a number 10 or the left wing.
Gomes – again, had a down year last year (not helped by his horror injury), I still think we have a player there and would keep him as an option backing up Doucouré and Allan.
That leaves us with the kids – Davies, Kean and Gordon – who I would keep for the fact they are still developing, talented though they are.
Petur Leifsson
25
Posted 03/09/2020 at 09:02:20
I don't think it is as easy as most of you are predicting here. If you consider how Ancelotti selected his team last season, Gylfi Sigurdsson was always on the starting team sheet, so Ancelotti must still consider him very important for the team?
If Ancelotti was unhappy with Gylfi, he would have left him out... which he never did (except games when Gylfi had minor injuries as Ancelotti stated him self). Buying three midfielders means Ancelotti will use Gylfi out left and probably James out right with the two strikers.
It is also seems very obvious from team selection last season that Ancelotti seems to trust Walcott (and even Gordon) better than Bernard and Iwobi? I would like to see some proper analysis of this as we can learn lot from how a manager acts in a real situation and we happen to know already a lot about that here?
Mark Boullé
26
Posted 03/09/2020 at 09:18:32
I don't have it to hand right now, but who else was in our midfield on the day that Gomes ruled Anfield for most of the match (yes, the day of that cursed Origi goal in the 96th minute)?
That player, strong as an ox, driving us forward, cutting out opposition players with passes between the lines, has a prominent role to play at Everton. Surely if he can be left largely without defensive responsibilities (Doucouré's and Allan's jobs) he can rediscover that verve...?!
Tommy Clarke
27
Posted 03/09/2020 at 09:25:19
Looking forward to the new season. Carlo is getting things done.
Pat Kelly
28
Posted 03/09/2020 at 09:43:29
To the 7 listed above I'd add Iwobi and Davies. Of the 9 we'll be lucky to offload 2 or 3.
Ray Jacques
29
Posted 03/09/2020 at 09:52:24
The signs are promising, but it will take Carlo 3 years to sort out the mess.
Jerome Shields
30
Posted 03/09/2020 at 09:57:39
Richard #21,
In the case of Bernard nothing is owed, so the transfer fee is a bonus and there is a saving in wages.
I would not agree the selling of Kean is a good idea. . . but amortIsation cost and wages costs deductions would have a positive effect on the bottom line if he were sold.
Clive Rogers
31
Posted 03/09/2020 at 10:01:52
Iwobi has been tried in various positions and didn't seem a fit in any. I don't really know what he is supposed to be but he is certainly not a winger. Bernard has struggled with the physicality of the game especially away from home. Sigurdsson's legs have gone.
Fran Mitchell
32
Posted 03/09/2020 at 10:14:31
I would assume the Ancelotti is preparing for a 3 man midfield.
Bernard has proven to be just too lightweight, too ineffectual. Not quick enough, not enough vision. He'll be back to Russia, Brazil, or off to China.
Sigurdsson, while not the worst, but he'll want first team football I'd assume and won't be happy at being benched, despite being deserved. As well as his huge wage. I'd imagine a few Premier League teams would be interested, if he reduces his wages.
Delph I feel would be decent backup to Allen, but again will want to play, is probably on big wages, and hasn't really fit in here and won't be missed.
Gomes could well flourish alongside Allan and Doucouré (with Rodriguez more of an attacker than midfielder). If he can regain his form.
Iwobi again, in the middle, could flourish in this new look midfield. He's still young so worth persisting with for another season and see if he improves.
Davies could do well with a loan, maybe to Watford. First team football, week.in week out in his position. Either he flourishes and comes back a top player, or we know he never will.
Gbamin we just need to wait. We really have no idea.
Walcott – no place in the team if we do play 3 in midfield. His days as a forward are well behind him, his only use is as a winger. He's on a big wage. Problem is: Who will take him?
Graham Hammond
33
Posted 03/09/2020 at 10:28:46
There are so many players that need to be offloaded which Marcel Brands has failed to do thus far, Sigurdsson being just one. I do have some sympathy for the player in that he has frequently been played in positions and asked to play roles which he is clearly not suited to do and which do not use his relative strengths.
Where I lose sympathy for Gylfi is the hiding during open play, he isn't alone here but it does my head in!
Richard Parker
34
Posted 03/09/2020 at 10:39:36
Midfield 3 of Allan, Doucouré and Gomes (with Delph, Davies and Gbamin as back-up) and a front 3 of James, Richarlison and one of Calvert-Lewin, Iwobi, Kean or Bernard... that's some improvement over our last line-ups.
Michael Kenrick
35
Posted 03/09/2020 at 10:41:47
I struggle a little with your logic there, Petur (#25).
Ancelotti was having to pick the best of a bad bunch and make do. If he will now have some new players to choose from – players he actually wants, no less – I think there will be a different approach to selections with (I very much hope) less of Sigurdsson, Walcott, Bernard and Iwobi – who were astoundingly ineffective last season – and more of these new names (if they ever actually sign).
But unfortunately, there's no guarantee that any of them are going to be any good. I think that's what watching Everton under Ancelotti so far has taught me, sadly.
Watch this space...
Tony Everan
36
Posted 03/09/2020 at 10:55:12
Most of these players could do a job for a lower/mid table Premier League team. They have a bit of quality that could make the difference between relegation and staying up.
The problem is for the most part the wages they are on. Some of them will have to be sold without a fee as long as the buying club pays the remainder of their wages.
Delph: sell, Leeds £5M
Sigurdsson: sell, Newcastle, or similar, £10M+
Walcott: sell, Crystal Palace, or similar, £5m;
Tosun: sell, Fernabace or similar £5-10M
Bernard: keep for squad unless acceptable fee
Gomes: keep for this season see how he gets on
Iwobi: sell, mid-table club £10-15M
Davies: keep for squad unless acceptable fee
Kean: definitely keep unless Juve or Roma pay acceptable fee
Bolasie: sell, free to anyone who will pay his wages
Besic: sell, ditto
Sandro: sell, ditto
Kenny: overlooked by Carlo, sell to Shalke £8M
Gbamin n/a
Maybe one or two could be used for player swap or plus cash deals that favour both clubs. I would like Brands to investigate getting one or two younger dynamic players in to supplement the squad and really push the senior boys for starting places. There is still a month to go in this window and now we are in a much stronger position now to explore one or two creative deals without conducting them under duress.
Benjamin Dyke
37
Posted 03/09/2020 at 11:22:22
Did anyone check Fat Sam's bank account when the Tosun deal went through...
I guarantee you that he either bought a house a car or both on the back of that deal.
Bobby Thomas
38
Posted 03/09/2020 at 11:33:25
Bernard and Gomes are players that don't produce, flatter to deceive and are poor value for their wages.
Bernard is arriving at the point in his contract where any value he holds will sink each window. We took him on a free and can perhaps get £8 - £15 million for him. He should be sold whilst we can get something decent.
As for Gomes, off the back of the injury and without a chance to get properly up and running to demonstrate what he's got left, I'm not sure who'd take him right now. What's he worth? Impossible to tell. My first impression is that the injury seems to have robbed him of that little half a yard he possessed and that he's now very (even more?) static. If that remains the case long term then getting his wages off the books could prove difficult. I can see it ending up as a £5 - £10 million back to Spain or Portugal in a or year or two.
We will definitely keep Iwobi. He's 24 years old and a year into a 5-year contract. He has talent and at his age still has scope to improve. Yes, we have obviously overpaid. But he's quick and can play. However, he needs to mature fast and improve his consistency, decision making and productivity. Nailing a position or a defined role would be beneficial. I think there's a player in there and that, under this manager and in the right set-up, the bandwagon jumpers could be proved wrong under.
Craig Walker
39
Posted 03/09/2020 at 12:11:26
I think Sigurdsson and Walcott could be good signings for the MLS. Bernard is too ineffectual in the Premier League. I'd probably just about keep Delph out of that lot. He was considered decent by Pep and might do better with better players around him.
I'd get rid of Davies at the first opportunity. The only attribute he has is that he is Alan Whittle's nephew. Agree with Adam above about Iwobi: awful player.
Conor McCourt
40
Posted 03/09/2020 at 12:26:56
Interesting that many are championing the sale of André Gomes. Whether we should have signed André is a much more valid debate considering his inability to stay sound since his Valencia days and produce his best on a consistent basis but the suggestion that Brands or Ancelotti will cash in is ludicrous.
Firstly, André will still be our highest quality midfielder by some distance as we saw last spring when he plays, we play. Neither Allan or Doucouré could ever play for Barca or star for Portugal as they aren't of the same level.
Secondly both Brands and Ancelotti love the player with both waxing lyrical and Carlo overplaying him after his terrible injury and whether matchfit or not when able he started and finished.
Thirdly his recent form. It would have been difficult enough to get up to match speed considering he was supposed to be out til next January, such was the serious nature of the injury, but allied to this he was clearly mismanaged by expecting him to play in a two for ninety minutes with either the equally laborious Sigurdsson or young Tom. It would have made much more sense that when he played it should have been in a three with Holgate and either Gordon or Iwobi in front of him and more sparingly to build his confidence.
Fourthly, and most importantly, Brands signed Gomes AFTER his loan spell meaning that the Dutchman was happy with his overall contribution in that first season. Therefore it is illogical that he would abandon ship purely because of that horrendous misfortune where this season's form is largely immaterial and understandable.
Comparisons with forward players or his goal or assists returns will have no bearing on whether we would sell or not.
Colette Black
41
Posted 03/09/2020 at 12:28:00
The first three to go have to be Delph, Davies and Sigurdsson. With those three, it's like taking a lame chicken, a pet lamb and a wet rag to a gunfight.

Andrew Ellams
42
Posted 03/09/2020 at 12:37:36
Colette, say that happens and either Allan, Gomes or Doucouré get crocked in Week 1. Where do we go from there?
Colette Black
43
Posted 03/09/2020 at 12:46:26
We have Holgate who played there admirably last season, Andrew – plus Gbamin hopefully coming back, and we would still have plenty of others who we can't shift.
Mike Gaynes
44
Posted 03/09/2020 at 12:49:37
Andrew, you'd still have Bernard, Gordon, Walcott and Iwobi to choose from.
But Colette... Holgate played there "admirably"?? It was one game! And it wasn't under Carlo, who has never played him anywhere but centre-back.
Simon Harrison
45
Posted 03/09/2020 at 12:54:51
Benjamin Dyke [37]
That's an inane comment, as the Tosun deal, was driven by Moshiri all day long,as Moshiri loved him since Tosun dragged Besiktas back against AS Monaco; scoring all three Besiktas goals against ASM in their Champions League games.
Anyone still denigrating Brands needs their heads testing.
Everyone, of course, is entitled to their opinion. Personally, with the constantly changing landscape, vis-a-vis board interference, and finding himself in a near 'mission impossible' with the substandard squad he took over, the manager situation, and the lack of a clear strategy; just goes to show that all elements need to be in place.
The only thing thus far that Brands has failed on the acquisition element of his job, is missing out on Gabriel; which, might have been a blessing in disguise, since after that Carletto became more involved.
His next role is getting the academy up to U18 and below in line to what is required for the first team. He's also brought in Branthwaite and Nkounkou, who though are not the finished articles at 18 and 19 years old, look nearly as good as their first-team counterparts.
Then hopefully next season, the Unsworth roadblock can be dealt with, on the back of a better season.
If you look at TalkSport;
Premier League done deals: Every completed transfer in the 2020 summer window
This shows you who has been let go by Brands so far.
As for the rest; using Tony's [36] list from above, and using speculation from media sources;
Delph: keep, utility player (Best stats of all our centre-midfielders last season)
Sigurdsson: sell, MLS DC United, £16M
Walcott: keep, until we get a right-winger
Tosun: sell, WBA (£9M?) and three sides in Turkey are interested... unfortunately injured.
Bernard: keep for squad or sell with an acceptable fee
Gomes: keep for this season see how he gets on (tout him around for next summer)
Iwobi: keep and play him in the centre top of the park; his best position
Davies: loan out, or sell (Newcastle £12M)
Kean: definitely keep, and develop
Bolasie: sell, free to anyone who will pay his wages (as stated in the media, Brands will let him go)
Besic: sell, "According to the Liverpool Echo, the Bosnia international is a wanted man and has offers from Spain, Italy, Germany and Turkey."
Sandro: sell, Eibar want him, and 5 other Iberian clubs as well, and Everton are willing to let him go on a free. Unfortunately, there's that word again, his wages are the problem.
Kenny: overlooked by Carlo, Schalke loan or best offer £5-8M... but not this summer, Schalke are broke.
Gbamin n/a (Won't be fit until after New Year at the earliest, may be best to leave him till 2021-22 season)
It looks like Gibson will be going to Huddersfield on loan too; whilst Branthwaite stays with the U23/1st XI setup like Nkounkou.
Away from Everton...
Sangare is still on the market for circa £9M, and if believed, Everton are still monitoring him. Shouldn't we have bought him at 22, and at that price, that Doucouré? Any responses welcome.
Some interesting news is that Thomas Lemar (right-winger) has rejected a move to FC Porto and favours a move to the Premier league (with Everton in mind). Mind you, Wolves also want him.
Barca have set a price of €16M for Rafinha.
We're also being linked with Spurs' Juan Foyth (right-back, centre-back) and PSG's Dagba (dependant on Arsenal selling Bellerin) (right-back)
We also might still go after Barca/Betis defender Emerson too. (right-back)
Lots to talk about, let's hope Brands and Caretto continue their excellent work thus far this summer.
Colette Black
46
Posted 03/09/2020 at 12:58:14
Shush, Mike - you're not supposed to say that! I was thinking more of central midfield, but since you mention it, we have many wide options too.
Brian Murray
47
Posted 03/09/2020 at 13:04:55
The thick of the midfield seems a bit too much for Davies but you have to admire he tries the through ball all the time and doesn't hide or fade like Sigurdsson, Delph, or Walcott. There's a player in there and maybe as a full back...
Andrew Ellams
48
Posted 03/09/2020 at 13:14:51
Mike, I'm not sure any if those players are really up to the job in the centre if midfield. Iwobi and Walcott would be top of my departures list.
Soren Moyer
49
Posted 03/09/2020 at 13:20:21
From that list, I would keep Bernard and add Iwobi into it!
Mike Gaynes
50
Posted 03/09/2020 at 13:22:01
Sorry, Colette, I'll keep my voice down.
Simon, good post... just remember that keeping Bernard, Delph and Walcott means keeping £300,000/week in salaries. That's a pretty heavy hit for subs.
Jason Li
51
Posted 03/09/2020 at 13:25:39
Some obvious ones like Besic and Sandro to sell.
My 3 first team players to sell would be: Bolasie, Sigurdsson, Bernard only... because...
Tougher calls will be Bolasie or Walcott. One has to stay so that Brands has time to find a 2nd right winger within the next year.
Sigurdsson goes. Gomes stays. Gomes cross for Walcott for the headed goal a few months ago shows he does have moments of mobility and class in the opposition half, and can even play in front of Digne.
Bernard, I'd like to sell if Gordon is the main man for left midfield today and onwards, plus knowing Iwobi played his best football there for Arsenal as an option, and Gomes can cross a ball out on the left – left foot or come inside and on right foot.
I wouldn't sell Iwobi as in a defensive set up, he's very disciplined, and we'll need this as we take on big teams in Europe from next season, even more in away games this year as we try for an old fashioned Italian 1-0.
Davies stays, it's a squad game and he's going to get plenty of game time if Sigurdsson leaves: FA Cup, Europe next season.
Steve Ferns
52
Posted 03/09/2020 at 13:42:42
Hilarious to see Gomes's knockers using goals and assists to run him down. How can you measure him on this when he's never high enough up the pitch to actually shoot or get an assist?
Gomes has been used by his two Everton managers and his Barcelona manager in a very deep position. He's usually the deepest of the Everton midfielders and is used primarily to get the ball off the defence and initiate attacks.
Okay, when we complete these imminent signings, you'll see that Doucouré in particular can initiate an attack and keep going up the pitch in a way Gomes can't. Neither Allan nor Doucouré have Gomes's long passing ability. They'll be higher up the pitch than him, with maybe one or both only deep alongside him against higher quality opposition.
Forget the stats when it comes to Gomes. The only stat that can measure his output is the xG and xA chain ones, and I think they are misleading as it just counts touches of the ball in a move leading to a chance, not the quality of the touch.
With higher quality of teammate, we should see more quality from Gomes. He won't need to take the pace off the ball because the recipient cannot control it. He'll be able to hit those full force passes into feet that currently only the likes of Digne can take in his stride. These passes don't just look good, they are very effective and can put the wide players in a real position to create a chance. Because that's Gomes's role. Not to provide assists, but to open up the pitch and put players into positions whereby they can play someone else in because Gomes did all the hard work for them.
Brian Williams
53
Posted 03/09/2020 at 13:42:48
Sigurdsson would be top of my list because he's sooooo slow most of the time and he's on big wages.
Walcott and Iwobi would be next because they both constantly shit out of tackles and 50/50's and cowardice is one thing I just can't stand from a player.
Besic and Sandro? I'd try for a BOGOF deal with anyone who's interested in either.

Alex Gray
54
Posted 03/09/2020 at 13:49:33
I don't rate Walcott like many on here but I can't see us selling him. At the minute, he's the only right winger we have with pace.
Colette Black
55
Posted 03/09/2020 at 13:57:16
Agreed, Steve. Gomes is head and shoulders above the rest of our current midfield.
Andrew Ellams
56
Posted 03/09/2020 at 14:05:27
Alex, that's my concern with the 3 players coming in. Individually all great but it could leave us lacking in the pace department if Rodriguez is part of a three with Richarlison and Calvert-Lewin.
As I stated above, I'd move Walcott and Iwobi on before anybody else but the squad does need an injection of pace too.
Sam Hoare
57
Posted 03/09/2020 at 14:12:40
André Gomes continues to be a divisive player!
I agree that he is (or was) our most talented midfield player but the issue is that he has just not showed it enough. Hopefully he can show it more if we bring in some better players and he can get fit but if Carlo plans to play 4-4-2 then I suspect he may find himself on the bench a fair bit, especially if Gbamin ever returns to full fitness. Gomes is not the right fit for 2 men in the middle, especially post injury.
Supposedly he is our 3rd highest-paid player on £112k per week. He needs to start earning that every week rather than with one sumptuous game per month. I suspect that a great deal of this squad would be sold if the right offer came in and I think the likes of Gomes, Bernard, Pickford and Sigurdsson who are the highest earners along with Mina could all be up for grabs in an effort to reduce the wage bill; but I'm not too sure who would pay their asking prices.
Kieran Kinsella
58
Posted 03/09/2020 at 14:28:14
Too many excuses for Gomes. Steve Ferns says there is only one stat you can judge him by and even that is "misleading" and he looks bad because his teammates lack skill.
What was the excuse then at Barcelona? Messi has better control then Digne but I didn't see Gomes looking any better than he has at Barce.
So we look back to Valencia when evidently everything was set up perfectly to make Gomes look good. Well on that basis we should keep Sigurdsson until we recreate the exact set up from Swansea. Or get Schneid back and recreate the exact dynamic he had at Southampton.
The reality is that you're rarely going to have the perfect teammates and tactics to suit a player. Even if we did have that for Gomes then how do we eliminate his bumbling performances like the one early last season at Wolves where he seemed like Bambi on ice?
Stuart Sharp
59
Posted 03/09/2020 at 16:28:25
I am absolutely staggered that some people would keep Iwobi rather than Gomes.
I agree that Gomes has been inconsistent, and there is a debate to be had about why, and the extent to which the quality of those around him might affect his performances... but Iwobi HAS been consistent. Consistently shite. Okay, he may get better, but what have people seen to make them believe that?
To my eyes, he has been marginally less shite when played centrally, but so many of our moves break down when he gets involved that I'd rather not risk waiting for him to improve. He has driven me completely nuts.
Gomes shows regular flashes of class, and alongside Gueye put in some impressive performances. I know who I'd rather gamble on.
Petur Leifsson
60
Posted 03/09/2020 at 16:38:47
Thanks Michael, 35
My point is that Gylfi is not just used now as holding midfielder as coach Ancelotti also seems to prefer him in team selection out left when available for that or restoring him in No 10 hole. Ancelotti obviously chooses Gylfi in those attacking positions rather than Bernard, Iwobi and Gordon if he is not needing him for midfield, right?
So, due to this, it makes no sense he is now going to sell the player he trusts best for three roles on the pitch! The coach would rather offload those players he does not use much or am I misunderstanding?
Tony Everan
61
Posted 03/09/2020 at 16:42:31
Gomes could be the player who is elevated the most next season. He will be fitter and stronger and fully recovered. With Allan and Doucouré deeper behind him, James and Richarlison stretching the midfield Gomes will be picking up the ball and finding that tiny bit of space he needs to perform. He will become a key player next season in that role.
An interesting discussion should be had about the big increase in chances that will be created for Calvert-Lewin next season. He has real talent around him to deliver quality balls and crosses into him. He has to bury the numerous good chances that will be inevitable; it's a big season coming up for Dom.
Conor McCourt
62
Posted 03/09/2020 at 16:54:00
Kieran, I think there is a really negative view of Gomes's time at Barca because he was hailed as the next Xavi and the next big Barca superstar and he clearly failed to deliver and was ultimately driven out of town.
However, in the cold light of day, don't forget he was a key figure of that squad in that first season which narrowly missed out on the title and only Busquets and Rakitic of the midfielders got slightly more game time and indeed he was often a preferred starter over Rakitic, Iniesta and Turan. He played more than Milner for example did this season.
How many of our current squad would play over 50 games for Barca? Digne was an irrelevance there, he barely played even in the cups and when he did he was atrocious defensively so much that they didn't even replace him when he left. Mina likewise couldn't get a kick.
Just because Gomes failed at Barca is no discredit to him as, even if Richarlison did move there, he hasn't yet achieved as much in his career say as Dembele did and yet the latter is also struggling to cut the mustard.
Personally I thought his first season at Goodison mirrored the team with a decent start, terrible first winter in the Premier League and a sparking finish. I would put a line through last season and judge him from now to see whether he is another terrible signing or a quality player who had valid excuses.
Frank Thomas
63
Posted 03/09/2020 at 17:12:44
I am not sure why people think Iwobi is any good. he constantly loses the ball in attack, cannot make incisive passes that reach their target and cannot defend.
The real worry for me is Calvert-Lewin. How many times has Calvert-Lewin missed sitters from headers? In Digne we have a player that can put the ball onto your head and now we are buying another winger who can create chances from nothing but we need forwards to put them in.
After the lockdown when EFC were on the TV, Calvert-Lewin managed to hit the post with a header when the commentator said it was harder to hit the post than to score. I watched that attempted again and noticed that Calvert-Lewin closed his eyes before the ball touched his head. He seems scared of the ball. He scored 4 headed goals last season which put him in the top 5 goal scorers but we have a team that is set up to produce crosses. Contrast that with big Dunc's 9 headed goals in one season. Enough said of Mina's total dominance in the air for corners but failure to put them in the net.
To qualify for Europe next season we need to score more headers from open play and from corners. With that aerial dominance it will allow our fleet-footed players to score more goals.
Petur Leifsson
64
Posted 03/09/2020 at 17:43:51
I think Frank 63 is spot on here - Calvert-Lewin is very much overrated as despite his physique for running and jumping he seems far behind best strikers in shooting, dribbling and creating, in fact on almost all fronts except for winning areal duels.
I often wonder why Everton is not putting Mina right up front as he could probably do even better if this is the main requirement for Everton No 9? Calvert-Lewin has his advantage while he does not assimilate to a top Premier League striker in any way.
Also, you are right about Iwobi as he has showed almost no quality in his game and Ancelotti seemed to lean more on Walcott and Gordon out right last term.
Adam Oakensworth
65
Posted 03/09/2020 at 17:45:01
Huge career-defining season ahead for Calvert-Lewin. With Richarlison, James, Gomes et al playing around him and one of the best coaches in the history of the game on the sidelines, he has no excuses not to score 15-20 goals.
Adam Oakensworth
66
Posted 03/09/2020 at 17:54:12
Also, a lot of talk about Carlo supposedly liking certain players but he had his hands tied last season with a choice of bad vs very bad so I suspect that some of his regular starters from last season will be lucky to sit on the bench this time around.
Mike Gaynes
67
Posted 03/09/2020 at 17:57:59
Adam #65, yes he does. With Richarlison scoring 22 and the new midfielders combining for 16 or so, there won't be enough left over!
Kieran #58 and Conor #62, great debate points on Gomes. Steve's point at 52 that you can't judge him just one goals and assists is a valid one, yet the fact that he produces virtually none of either cannot be simply dismissed. Would he originate more moves that resulted in goals if he were farther up the pitch or his teammates were more talented? That's a hypothetical we've never been able to answer, but might with the new midfield talent around him this season.
My take is that for all his skills, he's never, ever the best player on the pitch for an entire game. He is a complementary piece. Now he has something to complement, so let's see if he does. Personally I am not expecting him to improve much, but I would love to be surprised.
Stuart, I didn't see anybody "advocating" for keeping Iwobi over Gomes, just pointing out the financial circumstances that might make it something Brands would consider.
Petur Leifsson
68
Posted 03/09/2020 at 18:19:40
If I were to speculate on what may happen I assume this will be a midfield of three players – Allan as holding and Gomes and Doucouré on either side. Up front it could be Richarlison on top with Gylfi and James on either side behind him creating and shooting.
I think Calvert-Lewin will mainly be a sub, as a striker used for appropriate assignments (when Everton needs someone up front winning areal duels/ marking). Everton also needs a top defender as Mina is so injury-prone.
Steve Ferns
69
Posted 03/09/2020 at 18:45:10
Petur, Allan's biggest asset, the thing you will notice the most, is that like Gueye, he is everywhere. He'll get all over the pitch and close down and put tackles in. This, like for Gueye also creates another problem. If, like Gueye, he's doing it on his own, then you can simply pass around him and he's left a space in a key area of he's the holding midfielder. If you handcuff him to make him hold position, then you're taking away his best asset and not getting the full extent of the player. He needs to be able to get forwards and press and tackle. Which means someone else covering behind him.
Sure Doucoure could play a much more disciplined role then I ever saw him play for Watford. Admittedly, I don't watch Watford every week. Doucoure scores a lot of goals because he gets forwards as well. He also has mobility that we've been lacking.
So it makes sense to me that if this is your midfield trio in a 4-3-3, then you have your slowest player play the position that doesn't require as much mobility. If you look at stats for holding midfielders like Matic, you'll see that they don't set records for winning the ball. They are often guarding space and making the ball go down the flanks.
I can envisage a scenario that Gomes plays in a holding role in the way that Jorginho played it. He's another defensive midfielder with little defensive talent and all his skills in a more attacking sense. But both can take the ball off the defenders and move it quickly and sensibly around the pitch to catch the opposition with their pants down and do real damage.
I agree that Gomes isn't suited to a midfield 2 in a rigid 4-4-2 (straight lines). But he's suited to a midfield 3.
Playing against top sides, I doubt he'd sit behind Doucouré and Allan, but against bottom-half sides, where we have more of the ball or at least want to, then this is how I expect us to play. Against a top side, I'd expect all three to sit deep.
Petur Leifsson
70
Posted 03/09/2020 at 19:12:26
Thanks Steve 69,
Very interesting points you state here and I can agree on most of it as far as my knowledge can reach for now as I know less of Allan than you seem to do. My idea was that he was more like Kante.
As for Gomes, he is a top player while his flaw is that he can only function as a No 8 distributor of the ball while he has neither mentality nor capacity as the No 6 or No 10 as it seems. So all ideas of using Gomes in a more defensive or attacking role make no sense to me after watching him for a whole season.
When attacking Gylfi for example is much more dangerous than Gomes can ever be. To me, a classic No 8 is the only useful role for Gomes so if Allan and Doucouré are such players as well something has to give in?
Steve Ferns
71
Posted 03/09/2020 at 19:16:57
I don't think anyone, including Gylfi and the new signings, have a comparable range of passing to André, Petur. I clearly hold a higher opinion of André than yourself.
Conor McCourt
72
Posted 03/09/2020 at 19:26:10
Mike as usual you and I don't agree on anything even though there's a healthy respect and we always have Moise Kean to fall back on as we both love that player.
My thoughts are that I totally understand where the likes of yourself and Sam are coming from in that he will never be a truly elite player because he will never have the stats to back that claim and I wouldn't think he will ever change Sam's mind as I doubt he will dramatically improve them.
Where I slightly differ from yourself is that I believe if we can keep him relatively fit he won't be the liability he has been both last winter and this season. As we all know when he's bad he's bloody awful and so this is why I say his condition is the key.
I believe if Andre is healthy we could expect a similar season to last year without the winter meltdown where half would be decent and half would be electric. I believe more than any other player he makes us tick and we need endeavour around him so that he can dictate the play and boss the game. The amount of opposition fans that praised Gomes and Gana to me because they controlled the play was quite unusual for me to hear especially as most support the better sides.
I don't totally disagree with your theory that he has been a complementary player but my feeling is that he can also be an effective player as long as he maintains sharpness as he hasn't got the attributes to coast hence why so far results-wise we have been more effective without him.
Steve Ferns
73
Posted 03/09/2020 at 19:34:47
I don't think anyone, including Gylfi and the new signings have a comparable range of passing to André, Petur. I clearly hold a higher opinion of André than yourself. But don't worry, you're in good company with Mike and Sam. They probably know better than me.
Mike Gaynes
74
Posted 03/09/2020 at 19:35:16
Conor #72, I wouldn't disagree with a word of that.
The one area where I criticize Andre most sharply is where he commits his fouls. There have been times the last two seasons where if he gave up one more free kick inside 30 yards from our goal, I was gonna fly over and slash his tires.
Brian Harrison
75
Posted 03/09/2020 at 19:37:39
I think Gomes's best spell was when Gana played along side him, that freed him up from a lot of his defensive duties. He will never be effective without a defensive midfielder along side him.
Now we have got Doucouré and Allan – 2 players who get around the park. I think you will see Gomes with Allan and Doucouré on either side, and I think Ancelotti will then have Sigurdsson to come in when Gomes needs a blow.
I don't think Carlo is very excited by Iwobi or Walcott or Bernard out wide, and maybe Gordon is too young to expect him to play wide for many games on the trot. So it will be interesting to see how he fills the opposite wing to Richarlison.
Paul Burns
76
Posted 03/09/2020 at 19:38:10
Can't we just sack players for not doing their job?
It should be written into contracts that a minimum goal return is expected of all outfield players. Most of ours should be ashamed at their disgraceful failure to trouble the scoreboard over a long period. We've had centre-halves that have scored more in a season than our entire midfield put together.
John Pierce
77
Posted 03/09/2020 at 19:47:28
I'm on one hand truly excited for the first time in ages our incomings have a clear balance to them and are plugging the holes most of us would have gone for.
Having Rodríguez in the side highlights for me Carlo's intention to control games and play higher up the pitch. I think that might mean Gomes spends more time on the bench or plays when we set up to counter-attack given his long-range passing is extremely good.
Perhaps Carlo will go with a high pressing side with a high line to allow Allan to shine and Rodríguez to prosper, and as an alternative sit deep and counter against sides better than us? That would be my guess. If that's the case I'm still worried about the lack of pace in our back line, because sitting deep doesn't suit Allan or Rodríguez. Fingers crossed we get a pacy centre back. 🤞🏼🤞🏼🤞🏼
Gary Ashworth
78
Posted 03/09/2020 at 19:53:20
I think the club is very conscious of players on high salaries, who aren't considered starting XI players, taking up much-needed finance for the newbies.
Personally, I feel Iwobi and Tosun could be used in a player(s) plus cash for Zaha. The rumours about Branislav Ivanovic have gone quiet, but he has a history with Ancelotti and would be a free transfer. Sergio Romero could be an option (as Pickford needs competition) and probably wouldn't command a high fee, maybe even a loan. I also like Josh King since he's flexible enough to play on the wing.
Then it's a case a trying to offload quite a few players who won't get a game at all this season - Lössl, Pennington, Besic, Delph, Bolasie and Sandro. Davies loan move is a good idea. I'd like to keep Bernard, but understand his salary is high and I'd like to keep Walcott.
Drew O'Neall
79
Posted 03/09/2020 at 19:56:23
They won't all go so what does a list provided to the press do to the morale of those who remain?
John Pierce
80
Posted 03/09/2020 at 20:07:48
For those slating Iwobi, to be fair, he's given you good reason to. However, he above all others on the pitch tries forward passes, always attempts to dribble beyond players (invaluable in a squad were we don't have dribblers as a rule) and never stops doing so. His execution may have made it easy to slate him but in comparison to others who have hidden in plain sight, he is not the flop many think he is.
I get it's exasperating when he fluffs a 10-yard pass a la Barkley or kicks the ball like a 5-year-old! However, he's constantly up there as the most threatening player for us. Sadly when he's bad, he stinks, eclipsing even Sigurdsson sometimes.
Mix in his age, the cost to the club, I'd be very surprised to see him leave. For me with some comfort stays in the squad next season.
Dennis Stevens
81
Posted 03/09/2020 at 20:17:06
I'd have thought there can be very few members of the squad who wouldn't be allowed to leave if a decent offer came in. The big problem is getting the offers!
As many clubs will be tightening the purse strings, we may end up sending a lot of players out on subsidised loans just to reduce the wage bill a tad.
Bill Fairfield
82
Posted 03/09/2020 at 20:50:24
I'm not at all interested in which individual leaves, as long as we end up with a balanced team playing great football.
Sukhdev Sohal
83
Posted 03/09/2020 at 21:06:23
Bernard is miles better than Iwobi, and I will accept Bernard isn't amazing. Iwobi is absolute garbage. I've never seen a winger or attacking midfielder not be able to dribble past a player but he's the first. Seamus used to dribble past 3 or 4 players at once.
Petur Leifsson
84
Posted 03/09/2020 at 21:07:05
Thanks, Steve @71,
In fact, we are mainly in consensus on this as I also think highly of Gomes for his vision and distribution. Yet I still find he is only comfortable as a Pirlo player in the midfield.
Gomes does not like to tackle any more than Gylfi – and he cannot shoot the deadly balls Gylfi constantly does... and in fact, Gomes hardly scores goals, right?
Graham Hammond
85
Posted 03/09/2020 at 21:29:56
Mike #74,
Like Conor, I do not agree with everything you say and I think we have had differing opinions in the past on both Sigurdsson and Pickford but I do think you are spot on with what you say about Gomes and where he concedes free-kicks.
André Gomes is (for me) a defensive liability and should not be anywhere near the team in a 4-4-2 formation or a 4-3-3 formation because of it. A 4-1-4-1 possibly, a 4-2-3-1 in the central position of the '3' is more apt, a 4-3-2-1 in one of the '2' positions also but ultimately nowhere near the defence!
If we could defend, my thoughts maybe a little more accommodating and inclusive regarding Gomes.
Jack Convery
86
Posted 03/09/2020 at 21:31:44
I'm expecting an arl arse centre-forward to be signed on a 2-year deal plus a goalkeeper, right-back and maybe just maybe a right-winger depending on how much of the dry rot can be removed from Finch Farm.
The 3 coming soon are just the start and a good reason why a lot of the players downed tools after the restart. Obviously their parasites – sorry, agents – were informed their clients' services would no longer be required come September.
As long as Allan is more Ball than Biley and James is more Bond then Sid we should be fine.
Mike Gaynes
87
Posted 03/09/2020 at 23:16:38
Graham #85, the problem is that Gomes has attacking-midfield skills, but no attacking-midfield instinct. His instinctive position is right where we don't want him defending -- lying deep.
Even when he gets into a central attacking position around the top of the area, he rarely looks to shoot. He is capable of ripping one, as he showed with the one goal he scored for us, but not one of his 16 career top-level goals has come from distance. He's likewise quite passive with his passing from there -- he looks first to spray the ball wide rather than play one through for the strikers or attack off the dribble.
I have absolutely no idea where Carlo will play him in our new alignment.
Christy Ring
88
Posted 03/09/2020 at 23:35:37
Petur,
Nothing personnel, but I'm guessing you're Icelandic, because, in your opinion, Sigurdsson can do no wrong, but you'll have to go to SpecSavers: this season, he's been an embarrassment.
And trying to say he's better than Gomes... utter nonsense.
The reason Carlo wants James is to replace him, not to play with him.
Colin Wordsworth
89
Posted 03/09/2020 at 23:38:54
The last time Watford played us at Goodison Park with Gana in the side, he was totally bossed and bullied by Doucouré and Watford were unlucky to draw the game. As for Gomes, he is far too slow for the Premier League, just as Bernard is too weak.
Iwobi played his best game (in my opinion) against West Ham at home with Davies playing behind him and playing quick balls forward. Our midfield all last season was just not quick or athletic enough.
Tom Bowers
90
Posted 03/09/2020 at 23:41:22
Surely to God these three signings and the lad at left-back, à la left-wingback, will be part of a revival.
However, the problem is up front because, if Richarlison gets injured, then there isn't a proven prolific goalscorer to pick up the slack.
Sure there are players who can step in but can they produce what is needed?
Calvert-Lewin has a lot of heart, Tosun? Walcott? Bolasie? Kean? Sandro... I cannot really see these guys getting more the odd goal even if they get a few games. We need another Tony Cottee or Peter Beardsley.
Graham Lloyd
91
Posted 04/09/2020 at 00:45:07
Lots of interesting opinions about Gomes on this thread. I have no idea where he will fit into whatever system Carlo has in mind for next season.
For what it's worth, I think we should hold onto him and see where (or if) Carlo plays him, assuming we land all three targets. He does give a lot of daft free-kicks away in dangerous positions but he has a terrific range of passes and was (IMO) the best of a bad bunch last season.
Maybe he moves to the left of a four-man midfield in a more attacking position rather than playing deep. Only time will tell but I think we have many other, higher priorities to get off the books before Gomes. (Sandro, Besic, Bolasie for a start!)
Petur Leifsson
92
Posted 04/09/2020 at 00:59:19
Thanks, Christy @88,
Yes, I am Icelandic and as opinionated as most Evertonians as such – I mean, you guys celebrate if Holgate, Calvert-Lewin, Gordon or Davies have a decent game... After all, this is football – not rocket science.
Yet I try my best to be objective and especially I try to watch carefully what the manager says and does. My conclusion is that Ancelotti will probably not sell Gylfi since he uses him in various positions for almost every game. Still Gylfi will probably have a less playing time next season being good as the guy seemed exhausted since he is almost never out due to injuries etc.
I'm just so surprised how many of you evaluate the player that was your top scorer and assister in 2018-19 just because he had an odd season now. Instead, you want to put all your trust on a player that has done almost nothing special since 2015 and has mainly been injured with high salaries.
This just does not make any sense to me but hopefully it will turn out okay, right? Gylfi is not better than Gomes and Gomes not better than Gylfi – they're different players – while James used to be better than both of them... but today? I am afraid not!
James Flynn
93
Posted 04/09/2020 at 01:01:22
Christy (88) - Open stupidity, even considering you're the "McCarthy is a great player." guy.
I like Gomes myself. But in every way measurable offensively, Sigurdsson is light years ahead of Gomes.
Comparing Gomes, who again I like, to Sigurdsson as an impact player is like comparing McCarthy to Fellaini. There's no comparison.
You have no idea about Carlo's intent to use Sigurdsson, James, or anybody else.
And perhaps the next time you go out of your way for 7-8 lines of drivel personally offending another poster, don't open with "No offense".
James Flynn
94
Posted 04/09/2020 at 01:03:49
"With Gana in the side, he was totally bossed and bullied by Doucouré"
Bullshit.
Geoff Lambert
95
Posted 04/09/2020 at 01:05:56
Tom Bowers, I have been saying that for weeks. We need a striker who knows where the net is or we ain't moving up the table. You can make a mistake in most positions and get away with it, but not in goal or in front of goal. We are weak in both positions and they need addressing first.
Geoff Lambert
96
Posted 04/09/2020 at 01:29:45
Colin #89, We were there for that game and I have to agree with you.

James Flynn
97
Posted 04/09/2020 at 01:38:59
Petur (93),
You're correct.
In the end, we don't know what Carlo's intentions are regarding Sigurdsson, Gomes, James or anyone else. No-one else in here knows either. Ring in particular.
Kieran Kinsella
98
Posted 04/09/2020 at 01:53:41
Petur & Gerry,
No harm in having a slight bias consciously or otherwise. I was rooting for Daniel Kinsella myself. At least Sigurdsson and McCarthy did better than him.
Jim Jennings
99
Posted 04/09/2020 at 02:01:04
James Flynn #94,
Do you even recall the game which Colin @ 89 is talking about?
Doucouré was head and shoulders above Gana and anyone else in our midfield. Gana was hauled off for Cenk with 20 minutes to play. Doucouré was Man of the Match. Have a look at the BBC match report for a reminder. Digne got a late free-kick and we absolutely mugged Watford of a point.
https://www.bbc.com/sport/football/46422266
Oh and James, blurting out "bullshit" to what was a perfectly valid post, exactly two minutes after you take the moral high ground to have a pop at another poster, just makes you look like a bit of a tit.
Mike Gaynes
100
Posted 04/09/2020 at 02:07:24
Petur #92, all respect for your patriotic support of Gylfi, but are you familiar with the colloquial English term "eating crow"?
Be prepared for a big meal of that ugly bird when you see James play. I happen to like Sigurdsson too, more than most here, but he isn't half the player James is, and it won't take long to see that. James is an elite talent. (And he is two years younger than Sigurdsson, who turns 31 next week.)
You seem to want to emphasize Siggy's numbers from 2 years ago, so okay, let's talk numbers. Courtesy of Transfermarkt.
Over the past three seasons, even with all the injuries and uncertainty and being in and out of lineups, Rodriguez has appeared in 81 games for Madrid and Bayern, playing 5055 minutes. He has 16 goals and 22 assists. That means he has been involved in a goal, either scoring or creating, every 133 minutes.
Over the same three seasons with Everton, Sigurdsson has appeared in 112 games, playing 8845 minutes, producing 23 goals and 15 assists. He has been involved in a goal, scoring or assisting, every 233 minutes.
But even that number is deceptive because Sigurdsson has scored five goals off penalties (earned by others), so either from open play or free-kicks, he has scored only 18 goals. That takes his goal involvement down to one every 268 minutes -- more than double James' number of 133. (James hasn't taken a penalty in the past 3 years.)
So assuming they're both healthy, based on 3 years of past performance, we should expect that even this off-form version of James will produce twice the offense that Sigurdsson will in equivalent minutes.
And if Carlo can get him back anywhere close to his former best... oh, my.
Phil Sammon
101
Posted 04/09/2020 at 02:27:35
Mike 100,
I don't disagree with your general opinion but there's a lot less goals to be involved in at Everton than there is at Real Madrid and Barcelona.
There's also the problem that your projection is 'assuming both are healthy'. Sigurdsson has James beaten all ends up when it comes to actually being fit enough to get on a football pitch.
I've been a big fan of Sigurdsson all his career and I'm pretty gutted the way it's turned out at Everton. My one last hope is that he can finally get some form for us with better players around him.
I'd take him every day of the week over headless chickens like Walcott and Iwobi, that's for sure.
Bill Gienapp
102
Posted 04/09/2020 at 02:36:07
I don't know... if funds need to be prioritized, I find it hard to believe that we'll be looking to spend big money on a striker, just to force Calvert-Lewin onto the bench.
I know Calvert-Lewin has his share of doubters on here, but the fact is, the guy scored 13 goals this past season. With better, more consistent service from our midfield, I would expect 15 goals to be a realistic expectation. Are we really going to go out and splash £50 million on a guy who *might* score 3 or 4 more for us?
And that's best case scenario, incidentally. West Ham spent £45 million on Haller last year and most people thought they'd pulled off a major coup. He scored 7 goals for them.
What if Arsenal offered to sell us Lacazette? A very good striker, but he's basically averaged 12 goals a season for them over the last 3 years. £30 million could just as easily net us another Cenk Tosun, because that's the sort of pond you're fishing in for £30 million.
Calvert-Lewin certainly has his issues and needs to keep improving, but having someone young and cheap, who can hit double figures, is an asset. We shouldn't be so quick to take him for granted.
Steve Ferns
103
Posted 04/09/2020 at 02:49:42
Mike Gaynes
104
Posted 04/09/2020 at 02:59:29
Agreed, Bill #102. I'm one who was in agony when the Hammers went after Haller and we didn't. Especially when he scored 3 in his first 3 games. Then he fell off a cliff. Glad we didn't go for him, or most of the others we've supposedly missed out on.
That said, we're both gonna look pretty dumb if Richarlison picks up a long-term injury. So I wouldn't mind if we added an older guy like a Costa, Cavani or Higuain at a lower cost just to convert some of what Rodriguez will create.
Phil #101, you're certainly not wrong about the comparison between those clubs and Everton, but I don't recall a whole lot of really great Sigurdsson passes that weren't converted. Like you, I hope he stays and rejuvenates, but I don't think he'll be amenable to the bench, and I don't think Marcel will want to pay £100,000/week to a reserve. So, if he can't maintain a place in the starting 11, I'm pretty sure he'll go.
Kieran Kinsella
105
Posted 04/09/2020 at 03:08:38
Mike
How about Suarez? That would send the RS fans wild.
Phil Sammon
106
Posted 04/09/2020 at 03:26:49
Mike 104
Sorry Mike, I meant Real Madrid and Bayern Munich... not Barcelona.
Yeah, he definitely didn't create enough. That's been a massive problem for us for way too long. I'm staying optimistic because I've seen Sigurdsson has quality. We just don't see it nearly enough. I can't help but like the guy for some reason. I just want him to come good.
Jamie Sweet
107
Posted 04/09/2020 at 03:51:12
Mike 100. While I don't dispute that James is the superior player, your stats are not exactly fair on Sigurdsson.
Over that 3-year period, the teams James played for averaged a goal every 38 minutes. We averaged a goal every 72 minutes.
So, using logic similar to yours, if Gylfi had been playing in those teams which scored almost twice as many goals as us, he would probably have been involved in twice as many goals.
So, considering your stats show he was involved in half the amount of goals as James, I believe – once you double his output to account for the respective teams they were playing for – the only logical conclusion is that they are almost exactly equal!
I think.
Note: I am not a fully qualified statistician.
Kieran Kinsella
108
Posted 04/09/2020 at 04:13:16
Jamie,
You could argue the opposite though. Maybe James's team had twice as many goals because of James specifically. Maybe if he hadn't played then their goal ratio would have been only half as good. I'm not agreeing or disagreeing with you or Mike but just playing Devil's Advocate with the stats...
Jamie Sweet
109
Posted 04/09/2020 at 05:29:33
That has blown my mind, Kieran.
Sam Bowen
110
Posted 04/09/2020 at 07:04:34
We can't sell everyone, still need a squad. I'd keep hold of only one of Bernard or Iwobi. Both decent squad players but very similar in terms of contribution and output. I imagine Bernard would fetch a decentish fee so cash in on him. Iwobi is decent enough to fill in every now and then.
Delph can go from the midfield, doesn't contribute anything. Wouldn't mind giving Davies a good loan but he's also an adequate back-up squad player.
Sigurdsson, I'm in the minority but I think he's worth keeping unless a good offer comes in. Fantastic option from the bench if we're ever 2-0 up with 20 mins left. He's more than capable of coming on and bagging a few late goals or shoring up things. James's injury record is a bit of a worry too.
Still worried there's not enough pace in the side though so being totally greedy, Zouma, Arias and Zaha would top things off just nicely for me.

Mike Gaynes
111
Posted 04/09/2020 at 07:31:19
Kieran and Jamie, you have both melted some of my brain cells.
And it's not like I have any extras to spare. Thanks, boys.
Christy Ring
112
Posted 04/09/2020 at 08:42:53
James (#93, #97),
I wasn't the one who compared Gomes and Sigurdsson, and I never said McCarthy was the great player 'guy'.
As I say, we are all entitled to our opinion on this site; as for being offensive, try having a bit of decency, and call me by my first name, #97 Ring.
Conor McCourt
113
Posted 04/09/2020 at 11:25:45
Mike @74,
It's funny that you should use the expression that you would like to slash his tyres as the analogy that I think about Gomes when he's not up to speed is that he's like a Saturday Night Taxi Driver that gets there long after the girl you are hoping to meet has been and gone.
That's why I keep harping back to him needing to be close to peak fitness. When he was at Valencia and last Spring under Silva I don't remember him being this defensive liability we all perceive him to be. I know the stats boys may say I'm talking utter shite but it's just something I've always thought.
When André is super fit he gets about the pitch brilliantly almost in second gear and seems to read the game wonderfully well, positionally excellent and finds the game so easy to him as he is always in control both defensively and offensively. He is not the speediest over 5 yards but covers the ground at that one pace which he seems able to maintain.
When he is missing that 10% it's almost like he knows he's a good player and can't make the adjustments to stop him from becoming destructive to the team. When the likes of Schneiderlin or Delph play they don't get in more advanced positions to seek the ball as they know they can't get back so they offer nothing progressive or destructive hence a neutral effect.
When André is good he seems to be a real positive offensively while defensively really sound. When he struggles for fitness he offers nothing going forward and becomes a nightmare defensively because he still takes up those positions where he is too slow to get back.
Personally I don't feel he is the terrible tackler he is made out. When he is in his box or goal side he very rarely gets done or gives cheap fouls in that scenario like a headless chicken. These constant stupid fouls seem to be about recovery where he is wrong side and has to barge into the back of his opponent or attempt to stick out a leg because he knows he can't let him go unchallenged either. The issue seems more positional to me and having the speed to recover than being a dodgy tackler.
I think with the options Carlo will have he should not be playing Gomes unless fit and sharp. I just hope he shows the ruthlessness that someone like Arteta clearly displays.

Petur Leifsson
114
Posted 04/09/2020 at 12:19:24
Thanks Mike @100 – as now we are approaching talking about football in a professional way as should be – and I have no capacity to meet your standards there when it comes to statistics. Yet I would lean on the strong arguments posed above by Phil @101 and Jaimie @107 and Sam @110.
Besides, I would like to add that most of last season, Sigurdsson had to step in to solve the role of holding midfielder as Carlo seemed to trust him better for that than Tom Davies while the others are out due to injuries. This gap will now hopefully be met with Allan and Doucouré.
So, as for the comparison, I really doubt that you can use James for solving such problems in a team as Gylfi can, despite it not being his prime situation of course. Also this affects the stats of Gylfi playing so much out of position.
Finally we must also consider that Gylfi has a unique physique as he is almost never injured and can play more minutes for the team than most players can – James is no match with Gylfi in that regard!
Mike Gaynes
115
Posted 04/09/2020 at 12:35:09
Petur, all true, no question. Sigurdsson's durability in particular has been remarkable. It'll certainly be interesting to see if he keeps his position and, if so, where on the pitch Carlo positions him in relation to the three (anticipated) newcomers.
Alex Gray
116
Posted 04/09/2020 at 12:57:54
If the players brought in mean we play with a Number 10 I think Sigi will stay. If we plan on still being 4-4-2 (which I think when the new players settle we won't) then there's no need for him as he just doesn't fit and his wages can't justify him being on the bench.
Delph may be kept as he can play left-back which is cover we need if Digne gets injured.
I can see us trying to sell Bernard. I love watching him play but the lad just hasn't got the end product.
Bolasie, Besic and Sandro will be the main ones trying to be sold in my opinion. The huge issue is their wages. No team will be risking a transfer fee on players who haven't produced in years and also pay large wages. It comes down to these players being okay taking a huge pay cut.
FFP is a weird one – especially with the money we've lost due to coronavirus. With the three players being brought in, I believe we're massively unbalanced and need to sell to balance the books unless all the payments are being paid over numerous years and then there's still the wages issue.
We still need another winger and right-back depending on where James fits in but, until we get rid of 4-5 players, I don't think we'll see any incomings bar a loan.
Annika Herbert
117
Posted 04/09/2020 at 13:20:06
James@93, "Sigurdsson light years ahead of Gomes"!!? You must be watching a different game to me because Siggi has been absolute crap all season. He creates nothing and his so-called dead-ball expertise has been non-existent.
It's true to say Gomes has been inconsistent but he has had flashes now and again. Whereas Sigurdsson has just been non-existent, full stop.
Personally I hope Sigurdsson is gone sooner rather than later but that, of course, will be the manager's decision to make.
Sigurdsson was poor last season and I see no reason he will improve this coming season. Unless you count hiding on the pitch and waving your arms around as a quality.
Andrew Keatley
118
Posted 04/09/2020 at 14:54:41
Annika (117),
"He creates nothing and his so-called dead-ball expertise has been non-existent."
Didn't Sigurdsson get an assist from a corner, then score from two set-pieces in the recent draw against Blackpool?
Mike Gaynes
119
Posted 04/09/2020 at 15:16:12
Andrew, don't bother. Annika's long-held opinion is that Sigurdsson has been "absolute crap" from the day he joined Everton. Even during his 14-goal season.
Tony Everan
120
Posted 04/09/2020 at 15:26:15
Annika, not entirely true, Lukaku was quality and was an Olympic standard arm waver. He spent 50% of his time doing his windmill impressions, but the other 50% bursting the onion bag.
Annika Herbert
121
Posted 04/09/2020 at 18:24:21
Andrew @118, are you seriously counting a pre-season friendly as a good guide? One goal which was from the penalty spot? Even I could shine against them!
Yes Mike, it is a long-held opinion because it's true, despite your hero-worship of the player.
Graham Hammond
122
Posted 04/09/2020 at 18:33:36
Mike #119,
Sigurdsson was crap last season though and was poor so often and is poor in open play due to his 'hiding' and relative lack of pace.
Whilst I have some sympathy for Gylfi for being asked to play out of position as he often has, that does not make him a £40M player either. Annika may not like the player but that does not make your opinion any more correct, we are all entitled to our opinions because they are exactly that, just opinions.
Gylfi did do relatively well in the season prior to last but nothing alters the fact that he is clearly a signing that we should not have made.
Peter Jansson
123
Posted 04/09/2020 at 19:10:47
I have not read everything in this thread. But I want to mention that I believe that Gomes is by far the best midfielder we have (before incomings) and we need to keep him.
And yes, Gomes has been crippled of not having good enough players around him in midfield. We seriously have not had a single other midfielder with good passing ability except for Gomes since he came to the club.
Gana Gueye could not pass the ball, Davis not good enough, Sigurdsson not a midfielder etc. The only forward diestributor has been Gomes and that had made it easy for opponents to target him to cripple our game. And that has happened a lot. Hopefully he is now almost fully recovered after the horrible injury.
With better offensive possibilities in the midfield Gomes will have more space, which will most likely we be very good for both him and our team. I don't care about his wages. We need to keep him.
About the rest of the midfield lot, I am not sure of who to keep. Gordon of course, but the rest? I don't think we can let Walcott leave until we have another quick winger in the door. I think Walcott provides a glimpse of football quality. Bad days, yes... but, when his self-esteem is good, he can play well.
Davies and Iwobi have not been good enough. They are still relatively young but need to improve quickly if to keep.
Sigurdsson, even though he can pass the ball and take set pieces, it is difficult to play football when you don't run fast anymore.
Delph, is only a backup, and thats it.
Bolasie – I am not sure if he is as bad as many think. He looked good at Blackpool. But I guess we sell him. He is not top class but I don't know if Bernard is a better player.
Bernard – I don't know why he is underperforming. He must suffer from bad self-esteem or something since he can play football. He is just stuck somewhere, needs to improve.
David Currie
124
Posted 04/09/2020 at 19:23:48
Annika and Graham, You are both correct and we should never have bought him for that price. I don't think he ever scored even one free kick for us in League or Cup game. I hope he leaves the club and we get him off the pay scale.
Christy Ring
125
Posted 04/09/2020 at 19:41:23
Anika #117, I agree completely, on both counts! Maybe I do know a little more than James gives me credit for, and I completely understand Petur, defending one of his own. I did the same with Macca.
Derek Cowell
127
Posted 05/09/2020 at 09:50:03
Why do some people on here suggest that some of our worst players would do well for a lower half Premier League team? It makes me laugh because we are a lower half team and they haven't done it for us! Our worst are Championship level at best.
Ed Prytherch
128
Posted 06/09/2020 at 01:17:17
I look at it from a point of view of who offers something extra compared with the starting 11.
Siggy is worth keeping for his dead ball skills and ability to score from outside the box. His free kick against Blackpool was sublime. The season before last, playing in his preferred position, he was our joint top scorer
Bolasie showed fire and determination in his cameo against Blackpool and did it again today. Definitely worth keeping.
We will keep Walcott for his pace and ability to get behind the defensive line but he is not a 90 minute player.
Gomes is our safest player in possession and our most accurate passer so he stays.
We really do not know how Gbamin will be until he is fully recovered from his injuries so he stays on the books for the time being.
Delph, Iwobi, Davies, Besic, Baningime and maybe Bernard are surplus.
We seem to be about right with defenders and strikers except for the obvious Sandro and Tosun who need to find a new home.
Annika Herbert
129
Posted 06/09/2020 at 15:43:14
Ed@128, what dead-ball skills? Sigurdsson has yet to score from a free-kick in any meaningful game for us. Yes, he has scored a few from the spot but his free-kicks have been abysmal.
Blackpool apart of course!!
---
Add Your Comments
In order to post a comment, you need to be logged in as a registered user of the site.
Or Sign up as a ToffeeWeb Member — it's free, takes just a few minutes and will allow you to post your comments on articles and Talking Points submissions across the site.