Holgate to miss Spurs trip
Thursday, 10 September, 2020
As expected, Mason Holgate has been ruled out of Everton's season-opening clash with Tottenham Hotspur but Carlo Ancelotti says that André Gomes and Yerry Mina are available.
Holgate sustained a toe injury in a lunging tackle on an opponent during the Blues' pre-season friendly with Preston and faces an as-yet unspecified amount of time on the sidelines.
The defender missed the last few games of last season with a shin injury and was deputised by young centre-half Jarrad Branthwaite but Ancelotti says that he thinks Mina, who was injured at the end of 2019-20 himself with a thigh problem, will be cleared to start alongside Michael Keane.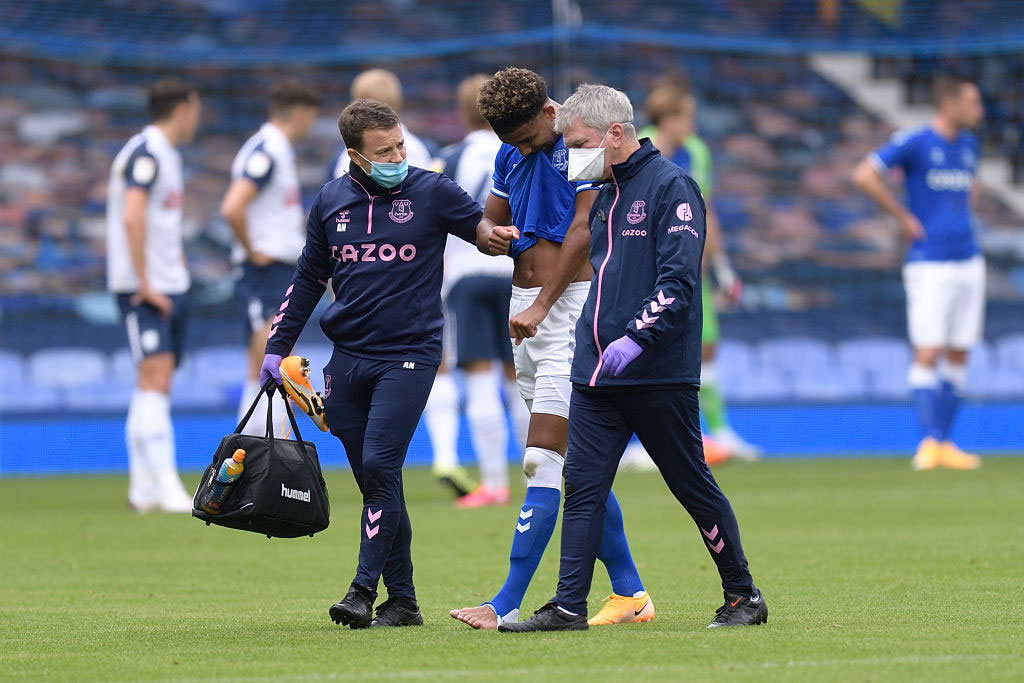 Mason Holgate limped out of the friendly with Preston with a toe injury
It had been anticipated that, together with Lewis Gibson, Branthwaite would be sent out on loan to play regular football and continue his development and that may yet happen before the transfer window closes next month.
Everton are known to be looking at strengthening in that area of the team and, having lost out to Arsenal for Gabriel, they have been linked strongly with a loan move for Fikayo Tomori.
There had been rumours yesterday that the club had reached an agreement with Chelsea to take the young England international for the season but, while negotiations are said to be ongoing, talk that he had already travelled to Merseyside for a medical was premature.
"I'm not aware of those conversations getting to a point where I will be talking about them," Chelsea boss Frank Lampard said of Tomori today in his press conference. "He trained today and is in contention for Brighton."
Ancelotti also indicated that Fabian Delph will be given a fitness test to see if he can be passed fit for the trip to North London. The midfielder has been working to get over a soft-tissue problem that has dogged him since June and forced him to miss all nine games under "Project Restart".
Gomes, who had to leave Portugal's Nations League training camp with a minor injury, has trained as normal and will be in Everton's squad for the weekend.
---
Reader Comments (90)
Note: the following content is not moderated or vetted by the site owners at the time of submission. Comments are the responsibility of the poster. Disclaimer
Steve Ferns
1
Posted 10/09/2020 at 15:45:28
This is going to be a tough one. Mourinho to go cagey and keep it tight and feel his way in. We need to do the same, otherwise they could pick us off on the counter. If we can keep it level going into the last 30 minutes, then James could come on to make something happen late in the game. Yes, I expect him to start on the bench.
Pickford
Coleman Keane Mina Digne
Allan Gomes Doucoure
Walcott Calvert-Lewin Richarlison
Tony Everan
2
Posted 10/09/2020 at 15:46:47
I expected a bit more detail about Mason's toe and how long he would be out for. It's a bit concerning he only 'thinks' Mina will be available, Jarrad better bring his boots on Sunday he may well be needed at some stage.
Steve , I think you have got the starting line up right there.
Kieran Kinsella
3
Posted 10/09/2020 at 15:48:47
Steve
Isn't Gomes injured? he was sent home by Portugal. I'd have though James is fitter at this point. If Carlo wants to work James in I would imagine Sig would be the man to play. Not that I would want that but just based on my sixth sense
Dan Nulty
4
Posted 10/09/2020 at 15:52:40
I'll be surprised if more than one of our newbies start, they've been training less than a week. Gomes I reckon was one of those mysterious injuries players suffer on international duty to miraculously be fine for their club.
I'm not overly confident at getting a result against spurs, I'd take a draw at this stage given their firepower and our goalkeeper. So looking forward to seeing the new signings. I've not been this excited since we got Lukaku.
Colin Glassar
5
Posted 10/09/2020 at 15:53:58
Who was it a few seasons ago who did something familiar and was out for months? I remember us doing daily updates on his big toe. I hope Mason is back soon as he's our best CB by a country mile.
Steve Ferns
6
Posted 10/09/2020 at 15:54:14
Kieran, Gomes has trained as normal since arriving back from Portugal. He just had a bit of a knock, apparently. It might also be that they just didn't think he was up to a game, maybe he's still not 100%, he certainly looked hit and miss since coming back.
As for Sigurdsson ahead of Gomes, you may very well be right. Particularly if Gomes is not 100%, and I'm not talking fitness wise here. He might be fit, but just not be back to his best.
Dan, Carlo already said that Allan is ready, and he's been with us since before signing last Friday. Doucoure declared himself fit and ready last night. James looks fit and ready. The former two, though, should be more match fit, and perhaps, James might need to feel his way back into regular first team football and a game against Mourinho's Spurs is not the right one to start in.
Harry Wallace
7
Posted 10/09/2020 at 15:56:44
Gomes came back not fit so unlikely to start. That leaves Doucoure and Allan in midfield with Walcott and Bernard. Up from Ric and Calv.
Santa Krsh
8
Posted 10/09/2020 at 16:01:18
Steve, Agree with your line up with just one change.. would love to see Iwobi in the hole playing behind DCL & Richy instead of walcott.. Seriously, I have seen him play wonderful through passes at Arsenal...
Duncan McDine
9
Posted 10/09/2020 at 16:02:07
Kieran, you barely have 5! Even I had enough sense to read Lyndon's write up stating that Carlo says Gomes (and Mina) are available... and I have very little sense at all. I hope you're wrong about Siggy starting (he's not my fave) but you never know - he and our other midfielders might respond positively to being effectively replaced. Stranger things have happened- like in that film where Bruce Willis befriends a young boy (weird enough already) but doesn't realise he's dead until the end I forget the name of that film.
Kieran Kinsella
10
Posted 10/09/2020 at 16:06:16
Colin
I think it was Yerry Mina? I know Keane injured his toe but he kept playing.
Steve
Yeah I see Docuore playing. The advantage he has is that he is well established in the prem. Whereas James being new here, Carlo may worry about Jose sending someone out to do a hatchet job on him and shake him up before he gets going.
I don't see much of a role for Bernard, Iwobi. With the three new guys in midfield none of them are wide boys. So four across the middle won't work. I suspect 4-3-3 with Walcott or Kean as the the third. Or wingbacks providing width with two up top. Either way I don't see where Bernard or Iwobi come into the picture.
Colin Glassar
11
Posted 10/09/2020 at 16:07:29
This has got draw written all over it. Neither team will want to lose.
Colin Glassar
12
Posted 10/09/2020 at 16:09:03
Long time before Mina, Kieran. It might've been Phil Neville or Tim Cahill. It was during the Moyes era.
Kieran Kinsella
13
Posted 10/09/2020 at 16:10:17
Duncan
lol. On Mina he said Carlo "thinks" Mina will be ready. Based on Mina's track record, if I see Mina anywhere other than in action I assume he is or will be unfit. So the "thinks" part is like a chasm of doubt to my mind.
Minik Hansen
14
Posted 10/09/2020 at 16:12:06
I believe this is a good game for James to get in from the bench, and even better if it's still even. Good opposition would suit him.
Jay Wood
[BRZ]
15
Posted 10/09/2020 at 16:22:34
In his joint presser with James, Carlo was specifically asked if he was happy with his full back cover (Nkounkou and JJK). He specifically replied that he was.
He was also asked if more incomings can be expected. Of course, he is not going to say an out and out 'yes'. Rather, he said the three signings we've made are what we wanted. The window closes on 5th October and maybe there could be more business if an opportunity arises, but he stressed he was happy with what he has.
James again impressed with his answers. Specifically asked how influential was Carlo Ancelotti's presence at the club in his signing for the Blues, he simply replied 'Mucho.' A lot.
James again impressed in his answers. His desire. His understanding of 'the project'. The need to win things at Everton.
Full presser here. Forward it to around 9m 30s to get to the actual presser.
Nathan Jones
16
Posted 10/09/2020 at 16:25:56
If we play a 4231 or 433 Siggy plays as an attacking midfielder he will do well, where is falls down is when hes asked to play defensive midfield, when he played there in 2018/19 he scored 12-13 goals with a similar number of assists (this is from memory but its about right). Even last year although he was far from good he he was at the top or close to the amount of yards covered per game, so hes not lazy. He is just a crap defensive midfielder.
As for holgate ive just got this horrible feeling its going to be one of those injuries that just seams to go on for ever.
Gomes was sent back with a small knock, he wasnt going to play so portugal alowed him to go back to the club, hes been training as normal.
Jay Wood
[BRZ]
17
Posted 10/09/2020 at 16:28:12
As for the game on Sunday, does anybody know if the same conditions exist as implemented for the rump end of the locked-out conclusion of last season?
That is, the away teams travel and play the same day, rather than overnight as would be the case in normal conditions?
This is a considerable mitigating circumstance that hinders the away team and helps the home team.
The last game v Spurs was a dreadful affair. Both teams extremely poor, only won on a fortunate deflected own goal by Keane.
Being the first game of a new season in a completely different football calendar and so little time for a proper pre-season, it's anybody's guess how games will go.
Be nice to see some of the new boys play right from the off though.
Jay Harris
18
Posted 10/09/2020 at 16:32:09
Anyone watched the behind the scenes series on Spurs and Mourhino.
Mourhino is encouraging them to be dirty bustards out on the pitch which may explain Sons tackle on Gomes last season.
I believe what goes around comes around and I wouldn't be disappointed if Son gets clattered early doors. Kane has looked short of pace since his injury but I am concerned about Moura and Son who can both run at defences and score goals.
I don't rate Mat Doherty nor Davies neither of whom are a patch on Kyle Walker and Danny Rose so I hope we can exploit the full back areas and with Vertonghen now gone and LLoris in decline I hope we can get a few.
Cant see us keeping a clean sheet so i'll go with 2-1 to us in a tight boring game.
Bobby Mallon
19
Posted 10/09/2020 at 16:33:08
Steve Ferns @ 1. Rodríguez will start and should start and he should play in the number 10 role. The team should and will be
Pickford
Coleman
Mina
Kean
Deign
Walcott
Dacoure
Allan
Richarlison
Rodríguez
DCL
James Stewart
20
Posted 10/09/2020 at 16:35:47
James will start. We don't have the depth to not start him, especially against the better teams.
More concerning, the pairing of Keane and Mina, which has never inspired confidence. Kane will be licking his lips. I would expect it to be:
Pickford
Coleman Keane Mina Digne
James Allan Doucoure Iwobi
DLC Richarlison
Jay Wood
[BRZ]
21
Posted 10/09/2020 at 16:37:08
Jay @ 18.
Carlo is asked in today's presser if he watched the Spurs documentary. He smiled and said he had, that it was typical of every professional football club and that Mourinho shows himself to be a good 'dressing room manager'.
Timothy Sebastian
22
Posted 10/09/2020 at 16:44:10
And so it begins.....
Tony McNulty
23
Posted 10/09/2020 at 16:45:49
Jay (18) Mourinho clearly told his players to take out Richarlison at every opportunity when we played them late last season.
He got fouled a number of times.
Carlo should be taking a leaf out of that unpleasant ex Manure manager Ferguson this weekend by calling in advance for "a strong referee." Putting a bit of pressure on the officials often worked for the Manure.
Jay Harris
24
Posted 10/09/2020 at 16:50:47
Jay,
Dont know if you can get the series or have watched it but I'm up to episode 4 and after Jose's initial motivational speech it seems some of the players are still disenchanted and Mourhino gives the same team talk before every game.
" I want you to play with confidence, grit and determination" and it wears off after a few games especially losses and there's even a couple of games where he asks Kane to do the team talk.
Thanks for that Covid link BTW it was very enlightening. I went for a retest yesterday and am Hoping to be cleared for normal service to resume although I do still get tired once ive been up for a couple of hours.
Hope you and the family are still doing ok..
Not at all what I expected but very interesting nonetheless with plenty of industrial language thrown in.
Kieran Kinsella
25
Posted 10/09/2020 at 16:54:27
Colin
I remember Cahill has Metatursal problems for a long time but didn't Hibbert have some kind of a "knock" also that mean he was "doubtful for the next game" every week for about the last two years of his career.
Duncan McDine
26
Posted 10/09/2020 at 16:55:07
Kieran, good point about Mina's fitness. We have a few like that in our squad unfortunately.
Jack Convery
27
Posted 10/09/2020 at 16:57:56
Extra strong shin pads for Richy. If Mina starts I wonder what the odds are on him coming off due to a strained muscle at some stage ? Expect Branthwaite to play a part at some stage.
My team
Pickford, Coleman, Mina, Keane, Digne
Walcott, Allan, Doucoure, Gordon.
DCL, Richarlson
Would take the draw now and no more injuries.
Jay Wood
[BRZ]
28
Posted 10/09/2020 at 16:58:14
No Jay, I haven't seen the Spurs documentary yet. Still looking for a source.
Nice to hear you are doing well. I hope the test results give you a clean bill of health. Got my 'sign off' from the neurologist just yesterday. After four months of deeply frustrating symptoms which prevented me from performing anything like a 'normal life', the last 3 weeks I've been symptom and drug-free. A corner definitely turned.
Glad you found the article interesting. As for this quote at the end:
'Not at all what I expected but very interesting nonetheless with plenty of industrial language thrown in.'
Are you talking about the Spurs documentary or the CV-19 article???!!! If the latter, I think I may have sent you the wrong link!
Keep safe! Keep healthy!
Kieran Kinsella
29
Posted 10/09/2020 at 16:58:49
Jay Harris
I feel like Jose has really done a number on Spurs. They were style wise a halfway house between City and the RS but he has turned them into a dour Moyes type of side. Hojberg, being the typical kind of industrious but limited player to destroy dreams. Consequently, I am not anywhere as worried about their goal threat as I was when the smashed us at Goodison a few years back.
Frank Crewe
30
Posted 10/09/2020 at 17:03:46
According to Lampard Tomori won't be loaned out. Chelsea won't lend him to us because it would simply strengthen one of their rivals. Apparently we could get Branislav Ivanovic for free. He's 36 but so was Gough and he turned out ok. I'm sure he would do as some extra cover on a one season contract.
Robert Tressell
31
Posted 10/09/2020 at 17:21:02
Really good to get the season started. And with the new recruits we can go to WHL feeling in good shape. Mourinho absolutely will target Richarlison. But we now have more quality, a range of optiond and hopefully a midfield that can give it back too. Hopefully Allan and Rodriguez will also help us stand up to referees too. Kenny seems like that sort of player too. We've been far too accepting for too long.
Should be a fairly cagey, even game. Maybe a 1-1.
Steve Brown
32
Posted 10/09/2020 at 17:47:04
Back to Holgate - a top centre back in the making and a leader at a young age. But he has been poor in the pre-season games v Blackpool and Preston.
Several dreadful mistakes in the first game and, in the second game, he got injured diving into a tackle after he'd lost control of the ball. Hopefully, he can recover the form he showed last season.
Tony Everan
33
Posted 10/09/2020 at 17:53:25
Just hope Martin Atkinson is fully clued up about Mourinho's systematic, rotated fouling on Richarlison.
With our new players giving us some much needed toughness, shape and creativity, hopefully Tottenham will have a bit more to worry about than Just Richie this time.
Steve Ferns
34
Posted 10/09/2020 at 17:59:44
Jay Harris @18, you can't blame Mourinho for Son's tackle. Pochettino was still manager. I can still hear him defending his angel "Sonny" who's "just not that type of player".
Kieran Kinsella
35
Posted 10/09/2020 at 18:07:48
Frank Crewe
Gough did a job for us but the task then was simply to avoid the drop. Ivanovic's is past it his mind has totally gone.
Bill Gienapp
36
Posted 10/09/2020 at 18:09:52
I'd be very surprised if Allan doesn't start. James I suspect will come off the bench. Doucouré I have no idea.
David Ellis
37
Posted 10/09/2020 at 18:19:40
Duncan @9 Stranger things have happened but you do realise that That Bruce Willis film didn't really happen. It's fiction. Sixth Sense was the name of the film.
Superman spinning the world backwards was also pretty strange.
Hugh Jenkins
38
Posted 10/09/2020 at 18:20:32
James might well play on Sunday - but, if not, there is a EFL cup game on Wednesday next week, so he may get his debut then.
Tom Bowers
39
Posted 10/09/2020 at 18:41:04
Spurs have deteriorated a bit and somehow it coincided with the loss of form of Christian Erickson, and injuries to Kane and Alli.
Yes Kane is back and a threat but the centre back partnership they had in Alderwireld and Vertonghen was very strong and that has also deteriorated.
Having said all that It's never been much of a happy hunting ground for Everton but without a crowd and both teams probably with newer faces, it's more than likely be a scrappy game.
If Everton's defence can play soundly then they have a real chance of getting something.
Steve Ferns
40
Posted 10/09/2020 at 18:42:42
It's going to be even harder to watch the league cup match on Wednesday with the new signings running out at Goodison. It was hard watching Everton playing at home without being there, but not being able to welcome the new players will be even harder.
Chris Locke
41
Posted 10/09/2020 at 18:44:57
Start all 3 new signings if they're fit. The only way to get match fit is minutes on the pitch.
We need to show intent and get winning from the off. Starting with anything close to last seasons midfield would be an absolute disgrace.
Mina and Keane at the back will be fine if the midfield does its job. A bit of debut magic from someone and we could easily get the win.
Adam Scott
42
Posted 10/09/2020 at 19:15:02
The old Yerry Mina injury prone thing.
He played 29 times last season. Had he not been rushed back due to Holgate's injury in post-lockdown, that could have been more.
Also, Gibson will play ahead of Branthwaite, I am sure, if they're both still here.
Colin Glassar
43
Posted 10/09/2020 at 19:37:12
Could've been Hibbo, Kieran 👍
Christy Ring
44
Posted 10/09/2020 at 20:08:43
Jay #18,
You don't rate Matt Docherty? Try having a look at his stats from last season. I'm still shocked they sold him to Spurs.
I find it hard to see how Mina is match fit. Having said that, our midfield in front of him is 100% stronger.

Jason Li
45
Posted 10/09/2020 at 20:18:08
Hope to see all three (Moneyball signings) play on Sunday.
One from a relegated team with ability
Two with ability but left out in the cold by current managers
Isn't this the type of player the stats man in the film would bring to Brad Pitt's attention.
Guess what happened to that team when it gelled?
Tony Twist
46
Posted 10/09/2020 at 20:37:34
With the players at our disposal, we should be looking to win every match.
What I want to see is a no glitz, pinch a goal, victory. No euphoria, just then move onto the next game, repeat and move on. Make us unbeatable in a business-like professional manner.
Leave the head-turning performances until the turn of the year. It's endurance we need, no settling for a draw, we just need to be clever and manage games.
Martin Berry
47
Posted 10/09/2020 at 21:04:25
Spurs are not what they were as I think they have deteriorated, whereas Everton have improved by the signings they have made.
It depends what formation Carlo plays as to who is in that midfield; however, I think Doucouré is a cert starter as he knows the game and is naturally fit.
Son is their danger man as he has a go himself or feeds Kane; if we can stop his runs we can pinch this one.
I predict 2-1 Everton and the Sky pundits sit up!
Geoff Lambert
48
Posted 10/09/2020 at 21:23:54
I find it hard to believe that, because we have new signings, they are not fit?? Why wouldn't they be fit? They are professional footballers who have been training with their respective clubs.
Matt Rigby
49
Posted 10/09/2020 at 21:25:34
Let all 3 play if Carlo says they are fit enough. This midfield is going to be so strong! If Gomes gets to play in a 3, with Allan and Doucouré he'll look really good as he won't have to keep looking back in an attempt to protect Gylfi.
We can definitely win this game!! Come on!!!
My team away at spurs would be:
A 4-5-1 without the ball and a 4-3-3 with it.
Pickford
Coleman
Keane
Mina
Digne
James
Allan
Gomes
Doucouré
Richarlison
Calvert-Lewin
Tony Abrahams
50
Posted 10/09/2020 at 21:28:45
This is a really good positive thread for Evertonians but Tony E has just spoilt it for me by reminding us who the ref is on Sunday!
I'm looking forward to watching our new midfield players, and just pray it's with actions rather than words when thinking about the way Delph carried on early last season.
Duncan McDine
51
Posted 10/09/2020 at 21:42:57
David Ellis (37). The film definitely did exist - I watched it from start to finish (despite my 'mate' spoiling the twist). But you're right that it was fictional. It's a shame the £45million we spazzed on Siggy wasn't fictional money. Let's hope that this latest splurge turns out to be more productive.
Andrew Hight
52
Posted 10/09/2020 at 21:43:16
If this was Moyes, we wouldn't see the 3 new signings in the starting line up until late October at the earliest.
Hopefully Carlo will get them in quickly as soon as considered fit enough not to pick up any stupid injuries. I mean, even if these 3 virtually stood still for 90 minutes it would be a huge improvement on the last season's midfield performances.
Duncan McDine
53
Posted 10/09/2020 at 21:44:53
And thanks for clearing up the mystery of the film's title!!!! Brilliant
Jay Harris
55
Posted 10/09/2020 at 22:03:08
Kieran I agree after watching that series first few episodes his energy seems to have gone and he has always been defensive minded just like Moyes.
Steve I stand corrected I made 2 plus 3 equal 5 after watching Mourhino tell them to be dirty bastards.
Jay Harris
56
Posted 10/09/2020 at 22:06:12
I believe Allan and Doucouré have been match-fit and ready to go. Rodriguez is fit but hasn't had a game in a while so he may be on the bench unless he can prove his fitness before Sunday.
I believe our game is only available on Peacock in the US. Can anyone confirm?
Kieran Kinsella
57
Posted 10/09/2020 at 22:43:53
Jay
So has Peacock taken over from NBC Sports. I'm caught up on Big Brother and Dr Who so I guess I'll switch out CBS or Britbox for Peacock.
Steven Sturm
58
Posted 10/09/2020 at 23:07:25
Kieran I was using NBC Gold / NBC Sports last year. Just switched over to Peacock. Not sure how many games we'll be getting.

Bill Gienapp
59
Posted 10/09/2020 at 23:08:20
Yeah, Peacock is NBC's new streaming service, so they've moved all their Premier League content onto there from NBC Sports Gold this season. Annoyingly, I still don't see the matches listed anywhere on the site, but hopefully it'll be worked out this weekend. At least we aren't playing until Sunday, so we can see how it works on Saturday.
Kieran Kinsella
60
Posted 10/09/2020 at 23:14:51
Steven/Bill
Cheers for the info. I didn't love the NBC Gold platform but overall I've liked the NBC coverage better than Fox with Max Bretos.
Steven Sturm
61
Posted 10/09/2020 at 23:34:31
I hear you Bill. A bit disconcerting that I've paid for the premium and I cannot see any schedule.

Derek Knox
62
Posted 11/09/2020 at 00:08:01
Tony@50, "always look on the bright side" and all that, it could have been worse! Jon Moss perhaps?
Or is he in a retirement home for bent referees?
Ashley Roberts
63
Posted 11/09/2020 at 00:41:50

Matt #49, I agree with the team you have predicted except for Mina who cannot be anywhere near match fit. I think I would sooner start Lewis Gibson given the cover he will have with Allen and Doucoure.
Graham Lloyd
64
Posted 11/09/2020 at 01:14:16
Matt @ 49 - I would love to see that as our starting line up with Gomes pressing more forward and relieved of any tackling duties around our box!
Rennie Smith
65
Posted 11/09/2020 at 08:58:44
I can't see Gibson getting the nod over Mina, this is a "top 7" game remember even if it is the first of the season. I'd expect both Carlo and Jose to be very cautious and look to keep it tight.
Don't expect a free-flowing, high-scoring game; a draw would be a good result for us (and that's not thinking negative before anyone kicks-off, just realistic).
I can see Allan and Doucouré starting with James coming on at some stage, probably for Gomes when he starts to get knackered and give away silly fouls.
COYB
Tony Everan
66
Posted 11/09/2020 at 09:29:49
I agree Rennie with regards to the tight game draw prediction. Either that or a set piece goal/ almighty defensive balls up, settles it.
Derek Knox
67
Posted 11/09/2020 at 11:09:33
Having read the posts above, it seems that the general consensus is that a draw is both considered likely, and also welcome. Difficult to predict as we don't know what formation or personnel that will be selected.
However, having said that, we are all buzzing on here about our new acquisitions, which I'm sure apart from those who's positions are under threat, are buzzing too, and I would imagine, feelings and spirits are high in the camp.
I don't believe that an away win in London, (a rarity I know, hitherto) is beyond the realms of a possibility, and would be a brilliant way to kick start our new season off in style.
COYB
Kim Vivian
68
Posted 11/09/2020 at 11:15:42
Fkn hell lads - lets start the season thinking we're chasing the win. If we start getting roughed up then the draw would be welcome, but for me - it's 3 points on Sunday, 1 at a pinch and a loss? don't get me started. Just go for it - there's 37 more matches after this one so let's start as we mean to go on.
Dave Williams
69
Posted 11/09/2020 at 11:23:17
Jay #56 agreed. Allan and Doucoure will deffo play and with James it will depend on what Carlo has seen in training as to whether he is ready to start.
With Allan around Spurs will have plenty to think about if they target Richi again as he is unlikely to allow it to happen. I think Tom will start alongside Allan with Doucoure in between them moving further forward and James on the bench. Theo wide right purely because we don't have anyone else who is comfortable there.
It will be fascinating to see how Carlo intends to play now he has a midfield with aggression and creativity- it's very early days but Spurs will give us a good test.
Rennie Smith
70
Posted 11/09/2020 at 13:26:18
Kim, would love 3 points and yes, let's hope we go for it. Just saying that a point against that miserable get would be a decent result.
Mike Gaynes
71
Posted 11/09/2020 at 14:28:38
Steven/Bill/Kieran, Peacock still hasn't posted its Prem schedule for tomorrow and I can't find a way to contact them -- even the "chat" feature is automated.
Glad we have a day to experiment with it before we play on Sunday.
Marc Hints
72
Posted 11/09/2020 at 14:33:16
Just seen the training photos today for the Spurs game on the Everton website, not one photo of Doucouré, so I assume he is not training yet, does anybody know?
Kieran Kinsella
73
Posted 11/09/2020 at 15:13:39
Mike
Peacock is starting to sound like one of NBC's former employees. "We are going to build a platform, it's going to be huge, and we're not going to pay for it." OK nice but where the Hell is it?
Jay Harris
74
Posted 11/09/2020 at 18:06:03
We need to win the FA cup again!!
https://www.youtube.com/watch?v=-Bd70tSNCuw&ab_channel=BritishPath%C3%A9
Jay Harris
75
Posted 11/09/2020 at 18:08:09
Mike/ Kieran just go into the Peacock app and search for premier league schedule.
Spurs V Everton is there.
Dont know why NBC is not showing such a high profile game.
Ron Marr
76
Posted 11/09/2020 at 18:10:42
The game is now in the "Live and Upcoming" on Peacock Premium

Jamie Crowley
77
Posted 11/09/2020 at 18:13:17
Peacock Premium info:
https://soccer.nbcsports.com/2020/09/11/nbc-sports-premier-league-schedule/?utm_tags=nbcsemail1002&mi_u=0F7720B2-1092-4A89-8EC6-872ACA6A474B
Jay Harris
78
Posted 11/09/2020 at 18:13:29
You do have to get Peacock Premium by the way for $5.99/ month replacing NBC sports gold
Jamie Crowley
79
Posted 11/09/2020 at 18:13:41
Jesus above.
Will Mabon
80
Posted 11/09/2020 at 18:15:27
Jamie, I looked up, can't see him. Maybe when the clouds clear...
Tom Bowers
81
Posted 11/09/2020 at 18:32:58
No matter what eleven starts the most important thing is that they defend properly as a solid unit when not in possession.
All too often last season they were all over the place making it much easier for the opposition to get to dangerous positions.
It may take a few games for the new lads to settle in so I am not expecting a blockbuster start and certainly hope they can avoid any more injuries etc.
Jamie Crowley
82
Posted 11/09/2020 at 18:38:04
Hahaha Will. Very good.
Mike Gaynes
83
Posted 11/09/2020 at 18:51:04
Jay #75, I swear those listings were not there four hours ago. Maybe my nasty email woke 'em up. Anyway, glad to see it.
Jamie #79, if he's up above me now, he's choking on orange ash.
John Pierce
84
Posted 11/09/2020 at 18:57:36
Erm...I switched to Peacock last Sunday, all the content was there, maybe they serve the East coast more promptly!!! 😜
Will Mabon
85
Posted 11/09/2020 at 19:26:42
Tom, 81:
Exactly as I see it. It all needs to build from there. Doucouré and Allan should go 75% of the way to achieving this if they perform.
Bill Gienapp
86
Posted 11/09/2020 at 20:21:24
Yep, looks like the match links are now up on Peacock, so we Yanks should be good to go. Whew!
As to Jay's question, I'm not sure why NBC isn't showing the match, especially since it's the only one on at that time. I'm guessing they're contractually obligated to stream a certain number of matches on Peacock, and the week 1 schedule is wonky because the two Manchester matches were postponed.
Mike Gaynes
87
Posted 11/09/2020 at 20:26:28
Bill #87, the game may also have conflicted with NBCSN's contractual commitment to Mecum Auto Auctions.
Yes, I'm kidding.
Bill Gienapp
88
Posted 11/09/2020 at 20:38:34
Mike - ha ha, I saw that and was initially confident it would eventually be updated to Everton/Spurs.
Well, I checked the guide last night and it *had* been updated... to Arsenal vs West Ham. I was obviously confused, until I realized... it's the Women's Super League!
Jay Harris
89
Posted 11/09/2020 at 23:32:29
Changes bloody changes.
I was quite used to NBC sports gold and the annual renewable subs.
Anyway we haven't lost an opening game in 8 seasons and we haven't beaten Spurs since 2010. Aren't we due at least a bit of luck.
Kristian Boyce
90
Posted 12/09/2020 at 01:02:08
Is Peacock doing the same as NBC Gold, where if the game is on the TV, they aren't going to have it streamed? I cut the cord years ago and have to deal with dodgy links if it's live on one of the NBC channels. I'd love to not have that issue this year.
Also, the only place I've found the Peacock App other than mobile is on XBox. I understand that they are still in talks with other platforms like Samsung Smart TV's.
Jay Harris
91
Posted 12/09/2020 at 15:02:39
Kristina, I have a Samsung and a Vizio and the Peacock App is on both.
---
Add Your Comments
In order to post a comment, you need to be logged in as a registered user of the site.
Or Sign up as a ToffeeWeb Member — it's free, takes just a few minutes and will allow you to post your comments on articles and Talking Points submissions across the site.