Baines takes coaching role at Everton
Friday, 11 September, 2020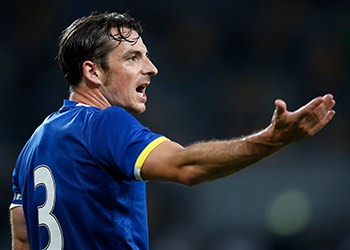 Leighton Baines's association with Everton will continue beyond his playing days with the announcement that the ex-defender has become the club's first professional development coach.
Baines retired from the playing side of the game at the end of last season, bringing to a close a 13-year spell with the Toffees following his £6m move from Wigan Athletic.
At 35, he has elected to rejoin Everton and come on board to help players from the Under-18 and Under-23 sides both on and off the pitch.
Meanwhile, David Unsworth has been named Academy Director. He will retain his role as manager of the U23s. Joel Waldron has been appointed as Academy Chief Operating Officer.
"I'm really pleased to be back and to be part of this exciting new structure," Baines said. "While our development pathway is already highly respected, it has been very clear to me that there is a shared ambition here to develop and improve this even further.
"I'm hugely excited to have the opportunity to play a part in this. I feel proud and privileged that Carlo, Marcel, Denise and David all believe I can support them to achieve their ambitions — and just can't wait to get started!"
---
Reader Comments (96)
Note: the following content is not moderated or vetted by the site owners at the time of submission. Comments are the responsibility of the poster. Disclaimer
Joe McMahon
1
Posted 11/09/2020 at 17:31:53
I'm not sure about this one, yes he was a good player in an Everton shirt, but we are being slightly incestuous with another ex player. Is this role needed, I really don't know.
Man City and Liverpool have as far as I know no ex players in coaching roles, but they are hard nosed professional outfits, without sentiment.
Alan J Thompson
2
Posted 11/09/2020 at 17:39:00
Mr Brands and Mr Ancelotti will be over the moon with this extra help. Whose budget covers it or is it on the Chairman's mortgage?
Colin Glassar
3
Posted 11/09/2020 at 17:44:03
Loved Bainsey. Loved Bainaar. Loved the marauding up the field, the pinpoint crosses, the free kicks etc but, imo, Leighton wasn't a great defender! He always stood off. 9 out of 10 times he'd allow the attacking player whip in a cross, hands behind back,
This is why he never really challenged Ashley Cole for the English job. Like I said, he had great attacking skill but as a purely defensive player? Meh
Will Mabon
4
Posted 11/09/2020 at 17:45:10
Straight from the had-to-happen department.
But seriously, since Ancelotti and Brands now appear to be calling the shots, it should be based on professional effectiveness and not sentiment.
David Pearl
5
Posted 11/09/2020 at 17:46:21
I don't class this as sentiment. He has respect from the players and l'm sure he has a lot to pass on. I think its a good move
Stale Haverstadlokken
6
Posted 11/09/2020 at 17:49:47
Good for Unsie, but didn't we have a Academy director when Unsie got U23 job?
Tony Everan
7
Posted 11/09/2020 at 17:55:14
I am glad we have him, he was a fantastic professional and can pass on those high standards. If he didn't coach with us he probably would have had a more than a few offers elsewhere.
Will Mabon
8
Posted 11/09/2020 at 17:55:14
David, my wording wasn't the best there.
Should, meaning "Likely is", not ought to be.
Des Farren
9
Posted 11/09/2020 at 17:55:39
"Slightly incestuous" Joe akin to slightly pregnant. I could not agree more with you. Too many coaches steeped in the Everton "Tradition", is not a good feel, for me at any rate. I have seen it tried and fail elsewhere as it tends to lead to a kind of myopic thinking which is not good in long run.
David Pearl
10
Posted 11/09/2020 at 17:57:44
Will, l would rather have Bainsey working with our kids than say... l don't know, Jeffers springs to mind hey
Will Mabon
11
Posted 11/09/2020 at 18:02:55
Well he certainly presents a professional image and commitment that can't harm - which we can't say of Jeffers in the past. I hope he can help us. Will be interesting to see.
Andrew Hight
12
Posted 11/09/2020 at 18:04:41
State of some of these comments. Baines alongside Wilson is the greatest left back in Everton's history. He's also one of the soundest professional footballers you could meet. Having him mentor and develop the younger generation is fantastic news.
Mike Gaynes
13
Posted 11/09/2020 at 18:05:30
Can't imagine a better break for a young defender than to be schooled by Leighton Baines. Great decision by the club.
Glad Rhino will continue managing the U23s with the promotion. He's doing the job.
The sentiment doesn't bother me a bit. Class is class. And Bainesy clearly impressed Carlo enough in just their few months together that he wanted him on board.
Will and David, agreed, I was a bit taken aback when Jeffers came back on board. But then again, I was absolutely stunned that Ferguson was brought back in a coaching role, and that has worked out really well. So it's up to the individual to make it work with the club. I have no doubts that Baines will work out great.
Paul Smith
14
Posted 11/09/2020 at 18:06:26
Future manager. A complete Evertonian.
Mark Dunford
15
Posted 11/09/2020 at 18:10:37
He was a great player for the club and seems ideally placed to work with young players. It is a real shame that so many fail to break through to first team. DCL and Holgate did last year and hopefully Gordon will get a chance this year. Davies is still in the squad. However, you look back at the England U21 and younger set ups and see many Everton youngsters who didn't make the grade.
Pete Cross
16
Posted 11/09/2020 at 18:26:05
Now let's get rid of Jeffers, just got driving ban in his fiesta (refused to give blood sample)
Not an example to be giving young players
Mike Gaynes
17
Posted 11/09/2020 at 18:43:57
First Rooney in a Volkswagen, then Jeffers in a Fiesta. Gotta get these players away from the corrupting influence of these small cars.
Bill Gall
18
Posted 11/09/2020 at 18:46:43
I cant see anyone complaining about this as most coaches are ex professionals, so it doesn't matter were they come from, what matters is do they have the ability to do the job they are hired for..
In Baines case he is a role model for young players in the game on how to become professional footballer both on and off the pitch, and I am sure he knows some of his own weaknesses and how he can improve younger players not to make them.
I am sure we will get the comment, just looking after the old boy's but this appointment seems to made because of Baines experience, and ability to pass it on to other players who listen and take note because of who is giving it.
Congratulations to Leighton Baines, another good signing.
Danny O'Neill
19
Posted 11/09/2020 at 18:49:06
I know this may not be popular, but not sure about this.
Firstly, great player doesn't always equate to great coach, so I hope that the club has made the decision based on Baines' potential as a coach, not his reputation as a player. Remember Koeman?
Secondly, and this is the bit I acknowledge will likely open me up to criticism, which I am willing to accept for putting forward my opinion. Do we want this type of mentality remaining in the club?
Just putting it out there, but the Baines-Jagielka grip on the dressing room in my opinion was something that got us so far but equally held us back. They were accepters of mediocracy and not winners. They were Moyes' men. Some of Jags' interviews were shocking in my opinion and he was supposed to be our captain. Many of us (myself included) eventually turned on Roberto, but did he see something when he tried to drop Leighton? He didn't really play much after that, but there seemed to be a very effective campaign to turn that one on the manager. Silent assassin springs to mind.
For the record, I actually rate Baines as the best Everton left back I've seen and I watched the 80s side first hand, season ticket holder. I'm not old enough to have seen Ray Wilson.
I would just rather break from the non-winning mentality that has plagued our club since that era and Baines, good as he was fits that category for me.
Andy Walker
20
Posted 11/09/2020 at 18:50:41
If we'd had a team of 11 with Bainsey's talent and attitude we'd have done pretty well.
Hugh Jenkins
21
Posted 11/09/2020 at 18:55:46
Peter (16) - What irks me is that if you google this it says "Former Everton Striker". He was with our first team squad for about 2 years but left after agitating for a move to Arsenal where he stayed for a lot longer than 2 years - so why not - "Former Arsenal Striker"?
Frank Wade
22
Posted 11/09/2020 at 18:57:37
Great news that Leighton is staying with the club to pass on his knowledge and experience. A brilliant role model for the youngsters to learn from.
Peter Mills
23
Posted 11/09/2020 at 19:04:18
It's excellent that Leighton Baines will help to coach our young players and pass on his experience.
Peter Neilson
24
Posted 11/09/2020 at 19:13:22
Good news. Great pro, cracking player and bright as a button. If we had another 10 players at any one time with his capability we would have won things. Failure to do so can't be placed at his door.
Brian Harrison
25
Posted 11/09/2020 at 19:17:41
I am not saying its right or wrong, but we do seem to be over loaded with ex players on our coaching staff. Jeffers,Ebrell, Unsworth, Ferguson and now Baines.
Jamie Crowley
26
Posted 11/09/2020 at 19:19:43
Are Pienaar, Cahill, and Timmy Howard still on the dole?
Jeez we do employ a lot of ex-players. I'm not being negative, but I can't ever remember any professional team ever hiring so many ex-players after they hang it up? I mean in any sport!
It's not normal.
Jerome Shields
27
Posted 11/09/2020 at 19:24:37
Reference 2019 end of year accounts Wages %. Kenwright &Co making room for another snout at the trough. Need new blood with a proven record that have earned there coaching badges on their own merit adjudicated by independent assessors. Everton needs a, Culture change.
Patrick McFarlane
28
Posted 11/09/2020 at 19:25:42
Jamie #26
There's a club not 100 miles away who built a dynasty based upon hiring a significant number of former players - not saying we're going to do the same, however, with so few locals coming through to become first-team regulars over a sustained period of time, I think that it's important to have people on the staff who do understand the club and its supporters.

Danny O'Neill
29
Posted 11/09/2020 at 19:34:27
But they don't do it now Patrick or Stevie G (lar) and spit the dog would be there. Imagine being coached by Carra etc etc.
The boot room worked in a certain era as did our Kendall & Harvey combo in the 1980s.
Kendall & Harvey were title winners as players who brought winning mentality to the club. Not sure sentiment has a place in the modern game as much as it did have then.
Just my view. I reiterate my respect for Leighton the player.
Jamie Crowley
30
Posted 11/09/2020 at 19:38:56
Patrick -
I have to simply bow to your opinion, and I do so without hesitation.
I think some of this (?) might be a Scouse thing? There's this "us" mentality that can manifest itself in keeping ex-players "in the family".
We just rarely do that over here. Former players can be revered, but they are rarely, rarely hired into the organization they spent time with. It does happen - but usually it's a player "destined for coaching" or some such thing.
Everton have ambassadors, coaches, trainers, etc. It really is a ton of ex-players. I think it's just something more foreign to me and more the norm over your way.
Danny O'Neill
31
Posted 11/09/2020 at 19:40:47
We have to ditch the "nice little Everton" mentality and be more ruthless. Hire people based on their credentials to make us successful, not their sentimental links to Everton.
Jerome Shields
32
Posted 11/09/2020 at 19:41:45
''Marcel and I have been working behind-the-scenes with Leighton over the last few weeks and are excited about how we might be able to continue a relationship with him in future.
"We're currently working through some of the final details, which we believe will be great for Leighton and for our football club.
"While we're not in a position to confirm this yet, I assure you that you will be the first to know – as I know how much Leighton means to you and how interested you'll be in any role we confirm with him. "
Denise Barret Baxenadale. Everton Chief Executive.
Will Mabon
33
Posted 11/09/2020 at 19:47:31
Oh No! He's going into EitC.
Jamie Crowley
34
Posted 11/09/2020 at 19:49:57
Actually Will, by all accounts he's such a genuinely nice guy, a role in EitC would be perfect for him!
I'd actually support that wholeheartedly!
Patrick McFarlane
35
Posted 11/09/2020 at 19:53:38
Jamie #30
I often find myself torn between the hard-nosed approach of US sports where mostly only those deemed qualified get the gigs as coaches etc and the 'sentimental' approach of Everton FC. I can see the risks and rewards in both approaches.
If things go awry at Everton on the pitch or elsewhere, the club can always wheel out these former club men to put forward the 'reasons' and you would expect them to stick to the script, whereas, a better qualified independently minded 'outsider' might spill the beans.
On the other hand, having staff, that understand the club, can be useful, as it helps to inform new players of what is required by the fans and hopefully inspire them to want to perform to their very best.
I suppose it doesn't really matter which method is employed if things are going swimmingly on the pitch and the team is winning.
Robert Tressell
36
Posted 11/09/2020 at 20:08:16
He gets a lot of stick but I like what Unsworth has done with the U-23s (could maybe have done more if the structure had been as Brands has now installed).
Baines is an absolute class act. Happy enough to see him coaching. Hope he does well.

Hugh Jenkins
37
Posted 11/09/2020 at 20:24:37
Patrick (28) and Danny (29), Jamie at (30) has more or less explained this.
Fenway Sports are a USA organisation and they now own the RS - so the system is based on their way - as described by Jamie.
Whether or not the "boot room" philosophy is still relevant or practical in today's football world is a moot point.
We (Everton) practiced it, as did LFC - but they extolled it as a virtue.
When they found it no longer worked (Alan Evan's regime) they dropped it like a hot potato and never went back. That more or less coincided with the "thirty year " wait for the title.
It will be interesting to see if EFC, keeping faith with Big Dunc, Rhino, and Bainsey. etc. all under the guidance of Carlo and Marcel, can replicate the success of our old "Boot room boys" (Howard and Colin) or if that mould has well and truly been cracked beyond repair.
Interesting times.

Brian Murray
38
Posted 11/09/2020 at 20:28:42
Danny O'Neil post 31. It's what we excel at the most. Hiring people whether they are qualified or not. No doubt you know who is behind it – which will once again be our downfall, or at least hold us back from being and acting big.
Jamie Crowley
39
Posted 11/09/2020 at 20:46:27
Hugh I think you hit the nail on the head.
I do have to say I understand this "boot room" approach, but I'm not a fan of it.
You hire the most qualified individuals, then indoctrinate them into the culture and philosophy of the Club. That doesn't mean, nor should it, you have to hire from inside the family. Your example of how John Henry & Co. have handled their organization is accurate, and frankly more what I'd like to see Everton do.
I think hiring inside the family isn't ideal. But again, this really is probably a cultural thing and I'm on the outside looking in.
Looking at Baines in particular, I'm more critical of this appointment because from what I saw from Baines over the years was a great player and servant, but a quiet man and not a leader. Yes, I know quiet types can absolutely lead, but I never got that vibe from Baines.
Jags, Neville, Cahill, Barry, Howard - they all "lead" in their own way. And from what I saw and gather (can't truly know obviously, this is conjecture admittedly) they "lead" far more than the excellent Leighton Baines did. I don't think Leighton is a coaching fit.
Dan Nulty
40
Posted 11/09/2020 at 20:56:33
I will only judge when I see the results. Really good player, really good professional. Young lads will certainly look up to him and listen. I hope he has been well taught on how to coach and can communicate what he wants to see really well.
Regards the boot room mentality/approach, I have no cares either way as long as it is successful. Doesn't seem to be at the moment.
Barry Rathbone
41
Posted 11/09/2020 at 20:59:28
He was part of the Moyes comfy club and nowhere near the player touted by the blue tinted specs brigade. Desperately weak in defence his rep was based on going forward primarily because no one else did for most of the dire Moyes years.
Madness to put him straight into a coaching role he needs to go elsewhere and see if has the makings. More amateurism from the club
Steve Ferns
42
Posted 11/09/2020 at 21:08:34
This is a real head scratcher. I don't understand it at all.
Forget the Baines thing, sounds good. I hope it's effective. He should be responsible for the likes of Dobbin going from u18s to first team and still look after the likes of Gordon once they are in the first team. I just hope it's not for show.
The head scratcher is unsworth. He's promoted to director of the academy but retains his job as u23 coach. Ok I can understand that. But the guy he replaces, Joel Waldron, is also promoted and becomes the chief operating officer of the academy.
So, who's in charge? Are they just handing out promotions willy-nilly? Sounds like too many chiefs and not enough Indians.
Minik Hansen
43
Posted 11/09/2020 at 21:26:19
Since he didn't join another club as a player, I wonder if he would do a job like Scholes when he retired? Comeback in the middle of the season. Just a funny thought. Glad Bainesy is here, a great pro, knowing he's gonna do his best.
Jerome Shields
44
Posted 11/09/2020 at 21:28:56
Steve#42
I was upset, now I am going through the roof. Going for a walk to cool down. Using the word head scratcher is showing extreme self control in my opinion. Had now read down as far as Haworth mention.
No- advertised vacancies
No -selection process
Yes-Finding roles for existing staff.
At the start of the Summer I said there would be a battle for control of the Culture of the Club. Ancelotti with Brands seemed to made significant strides in transfer policy and in changing the playing Culture of the Club, but now we are seeing the fight back from Kenwright &Co in defence of their culture.
In my opinion the dual role of Brands as Director of Football and as Member of the Board, looks the equivalent of a bareback rider In the circus riding two bloody horses at once, as far Backroom staff Management is concerned.
Going out the door.
Tony Hill
45
Posted 11/09/2020 at 21:31:21
Who knows? Baines seems keenly self-aware - the very cause of his reticence at the highest level - and so may be able to coach/caution that handicap out of his young charges. The best coaches cure weaknesses.
Unsworth? Never a first team manager but I see no reason to disapprove his promotion. Who is going to replace him and wave the wand? These are modest shufflings.
Joe McMahon
46
Posted 11/09/2020 at 21:41:10
When Seamus finally hangs up his boots there will be a job at Finch Farm no doubt waiting for him aswell.
Pat Kelly
47
Posted 11/09/2020 at 21:44:53
Win nothing in 25 years but bring back the old boys network. Curious way to develop a winning mentality.
Steve Shave
48
Posted 11/09/2020 at 21:53:12
Simply cannot understand any negativity towards this, some people jeez. A true pro, welcome back Leighton and good luck pal.
Frank Wade
49
Posted 11/09/2020 at 21:54:12
I don't understand this opposition to using former players as coaches and all this faux annoyance on here. By my reckoning we have Duncan Ferguson, Dave Unsworth, John Ebbrell, Franny Jeffers and now Leighton Baines. 5, there may be more. This is not unusual lots of clubs do it.
For example, Man Utd have 6 former players like Ole Gunnar Solksjaer, Mike Phelan, Nicky Butt, Michael Carrick, Michael Clegg and Mark Dempsey on their coaching or fitness staff.
And when Seamus hangs up his boots, we would be lucky to have such a valued and intelligent person on our coaching staff.
Jamie Crowley
50
Posted 11/09/2020 at 22:08:28
And where has that gotten ManU in recent years, Frank?
Not picking a fight here, but I'd argue if you want success, you don't create an "Ol' Boys Club" with former players. They aren't put out to pasture in the youth academy.
I have five sons. I can tell you with 100% certainty former players do NOT equate to good coaches necessarily. It can happen, but it's shocking how former players are given all the opportunities to try coaching, when in fact they are shite at coaching. It permeates US Soccer - that I promise you.
Anywho look I love Leighton Baines. A nicer man you couldn't find. But screw colors and please start learning a thing or two from that outfit across the park. They'd sooner be shot in the head than hire a former player for the sake of hiring a former player.
What coaching qualifications does Leighton have? I mean seriously, the dude was as quiet as a church mouse professionally. Did you ever see players on the pitch listening to Leighton's instructions? Was it ever reported that Leighton was a great footballing mind and a leader of men?
FFS, Phil Neville is the kind of guy I'd hire to coach - not Leighton Baines!
Perhaps I've said too much...
Jamie Crowley
51
Posted 11/09/2020 at 22:13:37
Joe McMahon at 46 -
Exactly!!
I fucking ADORE Seamus Coleman. I named my damn dog Seamus and he wears a blue collar FFS!
But that absolutely doesn't mean we should hire him as a coach when he retires! It's insanity. And I'll bet you're right - that's exactly what we'll do when he hangs up the boots.

Frank Wade
52
Posted 11/09/2020 at 22:20:42
Jamie, This site was awash with similar mash potato (that's me being ultra polite) over Duncan Ferguson being on the staff. He gets plunged into the top job and what do ye know, he saves our season. Former players are mash potato at coaching, I hear you say. What about yer man Guardiola, top player with Barcelona, not up to your standards, but hey, he's ok by me. Was ok as manager at Barcelona as well IMHO. I could list players all night who were good players and managers/coaches with the same club.
And, how could you or anyone else be in a position to comment on Seamus Coleman's future coaching credentials at this stage.
Sam Hoare
54
Posted 11/09/2020 at 22:30:28
I've no issue with the likes of Unsworth, Baines, Ferguson, Jeffers etc being on the coaching staff so long as it for their coaching credentials first and their blue history second.
Sentiment often runs contrary to good business and though it makes for a fuzzy feeling it has not so far translated to any type of success on the pitch during the reign of Kenwright, who I think is probably mainly responsible.
Best of luck to Leighton.
Frank Wade
55
Posted 11/09/2020 at 22:30:36
Jamie, I would also add that I am glad that Howard Kendall, Colin Harvey and Joe Royle were given an opportunity at Everton.
Sam, agree completely. I'm all in favour of giving ex players an opportunity. If they are not up to the job, they will move on. I'd love to see Gareth Barry passing on his knowledge here.
Jerome Shields
56
Posted 11/09/2020 at 22:39:21
Frank #55
Kendall, Royale and Harvey all left Everton after their playing careers where finished taking up coaching positions with other team proving themselves before getting back to Everton.
Steve#42
I have just worked it out it's , Too many Indians and not enough Chiefs.
Peter Gorman
57
Posted 11/09/2020 at 22:40:05
TW eh? Got to love it.
We've had months of those 'in the know' hinting at Unsworth being moved on as he is so obviously not fit for purpose and/or involved in some hinted at salacious tittle-tattle or dark goings-on but nobody could quite ever work out exactly what.
But instead of being a dead-cert to be sacked, he is made academy director. But don't get too carried away, it is obviously just based on sentiment and thus not a good thing. His actual record and abilities as a coach don't enter the equation.
What a legion of gobshites this club attracts.
Justin Doone
58
Posted 11/09/2020 at 22:41:11
I think for a modem day attacking fullback he learnt how to get the balance between attacking and defending spot on. Ashley Cole was simply a better player.
For a new role I think Baines is an easy fit but I do actually think he brings a lot of football knowledge and will be respected by young players.
Defending is becoming more about improving the attacking transition and upping defenders technical skills. He's a modern Unsworth and may be the future u23 coach gaining some experience before the next reshuffle.
He's naturally slim but I'm sure he looks after himself better than Unsy did, another requirement if your going to make it to the top.
Si Cooper
59
Posted 11/09/2020 at 22:54:11
I see nothing wrong with employing ex-players as long as it is meritocratic and they are good at their job.
There are some obvious benefits to having a well regarded player stick around as they will have a full appreciation of what end product the first team is hoping for, and will require minimal orientation / familiarisation.
I very much doubt Leighton requires the money, so if he has a passion for getting into coaching why not give him a go and see how works out.
Got to be lack of sentiment when it comes to assessing accomplishments and getting rid of the 'deadwood' coaching staff.
Phil Sammon
60
Posted 11/09/2020 at 22:57:52
I'm normally against this kind of thing but Baines truly does offer something that few others can. He's been a model pro and he's got to the top while keeping his feet on the ground. If that rubs off on our youngsters we will be in good shape.
On the other hand, there's people like Jeffers. Only given a job because we felt sorry for him - and again he has gone on to make a serious mistake despite nearly being in his 40's. If we accept that Baines' professionalism will be learned from by the youngsters then it's time to kick Jeffers out of the door for demonstrating behaviour we don't want to see associated with EFC.
Jack Convery
61
Posted 11/09/2020 at 23:00:39
At least our 16 to 23 year olds will have a great taste in music !
Lets hope it works out.
Don Alexander
62
Posted 11/09/2020 at 23:13:17
Leighton is a very quiet man indeed, seemingly devoid of ego. To me he has a lot to do before becoming a coach for young, wealthy, usually egocentric players who are all represented by shithouse agents.
It'll surprise no-one that his appointment is to me so redolent of the Kenwright ass-kissing coaching culture pervading USMFF for decades. You know, the culture that every single season has vast numbers rightly asking on the site, "Just what the hell do they do at Finch Farm?"
And by the way, as good as he is, as a left back he has Andy Hinchcliffe, Pat Van Den Hauwe and Ray Wilson way out in front of him as far as I'm concerned.
Brent Stephens
63
Posted 11/09/2020 at 23:14:11
Agree with Si #59.
Mike Gaynes
64
Posted 11/09/2020 at 23:32:56
Jamie #30:
"We just rarely do that over here. Former players can be revered, but they are rarely, rarely hired into the organization they spent time with."
Ummm... not exactly.
Just from your old neighborhood... Bill Russell, Tommy Heinsohn, KC Jones, Chris Ford, Johnny Pesky, Terry O'Reilly and Mike Milbury.
And a few others, just from memory:
Mike Ditka
Tommy Lasorda
Ralph Houk
Tom Landry
Dan Reeves
Tom Flores
Pat Riley
Joe Dumars
Bart Starr
Billy Martin
Joe Girardi
Doc Rivers
Ron Wilson
Art Shell
Lindy Ruff
Lenny Wilkins
David Ross (Go Cubbies!)
Guy Carbonneau
Forrest Gregg
Larry Wilson
And that's just managers and head coaches, not assistants. Might not be 100% accurate, but you get my point. It may not be common, but it certainly isn't "rarely, rarely".
Paul Smith
65
Posted 11/09/2020 at 23:33:58
Sometimes it's about keeping all parties happy. Carlo got what he wanted and now BK must get his. Could have been worse, Bainesy is quality & Unsworth stays on. Hardly wielding the influence he once had (BK) that is.
Mike Gaynes
66
Posted 11/09/2020 at 23:43:21
Jamie... and I forgot M.L. Carr.
Jay Wood
[BRZ]
67
Posted 11/09/2020 at 23:44:25
I can see and understand both sides of this debate.
Model club pro, now elevated to the role of 'development coach' to the Under-18 to 23 group. OK.
His job title is not explicitly defined and the age range he will work with is very broad, yet a few posters are making quite sweeping presumptions about his suitability and capacity to fulfil the role on... nothing, really.
On the other hand – like Si @ 59 – I have no issue employing former players in coaching roles if it is based on meritocracy. As far as I am aware, the post Leighton has taken up was not openly advertised so we could recruit the best candidate, rather than directly hiring the latest retired player.
That way we can better live up to the club motto and keep on striving to achieve excellence.
Similarly with David Unsworth, as Peter Gorman says @ 57, the tittle-tattle of the summer has been stood on its head by his promotion (although I wouldn't go as far as Peter's rather cutting final sentence).
Rhino's enhanced role does puzzle me. How can he be expected to effectively fulfil his enhanced role as overall Director of the Academy and continue his existing role as manager of the U-23s?
I also wonder at the changed role of the existing Director of the Academy, Joel Waldron, who moves (sideways? downwards? upwards?) to become the Academy's Chief Operating Officer, whatever that entails.
As to who is the architect behind these appointments and reshuffle, who knows definitively? Marcel Brands is quoted on the club site as saying:
"David's credentials as a coach are first-class and we all know this is matched by his passion for the Club. The Chief Executive and I have worked with him on this extension of his role and we all believe this will help ensure an even smoother route into the senior squad for our homegrown players.
"We are all committed to developing the very best local talent and are determined to maintain our position as one of the best player development programmes in football. Adding Leighton and his knowledge into that structure will be very valuable to us. He is taking up a new and important role which he has helped design based on his recent perspective and tremendous experience as a player.
"With David working closely alongside his coaching team, and with Joel Waldron continuing to manage our operations, we are confident the Academy is in very good hands."
That reads as Brands being very much party to this and his overhaul of the academy structure, not as someone being outmanouvered by some Machiavellian agent within the club, as some wish to portray this.
Andy Crooks
68
Posted 11/09/2020 at 00:03:59
"what a legion of gobshites this club attracts",
Poor.
Nicholas Ryan
69
Posted 11/09/2020 at 00:13:30
It is surely clear from the title of the job, that this is NOT a 'get your boots on and show them how to do it' position. What the club appears to have in mind, is someone to be a 'guide and mentor' to the young players who might break into, or have just broken into, the first team. Perhaps someone like Jarred Branthwaite, a teenager at a new club in a new city, who might just be finding it all a bit overwhelming.
Many young players need a steady hand at that stage and surely, there can be no-one better suited to putting a metaphorical arm around them, than Leighton Baines. It seems fairly clear, that he is not intended to be teaching them how to dribble, or the finer points of the 'diamond'. More likely, he is meant to observe them and say that they might want to work on and improve X or Y. There is no element of sentiment here, he is simply, the right person for the particular task.
Kieran Kinsella
70
Posted 12/09/2020 at 00:15:40
Carlo publicly stated a number of times he wanted Baines to stay in some capacity. As reported by the media, this seems like Everton recognizing some quality in Baines and enticing him to stay rather than him sniffing around for scraps and handouts. Therefore I do decree this is a good move although more broadly I'm usually in the Jamie and Don Alexander camp.
Kieran Kinsella
71
Posted 12/09/2020 at 00:22:01
Jay Woods
Sounds like Waldron as "operations" guy will handle logistics, schedules, equipment, budgets, travel, staffing etc with Brands in contrast emphasizing Unsie's skill as a coach. Kind of like a tv show with Waldron the producer but Unsie as director only with half a dozen side shows going on that Unsie is also helping to direct.
Kristian Boyce
72
Posted 12/09/2020 at 00:42:27
With the title 'Professional Development Coach', I actually think this is going to be more of a classroom/office based role. I don't see Baines as an on the field coach like Ferguson or Unsworth, as I don't think he has that presence about him. I would imagine this is more of a holistic type role, with him providing mentorship and advice.
These positions aren't a new thing, and I'm surprised if we haven't had anyone in the past who did something like this. About 20 years ago I worked for Leyton Orient, and they had this older ex-pro who did something similar. He hardly ever did any coaching on the field with the YTS's and youth players, but would run classroom sessions on money management, etiquette and media.
Jerome Shields
73
Posted 12/09/2020 at 00:46:23
Jay #67
I think your assessment, with details well researched, is fair enough and a development of the Youth system was necessary. But what were the selection criteria for these roles? Who else was considered and where the people chosen the best possible candidates? In addition, what type of selection predictors are these for a coaching role?
Ref Baines:
'He is taking up a new and important role which he has helped design based on his recent perspective and tremendous experience as a player. '
Ref Unsworth:
"David's credentials as a coach are first-class and we all know this is matched by his passion for the Club. '' Unsworth's role had previously been reduced to concentrate, in Unsworth own words, 'on coaching the U-23s'; now, his role has been increased??
Normally, when a candidate is selected in a professional procedure, it is not accompanied by an explanation. A physiologist would tell you that, when a reason has to be given regarding a decision, it is often an excuse. The reasons given above are excuses.
I have no problem with a professional and proper selection process, but I see no evidence of it in these two cases.
John Pierce
74
Posted 12/09/2020 at 01:09:27
I've really no idea if Baines will be a good coach, he's been many fans favorite player for years, mainly his skill but the lack of fan-fare and how he deals with fans garnered a near-perfect reputation.
We signed one of the world's biggest global stars only days ago, in a rare piece of commercial acumen, (Probably driven by the player and his own publicity team rather than Everton) we reached out from L4 to give us a fleeting global presence.
Does the inclusion of another ex-Everton player, even one as well-received as Baines, seem in step with that vision? Do they have to be? Maybe not. I still believe we do not produce anything like the numbers and the standouts for the first team and to help massage the player trading profit/loss.
We need to be globally renowned and I'm not sure the academy as it stands is one young elite players are desperate to come to. Employing ex-Everton players who in reality won very little to nothing screams small club mentality, and that fleeting global reach I mentioned just shrunk all the way back to Finch Farm.
Go a get the foremost academy director, pinch him from Dortmund or Ajax or wherever. As usual, we think too small.
Derek Thomas
75
Posted 12/09/2020 at 01:16:31
Andrew @ 12; Baines as good as Wilson? Not too sure about that... Pat van den Hauwe has a good case to nip in in front of Baines. Nevermind that being a full-back was a whole different deal back then.
I'm not sure you can even teach what Baines and Pienaar had, so on that score why Baines at all. But you can up to a point, teach defending.
For all we know, Baines while not being a top notch defender, might be a very good teacher and communicator...'Those who can – do, those who can't – teach.'
In a perfect world, I'd go for the Poacher turned Gamekeeper and have the previously named Pat van den Hauwe coaching full-backery, The Dark Arts, and what mistakes not to make off-field.
Think of it as the difference between John Thaw as Morse and John Thaw as Reagan in The Sweeney.
Bob Parrington
76
Posted 12/09/2020 at 01:24:26
I have no problem with this appointment of Leighton, providing it was made on professional ability and not sentiment, as mentioned by a number of previous posters.
At this time, I doubt that it has been made on sentimental grounds. It's not like there's lots of spare cash floating around and Kenwright will have little say in such an appointment.
I can't see any reason why an ex-player shouldn't be considered for a role, particularly with the character of Baines. I'm sure we will know he will put 100% into the job.
Colin Gee
77
Posted 12/09/2020 at 01:24:40
Baines is the second-best left-back I have seen in my years watching Everton. Pat van den Hauwe is the No 1, that's how good he was!
James Flynn
78
Posted 11/09/2020 at 01:36:00
Patrick (35) - "I often find myself torn between the hard-nosed approach of US sports where mostly only those deemed qualified get the gigs as coaches etc."
Not sure where you got that idea from.
If there was thing that hasn't changed in the pro sports world here is that, "mostly only those deemed to have the most pleasant-feeling lips on the owner's ass get the gigs." Generally, the level of coaching here is terrible, in all the major pro sports. And has been.
The Henry/Fenway Group in baseball and Kraft/Belichick with the NFL Pats consistently are in the hunt for titles. Intelligent, determined, focused, ruthless.
Their kind are few over here.
Si Cooper
79
Posted 12/09/2020 at 02:21:14
I thought Paul Power was pure class for the short time he played for us. He did have the benefit of coming into a high functioning team but never looked out of place and played his part.
At least that's how I remember it.
Kieran Kinsella
80
Posted 12/09/2020 at 02:59:01
Si
I loved Paul Power. I was only a young 'un so I was t aware of all the injured greats but to me Paul Power and Alan Harper we're pure gold. Still are.
I still somewhere have a team picture of the trophy award and it has Power, Harper and Co. Plus half a dozen players in plaster with crutches. They were the star men we managed without while Power, Harper, Langley and of course Psycho Pat got us over the line.
Steve Brown
81
Posted 12/09/2020 at 03:07:52
Unsworth sets the strategy, Waldron runs the operations. As Jay @ 67 says, the bit that's puzzling is that Unsworth will continue to coach the U-23s. My guess is that Unsy still harbours ambitions of being a manager one day, so he refused to relinquish that part of his role.
Jamie Crowley
82
Posted 12/09/2020 at 04:14:45
Just got back from going out with the Mrs.
I stopped dead at 64. Mike Gaynes, fellow "Merican, "just from my 'hood".
You list EIGHT names, some of them very suspect.
Over what? FOURTY years??? Jesus Christ above pray for us Mike! Everton have eight dudes hired from the last month FFS!!!
I love ya Mike, but you're nuts man!
I'll read the rest, and fuck it, let's crush Spurs.
Jamie Crowley
83
Posted 12/09/2020 at 04:33:36
James Flynn @78, fellow 'Merican, says it perfectly.
Everyone should read that post. It encapsulates the point I'm trying to make, from my perspective as a predominately New England sports fan. And yes, I'm sorry for making this overly American point.
The Sox and and Pats have the right of it:
The Henry/Fenway Group in baseball and Kraft/Belichick with the NFL Pats consistently are in the hunt for titles. Intelligent, determined, focused, ruthless.

Their kind are few over here.
I don't give a fiddler's fart if NESV owns the shite. Their way, which I've been bleating on about since they took ownership of El Crap, is THE way.
And a Yankee fan just made that point, italicized above.
Aim high. Don't hire just because, "he played for us and was great and is a great guy."
I might be wrong, but it's a point worth debate.
Thank you James Flynn. I love ya, just as I love Mike. Stick together, despite our differences, I know we will.
I'm off to bed.
UTFB
Kieran Kinsella
84
Posted 12/09/2020 at 04:53:59
Jamie
So Boston area teams? You and your mates ever chat sports at a tea party?!! Traitors!!!!
Bobby Mallon
85
Posted 12/09/2020 at 06:12:18
Mark @15 not many clubs bring youngsters through. Man City have Foden, Liverpool have Arnold. Chelsea have reverted back to buying, Ourselves and Man Utd are probably the only two that do it regularly.
Dale Rose
86
Posted 12/09/2020 at 13:35:14
Great news, he has a lot to offer.
Alan J Thompson
87
Posted 12/09/2020 at 16:17:40
Derek(#75); Those who can, do.
Those who can't, teach.
And those who can't teach, teach gym.
John Gorham
88
Posted 12/09/2020 at 21:07:45
Did anyone think Arteta would be Arsenal's first team coach less than 10 years after he left us?
Tony Abrahams
89
Posted 12/09/2020 at 21:29:58
I was very surprised when my Arsenal mate told me a few years ago that Arteta was supposedly getting groomed for the Arsenal job John, but I'd be even more surprised if Leighton Baines ever ended up being a football manager.
James Flynn
90
Posted 12/09/2020 at 22:37:10
Jamie (83) - "Thank you James Flynn. I love ya, just as I love Mike. Stick together, despite our differences, I know we will."
What a nut.
Rob Dolby
91
Posted 12/09/2020 at 23:34:45
A common opinion on this thread seems to be why are we giving a job to an ex player when we should go out and bringing the best of the best into the academy set up.
Can someone tell me who we should bring in who is better qualified.
Danny O'Neill
92
Posted 13/09/2020 at 08:03:14
Speaking for me personally, Rob, I only question the motive. If we have employed Leighton due to his coaching credentials, or potential coaching credentials, then I care not whether he is an ex-Everton player or not.
I just want us to stop being a "jobs for the boys" sanctuary for ex-players wrapped up in nostalgia and sentiment. That's for us fans to reminisce, not those who run the club and coach the playing staff. If he's there on his merit as a coach / potential coach, fine with me.
My doubts around Leighton are nothing to do with his playing ability, more that he was part of a generation of players who accepted mediocrity themselves. Something no doubt that was engrained into them from the coaching staff of the day.
John Graham
93
Posted 13/09/2020 at 13:27:22
Think it's great to have a couple of past players employed by the club, but feel it should mainly be as ambassadors working behind the scenes.
To be involved in any of the coaching positions it should be earned on merit and not just be because they have been ex players.
I am sure there are probably a few ( including Baines) who can do a good job, but if we want to get the best out of the younger players we need the best coaches no matter where they are from or which club they have played for.
We are overloaded with past players at the moment and judging by the lack of success and the lack of good young players coming through quite a few are not up to the job.
Saying all of that I wish Baines the best of luck and only hope he can be much better than we already have and prove me wrong.
Dave Abrahams
94
Posted 15/09/2020 at 11:24:09
Ron (91), How does Leighton qualify ?
The best man to bring coaches into the Acadamy might be the man they signed, from Derby County, earlier this year to help run the younger teams,
Roman Sidey
95
Posted 18/09/2020 at 19:52:44
Not a fan. Whenever I've played under a coach or whatever other roles they come up with, I've always asked them about their own playing career. If I'm a young footballer on the books at Everton, I wouldn't be asking Baines "What did you win?" I'd be asking "What did you try to win?"
Not to belittle the club, but if Baines was as good a player as a lot of fans claim, how come the only tangible transfer attempt was his old mate Moyes?
The bloke is a less impressive speaker than Jagielka, and he used to make me want to cry in misery when he spoke.
Nice fella, humble, professional. Great, but those attributes don't necessarily make great leaders.
John Otway
96
Posted 18/09/2020 at 20:33:50
Roman #95. Just update me on your playing CV if you'd be so kind.
Roman Sidey
97
Posted 27/09/2020 at 08:50:32
John, my playing career has nothing to do with Everton employing people based on sentimentality. However, for the record, I've played rugby at a fairly competitive level, and moved into coaching when needed after my playing days ended. Of the few teams I've coached, I've won leagues for all of them.
---
Add Your Comments
In order to post a comment, you need to be logged in as a registered user of the site.
Or Sign up as a ToffeeWeb Member — it's free, takes just a few minutes and will allow you to post your comments on articles and Talking Points submissions across the site.