Tottenham Hotspur vs Everton
Saturday, 12 September, 2020
Match Preview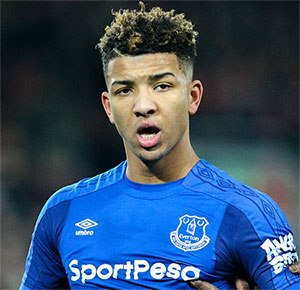 Everton fear Mason Holgate could be out of action until the end of October with the injury he sustained against Preston
It feels like only yesterday Everton's 2019-20 season petered out into a depressing conclusion with home defeat to a Bournemouth side whose relegation back to the Championship was confirmed despite earning those three points. With that 3-1 win, the Cherries did the league double over the Toffees for the first time in their history, achieving the feat against two different managers but against a team very much exhibiting the same problems.
Carlo Ancelotti's impact upon succeeding Marco Silva was to collect 30 points from 20 games but it was clear by the campaign's end that even one of Europe's most decorated managers wasn't able to overcome injuries to some key players or compensate for the one of the weakest midfields seen at Goodison Park in living memory.
Of course, thanks to weeks of groundwork and a whirlwind few days at Finch Farm, the Italian and Marcel Brands moved swiftly to address the squad's most glaring and pressing deficiencies with the addition of three vital midfield signings in the form of Allan, Abdoulaye Doucouré and James Rodriguez.
While those three signings alone probably won't be enough to transform Everton from mid-table mediocrity to Champions League qualifiers, their presence does make Ancelotti's side a very different proposition this coming season. As the engine room, springboard for attacks and protection for the back four, the midfield is an absolutely critical part of the team — you can't achieve much without one but you can be a hell of a lot more effective with a good one. Everton now have a very good midfield and the difference should be obvious as soon as all three new players are in their groove.
Do Evertonians sat in their armchairs or in front of screens get to see all three new acquisitions in the starting line-up when the team to face Tottenham this Sunday gets announced? Ancelotti has said that all three have trained and are fit and seeing as though most of their team-mates have barely played two pre-season friendlies, they won't be too far behind fitness-wise.
Perhaps because of James's injury record and lack of consistent playing time since last November, the assumption has been that the Colombian might start on the bench. He has certainly played a lot less football in recent months than Allan and Doucouré and with that mind, Ancelotti could opt for a touch of caution over the 29-year-old and keep him in reserve as a potentially explosive second-half option off the bench.
The other two are, you would think. much more likely starters but with André Gomes available as well, the question then revolves around what formation the manager goes for — a 4-3-3 with all three of the Portuguese, Brazilian and Frenchman in the middle behind Richarlison, Calvert-Lewin and, perhaps Theo Walcott for pace; or perhaps a 4-4-2 diamond that sacrifices one of them in favour of two wide players?
The permutations are as intriguing as the signings are exciting and it's likely that Jose Mourinho will be just as curious as Everton fans about how the Blues will line up. But it's almost certain that Richarlison and Dominic Calvert-Lewin will be leading the line in some kind of partnership and that if Yerry Mina is fit, he will play alongside Michael Keane in the absence of the injured Mason Holgate.
When the 2019-20 season was suspended over the Coronavirus pandemic, there were just four points between Everton and Spurs. Having replaced Mauricio Pochettino a few weeks before Ancelotti came on board at Goodison Park, Mourinho was himself a new boss adjusting to new surroundings and having to deal with a fair number of injuries of his own.
The shutdown came as a mixed blessing to the Portuguese, however, as it allowed Harry Kane and Son Hueng-Min to overcome injuries that would probably have kept them out for the remainder of the season had its conclusion not been delayed well into the summer. With those two key players back in the ranks, Spurs managed to move up to sixth place, secure a place in the Europa League and finish 10 points above Everton in the final table.
While they haven't added any talent to get the pulse racing — the January signing of Steven Bergwijn was more befitting of that description — the North Londoners did add a couple of very solid players in the current window in Matt Doherty from Wolves and Pierre-Emile Højbjerg from Southampton. With Serge Aurier subject to interest from the Continent and Giovanni Lo Celso a doubt with a hamstring complaint, both players could make their debuts this weekend.
It defies belief somewhat but not since the last-gasp heroics of Steve Pienaar and Nikica Jelavic way back in 2012 when David Moyes was still scowling on the touchline have Everton beaten Tottenham. (It's 12 years since they won on Spurs's home turf.) Seven draws and eight defeats have come since, yet the Blues have made Spurs look decidedly ordinary in the last three meetings between the two clubs… although the last encounter in the Capital in June, which the hosts won 1-0, did not show either team in a good light at all.
Tottenham will be very Mourinho-like — combative, organised defensively, hard to beat but also prone to mystifying lapses and if Everton can get amongst them early and ruffle their feathers, they could unsettle both the players and their manager's temper. The home side won't have their fans, of course, which theoretically evens the playing field a bit but the Everton of last season seemed lost at times without the energy created by spectators. Hopefully Ancelotti has been able to work on the mental side of their game as much as the tactical.
Worn down by too many false dawns and ephemeral promise, Evertonian expectations will very much be in check despite the optimism around the signings but it can't be ignored that what Ancelotti and Marcel Brands have added over the summer has significantly improved the team. In Doucouré and Allan, Everton now have power, tenacity and athleticism in the middle of the park and in Rodriguez, they have a genuine match-winner to go with Richarlison. It might not all come together in the first game but it should be entertaining to watch!
Kick-off: 4:30pm, Sunday 13 September, 2020
Referee: Martin Atkinson
VAR: Andre Marriner
Last Time: Tottenham Hotspur 1 - 0 Everton
Predicted Line-up: Pickford, Coleman, Keane, Mina, Digne, Allan, Gomes, Doucouré, Walcott, Richarlison, Calvert-Lewin
---
Reader Comments (203)
Note: the following content is not moderated or vetted by the site owners at the time of submission. Comments are the responsibility of the poster. Disclaimer
Sam Bowen
1
Posted 12/09/2020 at 07:02:01
Amazing what 3 quality first-team ready signings can do to the look of a squad. Suddenly looks very strong and whilst there is still room for improvement this window, we have so many more options. Walcott, Sigurdsson, Kean, Bernard, Iwobi, Davies, Delph all now likely to be on the bench rather than starting but all of them are very decent members of the squad.
I'd like to see all 3 new signings start in a 4-3-3 but I think your line up is most likely though, Lyndon, and I'm happy with it. Allan and Doucouré definitely start.
Kase Chow
2
Posted 12/09/2020 at 07:02:49
C'mon the Blues. Make us proud.
Paul Ferry
3
Posted 12/09/2020 at 07:29:22
The first day of the season never felt like this before. Here in Chicago it's cold and windy - duh - and that lovely sunshiny opening day seems 3,000 miles and one month gone.
I feel so much for the ST away day blues - Rob Halligan, Pete Mills, Southport Brent etc., Dazza Hind - who have a divine right to be present.
We won't lose this game. It's ours to draw or win, though my mind says draw given both Carlo's and Jose's recent caution.
Our midfield will be the decisive factor.
Play a higher game with Gomes further up and Doucouré box-to-box and Allan with his eye for forward movement ought to take the pressure off our less than quick centre backs.
We need now to keep it on the ground more. James, who might not start tomorrow, will lap that up. But he will get thirty minutes or so.
I'm feeling.
Pickford
Coleman
Keane
Mina
Digne
Doucouré
Allan
Gomes
Gordon
Richarlison
Calvert-Lewin
Best of luck to all of you and our brill eds and beloved blues for 2020-21

Bob Parrington
4
Posted 12/09/2020 at 07:38:35
Lyndon, "Entertaining to watch". I couldn't agree more. Is that guy Son still with Spurs. If so, he's a one we need to watch, too!
Why Walcott on the right?
Derek Knox
5
Posted 12/09/2020 at 07:45:02
Good preview as usual Lyndon, I'm a bit surprised with your projected team, that James isn't in the starting line-up, but possibly the fact that he has not played competitively for a while may be that he will be used as impact sub.
I also see that Mark Lawrenson has his prediction for us to be narrowly beaten by Spurs 2-1, to quote Mandy Rice-Davies, "Well, he would say that, wouldn't he?" applies here. Not bothered about getting any predictions or compliments from an ex RS anyway.
I don't predict an easy game but then again, none of them are easy at this level, but I think with our injection of undoubted talent, the euphoria of a fresh season under the Professor, may just swing it our way.
COYB
Tony Abrahams
6
Posted 12/09/2020 at 07:45:54
Strange times, arguably the biggest day in the whole calendar for many, seems like just another day. Football like life must go on, but I'd sooner start with a whimper and finish with a bang, so hopefully we have something really special to celebrate in May!
Good luck to every Evertonian, especially the players who need to step up, now we have brought a lot more quality into the club. Do what the song says and "fight, fight, fight!" Do this and you will give us a lot of joy and you will also make us proud, because life is always better when we've got something to celebrate singing we shall not be moved EVERTON!
Kunal Desai
7
Posted 12/09/2020 at 07:49:27
What a difference a week makes bringing in three quality signings. The midfield battle will be a contest for once. I still think we are short with pace in the wide areas and hopefully that'll be perhaps addressed later in the window or the next one. Need to keep the likes of Son, Bergwign and Moura in check.

Anthony Millington
8
Posted 12/09/2020 at 08:00:12
I agree with that the new signings particularly Allan and Doucoure will bulk up our midfield. However, our defence still needs work and will continue to struggle against the best attacks until we sign a top centre back and goalie. Will be a big test for them against the likes of Kane and Son.
David Ellis
9
Posted 12/09/2020 at 08:19:03
Bring on James when we're 3-0 up – sounds like a sensible plan to me.
Eddie Dunn
10
Posted 12/09/2020 at 08:23:55
Ancelotti will, I am sure, be just as keen as Mourinho to keep things tight. The lack of fans will help Spurs, as that crowd have little love for the ex-Chelsea boss and his dour football, and so there will be less pressure on them than if their notoriously grumbling crowd were there.
Carlo will know that the most important thing will be to avoid an opening day defeat. I also expect James to stay on the bench until late-on. Our new-look midfield will have to work hard to protect that wooden centre-half pairing. That is why I simply can't see us keeping them out.
A score draw will do for me. Richarlison is the man who I think will most enjoy the rewards from our new faces.
Tony Everan
11
Posted 12/09/2020 at 08:29:00
It's a tough match to start the season, but we are in much better shape with a midfield that is looking light years better than a month ago. We did okay against Spurs before these reinforcements, so I think we can cause them a lot of problems on Sunday. We will not be bullied so easy and can match them better physically. Then it will come down to mistakes or brilliance to settle the game, hopefully the mistakes are from them and the moment of brilliance is from us.
Mourinho will again use any method he can get away with to gain the upper hand. He has that win at any cost mentality that borders on arrogance. Expect them to be briefed to systematically leave the boot in again on Richarlison. Have Kane etc go down like a peppered partridge in or around the 18 yrd box at the faintest touch. Mourinho will know he will have Atkinson and VAR on tap for any 50/50 decisions. Our new toughness and better shape can frustrate him tomorrow though.
Tottenham 0 Everton 1
20 yard screamer from Doucouré sends Everton fans into delirium and brings home the points.
Tim Locke
12
Posted 12/09/2020 at 08:36:04
At face value sounds like we have turned - another - corner. This weekend has to be a watching brief with let's wait and see and trying to keep hopes under control.
The big name - Rodriguez - needs to find his feet and from. 8 starts last season and averaging 1 shot on target per game. As it stands we have bought no more than a reputation, it's down to the manager to get the best out of him again.
New signings are typically slow to start so it might be 3-5 games before we start seeing the benefits. But to be honest this season is about putting a run together. Getting 5+ wins in a row. Making Goodison a place where we win. If we can get into a pattern come the end of October where we are winning we will be in the top six. Yes Sunday is exciting and full of promise but it's where are we heading over the next 10 games rather than a blinding one off performance. If I wanted boom and bust we should have kept bobby brown shoes.
Steve Shave
13
Posted 12/09/2020 at 08:36:45
Tony 11 - Mourinho only "borders on arrogance"??? ;)
Laurie Hartley
14
Posted 12/09/2020 at 08:37:22
Tony #11 – after Allan wins the ball on the half-way line, feeds it to James who lays it on a plate for Doucouré.
Steve Shave
15
Posted 12/09/2020 at 08:38:50
Agree with the predicted line-up, James to come on 2nd half and sprinkle a little magic. Whilst they will not have played together the new players will bring steal and mettle.
We may be a bit of an unknown quantity at the start of the season. I'm trying to temper my enthusiasm what with Everton and their false dawns an all that. COYB!
Richard Cusworth
16
Posted 12/09/2020 at 08:47:33
Personally I think we will see Sigurdsson start and possibly in place of Gomes from the predicted line-up. If so, I just hope Carlo sits down with him in the morning and shows the tape of the last game vs Spurs and the comments of Gary Neville to try and get a reaction. One things for sure, the midfield old guard when selected now know: deliver – or you're not back in anytime soon.
Derek Knox
17
Posted 12/09/2020 at 08:52:14
Tony @11, "go down like a peppered partridge" – love it, mate! :-)
Paul Birmingham
18
Posted 12/09/2020 at 08:58:33
I think we'll see a focused and sharper EFC tomorrow, who'll be up for this game from the off and will show a resolve and belief, and determination, weve not seen for a long, long time.
Stakes are high and as always reputations at stake.
I'm taking Everton for a 1-3, win.
Brent Stephens
19
Posted 12/09/2020 at 09:10:28
Off topic but the Everton app has just been updated. Looks to be a really big improvement. Another area of the club we're getting right.
Sorry for any excessive positivity.
Brent Stephens
20
Posted 12/09/2020 at 09:14:32
It looks as if Lo Celso might not be available for Spurs. Good news for us.
Alan Johnson
21
Posted 12/09/2020 at 09:18:36
It wiil be great to see the mighty blues giving everything for the cause. Not just rolling over and accepting defeat as the norm.
Karl Meighan
22
Posted 12/09/2020 at 09:19:02
I would be tempted to start with all 3 new boys, it can always be changed if needed. if we can come away from here with 3 points it would send a message and give the squad great confidence.
Spurs under Mourinho will not give us anything it will have to be earned and I expect them to be organised, hard to breakdown and ready for the new season. Many fans seem to think Mourinho's best days are behind him, time will tell.
Hit the ground running and hopefully players who have not delivered can raise their games and give us what we expect from an Everton team. Power, energy, guile and competition all look to be added in the vital midfield areas. Let's get out there and show we will and can go anywhere and get results.
Rob Halligan
23
Posted 12/09/2020 at 09:29:38
Brent # 19. Knock that positivity on the head right now!!
Andrew Ellams
24
Posted 12/09/2020 at 09:31:56
I can't see a reason not to start all three. Nobody's had much of a pre season so they're all in the same boat.
Laurie Hartley
25
Posted 12/09/2020 at 09:42:29
My Previous post @ 14 Should have referred to Dave @ 9.
I have just seen an interesting predicted line-up in The Guardian:-
Pickford
Coleman, Keane, Mina, Digne
Rodriguez, Allan, Doucouré, Gordon
Calvert-Lewin, Richarlison.
That's a strong looking line-up!
Brian Murphy
26
Posted 12/09/2020 at 09:50:06
I think he will start Allan with Gomes and Doucouré and James will be on the Bench. He will give both significant minutes, however.
I am so excited to see how this works, hopefully it's not misguided blind love but I just feel finally this is the season we kick on. We have the manager, we have added real quality that cost us pretty much what we paid for Gylfi FFS. Here's hoping.
Andrew Clare
27
Posted 12/09/2020 at 09:57:21
I remember Aston Villa vs Everton in an opening game of the season, late '70s when we had McKenzie, Latchford, Thomas, Dobson etc.
We looked like champions winning 2-1 with a very slick and professional performance. That is what I want tomorrow. COYB's it will happen for us this season I am sure.
Tony Hill
28
Posted 12/09/2020 at 09:58:56
We're starting to get it right. I think there are those behind the club now who will just keep going until we attain our highest objectives.
We may have a wobbly few games while the blend settles, but I'm with people on here who are looking this season, primarily, for attractive, bold football.
I'm really excited about it.
Brent Stephens
29
Posted 12/09/2020 at 10:04:24
Laurie #25. I'm excited not just by the overall lineup predicted but the fact that Gordon figures in a midfield which includes our three latest signings. Can you imagine what the lad would feel like being included in that lineup!
Brent Stephens
30
Posted 12/09/2020 at 10:08:42
Rob #23 I took a knock on the head yesterday which might explain the positivity. Imagine going into games thinking the manager is crap, crap players, I'll believe it when I see it blah blah.
Live life to the full. Seize the moment. Feel the excitement mounting. Get that glass a bit fuller.
Paul Smith
31
Posted 12/09/2020 at 10:22:10
I think it's too much to think we will be transformed overnight. We were absolute shite 6 weeks ago so some perspective needed. We should be much improved in midfield but the defence is the same & Walcott & Calvert-Lewin were poor last season.
Spurs have performed better than us consistently for years and that will take time to overhaul and although it's possible this season, for me, it will only happen when the new signings are bedded in and not tomorrow. A draw will be a decent return.
Pat Kelly
32
Posted 12/09/2020 at 10:23:33
What a relief not to be expecting to see Sigurdsson, Davies, Delph, Iwobi. Could do without Wallflower as well. Don't expect a win but at least some fight.
Ryan Holroyd
33
Posted 12/09/2020 at 10:23:42
Calvert-Lewin was poor last season?!? Wow that's some weird take.
Derek Knox
34
Posted 12/09/2020 at 10:26:57
Pat K, a knock-out in the seventh round, or Mourinho throwing the towel in? :-)
Geoff Lambert
35
Posted 12/09/2020 at 10:30:53
Ryan! Care to elaborate?
Brian Harrison
36
Posted 12/09/2020 at 10:33:37
Well, with our signings, I now feel as though we won't be dominated in midfield anymore, and have added real quality. Disappointed that Holgate won't be fit, some reports suggesting he will be out for 6 weeks – let's hope not. I hope that Mina can stay fit till Holgate gets back.
My concern is I am not sure either Calvert-Lewin or Kean or Iwobi or Walcott or Bernard are good enough, and it's far too early in his career to expect Gordon to play many games. While Calvert-Lewin had a decent goal-scoring record prior to the lockdown, he looked way off the pace when the league resumed. I am not writing him off, far from it, but right now, he isn't good enough to lead the line.
Also, him and Richarlison are given absolutely no help in the goalscoring department from whoever else has occupied the other wide spot.
So I think our midfield signings were a must and they will make it a lot harder for teams, but whether we have enough fire power up front to compete for a top 6 slot I am not sure.
Paul Johnson
37
Posted 12/09/2020 at 10:37:56
Brent, good shout on Gordon. I love the lad's movement. He is one of those players that makes things happen rather than wait for it to happen. I really like the kid and he will only get better being around quality players. He must have something as Ancelotti likes him and no matter what our personal views of the professor he has been around world class players as a player and a manager.
My big worry is Pickford. Romero was my big ask of this window but I am confident enough that we can get a result. Spurs back line isn't that quick so 2-0 to the mighty blues.
Geoff Lambert
38
Posted 12/09/2020 at 10:38:55
Brian,"but whether we have enough fire power up front to compete for a top 6 slot I am not sure".
I am sure at the moment we don't.
Paul Smith
39
Posted 12/09/2020 at 10:45:30
Ryan,
I grant you his hold up play is good and promising but this season is make or break for him in an Everton shirt; if he performs the same as last season, will that be good enough?
Karl Meighan
40
Posted 12/09/2020 at 10:48:58
Yes, I'm no Calvert-Lewin lover but he improved and took a big leap forward last season. He wasn't great after the restart but difficult circumstances and the midfield were hardly creating chances.
He done plenty enough to have earned the right to be given first chance to get us the goals we need from whoever starts upfront imo.
Steve Carse
41
Posted 12/09/2020 at 10:53:48
Was quite confident until I noticed at the end of the preview who the referee is.
Brian Harrison
42
Posted 12/09/2020 at 10:55:00
Geoff 38
I would also add that we need more goals from all departments not just the strikers, last season our goal return from midfield was woeful and you would expect 4 defenders to get between 10/12 goals for a team to be successful. Now whether thats the style of play or whether its just down to individuals I don't know. But if we are to challenge the top 6 our goal return from all departments has to improve, if not we will still finish between 7th and 10th.
Jamal Paktongko
43
Posted 12/09/2020 at 10:56:51
I hope Carlo will stop all this playing from the back nonsense.
Our midfield keep losing the ball and we keep inviting unnecessary pressure as a result.
Jumble it up. Make us less predictable.
Colin Glassar
44
Posted 12/09/2020 at 11:06:22
I imagine Carlo will go with his trusted 4-4-2 so I'd go with:
Pickford
Coleman
Keane
Mina
Digne
Walcott (no viable alternative)
Allan
Doucouré
Gordon
Calvert-Lewin
Richarlison
Subs: Lössl, Delph, Rodriguez, Davies, Sigurdsson, Bernard, Gomes (if all fit and available)
Dave Williams
45
Posted 12/09/2020 at 11:10:48
This season is the big one for Calvert-Lewin. He did very well until the lockdown and looks to me like he has put on some more muscle. He now has a midfield which, given a few games to settle down, will win plenty of ball and create more space and chances for him and Richarlison. All strikers miss chances but he needs to become more lethal with the ones he gets and I think he will now develop into one of the top strikers in the league.
I loved the interview with Allan speaking about his mate Richarlison, I wonder if he will get amongst the Spurs players if they set about kicking his mate again?
Lots of optimism but I expect a six-game settling in period before we really get going. Happy with a point tomorrow but hoping for three.
Doucouré has been the lowest profile new signing but could be the one to fire up straight away. He knows the league, he knows the opposition, and he can run all day. If he doesn't get the rest of them going, then there is no hope for them. This guy can be a real team changer for us – looking at the running he does, it surely has to embarrass the others into doing more??
Rob Baker
46
Posted 12/09/2020 at 11:15:05
So long as I see a change in performance/attitude then even if we do lose I will take heart. I see a score draw to be honest. Spurs (like all other top 6 teams) are bogey sides so an away point would be an OK start.
John Kavanagh
47
Posted 12/09/2020 at 11:31:33
In recent years our preseasons have been average to awful and we have earned the reputation of being slow starters. The short break has gifted us everyone else being brought down to our level so we go into this season on a level playing field.
The selection of Atkinson backed up by VAR will give Spurs the edge – expect at least one very dodgy penalty to demonstrate the application of the new 'interpretation' of the rules by Atkinson. Everton are traditionally used to show off new FA edicts.
I believe that our new signings give us far better options to change shape and tactics off the bench. I'm hopeful that we can finally show some real fight and at least earn a draw. A win at Spurs is long, long overdue though so fingers crossed. Am I being too keen in forecasting a 2-1 win with Keane and Kean the scorers?
Christopher Timmins
48
Posted 12/09/2020 at 11:33:06
Expecting a much improved performance from the one produced at the same venue in June. All of the new boys with the possible exception of James to start and if we put in a performance the result will take care of itself.
We should be expecting to accumulate 60 points plus during the season ahead, anything less will be a disappointment given the summer business.
Steve Shave
49
Posted 12/09/2020 at 11:34:05
I don't think we will sign a winger now we have brought these 3 in, recruitment appears to me to be geared towards a particular couple of systems in mind - 4-2-3-1, 4-3-3 or 3-5-2 (moving to 5-3-2 without the ball).
I think Bernard, Iwobi, Walcott and Gordon will take up the wide berths as and when our system requires it. Therefore I see the club pushing hard to get rid of either Bernard or Sigurdsson (I don't think both) and Delph (not to mention the obvious deadwood à la Bolasie and Sandro).
I believe our only other signing will be a new right-back, one who can match Digne's attacking prowess to offer us width options going forward. Therefore my team would be the one proposed by Lyndon with an introduction of James 2nd half.
Steve Shave
50
Posted 12/09/2020 at 11:36:16
With new RBs in mind I see Arias being linked again, maybe the club are thinking of our Columbian marketing potential. We would have 3 Columbian and 3 Brazilian internationals (Bernie perhaps not so much though!). Exciting times!
Derek Knox
51
Posted 12/09/2020 at 11:37:06
Brian @42, a very good point there mate, when you look back to our successful sides over the years, goals have come from all departments.
Last few seasons, the ball has been treated like a hot potato when in the opposition box (yes, there has been the odd occasion), they couldn't wait to get rid, rather than have a shot. Not sure if that comes from lack of confidence, instructions, or what.
Brent Stephens
52
Posted 12/09/2020 at 11:44:43
Paul #37 "[Gordon] must have something as Ancelotti likes him".
If Gordon starts to show us what he showed for the U23s (dazzling runs and ball control, with shots thrown in), we'll be drooling. It's another level, I know, but that's what development is all about.
I think he was possibly (wisely for him and the team) told last season to limit what he tried to do with the ball. I wonder if we'll see him given more licence this season.

Jay Evans
53
Posted 12/09/2020 at 11:45:23
Full support blues 💙
Will be tough going tomorrow but if we can get our noses in front then who knows. I think we have the players who could hurt Spurs on the counter.
If we go behind though it could be a different matter, unless of course some of those big jessies have grown a pair in the last 6 weeks.
Onward Evertonians.
Ryan Holroyd
54
Posted 12/09/2020 at 11:52:38
Calvert-Lewin always gets the blame for the team's failings. The lad was our joint top scorer playing in front of a horrific midfield with no creativity whatsoever. To bracket him with Theo Walcott is ridiculous.
Sigurdsson
Bernard
Walcott
Davies
Gomes

Are all way in front of him in the useless stakes.
Colin Malone
55
Posted 12/09/2020 at 11:56:34
I'm prepared to go to the ground at, say 11am for a 3pm kick off, get tested and if clear, go into Goodison and wait for kick-off time, wearing a face mask and prepared to clean my own seat. Just saying. It seems to work at the Apple shop in the One shopping centre.
Robert Tressell
56
Posted 12/09/2020 at 11:56:48
With Doucoure and Allan behind him, I wouldn't be at all surprised to see Sigurdsson starting - with Richarlison and Gordon / Walcott occupying the wide areas. Although crap last season, Sigurdsson is very experienced and effective in his correct specialist role. Ancelotti consistently picked him too last season.
The good thing is, suddenly lots of options now in terms of personnel, tactics and formations.
Martin Berry
57
Posted 12/09/2020 at 11:58:54
We can win this one as no team is going to waltz through our midfield anymore so we are going to be so much more competitive.
Added to Spurs not be as gung ho under Mourinho however Son is their key man for me, keep him quiet and their breakaways disappear and chances nullified significantly.
Kevin Molloy
58
Posted 12/09/2020 at 12:05:39
I've been as excited as anyone about these new signings, but god I think some people are going to come down with a bit of a bump tomorrow.
Surely it takes years to build a team, and we are at ground zero after the lack of spirit shown last season. At the moment, there is no fluency to our game at all. And we cough up goals when put under decent pressure.
We face a Mourinho team at home who has been focussed on just this game for weeks. Hate to say it but odds are we get overpowered tomorrow, and if we do I hope the inquest isn't too hysterical cos this is a very difficult game.
Allan Board
59
Posted 12/09/2020 at 12:20:56
Hope for a win, reality is a point. However, if one of our lads 'accidentally' destroys Son in a tackle, and the sneak is out for the season, that will do me nicely. Tosser deserves some pain.
Mourinho? Slowly but surely turning into a comedy caricature.
Up the Blues!
Frank Crewe
60
Posted 12/09/2020 at 12:25:44
@Kevin58. Rubbish. The side with the new additions hasn't played yet but you appear to have already written them off already.
It does not take years to build a team because owners and fans won't wait that long. These players were brought in to have an instant impact now and not at some unspecified time in the future.
I would also say one of the main reasons for bringing in these players was to improve the physicality and dynamism of our midfield to stop us from being overpowered.
Also by bringing in proven winners we can improve the general spirit and will to win of the side as a whole. So let's just wait and see before we decide its all been a waste of time and money and we haven't improved at all.
Paul Tran
61
Posted 12/09/2020 at 12:40:01
I hope all three signings start. If they cant/don't last 90 mins, let them shape the game early rather than chase it at the end.
I'm expecting more purpose, more pace, the obligatory good save & cock up from Pickford. Beyond that, who knows.
Let's not over-react, whatever happens. Imagine what this place would have been like after Spurs did us 4-1 in 1984? Or when we walloped Newcadtle 4-0?
Frank Sheppard
62
Posted 12/09/2020 at 12:50:07
I would be very happy to keep a clean sheet.
Derek Knox
63
Posted 12/09/2020 at 13:07:39
Frank S@62, I know mate, that's what they say all the time in the incontinence ward! ;-)
Anthony Hawkins
64
Posted 12/09/2020 at 13:09:51
I'm reserving any misplaced optimism until after this game, and the reviewing after 5 to 10 games. I really hope this is the corner we've been trying for years to turn.
Darren Hind
65
Posted 12/09/2020 at 13:15:05
Everyone seems to be writing off our midfield players from last season, but they will play a vital part of this one.
It's worth remembering that we were still in the running for European qualification before lockdown. They are Premier League players. They just didn't have the athleticism to make a solid midfield unit. No matter which way the pack was shuffled. A couple of players with proper engines in the ranks will change that.
I think we will see a massive improvement from all of them whenever they are called upon this season.
I have a sneaking feeling that Sigurdsson (the guy I'd given up on) will be back among the goals coming off the bench this season.
Dan Nulty
66
Posted 12/09/2020 at 13:19:43
I'm not going to be judging after this game. I'll see how we are playing after the next 3/4 games.
Geoff Lambert
67
Posted 12/09/2020 at 14:09:42
Doucoure will just slot in nicely as should Allan, I think James might take time to adjust, no doubt about his talent but a totally different league to what he is used to.
I am not going to judge on this game, but would hope to see a glimpse of what is to come for the rest of the season.
Geoff Lambert
68
Posted 12/09/2020 at 14:13:34
Abdoulaye Doucouré!!! Can we just call him Abe?? Or any other ideas welcome.
Paul Tran
69
Posted 12/09/2020 at 14:16:20
Not me, Darren, this is an opportunity for the existing players to show that they really can step up with better around them. Some will, some will talk to their agents.
Jay Wood
[BRZ]
70
Posted 12/09/2020 at 14:19:26
If as a football supporter you can't be up for and excited on the opening day of a new season, full of anticipation for your team, then when can you?
I like that Brands, Ancelotti and the players – old and new – are all under scrutiny to perform right from the off. That's how it should be for a team with genuine ambitions to sit at the top table as Moshiri has claimed since arriving.
My hope is that the 3 senior players we have signed will infect and inspire the rest of the squad with their desire to win, compete for every ball and their professionalism and application.
Because, if it goes the other way, as in recent seasons when new signings caught the malaise of the Finch Farm 'meh' shrug, we're fooked.
Nothing would make me happier right now, starting tomorrow with Mourinho, to hear the opposition manager in his post-match presser complaining about Everton's aggression and the ref not giving his team enough protection.
Let battle commence.
Nick White
71
Posted 12/09/2020 at 14:32:56
If we lose on Sunday, then I am firmly in the Ancelotti out brigade.
Just kidding, think we will surprise a lot of people this season including us lot!
Jamie Crowley
72
Posted 12/09/2020 at 14:35:35
Pickford
Coleman Keane Mina Digne
Allan
Doucouré Gomes
Gordon Calvert-Lewin Richarlison
4-1-2-3 / 4-1-4-1 depending. Gordon and Richarlison to run their socks off.
Bench of James, Davies, Kean, Bernard, Theo... pick the rest as you see fit.
This game will be ugly as hell. Mourinho is an anti-footballing manager for me. Fouls, slow the game down, dark arts bullshit awaits us. I will not criticize the players or the manager for "lacking heart" or "not up for it" because no matter what they do, Spurs will look to take a giant crap on the game. It's what they do.
John Pierce
73
Posted 12/09/2020 at 14:36:16
I think we won't see many outgoings. So we will see lots of the players who underperformed last season. This season more than ever will be based on squad depth. A short off-season, games squeezed in to fit the calendar, will mean the team that uses their squad the best will win out.
Spurs. Despite Mourinho's waning powers, they look more like one of his teams than ever. Go one-nil down and it's a struggle because Jose has never lost the power to defend a lead. Last season, despite the drop off, they got wins when playing ugly.
Play all three new signings, set the tone and change the narrative.
Paul Tran
74
Posted 12/09/2020 at 14:40:55
Agree with all of that, John
Jamie Crowley
75
Posted 12/09/2020 at 14:49:58
Superior point John. We can't concede that first goal.
If they go up 1-0 it will be awful.
Paul Tran
76
Posted 12/09/2020 at 15:04:26
Jamie, I would love it if we go one down and win. Would be great to see a bit of resilience for a change.
Tony Everan
77
Posted 12/09/2020 at 15:04:54
Pickford
Coleman Keane Mina Digne
Allan Doucouré
James Gomes Richarlison
Calvert-Lewin
If the new boys are fit enough, why not start them?
The new signings give us options, I can see the 4-4-2 being used less this season. Playing a 4-3-3 or 4-2-3-1 (depending how you look at it) could be a game changer of a formation for us.
Allan and Doucouré will do a better job at breaking down attacks and winning the ball back. Gomes will be picking up balls in midfield and quickly feeding James and Richarlison. Calvert-Lewin will be getting some much better service and 15-20 goals is realistic.
David Pearl
78
Posted 12/09/2020 at 15:13:11
God no Gordon please. Let's not start the game with 10½ men on the pitch.
To get the best out of this squad surely its 4-4-2 diamond with Allan sitting behind Gomes and Dacoure and James behind the front two. That means our width comes from the full-backs, we stay on the front foot, and the strikers can also go wide allowing space for the midfield to find the gaps.
I'm half expecting 4-2-3-1 though with Gomes on the bench and Theo and Richarlison wide. I feel a whole lot better that at this point last season!
Mike Oates
79
Posted 12/09/2020 at 15:44:01
Not losing will be the priority in 1st game, a real toughie with Kane, Son and Moura all capble of tearing our back 4 to shreds. So I think Ancelotti will play it safe in a 4-3-1-2 formation :
Pickford
Coleman Keane Mina Digne
Allan Gomes Doucouré
Sigurdsson
Calvert-Lewin Richarlison
Rodriquez kept back for WBA.

Dave Ganley
80
Posted 12/09/2020 at 15:54:40
Tony #80, yeah, I like that team, also with Allan and Doucouré both being box-to-box players either one can link up with attack while the other sits back that looks like a decent balance team that can score goals.
Frank McGregor
82
Posted 12/09/2020 at 17:12:11
Really looking forward to the start of a new season, hopefully the new signings will help with better performances.
The only downer I have is the hypocritical kneeling at the beginning of each half. Leave politics out of the game please.
Mike Gaynes
83
Posted 12/09/2020 at 17:13:15
Darren #65, I almost posted the same hunch the other day, but Annika scares me too much.
Jay Harris
84
Posted 12/09/2020 at 17:27:57
We shouldn't worry about them or Mourhino.
Let's go all out for the win and let them worry about us.
I may be biased but I see a win for us.
Mike Corcoran
85
Posted 12/09/2020 at 17:33:15
Suarez may not be going to Juve after all according to BBC. would you have him here anyone?
Max Murphy
86
Posted 12/09/2020 at 18:20:25
3 new players coming into a team? It will be very difficult for them to adapt so quickly. Maybe introduce 1, then later, bring on the other 2 as subs, after we've gone a couple of goals behind.

I'm sorry, but I feel a big defeat is inevitable.
John Gorham
87
Posted 12/09/2020 at 18:23:11
IMO Nkounkou will be picked for a sub
Lyndon Lloyd
Editorial Team
88
Posted 12/09/2020 at 18:35:44
Hugh Jenkins
89
Posted 12/09/2020 at 18:41:42
Ma, Is that some sort of attempt at reverse Psychology?
Raymond Fox
91
Posted 12/09/2020 at 19:45:23
Spurs on their midden is a difficult ask, I'll settle for a good competitive game and a 2-2 scoreline.
We certainly look a strong squad now and I can see us having a real go this season.
We have had plenty of false dawns but it really feels like we have the players to fulfill the promise.
Ajay Gopal
92
Posted 12/09/2020 at 19:46:31
No one has Kenny in their predicted XI? Surprising...
I will go with:
Pickford
Kenny Keane Mina Digne
Doucoure Gomes Allan
Bernard DCL Richarlison
Subs: Lössl, Branthwaite, Nkounkou, Gordon, Davies, Kean, Rodriguez
Peter Mills
93
Posted 12/09/2020 at 19:59:05
It was brilliant to be inside a football ground today, and for an FA Cup tie.
Marine 0-1 down, and reduced to 10 men, managed to grab an equaliser on 87 minutes with a superbly controlled volley. Heading towards a penalty shoot out at the end of normal time, the mighty Mariners grabbed a 90th minute winner with a shot that bounced down off the crossbar. Was it over the line? No VAR, but the Lino stepped in to flag for a goal. Cue hysteria amongst the 323 fans at College Road. Proper footy.
Our signings, and today, have completely got me up for the season.
Will Mabon
94
Posted 12/09/2020 at 20:28:32
Peter - nice.
Tony Everan
95
Posted 12/09/2020 at 20:57:30
What hasn't been taken into account by many of us is how each player is performing in training. There maybe one or two with a niggle, and one or two fringe players who are training really hard and flying. We may get a left-field (or right-field) surprise and Bolaise starts. Sigurdsson looked sharper too last week so he may be in instead of Gomes who has had a niggle when with Portugal.
Peter , high drama ! I grew up round the corner and my uncle Joe used to play for Marine , so delighted to hear that result. There will be a few pints being sunk in the 'Bug' on the back of that.
Jerome Shields
96
Posted 12/09/2020 at 21:32:33
I think that Ancelotti will try to mix it up a bit, the initial selection will be the standard selection with Allan or Doucouré instead of Gomes.
The bench will be interesting. He might even start Kean like against Bournemouth, introducing changes as he tries various formations. I will be looking for improvement in basic tactics and technique, which was hit and miss with a lot of players before the break.
Fringe players like Kenny and Bolasie are anybody's guess.
Jerome Shields
97
Posted 12/09/2020 at 22:03:44
Tony#99
Meant to include what correctly identified as a factor in selection.
John Boon
98
Posted 12/09/2020 at 22:44:14
It is great to see so many optimistic posts. New signings always create enthusiasm so I also put myself on the side of those with a positive outlook. However as much as I would like a win to start a new season, I am just as keen to see HOW we play. There has to be a huge improvement on the last few games of last season. Win draw or whatever I am looking for enthusiasm and determination to make all Evertonians look forward to 2020-21. CYOB
Graeme Beresford
99
Posted 12/09/2020 at 23:08:46
I want to see us start our very best team from the get go. I always think it's easier for players to play from the beginning rather than come on and expect miracles if you're say chasing the game.
These players have been bought, and are on big wages to play. Get them in the starting 11 and let's start how we mean to go on. Alan, James and Doucouré all in the midfield, let's finally stuff these in London! Come onnnn!
Mark Pringle
100
Posted 12/09/2020 at 23:52:07
Unlike many I think Rodriguez will start, as much as anything his set-piece deliveries are excellent. I reckon -
Pickford
Coleman Mina Keane Digne
Allan
Doucoure Gomes
Rodriguez Richarlison
DCL
UTFT, 2-1 win!

Simon Harrison
101
Posted 13/09/2020 at 00:38:36
Tony E at [11]
Is that pheasant 'just shot' I.e. with a shotgun; or, 'post shot', well peppered, and washed down with a nice claret?
Andy Crooks
102
Posted 13/09/2020 at 00:50:37
Pete,@ 95, you just made my day, and as it's between two days, even better. Hope all is well with you Pete. As you know Everton make me nervous and I know how ridiculous it is to be kept awake by fucking football, but here we go go again.
Simon Harrison
103
Posted 13/09/2020 at 01:04:03
I'm genuinely excited for the season ahead and the next 22 days of the Transfer window. Hopefully we'll get some RHS reinforcements, and some more cover at CB.
I hope we get one over against the Spuds at their place, with no further injuries, or contentious issues from Atkinson or Marriner, and we see a marked difference in performance and attitude.
For me Allan and Doucoure to start, James on the bench. A possible team, and bench.
Pickford
Coleman - Keane - Mina - Digne
Allan - Gylfi - Doucoure
Walcott/Bolasie - DCL - Richi
Lossl, JJK, Gibson (CB/LB), Gomes (Not fit enough yet, but to replace gylfi with 30 or so to go), Gordon (maybe Delph), James (comes on if we go 2 behind or with 30 to go), Kean (to replace DCL after James has been on a while)
Jamie Crowley
104
Posted 13/09/2020 at 01:40:09
Pete @ 93 -
Great day. So nice to hear fans are coming back. Very cool.
Watching the college football over here and there's fans in the stands. I'd guess about 20-25% capacity most places. It's so, so nice to see and if totally changes the atmosphere of the thing.
Hopefully a sign of things to come and returning to normal.
Thanks for sharing, brought a smile.
Frank Thomas
105
Posted 13/09/2020 at 01:46:07
Spurs need to win tomorrow they have borrowed £175M from the government@ 0.5% and it needs to be paid back next year. That fact is causing a storm with the Arsenal fans, it should with our club and it should be looked at by the FA. (https://www.arsenaltrust.org/feed/news/2020/AST-SpursDebtAnalysis )
Back to the team.
We now have a very fast frontline. Last season there were only a small number of chances given to the strikers so a lot of the time they had to create something out of nothing. Tomorrow should hopefully be different.
I am expecting us to give Spurs a thrashing similar to the one we gave to Man Utd. However tomorrow is vital for DCL. His major strength is aerial dominance with Allen, Gomes and Rodriguez creating lots of aerial chances he needs to put them firstly on target second in the back of the net. If not then the manager will immediately sanction the purchase of a new striker someone fast and capable of scoring a large number of headed goals someone like maxi Gomez ( https://www.youtube.com/watch?v=veCjYprMwn8 } we simply cannot wait for Dcl to get his 'skill back at scoring headers or we will not qualify for the CL or even the Europa League.
The starting back 5 picks itself due to the injuries and inexperience of other players.
The midfield is determined by the question on Rodriquez does he need to self isolate for 10 days? If so is Sunday the 10th day?
This new midfield will be perfect for Kean, Richarlison and Walcott.
It is simple we score first we win because they will have to attack us to get to Europe.
Colwyn Harris
106
Posted 13/09/2020 at 06:08:45
Hopefully Kean proves himself, this season and as long as Pickford is playing, lifts his game. Looking forward to seeing Gordon feature more, too.
We're certainly stronger than last season and I hope we can at least hold Spurs to a draw. Losing to them again would be horrible – my daughter and I are the only Toffees in a Spurs-supporting family!
COYB!
Andrew Dempsey
107
Posted 13/09/2020 at 06:10:10
Why is Walcott in the predicted line up? Please God, no! We can dream bigger than this now can't we?
All three signings must start. There's no bedding-in period here, what are we bedding them into, a shite underperforming team?
It's the same reason Moise Kean should have started the first 10 games of last season, would doing that have put us any lower in the table?
I'm feeling optimistic and it's a strange feeling. Surely, Gordon will start ahead of Walcott or Sigurrdson to make up the XI.
If any of the latter two players begin the game, it'll be back to pessimism.

Graham Lloyd
108
Posted 13/09/2020 at 06:47:27
I'm cautiously optimistic that we won't lose.
Pickford
Coleman Keane Mina Digne
Allan Doucouré
James Gomes or Sigurdsson Richarlison
Calvert-Lewin
Start with Gomes to help keep things tight whilst not giving away daft free kicks around our box. Bring on Sigurdsson (or Gordon) and Kean for the last 30 mins unless we are 3 up!
Pridicting a 1-2 win with Richarlison scoring the second from a James assist!
Up the blues!
Annika Herbert
109
Posted 13/09/2020 at 06:57:12
Mike@83, I had to smile at that comment! Seriously though, I hope Darren is spot on with his comment. If all our under performing players are lifted by the newcomers, then we could finally be in for a successful season.
If that means Sigurdsson proving me horribly wrong then bring it on! I just want to see Everton have a top season and produce some attacking, entertaining football.
Here's hoping we start with a win today
Graham Lloyd
110
Posted 13/09/2020 at 07:13:49
Pete @93 - My brother who still lives in the UK used to speak very highly of the Marine fans when they used to come and visit our home town club Colwyn Bay. Apparently they used to drink the pub nearest to the ground almost dry before the game because it happened to be called "The Marine"!
Steve Shave
111
Posted 13/09/2020 at 07:31:35
Andrew @107 – "what are we bedding them into? a shite underperforming team?" hilarious comment and fair play!
Jay Evans
112
Posted 13/09/2020 at 07:52:05
Colin @ 55, can I join you?
It seems like plenty of other businesses are welcoming back paying customers so why not?
We could wear masks like on public transport. These masks would not be required should we decide to go for a pre-match pint, however.
We could fill in our track and trace details – if asked – but what if we are not asked? Or what if they can't read my contact details? Or what if the sheet of paper blows away in the Goodison Road wind?
Pete @93, along with Colin, great posts. Let us get back to doing what we love.
We could get on a flight today, with air being recirculated in the cabin, yet we can't sit outside to watch the match.
It's a crock.
Dan Nulty
113
Posted 13/09/2020 at 07:57:23
I don't think I've ever been so desperate to get off to a good start. So nervous.
Peter Neilson
114
Posted 13/09/2020 at 08:00:48
Frank (105) you're right not just Arsenal fans should be miffed. All tax payers in the UK are now supporting Spurs with this loan. FFP well and truly meaningless for some clubs. They also recently charged the council over £30k for using the car park as a food bank. £69 million profit last year and an owner worth nearly £5Bn. Somethings smells off.
Mark Murphy
115
Posted 13/09/2020 at 08:16:57
No-one seems to fancy Bernard then? Not even on the bench? Have I missed something?
Tony Everan
116
Posted 13/09/2020 at 08:25:38
Peter 114, Yes, it smells rancid, people in positions of power are oiling the wheels at Tottenham. No one would be surprised if that loan is extended too.
Depending how you look at the accounts, it could be reasonably argued that the 0.5% loan was needed to pay £15M for Højbjerg's transfer and their quest for a new £30M striker and their combined £10M per year wage deals.
Instead of asking for interest-free public money, why not just sell Kane or Alli? – that would have raised a few quid.
Laurie Hartley
117
Posted 13/09/2020 at 08:26:14
I have had a good read through this thread and apart from It's predominantly optimistic nature the other thing that has struck me is how much choice we now have picking a starting 11.
Personally I will be surprised if The Professor doesn't start all 3 newcomers, after all we know he needed Allan and Doucouré, and there will be 90m "followers" expecting Rodriguez to start.
I remember reading an Ancelotti interview many seasons ago in which he stated "4-4-2 is the best system for defending, and "4-3-3 is the best system for attacking". He also said something along the lines that he liked to be able to switch between the two systems.
With that in mind, I expect him to go 4-4-2 with the following line up:-
Pickford
Coleman, Keane, Mina, Digne
Rodriguez, Allan, Gomes, Doucouré,
Calvert-Lewin, Richarlison
Apart from Lössl, Kenny, Gordon, and Branthwaite, it will be a fight to get a spot on the bench now between any two of Sigurdsson, Iwobi, Bernard, Walcott, Delph, Bolasie, etc, etc.
Scratches head!????
Ciarán McGlone
118
Posted 13/09/2020 at 08:32:45
I despise the almost reverential slow introduction of new players. Get them in immediately... if they tire, then replace them then.
Play your best team from the start – this cautious approach is counter-productive. By the time your best team is introduced you've already had a few of losses and confidence and morale is gone. Last season's midfield was shit.
Carpe diem.
Darren Hind
119
Posted 13/09/2020 at 08:34:30
Another observation.
There is as much anticipation about who will be selected today as the game itself.
I can't remember the last time that happened.
George Cumiskey
120
Posted 13/09/2020 at 09:05:10
Ciaran @ 118 – I coudn't agree more, mate.
Sam Hoare
121
Posted 13/09/2020 at 09:05:28
Ciaran @118 Marco Silva agreed with you and look what happened to Gbamin. And consequently our midfield last season.
If players aren't physically ready and get rushed into the high paced Premier League, then you're asking for problems. As always, there is a balance to be struck but more than ever squads will need to be well managed physically this time with little pre-season and a congested fixture list.
Peter Neilson
122
Posted 13/09/2020 at 09:12:27
Tony (116) a condition of the loan is that it isn't to be used for players transfers. Yeah, like anyone's checking. It's a shame that similar financial largesse wasn't on offer to the likes of Bury.
Gary Willock
123
Posted 13/09/2020 at 09:12:59
Awesome just how many permutations we've actually got right now. Exciting times.
Interesting point Laurie @117 makes about attacking and defending preferences. I'd love to see us go all out 4-3-3 and really go for the throat in games like Man City and Liverpool do. With those available, that team picks itself really:
Pickford
Coleman Keane Mina Digne
Doucouré Allan Gomes
James Calvert-Lewin Richarlison
Kean or Walcott and Gordon giving James and Richarlison a breather in last 20 mins, and Davies, Iwobi, Sigurdsson or Bernard fighting to be a backup for the new midfield trinity.
However, perhaps we'll be a little more cautious early in the season and away to more 'mature' teams like Spurs. So, fully expect to see 4-4-2 today with a big decision needed on who drops in the centre mid. Perhaps:
Pickford
Coleman Keane Mina Digne
James Allan Doucouré Gordon
Calvert-Lewin Richarlison
Again, exciting times!! COYBs

Richard Mason
124
Posted 13/09/2020 at 09:18:07
We have signed 3 seasoned professionals, Doucouré has Premier League experience, Allan showed he can play against top clubs, he was outstanding against Liverpool last year.
Rodriguez needs to just play; if he tires, sub him. Hate this talk of getting used to the Premier League, the only way to do it is to play them.
Ciarán McGlone
125
Posted 13/09/2020 at 09:24:22
Sam... Gbamin's injury could've happened if he started after 1, 2 or a 100 games.
Non sequitur.
David Greenwood
126
Posted 13/09/2020 at 09:24:54
Mourinho will have his players lined up to kick anything that moves and shit-fest their way to a scrappy one-nil win. It's up to us to stop that happening and we need to take the incompetent and corrupt Martin Atkinson and his colleagues out of the equation as well.
We have to play smart, don't give away stupid fouls around the box and take our chances when they come along.
2-1 win, Richarlison and Calvert-Lewin.

Brian Hennessy
127
Posted 13/09/2020 at 09:29:04
New season, clean slate, I think Carlo will spring a few surprises today.
Pickford
Kenny, Mina, Keane, Digne
Walcott, Besic, Delph, Davies, Iwobi             
Sandro
Jonathan Tasker
128
Posted 13/09/2020 at 09:30:50
Can Everton win away at a Sky big six club for the first time in 600 years?
Time for all the players to step up.
Andrew Clare
129
Posted 13/09/2020 at 09:32:43
Come on Everton! Come on! Be confident go out there and win the game. Give us all a lift. Anything is possible.
Geoff Williams
130
Posted 13/09/2020 at 09:40:59
If James is fit enough for the bench then he should be fit enough to start. I believe it would be more beneficial for him to be on from the start rather than come on after 60 minutes and try to pick up the pace of the game.
The team almost picks itself only decision to make should be over Gomes, Sigurdsson, Bernard or Davies to play. My choice would be Gomes
Christy Ring
131
Posted 13/09/2020 at 09:48:20
We need Allan and Doucouré in midfield, a physical presence, which we completely lacked last season, especially against Spurs. If James isn't fit to start, why not play Bernard, he looks a lot more effective in the middle, than on the wing.
Luke Welch
132
Posted 13/09/2020 at 09:49:52
I really want to see and Everton team that doesn't get bullied, and the new lads changing the mindset to a more postive one! One that wants to cause an upset and not curl one out when they take to pitch.
Julian Exshaw
133
Posted 13/09/2020 at 09:57:49
I can't wait for the game today. Nothing like a few fresh faces to regenerate interest. I'll be fascinated to see how we line up. Will Gomes, Allan and Doucouré start together in midfield? Will Kenny replace Seamus? Will we see James? Bring it on!
Gary Carter
134
Posted 13/09/2020 at 09:58:53
That's exactly the same team I think we will field, I'd love to see Kean in for Walcott though and think it might actually be close between Siggi and Gomes as to who plays with Allan and Doucoure as they were both equally as ineffective as each other last season. But if we are going to have two protecting box to box midfielders playing this season with an attacking one sat in front of them it has to be siggi when it not James. He offers a goal threat both from open play and set pieces whereas Gomes offers literally nothing going forward.
The problem with Gomes is that he doesn't score, doesn't get assists and so doesn't fit into the attacking role, and he doesn't fit into the defensive role as he doesn't break up play and can't tackle to save his life. I've said for a while now that whilst he looks smooth on the ball he actually doesn't really offer anything of any great value
Gary Carter
135
Posted 13/09/2020 at 10:06:40
Team I think will start
Pickford
Coleman Keane Mina Digne
Allan Doucoure
Sigurdsson
Walcott DCL Richarlison
Team I'd like to see start
Pickford
Coleman Keane Mina Digne
Allan Doucoure
James
Kean DCL Richarlison
Geoff Lambert
136
Posted 13/09/2020 at 10:15:16
Praying it's not groundhog day again. I have got that new season optimism feeling but been there before and got kicked where it hurts.
Please let us have a season that finally makes the rest sit up and realize the blue army has risen again.
Carlo must start the three new boys no holding back and chasing the game. best form of defense is attack.
COYB
Clive Rogers
137
Posted 13/09/2020 at 10:20:22
Gary, 134, Siggy only scored 2 goals from 35 games last season and has not scored from a free kick in a meaningful game since he came to us. His legs have gone, we bought him too late.
Mark Rankin
138
Posted 13/09/2020 at 10:21:50
https://youtu.be/hDDEZgR0DI4
Derek Knox
139
Posted 13/09/2020 at 10:30:28
Got a good feeling about today, after all we are 9th in the table, and haven't even played yet. :-) I just hope that disputable refereeing decisions don't mar what should be an entertaining game.
Agree with those posters advocating playing the strongest 11 from the outset, it's just, who are our strongest 11? Spurs will try all manner of upsetting tactics if we come out of the blocks, like a scalded cat.
Slightly off topic, but weren't Leeds robbed yesterday? They put a few past the bearded lady, only to have them disallowed (surprise, surprise chuck) and they get two of the softest penalties you'll see all season.
Klippety's crimper must have been puckering the nearer it got to the final whistle, but justice was not seen to be done. None of his lunatic running up and down fist pumping to an imaginary crowd. Great game for the neutrals I suppose.
Ciarán McGlone
140
Posted 13/09/2020 at 10:32:39
I cant understand why anyone would want to see Sigurdsson ahead of Gomes. Gomes is a classy player who had an indifferent season out of position after a horror injury.
I think, and I sincerely hope, he will be the player to excel with better midfielders around.
Derek Knox
141
Posted 13/09/2020 at 10:39:09
Good point regarding Gomes Ciaran, but I can understand people's skepticism over him, as he did virtually nothing when the season resumed, and only a shadow of what we have seen in the past.
Being the Devil's Advocate here but the same could be said of Siggy who has been played out of position, but still has those flashes of brilliance, except they are too infrequent.
Sam Hoare
142
Posted 13/09/2020 at 10:40:20
Ciaran@125 I could fall down the stairs any day. But it's more likely to happen if I've got my eyes closed!
Sports science would strongly suggest you're more likely to suffer injury if not fully conditioned. Ergo not rushing players.
No non sequitur.
I'm keen as we all to see the new players but only if they're physically ready. Our squad is not deep enough to sustain a lot of injuries so some caution must be shown.
Geoff Lambert
143
Posted 13/09/2020 at 10:48:46
Sam, which players do you know that are physically ready?
Ciarán McGlone
144
Posted 13/09/2020 at 10:55:30
Sam.. explain to me how you get conditioned for the premiership by sitting on the bench watching or getting 5 minutes at the end against Norwich? You get conditioned by playing.. the continual assumption that conditioning only comes from being introduced at the end of games is at best, questionable. In my opinion Moise Kean has suffered from this sort of nonsense logic.
Its arguable that none of our players are conditioned at the start of the season and are therefore on a level playing field.
As for Gbamin. We bought an injured player and played him injured.
P.s please don't walk down the stairs with your eyes closed.
Andrew Ellams
145
Posted 13/09/2020 at 10:56:54
If he doesn't play Gomes today I'd like to see Gordon given a chance to run at the opposition from the middle of the field. I think he'd cause more trouble for the opposition than out wide.
Tommy Carter
146
Posted 13/09/2020 at 10:58:50
Today will be a test of character and mentality.
It's a Mourinho Team. It will be powerful, ruthless and determined. We have to match them for aggression and guts otherwise we will lose the game.
The Spurs documentary shows Mourinho questioning his players, are they too nice?
Well we have been far too nice for far too long. I'm hoping the new signings will bring character as much as they do ability.
We'll see.
Brian Harrison
147
Posted 13/09/2020 at 11:04:11
Obviously would love a win and a draw wouldn't be unacceptable, but what I am really interested to see is what impact the new players have had on the mindset of this group. I would hope they have injected a belief that we can go to top 6 clubs and win, and should we go a goal down, heads don't go down as they have over the last couple of seasons.
For me the hopeful change of mindset and the belief cant be under estimated the effect that can have. Like all sports confidence plays a big part and we havent looked a very confident team for a while, so I am hoping Carlo and the new players have instilled some confidence in our under performing players.
Andrew Ellams
148
Posted 13/09/2020 at 11:15:06
Sky Sports telling us this morning that Mourinho has still got and Spurs are going to surprise people this season. This league is one big marketing scam.
Robert Tressell
149
Posted 13/09/2020 at 11:23:36
Mourinho is no mug but he fell out of love with football some time ago.
Philip Bunting
150
Posted 13/09/2020 at 11:25:03
New era, new Everton. New belief. Get stuck into them from the 1st minute to the last COYB NBTBIGE
David Cash
151
Posted 13/09/2020 at 11:26:37
I watched that too Andrew.
This Sky team always seem to be gushing over certain clubs. A newcomer to the game could be forgiven for thinking there is only six teams in this league
Gary Carter
152
Posted 13/09/2020 at 11:33:59
Clive, Ciaron I know Sigurdsson hasn't scored as many last season (or even close), but he still offers far more goal threat than Gomes. Gomes has never offered a goal threat, he's not scored more than 4 goals in a season since 2012 ! Watching him play is like watching a crab, everything goes sideways and backwards.
Don't get me wrong, I'm not a huge fan of siggi either but he offers more than Gomes. Neither of them can tackle or work back either so for me it's a no brainier, someone that's scored scored once since 2018 or someone that's scored 17 times since 2018
David Hayes
153
Posted 13/09/2020 at 12:03:42
Andrew 148,.. Not only is it a big marketing scam but it's bent. I really thought VAR would even it up but the opposite is now true.
Baised and pressure led refs have now been added to by baised and incompetant VAR, operated by the same refs, no independance
at all, a bigger fix than it was before. SKY, ect want their moneys worth and decide who the Top Six should be as far as they can and do all they can to maximise their business.
I am really excited to see the start of a new blues era, under Carlo and to watching the blues reborn with passion and quaility. I'ts not
a level playing field unfortunatly, get ready for the game changing VAR and refs " Mistakes " not in our favour against Spurs. that said
COYB, Get into them.

Simon Harrison
154
Posted 13/09/2020 at 12:08:11
Sam [142] I'm with you, as for Gbamin, nearly all 'commentators' regards his injury, blame Silva for playing him too early. It's one thing turning up in training, to turning up in a full-on EPL game; especially against a 'crop till you drop' team like spuds.
James would be better suited t coming on later, and playing less minutes, and also being able to ge a feel for the game.
I'd play Allan and Doucoure, get them them to lay a marker or two down, before introducing James.
As for he #10 false 9 position, Gomes is not fit, as he has had to be tested by EFC and rejected by Portugal as being under cooked; Siggi has played all pre-season and is our specialist dead ball player; but as a wild card, why not play Iwobi in that position, to give us more legs, and as a player to sacrifice a yellow card on to clobber one of them..?
Do Mourinho to Mourinho.
0-2 We score first, then hit them on the break as they try to score.
Paul Kennedy
155
Posted 13/09/2020 at 12:11:07
Sitting on the front at Torrevieja enjoying the sun and rest. Just trying to build up the bottle to watch us later. Would be happy to get a good competitive performance and not one of our usual if only we had turned up. On another point watched Italy v Holland. Kean came on. Fantastic game - only 1 player looked lacking in class and ability on the park: Kean!
Tom Dodds
156
Posted 13/09/2020 at 12:23:45
Paul Tran
157
Posted 13/09/2020 at 12:42:40
Peter #93, great to get that brief report on Marine. I grew up in Crosby and had many a good afternoon at Rossett Park. I saw the result without realising that great finish!
Regarding today's game. If the three new signings are fit, start them all. Let's start the season on the front foot and make that a new habit.
I want to see a solid midfield that keeps our opponents in their half as much as possible. They'll put their feet in, we need to put ours in too!
Stephen Vincent
158
Posted 13/09/2020 at 12:58:55
Brian #127, what no Tarashaj?
Sam Hoare
159
Posted 13/09/2020 at 13:00:24
Ciaran@144, I'm no physio but it's surely just a case of getting all players at the appropriate level of fitness and clear of injury. Of course getting match time is a part of this but I expect someone like James who's not completed a lot of 90 minute outings in the last year to maybe get a few sub appearances before he starts.
As you say we played Gbamin injured and it cost us dearly. Just don't want a repeat. Rodriguez has had a few niggles in the last two year and the PL will be the most physically intense league he has played in.
Brent Stephens
160
Posted 13/09/2020 at 13:05:51
Sam, yes and he'll be keen to impress in his first games so risking excessive effort.
Fran Mitchell
161
Posted 13/09/2020 at 13:07:52
Think we may see Gordon in the line up.
Just curious as to how we will set up? 3 at the back with Coleman as RCB and Kenny at wing back? Our lack of proper widemen and need to shore up the midfield may make this an option.
People mention Siggy or Gomes in the middle, but there is also Davies who may thrive having a proper midfield to play in. Iwobi also could do better playing in the middle. And of course Gordon.
very difficult to know how we will set up, not least due to the absolute lack of any real pre-season games. 1 game with many on holiday still and a second with most on international duty.
For what it's worth (we ain't anything like), i'd go with:
Pickford
Kenny Mina Keane Digne
Allan Doucoure Davies
Richarlison Gordon
DCL
but that would mean leaving both captains on the bench (Coleman and Siggy). So maybe
Kenny Coleman Mina Keane Digne
Allan Doucoure
Gomes/Siggy/Iwobi
DCL Richarlison
James leave for teh second half. Mourinho would have him handicapped before half time if he started, but on for the last 30-20 minutes could give us that boost to win the game.
2-2 or an optimistic 3-2
Tom Bowers
162
Posted 13/09/2020 at 13:11:14
We would be foolish to expect much change in our performances, at least for the first few games and certainly not at Spurs.
Offensively we are still challenged and unless they can become a team that has a lot more confidence in possession and going forward then they will be under the cosh far longer than they ought to be throughout games.
It very rarely happens that new players shine immediately after joining Everton and some never at all so we may have to be patient.
Today commands a disciplined defensive performance to frustrate Spurs and providing there are no early setbacks, i.e. injury, sending-off or stupid give-away goals then we have a chance.
Ray Roche
163
Posted 13/09/2020 at 13:27:29
Under 23 side losing 1-0. If you have one of those 'boxes ' you can see it on LFC TV.
Bill Gall
164
Posted 13/09/2020 at 13:29:46
Regardless of the result or how well the new signings play, what we need to see is the improvement on a team performance. Today's game is the start of what can described as the start of an Ancelotti team and tactics. He has had time to watch the players he had when he signed on and now should know their strengths and weaknesses and the club have financed him to make changes.
Today a win would be great and a draw will be acceptable but the team has to show that they and the Manager are going to be legitimate challengers for a top 6

Jamie Crowley
165
Posted 13/09/2020 at 13:31:23
Luke @ 132 -
Fantastic point, thank you for bringing it up.
The opponent has a player who, like a heat-seeking missile, went after one of ours and snapped his leg.
The last time we played they kicked Richarlison off the park. We literally did nothing about it.
We need to assert ourselves physically and not get pushed around.
We also need to score first, but that's another convo.
I hope we've found our balls. They can come in handy when the opposition tactics are to kick the best player to bits and put in filthy tackles.
I hope we beat the tar our of Spurs today.
Peter Mills
166
Posted 13/09/2020 at 13:35:49
I saw a post on Facebook from George McKane that he is currently on the mend in hospital recovering from a heart problem
It may be that there will be no poetry or Van the Man words today.
Sending you positive cosmic grooves George.
Jamie Crowley
167
Posted 13/09/2020 at 13:38:02
Best to George.
I haven't seen John McFarlane Snr post in a while either?
Hoping he's well, too.
Jonathan Tasker
168
Posted 13/09/2020 at 13:40:04
Andrew 148, absolutely right. Sky and BT is only about the big six. So, for a match like today, we are only there to make up the numbers.
As you saw yesterday, it's very rare for a team to be awarded two penalties but I believe everything is predicated around the prizes going to the big teams. Leeds would never be awarded two penalties in a match like that.
In a match like today, we are also up against the ref and VAR. What's especially frustrating is that we were once a member of the big five. It's going to take an exceptional performance to win today.
Derek Knox
169
Posted 13/09/2020 at 13:44:20
Peter, Thanks for letting us know mate, I'm sure I echo all TW'ers in wishing George a speedy and successful recovery. He is one of the TW Family after all said and done, and a good guy into the bargain.
Derek Knox
170
Posted 13/09/2020 at 13:46:02
Sorry Peter, meant to add that I am not on Facebook, so if you can possibly relay a message to George from us all, I think it may give him an added lift.
Ray Roche
171
Posted 13/09/2020 at 13:46:46
Best wishes George, get well soon.👍🏻
Tony Everan
172
Posted 13/09/2020 at 13:47:48
All the best to George, wish you a speedy recovery.
Tony Everan
173
Posted 13/09/2020 at 13:52:21
Jamie 165, Luke 132
I watched a little bit of Crystal Palace v Southampton yesterday. Ward-Prowse was very competitve and trying to really impose himself on Crystal Palace. James McCarthy was having none of it and gave more back than he was given, nearly came to blows at one point. This fighting spirit stopped Southampton from controlling the match.
Great stuff from McCarthy, and the way we rolled over to Southampton a couple of months ago we need some of that spirit. Teams just can't get away with it and our new lads Allan and Doucoure will put an end to that.
Tony Hill
174
Posted 13/09/2020 at 14:00:28
With best wishes, George. 4-0 it is then today. 4 for us, that is.
Darren Hind
175
Posted 13/09/2020 at 14:02:22
George.
Come back firing on all cylinders.
Look forward to seeing more notes from your Wallasey window in the not too distant.
Steve Barr
176
Posted 13/09/2020 at 14:04:18
Graham Coldron
177
Posted 13/09/2020 at 14:10:12
David @148 - spot on about VAR. I said when it was first mentioned that Everton would be one of the first clubs to be shafted by it and so it was proved at the Brighton game.
Sky's obsession with the top 6 got worse when it lost the contract for the Champions League games and it now over compensates by talking about them to the exclusion of the other teams in the league.
Spurs have got Atkinson playing for them today and for added back up Marriner is in charge of VAR. If we get a stranglehold on the game and look like winning it don't be surprised if the fates conspire against us.
Bitter and twisted ? Maybe I am, but when the game is as bent as a boxing day turd what do you expect ?
Anyway rant over, c'mon Everton let's get a win. Comub !
Jay Wood
[BRZ]
178
Posted 13/09/2020 at 14:13:05
I for one am disappointed if, as reported, Lo Celso is missing for Spurs.
I was looking forward to Allan on his Everton debut and with the edge of the Brazil v Argentina rivalry literally leaving his mark on the Spurs man who kicked anything and everyone in Blue last time out.
Allan is the type of enforcer who simply won't allow that to happen unchallenged this season.
Paul Tran
179
Posted 13/09/2020 at 14:15:59
All the best and positive vibes to you, George.
Mike Gaynes
180
Posted 13/09/2020 at 14:28:22
DK #139, no, those weren't soft penalties. One was unlucky and one was monumentally stupid, but both were clear, obvious and correctly called. Blame Rodrigo, not the ref or the league.
Gary at both #152 and #135, agree.
Sam, rarely disagree with you but I think you are way, way off target on Gbamin being injured because he was played too much too soon. First, all injuries are not the same, and these were not overuse or conditioning injuries, but catastrophic accidents. Second, both occurred in training, not in a game. And third, he had just played a full 90 against Watford with no sign of distress before his first training injury, and it was originally thought to be a mere thigh strain.
George, wishing you all the best for a swift and full recovery.
Tony Everan
181
Posted 13/09/2020 at 14:31:06
Graham, "Bent as a Boxing Day turd".
Sums up VAR in six words.
Tony Hill
182
Posted 13/09/2020 at 14:54:45
"There is no reason for Everton to fear anyone
There never has been
We just need to believe."
So says Nev, and Nev is right.
Mike Gaynes
183
Posted 13/09/2020 at 15:07:18
Tony, who would know better?
Simon Dalzell
184
Posted 13/09/2020 at 15:07:55
No, sorry Jay #178. We need every advantage we can get !! COYB
John Kavanagh
185
Posted 13/09/2020 at 15:15:13
Minute one I want to see 'Not that sort of player' Son get booted 12 foot in the air and then see others take turns to play keepy up with his carcass. I want to see Moanino crying for justice after the match and for better protection for his lilly white players. Let's see some payback for recent Spurs tactics and get a result into the bargain.
George McKane
186
Posted 13/09/2020 at 15:27:37
Good afternoon Blue friends on this glorious Bluetiful day - I have been in hospital for just over a month now with a very serious heart infection - well on the mend - much much better - tremendous help by all NHS staff - very special thanks - the last few days have also helped - the new signings definitely sending me posso waves - my grandson Liam has helped me sort my iPad so I can watch it from my bed - I have a side room on my own and I can see The River - trees and Bidston Hill with The Observatory and Windmill - like looking at a Van Gogh or Monet or Renoir of The Moulin De La Gallette up on Montmartre - I can see Crosby the white and coloured houses on the front shimmering like a Sisley or Bazille -
"The wound is the place where the Light enters you."
It's interesting and fascinating how we are all watching football from different places these days. Will it ever be the same - I don't use the word normal - not sure what it is and certainly not what I want to return to.
"Poetry heals the wounds inflicted by reason."
I have managed in the last week or to keep in touch with Everton via TW - I was in Intensive Care for a while and out the game.
"When you hear the music ringin' in your soul
And you feel it in your heart and it grows and grows
And it came from the backstreet rock and roll and the healing has begun"
I miss already the rituals of going to the game - although I am excited about today - the last few games of last season were souless - proving that without fans football is nothing and it's not just about the whole feel of Being A Blue.
Have to go now - to quote Nurse Ratched - - "medication time".
To end on a bit of fun - from a Wim Wender's Film:
"Ooh
Whenever I'm sad, whenever I'm blue
Whenever my troubles are heavy
Beneath the stars. I play my guitar
Just like Eddie
Ooh
Now troubles may come and troubles make old
But they'll always find me ready
Upon the hill, I'm playin' still
Just like Eddie
Ooh
Whenever you're sad, whenever you're blue
Whenever your troubles are heavy
Beneath the stars you play your guitars
Just like Eddie
Ooh
C'mon everybody
Now troubles may come and troubles make old
But they'll always find me…"
Cosmic Blue Waves sent to all Blues - with a firm handshake - your friend - George.
Paul Tran
187
Posted 13/09/2020 at 15:30:18
Nice one George!
Rob Halligan
188
Posted 13/09/2020 at 15:30:41
All three new signings start.
Kevin Prytherch
189
Posted 13/09/2020 at 15:31:30
4-3-3?
John McFarlane Snr
190
Posted 13/09/2020 at 15:31:34
Hi Jamie [167] I am quite well thank you, and I would like to add my best wishes to George.
I haven't posted lately because my knowledge of Stadium design, player recruitment, team selection, tactics etc. is well below the required standard. I'm one of those people who attend games and enjoy or endure what's put before me, believing that my sole contribution to the occasion is to support the team.
I would like to add, for those who ridiculed my decision to boycott the recently televised games, on a matter of 'principle' that I never watched a minute of those games [including the FA Cup semi's and Final] and although I have secured my season ticket, I have no intention of attending matches until it's safe for everyone, I have no wish to attend on a rota basis. I will continue to listen to the radio commentary, just as I will be doing this afternoon.
Mike Gaynes
191
Posted 13/09/2020 at 15:32:49
George, good to know that the Poet Laureate of ToffeeWeb is well on the mend. Let's hope that your healing heart has been further lifted by the new blood pumping through the arteries of our club, and that today's result gives it just the proper additional pitter-pat.
Take good care, sir.
Ray Said
192
Posted 13/09/2020 at 15:34:25
Team News
Everton
1Pickford
23Coleman
5Keane
13Mina
12Digne
16Doucouré
6Marques Loureiro
7Richarlison
21André Gomes
19Rodríguez
9Calvert-Lewin
Substitutes
2Kenny
10G Sigurdsson
11Walcott
20Bernard
26Davies
27Kean
31Neves Virgínia
Mike Gaynes
193
Posted 13/09/2020 at 15:34:32
YAY! James starting in a 4-3-3. Just what I wanted!
Michael Lynch
194
Posted 13/09/2020 at 15:35:18
Only one defender on the bench?
Rob Halligan
195
Posted 13/09/2020 at 15:36:27
Best form of defence is attack. Press and pin them back in their own half.
Simon Dalzell
196
Posted 13/09/2020 at 15:36:52
Best wishes on your recovery George. Thanks for your thoughts and musings which are uplifting as always.
George McKane
197
Posted 13/09/2020 at 15:39:13
Than you all for your good wishes. On the mend - - around the bend.
Mike Gaynes
198
Posted 13/09/2020 at 15:40:00
Let's fire up the Forum!!
Ray Said
199
Posted 13/09/2020 at 15:40:18
I think with Minas injury record that it would have been prudent to have Branthwaite on the bench
Robert Tressell
200
Posted 13/09/2020 at 15:40:27
Two fairly even first 11s. Exciting to see Rodriguez. Very pleased to see 3 central midfielders too. Gomes is now free to do his stuff with a bit of protection.
John Reynolds
201
Posted 13/09/2020 at 15:42:11
Lads, we're going to do a Leicester. Widely available at 250/1 to win the League. Get on board before we hammer Spurs. Our time has come.
Rob Halligan
202
Posted 13/09/2020 at 15:43:59
John, I hope we do a Leicester today. Winning 3-0 at West Brom. 2 penalties by Vardy.
Jamie Crowley
203
Posted 13/09/2020 at 15:51:51
"The wound is the place where the Light enters you."
Fantastic George. Glad you are doing well and on the mend.
John Mc Snr glad you are about and well, too.
Let's do this.
Ray Said
204
Posted 13/09/2020 at 15:55:12
this is a must read for fans of our genuine world class keeper
https://www.theguardian.com/football/that-1980s-sports-blog/2020/sep/13/neville-southalls-stunning-save-spurs-pushed-everton-league-title

Paul Birmingham
205
Posted 13/09/2020 at 22:52:01
Messrs, George and John, true Bastions of TW, great to hear and see your well, and George, that you're on the mend.
It's been a great day for Evertonians, and yes, let's celebrate and stick tight for what I'm sure will be a good season for EFC.
This is our season, in context and with the teamwork and spirit today, let's see what happens.
Great Day, all enjoy and celebrate and credit were it's due, to all Evertonians.
---
Add Your Comments
In order to post a comment, you need to be logged in as a registered user of the site.
Or Sign up as a ToffeeWeb Member — it's free, takes just a few minutes and will allow you to post your comments on articles and Talking Points submissions across the site.