Everton to launch new hummel Alan Ball trainer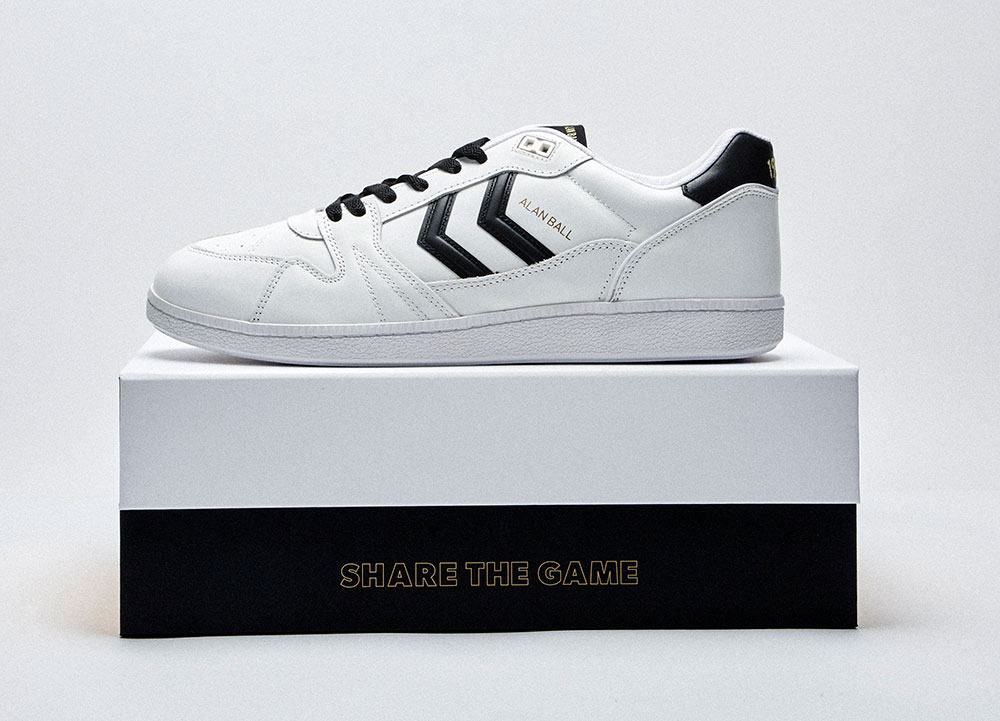 Everton and hummel are to launch a limited-edition Alan Ball trainer to mark 50 years since the Goodison legend wore his iconic white hummel boots.
The trainer will be available online only via evertondirect.com from 8am on Thursday 17 September 2020, with the on-sale time a nod to the former Everton midfielder's number 8 shirt.
The sight of world-cup winner Alan Ball seeming to glide across mud-heap football pitches in his famous white boots is still an iconic image for a generation of football fans.
Ball wore his white and black hummel boots for the first time in 1970, including Everton's 2-1 victory over Chelsea in the Charity Shield at Stamford Bridge on 8 August, 1970.
He became synonymous with the footwear and Evertonians snapped up replica pairs in their thousands.
In a tribute to the famous football boots, the new limited edition hummel Alan Ball trainer is white with the iconic hummel chevrons in anthracite black on the inside and outside edges.
The black tongue label features the Everton legend's name, the Everton crest and the hummel logo in gold, while the back of shoe has the year '1970' also in gold, and the insole features a gold Everton crest. It is smartly finished with black laces replicating the original boot. The trainers will be available in adult sizes 6-11.
Alan's son Jimmy says that the Ball family are delighted that their dad still stirs the passion and the memories almost fifty years after he left Everton.
"Even after all this time people still associate white boots with my dad, which we all think is great!" said Jimmy.
"My dad loved Goodison Park and we, as a family, all love getting back there too - he'd be made up at the thought of Evertonians wearing white hummel trainers now.
"Everton was always his Club and he'd be so proud to know that he is still so well thought of by the fans."
---
Reader Comments (47)
Note: the following content is not moderated or vetted by the site owners at the time of submission. Comments are the responsibility of the poster. Disclaimer
Peter Warren
1
Posted 15/09/2020 at 17:02:28
Fab will get a pair
Will Mabon
3
Posted 15/09/2020 at 17:14:09
They look pretty good.
John McHugh
4
Posted 15/09/2020 at 17:34:48
I'm sorry, but they're fucking shocking.
Rob Halligan
5
Posted 15/09/2020 at 17:36:23
Alan Ball was my hero when I was a kid and I got a brand spanking new pair of his white boots for my birthday (would have probably been my 12th birthday). I remember my dad saying to me I was getting a pair of boots a bit like those Dixie Dean would have worn, you know the type!!
I did everything possible to keep them in good nick but after about 4-6 years they eventually fell apart. I've got an old school photograph of my years football team with me proudly wearing my Alan Ball white Hummel boots!! Absolutely loved the fella.
Barry Rathbone
6
Posted 15/09/2020 at 17:39:44
All I see is standard issue trainers with "Alan Ball" written on the side
Billy Bradshaw
7
Posted 15/09/2020 at 17:51:59
Come on John @ 4 not that bad mate.
Emma Day
8
Posted 15/09/2020 at 18:02:36
I love them.
A lot of kids will like them too and there will be many asking for these for Christmas.
I think the club have been a bit commercial savvy with these.
Jay Harris
9
Posted 15/09/2020 at 18:12:02
And not even an Everton logo in sight

Stan Schofield
10
Posted 15/09/2020 at 18:38:36
I'm afraid that Alan Ball's white boots bring bad memories for this old Evertonian. I believe he first wore them in the season after the Mexico World Cup, when his form sank, possibly because he was knackered after the heat and altitude of Mexico, and given his style of play as the 'midfield dynamo' playing under those Mexico conditions (he was not alone from that England squad in being affected this way).
Everton sold him to Arsenal in 1971, one of the worst days in football for me as a 17-year-old.
So for me, my greatest memories of Ball are ones where he wears normal black boots until after our league title win in 69-70, not those ridiculous white things.
Brian Murray
11
Posted 15/09/2020 at 19:00:01
I get your point, Stan, and he was on the wane by the time he wore them but he was still head and shoulders above the likes of Henry Newton alongside him.
The original box-to-box player and the best I have seen as a warrior. Tim Cahill in the modern era is the closest who had no fear the opposition.
Dan Nulty
12
Posted 15/09/2020 at 19:31:21
Not for me, Hummel should stick to shirts.
Dennis Stevens
13
Posted 15/09/2020 at 21:10:59
How can we be sure they're not just black trainers painted white?
Rob Baker
14
Posted 15/09/2020 at 23:12:42
No thanks from me. These must be aimed at 60-year-old fans who remember watching him play for the toffees. He's 15 years before me time sadly.
No self-respecting teenager would be seen dead in these as they won't know who Alan Ball was and the fact that Hummel are not Nike or Adidas.
Will Mabon
15
Posted 15/09/2020 at 23:24:37
Sizes from 6 -11 adult only, so no younger kids... and no 60-year-old big footers.
I bet at least some teenagers would wear them to the match - providing they don't have to pay for them of course.
Will Mabon
16
Posted 15/09/2020 at 23:25:45
Post 10 - Stan Schofield, as I live and breathe.
Stan Schofield
17
Posted 15/09/2020 at 23:58:58
Will, good to see you posting on ToffeeWeb again.
Will Mabon
18
Posted 16/09/2020 at 00:19:42
Stan, you too. I guess we both took a break!
Don Alexander
19
Posted 16/09/2020 at 01:14:50
Bally eventually went on record describing the white Hummel boots he signed up to promote as absolutely crap. He went on to say that he adulterated other brands boots to resemble Hummel's in mere appearance, and his performances improved accordingly.
As a 16-year-old, I bought a pair and Bally was bob-on.
That was, this was 1970 folks, when the likes of the best midfielder in the country might aspire to buy a newsagents for the rest of his life after his glorious playing career had ended.
Don Alexander
20
Posted 16/09/2020 at 01:18:10
To give younger members an indication of Alan Ball's talent, he had everything Reidy had, and everything Paul Scholes had. "Brilliant" doesn't get close.
Kristian Boyce
21
Posted 16/09/2020 at 04:40:53
I guess I won't be getting them with my size 13's. I had a pair of Hummel boots as a kid in the late 80's, as I thought they looked pretty snazzy. They literally lasted a month before falling apart. My mum was furious and refused to spend anything else on a new pair. The only thing I could afford with my own money was a pair of Gola's, oh the shame.
Stan Schofield
22
Posted 16/09/2020 at 09:26:31
Don@20: I know the money they got in the 1970s was very small by current player standards, but it was still very big by the standards of the average person. They all had big detached houses in the likes of Formby, fancy cars when most of us travelled by bus, and some (Bally included, I believe) owned race horses.
A point about pitches, some were like mud baths, but Goodison never was. There were the usual bare patches around the goals and centre circle, but it was a great playing surface, good drainage and underpitch heating.
Ray Roche
23
Posted 16/09/2020 at 09:39:17
Don@29
Ball is reported to have painted his old, favoured boots white to look like the Hummel boots to comply with his contract.
Alan McKie
24
Posted 16/09/2020 at 09:49:40
If I remember correctly, Gary Imlach, son of ex Everton trainer, Stuart Imlach, once wrote a book about his fathers career. In the book, Gary said in his fathers shed, there was a pair of adidas boots of Alan Ball's that his father doctored and painted white. He said said his father said, Alan Ball, hated the Hummel boots and preferred the fit of the adidas brand.
Mike Corcoran
25
Posted 16/09/2020 at 10:00:28
These trainies look they were designed to be sold to pensioners on the back of the Mail on Sunday supplement to set off their draw string pants and commemorative plates. It's a pseudo Lonsdale tennis/basketball shoe that is an embarrassment to anyone who had a decent pair of Adidas in the early to mid 80s. Will disappear without trace.
Stan Schofield
26
Posted 16/09/2020 at 10:07:06
Mike@25: Totally agree, I had a pair of Adidas Rom in the 70s, and these Hummel things look complete shite by comparison.
Will Mabon
27
Posted 16/09/2020 at 10:07:45
MIke, if the draw string matched the trainer laces, I think that could fly.
Hugh Jenkins
28
Posted 16/09/2020 at 11:11:27
Jay(9) according to the article the Everton Logo is on the tongue (not shown in the picture).
Dennis Stevens
29
Posted 16/09/2020 at 11:49:09
Oooh, that's not a tattoo I'd fancy getting, Hugh!
Jay Evans
30
Posted 16/09/2020 at 12:43:58
No, no, absolutely not. Never, ever.
I remember when the shite won their blag treble in 2000 and 1 of the magazine's that you used to get with a Sunday paper had a similarly snappy pair of soles for sale.
If memory serves they were white Reebok with 3 embossed gold stars on the side. 1 for each of their trophies. See what they did there ?
We are not them - thankfully and we never will be.
Nice sentiment blues but let us celebrate 'the greatest of them all' on a t-shirt please.
Trainers are sacred, particularly in Liverpool and we are still being crucified for the Lonsdale/Bournemouth incident.

Don Wright
31
Posted 16/09/2020 at 13:18:38
Well if Sidibe had of signed for us he would only have need one of them, but for me they are a No Dad's as in No Dad please don't make me wear them please No Dad
Eric Myles
32
Posted 16/09/2020 at 15:46:12
Mike #25, I resemble that remark! And as LCAB was my favourite ever player, I'll be looking at getting a pair shipped to me here in Thailand. I'll proudly show them off to my RS mates who have no idea who Shankly is.
Rob #14, I pity you not having seen Bally in his prime, and the rest of the Holy Trinity
Justin Doone
33
Posted 16/09/2020 at 22:37:41
Ha ha brilliant. What else will they think of next.
Completely understandable being 50 year's commemorating a legend like Ball and I hope to have something to celebrate in the near future.
I actually like the look of them and they will look fantastic walking around Wembley celebrating some silverware.
The more Hummel sold, the bigger the next contract. In 50 years who's name will we be celebrating?
Danny Broderick
34
Posted 17/09/2020 at 08:50:51
They went on sale at 8am. I thought I would try to get some, just tried at 8.48am, no stock left ffs!
David Pearl
35
Posted 17/09/2020 at 09:16:09
Yeah, sold out 8:40 ish... I wonder, did they allow resellers to stock up on them? Every size gone? Bullshit if you ask me. See them on eBay in December maybe.
Brian Murray
36
Posted 17/09/2020 at 09:26:15
Hummel and EFC obviously underestimated the demand. Next time, let a pro like Bill oversee the marketing! Yes? Okay, maybe not...
Ron Morgan
37
Posted 17/09/2020 at 10:36:05
I logged on at 8.05am and no sign of them!
Steve Shave
38
Posted 17/09/2020 at 10:45:44
Picture on Twitter of Zaha wearing these, must be a sign!
Steve Pugh
39
Posted 17/09/2020 at 10:59:37
They've sold out already
Paul Turner
40
Posted 17/09/2020 at 12:44:11
ebay UK currently (12:43 Thurs 17 Sept) has 4 listings for these trainers: prices range from £285 to £350!!
Danny Broderick
41
Posted 17/09/2020 at 21:33:27
Now for sale on eBay for £349.99. Can I ask you guys to please report anyone trying to rip our fans off like this? I would have loved a pair of these for my dad. I refuse to buy them unscrupulously on eBay though...
David Pearl
42
Posted 17/09/2020 at 21:54:18
Effing disgusting. Anyone know how much they were for sale for officially? There should have been a limit as to how many could be purchased.
Will Mabon
43
Posted 17/09/2020 at 22:09:26
The eBay game. Surprise, surprise.
As long as they're not fake or stolen, Danny, then nothing can or will be done.
While businesses wish to sell online for maximum speed and volume with minimum cost, to all comers (as opposed to say, reserving at least some for the club shop, people with a ticket stub, season ticket holders, members etc), this is exactly what goes down.
Totally shits on the historical link with Alan Ball, Everton and the anniversary; their very selling point. And the fans. Shame.
Hugh Murphy
44
Posted 17/09/2020 at 22:11:33
https://www.hummel.co.uk/hb-team-leather-white-navy/207773-9101.html
These are on the hummel website. A bit of modification and you could get your Alan Ball on the side. Personally I'm not a fan of white trainers.
Matt Rigby
45
Posted 17/09/2020 at 23:11:43
We should all just bid on them up to thousands and then pull out of the purchase... people do this a lot on eBay when someone is being a greedy shit...!
Eric Myles
46
Posted 19/09/2020 at 10:34:56
They're either not on the EvertonDirect website, or they're doing a good job of hiding them from buyers
Eric Myles
47
Posted 19/09/2020 at 10:36:58
Just read the posts about them being sold out.
Good way not to make extra money!
Stephen Meighan
48
Posted 21/09/2020 at 16:31:23
Sad them trainees. Stick to adidas samba or better still Everton trim trab version.
---
Add Your Comments
In order to post a comment, you need to be logged in as a registered user of the site.
Or Sign up as a ToffeeWeb Member — it's free, takes just a few minutes and will allow you to post your comments on articles and Talking Points submissions across the site.