Everton vs West Bromwich Albion
Friday, 18 September, 2020
Match Preview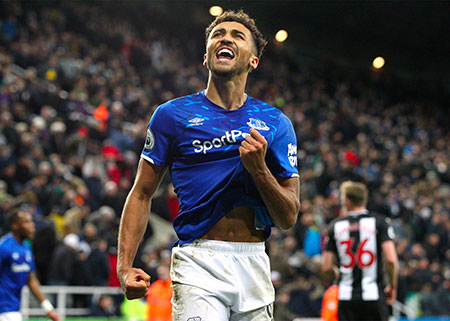 Dominic Calvert-Lewin will be on the hunt for more goals after ending the barren run with which he ended last season
Everton hope to build on their impressive start to the new season when newly-promoted West Bromwich Albion visit Goodison Park for the Saturday lunchtime kick-off in the Premier League.
The Toffees followed up their stirring 1-0 win at Tottenham with a comfortable victory in the second round of the Carabao Cup, although the triumph over Salford City was achieved with just two the starters from the weekend.
Michael Keane marshalled the defence with authority and grabbed the opening goal while Lucas Digne was required to step off the bench to replace Jarrad Branthwaite when the young centre-half was forced off with an injury after just 24 minutes.
Both players will be back in the side for the visit of the Baggies, with Carlo Ancelotti expected to restore the entire XI that started against Spurs. That would mean home debuts for Allan, Abdoulaye Doucouré and James Rodriguez, all three of whom will have had the benefit of an extra week training with their new team-mates.
Not that there was any hint of unfamiliarity about Everton in North London on Sunday. Ancelotti's men put on a performance of pleasing cohesion and effectiveness and the Italian will be looking for more of the same this weekend.
In terms of formation, it will surely be a case of "same again", with James playing down the right, Allan sitting in front of the back four and Doucouré supporting André Gomes in a more dynamic, box-to-box role.
It is unclear whether Fabian Delph or Alex Iwobi, both of whom have been missing since pre-season with suspected soft-tissue injuries, will be passed fit to take spots on the bench but Branthwaite's injury means that Lewis Gibson will likely be called into the squad as defensive cover.
West Brom had a chastening re-introduction to the top flight after a two-year absence when they met Leicester for a Midlands derby at the Hawthorns on Sunday. A 3-0 defeat, by way of a debut goal for Timothy Castagne and a brace of penalties by Jamie Vardy underlined, perhaps, the struggle that the Baggies will have to stay up this season.
A general lack of cutting edge up front is something Slaven Bilic is hoping to rectify before the transfer window closes next month and although he has just added Conor Gallagher on loan from Chelsea (it's not clear whether he will be eligible for this weekend) and veteran Branislav Ivanovic, who won't be ready to play just yet.
Nevertheless, Bilic does have players capable of producing in attack. All three of his new permanent acquisitions, Matheus Pereira, Callum Robinson and Grady Diangana, caused Leicester some problems before the Foxes eventually ran away with it but the Croatian will no doubt return to Goodison charging his players with generally being disciplined and hard to break down.
Those are the kinds of teams that Everton have had problems breaking down in the past but the hope and expectation is that this new-look Toffees side will have the guile and creativity to prise open even the most stubborn of defences. In that regard, it will certainly be an early test of the Blues' new line-up but one which Ancelotti will be confident the players can pass if they perform the same way they did at Spurs.
Kick-off: 12:30pm, Saturday 19 September 2020
Referee: Mike Dean
VAR: Simon Hooper
Last Time: Everton 1 - 1 West Bromwich Albion
Predicted Line-up: Pickford, Coleman, Keane, Mina, Digne, Allan, Doucouré, Gomes, Rodriguez, Richarlison, Calvert-Lewin
---
Reader Comments (143)
Note: the following content is not moderated or vetted by the site owners at the time of submission. Comments are the responsibility of the poster. Disclaimer
Bill Gienapp
1
Posted 18/09/2020 at 02:37:09
I didn't realize Ivanovic signed for West Brom. I guess that dream is dead (yes, I'm being sarcastic).
Paul Kernot
2
Posted 18/09/2020 at 04:16:02
I feel like I did just before a second date with a girl I really liked when I was a kid. The 1st one went better than I'd imagined & I'm thinking this could be the one but trying not to get carried away this early on.
Jay Harris
3
Posted 18/09/2020 at 04:30:24
Paul we can but dream that this is our time.
David Ellis
4
Posted 18/09/2020 at 04:54:03
Paul - she was the one... right?
Jim Harrison
5
Posted 18/09/2020 at 04:59:21
All out smash them!
Run riot and really make a statement of intent. It was fixtures against promoted teams that generated some of the worst results last season.
Paul Kernot
6
Posted 18/09/2020 at 06:23:43
Dave #4. She certainly was mate. That was 33 years ago. She's a Kiwi so I now live in NZ.
Ajay Gopal
7
Posted 18/09/2020 at 07:07:06
Can't disagree with your preview and team prediction, LL. If things are going alright with about 15-20 mins to go, would like to see Nkounkou given an introduction (and rest Digne), Gordon as well, and another opportunity for Kean to show what he can do.
Derek Knox
8
Posted 18/09/2020 at 07:18:38
I suppose it's easy to carried away after such a good start, but when you look at our fixtures up to when we play THEM, they are all winnable games.
I must admit to also getting carried along on that wave of euphoria and expectation, but this time it DOES feel different.
We have a Manager that hitherto we could only have dreamt about, and 3 outstanding players, 2 of whom, would never have considered us, had Carlo not been there. A win tomorrow will see us at the top of the, albeit early League Table, maybe that will just spur us on even further to stay there.
COYB
Martin Nicholls
9
Posted 18/09/2020 at 07:43:09
Derek - a win at Villa last season would also have put us top of the early league table and look what happened! No deja vu I hope!
Geoff Lambert
10
Posted 18/09/2020 at 07:43:30
I hope we can get a striker in before the window closes. We are very light in that department.
Would love to see a massive win here but this is Everton, hope for the best prepare for the worst. 5-0 should see us sitting pretty at the top of the table for the weekend. COYB
Derek Knox
11
Posted 18/09/2020 at 08:04:26
Martin@9, don't remind me, lol, we do have a propensity for making the achievable difficult, but as I said before, I do honestly believe it is different this time. We have a decent first eleven and a few good back-ups, and above all a decent Manager who abhors mediocrity.
Geoff@10, yes, I share your wish, but to get more than a striker on board, early doors and two games and a pre-season, have seen 2 CB's injured already.
We are dangerously thin on the ground in that department as it is, and when you think the unthinkable, should (God forbid) any of our new stars suffer similar, do we have like for like?
Of course as it has been mentioned numerous times, I think Carlo knows who he wants and who he wants to get rid of, but because of the profligacy of his predecessors, an almost Herculean Task!
John Keating
12
Posted 18/09/2020 at 08:12:55
Same as last week, change nothing
Mal van Schaick
13
Posted 18/09/2020 at 08:16:24
The same team as against Spurs if possible. The same commitment and may be even more goals. Let those who let us down last season look on and seen what it means to the fans to have a full team wanting to win without shirkers.
Martin Berry
14
Posted 18/09/2020 at 08:23:22
I think we will be far too strong for the Albion. I am not getting ahead of myself but I expect Richarlison to put away similar chances that he missed last week and in this game I expect him to have plenty.
John Pickles
15
Posted 18/09/2020 at 09:17:48
The last time I remember our opening 2 games being against Spurs and West Brom was 84-85, the season we stepped out of the shadows despite losing them both. It's definitely time for a change in our fortunes.
Mark Taylor
16
Posted 18/09/2020 at 10:10:50
Must be one of those very rare occasions in recent times where there's not likely to be much debate about the line up. Same again please...
Tony Everan
17
Posted 18/09/2020 at 10:34:00
Consistency, consistency, consistency.
One step forward, two steps back. This has been the story's of Everton for far too many years, now is the time to put that to bed. We have the players, the manager, the DoF and Owner. We have the momentum now to give us the consistency we crave. We need the Tottenham performance now each week , like clockwork.
We have signed three brilliant players all complimenting each other and all have slotted into their roles to perfection with no issues whatsoever. We have good squad depth (apart from a Tomori or similar CB signing and definitely a striker/forward if Kean is off to Italy)
All this leads to a flood of optimism that we can play to a higher level consistently and really compete for the top 6 positions.
Trevor Peers
18
Posted 18/09/2020 at 10:40:55
There should be a massive improvement in terms of entertainment, James is a great addition and a genuinely exciting talent. Of course the squad is still a bit thin in attack and defence and hopefully that will be addressed either in this or future transfer windows.
We now have more grit in midfield with Allan and Doucoure, generally the midfield is looking solid with lots of options on the bench, that should be enough to ensure we win this game comfortably.
Dennis Stevens
19
Posted 18/09/2020 at 11:19:12
I expect the same XI to start but wonder whether Carlo will tweak the formation to reflect the fact that WBA will be much more on the back foot. Perhaps Richarlison pushed up with DCL, & James at the point of a midfield diamond?
Bobby Mallon
20
Posted 18/09/2020 at 11:36:43
This is Everton guys and West Brom are away from home so will be sitting very deep. We will have to bide our time and I'm glad there won't be fans just yet. Hopefully with with Rodríguez guile we can open them up score 1st and entice them out. If so I think 3.0 again if not it will be a long afternoon
olalekan taofik
21
Posted 18/09/2020 at 11:41:29
Expectedly, you don't change a winning 11, so our coach, Ancolleti, should field the side that beat the Spurs side against the WBA tomorrow.
I am expecting a scoreline in region of 4-0,(it is achievable),anything short of the scoreline is not good for me.
We need to be ruthless and take 100% of our chances.
Goals,Goals and Goals is the name of game,goals will surely count at the end of the season.
COYB.
Am reaching you all from LAGOS,NIGERIA.
I have been a BLUE since 2002, when Joseph Yobo join the team.
Good day all.
Rennie Smith
22
Posted 18/09/2020 at 12:05:47
I agree with many posts that the Albion will defend for a draw, so expect a long match of trying to pick the lock and not as many goals as some are hoping for. That's not being negative, it doesn't matter how good a team you are if they've parked the bus, tactics-truck and ice-cream van in front of the goal it's really hard to breakdown.
Nice to see big Slav back at Goodison. He was only there a couple of years and we didn't see too much of him due to injuries and suspensions but I always remember him being a decent CB when he turned out.
Clive Rogers
23
Posted 18/09/2020 at 12:10:07
Welcome Olalekan, you made the right choice to be a blue.
Kevin Molloy
24
Posted 18/09/2020 at 12:17:37
you have to admire Slaven's sheer drive to play. AFter 18 months out injured at Everton, somehow he roused himself and played every game for Croatia through to the semi final of the World Cup. I knew then that we had something special on our hands.
Michael Low
25
Posted 18/09/2020 at 12:19:41
olalekan, welcome to Everton! I would relish a 4-0 score line, however, I would take a 1-0 win as long as we get the 3 points.
Derek Knox
26
Posted 18/09/2020 at 12:20:13
Yes, Olalekan, Clive is right. Welcome, good to see posters from other Countries, keep it going, it is always appreciated both in good times and also the bad, of which I hope are a thing of the past.
Tony Hill
27
Posted 18/09/2020 at 12:28:03
Nice one Olalekan. Goals indeed please.
Tommy Carter
28
Posted 18/09/2020 at 12:30:04
Tomorrow we will see a different kind of test and one that we will frequently come across this season.
Team sitting deep against us. Let's face it, West Brom will be delighted with a point. We all know that.
But Everton often fall into the trap of being sucker punched by teams like this. And not only fail to win the game but find a way to lose it.
I'm hoping that with the additional guile that would should have in the side then we can be more creative and decisive where it matters.
It's a simple as the midfield and defence winning their individual battles. Throughout the game and especially at set pieces. We do that, then our quality should get us the 3 points
Stephen Brown
29
Posted 18/09/2020 at 12:34:58
Need an early goal in this one so WBA can't sit back and soak up the pressure!
My optimism feels different this year!
Robert Tressell
30
Posted 18/09/2020 at 12:40:11
Hi Olalekan. I'd like 4 nil too. I hope you are right!
It will be a very different game to spurs away. WBA will presumably play very deep and hope to get a nil nil or pinch a goal. They have possibly the weakest first 11 in the Prem.
It will be up to Rodriguez to unlock them with good movement from Richarlison and DCL.
The only change I might suggest is that we go more 442 (ish) with Gordon playing wide (ish) left instead of having Gomes in a central trio.
This gives us more attacking threat / movement at least. But maybe something for the 2nd half.
Brent Stephens
31
Posted 18/09/2020 at 12:46:11
Olalekan, welcome to ToffeeWeb. I hope you're a lucky mascot and we do score 4.
Paul Richardson
32
Posted 18/09/2020 at 13:02:32
Off subject, but our badge and the heritage it displays is far better than theirs. Or most other clubs come to that.
Tommy Carter
33
Posted 18/09/2020 at 13:05:33
@29 Stephen
Agreed. That would be ideal.
Glad the crowd isn't there in some ways though. We've been 0-0 or 0-1 down at half time against sides like this and I've witnessed our team being booed of the pitch.
A lot of fellow blues need to realise that football is a 90mins game and what matters is the result at the end of those 90 mins. Not being 0-1 down or even 0-2 down against a poor side and turning on the players / manager.
It's a change of mentality the whole club could benefit from I believe. We love being the underdog at home but we have to treat each game and each opponent with the respect they deserve and will our team on until the final whistle.
Tony Abrahams
34
Posted 18/09/2020 at 13:07:18
Been a blue since 2002, and anything less than a 4-0 win isn't good Olalekan? Seems like your made for ToffeeWeb, mate!
Patrick McFarlane
35
Posted 18/09/2020 at 13:12:15
Tommy #33
I beg to differ, it's not usually the scoreline that dictates the crowd's reaction, it's how the team has performed which matters most, if they have given everything they have then the crowd will be right behind the players.
Sometimes the 'booing' is not aimed at the team, oftentimes it's aimed at the officials. During this period where fans haven't been in attendance, it doesn't seem to have affected the players too much, they continued to perform poorly at the back end of last season, and perhaps not having the crowd to gee them up had a detrimental effect on their performances?

Jamie Crowley
36
Posted 18/09/2020 at 13:21:05
Speaking of fans in attendance, is the October 3rd date sticking? Or are they moving that back?
We need fans back. They're doing it here in the USA in certain places, and it really makes the games so much more enjoyable. I'm hoping the fans over there can get back in the stadiums as fast as possible.
And yes, as safe as possible before anyone chimes in. That goes without saying.
Everton have this tendency to lose games they should win. They also have this tendency to lose games that would really send a message to the rest of the footballing world that they're serious about contending.
This is one of those games. Are we typical Everton with little regard for scaring the crap out of the "big boys", or are we actually turning a corner? We'll see. We live in hope.
Tommy Carter
37
Posted 18/09/2020 at 13:25:53
@ Patrick
Can only speak from my own experiences of being sat there. Lukaku and Barkley used to get it all the time.
Effort presents itself in different ways depending on the player and their qualities. Fans could and did complain that they wanted Lukaku to run more and chase stuff down more... but if you want that then you sign a different player. Jon Walters or someone.
If you want 25 goals a season, you get Rom. And I've no doubt he tried his best for our club.
If you want the chasing down and the 25 goals a season then you are then talking Suarez, Cavani, Tevez, Drogba, Tevez etc and people we could only have dreamed of signing.
I didn't say that the fans were the reason for the players performing poorly, but that the fans should stick with them until the end. Despite whether they are playing poorly or not.
Alan McGuffog
38
Posted 18/09/2020 at 13:44:31
Olalekan...you've been following us long enough to know that one of our top female fans has been a young lady known as False Dawn.
One can only hope Covid has seen her off.
John Pierce
39
Posted 18/09/2020 at 13:48:00
Thankfully this iteration of WBA are nowhere near as stubborn as the vintage Pulis used to roll up with. They were very lucky to get up, petering out at the end of last season, not to be pipped by Brentford.
Onto our boys, a totally different challenge to last week. We have added expectation and need to play in a different way.
The key will be to press this side high, dragging out back line up, gulp! Although in this WBA doesn't have a massive threat in behind.
I'd keep the same side save for Coleman, who was defensively sound last week but as we will have the majority of possession we need a better technician at right back. I'd pick Kenny, who is a much better crosser of the ball than Seamus.
If last week showed anything it was we can keep the ball better, three new additions excellent technicians. It will interesting to see if Doucouré's power makes the difference and how far James will wander to get the ball and try and dictate the game.
Denis Richardson
41
Posted 18/09/2020 at 14:03:42
Very early doors I know but I've got WBA and Fulham as favs to go down - 3rd spot will be a surprise as I can see Leeds comfortably staying up. 3 points against a pretty poor WBA side by prem standards has got to be on the cards. 2 wins on the trot to get the season off to a great start.
Injuries aside, same 11 as Spurs for me.
Here's hoping for a win, clean sheet and no injuries.
John Kavanagh
42
Posted 18/09/2020 at 14:31:51
Although the same starting 11 is a natural choice, I am very keen to see Gordon given a good few minutes rather than a late cameo role following his contribution on Wednesday. We need to broaden the goal threat and this time I can can see him hitting the back of the net rather than the woodwork.
3-0 will do nicely. James, DCL and Gordon to score.
olalekan taofik
43
Posted 18/09/2020 at 14:33:40
Thank you all for sharing part of my thought @Clive,@Micheal,@Derek,@Brent,@Tony,@Allan.
One thing we need to realize is that we commit about £200M every seasons in the last four years or thereabout and no silverware, no TOP 4/6,to show for it.
We need more commitment and be resilient in front of goalpost .
To me there are only two teams in Barclay Premiership EVERTON FC and the rest.
Is on this premise we should be ruthless tomorrow and every other game days.
Nick White
44
Posted 18/09/2020 at 14:41:20
Jamie #36 I doubt very much that fans will be back this side of the year, especially as Merseyside is getting tighter restrictions from Tuesday. That said, with this government and policy makers it wouldn't surprise me. Can't socialise at home with family and friends but can go to a place with 40000 people🤪
Nick White
45
Posted 18/09/2020 at 14:42:52
Welcome Olalekan👍
Jay Harris
47
Posted 18/09/2020 at 15:22:00
olalekan,
Great to have you posting on ToffeeWeb.
I watched West Brom play Villa last weekend and West Brom looked the better side for most of the game but couldnt put the ball in the net.
I would hope that we are much better than Villa so anticipate a good win but we may have to be patient in breaking them down.
John Kavanagh
48
Posted 18/09/2020 at 15:43:29
Nick @44 Perhaps if we organised a pre-match grouse shoot at GP everything would be good to go?
Nick Page
49
Posted 18/09/2020 at 15:50:32
Would be the most Everton thing ever if we beat Spurs/Sky6 away then lose at home to a promoted side.
Michael Lynch
50
Posted 18/09/2020 at 15:51:37
Olalekan @21 - the first game I ever went to was Everton v WBA in 1968 and we won 4-0. I'd definitely take a repeat - with a James Rodriguez hat-trick.
Joe McMahon
51
Posted 18/09/2020 at 16:28:49
Nick, do WBA have a striker that hasn't scored in over a year? Lose at home to a promoted side, we have seen that before.
Pete Gunby
52
Posted 18/09/2020 at 16:29:09
Daring to dream with Everton is a risky proposition and yet here we all are. My most memorable game was clinching the league at Goodison against West Brom in 1970 2-0 and a a Colin Harvey opener. I was 9, we were great and life was good. It's great to have a dream that seems possible again.
Stan Schofield
53
Posted 18/09/2020 at 16:36:42
Patrick@35: Players can and do get stick from some members of the crowd when they're not playing well, even when they give their all and we're in a winning position. I've seen it many times over many years. Even Alan Ball got it when his form dropped after Mexico, and he ALWAYS gave 100%. I remember being gobsmacked at the time as a 17-year old, and remarked to my dad, who just said to me that some supporters are narks and difficult to please. He was right. Kendall was another one who got it. Ball and Kendall, dear me.
Patrick McFarlane
54
Posted 18/09/2020 at 16:47:48
OK, I give up! It's the supporter's fault, obviously I'm oblivious to all of this whilst sitting in my seat at Goodison on a match-day for the last few decades. Now if you mean there are one or two fans who will show disdain constantly no matter what occurs on the pitch then I'd have to agree, but the insinuation was that a significant proportion of the crowd is toxic on a regular basis and I'm not agreeing with that. What happens at Goodison Park in relation to the home support is no different from what happens at most football grounds in the country every week.

Christy Ring
55
Posted 18/09/2020 at 16:54:15
Hope there's no changes from Spurs win, but I wouldn't mind seeing Gordon on the bench, I thought he was our best player in midweek.
Stan Schofield
56
Posted 18/09/2020 at 17:00:44
Patrick@54: No need for drama and 'giving up', just acknowledge the fact that unfair stick takes place, and that it can be significant. That's all.
Tommy Carter
57
Posted 18/09/2020 at 17:07:47
@50 Michael.
You must've m been the perfect age during the mid 80s then.
Jealous. Would love to hear some stories.
I was born before our last title win but I wasn't cognisant enough for any of the glory years unfortunately.
Tony Everan
58
Posted 18/09/2020 at 17:09:14
Welcome Olalekan, 4-0 sounds good.
Would like to see Nkounkou, Gordon and Bernard get a run out in he second half if the match has been put to bed by then. COYB, want to see us sitting top of the league, even if it's only for a few hours.
Patrick McFarlane
59
Posted 18/09/2020 at 17:16:55
Stan #56
With all due respect, I will respond in whichever way I think fit, if you think my post was being overly dramatic, that's fine, but I did acknowledge that 'some' Everton fans do give stick to the players without just cause, but not what I would consider to be a significant proportion of the crowd.
My main gripe is with those who think that Goodison is more toxic than any other major club's supporters and somehow imply that Everton fans are to blame for Everton's lack of success.

Martin Mason
60
Posted 18/09/2020 at 17:28:49
Will be a tough game like all EPL games but several players (Gordon, Nkounkou, Kenny, Bernard) could start without significantly weakening the side. The strength of the squad will be determined by the number of players who could start if needed perhaps rather than who could come on if needed.
We should win but, if not, it's important that we learn and improve. Slowly, slowly if needs be.
Olalekan Taofik
61
Posted 18/09/2020 at 18:07:07
Whaoh! @Micheal #50, you must be a Blue Legend.
I pray the scoreline (4-0) is repeated.
Martin Mason
62
Posted 18/09/2020 at 18:13:58
Patrick @59,
Most soccer fans are digging around in the weeds rather than looking down from the helicopter. They see instances of giving the ball away or not being able to trap a difficult pass as defining a player rather than just being a small part of their overall performance or their contribution to the overall functioning of the team.
Tom Davies is hopeless, yet the reality is that he is a top class player with caps at every England level. Pickford is hopeless despite being England's top keeper. Why do fans see it as constructive to assassinate their own club's players rather than support them?
We must also remember that we fans generally don't have the in depth knowledge of football to quantify the sometimes irrational criticism that we make. We're all entitled to make criticism but it should be rational and constructive, for some it is vendetta and therein lies the problem.
Stan Schofield
63
Posted 18/09/2020 at 18:36:42
Patrick@59: Fair enough, and perhaps we differ on what we see as 'significant'. For me, it means that the stick damages a player's confidence even further than the low level it may be at when they're going through a spell of frustratingly bad form. This is a real problem, and is ultimately self-defeating, since it does nothing to help the player. What helps such a player is continued encouragement.
Even as a teenager, I've stood on the terraces and had to listen to twenty kinds of shite from so-called supporters, often causing me to think "What a total gobshite". As I say, I first experienced it with the great Alan Ball.
Ajay Gopal
64
Posted 18/09/2020 at 18:39:15
Welcome Olalekan. EFC has a rich history with Nigerian footballers (I assume you are Nigerian) – Yobo, Yakubu, Onyekuru, now Iwobi. I am sure I have missed out a couple more.
It would be interesting to get your opinion about Iwobi – do you think he will come good at Everton? Or is he a big mistake that the club made – as many TWers (including me at many points last season) seem to believe?
Olalekan Taofik
66
Posted 18/09/2020 at 18:58:36
@Ajay, I am honoured to be here.
Actually, you left out Da Bull, Dan Amokachi, the hero of the 1995 FA Cup. Amokachi is now special adviser to Nigeria President on Sport.
On Iwobi, he is a good guy, but lacks defending tactics and slow in speed and sometimes lacks vision on the field. But he is intelligent and good at dribbling.
I can't say he is a wasted buy – only the last gaffer can say why he was brought here.
Des Farren
67
Posted 18/09/2020 at 19:14:48
The win at Spurs and performance of the team have raised expectations. The performance midweek has, strangely, raised them further. We do not want disappointment so early on but neither should we be expecting a walk in the park against WBA. We have been here before.
Tony Abrahams
68
Posted 18/09/2020 at 19:15:36
Peter Reid got a lot of stick towards the end of his time at Everton, and probably because he hadn't lost his greatest quality, which was never hiding and constantly wanting the ball.
I think Tom Davies is also like this. He started well the other night but found himself drifting out of the game at times, but the kid never hides, much to the crowd's disdain, and that's why I never ever give the kid any stick.
Justin Doone
69
Posted 18/09/2020 at 19:15:48
Stay grounded, stay focused, stay positive.
Paper doesn't actually play football, so forget the team sheet comparisons, I simply want the players to continue the positive start to the season with a win.
One game at a time and all that..
Dave Williams
70
Posted 18/09/2020 at 19:26:30
Well said, Tony A – quality post!
Colin Glassar
71
Posted 18/09/2020 at 19:26:40
Call me bitter but I've never forgiven West Brom for robbing us in the '68 FA Cup Final (RIP, Jeff Astle).
Despite liking big Ron Atkinson's '70s side, I still don't like 'em.
Tommy Carter
72
Posted 18/09/2020 at 19:31:57
@66
Welcome to the forum. Everton have a modern tradition of signing up top Nigerian players.
The bull Amokachi was of course the first. What a tournament he had in USA 94. His goal against Greece was breathtaking and I believed we were signing a world-beater.
That he wasn't unfortunately. Perhaps the English game never suited him.
But he will always be fondly remembered for his brace in the Semi-Final that buried Tottenham. Then for another brace against a top Newcastle side to help our fight against relegation. And for me, a promising start to the 1995-96 season when it was clear Big Joe considered him a starting striker.
Fondly remembered.
Tommy Carter
73
Posted 18/09/2020 at 19:36:29
@ Tony 68
A round of applause. At last a man who understands the game. Thank you for recognising this. I've banged the drum for so long. Barkley was the same, constantly showing for the ball, constantly trying to make things happen. Losing it often. Booed by their own fans.
You can steam into tackles all you like, shout and scream and run around like a lunatic. What's the margin for failure in doing that? Very wide. But it looks good (to some).
The margin for error in trying to get your team to play, showing for a ball, accepting it under pressure, looking for a forward pass. All full of risk. And those players get it in the neck at Goodison.
Stephen Vincent
74
Posted 18/09/2020 at 19:37:52
Ajay #64 You forgot big Vic and I think Hope Akpan was Nigerian as well.
Paul Birmingham
75
Posted 18/09/2020 at 19:42:00
Here's to a solid performance, tomorrow a victory and a bonus clean sheet if possible.
Last season such games against the promoted teams were our Achilles heel.
Hopefully the starting team, hopefully the same as Spurs, can carry on with the same level of performance.
Olalekan, welcome to ToffeeWeb and the Everton Family.👍☘️
This hopefully can be a good season for EFC.
Simon Dalzell
76
Posted 18/09/2020 at 19:52:09
A warm welcome Olalekan. 2-0 and 3-0 would be my bets. I say 'would' because it would almost certainly put the mockers on if I actually placed the bet. 4/7 is okay for Accas.
Dave Abrahams
77
Posted 18/09/2020 at 19:52:38
Tommy (73), Barkley did a lot of the things you mention, sometimes passing instead of shooting and shooting instead of passing, a bit like Richarlison. It might get on your nerves, it does mine, but I won't give him stick for it. Where I gave Ross stick was the many times he lost the ball and made half-hearted attempts to win the ball back, gave up many times in fact.
That is the one time fans give the players stick, when they are half-hearted or worse chicken-hearted and they all deserve it when they do it.
One of the worst barracking of a player I saw was when Tom Cleverley was cheered off the field when being substituted. Good, bad or indifferent I never saw that lad give less than 100%. The fans who cheered that day were well out of order.
Stephen Vincent
78
Posted 18/09/2020 at 19:57:30
Tony #68, Dave #70, Tommy #73, at last some sense in here relating to Tom.
I always thought he played his best games with Gana and Allan would have been ideal for him, but Doucouré arriving will limit his game time. One thing you know with Tom: always 100%.
Jamie Evans
79
Posted 18/09/2020 at 20:05:51
WBA will be fired you for this one, I don't know the stats but I would guess we average 4 points or less against promoted teams from our home fixtures most seasons, might be wrong but I know we normally slip up.
Has to be the same team from Spurs, now down to the players go out and do the business.
Be great get Richarlison's campaign off with a goal and Calvert-Lewin net again.
Jerome Shields
80
Posted 18/09/2020 at 20:28:41
I'm hoping this one week of training will enable more gelling to take place in movement and anticipation in the final third.
Welcome, Olalekan.
Stephen Vincent
81
Posted 18/09/2020 at 20:39:04
Michael #50, We always seemed to do well against the Baggies in the 60s. I remember going to a 6-2 away win the season before your 4-0. Bally got 4 and a young Alan Whittle made his debut.
There was a 5-4 at Goodison a few seasons before.
Also bit of history, there was a 3rd or 4th round FA cup tie in the early 70s it was the first FA Cup tie to be broadcast on a Sunday. As a protest, WBA fans sang 'The Lord's my Shepherd' as a protest and it has been a Baggies song ever since. One of the seat covers in the stands last week reminded me.
Tommy Carter
82
Posted 18/09/2020 at 20:41:47
@77 Dave
Interesting. I figured that with Ross it simply wasn't in his nature to be the aggressor. Whether this be going to win the ball or pressing / closing down.
In that event I often saw him attempting to do this but look really poor at doing it.
I get the impression some people think it is easy to be physical and chase like a lunatic on a football pitch.
But the majority of players are finely tuned athletes. Quick as lightning, tonnes of stamina and about 7 percent body fat.
Margins are fine. And for all of ross' natural ability, he's a big guy and I wouldn't say blessed with stamina.
Gana going about a game at 70% effort would probably cover a hell of a lot more ground than Ross at 100%.
What Ross was blessed with were two excellent feet, a thunderbolt in each. And the ability to inject huge but short bursts of power into a transition, often dribbling it through himself. Unique talent, undoubtably you have to play to his strengths but when we brought him through for nothing with hardly two pennies to rub together I felt that's what we should've done. And the fans should not have booed him.
Phil (Kelsall) Roberts
83
Posted 18/09/2020 at 20:52:59
Stephen#81 - yes I remember the 6-2 win at Hawthorns, but remember even more the disappointment a few weeks later when we lost in the Cup Final.
Still blame the yellow and blue kit.
Hugh Jenkins
84
Posted 18/09/2020 at 20:55:02
Hi Olalekan
Welcome to the site.
Since you have been "Blue" since 2002 hopefully for you (and the rest of us) Everton can deliver some silverware this season, to mark the occasion of your "18th" season.
Hugh Jenkins
85
Posted 18/09/2020 at 20:55:39
Has anyone seen an update on Branthwaite's injury?
Ray Roche
86
Posted 18/09/2020 at 20:58:54
Hugh, I think the report I saw said three to five weeks out.
Phil (Kelsall) Roberts
87
Posted 18/09/2020 at 21:00:37
Jamie #79
Want the answer?
19/20 = home 1pt - away 7pts
18/19 = home 6pts - away 4pts
17/18 = home 9pts - away 7pts
16/17 = home 9pts - away 2pts
15/16 = home 7pts - away 3pts
Make of that what you will.
Stephen Vincent
88
Posted 18/09/2020 at 21:13:25
Phil #83, I don't remember too much about the final. My Dad wouldn't let me go, he'd caught me smoking on the Thursday before the game. I had a proper sulk on. Never had a fag since.
But you are right about those shirts!
Paul Armstrong
89
Posted 18/09/2020 at 21:18:47
Phil 87
Did we work together once??
Ray Said
90
Posted 18/09/2020 at 21:22:46
Tommy (82) you make some good points and I always recall Ross saying his best position was centre forward and, as you point out in your post, he had a lot of the natural attributes to have played that role with some success.
Phil (Kelsall) Roberts
91
Posted 18/09/2020 at 21:29:56
Paul - I was at Unilever from 1973 until 2011. Port Sunlight, Kingston, Blackfriars, Watford, Leeds, Burgess Hill and Stork.
Is that a yes or a no?
Paul Armstrong
92
Posted 18/09/2020 at 21:32:07
It is a no! I knew a lawyer with the same name! Kind regards.
Hugh Jenkins
93
Posted 18/09/2020 at 21:36:08
Ray 986) - thanks for that. Any diagnosis given - or just a time line for his return?
Dave Abrahams
94
Posted 18/09/2020 at 21:39:57
Tommy (82), yes Tommy I agree, Ross had many attributes to his game and like all Bluenoses I wanted him to succeed, but Tommy you don't have to run around the field like a lunatic, it's about using your nous and cutting the angles down to win the ball back. Kevin Sheedy was accused of being a bottler, he wasn't, he just pressed the man, let him know he was there and often forced his opponent to pass the ball back, Ross didn't know how to do this, often getting on the wrong side of his man to even make a tackle.
In a nutshell Tommy, as a famous ex Everton player commented, Ross didn't and hasn't got a football brain but can still do great things on the field, witness his fabulous run and goal versus Liverpool last season in the league cup while possibly being the worst player on the field.
Ross will make absolutely Brewsters out of football and good luck to the lad, he could possibly have done a lot more with his career and the talent he had, but hasn't really improved to any degree over the last four or five seasons and it is debatable he ever will.
Will Mabon
95
Posted 18/09/2020 at 21:53:34
Hugh, a report today (Echo, I think) had it as ankle ligaments.
Christy Ring
96
Posted 18/09/2020 at 22:12:45
Tony #68,
Absolutely correct, as you say, he still doesn't hide, neither did Ross.
Mike Corcoran
97
Posted 18/09/2020 at 22:19:46
I'd like to see Gordon have a half from Gomes tomorrow, he was excellent on Wednesday.
Jay Wood
[BRZ]
98
Posted 18/09/2020 at 22:23:04
Looks like Jonjoe Kenny is well out of Schalke this season.
Opening night fixtures in the Bundesliga:
Bayern Munich 8 Schalke 0. Ouch!
Have to go back to January 17 apparently since Schalke's last win. Manager David Wagner must be hanging on by a thread.
Peter Mills
99
Posted 18/09/2020 at 22:35:57
If we can play fairly well and win, it will be a great start to the season.
Jay Harris
100
Posted 18/09/2020 at 22:51:04
Jay,
Don't forget they are now without Kenny and McKennie who were two of their best players last season.
Jay Wood
[BRZ]
101
Posted 18/09/2020 at 22:58:11
Jay, I remarked early on last season to our 'Merican Toffees when watching Kenny for Schalke that I liked the look of McKennie and asked for info on him because I wasn't familiar with the player.
He's certainly done well for himself, signing for Pirlo at Juventus.
All good with you healthwise, I hope, Jay..?
Hugh Jenkins
102
Posted 18/09/2020 at 23:05:19
Will (95) – Thanks for that. Is it my imagination – or are our players more susceptible to this type of injury than others?
It seems so.
Bill Watson
103
Posted 18/09/2020 at 23:26:18
Dave #94
A few years ago, one of the England coaches was discussing Barkley and commented that, although he had great natural skill, he was difficult to coach. In other words, he didn't have a football brain and little stuck.
Christy Ring
104
Posted 18/09/2020 at 23:42:18
I still say about Ross, he always looked for the ball from the back, always positive, why all the abuse? Sigurdsson when he got the ball couldn't wait to get rid of it.
Raymond Fox
105
Posted 18/09/2020 at 00:03:14
West Brom will have a plan to stop us playing the ball forward. In other words, man-marking our new signings.
Spurs stood back and gave us space to play in the last match, I don't expect the same tomorrow.
I still think we will win, I'm expecting us to have too much class. A home win by two goals.
Michael Low
106
Posted 19/09/2020 at 02:09:52
Lyndon, I've just read your match report from the last time these two teams met in 2018. Wow! What a transformation we've gone through. From Allardyce, Vlasic, Niasse and the debut of Walcott, scraping the barrel to find enough points to stay up and now here we are a couple of years later with a world class manager and players who we feel could very well challenge for top six or higher.
I'm feeling quietly confident that this will be one of the best seasons in a very long time. I've been following the Blues since 1965 and have seen the best and the worst. If everyone can stay healthy I'm hoping this will be one season to remember fondly. COYB

Jay Harris
107
Posted 19/09/2020 at 04:36:06
Jay,
I'm much better now, Thanks for asking.
I've just been out for a meal tonight for the first time in over 6 weeks, having got my second negative test this week.
I hope things are still good with the family and you are all staying safe and well.
And let's hope we have even more to celebrate this time tomorrow.
Steve Brown
108
Posted 19/09/2020 at 04:58:55
Tony @ 68, spot on.
Tom Davies always shows for the ball, attempts to make a progressive pass and tracks back. That makes him highly visible when he has a bad game.
But give me that over Sigurdsson or Schneiderlin. Playing lateral or back passes, pointing to players like Tom or Antony Gordon where they should be, but positioning themselves so that they are rarely the go to ball. Give me Tom every day of the week.
David Ellis
109
Posted 19/09/2020 at 06:33:30
Steve and Tony - right on. One of the frustrations of watching on TV is that you can't spot the hiding, failure to track or failure to make the necessary runs.
Steve Shave
110
Posted 19/09/2020 at 07:16:59
Hey Olalekan, welcome! Yobo was one of my favourite players, so classy and calm, had pace too. I wonder if Yobo in his pomp would get into this current side?
Anyway, I love hearing from the international blues and gaining different perspectives and as a relative newcomer to the site myself it's nice to see people who have perhaps "hovered over the keyboard" for a long time, take the plunge and offer their views on ToffeeWeb.
Any current Nigerian players you would like to see in blue this season?
Derek Knox
111
Posted 19/09/2020 at 07:36:21
Steve@110. if anyone can, Olalekan! :-)
Bobby Mallon
112
Posted 19/09/2020 at 07:46:52
David Ellis @ 109 get a bigger TV 😂
Jay Evans
113
Posted 19/09/2020 at 07:59:01
Come on you blues !!!!
Top of the pops before 3 bells surely ?
Then again this is Everton but maybe, just maybe, not as we know them.
At them from the start, just like at Spurs and we can do it. If only we could be there to see it in person and roar them on. Hopefully won't be much longer now.
'so get your coat on, and get moving, cos we don't know the meaning of losing'
Full support blues.
Onward Evertonians 💙
Geoff Lambert
114
Posted 19/09/2020 at 08:18:17
Hope we here some positive vibes from across the Mersey Today.

Derek Knox
115
Posted 19/09/2020 at 08:24:38
Geoff, Why, are Tranmere playing? :-)
Laurie Hartley
116
Posted 19/09/2020 at 08:46:17
"The Prince" will score today - screamer into the bottom left hand corner the two assists - one for Richarlison and one for Calvert-Lewin. !!! Up the Blues
Geoff Lambert
117
Posted 19/09/2020 at 08:46:51
Derek. do you not frequent the live forum?
If not I understand your confusion.
Tony Everan
118
Posted 19/09/2020 at 08:59:29
You have got to be taken aback at the non-stop media attention Gareth Bale's transfer is getting from the BBC .
Also, BBC News had repeating bulletins of a skywalk from their stadium yesterday, all this follows the 0.5% BoE £175m loan to them (not for transfers or players wages). Are they becoming state sponsored?, the Real Madrid of the UK?
A couple of weeks ago when James Rodriguez signed for Everton the BBC didn't even mention it at all on their sports bulletin. Like it never happened.
I believe the competition some clubs face to progress is not just a football one. There is powerful influence at work within the establishment on the preferential treatment certain clubs get and obstructions put in front of others.
Brian Murray
119
Posted 19/09/2020 at 09:02:43
Tony. I can live with media frenzy for Spurs. The reason I cancelled Sky and barely watch MotD is a bit closer to home!!
Stan Schofield
120
Posted 19/09/2020 at 09:09:19
Tony@118: Nothing surprising there, particularly with the BBC News, which has been dreadful for a long time and getting even worse. Some people might tell me that it's better than such-and-such news organisation in some far-off oppressive country, but that's not much of an argument in its favour. Best thing to do is ignore all the nonesense, and do your own searching for the truth where possible, which is arguably easier these days because of the infinite library called the internet which is useful when used with good judgement.
MOTD is just another example of the drivel the BBC pumps out. The best thing Everton can do is just focus on winning games.
Tony Abrahams
121
Posted 19/09/2020 at 09:23:47
Just read Ancelloti's programme notes Stan, and I think he understands that very poignant last sentence better than anyone mate!
Bill Watson
122
Posted 19/09/2020 at 09:24:02
I'll be watching this one on TV but also listening to the radio so I'll know what happens next!
The TV is always at least two minutes behind the radio but for the Salford game it was a whopping four and a half minutes.
Even radios differ; my 1952 Bush valve radio is usually 30 seconds + ahead of the modern Roberts DAB.
Derek Knox
123
Posted 19/09/2020 at 09:31:37
Tony@118, spot on there mate with Spurs, who else gets a BoE loan for that amount at low interest? (especially Football Clubs) I also heard that they had to pay it back by April next year, now whether the Covid situation has extended that I don't know.
Behind closed doors will be no different for them as all Clubs so Revenue is at an all time low, in terms of Gate Money and Stadium Revenue through sales etc. How do they pay it back, and are seemingly allowed to go deeper in debt with Bale's massive wages (even paying 40/50%?
Stan@120, again spot on there, we have never been a Media darling and I don't think I would like us to be either. Like you say let us continue to go under the radar and let the Football do the talking, in other words F*** em All, The Long and The Short and The Tall! :-)
Eddie Dunn
124
Posted 19/09/2020 at 09:39:17
Tony & Stan, cast your minds back to our title-winning season of 84-5. The media hardly gave us a second look until after Christmas and it took ages before the pundits really noticed how good we were. Of course in those days the most people would see was either live or highlights on MOTD.
You could go under the radar as, like nowadays, the radio usually covered Liverpool or Man U.
The love-in with our neighbours was, if anything, even more obvious, especially as they were winning everything.
Even in the aftermath of our good win at Spurs not enough was said about us, instead the "story" was about Mourinho.
Now it is about Bale.
Today the BBC sports page is all about Jota going to Anfield for 45 million. And my mates were teasing me that we were spending lots of money.
A good player, with bags of skill but in the current market that is a lot to pay.
But it is for those wonderful reds and that lovable chappy Herr Klopp.

Eddie Dunn
125
Posted 19/09/2020 at 09:39:17
Tony & Stan, cast your minds back to our title-winning season of 84-5. The media hardly gave us a second look until after Christmas and it took ages before the pundits really noticed how good we were. Of course in those days the most people would see was either live or highlights on MOTD.
You could go under the radar as, like nowadays, the radio usually covered Liverpool or Man U.
The love-in with our neighbours was, if anything, even more obvious, especially as they were winning everything.
Even in the aftermath of our good win at Spurs not enough was said about us, instead the "story" was about Mourinho.
Now it is about Bale.
Today the BBC sports page is all about Jota going to Anfield for 45 million. And my mates were teasing me that we were spending lots of money.
A good player, with bags of skill but in the current market that is a lot to pay.
But it is for those wonderful reds and that lovable chappy Herr Klopp.

Geoff Lambert
126
Posted 19/09/2020 at 09:40:14
Cosmic waves Derek, Haha my bad. (from George)
Brian Harrison
127
Posted 19/09/2020 at 09:47:23
Today will be quite different from last week were Spurs tried to attack as we did, but after their defeat at home last week Bilic will have WBA sitting deep and defending for their lives. So plenty of patience needed as well as concentration for when they get a dead ball situation or a sporadic attack. A win today although expected will boost still further our confidence gained from last week.
I think a really good start is imperative as if you start with a couple of losses you are always playing catch up, which is never easy in this league. I always think the first 10 games is usually a good indicator of how the season will pan out.
With Carlo saying apart from Branthwaite and Holgate everybody is fit then we will start with the same team as last week, again if you start well and can keep free of injury it all helps. I see the papers are still saying that Juventus would like to take Kean back, I think the next few weeks before the window closes will be interesting to see what happens. I suppose the dilemma is Kean is very young so do you keep him and hope he settles down and becomes a player, or do you cash in your chips and sell hi back to Juventus, as if he stays and doesnt impress, then his value will be halved by the end of the season.
Derek Knox
128
Posted 19/09/2020 at 09:56:51
Geoff, hope George is both on the mend, and has been able to watch the new-look Blues, wherever he is. Has anyone any updates/news on him?
Derek Knox
129
Posted 19/09/2020 at 10:07:44
Meant to mention too, I will miss the Live Forum today, because I am going to the pub today later, and their wi-fi is crap so can't hook up through my Tablet. So apologies to all the regulars, love the banter, and the fish puns, all good soles on there! :-)
Stan Schofield
130
Posted 19/09/2020 at 10:25:10
Eddie@124: That's when I first noticed an apparent bias. I recall being taken aback when watching the FA Cup final against Utd, by the apparent keeness of the commentators for us to lose, and they seemed quite pleased when we did and just missed out on a treble.
Martin Nicholls
131
Posted 19/09/2020 at 10:29:55
Phil(K)R#83 & Stephen Vincent#88 - both teams wore a change kit in that game (WBA in all white) yet their normal kits would not have clashed. Anyone got any idea why? This was one of the first Cup Finals televised in colour - did that have anything to do with it?
Interesting point about that game (which I've not checked!) is that I believe it is the last FA Cup Final in which neither team wore a blue of red shirt - 52 years ago!
Martin Nicholls
132
Posted 19/09/2020 at 10:30:13
Phil(K)R#83 & Stephen Vincent#88 - both teams wore a change kit in that game (WBA in all white) yet their normal kits would not have clashed. Anyone got any idea why? This was one of the first Cup Finals televised in colour - did that have anything to do with it?
Interesting point about that game (which I've not checked!) is that I believe it is the last FA Cup Final in which neither team wore a blue of red shirt - 52 years ago!
Martin Nicholls
133
Posted 19/09/2020 at 10:31:17
Apologies for duplication!
Michael Lynch
134
Posted 19/09/2020 at 10:53:28
We've made three great signings, but it would be churlish not to acknowledge Klopp's transfer business. Thiago and Jota are perfect for them, the bastards, and classic old-school RS purchases at just the right time to bolster the squad. I think they've just made themselves clear favourites to retain the title. Hopefully we have put ourselves in a position to really challenge for a top 6 place - especially as Wolves and Leicester are both weakened.
Bill Watson
135
Posted 19/09/2020 at 10:57:04
Derek #128
I talked to George last week (via email) about the new signings. He'd been in intensive care for four weeks, after an infection, but said he was recovering well in a side ward.
Darren Hind
136
Posted 19/09/2020 at 11:04:08
I will watch today's game with a different perspective.
I've Just discovered Pat Smullen finally lost his fight against pancreatic cancer this week. What a desperately sad time for Irish sport. In fact what a desperately sad time for world sport. A true great.
The word 'legend' is thrown about like confetti these days, but here's a competitor who deserved the mantle. The tributes paid to him by his peers say just about everything you need to know about this man.
RIP, Pat Smullen, Champion.
George McKane
137
Posted 19/09/2020 at 11:14:46
I have just done a Live Transmission on The Dark House Blues from my hospital bed saying how strange it is not getting ready to go to TDH and then the game:
" I dreamed a dream that made me sad
Concerning myself and the first few friends I had.
I wish, I wish, I wish in vain
That we could sit simply in that room again
Ten thousand dollars at the drop of a hat
And I'd give it all gladly if our lives could be like that"
There is nothing like going the match. For me, walking along Scotland Road and Smith Street up to Westminster Road - memories of the baths, The Grosvenor and Astoria Cinemas, chippies and churches, mates, conversation - especially today when we all want to talk about the news season, new players, new optimism, hope ( and hopefully) glory" :
"Take me back, there, take me way back there
Take me back, take me back, take me back
Take me way, way, way back, way back
To when, when I understood
When I understood the light, when I understood the light
In the golden afternoon, in the golden afternoon
In the golden afternoon, in the golden afternoon
In the golden afternoon when we sat and listened to Sonny Boy blow"
I love the whole feel of Saturday football - the whole day from when I get up to going to bed is Everton - getting ready in the morning until falling asleep on the couch trying to watch MOTD but knowing every week you will watch it on Sunday morning:
"I'm puttin' on my top hat
Tyin' up my white tie
Brushin' off my tails
I'm dudin' up my shirt front
Puttin' in the shirt studs
Polishin' my nails
I'm steppin' out, my dear
To breathe an atmosphere
That simply reeks with class
And I trust that you'll excuse my dust
When I step on the gas
For I'll be there
Puttin' down my top hat
Mussin' up my white tie
Dancin' in my tails"
My heart and soul is full of Everton and Evertonians. Is bursting with Evertonskism.
On my arm now and for the past 5 weeks I have a direct line to my heart where they pump antibiotics 5 times a day - the link from the drip to my arm is Blue (honestly). It is keeping me alive - Blue Blood through and through:
"You may see me struggle,
but you won't see me fall.
Regardless if I'm weak or not,
I'm going to stand tall.
Everyone says life is easy,
but truly living it is not.
Times get hard,
people struggle
and constantly get put on the spot.
I'm going to wear the biggest smile,
even though I want to cry.
I'm going to fight to live,
even though I'm destined to die.
And even though it's hard
and I may struggle through it all,
you may see me struggle...
but you will NEVER see me fall."
I will have to go soon - "medication time" - and need to charge up my iPad so I can watch the game - let's take a few seconds here - just a few - and give each other a thoughts - a "posso" wave - think how much we miss our football friends and our football - and know that soon we will be back together and watching The Blues.
From here in hospital, I send Cosmic Bluetiful Waves, out of the window in my isolation ward, over Bidston Hill, across The River and up into the astral to reach all you World Wide Blues:
"Earth has not any thing to show more fair:
Dull would he be of soul who could pass by
A sight so touching in its majesty:
This City now doth, like a garment, wear
The beauty of the morning; silent, bare,
Ships, towers, domes, theatres, and temples lie
Open unto the fields, and to the sky;
All bright and glittering in the smokeless air.
Never did sun more beautifully steep
In his first splendour, valley, rock, or hill;
Ne'er saw I, never felt, a calm so deep!
The river glideth at his own sweet will:
Dear God! the very houses seem asleep;
And all that mighty heart is lying still!"
Sent with cosmic grooves with a firm handshake from your friend - George - Up The Blues.
Martin Nicholls
138
Posted 19/09/2020 at 11:39:32
Great post George and glad to see you're getting back in the groove. Stay safe George and get well soon. COYB
Mike Corcoran
139
Posted 19/09/2020 at 11:47:29
George is back, 4-0 guaranteed.
Jamie Crowley
140
Posted 19/09/2020 at 11:52:56
Agree Mike. The "McKane Affect" will take place.
3 points for sure.
Colin Glassar
141
Posted 19/09/2020 at 11:55:02
Derek 128, who will I have to moan about Iwobi with now? WBA will make this tough. 2-0 to Everton
Paul Baxter
142
Posted 19/09/2020 at 11:58:45
Darren #136, only 43 as well, sad day...
Dan Nulty
143
Posted 19/09/2020 at 12:09:50
Concerned no centre-back on the bench. Have to add one to the squad next week.
Nervous but excited at the same time! UTT.
Tony Everan
144
Posted 19/09/2020 at 16:04:43
George, You may be laid up in hospital but your poetry and love for Everton are fighting fit.
Wishing you all the best on your recovery, firm handshake returned with a wheelbarrow load of bluetiful cosmic grooves.
Tony Everan
145
Posted 19/09/2020 at 17:31:17
Darren 136, Well said, Goodbye and RIP to Pat Smullen, a class act.
Michael Low
146
Posted 20/09/2020 at 10:16:29
Olalekan, welcome to Everton! George, nice post, hope you're feeling better after the win! Sending warm wishes to you from across the pond (a Blue since 1965).
---
Add Your Comments
In order to post a comment, you need to be logged in as a registered user of the site.
Or Sign up as a ToffeeWeb Member — it's free, takes just a few minutes and will allow you to post your comments on articles and Talking Points submissions across the site.