Solid Everton grind out another victory
Saturday, 26 September, 2020
Crystal Palace 1 - 2 Everton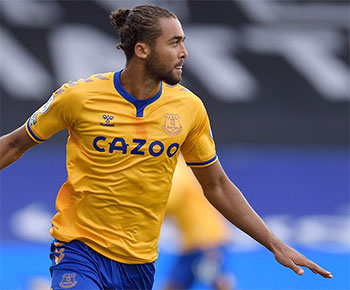 Dominic Calvert-Lewin scored his fifth goal in three League games to set the Toffees on their way to victory
Everton extended their 100% start to the new season with a hard-fought win at Selhurst Park that was secured by a controversial penalty late in the first half.
IFAB's new handball rules took centre stage again as a second incident in the box involving Joel Ward resulted in a spot-kick being award to the Toffees and Richarlison converted from 12 yards with aplomb.
That restored Everton's lead after Cheikhou Kouyaté had cancelled out Dominic Calvert-Lewin's 10th-minute opener and while Carlo Ancelotti's men were slightly less expansive in the second half and had to deal with a good deal more pressure from Palace, they held on fairly comfortably to return to the top of the Premier League for the time being.
Ancelotti had reverted back to his trusted starting XI, with three of his new signings back in the side, and after a slightly untidy start, the Blues got to grips with their task and Abdoulaye Doucouré had an early shot saved at the near post by Guaita.
A minute later, though, the visitors took the lead thanks to a fine passing move. Doucouré's pass to James Rodriguez was stroked into the Palace area first time by the Colombian to Seamus Coleman who squared neatly for Calvert-Lewin to side-foot in off the goalkeeper from close range.
Wilfried Zaha was being kept quiet enough and was booked for kicking out at Yerry Mina and it was from a more rudimentary situation that the hosts equalised. Andros Townsend delivered a deep corner to the back post where Kouyaté out-jumped two Everton players to power a header past Jordan Pickford.
A quick Everton counter-attack where Rodriguez sent Richarilson away was charged down and a handball claim on Ward was eventually denied by Video Assistant Referee, Anthony Taylor.
The Palace defender wasn't as lucky late in the half, however, as he fell victim to the new handball laws. Accidentally handling Lucas Digne's header just inside the box, Ward's arm was adjudged by referee Kevin Friend, after a check of his monitor, to have been in an unnatural position and a penalty was awarded.
Richarlison swept the resulting spot kick high into the net following a halting run-up to send Ancelotti's men into the interval a goal up.
Everton withstood a couple of potentially nervy dead-ball situations early in the second half but almost doubled their advantage when Rodriguez picked Calvert-Lewin out from a corner but the striker could only prod wide when a surer connection would surely have resulted in another goal.
The Blues' No.9 was on the end of another of the Colombian's deliveries from the same side a few minutes later but he and Michael Keane went for the same ball and neither could properly connect with it.
Jordan Ayew flashed a deflected centre across the face of Everton's and Kouyaté missed at the far post with another header from a free-kick before a James volley off Digne's cross was deflected behind.
Calvert-Lewin survived another VAR check for handball in the area with 20 minutes to go while he had one more half chance at the other end that he sliced into the goalkeeper's arms as the closing stages were characterised by Everton shutting things down and preventing their hosts from creating any meaningful chances of their own.
The result, which was more than fair on the balance of play, ended Palace's winning start to the new season saw Everton win their third successive League game and fifth in all competitions to send them back to the top of the table for the time being.
---
Reader Comments (295)
Note: the following content is not moderated or vetted by the site owners at the time of submission. Comments are the responsibility of the poster. Disclaimer
Martin Berry
2
Posted 26/09/2020 at 16:59:04
Very resilient today as 12 months ago we would have crumbled.
Still need a speed merchant on the right as a get-out when under pressure to carry a threat at both side.
Alan J Thompson
3
Posted 26/09/2020 at 17:05:45
I got to half time and was told there was no further internet connection nor phone facility, is this why the report was cut short and did anyone else suffer this problem?
Derek Knox
4
Posted 26/09/2020 at 17:07:28
Alan J, at least you saw the better half, second half was a bit scrappy and nail-biting at times, but a win is a win and wins breed confidence !
Ernie Baywood
5
Posted 26/09/2020 at 17:07:32
I suppose we saw today that it's not always champagne stuff... We had to grind it out and ride our luck a bit.
That said, there are two differences this season.
1. There's more character (and more resilience in midfield) so we didn't crumble.
2. We have the players to produce a little bit of quality to make a difference. The first goal was a beautiful move.
Iffy performances by a few. Allan I thought was exceptional. But top of the table after 3 and 5 wins from 5 in all competitions. COYB!
David Connor
6
Posted 26/09/2020 at 17:07:39
Really hard-fought win today. 3 wins in a row. Can't ask for more than that.
Playing some lovely football in the first half but we had to dig in a little second half. Never an easy team to play away, Palace. We probably would have lost this in previous seasons but there seems more steel in the team now.
On our previous three Premier League displays, I would like to see Gomes benched. He is nowhere near the player he was when we first signed him.
Top of the tree... Only another 31 points needed to avoid the drop. COYB
Tony Abrahams
7
Posted 26/09/2020 at 17:07:46
Won our first five matches for the first time in 82 years, and had to really dig in to achieve it.
Loads of good performances, rather than any great ones, but this is what happens when you improve the team, although I agree with Martin, we will still need more pace out wide in some games.
I was made up with Doucouré, a new club, a new style, he gave the ball away quite a bit, but he never went missing and his physicality was really needed in the last 30 minutes imo.
Well done, Everton, the fact that I was getting nervous, must mean I'm starting to think we could achieve something this season, especially if we can find a bit more pace?
Andy Riley
8
Posted 26/09/2020 at 17:07:57
Another 31 points to safety. I remember that the last time we finished 4th we achieved 40 points on Boxing Day against Manchester City!
Brian Williams
9
Posted 26/09/2020 at 17:09:25
Premier League Winners, 2020-21.
No fans in stadiums for whole of the season.
Everton that! 😂😂😂😂

Tony Hill
10
Posted 26/09/2020 at 17:11:33
An excellent, tough win against a good side. They had very few clear-cut opportunities.
Victory in that sort of game does wonders for confidence. We were messy in the second-half but we didn't buckle.
I thought the defence generally played well. Calvert-Lewin in the last 5 minutes was brilliant, earning us breathing space.
Bill Watson
11
Posted 26/09/2020 at 17:13:02
Alan #3 No problems here and I was on a blag connection.
A bit lucky with the VAR, for once, but a well earned 3 points, nevertheless. Despite numerous free-kicks, Pickford was rarely troubled and we saw the game out with little trouble.
Philip Bunting
12
Posted 26/09/2020 at 17:13:36
Brian... I'd take that right now lol so long as we get a parade around the city. Happy blue nose tonight.
Shane Corcoran
13
Posted 26/09/2020 at 17:16:25
As above. Iwobi must have had a 100% non-completion rate with his passes. Still he tried.
The penalty was a penalty by the rules, and that's all the ref can do, but it's awful harsh.
Dave Ganley
14
Posted 26/09/2020 at 17:19:01
Decent performance that was. Fully deserved win in the end I think.
I was very impressed with our game management in the last 20 minutes or so. Yes, Palace had a lot of the ball but we were very solid and gave them nothing. We also had our chances to put the game to bed but I'll take the win.
As others have said, we would have crumbled last season but a lot better character appears to be in the team now. Long may it continue!
Steve Brown
15
Posted 26/09/2020 at 17:19:06
Shane @ 13, Iwobi was trampoline touch today. Never bring him on when you are defending a lead with 5 mins to go!
Defence excellent, Coleman in particular. Calvert-Lewin and Richarlison worked extremely hard.
Good win against a tough team. I thought Palace would tire but they didn't.
Robert Tressell
16
Posted 26/09/2020 at 17:19:22
I normally defend Iwobi but he was appalling this time. Truly awful. Shout out for Sigurdsson though. Thought he played very well when he came on. André had faded big time and Sigurdsson looked very mature with and without the ball.
Jay Wood
[BRZ]
17
Posted 26/09/2020 at 17:20:33
Another mini-test passed today.
Ugliest win this season. Happy to see we can achieve that sort of result in this sort of game against this type of opposition.
We looked so good at the start of the game up to our opening goal. What a work of art that was, involving Gomes, Coleman, Doucoure, James, Coleman again and – BANG! – Calvert-Lewin's finish.
We progressively became too passive, played too deep and started – as we did all game – to give up corners and free-kicks around our penalty area which is always Palace's main threat.
We were poor on the corner they scored from. Kouyate running back off the goal line and in doing so losing Richarlison, giving him the space to head home.
I'll take any VAR decision that benefits us. Question answered who takes the penalties when Sigurdsson isn't on the pitch.
Really scrappy 2nd half for the most part and whilst there were some palpitations, nothing really threatening from the home team.
Mina doing a very good Stracqualursi impersonation, trying to head the ball prostrate on the ground. Yerry was such a dominant player in both penalty areas in his time playing for Palmeiras here in Brazil. I've yet to see him reach that sort of level consistently in a Blue shirt. Today was further evidence he is, shall we say, a tad 'unorthodox'.
Doucouré was wayward in his passing today and James wasn't quite on it as in his previous appearances but, as per his part in the opening goal, when he's good, he's very, very good.
Pickford, other than a mistimed punch clearance which failed to get height or distance, was fine.
Seamus, far from over the hill. Digne, tenacious quality. Michael Keane, yet another fine game and (as he has always had in his locker) a good passing range. Allan the glue that holds us together. Calvert-Lewin, 5 in 3. Impossible to knock. Gomes his best game of the season. Play like that every week, and he stays in the team. Richarlison, another high-octane performance in defence as well as attack. He is playing exceedingly well at the moment.
The three subs with little time to impress, but what they did (or rather, didn't do) was all a bit 'meh'.
First time in 27 years Everton has won the opening 3 games of a league season. Five straight on the bounce with the cup wins. What I'm also liking is Everton winning on the road again. Six wins in 11 Premier League away fixtures under Carlo.
Maybe, just maybe, this Italian geezer does know what he is doing.
Victor Johnson
18
Posted 26/09/2020 at 17:21:16
In so many ways these games are the most important to win. A true test of character. We know we can put on the style and win games handsomely, but today we won ugly. A brilliant team effort and I think I feel more satisfied today than I did against Spurs. COYBB!!
Albert Perkins
19
Posted 26/09/2020 at 17:21:35
The penalty was correct as Richarlison was right behind the offender and right in front of goal. You know what happens next...
Jamie Crowley
20
Posted 26/09/2020 at 17:21:38
This guy was crap, that guy didn't play well, we didn't so this well, we didn't do that well.
Nine points from three games. Top of the League. Midweek game, went to London and won.
We're gonna win the league! 😜
Kieran Kinsella
21
Posted 26/09/2020 at 17:22:58
Iwobi just rushes around, he seems to have only one speed.
Stephen Vincent
22
Posted 26/09/2020 at 17:23:32
Think what that game proves is that we now have an excellent starting 11 or will have when Mason comes back – but the squad strength isn't really up to scratch yet.
Today's 3 subs did little to take the pressure off and Iwobi was seemingly determined to get Palace a point.
David Donnellan
23
Posted 26/09/2020 at 17:23:41
Games like this, against tight dogged teams, usually end with us drawing the game. As we have previously struggled to unlock well organised, tight teams in some games like this.
What a luxury to have a Rolls-Royce of a player like James, someone who can unlock any defence.
I think he was the difference today and no doubt will be again in similar games. He was excellent today, he plays the game at his pace, in his slippers, although he was noticeably tiring towards the end.
What a talent!
Kieran Kinsella
24
Posted 26/09/2020 at 17:25:27
Consecutive away wins in London, surely that's a rarity!
Alex Gray
25
Posted 26/09/2020 at 17:25:32
Tough game today. Palace had a lot of energy in their press.
As mentioned above, our game management was superb. Allan was excellent and, even when he's not in the game, James produces something every time he touched the ball.
Shout out to Keane who so far this season has been excellent. Five wins, top of the league and can't complain at the minute!
Will Mabon
26
Posted 26/09/2020 at 17:27:27
We're going finish top eight this season, I can feel it.
James Head
27
Posted 26/09/2020 at 17:28:00
We need Holgate back ASAP as Mina is an absolute nightmare! The one were he slipped over, elbowed the ball, and butted the Palace player in the ankle was ridiculous!!!
Every time he challenges for the ball, he's giving away free-kicks around our box. He has your heart in your mouth any time he's involved.
Dave Lynch
30
Posted 26/09/2020 at 17:31:29
Two very tricky away fixtures put to bed early season.
Brighton up next and a very winnable game.
The big test comes after that one, we will really know how far we have progressed then.
Patrick McFarlane
31
Posted 26/09/2020 at 17:32:32
Not the best performance this season, but they showed determination against a difficult opponent, that's all we can ask for... Mind you, a third Everton goal would have been welcomed in that last five to ten minutes.
But this report in The Guardian, Palace vs Everton made me laugh:
...Around 10 minutes later, Lucas Digne tried to head the ball into the path of Richarlison, only for the ball to flick Ward's hand on its way through. Play continued. Palace had an attack. Everton won the ball back. Autumn turned to winter. Joe Biden won the presidential election. Random parts of Greenland continued to melt into the Arctic Ocean. Winter turned to spring. Ward retired and grew old. Humanity itself finally incinerated and perished in the Second Great Conflagration.
At which point, Kevin Friend brought play back, studied the video screen and awarded Everton a penalty for the earlier handball. Richarlison, by now a wizened, shrivelled stack of bones and rags barely recognisable from his younger self, tucked it past Vicente Guaita into the top corner.
Danny Broderick
32
Posted 26/09/2020 at 17:33:50
There was a point in the second half where Zaha was leading a counter-attack on us, very dangerous. And Doucouré got back goal side, stuck to him like glue, and thwarted the attack. Last season, that would have been Schneiderlin or Sigurdsson in 2nd gear, he would have got through and scored or set one up.
This season, I love us so much more as a team. If you get past Allan, Doucouré will get you and vice versa. If you get past both, our defence is more organised.
The penalty award may have been correct, only because of the distance between Digne and the defender (according to the new rules). Plus, Richarlison may have been through if the defender hadn't stopped it. It was borderline, but I'll take it all day long!
Tony Abrahams
35
Posted 26/09/2020 at 17:35:47
You know what happens next, Albert @19? Richarlison scores and the flag goes up because he's in an offside position.
I'm glad we won but I just hate the way some of these laws are being implemented at the minute. Rather than being talking points, I'm sure it's going to turn loads of people off football, although I can only speak for myself.
Tony Hill
36
Posted 26/09/2020 at 17:36:02
That piece of defensive work by Doucouré chasing back Zaha was great to see.
I also saw signs today of Gomes getting back into shape and form. Yes, Yerry can be chaotic but I thought he was very much part of the defensive effort today.
Have a happy night, Blues. We deserve it, we really do.
Lev Vellene
37
Posted 26/09/2020 at 17:36:16
Haha, Patrick #31! I laughed at that quote!
Pekka Harvilahti
38
Posted 26/09/2020 at 17:40:41
We should get an experienced striker because it's a long season and we can't rely only on Calvert-Lewin and Richarlison. There will be injures, bans or whatever.
Also, the centre-back situation remains unsolved. We need a good solution there.
If these problems are solved, I think we could be challenging the top 4/6.
Charles Towers
40
Posted 26/09/2020 at 17:44:45
In the ~80+ minute, Allan sent the ball out of the park. He was laughing and though it seemed an irrelevant funny thing, he relieved the pressure of the last-minute equalizer, probably without knowing it. I heard he hit a window though, landing the ball on a ready-made old lady's pie. Youuu scouuusse scuuummmm!
With the pitch soaked, I thought Gomes and James, particularly the second, struggled a bit. Carlo should have dropped James a bit sooner. I didn't see Sigurdsson coming on though, as I thought, we needed someone more aggressive.
I don't like Sigurdsson, he passes the ball well at close range, he just doesn't have it like James, he is average but still manages to hide it pretty well, making all those precise passes that really don't leave anywhere.
A ball in the middle of the goal is always a minus for a keeper, I'm starting to think something has to be done, drop him and put Virginia for a few games, you never know...
Mark Taylor
41
Posted 26/09/2020 at 17:45:24
The positives are obvious, 3 points from a tricky away game to an in form team and completed in far from lucky fashion, dodgy penalty or not. Overall we were the better team, albeit not by much.
The negatives, such as they were: Mina does not look up to being our first choice centre half, I can see why Barca let him go, he gives away too many cheap free kicks; no howlers from Pickford but he is certainly no Schmeichel in bossing his box, those corners were often inside the 6 yard box but Jordan rarely comes to catch them, or even punch them; Dom got his goal but only just, it was an easy chance that should really have been saved, not sure he is as clinical a finisher as some claim. On the other hand, his hold up play in the last 10 mins or so was exemplary and much needed.
On the upside, Coleman had a better game than normal, as did Keane apart from missing his man on their goal. Richie may not have had much of a sight of goal but for a flair player, he gives everything for the cause. The rest were average in the sense they did what you'd expect, for example the now normal flashes of brilliance from James, without being much if at all above their normal level. But that is now enough, whereas it wasn't last year.
Terry Farrell
42
Posted 26/09/2020 at 17:47:24
2 away wins on the run! I am back in the 80s and love Don Carlo and James is god.
John Pendleton
43
Posted 26/09/2020 at 17:48:17
Jamie (20) We're gonna win the league! 😜
Tut! Tut! You forgot to mention winning the Carabao Cup first.
Darren Hind
44
Posted 26/09/2020 at 17:48:34
What a contrast to last season.
Tough assignment successfully negotiated through grit, determination, focus and of course, skill
Job Done.
Danny Broderick
45
Posted 26/09/2020 at 17:49:30
Mark (41),
We are top of the league FFS!!
Brian Wilkinson
46
Posted 26/09/2020 at 17:49:56
A wins a win, happy Days.
Mike Gaynes
47
Posted 26/09/2020 at 17:50:13
Love your inside info, Brian. Just don't do a Rob and predict what day and time he's gonna sign!
Mike Gaynes
48
Posted 26/09/2020 at 17:51:22
Albert, you get through the fires OK? We drove through Eugene ten days ago and it looked like hell on earth.
Dave Abrahams
49
Posted 26/09/2020 at 17:53:18
Brian (34), this signing from Sweden, he is very young isn't he, one for the future, a few top clubs were very interested in him, was there a fee involved or compensation?
Geoff Williams
50
Posted 26/09/2020 at 17:54:07
Very pleased with the result but below par compared with previous performances. Thought James should gave been substituted ten minutes earlier as he had tired. Iwobi deserved uis chance to come on after his performance against Fleetwood but he was awful. His tirst touch and passing were so poor. Gordon must be on the bench next time. I thought for sixty minutes Gomes was immense.
Kieran Kinsella
51
Posted 26/09/2020 at 17:54:26
Danny Broderick and Tony Hill
Yes Doucoure has an amazing ability to hit high speed quickly but crucially he's very calm about timing the tackle. He mad a near identical tackle versus Spurs and both could have led to red cards and or goals if he hadn't timed it to perfection. I thought he and Allan played well but credit to Palace the two former Hibs players have them a hell of a battle
Martin Mason
52
Posted 26/09/2020 at 17:54:46
Robert@16 Well pointed out Sigurdsson was superb when he came on. He has one position and that is forward of midfield like a false number 9 coming back to defend and pick up the ball. If you play him in midfield he is absolutely hopeless, that isn't his fault. Carlo knows this and Gylfi looks like the player we theoretically bought.
Kieran Kinsella
53
Posted 26/09/2020 at 17:55:17
Hamilton rather not Hibs
Rob Dolby
54
Posted 26/09/2020 at 17:55:39
Var on our side today. I didn't think any of the handballs were deliberate but I am sure over the course of the season the decisions will even themselves up!
A solid performance with the new signings playing their part. Hard to pick a motm think Allen just shades it for me.
UTFT.
Craig Walker
55
Posted 26/09/2020 at 17:55:46
A lot of positives and so pleased with the start of this season.
I wish we'd cut out the stupid free kicks where their player is going nowhere. Mina and Gomes are always inviting pressure via silly fouls.
Biggest thing for me is that we seem to be getting a bit of luck, for a change.
Well done Blues.
John Pierce
56
Posted 26/09/2020 at 17:55:46
We were exceptional without the ball, limited Palace to set plays throughout and largely neutered Zaha.
Today was all about Allan and Doucouré, whilst not great with the ball, between them they broke up the play and allowed others to get back, double up and snuff the move out.
Even our two forwards were relentless in their physicality without the ball. I'm seeing signs of an extra gear with Richarlison too, I thinks he's first to realise with James in the team what the knock on effect for him is.
A full team of 6/7s today ensures a gritty and satisfying win.
Tony Everan
57
Posted 26/09/2020 at 17:56:08
Bruising hard graft and a deserved battling win.
There are no easy games in the Premier League, so we have to get used to today. There will be many more days like this. Battles that have been fought and won.
Doucoure and Allan give us the steel and protection that the defence needs to overcome really well organised and physical teams like Palace.
In thought the whole team battled well for each other , so no motm needed. I thought Iwobi looked a bit lost when he came on and needs to do better. I thought Siggurdson looked more focused and did well .
It will be an interesting 10 days until he transfer window shuts, with one or two good strategic signings we can strengthen our hand a bit more. We are looking like a very good destination now. It will all rest on Brands moving on two or three ( or four) to give him some financial leeway, and then finding time to bring in one or two good solid players.
Finally a brief word about Pickford, good to see him have a relatively boring game. Just keeping it simple.
More of he same please Jordan.
Kieran Kinsella
58
Posted 26/09/2020 at 17:57:33
Mark Taylor I think Coleman has been excellent in all our recent games
Derek Knox
59
Posted 26/09/2020 at 17:58:31
Mike G, the very fact that are signing players who can not only sign their own name but read and write is a sign of progress in itself! :-)
Jim Lloyd
60
Posted 26/09/2020 at 17:58:44
Jamie, a young lad (assume 16 or 17) called Imam Jagne. Can play right winger,defensive right side midfielder and attacking midfielder for about $2m.
Evidently he'll be going right into the under 23 squad according tothe Liverpool Echo
John Pendleton
61
Posted 26/09/2020 at 17:58:58
Beat Spurs who Score for fun. Beat WBA who are beating Chelsea 3-0. Beat Palace who beat Man Utd. No mean feat.

Mike Connolly
62
Posted 26/09/2020 at 18:01:35
I was unlucky to watch the game on Prime. With two muppets commentators especially Ally McCoist. However, I missed a lot of the action. This was due to the camera showing lots of replays of everything while the match was still going on. and when the managers name was mention the camera would zoom in on them for longer than needed. At one stage even the floodlights got a cameo appearance. Still a good win against a team that will give a lot of the so called big guns a tough game. Oh, how did we get mugged off buying Iwobi
Lev Vellene
63
Posted 26/09/2020 at 18:01:39
I'm just sitting here, enjoying the current league table. And nipping on another drink...
Only three teams at 6 points (apart from CP). Arsenal and Liverpool play Monday, so that's at least one of them behind us. That leaves only Leicester.
I love living in the moment! And I just noticed WBA are 3-0 up against Chelsea right now. Time for another drink, I think!
Jason Li
64
Posted 26/09/2020 at 18:02:08
Captain Coleman still got it.
Coleman at the final whistle opens his pocket and releases Zaha and Eze - points to screen replays how to make a run and an assist.
If young Mitchell is a Premier League standard full back, then Digne is close enough to being called world class now - and Baines must have been in the top 5 in the world at his peak surely, as a comparison?
Rodriguez with 3 smothering him left and then right on the touchline - fully boxed-in, then innovating a chipped pass to midfield was an unbelievable moment in the game reminiscent of Ronaldinho in his prime.
Everyone else superb, and of course Carlo for 5 wins on the bounce. No many would have thought it possible a month ago. Brighton looks doable too.
EFC coming out to Champions League music anyone?
Martin Mason
65
Posted 26/09/2020 at 18:03:04
What did our keeper have to do apart from pick the ball out of the net once from a superb header. A great modern game today, I hate the money in the game but it has driven quality up to a very high level.
Ray Smith
66
Posted 26/09/2020 at 18:04:30
Mark 41
Two away games and one home game.
Scored 8 conceded 3.
9 points.
2 sloppy goals against WBA accepted.
However, get behind the team and stop criticising until there is a need to do so!
Brent Stephens
67
Posted 26/09/2020 at 18:04:34
Martin, I noticed also that Pickford's kicking out was much more accurate today.
John Pendleton
68
Posted 26/09/2020 at 18:04:45
Jason - applauded that James manoeuvre - how did he get out of that and still find the pass?
John Atkins
69
Posted 26/09/2020 at 18:04:59
Chelsea getting battered by the Baggies
Just goes to show our results of Spuds away, 5 goals at home to Baggies and an away win at Palace who may be top half is a fantastic start !
COYB
Matt Traynor
70
Posted 26/09/2020 at 18:05:27
There were a lot of positives today I thought. 2nd half we were under the cosh. But positves were - Pickford was okay. Hamez once fully match fit will really fire us (Jim Rosenthal reminding us that Ronaldo got his 47 goals for Real Madrid with Rodriguez in the midfield).
Our penalty was "lucky" - definitely been angered if that was given against us, and credit to Hodgson for saying that it was as bad as the one his side got last week at Old Trafford.
However, Palace were never going to be an easy game. But good to see that there's belief amongst the team again.
Brian Williams
71
Posted 26/09/2020 at 18:07:47
Dave#49.
I believe there was, and to the team he plays for a big fee paid, but absolute chicken feed in English football.
Between £900k and £1.5m. Think we may have paid up to guarantee getting him in.
Andre Angwin
72
Posted 26/09/2020 at 18:07:53
A win is a win, look at the RS last 2 seasons (and even this season so far); can't recall how many games they won by being lucky or playing shite. I'll take these 3 points any day, don't give a flying one about how we played. It's just flipping marvellous!
Billy Roberts
73
Posted 26/09/2020 at 18:07:58
Will @26
Control yourself!!
Jim Lloyd
74
Posted 26/09/2020 at 18:08:11
A good team in the making. We're a bit thin on the ground for a good squad, even though we've got 31 players in it. So this year it's a mix of very good players, decent plaers and good young players breaking their way in.
I think it's a matter of who we can sell,or loan out, before we can improve even more. But the team spirit is excellent, we're confident much more so than last season and we are learning to take every match in earnest. Never mind what any other team does, it's what we do that is going to count in every match.
Never Give in!
If it was Winstons war Cry to the Nation, it should be ours.

Tony Abrahams
75
Posted 26/09/2020 at 18:08:34
I personally thought Pickford looked shot, but we won and hopefully it gives him a bit more confidence. Don't listen to the experts saying you're about to lose your England place Jordan, concentrate on Everton, and get yourself back in the spotlight for the right reasons, and then thank Carlo Ancelotti for his experience in dealing with you, through your bad form, once you finally improve! HOPEFULLY.
James Head
76
Posted 26/09/2020 at 18:12:47
I think the fact we are getting refereeing decisions that in the past we would never get is down to the fact that the profile of the club has been lifted by the appointment of a world class manager and the recent aquisition of James, as we all know, in the past we can't buy a decision and any debatable decision in our own box would go against us.
Peter Mills
77
Posted 26/09/2020 at 18:16:13
Very pleased with the win, we worked hard for it.
The one downer of the day was Palace's goal, shades of last season there, demonstrating there is still work to be done.
However, the general improvement is beyond belief. Long may it continue.
Ray Smith
78
Posted 26/09/2020 at 18:16:58
Mike 62
Totally agree with your comments about the screening/broadcast.
Constant replays and shots of managers and players in the stands whilst the game is going on.
It seemed that the players were playing in slow motion and very poor commentary.

Dave Williams
79
Posted 26/09/2020 at 18:18:20
Excellent result and performance against a team which will ruffle a few feathers this season.
Coleman again defying age and past injuries with a faultless display. Doucoure did well and glad to see others giving him credit for that tracking back tackle. Allan and James did well in an overall very solid team display.
I can't understand people saying the goalie should have saved DCLs goal- look at it at normal speed- it goes so fast the goalie would not have seen it til it was past him.
I feel this team will develop into something even better with a further ten games under their belt- very exciting.
Finally Gomes was very good and looks to be on his way back to form.
Jay Wood
[BRZ]
80
Posted 26/09/2020 at 18:20:36
Dave @ 49:
In answer to your question to Brian Williams about the teenager from Sweden signing for us and if there was a fee involved or compensation, I understand crates of Bombadier were involved.
I wonder who his agent is and what cut he got from the deal..?
Joe McMahon
81
Posted 26/09/2020 at 18:20:46
Brilliant, another win in London also. James has to be wrapped in cotton wool between matches, he makes things tick, what a class player.
Only slight gripe is crosses into our goal worry me, and we need Holgate back.
Brian Williams
82
Posted 26/09/2020 at 18:21:01
Dave#82.
Dave that's because some people don't know how difficult it is for a keeper when the ball comes at him from close range, even when it's close to his body.
Martin Mason
83
Posted 26/09/2020 at 18:21:51
Imagine how good the wonderful James could be if he actually got fit? Maybe he is better being almost static and using his sublime skill.
Christy Ring
84
Posted 26/09/2020 at 18:24:28
Mark Taylor #41 'Coleman better than normal', he was excellent today, and this season. Try and give him a bit of credit.
Tony Hill
85
Posted 26/09/2020 at 18:27:29
Of course, James's superb pass to Digne was also instrumental for the second goal. What an absolute joy he is to watch: the elegance, the touch and the timing.
I had started to doubt Ancelotti and Brands, but they're lifting us up and restoring us to the levels we've dreamed about. Trophy success will be lovely, but having someone like James in the team and seeing us (first half only today) playing imaginative one-touch football is enough of a delight.
Niall McIlhone
86
Posted 26/09/2020 at 18:34:16
Jason #66 and John#70, that divine moment with James boxed in on the touch line and finding the ball inside to an amber shirt -almost casually -was, for me, proof we have lightning in a bottle with that man on the pitch. I find the criticism off Mina a bit unfair though , I think he and Keane are looking increasingly solid and if Mina can keep his form and fitness, he will be even better. We have a South American spine to the team now in Rodriguez Mina, Allan and Richarlison and I think this is helping with the morale as well, we are seeing a blend of style and guile we so much needed last season. COYB
Martin Mason
87
Posted 26/09/2020 at 18:34:48
The problem now is how to give games to NKounku and Gordon. In Carlo I will trust.
Tony Abrahams
88
Posted 26/09/2020 at 18:37:42
Agree with some of the comments because although I still think we are a little bit short for the rigours of a very long and condensed season, some of the passing and movement I'm watching, hasn't been associated with Everton for way too long, and it's fantastic.
Ryan Holroyd
89
Posted 26/09/2020 at 18:38:38
Championship standard that Calvert-lewin
Albert Perkins
90
Posted 26/09/2020 at 18:39:50
Mike 48, thanks for thinking about us in Eugene. We got lucky and dodged the bullets. Rigged up some fancy homemade filter systems then bit the bullet and bought a couple of expensive air purifiers. The future is here with poor air quality. A few years ago my younger daughter was living in Santa Rosa in the Bay Area and was two blocks from the fire that burned a quarter of the town down to the foundations. She works for a credit union and spent the next week handing over thousands of dollars to destitute people in their pajamas, asking only for a signature. Proud of her. Well Mike, the footy is a great distraction. Long may it continue. Call in next time you are in the area.
John Keating
91
Posted 26/09/2020 at 18:45:36
A win is a win and that 's all that counts. And that was a very good win.
That was our most difficult game to date and we showed a solidity that was not in evidence last season.
We weren't as fluent as previous games and had to dig in at times.
Apart from 2 terrible defensive lapses the first resulting in their goal we were still solid and kept their main threats, Townsend and Zaha very quiet.
After watching Brighton earlier and still bewildered how they lost next week will be another different type of test. On Wednesday Brighton will be up for revenge against United and we need to put out a strong side against the hammers.
Good solid performance and an even better result. Well done Carlo and the squad/
John Pierce
92
Posted 26/09/2020 at 18:57:16
Tony, some very astute observations. Pickford looked washed out to me, I think that made him kick more than pass, but don't have anything to back that up. I thought his punches were effective but unconvincing. That particular tale is not over by a long chalk.
As for our durability, it's definitely a question mark, and I think of we are to have a stellar season we will need a lot of luck with injuries. Leicester had it, maybe we can too?
Make no mistake though, physically that was a tough game.
Bill Gall
93
Posted 26/09/2020 at 18:59:02
I think that Sky Sports player ratings described what Evertons performance as a team was. Overall even though there was man of the match mention, it was just a difference from last season in it was a whole team effort, each player played his part with each one covering for each other. Iwobi seemed over anxious to prove himself and let himself down. Siggy seemed to calm the team down when Palace were pressing by just doing the simple passes to maintain possession.
There is definitely a change of attitude compared to last season and I don't expect much more in the transfer window unless we can get some outgoing transfers done, but it will be interesting to see if anything happens in the next one.
It may have been a dour second half with some dubious penalty decisions during the game but last season we never seemed to get these decisions and I think we had the lowest amount of penalties for us in the league. Everton's penalty was given as the player had his arms away from his body, DCL had his arms down by his side. The one thing that these announcers should learn is the new rules instead of nearly having a heart attack when the team they are supporting, instead of being neutral, don't get the decision,
We have another tough week ahead and think that we have enough squad depth to beat West Ham, but watching Brighton against Man Utd today they are going to be hard to beat.
The best thing that is happening is our supporters don't have to go to work on a Monday with the other lots supporters gloating. Win ugly or brilliantly long may it last
Brian Williams
94
Posted 26/09/2020 at 19:03:50
Just read the title to this thread again.
Is there an "e" missing or are the "i" and the "l" simply in each other's place? 😂😂😂
Personally I'd rather be solid than soiled!
Jerome Shields
95
Posted 26/09/2020 at 19:11:30
I waited along time for this a third consistent win and the end of the mid table pattern of two result and a loss. Finally the glass cei!ing established by Moyes has been broken. It's taken years.
Dave Abrahams
96
Posted 26/09/2020 at 19:26:26
We beat a tough resolute team by being tougher, more resolute and determined than them, far from pretty at times, well for a lot of the time but we got through okay and can continue to get better with the three new players bringing their experience to the fold.
The only thing we need, absolutely need is two more players now, not in the next window, to make the squad stronger, it is patently obvious there is not enough quality in the squad to get us through the season to the top six, two more players now will get us there, even higher.
Tony Hill
97
Posted 26/09/2020 at 19:27:56
Where would you buy, Dave?
Tony Everan
98
Posted 26/09/2020 at 19:34:14
John 92 and Dave 96
It is what concerns me too, the physicality needed to maintain consistency for 38 games. At the moment we have only got Delph really to offer some if Allan or Doucoure suffer due to injury or fatigue. Can we rely on Delph to do that for a run of games?
Then it's the centre back, we need some uncompromising, physical backup there too, preferably with some pace , at the moment we have none.
Then Richie and DCL, we have Moise but he is raw, he wants to go back to Italy, he is homesick. We will undoubtedly need quality back up for the forward line too.
With some wheeler dealing there could be one or two bits of business in addition to the CB. Brands is on form so we may end up with another two or three players who will make a big difference to our endurance and consistency through this season.
He should not expect any of the Sky6 to be wanting to help us now with loans or sales though. Steer well clear of them and don't listen to any lies from them.
Robert Tressell
99
Posted 26/09/2020 at 19:35:38
Coleman was my MOTM. He kept Zaha quiet. And Eze too when they tried to get overloads. The brilliant James pass for the first goal was only possible due to Coleman's brilliant run.
Also more than just simple passing from Gylfi. Moved the ball up the pitch and had the ball pinched by James just as he was about to shoot. Then an excellent sliding tackle to snuff out a counter attack.
The chemistry at centre half isn't quite right but it's just about working
Phil Greenough
100
Posted 26/09/2020 at 19:38:15
Can anyone explain why the penalty was controversial, if the referee was following the rules of the game?
Sam Hoare
101
Posted 26/09/2020 at 19:41:23
So good to see us win a game like this. For periods of the second half it felt like we were hanging on but in reality they had very few chances.
Top of the table feels very good. And rather novel.
All 3 wins have been deserved and I see no reason why we can't continue to win.
I wonder how much Carlo will rotate for the Carabao game vs West Ham? There are those who wanted our strongest XI vs Fleetwood but I wager Allan and Doucore may not have won that game for us in that very physical midfield fight if they'd run 90 minutes in midweek.
Well done Carlo and the team. How nice to be excited to watch Everton again.
John Keating
102
Posted 26/09/2020 at 19:46:56
Phil the penalty decision wasn't controversial because it was correct as per the rule.
However, the rule is absolutely stupid and should be scrapped.
Players cannot move around the pitch with their arms permanently tack welded to their sides.
Woy was right these rules, in fact the whole idea of VAR, is ruining the game.
I'm not complaining today as Palace got a handball decision last week. Last season we were on the end of a few disgraceful VAR decisions, however the fact is a simple game is still being decided by inconsistent needless rules
Dave Abrahams
103
Posted 26/09/2020 at 19:49:56
Tony (97), I wouldn't do much different to what Tony (98) is suggesting, especially the type of centre back he would like us to sign.
I don't think either of us are being greedy but want us to continue the obvious improvement we have started with up to now, without more assistance we are likely to fade away.
Mike Gaynes
104
Posted 26/09/2020 at 19:56:16
Albert #90, glad you came through that strange week all right.
Hope to meet you sometime!
Andy Riley
105
Posted 26/09/2020 at 19:57:58
Not wanting to dampen spirits of fellow blues but the last time we won the first three games of the season was 93-94. It started with Howard Kendall Mark 2 and ended with Mike Walker and that game against Wimbledon!
Phil Greenough
106
Posted 26/09/2020 at 19:58:52
There's a massive difference between what people think is a stupid rule and the laws of the game, John. It's irrelevant that the rule is stupid.
Some may contend the offside rule is stupid, I don't, I'm just using it as an example of how the media uses their interpretation of the rule to suit their agenda.
The new chelsea player was hit by the ball on his hand, last season that may have precluded the ensuing Chelsea goal. Once more I quote the BBC.

"VAR checked that for handball in the build-up, it did hit Kai Havertz on the hand but it's allowed to stand. Last season that would have been chalked off."

Conor McCourt
107
Posted 26/09/2020 at 20:04:56
I'm sorry for going against the grain again but I personally was a lot happier with our performance today than the West Brom game.
Granted I only saw the second half today which was apparently our less convincing half, I personally thought we were always in control and I thought Carlo got his tactics spot on.
Last week I thought we got a lot of luck and I was angry with our midfield. Allan kept marauding up the pitch in attempting to win the ball high, kept getting there too late and left no one at home, Gomes had his head up his arse and Doucoure looked like he bad been on the piss before kick off as he kept falling over himself. I thought we got the breaks and they shot themselves in the foot with the red card and the game became easy after that.
Today against the pace of Palace we defended deep, controlled the space and asked them to break us down if they are good enough. They are at their most lethal on the counter and we never gave them an opportunity to do so and even when likely on two occasions Doucoure got to Zaha while Allan did a lovely sneaky foul that our midfielders don't normally have the brains to commit. I thought all three were excellent.
This was the perfect way to play against this opponent as we made them run out of ideas and resort to turn to their misfiring subs in desperation. Not many teams roll over Palace.
As for the madman who picked out Seamus he has been in imo our best player in the league this season. He made the difference with his run against West Brom for the all important goal and he kept the likes of Son and Zaha quiet in the other games. Very strange comment indeed.
Sam Bowen
108
Posted 26/09/2020 at 20:06:45
Fantastic win. Great to dig in and grind it out against a very difficult opponent. Thought they all played well, no real stand outs but that's what you need. Solid 7's from everyone away from home and let the quality players have their individual moments when it counts. Mina and Keane did very well, didn't give any chances away and that's all you can ask. Keane is a new player under Carlo. Strong, confident and very composed on the ball.
Can't wait for weds to see Bernard, Gordon and Nkonkou strutting their stiff again. What a start!!
Mal van Schaick
109
Posted 26/09/2020 at 20:07:19
Technology is tarnishing the game. Hodgson sums it up perfectly in his after match interview.
I think that we all be satisfied for 3 wins from 3. There may be tougher games ahead, but Ancelotti still has time to sell and strengthen. It would be great if we can stay top four or top six all season.
Patrick McFarlane
110
Posted 26/09/2020 at 20:08:13
Nine points are already in the bag from the opening fixtures, the next task is the cup-tie with the Hammers, let's all take it game by game, don't get carried away, don't be looking for portents of doom and enjoy today - there are plenty of Evertonians who are no longer with us who would have been delighted with the start of the season that the team has made and obviously we all hope that it continues in a similar vein for as long as possible. Hands up how many decided to switch off at half-time, I would wager not many if any, compare and contrast that with most of the games from the last few seasons.

Brian Williams
111
Posted 26/09/2020 at 20:08:42
Andy#105.
Not wanting to dampen etc..... but then you do?
Why?
Just curious.
Tony Hill
112
Posted 26/09/2020 at 20:09:52
Dave @103, another striker, certainly. Centre back depends. I think, on best estimates of how quickly Branthwaite and Holgate recover.
Otherwise, Nkounkou seems to me to have changed our options radically.
Denis Richardson
113
Posted 26/09/2020 at 20:12:33
Great result albeit that was never a pen imo. VARs gone bonkers already.
3 wins on the bounce is a fantastic start though and I'd hope we can make it 4 against Brighton. Points on the road are so important if we've got serious aspirations to finish top 6. 2 away wins already is a great start. It having an away crowd must help.
I really really really hope the likes of James, Richarlison, Allen and Doucoure don't get injured. Need to wrap these guys in cotton wool cause the back up on the bench is not near the same level. The first team have a week to recover so all good so far.
Win and no injuries so all good.
John McFarlane Snr
114
Posted 26/09/2020 at 20:17:45
Hi Dave [103], as you know I listen to the games, which I liken to watching through someone else's eyes, and because we all see through 'different eyes' I can only express my satisfaction of events by saying "I was delighted with the result."
I posted to you on the Fleetwood thread, that I hadn't opened what you described as a beautiful box, I believed it was my season ticket because of what was printed on the bottom right hand corner. I suspect that these boxes were to be used for the purpose of distributing the season tickets, and were instead used to advertise the Everton merchandise.
Danny Broderick
115
Posted 26/09/2020 at 20:19:00
We seem to have a settled team, the obvious exception being Holgate who is injured - he will probably take Mina's place when fit. But it feels great to have a manager who knows his best team, and a fan base who agree with that team! We are all heading in the same direction again, after years of bickering. Long may it continue!
Dave Abrahams
116
Posted 26/09/2020 at 20:22:58
Jay (80), have you seen the new lad from Sweden, just had a glimpse of him on "grandoldteam" now I know Utube and such like stations can make an ordinary player look like a world star this one makes the lad look like a combination of Niasse, Iwobi and Straq!!
John Keating
117
Posted 26/09/2020 at 20:34:29
Phil
I'm not really interested in what the media agenda is regarding the handball rule.
I am only speaking for myself and what I personally think of it.
Just to reiterate, in my opinion, it is impossible for anyone, professional or amateur player to go around the pitch, especially when defending, throwing yourself to block a shot, pulling up after moving, whatever you can think of, and at that time keeping your arms straight down your body.
If people can actually do this then fair enough, however, I suspect the average human can't and if that is the case then the rule is daft and should be either scrapped or amended to take into account human body movements.
I guarantee that this rule is seriously looked at during the course of the season and changed.
Allan Board
118
Posted 26/09/2020 at 20:40:49
Watched it on Prime, rubbish coverage but hey ho.
Thought we played well in fits and starts, and plenty good enough to beat these. Allan is a god send-so clever with his disruption of opposition counters and his fouls go unnoticed and card free. Made me laugh towards the end when Palace won a free kick in their right back area and were desperate to get it down and smash it forwards, only for 1st Calvert Lewin, and then Tom Davies to grab the ball, waste time and then kick it away!
The dark arts are being taught alright, and it is a joy to see! Remember that Carlo said that football is also played without the ball!
Can't wait to see Rodriguez fit, a pleasure to watch such talent.
Just leave it to Carlo and Co folks- proper management.
John Raftery
119
Posted 26/09/2020 at 20:43:41
Kieran (24) Consecutive wins in London are indeed a rarity. I have not scoured the record books but the last time I can recall us achieving that was in November 2008 when we beat West Ham 3-1 and Spurs 1-0.
I agree with those who rated Seamus man of the match. He was outstanding as an attacking full back in the first half and as a defender in the second.
John McFarlane Snr
120
Posted 26/09/2020 at 20:49:26
Hi John [117] I totally agree with your assessment of the current penalty law, in
my opinion there was nothing wrong with the 'ball to hand' attitude, and as you point out, it's virtually impossible to run, or jump without lifting your arms. If covid 19 doesn't put an end to my love of football, the introduction of VAR and the changes in the laws of the game will.
Tony Abrahams
121
Posted 26/09/2020 at 20:49:57
Nothing contentious about the penalty or the laws then Phil? Imagine if Palace had gone down the other end and scored, and then it would have been chalked off because of the earlier infringement.
Everton gained a goal today because of this new technology, but football is losing in my own personal opinion, because the laws need seriously updating, when you look at some of the penalties that have already been given across the board this season.
Brighton got a pen over-ruled by VAR today, so when a similar infringement happened later on in the same game, did the ref on the pitch carry on just in case his mate in the studio over-ruled him again, or did he suddenly feel that he'd got the first one wrong, so this time he was going to get it right?
I remember Laurel & Hardy when I was a kid, and used to repeat Oliver saying, "I was dreaming I was awake, but when I woke up, I found I was asleep" stupid I know - but at least it wasn't meant to be serious, which is something I think most football fans are when it comes to their team.
Was Lewin's handball a pen? No because the ref never gave it, so where do they draw the line?
Barry Rathbone
122
Posted 26/09/2020 at 20:53:56
9 points from 3 games 2 of them in London has got me quite confused tbh. Don't really know what to say
Tony Hill
123
Posted 26/09/2020 at 20:55:21
John @119, yep, he's transformed. Sheer will and effort. Despite the addition of higher talents, the sort of mental and physical turnaround performed by Seamus is what we need as a club and team.
He's done it, and that makes him emphatically our leader. Wonderful.
Tommy Carter
124
Posted 26/09/2020 at 20:56:39
The penalty. Where is that header going until it hits the defenders arm? To an Everton attacker. There has to be a sanction for that in my mind.
Also. When that ball is floated across, the defender at that pin this in the process of his own decision making. The result of his decision making was to block the ball with his arm. 'Intentional'? Well it was his Arm, it was there. Did someone push him there, or put him into that position at gun point?
It's a penalty for me. As it would be had an Everton player done it.
To the game. Great start and then a real grind for the second 45. But we'd have lost that game some time ago. We won it. 3 points in the bag.
Did Allan even play today? He was completely anonymous. A real eye opener. Not a criticism but this game passed him it which surprised me.
Martin Mason
125
Posted 26/09/2020 at 20:57:49
Tony, do you prefer a guess by a referee? I believe VAR is essential if they can get it consistent.
Jeff Armstrong
126
Posted 26/09/2020 at 21:02:58
Tommy the current handball rules are ridiculous and we should not have got a penalty today, and yes Allan did play and he was our second best player behind Seamus.
Dave Abrahams
127
Posted 26/09/2020 at 21:05:34
John (114), yes John, do your own thing, you have your principals and stick to them, the right result is always pleasing no matter how it comes to you, sight or sound. I remember games from long ago on radio not concerning Everton but they've stayed with me, the second half of the 1948 cup final Blackpool beating Man. Unt. 2-1 at the interval and Unt. winning 4-2 full time, Arsenal beating Grimsby Town 6-0 with Ronnie Rooke scoring a hat trick in the forties. You will be as happy as any of us on here who saw the game and I hope you listen to many more Everton victories this season.
The season ticket situation is a funny one, it makes me think we will not see many matches this season John, if any, maybe the last three or four at home which see us climb into the last four and stay there, it might be to much to see us win the league!!

Tony Abrahams
128
Posted 26/09/2020 at 21:06:58
Martin, even with VAR, I honestly still think they're guessing on loads of them mate.
I used the Brighton game as one example, and our decision took way too long, even just to begin with. When I said Palace could have went up the other end and scored, do you think if they did, Everton, would have still got the penalty, or the ref would have changed his opinion, and given them the goal?
It's all hypothetical, but if he still gave Everton the goal, I'm sure Calvert-Lewin would have also been penalized when the ball struck his arm, but maybe I'm just getting ahead of myself, because of the constant inconsistency I'm witnessing right now.
John Mckay
129
Posted 26/09/2020 at 21:09:02
Poor to slate Iwobi he was on the pitch for a few minutes at a time when Palace was throwing the kitchen sink at us.
I thought Palace was exceptional today really, the energy, closing down, break-aways etc, looked dangerous and didn't give us any space to operate or time to move the ball around.
I think we all think we didn't play as well today but I think that's mainly down to how Crystal Palace played. Credit to them they are doing well so far this season, the front 4 lads they had was quick and full of energy and tracking back and defending. Ultimately though, and more importantly, we got the 3 points!
Them Townsend free-kicks and corners were scaring the life out of me, especially with Pickford's blunders last game. I think that was their plan: hammer as many balls into and around Pickford as much as possible and grab a goal off his errors. But ultimately we stuck to it and, in the end, Palace didn't have many clear-cut chances to score. I think we come closer to putting it to bed.
3 wins, 9 points, top of the league! Performances are very impressive compared to last season so I'm a happy blue today!
Colin Malone
130
Posted 26/09/2020 at 21:10:36
Surprised not to see Gordon on the bench, definitely ahead of Owobi and Davies.
Nicolas Piñon
131
Posted 26/09/2020 at 21:14:41
We now have a proper team to rely on and that is wonderful. As is top of the table.
I think Delph would be helpful on the bench as well if he gets fit. James is pure class and Gomes's left foot, oh, what a pleasure to watch.
Digne, Allan, Coleman and Keane... great work. Calvert-Lewin till 20 won't stop seems like.
And thank you, Richarlison and Doucouré and for running your socks off and. And thanks Carlo for putting them all together. Proud to be a blue!
Though times will come some day, as Carlo said after the match, but we have a team that plays good football and top of the table!
COYB!
Dave Abrahams
132
Posted 26/09/2020 at 21:16:12
Tony (121) regarding the rules, they seem to change so often it's hard to keep up with them.
Last week, the referee in the Chelsea vs Liverpool game gave the Chelsea centre-back a yellow card, then changed his mind and gave him a red one. Now I thought once a yellow card had been shown, it couldn't be rescinded? By the way, I'm not moaning about the sending off – there couldn't have been any other decision.
Andy Crooks
133
Posted 26/09/2020 at 21:16:24
I was working today but broke a neck to get home for the second half. This is the first I have seen the new side live. Apparently I missed the best.
Well, what I saw was enough. I have not used this word before to describe an Everton side but we looked slick. Fucking slick.
Last season, the best were dragged down by the average. Now, the average are being dragged up.
How can three additions increase your squad by seven? It has happened.
Viv Sharma
134
Posted 26/09/2020 at 21:16:44
Totally agree on Gordon. I want Iwobi to work out, I'm rooting for him, but he came on, jogged around, gave the ball away multiple times in quick succession, and didn't offer anything going forwards. Made me tense!
If we had Gordon come on, his industry and drive would have made us infinitely more secure and solid than Iwobi did. He needs to be on the bench in place of Iwobi.
Jay Wood
[BRZ]
135
Posted 26/09/2020 at 21:24:59
Dave @ 116.
This (alleged) new wunderkid flagged up by Brian, Imam Jagne. It takes some doing as you say to make a player's 'best bits' YouTube reel make him look like a combination of Niasse, Iwobi and Straq!
Hope there's no dodgy third-party ownership rights on the lad between you and Brian. If there is, make sure you have a clause in the contract that states you get the 'returns' on that crate of Bombadier that Williams fellah negotiated for himself.
Ray Roche
136
Posted 26/09/2020 at 21:30:03
With regard to the penalty, please, can someone explain the difference between 'our' penalty and the one given to the Liverpool vs Leeds? If theirs was a penalty so was ours.
Both struck the defenders arm at relatively close range, both were given.
What's the problem? Good enough for them, good enough for us.
Bill Gienapp
137
Posted 26/09/2020 at 21:33:39
Not our best performance, particularly in the second half, but conditions were poor and the good teams find a way to secure the three points, which is what we did.
Penalty was defensible, though harsh. My general rule of thumb is how would I feel if that call went against us, and I would have felt pretty hard done.
Richarlison took it well, but what's with the Brazilians and their cutesy run-ups? Gives me heart palpitations. Always feels like I'm watching a car crash unfolding in slow motion.
Doucouré had a few really sloppy passes, but reminded us of his value when he chased down Zaha on the break. As others said, if that had been Schneiderlin or Sigurdsson, see ya later.
James almost feels like he's operating on another plane of existence most of the time. He just sort of floats above the match, doling out fairy dust. Such a change having that level of quality in the side.
I was eager to see what Iwobi (or Bernard) might do after his strong showing mid-week, but bringing him on in the 85th minute, in blustery conditions, while we were trying to grit out a one-goal win, clearly wasn't an optimal scenario.
Tony Abrahams
138
Posted 26/09/2020 at 21:35:30
I don't see getting them being a problem for many, Ray, it's getting them given against you that is the sickening thing, although I'm only speaking for myself once again.
Dave Abrahams
139
Posted 26/09/2020 at 21:56:46
Jay (135), you can see it yourself on grandoldteam, might be on the youth team thread.
Brian's okay, as long as you've got eyes in the back of your head, them bottles of Desperado are going up and down like a brides nightie!!
Phil Greenough
140
Posted 26/09/2020 at 21:59:50
Tony, et al, I hope it's obvious that my comments were somewhat tongue-in-cheek. The penalty rule is bordering on the ridiculous, and how any official, player or ex-player can condone what is going on in the modern game, is beyond me.
They acknowledge that the game is very fast and yet they maintain you have to have control of your limbs at all time? I totally agree that the game is being sterilised to the n-th degree.
Yes, we were the beneficiaries today but, as someone has already mentioned, do you want to win at any cost?
As I may have mentioned, I started watching the Blues in the mid-70s, I could not have dreamed we would be scrutinized, as someone with a microscope studies creatures that swarm and multiply in a drop of water. I'm sorry I've just meandered into War of the Worlds, but that's what VAR is to me.
Paul Birmingham
141
Posted 26/09/2020 at 22:07:06
Solid, belief, and resolve. Great result and a long way to go, so now for West Ham.
Today was a test EFC, passed and hopefully some luck in the transfer window, we can strengthen our squad, for a good season ahead for EFC.
There's a resolve and belief and no inferiority complex like the last few seasons
The tough are getting going which is good, and made up for the start made to this season.
Tony Abrahams
142
Posted 26/09/2020 at 22:13:08
I'm getting tired Phil, because I never got the irony mate!
Like you I started watching the game in the mid seventies, and I used to love being mesmerized by skill. The speed is frightening nowadays, less individuality even from the incredibly talented Rodríguez, (I can still remember Gary Jones, going past players on the bye-line!) and the only time I want to win at any cost, is anytime we play our neighbours, but the chances of anyone coming from mars, is obviously a lot slimmer than this happening I'm sure!
Brian Williams
143
Posted 26/09/2020 at 22:19:41
I just want to make clear that I own only Imam's right leg!
Derek Knox
144
Posted 26/09/2020 at 22:22:48
Totally agree Ray @136, it's not only the inconsistency of refereeing, but whoever happens to be the opposition that gets my hackles up, even if it's our favour. It should be the same for all.
Very happy with the result today, and how it was achieved, not a game for the School of Science Library Collection, but nevertheless one that was ground out of a mixture of skill, determination and an element of luck.
Season gone by would have seen this be a draw, but it does seem we have turned the corner, depending on how the other games go over the week-end and Monday Night, we could be out on our own at the Top.
It's just a case of building on that, it was evident today that we still need a couple more in and a few out to be the serious contenders we aim to be. Thought after Wednesday's performance from Iwobi, he would have carried on where he left off, but that was not the case.
Hopefully Carlo and Marcel Brands have a couple more surprises with quality to add to the squad, and manage to ship a few out too, although time is running down, we then may just realise that dream that has started so well up to now.
Bill Gall
145
Posted 26/09/2020 at 22:27:50
My biggest complaint over VAR is it is only used in the premier in this country, yet the laws of the game are universal. So why can a premier team be given an advantage by a referee checking it in a studio and also on a monitor at the side of a pitch.,yet it is not used in the cup games or leagues below the premier.
Brian Wilkinson
146
Posted 26/09/2020 at 22:28:14
In an deal world Derek Man City will draw with Leicester and our neighbours draw with Arsenal, that would be a great outcome for us.
Brian Wilkinson
147
Posted 26/09/2020 at 22:30:44
They use var in the cup games Bill, if the match is at a premier league ground, for me if var cannot be used at a lower league ground in the cup, then it should not be used at all, in the cup games.
Tommy Carter
148
Posted 26/09/2020 at 22:31:49
@126 Geoff
Reallly. I thought Allan struggled today. Just my opinion. I also thought that there's no way that Palace team are going down. What a tough team to face
Jamie Evans
149
Posted 26/09/2020 at 22:34:15
The quality of the 3 new signing showed today. Dacoure whilst giving possession away sloppily a few times was still very important and much improved on last season. Allans decision making, tackling and positioning was spot on. James just head and shoulders above everyone in terms of technique, composure and picking a pass, his corners are on the money too. Makes everyone else play better. Even Nkounkou is making Digne step you, Digne was absolutely class today. Shout out to Coleman too, very good.
Derek Knox
150
Posted 26/09/2020 at 22:43:28
Brian @146, that would be a brilliant boost if it were to work out that way, and there is a good chance it could, but as I said before we have to build on it.
We should not worry about other teams, only ourselves, if our rivals lose or draw, then that is a bonus, but we must control our own destiny, if we can keep winning, a big if I know, it's up to the others to try and catch us!
Phil Lewis
151
Posted 26/09/2020 at 22:48:29
Credit to the players for getting the victory without playing particularly well. Full marks for effort. Coleman and Digne both had good games. Rodriguez showed his class again before tiring late on. Felt that Carlo should have brought on Bernard rather than Iwobi, who performed his 'Headless Chicken' act again.
If Ancelotti insists on selecting Pickford, surely some concentrated collecting high balls from set pieces in training wouldn't go amiss? Once again he is either permanently rooted to his goal line, or caught in two minds.
Jay Wood
[BRZ]
152
Posted 26/09/2020 at 22:51:11
Dave and Brian. Mental note made to self.
Desperados is the preferred poison of Brian, not Bombadiers as I recalled. Had to look it up.
'tequila-flavoured pale lager beer..?'
Sounds like a way to ruin two decent drinks!
Explains a lot about Brian's posts, mind...
Health!
Kase Chow
153
Posted 26/09/2020 at 23:09:16
Wow, it's actually enjoyable to be an Evertonian for once!!
The improvements have been incredible
Obviously having been a life long Evertonian I know this won't last and we'll limp to a 10th place finish
But I'm also going to let myself enjoy this and dream. I can't believe it all. Absolutely buzzing!!
C'mon you blues!!
Brian Williams
154
Posted 26/09/2020 at 23:31:32
Jay#152.
Eh, I've got feelings y'know.
In defence of Desperados it's for fannies who can't drink beer that tastes like beer. That would be fannies like moi!
Bill Gall
155
Posted 26/09/2020 at 23:31:44
Brian
VAR will only be used in the Carabao Cup in the semi finals and final.. I guess they were thinking there will only be premier teams left.
Will Mabon
156
Posted 26/09/2020 at 23:42:52
What was so wrong with the concept of an intentional move of the arm towards the ball?
"Ball to hand" worked perfectly well and is quite obvious. This could be very reliably determined with current VAR and camera equipment, if the stuff must be used.
Talk of what may or may not have happened following the contact and so on (as in today's case) is clouding the issue. The offence is simply the action of deliberately contacting the ball with the hand.
The current situation is ridiculous. We live in an age where everything has to be messed with, and then marshalled by the God of Digitization.
Like others, I wait for this to be amended, and I think it will.
Danny Broderick
157
Posted 26/09/2020 at 23:45:42
2 very winnable games coming up: West Ham at home in the Carabao cup (with Moyes not in the dugout for them), then Brighton at home. Neither one will be easy, but wouldn't it be great if we could win both, progressing in the cup and sitting on top of the Premier League before the international break?
I always fear the worst in this type of scenario - Everton have let us all down most of our lives after all. But I do sense something different about the mentality at the minute. The 3 new signings have knitted the team together nicely and improved a lot of our deficiencies overnight. We seem to be having a go at teams, even away from home. 2 more wins please, and then we might get Holgate fit in time for the derby 2 weeks later.
John Hughes
158
Posted 26/09/2020 at 23:46:14
Tommy Carter. I think you have seriously underestimated Allan' s contribution in the game today. He was everywhere on that pitch and positionally astute, giving others the confidence to get into offensive areas. MOTM for me and in my opinion the best signing we have made in a long time.
Jay Wood
[BRZ]
159
Posted 26/09/2020 at 23:54:44
On the improved away form mentioned by some.
Six PL wins on the road out of 11 since Carlo joined us. Even with our poor form on restarting last season, we've actually won four of our last 6 PL away games.
Long may this upturn away from Goodison continue.
Christine Foster
160
Posted 26/09/2020 at 23:55:12
Great win, great start to the season but above all its been deserved. We are not yet firing on all cylinders but Carlo has part exchanged our Skoda for an Alfa and is fine tuning it like a skilled mechanic planning an upgrade to a used Ferrari..
I will bask in the glow for awhile, but whilst we know we are not there yet, the match report from The Guardians Jonathan Liew is disgraceful, sour, bitter and snide..The dismissive arrogance is a reminder of what lies ahead, should we dare to offend by more wins.. but it will not remove the smile on my face this morning. Well done Blues..

Martin Reppion
161
Posted 26/09/2020 at 00:11:21
OK, I've been out for a drinkie and have skimmed over the posts.
But here's my two-pennorth.
I thought after Wednesday that Iwobi and Bernard are playing for the one place in the 25 man squad (with Gordon as back up). That is as the Rodriguez cover.
Saw enough today from Iwobi to say that if we get offered a couple of quid and a Mars bar they can have him. 3 times he was passed the ball and trapped it 10 yards. Simply not good enough.
I thought a win against the best Palace side I've seen for years was a hell of a result. But the most telling thing for me is why have we been consistently linked with their 3rd best attacking player?
On today's performance I'd take Townsend over Zaha. But for a first view, Eberechi Eze looks like a star of the future.
Back to the important stuff. Everton. We have to get cover at the back. Mina was poor today. But it was great to see Seamus terrorising defences again. Dacoure looked like he needs to do some fitness work. Richarlison battles for everything but must curb his temper.
Enough drunken typing.
Happy Blue. Off to bed.

Laurie Hartley
162
Posted 27/09/2020 at 00:14:10
Jason Li#64 - I always enjoy your posts because you are relentlessly optimistic. If there was a blue tinted glasses award on TW you would get my vote.
Back to reading the rest of the posts.
Mark Taylor
163
Posted 27/09/2020 at 00:37:47
Danny 45
We are indeed top of the league and I'm old enough to remember when that was an expectation, not a hope.
My post was not intended to be churlish, I'm thrilled that we finally are starting to make steps back to where we all want us to be. But in doing so, no harm in critical observation, and I would be very surprised if our manager did not do so. How otherwise can we hope to get better?
Mark Taylor
164
Posted 27/09/2020 at 00:43:37
Kieran 58
My own opinion is that he had been average in the context of what clearly has been generally good performances so far this season. In other words on average, everyone has played better than last year which is why we top the league. I'm not therefore meaning average as derogatory, our level is up this year. In this game, Seamus was better than that, you could say even better than the good level we and he has had in the last few games. It's a compliment.
Mark Taylor
165
Posted 27/09/2020 at 00:48:43
Ray 66
I am absolutely behind the team. See my comment above re criticism. Carlo is raising the expectation bar and that means, even as we win, we need to be critical, no team is perfect and can improve if it is self critical, and I'm pretty sure Carlo will be encouraging such reflection. That applies even to the truly great teams I've watched over the years, the mid 80's teams and the gods of the late 60's.
Ernie Baywood
166
Posted 27/09/2020 at 00:53:56
Will 156 I highly doubt they'll change the rule.
We used to have a good idea of what handball looked like. And plenty of other things such as dangerous play, violent conduct, professional fouls...
The problem was that there was a degree of subjectivity involved. There were grey areas around the line between an infringement and a non-infringement.
Refs got criticised every single week. The reality is that they got 98% of the major decisions correct. And people agreed with 98% of them. The 2% gave us something to talk about.
So they changed the rules to make them Black and White. Not to get the right outcome, but to make sure they couldn't be accused of mistakes.
Now they get 100% of the decisions 'right' according to their rules. And I don't agree with most of them. I watch these slow motion VAR replays with no idea as to what will be given or not. I'm a lifelong player and supporter who doesn't understand the rules.
Refs will argue that's progress. I'll argue it's BS.
But anyway, UTFT!
Mark Taylor
167
Posted 27/09/2020 at 00:54:08
Christy84
It seems there are more than a few misconstruing my post. My point was, our level is up from last season, so our average is now better. Being 'average' is now a good level in this team the bar is raised. Seamus was even better than that. I thought it was his best game for a while.
Jim Martin
168
Posted 27/09/2020 at 00:54:36
What a great result. An such a different game from the the last 2 PL wins. We have class players and a will to win. Loving Allan and the shift he puts in. But we just seem to have so many more options this year.
I would have loved to have heard the Everton away fans at this one. The travelling support is always so good. Hopefully we get that back before too long.
Ray Smith
169
Posted 27/09/2020 at 00:56:42
Mark 165
Been there since 1964, through thick and thin.
Good start to the season, so enjoy while we can 👍
Ernie Baywood
170
Posted 27/09/2020 at 00:56:51
I'd love to see the James impact in person. I'd imagine every player on the pitch makes a run when he gets the ball, because you know he can see anything and pull any pass off.
Ed Prytherch
171
Posted 27/09/2020 at 01:00:48
Albert (90) good to hear that the air is cleaning up over there. I have made the trek from Columbia SC to Bluejean several times for track meets at Heyward Field. Nice town, excellent beer and courteous people.
Christine (160) Love your post and your taste in cars. I have an old Alfa that I have tuned from 110 HP to 190 HP. You can drive it if you are ever over here.
Derek Knox
172
Posted 27/09/2020 at 01:08:12
Ed @171, I spotted that, trying to entice Christine over to America, you must be a bit of an Alfa ' Romeo '! :-)
Mark Taylor
173
Posted 27/09/2020 at 01:17:48
Ray 169
So, a fellow oldie!. Maybe I'm not so much of an oldie, my first big connection was 1968, that horrible cup final. It literally made me sick.
Maybe age makes me kranky but now we at last have some serious money being spent, this time on proper serious players, and not teary Bill's 5 bob notes stuffed behind the sofa, I don't want to just 'enjoy it while I can', I want it to last, and not just for this year. I'd like to think that is also the club's mindset now, it needs to be, we need Carlo and the squad to keep pushing themselves and to be self aware so they realise what they can do better. It's a very competitive league but there are signs that maybe this time it will stick.
That 'average' comment I made, well, James was 'average' by these new standards, but while he did fade a bit after an hour, his version of 'average' is a very obvious footballing talent the like of which we have not seen at our club for a very, very long time. Maybe 'normal' might be a better word to use than average, the latter perhaps has some implied negativity which wasn't my intention.
Christine Foster
174
Posted 27/09/2020 at 01:20:30
Ed, Derek, enticing is good! Love the pun Derek, I hope Carlo can fine tune the Alfa just as well Ed, me? I had to sell my wonderful British Racing Green 2008 Mini before moving Down Under again, sadly replacing it with a Mazda here.. (hopefully until I can find something more me.. you know, looks good but is really clapped out! ) there, that's just destroyed any perceived taste in cars! The Mazda 3 works well, yesterday I drove over to the West coast (Wesport) which is 3 hours away ( virtually no people, cars or life in between) through the Buller gorge and range, had a coffee in a German cafe in the town, drove around the town for 20 mins and decided it wasn't for me and drove three hours back!
Today is forecast heavy snow in the ranges and passes but thats NZ for you, is there anybody there??
Geoff Lambert
175
Posted 27/09/2020 at 02:00:06
We have had more attempts on target in the last four games than in Fat Sams whole tenure.
Si Cooper
176
Posted 27/09/2020 at 02:10:59
I thought the penalty we got was harsh but we should have got the first one anyway! With that one the defender definitely moved to try to block the cross and the ball hit his arm. I don't care that it was near to his side or that it was upper arm, it was a deliberate block and they gained an advantage from it. Really not sure about DCL's; they only seemed to show it a couple of times and it really wasn't clear whether it hit his torso first, which would make it not deliberate and not a penalty for me.
Thought Seamus was class. Contained a serious threat without too much fuss and was still able to show offensive willingness and skill whenever called upon. Iwobi's cameo very disappointing, but I'm happy for the likes of Nkounkou and Gordon to be used solely for the Cup for now. They will get chances in the League at some stage.
Derek Thomas
177
Posted 27/09/2020 at 02:25:29
The team as a whole did enough to 'earn' a result on points as it were.
The manner of the result - VAR - Is just ludicrous. Yes that's the rule, what happened to the difference between the letter of the law and the spirit of the law.
I think the Premier League have condensed the letter of the law to the
Nth
degree, then told the Reffs to blindly observe it come what may.
Three games in and its a farce but were stuck with this all season now.
Nobody of the starting 11 had a bad game, nobody hit 10 out of 10 either.
Finding the right balance for Wednesday's game will be the trick. West Ham and Moyes, given their League position, will also have to decide how much they want to put themselves out for the League Cup...Interesting times.
John Boon
178
Posted 27/09/2020 at 04:09:47
Note to Oldies Ray (169)
As a real Oldie ( first game 1947) we are never too old to learn. Through thick and thin I have always loved being an Evertonian. I am over the moon when we win, and reasonably accepting when we lose. The Everton we are seeing just lately is as good as it gets. This is how football should be played by any Everton team.
I have seen the best (sixties and the eighties) and the worst(1951), with relegation. Hopefully the 2020's will be the best ever. Many older fans always talk about the past and just how great it was. Well truthfully we had some really bad times along with the good, but I have ALWAYS enjoyed watching Everton.
From one real OLDIE (bound to annoy other oldies who live in the past). Today's players are fantastic, skillful and do things that few players in my time could ever do.YESI know they are rich and greedy, but their wealth should not affect me. I don't really care how much they make as long as I am entertained by how they play. Keep up the good work. COYB
Mike Allison
179
Posted 27/09/2020 at 08:10:50
Christine (160), I had to go and read that Guardian report after what you said: I really don't see the problem, I quite enjoyed it. Perhaps he's overly dismissive of our league position but otherwise it seems a fair (and funny) report with plenty of praise and admiration for us.
On the other issue, I don't think either one of the handballs should be given, Hodgson is right. It feels a bit like that umpire who turns down one close shout for LBW then feels obliged to give the next one, even though there's doubt about that one too.
Tony Abrahams
180
Posted 27/09/2020 at 08:38:34
Some car snobs on ToffeeWeb!
Paul Tran
181
Posted 27/09/2020 at 08:39:59
Missed the game, but caught the highlights. It was a penalty under the current daft rules - what are they doing to our game? Good sides win like we did yesterday, I remember plenty of these wins from the mid-80s. The most pleasing thing for me is how we bounce back from conceding. If we keep that up, we're in for an interesting season!
Alex Winstanley
182
Posted 27/09/2020 at 08:49:42
John Boon (178). Well said... I agree that today's players are fitter, are better coached in tactics, are technically better, look after their bodies better!
However, I still believe our '80s team were mentally tougher as a unit, but let's hope Carlo is starting to instill that. I certainly saw some evidence of that yesterday.
Dave Abrahams
183
Posted 27/09/2020 at 08:53:48
Paul (181), I imagine if fans had anything to do with VAR it would be scrapped yesterday.
The more people in the game, like Roy Hodgson, deride this pathetic system the better.
The quicker TV gets rid of pundits would also do no harm to football either.
Only referees and former referees seem to favour it, a fart on all of them, and the pundits.
Christine Foster
184
Posted 27/09/2020 at 08:59:31
Mike, it was my first reading of it, I thought the attempts at humour showed an underlying condescending attitude... which was totally dismissive of where we are (top of the league) and the way we are playing, especially after last season. Any attempt at praise was lost after that. (Let them have their moment to dream. How dare he!)
Could I have read it wrong? Of course! But for me, rather than praise, he ridiculed.
We are not the full deal, we are a work in progress but I bet you we will upset the precious top six this season and qualify for Europe at the very least. So, for me, I want more than ever the team to make him eat those words as the season continues.
Eddie Dunn
185
Posted 27/09/2020 at 09:01:08
John Boon, indeed! I recall many a game in the mid-80s when we scrapped and scrapped and won games or drew games by an ugly goal. We didn't steam-roller that many sides but we picked up results and that is what we did yesterday.
in fairness, Palace were decent and unlucky with the handball but perhaps we just edged it. I don't like the new handball rule and, as a bloke said on 5 Live this morning, Mane won the Reds the Champions League against Spurs by flicking it up into Sissoko's hand.
A quite stupid way to decide the major prize!
Bobby Mallon
186
Posted 27/09/2020 at 09:04:56
My bug bare on hand ball is that it does not apply both ways. Yesterday we got a penalty where the ball hit the defender s hand. In the Chelsea game for their last goal the ball hit the hand of the Chelsea player in the box ( hand ball no) it bounce down into the box they score. Now that in my opinion is hand ball. It pisses me off that both incidents are not hand ball.
Mike Allison
187
Posted 27/09/2020 at 09:05:28
"So for me I want more than ever the team make him eat those words as the season continues."
Well let's make that the point. I expect to be written off a little given how bad we were three months ago, but we can agree to hope we'll be digging that report out in 8 months time and feeling satisfied at how perceptions of us have changed.
Dan Nulty
188
Posted 27/09/2020 at 09:07:25
160 I have just read the article, I think it was an attempt at sarcasm and humour. However, I did not like the last few sentences, dismissive, disrespectful. Only Evertonians are allowed to be so dismissive and negative about our chances thank you very much. We deserve to be where we are currently, it may not last but at least we have earned some respect already.
Bring on Brighton, that will be tough based on their performance yesterday. Then it's the gobshites. I'd love it if we beat them, to quote a former gobshite.
Christine Foster
189
Posted 27/09/2020 at 09:08:53
Hi Mike, Goodness I hope so, but no matter what happens in the months ahead, at least we can smile and look at the table now! The rekindling of hope!
John Otway
190
Posted 27/09/2020 at 09:15:14
Christine, I would agree completely with your comments regarding The Guardian's match report; utterly patronising especially with regard to the final paragraph. A hack who's clearly up his own arse.
Christine Foster
191
Posted 27/09/2020 at 09:18:39
As an aside, I agree the timeframe for a ruling is ridiculous. Imagine for a second that the subsequent clearance by the Palace defender saw Zaha race away beat a couple of players and score the matchwinner in brilliant fashion.. (imagine if that was the RS in the derby!) Would the "goal" be ruled out? I bet you it wouldn't happen if it was Man U or the RS would it?
Joe McMahon
192
Posted 27/09/2020 at 09:21:27
I'll tell you what, I'm convinced even if we miss out on top 4 this season due to defensive and goalkeeping weaknesses, we will achieve it next season. Our worldwide respected manager has transformed the midfield, and defensive areas will be much stronger next season.
Hats off at last to Moshiri for landing Carlo. The midfield is a joy to watch.

Chris Locke
193
Posted 27/09/2020 at 09:36:49
The media don't do very well at hiding their contempt for Everton.
All this drama about a penalty when the ball clearly struck his arm and stopped a good chance for Richarlison to score.
I didn't see the media make a big deal when Keane was penalized last season against Brighton for standing on Connolly's toe whilst looking at the ball.
Also I think Woy needs to wind his neck in. Now he knows how the opposition feels when Palace's answer to Tom Daley wins them a dodgy penalty.
For 20+ years I've seen dubious penalty after dubious penalty either given against us or, more often than not, given to teams like Man Utd or Liverpool.
We deserved to win the game and deserve to be top of the league.
COYB!

Robert Tressell
194
Posted 27/09/2020 at 09:43:20
As an aside, there were a lot of comments before the game about Zaha being their dangerman. He is, of course, but how did we rate him? Did he look like a £50m(+) player who could really elevate the side.
My take is that the deep(ish) defence and our new midfield meant he didn't really have much impact. Townsend probably outshone him, perhaps because he had more space on his flank.
Zaha will have better games but he didn't stand out. I thought Richarlison looked much better in a very similar position.
Trevor Peers
195
Posted 27/09/2020 at 09:45:28
Good analysis on MotD by Shearer about our three new key signings and the main reason for our sparkling form, at last we can take control of the midfield.
Allen offers vital protection while the full-backs are allowed to attack down the flanks, Doucouré provides the box-to-box engine we have been missing for so long and James is a special player who can open up defences in spectacular fashion.
All-in-all, a joy to watch, although yesterday's game was more of a battle, we stuck at it and deservedly got the points. Things are looking up; well done, Carlo.
John Cook
196
Posted 27/09/2020 at 09:47:40
I thought Seamus was great today, every bit an Evertonian. He led by example and I think he has quickly established an understanding with James.
As for the penalty, I will take that all day. Some of the decisions we had against us last season, the Brighton one comes to mind, cancels out any we get this season.
I've been watching the Blues since 1962 now and seen some great teams. I am getting the same buzz I experienced during the '60s, '70s, and '80s teams.
I don't want to get carried away but fuck it, at my age, I deserve a bit of excitement!
Roman Sidey
197
Posted 27/09/2020 at 09:51:24
Absolutely stoked where the club is at the minute. Optus must be pretty chuffed Everton got James too, cos I had decided to not subscribe for the season until he signed on. Satisfied customer so far.
Not the greatest match but you've got to know how to win those types of matches. Calvert-Lewin is impressing me finally. The goals he's scoring this season he probably wouldn't have last season. His positioning and movement is so much better than it was.
Kevin Molloy
198
Posted 27/09/2020 at 09:58:56
The Hodge aint happy about that penalty being given, is he?
The steel seems to have entered his heart on this issue, and just in the last week. Then, he seemed more philosophical following the penalty they were awarded but it's clear now he was always opposed to the rule change from the start.
Derek Knox
199
Posted 27/09/2020 at 10:22:56
I just wish we had scored another goal in open play, if only to shut our critics up, MotD emphasising the merits of whether or not we should have had a penalty, and whether or not it was a handball in the first place.
We clearly don't set the laws or implement them, but we will get the lucky tag, should we get another in the next match. I'd rather our open play dictated otherwise, and don't give ANYONE room for dispute.
Stan Schofield
200
Posted 27/09/2020 at 10:24:24
Chris@193:
Spot on. The media coverage generally isn't worth watching. The BBC is especially bad. The best thing Everton can do is simply ignore all the media bias and general nonsense, and try to win every game, preferably in style.
Regarding the latter, some of our quick inter-passing is a delight to watch, almost reminds me of the best Everton side in my memory, when we won the title in 69-70. Beautiful stuff.
Christine@160: I'm afraid that journalists aren't the brightest kids on the block.
Brian Harrison
201
Posted 27/09/2020 at 10:26:32
Roy Hodgson is absolutely correct when he says how did we allow these stupid people at Stockley Park come up with these stupid rules on handball. We need to go back to when handball meant you had moved your arm or hand towards the ball to get an advantage, clear and simple.
Not what happened yesterday or what happened in Crystal Palaces game against Man Utd, these are not and never were penalties. I would imagine if there had been fans inside the grounds when either of these decisions were made it would have caused uproar.
We were all led to believe that the idea as we were told by the authorities it was to be used to clear up the anomalies, for example, Frank Lampard's goal against Germany when it was a least a yard over the line.
I fear that if they don't change the handball rule now clever players will when inside the box flick the ball onto the defender's hand knowing it will result in a penalty. When you let the likes of Mike Reilly who was one of the worst refs ever be in charge of something like this you know it will be a disaster.
Tony Everan
202
Posted 27/09/2020 at 10:39:42
I agree with Roy Hodgson too, this handball rule is a blight on the game of football. We came out on top because of it yesterday, but it's only a matter of time before we get a ridiculous decision against us.
People like Roy, Carlo and Wenger etc who understand football on a different level to most of the people making the rules up should have a proper input into this. The need to have an urgent meeting to form a plan to make better decisions.
As Brian above says, handball is when the hand or arm moves towards the ball in an unnatural position.
Sometimes the arm is out for balance, and within reason this is entirely natural! Being whacked on the arm from 2 metres when it is fairly close to the body is not handball.
James Marshall
203
Posted 27/09/2020 at 10:48:55
To paraphrase Dickens – if that is against the law, then the law is an ass.
The people who made up these ridiculous rules at FIFA or UEFA or whoever it is these days, have made a monumental mistake with all of it.
VAR should be scrapped completely in my view, it really has ruined the game we grew up with. By we, I mean the entire planet. They stop it constantly, review everything to do with a shot, potential penalty, handball, offside, everything – it's an utter shambles and nobody understands truly how to interpret the rule.
Football is the beautiful game because of it's flow -– take away the flow, take away the beauty.
Let's not forget that football is the world game because of one overriding factor – simplicity. Anyone can pick up a ball and play. Leave the game alone, you're breaking it from grass roots up. Handball is a fundamental part of the game, and if you start to meddle with it, the entire game itself becomes something very different as both a spectacle, and on a more spiritual level.
Roy Hodgson is absolutely right (he generally is in my view) and I was very happy to see his complaints. He knows.
Steve Brown
204
Posted 27/09/2020 at 10:57:53
To be honest, I read Jonathan Liew's match report in The Guardian and thought he was trying to be witty – I laughed at a couple of sections. He also said we played the more attractive football and deserved to win. But that we only did so in the end due to the VAR decision, which is fair enough.
Sure the last paragraph predicted we wouldn't win the league in the next three seasons, but I doubt many of us expect to. The TV and print Journalists and pundits do patronise us, but that will only change if we win something.
On VAR, I doubt Liverpool or Man Utd care that they were net beneficiaries of VAR decisions last season. One went our way, thank goodness.
Tommy Carter
205
Posted 27/09/2020 at 11:06:25
@194
Zaha is perfect for a team like Palace. He runs the ball unbelievably well and his power means he can stretch and occupy a defence almost single-handedly. His hold up play is probably the best in the league.
I don't think these are qualities that we need right now. We will now have to break teams down who will look to stop us playing and sit deep.
We will also have to break down the better teams who invariably have better defenders. I'm not sure Zaha in our system will add anything or augment anything that we haven't already got.
I do think we would benefit from another forward player but someone with more craft and guile than pace and power.
For all the gut-busting hard work Zaha does, he doesn't have the kind of quality output of other forward players. Think of when Landon Donovan joined us on loan. He instantly injected creativity. Intelligent play, creating chances and space for others. As well as being able to get amongst the goals himself.
Someone of his type would be much more beneficial to us, I think. I've enthused about the Italian Berardi for a number of years now. He'd be my choice.
John Otway
206
Posted 27/09/2020 at 11:19:17
Steve Brown #204. You obviously read The Guardian piece in a sunnier disposition than me. In fairness I'm not good on a Sunday morning!
After supporting the Blues for over 60 years, maybe the senile dementia is kicking in but I honestly believe that our club can win the Premier League in the next three years.
Robert Tressell
207
Posted 27/09/2020 at 11:20:04
Tommy, I think that's right about Zaha. To me, he's an excellent talisman for an average club.
Berardi is curious in that he's still playing at Sassuolo. Very cultured player.
I wonder whether Gordon might fill the gap you describe since he has good feet and movement and end product. Would love to see him in the same side as Rodriguez.
Jamal Paktongko
208
Posted 27/09/2020 at 11:23:36
I think everybody's game has been upped.
I think if Sandro Ramirez is played today, he may score some goals too.
There is confidence everywhere in the team right now.
Kevin Molloy
209
Posted 27/09/2020 at 11:57:48
i think the rule change is part of the drive to remove subjectivity from the referee's decision making. You could argue this will reduce the likelihood for corruption, if the test is 'how did it appear to the ref'.
It also means it is easier for the authorities to decide definitively whether a decision was correct or not. They must hate it when they have the world baying at their door over a ref's decision, and they feel they cannot say whether it was correct or not because the test is left to the referee's discretion.
The lack of certainty is what the rule makers won't like. The thing is though, how they feel about it is not the most important factor when games are being ruined.
Oliver Molloy
210
Posted 27/09/2020 at 12:12:40
Very early days and I do not believe for one second that Ancelotti didn't think we could have 9 points after these first three games, he's playing the game!
All Ancelotti three signings have hit the ground running and I loved seeing Allan barking instructions to Mina when Richarlison was taking the penalty, this guy is a leader on the pitch and you can see already he is demanding of his teammates.
Our next three fixtures will tell us more about how we are progressing and all are at home so COYBs. If we can win all these, I for one will start getting even more excited.
We really need to get out act together defensively, for me Mina doesn't cut it.
Coleman is inspired to win something and is leading by example, but it's a long season and at 31 we need cover, Kenny will get better with this squad if he stays.
Digne is Digne and he knows he has serious competition coming in this young man Nkounkou.
And heads up to whoever chose our away Brazil strip – an inspired choice!
Steven Astley
211
Posted 27/09/2020 at 12:28:44
The more I re-watch Kouyate's goal from yesterday the more sure I am that it was yet again a Pickford error.
He got nowhere near it and did one of his delays flap attempt to stop it.
The lad is going to cost us this season. Definitely shouldn't be in goal on Wednesday.
Neil Cremin
212
Posted 27/09/2020 at 12:52:03
Steven,
As is well known on TW, I am no fan of Jordan's but coming off his line is not his strong point but very few players are exceptional at every aspect of the game.
I didn't see the full match but from what I did see, Jordan didn't mess about in his own area, didn't parry the ball back into the path of a forward, and didn't kick the ball directly out of play. Therefore I think he had an error-free game... so let's keep this post-match analysis a Jordan-free zone.
Larry O'Hara
213
Posted 27/09/2020 at 13:02:46
Regarding Jonathan Liew's patronising Observer article, he did not mention he is an LFC fan. I know this because, as a New Statesman subscriber I read his shallow drivel there.
After yet another page gushing admiration for Klopp last season I wasted my time suggesting that the DVD Howard's Way might provide some perspective. Needless to say it wasn't printed. As far as I know, he lives in London. I rest my case.
Ray Roche
214
Posted 27/09/2020 at 13:05:25
Steven,
The more I watch yesterday's match the more I'm convinced it is not Pickfords fault.
I am, however, convinced that some fans will see a mistake when one doesn't exist. Pickford is now everybody's whipping boy and some people will do everything they can to convince themselves that every goal conceded is down to Pickford.
Steven Astley
215
Posted 27/09/2020 at 13:06:40
Neil, I stopped reading when you said you didn't see the full match.
Re-watch their goal back then come back and tell me you don't think it looked like a correct attempt to save the header.
Darren Hind
216
Posted 27/09/2020 at 13:19:48
I think the stick Pickford is now taking is bordering on the absurd.
We all know he's had his moments, but some of the goals he is being blamed for now defy belief.
When Andy Hinchliffe used to put corners in like the Palace one yesterday, we used to say it was world class... These days it always has to be somebody's fault. We won the game. Let's just give a little credit to the opposition for their part in it. Otherwise, we begin to sound like Kopites.
Yeah Keane got himself under the ball, but the quality of that delivery made it very difficult to judge the flight of the ball and would have done for many a centre-half.
As for the idea that Pickford could have saved the header. He's a goalkeeper, not a fucking bullet catcher.

Neil Cremin
217
Posted 27/09/2020 at 13:20:47
Steven,
See my previous posts on Jordan and you will know my opinion on him and this opinion has been held since his first season with us. I do not rate him, I never have, and I will be first to point out why, when I see him make stupid mistakes. I also believe we will not realise the full potential of the team until he is replaced by a commanding keeper.
However, your post referred to the blaming Jordan for the goal and that I did see a number of times, Jordan has never been capable of coming off his line at corners to intercept a cross and yesterday was no exception. That is what we have but don't forget there was a box packed with tall defenders so where is their responsibility. Therefore, in this instance, I would agree with Ray #214.
Neil Cremin
218
Posted 27/09/2020 at 13:23:17
And Darren after my posting.

Stan Schofield
219
Posted 27/09/2020 at 13:26:27
Oliver @210: That away strip is pretty much identical to the away strip we had in the '60s when we were great. Some of our football at the moment reminds me of the late-60s team, and the strip reinforces the impression.
Darren@216: Good post.
Tommy Carter
220
Posted 27/09/2020 at 13:40:12
Robert @207
I like your point about Gordon. He does appear to be able to make meaningful and decisive contributions. He's done this already. I think, as he develops, then we must be prepared for errors and inconsistency too.
Danny O'Neill
221
Posted 27/09/2020 at 13:43:34
I said that on the other report thread, Darren. We can nit-pick about maybe Keane could have judged the flight of the ball better and cleared. Richarlison could have done a better job of marking his man. And Pickford maybe could have got both hands to it instead of that horrible one hand flap thing he does.
But, like you say, in the real time moment, that's too close and moving too fast. If that had been an Everton goal, we'd have been praising the quality of the delivery and the movement of the attacking player to get between the defenders.
Summary of what I said "over there". Gomes for most of the game showing what I said earlier this year; benefits from having Doucouré and Allan. As Shearer said, we can afford to gamble and commit more forward now and not worry too much about losing possession as those 2 will mop up and cover. Did you see Doucoure outpace and dispossess Zaha 2nd half? And that was with the speedy Palace player having a head-start!
As for Allan, liking him more and more. It's not just what he does with or without the ball. We have finally got someone who winds up the opposition (watch him constantly being a fly in the ear, sarcastically smiling etc). And watching back, I note that Mina got an earful from him for giving away a corner not long after their equaliser. Reminded me of the Ratcliffe-Reid recollections on Howard's way.
If your teammates' standards drop, players like Allan will let them know. Unlike what we've become accustomed too; Jagielka putting his arm around poor Ross telling him "They're not booing at you son, don't worry".
Oliver Molloy
222
Posted 27/09/2020 at 13:49:26
Thank you, Stan,
If we play like Brazil, who win more than they lose then it will do for me.
I have never been a massive fan of Pickford, but I agree with Darren Hind on this occasion, how excited did we used to get when Hinchcliffe took a corner – that was a bullet of a header, I reckon no keeper would have saved that.
Steve Shave
223
Posted 27/09/2020 at 13:52:42
Darren @216, I'm with you – Pickford could have done nothing about the goal, an excellent corner and an even better bullet header! I suppose Davies didn't sit on the bench properly yesterday as well?
We really do have some toxic fans, always looking to blame someone. The function of blame is simple really, it's a way of discharging unpleasant emotion such as anger and gives us a sense of control. whilst we are busy doing this it means we miss opportunities for understanding and objectivity.
Let me spell it out for all the haters: We won (again) a difficult match against a tough opponent in London. Pickford was fine, our midfield resilient and we have a superb attacking force.
Things are gelling, when we win without playing brilliantly then that is a sign things are going our way and heading in the right direction. Even VAR seems to be on our side!
To those who have to find fault with everything, I suggest you keep it to yourself because that is not how to support a team.
Robert Tressell
224
Posted 27/09/2020 at 14:32:09
If there was any goalkeeping error yesterday it was with Guaita failing to keep out a shot that he was well placed for. He got hands to it and it wasn't far from his body. No one mentions that because the outstanding build up was more noteworthy and of course it was for not against.
It's a good thing Pickford didn't face such a shot. There would be uproar and calls for his replacement with Lossl.
Will Mabon
225
Posted 27/09/2020 at 14:42:26
Ernie @ 166:
You describe the situation correctly: there was subjectivity, a small degree of it. The "Balance out in the long run" concept was accepted back when this was purely a human sport, and probably did even out in a haphazard way.
To address this small imponderable, we are now mired in digital lunacy. The way of this is that the fix invariably results in more to patch it up. It's very sad to see the game going the way of much else in life, where black and white correctness must be enforced by external technology.
Thing is, the results still require human interpretation. Since this must somehow work in collaboration with the technology, then this human element will necessarily evolve away from itself and toward the binary. The basis of the interpretation will be skewed.
This could lead to increasingly ridiculous judgement of the sport, in an attempt to engineer VAR into the definitive arbiter of all decisions. If there is contention, or something the ref didn't or couldn't see, then he should be shown the replays without other input and allowed to decide based on the original rules of the sport.
This would represent a true definition of an aid to the referees, rather than a creeping evolution. The idea was to help enforcement of the rules by the referee, not change the rules because of having the extra monitoring.
You may be right that there will be no change – but I think this whole handball/penalty issue is going to grow as the season progresses, and cause wide dissatisfaction. VAR needs to be kept in check I believe.
Joe McMahon
226
Posted 27/09/2020 at 14:45:29
Brian @201, do you not remember the armpit ball 30 seconds into the 2019 Champions League Final?
I also never forget the VAR call for an injury-time penalty at Anfield when it was 1-1 v Leicester. I thought it was to book Mane for a dive, not a Liverpool injury-time penalty in front of the kop. That decision alone in October last year told me only one team is gonna benefit from VAR more than others, and it did to the title.
I've noticed the media aren't talking about us having only one penalty in the whole of last season. The bias is incredible.
Brian Wilkinson
227
Posted 27/09/2020 at 15:31:37
Even the Everton Women beat Chelsea today in the FA Cup Quarter Final. The semi-final is on BBC4 I think, sometime this week, managing to avoid Arsenal in the semi-finals.
Danny O'Neill
228
Posted 27/09/2020 at 15:33:46
Let's hope we avoid Arsenal in the EFL Quarter Finals Brian!!
Paul Jones
229
Posted 27/09/2020 at 15:34:12
The problem with VAR given the criticism of Everton's penalty is that it has made it more clear what is and is not a penalty with the scope for interpretation narrowed. Hence the unusual award of a penalty to Everton so early in the season.
The Orwellian "some pigs are more equal than others" rule book never applied to Everton – hence why the media are miffed why we received a fair decision in accord with the new rules.
I assume Palace and their manager realise if more than the chosen few can be warded penalties against them at home then their chance of maintaining their own status is diminished.
Overall a team like Palace, like Everton should benefit if rule applied consistently when playing away from home, so to me, seems quite an objective rule given there is less scope for referee interpretation.
Nicolas Piñon
230
Posted 27/09/2020 at 16:07:53
For me those were two penalty's, not one! As I understand VAR doesn't consider intention it considers if the change of direction of the hand stopped ball changed/stopped a dangerous attacking play. So probably those were TWO clear penalty's, not one! Equality above all, if they want it like that in the Premier League.
I assure you that here in Argentina VAR is much worsely used than over there guys and it's pretty much annoying.
COYB!

Ray Roche
231
Posted 27/09/2020 at 16:35:43
Rob @231
Maybe that 'levels out' things after Dele Alli handball last year.
And I didn't hear Woy complaining about the Lindelof handball last week. Two-faced old twat.
Bill Gall
232
Posted 27/09/2020 at 17:09:06
We may have at last got a break from the VAR viewing, but have suffered from dubious calls from last season. Did I think it was a penalty, under the present rules? Yes.
After watching the Tottenham vs Newcastle game and the penalty award this new ruling has to be changed, it is ruining the game. Deliberately holding your arms out to stop the cross is a penalty, but in the Tottenham game Dier had his back turned away from the play when the ball hit his arm.
I have never been in favour of VAR as it only favours teams in the Premier League who are given advantage of rules that have been in effect for numbers of years and referees that have to interpret them in seconds. The whole VAR has been brought in by the more powerful organizations in the World just to prove a player is offside by his toenail and other reviewable actions, and brings in doubts whether previous winners of the Premier League without VAR, are they legitimate winners.
To me, the use of VAR smacks of money for the select, were a team in the Championship can fail to get promoted as they don't have VAR that could have helped them gain points, and a team in the Premier League can get either relegated as they lost points due to VAR, or stay in the Premier League with points gained with the use of VAR.
Bill Watson
233
Posted 27/09/2020 at 17:12:57
Early days still but after 3 games Chelsea, 'Spurs and Man Utd don't look like any great shakes and have all dropped points. Given the rub of the green with injuries, suspensions (and VAR), top six and possibly top four, is eminently achievable.
Good to see the women see off moneybags Chelsea, earlier today.
John # 178.
As a medium to old oldie (first game vs West Ham 1958) I agree today's players are, in general, more skilful than back then and are better coached in all things, including diet. Other factors are the pitches back then could often be just heavily sanded mudheaps and defenders had to virtually kill someone before they were booked (1950s Bolton spring to mind).
Imagine the likes of Young or Best on today's bowling green pitches with defenders fearing a yellow card for simply touching an opponent.
Ray #231
To be fair to Woy he did admit their penalty vs Man Utd was ludicrous... or words to that effect.
Michael Barrett
234
Posted 27/09/2020 at 17:46:04
Looks like Man City are throwing the points away... Vardy hat-trick.
Simon Dalzell
235
Posted 27/09/2020 at 17:52:39
Ryan # 89. Isn't it fantastic to see Calvert-Lewin make the improvements that were desperately needed. He was Championship standard when it was said.
Joe McMahon
236
Posted 27/09/2020 at 18:02:02
Can we please stop saying "Woy". We are Evertonians, we are supposed to have respect and dignity. His name is Roy, it's not difficult.
Derek Knox
237
Posted 27/09/2020 at 18:03:08
Come on, City, get a draw and keep us, "Top of The World, Ma" — famous quote by James Cagney!
Can't believe how susceptible City have been to the sucker-punch, neither can Judy or Toby!
"That's not the way to do it!"
Jim Bennings
238
Posted 27/09/2020 at 18:04:48
4-1 Leicester!
Unbelievable, but they look a hell of a side.
Man City still don't look like a team that will challenge for the title, piss-weak defence.
Danny O'Neill
239
Posted 27/09/2020 at 18:05:27
Very respected coach too, Joe. Achieved a lot in Europe in his earlier career. You could see the friendship between him & Carlo prior to kick-off yesterday. I did wonder whether they were talking in Italian.
Thomas Lennon
240
Posted 27/09/2020 at 18:05:54
Following on from a short conversation last week on here - the home advantage seems to have disappeared this season.
First week - 6 away wins out of 10
Last week - 5 away wins out of 10
This week 7 games played this weekend so far, 6 away wins (assuming City lose) and a draw.
I had always wondered why the home advantage existed, it now seems clear that it is down to the crowd.
Mike Gaynes
241
Posted 27/09/2020 at 18:10:40
Did you doubt it, Thomas?
;-))
Danny O'Neill
242
Posted 27/09/2020 at 18:11:57
That's an interesting stat, Thomas, because in recent years, I've often thought the home crowd advantage had gone. Stereotyping and appreciating certain matches are different, but nowadays, most home crowds are quiet after the initial fanfare. It tends to be the away support who are noisy.
If anything, the home crowd can be a negative as the anxiousness starts to spill down from the stands onto the pitch if said home team is not winning 2-0 after 20 minutes.
Derek Knox
243
Posted 27/09/2020 at 18:12:57
Mike G, according to the Bible, he has doubted doubt itself, of that there is no doubt! :-)
Martin Mason
244
Posted 27/09/2020 at 18:31:33
Darren @216, I think I love you.
Michael Barrett
245
Posted 27/09/2020 at 18:34:35
We might have a sniff in a few weeks away at the shite... no fuckers to cheer them on.
Billy Bradshaw
246
Posted 27/09/2020 at 18:38:15
Joe #236, try asking Woy that.
Brian Wilkinson
247
Posted 27/09/2020 at 18:38:57
Mike, the derby is at Goodison in a few weeks, we play them away in February.
Bill Watson
248
Posted 27/09/2020 at 18:40:21
Michael #245,
The first derby match is at home!!!!
Derek Knox
249
Posted 27/09/2020 at 18:41:34
That didn't last long did it? Still early days, as Bobby Martinez used to say "Sin miedo" we have no-one to fear but fear itself. Someone mentioned before these 'closed doors' events can work against you, as much as it can work for you!
Just remember this, all these teams will do us favours along the way, just make sure it's never letting them get the upper hand against us. Simples! :-)
Martin Mason
250
Posted 27/09/2020 at 18:48:55
I actually prefer the crowdless matches and they seem to favour us too. I believe that crowds assert a massive influence both positive and negative.
I'd say that the quality of football without crowds has made a big step up because players feel free to play without being judged, usually, irrationally. I believe that the big six have an advantage removed with no crowds as the number of visiting fans is so badly restricted.
I could easily live in a world of no-fan football.
Dan Nulty
251
Posted 27/09/2020 at 18:56:00
I've been saying this, Martin – a lot. I do think we will benefit more than most sides without fans as we get quickly frustrated with what happens on the pitch. If the quality continues on the pitch that we are seeing, when the crowd does get in at Goodison, it is going to be mental.
I want to be there but, having lived abroad for most of my young life, I only got to Goodison when I was 19. Got chatting to the blokes around me explaining it was my first visit. They were great, we hadn't lost at home for 18 months... we lost 2-0 against Newcastle (Dunc and Gary Speed's return) and the blokes sat round me asked me never to visit the ground again.
I've only ever been to away fixtures since then!
Stan Schofield
252
Posted 27/09/2020 at 19:01:06
Martin @250: I feel similarly about no-crowd games, possibly helped by the fact that I've been switching the sound off on televised games for some time, to avoid listening to the drivel talked by some commentators, and particularly MotD. It reminds me of going to watch Central League reserve games years ago.
Bill Gall
253
Posted 27/09/2020 at 19:29:38
I guess that Man City relying on their forwards will now realize that goals get you points but you need a good defense to keep them.
Terrible performance from a team that is supposed to be the one to challenge Liverpool for the title. Makes you think that, if we can strengthen our squad with a good left-sided centre-back we have a good chance for the top 6. Leicester and Liverpool are the only 2 who have looked good for the top 4.
Everton look good but it is early days yet and would like to see how they do after about 12 to 15 games, to see if we have a good enough squad to maintain the progress we are making, especially on heavier pitches and hopefully minimum injuries.

Danny O'Neill
254
Posted 27/09/2020 at 20:10:21
Bill, as excited as I am about our start, I'm not getting carried away by ours or anyone else's results. We are 3 games in to a season that ends in May.
In 93-94, we won our first 3 fixtures yet only survived on the last day by beating Wimbledon.
In 84-85 we lost 4-1 on the opening day to Tottenham followed by a 3-2 defeat to West Brom. We went on to win the league by a then record points tally.
My point is, it is way too early to judge. Good teams do concede too. But its where you are in May that matters, not late September
Michael Barrett
255
Posted 27/09/2020 at 20:17:06
Thought it was the other way round...iam an auld c**t now me memory is knackered lads...coyb.
Neil Cremin
256
Posted 27/09/2020 at 20:23:55
Good perspective Danny.
Thanks for a dose of reality which is badly needed

Ron Morgan
257
Posted 27/09/2020 at 20:30:24
West Ham 3-0 up. They will be up for it now on Wednesday.
Stan Schofield
258
Posted 27/09/2020 at 20:32:29
Danny@254: What you say is true, but I think we're all aware of it. The point is, surely, that the here-and-now is providing a great deal of pleasure. We're arguably playing the slickest football in the Prem at the moment, and it must be cool for young Evertonians to boast we've got players like Rodriguez. Of course it might not last long, but then again who knows with the quality and gelling we now have under Ancelotti. Enjoy the moment!
Bill Gall
259
Posted 27/09/2020 at 20:39:32
Danny as I said it is early days yet, but the main positive from the 5 games that have been played is the attitude and desire as a team and that is something you cant buy. I understand were you are coming from as from, as years of supporting Everton they have gone from success to disaster when you don't expect it.
Evertons penalty yesterday I watched over again and slowed it down, it was evident that when Hamas crossed the ball toward Digne the defender came toward him with his arm across his body and when Digne went to head it he moved his arm outside his body and the ball struck it.
Another game Wolves down 3--0 10min to go
Mike Gaynes
260
Posted 27/09/2020 at 20:47:29
Turns out Moyes is a better manager telecommuting!
Mike Jones
261
Posted 27/09/2020 at 20:49:58
Anyone on Everton twitter, please make your purchase. Let's get to number 1 in the music charts
Thomas Lennon
262
Posted 27/09/2020 at 20:55:13
It has often been said in the past that managing Everton that has been a job too big for those given the job. We have finally hired a manager big enough for the job and he has been able to bring in far better players, is probably the most tactically astute manager we have had for many years AND he knows how to defend.
I don't think the squad is strong enough yet but we are hugely stronger than even a few weeks ago. All boats are rising, belief is back.
Brian Williams
263
Posted 27/09/2020 at 20:58:02
Number one on itunes!
Danny O'Neill
264
Posted 27/09/2020 at 20:58:52
Ron, knowing Moyes, he throws Wednesday as its not important.
Stan, Bill; totally with you. I'm enjoying the here and now. It's great to watch and this team is going to be fun. We all want to be entertained first and foremost right? Success is a by product of that, but ultimately we want to walk away having been entertained.
I saw that Mike. Apparently in certain music charts, we are number 6 already!!

Brian Wilkinson
265
Posted 27/09/2020 at 21:10:05
We know what to expect Wednesday now against West Ham so hopefully we will not rest too many players.
Brian Wilkinson
266
Posted 27/09/2020 at 21:12:06
Mike@261, please enlighten an oldie like me, what is the song mate.
Patrick McFarlane
267
Posted 27/09/2020 at 21:15:25
Brian#266
Spirit of the Blues which I'm reliably informed is at number two on the Itunes chart behind Miley Cyrus!
Indeed it is Brian now at Number One!
Brian Williams
268
Posted 27/09/2020 at 21:17:32
Number one last time I checked!
Andrew Ellams
269
Posted 27/09/2020 at 21:18:13
Patrick I believe it has now moved up to number 1.
Brian Wilkinson
270
Posted 27/09/2020 at 21:18:27
Oh that one, was that the 86 cup final song.
Patrick McFarlane
271
Posted 27/09/2020 at 21:20:20
I think it was either 1984 or 1985, Brian. Can't remember us having a song in 1986, but I might be wrong.
Brian Wilkinson
272
Posted 27/09/2020 at 21:25:42
Sorry the 86 was everybody's cheering the Blues, decent song as well.
Brian Wilkinson
273
Posted 27/09/2020 at 21:27:09
Now you mention it Patrick I think it was the 84 cup final, here we go 85 and everybody's cheering the Blues 86.
Stan Schofield
274
Posted 27/09/2020 at 21:27:19
Patrick@271: The team sang it at the time on Terry Wogan's chat show on BBC.
Brian Williams
275
Posted 27/09/2020 at 21:30:22
https://www.liverpoolecho.co.uk/sport/football/football-news/everton-song-spirit-blues-hits-19007756
Brian Williams
276
Posted 27/09/2020 at 21:32:09
See what happens when we have a five game run?
Imagine, just imagine how it'll be should we win something again!!
Patrick McFarlane
277
Posted 27/09/2020 at 21:43:31
Stan #274
I thought it was 'Here We Go' they sang on Wogan?

Brian Williams
278
Posted 27/09/2020 at 21:45:07
It was Here we go on Wogan not Spirit of the Blues.
Chris Hockenhull
279
Posted 27/09/2020 at 22:00:10
"Spirit Of The Blues" was released prior to the Milk Cup Final of 1984 when the (then) resurgence of Everton was just gathering pace
Joe McMahon
280
Posted 27/09/2020 at 22:12:33
Those 80s blue tracksuits. Cheesy cup final songs, the best gotta be Ozzy " in the cup for Tottingham"
Michael Barrett
281
Posted 27/09/2020 at 22:33:54
Anyone no who wrote the song?
Patrick McFarlane
282
Posted 27/09/2020 at 22:56:05
Billy Kinsley / Kenny Parry of Liverpool Express are credited with producing "Spirit of the Blues' can only assume that they wrote it too?
Roman Sidey
283
Posted 27/09/2020 at 23:04:25
I believe both our penalty and Spurs' penalties were correct decisions, and Palace were probably unlucky not to have one also.
What I would desperately love to see change regarding penalties is a rule around the run-up. In my opinion, the player's gait should be reasonably regular and each step should have to finish in front of the opposite foot. I can't stand watching these run-ups like Richarlison's or Fernandes's yesterday.
Frank Thomas
284
Posted 27/09/2020 at 23:15:08
Everton were 'lucky' to get a penalty says Roy. No mention of his penalty from a handball in their previous game but he said he was not happy this week that they been awarded a penalty.
He did not seem to think that Palace were lucky that Zaha only got a yellow for his deliberate foul on Mina. Question: Why was Zaha not sent off? Mina was not in control or near the ball. It was an old fashioned way to slow an opposing player down. Maybe the FA should look at this foul and upgrade the card to red?
He did not think that Palace were lucky when their player kicked James just as he was in the centre of the goal and about to shoot. We can be pretty sure that would have been a goal. Their player got a yellow card for that tackle when he took the player and failed to hit the ball at all.
Watch the game again and notice how many times our fast players broke away only to be stopped by an illegal, late but not dangerous tackle by Palace. I would happy to stop VAR in certain conditions if teams like Palace were properly punished for their constant sly and advantaged gaining fouling.
Note: most of these fouls occur within 20 feet of the halfway line... remember Fergie's words of wisdom?
Remember this was the same manager that got Niasse a 3-week ban when our player 'cheated' in another game with them. Later discussions from independent sports writers suggested that Niasse was deliberately impeded in his run by another Palace player to stop him shooting in the box.
I agree we are now playing as a team. Every player on that pitch no matter how long they are playing for, is now giving 100%.
Laurie Hartley
285
Posted 27/09/2020 at 23:21:45
Great win. On the penalty - I have rewatched it on YouTube and slowed the replay down. Ward moved his forearm from his midriff Into the flight of the ball. Dead set penalty. Do your own VAR
https://youtu.be/xcu9czaVpPg
Michael Lynch
286
Posted 27/09/2020 at 23:38:26
I thought it was a penalty as soon as I saw it – under this year's rules or last year's rules. Personally, I would prefer there to be some level of "intent" in the laws, but I still don't understand all the fuss - especially pundits and players saying it's killed the game.
What's the big deal? It's the same rules for everyone? It's certainly not the worst thing about VAR, which has been a blight on the game since it was introduced.
Stan Schofield
287
Posted 27/09/2020 at 23:39:15
Frank@285: Spot on: Of course each football manager is a politician because they spin things in the interests of their club. However, some of them are hypocrites and effectively cheats because they feign righteous indignation when it suits them. Hodgson is a past master at it. As is the likes of Klopp.
Mike Oates
288
Posted 28/09/2020 at 01:12:50
Just an off topic – I've not seen Ancelotti's son Davide in the dugout over last 2 weeks – anyone know why?
Ed Prytherch
289
Posted 28/09/2020 at 01:21:27
And we have not seen much of Theo Walcott. Have we found a new home for him, swap for Ings?
Re VAR, sure there are problems and I hope to god we never end up like American football but is has almost eliminated diving for penalties. It needs to be improved but not abandoned.
Don Alexander
290
Posted 28/09/2020 at 01:24:17
I'm now 65, last playing the game 30 years ago as a very slow version of Stubbsy, in central defence (for the sake of accuracy I was lamentably slow from the get-go). I was an amateur throughout.
Throughout my 20 year playing "career" I well knew that the "accidental" movement of my arm would, when I'd once again been positionally embarrassed, hopefully prevent the ball going where I didn't want it to go. In that respect I am as one with the Palace defender who unsuccessfully tried it on against us. For confirmation I rely upon the Beeb's coverage of him on the pitch with his little rueful smile when he first realised he'd been rumbled.
The after-match guff is irrelevant.
All that said, the number of pens being awarded for 100% innocuous "handballs" is absurd. If you didn't know better, you might think that those in charge of the rules are as clueless as the current Prime Minister is on Covid-19.
Eric Myles
291
Posted 28/09/2020 at 07:15:55
Thomas #240, I remember a few seasons ago the FA looked into 'home advantage' and found that the crowd influences referee decisions.
The team that had the most favourable home decisions? Our neighbours!
Eric Myles
292
Posted 28/09/2020 at 07:37:37
Brian #201 "clever players will when inside the box flick the ball onto the defender's hand knowing it will result in a penalty."
I remember Suarez doing exactly that in one game.
Phil (Kelsall) Roberts
293
Posted 28/09/2020 at 07:53:33
It was 1985. And I think I still have it on VHS.
Just need to find my VHS video player...
Danny O'Neill
294
Posted 28/09/2020 at 08:13:53
Mike @289, Davide Ancelotti is Assistant Manager, working alongside Duncan. I believe he had a similar role at Napoli. Youngest assistant in the Premier League but apparently highly regarded as a coach in his own right.
Thomas Lennon
295
Posted 28/09/2020 at 08:57:53
BBC report on City's game contains much speculation that Pep's game is obsolete and the current top four are miles ahead of anyone else.
After 3 games!
Let's win something before we get too cocky.
Ajay Gopal
296
Posted 28/09/2020 at 10:50:22
I am commenting late on this game. Really don't understand the fuss being created about the penalty decision. I would like to ask the pundits one question - "What if Ward had been on the goal line, and the movement of his hand resulted in the shot being blocked preventing a certain goal?" Think about it, most would agree that that would be a penalty, so why would the same incident within the penalty box but slightly away from goal be considered so controversial? Digne headed the ball towards Richarlison who was bearing down on goal and was denied a clear goal scoring opportunity. So, in my eyes, that is a penalty - Contentious? 'Maybe' but the over-the-top reactions? I don't get that. Luckily, the more ludicrous Newcastle penalty has taken the attention somewhat away from our penalty call.
This week is going to be very interesting. We play West Ham on Wednesday who just routed the current media darlings, Wolves 4-0. And on Saturday, we play a very, very dangerous Brighton, who really should have won 5-2 against Man United. Every player needs to be at their sharpest to get results against these two. I predict 3-2 for us in the Cup and a 1-1 draw on Saturday.
Ajay Gopal
297
Posted 28/09/2020 at 10:50:22
I am commenting late on this game. Really don't understand the fuss being created about the penalty decision. I would like to ask the pundits one question - "What if Ward had been on the goal line, and the movement of his hand resulted in the shot being blocked preventing a certain goal?" Think about it, most would agree that that would be a penalty, so why would the same incident within the penalty box but slightly away from goal be considered so controversial? Digne headed the ball towards Richarlison who was bearing down on goal and was denied a clear goal scoring opportunity. So, in my eyes, that is a penalty - Contentious? 'Maybe' but the over-the-top reactions? I don't get that. Luckily, the more ludicrous Newcastle penalty has taken the attention somewhat away from our penalty call.
This week is going to be very interesting. We play West Ham on Wednesday who just routed the current media darlings, Wolves 4-0. And on Saturday, we play a very, very dangerous Brighton, who really should have won 5-2 against Man United. Every player needs to be at their sharpest to get results against these two. I predict 3-2 for us in the Cup and a 1-1 draw on Saturday.
Bobby Mallon
298
Posted 28/09/2020 at 11:46:32
Ajay @297. I agree, if that hand ball had been outside the box we would have been given a free kick fact. If Dier had done what he did outside the box it's a free kick all day long that's just the way it has always been. I agree with both as pens. What I don't agree with is allowing the game to carry on. What happens if Kane scores his shot and they go 2.0 up. Is this cancelled out does it stand what's the law on that. The week before with UTD also.
Brian Wilkinson
299
Posted 28/09/2020 at 18:43:05
Hot on the heels of spirit of the Blues number one on iTunes, Zcars is now in at number 4 in the same charts.
Ricky Oak
300
Posted 28/09/2020 at 23:00:24
Funny how there's more talk about us getting a deserved penalty because he moves his arm (professional foul), than the Man Utd game where they got one in the 100th minute!! Sick of the constant biased bastards seriously!!
Matthew Williams
301
Posted 29/09/2020 at 12:59:22
It's the mark of Champions to grind out wins, a good three points won but sadly it seems were still the kings of the back pass...sigh.
Just keep on going Blue Boys!
---
Add Your Comments
In order to post a comment, you need to be logged in as a registered user of the site.
Or Sign up as a ToffeeWeb Member — it's free, takes just a few minutes and will allow you to post your comments on articles and Talking Points submissions across the site.