Ancelotti maintains 'Davies is important to us'
Saturday, 26 September, 2020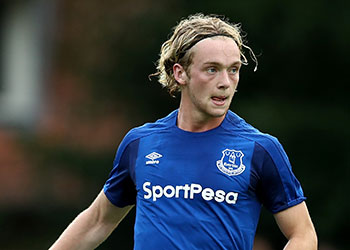 Carlo Ancelotti has played down speculation that Tom Davies could be allowed to leave the club before the transfer deadline, either on loan or in a permanent transfer, insisting that the midfielder is part of his plans.
There were reports last week that Everton were in talks with Southampton over a potential loan deal after Davies fell down the pecking order at Goodison Park following the arrivals of Allan and Abdoulaye Doucouré but Ancelotti said:
"No, we didn't think about this. Tom Davies is a part of this squad, of this team. He didn't play a lot in the last game but he is always ready. He played 30 minutes in the past game and he did well.
"We have confidence [in him] and we are not thinking about letting him leave on loan because I think he is an important part of our squad."
Davies made 24 starts last season but has started one of the first five games of 2020-21 but, unlike team-mate Anthony Gordon, who was keen to find out why he hadn't been included in the first-team squad for the Premier League match against West Bromwich Albion after his stellar showing in the Carabao Cup against Salford City, Ancelotti says Davies has not approached him to discuss his lack of game-time.
"In general, I am not used to doing a lot of explaining to the players because I have to talk a lot, because a lot of players have to stay out," he said. "But if he wants to talk to me about this position, it is quite clear.
"The fact that he didn't come to me, means he knows really well his position and how he is important for us."
---
Reader Comments (51)
Note: the following content is not moderated or vetted by the site owners at the time of submission. Comments are the responsibility of the poster. Disclaimer
Kieran Kinsella
1
Posted 27/09/2020 at 01:31:37
The Soton rumor made no sense to me. He's a handy squad player, relatively cheap, young, commuted, he does what is asked of him.
Mike Gaynes
2
Posted 27/09/2020 at 01:54:28
OK, Carlo. I believe you.
Derek Knox
3
Posted 27/09/2020 at 01:56:27
I like Tom, don't get me wrong, but I just don't see anything more than a very average sub in an emergency, he just doesn't do it for me. He has had plenty of chances to impress but just looks ordinary for the most part.
Always looks like he can't wait to get rid of the ball when it is passed to him, and his passing in general is extremely poor.
John Gorham
4
Posted 27/09/2020 at 02:25:36
Derke,
I argree he is needed this season, he was not good today, but he can be a good sub and disrupt their midfield.
Karl Graham
5
Posted 27/09/2020 at 02:51:19
I think he needs a loan and if Gbamin and Delph get and stay fit I think he'll go out on loan in January. At the minute he will stay put as we will probably need him as cover and when the hectic period happens over Xmas.
Eric Myles
6
Posted 27/09/2020 at 02:54:29
Plus he counts in the homegrown player quota and is cheap.
Martin Berry
7
Posted 27/09/2020 at 08:19:30
Typical of Carlo with his management skills and how he makes players feel important.
It will be interesting to see if he can sprinkle a little stardust on Tom and allow him to progress into the midfield player we had hoped for.
It's a long hard season and no doubt there will be injuries so I understand Carlo's stance.
Santa Krsh
8
Posted 27/09/2020 at 08:31:29
Did anyone else notice this: Tom Davies's body language when he came on suggested something was not right. Moise Keanesque?
Tony Everan
9
Posted 27/09/2020 at 08:39:06
Within a few sentences Carlo calls him a squad player twice. So if he wants to be a first team player he will have to move on. It's up to Tom now, stay as a squad level player, and be used as a sub or try and manufacture a move to Southampton or a similar club.
Because of his relatively low wages (£25k pw?), we aren't pressured to sell him at all, and he does a useful job for us as a squad player, but If we got offered £15M we would probably let him go.
I think there are many other players who Brands would like to move on before he concerned himself at all with Tom Davies.
Delph, Bolaise, Sandro, Besic, Walcott, Tosun – there's £400k per week wages there to try to get off the books from players who will be at worst never even be on the bench and at best, fringe.
Tony Abrahams
10
Posted 27/09/2020 at 08:41:57
I thought he was finding it hard to get in the game Santa, but it's also possible he really loves Everton, and the news in the press about him leaving, might have left him feeling a little bit unloved, but if this is the case I'd bet he's never read these pages!
Kelvin Thomas
11
Posted 27/09/2020 at 08:56:14
Keep Tom Davies.
He will be at his best coming in to team that's doing well and full of confidence. Tom hasn't had that opportunity!
Imagine Tom Davies playing versus West Ham this week alongside Allan and Doucoure having rested Gomes... possible scenario. I'd back him to be hard working and good on the ball.
He has over a 100 appearances for a below par Everton. Lets see what he can do in a stronger and more confident side. He deserved that opportunity!

Steve Ferns
12
Posted 27/09/2020 at 09:02:34
Tom Davies is going nowhere. He will be in the team soon enough. All it takes is injuries like we have to the defence and he's starting games. It's Delph who needs to go and his extortionate wages and bad attitude.
Rob Hooton
13
Posted 27/09/2020 at 09:28:22
Karl, 5 - there is a chance that Gbamin may never be fit enough to play at this level (and if he is, we don't even know if he will be any good). Delph is perennially crocked and his career is on the wane. I would rather keep Tom over either of them until they can prove otherwise.
Jason Li
14
Posted 27/09/2020 at 09:54:42
Did well against Liverpool and Leicester last season.
Not lightening quick like Allan isn't, but got nearly 7-8 years to learn what Allan and Doucoure can do to be in the right place play-by-play, and not light years away from going up a level (maybe takes another year or two at most).
Injuries? Not often.
Never has a cobb on, loves the club.
Needed in cup games and Premier League? – definitely.
Keep.
Also, hope to see Sigurdsson stay one more season, still has something to offer technically if surrounded by legs. We need need plenty of players to be fresh if we want a cup and graft for some Champions League music.
Derek Knox
15
Posted 27/09/2020 at 09:58:14
Rob @13, you mention Gbamin there, you know I'd almost forgotten he was with us. He was either very, very unlucky twice or he was an injury waiting to happen, if that was the case there has to be questions asked about who did the research on him.
I'm not sure what happens in these instances, whether Insurance covers some of the wages, or do the Club foot the whole bill?
There are not many positions or Contracts in the World as we know it, where you could pick up an injury leaving the Interview Room and be looked after both medically and financially for the duration. :-)
Christy Ring
16
Posted 27/09/2020 at 10:15:59
Don't understand all the flak Tom gets. He always gives 100%, no matter what position he's asked to play.
Look at the wages Delph is on, he played his first game in six months during the week. How many games has he played since joining us?
Tom played games last season, even though he was carrying an injury, unlike Delph, whose attitude stinks.
Tom is an attacking midfielder, who hasn't played in his proper position in the last few seasons. I would love to see him start beside Allan and Docoure, and show his true potential.
Pat Kelly
17
Posted 27/09/2020 at 10:33:50
Translates as he knows his position which is on the bench. We're not thinking about letting him out on loan but if someone wants to buy him they can have him.
Dave Williams
18
Posted 27/09/2020 at 10:34:10
Christy, totally agree. A lad of his age can't be expected to carry a poor midfield of established "star" players who are bereft of pace and aggression. Now we have a proper midfield, we can see how others are improving. Tom is worth some perseverance and should be played in his best position; the lad deserves a proper chance.
Stan Schofield
19
Posted 27/09/2020 at 10:38:02
Davies has had, as a youngster, to perform in habitually dysfunctional Everton sides, just like Holgate and Calvert-Lewin have. Now that we're far more functional, he has a much better chance of really showing what he can do.
In line with what Ancelotti has said, he should be given that chance. It is that simple, regardless of folks' opinions for or against him.
Steve Brown
20
Posted 27/09/2020 at 10:42:36
Tom will be in the team on Wednesday.
Jamie Crowley
21
Posted 27/09/2020 at 14:12:01
There's no reason at all to sell a 22-year-old who can and will contribute to the team.
Delph, Beni, Tosun, Theo, Bolasie, Sandro, Besic, and Pennington all have to go, and now. They have no future or are injury prone and can't be counted upon to contribute. Dump those players, and you have a manageable squad size.
All of the players listed above have contracts expiring at the end of 2021 or 2022. If we can't offload them, and Lord knows we've tried, what would be the cost to Everton to just buy out their contracts and be rid of them? They are leeches sucking us dry. I don't blame them – they prefer money in lieu of actually playing football. That's their prerogative and again, I don't blame them.
But from an accounting and business standpoint, wouldn't it be better to simply buy them out and write off the one-time hit to pay their wages they are contractually obligated. Just call Uncle on it and move on?
Tom Davies is not part of the wage problem at Everton. And he's miles better than any player I've listed to offload. Miles.
Jamie Crowley
22
Posted 27/09/2020 at 14:17:42
Anyone with Paul the Esk accounting / business skills -
What would be our wage to turnover percentage if we offloaded all of the players I've listed above? Would that number finally drop to a sustainable rate? 65%? 60%?
I have no idea where to find this information. I'm curious to know, if we did get rid of the "dead weight" and bloated squad, are we actually then running a sustainable ship?
Again, Tom Davies clearly isn't part of this larger, wage picture. He's a keeper on the field and business-wise.
If anyone can figure that out or has the inclination to do so, I say thank you.
Rob Hooton
23
Posted 27/09/2020 at 14:46:26
Added to the above I'd like to see him come on and play a bit further up the pitch at some point, maybe in place of Gomes just to see what he can do with some quality around him. He is a positive player and 'should' improve – hopefully!!
A couple of goals could give him some confidence and help him kick on, I'm dreaming on his behalf. :-)
Peter Mills
24
Posted 27/09/2020 at 16:21:07
Young lad, plenty of experience, never hides, Evertonian, low maintenance, decent guy, useful squad player.
Darren Hind
25
Posted 27/09/2020 at 18:27:25
Very amusing to see people who hang on to every throw-away line Carlo utters, trying to get their heads around statements that would suggest he doesn't think they would recognise a footballer if he ran across their living room with his muddy boots on.
Martin Mason
26
Posted 27/09/2020 at 19:00:24
Why do we need to criticise Tom Davies in such an unfair fashion? Tom is a top-class player with caps at all levels. He has limitations that he has hit but who doesn't have limitations?
He is what he is and you can't criticise somebody into not being that. He has a chance to become a very good player as he's still young and playing in an impossibly difficult position.
He's a homegrown player and Everton through and through. Give the lad some support. If Carlo says he is a benefit, then that is all that matters.
Ajay Gopal
27
Posted 27/09/2020 at 19:10:44
Jamie (22), I refer you to Paul's excellent article and subsequent thread "How do we fund squad improvements this summer?"
Paul estimates that the wages for 2020 (this was before the transfers of Allan, Doucouré and James) will be £150.2 million in revenue of £204 million, which is about 74% compared to 85% last year.
But how do you "offload " players on contract unless there is someone willing to take them? I had commented on that thread with my own analysis based on part realism, part wishful thinking that perhaps we could end up with about £35 million savings (reduction in losses) if Moshiri is willing to take some losses on selling our surplus – but agaIn, this is assuming that there would be someone actually willing to buy the deadwood, which I doubt – especially in a post-Covid scenario.
Andrew Dempsey
28
Posted 27/09/2020 at 20:57:58
What a fair amount of analysts and supporters don't realise about a player like Tom Davies is that he's a great lad to have in the dressing room.
Forget about his ability, what Carlo understands is that Tom is a very popular guy in the squad. A funny lad, who keeps spirits high, and has a genetic imprint of Everton in his soul.
We can afford one or two players in the squad like this. The enthusiasm, the humour, it's 'important for us'.
I'm getting the Ancelotti vibe more and more now, he really understands the human element of football, the man-management side of things.
Great bloke, and as long as we can attract a couple more players of the same calibre of the recent additions, a great manager as well.
Stan Schofield
29
Posted 27/09/2020 at 23:45:01
Andrew @28: Good post, well said. I think people can easily forget how important such things are.
Si Cooper
30
Posted 27/09/2020 at 23:48:11
Keep, sell, whatever? I'm happy for the manager to make that assessment.
If people want to keep him just because he is industrious, likeable or a local lad, however, they need to acknowledge that they are prepared to accept a certain level of mediocrity.
I haven't given up on Tom yet but the reality is he doesn't have 7-8 years to develop and is already a seasoned pro, and personally I think he needs to perform better sooner rather than later. He has to step up every time he is on the pitch and fit in seamlessly. I see Jamie C has Beni Baningime on his 'for the chop' list, so it's only fair to be consistent.
The way this season is developing the next three games will be proper tests for our first-team squad and we need all our players to show their mettle.
Andrew Keatley
31
Posted 28/09/2020 at 00:25:13
I think we should all just get behind Tom Davies.
Sure, he's barely progressed in 4 years with the first team. And sure, he's slipped further down the pecking order now that we actually have a few decent midfielders at the club. And sure, if we're to progress as a decent side he probably won't start many games.
All that stuff isn't important. The really important things are that he's a local lad, and Carlo thinks he's good for the changing room (even though Carlo hasn't actually said that, and even if he did say it he might have only said it to be generous to Tom, but I just know it to be true because it fits in with what I think, so I'll just extend that out as fact).
And also, what's really important is that we support our players irrespective of whether they are playing well or not because that's just a nicer thing to do... and why can't we all just get along – and other wishy-washy platitudinal soft rubbish like that... COYB!
Andrew Dempsey
32
Posted 28/09/2020 at 03:41:40
Yeh, I forgot to add, Carlo really rates him as a player and as a human being. He loves him. I know this for a fact. It's not sentimental at all, Davies is a good lad and a decent player.
He's happy to be a squad player for Everton, and Carlo wants people like that around, there's nothing sappy or romantic about it, it's just good management.
Darren Hind
33
Posted 28/09/2020 at 05:09:18
If Carlo wanted a local boy, there are about 50,000 of them who would do it for nothing. If he wanted a comedian. He could get Stan Boardman for a fraction of Davies's wages. If he wanted to just offer a couple of platitudes, he would not have been so complimentary in the past.
Tom Davies – world record holder. Played more Premier League games than any Championship player in the history of the world... A centurion who has often been chosen to play while £20M, £30M, £40M players sat on the bench... Chosen by five different managers.
A real head-scratcher for the Tom Bashers, innit?
Jack Convery
34
Posted 28/09/2020 at 05:38:22
Keep Tom Davies - Simples.
Holgate looked to be on his way until he played with better players around him in defence.
Calvert-Lewin looked like he was not going to make it until we got better players going forward.
Let's see if Davies can do the same with class surrounding him in midfield.
Alun Jones
35
Posted 28/09/2020 at 08:06:29
Christy (16),
I like Tom too and it's great to see a local lad make it into the first team. However, he is for sure too slow and not physical enough to be worth his place in the team in the midfield engine room.
I lost count how many times he failed to lay a glove on opposition midfields last season and he constantly seemed to lose out in 50-50 contests. He has a good eye for a pass, however, when he gets the time... so maybe you are right: he can play a greater role further forward and it would be useful to see him come on as first sub for Gomes rather than Sigurdsson.
I think he might have more energy than our Icelandic friend and could drive into the box from an advanced position.
Stan Schofield
36
Posted 28/09/2020 at 09:10:15
Jack @34: Calvert-Lewin might have looked like that to you, but not to me, and not to a lot of others.
Stan Schofield
37
Posted 28/09/2020 at 09:11:52
Darren @33: Yes, but Tom is local AND a comedian AND a good footballer.
Si Cooper
38
Posted 28/09/2020 at 09:32:21
"A centurion who has often been chosen to play while £20M, £30M, £40M players sat on the bench."
Isn't it possible to agree that in the past Tom certainly did merit his selection, but also accept that, if we are looking for an improved first-team squad in the near future, then Tom also needs to meet those higher expectations?
Brian Harrison
39
Posted 28/09/2020 at 09:35:45
I think Carlo has put this debate to bed, I think a bigger question for Tom is why having played 100 games for the first team, in largely an under performing midfield, why havent you cemented your place in the team.
Stan Schofield
40
Posted 28/09/2020 at 09:36:48
Si@38: That's a good point. Tom is more likely to meet higher expectations when he's part of a well-functioning side (as we are currently), compared with him having to play in dysfunctional sides which we've seen so often in his career to date.
Brian@39: The above point answers your question.
Brian Harrison
41
Posted 28/09/2020 at 09:43:00
Stan,
I think most of us like to see local boys do well and Tom is no exception to that, but as you and Si suggest he may well have to up his performances to try and force his way into this midfield. Lets hope he can, as he definitely has quality but needs to be more consistent.
Rob Dolby
42
Posted 28/09/2020 at 09:51:53
If anyone comes in with a bid of £20m for Davies he is gone.
He just isn't at the level that the current starting midfielders are. Keeping him because he is local or on less wages aren't good enough reasons.
We have an ever growing list of players that I would move on before Davies though I don't see anyone wanting to take on the usual suspects high wages coupled with a lack of desire and form.
Bob Wilkinson
43
Posted 28/09/2020 at 09:52:53
Carlo is the manager and will make the decision. He's also said that the current 'squad' is 31 players and ideally it should only be 25. If we make another 1 or 2 signings that is another 7 or 8 players that ideally he would like to go
He's too much of a gentleman to publicly slate players and he's astute enough to know it only drops their market value if he does.
Whether Tom will be one of those 7 to 8 will be down to Carlo and to Marcus's ability to find a buyer. For me Tom has struggled. Maybe it has been down to a bad side but that's no reason to give the ball away so often by getting caught in possession or making a bad pass. I know it's early into the season but I've seen positive reactions from Gomes, from Siggy in their play due to playing with the new players but not so much from Tom
Personally I'd let him go, either a sales or as a loan - I just don't see him getting much playing time this season and he needs to be out on the pitch, not sat on the bench
Derek Thomas
44
Posted 28/09/2020 at 11:03:08
Rob @ 42; Sad but true, we're well over staffed, not quite any offer, but a decent offer and he's gone...and a few others hopefully
Barry Rathbone
45
Posted 28/09/2020 at 13:23:50
It's a squad game and he fits the profile of a useful squad player not top drawer but reliable and no trouble, it could be argued a manager's dream.
Unless we have better lined up and a decent offer for Tom he's here till he retires when I presume he will buy a 36ft yacht and make passage to Anglesea for weekend picnics and seal spotting
Martin Mason
46
Posted 28/09/2020 at 17:07:25
I like him and wish him well. He is fatally flawed though in that he coughs the ball up too often and I can't see him being able to correct that. Now it is terrible as it comes back so fast.
Lee Courtliff
47
Posted 28/09/2020 at 17:42:15
I'd definitely keep him.
Doesn't take the easy way out, always looks for a forward pass (amazing that I even have to say that about a midfielder!), doesn't sulk or cause trouble and isn't on astronomical wages!
Not to mention the complete lack of availability/ability of Gbamin and Delph!
The criticism of him is generally fair enough. He does lose the ball, he is knocked off it easily (at times).
He's basically Leon Osman in the making.
Only now, Osman type players are squad men rather than first 11. That's got to be a good thing if we actually want to compete for CL or Cup success.
We need a Squad!
Andrew Dempsey
48
Posted 28/09/2020 at 19:22:07
The salient points here are that he's a squad player and we need them.
There's about six people we need shut of before disappearing the likes of Davies or Bernard, who would be top of my list for players to keep on the subs bench.

Also, the major contradiction of those who thinks he's not good enough to play as a back-up/rotation player still believe we can sell him for £20m - this lad who gives the ball away constantly and isn't up to the standards, who is going to buy someone like that?

James Head
49
Posted 28/09/2020 at 20:25:50
Take any offer that comes in, he would not get into any other team in the Premier League, can't tackle, pass, head or shoot, takes the easy backwards pass far too often, is far too slow in thought and movement and has a diabolical positional sense often running around chasing the ball like a schoolboy, he is just not of the standard required if we are to regain our rightful place amongst the top teams.
He's local, he's good in the changing room, he's on a lower wage, WTF, there is no place for sentiment, as for someone saying he's Leon Osman in the making well he'll never be half the player Osman was and Leon got dogs abuse from our fans.
Justin Doone
50
Posted 29/09/2020 at 17:41:49
For me Davies is a good player and with much better players around him he can hopefully concentrate on developing his own natural game.
He shouldn't have to cover for everyone else or try to do to much. Keep it simple. Work hard, pass to Richarlison or James in space if possible, make forward runs knowing Allan and or Doucoure will cover.
I find it unusual that such a hard working player has been called by his own fans useless having watched Schnides, Delph and Siggy put in many more non-performances.
If it's because he's not world class and doesn't appear to be ever able to reach that world or top class level then fair enough.
But he would get into many Premier league midfields, certainly as a squad rotation player including the 'top 6' sides.
He's still maturing and learning. He's not a Grealish or Mount attacking player. He's a box to box midfielder and there aren't too many u23 midfielders that play on a weekly basis in the Premier league.
He's got more about him both physically and mentally than our other options from past seasons.
Siggy the 'school boy' who no longer shoots so his goals contribution is zero. Sell.
Delph is no better and injury prone. The only question is would he improve if he stays fit and if he has a run of games? Too many ifs for me, sell.
Schnides thankfully gone.
Bernard looks much better playing centrally linking play, all be it against lower league teams in the league Cup. He gives the ball away a lot but contributes many good forward balls. Keep.
Iwobi started poorly against Salford and Morecambe but isn't afraid to shoot (with power) which appeared to give him confidence and grew into the games. He gives us a more direct option but looses more balls than a youth centre pool table. Sell.
I want to see Bolasie play in the league Cup. He is much more of a threat than Walcot, Iwobi or Bernard. But I'd still sell him if possible.
Trevor Peers
51
Posted 30/09/2020 at 19:14:39
Carlo has spoken, he has decided to keep Davies, Sigurdsson, Walcott and Bernard at least until the next window. Seems like a sensible decision, after all it is about having a strong squad of players, that he can rotate when the need arises.
Sell the rest by all means possible including Bolasie, we've seen enough of all of them by now to know they're nowhere near good enough. I'm so pleased we have a great manager, otherwise we would have Stones, Barkley and Lookman back care of the Kenwright benevolent society. Carlo just won't wear it, he's nobody's fool.

---
Add Your Comments
In order to post a comment, you need to be logged in as a registered user of the site.
Or Sign up as a ToffeeWeb Member — it's free, takes just a few minutes and will allow you to post your comments on articles and Talking Points submissions across the site.