Calvert-Lewin gets first England call-up
Thursday, 1 October, 2020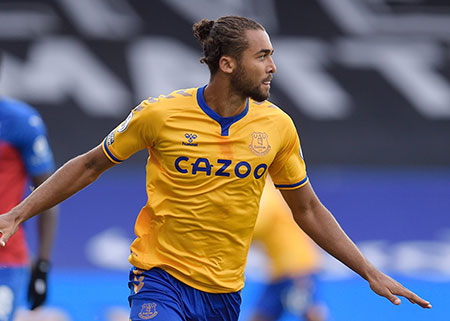 Dominic Calvert-Lewin's electric start to the new season has earned him inclusion in the senior England squad for the first time.
The 23-year-old has hit eight goals in five games in all competitions, including two hat-tricks to help Everton to six straight wins and a place in the quarter-finals of the Carabao Cup.
Calvert-Lewin's form between December and March last year had put his name in the conversation for the national side, particularly when Harry Kane got injured putting his participation at Euro 2020 in doubt.
However, once the season was suspended, with the European Championships being moved to next year, following the onset of the Covid-19 pandemic, Calvert-Lewin's goals dried up and he didn't score at all during "Project Restart" at the end of last season.
His start to 2020-21 couldn't have been better, however, and his incredible goal glut last month meant that his call-up by Gareth Southgate for the matches against Wales, Belgium and Denmark was almost inevitable.
The former Sheffield United man, who already has an U20 World Cup winning goal to his name, will be joined by his fellow Blues Jordan Pickford and Michael Keane in the 30-man England party.
" I'm a very, very proud man," Calvert-Lewin was quoted as saying. "I just phoned my mum and dad and my mum burst into tears.
"I found out with a text message [from the FA]. Pickers and Keano were obviously named in the squad and they were saying, 'Have you got the text yet?'.
"I went to my phone and saw the text message… I didn't really know how to feel, if I'm being honest. I've thought about this moment so many times."
---
Reader Comments (103)
Note: the following content is not moderated or vetted by the site owners at the time of submission. Comments are the responsibility of the poster. Disclaimer
Kieran Kinsella
1
Posted 01/10/2020 at 14:16:10
That should boost his confidence further which is important for any striker
John Pendleton
2
Posted 01/10/2020 at 14:16:44
Great stuff and well-deserved. In a conspiracy plot twist, now DCL can tap up target players to come and join the blues project.
Phil Greenough
3
Posted 01/10/2020 at 14:19:12
It also has the ability for him to be tapped up by London centric players, John.
John Pendleton
4
Posted 01/10/2020 at 14:23:58
Phil - I was alluding to just that - our historic fear that our players don't have much of a comeback to 'come and join us here at X, Y Z etc'. The plot twist now being EFC offer enough for him to say with confidence 'why the fuck should I?'
Kieran Kinsella
5
Posted 01/10/2020 at 14:25:59
Phil
Arsenal and Spurs don't have that kind of money presently and Chelsea just finished a mad spending spree. I think Covid finances reduce the risk of us losing him
Paul O'Neill
6
Posted 01/10/2020 at 14:27:41
Well deserved. Always just seems a very grounded and nice lad as well.
Will Mabon
7
Posted 01/10/2020 at 14:29:02
I can't think of any club in London that players would prefer over Everton right now.
Sean Smythe
8
Posted 01/10/2020 at 14:37:07
Well done Dom, keep it up
Sam Hoare
9
Posted 01/10/2020 at 14:46:57
Championship player!
Derek Knox
10
Posted 01/10/2020 at 14:49:11
Well deserved Dom, keep the strike rate gathering momentum, and most importantly don't get injured. I can't see him either recruiting for new additions, or being tempted away either. He seems fairly level headed and focussed.
Besides, I think he's wise enough to know what has happened to previous squad members that have had aspirations that London would catapult their careers into the stratosphere.
Where's Judas Barkley now? Aston Villa on loan, probably warming their bench for the most part.
Dan Nulty
11
Posted 01/10/2020 at 14:49:57
Wouldn't worry about him being tapped up, why would you go anywhere else at the moment? I wouldn't want to play for Mourinho the man is an imbecile.
This squad makes you realise though how good the team was in the 1996-2008 period, we should have won something then. A central midfield of Henderson and Ward-Prowse is going to win you sweet FA.
Francis van Lierop
12
Posted 01/10/2020 at 14:51:14
Well deserved.
The way he controlled the ball for the first goal yesterday was Bergkamp-esque.
Jim Harrison
13
Posted 01/10/2020 at 14:55:24
Well deserved.
I think plenty of us on here have doubted him at various points but he has done a great job in answering his critics
Leave for London? Chelsea just bought Werner, Arsenal couldn't afford him.
Ajay Gopal
14
Posted 01/10/2020 at 14:59:27
To set the cat amongst the pigeons, will Koeman come in with a monster bid for DCL next summer? He did recruit him, didn't he?
Bill Gall
15
Posted 01/10/2020 at 15:09:03
Congratulations deserved, keep your head and realize that this is another step in your learning curve. Next step is becoming a regular choice to start every international game.
James Fletcher
16
Posted 01/10/2020 at 15:15:48
I get the impression that Dom actually likes the club and enjoys playing for us... I can't see him going anywhere.
John Pendleton
17
Posted 01/10/2020 at 15:16:45
Derek (10)
You're correct of course. It was tongue-in-cheek of me to suggest Calvert-Lewin would tap up others. Merely pointing out that our current status would make it a more plausible tactic than for many a year.
I agree with you and others – he appears decent, grounded, level-headed and focused. He wouldn't have to tap up others – they can see for themselves he has the world at his feet, has Rodriguez and Richarlison busting a gut to provide assists, has Ancelotti for guidance, a chairman willing to spend and a promising new home ground in the pipeline.

Danny O'Neill
18
Posted 01/10/2020 at 15:16:48
Deserved? Yes. Pleased for Dominic? Absolutely.
However the selfish Evertonian in me that has never really done the Eng-ur-land thing is sceptical and nervous.
I'm probably scarred from years of watching our players called up for England only to have their heads turned by the players and media!!
Jamal Paktongko
19
Posted 01/10/2020 at 15:34:30
The first Everton striker to get an England call-up since Gary Lineker.
Bravo!
Jerome Shields
20
Posted 01/10/2020 at 15:41:48
Kieran #1,
That is exactly what I thought.
Jack Convery
21
Posted 01/10/2020 at 15:53:40
Well deserved and proved me wrong as 2 seasons ago I reckoned he was never going to make EPL standard. Happy to apologise and be proved very wrong.
Adds another £20m to his value as an asset to EFC.
Hope he does well and comes back fit - that's the main thing.
Francis you beat me to it - very Bergkampesque finish. The pass from Keane was an absolute gem too - best pass of the season for me.
Onward and upward blues. Another 3 points at the weekend please.
COYBs.
Brian Wilkinson
22
Posted 01/10/2020 at 15:58:51
I second that Jack and I am more than happy to eat a slice of humble pie.
Made up for the player and rightly deserved.
Tony Everan
23
Posted 01/10/2020 at 16:09:17
There's a theme . Well done and...well deserved !
Phill Thompson
24
Posted 01/10/2020 at 16:18:24
A great reward for all his hard work, he's improved so much in the past 12 months. Always plays for the team, which has sometimes been to his detriment in the past, running out to the wings to receive the ball instead of being in front of goal.
And a mention for Unsworth too who persuaded the Board to back his judgement having worked with DCL at Sheff Utd years before.
Peter Gorman
25
Posted 01/10/2020 at 16:31:14
Jamal @19 - you're forgetting the spud-faced nipper that played in Euro 2004.
Made up for DCL though, clearly a good lad as well as a striker in form.
Dick Brady
26
Posted 01/10/2020 at 16:37:59
An England call-up???? He is most definitely ready for that move to the Championship, get your cheque book out Luton Town.
Steven Astley
27
Posted 01/10/2020 at 16:41:05
If I was DCL, I'd tell Southgate to fuck off! He thinks DCL is a "Pest" for opposing defenders? What a fucking insult!
I would class a "Pest" a striker of the calibre such as a Paul Dickov.
Fucking big nose prick, he should go back to advertising for Pizza Hut or managing Middlesborough. Clueless.

Jack King
28
Posted 01/10/2020 at 16:42:21
Great. Another promising player England will ruin.
Martin Berry
29
Posted 01/10/2020 at 16:53:03
The Dominator !
If Mr Southgate uses him tactically as Mr Ancellotti does then he will score goals.
I thought his comments about being very, very proud to be called up to the England squad summed up this young man, humble, articulate and well rounded with his feet on the ground, except when rising for crosses !.
Well done and thoroughly deserved young man.
Mike Allison
30
Posted 01/10/2020 at 16:59:40
Jack and Brian, you're a little off message there. Shouldn't you be explaining how you were actually right all along and that your criticism is the reason he's now doing well?!
I salute your honesty and humility sirs.
Tony Everan
31
Posted 01/10/2020 at 17:00:31
Steven 27
I agree with that, it is a really poor, almost derogatory remark. Probably as a result of not being able to articulate himself as he would like.
Kieran Kinsella
32
Posted 01/10/2020 at 17:07:19
Jamal
It's bizarre that Beardsley was called up for England before and after his successful 2 year stint at Everton. Also that Cottee's England career ended as soon as Everton made him the record transfer. Barmby another who lost England involvement during his time at Everton, and Jeffers wasn't called up until he left. I say all of that as at first I though your statement about Lineker must surely be wrong but amazingly it was accurate showing in my mind a considerable anti Everton bias from the England set up of the time.
Barry Rathbone
33
Posted 01/10/2020 at 17:07:58
Terrible news
Just as it looked like DCL and "championship level" had been put to bed in comes Southgate with Conference league England.
The kid just can't catch a break
Danny O'Neill
34
Posted 01/10/2020 at 17:08:36
Probably because he hasn't watched him Tony! How many times over the years have we heard the media and punditry talk about Everton and our players out of their arses.
They don't have a view on us because they take no notice of us most of the time. Don't get me wrong, this goes back before this season but the times I've heard them talking about Everton and they're talking about us Moyes era.
Christopher Nicholls
35
Posted 01/10/2020 at 17:13:51
Well done, Dom. Totally deserved and great to see your hard work being recognized.
Danny O'Neill
36
Posted 01/10/2020 at 17:17:47
"Hard working team Even, really well organised and difficult to break down"
Everton the last 2 years? Really?
They won't know much about Dominic because they won't have watched him, so pull their Moyes era Everton comments out of their database of responses.
Stan Schofield
37
Posted 01/10/2020 at 17:23:22
Kieran@32: We used to have quite a few in the England team, particularly for the 1970 World Cup. However, arguably we should have had more. Kendall was never picked, and Harvey only once. It was England's loss, because with them alongside Ball, England would have had a greater chance of winning that competition. In fact, the entire 1969-70 title-winning Everton side could easily have been the England team. If it had been, the game against Brazil, with the world's best two midfields, could have been fantastic.
I sort of lost interest in England after that failure to pick Kendall and Harvey, but I congratulate DCL and wish him luck with it.
Danny O'Neill
38
Posted 01/10/2020 at 17:23:23
Thought I'd posted this earlier Kieran, but maybe it didn't make the cut!
I'd add Kendall and Harvey to that. Before my time, but my father would shudder when you mentioned England. I don't think he forgave them for only giving them one cap between them.
Jay Harris
39
Posted 01/10/2020 at 17:32:01
Great for the lad to get some recognition and a real boost to his confidence.
It says a lot for his family that he is so humble and grounded at his age.
My only concern is our players usually come back injured from irrelevant internationals.
Kieran Kinsella
40
Posted 01/10/2020 at 17:34:01
Stan/Danny
I guess we did OK in 86 with Reid, Steven, Stevens, Lineker and I think (?) Bracewell? Funny thing in 86 and 90 was that England started badly, Robbo did his usual going home injured then things picked up when Trevor Steven came into the side. And yet, he seems to have slipped out of the public consciousness as you just hear being harping on about Waddle and Barnes from that era
Stan Schofield
41
Posted 01/10/2020 at 17:37:30
Jay@39: Yes, that injury potential is an issue. That said, in DCL's case he seems to be a very robust footballer, a fantastic athlete, not especially injury-prone. Let's hope it pans out that way with England.
Dick Brady
42
Posted 01/10/2020 at 17:39:50
Jamal Paktongko - DCL isn't the first Everton striker to get a call up since Linekar. I think your forgetting Wayne Rooney and Andy Johnson.
Danny O'Neill
43
Posted 01/10/2020 at 17:47:48
Yes, that was probably our best run of players making the England squad Kieran, but you wouldn't think it now!
Bracewell; so gifted but only 3 caps, although in fairness injury cut him short just as he made it on the scene as I remember it.
Stan Schofield
44
Posted 01/10/2020 at 17:51:08
Danny@43: I think that against Brazil in 1970, we had Wright, Newton, Labone and Ball.
Tommy Wright said that Pele fouled him when going for that header from which Banks made the famous save over the bar.
Joe McMahon
45
Posted 01/10/2020 at 17:54:46
FFS, he cannot get injured.
Dick I don't think Johnson played for England whilst at Everton, same as Peter Beardsley.
Mike Gaynes
46
Posted 01/10/2020 at 18:15:26
Well done, Dom!
I may find myself forced to root for England.
Nah.
Danny O'Neill
47
Posted 01/10/2020 at 18:22:18
Thanks Stan. Born in 1971 I'll claim that was before my time, although the fact my father never mentioned shows how his apathy towards England was passed onto me.
Totally unrelated, but your Tommy Wright foul claim makes me think of what I believe was a foul on Peter Reid in the build up to Luton's goal in the 1985 semi-final.
I know we came from behind to win that but it still grates me!!!
Robert Tressell
48
Posted 01/10/2020 at 18:22:18
Delighted for him at a personal level. I'm a bit concerned that he's not a good fit for England because he lacks a bit of polish. It's the sort of thing the poisonous media latch on to, especially with more unfashionable players. And being paranoid especially with Everton players. I just hope it builds confidence rather than sets him back. He's worked tremendously hard to get where he is now.
Derek Moore
49
Posted 01/10/2020 at 18:28:49
Happy for Dom, it's a tangible reward for his outstanding form and something he'll always have. Well deserved.
Selfishly though, I just want him to not get hurt and take it all in his stride. The man is in a potentially historic trophy drought ending form run here. Would that get Kenrick to accept him though...?
2020 is an odd year alright.
Colin Glassar
50
Posted 01/10/2020 at 18:30:32
I always believed in DCL, even during the bad days when he was played out wide. Well done Dom. Hard work and perseverance have finally paid off.
Chris Bond
51
Posted 01/10/2020 at 18:38:31
Made up for the lad. He has had his critics and could easily have taken a route out of the club to another team. He didn't. He got his head down, worked hard and improved all aspects of his game. He wants to succeed and succeed at Everton. Got what he deserved. Seems like one of the good guys and embodies what we want to see in a blue shirt. Shit load of goals have also helped a bit.
Derek Moore
52
Posted 01/10/2020 at 18:46:55
@Joe McMahon #45
I don't think Johnson played for England whilst at Everton, same as Peter Beardsley.
Andy Johnson was capped six times by England whilst playing for us.

Stan Schofield
53
Posted 01/10/2020 at 18:51:25
Robert@48: I believe it's the opposite of what you say about polish. I've always seen DCL as very elegant and polished, but we've seen it only in dribs and drabs. His first goal against West Ham, for me, reflects his polished style. Firstly, the control with his left foot was exceptional, and secondly the transfer to his right foot and almost nonchalant half-volley was equally exceptional. I'd say absolutely top-notch, and much better than we normally see from England strikers. But yes, the media will try to build him up and then knock him down, as those Uriah Heep characters who inhabit that lurid world tend to do.
Dave Evans
54
Posted 01/10/2020 at 18:57:14
Hard work and character pays off.
Well done Dom.
Paul Birmingham
55
Posted 01/10/2020 at 19:00:45
The lads attitude and desire hopefully will rub off on some of the other younger players.
Hopefully DCL, will keep improving and get better, and hopefully he doesn't get any injuries playing for England.
Joe McMahon
56
Posted 01/10/2020 at 19:09:35
Derek @52, thanks I didn't know that. The only thing I remember about home was scoring against Liverpool and running to the corner flag all the time to get the ball, isolated upfront.
Jerome Shields
57
Posted 01/10/2020 at 19:26:24
Jamal#19
Was Trevor Steven not before Linekar?
Linekar made his debut in 1984, obviously not a Everton player at that time and Steven was 1985 when playing for Everton.
Steven won more Medals than Linekar and was a better player.
Jerome Shields
58
Posted 01/10/2020 at 19:39:04
Jamal# 19
I think you are a bit young to remember, but Everton have been in the top English League for a long time and there are a lot of great England players that played for Everton. One won a World Cup medal playing for England , and there where more before that.
Most of them better than Linekar , because Everton won something when they played.
Brian Williams
59
Posted 01/10/2020 at 19:46:00
The frightening thing about DCL (for the opposition) is that there's still loads of room for improvement, which if he makes, will turn him into an absolutely world class striker!
Geoff Lambert
60
Posted 01/10/2020 at 19:52:12
Dick Brady, You are correct of course Rooney and Johnson both played for Everton while also playing for England.
Kieran Kinsella
61
Posted 01/10/2020 at 19:59:05
Mike Newell was called up by England shortly after joining Everton. He didn't get off the bench mind.
Dave Abrahams
62
Posted 01/10/2020 at 19:59:36
Jerome (58) I've been following Everton for quite awhile but I think I was in my twenties before I saw an Everton player turn out for England, I believe Brian Labone was the first Everton player to be chosen for England since the war, I think that was around 1961-62.
Bobby Mallon
63
Posted 01/10/2020 at 20:13:08
Derek @10 Barkley was no Judas. He was a lad who wanted to leave big deal and why blame him, most fans wanted him out and slaughtered him.
Mary Coleman
64
Posted 01/10/2020 at 20:29:35
Well done DCL what a fantastic achievement. And a big thank you to Carlo and our Dunc another striker he's mentored and improved. They seem to be very close, can't see DCL moving anywhere..
Kase Chow
65
Posted 01/10/2020 at 20:32:40
Made up for DCL. I've said on another thread that I have been completely wrong about this lad and I'm delighted to be wrong just hope he can maintain this form
And good news for us... hopefully he'll get more marginal decisions. Last season VVD shoved DCL over when thru on goal and not even a free kick was given. It won't be as easy to be so biased for refs now (I hope)
Good luck DCL you've earnt it lad
Don Alexander
66
Posted 01/10/2020 at 21:26:51
Pub quiz question - who are the only two players from Southgate's 2015 England U21 team to be in today's squad?
Answer - Harry Kane and Michael Keane.
Who'd'a thought it!
Derek Knox
67
Posted 01/10/2020 at 21:48:46
Bobby@63, he was going for £35M agreed between Clubs, pulled out at last minute then eventually went for £20M less, costing the Club he allegedly loved a sizeable amount.
That's my beef!
Ernie Baywood
68
Posted 01/10/2020 at 22:09:16
Very pleased for Dom. Always seems to be a nice young man too.
I wonder what our European cousins think of him.
Won the U20 World Cup and scored the winning goal in the final. About to become a full international. 8 goals already this season.
He'd be talked about in very significant terms surely? No idea what kind of transfer value that would equate to (not that I want him sold).
Peter Mills
69
Posted 01/10/2020 at 22:21:14
Congratulations to Dominic, very well deserved. He has done everything asked of him at every level at which he has played, working hard, accepting advice, ignoring critics, improving every season.
I have little interest in the England team, but the players do, so it is a good thing that DCL can see that his efforts are recognised by Gareth Southgate.
Peter Roberts
70
Posted 01/10/2020 at 22:39:40
Ernie
Rumour has it United sniffed round in the summer and were told £80m or get stuffed.
That was after the Project Restart when Calvert Lewin suffered a drought. Now? Who knows...
Dean Frank
71
Posted 01/10/2020 at 22:42:41
I'm on the opposite side of the tracks on this one. Less games for DCL this year, the better. I don't want his legs to go in March. Not thrilled about the recall but I get it. Just don't get hurt.
Will Mabon
72
Posted 01/10/2020 at 22:50:58
Peter, strange isn't it, how many have lost interest in the national team. Hard to know for sure what exact combination of factors did it, but they sure pulled it off.
Would have been unheard of in the past.
Stan Schofield
73
Posted 01/10/2020 at 23:22:34
Will, I went off the national team around 1970. Reasons are provided in previous posts above. I wasn't alone.
David Ellis
74
Posted 02/10/2020 at 01:29:18
I went off the National team in the John Terry, Ashley Cole era odious individuals, and the shoe horning of media darlings like Gerrard and Lampard into the side - never worked.
However Southgate has won me back over.
Andrew Keatley
75
Posted 02/10/2020 at 01:51:32
Don (66) - I think Ings and Ward-Prowse are also correct answers for your pub quiz question.
Kieran Kinsella
76
Posted 02/10/2020 at 02:04:35
David Ellis
I hear you but I have been more inclined towards them since Southgate took over. I mean, yes he's a bit sterile, a suit, but I think he's a decent chap and honestly Kane and co don't have the obnoxiousness of Terry and co.
Mike Gaynes
77
Posted 02/10/2020 at 02:29:49
Pete/Will/Stan/David, that's amazing. Did you just lose interest in your national side or do you actively root against them for some reason?
Si Cooper
78
Posted 02/10/2020 at 03:19:02
Kieran,
I was thinking of Trevor Steven the other day. My inclination is that he was a great player and a major part of our success in the Eighties, but he does seem to have left little lasting impression either for club or country. Perhaps he is someone who has always shunned the limelight?
I tend to think of 'pest' as a compliment and quite fitting. I don't think DCL is quite what you would call a dominating forward nor is he simply a poacher or high percentage clinical finisher. He is very hard working and that is really paying dividends for him. Hopefully that will continue in his senior England career.
Derek Moore
79
Posted 02/10/2020 at 05:52:24
I lost interest in England and international football around the time Lescott lost interest in playing for us! @Mike Gaynes, quite a lot of Evertonians have lost interest in the national team over the years but I doubt any have gone so far to start cheering for a different country! Between getting tapped up, getting hurt, or getting the blame for poor performances there's usually not a lot of benefit to us supplying players to the national team.
As I said I'm happy for Dom, but really just hoping he comes back the same way he left. Fit and literally knocking in goals for fun.
Danny O'Neill
80
Posted 02/10/2020 at 06:54:41
I'd be interested to hear from other Evertonians about the England thing. I don't know if it's an enduring city of Liverpool thing, a family thing or just the mates I mixed with, but I don't ever recall people in the city (in general / stereotyping) being overly interested in the England / international football thing.
Mark Murphy
81
Posted 02/10/2020 at 07:12:29
I'm not arsed about England FC - never have been. Everton is my only team.
Jeff Hough
82
Posted 02/10/2020 at 07:32:51
I'm with Mark and Derek, I couldn't give a shite.
I suppose I do get some perverse pleasure from hearing that one of our players has done well playing for England, but then it is always spoilt by worrying that they will have their heads turned by the Cockneys and Mancs.
Don't even get me started on the Engerlund fans!
Alex Parr
83
Posted 02/10/2020 at 08:19:36
Jamal #19, did Tony Cottee not get called up to England whilst he was with us? Andy Johnson too I think? And Wayne Rooney of course.
Alex Parr
84
Posted 02/10/2020 at 08:34:46
Oh and of course, well done DCL. Really pleased for you lad.
Regards the 'pest' comment, maybe taken out of context. I'd say DCL is more of a bully - not like some all-brawn workhorse like Troy Deeney, Glenn Whelan, Andy Carroll etc... but DCL can mix it. Hes fast, physical, can hold his own. Becoming more dominant in the air (thanks Dunc).
Pest is a bad word. Like someone else suggested, I'd say Jamie Vardy is an elite pest (no disrespect as I would have loved to see him play for Everton), Suarez is a pest, Tim Cahill was OUR skilful pest.
Just a shame its probably too late to see DCL versus someone like Chiellini, Bonucci, Godin etc - because I think our DCL could hold his own against those types of elite-level-bully defenders.
Stan Schofield
85
Posted 02/10/2020 at 08:59:33
Mike@77: Never rooted against them as such, in fact always wanted them to win, but not too bothered when they lost, and generally apathetic about it.
In the 70s, the England setup wasn't good compared to the likes of West Germany, and the latter tended to use half-a-dozen players from the same successful club team, like Bayern Munich. So many folks suggested England do similar, but it was never done. For example, in 1970 I simply could not grasp why Kendall and Harvey weren't included alongside Alan Ball. Everton had just won the league with a large points tally and tremendous quality football, in my view comparable to Brazil's. It was as if England deliberately shot themselves in the foot by insisting on picking some bang average players like Peter Storey and Alan Mullery, and I for one just naturally lost interest in it all.
Bill Fairfield
86
Posted 02/10/2020 at 09:10:51
Congratulations Dominic,well deserved call up,it's been a tough couple of years with all the changes at the club but you kept working hard and now getting plenty of chances with the class players Carlo has signed and proving what good striker you are.
Peter Mills
87
Posted 02/10/2020 at 09:16:48
Mike#77, I don't actively root against England, I'm indifferent. I will watch them in a tournament, but shrug my shoulders if they lose, whereas if Everton lose it's like a dagger in my side.
Why indifferent? Our players have played and become injured, or been tapped up by players of other clubs. England performances have been pathetic over the years, with cliques between players from different clubs. And because of a tranche of the support who disgrace themselves wherever they go.
David Ellis
88
Posted 02/10/2020 at 09:22:40
Mike Gaynes - I didn't support other teams against England, but when we lost to Iceland it was hilarious.
But Since Southgate came in I'm much more invested in the National team. My best mate from school went to live in America, and is still there. He's always telling me that the Americans are much more nationalistic than the British. I once went to a rodeo in Texas, and I kind of have to agree with him!
The older I get the more I view being "nationalistic" as a bad thing. We are all people after all and nationstates are purely mental artificial constructs.
Justin Doone
89
Posted 02/10/2020 at 09:41:16
It's a well deserved call up for his goals, energy, team work. I've always been a fan and he's been a consistent high performer without being a true striker. A highlight of these past few dark seasons.
Hard work, determination, fitter, stronger, has massively helped improve his all round game over the last 3 seasons. But in my mind he's not top class and would struggle against top international 'dirty' defenders.
But, he deserves his chance and will benefit long term because I think he accepts and works hard to improve his weaknesses.
He's had game time to learn and improve in our first team. Holgate another similar highlight developed out on loan but once given his chance took it.
Both players developed by playing real competitive games against professionals. That's what's needed to really improve, along with the drive to learn and improve.
So many youngster's don't get the chance or mentally struggle when thrown in at the deep end. This is why loans can work, but each player is different and develop at different rates / ages.
DCL has had many critics and many wanted him loaned out where he may have struggled. Thankfully it's worked out well.
Justin Doone
90
Posted 02/10/2020 at 10:20:30
On in international football I think there's 3 main factors that sour the enthusiasm for it.
Firstly is the amount of dull, defensive orientated games against poor to average teams. I stopped watching friendlies many years ago or would prefer to watch a high quality friendly or fierce rivalry e.g. Spain vs Portugal, Norway vs Sweden.
Secondly, it may be a European thing. There are now, more than ever, so many European countries therefore teams and more games. I love the fact Gibraltar have an international team, but I don't want to watch them.
Thirdly, I think as age / free time (and possibly money) becomes more precious and less to go around, the commitment to weekly club football becomes more important and stronger. More so in a highly competitive and enjoyable league to watch as the Premier league.
Still love a major event though, ie World Cup!
John Davies
91
Posted 02/10/2020 at 11:05:05
Good luck to DCL. He has worked really hard to get his opportunity and I hope that, whether he gets playing time or not, he enjoys his experience with the England squad and benefits in some way from it. Well done Lad.
Will Mabon
92
Posted 02/10/2020 at 11:42:20
Stan, you started early - and for the same reasons as my father. He used to say that even fans of other teams thought Everton's then-triumvirate the best midfield for England. He drifted back into watching a decade or so later, to a degree.
The later national teams have mostly done a great job of doing the wrong thing, with the wrong players, in the wrong way - all with ridiculous media hype beforehand, then assassination at the same hand afterwards.
With a couple of exceptions, most of the tournaments have been thoroughly depressing. One long false dawn spanning decades. I sometimes watch, not often, and more for technical reasons than with enthusiasm. I'll watch DCL though.
Will Mabon
93
Posted 02/10/2020 at 11:47:12
Justin, I can't resist the big tournaments at finals stage, never miss them. The England friendlies though - to watch is masochism.
Will Mabon
94
Posted 02/10/2020 at 11:54:28
"
With a couple of exceptions, most of the tournaments have been thoroughly depressing.
"

To clarify - for England.
Len Hawkins
95
Posted 02/10/2020 at 12:58:26
Nowadays if you have a few good games and the "pundits" give you a mention on telly then it seems a clear pathway to the National squad.
I was glued to the telly in 66 and am in awe of that team but Ramsey soured my taste for England when overlooking Kendall and Harvey the fact that Peter Storey kept Kendall out is one of the biggest injustices in football it was like replacing Randolph Nearenough in ballet dancing with Rab C Nesbitt.
Jerome Shields
96
Posted 02/10/2020 at 17:08:53
Dave #64
Brian Labone was a great player, you are lucky to have seen him play. I didn't get to Goodison till later on, I had to watch them on TV at that time.
Danny O'Neill
97
Posted 02/10/2020 at 18:51:23
Great response from Dominic when questioned whether he can step up and handle the extra scrutiny.
You can't play for Everton if you can't handle expectation.
This is the mentality we have been craving.
Stan Schofield
98
Posted 02/10/2020 at 19:13:15
Will@92: In addition to reaching a point at age 16 of little or no interest in England, there was another factor that made me positively irritated by the failure to have chosen the Holy Trinity for Mexico 1970.
Alan Ball was known as the midfield dynamo, bags of energy (or pressing as it might be called now). But as part of the Holy Trinity, I believe his play was more seemless and needed less effort, because those three fantastic players blended as the perfect and elegant well-oiled machine. We can see this kind of thing currently, with Rodriguez and the current midfield, where there is so much economy of effort.
But because Ball didn't have Kendall and Harvey in the England team, I believe he had to work harder, the England midfield 'machine' being far less well-oiled and functional than the Holy Trinity. That effort from Ball, with the heat and altitude of Mexico, resulted in him returning knackered, and his form slumped in the 1970-71 season, and he ended up being sold to Arsenal. I see that event as the start of Everton's decline, with the mid-80s successes being a too-brief respite from that decline.
If the Holy Trinity had played in Mexico, resulting in 6 Everton players in the England side, it might have been a different story for Everton, and of course for England in that tournament. This is of course speculative, but very plausible.
The irony of it all is, after Mexico, England briefly responded to calls for the England side to have more players from one club team, and they briefly experimented with it unsuccessfully. They chose 5 (I recall) Liverpool players for a game around 1971, only for it not to work well. Liverpool were starting to rise, but were not at the same level as the 69-70 Everton team!! So the process of my having less interest in England became complete. At that point I thought the entire England setup to be a model of mediocrity and football played by donkeys. My view hasn't changed.
Dave Abrahams
99
Posted 02/10/2020 at 21:08:00
Dick (42), I don't know if it's been mentioned but Franny Jeffers also got a cap for England while playing for Everton.
Drew O'Neall
100
Posted 03/10/2020 at 04:39:14
Future England captain if he follows the example of the likes of Kane and doesn't go down the road of young Insta-divs; Foden and Greenwood.
Will Mabon
101
Posted 03/10/2020 at 10:14:00
Stan, another angle but England have been so bad in the past, it almost looked deliberate. There has also been political selection and ridiculous player favouritism.
From the era you mentioned until present day, it's almost a perverse achievement in itself to be so poor for so long. The home of football...
Stan Schofield
102
Posted 03/10/2020 at 12:41:02
Will, my thoughts totally. In my own mind, I sum it up in a nutshell as follows:
In 1970 England shot themselves in the foot by not choosing the Holy Trinity, and then went into decline.
The following year Everton shot themselves in the foot by breaking up the Holy Trinity, and then went into decline.
At least Everton show signs of renaissance, unlike England.
Steve Ferns
103
Posted 06/10/2020 at 16:00:58
Apologies, but did not know where to put this. Has anyone, particularly our Brazilian contributors, seen Richarlison's latest comments, as reported by Goal.com?
On Calvert Lewin:
"Dominic's development has been really impressive. He's transformed into a complete striker. I remember when I got here he was nothing like the player he is today. It's down to the work he's put in. He's in the gym every day, he's always working on his finishing. And playing under Ancelotti he'll keep getting better and better. He's had a superb start to the season and without doubt deserved his England call-up. He must be a nightmare to play against and he has an incredible leap on him like Cristiano Ronaldo."
On Everton:
"We want to win a cup. The supporters here are really passionate and they have been waiting for this for too many years. I think now that we have Ancelotti, and with the signings he's made, we can win a cup and fight for a Champions League place. Obviously it's difficult in England because you have the [big] six, but we're a different team from last season. We had a lot of injuries then and we've signed quality players in the positions we needed. We've made a really exciting start to the season and Ancelotti is keeping us focused and motivating us. I really believe we can qualify for the Champions League."
On James:
"He's a very special talent. He's the No.10 for his national team, he's got an outstanding pedigree – Real Madrid, Bayern Munich, Porto. He'd walk into any team in the Premier League. I watch a lot of Premier League games – what team wouldn't want James Rodriguez? He's made a brilliant start at Everton, and I really hope it continues so we can achieve our targets this season."
This is very reassuring for me. I read in the summer, perhaps with words put in his mouth (as suggested by Jay Wood who saw the non-translated version) that he was wanting to play Champions League football and ready to give us just another year to get there. Here he seems very excited by Everton and committed to the cause. Nice one Richi, come back fit!
---
Add Your Comments
In order to post a comment, you need to be logged in as a registered user of the site.
Or Sign up as a ToffeeWeb Member — it's free, takes just a few minutes and will allow you to post your comments on articles and Talking Points submissions across the site.