Everton agree fee with Norwich for Godfrey
Thursday, 1 October, 2020
£25m + add-ons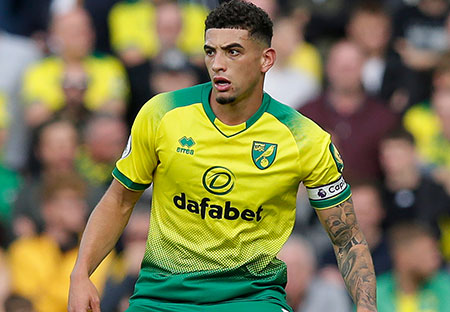 Everton have moved significantly closer to signing Ben Godfrey from Norwich City after an agreement over the transfer was reached with the East Anglia club.
Paul Joyce of The Times and John Percy of The Telegraph, broke the news this evening that the two clubs have thrashed out a deal that would see Everton pay £25m for the 22-year-old, with more due if appearance-related add-ons are triggered.
Everton's opening bid of £20m was rejected by Norwich, with reports suggesting the Canaries were looking for as much as £30m, perhaps influenced by the fact that his previous club, York City are due 10% of the final fee.
Godfrey, an England U21 international, is said to have been targeted personally by Carlo Ancelotti who had made signing a back-up centre-half a priority before this week's transfer deadline following the injuries suffered by Mason Holgate and Jarrad Branthwaite.
More than just a temporary fix, though, Godfrey, who signed a new four-year deal at Carrow Road only last year, is potentially a long-term acquisition. According to Percy, the player will undergo a medical within the next 24 hours.
---
Reader Comments (218)
Note: the following content is not moderated or vetted by the site owners at the time of submission. Comments are the responsibility of the poster. Disclaimer
Keith Harrison
1
Posted 01/10/2020 at 20:40:28
Great, put Mina on the bench, then look at snatching Romero to replace/gee up Pickford. Keane is absolutely undroppable at the moment. Beckenbaur/Moore esq in recent games.
Tony Everan
2
Posted 01/10/2020 at 20:46:52
We needed the cover and he will provide that. Competition will be fierce when Mason gets back.
I think they are looking long term with this signing, him forcing his way in over the season. Wouldn't be surprised to see Mina go back to a good Spanish, French or Italian club next summer, then Branthwaite or Gibson being promoted a level.
Fran Mitchell
3
Posted 01/10/2020 at 20:49:18
Copied and pasted from other thread:
I'm pleased with this. Admittedly, 2 weeks ago (heck 3 days ago) I could not have named this guy, but why would I...nowadays I only really watch Everton.
But from looking around, he seems.to have all the attributes we need from our 4th choice centre back.
He's got Premier League experience, he won't be on mega wages, he won't immediately expect a place in the team (like if we signed a Rudigier type). But he's young and with the attributes to really push for a place in the first team. Now we have 4 centre backs in Mina, Keane, Holgate and hopefully Godfrey and Ancelotti will put it to them - prove to me you deserve to be in the team.
In a year, we can sell Mina and his big wage, and promote one of Branthwaite or Gibson
Also regarding Godfrey - he's a ball playing centre back with good distribution, and can also play as defensive midfielder. At Norwich he's been playing in a team that has, albeit rather naively, focused on playing from the back. So his style fits with what we hope to instill.
Who knows, World Cup.2022 could be an all blue affair with Gordon, DCL, Holgate, Godfrey, Keane and a hopefully improved Pickford
Kase Chow
4
Posted 01/10/2020 at 20:49:25
Very interesting signing. Is he any good?
Keane, Holgate, Godfrey, Mina, Branthwaite, Gibson – that's a lot of centre-backs!!
I know the last 2 are young and inexperienced but they must be seeing this as a major blow.
Keane just signed a new deal, as has Holgate. One therefore has to believe that those 2 along with Godfrey must be in pole position
Are we looking to sell Mina?
What about our finances?
And what about a back up striker???? (Kean is crap.)
Robert Tressell
5
Posted 01/10/2020 at 20:51:47
Wow. Was really not expecting us to spend more money. Talented lad. Should very nicely complement the, let's be fair, excellent Michael Keane. Fast, young, good feet - what's not to like? I don't think we should worry about what this means for Gibson and Branthwaite. Big clubs buy good players.
Peter Dodds
6
Posted 01/10/2020 at 20:55:01
£25m? For a "4th choice CB", when it's really only a temporary problem we have until Holgate / Branthwaite get fit again? I'm struggling to see how this was a priority or even good value, given the finances and certainly compared to the more urgent need to get in a striker in case DCL is injured.
Fran Mitchell
7
Posted 01/10/2020 at 20:56:05
In a side note: York City must have the champers out tonight.
Brian Williams
8
Posted 01/10/2020 at 20:57:32
Some have to look at the bigger picture.
He aint gonna be a fourth choice centreback.
Work it out. 😉
Or is it another case of "they don't know what their doing" because "they" haven't done what I want them to?
Nathan Ford
9
Posted 01/10/2020 at 20:59:56
Don't be surprised to see him play defensive centre mid when Allan or Doucouré are injured or suspended during the course of the season. He's played there in the past to a very high standard. I think his signing will push out a midfielder or 2 from the squad before a centre-half.
All depends on how they plan on developing Branthwaite. Should he have a season in the Under-23s or sent out on loan? My opinion is Under-23s till January after he's recovered from injury with a loan in the 2nd half of the season depending on how he's performing.
Justin Doone
10
Posted 01/10/2020 at 20:59:59
If he has pace and energy he can fill the right back slot in the cups as Kenny may be out for several weeks.
Mina and Holgate have both suffered reoccurring injuries and this is a sensible move.
I would have preferred a better, more experienced first team player but this will have to do.
Ray Smith
11
Posted 01/10/2020 at 21:00:21
Are we still going for Zouma?
Dave Evans
12
Posted 01/10/2020 at 21:01:06
Mina played well game against Palace. Not sure he will see his future as benched or shipped out to the continent.
Three viable centre backs, competition for the places. It's all good.
Steve Ferns
13
Posted 01/10/2020 at 21:06:55
I think Godfrey will compete with Holgate and Mina with Keane. It appears Holgate may be out for some time.
Kieran Kinsella
14
Posted 01/10/2020 at 21:07:34
Norwich fans seem quite happy to see him go. I honestly haven't really seen him play so I'll assume Carlo knows what he is doing here and hope he does well.
Peter Dodds
15
Posted 01/10/2020 at 21:10:29
Having just looked at his highlights reel on YouTube I may have to eat my words. Strong, good in the air, fast, a good tackler, terrific passer of the ball and willing to carry it right up the pitch. A completely different proposition to Mina. And yes, the ability to play in midfield too.
Fran Mitchell
16
Posted 01/10/2020 at 21:11:01
Everton sign 28 year old:
Everton fans "he's too bloody old, he's finished, buying a big club's reject again, not effin sell on value. What the eff do we pay Brands for?"
Everton sign 22 year old:
Everton fans "wtf. How much? What's he ever won? We need experience. We need someone proven."
Everton linked with striker "what about an effin defender. Mina is crap. Keane is useless. We're one injury from an effin crisis"
Everton sign defender
"What the effin hell is going on. What about a striker. Holgate won't be injured forever."
Makes for good fun reading. But sometimes I don't get the logic.
I am currently massively approving whatever Ancelotti does for us. He knows football better than I ever will. He managed the worlds best defenders of the 90s and early 00s in Italy. If he thinks this lad can play, I'm down with it.
Nathan Ford
17
Posted 01/10/2020 at 21:11:59
Fran @7
£25 million up front and York I believe have a 15% sell on fee which works out at £3.75 mill for them. This transfer is huge for their club, not including a % of future money upto £30 mill. This should change the immediate future of their club.
Brian Williams
18
Posted 01/10/2020 at 21:14:11
Fran, nail on head!
Tony Everan
19
Posted 01/10/2020 at 21:14:21
It is a long hard bastard of a season, through winter, playing against some snide arsehole players, we needed some strong physical strength in depth for CB and DCM and possibly RB.
This lad covers all three bases: he is a CB used to playing on the left side and has experience at the latter two positions so he could do a very good back up job and help us keep our form, be consistent and resilient through the season.
We can't let our form dip because of injuries or suspension and Godfrey's quality, physicality and versatility will help a lot with that. The squad needed resilient and strong physical back up and I think we have gone up a notch with this signing.
I am more confident for the season, top 4 is becoming more realistic. I think this signing is not a bargain by any means but, in the long run, it could be a very astute one.
Kieran Kinsella
20
Posted 01/10/2020 at 21:17:19
6ft so little more than a midget for a CB
Neil Bowman
21
Posted 01/10/2020 at 21:17:29
A Norwich supporting friend says he's the nuts. Captained England U-21s, lightning quick, good at marshalling the defence and great in the air - suffice to say, he's gutted.
This fits the Brands playbook and provides cover in CD, fullback and defensive midfield postions. Everton are building something amazing here. Good times...
Nick Page
22
Posted 01/10/2020 at 21:20:32
Good player. Showing proper ambition here, the blues.
Can't wait for us to draw Hades mob at Mordor for the last 8 later after they jam another lucky win vs Arsenal.
John Pierce
23
Posted 01/10/2020 at 21:23:37
Kieran, height isn't the component we need. We need pace and ball skills to play a high line. Zonal marking doesn't need a plethora of 'Grocks' either just one tall chap at the front post.
I think this is the right profile of player for sure.
Steve Shave
24
Posted 01/10/2020 at 21:24:33
I'm delighted. My cousin (Norwich fan) texted me this morning to say this guy is the bomb, fast, athletic and a tremendous prospect.
Daniel Thomas
25
Posted 01/10/2020 at 21:24:38
Great signing. Right age. Good technique. Athletic.
What's our odds on winning the league?...
Steve Ferns
27
Posted 01/10/2020 at 21:25:13
Fran, great posts in this thread. And I'm with you. Everything I've read about this guy is a ringing endorsement. The YouTube looks great. I was hesitant at first as I thought a Norwich defender would be a bad idea, but Norwich fans are singing his praises. On top of that, Carlo wants him, so who am I to argue?
John Pierce
28
Posted 01/10/2020 at 21:27:16
I think he's starting with Keane either with immediate effect or when inevitably Mina pulls up lame.
Quick mention for Keane, I am not a fan, but give the lad credit he's deffo trying to play the way Carlo wants. I hope it continues. 🤞🏼
Sam Hoare
29
Posted 01/10/2020 at 21:31:56
Wow. That moved quickly. Seems to me like we are overpaying for the first time this window but let's wait till the details become clearer.
He's very quick and able to bring the ball out and pass. He's average in the air for a CB. He's played quite a lot at DCM and I'd not be that surprised to see him get some time there, in fact watching some of the interceptions on his highlights reminded me of Allan.
An interesting move. Sounds like we pulled out of the Gabriel chase even though he cost the same. Perhaps something to do with Ancelloti saying he only wanted players who really wanted to come to Everton!
For that money I think there are better centre backs out there but Godfrey has real pace which we need and his versatility could be useful.
Mike Corcoran
30
Posted 01/10/2020 at 21:36:29
He looks like everything we need at CB. Won't be the last business this window? Got to be a few out the door too now.
Robert Tressell
31
Posted 01/10/2020 at 21:41:45
Sam, I think you've got it - it's the pace and versatility. He'll get games, certainly. It's up to him whether he can make a position his own.
And whilst it feels like overpaying - it's a youth premium. If it works out he could be with us for 10 years. Hopefully he can tap up Aarons next summer too.
Joe McMahon
32
Posted 01/10/2020 at 21:43:53
It's a lot of money isn't it, I think he's two footed though. Still big money, I thought we needed to sell first.
Jerome Shields
38
Posted 01/10/2020 at 21:57:20
Pleased with this signing. Godfrey is a good player. In fact I thought he was older than 22.
Pat Kelly
39
Posted 01/10/2020 at 22:01:13
Moise Kean will be sold to recoup some funds. He contributes little or nothing and we can't carry another passenger. It's proving extremely difficult to shift the long standing deadwood so something has to give.
Ryan Holroyd
40
Posted 01/10/2020 at 22:03:07
I think I'll go with Ancelotti's judgement over some lads who've never seen him play.
Stephen Vincent
41
Posted 01/10/2020 at 22:04:42
I may be wrong and I sincerely hope I am but I really don't think he is £25m better than the youngsters we have already.
I think that there are areas we need to strengthen a lot more, right back for example. But I'm not going to argue with Carlo right now, who would?
Fair play to Mosh as well for continuing his support.
The RS are out of the League Cup, it will now become the Mickey Mouse cup and isn't worth winning.
Terry Downes
42
Posted 01/10/2020 at 22:04:44
Think we need another back up striker personally. We look a bit light weight up front if anyone gets a long term injury.
Jamie Crowley
43
Posted 01/10/2020 at 22:05:21
Is there a Meth lab in a basement at Finch Farm?
How in the hell are we paying for all this?
I hope we win the FA Cup before Administration, a la Portsmouth!!!
Here's hoping this kid is the real deal.
James Newcombe
44
Posted 01/10/2020 at 22:06:34
Happy with this. I know we might seem to be overstocked with CBs but Mina seems to pick up plenty of knocks over a season. As for Branthwaite and Gibson, they will have to continue their development and give Carlo a headache.
Colin Glassar
45
Posted 01/10/2020 at 22:07:06
Despite Norwich being relegated, three of their defenders (Aarons, Lewis and Godfrey) stood out as brilliant prospects. I particularly wanted Aarons but I'll take this kid any day. It wasn't their fault that Norwich played so expansively and they paid the price. Carlo will turn this lad into a world beater.
P. S. I hope we can sell Kean (given up on him) and Walcott, amongst others, to get in another forward eg Zaha or Lozano
John Otway
46
Posted 01/10/2020 at 22:07:51
Jamie #43 Uncle Alisher!
Robert Williams
47
Posted 01/10/2020 at 22:08:08
Never rated Moise Kean, don't recall seeing this Godfrey playing, I only hope that he is a little livelier that his namesake in Dad's Army.
John Pierce
48
Posted 01/10/2020 at 22:10:37
A player like this will help us move the ball more quickly, give us better options in tight spaces and commit midfielders by coming out with the ball.
Add in he is very quick, he can cover Keane who can gamble and be aggressive in the air. He's very two footed and will play most likely on the left.
Relieve Allan or Doucoure as a pivot, it's about balance and skill set. He's waaay better than Gibson/Branthwaite are at the moment.
A very good move.
Jamie Crowley
49
Posted 01/10/2020 at 22:10:39
John @ 46 -
He needs to threaten to shoot a few more people, because we've hit "drunken pirate mode"!!!
This isn't Everton? Honestly, this is certifiably nuts.
I am thrilled to bits for the life-long Blues here on TW. Screw the money, start to get excited, because your long, long wait for something to really get behind is over in my opinion. Enjoy this ride, Christ above knows you've earned it.
Geoff Lambert
50
Posted 01/10/2020 at 22:11:16
Ryan #40 why on earth would you do that? You know the guys on here know best. He is to old, to slow, from a relegated team, to small,
to expensive, no sell on fee etc etc. Good job our manager and DOF know what they are doing...
Jamie Crowley
51
Posted 01/10/2020 at 22:11:41
Oh, and, we're gonna win the League.
Jerome Shields
52
Posted 01/10/2020 at 22:12:38
Is Walton involved as part of the transfer?
Tony Abrahams
54
Posted 01/10/2020 at 22:15:20
I think it's very significant what Sam H says, when he talks about Ancelotti, only wanting players who really want to play for Everton.
Pace plays a massive part in the modern game, and we definitely need pace, and I'm happy with United at home!
Bill Gall
55
Posted 01/10/2020 at 22:16:18
This window is starting to see how Ancelotti with Brands help is starting to shape up. Solved the midfield and right wing with more experienced players, plus bringing Kenny back, and signing a young promising left back and now a center back who is younger and cheaper than Zuma.
We are starting to get not only a stronger11and bench, but a stronger squad to assist with injuries and international call ups.This would be one of Evertons most productive windows and could only be improved if we were able to ship the players Ancelotti does not want out. Oh tonight's result in the cup has put a bigger smile on my face, Thank you Arteta.
Paul Birmingham
56
Posted 01/10/2020 at 22:16:59
I've a mate who's an ST at Norwich and he tells me he's a very good footballer who'll get better.
In Carlo and Marcel we trust. Good to see the team building strength in depth and competition for places.
Let's see now if we get a decent draw in the Carabao Cup, and to beat Brighton, who'll be up for it.
Stephen Vincent
57
Posted 01/10/2020 at 22:18:25
John #48, how do you know he's way better?
Jamie Crowley
58
Posted 01/10/2020 at 22:20:27
Bill Gall @55 -
This window now surpasses the Barry-McCarthy-Lukaku window as my "best ever".
This window has been stellar. 10 out of 10, A+.
Fran Mitchell
59
Posted 01/10/2020 at 22:22:08
How are we paying for thiss?
Well, it sure beats the days where we boasted how Moyes had a net spend of 10 bob over his 10 years, or when we got excited at signing Beckford on a free.
I think the prominant USM logos that can be seen at all interviews may give a hint to the source of these funds.
Expect to see sales now: Walcott, Bolasie, Sandro, Besic for sure. Maybe Kean, I expect we're working on a 2nd striker before allowing Moise to leave. Then there is the likes of Iwobi and Bernard, yet I feel they are viewed as solid squad members. Davies maybe, a loan to Fulham or somewhere similar. Fulham look desperate actually - we could probably flog the lot to them.
And the people calling for Lozano or someone similar...can't really see it. He's left sided if I remember, and Richarlison then Gordon prefer that side. As does Bernard. I'd personally like to see us go for Benrahma from Brentford. Can play wide and centrally, pace, goals, skill. With him instead of Kean on the bench, we'd be a real force.
Maybe give Brentford Simms on loan, and someone like Bowler as part of the deal. They are a good club to develop players, Bowler could go on a perm basis and probably be a good move. Simms comes back in a year after playing in a good attacking team.
Mike Oates
60
Posted 01/10/2020 at 22:22:50
He must know more about Gbamin, who's also played centre half for Mainz, so basically we have Keane, Mina, Holgate, Branthwaite, Gibson, Godfrey.
Anyone heard anything about Gbamin, 2 major injuries to overcome, tough ask
Paul Birmingham
61
Posted 01/10/2020 at 22:23:39
Keep our heads and a big chance now v Manure.. This squad can do it, with some luck and staying injury free to key players.
Good times at Everton, that 1983 feeling.
They done us in the FAC 1/4 final that season with a Stapleton pot shot but now we can take them and beat them, at Goodison.
Now for Brighton, here's to a good weekend for Evertonians.
Simon Dalzell
62
Posted 01/10/2020 at 22:26:58
A little out of the blue. Quite excited by this, and I like the fact he is only 22 and has plenty of development in him. We now trust the management don't we?
We can beat Manure for sure.
Bill Watson
63
Posted 01/10/2020 at 22:28:04
Derek; I wasn't aware you were in hospital. Hope you're OK and best wishes for a speedy recovery.
Colin #45 I'd definitely swerve Zaha. Bolasie Mark 2
Julian Wait
64
Posted 01/10/2020 at 22:30:20
This fella has some wheels and looks to read the game well.
Also remember Holgate can play DM. two CBs who can also play DM - sweet!
David Pearl
65
Posted 01/10/2020 at 22:32:24
He was the first signing l made 6 months ago on my FM2020 game... but l got him for £13m. Which proves Brands isn't all he's cracked up to be
Gordon White
66
Posted 01/10/2020 at 22:34:21
Good news this. Just what most on here were suggesting only a matter of weeks ago. Young, PL experience, and at a reasonable cost and wage.

Zahir Jaffer
67
Posted 01/10/2020 at 22:34:56
Under-21 captain, Norwich's best player, and British.
He's versatile enough to play at DM, although he predominately plays at CB. Positional awareness is remarkable and he reads the game well. He's got the pace to burn, puts his body on the line, and spreads the ball better than cream cheese.
We've got a real solider in our ranks, and a natural-born leader, who I'm excited to embrace with open arms! COYB!!!
Christy Ring
68
Posted 01/10/2020 at 22:35:46
You can't fault Moshiri spending the money, unlike Bill! Don't know much about Godfrey, saw his stats, impressive, hope he's leftsided.
John Pierce
69
Posted 01/10/2020 at 22:36:49
SV. If he wasn't way better then Carlo would be happy with Mina, Keane, Holgate & Branthwaite. He aint. With the exception of Holgate we have zero pace. He's lightning quick. He's get getting chucked straight in.
Will Mabon
70
Posted 01/10/2020 at 22:38:07
Bill, 55:
Don't know if you saw the video on YT, Zaha interviewed by Ferdinand. Zaha thinks Bolasie is one of the best players he's played with. Make of that what you will.
Dean Frank
71
Posted 01/10/2020 at 22:38:48
I don't know much about him but from what most are saying, he is a good signing. I think the depth is welcomed. Our first 11 can compete with anybody in the league right now. But over 40+ games, we can't. Our first 11 cannot possibly play every game. We have to be able to throw in 3 or 4 second team players when playing against the lower tier teams and get a result.
Julian Wait
72
Posted 01/10/2020 at 22:39:08
Julian Wait
73
Posted 01/10/2020 at 22:43:45
And I would love for us to sign Max Aarons as well, possibly / even with a loan back to Norwich for this season. We will need a new go-forward right back next season, especially with the Charity Shield game, all that Champions League Football and going for the quadruple .
David Pearl
74
Posted 01/10/2020 at 22:44:05
Dean, I think we already proven the squad already with Nkounkou, Delph, Bernard and Siggy all doing well. Maybe I would like another goalscorer and some pace to add to what we have but its looking good. We have cover all over and can mix it up.
Paul Smith
75
Posted 01/10/2020 at 22:47:37
Makes a difference when Everton are an attractive proposition and players want to be here. Good times.
John Mckay
76
Posted 01/10/2020 at 22:50:30
Maybe carlo wants the option of 3 at the back and use digne and Coleman as wing backs.
Either way we always need 4 decent CB look whats happened recently.
don't know who's place he takes last year it would be him and Holgate but Keane been superb and he has proved me wrong.
Anthony Jones
77
Posted 01/10/2020 at 22:50:58
Anyone saying it's only 25 million and will provide competition: no.
We are on the edge of breaking FFP and we are probably one of the least sustainable clubs in the world right now.
Doucoure, Allan and Rodriguez were essential for injecting quality into the starting 11. This lad isn't.
Gary Willock
78
Posted 01/10/2020 at 22:53:59
Let the lawyers and accountants worry about FFP shit. With covid there's no way footballs not opening up to allow owners money in this year, so let's just enjoy it ffs. Our time is coming again at last. City, Chelsea and others only where they are from cash injections, it's good we are too. Bollocks to elitist protectionism, and coyb.
Jay Harris
79
Posted 01/10/2020 at 22:54:59
Don't know much about the lad. He didn't stand out when I watched Norwich games last season but there again who had heard of Brandthwaite or Holgate before we got them.
At least he has some experience of playing with the big boys so I look forward to seeing him especially as Yerry has not had a good start to the season.
On another note did anyone watch Arsenal v the other lot.
I swear it was a blatant handball by what's his name in the last 5 minutes and Friend turned down All the Arsenal shouts for it.
Only justice that they went out on pens.
So it's United and then the semis.
We should fear no one at the moment.
Brent Stephens
80
Posted 01/10/2020 at 22:56:41
My word how quickly things have changed at Everton under Carlo and Brands. Unrecognisable from just a few weeks ago. The sense of excitement on ToffeeWeb is palpable.
Simon Harrison
81
Posted 01/10/2020 at 22:57:45
As a lot of posters have said, Carletto knows more about football, and managing teams than anyone on here.
Brands is obviously not called the 'Architect' for nothing.
However, something feels very wrong with this deal to me? It feels rushed, and why are we spending the money now, instead of loaning?
Plus we still haven't addressed the issue of finding a right-back; a back up striker for DCL, if Kean is going; and again why aren't we loaning a CB..?
I know some above say that they know people who follow NCFC and they say BG is good, great player etc. Yet, there has been a large out pouring of relief that BG is going and the club will be getting circa £22m plus add-ons for him. He has also received a mixed message from Daniel Farke saying he has potential, but lacks discipline, and can be a 'hot head'.
Rio Ferdinand says that he has 'huge potential'; but how many times do you hear that before that player falls on his arse.
BG isn't two-footed, he is again a right footer who can play on the left.
He's also part of the same agency as Bolasie, Holgate and Keane..? Again, why are we buying now instead of loaning? Why are we paying circa £30m for a player rated at £14.4m, even if NCFC value him at £30m!?
Personally, I feel we're rushing into something we shouldn't be doing at this stage. If we really wanted him, we can wait till October 19th. We could have tried elsewhere before trying to get this player.
I know some of you think I'm negative, after posting 'two' negative comments in 9 mins on the Live Forum against Spurs. Yet, at the end of the game, everyone was agreeing with the points I made... Odd that isn't it?
NSNO, Project "Reclaim the City!"
Julian Wait
82
Posted 01/10/2020 at 22:59:35
Will Mabon
83
Posted 01/10/2020 at 22:59:35
Jay, that handball was ridiculous, 100% considered and deliberate but completely ignored.
Derek Knox
84
Posted 01/10/2020 at 23:02:12
Thanks Bill @63, for your well wishes takes more than that to get me down. Hope TW Get Togethers may resume after the New Year but who knows?
Take care and best wishes to all on TW.
Phil Williams
85
Posted 01/10/2020 at 23:02:46
Norwich got knocked out of Carabao first round and Godfrey wasn't in the squad. The winner v UTD will do nicely. I like this lad a lot.
Stephen Vincent
86
Posted 01/10/2020 at 23:04:09
Simon #81, absolutely nailed it. Just scrapped my own post saying pretty much the same thing in reply to John #80.
Will Mabon
87
Posted 01/10/2020 at 23:04:32
Simon, this one did come up on the rails a tad for sure. Does one of the injuries perhaps have a worse prognosis than we know?
Dean Frank
88
Posted 01/10/2020 at 23:06:03
@anthony jones...you are right. He isn't critical to our starting 11. But how many games do you think our starting 11 can play? How many starting 11 play the entire season without a break or getting hurt? Now is not about the starting 11. We've taken care of that obviously. It's now about 12 to 15.
Tom Bowers
89
Posted 01/10/2020 at 23:06:52
Good signing given the injuries. Would have liked another class striker as the Moise Kean situation may go down to the wire with Juventus and DCL was really hitting it off with Richarleson.
Can't believe it happened and 2 weeks before the RS game.
Simon Harrison
90
Posted 01/10/2020 at 23:12:02
Cheers Stephen [86]
The whole, lets spend £30m on a player who wasn't even on the rumour mill 4 days ago; when, we could be buying experienced 20-23yo's for less, AND we could pickup a player on loan, with a try before you buy.
BTW, has anyone mentioned he had a knee injury last season,cost him five games? He contributed 3 yellows and a straight red in 31 games for NCFC. No goals, no assists and NO his statistics aren't great when compared to Bremmer, Onguene, Todibo or even Fofana..?
I'm not saying this is a bad move, it just feels wrong, or even odd to me?
What are your thoughts on it Stephen?
Mike Gaynes
91
Posted 01/10/2020 at 23:15:25
Fran, Steve F, Neil #21, Steve #24, thanks for your feedback.
I've seen Norwich, so I must have seen this lad play, but he didn't make an impression.
I'm a big fan of Holgate and Mina, and I've recently become a great admirer of Michael Keane, but for £25m Carlo and Marcel clearly believe this lad is superior to at least one of the three. Plus Branthwaite.
My first reaction was a bit dubious, but in Carlo I trust. I look forward to seeing the young man play.
Simon Harrison
92
Posted 01/10/2020 at 23:18:10
Will [87] Re Injuries, as far as I've read, no inside tack on this one, Gbamin is light training. earmarked for a November/December return; BUT, more likely a slow introduction via the U23s, and the 1st XI should see him in the New Year.
Holgate no idea, the club keep saying 3 months, even when he's had 2-3 weeks between reports.
As for last nights injuries, JJK and Richi have been confirmed as twisted ankles. No further report yet?
Allan apparently, has a light groin issue...? Whatever that means?
I doubt any of them will be involved on Saturday. Hopefully Richi will be fit for the derby. Allan, until EFC report the scan findings, who knows?
Mike Jones
93
Posted 01/10/2020 at 23:18:44
It's a squad game. That's what we need to win trophies. It's not about the first 11 of yesteryear. It's the first 17that wins individual games. and that includes the five subs that make a difference. Top teams have it. We are a top team.
Paul Birmingham
94
Posted 01/10/2020 at 23:19:47
Derek Knox, best wishes and a full recovery and hopefully tonight's carabou cup draw, last nights game, and Arsenal tonight,, have provided a nice tonic boost.
Ian McAvoy
95
Posted 01/10/2020 at 23:27:57
What about a one season loan punt on bringing Stones back? He's available.
Dean Frank
96
Posted 01/10/2020 at 23:29:01
@Tom Bowers...I say sell Moises. It seems individually he has the tools but the eye test tells me that he kind of lacks instincts or where to go or be. Now he is new but he's been training for about a year or at least 6 months and to me, looks lost. Something is missing from the classroom sessions. I want to see progress but I just don't see it. If Juve or PSG is willing to pay $25m+ for him with add ons, I say go for it.
Thoughts?
Will Mabon
97
Posted 01/10/2020 at 23:29:14
Simon, guess it just has a different "Feel" to the other signings. Might be a particularly cute bit of scouting under the radar. As you say, who knows.
Will Mabon
98
Posted 01/10/2020 at 23:31:17
Light relief:
Ten minutes of James passes - a nice change from goals.
Andrew Bentley
99
Posted 01/10/2020 at 23:35:26
22 years old, can play CB and DM. Has Premier League experience (yes for a club that got relegated, but so did Doucouré) and has talent based on comments from ex-players and previous managers, but isn't the finished article so needs to develop. That's why we are spending the money and why he's not costing us more.
Last season we all moaned that we dithered on Zouma and left us light at the back, this year we are now moaning on wasting money.
Let's see the kid play for us first in a blue shirt and reserve judgement, and none of us really know who the club is after so let's not assume this is a knee jerk reaction.
Come on, this has been one of the most positive starts to a season in my lifetime, let's enjoy the ride (for once) and not be "glass half-empty" all the time!!!
Martin Berry
100
Posted 01/10/2020 at 23:36:00
I think other supporters may be saying in the future, why did we spend £50m on a foreign import when Everton signed a fast, strong centre back aged 22 who is homegrown?
Ladies and Gents, I think we have bagged a potential star in the making.

Mike Gaynes
101
Posted 01/10/2020 at 23:36:18
Simon #92, trust me, there is no such thing as a "light" groin issue.
And, in all seriousness, if Gbamin does ever see the starting lineup again, he will qualify as a truly extraordinary comeback story.
James Flynn
102
Posted 01/10/2020 at 23:40:31
Ian (95) - We got 40 million for one of the worst defenders in the league. Even Pep's powerhouse couldn't hide how poor a defender Stones is.
He's making a ton of money, posed smiling with a variety of silverware, and God bless him.
It apparent Carlo wants GOOD players, which John Stones never was nor will be.
Jamie Crowley
103
Posted 01/10/2020 at 23:49:16
Is there any chance Uncle Usmanov comes in, buys in officially, and with his investment wipes out all the debt for shares in the Club?
I need a "how do we avoid FFP and Administration" article from Paul the Esk.
Andrew Keatley
104
Posted 01/10/2020 at 23:52:50
The chancers on this site...
Who've we been linked with? Bob Geoffreys? From Norwich. Who's that? Google Bob... no, hang on, Ben Godfrey, is it?
Search YouTube.
Look at stats on Transfermarkt.
Ooh, look at that; he's not only a centre-back, he played quite a lot of games at defensive midfield. When was that? For who? Oh, never mind, people seem to have missed that, so if I post it on ToffeeWeb quickly now then it will seem like I know what I'm talking about.
"Agree with a lot of the other posters, have always thought he looks a very decent young centre-back, although if I remember rightly he can also hold his own as defensive midfielder, so maybe Carlo might be looking to provide cover there too. Smart move."
Phew! Nailed it!
Yeah. He's a centre-back. He's not going to play defensive midfield. And if he does come then he'll have to work hard and take his chances or risk going the way of other promising young English centre-halves like Ben Gibson, Callum Davenport, Steven Caulker and Alfie Mawson - transfers to bigger clubs followed by stagnation. Successful recruitment, as always, is never a gimme.
Mike Gaynes
106
Posted 02/10/2020 at 00:07:56
I'm not familiar with the term, but is one a "chancer" if one never misses a "chance" to make snotty remarks about other posters?
Bill Gall
107
Posted 01/10/2020 at 00:09:33
Will #70 I didn't mention Zaha I said this boy was younger and cheaper than Zuma of Chelsea.
Larry O'Hara
108
Posted 02/10/2020 at 00:14:45
Certainly Mr Keatley, recruitment is never a 'gimme' and I have never seen him play or on You-Tube. However my source who says he is better than Aarons has seen him play as he is a long-time Norwich season ticket holder. It may not turn out well, but on this player I defer to his optimism for now. And oh yes, I think Ancelotti likes him too: and I also defer to his judgement.
Kieran Kinsella
109
Posted 02/10/2020 at 00:22:40
Lol something like that Mike
Frank Wade
110
Posted 02/10/2020 at 00:27:39
Simon #80, you say
No goals, no assists and NO his statistics aren't great when compared to Bremmer, Onguene, Todibo or even Fofana..?
What stats did you use to compare with those mentioned, Bremmer etc ? I think Fofana is gone o Leicester.
Best not to assess centre backs on goals and assists, rather to judge his ability on tackles, engaging/marking a forward, preventing him turn, speed, defensive blocks, speed on the turn, bravery, awareness of position and danger, plus coolness under pressure. Another key factor is experience in Premier League ? This guy was a standout in a tough Norwich defence against us last season. If he got 3 yellows and a red for diving into a tackle, I don't see that as a negative. I'm sure he has been well scouted by Brands and Carlo has been given a detailed compilation of his attributes. He may offer an option in Allan's absence or at right back, certainly has the qualities.
This is a better compilation than the one above Link showing his defensive side rather than the raking passes.
David Hamilton
111
Posted 02/10/2020 at 00:29:58
Mason Holgate (Doncaster), Dominic Calvert-Lewin (Sheffield), Ben Godfrey (York). Anyone see a pattern here?!
Andy Crooks
112
Posted 02/10/2020 at 00:32:36
Mike @ 101, I know you know a fair bit about the injury Gbamin has and your prognosis is concerning. I hope he makes it back and treatment has moved on. I recall back in the seventies cartilage injuries being career ending but you never hear of that now. Do we no longer have cartilages?
I don't want to tempt fate but, in the event of this injury being career ending, would the club receive full insurance compensation? More importantly, will the poor guy be financially secure?

Kieran Kinsella
113
Posted 02/10/2020 at 00:36:02
David,
Yes, it explains how Richard III got the upper hand in War of the Roses.
Eric Myles
114
Posted 02/10/2020 at 00:45:12
Godfrey, an England U21 international, is said to have been targeted
personally
by Carlo Ancelotti.
That's good enough for me.
Laurie Hartley
115
Posted 02/10/2020 at 00:47:13
Davis # 111 - eeey by gum - I do.
Will Mabon
116
Posted 02/10/2020 at 00:51:53
Bill, 107:
Oops - it was the for the other Bill @ 63, I took the wrong number. Thanks.
Andrew Keatley
117
Posted 02/10/2020 at 01:29:23
Mr G (106) - Oh, I pass up plenty of chances to do that. I'd spend my life on here if that wasn't the case... You know, like you do. And I say that with a smile and a wink as I find you one of the site's most readable contributors.
I'm just poking a bit of fun at our very knowledgable fan-base. Snotty fun.
Mike Gaynes
118
Posted 02/10/2020 at 01:34:58
Andy #112, yes, all cartilage in an athletic context is now referred to as meniscus. If you're a little old lady with a sore knee, it's a cartilage. If you're a center midfielder, it's a meniscus. Sounds cooler that way.
Gbamin's injuries, unfortunately, are tendons. Specifically two tendons that have a "tendon-cy" to underperform after being seriously torn. I don't doubt for a moment that he will resume his career, but whether he will return to his previous performance level would have to be of great concern considering how many top athletes suffering either injury were unable to regain their peak. And I've never heard of any athlete having both injuries at the same time -- they're each pretty rare.
Yes, top professional sports teams insure their players. Whether the Prem players insure themselves is a question that somebody more familiar with the Prem than me will have to answer. I don't know. In US pro sports, almost all top athletes take out career-ending-injury insurance on themselves, starting in college or even high school.
(BTW, one thing I've never heard or read about Gbamin's two injuries is whether they are both in the same leg or in different legs. Anybody know?)
Kristian Boyce
119
Posted 02/10/2020 at 01:43:27
I think he flew a little bit under the radar last season as Norwich's two young fullbacks got more of the praise. I didn't know much about him until probably 2-3 games before the end of the season when I saw a report that them lot across the park and Bayern Munich were interested in him. It will give us a back up for each position across the back 4 (allowing Branthwaite to go out on loan).
By the looks of it Kean will be heading back to Juve on a loan to buy, so I'd imagine a replacement for him coming in probably on loan before the deadline. Other than that, I can't see anymore 1st team acquisitions before the 5th, but probably lots of outgoings though.
David Ellis
120
Posted 02/10/2020 at 01:57:16
It made me chuckle Andrew.
Kieran Kinsella
121
Posted 02/10/2020 at 01:57:51
Andy/Mike
Granted it was a few years back but Paolo Casiraghi and Marco Branca sued Chelsea and Middlesbrough respectively to stop them cashing in on insurance for their "career ending injuries" as both men felt their careers weren't over. Based on those cases, I assume the clubs are covered kind of like buying 3rd key insurance on a key employee but the players are not?
Andrew Keatley
If you have something to get off your chest, why not just say it instead of making cryptic passive aggressive comments?
Kieran Kinsella
122
Posted 02/10/2020 at 02:12:49
John Pierce
I was just taking the bait from Fran and mischief making when U said he was a midget. I honestly haven't seen much of him, but if Carlo rates him, and more importantly Tony Abrahams and Colin Glarssar are down then that's good enough for me
Pete Gunby
123
Posted 02/10/2020 at 02:17:46
If we were throwing money around like Koeman and Walsh did, then I could understand the criticism. However, after bringing in James, Allan and Doucoure I would say that Carlo and Brands have proven themselves. I like under the radar moves- we used to complain about the time it took to do a deal, now we complain because we acted swiftly,
Si Cooper
124
Posted 02/10/2020 at 02:27:40
Andrew, interesting to know that you regard quelling your inclination to make 'snotty remarks' as sufficiently positive.
You also don't spend as much time on the site as Mike G but know that he spends his life on here(?)
The club is apparently seriously interested in signing a player and people are using information resources to try to form an understanding of why. How silly of them!
From what I have gleaned from those resources, it may be the lad's versatility that is the thing the club is interested in. A lot was made of Gbamin's potential for covering both DCM and CB, and Allan"s Everton career will hopefully be memorable but it is also likely to be relatively brief. In 3 years time Ben Godfrey could be just the player to make that role his own.
This is just speculation though. Apologies to Andrew.
Nicholas Ryan
125
Posted 02/10/2020 at 02:32:13
Kieran [113] '... it explains how Richard III got the upper hand in the Wars of the Roses'.

That is, until Sir William Stanley, 1st Earl of Derby, former inhabitant of Speke Hall and therefore 'Scouser' relieved him of his head, when coming off the bench as a late sub. at the Battle of Bosworth!
Kieran Kinsella
126
Posted 02/10/2020 at 02:38:14
Si
Glad someone else agrees. Mike made one misstep using a poor choice of words on one occasion and apologized for it immediately. I know I don't need to defend Mike cause he's smart enough and eloquent enough to do that himself. But regardless of where he was born he's a True Blue along with the best of us and if he posts frequently it's because he's a true Evertonian
Stephen Vincent
127
Posted 02/10/2020 at 02:39:33
Kieran#121, didn't something similar happen with us and Mark Higgins?
Kieran Kinsella
128
Posted 02/10/2020 at 02:39:37
Nicholas Ryan
Thank you for restoring my faith in the historical knowledge of our fan base. Wasn't sure I'd slip that one by lol
Kieran Kinsella
129
Posted 02/10/2020 at 02:41:06
Stephen
Probably but it was about 12 months before I was old enough to know what was going on
Si Cooper
130
Posted 02/10/2020 at 02:55:31
Kieran, I find a lot of what people claim to be 'banter' is little more than passive aggressive bs.
You really need to have a personal understanding/ relationship for banter to work as there is no vocal tone, facial expression or body language that can come through basic typed posts.
There are much better ways of disagreeing than ridicule, which is what I read in Andrew's post.
Andrew Keatley
131
Posted 02/10/2020 at 03:00:07
Si (124) - Hey, hey, hey... I didn't say I was quelling anything.
And Kieran (121); here are the York notes on my post:
Has anyone on here seen Ben Godfrey play as a defensive midfielder? I haven't. He might well be the next Casemiro (spoiler: he isn't). But the fact he has almost exclusively played centre-back for the last 3 years of his career is probably a reliable indicator that he's going to end up playing there.
Also, where has this sudden spate of "deferring to Carlo's judgement" come from? It's all over this thread. Well, put your feet up people because if you're happy to just defer to Carlo's judgement then it really doesn't matter who we sign, if Carlo wants them then they're bound to be marvellous. What a great position to be in!
Kieran Kinsella
132
Posted 02/10/2020 at 03:07:26
Andrew
What's the alternative to deferring to Carlo's judgement? Do you have some kind of "in" with Kenshite that can override that? I'm just looking at it like Carlo has won the league in three nations, won European cups, and in his first full season at Everton has a 6 and 0 record so logically maybe he knows what he's doing as opposed to me or you? Nobodies who aren't gainfully employed in professional football?
Andrew Keatley
133
Posted 02/10/2020 at 03:23:35
Kieran - I'm just making the point that when you proclaim yourself happy to defer to Carlo's judgement, based on all the wonderful things you mentioned concerning his achievements in the football, then you can't really pick and choose when to raise a dissenting voice. Obviously Carlo knows more about football than anyone who posts on this site, but that doesn't mean he will be right about everything.
As it happens I have been a supporter of Carlo from minute one (having been a big doubter of Silva from pretty early on) and like everyone else am thrilled with our current form and results. My point is not about Carlo - it's about what decisions we as fans agree with and disagree with, rather than just trusting the manager because he is one if the all-time greats. Where is the fun in that?
Darren Hind
134
Posted 02/10/2020 at 04:36:30
Needs must.
Its a pity we had to use some of our war chest to bring in a center half because I feel we would have more than adequate cover in the not to distant. However, we are one injury away from a center half crisis. No choice here.
People passing on the option to think and opine for themselves are perfectly entitled to do so, but they need to remember Carlo Ancelotti is far from infallible in the transfer market. Spending vast amounts of Abromavich's fortune on people like David Luiz, Fernando Torres, Yuri Zirkov, Daniel Sturridge and Yosi Benayoun probably cost him his job last time he was here... And lets be very clear here. If his first choices, Hojbjerg and Gabriel had agreed to come here, our squad would would have a very different look to it.
EVERY manager needs the footballing gods to be smiling down on him whenever he brings in a new player.
"In (fill in the blank) we trust" Quite possibly the single most coma inducing comment which could be posted on a website.
Regarding comments from "Everton fans"; I read somewhere, that there are an estimated 1 million Evertonians scattered around this world. Give or take 100 thousand, That figure seems feasible to me.
I would like to think that would give us around a million different opinions - taking out the "in Carlo we trust" crew of course.
Some like the signings to have potential, some want them to be oven ready, already experienced. Some want to prioritise a Goalie, some a Defender, some a winger...and some think the ball boys could do with replacing.
The same small group of people don't keep contradicting themselves. There is no logic to get.
Jamal Paktongko
135
Posted 02/10/2020 at 04:43:28
I'd rather we bought Timu Pukki fer that price. It's more worth it than this dude.
Rather than spending 25m on this dude, why can't we give Matt Pennington a whack?
What have we got to lose?
Why can't we take Barkley back? We did so with Peinaar
Or even Lookman on loan?
Celtic bought Duffy for a lot less and Duffy is definitely better than this dude
Jack Convery
136
Posted 02/10/2020 at 04:46:10
Our current best back four when everyone is fit are Coleman, Holgate, Keane and Digne. Our reserve back four are now Kenny, Mina, Godfrey and Nkounkou - I bet Fulham wish they had that back four right now. 2 players for every position is what you need to compete in the EPL. We are getting there. Don't worry. Be Happy.
I expect the cost of this transfer will be covered somewhat by the outgoings before the end of this window. I also expect he won't be on a 6 figure sum salary.
Derek Knox
137
Posted 02/10/2020 at 06:39:13
Not complaining but I wonder if that is the end of the incomings, we have definitely bought wisely and given a new dimension to the squad, which is reflected in our displays. As few have mentioned there will be an exodus of some deadwoo d but not all.
Not wishing to sound greedy but Sergio Romero and Hirving Lozano would make us almost invincible, of course there is little chance of that, but it would add not only another string to the bow but another arrow up front, keep everyone one their toes and equip us for battle on all fronts including the inevitable injuries.
Ajay Gopal
138
Posted 02/10/2020 at 07:47:53
My 2 bits on this piece of business:
1. Of course, I am happy that we have signed a (supposedly) fast, athletic, aggressive, ball playing, the 'next big thing' CB.
2. But, if Holgate and Branthwaite had not got injured, I doubt that we would have signed him. So, does this indicate short-term thinking? Maybe, maybe not. I also remember our pursuit of Gabriel from the beginning of this window, so signing a CB seems to have been a priority for Carlo and Brands. I don't get that, but I also get that C & B are very knowledgeable footballing people, so they must have a long term strategy in mind.
3. Personally, now knowing we had that kind of money, I would have preferred to have made a bid on Ismaila Sarr at Watford. And bring in one of the excess CBs on loan from the likes of Chelsea/Man City/Man United, etc
as emergency cover.
4. As others have mentioned, if Mina has a half decent season, he may be sold as early as the winter window, if an attractive offer were to come in. Hopefully, Holgate and Branthwaite are back from their injuries by then. And we have 4 solid English CBs - Keane, Holgate, Godfrey and Branthwaite.
5. If Gibson has a good season at Reading, then he can come into the squad next season and Branthwaite goes out on loan to the Championship.
6. Maybe Carlo plays a 3-5-2 in some games - Holgate, Keane and Godfrey as the Back 3. Digne, Allan, Doucoure, James, Coleman in the middle, and our 2 strikers up top.
7. I am getting worried about the bloated nature of the squad, and hope to clear out some of Walcott, Iwobi, Besic, Sandro, Bolasie before the window closes.
8. Kean for a proven striker swap would be fantastic to close out an exciting transfer season.
Tony Mace
139
Posted 02/10/2020 at 07:47:56
Godfrey can hold the line whilst we get rid of some of the deadwood like Pike and Fraser.
Alex Winstanley
140
Posted 02/10/2020 at 07:54:44
As a Norfolk based Evertonian I can confirm this lad has got a great future. With the right coaching and surrounded by better experienced players he could become a great centre back. He is also able to play in most positions across the back 4 and has sometimes played the holding position in midfield. He may not be a marquee signing liken others we have seen this window, but in 12 months time we may be looking at this as a great piece of business.
Sam Hoare
141
Posted 02/10/2020 at 07:55:52
Ben Godfrey has more than dabbled at DMC. He played 40 games there for Shrewsbury in 17-18. By all accounts he was very good there.
I'm sure he is being bought primarily to play centre back but no doubt Brands will know his full history and I'd not be surprised if his versatility was part of the attraction. If Holgate can be used as a CDM in emergencies I see no reason that Godfrey wouldn't.
Mal van Schaick
142
Posted 02/10/2020 at 08:19:24
Thirty one players on the books and we buy another. Some players must be being moved on this week or the wages bill will drain the club.
Mike Corcoran
143
Posted 02/10/2020 at 08:21:30
Lazy, annoying, RS twunt Shaqiri is up for grabs apparently. Could be reasonable cover for majestic, inspiring, angel James? (Put tin hat on and curl up to await my kicking)
Hugh Jenkins
144
Posted 02/10/2020 at 09:07:20
Mike(60) I read through all previous 59 comments waiting for someone to mention Gbamin. Godfrey, from the pen pics, is exactly the type of player that Gbamin was meant to be for us. Now that Allan is injured, it will be interesting to see where Godfrey immediately fits in to the team?
Jim Bennings
145
Posted 02/10/2020 at 09:09:12
This is a really good sign in and for that price in today's market.
I've always said we need to dabble more in the Championship and we have had good success over the years, Lescott and Cahill spring to mind, whilst Branthwaite was from lower down that still looks like it will turn out well and of course Dominic Calvert-Lewin hasn't turned out too bad has he after all?
Godfrey looks a quick players, he's really mobile and I've seen quite a bit of Norwich, he may even prosper more in defensive midfield but let's wait and see, it's a bloody good signing and we have had our best window for many a year.
David Ellis
146
Posted 02/10/2020 at 09:16:10
We don't need him as a second rate midfielder (I remember Jagielka being touted as someone who could "play in midfield"… But he wasn't any good passing the ball.)We have plenty of first-rate midfielders. What we need is a quick centre back that can pass the ball. Play him in position.
Derek Knox
147
Posted 02/10/2020 at 09:22:38
Ajay, I expect a couple of 'shocks' and CB being one of them, as you indicated we have a large (too large) first team squad and ideally need to offload about 8 players who are peripheral or serially injured.
Easier said than done, but I don't think the new CB would have been brought in if C&B didn't know something was happening. As I said before Romero and Lozano would complete the perfect window.
Blue Heaven would be a place on earth! 💙
Andrew Keatley
148
Posted 02/10/2020 at 09:33:48
Sam (141) - Obviously Godfrey can and has played DCM, but a season on loan in League One three years ago isn't a great deal to go on. You've never seen him play there, I've never seen him play there, and I doubt Brands or Carlo have ever seen him play there (short of possibly digging out some old Shrewsbury Town footage in the last few days). And I'd be hugely surprised to see him lining up for us in central midfield, short of an extreme injury crisis ravaging our squad. If he actually signs of course.
Sam Hoare
149
Posted 02/10/2020 at 09:40:00
Andrew, how do you know I never saw him at Shrewsbury? Massive Shrews fan that I am?!
As for the likelihood of an extreme injury crisis, this is Everton we're talking about right?
Andrew Bentley
150
Posted 02/10/2020 at 09:42:31
As someone from Shrewsbury, Andrew Keatley (148), I have seen him play there and he was decent in that position. His passing range and pace was a really good asset in a strong Shrewsbury team that year. The same team that had Dean Henderson in by the way.
But it does amuse me some of the comments above about where he may, or may not, play and how many people have already declared him a waste of money. Let's just wait and see shall we. No one thinks he's being bought to play DM week in and week out, but the point is that should there be an injury challenge he CAN play there if we need him and he's done it before. For me I'd prefer that to seeing Davies in that position as he's clearly not kicking on to be the player we all hoped (and wanted) him to be.
Anyway, in other news if the rumours about Kean are true then the one area of the pitch we could be light on is Striker as it's only DCL and Richarlison. We run the risk of being like Tottenham and dependent on one or 2 players with no other options. Yes we need to shift some of the squad out over the next few days as we are starting to look bloated in some positions but I do worry about CF/Striker options
Jason Li
151
Posted 02/10/2020 at 09:50:12
Carlo buying for now and planning for a long AC Milan type reign. Trophies here we come!
Centre backs permutation: 1 from group A and 1 from group B each game
Group A= Mina, Keane (Branthwaite)
Group B= Holgate, Godfrey, (Digne, Gibson)
Charles Towers
152
Posted 02/10/2020 at 10:14:27
Fran@16 pretty much every football fan is like that about their club, particularly if they aren't winning.
This new signing feels a lot like Jags: a young defender, from a yo-yo club, can play in midfield, has captain attributes, I believe it can only work out.
Mike Gwyer
153
Posted 02/10/2020 at 10:15:50
Darren
"Needs Must"..
Don't agree that Højbjerg was Carlo's first choice DM, actually, not by a long way. It was always going to be Allan.
You're knowledgeable about everything blue so you will know that Spurs follow us like maggots in the transfer window. We had to speed up the Hojbjerg to Spurs transfer: so we bid £23M; Southampton obviously accepted.
Højbjerg tells us to fuck off as he is full on with going to the Spurs; Spurs then get him for £15M. A few days later a Spurs full back goes to Southampton for an identical fee. Job done in just over 2 weeks.
With Spurs out of the way, we go full on for Allan and his club Napoli, who by all accounts are as tight as a duck's arse, finally accept our bid of £21M. By all accounts, Spurs say they are also looking at acquiring Allan... but I guess you can only put so much of a government loan into purchasing new players.
Personally, I thought that was well played by Brands... as a matter of fact, it was brilliant. But what was better is that Levy probably knew what Everton and Brands did and he had the joy (well, I would not say he was smiling) of seeing the outcome on Matchday 1.
Tony Shelby
154
Posted 02/10/2020 at 10:22:45
Ancelotti can do whatever he wants in my opinion.
If he thinks something or somebody is good for the club then, as he's proving at the moment, he's the best judge.
I want us to have a successful 2020/21 but a whole era of success is more desirable. That looks to be the plan and I can't wait!
John Davies
155
Posted 02/10/2020 at 10:46:08
Tony #154. Totally agree with you. Not sure why people want to question what our current Manager is doing. If he's sanctioned the deal then it's going to be a good one. COYB!!!
Steve Brown
156
Posted 02/10/2020 at 10:53:46
Despite the concern and anxiety expressed by at the time that both Allan and James were too old and coming here for a last payday, they have started reasonably well. Equally, it was cited that Doucoure was in poor form last season and didn't have the discipline to play the role envisaged for him by Ancelotti (despite us not knowing what role it was). He has done okay so far.
Noting also that we were told that Ancelotti was past it, here for a last pay day and would be constantly out-witted by young hungry coaches like Arteta, Lampard and Solskjaer (odds for all three of them surviving the season?). This is a site for opinions, but suggest we allow Godfrey to put on a blue shirt before we decide on the rights and wrongs of the signing.
James Fletcher
157
Posted 02/10/2020 at 11:03:44
Can't recall seeing him play but my Norwich supporting mate is gutted that he is going.
Justin Doone
158
Posted 02/10/2020 at 11:04:13
He's named GODfrey for heavens sake, sign him up!
Dave Richman
159
Posted 02/10/2020 at 11:12:39
Someone posted that the Norwich fans are happy to see him go That's absolutely not the case, having read through a couple of Norwich forums and websites
Brian Murray
160
Posted 02/10/2020 at 11:17:30
The last Norwich centre half we bought we ended up champs!
Dave White
161
Posted 02/10/2020 at 11:39:56
Will #98 thanks for brightening up this miserable day! That boys left foot is a flippin WAND!
Jerome Shields
162
Posted 02/10/2020 at 11:57:18
At one know why he was loaned out last season?
Ian Horan
163
Posted 02/10/2020 at 12:09:27
Interesting take on squad size developing here, I must be honest I don't care if we have forty players in the squad as long as 23 of them are quality and interchangeable.
Lets just enjoy the new optimism, oh and of course the quality of the football we have been starved of since 2012...
Steve Shave
164
Posted 02/10/2020 at 12:24:13
Jamal 135 what have you been smoking man?? Pennington? Barkley back? Lookman???!! Lookman won't cut it at the top level as he has the wrong attitude. Now without starting another thread entirely I really like Barkley and felt he was treated badly by our fans and our incompetent no 10 obsessed fuckwit head of football at the time. However we now have an absolutely boss midfield, Ross wouldn't get into it mate. As for the notion that Pennington might. well I would have to say that is bordering on lunacy. No offence of course. Peace.
Will Mabon
165
Posted 02/10/2020 at 12:38:07
Dave, 162:

He's from another planet. I've watched him for years and if there's a better passer, I haven't seen him. His weaker foot is pretty good too.
We need his DNA for when cloning becomes more viable.
Kevin Molloy
166
Posted 02/10/2020 at 13:01:31
I wonder if Burnley wil ask after Keane if they end up selling their cenre back.. I know he's just signed a contract but that may just have been standard prccedure. if they offer us our money back Carlo may be tempted.
Robert Tressell
167
Posted 02/10/2020 at 13:08:11
I'm sure Burnley do want Keane back - as Sheffield United would like DCL back. They can't have him though because he's probably the in form centre half in the country right now and is way out of their price range.
Stephen Brown
168
Posted 02/10/2020 at 13:27:29
Keane has been superb so far this season there's no way he will be going back to Burnley!
Looking forward to see the finished squad after the deadline.
Godfrey in, striker in ( if Kean leaves).
Hopefully Besic, Sandro, Tosun and Walcott out
Kevin Molloy
169
Posted 02/10/2020 at 13:34:31
I'm not sure Keane is Carlo's ideal centre back. Whilst he is much improved, I suspect Carlo will play Holgate and Godfrey ahead of him. And if he needs to get money in, this may be a fast solution.
Hugh Jenkins
170
Posted 02/10/2020 at 13:45:48
Dave (159) Whenever a player leaves a club, someone always posts that the fans of that club "are/were glad to seem go". It is usually speculative sour grapes.
Hugh Jenkins
171
Posted 02/10/2020 at 13:51:31
Stephen (168). I think I read somewhere that in answer to a specific question Carlo has said that Walcott is not going anywhere in this window.
John Davies
172
Posted 02/10/2020 at 13:53:36
Mike @#143. How on earth have you got away with that comment up to now without reply? Tin Hat? I would have thought you'd be needing a nuclear bunker! LOL !!!
Nick Riddle
173
Posted 02/10/2020 at 13:55:29
Must say I'll be happy with this assuming it gets over the line.
The Gabriel deal that fell away indicates it was always the intention to have four experienced central defenders. Presumably Branthwaite has been told he's on a pathway, just like Gibson before him, which involves U23 football followed by at least one season on loan to prove he's ready for the Premier League. That's a huge step up. What I saw of Branthwaite showed me he has a lot of potential but was a long way from someone you'd want to rely on for an extended period at this point in his career.
I was hoping we'd sign Gabriel as from the very little I knew about him he seemed exactly what we needed. And he's left footed. From the little more I know about Godfrey, he seems to have similar attributes of pace, awareness and the ability to bring the ball out from the back. Plus he has Premier League experience, and at a pinch could probably slot in at DCM or FB. My only slight reservation is that while others on here whose knowledge I respect have said he's two footed, the highlights reel I watched suggests he almost exclusively uses his right foot.
David Nicholls
174
Posted 02/10/2020 at 15:11:35
I'm glad about this. I'm not 100% convinced by any of our central defenders; although, Keane has come on leaps and bounds since Carlo's arrival but it still gives me heart palpitations when someone runs at him with pace/agility. Holgate looks a lovely footballer but he needs to work on the ugly side of the game. Mina...not at all convinced, but he's had a bad run with injuries so may improve.
My YouTube scouting has concluded that Godfrey is athletic, aggressive and decent on the ball. Could be just what we need. That being said, my YouTube scouting of Bilyaletdinov concluded that we had signed the Russian Sheedy
Robert Tressell
175
Posted 02/10/2020 at 15:24:03
Well Leicester have now signed 19 year old Fofana for £35m. Astonishing how many young french centre halves there are of such high quality. So it puts Godfrey into context. A bit older and with Prem experience. £25m doesn't sound quite so high now.
Steve Mink
176
Posted 02/10/2020 at 15:45:47
Know nothing about this guy, but will feel better when we start selling some. Squad size is getting ridiculous.
Ajay Gopal
177
Posted 02/10/2020 at 15:49:09
Will (98), really nice link. I don't know if you noticed, at about 4'25", Yerry Mina scores a header off a delicate James pass. Hope we get to see that from those 2 in Everton shirts.
Mike Gaynes
178
Posted 02/10/2020 at 16:00:58
Nice scouting report on Our Man Godfrey: https://royalbluemersey.sbnation.com/2020/10/2/21497651/everton-transfer-rumours-news-ben-godfrey-transfer-fee-confirmed-norwich-holgate-carlo-ancelotti
Sukhdev Sohal
179
Posted 02/10/2020 at 16:01:06
Jamal, all those claims are ridiculous and almost troll-like. As for Godfrey, he seems a perfect replacement for Holgate and should give him good competition when he's fit. I just hope we get rid of the deadwood, and Iwobi.
Jack Convery
180
Posted 02/10/2020 at 17:12:11
Has he signed yet?
Christy Ring
181
Posted 02/10/2020 at 17:14:27
Kevin #166#169. How you think that Carlo doesn't like Keane, and we should sell him back to Burnley, has me totally bemused. You don't like Keane, fair enough, but he has been superb since Carlo took over.
Tony Everan
182
Posted 02/10/2020 at 17:15:03
Yes Mike, good report, looking forward to watching him to get a better idea of his quality. I think he will take the step up in his stride.
He was a boy playing for York and stood out there, then Norwich signed him. Loaned to Shrewsbury, played DCM and stepped up to the plate there when still really a kid. Then back to Norwich made himself a regular and their captain. It would all suggest that he has both the talent and strength of character needed.
Jack Convery
183
Posted 02/10/2020 at 17:21:07
Farke said this in his pre-match press conference about Godfrey -
"Whoever signs Ben Godfrey can be unbelievably happy. It is no coincidence he is captain of the England Under-21s. I have a tear in my eye. He is the best centre-back in the Championship."
Has he signed yet ?
Sam Hoare
184
Posted 02/10/2020 at 17:30:00
Robert@175, true, though Fofana does look pretty handy!! A bit jealous about that one to be honest but guess we'll have a better idea in a few years time.
Jeff Armstrong
185
Posted 02/10/2020 at 17:44:58
Jack 183,
he also said when someone comes in with "crazy" money the club have to consider it, bit of context to go with his teary eye.
Christy Ring
186
Posted 02/10/2020 at 19:35:47
The last few years, most of our young players we sold, were for around £1m. I can't understand how the redshite get big money for young players who are no better than ours. They've now sold Brewster for £23m, untested. They sold Solanke and Ibe to Bournemouth for a combined total of £34m, both shite, and there's more like them, crazy.
Stephen Vincent
187
Posted 02/10/2020 at 19:36:01
Jack #183, that's exactly what I'd say if I wanted to get rid of him.
Mike Gaynes
188
Posted 02/10/2020 at 19:38:06
Christy, just curious, why do you care how much the RS gets for selling players?
Hardly seems relevant.
Dave Williams
189
Posted 02/10/2020 at 19:39:15
How can we afford him? Well, it has been widely reported that Carlo asked Richi for one more season and presumably he will only stay if we get Champions League.
If we do then the millions we will get for Champions eagueL will cover a good chunk of our spend this window. If he goes then we could get £120-150M the way he is playing – plenty to repay Moshiri or Usmanov for putting up the money.

Ian Horan
190
Posted 02/10/2020 at 20:03:30
ToffeeWeb is becoming more and more bizarre by the day: "If Burnley offer our money back for Keane"?? What the fuck?
Keane has been superb since Project Restart and this season. Keane is the most consistent stand-out centre-back in the Premier League.
Ladies and gentlemen, give your heads a wobble and put the glue down!!!!!
Mike Bersiks
191
Posted 02/10/2020 at 20:14:48
I'm assuming this deal only gets done with the money we get back from Juventus for Kean?

Jason Li
192
Posted 02/10/2020 at 20:21:32
Nick Page
193
Posted 02/10/2020 at 20:48:43
Let's hope this Godfrey lad is decent as he's going to be needed!!
Christy @186 totally agree. If Sheff Utd and other clubs are daft enough to pay them these amounts they only have themselves to blame. It's the same with everything with them. Look at Coutinho!!
Soren Moyer
194
Posted 02/10/2020 at 21:21:02
Hope we get more joy from this lad than we did from Mike Walker!
Michael Barrett
195
Posted 02/10/2020 at 21:34:10
Mike 191..Keane's going no were, did you see our presser.
Geoff Lambert
196
Posted 02/10/2020 at 21:51:42
Jason thanks for the link, He looks rapid just what we need for a high press.
Brian Williams
197
Posted 02/10/2020 at 21:51:53
Kean. Keane is Michael Kean.
Martin Berry
198
Posted 02/10/2020 at 21:54:20
I think we will have signed an absolute bargain when we look back on this deal. He reminds me of Ratcliffe with that pace and the lad looks handy and tough.
I think Branthwaite may be sent out on loan when fit as Carlo will want him playing football to gain experience. Ghamin if and when he is ready could fill in at CB id we have a real injury crisis there.
I still think that Marcel and Carlo may surprise us with a loan signing possibly another striker or that problem right wing spot.
Looking back who would have predicted such a positive exciting transfer window for Everton, some brilliant business has been done.
Brian Williams
199
Posted 02/10/2020 at 22:02:03
😂
Mike Gaynes
200
Posted 02/10/2020 at 22:05:14
Brian, did you take two pills this evening when you were supposed to take only one?
Robert Bresnan
201
Posted 02/10/2020 at 22:20:46
@Soren 194, but also we got Dave Watson from them...
David Currie
202
Posted 02/10/2020 at 22:32:30
This is a good signing and another good young player, very pleased that we did not go back in for Zouma and that we did not get Tomori on loan.
This lad wants to be at Everton and will be ecstatic when he joins the club. Under Carlo we have signed 3 top players with lots of experience and 3 young defenders with big potential and 2 of them have already played very well for the first team. Godfrey will also when he gets his chance. The 6 signings so far are giving us the now and the future.
David Pearl
203
Posted 02/10/2020 at 22:54:56
Christy,
l'm with you on that one. How do they keep getting top wack for players? Never ends... theyve sold a few younger players over the last few years that have gpne on to do nothing.
With Godfrey l hope he is something special because once Holgate comes back what will be our first choice pairing? Even Mina, for me, he needs to play to improve and l can see a lot of improvement in him. Keane (with an e) is up with DCL for most improved... an interesting time, l hope it has a positive effect.
Don Alexander
204
Posted 02/10/2020 at 23:12:58
Christy Ring (#186) makes a very valid point. We get small change when transferring our youngsters whilst Sky-babe clubs sell their's for tens of millions.
And if anyone else is wondering what relevance this has to our club, as Mike does at #188, my guess is that obtaining tens of millions for cast-offs enables the purchase of players whose arrival almost immediately enables winning the League and European Championship.
But what do I know I suppose?
Carl Manning
205
Posted 02/10/2020 at 23:50:32
I think Carlo has proven he can spot a player! All his signings thus far have hit the ground running. Still, we have know it all's on here questioning him.

Jamal Paktongko
206
Posted 02/10/2020 at 00:06:12
In addition.to Godfrey, I think we need a cover for DCL as well.
We also need to cover LB as well in addition to Nkoukou
Christy Ring
207
Posted 03/10/2020 at 00:19:21
Mike#188 It's just bitterness, can't stand them.
Santa Krsh
208
Posted 03/10/2020 at 03:17:08
Guys.. it's Demerai Gray linked next. Sandro's contract getting terminated, Bolasie to join Besiktas, Besic to join Rangers, Walcott to join ??? The week is geeting better I m including the not so serious injuries suffered by Allan Richie Gomes as part of our week getting better n better..Another 5-2 please. And another DCLewandowski hat trick... to cap off..
Can't believe I am typing all this.. Thanks Bill Mosh Carlo Brands and all the super Blues for all this..
COYB
Kieran Kinsella
209
Posted 03/10/2020 at 03:40:22
Mike
Christy Ring has a point. Liverpool bought in Thiago for less than the money they bought in from Bournemouth for two muppets. The one thing Kenshite was good at (post Rooney) was bringing in inflated fees for players eg Rodwell, Lescott. As you pointed out Mike, we let Robinson leave for peanuts while barring injury he'd have been a 10 million Milan player just months later. Money is an issue even if Covid has kicked FFP down the road
Mike Gaynes
210
Posted 03/10/2020 at 04:17:39
Yes, Kieran and David and Christy. Money's important. But only when it's
Everton's
money IMO. I care about the prices for the players
we
buy and sell.
Can't understand for a moment getting frustrated about what other clubs spend or sell for, unless it's a player we should have bought ourselves at the price.
There are a lot of things to hate the RS for (and ManUtd for me), but that particular item seems utterly pointless.
Mike Gaynes
211
Posted 03/10/2020 at 04:30:20
Jamal, you sure post some strange stuff.
We need to sign a third-string LB? Really?
We need to bring back three players who failed at Everton and the clubs we sent them to? Huhhh?
Celtic bought Shane Duffy? (No, they didn't, he's on loan.)
Few too many mushrooms in your lunch, sir?
Jerome Shields
212
Posted 03/10/2020 at 04:36:39
Mike#211
Got caught up with Jamal on a previous thread. Must be very young and very recent supporter.
Jason Li
214
Posted 03/10/2020 at 09:32:20
I'll take a guess that our fringe players and youth players will be worth more from next season onwards, as the ones we keep after 18 will go on to have experience at higher levels in competitions, eg League cup, FA cup, Champions League possibly.
Those that fall away will have been to Carlo College, got the degree, got higher level experience and can be sold on to decent clubs like WBA and Fulham for a good fee in future. Gibson is an example, will come back, play in some cup games, go to Carlo College for a season, and if he can't get near Godfrey will be made available at a good transfer fee if we Carlo/Brands spots another young outstanding player. Just my thoughts.
Hugh Jenkins
215
Posted 03/10/2020 at 11:26:15
I always get a bit nervous when we get this close to a new signing but there is no final announcement.
I understand he was having a medical yesterday.
The fee with Norwich is agreed - so either there is a problem with the medical or he/we can't agree personal terms.
Anyone have any news / updates?
Darren Hind
216
Posted 03/10/2020 at 12:13:18
I'm made up both for and with Michael Keane this season. He has played consistently well. I have no qualms whatsoever about crediting Ancelotti for this remarkable improvement...But he cant work miracles.
As soon as Keane comes up against a top forward with clever movement who will take him further away from his comfort zone, his limitations will be exposed. He will be spun and he wont have the pace to recover.
Love the guy and having heard his story. I feel really quite proud of him. But if I'm a top striker. I REALLY fancy my chances coming up against Michael and big Yerry and taking them to places they don't want to go...Carlo will know this
Alex Parr
217
Posted 03/10/2020 at 12:20:25
Not sure if anyone else has said it, but what a refreshing piece from Daniel Farke about his inevitably departing player... imagine Mourinho or someone of that ilk saying those words
Vijay Nair
218
Posted 03/10/2020 at 12:22:38
Not the most reliable source, I know...but Sky Sports are reporting the medical has been passed and he's on his way.
https://www.skysports.com/everton
Rob Halligan
219
Posted 03/10/2020 at 12:26:41
Hugh # 215. I've been told he's passed a medical and agreed terms. Don't take that as gospel though. One thing I do know for definite is that he's not in the Norwich squad for today's game.
Nicholas Ryan
220
Posted 03/10/2020 at 12:43:53
BBC Sport website saying it's done and dusted. may be marginally more reliable!
Iakovos Iasonidis
221
Posted 03/10/2020 at 12:53:40
We could buy Todibo for 18 mil who I personally think has greater potential. On the other hand Godfrey knows the premier league and I think this is the reason we chose him instead. He seems good, I hope in Everton he will be even better, duo with holgate for the future.
Mark Taylor
222
Posted 03/10/2020 at 13:11:54
I know little if anything about him but that is only because I don't follow football as widely as some on here.
So I did the next best thing and checked out Norwich fan forums to see what they thought, factoring in fans are sometimes less than complimentary about players who leave.
The upsum appears to be that they have a very high regard for him, he's very quick, athletic, not the tallest but decent in the air, good passer of the ball, maybe the big thing lacking is positional sense. Mostly they seem OK they got £25m for him because they are financially challenged as most outside the EPL are right now, but they also feel that is reasonable business for Everton too.
So he's not the finished article and maybe he never gets finished, but there appears to be a reasonable chance that we might be seeing a Holgate/Godfrey combo in years to come. Unless we are forced to sell...
Sean Smythe
223
Posted 03/10/2020 at 13:41:52
He isn't in the Norwich team at all today
Hugh Jenkins
224
Posted 03/10/2020 at 13:45:30
Vijay(218), Rob(219), Nicholas(220). - Thanks it all seems pretty positive so we just need to wait for the official announcement - I hope.
Tony Everan
225
Posted 03/10/2020 at 13:58:18
" How do the RS keep getting 20 million for their sub fringe young players"
They take Derek Brown into the negotiation room. "Look into my eyes, look into my eyes, you will pay £22m, you will think your getting a good deal, you will forget this conversation apart from that, one two three. you're back in the room
Mick Davies
227
Posted 04/10/2020 at 03:54:36
Is he any good in goal?
Brian Wilkinson
228
Posted 04/10/2020 at 15:30:46
Mick, I think even Bernard would do a better job between the sticks at the moment.
Let us hope Carlo can get Pickford to one side, give him some advice and more than anything, sort Pickfords head out, there is a decent keeper in there, he just needs to relax and start doing the simple things.
---
Add Your Comments
In order to post a comment, you need to be logged in as a registered user of the site.
Or Sign up as a ToffeeWeb Member — it's free, takes just a few minutes and will allow you to post your comments on articles and Talking Points submissions across the site.