Walcott seals Southampton return
Monday, 5 October, 2020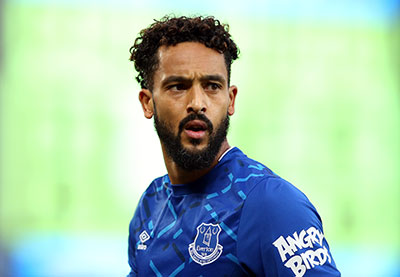 Theo Walcott is back at the club where he started his career after completing a season-long loan move back to Southampton.
Signed under Sam Allardyce for £20m in January 2018, the winger has fallen out of favour as Everton have upgraded their squad and with nine months left on his current contract, he has taken the opportunity to return to the south coast.
According to media reports, the two clubs will split his £110,000-a-week wages for the remainder of the campaign but talkSPORT's Alex Crook claims that Saints are paying less than 50% while Walcott waived certain bonuses owed to him by Everton in order to get the move done.
It means that Walcott has almost certainly played his last game in an Everton jersey after making 85 appearances in all competitions and scoring 11 goals. Perhaps his most memorable strike was a stoppage time winner against Watford last season that represented a rare come-from-behind win for the Toffees in a 3-2 victory at Vicarage Road.
---
Reader Comments (56)
Note: the following content is not moderated or vetted by the site owners at the time of submission. Comments are the responsibility of the poster. Disclaimer
Michael Kenrick
1
Posted 05/10/2020 at 22:38:27
So glad to see the back of Walcott. Incredible that we still have to pay half his wages.
Mark Rankin
2
Posted 05/10/2020 at 22:39:25
Thanks Big Sam Tosun and Walcott £47 million.
David Pearl
3
Posted 05/10/2020 at 22:43:21
We have given away our only right wing cover not only for free but paying half his wages for them. What was it, a goalden handshake?
Steve Ferns
4
Posted 05/10/2020 at 22:43:42
To be fair, Walcott never gave anything less than 100%. He always represented the club well off the pitch. It just never worked out on it. He seemed to have lost a slight bit of speed and never got his confidence to maximum levels.
I wish him well. Particularly after his gracious comments on Sky Sports News just now.
Will Mabon
5
Posted 05/10/2020 at 22:45:26
Theo Wildcat is no more.
Brian Williams
6
Posted 05/10/2020 at 22:53:44
Walcott and 100%. Two things I never expected to read in the same sentence.
Dave Abrahams
7
Posted 05/10/2020 at 22:55:13
Steve (3), I don't know if his heart has ever been at Everton, he certainly looked to me that he hasn't been interested for at least the twelve months or more,
As for always giving 100%, not sure about that, like Iwobi, he could have put more into a lot of fifty/ fifty tackles, he's gone now and I for one won't look at his time here as one to remember.
£20M fee and another £20M in wages, was there anything outstanding to look back at?
Steve Ferns
8
Posted 05/10/2020 at 22:59:39
Dave, no there was nothing outstanding to look back at. I don't think you can fault his effort levels. He just wasn't that good. I also wouldn't look back at his time here as one to remember here either. That doesn't mean the lad didn't give us 100% and he seemed to be at the front of the queue for the off the field stuff.
As for pulling out of 50/50s, he always did that. He wasn't signed for his tackling ability!

David Pearl
9
Posted 05/10/2020 at 23:04:07
He could probably of done more in this team and this midfield... l just feel we also could have done with some speed off the bench. Iwobi and Bernard move in the same gear. I would only comfortable with Richarlison on the right if James misses any games
Steve Ferns
10
Posted 05/10/2020 at 23:08:03
David, what about Gordon's pace? I don't think we've quite seen Anthony hit the afterburner's for the first team yet, but he can be rapid. Unlike Walcott, he can do a lot more from the dangerous positions his speed gets him into. I think by the end of season, Gordon will have improved enough to be a proper first team squad member and next season he will be pushing into the first XI.
Paul Birmingham
11
Posted 05/10/2020 at 23:09:19
Sadly a player whom never it seems busty a gut bar a couple of games, his time at EFC.
No heart and generally terrible descision making and passing the final killer ball.
Hopefully lessons learned and EFC move on.
David Pearl
12
Posted 05/10/2020 at 23:12:58
Steve, l hope so
Isnt he more capable on the left though? We seem overloaded with left sided players.
Its always iritating to me when any senior player goes out on loan... we have way too many of them and reminds me of Steve Walsh. Arrggggghhhh
Dave Abrahams
13
Posted 05/10/2020 at 23:27:51
Steve (8)" Front of the queue for the off the field stuff"? Steve he was getting paid to be at the front of the queue ON the bleedin' field!!
Brian Wilkinson
14
Posted 05/10/2020 at 23:33:23
Got rid of Sandro as well, 3 year contract elsewhere.
James Flynn
15
Posted 05/10/2020 at 23:48:27
Nah, like Bolasie, he was a great athlete and average footballer.
I mentioned on another thread how it was strange to see him on Saturday just kind of standing there on the pitch, because, prior, however good or bad what he offered was, he gave what he had. Unlike Saturday.
Onward and upward. Oh there is no "upward". Sorry, not used to this.
Martin Berry
16
Posted 05/10/2020 at 23:50:26
A good bloke but past his best as a player and not good enough due to being so inconsistent.
I wish him well at Southampton.
Bill Gienapp
17
Posted 06/10/2020 at 01:03:37
He did offer a classy send-off on Twitter and I think he'll be happy at Southampton. A good move for all involved.
That being said, he was the player I most wanted to see shifted before the deadline. Most of the other so-called deadwood (Sigurdsson, Delph, Iwobi) have shown over the past couple weeks that they still have a role to play in this squad. Walcott, not so much.
Mark Taylor
18
Posted 06/10/2020 at 01:13:53
Sky reported he was almost tearful at rejoining Southampton. Maybe so, but he might reflect on the fact that we are paying for Big Sam's cock-ups.
Not only did his new club view his transfer value as zero, but they wouldn't even pay the wages he has become accustomed to despite no upfront outlay, so we have to pay a big share. In essence, that makes him a parasite. Good work if you can get it!
Mike Gaynes
19
Posted 06/10/2020 at 01:29:24
Mark, I don't think "parasite" is appropriate.
Ajay Gopal
20
Posted 06/10/2020 at 04:42:56
I don't understand the bitter comments when a player leaves our club. For all his faults, Sam Allardyce signed him in the only window that was available to him, and we all know that the winter transfer window is notoriously low on quality players.
Also, he had a decent career at Arsenal winning trophies, plus at the time he was 28 years old, I believe. I can understand why we signed him (and Tosun) in that window.
I don't think he was helped by the manager merry-go-round at Everton during the 2-3 years he was here. Different philosophies, different expectations. I believe he gave his best (except that last game where he stood like a statue to allow the Brighton player a free strike), and he had a few decent goals and assists last season.
I put him the Aaron Lennon category – they were brought in for a job during a tough time, and they did that to the best of their abilities. EFC moves on, he moves on. Thanks, Theo for your contributions.
Alan J Thompson
21
Posted 06/10/2020 at 05:09:08
I wonder what all the background problems were if we have to put a 31-year-old out on loan (and a free one at that, well for Southampton). Good luck to the bloke and even more to Mr Brands if this is what we have to do to whittle down that seemingly lengthening list.
Darren Hind
22
Posted 06/10/2020 at 05:32:15
The fucker will start scoring for fun now...
Kristian Boyce
23
Posted 06/10/2020 at 05:34:59
I always thought it was a little bizarre that, during his first interview when joining us, he said one of the main reasons was the opportunity to play more games up front in a central role. He said that along with the lack of playing time at Arsenal, he felt his best position was up front and wanted to play there instead of the wings.
I don't recall a single game, even during the Allardyce tenure, that he played there. His best seasons at the gunners and saints as well for England were when he played more centrally.
Phil Sammon
24
Posted 06/10/2020 at 07:17:33
Mark 18
Burst out laughing at that comment.
'Parasite' is way too harsh. He's entitled to his wages, as obscene as they are. That's the club's fault and they have to live with it.
I'm glad he's left but I don't think we need to be quite so insulting. He's a decent lad by all accounts.
Dave Evans
25
Posted 06/10/2020 at 07:34:45
It is possible for someone to be both an average footballer and a decent human being.
Kevin Dyer
26
Posted 06/10/2020 at 07:41:06
#20 Ajay agreed, can't fault his professionalism or effort. I thought he'd be a good signing. The season before we got him he'd put up good scoring numbers and avoided injury then been sidelined at Arsenal, for some reason. I saw no reason he wouldn't be successful for us. It just hasn't worked out.
He always seemed a good guy and I hope this move works out for him. If he helps Southampton take some points off those we now see as our rivals then it will be worth is still paying some of his wage!
Ian Jones
27
Posted 06/10/2020 at 08:11:45
Agree with Ajay and Kevin.
The interesting thing would be if the loan doesn't work out for him at Southampton and he ends up back at Goodison in January...
Christy Ring
28
Posted 06/10/2020 at 08:12:51
Expected more from Theo, his performances were very inconsistent, considering he had plenty of pace. Gracious in his comments about Everton, and you have to credit him, for moving, still paying half his wages, but could have sat back and just collected his salary, like others have done at the club.
Brian Williams
29
Posted 06/10/2020 at 08:24:20
Ian #27.
If he's signed a contract (which he will have done) for a season-long loan, he can't just return in January if he wants to.
Andrew Ellams
30
Posted 06/10/2020 at 08:28:54
His time at Everton is done now. His contract expires at the end of the season when Southampton will probably offer him something permanent for the last couple of years of his playing career.
He's pretty articulate guy so prepare to see him making a future as a pundit.
Peter Gorman
31
Posted 06/10/2020 at 08:59:41
In my humble opinion, without the signing of Walcott and Tosun at the tail end of a miserable season, we might well have been relegated before Silva made it through the door.
For that I am at least grateful, despite the lack of return since. Neither are bad players but look on the positive side of now having far better options in the squad.
All the best to them both when Tosun is also moved on.
Jerome Shields
32
Posted 06/10/2020 at 09:14:53
Glad he is gone. He did not show any enthusiasm to compete for his position in the squad. He has been working with his agent to get an easier life. I heard him say on Sky that he 'looked after himself ' – ie, avoided injury, which was obvious when he played.
I thought it was a good transfer window: Allan, Doucouré and James to start with, who collectively have transformed Everton, with the promising pro Nkounkou. In the second wave, we have Godfrey and Olsen, positions that needed depth.
The wages bill has been reduced with the exit of Sandro and Walcott and the overall value of the squad is more realistic performance ways. The domestic window has another 12 days to run, so Besic will be probably loaned out.
Bolaise will be an interesting one with Walcott gone and so will a Tosun recovery update since the depth of attacking players is shallow. Both of these players are enthusiastic and at least smile. Bolaise will be as good as Walcott and Everton's present style of play in the final third may suit Tosun better. Gbamin's recovery progress will also be interesting.
I would have liked to see a forward, but Simms may be useful. . .
Denis Richardson
33
Posted 06/10/2020 at 09:23:05
Very glad to have gotten rid. Panic buy present from Allardyce.
£27M and over £100k/week for very very little.
Ian Jones
34
Posted 06/10/2020 at 09:24:59
Hi Brian, ok wasn't aware of that. Assumed there would be a break clause inserted in all loan deals to cover things like injuries, or if both clubs agreed to cut the loan etc. Didn't Kieran Dowell get recalled a few years back?
Phil Lewis
35
Posted 06/10/2020 at 09:25:55
Kristian #23
I think you've raised a very good point regarding Walcott's preferred position. He impressed me for Arsenal and England when played in a central role for both. When we initially signed him I thought he looked a class above everyone on our books. He looked sharp, with an eye for opening up defences. The players around him at that time did not play to his strengths. Perhaps that was a managerial fault regarding tactics.
Mainly played in wide positions, he had little opportunity to show his prowess as a central striker. I think he was unfortunate in this respect as it may well have contributed to his loss of form. Continual substitutions and crowd whispers will no doubt have affected his confidence further. That said, I admit that his level of consistency diminished and we saw only flashes of his quality as time went by.
A talented intelligent player. An articulate man who has had the decency to praise EFC and its fans on his departure. I wish you well on the south coast Theo. Thank you for your contribution, it's a shame your time at Goodison wasn't as successful as perhaps it could have been.
Tony Everan
36
Posted 06/10/2020 at 09:48:05
Anyone know what the terms are if he gets injured? Like Tosun does he come back, or have we negotiated that it is up to Southampton to rehabilitate him?
Pat Kelly
37
Posted 06/10/2020 at 10:01:56
Walcott was only ever good in Theory...
David Ellis
38
Posted 06/10/2020 at 10:04:07
Peter Gorman #31 – spot on – we had to sign someone like Tosun and Walcott when we did. We simply had no attacking outlet at the time and Walcott was our best player in that 6 month period. I'm grateful for that and hopefully he will have fond memories of Everton and Evertonians going forward.
We were never going to get our money back and his form for us was generally the same as it had been for Arsenal and England, ie, good athlete but ordinary footballer – I can't understand why he played for England so much. However at the time he was a lot better or at least more effective than the players and team Koeman had to put together because all of Koeman's signings were very slow (or injured in the case of Bolasie).
Talking about future pundits, I think Calvert Lewin will make a great pundit if we carves out a bit of an England career – says all the right things, brings ethnic and accent diversity to the TV, good looking bloke, likes to smile
David Ellis
39
Posted 06/10/2020 at 10:06:28
Actually, Calvert-Lewin's post-match interviews remind me a bit of the post-match interviews Andy Gray used to do in the 1980s. He's the one the media always want to talk to (of course they have a reason because he's always scoring but it's not just that).
Barry Rathbone
40
Posted 06/10/2020 at 10:31:08
Walcott is the perfect example of players reaching a certain level of competence in their teens then coming to a dead stop. He exemplifies why players cannot have certain things coached into, or, out of them (Pickford excusers take note).
Early days at saints set the template for the rest of his career a blisteringly fast but not technically adept winger he flattered to deceive much to the chagrin of Arsene Wenger.
He is like Raheem Sterling in wrestling with rather than controlling the ball hence the bewildering misplaced crosses and sitters missed
Speed over technique is why we have hardly any British players of any standard anymore.
Dave Abrahams
41
Posted 06/10/2020 at 10:51:42
Ajay (20), Ajay, I wouldn't compare him with Aaron Lennon, Aaron did a good job up and down the wing in every game he played, starting or as a sub.
Whoever played full-back, with Aaron in front of him, he knew he would be well covered when he went forward, with Lennon dropping back to cover for him, a real team player. That's without mentioning the vast difference in transfer fees and wages they cost and were on: A very huge difference.
Dale Rose
42
Posted 06/10/2020 at 10:57:42
Nice bloke good luck to him.
Denis Richardson
43
Posted 06/10/2020 at 11:18:16
Ajay 20 - I wouldn't compare him with Lennon at all. Lennon did a decent job of what was expected of him. He also didn't cost £27M and >£100k/week.
Walcott was a panic buy and Arsenal saw us coming a mile off. They raked in a massive fee and dumped an overpaid player on us they were glad to get off the books. (I hope Iwobi doesn't go the same way.)
I don't blame Walcott – we were the stupid ones to offer that sort of money in the first place. Well, actually, we were the stupid ones who appointed Allardyce in the first place.
Still cannot believe it was only 2018 that Allardyce was in our dugout. Seems like a distant nightmare that you're not quite sure was real or not.
Jerome Shields
44
Posted 06/10/2020 at 11:42:23
The fact that Walcott paved the way for his move to Southampton speaks volumes about his football ambitions. He had no interest in competing for a place in a team that wants and looks like they will progress in competitions.
It would have been better to have kept Aaron Lennon than sign Walcott.
Ray Roche
45
Posted 06/10/2020 at 11:45:02
Jerome, I think it's more a case of Walcott wanting to play football rather than sit on our bench, at best, and collect the money.
If that's the case, good for him.
Justin Doone
46
Posted 06/10/2020 at 12:59:25
Walcott was the type of player we had been crying out for for many seasons. Pace, athletic, creates and score goals.
But anyone who watched or followed the Premier League knew he was another pretender. He was inconsistent and didn't seem to improve as a player since being a promising teenager.
Sadly another potentially top player that didn't want to or couldn't adapt or develop his game.
I'm sure in the future he'll score against us though!
Jim Bennings
47
Posted 06/10/2020 at 15:20:05
A little bit of realism rather than stupid abuse of a player needs showing here.
When we signed Walcott, he was a good performer for us; he energised the team between January and May 2018 when we were in a very dark period under Allardyce following the Koeman aftermath.
Theo did start the 2018-19 season on fire too if I remember well, two goals in the first three matches but midway through the season the fella just seemed to lose his way and I think he was struggling with a death in the family at some point, perhaps that just made him revaluate the important things in life.
What I will say is basically it's a good move for Walcott now at this stage of his career, 31 and he's been on the scene 14 years. His best days are behind him so I really hope he does enough down there to earn the permanent move now.
John Raftery
48
Posted 06/10/2020 at 15:28:32
Jim (47) Well said. Some have forgotten how poor we were in 2017-18. We desperately needed something extra in attack.
Walcott scored two goals on his debut for us and along with Tosun ensured we stayed out of trouble for the rest of that season. Indeed we finished 8th after at one stage looking destined for a relegation battle.
Ian Horan
49
Posted 06/10/2020 at 15:38:22
Walcott was brought to EFC on the basis he would play through the middle. This didn't happen as needs must Allardyce went Route 1 to a target man. Allardyce although he saved us, impacted on Walcott's reputation and pushed Calvert-Lewin's development back years. Only now are we seeing Calvert-Lewins potential, Theo had his moments for us notably the winner away to Watford when Kean scuffed his shot across goal.
We as supporters need to be more classy when players leave or we will end up like the RS always complaining when it doesn't go our way.
Thanks, Theo, and the best of luck on your home coming.
Eric Myles
50
Posted 06/10/2020 at 15:50:26
Darren #22, but not against us!!
Stan Schofield
51
Posted 06/10/2020 at 16:56:08
When Walcott joined us, he quickly became our best player that season, but struggled after that.
Dave Abrahams
52
Posted 06/10/2020 at 20:01:12
Jim (47) and John (48), with all due respect we signed him and paid him to play for three seasons not for six months, I don't think it's asking too much for a player to do his best each time he plays for the club, it's patently obvious, to me at least, that Walcott fell well short of always doing his best when he turned out for the Blues.
Mark Taylor
53
Posted 07/10/2020 at 09:30:44
Mike 19 and Phil 24
I think 'parasite' is a fair description. Something that lives off another entity in order to survive. That is what is happening here.
That is not to say Walcott is somehow evil, he is entitled to see out his contract if he so wishes, or indeed leave on the sort of funded deal he has done. After all, it was our stupidity and we still see it as better than the alternative.
It just stuck in the craw saying how wonderful it would be back at Southhampton when the latter self evidently do not value Walcott at anything close to the worth he has assumed.
Robert Tressell
54
Posted 07/10/2020 at 10:10:40
Walcott joined at a point in time where he had to get first team football to remain / regain his England place. He was motivated and effective on arrival.
That fizzled out. Koeman, Silva, Ferguson and Ancelotti since. Conveyor belt of players. England place gone.
Playing regularly for over 15 years, you can see he's going through the motions now. I blame the club as much as him. He did his bit within his footballing limitations.
Gerry Quinn
55
Posted 07/10/2020 at 12:05:39
If anyone has 5.4 seconds to spare then you can watch this!
Michael Kenrick
56
Posted 07/10/2020 at 14:51:55
I'm just surprised anyone has anything nice to say about Walcott. The more I saw of him, the more I was convinced he was a complete fraud, stealing a very fine living off us.
Well, somebody at least has the balls to write an accurate piece calling a spade a spade (or are we not allowed to say that any more???): Step forward, James Daniels.
---
Add Your Comments
In order to post a comment, you need to be logged in as a registered user of the site.
Or Sign up as a ToffeeWeb Member — it's free, takes just a few minutes and will allow you to post your comments on articles and Talking Points submissions across the site.