Sandro leaves Everton for Huesca
Monday, 5 October, 2020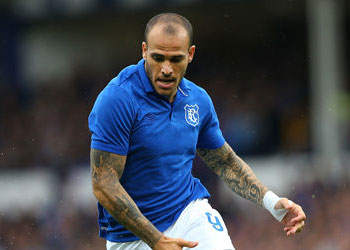 Sandro Ramirez's frustrating three-year spell at Everton is over with the news that he has secured a move to SD Huesca in his native Spain.
The former Barcelona striker was signed amid much optimism in 2017 after a scintillating season in La Liga with Malaga but he was unable to replicate the goalscoring form he exhibited in 2016-17 at Goodison Park.
He managed just seven starts and eight appearances overall in what was a difficult first season at Everton under Ronald Koeman's failing tenure and he was sent out on loan to Seville and then to Real Sociedad and Valladolid over the next three seasons where he managed four goals in 61 games.
Entering the final year of his contract this season, Everton had drawn up plans to terminate his contract and it is likely that he has left the Blues for Huesca for no fee but his reported £65,000-a-week salary is off the books.
He has signed a three-year contract at his new club who were promoted back to Spain's top flight earlier this year.
---
Reader Comments (63)
Note: the following content is not moderated or vetted by the site owners at the time of submission. Comments are the responsibility of the poster. Disclaimer
Andre Angwin
1
Posted 05/10/2020 at 23:13:23
Unbelievable Jeff!
Great news all round, now for Josh King as back up
Jack Convery
2
Posted 05/10/2020 at 23:29:27
Good luck to Sandro. Here's hoping King is coming before 16th,
Steve Ferns
3
Posted 05/10/2020 at 23:32:40
So he's left on a permanent deal. That's great news, we can forget about him now. Cheers Steve Walsh.
Will Mabon
4
Posted 05/10/2020 at 23:36:20
How wrong they were...
The hype was incredible. People on here apoplectic that there were delays in the signing. "We'll lose him, just stop effing about and get him signed...".
So often a futile business, this predicting and believing malarkey.
Steve Ferns
5
Posted 05/10/2020 at 23:47:57
He's certainly the answer to quiz questions in the future.
Jack Convery
6
Posted 05/10/2020 at 23:49:40
Steve - The first question being Why ?
Pete Williams
7
Posted 05/10/2020 at 23:52:20
Wow. I never thought get him gone without paying him off! Well done Brands. Another bit of deadwood gone. Might free up some wages for a Championship striker? Still got Bolasie and Besic to go though. Let's hope there's some interest before the lower league window closes. If they go too we'll be laughing.
Steve Ferns
8
Posted 05/10/2020 at 23:55:53
Pete, I bet it's a complicated transfer. 3 year deal is probably to give them time to pay us the £5m it takes for us to pay off his contract. In essence a free transfer, but goes down as £5m in. I'm just guessing here though!
Martin Reppion
9
Posted 05/10/2020 at 23:57:00
Surprised Bernard didn't go.
Iwobi has gone past him in recent weeks. With the young lads also giving cover in that role he could be kicking his heels.
Besic and Bolasie may well get moves to the EFL, but only if we do what we've done with Walcott. Even then it will reduce the wage bill.
All in all a good time to be a blue.
Brian Williams
10
Posted 06/10/2020 at 00:08:11
Steve, it was a free transfer. We get nowt in the way of payment from Huesca apart from their eternal gratitude.
Steve Ferns
11
Posted 06/10/2020 at 00:10:18
Brian, who pays the wages of £5m for the coming season? The transfer is lacking in the detail.
Lyndon Lloyd
12
Posted 06/10/2020 at 00:14:00
Steve, assuming we didn't arrange some sort of compromise with the player, it's only about £2.5m to pay off the last 40 weeks of his contract. We'll never know the payment terms/duration.
Will Mabon
13
Posted 06/10/2020 at 00:18:15
Steve, I guess the new club will. His wages here have been £65k per week, about £3.3M per year. So that's what it will cost Huesca, I imagine. No drop for Sandro, then they get a him for £10M spread across 3 years.
He may even have taken a slight drop depending on his desire to play regularly, as one factor.
Pete Williams
14
Posted 06/10/2020 at 00:20:17
Steve, I think the prime objective is to cut down a huge wage bill, whatever it takes. Hence Sandro away on a free and us still paying half of Walcott's wages. Money is thin on the ground in these Covid days outside the top clubs, so we're having to take the best deals we can get. Not great but it makes the club more sustainable.
Kieran Kinsella
15
Posted 06/10/2020 at 00:22:48
Thank God
Andrew Keatley
16
Posted 06/10/2020 at 00:23:04
Lyndon (12) - I'm speculating wildly here but it's possible that we might have been forced to pick up any shortfall between what he would have earned with us in those 40 weeks, and what Huesca are paying him over that period.
So say if his contract with Huesca is £30,000 per week, then maybe we had to pay 40 x £35,000 (£65k minus £30k) - so ultimately taking a fraction of the financial hit on his remaining contract rather than the full whack. A bit like we've done by paying half of Walcott's wages during his Southampton loan.
Bob Wilkinson
17
Posted 06/10/2020 at 00:26:20
I have to admit I was really happy when we bought him and I'm happy now that we have finally got him off the books
Hindsight is a wonderful thing. I don't remember anyone unhappy when we signed him and we, Everton and him, have been affected by him not being able to make it with us.
It turns out to be a bad buy – all of us have suffered.

Mike Gaynes
18
Posted 06/10/2020 at 00:28:12
He's taking his Huevos to Huesca.
Jamie Crowley
19
Posted 06/10/2020 at 00:31:25
Thank you God.
Brian Williams
20
Posted 06/10/2020 at 00:33:28
Steve #11.
Well nobody knows for sure at the moment but common sense would tend towards Huesca.
If Everton were going to pay them then why would they let him play for someone else?
I would imagine it would be a case of "Sandro, you can stay here on £65k a week and not play one game of football or you can go to Huesca and play for them for whatever they're gonna pay you."

James Flynn
21
Posted 06/10/2020 at 01:04:36
The oddest of the signings over the years.
La Liga isn't top to bottom near as tough as England's top league. Across Europe, though, the toughest league after the Premier League.
Sandro scored 14 goals in 30 there as a 21-year old. It was perfectly reasonable to see him as a legit prospect and fine signing.
Then nothing. Nothing. If "shit happens", it happened to us.
So, I'll choose to remember him for freezing a defender long enough to create a moment's time for Calvert-Lewin to send that cross into Rooney to score the header against Stoke.
Mark Taylor
22
Posted 06/10/2020 at 01:09:32
I would be very surprised if we have not had to pay something to get him off our books, whether an upfront settlement or some kind of Walcott settlement. Otherwise, he could earn more by seeing out his contract than he could ever earn at the tiny club he has joined. Sad but that is the madness of the Premier League.
Steve Ferns
23
Posted 06/10/2020 at 01:13:02
The Echo reports that he's left on a free transfer and we've got his £86k a week(!) wages off our books. Presumably it's Sandro agreeing to this and putting career first as he signs a three year deal on presumably much reduced wages.
Will Mabon
24
Posted 06/10/2020 at 01:27:22
Not necessarily, Mark. If there was no fee, the money is paid instead in the form of his wages alone. In the same way that Sánchez went from Arsenal to Man Utd for no fee, essentially pocketing what United would have paid as a fee, in massive wages (Variously reported as between £425 - 505k per week incl. bonuses!) across the duration of the contract.
Huesca may also contractually hold any value in the player such as it is, should they ever sell him on. Alternatively, they are paying him less per week but the contract may be such that he could eventually leave and be entitled to a part of the selling fee. Many alternatives.

Will Mabon
25
Posted 06/10/2020 at 01:28:42
Never heard the 86k figure, Steve - always had it as 65, but we never know for sure!
Bill Gienapp
26
Posted 06/10/2020 at 01:29:14
I can't believe the Sandro era is really over.
Will Mabon
27
Posted 06/10/2020 at 01:30:19
Don't worry, Bill - you'll get over it, Lad.
Ernie Baywood
28
Posted 06/10/2020 at 01:49:52
Amazing how quickly he went from being a steal to a drain on our finances. Remember how it was considered inexplicable that he had such a low release clause?
From what we saw, he was never good enough but that's with hindsight. I didn't particularly see a lack of effort when he was on the pitch.
So good luck, Sandro. Not the first transfer to not work out.
Stephen Vincent
29
Posted 06/10/2020 at 02:30:54
Shame really he came with such promise and we all thought it was quite a coup.
James#21, not the strangest of signings, that has to be Shani Tarashaj. Still on our books, still being paid £10k a week by us, still has another 12 months left on his contract, never kicked a ball in anger for us, now playing for FC Emmen reserves. Never understood why a similar deal hasn't been done with him.
Lewis Barclay
30
Posted 06/10/2020 at 03:32:34
I hope we got a sell-on fee written into his contract.
Mike Gaynes
31
Posted 06/10/2020 at 05:05:47
Agreed, Lewis. That extra £20 can always come in handy.
David Ellis
32
Posted 06/10/2020 at 05:07:09
Will Mason - not sure why you think Sandro won't take a drop in wages. Of course he will, one we've paid out some or all of his last 12 months. I don't think he'll command any kind of fee given his recent form. But yeah we don't know the details.
His transfer has scarred me. I'll never believe any hype again.
Paul Ferry
33
Posted 06/10/2020 at 05:51:11
Steve (Ferns), I thought you were some sort of lawyer?
Why would we have to pay off his contract?
He's moved on a permanent transfer of his own free will. He's not ours anymore. We don't pay his salary now; Huesca do.
'Brian, who pays the wages of £5m for the coming season? The transfer is lacking in the detail'
He doesn't get £5 million for the coming season from us. His contract is no more, it's He gets whatever he agreed with Huesca. He has a new three-year contract with them.
Or, did we agree to give him £5 million in wages to get him off our wage books?
Derek Knox
34
Posted 06/10/2020 at 07:37:18
Think we'll just about manage without his goal contribution.
All the best to the lad, he didn't ask to be transferred did he? He was head-hunted by Walsh under the auspices of Koeman, what a pair!
Unbelievably Koeman is now Manager of Barcelona after multiple displays of incompetence, and millions in compensation, it beggars belief.
Will Mabon
35
Posted 06/10/2020 at 09:08:58
David Ellis - I didn't say anywhere that he wouldn't take a wage drop. I even suggested it as an alternative in the last paragraph. We may not be paying anything for the final twelve months, could all be covered by the new club, depending on the structure of the deal.
David Ellis
36
Posted 06/10/2020 at 09:54:35
Will, oh yeah, misread it: sackcloth and ashes etc.
Let's agree never to speak of Sandro again ever!
Will Mabon
37
Posted 06/10/2020 at 09:56:14
Last message was for David Elvis from Will Mason.
Will Mabon
38
Posted 06/10/2020 at 09:57:08
No worries, David. I guess we'll quickly forget.
Pat Kelly
39
Posted 06/10/2020 at 09:58:58
Thoughts are with Huesca..
Tony Everan
40
Posted 06/10/2020 at 10:07:46
Who?esca...
Relieved that Walcott and Sandro have gone today, big wages off the books, well done to Brands. Hopefully Bolaise and Besic can find a club in the Championship in the next 11 days. They fall into the same category.
Dave Williams
41
Posted 06/10/2020 at 10:14:57
Derek #34 it really makes you wonder what was going on with Koeman and Walsh – it would make a decent book if the truth could be found.
We could all see that Sandro and Klaassen were not robust enough for the Premier League. Everyone could see that the crazy acquisition of three number 10s was without any logic or plan. Whatever went on with the Italy trip made by Walsh and "his team" allegedly to buy players yet they returned empty-handed.
Kids in a sweatshop comes to mind the way they squandered Farhads money buying players without a plan and paying ridiculous salaries for long contracts.
Happily Carlo seems to have a very specific plan which so far is working really well. I wish Sandro good luck but my, how he must love us for setting him up for life!
Dave Williams
42
Posted 06/10/2020 at 10:16:05
Sweet shop not sweatshop!!
Drew O'Neall
43
Posted 06/10/2020 at 10:43:58
Why would we have to pay anything?
Huesca pay his wages plus give him a contract term plus a signing on fee.
Player benefits by continuing to be paid a king's ransom.
Everton benefit by losing his wages.
Huesca get a player with a registration value paid for in signing on and wages only on the never never.
Why would he leave? Because of the extension. Why wouldn't someone wait until his contract expired? Because they need him now. Why wouldn't he see out his contract? Because he wants to play football and because his term is extended.
So why would we have to pay anything?
Sam Hoare
44
Posted 06/10/2020 at 11:00:05
Now for Bolasie, Besic, Lossl, Tosun and, wait, is that it? Are we almost finally rid of the deadwood?
Dale Rose
45
Posted 06/10/2020 at 11:00:24
About as much use as an ash tray on a motorbike.
Tim Kells
46
Posted 06/10/2020 at 11:48:09
Sam - one more for the list. Matthew Pennington. Contract expires 06/21
David Connor
47
Posted 06/10/2020 at 12:17:45
Just one of the many disaster signings over the last 10 years or so. Bakayoko and Bilyaletdinov spring to mind.
Different regime and mindset now. Owner who isn't afraid to put his hand in his pocket. New ground on the horizon. Great times ahead.
Tony Everan
48
Posted 06/10/2020 at 12:29:29
Sam/Tim, I think that's it now, the other fringe players are valued squad members. It's a long season, they will be needed. Brands has done a very decent job this window, he was under a lot of pressure and bought fantastic players, and is chipping steadily away at players that need moving on.
Schneiderlin, Walcott, Sandro, Kean (loan) were big earners, £300k pw there and have gone. Bolaise, Besic, Pennington, Lössl in the next 11 days, then Cenk in January, another £200k pw saved to help balance the books.
Pat Waine
49
Posted 06/10/2020 at 12:30:31
Sandro was a terrible mistake by Koeman and Walcott a mistake by Brands. Koeman wrecked Everton... put us back 3 years in development.
Chris Williams
50
Posted 06/10/2020 at 12:33:24
Pat,
Brands wasn't here when Walcott was signed.
Justin Doone
51
Posted 06/10/2020 at 12:52:28
Just before we signed him on a free he played very well in a youth tournament for Spain.
Whilst not their best player or an out-and-out striker he certainly put a lot of graft in. He played left wing, closed down well, made lots of good forward runs.
He reminded me of Naismith. A good player but lacked the pace or skill to be top level. It was a free transfer that certainly made sense at the time.
I'm surprised he hasn't developed or seen to be good enough to sell for a few million to cover his wages but that's the risk with young footballers. Most never fulfill the potential that fans hope, wish and dream they will.

Danny O'Neill
52
Posted 06/10/2020 at 14:53:14
Derek @34, Dave @41, I don't think it was just them as a pair. I'm of the opinion that during that period we had a transfer (non-)strategy that was pulling in 3 different directions and none of the stakeholders were talking to each other.
It felt like 3 people living in the same house all went to the shops without talking to each other about what was needed first.
Walsh went out and brought back a random collection of players with no consideration of how they would form a team. Like that person in the sales who just buys shit they don't really need or knows what they'll do with it but hell, they've got money and it looks like a good bargain. Even though really you're getting ripped off as it's the shit they roll out from the back storage room once a year because they normally wouldn't show it.
Koeman bought Klaassen because he was Dutch and done well for Ajax (I actually thought there was a player in Klaassen to be honest).
And Blue Bill got all sentimental and brought "Our Wayne" back home even though his top flight legs were long gone.
Okay, tongue in cheek and no research whatsoever in that, just what it felt like. Ultimately, the most disjointed and ill thought out transfer policy I've seen us have and it wasn't like we didn't have the money for once after such a long period of looking down the back of the couch for the Arteta money.
John Davies
53
Posted 06/10/2020 at 15:03:06
Walcott was a boy wonder who never progressed. Kean will go the same way, unless something happens to him in his head.
Let's be honest: if either of them were really that good, Arsenal and Juventus would never have got rid of them in the first place. If you want to buy potential look at your youth team recruitment, and don't buy players who don't want to play for EFC (Kean).
David Ellis
54
Posted 06/10/2020 at 15:10:30
Danny @52 that's how it looked to me too.
I remember being excited to wonder how the mastermind Koeman was going to fit his jigsaw puzzle together.
Only to realize in horror that he had no idea! Three No 10s and no pace.
Hugh Jenkins
55
Posted 06/10/2020 at 16:18:22
Koeman is apparently already starting to disrupt Barcelona. According to the Mirror via the BBC "French striker Antoine Griezmann, 29, is not happy with Barca manager Ronald Koeman's decision to play him in a wide role".
Alan J Thompson
56
Posted 06/10/2020 at 16:20:02
It is probably a case that if he wants to live in Spain then he will have to agree to cancelling his contract with Everton – hence the "free" transfer and his wage to be that which he has agreed and will be paid by Huesca.
Steve Ferns
57
Posted 06/10/2020 at 16:25:13
Danny, I still swear that Klaassen is a decent player. Johan Cruyff would not make the comments he did about him if he was no good.
I think Davy just has a very peculiar skillset and that this was not suited to the way Everton played. He needs the ball to be moving at speed, and players pinging it about with one-touch passes. Cruyff was particularly impressed with Davy's ability to control the ball whilst running at full speed. We never saw an example of that at Everton as every pass was under-hit and rolled into his foot rather than was to be taken in his stride. He was just a very bad fit, and we made him look far worse than he was.
Let's see how he gets on back "home" at Ajax, but an Ajax without some of his old mates, particularly Ziyech, who made him look so good.
Iakovos Iasonidis
58
Posted 06/10/2020 at 16:45:25
That was a beautiful retro kit!
Danny O'Neill
59
Posted 06/10/2020 at 17:48:07
I'm the same, Steve. Just the wrong time for Davy to be at Everton given his game and the players we had at the time.
I always like the speed of his brain and decision-making. But for that, he needs the ball into him early (and feet not space) and also players making the right runs for a first-time pass. As you say, we made him look worse as we didn't have an awful lot of either going on.
I watched Werder Bremen a couple of times last season and it was interesting seeing the difference in him. Way more influential than when playing for us. Combination of the style of play and the players around him I suppose. But back to your point, he is a good player, just wasn't a fit for Everton at that point in time.
Denis Richardson
60
Posted 06/10/2020 at 20:47:04
Sandro and Walcott gone is great business, even if we're paying some wages. That's still about £120k/week off the books. Slowly getting rid of the mistakes from the last few years (albeit I was excited by the Sandro signing and being on a 'free' seemed to make perfect sense – just didn't work out for whatever reason).
I note Niasse is still a free agent, after being released in June... are we short of a striker?
Paul Hewitt
61
Posted 06/10/2020 at 21:09:54
Never given a chance. He played under shit managers. I'm sure Carlo could have got more out of him.
Paul Birmingham
62
Posted 06/10/2020 at 21:15:20
As they say it's a funny old game.
I some times wonder if Steve Walsh was watching a different player as Sandro looked lost from Day 1. Aside from the goal vs Atlanta, that's about it.
At last, the club is showing some business ruthlessness, and hopefully they'll be more driftwood to go in January 2021.
Mark Brennnan
63
Posted 11/10/2020 at 00:32:27
Really did have big hopes for this lad. He was unstoppable before he came to us and I can't figure out how it went so wrong for him. Hope he does well back in Spain.
---
Add Your Comments
In order to post a comment, you need to be logged in as a registered user of the site.
Or Sign up as a ToffeeWeb Member — it's free, takes just a few minutes and will allow you to post your comments on articles and Talking Points submissions across the site.