Richarlison's blue-sky thinking for club and country
Tuesday, 6 October, 2020
Richarlison has been speaking of his Champions League and World Cup dreams this month as he reveals the impact Carlo Ancelotti has had on his continued development at Everton.
Despite coming off with just 25 minutes gone in the Blues' 4-2 win over Brighton that extended their 100% start to the new season and put them top of the Premier League over the international break, the Brazilian has travelled home to play in his country's first qualifiers for the 2022 World Cup in Qatar.
Brazil face Bolivia in Sao Paolo on Friday and then travel to Peru on Tuesday before he comes back to England to prepare for the Merseyside derby on the 17th of October.
Now in his third season at Goodison Park since arriving in a £40m from Watford, Richarlison's thoughts had started turning towards the Champions League this summer but Everton's form over the last quarter of last season meant that it wasn't necessarily with the Toffees that he envisaged realising his ambitions.
"I spoke to Ancelotti [and] said that I have a dream of playing [in] the Champions League," Richarlison recently said on CBF TV. "He asked me to stay another year, to hold on [and], that we would get there.
"This year, reinforcements arrived and we started the Premier League with everything. Let's see what happens."
It's those new signings, in particular the trio of Allan, Abdoulaye Doucouré and James Rodriguez, that have transformed Everton's midfield, made them the early pace-setters in England's top flight and seen them qualify for the last eight of the Carabao Cup — although of the summer acquisitions, it's Niels Nkounkou who has had the biggest impact in the cup so far.
And that, combined with the tutelage and management of Ancelotti, means that for the first time since he joined, Richarlison can visualise playing in Europe's elite competition with Everton and if the club can make significant progress in that direction in 2020-21, they stand a very good chance of holding on to their Brazilian star.
The Italian is also providing him with the tools to be a success for his country, for whom he will play in the World Cup qualifiers for the first time this season, having scored a penalty in the Copa America final last year.
"Ancelotti's arrival here at Everton helped me a lot, I managed to evolve a lot," Richarlison continued. "And we learn a lot at the national team too, this tactical part. I'm happy to be able to play in the qualifiers for the first time. Here at the club, I'm flying."
Speaking on the Fifa.com website, he had further praise for his new club manager:
"[Ancelotti is] a guy that's won everything in the football world. He's an inspiration for countless coaches. Professor Tite had some time with him at Real Madrid. It's a huge honour to play for one of the best coaches in history. I'm very grateful to have the opportunity to learn from him at Everton, and I feel he's improved me a lot. He also brings a very happy environment for the players to work in."
Richarlison goes on to describe his love of the World Cup and he was asked if he dreams of strutting his well-known dance in celebration in Qatar in two years' time.
"It's my trademark!" he laughs. "Of course I've imagined doing the pigeon dance in the World Cup. The supporters really like it, it especially appeals to kids. I've done it for the Seleção together with Neymar, I do it for my club, and I want to score goals and do it many times at the 2022 World Cup.
"It's a dream I've had since childhood. It's the childhood dream of every Brazilian player. I love the World Cup. It's an amazing tournament, it grips the whole world. I've watched every one as a fan of Brazil and of football, and I hope 2022 will be my first World Cup as a player."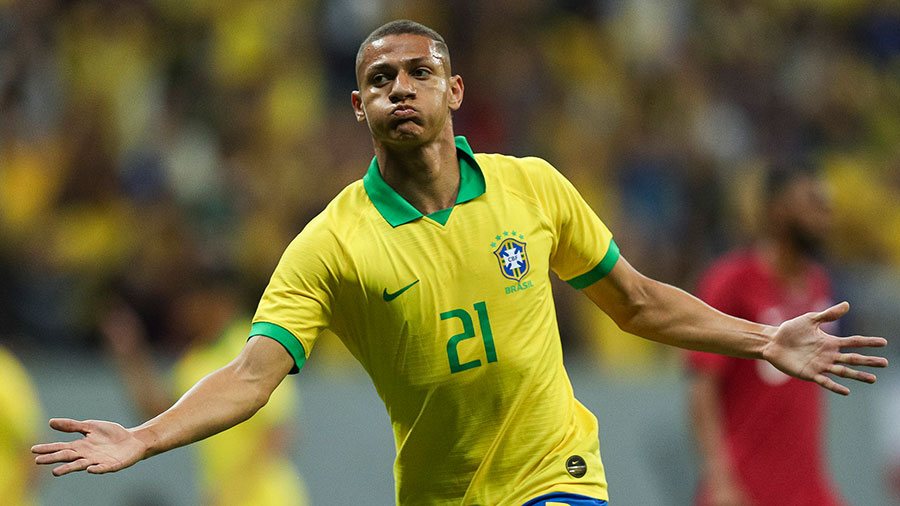 The Nova Venécia-born player is deployed primarily as a centre-forward by Tite and when Duncan Ferguson took over from Marco Silva at Everton last December, he was moved into that role alongside Dominic Calvert-Lewin with great success.
He ended last season as joint-top scorer for the second year in succession and while Ancelotti has tweaked his formation to more of a 4-3-3 since the new arrivals came in, there are still plenty of opportunities for Richarlison to get into scoring positions. He has four goals on the campaign already even though his contributions in the Premier League have been more supportive to Calvert-Lewin than serving his own striking preference.
"At Everton, Ancelotti likes to use 4-4-2. I play as a centre-forward. I've told Ancelotti that's where I like to play. That's where I played when I started out at America [Mineiro]. I feel at my best there. When I play on the left wing, it's usually because we have an injury.
"Look, I'll give my all there — I'd give my all anywhere — but if you're asking me where I prefer to play, it's as a centre-forward. I've already told professor Tite that's where I like to play, but it's up to him and Ancelotti to make the decision and the most important thing to me is to be playing and giving my all for the shirt.
"Dominic's development has been really impressive. He's transformed into a complete striker. I remember when I got here, he was nothing like the player he is today. It's down to the work he's put in. He's in the gym every day, he's always working on his finishing.
"And playing under Ancelotti, he'll keep getting better and better. He's had a superb start to the season and without doubt deserved his England call-up. He must be a nightmare to play against and he has an incredible leap on him like Cristiano Ronaldo.
Asked for his thoughts on James, a player he watched light up the 2014 World Cup in his native Brazil, Richarlison said:
"He's a very special talent. He's the No 10 for his national team, he's got an outstanding pedigree — Real Madrid, Bayern Munich, Porto. He'd walk into any team in the Premier League. I watch a lot of Premier League games — what team wouldn't want James Rodriguez? He's made a brilliant start at Everton, and I really hope it continues so we can achieve our targets this season."
International ambitions aside, Richarlison's immediate target is to help end Evertonians' long wait for silverware. He feels that the Blues are in a good position to do that now if they can maintain their good start to the season.
"We want to win a cup [at Everton]. The supporters here are really passionate and they have been waiting for this for too many years. I think now that we have Ancelotti, and with the signings he's made, we can win a cup and fight for a Champions League place. Obviously it's difficult in England because you have the [big] six, but we're a different team from last season.
"We had a lot of injuries then and we've signed quality players in the positions we needed. We've made a really exciting start to the season and Ancelotti is keeping us focussed and motivating us. I really believe we can qualify for the Champions League."
---
Reader Comments (87)
Note: the following content is not moderated or vetted by the site owners at the time of submission. Comments are the responsibility of the poster. Disclaimer
Mick Davies
1
Posted 06/10/2020 at 18:01:59
So glad he never left, and it sounds like he really believes and wants to win something this season. I think we will.
Mike Gaynes
2
Posted 06/10/2020 at 18:04:40
Brilliant young man, brilliant young player, superb team attitude, and just 23. The sky is the limit indeed.
Plus he knows how to troll the RS perfectly!
Tony Everan
3
Posted 06/10/2020 at 18:08:35
I think we can qualify or the Champions League too. We've strengthened where we needed to with real top-of-the-tree quality in Allan, Doucouré and James. You just can't split these three on how important they are to the team.
We have some fantastic young players like Richarlison and Calvert-Lewin, also Holgate, Nkounkou, Gordon, and now Godfrey, who are ready to step in with real quality.
We have some important players for squad strength too: Sigurdsson, Bernard, Tom Davies, and Iwobi, all of whom have gone up a gear. The back four have been solid, all equally so: Coleman, Keane, Digne and Mina have been impressive.
The strength in depth we now have gives me confidence we can find consistency and match the Sky 6 and challenge for the top four positions, given average luck with injuries.
For the first time in a long time, I seriously fancy our chances against any team.
Pickford needs to find a way to raise his game to the 10 in front of him, I hope he does now with a better level of competition. If not, Olsen will hopefully give us the stability we need from a keeper.
Alex Gray
4
Posted 06/10/2020 at 18:35:27
Refreshing to hear. The thing that's impressed me this season has been even when we concede our heads don't fall and there seems to be leadership throughout the team.
I was born in 1990 so missed our success throughout the 80s. My old man tells me about when we bought Peter Reid and Andy Gray (apologies if I'm wrong!) and how we transformed overnight almost. This season has been the first where bringing in three players has turned us from mediocrity to a really class team.
I'll be over the moon with top 6 but with how the others have started we have a real opportunity to put some early season breathing space between our competition!
Michael Fox
5
Posted 06/10/2020 at 18:36:43
I know it's mad but there is a little song going around my head that's driving me crazy. Does anyone know what it called, the words go like we going to win the league, we going to win the league. There I said it.
Paul Hewitt
6
Posted 06/10/2020 at 18:44:23
Probably the last season we see Richarlison in an Everton jersey then.
John Otway
7
Posted 06/10/2020 at 18:50:45
Cheers Paul. Chips well and truly pissed on.
Colin Battison
8
Posted 06/10/2020 at 18:51:23
Excellent analysis, Lyndon.
I love Richarlison and I will hold my hand up: when we signed him, I wondered whether he could cut the mustard. How wrong was I?
I know his preferred position is right up top but, in my eyes, what I've seen so far this season, he is dynamite on that left-hand side for us and causes so many problems to defences. My only slight issue is that he always looks miserable and does drop to the canvas quite often.
With our formation this term, I would definitely not move him into a 4-4-2; I would keep him on the left, where he runs riot, and James knows that as well.
On a different note, I'm slightly worried for the derby that James does not track back. Ultimately because he's everywhere, and I would not want to change that as results speak for themselves, but there is always a massive hole in between him and Coleman. Robinson and Mane will exploit that.
Steve Ferns
9
Posted 06/10/2020 at 19:17:08
Paul, I saw this article earlier and what struck me is that Richarlison is really enjoying it here and really wants to be here.
I was disappointed that there was a story that said he was off next summer if we didn't get Champions League football. Jay Wood then reassured me that this was not what he said and the journo loaded the question and Richarlison said what he did but perhaps he wasn't saying it like it read.
Here he is, a month or so later, and seems committed to the cause and full of belief that he can achieve his goals with Everton.
Kevin Molloy
10
Posted 06/10/2020 at 19:20:06
This lad's an absolute diamond. He's been very straight, tried his heart out, and has real respect for the club. Weird the way, although he is subject to the same temptations as Barkley and Rooney, he has handled himself so much better.
Brian Harrison
11
Posted 06/10/2020 at 19:34:08
I can't believe Everton have allowed him to go, he had to come off in midweek, then only lasted for part of the first half on Saturday. He needs to be at home and resting his ankle, not flying half way round the world to play for Brazil.
I can't think of another club given his injury status would have allowed him to do this complete madness. Heaven help us if he plays and has a recurrence of his ankle injury.
Robert Tressell
12
Posted 06/10/2020 at 19:37:44
Colin @ 8. James does leave space but he also causes problems if unattended. So Liverpool will have to worry about countering him and our potent attack for once, especially after a 7 - 2 tonking.
Kevin Molloy
13
Posted 06/10/2020 at 19:38:57
I reckon you'd probably need the support of the player for that, Brian, and he probably thinks he will be fit for the game in 10 days time?
Steve Ferns
14
Posted 06/10/2020 at 19:49:31
Brian, isn't the FIFA rule that the player must report for international duty unless the federation agrees? Thank Ferguson and the Man Utd players with their phantom injuries for that.
The federation then assesses the player and either passes him fit or sends him home. We saw it often enough with McCarthy and other Irish lads who got passed fit when they weren't.
Brian Williams
15
Posted 06/10/2020 at 19:52:46
Most clubs would have done the same, Brian. It's not necessary to always single out Everton for criticism.
Premier League clubs have an agreement that they release players to their international teams and they look after any slight injuries and decide whether the player is fit or not.
Players that definitely don't have a chance to play withdraw from the international squad, à la Sterling for the forthcoming England games.
Jack Convery
16
Posted 06/10/2020 at 20:05:34
The RS couldn't handle Allan when they played Napoli. Have no fears about the derby. Ancelotti will have it all worked out. Fingers crossed our boys all come back fighting fit from this international break.
Richarlson can live his dreams with us.
Bobby Mallon
17
Posted 06/10/2020 at 20:13:31
My only problem here is, he is going to one of the worst Covid countries in the world. Why is he and all of the team being put in danger? Also does he not have to isolate for 14 days when he gets back? Don't all players flying in from Covid list countries have to isolate?
Niall McIlhone
18
Posted 06/10/2020 at 20:15:43
Richarlison has become a player that young kids probably look at and think they want to play like him, and he is becoming some player. Initially, I thought he was a bit heavy on play-acting but I now realise he often puts himself in harm's way and gets singled out for rough treatment. I sincerely hope we can help him fulfil his ambitions. He is a brilliant ambassador for Everton.

The common denominator in all this Is Carlo Ancelotti. In Carlo we have a manager who will not accept mediocrity, who demands his players and it is clear they are responding.

It's nice to have some blue-sky thinking, Lyndon. For too long we have all been mired in a tract of pessimism, and with good reason. Things are changing though. For the better.
Mike Gaynes
19
Posted 06/10/2020 at 20:20:43
Brian, Brian, Steve and Bobby (sounds like a 50's boy band)...
FIFA has instituted more rules flexibility for players reporting to Latin America national teams:
Clubs can stop players from going to South American World Cup qualifiers
They're going to address the Covid-19 isolation rules as they come up.
Practically speaking, however, if Richarlison wants to play for Brazil, Everton isn't going to tell him no -- ankle, virus or not.
Brian Williams
20
Posted 06/10/2020 at 20:23:21
Bobby. Elite level sports "persons" are dealt with differently and don't have to isolate.
Jay Wood
[BRZ]
21
Posted 06/10/2020 at 20:25:56
As I always say with regard to interviews of Brazilian players for their domestic audience, you always have to take into consideration just that: they are speaking as Brazilians to Brazilians.
Brazilians want their 'craque' players playing for two clubs in particular: Real Madrid or Barcelona. Since Neymar (foolishly for many) went to PSG, Brazilians have extended that to include the Parisian club.
They also want their best players playing in the best club competition, the Champions League. Brazilians expect such players to share the same desire, to pull on the shirts of RM or Barca and to play every season in the Champions League. Richarlison embraces and expresses the same culture.
As always, he speaks respectfully about Everton FC, his fellow players and is possibly even more gushing about 'Professor Ancelotti' than he ever was about his 'father', Marco Silva. He even mentions how the current Brazilian coach Tite was schooled under Carlo.
Playing for Brazil THE prize is not merely to qualify for the World Cup finals (the only nation to play in all competitions since its inauguration), but to win it. Brazilians always expect the national team to reach the final and bring the trophy home. Richarlison has yet to play a World Cup game of any description, so he was never going to casually give up his first opportunity to do so over the coming week. He loves pulling on the national colours.
To reassure concerns on the injury front, here is a brief video of the Brazilian team doctor speaking about Richy's current injury, showing our man on the treatment table.
Very brief, he says Richy arrived Sunday evening with a twisted left ankle which was immediately assessed and treatment started that same evening.
As you can see in the footage, on Monday he was back on the treatment table getting physiotherapy and ice treatment. The doc says he was unable to train Monday, continued to receive treatment throughout the day and he will be continually assessed each passing day to see if he can 'return to training'. No mention of him being match fit for selection.
The following was recorded yesterday (Monday). Richarlison did not train with the team today (Tuesday). He is in good hands. If there is one area of the health sector Brazil doesn't cut corners on, it's the national footy team!
Dave Abrahams
22
Posted 06/10/2020 at 20:53:23
Jay (21), what do you think Richarlison's chances are of becoming a regular starter for Brazil in competitive games, World Cup etc?
I ask because living in Brazil you know most of the top Brazilian players, domestic and abroad, whereas I only have an inkling of their players. Is Richarlison considered to be one of Brazil's top players by Brazilian fans?
John O'Neill
23
Posted 06/10/2020 at 21:01:05
Hi Jay. As always, your knowledge of the Brazil set-up is great to hear. Thank you!
Stephen Brown
24
Posted 06/10/2020 at 21:03:17
He's been outstanding this season!! Potentially a world class superstar on our hands here and need to match his ambition!
So far the signs are good!
Paul Birmingham
25
Posted 06/10/2020 at 21:25:33
Great to hear and refreshing for Evertonians.
It's that 1983 vibe, still along way to go, but good signs, this season.
Jay Wood
[BRZ]
26
Posted 06/10/2020 at 22:15:34
Dave, in answer to your question I'll first talk about the man. Richarlison is absolutely loved in Brazil.
Most Brazilian footballers of any level are branded in the favelas – the tough shanty towns. For many, the ambition is to make it through football, or be sucked into the drug gangs. It's that stark.
Richarlison was no different, and as I say the bulk of the Brazilian squad has a similar background. Yet somehow, Richarlison is trumping them all.
He has a rustic, naive charm and displays tremendous love and respect not only for his immediate family, but also for his home community, state and the wider nation.
His charity work is discreet, not trumpeted, but again and again and again he dips into his pocket to help folks out, never more so than through this dreadful pandemic.
Brazilians love to give monikers to their footballers. The late, great (and tragic) Garrincha, even now considered by many Brazilians as their greatest ever player, was fondly known as 'a alegria do povo' – the joy of the people.
Richy has a very similar moniker: 'a esperança do povo' – the hope of the people. Why? Because he so closely represents them.
I frankly get tired of people criticising his serious, 'smacked arse', unsmiling 'game face' when playing for Everton. He looks like that because he is so concentrated, so intense and intent on playing to the maximum of his ability every time. He likes to WIN!
As for being a regular starting pick for Brazil as you ask, as the opening post says, his preferred position in centre-forward, but if fit and available coach Tite always tends to go for first Firmino and then Gabriel Jesus for that position. Neymar is always going to fill another forward spot, leaving Richarlison competing with our (alleged) one-time target Everton Soares, Real Madrid's wunderkind Rodrygo and (to a much lesser extent these days) David Neres of Ajax.
I know there are aspects of his game that still annoy you Dave, but my personal opinion is, in this fledgeling season, he has gone up yet another notch. The World Cup is still two years off. Plenty of time for him to usurp the likes of Firmino and Jesus from his prefered starting position. But not Dominic at Everton!!!
Peter Mills
27
Posted 06/10/2020 at 22:26:31
As part of my new-found optimism, I am now not pissed off thinking "Who the hell is this guy, giving us one more season?".
I'm now thinking "Good on you lad, show the rest of the team what your standards are, what you aspire to".
I suspect a world class player, then manager, may have instilled such a mindset into his players. And into me.
Who knows where it will take us? But I have more faith in the current man in charge than anyone for a long time.
Brent Stephens
28
Posted 06/10/2020 at 22:26:31
Fine post, Jay #26. Really informative. Richarlison sounds like a great guy.
Christy Ring
29
Posted 06/10/2020 at 22:29:34
Richarlison is a class act, his skill and work rate is huge. I know he loves playing for his country but, after being injured in his last two games, I'm worried that he's not 100% fit and shouldn't be playing.
I hope he proves me wrong and is back fit for the derby. He's one player we can't afford to be without.
Jay Wood
[BRZ]
30
Posted 06/10/2020 at 22:34:34
John @ 23. Meant to ask how's the ole ticker?
Standing up to all the excitement Everton is serving up these days?
John O'Neill
31
Posted 06/10/2020 at 22:43:05
Hello Jay. It's a different John O'Neill. At least I hope it is or those Brazilian doctors told you something.
Jay Wood
[BRZ]
32
Posted 06/10/2020 at 22:50:42
Opps! My bad John! Either that or the lab results were sent to the wrong address!!!
Danny O'Neill
33
Posted 06/10/2020 at 22:54:04
@ Jay Wood - thank you.
I agree with you on the frustration when we hear the criticism aimed at some of the Brazilian or South American players. Maybe slightly off track from what you say about his intensity but there is a link. They play with that intensity because of the background from where they come from. We often feel we own the rights to coming from a "hard knock" back ground and roll out the classic "can he do it on a Tuesday night in Stoke" line.
These lads come from the favelas. Places that make you realise we don't really have poverty in the UK. They play with desire because that's what got them out of there. And in a different, more sinister kind of way, Argentinians and Uruguayans can mix it with anyone physically.
It's similar with James Rodriguez. "Can he do it in December" I heard; from Evertonians. Firstly it actually rains a lot in Columbia and secondly, he spent 2 seasons in Munich. Again, we don't own the rights to rain or winter!
I think the fact Richarlison always looks pissed off speaks more for the standards he sets himself. Great footballer, great lad, great attitude.
Once again, thanks for the cultural insight.
Andrew James
34
Posted 06/10/2020 at 23:04:15
Jay Wood,
Thanks for the insight. I remember Juninho was seen as a middle-class kid and therefore didn't get the support others did in Brazil. Yet Ronaldo was one they adored from the word go.
How do they regard the likes of Wagner Love, our former player Jo and current one Bernard?
Kris Boner
35
Posted 06/10/2020 at 23:15:51
If you have a resting bitch face, people complain; if you grin and grimace to get through difficult moments, people complain.
Can we please stop attributing attitudes or opinions to players by their facial expressions on the pitch when you disagree with them.
Richarlison, like Moise Kean, plays with a serious look on his face most likely because they are concentrating not because they don't want to be at Everton. Pickford probably grins and grimaces when he makes a mistake as he is trying to shake it off and not make another one, most likely not because he is an arrogant prick.
Not every player is going to smile constantly like the Loch Niasse Monster and people need to legitimately get over it.
Danny O'Neill
36
Posted 06/10/2020 at 23:18:59
Oh Kris, I've had it all my life! I was born with a frown.
I live with it now, but the times I've kicked off when a friendly meaning person has told me to smile / it's not the end of the world etc!! We can't always help the way we look or naturally express ourselves.
I wonder, had we had the same level of camera scrutiny back in the day, if we'd have noticed similar about some of our bygone heroes.
Jay Wood
[BRZ]
37
Posted 06/10/2020 at 23:35:31
Tell me about it, Kris!
Hard for some on TW to believe perhaps, but unknowingly I'm a guy who apparently has a permanent grin on me mug.
It's got me into a lot of trouble down the years!
'Wotz youse fuckin' laughin' at?!'
'Nuttin' - honest!'
Andy Crooks
38
Posted 06/10/2020 at 00:12:09
Jay, some top posts on this thread from you. You don't strike me (I won't insult you with the all due respect caveat,) as a man with a permanent grin on his face. I bow to no one in my pessimism, but I am going to take your advice. I am going to back Everton to qualify for the Champions League.
Yes, I know you didn't advise that directly, but I got the signals you were sending out and I will not, well..not really hold you accountable.
Seriously, isn't this just wonderful. How good is this?
Hope all is well with you and your family. The news agenda is quite strange here. It appears that an editor somewhere has decreed that Brazil doesn't exist, so I assume that Covid is under control there!!

Nicolas Piñon
39
Posted 07/10/2020 at 02:09:56
Hello everyone,
I'm from Argentina.
Jay has made a great summary about Richarlison in his Brazil national team, hard to add something to what youve said Jay
But for those wondering if Richarlison will play for Brazil these two games as to seeing if he will return fit or not for the derby, he plays Bolivia first and Chile away then.
And I've been in Copa America last year and am 98% sure Richarlison didn't start a single game or just one at most. In other words, he is second option for Tite there I am quite sure. Fortunately for us at least.
And if Tite considered him for starting, I just would be worried of the Chile match as Chileans tend to be very aggressive when playing at home in World Cup qualifiers. But this is football with no people, something that maybe takes that off them, so we'll see. Keep calm and support Everton!
COYB!!
Jay Wood
[BRZ]
40
Posted 07/10/2020 at 02:17:48
'I assume, that Covid is under control [in Brazil].'
Ha! I wish, Andy. It's a success of sorts. 'Only' 798 deaths in 24 hours today and 30.5k cases, whereas for four months it barely dipped below 1,000-1,300 daily deaths and 45-60k cases.
As for my gurning, you sound like a man familiar with the unfathomable mysteries of domestic taboos when you dare not utter a word, or barely breathe, in the face of your spouse for fear of the untold wrath that will rain down upon you.
You know the sort of stuff. Sofa cushions turned the wrong way. The forks mixed up with the knives in the cutlery drawer. The toilet seat left up. Again. (Or was it down? I'm sure that was the rule last week...).
At such moments I think I'm wearing a solemn, repentant look, only for her eyes to narrow, her lips pursed, barely moving, as she hisses:
'And just what exactly do you find so funny?'
And I know that bloody smile of mine has done for me again.
Move over, Toffee the Mutt. You've got company in your bed tonight. Again.
Christine Foster
41
Posted 07/10/2020 at 02:28:24
Jay, last year I had a very clean house... it was my way of taking out my annoyance after a weekend of normal disappointment. Although, in getting it clean, I confess it was anger management.
This season I keep tripping over old shoes, cushions on the floor and finding a continual amount of dirty plates in the sink! The moral being I am happy! A permanent smile is far more attractive!
I am so looking forward to the derby, I have two sisters back in Liverpool, both reds, and before I came out I had to endure many hours of countless insults and jibes. So it was so nice to send them a text on Monday that just went: "Haha..Hahaha...Hahahahaha"
Geoff Lambert
42
Posted 07/10/2020 at 02:32:45
I can't wait for the next match, I haven't felt like this since the eighties. Has it finally happened? Are we back with the big boys, challenging for the major honours?
Get a grip of yourself, lad – it's only four weeks in to the new season.
It feels bloody great though. COYB...
Jay Wood
[BRZ]
43
Posted 07/10/2020 at 02:42:08
Hola Nicolas. ¡Buena noches! ¿Cómo estás?
Just talking about Covid-19, what's happened in Argentina? You were doing so well – much better than Brazil! – but recently, your numbers have exploded. I hope you are safe and well.
As for the football, I have to correct you on Richarlison at last year's Copa America. In Neymar's absence (remember? he was injured just before the tournament and withdrew) Richarlison was being spoken of as the big hope for the national team.
He actually started the first two group games v Bolivia (won 3-0) subbed off on 85 minutes, then v Venezuela (a dreadful 0-0 draw in which the team was booed from the pitch). Richy was subbed off at half-time in that one. Then, of course, he caught mumps and it seemed likely he wouldn't feature again for the rest of the tournament.
Everton Soares stepped up, starring and scoring right through to the final v Peru. He actually ended up as the tournament's top scorer. (I won't remind you of who your neighbours beat in the semi-final, Nicolas!). Richy came on with 15 minutes to go in the final and scored the penalty which secured a 3-1 win for Brazil.
He started 3 of the 6 international friendlies played since then.
You also got your fixtures this week a little mixed up. Brazil play Bolivia at home Friday, then high altitude Peru on Tuesday. It's James and Mina who travel to Chile next week with Colombia, first having played Venezuela at home.
What shape is the Argentina national team in these days? And what hidden gems from Argentina would you personally recommend for Everton?
Adiós.
Jay Wood
[BRZ]
44
Posted 07/10/2020 at 02:45:02
TWO Red Sisters, Christine?
They fell a long way from the family tree!
Mike Gaynes
45
Posted 07/10/2020 at 02:50:25
Jay, entertaining posts.
Nicolas, nice to see you post again. Happens I'm wearing my Argentina shirt tonight. In your honor, of course.
Jay Wood
[BRZ]
46
Posted 07/10/2020 at 02:53:48
I meant to add Christine (but the edit button in the TW makeover won't allow me to do so) I know all about muttering annoyance in the wake of another disappointing performance.
And so does Toffee the Mutt!
For you, it manifests itself in an angry house clean.
For me it was a brisk walk with Toffee. And with the time difference that could be 'Mad dogs and Englishmen go out in the midday sun' of 30+ degrees. Not appreciated by Toffee.
This season, Toffee is benefitting from the positive results and enjoys much more the joyous games I celebrate with him in the shaded patio.
Ain't life grand?
Alan J Thompson
47
Posted 07/10/2020 at 04:29:31
I hope Jay Wood is right and something was lost in translation, so to speak, as it is beginning to echo the Lukaku saga. That is until we qualify probably for a virus cancelled Champions League, it's in our DNA.
Nicolas Piñon
48
Posted 07/10/2020 at 04:38:37
Hahaha
Hi Mike, nice one there bro!
Jay! Haha! I seem to be dazed and confused as Led Zeppelin's songs says.
Fortunately I'm well but yes the covid numbers are getting higher but mainly away from Buenos Aires our capital city. The worst thing here is we can't fly outside the country still, the government is pretty bad, similar to Maduro in Venezuela kind of thing. It's not bad because of the flight stuff, of course! Haha!!
Our team looks good but on the offensive part mainly. Our defense (Otamendi, Montiel, Martinez Quarta and Tagliafico) make me doubt a bit. Anyway, I believe we've got enough with Messi Ocampos and Martinez up front against Ecuador and Bolivia. Ocampos is a real great player similar to Richarlison (in my opinion) and has added (just in his two first friendly games last year with the national team) a new dimension to it. Hope he keeps it up!
Getting back to EFC, hope Tite gives Richi a break these games! Haha Adiós!

David Ellis
49
Posted 07/10/2020 at 05:58:05
Shows how vital it is we do qualify for the Champions League this season. We may not get another chance so good as all the so-called big teams have all stumbled (although to be fair to Spurs they didn't really stumble...more rather walked in front of the Everton Express).
We don't have European football this year and finally... we still have Richarlison, who may be in doubt if we fail to qualify for the Champions League this season. And also at some point, we will need the money.
Ajay Gopal
50
Posted 07/10/2020 at 06:08:39
Great thread, with really insightful contributions from our South American friends. Wow, ToffeeWeb has a real International flavour to it, with contributors from USA, Nigeria, India, New Zealand, Scandinavia (I believe), Brazil, Argentina. Oh, and, the local scousers, of course :-) This is fun!
Jerome Shields
51
Posted 07/10/2020 at 07:45:40
Still early days. After the break we will see if the consistency in play continues, with steady improvement in the weaker areas. New signings blending in to add hopefully the strength of depth.
Mark Andersson
52
Posted 07/10/2020 at 09:30:51
Ajay – don't forget us Blue Kangaroos down-under!
Dave Abrahams
53
Posted 07/10/2020 at 09:43:52
Jay (26), thanks for your reply. I had gone off ToffeeWeb last night to continue reading Mike Tyson's "Undisputed Truth" – a man who gave £M's away to people he grew up with, sounds like Richarlison.
As for Richarlison, different nationality to me and from a far different era. Growing up in Liverpool, I was surrounded by poverty. Nobody I knew had anything, so when someone put you down, physically or mentally, you just got on with it and fought back, physically and verbally.
So I don't get or understand that part of Richie, rolling around and dying on the floor with every perceived kick. "Get up and get on with it," I think and sometimes get up and shout at Goodison or nowadays at the TV.
I still see the same faults in his game and he shuts me up now and then with some brilliance, not often enough though. If he's got a football brain, he should start learning off the new players, James in particular, but also the toughness of Allan and Doucouré who I think will outlast the other two and become a Goodison favourites.
Unlike Peter Mills, I do question him "Who the feck do you think you are"? He's not the leader of the band at Everton, the tail that's wagging the dog. He's part of an emerging team that's going places. If he doesn't want to be part of it, fair enough.
He's far from irreplaceable, we can spend the money on someone better, Carlo and Marcus know the score, he will be replaced and he'll be sorry, but maybe richer.
I believe, really believe we are on the way up with or without Richarlison.
Thanks again Jay for your reply and I respect and value your input on Brazilian football and of course Everton. About your wife, I'm glad she continues to come through the terrible tough times you've had in Brazil, and that temper and those looks, I can picture them perfectly, I've had them thousands of times, Scouse wives can match any wives anywhere for those looks, like a dagger going through you. Stay well, Jay.
Brian Harrison
54
Posted 07/10/2020 at 10:34:37
There is no doubt that Rodriguez, Allan and Doucouré have had a great impression on the team, and they have improved the team immensely, but I still think Richarlison is key to everything we do. He has pace he is a good header of the ball and has the ability to go past players.
I don't see any other player at the club with all those attributes, and I was really pleased to see how the team coped when he went off injured against West Ham and Brighton, which shows how much of an effect the new players have had on the squad.
I do think we need to at least get Europa League qualification this season to stop some of the top clubs looking to take Richarlison away from us, with obviously Barcelona being a big lure for South American players. Yes, we will get by without him and buy someone else but we will be so much better if we can keep him.
Sam Hoare
55
Posted 07/10/2020 at 11:00:03
I absolutely love Richarlison. Probably my favourite Everton player of the last 5 years though Coleman always is close to the top.
Realistically I think we will have him for one or two more years tops. And then he will leave for a big club and for a big fee.
Unless we can get Champions League, which I think will be a big stretch despite our perfect start. Our squad is decent but not deep and the likes of Chelsea, Arsenal and Tottenham have all spent a lot to add to squads that were already better than ours.
It's definitely possible but most bookies still have us around the 3-1 mark. It's a long season and I worry that an injury to Rodriguez especially makes us a much less potent team. Fingers crossed!
Mark Taylor
56
Posted 07/10/2020 at 11:56:20
Mea culpa, when we signed Richie I saw a decent player but not a £40M one. I thought we had acquired ourselves another Sigurdsson, solid Premier League standard but mugged on the price.
I suppose on the law of averages we have to get the occasional one right, even under the clowns who oversaw our transfer activity back then. Covid has obviously put a fairly big dampener on prices, but even in these circumstances, there is every chance we'd get an awful lot more than £40M for him, if he keeps up his current trajectory.
And sadly, I think that is what will happen. Not this year, but maybe at the end of the season, at his behest, or the following end of the season at our behest, to cash in. Got to get back some of that money we splurged on sub standard players and paying the wages of players who play at other clubs, because no-one could afford the wages we ended up paying them. Moshiri – or it is really Usmanov – has funded a massive gravy train and I guess payback has to come at some point.
Kevin Prytherch
57
Posted 07/10/2020 at 12:01:12
I really believe that, if we can get into the Champions League and Europa League regularly, then Richarlison will be here for years. I think he loves the club and the fans and will only leave if he isn't playing in Europe.
Over to you, Carlo...
Jay Wood
[BRZ]
58
Posted 07/10/2020 at 13:54:43
Looks like good news for Blues on the Richarlison front.
Richy still not seen on the training field and coach Tite has as good as revealed his starting XI v Bolivia on Friday with Richy nowhere in sight.
I wonder if the Brazilian FA will bite the bullet in the next couple of days and release Richy back to Everton, rather than ask him to travel unnecessarily to Peru for their game there on Tuesday.
Here's hoping.
Michael Barrett
59
Posted 07/10/2020 at 14:15:47
So, Jay, is he more injured than we all think?
Hugh Jenkins
60
Posted 07/10/2020 at 14:23:16
From what Jay has said in his earlier post, the only "big" clubs he would probably consider leaving for would be Real Madrid or Barcelona.
If we can continue building as we are (and assuming that Usmanov is behind the scenes with Moshri), we won't be selling anytime soon because we need to "cash in" – hopefully those days are gone.
As long as progress can be seen (as much by our "stars" as out fans), I don't think he is going to be agitating for a move any time soon.

Filipe Torres
61
Posted 07/10/2020 at 14:25:39
One of Marco's signing, who I think was somewhat hard done by the club. No CB for cover, no Aaha, he didn't get Doucouré, imagine that Gbamin is a Gana type, all those circumstances could have been a game-changer for him.

I guess the name Silva isn't as fashionable as Ancelotti, although he never sorted the set pieces defending out. Credit to Marco on this one.

Michael Barrett
62
Posted 07/10/2020 at 15:58:57
Brian, can he play in goal mate!
Brian Williams
63
Posted 07/10/2020 at 16:00:49
He's big enough!
Michael Barrett
65
Posted 07/10/2020 at 16:34:00
My worry this week is not Pickford but the Covid-19 situation at clubs... our last few games the players dive all over each hugging, and the RS over the park have had quite a few positive results. I can't believe it hasn't happened to us.
So that's my worry and of course the players away with there countries, Pickford will now know he is not in the comfort zone with this big Swede coming in, so he has to improve.
Lynn Maher
66
Posted 07/10/2020 at 16:37:05
Hi Brian @62.
He really looks the part. It just keeps getting better 😁.
Francis van Lierop
67
Posted 07/10/2020 at 16:42:47
Another great thread.
I was excited when we bought Richy, and can remember saying to an uncle that we had bought a potential world class player.
We are finally going in the right direction, and let's hope he sticks around long enough for all our sakes.
Brian Williams
68
Posted 07/10/2020 at 16:50:14
Lynn, I hope you're talking about his footballing skills and not the fact that he happens to be a right handsome devil too haha! "Just saying" :-)
Christine Foster
69
Posted 07/10/2020 at 17:17:37
I do really think he is enjoying his football at the moment, but it's always tinged with disappointment when you hear that Ancelotti has to convince him to stay until next year.
I am afraid I am with Dave on this one: he is coming across as did Lukaku in using the club as a stepping stone. That's not to say he is arrogant in his own assessment of himself, but he is hoping, as did Lukaku, that the big Champions League clubs will beat the path to his door if Everton fail to secure qualification this season.
He is a very good player, not a great one, but one who has the potential in him. But we live in a grown-up world, not the sentimental one where fans expect players to believe as they do.
The difference between the past 20 years and now is the quality of the team and its potential, due undoubtedly to the arrival of Ancelotti. So if he stays and performs, that's great and I hope we can enable him to meet his personal goals, but if he wants to leave, that's okay too, the club should maximise it's selling potential and move on. It's the game that's not a game...
Lynn Maher
70
Posted 07/10/2020 at 17:18:40
Footballing skills definitely, Brian. 😁
Darren Hind
71
Posted 07/10/2020 at 17:56:02
The reason Moshiri gave Carlo a £60M contract and has backed him in the market is to fire us up among the big boys.
If Carlo delivers, Richarlison doesn't need to see us as a stepping stone. He will play in the Champions League here.
Derek Knox
72
Posted 07/10/2020 at 20:09:37
Filipe @ 61, hopefully your comments were meant either as 'tongue in cheek' or had a great degree of naivety in them.
Why Silva, was ever head-hunted as being the next big thing at Everton was beyond me, and I would imagine the majority of us long standing Blues, would agree.
As a Coach he was highly regarded (apparently) but I never saw any evidence of that in the main and more importantly in most games.
He stood like a 'rabbit in the headlights of a very slow-moving car' watching most games unfold before him, and didn't have a clue how to rectify it, made the wrong substitutions, and too late to have any effect.
Beggaring belief, and like his previous incompetents, walked away with a sizeable Lottery style compensation.
As in ' Boys from the Black Stuff, to quote the character Yosser Hughes, " Giz a job, I could do that " what a total waste of space along with Koeman, Walsh and Allardyce, they all, were!
Derek Taylor
73
Posted 07/10/2020 at 20:32:58
From a very similar starting point Big Sam got Everton three places higher than Carlo at the finish of the season.
Not all bad, eh?
Patrick McFarlane
74
Posted 07/10/2020 at 21:00:29
Derek #75
Do you believe that Sam could have progressed the team to attack in the same way that Carlo's team is currently doing?
I realise that it's still very early days in this season and by the end of the month, we may all be back to moaning and groaning about the possibility of another average season, but I get the feeling that even if our early promise isn't fulfilled, we'll still be a lot happier with what we're currently watching than at any time since Roberto's first season, and certainly a lot happier than when Big Sam was in charge, even if the finishing position ends up being similar.

Barry Rathbone
75
Posted 07/10/2020 at 21:11:23
We have to understand the vast majority of players see Real Madrid as the ultimate club both in earning and trophy-winning potential all others are stepping stones including ALL Premier League and Serie A clubs plus Bayern and Barca.
Get 3 decent years out of a player and you can't complain. If they want to hop onto another stepping stone to try and reach the Madrid peak after that then so be it
Forward thinking clubs will thank them pocket the money and get the replacement list out from behind the biscuit box,
Simon Harrison
76
Posted 07/10/2020 at 21:25:45
A very good article Lyndon, and supported by some very articulate and reasoned comments too.
Personally, I'm glad he is still with us he is a different type of player to DCL or James; and, I believe that the differences between all three, is what is currently making us so effective.
A player of Richi's abilities is perfectly entitled to view Everton pre-2019/20 as a stepping stone. It shows his character and his intellect, that he listened to Carletto, and gave the club and him a chance.
I think with him, we have a very good chance of making a European place this season.
RE to Jay Wood [Brz] here is a link of Richi doing light training with the medical team earlier today.
https://www.cbf.com.br/cbf-tv/Richarlison-esta-liberado-para-os-treinos-da-selecao-brasileira
Good wishes all
Si Cooper
77
Posted 07/10/2020 at 21:32:14
I agree with Kris on the way people assume they can judge character merely from facial expressions.
I also agree with those who think that what is said in live interviews or reported by the journalists shouldn't necessarily be seen as gospel or immutable.
Dave Abraham's has a legitimate gripe about the over-reaction to challenges – it is not 'sporting' and uncomfortable viewing – but even that may be a 'cultural' affectation and not a clear indication of a player's toughness. I don't see Richarlison as someone who is fragile or as overly sensitive to pain as he appears, which is slightly worrying as I'm pretty sure he would gladly turn out for Brazil (and Everton) even if not 100% if he were allowed / encouraged to.
Jay Wood
[BRZ]
78
Posted 07/10/2020 at 21:55:06
Thanks for the link Simon. That's obviously from today.
Telling that he was training alone and not with the group, certainly not at speed or any contact.
The doc explains that Richy is still experiencing some discomfort on his left ankle, not helped by a long flight from England.
He felt pain in his last game for Everton, but the last couple of days have enabled him to recuperate a little and his ankle is better. He has worked well this morning.
It encourages us to think that he can soon return to train with the group.
As I said earlier, Tite has as good as named his starting XI for Friday and they had a training match in formation today with Richy nowhere near it.
Still hopeful Richy won't be called on for either game in the next week whilst his recovery continues to go well.
Si Cooper
79
Posted 07/10/2020 at 21:55:11
Derek (75}, that's a very simplistic way of looking at 'causality'.
Basic similarities in starting position could not ever guarantee repeated positions after the remaining games are played out. There are simply too many other variables involved, including the form of the other clubs.
I'll stick with my preference of making my assessment of the various managers using all available data (sorted by relevance) rather than snapshots, although I must admit I just never thought Big Sam would transform the club based on his prior performance and was glad he left.
Justin Doone
80
Posted 07/10/2020 at 22:12:11
The best players are never satisfied and want to get better, fitter, stronger, quicker etc.
The top players also want to win or at least be in a good position to win, which means challenging for titles and be in top level competitions.
We had this with Lukaku. He was by far our best player, young, ambitious and determined to learn and improve.
It got to the point where we as a club / team were going backwards and he wanted to leap forwards. Win silverware, play in the champions league each season. Utd and now Inter provide that.
If we don't achieve European football this season or next why wouldn't he and several other players not want to prove themselves at Juve, Munich, Barca etc.
I thought he was an important signing then and he's proven that. He was our only top class player. We now have 2 others and some very promising players. They not only have great ability but have great work ethic and attitude.
With a bit of luck ie no injuries and players staying in form we could fight for top 4. But I'd like to bring in one more top class forward just in case. Minimum level would be King. Good ability and attitude to work for the team. NSNO
Ian Jones
81
Posted 08/10/2020 at 10:10:41
It's obviously been a great start for us and getting into the Champions League would be brilliant and certainly indicate progress as a club. Geting into the Champions League consistently would be the next step.
However, when it comes to players wanting to play in the Champions League, I assume some also want to play for teams who have a chance of actually winning the competition and that could mean the difference between players like Richarlison choosing clubs like Barcelona or Real Madrid rather than staying at Everton.
Hopefuly, we are on the right path...upwards.
Dave Abrahams
82
Posted 08/10/2020 at 16:24:00
Ian (81), I think clubs like Barcelona and Real Madrid have got to want players like Richarlison before they can move to them.
Simon Harrison
83
Posted 08/10/2020 at 20:40:01
Jay [Brz] You're welcome to the link, and many thanks for the translation(s). I can speak a very little Portuguese, after spending time on Jersey; however, I'm not by any stretch fluent.
I have a feeling that Richi is going to get 1st class medical care, and will be assessed ahead of future games; maybe in a light training game? You never know, Brazil might feel that he isn't going to be able to contribute anything, and send him back to EFC?
Ian [81] I think going forward, that with both Real Madrid and Barça having to massively slash their wage bills, and reduce their squad sizes, and general expenditure; we might actually see a more equitable spread of talent around the top five European leagues; or, we might be seeing the changing of the guard, with the new monied clubs e.g. City, Chelsea, PSG etc starting to overtake the ability of attracting the very top stars.
And as Dave [82] says, it might be all well and good to want to play for Real Madrid or Barça, but, firstly those clubs have to want to sign you; and nowadays, have to be able to afford you.
Dennis Stevens
84
Posted 08/10/2020 at 21:27:15
Derek #73 I'd say it was pretty bad as it was the same level of performance that brought Unsworth's reign as caretaker to an end, despite Allardyce having a lot more time to work with the players & a transfer window to bring in a couple of fresh faces.
Anyway, back to Richarlison. My daughter sent me this link with the subject "Cute!" - I hope it works & that 1 or 2 may not have already seen it:
Young Everton fan tries to persuade mum to sing Richarlison song with swear word in it
Dave Abrahams
85
Posted 08/10/2020 at 21:35:00
Dennis (84), absolutely hilarious, that kid is about three, brilliant, or as the boy would say ":fuckin' brilliant"
Dennis Stevens
86
Posted 08/10/2020 at 22:02:21
Aye, it made me chuckle Dave. As I responded to my daughter: "What the fudge!"

Annika Herbert
87
Posted 09/10/2020 at 04:09:42
Ajay @50, don't forget us contributors from the Philippines! 5 of us so far but trying to get others on the bandwagon.
Still haven't been able to get Mum interested though! Terrific read on Richarlison, thanks, Lyndon.
Alan J Thompson
88
Posted 15/10/2020 at 11:59:54
I hope Andre and James put him right about dream moves to the two big Spanish clubs.
---
Add Your Comments
In order to post a comment, you need to be logged in as a registered user of the site.
Or Sign up as a ToffeeWeb Member — it's free, takes just a few minutes and will allow you to post your comments on articles and Talking Points submissions across the site.