Everton duo take September awards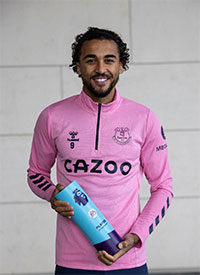 Dominic Calvert-Lewin has been recognised for his scoring exploits last month by being named the Premier League Player of the Month for September.
The Everton star scored the winning goal in the season-opener at Tottenham, grabbed a hat-trick against West Bromwich Albion and was on target again in the away match at Crystal Palace in a 2-1 win.
The 23-year-old added a goal towards October's award with a towering header against Brighton and while they didn't count for the Premier League award, he also notched another hat-trick in the League Cup against West Ham.
Calvert-Lewin was the leading scorer in Europe's top five leagues heading into the international break.
Meanwhile, Carlo Ancelotti was named Premier League Manager of the Month for the Blues' 100% start to the season in September, the first Everton boss to get the accolade since David Moyes seven years ago.
---
Reader Comments (34)
Note: the following content is not moderated or vetted by the site owners at the time of submission. Comments are the responsibility of the poster. Disclaimer
Jason Broome
1
Posted 09/10/2020 at 23:14:47
I was one of the guys looking to sell him as I had lost faith in his abilities. Humble pie tasting quite good right now. Fully deserved to win this accolade. Hoping he becomes an Everton legend.
Kevin Prytherch
2
Posted 09/10/2020 at 23:55:45
Surely this is a typo...
Should it not read "Championship player of the month"?
*Get's hat and quickly leaves before argument commences*
Ernie Baywood
3
Posted 10/10/2020 at 00:31:32
I reckon there's a bit of an elephant in the room with Dom.
He's doing brilliantly and we're all thrilled for him and for Everton. He always worked hard. Everything is going right for him and it's well deserved.
But is there a 'revert to type' moment ahead? So we enjoy it while it lasts, and support/stick with him when things dip?
Or do people think this is it? He's emerged, and he's now a top class number 9?
Bill Gienapp
4
Posted 10/10/2020 at 01:36:30
I thought this would be a bigger deal, like a front page headline or something. Also, no mention that Ancelotti also won Manager of the Month.
Ernie (3) - I'd like to think DCL has convinced the skeptics, but when he failed to score during the restart, there were people on here screaming bloody murder about him getting a contract extension and how we "couldn't give him away now."
Peter Gorman
5
Posted 10/10/2020 at 09:12:42
Kevin!
"Carlo Ancelotti was. the first Everton boss to get the accolade since David Moyes seven years ago."
No shit
Tony Everan
6
Posted 10/10/2020 at 10:01:47
Ernie 3, It won't take long for the snipers to peer over the trenches after one bad result or a couple of missed chances.
Luckily Dominic seems to brush off bad luck, a poor run or spasmodic criticism of. It's like water off a duck's back with him.
I think if he continues to stick to the 'simple game' that Carlo is instilling in him about the positioning and one touch finishing of Inzaghi, DCL will become consistently good. He needs to keep this philosophy at the forefront of his mind, he has never looked better because of it.
Dave Abrahams
7
Posted 10/10/2020 at 10:30:10
Peter (5), not much of an accolade if Moyes could win it so could anyone!!!
Dave Lynch
8
Posted 10/10/2020 at 10:41:23
He's a different player TBF.
I too was one of his detractors, mainly because of his positional play.
The old Calvert Lewin was rarely in goal scoring positions and for a lad of his size and physique rarely imposed himself on defenders.
He has definitely been coached properly, his positional play has come on ten fold and he is now imposing himself on the game.
Long may it continue and the lad keeps developing.

Tony Hill
9
Posted 10/10/2020 at 10:42:09
DCL will continue to do well, even if his form dips, because he has considerable mental strength. He is a classic example of someone who is maximising his talents through hard work and force of will.
Jack Convery
10
Posted 10/10/2020 at 11:33:58
Well done to both - richly deserved. I just hope that old so called curse about the manager of the month is well and truly dead and buried.
John Hall
11
Posted 10/10/2020 at 11:43:22
Didn't Bobby brown shoes win 'Manager of the month' at least once?
Paul Birmingham
12
Posted 10/10/2020 at 12:49:01
Well earned and deserved, and now to carry on through October.
Keith Slinger
13
Posted 10/10/2020 at 13:18:12
And yet sparse coverage from the darling media outlets such as SKY and the BBC, anyone other club would have had it plastered all over their websites?
Eddie Dunn
14
Posted 10/10/2020 at 13:43:57
Of course Dom was expected to run the channels by previous bosses. Now he is getting in the box early and his service is undoubtable better.
Steve Lew
15
Posted 10/10/2020 at 14:13:57
Yep, just checked the Mirror Online...
Manager of the Month – no mention...
Player of the month – no mention.
Of course it's not Klopp related or Liverpool, so no surprise.
Santa Krsh
16
Posted 10/10/2020 at 14:30:18
Congrats Dom & Don.. Feeling a proud blue.
My only worry is about the usual predators who will come sniffing and cause players ( & managers in this case ) to unsettle and this time the unsettling will be coming closer to our Home.
Man City are desparately trying to replace Kun Aguero and United will soon try to replace their Manager!!!
Enjoy while it lasts...COYB

Keith Slinger
17
Posted 10/10/2020 at 15:01:27
Santa @ 16, I do not think Carlo would entertain MAN U as I think he would see Everton as a challenge he has never faced before? As for DCL leaving to any club, I think he is level headed enough to accept that Everton have made him, and to me he will loyal enough to see or extend his contract with us?
Santa Krsh
18
Posted 10/10/2020 at 15:22:47
Hope so Keith..
That's the reason we need to target Top 4 this season and I also seriously hope the club is also thinking on the same lines, in order to keep DCL, Richy, Digne or even Michael Keane (going by the form he is showing) at our club.
People talk about this season as consolidation and all that, but we seriously don't have time.
We got to believe this is our year and it will be our year.
One game at a time.. COYB
Jay Wood
[BRZ]
19
Posted 10/10/2020 at 15:23:29
Lyndon and Michael. I'll post the link here, but this merits a thread of its own.
Allan has given a very fullsome interview on the club site, covering his very humble origins in a Brazilian favela that has shaped the man he is today, to his progression and arrival at Everton.
Allan Sends Passionate Message to Blues
An outstanding, inspiring and reassuring read.
We've got a gud 'un here.
Dick Brady
20
Posted 10/10/2020 at 15:25:47
So in this week alone DCL became the first Everton striker since Gary Linekar to score at Wembley and now he's the first Everton player EVER to win Premier League Player of the month. Not bad for a Championship player.
Tony Abrahams
21
Posted 10/10/2020 at 15:55:57
Just read that link before you posted Jay, and like yourself, I was very impressed with the very understated Allen.
Keith Slinger
22
Posted 10/10/2020 at 16:06:34
Santa, I agree you with you mate, why stand for second best (ie top 4) when we can dream of going higher, stranger things have happened and we as Everton fans have to believe it can happen?
Tom Bowers
23
Posted 10/10/2020 at 16:08:00
Well, it was a fantastic month for the Blues and us fans so let's savor the moment.
We can only hope that October is even better.
There were obvious a few glitches and we didn't exactly paralize the opposition but one can't argue with victories no matter how they come.
All games are tough in the Premiership and we have a few that are maybe even tougher tests coming up so fingers crossed we have a full squad to call on.
Jeff Armstrong
24
Posted 10/10/2020 at 16:23:55
Dick, what about Rideout?
Francis van Lierop
25
Posted 10/10/2020 at 16:26:01
The two have well deserved their honours.
Thanks Jay for posting the article about Allan.
As you say, a good 'un!
Ray Roche
26
Posted 10/10/2020 at 16:38:58
Jeff, I think Dick is referring to the stat mentioned on tv, the first Everton player to score for England at Wembley.
Nick White
27
Posted 10/10/2020 at 16:41:47
Dick - Jagielka and Ferguson at least won it while with us and I'm sure there are others. Lukaku too I think.
Joe McMahon
28
Posted 10/10/2020 at 17:36:25
I only heard about this on ToffeeWeb, I suppose media will headline it, Klopps opinion on September awards!
Ben Howard
29
Posted 10/10/2020 at 18:27:18
I'm a big admirer of Dominic. He has always worked his socks off and sacrificed himself for the team. It's great that our current managerial team have allowed him to be selfish in his play and just look at how it has transformed him. Possessed with all the physical attributes to make a first-class centre forward, its unbelievable to see how quickly top class coaching and tactics can develop a player.
Tony Everan
30
Posted 10/10/2020 at 21:07:30
Jay, thanks for the link on Allan.
We are lucky to have him, a real top class player in a position we were desperate to fill. It cannot be easy uprooting his wife and three kids from Italy, their home, friends and school friends. The sacrifices that the family of a player moving countries and language are significant. It makes me respect him more for coming to us and it shows how much he respects Carlo. Hopefully he can win that elusive title with us.
Dick Brady
31
Posted 11/10/2020 at 07:39:49
I think the report I read said DCL was the first Everton player to win the award since it became the EA Sports Player of the Month in 2016. But yes the likes of Ferguson, Kanchelskis, Lukaku & Jagielka have won previous incarnations.
DCL is the first Everton striker to score for England at Wembley since Gary Lineker though, which is amazing because I would have thought Rooney would have bagged a goal or two before he left for Man Utd.
Steve Shave
32
Posted 11/10/2020 at 09:31:08
Tony (30) I agree we are lucky to have Allan. However, for £100k a week I wouldn't blink to uproot my family! :)
John Raftery
33
Posted 13/10/2020 at 20:19:16
Dick (31) Rooney did score for England before he left for Manchester United but those goals came after the old Wembley was demolished and before the new one opened.
Martin Mason
34
Posted 17/10/2020 at 11:22:05
I'm sure those who had criticised Calvert-Lewin are very happy to be proven wrong. I'm so pleased for him, a very hard working and down to earth lad who could become a long-term legend.
---
Add Your Comments
In order to post a comment, you need to be logged in as a registered user of the site.
Or Sign up as a ToffeeWeb Member — it's free, takes just a few minutes and will allow you to post your comments on articles and Talking Points submissions across the site.