Calvert-Lewin and Pickford start for England
England 2 - 1 Belgium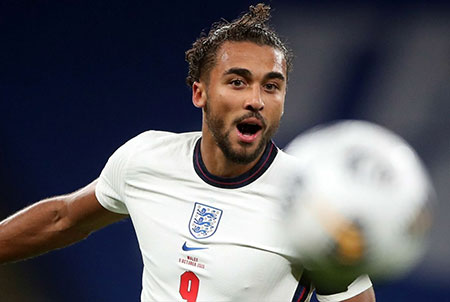 Dominic Calvert-Lewin earned his second England cap and Jordan Pickford returned in goal as England beat Belgium in the Nations League.
The Everton centre-forward wore the Number 9 opposite a former Goodison Park hero wearing the same number on the opposing side in the form of Romelu Lukaku who scored the opening goal from the penalty spot.
Captain Harry Kane started on the bench due to "muscle fatigue" but replaced Calvert-Lewin in the second half who had led the line gamely but with precious little service.
As far as the goalkeeper was concerned, Gareth Southgate made something of a statement in his faith with the much-criticised Pickford by restoring him to first choice despite Nick Pope playing in the win over Wales. Michael Keane, who also played against the Welsh, didn't feature this time.
After Marcus Rashford had equalised from the spot himself, Mason Mount's deflected second-half winner ensured that Roberto Martinez's Belgium suffered only their second defeat since finishing in the bronze medal place at the World Cup two years ago.
England XI vs Belgium: Pickford, Walker, Maguire, Dier, Alexander-Arnold, Rice, Henderson, Trippier, Mount, Rashford, Calvert-Lewin
Subs: Mings, Pope, James, Coady, Maitland-Niles, Phillips, Ward-Prowse, Grealish, Kane, Ings, Henderson, Sancho
---
Reader Comments (87)
Note: the following content is not moderated or vetted by the site owners at the time of submission. Comments are the responsibility of the poster. Disclaimer
Mike Gaynes
1
Posted 11/10/2020 at 15:55:25
Lots of very familiar names in the Belgium lineup: Mignolet, Denayer, Alderweireld, Vertonghen, Meunier, Witsel, Tielemans, Castagne, De Bruyne, Lukaku, Hazard.
Current FIFA world rankings: Belgium #1, England #4.
Mick Davies
2
Posted 11/10/2020 at 16:02:32
No Hazard?
Andrew Keatley
3
Posted 11/10/2020 at 16:03:39
Worryingly defensive line-up. Rashford and Mount are going to have to work incredibly hard to support DCL, as I don't see Rice or Henderson ever getting into the Belgium box.
Am surprised Grealish has not been given the job at 10; he's proving himself to be quite the mercurial talent, and has the sort of confidence and self-belief that could make him immune to the stage-fright that England's other players often suffer on the international stage.
Rob Halligan
4
Posted 11/10/2020 at 16:08:33
Seems a bit harsh on Michael Keane not even being on the bench, as I thought he had a decent enough game on Thursday. Just hope he hasn't picked up a knock, though I suppose with another game on Wednesday he will more than likely be involved in that one.
Tony Hill
5
Posted 11/10/2020 at 16:09:33
Agreed, Andrew @3, I can't see DCL getting service. The omission of Grealish is baffling.
Bill Gall
6
Posted 11/10/2020 at 16:09:56
No sign of any coverage in North America, See top 6 want to control everything in the premier and below, most probably with the help of Sky. What do supporters think of their charges for the some games in the premier league.
Mike Gaynes
7
Posted 11/10/2020 at 16:13:04
Hazard is there, Mick. Last name on the list.
Bill, ESPN+ is carrying the game online in the US. It's also on TUDN (formerly Univision Deportes) in Spanish. If you have DirecTV, it's channel 464... on Spectrum it's 444 I believe.
Dennis Stevens
8
Posted 11/10/2020 at 16:16:19
Hopefully DCL will be subbed at half time, after completing his first international hat trick in the first half.
Darren Hind
9
Posted 11/10/2020 at 16:17:02
Agree with the comments on Grealish. He's always had potential, but he really stepped up when his club were staring down the barrel last season got better and better when they were digging in.
He looked fantastic against the Shite last week
Anyone who nutmegs St Virgil in the manner he did last week is top banana for me
Rob Halligan
10
Posted 11/10/2020 at 16:23:07
Mike # 7. Eden hazard is not in the Belgian team, nor on the bench.
Julian Wait
11
Posted 11/10/2020 at 16:26:26
Dier over Keane is baffling.
Rice over Grealish is baffling.
To play five defenders and two DM is basically holding up the white flag.
Grealish will be called to the rescue at half time, probably for Dier or Rice, and DCL will get subbed for Sancho or Kane because he won't have touched the ball.
Mike Gaynes
12
Posted 11/10/2020 at 16:27:15
Rob, you're right, but at the time I posted, Hazard was listed on the
Independent
website. Now it lists Carrasco in his place.
I was a bit surprised to see Hazard listed initially, since he was injured again two weeks ago.
Jack Convery
13
Posted 11/10/2020 at 16:31:28
Robin Olsen plays for Sweden.
Bill Gall
14
Posted 11/10/2020 at 16:33:48
Thanks Mike but I am up further North in Canada on the opposite coast to you on the Atlantic side. I am not too bothered because I very rarely watch the England games as it always has seemed to be an old boys club. It just seemed more interesting with DCL in the team.
Kieran Kinsella
15
Posted 11/10/2020 at 16:34:13
Three right backs, three defensive midfielders. Looks like a Moyes team
Mike Gaynes
16
Posted 11/10/2020 at 16:35:12
Yep, Jack #13, and guess who's playing striker against him -- our old friend Vlasic. I'll be watching that game too, just out of curiosity.
Bill G, I have mixed feelings too... it's hard to root against England (which I always have) when Dom is leading the line!
Peter Mills
17
Posted 11/10/2020 at 16:42:47
Roberto has been on talking about the need for tactical flexibility. He's changed!
Jay Wood
[BRZ]
18
Posted 11/10/2020 at 16:48:19
That's a tremendous vote of confidence by Southgate naming Dom in place of the injured Kane with all the options available to him v the world's #1 ranked side.
Not convinced by the defensive and midfield line-up.
Jack Convery
19
Posted 11/10/2020 at 16:51:13
Is he still in his brown shoes ?
Christy Ring
20
Posted 11/10/2020 at 16:55:16
Good to see Pickford starting, hopefully it'll help his confidence.
David Hallwood
21
Posted 11/10/2020 at 16:58:32
Good to see DCL get the nod, but apart from that I don't really give a flying one about the national side. Club over country every time
Mike Gaynes
22
Posted 11/10/2020 at 17:00:42
Our new keeper appears to be the approximate size of the Liver Building.
Simon Dalzell
23
Posted 11/10/2020 at 17:01:00
Apart from Dom. ( and maybe Pickford ) that looks a crap team. Very little creativity there. Henderson and Rice in particular are so average.
Robert Williams
24
Posted 11/10/2020 at 17:07:09
My money's on the Belgs. Can't see Pickford keeping the out somehow!
Brent Stephens
25
Posted 11/10/2020 at 17:11:06
Dier error on goal?
Brent Stephens
26
Posted 11/10/2020 at 17:12:30
No Goal but WHY is the flag delayed so long?!
Mike Gaynes
27
Posted 11/10/2020 at 17:14:16
Goals ruled out for offside in both games at exactly the same moment. And our new keeper took a kick in the hand.
Brent Stephens
28
Posted 11/10/2020 at 17:15:31
Lukaku gets penalty off Dier. Skinned him.
Tony McNulty
29
Posted 11/10/2020 at 17:16:41
Have we all been banned from the Live Forum?
Mike Gaynes
30
Posted 11/10/2020 at 17:16:54
Rom not celebrating his pen in front of Pickford. Class.
Kieran Kinsella
31
Posted 11/10/2020 at 17:17:33
Dire dier
Peter Mills
32
Posted 11/10/2020 at 17:18:25
Brainless challenge by Dier.
Simon Dalzell
33
Posted 11/10/2020 at 17:18:33
Oh and I forgot to mention Dier. He's just that. Don't rate him.
Kieran Kinsella
34
Posted 11/10/2020 at 17:21:19
How he argued is beyond me. Nowhere near to the ball. Most obvious penalty I've seen in years.
Brent Stephens
35
Posted 11/10/2020 at 17:21:57
Astute by Lukaku.
Julian Wait
36
Posted 11/10/2020 at 17:23:50
Sunday league tackle by Dier
Phill Thompson
37
Posted 11/10/2020 at 17:23:57
The comment " He's gone to 3 at the back because of the club form of the three centre backs " was quite bizzarre.
Charles Brewer
38
Posted 11/10/2020 at 17:25:50
DCL might as well go and sit on the bench for all the service he's going to get from this lot.
Danny Baily
39
Posted 11/10/2020 at 17:26:55
Gutted to see DCL out there. Pointless game, just hope he gets through unscathed.
Charles Brewer
40
Posted 11/10/2020 at 17:27:37
Belgium taking the piss
Tony McNulty
41
Posted 11/10/2020 at 17:28:18
So far England are playing the slow build up possession game as perfected by Martinez whilst at Goodison. With about as much effect
Charles Brewer
42
Posted 11/10/2020 at 17:30:17
Presumably the selection was based on the criterion "We should pick players from teams that let in more than 5 goals last week"
Tony McNulty
43
Posted 11/10/2020 at 17:31:36
England as dead as the Live Forum
Michael Kenrick
44
Posted 11/10/2020 at 17:31:50
Sorry... I forgot we'd closed the Live Forum after the site crashed last time!
The Live Forum is now Open!

Daniel A Johnson
45
Posted 11/10/2020 at 17:31:52
How can anyone play Dier in defence over an inform Keane?
Southgate ahs his favourites alright. The national set up is a cancerous cess pit. As a manager I honestly wouldn't want my players anywhere near it.
Mike Gaynes
46
Posted 11/10/2020 at 17:33:05
Former Evertonian Vlasic scores on our new keeper, who is pretty much standing still as it slides in. No dive.
Those complaining about Pickford's kicking skills should be watching too. Either Sweden's manager has instructed Olsen to put every clearance into the stands, or he's a really poor kick. Three so far, and they've all gone 10 yards beyond the left touchline.
Tom Bowers
47
Posted 11/10/2020 at 17:33:45
Southgate has proven once again he is not good enough to be England manager. His team selection is awful, just too many defensive-minded players. DCL will be lucky to get a kick.
Grealish is better than anything he has out there right now and Dier is a disaster at the centre of the defence and is nothing more than an exagerrated holding midfielder. Southgate please quit!!!
Graham Mockford
48
Posted 11/10/2020 at 17:41:46
Lukaku is just bullying Dier. Of course his first touch is rubbish, he's only got one foot and he doesn't work hard enough *
*Checks TW notes 2015
Dennis Stevens
49
Posted 11/10/2020 at 17:45:51
Thank goodness Keane isn't in the team to be the scapegoat for another poor England performance.
Tony Hill
50
Posted 11/10/2020 at 17:51:19
I think DCL has done well with the scraps he's had.
Peter Mills
51
Posted 11/10/2020 at 17:51:45
Mike#46, you're not taken with our new goalie, are you?
Julian Wait
52
Posted 11/10/2020 at 18:00:57
Take Dier and Rice off. Play Mount center and bring Sancho on wide, Grealish center. Might be considered risky but let's at least try and win.
Mick Davies
53
Posted 11/10/2020 at 18:04:55
Just like watching Everton a couple of years ago; everything gets passed around the back 4 and the strikers get no support. Dom must be well pissed off
Michael Kenrick
54
Posted 11/10/2020 at 18:08:06
Shockingly poor technique from Calvert-Lewin. He had no conviction at all with that shot. Why oh why can't he hit the ball properly... drives me mad.
Peter Mills
55
Posted 11/10/2020 at 18:16:41
Lovely piece of opportunism by Michael#54.
Andy Crooks
56
Posted 11/10/2020 at 18:23:51
Michael, he CAN, hit the ball properly, which is why he is the leading scorer in the Premier League. Yeah, that was poor., no doubt, but you seem to be down on him. I do get that you, unlike Lyndon, provide immediate analysis and I enjoy that stuff much more but.. we have the biggest asset here since Rooney. Give him a break.

Mick Davies
57
Posted 11/10/2020 at 18:54:54
A Rom and Dom love in there at the end
Tony Abrahams
58
Posted 11/10/2020 at 18:55:38
No Andy, let Michael keep slagging him because it's definitely working for Lewin.
We are all different, Graham talks about the one footed Lukaku bullying defenders. I didn't mind Big Rom's left foot, I used to love him when he started using his weight, but it never lasted long enough whenever he started putting it about, and that's why I have always given Dominic loads of slack, because although he's got his faults, a lack of effort is not one of them.
Philip Bunting
59
Posted 11/10/2020 at 19:02:31
Andy, I think what Michael is saying and it's something I have noticed over a long period of time. The most of Doms goals are headers or 6 yard tapins. What he hasent brought to the table is a 15, 20, 25 yard back of the net goal. Something Harry kane can, Dom needs to work on his strike, shooting from distance to add more to his locker.
Richard Mason
60
Posted 11/10/2020 at 19:05:29
I watched most of the first half. Rashford is a glory hole, numerous occasions he could have laid the ball into Dom but kept running and loosing it.
Dave Lynch
61
Posted 11/10/2020 at 19:09:58
Phil, probably the most prolific striker in English football...Gary Linaker scored 99% of his goals from inside the box.
Never did him any harm, if Lewin can score 20 plus this season I couldn't give 2 toots on a rag mans trumpet if they all came off the back of his head and arse.
John Pierce
62
Posted 11/10/2020 at 19:15:54
DL. Pretty spot on that. Lineker could barely strike a ball or head it cleanly. You might ask did he need to to tap in a ball?
Stan Schofield
63
Posted 11/10/2020 at 19:28:02
I cannot believe the continued nitpicking pseudo-deconstruction of DCL's game that happens on ToffeeWeb. Some people appear to seize on perceived negatives, whilst quietly ignoring significant positives. You only have to look at the goals he's scored, a very recent prime example being that absolutely superb finish from the long pass by Keane, to know we've got a top striker here.
Comparisons with Kane? You're joking, Kane is a media-loved cart horse by comparison.
Mike Gaynes
64
Posted 11/10/2020 at 19:33:47
Pete #51, not dazzled, no. He made a couple of very nice saves in the second half to keep Sweden in the game, seems positionally solid, but certainly not a "dominator" befitting his physical stature, and no discernible distribution skills. This is not Jordan's successor.
Tim Kells
65
Posted 11/10/2020 at 19:37:36
Stan #63. Agree. That finish was world class.
David Pearl
66
Posted 11/10/2020 at 19:37:59
Couldn't see England winning that. Shocking tactics and selection that took away all that's good about Alex-Arnold, hope Klopp does the same (but without the luck). Southgate still chopping and changing all the way to the championships again like all the England managers do.
Nice to see the love between DCL and Lukaku.
Still loathe these international breaks
John McFarlane Snr
67
Posted 11/10/2020 at 19:40:48
Hi Stan [63] it appears that some fans not only demand goals but expect 25-yard scorchers. I know that some years ago we didn't enjoy the benefit of much televised football, but what little I saw on TV in those days, I can't remember Jimmy Greaves being that type of player, but he is regarded as one of England's finest goal scorers, a goal is a goal.
Peter Neilson
69
Posted 11/10/2020 at 19:49:15
All strikers score most goals inside the box. Sharp and Latchford in my lifetime being the best. Carry on Dominic you're doing fine.
Stan Schofield
70
Posted 11/10/2020 at 19:58:30
Tim@65: Yes, if Kane had done that, it would have been front-page news from the media sycophants, and critics of DCL on here would have been spouting nonesense about that's what DCL needs to aspire to.
John@67: Yes, absolutely, and if DCL scored 25 goals per season, season after season, there would still be football masterminds on here informing us of their assessments of his limitations. I think there's a big element of some people 'anchoring' their initial opinions of DCL to a point of refusal to shift from them, pouncing (like those spiders that emerge from a hatch to catch their prey) at the first chance to highlight a negative. They need to know that the ability and willingness to admit they were wrong is a strength, not a weakness.
Mike Gaynes
72
Posted 11/10/2020 at 20:15:21
Stan #70, scoring 25 goals per season is definitely not an inoculation against criticism. Several folks on the Forum were insisting Rom is inferior to Dom even though he's averaged 24 a season over his last six.
Paul Jones
78
Posted 11/10/2020 at 20:27:23
Now I have no idea how THAT happened. Sorry all.
John Skelly
79
Posted 11/10/2020 at 20:29:27
I also think myself and Dave Wilson were old school or college friends in the day – him from Scottie Road me from Great Homer.
John Keating
80
Posted 11/10/2020 at 20:44:00
What was the point if playing Calvert-Lewin today in that system?
This was not a friendly where the manager can look at players and systems, it was a competitive game.
I felt sorry for Calvert-Lewin tonight. Hopefully the manager sticks with that system and keeps Kane in to play it.
Bring all our lads home injury-free.
Barry Rathbone
81
Posted 11/10/2020 at 20:56:08
Without Covid, Wembley would still be empty. What turgid shite international football has become. Even the 3-minute "highlights" on YouTube are too long.
Thank god for Netflix.
Peter Neilson
82
Posted 11/10/2020 at 20:57:20
It was a friendly, just dressed up as the Nations League. Maybe not quite up there with the Zenith.
Joe McMahon
83
Posted 11/10/2020 at 21:07:03
Peter @76, you are correct. But there are also exceptions. Shearer, Andy Cole, Ian Wright, Aguero, Drogba, Van Nistelrooy, Van Persie and Henry (all absolute top notch and prolific).
At the end of the days there all all different kinds of strikers.
Andy Crooks
84
Posted 11/10/2020 at 21:12:17
Well said, Barry.. International football is, in my view, utterly meaningless. We are better than San Marino. So fucking what. God almighty, I can feel an article coming on...
Don Alexander
85
Posted 11/10/2020 at 21:29:58
To me, Calvert-Lewin has a core attribute that we Toffees demand of players, namely that they give their all for the team. To me, Lukaku was seriously lacking in this talent. Since he left he's never impressed me either.
Calvert-Lewin on the other hand visibly gives his all.
Lashing them in from outside the box is a skill very few goal-scorers had/have. Shearer 25 years ago was probably the best, but only occasionally did he do it.
Making defenders very nervous by your movement in the area is a much more oblique skill, creating that nano-second of space and time from which someone may score. Until this season most defenders could take a li-lo onto the pitch, and a book.
Ian Horan
86
Posted 11/10/2020 at 21:58:36
I didn't realise 25-yard and 30-yard goals count double. FFS, TW can be like the national press: build you up to slag you off!!! However, in Calvert-Lewin's case it was slag him off, oh ffs he has become quite good!!! Yeah we have found something to pick fault in his game. Let the 24-year-old develop.
Paul Jones
87
Posted 11/10/2020 at 22:33:23
Calvert-Lewin does not strike a ball brilliantly, nor does Sterling (apart from against us for Man City once) or Lukaku (who was quite timid taking penalties for us).
However, as with other aspects of his game that he has obviously worked on (heading, finishing and positional play) this will improve given his dedication. Then unfortunately we will get the offer we can't refuse.
John Cook
88
Posted 12/10/2020 at 07:48:04
I don't remember Dixie Dean, Tommy Lawton, Fred Pickering, Bob Latchford, Gary Lineker, Pele, Cruff, Gerd Muller, Uncle Tom Cobley and all, scoring many goals from outside the area.
Calvert-Lewin – get yer fuckin act together, lad!
Darren Hind
89
Posted 12/10/2020 at 08:45:17
Lukaku did score a lot of goals and he was the only player I have ever given a 10/10 to for his performance against Bournemouth... but he did have long periods of being a lazy bastard and his first touch did go further than most of us could kick it.
The only Everton player I genuinely disliked. He wasn't getting a game at Chelsea and could easily have spent another season with West Brom if we hadnt stepped in. We gave him the platform to reboot his career and he repaid us with a stream of disrespectful comments. It would have cost him nothing to keep his mouth shut.
Somebody on the live forum told me he had not won a thing. That probably has more to do with the fact that he places his own interest above the team rather than the lack of scoring ability.
I would expect Calvert-Lewin to win stuff by the time he is 27.
Ray Robinson
90
Posted 12/10/2020 at 09:16:51
I think Calvert-Lewin has come on leaps and bounds and is an all-round excellent player but I don't think it's negative or invalid to suggest that he could score even more if he regularly struck the ball more cleanly. He has shown he can do it but still often does not achieve a clean enough contact when shooting.
A comparison with Lukaku in that respect is valid in my opinion. It's not a desire to criticise unduly, more a suggestion as to how he could improve even more. He has learnt the value of getting in the box more frequently and finishing with one touch (supreme example: Bob Latchford).
But can you learn to strike a ball more cleanly? I don't know. Why do some cricketers have the ability to score more sixes than others? Innate timing?
Steve Brown
92
Posted 12/10/2020 at 09:27:30
Dominic Calvert-Lewin is focusing his one-touch finishing, according to the manager. To do that, he needs to be in the box consistently so I am not sure why he suddenly has to add 20-25 yard pile-drivers to his game as a priority. As John Pierce and Dave Lynch say, Lineker never scored one of those in his career.
Frankly, I don't care how he plays well for England or whether he scores. I suppose it builds his confidence and his game to play against top opposition, but international friendlies are uncompetitive and the risk of injury is too high.
Tony Waring
93
Posted 12/10/2020 at 09:30:05
Dom would have put away that header chance which Kane scorned. The cross was tailor-made for Calvert-Lewin.
Mike Bersiks
94
Posted 12/10/2020 at 13:10:54
I didn't see the game, how did Pickford play?
Mark Taylor
95
Posted 12/10/2020 at 15:04:14
Longer range shooting is something DCL needs to work on. Sure the stuff in the box matters as much if not more, but unless your team is absolutely dominating, there will be plenty of times when that skill would be very useful. In any case, it should not be beyond top pros. DCL is a smart eager lad and I think he's be more than happy to work on it.
Otherwise I though he has started his international career reasonably well, certainly does not look out of place. A first goal helps too. Obviously it was harder against Belgium than Wales, they are a very good team and were unlucky to lose, but that also meant the service to him was pathetic. A midfield of Rice, Henderson is understaffed and uncreative. The wing backs were pushed back by Belgiums wider players. Playing 3 centre backs because you don't think any of them are good enough will end up like this.
One thing I did notice was that, starved of any kind of service in the glacially slow build up that went nowhere, Dom started showing for the ball and I though did pretty well with his back to goal holding up play. I think he's now seen as a useful back up to Kane, with the added benefit of more pace. The other missing trick is that Dom tends to win most battles in the air and I though a better set up with a team mate or two closer to him, would have benefitted from the numerous flick ons he served up. Dom does that way better than Kane.
Let's just hope our S Americans come through unscathed in what look to be quite challenging matches.
---
Add Your Comments
In order to post a comment, you need to be logged in as a registered user of the site.
Or Sign up as a ToffeeWeb Member — it's free, takes just a few minutes and will allow you to post your comments on articles and Talking Points submissions across the site.