Tarashaj finally leaves Everton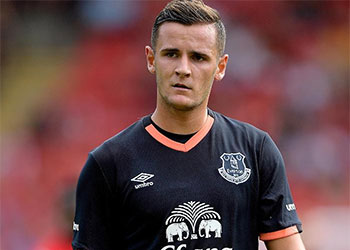 Shani Tarashaj's Everton career is over after a four-year spell with the club that didn't ever result in him playing a first-team game.
The Swiss forward's two-year loan with FC Emmen was ended prematurely today, with the Dutch side announcing that their decision was based on his continuing struggles with injury. It was then confirmed that Everton have cancelled his contract, releasing the player from the club.
Tarashaj played just two reserve-team games for Emmen but wasn't able to get fit enough to represent the Eredivisie side at senior level and they elected to call time on the arrangement even though his terms had another 9 months to run.
Everton signed Tarashaj from Grasshopper Zurich in January 2016 for around £3m under Roberto Martinez as a promising prospect in the mould of his compatriot Xherdan Shaquiri.
He featured in a few pre-season matches and went to Euro2016 with his country but barely featured in that tournament. Loan spells at Eintracht Frankfurt and then again with Grasshopper followed but it was clear by last year that he had no future at Goodison Park.
Everton extended his contract by an extra 12 months last summer to enable Emmen to pay his remaining Everton wages over the course of two years, rather than one, but it was not an arrangement that they could sustain while he wasn't playing.
It is assumed that Everton have reached a settlement with the 25-year-old over the remainder of what he would have been due had he seen out his contract on Merseyside but this hasn't yet been made clear.
---
Reader Comments (34)
Note: the following content is not moderated or vetted by the site owners at the time of submission. Comments are the responsibility of the poster. Disclaimer
Kieran Kinsella
1
Posted 13/10/2020 at 16:43:18
Tarashaj is back at Everton according to the Echo! We extended his deal an extra year so his loan club could afford paying his wages over 24 months instead of 12. And yet somehow they've cancelled the loan and sent him back. How can that happen? Can no one rid us of this troublesome forward?
Brent Stephens
2
Posted 13/10/2020 at 16:58:25
Kieran, I know 4 knights who would do the job cheaply.
Robert Tressell
3
Posted 13/10/2020 at 17:03:39
Really good news about Tarashaj, Kieran. He may just get a first-team game with us in this, his testimonial year with the club.
Kieran Kinsella
4
Posted 13/10/2020 at 17:10:58
Brent,
Hopefully the inebriated knights read ToffeeWeb.
Robert, LMAO – it feels like it is testimonial time, he and Besic both.
Jay Harris
5
Posted 13/10/2020 at 17:24:25
Tarashaj has been plagued with injuries and hasn't really played for a couple of years.
Everton may terminate his contract. He has a dog's chance or no chance of playing in the first team.
Mike Doyle
6
Posted 13/10/2020 at 17:24:51
Robert & Kieran, perhaps the club could organise a testimonial for Tarashaj, Besic & Pennington together. It could be called 'The Holy Trinity Testimonial'
Mike Gaynes
7
Posted 13/10/2020 at 17:35:41
Kieran and Robert, now I understand why Carlo and Marcel felt comfortable sending Kean out on loan. They knew Tarashaj was coming back.
I feel so much better.
Tony Everan
8
Posted 13/10/2020 at 17:39:13
Tarashaj is an "enormous talent, who will bring something very, very special to Everton" ...according to Sñr Brown Shoes.
Still, with the mad signings and spunkathon of the 2 or 3 years after 2016, the £3m blown on Tarashaj looks like small change.
Robert Tressell
9
Posted 13/10/2020 at 17:48:07
Mike – or the Holy Shit Trinity?
Bill Gienapp
10
Posted 13/10/2020 at 22:18:35
First the end of the Sandro era, now this.
Will Mabon
11
Posted 13/10/2020 at 22:35:17
A chaotic saga. With luck the guy will find a future somewhere in the game.

Bill, you're not getting emotional are you?
Bill Gienapp
12
Posted 13/10/2020 at 23:05:09
Will, I dreamed of Sandro and Shani leading our forward line for the next decade. How much more can 2020 take from us??
Jack Convery
13
Posted 13/10/2020 at 23:21:43
Another Bobby BS phenomenal signing!!! Can we sue him???
Will Mabon
14
Posted 13/10/2020 at 23:53:35
Bill, I guess we just have to focus on Calvert-Lewin, Richarlison and James. The pain will subside with time, but we will never forget...
Derek Knox
15
Posted 14/10/2020 at 00:07:56
So contracts can be cancelled...? It would be interesting to know exactly what the criteria is for doing so, and why the hell haven't we done this and many others before now?
Will Mabon
16
Posted 14/10/2020 at 00:18:42
Derek, if a player is on big wages say, and doesn't want to leave, then if the contract cancellation is conditioned such that it requires the consent of both parties – no consento!
Derek Knox
17
Posted 14/10/2020 at 07:51:21
Thanks, Will, but presumably a player who basically knows he's won the Lottery when he signed and either his talent has been grossly exaggerated by our erstwhile scouting system, or they have realised that he is injury-prone after all.
Checks his Bank Balance, and thinks hmm, that will do nicely. Joking apart how many have satisfied my tongue-in-cheek scenarios above?
Let's hope with our restructured system at Everton, apart from unforeseen and unfortunate injuries, these type of cases will be condemned to the past.
It does make you think though how much has the Club wasted, in both the above cases and managerial appointments and compensation that has followed – it is mind-blowingly staggering!
Martin Reppion
18
Posted 14/10/2020 at 09:06:42
So our back up striker problem has apparently been resolved.
Just read that Shani Tarashaj has returned to us from his loan spell. Isn't he a second cousin of Harvey the rabbit?
Martin Reppion
19
Posted 14/10/2020 at 09:16:02
Oh no. Now the Echo is saying we have cancelled his contract.
Can we start a thread on players who came and disappeared? Thinking along the lines of Danny Williamson. There must be other favourites.
Len Hawkins
20
Posted 14/10/2020 at 10:40:34
Martin, the Williamson Tunnels actually extend as far as Goodison and there is a door into a tunnel that all players who were not up to standard are taken and told their reward is at the end of the tunnel.
There is a heirachy down there where long haired bearded failures dressed in rags hold sway, Belfitt, Harper, Pearson (still craving cream cakes), Cadamarteri, Nulty, head the escape committee new members like Niasse Anichebe and Yodelling Tarashaj are the menials. Niasse smuggled some bin bags in. The only one to ever escape Darracott had his brainwashed and put on the coaching staff specialising in heading the shot and catching the javelin.
Phil Greenough
21
Posted 14/10/2020 at 10:40:58
There's nowt wrong with Shani, once a Blue!!
https://twitter.com/shanitarashaj/status/1316123733225078785?s=08
Dave Abrahams
22
Posted 14/10/2020 at 14:18:36
Surely they took insurance out on him with the Royal Liver,mind you the Liver would be well bankrupt with some of the sicknotes we've had in the last few years,I hope Colombia cop for Yerri's latest injury.
Kieran Kinsella
23
Posted 14/10/2020 at 14:35:21
Martin/Len
Surely Kroldrup has a nice cardboard home there to house his pan handling operation
Martin Reppion
24
Posted 14/10/2020 at 16:17:51
Actually, Len, I think you are being harsh putting Alan Harper in with that lot. He did win a championship medal with us in the days when a club had a team of 11 and a few reserves not a squad of far too many. As I remember, he covered every position from the back four and across the midfield and then slotted back to his number 12 shirt when whoever had been injured came back.
Jim Pearson is a different memory for me. I never saw him play as my family moved to Yorkshire in the mid 60's when I was but a kid. But a neighbour, another exiled blue, was the first person I ever heard use the expression 'Donkey' to describe a footballer. And Jim Pearson was the man being derided. It stuck with me ever since.
Martin Reppion
25
Posted 14/10/2020 at 16:22:38
Phil #21. just read Shani's tweets on your link.
If that is genuine then fair play to the lad.
He may have had injuries or just lacked what it takes, but the boy has made the right noises and I wish him well.
John Raftery
26
Posted 14/10/2020 at 17:09:10
Martin (24) I assumed the Harper, to whom Len referred, was Joe Harper, not Alan. Joe Harper was one of Catterick's last signings and one of the worst.
Will Mabon
27
Posted 14/10/2020 at 17:26:12
Along with the better stuff on the park, Derek, it appears the club structure is performing well too (early days, I know). There's a completely improved feel about the whole thing.
As you allude, the waste and screw-ups have been phenomenal. We would be much comfier FFP-wise with some of that dosh back. Not to mention the uncertainty ahead.
For Saturday though - anticipation, not dread. Can't wait.
Brian Wilkinson
28
Posted 14/10/2020 at 19:33:24
No matter how much I am looking forward to Godfrey starting on Saturday, no matter how much confidence I have in the player, I still get cold sweats at night after 30 odd years waking up screaming Glen Keeley wtf have you just done.
Please let this be a happier debut against the shite, if he is selected in place of Mina.
Martin Reppion
29
Posted 14/10/2020 at 22:45:52
Cheers John (26) I'm only a kid of 58 so its either I was too young to get the reference or senility is setting in early due to the amount of banging my head on the table I've done watching the blues all these years.
It is amazing how opinions can differ on a player. before I had the funds and time to drive all over the country to watch my beloved team, I used to get my footie fix watching my local side Bradford City.
I even wrote to Colin Harvey about a young ginger haired midfielder who was wasted at that level. To this day I have arguments with one of my fellow blues who thinks that Stuart McCall was the worst player he ever saw in a blue shirt.
I think having to be the man who replaced Peter Reid was always going to be a tough gig. But I liked him.
John Raftery
30
Posted 14/10/2020 at 23:50:45
Martin (29) I agree Stuart McCall was a decent player. Not many can boast two goals in a cup final. I can think of midfield signings much worse than him around that time. Ian Wilson and Mike Milligan were examples.
Nicholas Ryan
31
Posted 15/10/2020 at 02:54:33
When the player's contract is 'cancelled', the club still have to pay the wages the player would have got. However, that will be subject to a discount, because the player is getting it all in one lump sum and there will usually be a 'clawback' if the player or manager gets another footy job, during what would have been the term of the contract.
This is why Pochettino has studiously avoided looking for a job until now... his Spurs contract period expired last month!
Jerome Shields
32
Posted 16/10/2020 at 11:04:36
Can't even remember him being signed. Must have been injured for years.
Ruairi O'Connell
33
Posted 17/10/2020 at 00:31:16
I spoke to him a bit just after he signed. He was made up to be signing. I mean, who wouldn't be? But he'd just gone to EURO 2016 and was a kid on the up. It all fell apart for him like so many others. But his heart was in the right place.
James Newcombe
34
Posted 19/10/2020 at 15:52:56
Tarashaj had an impressive scoring rate for the Swiss team at youth level and he was just about to break into the full national team when we signed him. For whatever reason it hasn't worked out - injuries? But he was definitely worth a punt.
---
Add Your Comments
In order to post a comment, you need to be logged in as a registered user of the site.
Or Sign up as a ToffeeWeb Member — it's free, takes just a few minutes and will allow you to post your comments on articles and Talking Points submissions across the site.