Pickford keeps his place as England lose to Denmark
Wednesday, 14 October, 2020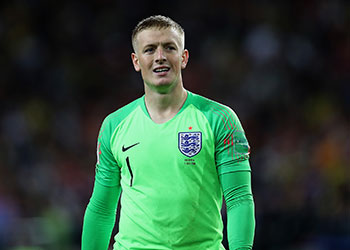 Jordan Pickford was in goal again and Dominic Calvert-Lewin came on as a second-half substitute for England who went down 1-0 to Denmark at Wembley.
After Harry Maguire was sent off for a second bookable offence, Pickford was perhaps guilty of contributing to the mix-up that led to Denmark being awarded a penalty. Christian Eriksen gave the visitors the lead from the spot when the former Tottenham man sent Pickford the wrong to notch what proved to be the winner.
Calvert-Lewin was thrown on to try and salvage a draw. Michael Keane, meanwhile, didn't even make Gareth Southgate's bench. The centre-half played against Wales in a friendly last week but did not feature in the win over Belgium over the weekend.
Elsewhere, Lucas Digne played 80 minutes of France's 2-1 win over Croatia (a game in which former Blue Nikola Vlasic scored) and weighed in with a brilliant assist before having to leave the field with a worrying-looking knee injury, Moise Kean played the last 35 minutes of Italy's 1-1 draw with the Netherlands but there was no Gylfi Sigurdsson in Iceland's team as they lost 2-1 at home to Belgium.
---
Reader Comments (145)
Note: the following content is not moderated or vetted by the site owners at the time of submission. Comments are the responsibility of the poster. Disclaimer
Brian Wilkinson
1
Posted 14/10/2020 at 19:25:58
Happy if Calvert Lewin sits this one out, more important game on Saturday to worry about than us losing our main striker.
John Keating
2
Posted 14/10/2020 at 19:26:58
Great team put out tonight.
DCL on the bench, not sure he gets a cap for that if not bring him on in the last minute of injury time.
Full team for the derby hopefully
Nick Lacey
3
Posted 14/10/2020 at 19:34:23
Not that I want him to play, but is Michael Keane injured?
Christy Ring
4
Posted 14/10/2020 at 19:37:26
Good to see Calvert-Lewin on the bench, with Kane starting, considering he started the last 2 games, hopefully he won't get a run, Saturday comes first!
I see Sigurdsson is not in the Iceland squad?
John Chambers
5
Posted 14/10/2020 at 19:43:13
Saw a report on the BBC earlier that said Keane had left the squad but it didn't give a reason why
Dave Roberts
6
Posted 14/10/2020 at 19:46:34
According to the Guardian Denise Baxendale demanded an apology from Liverpool and Manure today. Proud of you girl and proud of the club. They refused on the basis that they had only been discussing proposals. Lying twats!
Kieran Kinsella
7
Posted 14/10/2020 at 19:47:03
John 5
Probably illegal betting
Nick Lacey
8
Posted 14/10/2020 at 19:49:30
Kieran 7. Out of curiosity, what would make you come to that conclusion?
Charles Brewer
9
Posted 14/10/2020 at 19:58:24
Good! I don't want to see DCL involved in these pointless injury opportunities.
I expect some clogger will manage to give away a penalty (as usual) and Pickford will get hammered for not stopping it.
Tony Everan
10
Posted 14/10/2020 at 20:07:30
Happy DCL is not starting, he will be fresh and rearing to go on Saturday.
Paul Smith
11
Posted 14/10/2020 at 20:09:18
Gutted DCL ain't leading the line be a statement replacing Kane.
Charles Brewer
12
Posted 14/10/2020 at 20:15:52
Rashford has been dire, Kane has been absent. DCL shouldn't be worried
Charles Brewer
13
Posted 14/10/2020 at 20:16:47
Hilarious. Maguire sent off
Brian Williams
14
Posted 14/10/2020 at 20:20:00
Fucks sake this is a joke!
Mike Gaynes
15
Posted 14/10/2020 at 20:20:30
I'm just wild about Harry.
See ya, chump.
Nick Lacey
16
Posted 14/10/2020 at 20:20:55
Whenever I have watched Maguire, he always appears to be very poor.
Brent Stephens
17
Posted 14/10/2020 at 20:21:36
Not sure about the penalty but Pickford didn't help.
Simon Dalzell
18
Posted 14/10/2020 at 20:22:12
Joke penalty award. So many games ruined by officials. Soul destroying.
Brian Williams
19
Posted 14/10/2020 at 20:22:34
Never a penalty.
Ray Roche
20
Posted 14/10/2020 at 20:25:46
Never a penalty, never a sending off.
And someone tell that Manc weasel Neville to get off Pickford's case.
Kieran Kinsella
21
Posted 14/10/2020 at 20:25:53
Maguire to reminds me of a kid from Grange Hill. The sort of bowl cut, chubby cheeks, slouched shoulders and awkward build. Bronson will put him in detention for that card.
Charles Brewer
22
Posted 14/10/2020 at 20:26:08
It's completely unclear what the penalty was for. There was no handling, no one got kicked or grabbed. Very weird!
Charles Brewer
23
Posted 14/10/2020 at 20:26:56
Ray, correct. If he wants to pick a couple of shit players, Maguire and Rashford would fit the bill.
Ian Horan
24
Posted 14/10/2020 at 20:26:56
England have been poor. Pickford needs councilling so rash crosses going in and no one on the end of them
Charles Brewer
25
Posted 14/10/2020 at 20:28:45
DCL would have had a couple by now
Kieran Kinsella
26
Posted 14/10/2020 at 20:29:08
Sigurdsson is not playing for Iceland today. Rested? Injured? Covided?
Charles Brewer
27
Posted 14/10/2020 at 20:30:29
Why is Mings wearing a Dwayne Dibley wig?
Oliver Molloy
28
Posted 14/10/2020 at 20:33:06
Couldn't give a flying fuck about all these internationals.
I Just hope all our players return fit and are up for the fight come Saturday !
Henrik Lyngsie
29
Posted 14/10/2020 at 20:37:04
Clear and obvious penalty
Charles Brewer
30
Posted 14/10/2020 at 20:39:22
Henrik, what for?
Simon Dalzell
31
Posted 14/10/2020 at 20:42:07
Clear and obvious wind up Charles.
Brian Williams
32
Posted 14/10/2020 at 20:43:48
Charles. Coz he's Danish!
Kieran Kinsella
33
Posted 14/10/2020 at 20:44:04
Henrik is wearing his red and white tinted glasses.
Charles Brewer
34
Posted 14/10/2020 at 20:44:16
On second seeing, I think Maguire was unlucky as well, he clearly got the ball with his front foot and the player just caught his back leg, there was certainly no attempt to take him out. (And I'm no fan of Maguire)
Charles Brewer
35
Posted 14/10/2020 at 20:45:19
I realise that Henrik is probably a Lego-fanatic, but I actually woiuld like to know what the pen was given for since I couldn't see anything at all.
Kieran Kinsella
36
Posted 14/10/2020 at 20:46:10
Re: Maguire, does anyone remember when Des Walker turned crap? One minute he was the English Baresi, the next minute he was one half of the Chuckle Brothers? I think it went down under Taylor, may have even involved Koeman
John Keating
37
Posted 14/10/2020 at 20:46:41
Pickford just can't help himself.
Why on earth he came out for that only he knows. Once committed he has to get it. Gareth don't listen to everyone saying Kane is crap. He's brilliant and the only one who can turn this around. He needs to stay on the full 90 minutes
If we're still behind 1-0 in injury time bring on DCL, other than that Harry's the man!
Henrik Lyngsie
38
Posted 14/10/2020 at 20:47:19
Actually the commentators on danish TV are just as surprised about the penalty.
Simon Dalzell
39
Posted 14/10/2020 at 20:48:16
Maguire played the ball fairly. Another joke decision.
Brian Williams
40
Posted 14/10/2020 at 20:48:20
Which should tell you something?
Gerry Clarke
41
Posted 14/10/2020 at 20:48:53
Soft penalty, but Pickford called for it and Walker hesitated waiting for Pickford to come and collect but he never got there.

John Pierce
42
Posted 14/10/2020 at 20:49:17
England have to players to still win this. We have quick attacking players. Southgate isn't the manager we need for this group.
If Pep has this lot we'd ruin sides.
Charles Brewer
43
Posted 14/10/2020 at 20:49:58
Any subs? I've got no audio
Charles Brewer
44
Posted 14/10/2020 at 20:52:42
I've just read that Kane is off, and Ings is on. No DCL or Grealish. Did they piss in Southgate's tea?
Charles Brewer
45
Posted 14/10/2020 at 20:53:26
Or maybe not. That's BBC low quality forum stuff
Kieran Kinsella
46
Posted 14/10/2020 at 20:56:18
Charles
Southgate doesn't seem sold on Grealish. Everyone he's asked about him his response is "yeah he's fine, MASON MOUNT IS SENSATIONAL" Not sure if he a)doesn't rate him or b)thinks he's too big for his boots so wants to downplay him. As for Ings, he's as deserving of a run out over the last 18 months as DCL. I wouldn't read anything negative into it from DCL perpsective
Brian Williams
47
Posted 14/10/2020 at 20:58:57
Ings isn't on. But DCL will be soon.
Charles Brewer
48
Posted 14/10/2020 at 21:01:38
Kieran, I think Grealish is being punished for participating in the utter stuffing of the RS. Mount doesn't appear to be even "Championship at best", and I think Kean is either totally unfit or uninterested. In any case, I cann ot think of any reason why Maguire got in ahead of Kean (or indeed a couple of others), Kean ahead of DCL or Ings, and Rashford (presumably) instead of Grealish.
Charles Brewer
49
Posted 14/10/2020 at 21:02:49
Brian, sorry about that, the BBC has the stupid habit of mixing fan comments with match commentary which really doesn't help.
Tom Bowers
50
Posted 14/10/2020 at 21:03:38
Southgate isn't the man for this job. Sure he ran the under 21's and that shows with his selections during his tenure so far but this job needs more than a knobhead.
His selection once again for this game was puzzling and although he got away with it against Belgium it has so far backfired here.
Grealish is by far better than anything in the middle of the park for England but Southgate wouldn't start him. Maybe if he played in London he would get the start.
Jeff Armstrong
51
Posted 14/10/2020 at 21:04:24
Leave DCL on the bench all game for me!
Brian Williams
52
Posted 14/10/2020 at 21:05:36
No probs Charles.
Peter Mills
53
Posted 14/10/2020 at 21:06:07
I'm not sure what I'm watching here, but it's utter shite. What has the game become?
Phil Sammon
54
Posted 14/10/2020 at 21:06:44
Charles 48
That is a very confusing post.
Charles Brewer
55
Posted 14/10/2020 at 21:12:03
Phil, thatks for the opportunity to do something other tha watch this dross. Essentially: Mount is dross, Kane is hopeless tonight, Maguire has been dire all season. Sorry about then typos
Geoff Lambert
56
Posted 14/10/2020 at 21:14:37
Dom on

Brian Williams
57
Posted 14/10/2020 at 21:14:44
DCL on to save the day.
Kieran Kinsella
58
Posted 14/10/2020 at 21:15:22
British team winning at Hampden Park, hopefully they hold on otherwise it will be a bad night for Scotland. Norther Ireland losing but hopefully they can turn it around and get a result for Britain. DCL may come on here and win this for England, otherwise it will be a loss for Britain.
James Head
59
Posted 14/10/2020 at 21:19:02
It's the worst England team i've ever seen, over-rated average players, negative tactics and a clueless, gormless manager, now got DCL playing out left, absolute dross.
Andrew Keatley
60
Posted 14/10/2020 at 21:21:00
Thank God Rashford is off. That has to be his worst performance for England, and there have been quite a few. And the first yellow for Maguire could easily have been a red. In fact both his bookings were reckless challenges that resulted in studs-up contact with Danish players, so he really can have no complaints.
How Grealish is not given 20 minutes to try to fashion something is infuriating.
Kieran Kinsella
61
Posted 14/10/2020 at 21:21:47
James
Problem is our supposedly "creative" players Barkley, Grealish, Mount, Winks are all inconsistent so Southgate goes with the dogs of war. Meanwhile we suddenly have a plethora of right bags and seemingly only one left back
Tony McNulty
62
Posted 14/10/2020 at 21:23:58
DCL trying to do a Ronaldinho. Anyone recall how he sometimes used to control the ball with his back?

Phil Sammon
63
Posted 14/10/2020 at 21:28:01
Why would you bring on DCL and put him on the left wing?
Pete Williams
64
Posted 14/10/2020 at 21:32:11
DCL on as left winger?! Plus you need goals and he brings on Henderson for Rice. I don't know what Southgate has been taking but I think he's gone nuts. The man does not know what he's doing. It's a total shambles and he doesn't know what to do. Team selection was useless and his sub decisions are just baffling!
James Head
65
Posted 14/10/2020 at 21:32:46
Theres a modern obsession with pass pass pass, just get the fkn ball in the box
Christian Konttorp
66
Posted 14/10/2020 at 21:37:30
And If om correct, Digne had to go off.. injured?
Michael Barrett
67
Posted 14/10/2020 at 21:37:56
He is so reliable with that left foot hahaha
Mike Gaynes
68
Posted 14/10/2020 at 21:38:16
Wow, that's really Denmark's first win over England in 37 years?
Phil Sammon
69
Posted 14/10/2020 at 21:38:45
Michael 67
Yeah I had to laugh at that, too.
Christy Ring
70
Posted 14/10/2020 at 21:39:35
Digne gone off injured for France, 83rd minute, that's all we need.

Brian Williams
71
Posted 14/10/2020 at 21:39:50
That's what you get for bottling it with team selection. The likes of Grealish not even getting on when Rice is starting games.
Robert Williams
72
Posted 14/10/2020 at 21:40:40
Oh dear !!
Nevermind eh, I see Wales are now topping their table - those Williams boys - can't keep them down.
John Pierce
73
Posted 14/10/2020 at 21:40:43
Southgate trying to protect a poor defense and jittery keeper goes with a double pivot CDM.
We have speed and creativity in abundance to protect our ropey defenders by keeping it at the other end of the pitch.
Great guy Southgate. A utter novice tactically.
Mike Corcoran
74
Posted 14/10/2020 at 21:41:02
Feck. Digne went off injured according to BBC. Nkonkou might be getting a baptism of fire Saturday
Mike Corcoran
75
Posted 14/10/2020 at 21:43:10
England are gash in that formation by the way. How the feck Grealish didn't start I don't know. I'm not remotely arsed but they need to ditch 3 at the back and get some guile in the middle.
Mike Gaynes
76
Posted 14/10/2020 at 21:43:48
Digne set up France's gamewinner with a sensational pass, but he appeared to injure the inside of his left knee and needed help to walk off. Worst possible news for the Derby.
Kieran Kinsella
77
Posted 14/10/2020 at 21:43:50
Derek Know should be happy, Scotland are on a roll.
Mike Corcoran
78
Posted 14/10/2020 at 21:44:32
Slab head has surely had his day now been ropey for a good year now
John Pierce
79
Posted 14/10/2020 at 21:45:10
Looks like we are going three at the back Saturday, as that's all we have left
Tony Hill
80
Posted 14/10/2020 at 21:48:13
Delph can also play left-back but Nkounkou is tough and talented. Let's hope Digne can make it but it doesn't look good obviously.
Will Mabon
81
Posted 14/10/2020 at 21:50:20
With England, it's just oh so predictable. Didn't watch the game, heard the result, scanned down the thread here, and saw exactly what I knew I'd see.
Same shit, different day.
Don't like the news re. Digne but everything else is as expected.
Mike Gaynes
82
Posted 14/10/2020 at 21:52:08
Tony, based on what I just saw there's no chance for Digne. No doubting Nkounkou's attacking talents but none of us has ever seen him defend against quality opponents -- he wasn't called upon to do much defending in those Cup ties. So I think your guess about Delph is probably a good one.
And if Mina can't answer the bell, Godfrey gets his chance to become an instant legend.
PS... Digne injured himself with one of the best volley passes you'll ever see. Served it on a plate for Mbappe. But something went wrong with that knee when he hit it.
Mike Doyle
83
Posted 14/10/2020 at 21:53:21
Bainsey out of retirement for Saturday?
Tony Hill
84
Posted 14/10/2020 at 21:55:09
Yes, we have to ride with it, Mike. We'll be good.
Mike Gaynes
85
Posted 14/10/2020 at 21:57:14
Love that idea, Mike. His #3 is still available.
Bill Gall
86
Posted 14/10/2020 at 21:58:58
Never even bothered to look for the England game as I usually don't watch them, sounds like it was a typical England game ok against poor opposition, struggle against a defensive team, useless with 1 man down with a clueless manager using subs to get back into a game
Oliver Molloy
87
Posted 14/10/2020 at 21:59:55
If Digne is out, then young Nkounkou surely in line for the biggest test of his football career.
Mike Gaynes
88
Posted 14/10/2020 at 22:00:41
Oliver, sorry, Mike Corcoran beat you to that line!
Kieran Kinsella
89
Posted 14/10/2020 at 22:02:13
Mike Gaynes
Catch 22 with Nkounkou, he could terrorize Liverpools high line but their forwards could terrorize him. Could be high scoring
Christy Ring
90
Posted 14/10/2020 at 22:03:10
Tony #80 Delph can play at left back, but probably booked after 10 minutes. I see Robertson missed the Scottish game tonight, he kicked the ball away, against Slovakia, got a yellow, so was banned for tonight??
James Fletcher
91
Posted 14/10/2020 at 22:04:23
You can't go into a game with almost zero left footed options, particularly if you're trying to play wing backs as you end up with just too many people in the same area and no threat down the line on the left.
Baffling selection from Southgate and similar with the subs
Oliver Molloy
92
Posted 14/10/2020 at 22:05:36
Mike Gaynes,
thank you for heads up, managed to change my post.
Bill Watson
93
Posted 14/10/2020 at 22:06:09
We ALWAYS seem to lose players in these international matches not many give a damn for.
Jamie Crowley
94
Posted 14/10/2020 at 22:09:10
Nkounkou is the real deal. Losing Digne is a blow to be sure, but I think Nkounkou is one of the most explosive, athletic young players I've ever seen.
My big worry - isn't that Salah's side? Mo, red or not, is a freaking great player. If it was any other attacker paired against Nkounkou I'd be less worried. If Nk bombs forward, which seemingly after watching in the League Cup is what he's really good at, and leaves empty space for Salah to exploit behind him? Ugh.
Of course this happens basically two off-days in front of the game. Relish life's challenges!
Steve Ferns
95
Posted 14/10/2020 at 22:10:58
Gutted to hear about Lucas Digne. He's been excellent for us this calendar year, one of the few decent performers in the dismal lockdown run and really thriving when the whole team was lifted with the new signings. He'll be a big loss for his character, leadership, and he seems to be a very positive person who will hard to replace in the dressing room.
I really like the look of Nkounkou and hope he can put in one of those performances like he did against Salford and Fleetwood. But it's a whole different story up against Mo Salah. Carlo is going to have some thinking to do.
Jamie Crowley
96
Posted 14/10/2020 at 22:13:42
Just when I'm thinking, "we can beat them", our back line could be:
Davies Keane Mina Nkounkou
And two of our most dangerous players are half way around the world in South America, and have to play Saturday mid-day in England.
I feel the negativity and the pending doom creeping in. Someone make it stop.
Mike Gaynes
97
Posted 14/10/2020 at 22:14:40
Steve, you've presumably seen Delph at LB. I have not. Think he can handle the job against Salah?
Tom Bowers
98
Posted 14/10/2020 at 22:15:17
This was all down to knobhead Southgate.
He is about as useful as Sam Allardyce.
Not starting Grealish was a disgrace. Southgate's judgement in starting the likes of Calvin Phillips, and 2 others who have little or no experience in playing as midfield creators was positively inane.
Southgate must not be allowed to take charge again after this debacle.
Kieran Kinsella
99
Posted 14/10/2020 at 22:17:22
Jamie
Coleman could play according to Carlo plus Allan and Gomez, even Gbamin started light training and Tarashaj has gone
Kieran Kinsella
100
Posted 14/10/2020 at 22:20:46
James/Tom
Southgate had a lot to contend with. Five players stupidly violating quarantine, Barkley and Loftys Cheek getting no game time at Chelsea, Winks has regressed, Rose can't get a club game. Grealish is hardly a proven solution at this level or even the prem just yet
Steve Ferns
101
Posted 14/10/2020 at 22:21:49
No chance mike. He only played there in Pep's system. This would be a difficult kettle of fish.
First off, he can't get forwards like Digne or Nkounkou. Second, he might be a good passer, but I never saw him whip a cross in under close attention from a full back. He doesn't have the pace or trickery to beat a man.
He lacks pace, so Salah would eat him for breakfast. I think he's rash one on one and gives away fouls cheaply.
If he plays there, he'll stay deep, meaning we will lack the usual width from the left, and be unable to play a higher line.
I can't see it myself. I'd be inclined to go with Nkounkou who showed defensive qualities against West Ham. He's also got pace to match Salah (well he'd be able to hold his own). He's used to playing there. He's also bigger and stronger than Delph.
I'd go Nkounkou.
Oliver Molloy
102
Posted 14/10/2020 at 22:22:30
Unless something happens to Seamus Coleman between now and Saturday - he plays and he fucking scores !!

Will Mabon
103
Posted 14/10/2020 at 22:22:41
Mike, Delph played a few good performances for City at LB but it was a long time ago, and several/many injuries back.
Mo Salah can be a handful for anyone but he's not been at his top level for some time. Always quick though. Hopefully he has an off day.
Jamie Crowley
104
Posted 14/10/2020 at 22:23:18
Oliver and Kieran -
Thank you!
Mike Gaynes
105
Posted 14/10/2020 at 22:25:33
Thanks, Steve. The kid it is. Just hope Mina is there to help him out. Starting two or even three debutantes across the back would not make for an enjoyable day.
Will Mabon
106
Posted 14/10/2020 at 22:26:54
Steve, Delph could fill in, in an emergency, there may be no choice - but as you say, he'd have to stay deep. Depends what we can come up with. Delph and Nkounkou, which one back, which one forward?
Bill Gall
107
Posted 14/10/2020 at 22:29:05
Nkounkou during his career must have played a defensive roll from his start, and through his stages in internationals.
We need a left sided defensive player in this position but he would have to curb his instincts to bomb forward at every opportunity, but if Digne was fit he would still be getting forward to help the attackers.
Ancelotti may play Nkoukou who is fast in a more defensive roll, and if he gets up-field pass it into a midfielder or striker.
The one thing that we may miss without Digne are his free kicks and corners.

Mike Gaynes
108
Posted 14/10/2020 at 22:37:30
Bill, that's one area I'm not worried about. We have this new fella, #19, whatshisname, strikes a pretty good set piece.
Bill Gall
109
Posted 14/10/2020 at 22:38:06
Ancelotti may have a surprise with the new signing Godfrey.
Steve Ferns
110
Posted 14/10/2020 at 22:38:08
Will, Delph is the worst of both worlds (attacking and defending).
Attacking he can't get forward like Digne can. He lacks the pace, he lacks the technical ability on the ball, he can't beat a man, I've never seen him whip a cross in.
Defensively, he lacks pace. One on one defending is a key skill of fullbacks and something he lacks. Salah's pace and trickery will have him on his arse.
In Man City's tactics, the fullbacks tuck into a defensive midfield position. This is why Delph was there. He wasn't getting forwards. He was minding the shop. He was infield and able to use his excellent range of passing to move the ball from deep. This is not what Ancelotti would want from him. I think he's in capable of doing an impression of Lucas Digne. But Knounkou can.
Whether Niels would freeze on the big stage and make mistakes is a the worry. Delph wouldn't have that. By choosing Delph you are saying that Delph's worst is probably better than Nkounkou's worst. But Nkounkou's best is so much better than Delph's best (as LB) and so I'd be positive and go for Nkounkou.
Jamie Sweet
111
Posted 14/10/2020 at 22:42:02
Bill, I've heard we've got some Columbian fella who can whip in a good corner and strike a decent freekick, so that's the least of my worries to be honest!
Bill Gall
112
Posted 14/10/2020 at 22:43:06
Agree with that Mike, as the #19 who has a decent left foot may swap wings with Riichie, depending who fills the left back position.
Ray Roche
113
Posted 14/10/2020 at 22:43:37
Steve, with regard to Niels 'freezing' on the big stage, the lack of fans and atmosphere should help in that situation. I think he's a natural substitute for Digne, furthermore, I think he'd give THEM something to think about with his attacking game and could well negate Robinson.
John Pierce
114
Posted 14/10/2020 at 22:43:41
I have zero worries this weekend. I've normally by this stage gone through several moments of torture tinged with a tiny piece of hope.
We have enough to score against them. For once they have to think about what we can do. All our attacking pieces are fit, so I hope Carlo goes for it.
My only concern is Carlo has a decent record against Klopp. He normally holds and counters against him. Not sure we have the personnel to do that...
This weekend is Richarlison's weekend.

Paul Birmingham
115
Posted 14/10/2020 at 22:43:44
Typical of Everton luck, v Old Nick, but let's see whom, is fit and available.
Carlo, will have plenty to consider, but let's focus on Everton, and stay positive.
The RS, could also have injury challenges..
Let's stay positive and hopefully if called upon Godfrey can do the job, and that Allan, is fully recovered and fit for the game.
Does any one know whom the officials are? Thankyou.
Steve Ferns
116
Posted 14/10/2020 at 22:52:09
Ray, do you mean Trent Alexander Armstrong? Robertson is on the other wing.
Will Mabon
117
Posted 14/10/2020 at 23:04:25
Steve, he worked well at City, and was narrower too, but yes, a different system. Of course despite looking improved of late, he has reduced stamina in the tank from barely playing.
I'm thinking we're basically going to have to shut up shop down that side and be deeper as a starting basis. Nkounkou has the physical but not the experience. I think Salah may go on his walkabout routine as well across the front line.
Delph could play in front of him from in to out as cover of sorts, accepting that leaves no wide attacking option. Nkounkou perhaps has the power to shuffle up and down in front of Delph, who can shadow Salah. It's most important to keep Salah from cutting in.
It's not an easy one. Would be nice to see Nkounkou surprise us all and put Salah in his pocket.
Christy Ring
118
Posted 14/10/2020 at 23:07:51
We still don't know the extent of Digne's injury, so here's hoping.
Steve Ferns
119
Posted 14/10/2020 at 23:08:37
Will, so you'd replace Digne by playing both of them and dropping Richarlison?
I'd rather be bold, gamble and throw Niels Nkounkou in. He'll have belief and the team is high on confidence. Let's not be cautious and go for it. What have we got to lose?
Rob Halligan
120
Posted 14/10/2020 at 23:11:06
Paul, # 115. Michael Oliver is the referee for Saturday, David Coote is the VAR official.
Martin Reppion
121
Posted 14/10/2020 at 23:13:00
Paul #115, I honestly don't care about the officials for once.
Just watched the England game in the pub with no commentary. Stevie Wonder would have done a better job as ref. So whoever we get will be better than that.
No idea what the experts reckoned, but I didn't see a second yellow card for Maguire. I have been arguing what the penalty was given for. Couldn't see a handball but maybe the arm brushed the face.
In the second half, England players got booked for challenges which the Danish guys were not even warned. I have often accused refs of being 'homers', but this was the first time I've seen an 'awayer'.
All that doesn't save Southgate from criticism for his selection policy.
Steve Ferns
122
Posted 14/10/2020 at 23:17:27
Rob, what do you think?
I'm happy with Oliver. This is his third derby. He managed the 0-0 at Goodison in 2018 under Allardyce and his first one was another draw at United. He was in charge for the Millwall handball fiasco but, other than that, I think he's usually been alright.
Will Mabon
123
Posted 14/10/2020 at 23:35:46
Steve, I agree about bold but not to the point of giving Salah too much opportunity. Not to replace Richarlison but to play left of the midfield in front of Nkounkou – or the other way around with Delph at left-back. This is riskier but possibly more attacking threat with Nkounkou there.
Rob Halligan
124
Posted 14/10/2020 at 23:37:06
Steve, when he first appeared on the scene, I thought he was okay. He's probably still one of the better ones, but I think you'll agree, most of them are bloody useless.
Steve Ferns
125
Posted 14/10/2020 at 23:38:16
Will,
In order to play two left-backs, who are you dropping?
Rob, for sure.
John Pierce
126
Posted 14/10/2020 at 23:40:20
Steve. We absolutely have to go for it. Or what was the point in getting James?
If we win and win well, it will give us a level of respect that helps win games in the tunnel.
The referee is irrelevant, it's a crutch to lean on. Let's not this time eh. We have tangible evidence we have a decent team, let's go for it!
John Kavanagh
127
Posted 14/10/2020 at 00:00:52
England are more and more resembling last season's Everton – a midfield devoid of skill/ideas and forwards left to feed off fewer and fewer chances. Southgate is also trying to cover a wobbly central defence with more defensive midfielders. A recipe for mediocrity and failure as all Blues know from last season.
At least things have advanced under Southgate – we've gone from tap tap hoof to taptap taptap taptap taptap hoof. Skillful players are being played out of position and wasted under a formation now based on fear.
As for Digne being out, I wouldn't hesitate to play Nkounkou. That's what we bought him for and his speed and passing will give the RS something to worry about. Likewise Godfrey if Mina isn't fit. If we are to win they are now risks we have to take – like playing three new signings against Spurs.
Will Mabon
128
Posted 14/10/2020 at 00:01:43
Steve, how would playing Delph left midfield in front of Nkounkou mean dropping Richarlison?
Delph is a midfielder that can play left-back. If their positions are reversed, the mobility of Nkounkou could help cover Delph and is more mobile going forward. Who plays there instead?
Steve Ferns
129
Posted 15/10/2020 at 00:10:46
Will,
Delph wasn't in the last team or indeed any Premier League team this season. Someone is dropped for him to come in. Ahead of Digne this season has been Richarlison. I don't consider Gomes, at left central midfield (or Sigurdsson in the Brighton game) to have played ahead of Digne. But I now suspect this is what you meant.
So you mean to drop Sigurdsson / Gomes and play Delph there to look after Nkounkou. Fair enough, but I wouldn't do it. Carlo wants a right-footer to switch the play over to James on the right flank. A left-footer can do it, but you really need the natural arc of a right-footer, and Delph's passing isn't as good as the other two, neither is his ability to draw players to him, hold them off and make the pass, which is a key component of Carlo's tactic, also known as the bait and switch, which creates the room in which James has thrived.
Gomes's switch to James was the third most played pass in the first three games of the season, with the James switch back to Digne, being the most.
Will Mabon
130
Posted 15/10/2020 at 00:26:28
Isn't Gomes injured? I just think the "Improved" Delph offers more in front of Nkounkou in terms of help if necessary than Sigurdsson (or Gomes), albeit he's less creative, and the left-footed thing. Reversing the positions is just an idea, with risks but more movement and speed from the midfield.
I'd love us to go at them positively and I'm confident we will compared to previous times, just been thinking about the risk of Salah, balanced against having a more offensive midfield. Will be interesting to find out how Carlo sees it. As I said earlier, it would be great to see Nkounkou deal with Salah...
Will Mabon
131
Posted 15/10/2020 at 00:29:12
John @ 127,
I didn't even watch but can imagine exactly how it went. I just hope Southgate hasn't baffled Calvert-Lewin out of his form.
Steve Ferns
132
Posted 15/10/2020 at 00:32:51
Will,
Gomes was fit enough to play the day after the Brighton game, according to Carlo at the time, and he's again confirmed Gomes is fit and ready for selection. I'd be surprised if Delph starts ahead of them both. Allan is also back (for Davies) and Doucouré is fit and rested.
So looks like a straight choice between Delph and Nkounkou at left-back. But perhaps Digne will be fit. No mention of injury from him on social media, after the match, but no mention he's fit either. Fingers crossed Lucas is fit and starts.
Ernie Baywood
133
Posted 15/10/2020 at 00:57:04
Not interested in the 'safe' option at left back. I'm not even convinced Delph is that safe. We have to go and have a crack at Liverpool. Delph playing safe and going back to the keeper is about the worst thing we could do.
If Digne doesn't make it then I think it has to be our new boy who comes in.
Mina and Keane both worries?
And that's before the COVID tests start coming in.
I feckin hate internationals.
Will Mabon
134
Posted 15/10/2020 at 01:05:04
I missed that, Steve. I knew about Allan. Digne the ideal of course.
Over to the Professor!
Will Mabon
135
Posted 15/10/2020 at 01:09:24
Ernie, I don't want us to be over cautious either, we don't need to be. I just have a weather eye on Salah, he will hit form again anytime soon. Guy was almost feckless against Villa.
Steve Ferns
137
Posted 15/10/2020 at 08:13:57
Will, the "out of form" Salah scored two against Villa and has 5 for the season, just 1 less than the "on fire" Calvert-Lewin!
Dave Williams
138
Posted 15/10/2020 at 10:42:06
Play Niels with Richarlison helping him out. I think he is solid enough if he is told to look after Salah primarily but, when we attack down that flank, the two of them can create havoc.
We have been too cautious too often against them – sure they are likely to score some goals but this time so are we!!
James Fletcher
139
Posted 15/10/2020 at 10:43:44
Anyone else think they were a bit quick to throw Pickford under the bus for the goal last night? It was never a penalty but I also don't really think that Pickford coming out for it had any bearing on what happened...
Tony Everan
140
Posted 15/10/2020 at 12:29:37
Steve, Will, apparently Digne has said he should be okay to play. Failing that I would prefer Nkounkou there to Delph. Delph could well be needed to cover Allan with him just returning from injury.
Pickford
Coleman Keane Godfrey Digne
Doucouré Allan Gomes
James Calvert-Lewin Richarlison
There's a chance Carlo may be tempted to go with Godfrey even if Mina shakes off his injury. Having some real pace in the back four will be an incentive.
Julian Wait
141
Posted 15/10/2020 at 14:03:28
@James #139 - I also thought the criticism of Pickford for that incident was harsh. May have been a poor decision (perhaps) but it was not responsible for what Walker did (or rather, didn't do - never a penalty, not even a foul anywhere else!).
Will Mabon
142
Posted 15/10/2020 at 14:54:17
He did, Steve, but spent a lot of the match looking uninvolved and well off it (okay, most of them did!). Still nowhere near his dangerous best form, and I hope it continues.
Tony - with luck then, that will be the team.
Charles Brewer
144
Posted 15/10/2020 at 17:26:28
James, Pickford would get slagged off by the media if he saved half a dozen penalties and then rescued 100 children from a burning orphanage on the way home. 'Piling on' is one of the most unpleasant things in the social world today and Jordan is getting a real dose of it.
Last night, Harry Kane was terrible - he looked completely unfit - Rashford was just as bad, Mount failed to land a header and was otherwise invisible. The defence was all over the place, the midfield looked as though they were last years' Everton lot.
According to Sky "Pickford got in Walker's way", which was strange because Walker could have put the ball in Hackney by the time Pickford turned up and in any case, if anything Walker was in the way of the goalkeeper. The only other comment - after some of the best goalkeeper distribution I've seen in some time - was that Pickford's final free kick wasn't too good, presumably unlike all the other free kicks and corners which England failed to score from.
Apparently Henderson was good though (really?), but DCL failed to score, which may have had something to do with him being told to play on the left touchline.

Danny O'Neill
145
Posted 15/10/2020 at 17:38:54
There was no requirement for Pickford to come out for that. He got in the defender's way and complicated the situation.
Charles Brewer
146
Posted 15/10/2020 at 17:40:53
The defender was making a complete mess of the clearance and Pickford turned up to assist and grab the ball. If Pickford had not got involved he would have been criticised for not taking control of the situation.
Barry Rathbone
147
Posted 15/10/2020 at 19:33:49
Pickford was just doing his usual of being in the wrong place at the wrong time. Mcguire's sending off was far more disturbing. A professional footballer playing at the biggest club in England has a first touch that knocks the ball 10ft away is beyond parody.
Imagine if the Greeks had arrested him for impersonating a footballer, they'd have a field day if the entire squad turned up.
---
Add Your Comments
In order to post a comment, you need to be logged in as a registered user of the site.
Or Sign up as a ToffeeWeb Member — it's free, takes just a few minutes and will allow you to post your comments on articles and Talking Points submissions across the site.