Everton hope to have Gbamin playing again this year
Wednesday, 14 October, 2020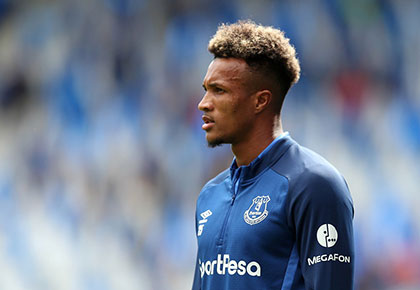 Jean-Philippe Gbamin could be back in action by the end of November according to an injury update from Carlo Ancelotti who expects to have Allan, Seamus Coleman and André Gomes back in contention for this weekend's Merseyside derby.
Gbamin has been sidelined since August last year, first with a torn quadriceps tendon and then with a ruptured Achilles sustained just as he was preparing to return to action last spring.
He has made just a couple of appearances for Everton since joining from Mainz for £23m but his new manager appears confident that he will play again before the end of the year, contradicting suggestions made yesterday that he wouldn't be fit until next year.
"He is working individually," Ancelotti told evertontv. "He's not here yet but I think he's going to be [at Finch Farm] in about 15 days — apart [from the group] at the beginning and then with the team. At the end of November he can be fit to play."
Meanwhile, Allan, who missed the win over Brighton with a minor groin injury is back in training along with Coleman, who came off against the Seagulls after feeling a twinge in his hamstring, and Gomes who was also ruled out of the 4-2 win with a small complaint.
Yerry Mina, who was withheld from the Colombia team that earned a 2-2 draw against Chile in World Cup qualifying last night, will have his thigh assessed on his return from South America and Lucas Digne is now a significant doubt after having to be substituted late in France's win over Croatia because he injured his knee.
---
Reader Comments (39)
Note: the following content is not moderated or vetted by the site owners at the time of submission. Comments are the responsibility of the poster. Disclaimer
Robert Tressell
1
Posted 14/10/2020 at 22:41:34
I've sort of given up on the idea of this guy ever having a career with us. Terrible shame. Hope I'm wrong.
Steve Ferns
2
Posted 14/10/2020 at 22:42:39
Superb news. But let's not rush the lad. Take your time and get him right. He cannot afford another injury. Also, I think he'll have lost a lot with these layoffs and I'm concerned he'll ever be able to fulfil the potential he was signed for. But that's for next year, now let's just prevent him retiring and get him playing. Perhaps a loan in January to get him ready for next season?
Paul Birmingham
3
Posted 14/10/2020 at 22:47:37
Great news, as squad strength in depth over the long season and winter slog will be key, and let's hope the lads luck will change in view of injuries.
How he comes back, will be key and he won't be rushed back but let's see.
Steps in the right direction and a change of fortune for the better, hopefully.
Kieran Kinsella
4
Posted 14/10/2020 at 22:55:39
Steve
The good thing is there's no need to rush him back with our midfield options. I remember it took Bracewell and age to come back, eventually he did reestablish himself albeit not at Everton. Whether or not Gbamin makes it Everton remains to be seen but if nothing else hopefully he gets playing again
Martin Reppion
5
Posted 14/10/2020 at 22:58:13
Less worried about the Digne injury having seen young Nkounkou in his couple of games.
For the size of the squad, which is apparently too large, we do seem to have areas where we are light. A sign of the unbalanced approach to signings over the past 4 or 5 years.
We can handle injuries in the midfield, out wide, goalkeeper and 'the number 10', whatever that is. But at the back and up the sharp end we cringe with every hard tackle or bad landing.
Friday will be interesting. I still think we could see a move for Josh King. Particularly reading between the lines of Franny Jeffers comments on Ellis Simms.
Steve Ferns
6
Posted 14/10/2020 at 23:02:14
Kieran, I always thought Bracewell was never the same again. But I wasn't even a teenager when he had a Renaissance with Sunderland, though I do remember a much changed player.
Christy Ring
7
Posted 14/10/2020 at 23:20:38
Kieran #4,
Bracewell was one of my favourites at the time. He was only 24, hadn't even reached his peak, heading to Mexico with England. A future star, until a shocking tackle by a useless striker Whitehurst. Two years of injury hell, sadly he was never the same player.
I hope Gbamin finally gets a chance to show his skill, hopefully he'll be back next month, but it'll take him a lot longer to get match fit.
Mike Gaynes
8
Posted 14/10/2020 at 23:24:43
This issue with Gbamin has never been whether he would get back on the pitch, but rather what level he could still achieve when he got there. Since he's still working on his own, there's no way to know, and there's no precedent or comparison to judge by -- as far as I can recall, no top athlete has ever had these two catastrophic injuries at essentially the same time. Wishing him well.
Lyndon, the Digne "reports" aren't reports, it happened. Pull up a replay of the game online (ESPN+) and jump to minute 79 where he beautifully assists on Mbappe's gamewinner. He clearly is in distress and must be helped off four minutes later.
Waiting impatiently for clearer word on Coleman, Allan and Mina. Damn, is it Wednesday already??
Kase Chow
9
Posted 14/10/2020 at 23:25:59
Fingers crossed for the lad and for us.
Don Alexander
10
Posted 15/10/2020 at 02:30:31
Not knowing the first thing about him when we signed him I'd be amazed if he at last turns out to be a player, given his litany of injury ever since that fateful, lucrative day. If he does he can maybe replace that no good slacker in defensive midfield, Allan (and that's an attempted joke folks).
Whatever, the least we can expect is maximum effort as and when he eventually earns a shirt (and I'll support him if he puts in the max).
More likely though he'll become to our midfield what Sandro was to our attack.
Pete Gunby
12
Posted 15/10/2020 at 04:08:20
I really hate the international breaks. Poor football and Injuries to boot. Losing Digne is significant and will be music to the reds ears. Carlo will have us prepared, now we will see if we are a threat or It's another false dawn. My money is on us... let's smash the top six cartel.
Steve Shave
13
Posted 15/10/2020 at 07:24:52
What a chance for Nkounkou, who has surprised us all so far. We seem to have all taken to his swashbuckling style and his eye to get forward. Maybe, just maybe he will be a bit of a surprise weapon that Klippity hadn't prepared for?
My prediction 1-0 Everton, James belter, COYB!!!
Ron Morgan
14
Posted 15/10/2020 at 08:42:55
#13 Steve. I totally agree with you.
Martin Berry
15
Posted 15/10/2020 at 08:55:29
I am sure he is getting all the help to coax him back after two terrible injuries. He is a strong lad and I hope given time he can show his true level.
Best wishes to him.
Andy Wilkinson
16
Posted 15/10/2020 at 08:59:52
If Mina and Digne are both out, we badly need Holgate back. Is he fit do we know yet? We may need to throw in Godfrey on Saturday, which would be an unfamiliar back four.
Jerome Shields
17
Posted 15/10/2020 at 09:19:25
Earlier reports were that it would next year, so Gbamin being ready in November is good news.
I don't like the news regarding Mina and Digne. Hopefully they will be okay.
Mike Oates
18
Posted 15/10/2020 at 09:26:56
I don't think he could be under finer hands than that of Ancelotti who himself missed nearly two years due to an injury when he was a player. He's already said he knows what he's going through and, with the right support, will come back strongly.
My only worry is with Achilles injuries players tend to lose that explosive 5-yard burst – remember Yakubu who tore his and never got back to the level he was before.
Dave Abrahams
19
Posted 15/10/2020 at 09:27:41
Good luck to Gbamin, I hope he eventually makes it back and plays a part in Everton's future.
I'm not worried about Mina, I hope he gets fit but, on Saturday, if Ben Godfrey comes in, he'll do fine and those around him will benefit from his presence, including Nkounkou, if he has to come in for Digne, who will be a big loss if he doesn't make it.
We are going into the game at Goodison to win, no matter what team turns out.
Clive Rogers
20
Posted 15/10/2020 at 09:51:22
Andy, 16, Holgate is not yet training with the 1st team squad.
Rob Halligan
21
Posted 15/10/2020 at 09:58:29
According to the Red Echo, Lucas Digne saying himself he thinks he will be okay for Saturday. Fingers crossed.
Tony Everan
22
Posted 15/10/2020 at 10:42:01
It is good news for Gbamin, it would be a massive boost if he could get 100% fit and have the chance to prove himself. We need that type of player to give us strength in depth for Allan's position.
Digne is such a classy player and experienced so he would be missed. Nkounkou is 19 still so it would be a a baptism of fire against Mane and Salah and their wing backs.
The young lad looked very cool defensively against West Ham, and kept his defensive game simple. I thought it was mature and encouraging, I think he is listening to good advice from Ancelotti.
Offensively Nkounkou has the ability to cause Liverpool problems. He can find space and his crossing ability with his left foot is as good as it gets for a teenage player, and is already better than the vast majority of senior players. The fact that this lad has loads of improvement to come is really exciting for us.
I would rather he had a more phased introduction so I am happy that Digne says he should be ok to play.
Andy Wilkinson
23
Posted 15/10/2020 at 10:42:11
Thanks, Clive. I guess we will be seeing Godfrey on the team sheet then, at least on the bench, if not starting. What a baptism of fire he could have! Half the outfield players could be new recruits.
Derek Knox
24
Posted 15/10/2020 at 11:49:36
Rob @21, hope they are right on that one, but should Nkounkou play I would not have too many reservations, except his defending has to be worked on.
Similarly if Ben Godfrey is thrown into the mix, I watched the lad the other night in the England U-21s, he was impressive in commanding his area and marshalling the defence.
Isn't it great at last to have so many options in almost every position? Hitherto, we would have been worried about any injury before a derby match. Having said that, let's hope they get out there and batter these pretenders and widen our points advantage and goal difference too.
Francis van Lierop
25
Posted 15/10/2020 at 12:56:32
I know an English bloke, who is also an Evertonian, who lives in Mainz. He said that Jean-Philippe Gbamin was his favourite at his local club.
Let's hope he can get back to his previous level, after such a nasty injury.
Barry Rathbone
26
Posted 15/10/2020 at 13:55:42
Anyone who has a name beginning with a "G" followed by a "b" has to be a winner, unorthodox is the mother and father of creativity.
Kieran Kinsella
27
Posted 15/10/2020 at 14:04:30
My worry for Nkounkou is, the last time we had an injury crisis before the derby and played another young Frenchman, Moyes's secret weapon, Gueye.
Daniel A Johnson
28
Posted 15/10/2020 at 17:10:00
Digne will be big loss he's been brilliant for us and France so far this season.
Charles Brewer
29
Posted 15/10/2020 at 17:57:40
Nkounkou may be inexperienced but he's fast, big and very skillful. All he needs to do is to stay with the RS strikers and get in their way, what he needs to avoid is diving in, since he'll get booked / sent off / have a penalty awarded against him even if he doesn't get within 6 feet of the attacker.
On the other hand, if he can get down the wing, his crosses could make him a perfect partner for the new 'one touch' Calvert-Lewin.
Danny O'Neill
30
Posted 15/10/2020 at 18:51:00
Really want to see what this lad has to offer. If he's what we hoped last year, then alongside Allan with Gomes, Doucouré and Rodriguez in front, we have an awesome midfield to support a 4-2-3-1 set up. The most effective formation in football when you have the right players, in my opinion.
Glenn Williams
31
Posted 15/10/2020 at 19:01:33
Yes, I hate to say it but I think Gbamin is just a sequel to the James McCarthy movie. Actually in the very limited cameos I observed against Palace and then Watford, I wasn't very impressed. He seemed a bit panicky and reactive to me in his very limited minutes.
Aside from physical size I didn't see any little glimpses of quality and he did not appear particularly quick in tight spaces. I expect we'll be looking to loan him out next summer if he can at least regain fitness.
Back to McCarthy, I really rated him as a squad player so the long term injuries were so unfortunate for him and our usual lot as Blues.
John Skelly
33
Posted 15/10/2020 at 19:47:14
Danny, I agree with you whole heartedly, but the next game is the dreaded derby we always seem to wilt maybe just maybe I can watch this from my couch instead of from behind.
Good luck to Gbamin if he plays in the future. If he does it can only be good for our not too unrealistic title challenge. Onward and upwards, keep the faith.

Joe Corgan
34
Posted 15/10/2020 at 19:54:55
Holy beans, I'd forgotten all about him tbh.
Drew O'Neall
35
Posted 15/10/2020 at 21:20:16
I'm not expecting anything from Gbamin.
IF he recovers fitness..
..will he be able to stay fit?
..will he be good/fast/strong enough for the Premier League?
..will he be good enough for this version of Everton and not just the one he joined?
If he answers all those questions affirmatively it will be a nice surprise but I choose to assume at least one and maybe all will trip him up.
Tom Bowers
36
Posted 15/10/2020 at 22:56:50
Gbamin could be an added bonus to the midfield if or when he is fully fit, he shows his mettle. We saw very little of him before his injury and I fear he may be one of those ''sick note'' players we have paid good money for.
You can never have too much strength in depth for the midfield as I have always believed that's where games are won and lost.
Mike Gaynes
37
Posted 15/10/2020 at 23:07:01
Derek Moore
38
Posted 15/10/2020 at 23:17:41
Mike G, I'll take the 17-year-old lad from New York Red Bulls with the laser left foot as our next signing. For those who don't watch the MLS, then I urge you to remember the name Caleb Clark. Very early days for the lad, but he's clearly got talent and the world at his feet.
The US is really turning out some great talent right now.
Olalekan Taofik
40
Posted 16/10/2020 at 10:05:13
#1,@Roberts, I felt same as well.
let's wait and see A living hen can still eats corn, says an African proverb.
James Flynn
41
Posted 16/10/2020 at 20:57:00
Derek (38) - You're referring to Caden Clark. Nice left foot, for sure,
Link
.
Barry Jones
42
Posted 26/10/2020 at 22:22:28
After such a long absence, my heart would sink if he is totally underwhelming on his return. What a pessimist I am.
---
Add Your Comments
In order to post a comment, you need to be logged in as a registered user of the site.
Or Sign up as a ToffeeWeb Member — it's free, takes just a few minutes and will allow you to post your comments on articles and Talking Points submissions across the site.