Everton vs Liverpool
Friday, 16 October, 2020
Match Preview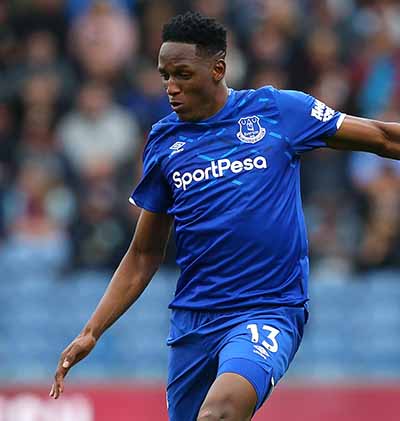 Yerry Mina is a doubt after missing Colombia's second World Cup qualifier because of "discomfort" in his thigh
Exactly 10 years to the day since their last Merseyside derby victory, league leaders Everton will face local rivals Liverpool at Goodison Park on Saturday looking to extend their 100% start to the season.
Back on 17th October, 2010, Tim Cahill and Mikel Arteta scored a goal in each half to consign the reds to a defeat that kept them in 18th place in the Premier League at a time when John Henry and his Fenway Sports Group (FSG, then known as New England Sports Ventures) were completing their takeover at Anfield.
Despite that dreadful start, Liverpool still managed to finish above Everton that season (although the Blues placed better over the following two years) and, of course, over the last decade, Henry has presided over steadily improving fortunes across the Park and built up enough power that he is now at the centre of the current furore over FSG's plans to consolidate decision-making power over all football effectively in the hands of just six clubs.
Given the large disparity in resources between the two clubs over most of the Premier League era, Everton's poor derby record isn't, perhaps, all that surprising but there has been an inferiority complex at play that has held the Toffees down psychologically for a very long time.
That may be about to change because, for the first time in 31 years, Everton go into a derby at the top of the table with four wins from four in the League and seven from seven in all competitions. Not only that, their flying start to 2020-21 has been under-pinned by some scintillating attacking football, a glut of goals and free-flowing self-belief ever since Dominic Calvert-Lewin powered in the winner at Tottenham on the opening day.
So used to approaching games against Liverpool weighted down by dread, Evertonians will look forward to this one with genuine optimism that they have a team that is more than capable of going toe-to-toe with Liverpool in all departments rather than simply needing to show up with energy and a determination to stifle, contain and hope to nick one.
That was certainly the case back in June when the two teams emerged from the coronavirus shutdown with Jürgen Klopp's men closing in on the Premier League title. Carlo Ancelotti, his eyes opened by the previous meeting with Liverpool in the FA Cup in which his charges embarrassed themselves and the Badge by losing to half a team of teenagers, set his side out conservatively but, having made the champions-elect look decidedly ordinary, almost pinched the points in the second half. Had Tom Davies's shot not come back off the post, the Italian might well have been celebrating a win.
Together with Marcel Brands, Ancelotti needed more time to assemble a squad that could match up to Klopp's and, thanks to some brilliant work in the transfer market and the lift that the arrivals of Allan, Abdoulaye Doucouré and James Rodriguez in particular has given to Everton, he appears to have done so. This time, the Toffees will have plenty of threats of their own — Europe's top goalscorer included — and that ammunition will be trained on a Liverpool side that was badly wounded before the international break.
Aston Villa's stunning 7-2 destruction of the reds sent shockwaves through the footballing world and many eyes will be on how Klopp's men react to one of the most remarkable results since the inception of the Premier League 28 years ago. The German will be smarting and urging his players to come up with a response but, crucially for Everton and Liverpool's future opponents this season, the aura of invincibility that carried them to within two points of setting a record Premier League points tally in 2019-20 has been shattered.
Ancelotti will have studied the defensive problems that lay behind that defeat at Villa Park and devised ways to exploit them while Klopp will, no doubt, be cursing the fact that his best players have been away with their countries instead of at Melwood where he could work on rectifying his team's issues.
Everton should be wary of the potential backlash from a wounded animal but cognisant also of the fact that, unlike in so many previous seasons, they have brilliance and match-winners of their own — not to mention the manager to mastermind it all — that will make the reds just as wary of them as the Blues have been of the old enemy over the years.
Unfortunately, Ancelotti likely won't have his first-choice XI available to him for this one. Mason Holgate is a known medium-term absentee with an injured toe and isn't expected back until late November at the earliest but Yerry Mina is a doubt with a recurrence of the thigh issue that plagued him during "Project Restart". He was left out of Colombia's second World Cup qualifier against Chile on Tuesday night after feeling discomfort in his right thigh and is being assessed at Finch Farm.
If he isn't passed fit, Ben Godfrey stands to get a baptism of fire with an Everton debut in the derby. The 22-year-old arrived on deadline day in a £20m deal and is surely itching to get his first game but, as he did against Spurs back in July, Ancelotti may give Mina every chance to prove his fitness by starting and taking it from there.
Then there is Lucas Digne who damaged his knee against France on Wednesday evening and had to be helped off the field just minutes after laying on the winner against Croatia for Kylian Mbappe in impressive fashion. He must be considered a significant doubt but in Niels Nkounkou Ancelotti has a highly capable deputy, although there will surely be a little uneasiness among Evertonians if two relatively untried players in the Frenchman and Godfrey are to make up 50% of the defence. Jonjoe Kenny, an unlikely starter anyway, of course, is also out for another few weeks with an ankle injury.
There was good news, however, when the manager announced via evertontv that Allan, André Gomes and Seamus Coleman are available. Two of the three missed the win over Brighton last time out and Coleman had to come off with a minor hamstring problem but they will all be in contention.
Liverpool could welcome Sadio Mané and new signing Thiago Alcantra back to their starting XI after both were forced to go into self-quarantine and miss the Villa defeat after testing positive for the coronavirus. Naby Keita is reportedly out, however, after returning a positive result himself but Joel Matip is expected to return and could replace Joe Gomez in central defence.
Klopp's biggest miss will be goalkeeper Allison Becker, though, with the Brazilian sidelined for six weeks with a shoulder injury. With his stand-in, Adrián criticised heavily for his performance at Villa Park, it means that both the reds and the Blues will have in goal players who have been less than convincing thus far, with Jordan Pickford under fire for his erraticism over the past few months.
As a result, there is a high chance that the run of three consecutive goalless Goodison derbies will come to an end this weekend and Evertonians everywhere will be hoping that their team is able to end a miserable 22-game sequence without a win over Liverpool and cement their credentials as a team to watch out for in the chase for the top four this season.
Kick-off: 12:30pm, Saturday 17 October, 2020
Referee: Michael Oliver
VAR: David Coote
Last time: Everton 0 - 0 Liverpool
Predicted Line-up*: Pickford, Coleman, Keane, Mina, Digne, Allan, Doucouré, Gomes, Rodriguez, Richarlison, Calvert-Lewin
*depending on injuries
---
Reader Comments (265)
Note: the following content is not moderated or vetted by the site owners at the time of submission. Comments are the responsibility of the poster. Disclaimer
Benjamin Dyke
1
Posted 16/10/2020 at 07:53:34
We now hopefully have enough players in the team that don't give a flying rat's arse who Liverpool are and will walk on to the pitch thinking 'Do you know who we are???'
If we get that and a referee who doesn't himself worship the very ground the reds walk on, then just maybe we'll give them a hiding.
First priority: nail their front three.
Geoff Lambert
2
Posted 16/10/2020 at 08:06:18
It's just another game!! Win or loose – nothing changes.
Not for me it isn't. COYB...
Alan McGuffog
3
Posted 16/10/2020 at 08:09:35
Most important derby in years. It's quite likely that we shall get beaten, we usually do, and I would be delighted with a point. However, the telling thing is how we react to such a defeat. Do we brush it aside and continue with the superb football and progress we have made so far this season, or do we go back into our shell and fall to pieces as we have in the past?
One thing is for certain: we are due a moment of good fortune... I've been waiting for 50 years.
Will Mabon
4
Posted 16/10/2020 at 08:13:50
Article on BBC Sport website quotes a couple of head-patting comments from Klopp.
We go in with an equal chance, simple as that.
Christy Ring
5
Posted 16/10/2020 at 08:13:59
Hopefully Digne and Mina are fit, with Carlo's signings, we're a lot stronger, and a definite shape. My only worry, if Digne doesn't make it, Nkounkou is a great prospect, but playing against Salah, a tough baptism of fire,
John Keating
6
Posted 16/10/2020 at 08:20:38
Fully agree with Lyndon's team. Only changes enforced ones – no fancy out-of-position stuff!
As in so many recent derby games, we won't lose through fitness or tactics but through mental preparation – this is where Ancelotti needs to focus.
Prepare for a RS backlash. Klippety and his players are too good not too – unfortunately.
Alan McGuffog
7
Posted 16/10/2020 at 08:23:30
Will... the sycophants on the BBC have turned on the reds. The other day, there were only two articles about the toothy one.
Sam Bowen
8
Posted 16/10/2020 at 08:25:24
10 years since we last beat them. That's just incredible. Talk about an inferiority complex.
Time to put that run to bed though, we have the players to do it, let's hope we've got the confidence to end the hoodoo. I feel that Richarlison holds the key as it's the space behind Arnold that has been their weakness this season. He's a fantastic player no doubt but he does leave huge holes behind and Gomez has been struggling too so that's the area we need to attack.
Hopefully Mina makes it but I wouldn't be too worried with Godfrey coming in as we could definitely do with some pace against their front three. Big ask to make your debut in a derby though.
Hate this game with a passion but It's bloody time for an overdue win. Will have everything crossed whilst watching from behind the sofa.
Robert Leigh
9
Posted 16/10/2020 at 08:27:50
I think it's more important that Digne is fit then Mina, but having both would be a real boost.
We'll have a fairly strong bench to call upon should it be needed, even leaving out Delph and Davies:
Olsen, Godfrey, Nkounkou, Sigurdsson, Iwobi, Bernard, Gordon.
Get a goal ahead early doors and they may fall into a more defensive shape to ensure there's no mauling again – which we can dream of!
Martin Berry
10
Posted 16/10/2020 at 08:30:20
For once in a long time, I am looking forward to the derby because now we are one of the best teams in the Premier League. Carlo and Marcel have assembled a great squad and any team is going to have to work extremely hard for 90+ minutes to beat us.
I will refer to what I have christened the "Blue Wall": Allan, Gomes and Doucouré, who will be very hard to play through, added to the guile of James. We also have great fullbacks and carry the pace to play on the counter with Richarlison and Calvert-Lewin.
I think in Godfrey we are going to be excited; he has pace and ability that Carlo has been drooling over this week – he has obviously been taken during the training sessions.
What will fascinate me is the tactics: Aston Villa destroyed Liverpool's high-line press and I am sure Carlo is pondering how to do the same. I expect us to win with a performance that will shake up those big-six luvvies at Sky.
Will Mabon
11
Posted 16/10/2020 at 08:30:47
It's two there this morning, Alan - another chirpy one about the aftermath of the Villa comedy.
They may be a little confused after tomorrow...
Bill Gienapp
12
Posted 16/10/2020 at 08:43:59
I have no doubt RS fans would go ballistic, but there's now a very real conversation to be had about which front three you'd rather have going forward:
Salah, Mane, Firmino
or
Richarlison, Calvert-Lewin, James
Obviously Liverpool's trio has been together longer and are more battle-tested... but with James reigniting his world-class mojo and Richarlison and Calvert-Lewin getting better and better and still in the process of reaching their full potential, it becomes a very interesting debate.
Or we could all just agree the answer is Everton and the RS fans can suck it!
Will Mabon
13
Posted 16/10/2020 at 08:44:28
Martin, I'm intrigued as to whether Klopp will stick or twist with that high line. Van Dijk has been a little off it and caught out of position more than once. I'd like to think Calvert-Lewin will give him a bit to do.
As Robert says, the early goal could be very telling as to their response tactically. This said, their defence is nothing to worry about.
Will Mabon
14
Posted 16/10/2020 at 08:50:16
Yes, we're on the way up, Bill. What I want to see more than anything tomorrow is the belief, no fear, to compete – that will do me.
They're just 11 blokes in a horrible kit.
Christopher Timmins
15
Posted 16/10/2020 at 08:56:56
Huge game tomorrow, it will give us a true reflection of the progress made to date.
Looking at the team sheet set out by Lyndon my only concern is our Number 1. He was at sea for the Denmark penalty during the week. We have more than enough up top to cause them problems and I expect that current form will prevail and we will win!
Jim Bennings
16
Posted 16/10/2020 at 08:59:55
I agree that 10 years without a single Merseyside derby victory smacks of a pure inferiority complex, we can't even blame luck because too often we just haven't been brave enough to have a go at them.
Will tomorrow be any different? It's hard to tell, so many times we have felt well placed to have a right go at them but on the day our big players haven't turned up.
My biggest concern is our goalkeeper, to be honest. I just feel like there's always a high-profile mistake in him and he so often he saves them for derby matches.
Can we hurt them going forward? You'd have to say Yes but it's crucial our better attacking players turn up on form, we can't have shrinking violets, we need to be clinical in front of goal when chances arrive.
I worry that we have left ourselves short up front now with nobody coming in to replace the departed Kean; if Calvert-Lewin or Richarlison miss a few games, it's a concern.
But it's all on tomorrow for the moment, let's just hope we can finally end this quite abysmal embarrassing record.
Everton still haven't won a derby that both teams have scored in since the Kanchelskis show at Anfield in 1995... maybe one to take a punt on?
Ernie Baywood
18
Posted 16/10/2020 at 09:16:58
They're going in off a big defeat and their keeper injured. We're in great form but enough injury niggles to be worried.
Really can't make up my mind on how this goes. But there's no reason to fear them.
The thing in my mind is not if we lose. Regardless of that, I would think we've made great strides and I'll be happy with our start. But if we win... we'd be in Dreamland. Beat them and we start talking about top 4.
Will Mabon
19
Posted 16/10/2020 at 09:17:09
The lack of crowd and atmosphere is perhaps even more of a consideration than in other games. A massive part of derbies, though the build-up feels the same at home!
Terrible really that these occasions are passing this way. Would love to be hidden up in the top balcony.
James Newcombe
20
Posted 16/10/2020 at 09:18:36
Shame with the timing for us, that Mane is back. Anyway, it's been way too long. Let's chin them and hold onto our rightful spot in the table!
Ray Roche
21
Posted 16/10/2020 at 09:21:28
Expect the RS to take it in turns to kick the shit out of James. Expect them to 'engineer' free-kicks in dangerous positions so they can put high balls onto Pickford's head. And expect them to be in the ref's face contesting every free-kick against them and every tackle on them.
If only we could be in the ground making so much noise. Real noise, not the manufactured, choreographed flag-waving, tourist attraction at Mordor, but real brutal 'shit yer pants' noise. Damn this virus.
Pete Williams
22
Posted 16/10/2020 at 09:27:04
I think the fact that our new midfield won't have that inferiority complex built in yet will help us massively. They will give them a real fight in midfield and we won't give the ball away as much as we used to.
Plus we have a manager who will be relaxed and confident (football is simple!) with a front three who are flying. A high Liverpool line could actually be a gift for us.
Having said all that, defensive injuries could be our undoing, so fingers crossed, particularly for Digne. But, if Villa can do it, why can't we?
Hugh Jenkins
23
Posted 16/10/2020 at 09:28:31
We, the Evertom supporters, build this up in our minds to a point of importance far greater than it actually is. It is understandable why – we have all suffered over many years form the jibs of friends and family that support the RS.
However, I don't care if we lose to them home and away for the next 10 years – as long as we beat every other team home and away in that time and end up as Champions and European cup winners. Let them playing us be their "cup final" in the future - not ours.
Anyway, I am sure that the "Professor" will have his team and tactics sorted and also that we will build on the quality players brought in this summer over the next few windows.
We are at the start of an exciting journey – so don't let's be put off if we have the odd slip along the way.
Hugh Jenkins
24
Posted 16/10/2020 at 09:31:33
P.S. - I was in the Gwladys ten years ago tomorrow - wonderful atmosphere. Shame that it will be missing tomorrow.
Will Mabon
25
Posted 16/10/2020 at 09:36:46
Park End for me, Hugh, with my Sis on one of her season tickets. It was great.
Brian Harrison
26
Posted 16/10/2020 at 09:40:27
Will our good start to the season give us the confidence to attack them as Villa did, or will we be our usual cautious self when we play them?
I have always thought that their fullbacks are better going forward than they are defending, I also think Gomez is a weak link. With no Allison in goal, you could see they were nervous every time a ball was played into the box, as we know to our cost at times: goalkeepers can win or lose you games.
I am sure Robertson will get tight to James, especially early on, and won't be averse to leaving a foot in. But I think, in Allan and Doucouré, we now have midfield players who are more than a match for their midfield. Obviously their big threats are Mane and Salah but, if Coleman and Digne are fit, I will feel more confident.
10 years is a long time to go without beating your neighbours, and I would suggest that a win tomorrow would give the players and fans massive belief for the rest of the season.
Derek Knox
27
Posted 16/10/2020 at 09:55:43
Ray @21, may I suggest you watch with a toilet roll at the ready? :-)
Having read all the comments there seems to be a mixture of confident optimism, and some who still think it will follow the path of so many previous derbies. Being the ever-optimistic type myself, I actually think that it will be different this time.
It won't be easy but I do think we will have too much for them, I just hope there are no dubious decisions from Oliver, and we saying "Please Sir, we want some more!"
Geoff Lambert
28
Posted 16/10/2020 at 09:57:05
Wow! some posters saying they don't care if we loose.
Not me. I want to win every match and am a bastard to be around when we loose, especially to this shower of shit.
Olalekan Taofik
29
Posted 16/10/2020 at 09:58:57
Good day Evertonians, to me, history don't count sometimes. We have different players to play the games, Liverpool have everything to lose as they are wary of current form and of their last game against Villa.
Let just utilized our chances and set pieces as well. I see us winning, The Lion might be the king of the jungle but it should pass where the scorpions are having lunch. That is a warning to Liverpool.
Tony Everan
30
Posted 16/10/2020 at 10:06:46
Last match the RS were annihilated 7 -2 by Aston Villa. They will be fired up to put that behind them, I expect a really physical game and some bad fouls from Liverpool due to there increased desperation to put that 7 goal mauling behind them. The referee will have his work cut out, I just hope he gives fair decisions.
With the team given as above, we can have a go at anyone. We have real top quality players, an excellent mix of youth and experience, energy and guile.
Everton 2 Liverpool 1
A right mayhem bastard of a game, injuries and a RS sending off. A header from a set piece seals the win for the Blues.
Derek Knox
31
Posted 16/10/2020 at 10:18:28
If anyone can, Olalekan! "The Lion might be the king of the jungle but it should pass where the scorpions are having lunch. That is a warning to Liverpool."
Love it mate, let's hope the scorpions have an extended feast of a lunch tomorrow and there is no sting in the tail.
Dave Abrahams
32
Posted 16/10/2020 at 10:22:37
Every Evertonian must be confident we will give them a game tomorrow and match them all over the field. We will create chances as we did in the last game here during the lockdown.
We've got to take them tomorrow, Richarlison missed two very good chances in that game... Come on, Charlie, do the business tomorrow and start to catch up to Dominic in the goals race.
Mind you, Dominic could be further ahead if he takes his chances. Then there is James, who is also ahead of you, and if he takes his chances? I think it will be raining goals, all Blue ones.
Karl Meighan
33
Posted 16/10/2020 at 10:28:51
Let's get amongst them, as we should in every derby, then let the skill take over. Win the individual battles and we have every chance.
Dave Williams
34
Posted 16/10/2020 at 10:51:30
I would think Carlo has been in James's ear ever since he returned from his international trip, telling him how this match is made for him to show the world that he is still one of the worlds top players. Big him up so he walks out with a swagger. Allan won at RS last season so they won't hold any fears for him and Doucouré beat them 3-0 at Watford so likewise they will not frighten him. Gomes has dominated midfield against them before at Anfield and Richarlison and Calvert-Lewin will bow to no one.
It's all about attitude; if we think we can win, then we may well do, or at least we will come close. This is the best team and squad we have had for at least 35 years; the squad is probably the strongest I have known in my lifetime when you look at the bench, and if the three new boys perform, we are in with a decent chance.
Ernie Baywood
36
Posted 16/10/2020 at 10:57:22
I'm not worried about James. He can handle himself.
The bit of niggle at Gibbs caused a red card (reaction is totally Gibbs fault) but if you watch, James does it all the time. Loves leaving a bit on his opposite number and just backs himself to be better than them.
I think he's a bit more physical than people give him credit for. Not a soft touch at all.
Jerome Shields
37
Posted 16/10/2020 at 10:57:53
I admit I am nervous of this game. Being a game of football, it is unpredictable, even though Everton are playing well. Ancelotti will have worked hard over these two weeks with the players and those that where on international duty will have had tailor-made training schedules.
Paul Hewitt
38
Posted 16/10/2020 at 10:59:53
That 7-2 battering the rs took will come back to hurt us, I'm afraid.
Brent Stephens
39
Posted 16/10/2020 at 11:01:30
Will #14 "They're just 11 blokes in a horrible kit."
I feel that needs a tune to go with it, and further lyrics.
A bit more confident than normal about tomorrow but at kick-off I'll be full of trepidation. Can't wait!
I predict a win to us. A win to them. A draw. An abandoned game.
Brian Williams
40
Posted 16/10/2020 at 11:05:13
Paul #38.
Paul, that is so lame mate, sorry, but what a defeatist attitude!
Eddie Dunn
41
Posted 16/10/2020 at 11:13:37
We will win tomorrow and I fully expect us to score at least three goals.
Paul Hewitt
42
Posted 16/10/2020 at 11:15:08
Brian @40. You call it defeatist. I call it being let down so many times in derby games.
Derek Knox
43
Posted 16/10/2020 at 11:18:28
Brent @39, watch out for those splinters in your posterior region. Having said that, one of those predictions will come true, let's hope it's the first one!
Kevin Molloy
44
Posted 16/10/2020 at 11:22:07
With us being top of the Premier League, and it being exactly 10 years since the last victory, it's difficult not to think it's all set up for us to be absolutely tonked.
Phil Gardner
45
Posted 16/10/2020 at 11:24:26
My heart sank when I saw the words 'Oliver' and 'Michael'. I'd prefer Clattenburg.
I can never forgive this little runt for disallowing the Distin winner at Anfield for no apparent reason... even Carragher didn't appeal. He then booked Anichebe for mouthing the words "What was wrong with that?"
Then, 5 minutes later, permitted Slippy G to get in his face screaming "Fuck off, you fucking shithouse" – yet took no action. I smell controversy here...
Bobby Mallon
46
Posted 16/10/2020 at 11:24:38
0-0 again for me, I'll take a point.
Brent Stephens
47
Posted 16/10/2020 at 11:27:00
Derek, I'm off the fence. 2-1 to the Blues.
Tom Bowers
48
Posted 16/10/2020 at 11:33:38
We have thought before previous derby games that the prospect of winning looked good only to be thwarted by some piece of bad luck or other detrimental incident.
It's been a really bad year in many ways, not just in a football sense but these last few weeks have rekindled the hopes of long-suffering Evertonians.
We can justifiably believe in winning this one even without Mina or Digne but have to be wary of the RS rebound after the Villa debacle.
I really don't care how we win but it could go a long way to showing the world that we are a force to be reckoned with again.
Derek Knox
49
Posted 16/10/2020 at 11:35:02
Brent @47, that's good I didn't take a fence by it!
Possibly a garden gate, I'll get my coat. :-)
Nev Renshaw
50
Posted 16/10/2020 at 11:52:39
I hope the international break hasn't upset the team's mojo. Love to see them carry on where they left off.
James Head
51
Posted 16/10/2020 at 12:12:20
We're never going to match them for pace so don't expect us to go all out attack, as we've all seen from recent seasons you just can't leave them any space in behind or they will ruthlessly exploit it and conversely they seem at their weakest when play breaks down and the ball is moved forward quickly.
As I'm sure Ancelotti is aware, it's the old saying attack is the best form of defence and that's true in their case with their much over-rated centre-back, patience is the key, frustrate them and hit hard and fast when the opportunities arise.
On another note did you know they have 63% of their squad registered as asthmatic, this allows for the legal administration of performance enhancing substances, just saying like!
Tony McNulty
52
Posted 16/10/2020 at 12:20:02
I have more chance of forecasting the correct lottery numbers than getting the score right here.
What does strike me are Klopp's words. We usually get a patronising pat on the head from him. This time, he is praising Everton in advance. So should the RS lose, he will be able to say, "This is not a surprise, I told you so" to their fans.
What this says to me is that he is certainly concerned, maybe even worried. Let's hope his fears get transmitted to his team.
Niall McIlhone
53
Posted 16/10/2020 at 12:20:48
Kanchelskis, Jim. What a player he was and his son is a Toffee!
Mal van Schaick
54
Posted 16/10/2020 at 12:23:53
I'm optimistic about this game. We have better quality in midfield who can pick a pass, and bar a sending off, or Pickford blunders, I am going 2-1 Everton. Calvert-Lewin and Richarlison.
Jim Burns
55
Posted 16/10/2020 at 12:32:36
This is a big one - no doubts whatsoever.
Not just because it's the derby and the weight and wait of 10 years needs expunging but because this is our first real test of whether our early momentum is genuinely sustainable – post International break; one or two injury doubts; top 4 opposition etc.
Beating any of the top 4 at this point – and especially Them – will give genuine believable optimism that at last something is happening at our club.
Impressive and enjoyable though our form has been – and catching Spurs cold early on aside – we've beaten sides we would expect to beat as a top 7 side.
There are enough new faces playing tomorrow that shouldn't give a flying fig about the last 10 years – and I happen to believe the ground being empty may take the pressure off the players and work in our favour.
This is definitely the big test – and I believe we'll pass it.
Barry Rathbone
56
Posted 16/10/2020 at 12:38:49
I'll believe it when I see the result.
The road of "we're as good as them" is littered with blue corpses flattened by crushing reality. This is the devil's outfit Ronaldo and Messi playing in blue wouldn't guarantee another embarrassment with the Northeast Fumbler in goal.
Don't do it to yourselves.
Nick Armitage
57
Posted 16/10/2020 at 12:41:33
Stick with your high line high press please, Klopp.
Kevin Molloy
58
Posted 16/10/2020 at 12:42:13
I reckon Digne has been told to say he should be fit. There's no way you get helped off the pitch on Wednesday, and are fit on Saturday morning, but I suspect Everton are trying to avoid Liverpool organising to target that side. Equally, if Mina pulls out of Tuesday's game, there's a real chance he misses tomorrow.
If they both do miss, with the best will in the world, it's going to be an uphill struggle with their front three and our kids.
Tony Everan
59
Posted 16/10/2020 at 12:44:23
James 51
Liverpool have 63% of the squad registered as asthmatic?
The local Care Home probably has less of their octogenarians registered!
Is this a loophole within the rules they are exploiting to allow the administration of certain drugs to aid respiration and enhance performance.
Didn't Bradley Wiggins do something similar?
Rob Halligan
60
Posted 16/10/2020 at 12:46:27
Brian #40. Paul Hewitt is like that all the time. Best to just ignore him.
3-0 for the mighty blues tomorrow.
COYB FTRS!!
Derek Knox
61
Posted 16/10/2020 at 12:55:36
James @51, that is a very worrying statistic, and forgive my suspicions, that if true warrants serious medical investigation.
I'm not joking this time, but the National average in the UK, which is across the whole population, including from cradle to senior citizens is only 12%. Considering the age group involved in a professional footballing side those figures would be vastly reduced if averaging it out.
Taking performance enhancing drugs, although permissable in certain cases, still seems to be an anomaly here, again if your figures are correct. See reference : https://statistics.blf.org.uk/asthma#:~:text=How%20many%20people%2
John Boswell
62
Posted 16/10/2020 at 12:56:47
My crystal ball tells me to expect goals and at least 1 red card and 1 penalty.
I expect a full strength team selection from Mr Klopp and plenty of examples of their dark arts.
I also feel confident that we will prevail. Buckle up lads and lasses, this game will rock. COYB
James Head
63
Posted 16/10/2020 at 13:05:34
Tony #59, I couldn't possibly speculate that the administration of medication via an asthma loophole is responsible for the unbelievable stamina and endurance shown by RS players in their constant pressing and harassing of opposition players over the last couple of seasons! Cough, cough!
Jim Bennings
64
Posted 16/10/2020 at 13:07:05
Nial 53#
Andrei is apparently looking for opportunities now, we should find a place at the club for this man.
Jim Lloyd
65
Posted 16/10/2020 at 13:09:32
Until we start taking this game as no more important than every other Premier League game, then I don't think we'll ever lose the inferiority complex that's there already.
We've got the makings of a good team and the squad looks a little more like it; but my view is that most important match, is the one you're playing in; and the next most important, is the next match in cup or league.
The past is the past, I think our future is looking pretty good; but although I'd like to hope that we are suddenly an invincible machine, I don't think that we are...yet!
In the club, I think The Prof is building a momentum and an ethos that we take each game as it comes we build a spirit of becoming a team that never gives in, never gives up and that we're building a reputation that other teams won't relish playing us.
All I want to see is that we match them in commitment for every minute of the 90 and we contest every loose ball and to play the football we are capable of.
As we all know, anything can happen during the match, luck comes into it as well. If we allow it to deflate us for the rest of the season, like it did Anfield in the last minute, then it could shatter morale.
It will be good to match ourselves against them, as it will against every other side in the Premier League.
Nicholas Ho
66
Posted 16/10/2020 at 13:21:06
Kelvin Campbell... ex-Everton striker, blah blah blah. Everton FC won't be top 4 despite record tying start of the season.
Hmm it's still very early season and conclusion being made on Blues achievement for the season by him...
COYB prove him wrong...
John Kavanagh
67
Posted 16/10/2020 at 13:28:50
Tony @59. Let's hope they're wheezing at the end. No, come to think of it, let's have them wheezing after 10 minutes. The best approach to this match is to start exactly like Villa. Go for their throats from the whistle and dump them right back in the mindset they finished the Villa game with. If we start cautiously it will allow their confidence to flood back. Attack is the best form of defence for this game - give their back four a torrid time and leave Pickford with as little to do as possible.
As for Mina and Digne possibly not making it, then it's the perfect opportunity for Godfrey and Nkounkou to show what they can do. It's what we bought them for.
No fear = no nervousness = no problems. If they score go back up the pitch and score two. Time to repay the humiliations of the last 30 years. Three points and top of the pyramid please.
COYB
Brian Williams
68
Posted 16/10/2020 at 13:29:06
Any team that concedes seven goals in a match shows that they have weaknesses that can be exploited. If we're on our game and play with confidence, we'll win, simple as that.
Someone kicking that fucker Mane up in the air in THEIR half would certainly help as well. I stress THEIR half because, if it's over the halfway line, those fuckers will get a penalty for it somehow!
Brian Wilkinson
69
Posted 16/10/2020 at 13:29:21
As long as we have a fair-minded ref, I reckon it is the best chance we have for a very longtime. The only niggling pecking away at me is we just never seem to get the rub of the green against them, no matter how well we play.
You can go back to Tom Davies's shot coming back off the post last season, the Virgl complete shanked shot heading for the corner flag, but does an unbelievable spin back towards Pickford's crossbar, Gomes's shot being cleared off the line, probably Distin's only mistake in a Blue shirt under hitting a back pass, Carol heading the winner in when he had his back to our goal and hit the back of his head, when did we ever get a break at the other end against them, probably Andy Johnson's goal to make it three-nil, but we were already out of sight by then.
That is why I always dread this game, no matter how well we play, we just never catch a gift or break against them.
Just for once, I would love Everton to change that, outplay our neighbours, and give them a beating on merit, without Lady Luck helping the shite again.
Colin Battison
70
Posted 16/10/2020 at 13:40:35
Normally, I hate derby day but I'm really looking forward to this one. Like most've said already, with our current team, we can match them all over the park and should not be frightened.
Alexander Arnold and Robinson like to get forward a lot and I don't think that will change so, with James on one side and Richarlison on the other, this is where we can exploit them. I hope Digne is fit as I think Niels would struggle with Salah.
Let's hope Mr Oliver is on his game as I think them dirty red bastards will try and take James out the game. Come on, blues, let's make a statement to the rest and show we mean business, think their will definately be goals in this one, I'm going 3-2 to Everton.
Tony Everan
71
Posted 16/10/2020 at 13:42:32
James 63,
Liverpool have 63% of the squad registered as asthmatic?
I couldn't possibly speculate either that the administration of medication via an asthma loophole is responsible for the unbelievable and unprecedented stamina and endurance shown by Liverpool players in their constant pressing and harassing of opposition players over the last couple of seasons, and their super-human performances, often twice a week.
Also, Is this a loophole that is commonly used by all of their competitors?
Iain Latchford
72
Posted 16/10/2020 at 13:55:29
James 51. What is the source of this information? Is it credible?
Jamie Crowley
73
Posted 16/10/2020 at 13:58:31
The last time I was this confident about a derby, we played with no fear, and we played wonderfully.
Then Pickford realized he can't play center field.
Therein lies the rub for me.
We're good enough to beat them. But we can't gift them any goals tomorrow. No gifts, 1 or 3 points. Play Santa, 0 points.
Gerry Clarke
74
Posted 16/10/2020 at 14:02:22
Just seen Carlo's press conference. Coleman, Mina, Digne and Gomes all available for tomorrow.
Jerome Shields
75
Posted 16/10/2020 at 14:05:47
James #51,
A surprising stat, which seems out of the ordinary. Like Iain, is your source credible? It's not like a stat that one could pluck out of thin air.
Kim Vivian
76
Posted 16/10/2020 at 14:09:24
Olalekan – lovely post but with your permission I would like to modify that to "pass the scorpions when their tails are up", with apologies if I am bastardising a traditional proverb. Cheers, mate.
A shame Holgate isn't available but I think we have enough steel and horribleness in the team now that we can dish it as much as take it.
I think we might see Delph starting but, as far as the result goes, I'm seeing 0-0 in my tea leaves but any score on the doors will do as long as the second one is nil.
Pete Williams
77
Posted 16/10/2020 at 14:11:51
After that press conference, we should all be much calmer and more optimistic. We can actually play our best 11! Might be a surprise though as Don Carlo says he won't make his mind up about the midfield until tomorrow morning.
Not sure if it's been mentioned yet but subs could be the key and for once I think we've got the better bench. Good defenders and midfield options mean we can cover injuries well and even mix up our tactics. Reasons to be cheerful!
Kieran Kinsella
78
Posted 16/10/2020 at 14:14:55
Lack of a crowd may help us in the sense that the crowd reacting to dodgy calls tends to rile up our players and we've had a few hot heads sent off down the years.
Winston Williamson
79
Posted 16/10/2020 at 14:19:29
I hate everything about that club. Their history, their players, their managers and most of all their fucking smug, slimy fans.
I hate playing them for two reasons; I hate losing to them and I hate our players bending over for them.
In my time supporting the blues there have only been two players who have really given it to them – Ferguson and Cahill.
I'm hoping we now have two more – Allan and James. If these two can give it to them, we'll win. Simple. They fucking hate it when we have a player (or players) who don't give a shite about them.
I agree it's only one game, it shouldn't matter either way and shouldn't dictate our season... but I fucking hate them!
Michael Barrett
80
Posted 16/10/2020 at 14:22:40
Wow, Winston, say what you think... you are just as bad as me. Brilliant! coyb.
Pete Williams
81
Posted 16/10/2020 at 14:26:01
Winston, I go further back. Ratcliffe and Reid. No respect for Them and no quarter given. I hope we get that tomorrow
Bill Gall
82
Posted 16/10/2020 at 14:28:33
They always come to a derby game with a more positive attitude as always seeming to get, as they say the rub of the green, to gain the advantage. Ancelotti has got the Everton players in a different frame of mind and for once we have a team that believe even if they go behind they have players who are good enough to get back into the game and win.
Attitude or mindset is a vital part of the game and we have a team with a positive attitude. We have a team who are capable of beating any team in the league but tomorrow will be the only time I will be happy to hear the final whistle and be able to control my emotions until we play them again.
Pete Williams
83
Posted 16/10/2020 at 14:28:34
Best motto is 'Do unto them before they do it to you'!
Frank Wade
84
Posted 16/10/2020 at 14:32:37
Watching the press conference and a journalist asks Carlo if he was surprised by the high number of goals this season and the 7-2 at Villa. Another asks Carlo how he decides who to put in midfield. Tedious stuff. We underestimate the manager's job fielding this dross.
Steve Ferns
85
Posted 16/10/2020 at 14:46:12
Been listening to the new cover version of "Spirit of the Blues" all day, see the club's official twitter for links.
I've been trying not to get too excited about this one. It'd be very Everton to give you hope and then slug you in the gut! It just seems different now. Richarlison and Digne should be injured, but they're fit. Allan. Coleman and Gomes are back and fit. Carlo seemed to say Mina is fit. Godfrey is on standby.
Everyone should have a spring in their step and 10 years is far too long. Tomorrow has to be the day!
Jack Convery
86
Posted 16/10/2020 at 14:51:01
Please, please, please, Everton – shaft them! Hammer them! Beat the living daylights out of them! Humiliate them!
I want to see them beg for mercy and so scared to ever come across Stanley Park ever again. Pick them up like a shitty rag and rub their noses in the shit they given us for far too many years. Ruin them. Fuck them good style.
And whilst you are doing that, whisper in their ears "It's over, you've been rumbled... now Fuck Off!"
Tomorrow is our Gunfight at the OK Corral. The Earps destroy the Clantons. Blue destroys Red Forever! COYBs
Now where are my blood pressure meds?
Kieran Kinsella
87
Posted 16/10/2020 at 14:54:10
Klopp damning us with feint praise. "They're pretty good, the midfield is good Allan, Sigurdsson whoever."
His name is Doucouré, Jurgen.
Robert Workman
88
Posted 16/10/2020 at 15:06:36
The last questionner (from Ireland), in Carlo's press conference seemed to think that all our South American players were Brazilian! Time for some homework?
Steve Ferns
89
Posted 16/10/2020 at 15:17:16
James Head #51, we've raised this before. Not suggesting Liverpool are doing anything wrong in terms of breaching the rules, but they are certainly bending them and operating in the grey area.
They can talk all they want about quality players and the rest, but a lot of their success is down to superior fitness. I mentioned earlier, perhaps in close season, about an article whereby the author pinpointed a period of "cycling off" in their fitness. Basically, this means that as their fitness has peaked (at some point last season) and the fitness needs to go up and down like a (longwave) radio wave, their fitness levels have to drop. Footballers need the close season to do this, and without the close season they won't be able to start the upwards trajectory on their fitness for some time. The author said if they keep with their regime of caffeine use, and do not cycle their fitness off, then players will experience heart failure.
Other sports that rely on fitness, such as cycling and athletics, all allow their stars have periods whereby their fitness goes away and comes back. The best cyclists always target the Tour De France, and never go for all three of the "Grand Tours" (May's Giro d'Italia, June / July's Tour de France and August's Vuelta d'Espana) because you cannot keep your fitness at peak levels and there is insufficient time to cycle the fitness off between them. Some hope to peak late at the Tour and hold on to enough on the down swing to get lucky at the Giro.
Regardless of the caffeine, the TUI's for asthma, and whatever else they are pushing in the grey areas, the heart cannot take it, and they have to cycle off soon, or players will start developing cardiac issues.
John Pierce
90
Posted 16/10/2020 at 15:18:39
Just make it about us, folks. Too often, we make it about them or cling to the past. We often get our excuses in early, the referee etc. We look for omens that indicate we know deep down we aren't good enough.
We are in the best moment we've been for ages, the harmony amongst the fanbase reflects that. There no need for superstition or prescient.
We have a winning manager who eats these type of games for breakfast. Tellingly we have a team worthy of the game, reflected in Ancelotti's confidence and manner.
It's a full 24 hours before the game and I got up this morning distracted and starving. I then realized it wasn't hunger, it was excitement. I haven't that feeling about this game for years.
We will win tomorrow.
Derek Knox
91
Posted 16/10/2020 at 15:22:04
Pete @83, Best motto is 'Do unto them before they do it to you'?
Good advice, but there is a rider to that "Don't get caught" – which will be pretty difficult in front of both the camera, and the watching millions!
Des Farren
92
Posted 16/10/2020 at 15:24:27
'I am so well acquainted with despair, I know not how to hope'. That used to be a popular refrain on derby days... Not anymore, let's have 'em!
Pete Williams
93
Posted 16/10/2020 at 15:33:03
Derek, true, but I think Allan and James are old heads well versed in not being caught doing the necessary. We really need to be right into them from the first minute and keep them off balance with pressing and movement.
Oh, and I hope Ferguson has the last words in the dressing room before they get on the pitch. They'll come out jet-propelled if he does that.
Bobby Mallon
94
Posted 16/10/2020 at 15:33:23
Is this true or just a conspiracy?
Nick Page
95
Posted 16/10/2020 at 15:43:04
Klopp could field the entire WSL LFC 11 and we'd still conspire to lose. Seen it so so many times one of the most painful being the '86 FA Cup Final and having to sit on a coach all the way back surrounded by them. I just can't see us getting anything tomorrow.
Andrew Ellams
96
Posted 16/10/2020 at 15:51:31
Mane's 93rd minute winner 4 years ago is the only goal in the past 5 Goodison derbies. How have we not scored against any team over 5 consecutive home games?
Steve Ferns
97
Posted 16/10/2020 at 15:51:56
Bobby, do you mean the asthma and caffeine stuff? All goes back to an article I referred to:
Link
The author seems legit and it has been much quoted over the last few months.
Brian Williams
98
Posted 16/10/2020 at 16:01:50
Steve #89.
We can but hope! 😉
Darren Hind
99
Posted 16/10/2020 at 16:04:37
They will not play through us because they don't have good enough footballers. They will not kick James out of the game because he has faced harder men than this and knows how to look after himself. They will not pull us out of shape because Carlo will tell each player what is expected of him and trust him to do it.
What they will try to do is press very high – Keane and Yerry (not worried if it's Godfrey) will need to be confident and composed. They will of course hit their long diagonals – Digne and Seamus key.
I'll sleep easy tonight. For the first time in years, I look around our side and feel we have the better footballers.
Don't get too impatient. Don't give the referee a chance to send you off. Win your personal battles.
Do those three things and we see this crew off tomorrow.
Steve Ferns
100
Posted 16/10/2020 at 16:05:35
Great post, Darren!
David Pearl
101
Posted 16/10/2020 at 16:06:21
I'm actually looking forward to the game and if we apply pressure and get shots into Adrian l fancy our chances. Slight concern over what tracking back James will be asked or expected to do.
Other than that, l think Richarlison will have a stormer and Allan and Doucouré will run all over the redshite midfield while also finding the time to toss Salad and make Mane cry like a baby. We won't be seeing much of Klopp's gnashers – he'll be too busy sulking about a second hammering in a row.
Oh and l'm due both a win on the lottery and a hole in one. That's golf, not me socks.
John Pierce
102
Posted 16/10/2020 at 16:10:03
All our midfield three have not played during the international break. That's massive.
Steve Guy
103
Posted 16/10/2020 at 16:10:23
My prediction is for them to put Pickford under pressure... he's got a mistake in him every game and they nearly always game changers. It's now transferred to his England form. He will cost us Europe this season if he doesn't improve and he could certainly cost us the game tomorrow.
Kieran Kinsella
104
Posted 16/10/2020 at 16:10:53
If we can't be hopeful now when we are top of the league, have won 7 on the bounce, have the history of 10 years to the day since the last win, the 1894 run, and we are playing a team who just conceded 7 against a team run by maestro Ross Barkley, then we can never be optimistic.
Kieran Kinsella
105
Posted 16/10/2020 at 16:14:18
Steve Guy 103
Pickford's errors usually seem to involve aerial balls. If the RS had Andy Carroll then I'd see them whipping in crosses to exploit that but, outside of Van Dijk at corners, they aren't much of an aerial power.
Anyway, even if Pickford throws the ball into his net, the team this season have a different mentality than before. They don't let their heads drop, they go an do something about it, as we've seen against WHU, WBA etc.
Steve Ferns
106
Posted 16/10/2020 at 16:21:19
Spot on John. Gomes was supposedly fit the day after the last game, so has had 13 days rest from the point of returning to fitness, rather than fighting for fitness. Doucoure has had a chance to recharge his batteries, whilst Allan has recovered from injury and has had a week or so to get fit for this one, though his fitness levels should not have dropped by missing one game.
James, Richarlison and Calvert-Lewin played a lot during the internationals. James hardly runs, so not worried about him. Richarlison seemed to play himself fit. Calvert-Lewin is young and riding the crest of a wave and should not be feeling fatigue. Digne looked a worry, but reported ok after the game and that's seemingly confirmed by Carlo.
The RS have Thiago back from Covid, so perhaps he's been on the old inhaler to help with his asthma / Covid / respiratory issues. Henderson started only one of the England games, playing 66 minutes, and then 14 minutes of the defeat. So, he should feel relatively fresh. Fabinho was an unused sub (I believe) for Brazil. Whereas Gini Wijnaldum played both of Holland's games in full, though he is likely to make way for Thiago.
Minik Hansen
107
Posted 16/10/2020 at 16:24:24
Do I remember wrong, or did Alcaraz make his debut against RS? It'll be a different story with Godfrey, if he is to come on, his pace will help, let's see if his other attributes does the job. COYB.
Steve Guy
108
Posted 16/10/2020 at 16:29:29
Hi Kieran...
Not sure his "hiccup" against Denmark was an aerial ball, or the ones last season that went under his body, or the star jumps in the League Cup.
I hope you're right. I desperately want us to win, but he is now the weakest link and the mistakes keep coming.
Pete Williams
109
Posted 16/10/2020 at 16:35:09
I expect they'll bring Origi on at some point and ask him to go back stick against a full back with Alexander Arnold and Robertson putting in crosses. Then Pickford will start to wobble.
However, I don't think that'll be a problem if Keane or Mina pick up Origi. Best to drop zonal marking then and just stop the big guy.
Pete Williams
110
Posted 16/10/2020 at 16:44:34
The name Alcaraz just makes me shudder. Wikipedia says his debut was against Southampton and we won 2-1. Amazed we won a single game with that bozo playing. Slow in mind and body. Still not as bad as Brett Angell. Total camel.
Nick White
111
Posted 16/10/2020 at 16:46:42
For the 1st time in a very long time, let them worry about us, rather than us worrying about them!
Dale Self
112
Posted 16/10/2020 at 16:52:22
I'm nervous, which is a good sign and I can't seem to fear the Reds in our final third this time around. They'll get there but our organization in back has impressed lately.
Since they need the turnaround, I suspect we'll lay back a bit and look for breaks in the first half. As they get frustrated the Reds back line will get exposed and subsequently carved up. 3-1 with a late one being icing on the cake.
Raymond Fox
113
Posted 16/10/2020 at 16:52:23
3/1 seems too big a price for us to win tomorrow and I'm not wearing my blue tinted glasses.
It's the first time in years where quality-wise we look like we can come close to matching them.
Here's hoping.
Kieran Kinsella
114
Posted 16/10/2020 at 17:06:07
Steve 108
If as some Twitter conspiracy theorists allege, Pickford's errors are because he's on the take, the good thing is that his handlers probably make their dough by betting on surprise results. So hopefully they'll tell him to keep a clean sheet.
Adrian's people have to decide if it's too obvious for him to throw another game or if he can make another quick payday before Allison is back.
Tony Abrahams
115
Posted 16/10/2020 at 17:06:24
I know they've had the Indian sign on us for almost all of my life, but I got to post 23/24 by Hugh, and it brought me back to that victory 10 years ago tomorrow.
We had a chance that day to annihilate them, "but no" we took a two-nil victory, over a very poor Liverpool team, and I can honestly remember coming out of Goodison, absolutely fuming, but also having to reign it in because I sounded like a lunatic.
There is only one way to lose any inferiority complex, and that is to battle, fight, have no fear, and if you get a chance, like we had that day, go and fucking destroy your enemy.
I hope we get another chance tomorrow, but I'm not interested in destroying Liverpool (although it would be nice), I'm just interested in learning a lot more about our own players. I honestly wouldn't swap our midfielders or forwards for theirs, and tomorrow might help me decide if I'm right.
Good luck, Everton, I'm hoping for a day like the League Cup Final at Wembley in 1984, when I suddenly realised we had a team that could compete with the best. Now wouldn't that be a great feeling.
Simon Dalzell
116
Posted 16/10/2020 at 17:08:02
I just can't get my head around the fact that we let Kean go, and haven't replaced him.
Kieran Kinsella
117
Posted 16/10/2020 at 17:10:48
Tony Abrahams,
I understand our rational perspective but honestly, I would like us to humiliate them as Brazil, World Cup semi-final style.
Just absolutely hammer them, destroy their confidence, send them into a downward spiral of despair and financial ruin until they disappear into oblivion. But that being said, a point would be a decent outcome also.
Darren Hind
118
Posted 16/10/2020 at 17:13:03
Pickford on the take.
I think I've just about heard it all now...
Steve Ferns
119
Posted 16/10/2020 at 17:15:27
Darren, that £100,000 per week is not enough for him to live on, you know.
Mike Keating
121
Posted 16/10/2020 at 17:18:13
Craig Walker
122
Posted 16/10/2020 at 17:19:03
It seems reminiscent to the semi-final at Wembley in 2012 when we had Jelavic firing goals for fun and we went into that game with high expectation. They also had a shaky keeper in goal that day. Hoping to God that tomorrow is a better outcome.
I hate derby games though. I'm just praying for a win tomorrow. In some ways, there isn't that much pressure on us. They'd need to beat us with 4 goals in order to go above us. The pressure is more on them. If they lose 2 consecutive league games then they'll be in a position they're not used to.
My biggest concern is Mina, if he isn't fully fit and Pickford in goal worries me. For once, he needs to keep his concentration for the whole game.
I think we will create chances. It will come down to whether we can take them and not give soft free-kicks and mistakes around our box.
Wish the Goodison faithful were there tomorrow. I think the place would have been rocking and I genuinely think we could do them with the fans behind us. We've got a decent record at home against them though. I think that Mane winner in injury time when Koeman was in charge was the last time they beat us at Goodison.
My lad is 10 in December. He's never seen us beat that lot and taken a lot of stick at school. Would be nice to just let him experience that feeling of turning them over.
Steve Ferns
123
Posted 16/10/2020 at 17:29:05
It looks like we have not tried to sign Joshua King and more of a surprise it looks like he's stuck at Bournemouth until January.
On a positive note, Tom Cannon has been on fire and now he's doing this in training:
Brian Williams
124
Posted 16/10/2020 at 17:34:44
Fucking Twitter! How anyone can quote and post stuff from there amazes me.
Sometimes, when you read absolute shite, it's a good idea to just leave it at that.
Steve Ferns
125
Posted 16/10/2020 at 17:36:10
Insta more your thing, Brian?
Jay Harris
126
Posted 16/10/2020 at 17:38:06
This is our time and we make our own luck.
We finally have the ammunition and the confidence to beat them.
I do however expect a few goals so I am going for a 3-1 or 3-2 to the Blues.
Carlo will have them organised and prepared.
As long as we are ready for all the long balls they will play down the flanks I am sure we will cope with their front 3.
The secret for me will be to trouble their back line as they have got away with it for too long.
Pressurize them, force them back, make them uncomfortable.
On the playing front I think Gomes is too slow and caught too much in possession so I would go for Delph for this one. Other than that the team picks itself and watch for Pickford having a blinder!!
COYBB
Kieran Kinsella
127
Posted 16/10/2020 at 17:40:04
Brian,
I was actually trying to be humorous and offering a silver lining of sorts to the folks on here who are doom and gloom. Sorry to cause such offense to everyone.
Brent Stephens
128
Posted 16/10/2020 at 17:42:23
Steve #124 "On a positive note, Tom Cannon has been on fire..."
For a nano second, Steve, I was really worried about the lad!
Christy Ring
129
Posted 16/10/2020 at 17:45:19
Great that everyone came back fit from the International break, our midfield, and Seamus had a nice break, so feel really positive about tomorrow. NSNO!
Steve Ferns
130
Posted 16/10/2020 at 17:47:20
Haha, nice one, Brent! It's a great finish. Think he's still only 18. He's really improving, and he's got 2 goals in 4 games this season, after smashing 16 in 15 games last season. All in the U18 league though.
If Simms moves up, then I can see him getting into the U23s and maybe then we can see Kouyate starting for the U18s.
Steve Ferns
131
Posted 16/10/2020 at 17:48:56
Jay,
James Rodrigues has been dispossessed 9 times this season, the most of all of our players. Richarlison has 8, and Coleman has 8 also. Gomes has 6. I think you're singling him out and he's been getting back to his best this season.
Brian Williams
132
Posted 16/10/2020 at 17:57:11
Sorry Kieran. No offence meant or taken.
Guess I'm getting old and grumpy as I hate social media almost as much as I hate the RS... almost!
Brent Stephens
133
Posted 16/10/2020 at 17:58:52
I'm missing attending the U23s almost as much as the first team, Steve. Just missing attending football. Missing travelling to away games.
Would love it if Simms progresses so much to be able to step up.
Jay Harris
134
Posted 16/10/2020 at 17:59:22
Steve,
I am surprised at Coleman's stats although I believe, if we look into it further, we will see he also won the ball back. I just have this awful memory of Gomes fouling from behind on the edge of our box after he has been dispossessed because he is too slow.
Brian Williams
135
Posted 16/10/2020 at 17:59:46
Plus, I've found on here recently that some take anything that's posted as Gospel! 🤪
Brent Stephens
136
Posted 16/10/2020 at 18:00:37
Don't believe you, Brian.
Brian Williams
137
Posted 16/10/2020 at 18:10:00
Yes you do, Brent. 😡
Ray Roche
138
Posted 16/10/2020 at 18:11:45
Just enter 'number of Liverpool players who are asthmatic' on Google.
Daniel A Johnson
139
Posted 16/10/2020 at 18:19:44
10 years... Jesus Christ!
A simply shameful record, especially when you consider how many shit teams they had during that period.

Michael Barrett
140
Posted 16/10/2020 at 18:29:41
Craig Walker @123,
I was at that game... and I remember the good feeling everyone had in the weeks leading up to that game, they had their 3rd choice keeper and they were struggling for form and we were flying.
The sound of the helicopters above on our walk back to the car surrounded by kopites will haunt me forever. They weren't singing or fuck all very quiet... it was weird. I would have put me house on that game, they don't call them the devil's club for fuck all.
Colin Battison
142
Posted 16/10/2020 at 18:54:42
It will be interesting to see Carlo's tactics in this one. Generally in derbies, Liverpool have most of the possession but we now have the personnel to nullify that.
So what does he do, stand toe to toe with them or be organised and hit them on the counter? If Alexander Arnold and Robertson push on, like they generally do, we can expose them from both sides.
Steve Shave
143
Posted 16/10/2020 at 19:24:16
I'm feeling optimistic about tomorrow. I would comment extensively, however, I will just share this link with you made about our wizard James:
Just watch it, nothing else needed to be said.
Christy Ring
144
Posted 16/10/2020 at 19:30:56
Jay #127,
The last time Delph played against the redshite, against the kids in the FA Cup, he was embarrassing, and threw the toys out of the pram after. I'd play Gomes all day long, especially with Allan behind him.

Geoff Lambert
145
Posted 16/10/2020 at 19:36:10
Gomes for me also. I think he will be MotM tomorrow, RS will be too focused on the other five.
Andrew Keatley
146
Posted 16/10/2020 at 19:46:25
Jay (135) - I completely agree with you; it's a question of where and when Gomes gets dispossessed. Unfortunately it is often in places and at moments that leave us horribly exposed. Richarlison, James and even Coleman are generally taking risks in advanced positions out wide or when in on goal.
Also, Gomes has played less minutes than those 3 players Steve Ferns mentions, so relative to his playing time Gomes is very much on a par in terms of how often he is dispossessed.
I'd personally pick Sigurdsson over Delph or Gomes at present, as I believe he offers greater mobility, less risk of committing reckless or stupid fouls, and can offer more of an attacking threat. I also think he has played pretty well when used so far this season.
Denis Richardson
147
Posted 16/10/2020 at 19:48:24
For once I am actually looking forward to the derby. Unfortunately there'll be no crowd but the current team is a totally different offer than that from last season.
We finally have a midfield that won't be bullied and will take the fight to the oppo as well as some magic up front. Richarlison has not just got talent but incredible stamina and if he and James can stay fit, Calvert-Lewiwill get the chances by just staying in and around the box.
Fingers and toes all crossed our main players are fit. If so I really think we can take them tomorrow.
I am just hoping. Pickford doesn't have another Origi moment.
Can't wait.
Allan Board
148
Posted 16/10/2020 at 19:52:37
No place for negativity at Everton anymore, Carlo and his staff have seen to that. This fella knows how to win football matches, and now he has some of his players in the team, it's all about us and how we play.
Early days yet, but I expect us to win tomorrow, not because we are at home or they got hammered at Villa or Klopp is worried or down to injuries etc. It's because Carlo knows his team is ready and fully expects to win.
Relax, time's are a changing!

Kieran Kinsella
149
Posted 16/10/2020 at 20:03:32
Noticed Sigurdsson missed the Iceland game v Belguim. Wonder if that was an injury or the coach doing us a favor?
Tony Abrahams
150
Posted 16/10/2020 at 20:10:35
Just saw the clip of Batman putting a banner up outside Goodison, and pray it's us Evertonians who are playing the Joker tomorrow night!
Brian Williams
151
Posted 16/10/2020 at 20:17:33
Tony, what is it with the Batman thing? Got sent a couple of Batman themed things. What am I missing?
Brian Williams
152
Posted 16/10/2020 at 20:21:30
Ah its ok. I know now D'oh!
Jerome Shields
153
Posted 16/10/2020 at 20:28:08
Steve #89,
Interesting that they have had that type of regime. Could fall flat on their face with that crack.
Rob Halligan
154
Posted 16/10/2020 at 20:29:34
I would just like to comment on the post posted by Paul Hewitt earlier on. I'm not having a dig at Paul because I know him personally, having met a few times during meet ups with other ToffeeWebbers .
Paul Hewitt
42 Posted 16/10/2020 at 11:15:08
Flag this comment.
Brian@40. You call it defeatist. I call it being let down SO many times in derby games.
Quite simply, judging by what Paul says, he doesn't anticipate Everton ever winning a derby match ever again, and I mean for eternity, as I suspect, a few other TW'ers feel likewise.
These winless runs against certain teams (not just the RS) have to, and will end sometime. Sooner or later we WILL win against the RS, we will win away at Chelsea, Arsenal, and this season away at the RS. Players like Allan, James, Doucoure, Ben Godfrey, and Nkounkou probably have no idea about our dismal run against these teams, and so won't go out tomorrow thinking the worst. They will only be thinking about victory, like the previous seven games this season.
The only people thinking the worse tomorrow is us, the fans, well some anyway. If we were top of the league, (which we are) and the RS in league two (which I wish they were) and we drew them in the cup, people on here would still probably feel the worse, simply because it's them.
What's happened in the past is gone. This season is the dawn of a new era, an era which will see the mighty blues take on and beat the so called big six teams. We might not win the league, we might not even finish top four, but I sense a cup landing at Goodison this season and a minimum top six finish.
So please, can everyone remove the negativity from their minds about tomorrow. We have the players who can, and will, beat that shower of bastards.
COYB. FTRS!!
Tony Abrahams
155
Posted 16/10/2020 at 20:29:51
He's a rat Brian, never been one of the good guys imo!
Paul Birmingham
156
Posted 16/10/2020 at 20:34:52
For the first time in years we are genuinely in with a very good chance of victory tomorrow. You cam sense and smell the fear in the RS I've came across and talked with this week at work.
The mindset is key and I-am, sure Carlo will nurture all his experience and nous to get one over them, tomorrow. Klippety knows he has more than a match now.
I agree with other posters, the RS, will be flying in and doing their usual diving stunts, and the dirty tricks. They'll contribute to their own downfall.
Win the midfield and we have proven so far this season,we have an attack that can score from all over the box.
I hope the referee stands up and doesn't get taken in by Manes and Salah's diving, and the hand balling of their back four, gets punished.
I reckon a very tough battle but Everton, have added more style, belief and a killer instinct, so the RS, will be doing their homework, but Everton, will prevail.
Stick to the game plan, manage out the whole game, and beat Old Nick. I've confidence if the new lads in defence are called upon.
History beckons if we can beat them, so let's see some positivity, we can beat them.
Villa took them apart, no mercy, keep the minds focused and Everton can do it, tomorrow.
No luck, we can beat them on merit but a slice of luck, is always useful.
Forza Everton!
Tony Abrahams
157
Posted 16/10/2020 at 20:36:48
It's a very good and important point Rob. We have got a different manager, and different players, who have got a different mindset. Win or lose tomorrow, we have still got a long way to go, but it's all about getting on the right road, that's the most important thing right now.
Danny Baily
158
Posted 16/10/2020 at 20:37:11
I'll be behind the couch for this one. Having said that, the balance of hope and expectation has shifted to the latter this time around. Wouldn't be surprised to see a win for the blues.
Dan Nulty
159
Posted 16/10/2020 at 20:39:57
Most nervous I've been for a derby since 88.
Going to feel sick for most of the morning and during the match probably. Whatever happens, great start to the season.
John Pierce
160
Posted 16/10/2020 at 20:47:18
Tony,
The biggest things is, if we get beat tomorrow, even if it's a sickener, I believe it won't derail the season. I think we will be straight back on it at Southampton. That's the mentality which means we will treat tomorrow as one game and not an emotional drama we always seem to approach it with.
We'll beat them at football rather than kicking them off the park and emotionally overwhelming them. That's a recipe for winning games, not just a hyped-up one-off. That's the shift Carlo has managed. I expect James and Allan to run the show tomorrow and others will step up when they see it's just another game.
Tony Abrahams
161
Posted 16/10/2020 at 20:51:51
Makes sense to me, that post, Dan. I've just said it's early days, I'm aware of how new our team is, and how long of a season it is, but talking to people earlier, and it seemed to suddenly dawn on me how much talent we now have in our team.
It's just another game until you have got a team who have got the talent to compete, then it takes on a lot more meaning, so I can understand why you are suddenly a lot more nervous, Dan, mate!
Steve Ferns
162
Posted 16/10/2020 at 20:52:39
Brian, they are filming the new Batman movie in Liverpool. It'll be great to see a bona fide blockbuster on the big screen with Liverpool landmarks.
Stephen Brown
163
Posted 16/10/2020 at 20:53:29
Everton is not good for your health! The good start has made me believe, Carlo has made me believe! That's what worries me most!
My nerves are in tatters, there's no pleasure in feeling like this!! I just pray for a win!! Please God let us win!! We've deserved some luck for all the failure we've endured over years!
Hopefully Carlo, Allan, James, et al experience of bean there won it can rub off on everyone!!
It's going to be torture!!! Come on boys.
Kieran Kinsella
164
Posted 16/10/2020 at 20:57:05
Steve Ferns
It can't top Goodison Park in Creed for big screen community pride.
Tony Abrahams
165
Posted 16/10/2020 at 20:58:37
I saw a little headline before JP, and although I never read the article, it's reassuring to know we have got a very calm and experienced manager standing on our touch line now.
A man who is smiling and saying we will find out tomorrow if we are catching up to Liverpool, but seemingly using them not as the enemy, but more of a yardstick of where he's aiming to take his team?
Tony Abrahams
166
Posted 16/10/2020 at 21:03:44
Steve/Brian, someone dressed as Batman, has just gone to Goodison before and put a big banner saying 1995 on the railings on Goodison Road.
Typical Liverpudlian behavior, they don't come out until it's getting dark, but I just think of the stick Man City fans took for years before the tide turned, and know it's coming soon for us Evertonians, singing we shall not be moved!
Peter Mills
167
Posted 16/10/2020 at 21:04:42
It's just another game, a tricky one but not one to fear. We need to get into the habit of beating teams who are below us, and move on.
Michael Barrett
168
Posted 16/10/2020 at 21:05:35
Alright, Tony... I am with Danny behind the couch. Where will you be watching it?
Paul Birmingham
169
Posted 16/10/2020 at 21:13:39
As many have stated above, let's play the game, it's a simple game.
Play to our strengths, discipline and focus, we can beat them.
Let's stay positive and believe, it's a new era, new Everton, and genuine hope.
It's another game, let them worry about us.
Tomorrow hopefully is our day, Everton's day.
Will Mabon
170
Posted 16/10/2020 at 21:25:21
When reading those stats of dispossession, consideration must be given to the type of play, player, areas of the pitch, moves the players make etc.
This is why Micheal Keane has by far the highest number of competed passes in our team. The actual real context matters. James keeps the ball fantastically, I only remember him losing it or being tackled three of four times, but okay it's nine. Incredible when you think how often he's turning around and dribbling around the toes of opposition players. He simply twists most into submission.
I like Gomes but he's lost the ball in dangerous places too many times. Ditto the stupid fouls. It's all a balance really. Upsides, downsides.
As to the game, I'm not nervous at all. Can't wait, got that humpback bridge gonads feeling.
Oliver Molloy
171
Posted 16/10/2020 at 21:31:37
Ancelotti has spoken in the past of how important it is for his teams to have the right attitude and to show their desire in training.
Tomorrow we have a big chance to really make a statement that Everton are serious about top four. We have all spoken over the years about the mentality of our team going into these matches, I really hope this has changed and we will see this tomorrow.
This side is capable of winning tomorrow and Klopp knows it. Coleman scoring and us winning would be a dream – I have a feeling, must check what price he is.
COYB.
Dave Lynch
172
Posted 16/10/2020 at 21:41:46
Thank god I am on nights, I can sleep through it.
Never confident playing that lot, we will have to play the ref as well as lady luck to beat them tomorrow.
They will kick scream and whinge their way through the game, they will also be hurting after the Villa trouncing.
If we do beat them, watch and listen to the red hoards question whether Klopp is the man for the job, its the way they are.
Please, please Everton turn these bastards over convincingly and show them for what they are, ungracious, classless, overrated media protected prima donnas.
Forgot to mention the Devil will be pulling the strings for them as well.
Tony Hill
173
Posted 16/10/2020 at 21:54:05
Tony @166, yes it's that calmness that will prevail over time. I, however, am a pathetic bag of nerves and will be in a sulk for about 2 weeks if we lose tomorrow. I haven't yet decided whether I can bear to watch the game.
Will Mabon
174
Posted 16/10/2020 at 21:55:43
Tony – you know you're gonna watch...
Rob Halligan
175
Posted 16/10/2020 at 21:57:23
Dave, do you seriously expect us to believe that you will sleep through the match because you're on nights? Not a cat in hell's chance!!
John Reynolds
176
Posted 16/10/2020 at 21:58:18
It'll be the first game of the season I won't get to see live. Hoping that doesn't jinx us because I expect a victory tomorrow.
Darren (#99) sums it up beautifully. Don't think the goals will flow as they have done so often lately, but I think we'd all settle for a scrappy 1-0 win.
Dave Lynch
177
Posted 16/10/2020 at 22:01:22
Rob.
After a busy night in AED on a Friday, I could sleep through an earthquake.
I've told wifey to wake me at the final whistle if we win, leave me if we lose.
I pray to the blue gods I get that wake-up call.
Geoff Lambert
178
Posted 16/10/2020 at 22:03:53
The devil went down to Goodison
He was lookin' for a soul to steal
He was in a bind
'Cause he was way behind
And he was willin' to make a deal
When he came across this young man
juggling a football and playin' it hot
And the devil jumped up on a hickory stump
And said, "boy, let me tell you what"
"I guess you didn't know it
But I'm a football player too
And if you'd care to take a dare, I'll make a bet with you
Now you play pretty good football, boy
But give the devil his due
I'll bet a ball of gold
Against your soul
'Cause I think I'm better than you."
The boy said, "my name's James
And it might be a sin
But I'll take your bet, you're gonna regret
'Cause I'm the best there's ever been."
Brent Stephens
179
Posted 16/10/2020 at 22:03:55
Will, it's Gomes not Gomez.
Gomes. Gomes. Gomes. Gomes.
Everybody say after me - fecking Gomes!
Geoff Lambert
180
Posted 16/10/2020 at 22:06:18
The devil bowed his head
Because he knew that he'd been beat
And he laid that golden football
On the ground at James's feet
James said, "Devil, just come on back
If you ever wanna try again
I done told you once you son of a bitch
I'm the best that's ever been."
Rob Halligan
181
Posted 16/10/2020 at 22:06:30
Fecking Gomes.
Geoff Lambert
182
Posted 16/10/2020 at 22:07:11
Now let's fuckin' do them! COYB
Will Mabon
183
Posted 16/10/2020 at 22:15:39
Thanks, Brent. Didn't realize I done it.
Brian Williams
184
Posted 16/10/2020 at 22:17:57
Fecking Gomes.

Brent Stephens
185
Posted 16/10/2020 at 22:22:08
I forgive you Bill - Will!!
Mike Gaynes
186
Posted 16/10/2020 at 22:25:26
Dave #173, if I can drag my sorry ass out of bed at 4am, you can turn up in the daytime. Sleep is overrated.
Mike Gaynes
187
Posted 16/10/2020 at 22:26:20
Brent #180, I say "fecking Gomes" at least four times in every game he plays.
Andrew Merrick
188
Posted 16/10/2020 at 22:26:49
Sweet talking from you guys, let's walk the walk tomorrow, and set a new marker, come on you blues, the time is right and the time is now!
Kieran Kinsella
189
Posted 16/10/2020 at 22:31:59
Mike 187
I was mortified to see the 4:30 am kickoff time then realized my work computer is on PST. Now I have the relative luxury of an extra two hours of sleep.
Michael Barrett
190
Posted 16/10/2020 at 22:32:52
Superb, Geoff!!
Rob Halligan
191
Posted 16/10/2020 at 22:33:27
Jeez Mike, you've got another nine hours or so of sweating and shitting it before bed, and only about four hours kip before it's time to get up and really be shitting it!!
Kieran Kinsella
192
Posted 16/10/2020 at 22:36:52
Rob/Tony
As you say the current players don't carry the baggage of the past. In fact Doucouré is probably looking around thinking "I beat this lot six months ago with Troy Deeney, this should be fun."
Brent Stephens
193
Posted 16/10/2020 at 22:37:22
Mike Gaynes doesn't poo. He's too cool.
Hugh Jenkins
194
Posted 16/10/2020 at 22:42:34
I can't profess to have watched many RS games so I might be talking out of the back of my head.
However, from what I have seen, read and heard, they only play one style – the hi-press "gegenpress".
Clearly this is what Aston Villa knew and set their own tactics to exploit it.
I doubt if Klopp can organise his team to play in any other style, with the personnel he has, so I expect them to line up in exactly this way tomorrow and, if they do, I am sure Carlo will have seen the effect of the AV tactics last time and be aware of the frailties.
I am also pretty sure that the "Professor" will have other tactics to hand if the RS do try to play in a different way.
For once, I think, they are the known quantity and we are the unknown one.
As others have said – let them worry about us, and what we are going to do.
Steve Ferns
195
Posted 16/10/2020 at 23:01:08
Have you seen this interview in the New York Times by Rory Smith with Carlo Ancelotti?
Just when you think it's impossible to love this man anymore. It's brilliant. Ancelotti just seems such a genuine and great guy. Now wonder players, superstars even, want to run through brick walls for him.
Dave Lynch
196
Posted 16/10/2020 at 23:02:03
To be fair, the only worry I have is Pickford.
If he has another meltdown and hands them the game, I'll lose my shit big time.
Frank Thomas
197
Posted 16/10/2020 at 23:04:20
4 goals conceded against Leeds (penalty for Salah's dive) and 7 by Aston Villa – it will be disaster against us if they play the same high defence.
So tomorrow, Klopp will be going for a deep defence inviting us to attack deeply and raise our back line because James's accurate passing will be nullified if their defence leaves no gaps behind them. So we will get plenty of corners and they will try and suggest pushing in the box. Thankfully, Calvert-Lewin and Mina are getting on target with their headers and Sigurdsson is getting back to his best with longs shots.
I expect Godfery to be on the bench along with Olsen, Bernard, Iwobi, Davies, Gordon or Nkounkou. These subs allow us to replace full-backs and to change the attack.
If we score first via a penalty from Robinson or Trent Alexander-Arnold then it will scare them to bits about stopping players in the box.
Biggest threat from LFC will be from Jota via through balls from Thiago.
Was it Jota that got Jags a red card when he fell to the ground 'seriously injured' by Jags's correct tackle, until the moment the red card was given?
Goals from James, Calvert-Lewin, Richarlison and maybe just maybe Iwobi or Doucouré.
Derek Knox
198
Posted 16/10/2020 at 23:16:35
Rob @192, you do surprise me there, mate, about having trepidations about to tomorrow's game, even the Devil has limitations on how much he can sway things if there's nothing in return!
These pretentious pricks have got away with this too many times, with unspotted fouls (obvious to us btw) and decisions which have historically changed their way.
The tide has eventually turned, my friend, they are driftwood, flotsam, and should be regarded as the detritus they have portrayed themselves over the years!
Andy Peers
199
Posted 16/10/2020 at 23:16:57
Steve, 196,
That article is brilliant. Everybody should read it.
Steve Ferns
200
Posted 16/10/2020 at 23:40:01
Superb Duncan Ferguson interview in the Daily Mail, despicable paper I know, but a great interview:
Pekka Harvilahti
201
Posted 16/10/2020 at 23:40:42
First time in years I have awaited this fixture. It's been 10 years since we won so it's about time to do it again.
Stan Schofield
202
Posted 16/10/2020 at 23:57:12
Geoff Lambert @ 179 & 181: Fucking brilliant.
Paul Birmingham
203
Posted 16/10/2020 at 00:01:53
https://www.youtube.com/watch?v=QQnfooEED8Y
Hopefully, this Duke of Earl, url, if copied, works.
Next up let's all sort out a song, and ditty, for Allan and James.
Du, Du, Du, Doucouré, Repeat, to this tune. Imagine tomorrow, Goodison Park bouncing with a full crowd.
Onwards Evertonians!
Tomorrow, our hearts and minds, can help to win this game.
Onwards Evertonians!
Mike Gaynes
204
Posted 17/10/2020 at 00:22:46
Steve, wow wow, what a great article, and I'm sending it right now to the honorary Mayor of Crosby, Peter Mills.
Will Mabon
205
Posted 17/10/2020 at 00:27:35
Brent, I go under both so you won't get me that way...
Mike Gaynes
206
Posted 17/10/2020 at 00:29:33
Geoff... fuckin' ayyyy! You da man!
Kieran #193, great point, wittily made.
Paul Birmingham
207
Posted 17/10/2020 at 01:03:14
Spot on Jeff @179, superb, and inspirational.
Nicolas Piñon
208
Posted 17/10/2020 at 01:16:10
I'm quite nervous about tomorrow.
But there are Some points we should get clear: Klopp is talking good things about us to confuse us so we relax, that's pure pre-match psychology.
The other thing: if we win, we won't be the best... and, if we lose, we won't be the worst.
I mean, although I don't want to recognize it, and although they fell 2-7 to Villa in their last game, they do have more experience than us (as a unit) in preparing for tough matches. So that for me is and advantadge for them.
James played two full matches in the last days with Colombia, so hard to expect him as fresh as we would like. But he's class, and that's very important and not just a detail. So if the likes of Allan and Doucouré do their jobs (and I expect them to due to the fact they are supposedly "fresh"), James will get the best benefit.
Firmino and Wijnaldum also got 90 minutes of international football on Tuesday/Wednesday so things are pretty tied on that aspect of it. But what makes me feel very confident, apart from having Carlo on the dugout, is we'll have a very good bench as we never did against them and that Allan has the experience of thrashing them apart at midfield.
Godfrey, Delph, Sigurdsson, Gordon, Nkounkou, Bernard, Olsen (leaving Iwobi out) are all really hungry for first-team football and, with that genuine desire and experience from the bench, the starting 11 will get out and give their lives for the glorious blue shirt. Whatever happens they I now they will.
COYB!!
Bob Parrington
209
Posted 17/10/2020 at 01:55:39
C'mon Blues. Let's go for the jugular while we are on a good run!
Steve @196 Thanks for the link. Fab read about Ancelotti.
Geoff @179 & 181 – You missed your vocation mate! Great poetry!
Ed Prytherch
210
Posted 17/10/2020 at 01:59:40
Thanks for the NYT link, Steve, a great read.
Geoff Lambert
211
Posted 17/10/2020 at 02:01:39
Bob 110, I would love to say I wrote it but I took it from a song, The Devil Went Down to Georgia, by the Charlie Daniels Band. I just changed a few words to suit. COYB...
Geoff Lambert
212
Posted 17/10/2020 at 02:02:44
Great song, by the way, if you haven't heard it.
Steve Brown
213
Posted 17/10/2020 at 02:39:06
Great interview with Allan in the Guardian, where he takes about Professor Ancelotti.
Kieran Kinsella
214
Posted 17/10/2020 at 02:44:06
Steve Brown
Just read that. Nice to see he rates the players already in the squad pre-summer and that the new guys were warmly welcomed.
Pete Gunby
215
Posted 17/10/2020 at 04:20:15
Put the coffee on Mike Gaynes - Like you I'll be up at 4 and texting my boy up in the Bay Area to make sure he doesn't sleep through this one.
In my younger days I'd stay up all night and pack in the bevies. I'm older, wiser? and prefer to view the games sober nowadays. COYB
Bobby Mallon
216
Posted 17/10/2020 at 06:46:02
Credit to all you blues far and wide getting up at silly hours to watch. I'll be listening on radio and getting updates as I'm helping the sister-in-law move house. I think today's game will be won by the team who defends better, I'm hoping for an early goal.
Tony Abrahams
217
Posted 17/10/2020 at 07:34:40
I will be watching in the house Michael B, on one of those boxes, that's about a minute and a half behind. My next door neighbour, is usually in front of me, (I've had to put ear phones in before now) but he has got COVID, so can't have any visitors, so it's just the red baskets over the road, that might bring a bit of noise, just before something happens now.
My box went off against Brighton and I heard a roar that definitely never came from "the blues" next door, and when the telly came back on Brighton had equalised. Ok, I had to suffer in silence, these people having a couple of party's after they won the league, but when Mina made it 2-1, I reckon the whole street heard my roar, along with a couple of obscenities.
I hope it's quiet today, I'd sooner celebrate with a little bit of class, just as long as I'm bursting with happiness inside mate That will definitely do for me!
Bob Parrington
218
Posted 17/10/2020 at 07:53:35
Hey Geoff, Still well done. Of course, if I'd been bright, I would have recognised as I've listened to the track plenty of times.
Let's hope for a win today on the anniversary of our win against them in 2010 as per Lyndon's article.
Alex Winstanley
219
Posted 17/10/2020 at 09:00:19
Please, please, please, let me get what I want this time!
Jay Evans
220
Posted 17/10/2020 at 09:03:26
My nerves have not improved even though we are not allowed into the old lady today. I am still as much of a quivering wreck as I normally am. I hate the way the other crowd have this hold over me. They truly are the minions of the devil.
Surely we are going to have to score at least 2 as our keeper can not be trusted to keep a clean sheet at this present moment.
We need to be wary of the rs wounded animal so lets stand up and be counted, win our personal battles and show our charming neighbours exactly what the new Everton is made of.
Onward Evertonians.
Full support 💙
Loko Sanchez
221
Posted 17/10/2020 at 09:08:56
We need to score at least 2 goals. The referee will give 1 penalty to the RS and 1 red card to the blues. He will probably give to James.
Alan McGuffog
222
Posted 17/10/2020 at 09:14:46
May I be allowed to reiterate my earlier post. I hate losing to this crowd but the last 50 years have taught me how to almost deal with it.
They are in league with Splitfoot, we all know that, and we must accept that if we are two-nil up in injury time they will "win" three penalties.
The battle of light versus darkness continues though and I'm looking to see how we react in the next few games.
Having said all that, please God we moida da' bums.
Stay safe, Webbers.
Kevin Molloy
223
Posted 17/10/2020 at 09:15:34
We are playing a great side (I can divorce them and Klopp from their fans), if we get beat it's nothing to get too screwed up about, it comes with the territory. They key thing for me is our direction of travel. The last three months have been revolutionary, we are now a team going places with some fantastic players. If we give them a game but lose by the odd goal I can very definitely deal with that without it wrecking my weekend. This is not a key game like a semi-final, just a useful staging post on the way hopefully to much better things. They've just been stuffed 7-2, so we all have to deal with embarrassment in footy.
Having said, that, I wouldn't be surprised if we do beat them. It would just be 'Everton that' to end the hoodoo in front of no fans. One thing their fans certainly aren't fully appreciating is James. I've seen comments like 'if you give him space on his left foot he can cause you problems'. They have no idea who they are facing, hopefully.
Andrew Clare
224
Posted 17/10/2020 at 09:17:23
Let's do it. COYB's!
Tony Hill
225
Posted 17/10/2020 at 09:19:42
Kevin @224, a wise post. Something has changed at the club at a fundamental level and our future is a bright one.
Bill Watson
226
Posted 17/10/2020 at 09:22:36
Tony #218
The radio is usually a minute, or so, ahead of the TV so try having that on in the background.

Brent Stephens
227
Posted 17/10/2020 at 09:25:14
I can't remember such a positive thread on an imminent derby game.
Don't disappoint us, lads!
Derek Knox
228
Posted 17/10/2020 at 09:41:05
Brent @228, there's still time for the doom-mongers to post a few negatives, and then bounce back post-game, with "I told you so" but, in this instance, I hope there are no such post-match, chest-beating comments.
George McKane
229
Posted 17/10/2020 at 09:41:24
Up bright and early this morning - - sitting in anticipation in my writing room at the "Top" of The House - - looking out of the window - - it's a little grey (it's around 8.30am) - - breakfast finished and ready and like Barkis "willin" - - to the window on my right - - I can see the Dome of the Church at New Brighton - - looking like Brunelleschi's Great Domo - - walking through for a moment to the front top room - - I look out of the side window at the top of the stairs - - over The River - - Bramley Moor seemingly at the bottom of the road and slightly beyond I can see the roof of The Old Lady with her Blue and White scarf on - - into the front room and looking down River - - like The Arno - - but it's The Royal Blue Mersey guarded and looked after by The Might Blue Liver Buildings - - The River silver and still - - the clouds grey but a slight schism allows a ray of bright light to shine on the water and illuminate it - - I am as is my usual practice on match days - - sitting reading TW and listening to music - - normally today I would leave The House around 10.30 to get to The Dark House for around 11. 00 for the early KO:
"Woke up this mornin' feelin' fine
There's somethin' special on my mind
Somethin' tells me I'm into something good (somethin' tells me I'm into somethin')
To something good, something good, something good"
Strange days indeed - - did we ever know how much we would miss the whole package of going to the game - - seeing friends - - the noise - - the talk before and after the match - - debates and the singing together - - we would always have a little sing song in TDH especially on derby days with the old tunes coming out - - for me the walk along Old Ancient Haunts - - memories triggered at almost every step - - images, faces, names all conjured up as I walked along those streets to Goodison - - Scotland Road - - Churches Pubs and Chippies - - onto Smith Street - - past Whittle Street - - many a morning waiting for the 33 bus for Cardinal Godfrey - - amazingly at the bottom of the road where I now live in New Brighton - - each set of steps that lead down from the Prom onto The Beach - - and coincidentally - - opposite Bramley Moor - - each set are numbered and those at the bottom of our Road are numbered 33 - - the Magic Number - - along to Westminster Road - - passing the baths - -where on Saturday mornings we would run to be the first "in" with our "cozzies" already on under our "kekes" - - who would have through that one day I would be a Dark House regular - - turning the bend and seeing Goodison in the distance - - "What Larks Hey Pip Old Chap - - What Larks" - - hey Mr. Lennon - - thank you for saying it for us all:
"So long ago was it in a dream
Was it just a dream?
I know, yes, I know, seemed so very real
It seemed so real to me
Took a walk down the street
Through the heat whispered trees
I thought I could hear
Hear, hear, hear
Somebody call out my name
As it started to rain
Two spirits dancing so strange
Ah, bowakawa pousse, pousse
Ah, bowakawa pousse, pousse
Ah, bowakawa pousse, pousse
Dream, dream away, magic in the air
Was magic in the air?
I believe, yes, I believe, more I cannot say
What more can I say?
On a river of sound
Through the mirror go 'round, 'round
I thought I could feel
Feel, feel, feel
Music touching my soul
Something warm, sudden cold
The spirit dance was unfolding"
So for today I will just have to sit in my top front room where the TV is watch our Bleutiful Boys on TV - - on my own due to the "restrictions" - - who would have thought it - - but I will be of course floating on The Blue Astral - - like the boy at the beginning of Tarkovsky's Ivan's Childhood - - fly over my world - -look below at the many roads leading to our Blue and White Palace - - the green turf surrounded by Blue - - as I fly I can see you gang - -Tony and Dave and Steve and John and Rob and lifting my head I can see as far as I want - - I can see our friends in America - - and other places - -Laurie Hartley and all other exiles - - and you all look up and smile - - knowing - - no one is surprised – "oh yea that's George just flying on the Blue Blue Astral - - well it is match day".
We are a Bluetiful gang.
I'm with you Ma Joad. You knew.
Hey I just passed 1 Smith Street and for a moment I saw My Ma - - Annie - - standing at the front door - - arms tucked into her flowered pinnie - - for a moment she looks up - - a smile on her face - - "We'll do what we got to do "she mouths like Ma Joad - - we all know - - we all recognise all The Ma's of Scotland Road - - all Ma's everywhere who looked after us and set us on the road - - in their pinnies - - with wisdom in the hearts and minds.
Hey gang good wishes today:
"Life is sad
Life is a bust
All ya can do is do what you must
You do what you must do and ya do it well
I'll do it for you"
So for a moment this afternoon before the game starts - - close your eyes - - think of all of our friends - - fly over them for a moment - - give them a smile - - We Are All Blues together - - finally a thank you to all of you - - for keeping me going through 6 weeks of incredibly intense treatment in hospital - - for Being Blue - - for all your opinions - - your thoughts and dreams and visions - - and thank you to The Professor for bringing a bit of dignity - - of hope - - pride - - to our Club - - I send you as always Cosmic Blue Grooves all the way out of the window - - across the now Blueing Sky - - into the cosmos - - to you - - just you wherever you are - - have a Bluetiful Day - - sing and dance and chant and jump about to your Blue hearts content - - do not let anyone tell you stop - - do it - -Be Blue:
"I want to go out in the countryside
Oh sit by the clear, cool, crystal water
Get my spirit, way back to the feeling
Deep in my soul, I want to feel
Oh so close to the One, close to the One
Close to the One, close to the One
And that's why, I keep on singing baby"
I am just going to grab my "gob-iron" and blow a tune for you all:
"In the golden afternoon when
We sat and let Sonny Boy, blow, blow his harp
And you look out on the water
And the big ships, and the big boats
Came on sailing by, by, by, by
And you felt so good, and I felt so good
I felt I want to blow my harmonica"
There you go Blue Boys - - take care and have a great day - - a cosmic and firm handshake - - your friend - - George

Tony Everan
230
Posted 17/10/2020 at 09:46:47
I'm confident about today, for the first time in a very, very long time.
Our senior players will not be fazed; James, Allan, Doucouré, Digne, Keane and Coleman will really fancy this today. Our younger lads Calvert-Lewin and Richarlison are firing on all cylinders, top quality and are ready to do the business.
I'm confident simply because we have a great team, great players in every position and a great manager. Admittedly Pickford has to raise his game but, even so, we have the team to beat Liverpool.
Come on, you Blue boys!!!
Derek Knox
231
Posted 17/10/2020 at 09:49:37
Ah! Great to see you back on matchday, George, with your uplifting poetry and thoughts.
I've got a good feeling about today, not easy, but we will do it (them)!
Paul Baxter
232
Posted 17/10/2020 at 09:55:58
Only realised when I woke up this morning that it's 5 years today since Howard died, that must be an omen we will win. Going for 3-0...
Brent Stephens
233
Posted 17/10/2020 at 10:02:22
Derek no doom-mongering predictions today, surely.
George, glad you're on the mend. "for a moment I saw My Ma - - Annie - - standing at the front door - - arms tucked into her flowered pinnie" - that one tugs.
George McKane
234
Posted 17/10/2020 at 10:08:54
Thank you all for the good wishes - - it is in no doubt whatsoever that your good wishes and comments on all things Everton helped me when I was ill - - really part of the healing process :
"It gets stronger when you get the feelin'
When you get it down in your soul
And it makes you feel good
And it makes you feel whole"
Thank you all. Cosmic grooves all the way.
Luke Welch
235
Posted 17/10/2020 at 10:10:33
Got a good feeling today, this hoodoo against Liverpool needs to stop now! And what a message it would send to the rest of the league.
Jay Evans
236
Posted 17/10/2020 at 10:13:29
Great to have you back on song, George.
God bless.
Kevin Molloy
237
Posted 17/10/2020 at 10:14:39
I wish Carlo would stop banging on about Crosby though. He's just been manipulated by those snobs at Finch Farm. Why couldn't they have let Franny Jeffers show him round. Then that NYT article could have begun 'Do you know Norris Green?' and I could die a happy man.
Mark Murphy
238
Posted 17/10/2020 at 10:21:00
My God, George, as if I wasn't emotional enough, you've just finished me off! I'm a wreck!
Here's to the best day possible in memory of Dearest Howie – RIP!
Come ON you Blues!!!
Brian Harrison
239
Posted 17/10/2020 at 10:21:42
Kevin
I think its great for our manager to live among our supporters rather than leafy Wilmslow or Cheadle Hulme. How great to hear him talk about Crosby, and let's remember this guy has lived in some pretty amazing cities around the world.
Kris Boner
240
Posted 17/10/2020 at 10:23:04
The nerves are real. The performance they show here could be a defining one for the season.
Dean Johnson
241
Posted 17/10/2020 at 10:25:53
Some great vibes on here, George, thanks for that wonderful post.
Also thanks Steve for that awesome Big Dunc interview
Feeling weird, feeling emotional, yet cautious.
But I'm right with all my blue brothers til the day I die.
COYB!!
Colin Glassar
242
Posted 17/10/2020 at 10:26:55
I've been up since 5:45 am. I hate derby days. Despite our great start I'll still be watching this between my fingers. It's what a lifetime of supporting Everton does to you. 2-2 draw.
Phil Greenough
243
Posted 17/10/2020 at 10:29:36
Putting so much pressure on one game, only after the season ends, will we see how far Mr Ancelotti has taken us. For the love of God, can we not crucify the team if we lose? As long as the lads put a shift in, that's all you can ask for.
Dave Abrahams
244
Posted 17/10/2020 at 10:32:53
George (230), I know you are on the mend, George, by your lovely long post. I can see you dancing round that house of yours just after 2:15 pm today.
Ma Joad, George, I can see those red fans eating the grapes of wrath while you're doing your dancing. By the way, my house number is 33, another omen pointing to our victory today.
Cosmic greetings back George, really hope to see you soon, very best wishes.
Dave Williams
245
Posted 17/10/2020 at 10:44:37
Firstly, how great to see George back – hope you are feeling good, George!
I had trouble sleeping last night and have convinced myself that the press are being played for fools by the managers. There is no way Digne would be fit to play – his injury looked like a twisted knee or ligaments and I can't see him playing. Carlo of course isn't going to flag this up to Klopp before 11:30 and I also can't see Mina being fit though maybe he will be risked.
I think Nkounkou will start with Delph playing defensive midfielder on the left of centre to support him, together with Richarlison.
This leaves a problem on the bench: if Mina doesn't play or comes off injured, Godfrey will play, but what if Seamus isn't fit? Tom can fill in if needed but I wouldn't like to see him there for the majority of the game with James as protection. I am seeing a case for Matty Pennington on the bench if he hasn't gone out on loan.
I think Klopp is doing the same. I can't see Mane and Thiago starting so soon after a bout of the virus. Jota will play and they have any number of midfielders to take Thiago's place.
I probably have it wrong and they will both play full-strength teams. I can't watch it live and will go out and allow myself a glance or two at my mobile to keep up with the score. If we win, I will then spend the rest of the day and evening getting Jane more and more annoyed by rewatching it over and over again.
No wonder I couldn't sleep!!
Colin Glassar
246
Posted 17/10/2020 at 10:47:44
I'm with ya, Phil. The law of averages says, sooner or later, we will lose a game. We will pick up injuries. We will suffer a loss of form at some point etc.
So how we react will tell us about the character of this team. If we are the real deal or is this just another false dawn. I believe it to be the former but only time will tell.
Barry McNally
247
Posted 17/10/2020 at 10:53:01
I like the way the editors have circumnavigated having the RS crest on cover page!
Andy Crooks
248
Posted 17/10/2020 at 10:57:42
Our time has come. I think today will be a classic derby. We will win.
For every player in our shirt today, it is the chance to be written into the history of Everton. To have your name said when you are long gone, to be a legend. This is our day.
Anthony A Hughes
249
Posted 17/10/2020 at 10:57:47
A win at lunchtime and we're 6 points clear for a bit. Easy this football lark. :)
James Marshall
250
Posted 17/10/2020 at 11:00:18
Top of the league, scoring for fun, playing against a team full of asthmatics. we can't fail today!
(If you're wondering what I'm talking about, Google "how many Liverpool players are asthmatic"). Dodgy, very dodgy.
Steve Carse
251
Posted 17/10/2020 at 11:12:29
Dave (246), Pennington on the bench, you're right, might be a good choice. After all, his derby record is played 1 goals 1. In fact, am I right in thinking he'd be the only player in the 16 to have scored in a Merseyside derby?
Paul Birmingham
252
Posted 17/10/2020 at 11:12:49
The day of reckoning is here, and so I believe that the physical, mental and style spirit transformation in this Everton squad will prevail.
It won't be easy but, if Everton keep their heads, and give no freebies, we can win.
Eddie Dunn
253
Posted 17/10/2020 at 11:13:25
Phil Greenough is spot-on... if we put in a good shift and have a real go at them but get undone by a moment of Salah or Mane magic, then let's remember that this Liverpool team has been the benchmark for 2 years (Man City excepted).
If we win then great, it's a big statement of our intent. If we draw, then fine, we stay top... but, if we lose, then we will still be up there in the top 4 and as long as we put on a show then we can be proud of our team. It's a marathon, not a sprint. I still really fancy us to win, 3-1.
Paul Birmingham
254
Posted 17/10/2020 at 11:15:37
Superb! George @230.
Jason Li
255
Posted 17/10/2020 at 11:15:56
As long as the lads follow Carlo's instructions defensively and track all the danger men, Allan never switches off for even a quarter of a second, then we've got a great, great chance.
Play it as tight as a ducks arse at the back, we'll get two or three great opportunities in each half. Let's hope at least one goes in.
Mike Corcoran
256
Posted 17/10/2020 at 11:22:36
Best wishes, George McKane, I'm on Seabank, figure you must be top of the hill near the church. I'm looking out my top window straight over the Mersey to the old Lady and hoping for a win today.
My soundtrack today for overcoming this obstacle is https://youtu.be/CTAud5O7Qqk
Sam Barrett
257
Posted 17/10/2020 at 11:25:06
Just woke up, been on nights.
Full of trepidation for this game against them. Then read George's usually brilliant post. And it seems like 1985 again, no fear, thanks George, COYB!!
Derek Cowell
258
Posted 17/10/2020 at 11:26:34
Two words, Andy King! Today has a similar feeling to that time.
Andrew Keatley
259
Posted 17/10/2020 at 11:29:37
George - Brilliant and uplifting as ever.
Steve (252) - Richarlison and Keane scored in last season's defeat at Anfield.
Darren Hind
260
Posted 17/10/2020 at 11:33:11
Wow it's lively on here...And the Yanks are not even up yet
Andrew Keatley
261
Posted 17/10/2020 at 11:33:22
No Nkounkou on the bench; Delph and Godfrey must be seen as capable of filling in there should Digne's injury recur.
Brent Stephens
262
Posted 17/10/2020 at 11:33:30
Pickford, Coleman, Mina, Keane, Digne, Doucoure, Allan, Gomes, Rodriguez, DCL, Richie
Mike Keating
263
Posted 17/10/2020 at 11:33:36
My son just sent this link - it seems to work
https://twitter.com/adoghem/status/1317064355503083525?s=24
Dave Williams
264
Posted 17/10/2020 at 11:33:41
What's the team?
Brent Stephens
265
Posted 17/10/2020 at 11:34:56
Subs: Olsen, Delph, Sigurdsson, Iwobi, Bernard, Godfrey, Davies.
Ray Roche
266
Posted 17/10/2020 at 11:40:10
Just to lift your spirits...30 seconds in!!!!!
https://www.youtube.com/watch?v=SP1Xk0FyVdo
Mike Keating
267
Posted 17/10/2020 at 11:56:02
My link at 263 worked and then timed out - asking for a 1-year subscription of £19.99.
Not sure how secure it is, so won't risk it.

Laurie Hartley
268
Posted 17/10/2020 at 12:10:37
I feel like I did before we beat Spurs 1-0 at Goodison in 1963. We have got to beat them. Up the Blues!!!
Paul Birmingham
269
Posted 17/10/2020 at 12:27:12
"What's Our Name?"
---
Add Your Comments
In order to post a comment, you need to be logged in as a registered user of the site.
Or Sign up as a ToffeeWeb Member — it's free, takes just a few minutes and will allow you to post your comments on articles and Talking Points submissions across the site.