Unsworth: Calvert-Lewin as good as we ever could have imagined
Thursday, 22 October, 2020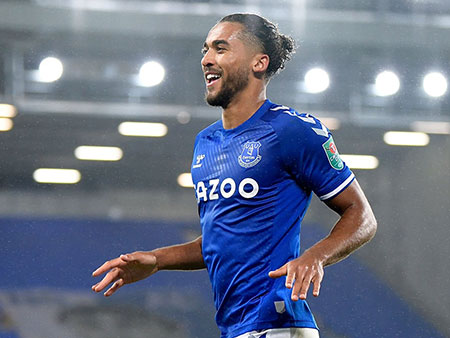 David Unsworth has spoken of his delight at the progress his former protégé, Dominic Calvert-Lewin, has made at Everton since signing for the club as a raw teenager four years ago.
The Blues signed the striker from Sheffield United for £1.5m as a longer-term prospect who was expected to spend time developing at Under-23 level but he soon found himself in then manager Ronald Koeman's senior setup.
Plenty of graft learning his trade in the interim as seen Calvert-Lewin emerge over the past 12 months as one of England's most potent and prolific strikers. He scored 10 goals under Duncan Ferguson's interim tenure and in the early weeks of the Carlo Ancelotti era before the coronavirus shutdown stalled his momentum.
He didn't score at all during "Project Restart", but a couple of goals in pre-season were a precursor to the flood of goals that has helped propel Everton into the last eight of the Carabao Cup and to the top of the Premier League with 10 goals in eight games across those two competitions while also earning him an England call-up where he netted on his debut.
"I still smile, really, when you think about how we managed to prise him away from Sheffield United," Unsworth told Alan Myers in an interview for Sky Sports. "It was all about timing. Sheffield United, at the time, were in League One and had a new manager and the thoughts of the manager at the time were that Dominic wasn't going to be playing a big part in trying to get them [promoted].
"I think Chris [Wilder] went the 'experienced' route and he's been very successful so we managed to get Dom into our Under-23s at the time. He's a player I'd had experience coaching when I was at Sheffield United when [he was] a 16-/17-year-old and I'd always followed him so I was absolutely delighted to be able to bring him to [Everton].
"He was a fantastic signing for us and he is now producing the sorts of displays and playing as well as we could ever have imagined when he was a young player. He's outstanding and he's been a brilliant player for us."
Myers was speaking with Unsworth about his new role as Everton's Academy Director, one he says was proposed by Director of Football, Marcel Brands, over the summer.
The 47-year-old has been building his CV at Finch Farm as manager of the Under-23s, in addition to two brief stints as caretaker boss of the first-team in 2016 and 2017, and has landed two Premier League 2 titles and a Premier League Cup.
"It's a massive role," Unsworth explained, "and when you've got somebody like Marcel driving things from the top and you're working alongside one of the world's finest managers… to learn from them and work alongside them, to spread the messages that are coming from Carlo and Marcel, it's actually a really exciting time.
"A lot of academies strive for that working relationship, that pathway all the way through [the club] and that seamless flow of passing down the knowledge and the expectation of what it is to produce professional footballers.
"My personal relationship with Marcel and Carlo is outstanding and obviously I've played alongside and worked alongside Duncan Ferguson for a number of years so our relationship is good.
"So now it's a case of us now passing that [knowledge] down to [lower] levels of the Academy and the experience that we all have of working with young players and the expectations and demands and the outputs of what it takes for a young Premier League footballer to come through the system and what is required.
"[Everton] is always a fabulous place to work anyway but you've got a manager like Carlo Ancelotti… you know, sometimes I have to pinch myself when I'm talking to him and I'm standing alongside him thinking, 'that's Carlo Ancelotti on the pitch!'
"It's brilliant that we were able to recruit someone of his class and when the club is winning games at first-team level, you're sat at the top of the league, all of a sudden, there are no problems, there are no issues — and long may that continue."
---
Reader Comments (27)
Note: the following content is not moderated or vetted by the site owners at the time of submission. Comments are the responsibility of the poster. Disclaimer
Peter Mills
1
Posted 22/10/2020 at 09:17:03
I can't wait for him to learn how to shoot!
Mark Andersson
2
Posted 22/10/2020 at 09:41:43
I don't care how he scores as long as he keeps doing it and winning us games
Derek Knox
3
Posted 22/10/2020 at 10:56:59
Made up for Dom, who seems a level headed sort of guy, and has tuck to the task, and it has obviously paid dividends. It will also be a a proven path for others like Ellis Simms to follow in his footsteps.
Mark Taylor
4
Posted 22/10/2020 at 11:15:36
Of our golden crop of world cup winners, I had Lookman as most nailed on to succeed. That doesn't look to have worked out. I had Dom as next best prospect because even back then, his physical attributes of pace and power struck me as a good basis for his future success. Admittedly I thought it more likely he would end up in the Championship but unlike for some, for me that is still 'making it'. If you look at the transition rate of the England junior teams over the last decade, surprisingly few make it at the very top level.
Happy to be proved wrong, looks like he belongs in the EPL and I think there are still areas he can improve and unlike some players, I think he has the capacity to do so because he looks like he's 'the right sort', a good temperament and attitude.
Brian Harrison
5
Posted 22/10/2020 at 11:37:57
I like that Unsworth says that there is now a natural progression for players to come through the ranks. Obviously Carlo has not only made a big impression on the fans and the players but listening to David Unsworth, he has made a big impression on him as well. I think fans of all clubs like to see youngsters progress from under 18 to under 23 to first team, I don't think that attitude was prevalent under Koeman.
He seemed not to have a good working relationship with either Deloufeu or Lookman, who scored a terrific goal for Fulham. I know it didn't work out for him at Leipzig but I still think he has a talent. With Ancelotti, Brands, Ferguson, Unsworth and now Baines we seem to have a group who are working closely together which can only be great for the club.
Tony Everan
6
Posted 22/10/2020 at 11:46:21
Dom is 23, still a very young player in senior terms. An attribute that has impressed me is his intelligence in that he is listening to to Carlo and Duncan and learning. He is taking on board sage advice and applying it and that is easier said than done in the heat of a game, but Dominic is executing it seamlessly.
There is a harmony forming in his play this season because of it. He has started to tap into that higher wavelength of performance which can come naturally . His energy is not dispersed so much, but more focussed on that central area and finishing. The outstanding midfield signings have allowed it to happen.
The Holy Grail now is to maintain that high level of performance with consistency over the season, as all top players do. He has the teammates to help him achieve it.
Ernie Baywood
7
Posted 22/10/2020 at 12:46:04
Looking forward to watching Dom each week. He was good, he's improved out of sight... and then there's the benefit of confidence.
Against our neighbours there was a moment where he threw himself for a ball he was clearly second favourite to win and I thought there's a guy who believes he's bigger and better than the defenders he's up against. He's ready to crack a few defenders and is backing himself. All of a sudden he's got a real presence about him.
One of those things that you can't really teach or train, but you know it when you see it.
Jim Bennings
8
Posted 22/10/2020 at 12:54:12
Totally off thread but the news that James is out of our trip to Southampton is a huge blow, result of a early tackle after Van Dick clattered him, where are the media now?
Already we are having many injuries after less than ten games played, again it astonished me why we didn't try to bring one of two more attacking options before the closing of the window.
No Richarlison, no Coleman, no James now so I'm thinking a point at best on Sunday.
Derek Knox
9
Posted 22/10/2020 at 13:15:25
Jim @ 8, where did you hear that very worrying news mate? Like you so rightly say, if it is as a result of the 'intention to hurt tackle' from Bert the Chimney Sweep, where is the media reporting of it?
Totally agree by the way about our lack of attacking options at senior level, should the inevitable injuries and suspensions kick in, just didn't think it would be this early in the campaign though!
James Fletcher
10
Posted 22/10/2020 at 13:27:34
Carlo said in his news conference - but I still think James will feature and that this was more a pop at Liverpool for making a mountain of one foul.
Santa Krsh
11
Posted 22/10/2020 at 13:27:51
Jim & Derek.. No Coleman No problem.. we have Godfrey & also Kenny is back to training.. No James No Problem.. Play Nkounkou at Left Back.. Digne a bit Forward.. Dump Cross after Cross into the Box.. DCL is going head one of those in.. No Richy No Problem.. we have Iwobi, Bernie to slide in thru balls to DCL who is gonna bang them in or throw in Siggy at Attacking Midfield.. A top Corner Screamer similar to the one when Unsy was in charge at St. Mary's..
My XI would be
Panic Picks
Godfrey Mina Keane Nkounkou
Doucoure Allan Digne
Siggy Iwobi/Bernie/ Gordon
DCL
1-4 DCL hatrick & a Siggy Screamer.. Consolation for Ings following an another Picks Howler..
COYB..One game at a time
James Fletcher
12
Posted 22/10/2020 at 13:35:54
Fingers crossed!
Kieran Kinsella
13
Posted 22/10/2020 at 13:36:28
Interesting looking at Dom's path. I remember that Kennedy kid Moyes signed who never made it. People in Scotland said he moved to a big club too soon. You get Kissock saying he didn't develop because he was stuck in the academy, under 23s. In truth I think the key is a mix of talent and a ton of hard work. There's no magic pathway for kids, they just have to knuckle down and the cream will rise to the top
Barry Rathbone
14
Posted 22/10/2020 at 13:48:04
Hope it works out for him but it's far too early to eradicate the potential of a "one season wonder" tag (yes, I know he's played a couple of seasons).
It's all running his way at the moment but he still has some fundamental flaws and coping with the inevitable goal drought will be the acid test.
Doing very well though
Sean Callaghan
15
Posted 22/10/2020 at 14:05:20
Tony (6), your post has prompted me to make up the worst joke ever and for that I hold you equally culpable. Here goes...
What's the difference between Dom and Boris? Dom listens to sage advice.
I am very sorry and won't darken these pages again.
Derek Knox
16
Posted 22/10/2020 at 14:12:48
Sean @ 15, he's also a Snake Charmer at Cobra meetings! Not Dom by the way. :-)
Paul Jones
17
Posted 22/10/2020 at 14:18:26
Site admins -it looks like we've been hacked (see comments under Barebone toffeeweb article). Hopefully just a disgruntled RS with a vendetta...
Jamie Crowley
18
Posted 22/10/2020 at 14:41:07
What Paul said above. If you click on the banner logo on the Barebones thread, it links you to some shady company's website.
Kieran Kinsella
19
Posted 22/10/2020 at 14:42:48
Paul/Jamie
I was pondering how to respond to those really profound posts.
Derek Knox
20
Posted 22/10/2020 at 15:02:56
I can endorse what Jamie, Paul and Kieran have said that I accidentally encountered a problem too. So much so that I have had to run a Malware/Antivirus scan on my main PC. Sending this via Tablet. Please pass on to all genuine TW'ers.
Darren Hind
22
Posted 22/10/2020 at 19:22:07
Wonder if Rhino will find a little bonus in his wages when DCL's value goes past the 100m ?

Alex Parr
23
Posted 22/10/2020 at 19:24:23
This happened to me about a year ago, there was a redirect from the site to some load of shite-malware site.
Hope all is well guys and girls.
James Newcombe
24
Posted 23/10/2020 at 13:01:30
Mark (4) - Lookman seems to be doing well at Fulham right now, so I wouldn't write him off just yet. It's hard not to think that he and Vlasic were mishandled somewhat after being signed. Or maybe we made a stack of promises to players who just weren't quite ready at the time...
Martin Mason
25
Posted 23/10/2020 at 16:47:18
Dom has proved to be an amazing buy for the club. Good on the club and good on him.
Olalekan Taofik
26
Posted 24/10/2020 at 15:27:14
@Santa,#11, I like your kind of scoreline (4-1) in our favour. You must be a father Xmas in October (laughter).
I pray the scoreline come to past but I will cherish 4 nill.
Good luck to the boys. COYB
Tony Hill
27
Posted 24/10/2020 at 15:38:15
Olalekan, I share the hopes of others that you are all ok over there. I know there are loads of Blues in Nigeria.
Yeah, 4 -0, why not?
Martin Berry
28
Posted 24/10/2020 at 19:47:50
Dominic has all the physical attributes of height, pace and power, that added to the embellishments of natural ability and he was always in with a chance.
I see him becoming a finisher of real quality with his feet as well along with his heading ability.
He is still only 23 and has is unique in that there are few of his type about in football.
The sky is the limit for him as he comes across as totally focused in what he wants to achieve.

---
Add Your Comments
In order to post a comment, you need to be logged in as a registered user of the site.
Or Sign up as a ToffeeWeb Member — it's free, takes just a few minutes and will allow you to post your comments on articles and Talking Points submissions across the site.