Southampton vs Everton
Friday, 23 October, 2020
Match Preview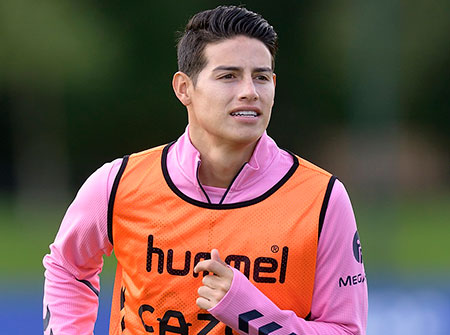 Carlo Ancelotti was handed a fitness boost after James took part in training today and is expected to make the trip to St Mary's on Sunday.
Everton travel to the south coast on Sunday to take on Southampton where they will be looking to build on their unbeaten start to the 2020-21 season.
The Blues lost their 100% record amid the controversial events of last weekend's Merseyside derby where Dominic Calvert-Lewin's 10th goal of the season earned a 2-2 draw and they will hopefully be fuelled by the confidence that their new-found resolve has brought them so far.
Everton's task will be made more difficult by the loss of Richarlison, a hugely member of Carlo Ancelotti's attack, and fitness concerns over James Rodriguez, another vital component of an attack that has registered 14 goals already, second only to Tottenham's 15.
Richarlison begins a three-match ban following his dismissal against Liverpool for a rash challenge on Thiago Alcântara but Ancelotti has been handed a boost after James took part in training today and is expected to make the trip to St Mary's.
The Italian had indicated only yesterday that the Colombian was a major doubt for the clash with Southampton because of bruising from a knock sustained in the Merseyside derby from a "mis-timed tackle" from Virgil van Dijk but the news today has been more positive.
"James is not definitely out," Ancelotti said. "He had a big hematoma and was not able to train until today. He is much better now and we have confidence that maybe he can play.
"He had a partial training session. I hope he is going to train tomorrow and we will see if he is in condition to play on Sunday."
Seamus Coleman is ruled out, however, as he deals with the hamstring problem that has forced him out of each of the last two Premier League games and with Jonjoe Kenny still not fully recovered from an ankle injury, it means that Ben Godfrey is in line to make his full debut at right back after coming on as a substitute in the derby.
Richarlison's absence is a big loss and it will force the manager into his first alteration to his forward line in the Premier League since the start of the season. Alex Iwobi has been Ancelotti's first option off the bench in recent games and while he doesn't provide the same outlet of pace and power as the Brazilian, he has displayed some impressive skill and ability to pick a pass at times when he has played.
Anthony Gordon offers a different dimension but the fact that the teenager hasn't been called upon in Premier League games so far suggests that he is an unlikely starter. The same goes for Bernard, a different kind of player again, and Ancelotti's reluctance to play him away from home last season suggests that he, too, will more likely start on the substitutes' bench rather than be named in the starting XI.
Should James not be able to start, however, Ancelotti will definitely be presented with more changes than he would have liked and, in that event, a player of Bernard's technical ability might make sense as long as there is robust midfield support from Abdoulaye Doucouré and Allan.
The presence of those latter two in the centre of midfield does give the manager choices in how he deals with the absence of Richarlison, with Gylfi Sigurdsson one more option, perhaps in a number 10 role behind Dominic Calvert-Lewin or sitting in that midfield three with Iwobi wide on the left.
André Gomes's disappointing outing against Liverpool, a game in which he was substituted during the second half, might see him drop back to the bench to give Sigurdsson an opportunity to impress.
Southampton pose a typically unpredictable task for the Toffees. They come into the weekend sitting in 12th with two wins, two defeats and a draw, having comfortably beaten West Bromwich Albion at home and eked out a 1-0 victory at Burnley. They played their part in a thrilling 3-3 draw at Chelsea last time out, with the threat posed by Danny Ings very much in evidence, but they showed their defensive frailties when they were drubbed 5-2 at St Mary's by Spurs last month.
With an available Richarlison, Everton might have looked to exploit Ralph Hasenuttl's high line but without his ability to break away on the transition, they may need to take a more considered approach. If James plays, the odds are in their favour that Dominic Calvert-Lewin will get the service he needs to add to his goals tally for the season but the key at the other end will be keeping Ings quiet given that he has scored in four of his last five appearances against the Blues.
The game will be featured live on Sky Sports Main Event and Sky Sports Premier League.
Kick-off: 2pm, Sunday, 25 October, 2020
Referee: Kevin Friend
VAR: Simon Hooper
Last Time: Southampton 1 - 2 Everton

Predicted Line-up: Pickford, Godfrey, Keane, Mina, Digne, Allan, Doucouré, Sigurdsson, Iwobi, Rodriguez, Calvert-Lewin

---
Reader Comments (216)
Note: the following content is not moderated or vetted by the site owners at the time of submission. Comments are the responsibility of the poster. Disclaimer
Jack Convery
1
Posted 23/10/2020 at 16:19:40
He must have prayed to soon to be, St Virgil, Patron Saint of Injured Players and his prayers have been answered. Now the RS need 2 more miracles credited to him and he can be officially beatified by Pope Francis.
Good News - no pun intended - COYBs. 11+ Saints to beat on Sunday. Tridents at the ready !!
Bill Watson
2
Posted 23/10/2020 at 16:23:35
Any news on van Dijk? Has he come out of his coma, yet?
Jim Bennings
3
Posted 23/10/2020 at 16:30:14
Hopefully he'll play some part even as a second half substitute, otherwise along with Richarlison it's a big loss.
I'm still slightly bemused why we didn't try for some kind of attacking signing before the window closed, the Josh King situation for example I'm surprised we weren't all over that one.
Anyway I suppose as they say it's a door opening now for the likes of Iwobi, Bernard, Gordon ect:
I'm thinking Bernard is probably on his final throes at Everton as Carlo doesn't seem keen on him, so maybe he'll see it as a chance to put himself in the shop window.
Steve Shave
4
Posted 23/10/2020 at 16:48:21
Jim I can see us selling Bernard, rumours of interest from the middle east. Personally I like him, especially when he drifts into the no 10 role. I'm not sure why Gordon has fallen out of favour, especially with Walcott and Kean gone? He has played really well when called upon in the Carabou cup.
Dale Self
5
Posted 23/10/2020 at 17:08:57
Carlo is having a bit of fun with this. You never really know what is behind the scenes but I suspect he feels the Red furor was overblown and decided to run a distraction or at least a redirection of commentary so the team can concentrate on their place at the top. Carlo, magnifico! COYB!
Colin Battison
6
Posted 23/10/2020 at 17:15:41
Well lets hope James plays some part, with richy missing we definately need his creativity if we are to get three points from this one, if fit then he has to start with Iwobi taking richy's slot on the left and I would bring gylfi in for gomes.
Pickford,
Godfrey, Keane, Mina, Digne
Allan, Doucoure,
Siggy,
James Iwobi
Calvert-Lewin
Frank Crewe
7
Posted 23/10/2020 at 17:16:10
I really hope he plays. I just love watching him hit those perfect Crossfield passes and pinpoint dead balls. I'm sure the opposing managers tell their players not to allow him any space but it really doesn't matter because he just makes his own space. He's not a footballer he's an artist. The pitch is his canvas and his left foot is his brush. He's currently in his blue period.
It must be secretly so galling for half the managers in the PL that they let him slip through their fingers. He could have been doing for them what he is doing for us. Well their loss is our gain and we can never thank Carlo enough for making the club motto mean something again.
We used to wonder how many of our players would get into a top six side. Well I figure Keane, Digne, Allan, Richarlison. James and DCL would walk into any of the supposed "big six" sides on current form.
Tony Everan
8
Posted 23/10/2020 at 17:26:46
If he's fit enough, he will start and be given 50-60mins.
It will be interesting to see who gets Richarlison's spot. I would go for Bernard in a fluid no10 type role , who can create and also interplay with Digne to fire some top class crosses in for Dom.
Pickford
Godfrey Keane Mina Digne
Doucoure Allan Gomes
James DCL Bernard

Jack Convery
9
Posted 23/10/2020 at 17:31:13
and now Adrian has had a pop at Pickford - when is 'enough is enough' for the RS. Obviously trying to divert attention from the fact he's let in 9 goals in 3 games. The only game he didn't concede a goal in, was when VVD didn't play !
Derek Knox
10
Posted 23/10/2020 at 17:35:00
Bill @2, the latest I heard was that he wasn't actually in a coma, but mistakenly took Curry Powder thinking it to be Heroin, to numb the excruciating pain, medicinal purposes only btw.
Doctor's said his condition was comfortable, but he was in a Korma. :-)
Tony Everan
11
Posted 23/10/2020 at 17:37:40
Jack, it's a death by a thousand cuts approach by the RS and the media are lapping it up. By November we will be on Jan Molby's and Razor Ruddock's take on it
Colin Glassar
12
Posted 23/10/2020 at 17:47:45
I've been off the grid for a few days (since the Goodison Park massacre) so, is VVD still alive and, has Jordan Pickford been hung, drawn and quartered yet?
Good news about James though.
Jim Bennings
13
Posted 23/10/2020 at 17:52:44
Steve #4
I agree I think we will sell Bernard most likely in January (I think he's better than wasting himself in the Middle East on some money spinner).
I was critical of him last season but that's because he had completely dropped off his form he had when he first signed for us, the way he linked up with Digne, ok it was never the "Bainaar" but it was pretty effective.
There are others I'd see the back of before Bernard but at the end of the day it's up to the manager.
Eddie Dunn
14
Posted 23/10/2020 at 17:58:54
Just popped onto the BBC webshite to see our old friend Shitshirts ,Lawro has opted (in his weekly forcast, this week versus a drummer) for a Saints 2-0 win . His reasoning "I have a feeling their good run will come to an end, without Richarlison it will be interesting to see Blah, blah".
Now the drummer put us down to win 0-3! Mark is really letting himself down here, no logic in his assessment, mere "feeling" ah, of course Mark, that's why the Beeb pay you ,to draw on your immense experience in the Game.
Kevin Molloy
15
Posted 23/10/2020 at 18:01:54
Dont forget Jordan Frank
Anthony Murphy
16
Posted 23/10/2020 at 18:07:08
just heard Capt Tom is doing another 100 laps of his garden and we're clapping at 8pm tonight for Virgil
Frank Kearns
17
Posted 23/10/2020 at 18:14:35
It's a physical game, you get hurt, stop being a load of mardarses you Red gobshites!!
Ray Roche
18
Posted 23/10/2020 at 18:20:55
Jim@13
Like you Jim, I hoped to see a partnership with Digne and Bernard but I don't think it ever got the opportunity to blossom. Nkounkou looks, to me, like he can play further forward and I'd like to see him given a chance wide left. He can certainly cross a ball.
Kevin Molloy
19
Posted 23/10/2020 at 18:21:06
this week has been very enervating, but if the reds worst fears do come true, and the derby represents a turning point in their season I think I can live with them bringing it up every week. In fact, I'd quite look forward to that.
Peter Roberts
20
Posted 23/10/2020 at 18:21:41
Amazing to think that the most common sense opinion in the red media has come from Carragher when he gloriously shot down Graeme Souness!
Good news re James but don't risk him, I disagree with Bernard as he seems to play much better at home than away, I'd probably play Gordon on the left wing and Iwobi on the right if James isn't fit enough for 60 minutes.
Jeff Armstrong
21
Posted 23/10/2020 at 18:23:55
Frank Crewe,
all of them ARE in a top six side!
Tony Abrahams
22
Posted 23/10/2020 at 18:29:04
We now have a proper manager again, and it feels good. Two-bit Liverpudlian Journalists are helping to create a lot of tension between the two sets of supporters, and obviously haven't got much of a clue about top level managers, looking after their players.
Highlighting that he who casts the first stone is not without sin, might feel like point scoring to a want it both ways Liverpudlian? but to everyone else in football, it's a message that Everton's manager is not prepared to let his players take all the stick, even though some people just won't stop screaming. Let it be!
Jeff Armstrong
23
Posted 23/10/2020 at 18:31:02
I think Carlo has played a blinder there yesterday, used a slight knock on James to deflect the attention from Pickford, after all it was St Van Dyke who done him wasn't it.
James will start on Sunday and hopefully score the winner, just to rub up the RS even more.

Dan Nulty
24
Posted 23/10/2020 at 18:50:19
Told you on the James injured thread it was just Carlo deflecting attention away. This lad is so good. I'm not sure I've seen as good a left peg since Sheedy.
Paul Birmingham
25
Posted 23/10/2020 at 19:19:29
Next game up, so now for Soton.
A very tough match at any time. Time to show resolve, togetherness and true grit.
I'd start Siggy instead of Gomes and I'd like Gordon to start, but I reckon it will be a Iwobi, instead of Charlie.
The game is winnable and good chance to kick on, and let's focus on Everton, and fekk the RS biased,media circus.
Jeff Armstrong
26
Posted 23/10/2020 at 19:34:58
Paul agree with both your changes there, but Carlo the Conny will play Iwobi before Gordon and Gomes before Sigurdsson, although it's Hobson choice between those two really.
Sigurdsson gives us more of a goal threat seeing the onus is on DCL and maybe James for goals.
Richarilson loses about 30% of our goal threat, massive loss.
John Keating
27
Posted 23/10/2020 at 19:41:27
Keep changes to a minimum
After last week Godfrey has to start
Sigi in for Gomes
If James can play then he has to
Gordon for Richie, a lot more workrate, pace and more direct than Iwobi
Paul Rimmer
28
Posted 23/10/2020 at 19:45:30
We need to replace Richarlison's goal threat so Siggy has to start. He's deserved to start in place of Gomes anyway. I'd play Gordon with his pace on the left but reckon Carlo will go with Iwobi.
Jay Wood
[BRZ]
29
Posted 23/10/2020 at 19:45:36
Scenes today of
Two curiosities:
1) Matthew Pennington is prominent!
2) Jarrard Branthwaite is seen working alone, doing sprint and ball work.
Jason Li
30
Posted 23/10/2020 at 19:46:16
Anthony @ 16
8pm soon (grins)
Danny Baily
31
Posted 23/10/2020 at 19:53:48
Iwobi for Richarlison for me. Like for like sway, or as close as possible.
Just hope James is fit enough to start.
Neil Copeland
32
Posted 23/10/2020 at 19:54:09
Perhaps we need to have posters made; Support VD
Olalekan Taofik
33
Posted 23/10/2020 at 19:55:04
I wish the team the best on Sunday I always insist that we take all our chances.
Permit me to speak a little today because my country Nigeria is a Little bit amidst #EndPoliceBrutality.
.I live close to trouble to most troubled spot,Lagos.
COYB,
I will watch the match definitely.
Robert Williams
34
Posted 23/10/2020 at 19:55:27
FC 7. "The pitch is his canvas and his left foot is his brush. He's currently in his blue period."
Brilliant..
Danny Baily
35
Posted 23/10/2020 at 19:57:46
Iwobi for Richarlison for me. Like for like sway, or as close as possible.
Just hope James is fit enough to start.
John Pierce
36
Posted 23/10/2020 at 19:58:25
Looks like Pickford will start, I can't agree, it will cost us, rarely can you carry a player and let them play through a bad patch.
Godfrey looks a shoe in, outside the maelstrom of a derby it will be good to cast a better look at him.
Personally I'd pick Gordon on the left, he's the nearest we have to Richarlison, he's direct and Iwobi for Gomes.
I feel Ancelotti will pick Gomes, Iwobi on the left.
Can't wait!
Minik Hansen
37
Posted 23/10/2020 at 20:12:28
Gonna be interesting with Godfrey. Just three weeks shy after his arrival, I reckon he'll be more ready to step up again with more time with his teammates, seems he's been worked on going to play at right back. His pace will definitely help.
Jason Li
38
Posted 23/10/2020 at 20:31:36
A while until Sunday.
Check out Thierry Small, another left footer who is a baller, on the BBC Wonderkids challenge.
https://www.bbc.co.uk/sport/av/54438727
Terry Farrell
39
Posted 23/10/2020 at 20:40:00
Olalekan look after yourself pal. missing charlie is a big miss and if james plays we hope he isn't too affected but id play siggi who is looking sharp and iwobi who needs to be on his game. coyb.
Robert Tressell
40
Posted 23/10/2020 at 20:44:10
Stay safe Olalekan. In terms of selection etc, I don't agonise of a sudden. We have options. Carlo knows what he is doing.
Kase Chow
41
Posted 23/10/2020 at 20:44:24
Really frustrated we didn't go in for an attacker eg Josh King
It's situation's similar to this current one where it could really hurt
I didn't rate Moise Kean but it's as if the management has said literally no one is better than Kean. Maybe that's true but we were short already
Hope it doesn't cost us
Dermot O'Brien
42
Posted 23/10/2020 at 20:45:57
Bill #2 🤣🤣 Brilliant.
Bill Gienapp
43
Posted 23/10/2020 at 20:53:47
Iwobi's been fleetingly effective this season, but Bernard or Gordon would seem like a better replacement for Richarlison. Then again, I don't get paid the big bucks to make these kinds of decisions.
Kieran Kinsella
44
Posted 23/10/2020 at 20:56:57
Olalekan
Stay safe. We are proud of our Nigerian connections with Mr Yobo, Amokachi and great fans like yourself
Gavin Johnson
45
Posted 23/10/2020 at 20:57:40
Hey, does anyone know any good streaming sites?? I've always used front row sports but I haven't been able to get the last two games to stream. Cheers :)
Mike Hughes
46
Posted 23/10/2020 at 21:06:27
I'm just getting back to some kind of normality now after the horrendous Van Dijk situation.
Surely that thug should not have been on the pitch after fouling and injuring James Rodrigues. His intent in the first couple of minutes was clear for all to see. And he has previous.
Get well soon James.
(Have you received an apology yet?)
Kieran Kinsella
47
Posted 23/10/2020 at 21:16:19
Gavin
Hegoals is one, not sure if VIP box is still around
Ricky Oak
48
Posted 23/10/2020 at 21:21:47
See the biased BBC idiots have got av on top of league already,, un fecking believable,, they try every which way with there sly subliminal bullying,, ggrrr,, could crush a grape seriously lol,, come on you blues!!!
Phil Greenough
49
Posted 23/10/2020 at 21:24:54
Not anymore, come on Leeds! 😁
David Garner
50
Posted 23/10/2020 at 21:26:41
Streaming site. I use
www.vipleague.lc
My son uses
www.soccerstream100.com
Larry O'Hara
51
Posted 23/10/2020 at 21:35:08
Ricky post 48, to be fair the BBC constantly update table while matches are in play. They are a nest of vile LFC vipers but the table updates are not an example of their handiwork!
Kieran Kinsella
52
Posted 23/10/2020 at 21:37:38
So we are the only unbeaten team
Jay Woods
53
Posted 23/10/2020 at 21:39:31
Kicker.de updates the table (for every major European league) live during every game... Okay, it's a German site but it has the best and most user-friendly tables and fixture look-up system I have ever seen online.
Gavin Johnson
54
Posted 23/10/2020 at 21:42:26
Thanks for the heads up lads
Brian Williams
55
Posted 23/10/2020 at 21:43:44
The BBC is a live table, constantly updates with changes in scores.
Tony Hill
56
Posted 23/10/2020 at 21:51:31
Another week at number one.
Dale Self
57
Posted 23/10/2020 at 21:57:42
Well, that will put a strain on Saturday morning commentary. Everton top of the table, the nerve!
Rob Halligan
58
Posted 23/10/2020 at 22:02:07
Come on Lyndon / Michael. Update the premier league table. It's still showing Villa only playing four games!!
Jay Harris
59
Posted 23/10/2020 at 22:09:56
Ololekan
Stay safe buddy.
Hope you have cause for Celebration on Sunday but nevertheless we will still be top unless the other shower win by 7 clear goals but on current form they are more likely to lose by 7.
Still currently the only unbeaten team in the Prem.
COYB keep it going.
Rob Halligan
60
Posted 23/10/2020 at 22:11:36
Mike # 46. Rodriguez has received no formal apology from Van Dijk as yet, but Elaine from Peterborough has sent her utmost apologies to James on behalf of Van Dijk!!
Neil Cremin
61
Posted 23/10/2020 at 22:12:25
For me this is the real test of the new era.
Normally in the past, if we were depleted we would probably Underperform in this type of fixture. Southampton are finding belief in themselves so our test of resilience will be truly tested.
Tom Bowers
62
Posted 23/10/2020 at 22:15:05
Now we are top on pure merit.
Who would have thought that after 5 games and Villa second.
Whilst I am sure no one will get carried away especially with Soton on Sunday we all have to be quite chuffed.
Soton played some good stuff last week and the midfield need to be up for this one after being a little''soft '' against the RS.
DCL may have a lot on his plate this week and although he is always a danger so too is Ings. C.O.Y.B.
Derek Knox
63
Posted 23/10/2020 at 22:15:39
Olalekan, thoughts are with you mate, hope sense prevails. Hope you see a resounding victory too on Sunday.
Paul Birmingham
64
Posted 23/10/2020 at 22:25:45
Olalekan, you and your Family, take care and stay safe.
Hopefully on Sunday, EFC, will beat Soton, and tonight's result at Villa, is a big tonic and incentive to do so.
Derek Knox
65
Posted 23/10/2020 at 22:25:54
Neil @ 32, They have already opened a Clinic in Liverpool named after him! :-)
Neil Copeland
66
Posted 23/10/2020 at 22:30:29
Derek #65, I hope you are feeling better mate.
Ha ha, looks like his campaign is gathering pace in the right direction then
Olalekan, look after yourself and stay safe. Hopefully Sunday's result will help
Derek Knox
67
Posted 23/10/2020 at 22:39:20
Thanks Neil. Feeling better each win, hope I'm on Top of the World on Sunday! :-)
Neil Copeland
68
Posted 23/10/2020 at 22:41:10
A good time to be a blue Derek, COYB!
Laurie Hartley
69
Posted 23/10/2020 at 22:44:53
I hope Carlo keeps Gomes in and starts Bernard on the left. Bernard is the best left footed crosser of a ball out of him, Iwobi and Sigurdsson. If not Bernard then Gordon.
I watched Carlo's presser, he is looking as fit as a fiddle and looks like he is enjoying very much being our manager - and he has confidence in his squad.
I hope he has got his lucky navy blue polo top safely guarded between games.
Up the Blues!!!!
Bobby Mallon
70
Posted 23/10/2020 at 22:50:17
Well done Leeds we are still top of the league for an other week
Hugh Jenkins
71
Posted 23/10/2020 at 22:50:44
Neil (32) How about:-
"LFC - Want VD"
It has a nice ring to it.
Hugh Jenkins
72
Posted 23/10/2020 at 22:56:11
Kieran (44) - well said - Olalekan - take care of yourself - first and foremost.
Neil Copeland
73
Posted 23/10/2020 at 22:57:09
Hugh #71, ha ha! Or perhaps;
"LFC want VD back"
Jerome Shields
74
Posted 23/10/2020 at 23:08:17
Everton will do well at Southampton, even with every Tom, Dick and Harry trying to jump on the hostile media bandwagon.
If Everton do well they will go into overload and be even more ridiculous in their claims.
Pickford is seen as a soft target , with a constant media build-up of negstivity.
We cannot get drawn into this as Everton social media is being screened for negative reportable comments.
This all appears to be one of the joys of being top of the League and unbeaten. Everton are seen as a threat to the previous cosy narrative, being a big Club that could really upset the status quo.
Hugh Jenkins
75
Posted 23/10/2020 at 23:08:20
Neil (73) - Short and Pithy(?)
LFC - Needs VD!
The last word - I think - LOL.
John Kavanagh
76
Posted 23/10/2020 at 23:13:26
Bobby M @70 This means that we will probably still be top at Halloween. I was planning to knock on RS doors in my Grim Reaper outfit replete with Pickford mask, but that's now ruled out due to Covid restrictions.
Instead, I now intend to really scare them shitless by posting copies of the league table through their letterboxes.
COYB Keep up the good work.
Neil Copeland
77
Posted 23/10/2020 at 23:18:01
Hugh #75, yep that's the one, has a great ring to it
Charles Brewer
78
Posted 23/10/2020 at 23:31:53
Neil / Hugh, "LFC - needs VD", I think a clap is in order.
Nick Page
79
Posted 23/10/2020 at 23:34:13
Don't fancy this at all. Ings in great form and we're dropping like flies. Could be toughest game we've had yet in this crazy league.
David Cooper
80
Posted 23/10/2020 at 23:45:32
So according to Wynaldum we are over physical! Ralph Hassenhutl says we are a physical side but are more than just that with really talented players! How this is music to my ears! It's been a long time since teams saw us like this! How long was it that we were giving up headed goals from corners and not scoring any at the other end. Now we have a physical presence in both penalty areas! And just to make it even better Godfrey is a big unit playing at right back even if he is playing out of position. I think JJK will struggle to get his place back! Roll on the Gladys St. Bullies!
Mike Gaynes
81
Posted 23/10/2020 at 00:27:02
Just getting around to perusing this thread (long day), and Frank #7, your "blue period" comment is the best single line I have seen written about James since he joined us. Standing ovation, sir.
Ololekan #33, welcome to TW and best wishes to you and yours. I have distant cousins in suburban Lagos, and it is indeed a stressful time there. Stay safe.
Colin Battison
82
Posted 24/10/2020 at 01:18:22
Now Ralph Hassenhutl is having a dig over Pickford. I love all this, everyone having a pop... come on, Blues, let's take positives from all this bullshit to spur us on even more.
If anyone's looking for a really good stream, I use www.eplsite.com, never lets me down this one.
Derek Thomas
83
Posted 24/10/2020 at 01:59:29
I'd like to see Gordon or Nkounkou in for Richo (big daft girls blouse for diving in)
If Bernard can hit his early form and his goal Vs W. Ham form I'd have him over Iwobi anyday...and as somebody said - there's more than a few to show the door before you get to Bernard.
0-2 to the blues.
Soak up the K.O. pressure, get 1 after 20 - 25mins, soak up the 2nd half pressure, 1 on the break while they're over committing chasing the game...classic away game jobby - and I won't cry if a 3rd goes in either
0-0 it is then.
Jack Convery
84
Posted 24/10/2020 at 02:07:37
Olalekan stay indoors and keep safe. Hopefully this trouble will soon be over.
The team I believe will start on Sunday is
Satan In Goal, Godfrey, Mina. Keane,Digne,
Doucoure, Allan, Siggy, James, Iwobi, DCL
Big Test after this weeks hysteria but with Carlo, Satan and God(frey) how can we go wrong. COYBs.
Jack Convery
85
Posted 24/10/2020 at 02:10:33
Charles Brewer ' All Reds Should Pray For VD ' would be my banner.

Ernie Baywood
86
Posted 24/10/2020 at 04:13:38
I'm assuming Iwobi has been getting so much time off the bench because he's showing something to Ancelotti in training.
Then on the pitch he's actually shown us a thing or two too.
So I fully expect he gets the nod, and he's earned it. Calls for Nkonkou are a bit fanciful. Why would you pick a new player out of position when an alternative is clearly the option?
I've not been a fan in the past but Alex has shown plenty over his time in the game, enough this season, and at 24 he's still worth investing some time and effort in.
I really hope he has a cracking game.
Phil Wood
87
Posted 24/10/2020 at 04:53:46
I cannot understand why Gordon is being snubbed. He has come on leaps and bounds this season. I think he could be sensational but Carlo has turned sour on him. A better option than Iwobi.
Bernard too having a hard time.
Derek Knox
88
Posted 24/10/2020 at 05:01:17
Thought all the JP accusations had been put to bed, but Adrian and Hassenhutl have allegedly jumped on the bandwagon condemning him. I was under the impression that the manager's code was not to talk about individual players whether it be pre-match or transfer speculation.
It's almost unbelievable, I have looked at it several times and I see no evidence of forethought or malice whatsoever. The same cannot be said of the so called victim.
Hope you pull off a blinder Jordan, stop them scoring at all costs, well not quite. Hope you don't get MotM because that will mean you have had a lot to do.
Paul Birmingham
89
Posted 24/10/2020 at 06:11:15
Hopefully, if true and the Soton manager has been spouting off, about the Derby and JPs challenge, then the team can use this to inspire them to victory.
Derek, like yourself, my view is that there's an unwritten etiquette, respect, to reserve opinion, on such matters, and let the football powers that be, manage the situation.
If the case then the Soton, manager will be making plenty of enemies for this game.
Common Everton, stick it up Soton, and whack them tomorrow.
Albert Perkins
90
Posted 24/10/2020 at 06:37:07
Gavin 45. I stream with:
http://livetv.sx/enx/?fbclid=IwAR0P4xhAubsGm0V9yVqTW-uKu5JH3lEujX6b-A81OIkLMv27MY_jLWv8P4A
http://phatgoc.live/xem-bong-da-truc-tuyen?page=1
Second one is usually Vietnamese but the feed is reasonably stable and who listens to the commentators anyway?
I always have to reload the page from time to time but it is what it is.

Tony Everan
91
Posted 24/10/2020 at 06:59:42
Derek, Paul , I think Hassenhutl has steamed in slagging off Jordan to align himself with his bff mate Klopp (probably has a picture under his pillow).
I was thinking about the challenge and if VVD didn't pick up the injury from that there would be no narrative at all as there was no intent or malice. The football world would have taken no notice and on the day it would have been reported as a clumsy challenge and he was lucky not to concede a penalty because of the offside. That would have been the end of it.
This weekend there will be a hundred clumsy challenges ,unfortunately one or two will result in injury . Football is a contact sport and these things will happen to players from every team and also cause by players from every team.
It is an absolute disgrace the free for all witch hunt that Jordan is receiving.
Paul Ward
92
Posted 24/10/2020 at 07:15:06
Phil Wood @87, Like you I just don't understand Carlo's reluctance to play Gordon.
Siggy and or Bernard could be used but Iwobi, I feel will never be good enough where ever you play him.
Nicholas Howard
93
Posted 24/10/2020 at 07:54:42
Olelakan,
All the best & stay safe...
A win for Blues will make everyone 'feeling great'
COYB
Sam Hoare
94
Posted 24/10/2020 at 08:08:53
Southampton are a very tough team to play and Richarlison, Rodriguez and Coleman will be 3 big misses as all 3 have been excellent this season.
Godfrey has not played much at RB, he is competitive and very athletic which is a good start but there will likely be positioning issues. And Iwobi will have to step it up a lot to mimic Richarlison levels.
Southampton are a very energetic, well drilled side and I fear Ings will react quicker to any loose balls than Mina or Keane, though the latter has really stepped up. I think we will be very glad if Doucore and Allan's energy and I hope Gomes can raise his game to match if he plays.
If James is out then I hope Gordon gets a start with him and Iwobi maybe swapping wings on occasion.
Paul Tran
95
Posted 24/10/2020 at 08:16:46
We're a threat to all these people. They're trying to wind us up and destabilise us. They'll only succeed if we let them. Clearly not working on Carlo, who's played them like a fiddle this week.
Tony Everan
96
Posted 24/10/2020 at 08:31:02
Yes Sam, Southampton really outdid us for energy and pressing just a few months ago at Goodison, we were way off their pace that day. We certainly have to be more on our toes this time round.
They have some terriers in midfield like Ward-Prowse who will be targeting Gomes in possession waiting for him to spill it up. Andre will have to be on his game for this one and seriously step it up a notch if he doesn't want to be perceived as a weakest link. He needs to think a fraction faster and move the ball a bit faster.
I think Southampton will be pushing it to the limit with late tackles and dark arts. They will think they can get away with it and that we have set the bar low. They will be thinking that we won't respond in kind because of the bad press. Just how much the refs let them get away with will be a factor this match.
We have to be very professional in our attitude to overcome this and refuse to get wound up.
It wouldn't surprise me either if they play to the gallery, rolling around in false agony, after any tough tackle, say from Allan, trying to get him sent off. "They're at it again, ref" ruse.
This is a game that will be fractious but, if we hang in there and soak up a bit of pressure, we will get our chances and win it narrowly. These days from corners and free-kicks I think we have been transformed. We have Digne or Sigurdsson to fire in really dangerous crosses and Calvert-Lewin, Keane and Mina who are a nightmare for defenders and fantastic in the air. This could be the difference tomorrow.
Christine Foster
97
Posted 24/10/2020 at 08:36:12
There is something seriously wrong with Liverpool supporters. I suspect they have been in lockdown so long that they are falling foul of an invasive persecution complex. Strangely it seems to be affecting their brain, which is a shame as there is so little of it in the first place.
The memory of events is the first to go, especially of decisions that went their way when clearly they shouldn't have, secondly the irrational hatred of anyone, including their own, who dares give a rational or sensible perspective of decisions that don't. It's accompanied by a digestive disorder that creates so much bile that requires expelling against anything or anyone who does not agree with them. As this is the general population its all rather difficult for them, it appears to be further exacerbated by delusional pundits (usually of the same condition)
I am afraid this condition is clearly a mental disorder, akin to being dropped on one's head at birth, no known cure other than humiliation is known. In this case, I strongly advise a double helping followed by two weeks of crying (or whinging) inconsolably and the deduction of 12 points for bringing the game into disrepute.
James Edwards
98
Posted 24/10/2020 at 08:38:35
When was the last time we were the last unbeaten team in the Premier League? Great time to be a Blue, COYB.
Martin Mason
99
Posted 24/10/2020 at 08:41:13
Last minute lucky 1-0 will be perfect.
Christine Foster
100
Posted 24/10/2020 at 08:41:50
For the record, I am wholly sick of them." Infamy, infamy they all have it infamy!!" They're right, we do.
As for today, no matter what happens come this Sunday evening we will still be top of the league and they won't. But if we can continue to do the business I will have a smile you can compare with the Queensway tunnel...
Eddie Dunn
101
Posted 24/10/2020 at 08:43:49
Olelakan, may I add my best wishes to you and your people at this difficult time. Stay safe.
Let's hope for another win on Sunday.
Christine Foster
102
Posted 24/10/2020 at 08:49:15
Okelakan, stay safe buddy, just had a look at what's going on over there, (was in Lagos a few years ago, so many happy people then!) keep you're head down, and don't take unnecessary risk. Hopefully, the lads can bring a smile to your face a little later this weekend!
George McKane
103
Posted 24/10/2020 at 09:15:25
The greatness of poets, artists, writers is that they "know and see" things - - who'd have thought that when Dylan came to Liverpool for those famous photos (memories Chris Hockenhul - - hope you are feeling better after your fall) - - that Dylan would be a Blue - - and he "knew".
"I wish that for just one time you could stand inside my shoes
And just for that one moment I could be you
Yes, I wish that for just one time you could stand inside my shoes
You'd know what a drag it is to see you"
Cosmic Blue grooves my friends - - George

Bill Watson
104
Posted 24/10/2020 at 09:23:56
Derek #10
Thanks for the clarification, Derek. Easy mistake for a lay person to make.
I hope he's not one of the 63% the of RS players who's asthmatic as I wouldn't want him to have breathing issues, too.
What rotten luck it is to have five x the national average of asthmatics and what a burden for the kit man to ensure the inhalers are in place before they run out!
Jerome Shields
105
Posted 24/10/2020 at 09:32:54
When Everton where useless, they used to hammer Southampton.
Bernard really improved and seemed to be the one player that had bought into Ancelotti coaching at the start. I personally thought he was outstanding and a key player.
After the lockdown, he had a serious loss of form which, at the time, was put down to personal issues. Even reports of him considering a move away.
When he has played this season, he has been ineffective. Not good enough on his wages. There is something not quite right with Bernard.
Eddie Dunn
106
Posted 24/10/2020 at 09:33:40
Tony @96, you mention that Gomes needs to step it up and on recent evidence he is way off the pace. Tom Davies has been castigated for the same thing but Gomes seems to be running in readymix.
I would bench him in favour of Sigurdsson but I would put Tom in ahead of him too as we need to be combative in this one.
André has cut a frustrating figure of late and his frustration with himself leads to him getting booked. He was hooked in the last game because of it.
Steve Brown
107
Posted 24/10/2020 at 09:38:09
Enjoyed Ancelotti's calm dismissal of the hysteria from Liverpool and the media. He frankly made them look silly.
Worried about this game. Soton gave us a very tough game at Goodison last season and should have beaten us. Ings in particular always looks like he will score against us.
Derek Knox
108
Posted 24/10/2020 at 09:46:41
Eddie @ 107, I have to agree there regarding Gomes, and that is not just based on his recent almost non-showing against the RS. Like you say he has been well off what he showed when he first came, and prompted us to make him a fixture at Everton.
Having said that, I 'm sure and I trust Carlo to know and see more than we do, every day in training and for up and coming fixtures. Like someone else mentioned their main threat is posed by Ings who seems to be at his peak at the moment, so I hope our defenders are alert enough to cope with him.
Jerome Shields
109
Posted 24/10/2020 at 09:56:42
Derek #109,
Gomes is okay when the pace of the game is slow and he has plenty of unpressurised time. This is how he has always been. Most of the Premier League now has copped on to this, as they would. Gomes has to put a bigger effort into training to get up to pace of the Premier League.
He will be okay in games when Everton are controlling midfield but, against an effective high-pressing team, he will be a liability. We will get a few sweet long passes in the game though. Keep him out of Everton's penalty area, he just gets in the way.
I would not worry about Ings, he will be man-marked and get plenty of attention.
Mick Hoban
110
Posted 24/10/2020 at 10:14:26
Is there a minutes silence before the games this weekend for St Virgil?
Kevin Molloy
111
Posted 24/10/2020 at 10:16:05
The record books will show as a bare minimum that for Season 2020-21 Everton were top of the table for over a month, going into November. This is starting to feel significant. Just saying...
Tony Abrahams
112
Posted 24/10/2020 at 10:23:23
One of my favourite songs, George, and that's what I'm taking out of that press conference yesterday mate.
Come and stand in our shoes you moaning bastards, going on with your premeditated bollocks, because it's one of your main players that's been unfortunately injured.
Stand up to the bully and they can't handle it, the red media won't let it go, you could almost feel the hatred, and a voice ready to burst into tears, behind Joyce, but fuck Joyce, "let's rejoice" because we have a manager, who has been around the block and understands how much it means to us long suffering blues.
Good luck tomorrow, Everton, and stay physical, it's possibly the most important thing, and they don't like it!
Kevin Molloy
113
Posted 24/10/2020 at 10:36:47
What I think has particularly enraged that club is I reckon they meant to put down a marker themselves last week, particularly physically. You could see that in the way Van Dijk was charging around attacking our key players. You can just see him in the dressing room before the game: "Let's have these and show them who's the boss!"
It must have been particularly galling for them when at half-time the question was asked 'How's Virgil?' 'Gone to hospital'.
I'm starting to think as well that Everton clocked that at half-time, and that maybe that horror tackle on their key player was no accident.
Tony Abrahams
114
Posted 24/10/2020 at 10:46:18
An afterthought and my biggest gripe is what Tony E, refers to as the dark arts.
Ward-Prouse cheated to get a penalty at Goodison but this is acceptable in modern day football? So no wonder the refs are all over the place because cheating being accepted and even encouraged, is a much bigger issue than anything that has gone on in the last week for sure.
Brian Williams
115
Posted 24/10/2020 at 10:47:08
Come on, Kevin, enough "outsiders" are suggesting the tackle was premeditated without our own jumping on the bandwagon.
Do you not think that leaves the door open for that shower to claim "even Evertonians think it was deliberate"?
Stephen Meighan
116
Posted 24/10/2020 at 10:55:26
Just seen the Southampton manager having a go at Pickford, saying he should be banned for the game. All becoming a bit embarrassing and pathetic now – it's a game of football: shit happens... move on, for fuck's sake.
Paul Tran
117
Posted 24/10/2020 at 10:56:40
Tony, you've absolutely nailed it there. LFC is the Tory party of football:
Dont care about anyome except themselves and their supporters
Big and hard when they can bully
Think the rules only apply to others
Cry like babies when they get a taste of their own medicine
Try and change the rules when they lose
Let's go and win tomorrow. Stuff em.

Kevin Molloy
118
Posted 24/10/2020 at 10:58:11
Brian,
I'm not convinced, I'm just reflecting on the week's events and Liverpool's hysteria, and what could have prompted it. We all know James was targeted. And that made me think, did we have similar plans for Thiago, not to put him out for the season, but to leave something on him to hamper him in that game?
Christy Ring
119
Posted 24/10/2020 at 10:59:00
I'd start Gomes, or Davies, a bit more pace. Sigurdsson came on for the last 20min's, last Saturday, did he even touch the ball? Bernard should get a start on the left. If James doesn't start, Iwobi on the right, I was very impressed with his showboat last week, but he needs to up his workrate.
Waiting to see more outcry of Pickford's challenge on Soccer Saturday, listening to the gobshite Merson, and there showing Adrian's interview, he'd be better off concentrating on his own poor showings.
Derek Knox
120
Posted 24/10/2020 at 11:01:41
Tony @ 115, good point there about cheating and I believe that some players have it off to a fine art. I have seen posts on here saying about VAR and the use of slow motion cameras from different angles, should be unnecessary.
I would say the exact opposite, that's how magicians in the main pull off tricks, the illusion, the distraction etc. The human eye can be easily fooled if it is thinking in one dimension, and then the opposite happens.
Many a time have I watched replays thinking the 'dirty bastard' only for the slow motion to actually reveal there was no contact at all, and the 'dirty bastard' was innocent after all!
Result if not checked, an undeserved penalty, which could mean the difference between winning, losing or drawing. I know it's a pain in the proverbial having to wait, and not knowing whether to cheer cry or whatever, but isn't it best to 'hopefully get it right' ?
Mike Gwyer
121
Posted 24/10/2020 at 11:21:07
Kevin Molloy
If Everton had wanted to target Thiago, I doubt they would have waited till the 90th minute before roughing him up.
It's contact sport and it was the derby, let's just leave it at that.
Brian Williams
122
Posted 24/10/2020 at 11:25:04
Kevin #120
I certainly believe our players would have been told to win their personal battles and to be 100% committed but I just can't see anybody on the staff telling any player to go and "leave something on" somebody.
Players may well decide for themselves that they're gonna let so and so know they're not in for an easy time.
I think VVD certainly set out to slow Rodriguez down but his challenge was, although violent in my opinion, subtle, in that he thought he'd get away with it. If you see it again in slow motion though he certainly didn't go into that to merely win the ball.
With Pickford's challenge, "subtle" just doesn't come into it. If he's set out to take out Van Dijk there, then he's madder than a box of frogs. (I know, I know, lol!)
I firmly believe he's just raced out to make sure we don't concede a second goal really early in the match. He actually gets to the ball first and touches it away. Had Van Dijk's leg not been planted, if his foot had been even an inch off the ground he wouldn't have been hurt.
That's the margins between nothing happening and being out for a season.

Michael Kenrick
123
Posted 24/10/2020 at 11:30:48
Dear God in Hell... every time I log on, it seems this is all you can talk about. Give it rest, for fuck's sake!
Ray Roche
124
Posted 24/10/2020 at 11:33:36
Mike@121
Mike, I wish we could leave it at that. TalkSport have been on about it this morning, a week after the incident. Sky showed the tackle or assault depending on who you are, eight times in one report last night. I don't remember any tackle or incident getting so much attention. Ludicrous.
Brian Harrison
125
Posted 24/10/2020 at 11:34:26
Michael
I totally agree we are becoming as obsessed with this as the other lot, lets let it go and move on. We know that the media and managers will keep this going were it suits them, hopefully there will be a new talking point after the weekend.
Brian Williams
126
Posted 24/10/2020 at 11:35:56
Dererk #120.
Case in point, mate, was Grealish last night.
Now the lad gets fouled right left and centre and must get thoroughly pissed off with it, but in one challenge last night (there may have been others) as the player come in to tackle him he trails the nearest leg, to the player, out in a totally unnatural movement so that him being knocked to the ground is inevitable.
It's what's become known as "buying a foul" but it should still be referred to (IMO) for what it is, cheating.
Cheating, unfortunately, is a huge part of the game of football. It's a win at all costs mentality.
Brian Williams
127
Posted 24/10/2020 at 11:37:22
Michael#123.
Michaels that's a touch bombastic don't you think?
I'm shocked!
Ray Roche
128
Posted 24/10/2020 at 11:38:34
Michael, like you I'm sick of the whole business. It's now almost a case of
"And in other news, Russia has launched a nuclear attack on China, but back to our lead item, the attempted murder of Premier footballer St Virgil".
Pathetic.
Brian Williams
129
Posted 24/10/2020 at 11:39:56
Ray!
China? Shit I'm waiting on a parcel from there!
Bastards!
John Keating
130
Posted 24/10/2020 at 11:42:37
I think we will have a few issues tomorrow with decisions - more than a few
Regardless of last game gone and we move on to another week I think consciously or not the officials will be looking at us against Soton and if they can give anything against us they will.
It would be good if there is no call on VAR tomorrow as it reduces us getting turned over by the pitch officials only.
Fingers crossed Pickford plays a blinder if called on. Any goal we score had to be as saintly as Virgil
Ian Bennett
132
Posted 24/10/2020 at 11:45:31
Pickford
Godfrey
Mina
Keane
Digne
Doucoure
Allan
Sigurdsson - Gomes needs to step it up
James
Caalvert-Lewin
Iwobi - possibly Bernard, but I'd like to see Gordon's pace
Eddie Dunn
133
Posted 24/10/2020 at 11:46:51
The nature of the modern game and the social media short-termism should finally put last week's events into the dusty archives. We will soon have several days when everyone focusses on the latest horrific tackle/VAR controversy.
I am hoping for a routine, workmanlike away win...the sort of professional performance that is almost matter-of-fact. This will send out a chilling message to our competition.
Derek Knox
134
Posted 24/10/2020 at 11:49:31
Michael @ 123, I echo your sentiments there, but like Ray and others have said it's Sky, Talkshite, Adrian and Hassenhuttl who are keeping this going, not us!
We are only acting to protect our players who we know are innocent, and it almost feels personal when a slur, which we know not to be the case, against our team, players, or Manager is aired on the Media.
Will Mabon
135
Posted 24/10/2020 at 11:49:56
Eddie, a performance like Leeds gave last night would send out an even cooler message.
Chris Hockenhull
136
Posted 24/10/2020 at 11:50:48
George (103). Thanks for your good wishes. Bruising still there but one week on slowly getting better You'd have thought it was me Van Dyke got in the opening minutes ("Murder Most Foul") by the look of my legs. Still here Tangled Up In Blue. Best wishes to you and all. COYB
Kevin Molloy
137
Posted 24/10/2020 at 11:52:13
Brian,
Nobody likes cheating, but it is one of the defence mechanisms flair players use. I don't really blame James if he goes down like a bomb if he feels a touch, when he knows he's going to get kicked from pillar to post. It puts doubt in the defender's mind, makes him pause before launching in to clean him out.
Bob Parrington
138
Posted 24/10/2020 at 11:54:56
I'd like us to use some surprise tactical inclusions in our squad at Soton. They'd include IMO Simms, Gordon and Nkounkou.
The reason is predictability, more than anything else. I'm not suggesting to start with all three but include them at least on the bench.
Southampton will come at us with passion at the start. We need to shut them out, calm the whole scenario down and then blitz them. Simples - Ha Ha!
Jerome Shields
140
Posted 24/10/2020 at 12:02:26
Eddie#133
If Everton are Top of the League I wouldn't bet on it. If they are also unbeaten prepare for the avalanche.
Michael Kenrick
141
Posted 24/10/2020 at 12:03:59
Well, if our kids are anything to go by, the psychological impact of this on us is going to be devastating:
Everton U18s, who were top after 4 games, are now behind 4-0 to them bastards – before half-time.
Paul Tran
142
Posted 24/10/2020 at 12:23:59
I think the only psychological pressure on us is the one all table-topping teams have - the pressure of being shot at and fighting to stay there. So far, we've responded to every small setback very well.
Tough game tomorrow, but I suspect they'll be more concerned about us. They should be.
Brian Williams
143
Posted 24/10/2020 at 12:25:38
Let's hope it's out of the club's system after today's U18s then.
Allan Board
144
Posted 24/10/2020 at 12:42:56
Relax folks, we have the perfect fella in charge to handle arse lickers like Sotons boss, been there seen it done it has Carlo.
However, here is my message to Ralph, concentrate on your own fucking team you klopp loving twat. Also, keep your mucky fucking feet off the pitch until the game is over you disrespectful tosser. Re Chelsea last week. Is there a klopp school for running on the pitch now? Nailed your colours well and truly to the mast now Ralphy boy, expect a dignified greeting from an elegant and classy manager in the opposite dug out tomorrow though, it's called holding the moral high ground and acting with dignity.
Something you would fail to comprehend, being an out of control, lacking in etiquette, arrogant, inconsequential little man who needs the safety in numbers of the media.
WANKER IN SHORT RALPH. You have single handedly turned the game tomorrow into a free for all, of which you should be ashamed, what sort of person let's a tosser like klopp manipulate him into this?
I will now refer to you as a German, as I know for a fact Austrians hate that!
Well done, however I know that now you have opened this seedy can of worms, you are lacking in the moral fibre to defend your actions and eventually the joke and the tears will be on you.
I certainly wouldn't want your type next to me in the trenches sunshine.
Steve Lew
145
Posted 24/10/2020 at 12:43:13
Yep. its Saturday.. and over to sky hospital news..dick van dyke is alive !!..just
And in other news the league leaders best player could be out of our next game after an unfortunate deliberate tackle designed to take him out the game..kippers didn't see it
Derek Knox
146
Posted 24/10/2020 at 12:53:06
Allan @ 144, don't hold back mate get it off your chest, and don't beat about the bush. 😜 👍
Ian Flanagan
147
Posted 24/10/2020 at 12:54:27
It will be good news if James plays. VVD's foul on him was cynical and full of intent ( and on Calvert Lewin ) whereas Pickford's wasn't. If VVD had not gone off he would have carried on his assaults
.
Allan Board
148
Posted 24/10/2020 at 12:55:04
Absolutely not a problem Derek!
Charles Brewer
149
Posted 24/10/2020 at 14:10:30
Ian, spot on. If VVD never returns to football, it will be a small amount of karmic payback on that club.
Paul, I think LFC is more the Democratic Party of football: full on media support no matter what; associated with lots of murders; deeply corrupt; a sort of strange amalgam between fanatical violent thugs and mafia crime families.
Ajay Gopal
150
Posted 24/10/2020 at 14:25:08
As I mentioned on another thread, Carlo might go 3-5-2:
Pickford
Godfrey Keane Mina
Davies Doucouré Allan Gomes Digne
Rodrigues Calvert-Lewin
Although, as others have mentioned, Carlo may prefer to use Iwobi instead of Davies and Sigurdsson instead of Gomes.

Charles Brewer
151
Posted 24/10/2020 at 14:30:44
Ajay, as Jack (64) noted above, the correct and officially recognised name for the-goalkeeper-formerly-known-as-Pickford is now 'Satan'.
Actually, I think it would be a rather good way of ridiculing the whining wankers across the park if we were to adopt that as a nickname for Pickford. After all, Pickford seems like quite a nice lad.
Frank McGregor
152
Posted 24/10/2020 at 14:41:06
Charles Brewer#149 What a great post in I agree one hundred per cent.
The media along with lots of other people completely missed the VVD tackle on Rodriguez before his clash with Pickford.
Just like the media does not report obvious corruption in other activities.
Brian Wilkinson
153
Posted 24/10/2020 at 14:42:48
Little bit like Monty python on here, with all us Brian's.
John Keating
154
Posted 24/10/2020 at 14:45:52
Allan
Ever thought of a career in the diplomatic corps?
Think you'd do rather well especially dealing with the Brexit palava
Jay Evans
155
Posted 24/10/2020 at 15:47:13
Bernard to start on the left in place of Richarlison for me. He has played really well in the cup games this season and has a point to prove.
When he tires - which he will - Iwobi or (hopefully) Gordon to take his place. Whoever doesn't get the nod out of those 2 should give James a blow after 60/65 mins.
No need to drop Gomes yet. As much as he struggled last week look at the alternative - an even slower Gylfi playing out of position on the left of midfield ? Not for me Clive.
Let us use the negative press surrounding our top of the league team as our motivation tomorrow 'eh Carlo. Be brave and on the front foot from the first whistle and show their blurt of a manager who he is dealing with.
Full support.
Onward Evertonians 💙
Brian Wilkinson
156
Posted 24/10/2020 at 16:19:29
Going off Carlo sounds like he is going to start with Iwobi, unless he is playing mind games.
I think Lyndon has got the starting 11 spot on, assuming James is fit.
Tony Hill
157
Posted 24/10/2020 at 16:29:31
I'd like to pay tribute to Bill Kenwright's support for Michael Dullaghan, an Everton fan with Downs who had asked for friendship on Twitter. It's been publicised and Michael has had a lot of support from many Blues.
There does not seem to me to be any fakery here, it is nothing other than a fine, non-patronising, kind act from Kenwright and it does him and the club great credit. Apologies if this is the wrong thread but I didn't know where else to put it.
Brian Williams
158
Posted 24/10/2020 at 16:46:48
Saw that Tony, and the contents of the letter BK sent. Really nice touch and the Evertonians, and others responded well to the request. Think he has 13k followers now?
Tony Hill
159
Posted 24/10/2020 at 16:54:18
Yes, Brian, Kenwright takes a lot of flak on here (I've been responsible for some of it) but I thought this showed him in a very good light indeed. Main thing is that Michael is up and running, as you say.
Derek Knox
160
Posted 24/10/2020 at 17:43:24
Brian @ 159, I believe they are a big family the Kenwrights. :-)
Mick Hoban
161
Posted 24/10/2020 at 19:14:49
I wouldn't worry Allan (144). If history tells us anything, the Germans/Austrians are usually in the trenches opposite. Fire away !!
Allan Board
162
Posted 24/10/2020 at 19:19:57
John@154,yes I have composed myself somewhat now, been plastering at home this afternoon so all is smooth now!!
Still stick by what I said though!
Hope we stuff them tomorrow.
COYB.
Jamie Evans
163
Posted 24/10/2020 at 19:24:39
Going be tough to continue our strong start tomorrow - the way results have gone so far it would be brilliant if we win tomorrow.
Mentality important, ruthless arrogance required
David McMullen
164
Posted 24/10/2020 at 19:26:28
While we may have one or two out and Southampton are half decent (and they have Ings who always scores) why fear them? We shouldn't fear any team now. We should be getting stronger as this campaign is going on. Momentum and spirit.
Paul Birmingham
165
Posted 24/10/2020 at 20:03:43
Lets focus on Everton, an£ forget the spewing sewage pipes in the media and tomorrow, it's Everton v Soton.
An acid test but, a real test of character. If we can take our chances then we can win this game.
Let's see Allan, and Duke, boss the midfield anD whoever covers Richarlison and if Hanes can't play, then Gordon, or Iwobi steps up to the plate.
No silly mistakes and no warming up to the match. This game will be a battle all the way through.
If Hames plays then, we have something unique.
Carlo will have planned this week, and whilst Mr Ed, has likely been telling Saurkraut, what to do, who gives a dam. Let them worry about Everton.
Fek, them all, and Evertonians, will rally to the cause tomorrow.
Hugh Jenkins
167
Posted 24/10/2020 at 23:17:50
Paul (165). Very well expressed and, as fa as I am concerned, right on the button.
Antony Kelly
168
Posted 24/10/2020 at 23:49:59
If we can control Danny Ings we have a real good chance... Got a good feeling about tomorrow 3-1 the toffees COYB
Ernie Baywood
169
Posted 24/10/2020 at 23:55:21
I'd be happy to see us just grind this one out. A scrappy 1-0 or 2-1.
If after 6 games we can be 3 points clear that's awesome.
Maybe more importantly we'd also be two or three games clear of most of the usual top 4 contenders. Things can change quickly but you'd have to believe from that position we'll be in contention around Christmas.
When the league starts to 'norm', and it always does, we need to make sure we're still in the mix.
Paul Birmingham
170
Posted 24/10/2020 at 23:58:35
Hugh, @167, deffo a massive game, at Soton,tomorrow, but if Everton, can win, for me, it will break the ice, and the seasons campaign, is a marathon, it would make Everton, as doing well, but loads of potential, to get better, and I think this squad can and will do better.
Seen The Blades, get unlucky at our old ground, tonight, if we take our chances, we make and no, soft freebies,tomorrow, I reckon, it's the stake in the ground, for a strong campaign for Everton, this season.
Sharpiesx4, at the old Dell, no, but some good knocks in for DCL, on the angle, early doors.
Ideally I'd like to see some shots also from the other midfielders, Hames, aside.
All, have a good night and stay safe and well.
"Whats Our Name?"
Mick Davies
171
Posted 25/10/2020 at 01:41:28
James @ 98 – It was the 2013-14 season when we were the last unbeaten side. I think the run ended at eventual champions, Man City (who ironically, won the league at Goodison).
Geoff Lambert
172
Posted 25/10/2020 at 01:18:43
I don't think we need to worry too much about Ings, just get Pickford to have a word with him early doors. I remember the chant from the 70s... "Rioch's gonna get ya!"
We can change it to "Pickford's gonna get ya!" COYB.

Ed Prytherch
173
Posted 25/10/2020 at 01:31:08
Charles 149 - right on, I'm with you mate.
Derek Knox
174
Posted 25/10/2020 at 01:38:16
Geoff @ 172, Bloody hell mate there's a trip down Memory Lane, Bruce Rioch, the Anglo Scot. I believe he was born in Aldershot, presumably his father was in the Army, as they have/had a massive base there.
Always played for Scotland, and I think he was Captain for a few games, and of course he played for us too. I remember he used to have thighs and legs like Roy Race of Melchester Rovers.
I seem to remember too that he held the record at the time for the hardest /fastest shot in British Football, that has probably been well surpassed now, plus the ball is totally different to what they played with then. In his case it was something like 80 miles per hour.
No wonder goalies were anxious when that was flying at them, plus the outfield players were wary at getting clobbered too with one of those thunderbolts. Good memories there mate.
Jerome Shields
175
Posted 25/10/2020 at 03:14:35
Replacing Richarlison appears problematic, but already that looks the only change Everton have to make and they have a number of options.
Bernard if chosen is well aware that he has to stake a claim if he wants first-team action. I think he will be selected. But Ancelotti will change play and tactics during the game, so it will be interesting to see what his bench options are, particularly in attack. Iowbi is playing well, so Bernard is not a shoo-in to play.
Godfrey will be in Coleman's position, but I don't think Gomes is the automatic third midfielder. He was poor against Liverpool; I expect Davies to be selected instead.
Derek Knox
176
Posted 25/10/2020 at 03:34:11
Jerome @ 175, According to NewsNow, (I know) I never take anything as gospel that is on there, but quite often there is a shard of a true story, 'no smoke without fire' and all that. Carlo has been talking up Alex Iwobi, as being able at some stage to slot in and score goals from the left side of attack.
He's a wily old fox, Carlo, I'm sure he knows as well as we do that anything we put on TW in good faith, will appear shortly after as some journos breaking news on one of the sites like above.
Not saying Carlo reads ToffeeWeb, but in his pressers he drops subtleties that he knows in similar fashion will be, as above spread like wildfire and to the opposition camps.
In wartime they called it 'disinformation', let the enemy think you are going in one direction, or have a definite plan, and then do either the opposite or something completely different.
Tony Abrahams
177
Posted 25/10/2020 at 06:32:27
That disinformation seems a little bit like modern day VAR Derek!
Tony Everan
178
Posted 25/10/2020 at 08:00:59
Jerome, Derek. I think this one is at face value from Carlo. When James is in the side he is our creative flair player, I think from the rest of the midfield he wants a bit more physical strength and stature. Whilst Bernard is a bit more combative than Iwobi, Iwobi is bigger and stronger. They have got to be working on Iwobi in training for improving his closing down, harrying and his defensive duties. He has got to get better for it . one would hope!
For his future at the club he has to , there can be no passengers if we want to serious challengers for the top 4 .
As much as we all love Bernard's control and skill if he is overlooked today that means he is only 4th choice backup after Richie, Iwobi, Sigurdsson possibly Gordon and way down the pecking order. It wouldn't surprise me if he moved on in January to get some football.
This game will be a very good indication of our potential for breaking the top 4. Our fully fit star first choice 11 is good enough, maybe one or two places up for grabs , but the ability of our squad to improve and rise to the challenge will determine whether we win games like today and become a fixture in the top 4 positions.
Martin Berry
179
Posted 25/10/2020 at 08:14:39
As Richarlison is not available I am looking forward to seeing how Iwobi plays should he be selected.
Carlo may yet unleash the talent that we hoped was there when we parted with £35m for his services.
I expect a win, we are good enough and should have no more away day blues
Dave Abrahams
180
Posted 25/10/2020 at 08:38:58
Martin (179), sorry to be negative Martin, but if Carlo unleashes the talent we hoped Iwobi possessed he'll be better than Houdini.
Tony Shelby
181
Posted 25/10/2020 at 08:46:57
I don't want to get carried away but if we win today we'll be 9 points ahead of Utd, 7 points ahead of Chelsea and 8 points ahead of City!
COYB!!!
Brian Porter
182
Posted 25/10/2020 at 08:47:25
Anyone else, like me, absolutely shocked and horrified by the obvious attempt by Harry McGuire to throttle the life out of Azpilicueta in yesterday's Man Utd/Chelsea game?
Where though is the nationwide uproar, the attempts to have McGuire retrospectively given a red card?
Surely VAR should have seen it and informed the referee to refer to the pitch side monitor.
Will there be a public outcry, will every pundit on the planet join in the approbation the scandalous, clear and obvious foul by McGuire?
Sorry, I forgot he plays for one of the Sky darlings, the big 6 who can do no wrong. Imagine if that had been Michael Keane!
Phil Sammon
183
Posted 25/10/2020 at 08:53:34
Paul @ 170
That is one of the most mysterious / confusing posts I've ever come across on ToffeeWeb.
Fran Mitchell
184
Posted 25/10/2020 at 08:54:09
Southampton are a good team with a good manager, so this is no easy 3 points. They have one of the best 'traditional' centre forwards in the league in Danny Ings, and alonside him Che Adams can cause problems. Ward-Prouse is a good ball player too (one who wouldn't look out of place in our midfield).
We should have the better of them, Romeu and Diallo shouldn't be able to compete with Doucoure and Allan so here is where we need to push and dominate them. Bertrand and Redmond will attack quite a lot down the left, and have pace about them so the loss of the resurgent Coleman is a shame. But Godfrey and Iwobi should be able to take care of them.
With no James, and no Coleman, then our attacking will primarily come from the Left side with Digne. So it will be interesting to see who takes Richarlison's place. Personally i'd go with Gordon.
Jerome Shields
185
Posted 25/10/2020 at 08:59:02
Dereck#176
I find when I am trying to predict the team and the formation, as you say, Ancelotti is hard to predict. I think he is into disinformation, but he likes to vary tactics and formation during a game so it's hard to work out who he will start and who will come on from the bench. The obvious risk of being on the bench is that a injury on the field could cut down their chances of playing.
Bernard really looked to have benefited from Ancelottis coaching at the start, cutting out the irritating drawback as part of his game, with accurate forward passing. After lockdown he was ineffective, apparently had personnel problems.
I do think Rodriguez seems to have fulfilled the Bernard role, and more. Now Bernard available position is a bit further forward when Rodriguez is playing , but he hasn't a good record of scoring. It could be he is back up for Rodriguez and on his wages that is not good enough, hence reports of him looking away. Iowbi and Gordon are more likely to score and are more direct. There could be truth in what Tony#178 has said.
Does a player not miss a game after a Red Card?
Alan Rodgers
186
Posted 25/10/2020 at 09:05:43
''Lawro'' has us down for a 2-0 defeat and, like all the pundits, can't wait for us to be knocked off our perch. With that in mind I'm going for a hard fought 2-1 win for the Blues.
James Edwards
187
Posted 25/10/2020 at 09:07:17
Mike 171 thanks for that let's keep it going, fancy us to get something down there today
Jason Li
188
Posted 25/10/2020 at 09:13:34
If James plays, then Iwobe on the left so goal threat is down. Iwobe is a still a decent Prem player, just hard to compare with James on the same pitch.
Let's hope Doucoure can burst beyond Gomes or Siggy into the box today and get one, like Gary Speed or Bryan Robson used to do.
Jon Wit
189
Posted 25/10/2020 at 09:40:29
Hopefully James gets some time on the pitch.
In all the Pickford nonsense it almost seemed to be overlooked that we'll miss Richarlison for 3 games - such a dumb move - derbies are never good for us.
In his place Iwobi - and Gordon to come on for him if we run out of ideas.
Will be interesting to see Godfrey again at right-back again.
Not an easy match but see if Ancelotti can sneak a win - clean sheet is obviously important if our goal threat is muted.
Geoff Williams
190
Posted 25/10/2020 at 09:47:07
Sincerely hope that Ancelloti doesn't start the match with Iwobi, the lad is a decent guy but he is the weakest of the options available.
Godfrey at right back, Gordon to replace Richarlison and either Bernard or Sigurdsson to come in for James if need be.
Anthony Murphy
191
Posted 25/10/2020 at 09:59:02
Would love to see Gordon start in place of Richarlson - he seems to have dropped out of favour, but for me has more to his game than Iwobi who works hard but isn't a threat and provides little in the way of end product. Like someone has already mentioned though, Carlo is unpredictable so wouldn't be surprised to see Sigurdsson start either in a re-jigged midfield as he has performed well enough when introduced
Chris Locke
192
Posted 25/10/2020 at 10:14:19
It's Sunday morning and a mere four hours until top of the table Everton have a chance to extend their lead.
Yet if you check the BBC football pages you will find not a single mention.
Maybe I'm just a bitter blue but why do we not even get our 5 weeks in the spotlight, even if that's all it turns out to be.
On a separate note it's great to see Koeman working his magic at Barca.
He literally has the one the best players in the history of the game at his disposal and he still manages to produce a team with no plan or style.
Makes me wonder what chance Sandro, Vlasic et al actually had to succeed with that clown in charge.
As for today's game I just want to see another good performance with plenty of attacking intent.
If we manage that the we should win irrespective of what Ings and co do.
Spurs (and even Chelsea in parts) showed that this Saints team can be taken apart if you don't succumb to the press and effort.
COYB another 3 points and another week of dreaming
John Reynolds
193
Posted 25/10/2020 at 10:22:44
My main hope for this game is that nobody feels the need to mention Jordan Pickford's name in the post-match analysis after we go 3 points clear at the top.
Mike Doyle
194
Posted 25/10/2020 at 10:44:59
I see Moise Kean scored a couple for PSG in their 4-0 win last night.
If he carries on like this he might return ready to hit the ground running?
Derek Knox
195
Posted 25/10/2020 at 10:45:07
John @ 193, I hope so too, but 8 days after, they are still going on about it, every journo or RS suckholer seemingly can't, or won't let it drop. Let our football do the talking and maybe, just maybe, they may start taking us seriously, but I won't be holding my breath.
Brian Harrison
196
Posted 25/10/2020 at 11:04:46
They have 3 players who all seem to play well against us Ings, Ward Prowse and Redmond, so I think we need to keep these 3 quiet if we are to pick up all 3 points. We don't know if Rodriguez will start or play any part in todays game, obviously with Richarlison missing if Rodriguez doesn't play then we will have to hope the replacements play well. I am far from convinced Iwobi is good enough, but lets hope he takes this chance with both hands. Unlike Richarlison who is not only a goal threat he gets back and doesnt shirk tackles, sadly Iwobi doesnt do either very well. Should Rodriguez not make it then I guess it might be a case that Carlo will change the formation and bring in Sigurdsson.
I havent checked the goal difference but I guess if we lose by a couple of goals the other lot could go top on goal difference tonight, surely that should be a big incentive to our lads to make sure if you cant win then you don't lose.
Kevin Molloy
197
Posted 25/10/2020 at 11:04:59
I've got a feeling Sigurdsson could be key today.
Andy Crooks
198
Posted 25/10/2020 at 11:05:44
Derek@174, great memories. My mind might be playing tricks but was Rioch along with Duncan Mackenzie, bought by Billy Bingham and did they make their debut in the same match. Wearing the gold kit with blue shorts on a muddy pitch. I can't remember the opponents or score but I thought both of them were brilliant.
James Marshall
199
Posted 25/10/2020 at 11:08:47
As long as we don't lose by 6 goals, we'll still be top.
Win and we're 3 points clear of the RS. Incentivised enough lads?
Christine Foster
200
Posted 25/10/2020 at 11:16:15
Does anyone care to tell the BBC just who is top of the sodding league? Not one mention on the football section about todays match, but 5, yes 5 RS related stories!! Stuff this for a game of soldiers, no, stuff it right back up their backside blue boys! Disgraceful.. time to take out the trash...
Derek Knox
201
Posted 25/10/2020 at 11:19:02
Andy, Not sure exactly but it was around that era, under Bingham, Duncan McKenzie another player who entertained in abundance. Gordon Lee became manager and would very rarely play him because he didn't like showmen.
Hypothetical I know, but I wonder how these players we remember fondly would fare in the modern game? It's very much changed in so many ways, speed of play, rule changes, almost non-contact etc. But at least they can't take the memories away from us old 'uns!
Kevin Molloy
203
Posted 25/10/2020 at 11:29:59
Christine
meanwhile one of the game's deepest thinkers, bbc pundit Danny Murphy calls today for our manager to drop Pickford 'for the good of the game', and so that it sends a message' that horrble tackles will not be tolerated.
I imagine Carlo in his pre match interview when being asked why Jordan is not in the starting 11 will say' We wanted to send a message to the wider footballing world. Bad tackles like that will not be tolerated. Not while I'm the boss'
Fran Mitchell
204
Posted 25/10/2020 at 11:40:45
Indeed Christine and Kevin, it is getting beyond a joke. The amound of times they mentioned van Dijk yesterday when listening on talk sport, I half expected them to suggest that any penalties given away by Fabinho should be awarded to be taken against Everton.
Sheff Utd have also lost their mainstay central defender for the season, Leeds have lost their main central defender for recent games but these facts are hardly mentioned when reviewing a clubs performance. When Gomes had his ankle snapped, there was more sympathy given to Son than to Everton.
It is beyond a joke. But let them have it. They will cry at every opportunity, complaining against every decision against them as if some great injustice is done.
So long as we keep winning, they can cry all they want.
They will let this 'we are victims' mentality swamp them and they'll never retain the title.
Reuvy Havin
205
Posted 25/10/2020 at 11:40:55
I just hope that Carlo knows Gylfi's strengths and limitations and plays him as a 10 rather than in the centre of a line of four behind 2 strikers. Richarlison being out though might mean a 4-2-3-1 anyway in which case Sigurdsson would likely be the 10 if selected.
I'd perhaps bring Walcott in for Richarlison. I know Walcott's bad at finishing but he is more like for like for Richarlison and can draw defenders completely out of place which gives space for others to exploit. If you don't have anyone running forward, it becomes much more difficult for the creators to create.
Paul Jones
206
Posted 25/10/2020 at 11:45:37
Reuvy! Walcott has gone. He's at Southampton now. He may even be playing against us today. (I think he was sold rather than loaned.)
Mike Doyle
207
Posted 25/10/2020 at 11:46:08
Kevin #203] where I live - surrounded by supporters of the London clubs - I can assure you that the majority have little or no interest in Van Dijk or Pickford. Indeed most would prefer Pickford be playing against their team as he's always liable to make a mistake.
It had ceased to be a talking point 24 hours after the game, despite the attempts of the pro-LFC media to keep it alive.
Murphy is another of these 3rd rate pundits the BBC seem to employ - most of whom trade on emotion and don't understand the rules of the game. Some of the comments on the offside goal were hilarious if only for the ignorance displayed.
I notice he stopped short of recommending retrospective action against Jimmy Case (for the tackle that ended Geoff Nulty's career) or Dirk Kuyt for his attempted assassination of Phil Neville.
Reuvy Havin
208
Posted 25/10/2020 at 11:53:40
Paul #206 Lol! Crikey what a blooper
Well then I'd get Gordon in and tell him to run hard at the defenders.
Kevin Molloy
209
Posted 25/10/2020 at 11:53:47
I'd like to see HMRC gaol the horrible little dickhead for ten years, just to send a message that tax evasion will not be tolerated.
Chris Williams
210
Posted 25/10/2020 at 12:00:00
Walcott can't play today. He was loaned, not sold.
Chris Williams
211
Posted 25/10/2020 at 12:04:20
Sky:
Everton today have the chance to regain outright leadership of the Premier League.
I thought we were now
Derek Knox
212
Posted 25/10/2020 at 12:05:17
Kevin, much as we would like that to happen, Parliament, would be almost empty of Members, most show biz people too, they are all at it. They get savvy accountants who advise them about all the loopholes, that we would not even qualify for, on any level.
Steve Lew
213
Posted 25/10/2020 at 12:15:37
Chris @211...yep mate. sky just can't bring themselves to say it...as a side note nice to see some common sense from Darren Lewis re the attempted murder of VVD by Pickford...common sense prevails well said Darren
Brian Wilkinson
214
Posted 25/10/2020 at 12:32:02
Everything seems to be falling nicely for us this season, a tough game coming up but I expect a great performance or Lady Luck shining on us today.
Whoever comes in for Richarlison you can guarentee will either pop up with a goal or an assist, it is just the way things are going for us, long may it continue.
So stop hiding behind the settee, stop pacing the floor with doubts, this is the new Everton.
I do not think, I know Everton are going to turn up today and tear them a new one.
Two players we have missing, we have cover there, we still have the nucleus of our strong team so stop worrying, believe and let's be positive, we can do this Blues.
Make headlines all over the media today for the right reasons.
Coyb
Nicholas Howard
215
Posted 25/10/2020 at 12:33:35
Mike Doyle
Don't think Kean will be back to Everton.
Never impressed me that he likes to be at Everton.
I can't remember where I read it, the loan arrangement got 20M buy out clause. and also constant news about him wanted to go back to Italy
I would say forget about him and give others a chance at Everton.

Chris Williams
216
Posted 25/10/2020 at 12:37:25
Steve,
Yes, I've not been Darren's greatest fan to be honest, but he was articulate and sensible on the subject, both qualities generally missing from the swivel eyed baying from the majority of so called commentators.
Good on Black Lives Matter related comments as well.
John Kavanagh
217
Posted 25/10/2020 at 12:38:09
Allan @ 144. I couldn't give a Hassenhutl what the Austrian corporal said in his presser under orders from the Anfield fuhrerbunker, I'm more concerned with what will happen on the pitch. I'm fully expecting that Pickford will get pushed, kicked and elbowed at every opportunity - immediately followed by the perpetrator going down clutching his face, knee or knackers in the expectation that the ref/VAR will seek to even things out after last week. The defence will need to give him as much protection as possible, especially from RS Ings.
Chris @ 192 As we expected, the Dutch mastermind is rapidly turning Barca into a team of cloggers. He Gouda done a lot better with the players at his disposal.
Chris Williams
218
Posted 25/10/2020 at 12:57:22
Apparently, Hassenhutl means Little Hare Hat!
He certainly seems a little hare-brained...
Just saying.
Robert Tressell
219
Posted 25/10/2020 at 12:59:14
Nicholas @215. Probably right. If Kean enjoys it in Paris and scores goals then they'll take up the option. Scored one very good goal last night then a tap in. Bit of a shame that it didn't quite work out - but there are plenty more fish in the sea.
Dave Abrahams
220
Posted 25/10/2020 at 13:00:05
Andy (198), ye, I was at that game, Ricoh and McKenzie made their debuts together. I can't remember the colour of the kits. I went there with great expectations after their signings, we got battered 4-2 if my memory is correct.
Neither of them stayed very long. Rioch was a good strong, powerful footballer. Duncan was an entertainer who stayed less time here than Bruce but both of them longer than Bingham who signed them.
---
Add Your Comments
In order to post a comment, you need to be logged in as a registered user of the site.
Or Sign up as a ToffeeWeb Member — it's free, takes just a few minutes and will allow you to post your comments on articles and Talking Points submissions across the site.