Allan called up by Brazil
Thursday, 29 October, 2020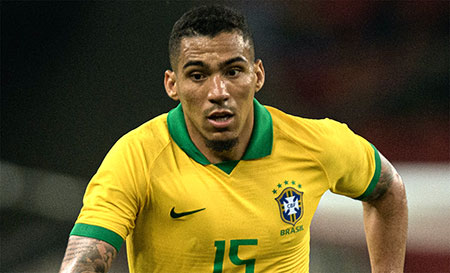 Everton midfielder Allan has been called back up to the Brazilian national team for the upcoming World Cup qualifiers against Venezuela and Uruguay.
The 29-year-old has been capped nine times by his country to date and has been summoned back to the fold as cover for Fabinho who picked up a hamstring injury on Champions League duty for Liverpool this week.
Allan will join his Toffees team-mate Richarlison in Tite's Seleçao squad as they look to build on their opening CONMEBOL region group victories over Bolivia and Peru.
---
Reader Comments (27)
Note: the following content is not moderated or vetted by the site owners at the time of submission. Comments are the responsibility of the poster. Disclaimer
Jack Convery
1
Posted 29/10/2020 at 17:53:56
Pleased for him he deserves it. However, given how the other South American players looked after the last international break, he will be lacking energy and if he is injured, which I reckon we all suspect, a break might have been a good idea for him. I just hope he doesn't come back totally crocked.
Simon Dalzell
2
Posted 29/10/2020 at 17:59:33
Just what we need right now. More players that are tired / injured (or both).
Eddie Dunn
3
Posted 29/10/2020 at 18:06:53
Bad news for us, he isn't fully fit and jetting off halfway across the world and back, will not give his problem a chance to improve.
Jay Wood
[BRZ]
4
Posted 29/10/2020 at 18:12:52
Rather dispells claims by some that he has been poor for us in recent games.
Personally, I still maintain he was arguably our best player vs Southampton.
And to allay the grumbles already posted on this good-news thread (it will be a fillip to his confidence), I doubt he will see any game time. There are plenty in the Brazilian squad ahead of him in his position. Just cover for an injured player and making up the squad numbers.
Clive Rogers
5
Posted 29/10/2020 at 18:17:37
I thought he started well but has been off the pace in the last two games. There's no evidence he's carrying an injury, just speculation based on his performance.
Derek Knox
6
Posted 29/10/2020 at 18:46:22
Cover for Fabinho? He's a better player than him to start with, but like many have said my only worry is another potential injury situation, whilst away with Brazil.
Especially maddening if it is a meaningless 'friendly', still the other side of me is glad he has received International recognition, while he has been with us. I suppose you can't have it both ways though.
Jay Wood
[BRZ]
7
Posted 29/10/2020 at 19:07:55
Brazil has two fixtures in the next international break. Both are qualifiers for the 2022 Qatar World Cup, so no meaningless friendlies. Home to Venezuela, away to Uruguay.
South America starts World Cup qualification much earlier than other regional football federations because all ten countries play each other home and away in a single league. 18 games in total, so a lot to squeeze in.
The tasty one for Blues to look out for will be the next international break in the springtime: Colombia v Brazil on 24 March. 5 days later, Brazil v Argentina.
Bill Gienapp
8
Posted 29/10/2020 at 19:13:59
I'm surprised he's only been capped nine times. Obviously Brazil has a considerable talent pool, but his skill set is particularly valuable.
Jay Wood
[BRZ]
9
Posted 29/10/2020 at 19:21:54
He would have had more caps, Bill, but there have been two outstanding talents cemented into the Brazilian national team for his position for pretty much the entirety of his career.
Casemiro of Real Madrid and City's Fernandino.
Allan's good, but it's hard to make a case for him over those two.
Jack Convery
10
Posted 29/10/2020 at 19:41:50
Hendo already on to his mate Suarez - can you do Richy and if he plays Allan for us and VVD of course.
Kevin Molloy
11
Posted 29/10/2020 at 20:15:08
At least one good thing then has come out of Jordan's decision to close down Virgil. That at least must be of some comfort to the kopites currently bemoaning their fate.
Christy Ring
12
Posted 29/10/2020 at 20:20:06
Fabinho will probably be back after the International break, now Allan has to travel around the world and play 2 games, and Richarlison, who was injured before the last break, and still played 2 games wth Brazil, and definitely wasn't fit for the derby, gone again.
Tony Everan
13
Posted 29/10/2020 at 21:30:17
He's not playing Euro football midweek so playing a bit of footy for the mighty Brazil could be a good thing and a tonic for him. He may only play a bit part in the matches or play in just one of them and come back mentally refreshed and fighting fit – that's the optimistic me.
Either that or he will come back with a split scrotum, only one bollock, do his hamstring and be out till Christmas a nice bit of pessimism to even it up.
Derek Knox
14
Posted 29/10/2020 at 22:54:31
Tony @13, as long as he doesn't come back with Brazil Nuts we should be fine. :-)
Will Mabon
15
Posted 29/10/2020 at 23:17:04
The flip side of having quality players, alas.
Derek Knox
16
Posted 30/10/2020 at 05:41:15
Slightly off topic, but I see that JP Gbamin is both looking good and doing weight training in Paris, and should be flying back soon. Dare I say it, but Southampton showed us how much we are lacking with a couple of injuries/suspension in that game from the bench.
I just hope and pray that his injury nightmares are beyond him and us too.
Jerome Shields
17
Posted 30/10/2020 at 08:32:14
Naturally it increases the risks of him playing and at times his level of fitness. But wish him well, for a probably well deserved call up.
Neil Cremin
18
Posted 30/10/2020 at 09:21:33
Allan looked knackered in the second half against Southampton and I don't think he is fully fit. Didnt seem to have the engine that we believe he has. Hope it is a fitness issue and worry that being called up for Brazil well not help him with his fitness.
Tony Everan
19
Posted 30/10/2020 at 09:25:01
Yes Derek, I thought that we needed more strength and tenacity in midfield against Southampton. JPG, you would hope!, would have given us some of that.
I can't stand it when I see a team like Southampton overrunning our midfield, with more energy and desire. The inclusion of Tom Davies or Delph instead of Sigurdsson and Gordon instead of Iwobi may not have been enough but they would have made a better attempt at neutralising their midfield.
Derek Knox
20
Posted 30/10/2020 at 09:48:02
Tony, of all the players you mentioned, Iwobi is the enigma, we have seen him in certain games be really good, generally against conceivably weaker opposition, but when given a starting berth in the Prem, looks like he's never played before.
Hope Carlo gets the right blend of whoever's available against the Barcodes on Sunday.
Tony Abrahams
21
Posted 30/10/2020 at 09:59:55
I've been impressed with Allan, but also don't think his engine has been as impressive in the last couple of games Neil@18.
It might not be so much his engine, but more he's been a tad slower getting about the pitch. Possibly a combination of not being quite 100% fit, and the middle of the park being made bigger, because Doucoure, keeps having to shift a little bit wider to cover for Rodriguez maybe?
I think the middle of the park has been to open in the last couple of matches, and it's an area of the pitch were inches can create yards, and is also too wide of an area to patrol without real help, so hopefully Ancelotti can tweak his system, and make us a little harder to play against? Well at least until Richarlison comes back anyway.
Tony Everan
22
Posted 30/10/2020 at 10:16:03
Derek, it infuriates me that he has got the ability to find a yard to get past a full back and whip a cross in and doesn't use it.
I was shouting at the tv a few times against Southampton when he wouldn't back himself to attack the fullback and cause a bit of mayhem. Every time he stalled, dithered and made a secure possession pass, allowing the Southampton defenders to regroup and snuff out any threat.
Until he wakes up and starts using his god given skills rather than playing it conservatively he will be a peripheral player, at best.
Kevin Molloy
23
Posted 30/10/2020 at 11:16:22
Tony
when Allan went down at West Ham I thought at the time it looked a bad one. I couldn't believe it when they said a couple of weeks. I reckon he's playing within himself, in fact from the last two performances I'm convinced of it. It's like night and day watching the games at Spurs and Saints.
John Keating
24
Posted 30/10/2020 at 12:06:03
I appreciate it's an honour to play for one's country, however, on a purely selfish level, I wish none of our squad were picked for international duty!
Can't comment on carrying an injury affecting him or anyone else
However tiredness can be no excuse for anyone in the squad
Sean Callaghan
25
Posted 31/10/2020 at 09:28:46
What's your take on Everton's presence in Latin America, Jay? It strikes me that the Brazil v Columbia match could be a massive profile booster with, possibly, James and Mina lining up against Richie and Allan? I'd have thought that having Brazil's No9 and the Columbian legend both playing for the same club (and Allan and Mina ramming home the point) it would cause a lot of people across the continent to sit up and take notice of Everton.
Jim Burns
26
Posted 31/10/2020 at 11:34:33
Hi Sean - I have to say I'm far less interested in various areas of the world noticing Everton more, than keeping our still limited first team squad fit for the this season and beyond.
' people across the continent ' haven't suffered the pain and frustration that the lifelong match going fans have had to put up with over too many years now.
We are at last gaining some genuine traction - that's what interests me the most this season and will ultimately make everyone worldwide sit up and take notice anyway.
Sean Callaghan
27
Posted 31/10/2020 at 12:48:41
I do agree about worrying about our players when they're off on international duty, Jim and still have nightmares about Seamus' horrible injury playing for ROI. That said, the reality is that when we have good players they will want to play for their countries and, if good enough, will be selected.
Aside from some fairly limited merchandising opportunities that bringing onboard new fans from South America, my main interest would be to what extent the up and coming talent in these countries aspiring to come to Everton. Being able to tap into the production line of Brazilian talent would be a massive bonus
---
Add Your Comments
In order to post a comment, you need to be logged in as a registered user of the site.
Or Sign up as a ToffeeWeb Member — it's free, takes just a few minutes and will allow you to post your comments on articles and Talking Points submissions across the site.