Gomes an early doubt for United clash
Tuesday, 3 November, 2020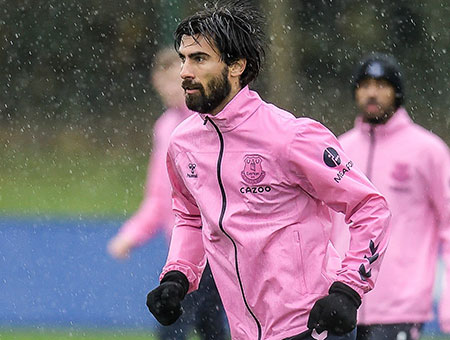 Everton will assess the fitness of André Gomes this week following his withdrawal from the action against Newcastle on Sunday.
The Portuguese came off with a minor problem, likely sustained when in the incident that led to the Magpies' penalty in the 56th minute where he kicked Callum Wilson's leg as they challenged for an incoming corner.
"Andre had a little problem on his knee but it was nothing special, just a knock," Carlo Ancelotti was quoted as saying by the Liverpool Echo.
More news on Gomes's progress and that of James Rodriguez, who sat out the defeat at St James's Park, is expected when Ancelotti speaks to the media again later this week.
---
Reader Comments (128)
Note: the following content is not moderated or vetted by the site owners at the time of submission. Comments are the responsibility of the poster. Disclaimer
Will Mabon
1
Posted 03/11/2020 at 20:09:26
See - Wilson fouled him.
John Crook
2
Posted 03/11/2020 at 20:21:21
Good, he has gone shite anyway and will be taught a footballing lesson from his Portuguese superior counterpart Fernandes (same as the last match in March). Time to give Bernard a bash is centre mid.
Jack Convery
3
Posted 03/11/2020 at 20:36:52
I doubt he would have played anyway given his performance v the bar codes. I expected at least 4 points from the games v Saints, Barcodes and MU. The max we can get now is 3. So go to it blues. Digne to DCL 1 nil.
Expect this line up
Pickford, JJK / Coleman if fit, Keane, Godfrey, Digne, Allan, Doucoure, Davies, James if fit otherwise Iwobi, Gordon and DCL.
please no more Delph and SIggy enough is enough and they never do enough !
Martin Mason
4
Posted 03/11/2020 at 20:49:41
I would play Davies, yes I know he isn't the one but he will put in a decent and honest shift and far better him than at least 4 I can name. Gomes I once had hopes for but not now. Carlo should put Iwobe, Siggy, Bernard, Gomes, Delph, Tosun, etc., on a never again list and develop the playing side of the club without them having chance to drag it down with their incompetence. He should put Gordon in and let him develop. Bernard in CM? Please no he is wretched in his best position wide.
Andy McNabb
5
Posted 03/11/2020 at 21:07:39
Sad when this is almost a relief, so we can 'try someone else in his place'. For whatever reasons he has not performed as we hoped but he is exactly the sort of senior player we need to look to when others such as James and Charlie are missing.

John Raftery
6
Posted 03/11/2020 at 21:08:00
Interesting to note Tom Davies cannot be blamed for recent performances and that former fan favourites such as Gomes are now in the frame for scapegoat in chief. One is on about a third of the salary of the other, I guess. I know which one I would play this weekend.
Martin Mason
7
Posted 03/11/2020 at 21:19:14
Remember Gomes was dumped by a top club and not for no reason. A stark warning that buys like him are usually poor buys?
Christy Ring
8
Posted 03/11/2020 at 21:29:59
Martin#4 Agree, Davies who has pace, deserves to start, don't understand why he wasn't on the bench last Sunday, was he carrying a knock, because it was unusual to put both Tosun and Simms on the bench. I definitely don't want Sigurdsson, Delph and Iwobi starting again. I will defend Gomes, in that playing him on the left of midfield, he's totally lost.
Colin Glassar
9
Posted 03/11/2020 at 21:32:54
I don't think he'll be missed too much tbh
Paul Birmingham
10
Posted 03/11/2020 at 22:01:02
The way it's going and the way Andres has played despite his terrible injury, for me it's like playing with a man down, and on Sunday, effectively we had x3 men down with Siggy and Delph, playing crab foot ball and passing back.
I'm not sure also if Andres will ever cut it in the EPL. We had a few decent games but never consistently bossed games.
We need mobility and unfortunately his style of play isn't adding any value to the team and I don't expect him to be more than a squad player, at bes.m
I had high hopes for him, but it ain't gonna happen, unless like Lazarus, he makes a remarkable come back.
We need guts, and belief against United and I hope, Carlo, has also learnt from the last two weeks.
I'd replace these x3 with Gordon, Davies and Iwobi, assuming Hames won't be fit.
The subs on Saturday will have to be up for it too. A chance to relight the flame, hopefully the team will be up for it.
GK, will be interesting, I'd stick with Olsen, but l reckon, that Carlo, will play Jordan if it's true what's been said in the press.
Let's hope United will be fatigued by the trip to Istanbul, and Everton will be refreshed and ready, and get the 3 points.
Robert Tressell
11
Posted 03/11/2020 at 22:13:43
Given the options, our best starting 11 against manure is probably:
Olsen
Kenny
Digne (back from suspension?)
Mina
Keane
Allan
Doucoure
Delph
Iwobi
Gordon
DCL
If we pose no attacking threat (as per the weird formation at NCL) then manure will just commit men forward at zero risk of a counter attack.
Iwobi does create. Gordon can run.
Bernard has talent (as do Gomes and Sigurdsson) but just doesn't seem to affect a game (again like Gomes and Sigurdsson).
Rob Halligan
12
Posted 03/11/2020 at 22:16:03
Paul # 10. Good point about man Utd playing away in Istanbul. They won't get back to Manchester until the the early hours of Thursday morning, and will be kicking off against us probably about 55 hours later. They certainly won't be happy with the 12.30 kick off time, and I'm surprised they didn't ask for a change.
Pete Gunby
13
Posted 03/11/2020 at 22:16:58
Can't afford to have so many snails in midfield. Siggy and Gomes should
never play together. A result this week is needed to give us hope again. Never ceases to amaze me how poorly we perform following Derby matches. Regardless of the result They reel off wins and we fall apart.
Gavin Johnson
14
Posted 03/11/2020 at 22:22:51
I'd opt for Delph with Allan and Doucoure. Delph looks the fittest he's been since he signed and it'll give Doucoure more licence to get forward. There is a caveat to that. We need Gordon and James as wide attackers supporting Dom.
Justin Doone
15
Posted 03/11/2020 at 22:51:31
No worries, rest him. He's not a winger or forward and looked lost there against Newcastle.
Gordon or Bernard to play left wing.
Mark Andersson
16
Posted 03/11/2020 at 22:55:50
Is that a blessing or a curse...
Jim Bennings
17
Posted 03/11/2020 at 22:56:35
Sad really the way Gomes, Bernard and Sigurdsson have all regressed so much since the early months of promise under Marco Silva.
The fact that we won't miss Andre Gomes is disappointing but very true because he just has no impact on games anymore, even prior to the injury you are talking about at best a one good game in six type player.
Sadly now he just looks shot, no energy, no spark, no mobility, just becoming rather invisible and a million miles away from the player that ran the show at Anfield in December 2018.
Tony Everan
18
Posted 03/11/2020 at 22:57:14
He wouldn't have started anyway, but it gives him a chance to regroup and get properly fit.
We've got to go for the throat against Man Utd, they will be masking fatigue, but they will be suffering a bit. We really need to get right at them from the off with a high tempo and intensity and keep it up for 90mins.
4-3-3
Olsen
Kenny Keane Mina Digne
Doucoure Allan Delph
James DCL Gordon
If James is still injured swap for Iwobi.
Paul Birmingham
19
Posted 03/11/2020 at 22:58:21
Rob@10, let's hope this game can kick start a return to form..At the moment any good fortune, Everton will take, and hopefully the referee won't be conned by Fernandez and Martials diving
Time for a positive reaction from the squad, the last two performances have been well below par and no where near good enough.
I've not got any stats, on the Soton and Toon games, but I'd take a guess and arguably they could be Everton's worst attempts on goal for a couple of seasons.
Let's hope this week at FF, the coaches are getting the players intune and players are self motivated and up for this game.
Kevin Prytherch
20
Posted 03/11/2020 at 23:05:36
I hope not to see Delph in a blue shirt again.
Sigurdsson will only ever be effective against teams who are open. Leave him on the bench and bring him on if the other team are chasing the game.
Iwobi rivals Sigurdsson for the biggest waste of money ever by our club. £80m on them two beggars belief.
Gomes just isn't doing it.
Why has Carlo reverted to the same as previous managers in playing experienced pros who are blatantly not cutting it over younger players who will actually give it their all to play. I'd rather have Davies and Gordon in than any of the above. I believe that Davies will shine alongside Allan, Doucoure and Rodriguez, while Gordon will find space for either himself or Digne to be found by Rodriguez.
Christy Ring
21
Posted 03/11/2020 at 23:07:47
What positives do we get from playing Siggy, Delph and Iwobi against Utd, 8 against 11
Andy Wilkinson
22
Posted 03/11/2020 at 23:20:22
Not sure I would play Kenny after his performance against Newcastle. Thought his crosses were below par which means the right flank without James is rather lame. So fingers crossed Seamus can play.
On Bernard I still think there is a player there maybe not in the starting 11 when all fit / available. But he has something but struggled quite to reach his potential...so far.
John Davies
23
Posted 03/11/2020 at 23:20:49
Christy #8. "Davies who has pace".
Have I been watching another player? The lad, unfortunately, has no pace whatsoever. Don't disagree with the rest of you post by the way.
Thomas Roberts
24
Posted 03/11/2020 at 23:22:46
I'm amazed that people are selecting Mina as a starter. I'd rather have a half-fit Braithwaite or Holgate before him. Or why not play Godfrey in his correct position?
We should have signed Max Aaron's before Godfrey as right back is a bigger need right now.
John Kavanagh
25
Posted 03/11/2020 at 23:34:41
Siggy, Gomes and Delph - the Holy Shit Trinity. Having seen Ball, Kendall and Harvey in their pomp, younger Blues cannot begin to imagine how depressing watching the Barcode Shitshow was for us older Blues. If Carlo repeats the error this weekend, my confidence in him will be severely dented.
I wanted to see Nkounkou linking up with Gordon on the left, with Tom or Bernard acting as the midfield link. Unfortunately Barnard is too ineffective for me - a fart in a bottle player - so I'd prefer to give Tom the chance of working with some decent midfielders for once. Tom at least tries to move the play forward. With Digne back, I still hope Carlo picks the other two to fill in on the left side.
I cannot fathom why Gordon is getting so little game time, especially after his League Cup performance and his cameo against Southampton, where he was the only player who threatened to turn the game round. I wouldn't be surprised to see a transfer request in January if he continues to sit on the bench being forced to watch the crap being preferred to him.
I'm still a bit hopeful that Gomes might yet get over his injury, like Seamus finally has. Curing the afflicted is one thing, raising the dead is an entirely different matter. So the sooner we can say bye bye Gylfi the better.
Derek Thomas
26
Posted 04/11/2020 at 00:34:24
Tony @ 18..."We really need to get right at them from the off with a High tempo and Intensity and keep it up for 90 mins "
This is Everton mate...Could you by any chance put your hands on a Plan B??
Jay Harris
27
Posted 04/11/2020 at 04:29:16
Carlo wont have it but my team against Utd would be
Olson
Seamus Keane Holgate Digne
James Allan Doucoure Nkoukou
DCL Gordon
Pace, defensive solidity and goalscoring ability.
Derek Knox
28
Posted 04/11/2020 at 05:53:37
I doubt very much whether Carlo reads TW, but it's funny that when we rightly slate a player on here for poor performance, he soon picks up a dubious injury and his starting next game is in serious doubt. Maybe a coincidence.
Like I said on another thread Barcelona don't offload their best players, and there is usually a reason why they have let them go. I would say Lucas Digne is an exception to that. Although there is the ' horses for courses ' analogy.
I don't go for the excuse either that whoever (insert name as appropriate) had a ' bad game ' because he was played out of position? Here we have a decent chance to play an Manure side that is off at the moment, and to redeem some semblance of early form, and more importantly 3 points.
We have already become a laughing stock with our flirtingly brief spell at the Top of the Table, and none more so than with our beloved neighbours from across Stanley Park at Mordor. Let's restore that and prove we are not a ' flush in the pan '.
Ricky Oak
29
Posted 04/11/2020 at 06:19:00
Any chance of borrowing some inhalers from mordor?? Guarantee the other red devil's will be back on form, either from shite ref/biased commentary/media,, or just running rings round us due to 'special' fitness methods,, really hope we win,, am not holding breath tho,, its been so long since before rs fucked us by somehow us being the scapegoats in the disasters
Martin Berry
30
Posted 04/11/2020 at 08:27:00
Surprised how some posters have turned against Gomes. Last season he was recovering from a nasty injury yet he was expected to perform as thought it never happened.
Saturday he did not perform as well as we would have liked but again was subbed due to injury.
I think we should give the man a break and see how he plays when injury free and after the season has ended.
Dan Nulty
31
Posted 04/11/2020 at 08:38:48
It's mad, didn't want the international break last time and now I think we need it.
Gomes wouldn't have played anyway.
Can't believe how much we miss Richarlison. Not realised how much of a difference he makes to how teams set up against us.
Not feeling confident ahead of this weekend. Even with James and Digne back.
Brian Murray
32
Posted 04/11/2020 at 09:02:34
Can we finally put this weak Gomes argument to bed, that he's recovering from the leg break? He let us down time and time again before his injury by being ineffective or hiding like his snowflake mate Sigurdsson.
It speaks volumes that the seven or so players we tried to offload, the ones we struggled to get buyers for, are still here. All this doesn't really excuse the vision and knowhow we needed by Carlo in the last two games could easily have been avoided by playing maybe Simms or Gordon right up to support Calvert-Lewin.
No disrespect to the likes of Southampton and Newcastle but we played totally how they wanted us to play. Precious points lost. Easily avoidable.
Brian Harrison
33
Posted 04/11/2020 at 09:36:05
I think what we saw against Newcastle was we were forced to play many of the players who had under performed last season, so I guess we got the sort of display they treated us to for most of last season. I think the injury to Gomes has really set him back, he wasnt quick before the injury but he seems to have lost a yard of pace since the injury.
The game against Man Utd is massive for both clubs, I think Solksjaer would be in danger of losing his job if they loose this game. I think if we lost that would be 3 on the bounce and all the positivity that we had would disappear very quickly. Also it would lead some to ask questions of Carlo Ancelotti, I personally think he will need more than 1 transfer window to get us anywhere near were we need to be. As the stats prove no wins since 2018 without Richarlison in the side, that just sums up everything about this team. I hope in the jan window we look for attackers who have pace and have a record of scoring goals. then when Richarlison or James or DCL are not available we don't become a side with no attacking options as happened on Sunday.
Stan Schofield
34
Posted 04/11/2020 at 10:04:57
Martin@30: I agree totally, but I'm not at all surprised by the reactions on ToffeeWeb, in fact it's entirely predictable.
When Gomes joined us he was an instant hit, not just over a few games as some like to rewrite history, but consistently so, with arguably his best game being the Anfield derby where he was a class above everyone else on the field, both in my opinion and according to the then comments on ToffeeWeb. But folks have very short memories, and there are some who have only negative comments about players, and appear from nowhere to strike with their negativity when players hit bad form.
Some on here would have us change the entire team, and start again, every season if they don't feel satisfied. But fortunately these people aren't in charge at Everton. Each player seems to have their turn at being vilified, and some folks on here are still going out of their way to point negatives at DCL for example.
Currently, Rodriguez is the golden boy, but I'd bet my shirt on it than as soon as he struggles with bad form the whipping boys will be out in force, adding Rodriguez to their list of so-called 'dead wood' who need shipping out. It's as predictable as the Sun rising in the East tomorrow morning.
Clive Rogers
35
Posted 04/11/2020 at 10:09:11
Moving Gomes forward was a role he was not suitable for failed dismally. He looked really uncomfortable right from the start. So did JJK especially attacking. He is not an attacking wingback. Every time he faced a defender he played the ball backwards or sideways. Mina has a mistake in him every game and Nkounkou is not ready yet. Siggy has lost his goal and assist touches. We had no width against Newcastle and are desperate for a winger and a back up striker.
Bobby Mallon
36
Posted 04/11/2020 at 10:45:00
Derek, I hate to say it but we are a flash in the pan.
Eddie Dunn
37
Posted 04/11/2020 at 11:26:06
Our good form shows that with everyone fit, we can compete with everybody. The defence was porous even during our good run but the team managed to create chances and DCL put them in.
We are on the right track and with a few more windows the squad can be improved. Rome wasn't built in a day.
A win against Man Utd without Richarlison would put the spring back in our step.
I wonder if James is making progress with his sore bollock?
Martin Berry
38
Posted 04/11/2020 at 12:29:16
Stan 34*
The voice of reason and so true.
Mark Taylor
39
Posted 04/11/2020 at 12:30:16
What confuses things a little is that after 75 minutes of dross, we actually played OK in the last bit of the match, looked a lot more threatening, albeit that is a low bar. Hence Iwobi and Bernard, as the subs, get a bit of reflected credit, even though we know neither are really good enough, Iwobi especially.
Gomes has disappointed us all. He really did look the part early on but now looks utterly ineffective. Is it his injury? Or does he not fit in with the players around him? My guess is the injury has affected him, he was never quick but the ease with which one of the the barcode midfielders ran away from him, breaking out of defence, reminded me of Gareth Barry chugging after Thomas Mueller in the world cup. Problem is, we are running out of back up options as each flops. There is Davies who has not been seen for a bit and that might be his strongest asset right now. He is not the messiah, as I have frequently said, it's more a case of can he be any worse than Gomes or Siggy? Maybe alongside Allan and let Doucoure play further up? Albeit the latter is not playing as well as he did at Watford.
Let's assume- pray?- James is fit. Then surely it's time for Gordon. We might as well see if he can surpass the low bar provided by Iwobi and before him, Walcott. He must be in with a shout. I sometimes wonder, given his lack of opportunity, if he just looks bad in training. Or Carlo has discovered he is shagging his daughter.
At the back I'd be mildly tempted to play Godfrey. Mina's lack of pace was cruelly highlighted in their second and Keane is no racehorse. But Carlo won't do that. We have no option but to persevere with Kenny but at GK? Well Olsen was our man of a crappy match so it would be perverse for him to pay the penalty if others don't. And if Jordan pulls out another headless chicken act, then that might be that for him. So it actually strikes me as very risky bringing Pickford back for such a high profile game.
Clive Rogers
40
Posted 04/11/2020 at 12:32:40
Jay, 27, I doubt whether Holgate is match fit and Nkounkou showed last weekend that he is not ready yet. Otherwise agree.
Kevin Dyer
41
Posted 04/11/2020 at 12:54:24
This is a make or break season for Gomes. The injury is obviously a major factor though, in truth he wasn't playing well beforehand, after his permanent move. Maybe he's not fully recovered, but possibly this is how he'll be from hereon in. I hope he improves but right now he isn't good enough for a top 6 team. He can look composed on the ball but at his best he was great at withstanding pressure and shrugging off attention. This appears a thing of the past, maybe physical, maybe mental. His passing is good but creativity is not. He offers no goal threat. Defensively he's a liability, a poor tackler, positionally weak and with no recovery pace.
Unless he comes roaring back to his best during the season we should be looking at moving him on next summer.
Bill Gall
42
Posted 04/11/2020 at 13:12:07
Every game in the premier is a high profile game and for us to compete at least until January when the market opens we need all the players in who won the first 4 games to play as we don't have the backup to replace any of them when they are injured, and play to the same level. There are comments on hear about playing Nkounkou in a defensive midfield position. To me this player was wasted playing up more as an attacker than in the position he was bought for and that is left back. The problem at the moment is we have had to, as in the Newcastle game, try to fill in more than 1 of those positions we rely on most in the team, mostly the absent of Richarledson. The last 2 games we have lost it was up to the manager with his knowledge of the squad to be able to set the team up to be competitive and both he and the players failed.
This weekend we may only be missing Rich, so if we cant be competitive with just 1 regular missing win or loose we may have to lower our expectations.
Eddie Dunn
43
Posted 04/11/2020 at 13:13:43
Kevin- he also gets grumpy and gives away needless fouls and picks up stupid yellow cards. Even his awful injury was after he'd left one on Son. I don't mind a bit of edge, but you have to know when and where to exact revenge.
Dave Abrahams
44
Posted 04/11/2020 at 13:15:40
Stan (34), Gomes at Anfield was outstanding, deserved a nine out of ten performance, but I honestly don't think many of us are rewriting history about his performances before and since his very bad injury. Andre was slow then, possibly slower since the injury, but in most games he did one or two good long passes but never stood out, unless it was to prove how slow he was, made far too many stupid and rash tackles all over the field, earned himself bookings for sly and dangerous tackles, has he had one good or outstanding game since the start of this season, I don't know how anyone can defend him for the way he has performed in the majority of games he has played in for Everton, some fans may moan for the sake of moaning, others will have a go because that is how they see the player performing, and on Sunday he most certainly was very poor along with quite a few other players.
Kevin Dyer
45
Posted 04/11/2020 at 13:25:28
#42 Bill, think that playing fellas out of position is almost always a bad idea (see Godrey at Southampton, though that was an emergency situation). I listened to a podcast the other week where the guys discussed how Nkoukou was impressive in the cup games and could play left wing, centre mid and centre half. He'd player 3 games total in senior football, all at left back. Very strange.
I think the lad shows bags of potential - as a fullback - and needs developing as understudy to Digne, who can teach him the position inside out.
As regards United they look very good on the counter so I'd be wary of pushing up high and attacking them. The approach Arsenal took might be prudent.
Assuming James is fit I'd go 4-3-3 with possibly Godfrey replacing Mina, who made a bad error vs NUFC. Think Kenny will play as he's fit. Midfield 3 of Allan, Dacoure and maybe Bernard at left-centre. Give Gordon a shot on the left. If we are focused on controlling midfield maybe Davies instead of Bernard, though I'd prefer some creativity. If James misses out then I guess it's Iwobi on the right. Decent cameo from his at the weekend but I don't trust him as a starter. They'll be looking to hit us on transition and Iwobi arses about in possession too much for my liking.
Paul Birmingham
46
Posted 04/11/2020 at 13:46:45
Dave@44, agreed.
Recall Inchy after Marsood done him, whilst he came back which was a miracle based on medical science in them days he was never the same.
Same with Braces after that mad dog Whitehurst done him at the Toon, a terrible injury, and never the same player, after his return.
I've wanted Gomes to flourish, but like you've said, it look increasingly like he's either never gonna get fit, or has some belief issues. Let's hope JP, comes back fully fit and well.
Difficult for any player coming back from a terrible injury, but as much as I hope, I don't see any real focus and desire and he jogs around the park. The odd 75degrees cross field ways pass or odd forward ball isn't enough to warrant a place.
I've said earlier on this thread, it's like playing with x3 players down, when Siggy, Delph, and Gomes play, and there's no team in any league, that can be successful in the longer term, with such a team, and squad with no strength in depth. Also the manager and coaches must take stock of themselves and their training and tactics, as the last x2 games, have been well under the bar set earlier this season, pre the RS match.
Yes, we are whacked by injuries, and suspensions, but the squad depth in strength is limited, I'd be interested to see the squad and started 11, this Saturday morning.
Hopefully, Everton can put United away and rebuild the confidence and belief.
Oliver Molloy
47
Posted 04/11/2020 at 14:23:28
Lucky we are playing them before Pochettino takes over!
Stan Schofield
48
Posted 04/11/2020 at 14:35:58
Dave@44: I'm not saying don't drop a player if he's out of form, but I am saying it's a bit premature of some folks to say he needs shipping out, which is what is being said. Some players never recover from a bad injury, but others (like Seamus) do eventually recover enough to be a major influence. We can't possibly know unless we give a such a player more time. There's no sentimentality in doing that, just pure potential usefulness to Everton.
Mick Conalty
49
Posted 04/11/2020 at 14:51:37
The picture on Lyndon's article
says it all, the players dressed in pink
The club need reminding that blue is for boys and pink is for girls.
Did Kenwright choose that kit, because the players look like they are more suited to one of his musicals.
Talking about girls maybe in the next derby we should put out EFC ladies. So none of the RS players get hurt.

Tom Bowers
50
Posted 04/11/2020 at 15:10:16
Looks like another''sick note'' player we signed. He's not done that well since the ''Son'' injury. Is he really much better than Tom Davies ?
The season is looking a bust already if the full squad isn't available soon.
Benn Chambers
51
Posted 04/11/2020 at 15:13:20
Cant help but feel a stint out the side is probably a good thing. He's stunk the place out and is criminally unfit. Maybe Bernard can have a go in his proper position. He's a play maker not a winger.
Ricky Oak
52
Posted 04/11/2020 at 15:22:25
Would just be great to see some passion, joined up forward play,, why keep passing back or sideways?, what can the player you're passing too do, that you can't do??, okay nicked that of Paul Scholes,, however if he knows that and finished playing however many years ago,,, then why doesn't any of our lads know it?? Or the trainers/manager,,? just saying, no offence like.
Duncan McDine
53
Posted 04/11/2020 at 15:23:24
Gomes undoubtedly has vision and a touch of class about him, but a combination of poor fitness, a lack of desire, being out of form and being played in a team where there aren't enough runners creating space and movement around him - all add up to the majority of us calling for him to be dropped. I'm still annoyed with the manager for fielding such a slow, unbalanced team against Newcastle.
Brian Wilkinson
54
Posted 04/11/2020 at 15:31:25
Just a bit off track and completely forgot to mention it Sunday, but with Everton playing at Newcastle, did anyone else notice that Kenwright decided to attend the Woman's cup final instead, and managed to get his face on tv.
Ok Wembley is a lot closer for Bill, but I know which game I would have attended.
Dave Abrahams
55
Posted 04/11/2020 at 16:04:33
Stan (48), fair enough Stan (48), yes it's nice to fans, like yourself, giving some leeway to players out of form and I hope Gomes has a couple of weeks out and gets himself fitter than he looks and shows some form to add to the squad, but I honestly think the premier league is too fast and too tough for him.
I certainly hope we get some better days of real football enjoyment, that we used to enjoy and what we pine for now, in the very near future.
Geoff Williams
56
Posted 04/11/2020 at 16:20:42
. and some people still put Iwobi and Sigurdsson in their team. truly gobsmacking
John Raftery
57
Posted 04/11/2020 at 16:20:43
Brian (54) Perhaps Bill sussed which team would give 100%. I think it would have been remiss if a senior member of the Board had not represented the club at a cup final.
Brian Wilkinson
58
Posted 04/11/2020 at 16:26:00
Perhaps John, but with no fans allowed in the stadium, and I had a choice as a senior member to attend, then there is no way I would have chosen the cup final, over the first team.
Ian Jones
59
Posted 04/11/2020 at 16:26:27
Brian, I also spotted Kenwright at Wembley. I actually thought it was good that he was there supporting an Everton team in a Cup Final at Wembley. Our women's team is doing ok. With the current lack of any crowd support, any Everton supporting member in the crowd is a bonus and for it to be our Chairman, well fair play to him...and I agree with John's comments.
Not sure what your general feelings are towards women's football. I actually enjoy watching some of the matches although wince at the general standard of goalkeeping.
Tony Waring
60
Posted 04/11/2020 at 16:27:56
So Kenwright sent to watch the ladies ! How the hell did hemanage to get a ticket for Wembley; must have some connections1
Brian Wilkinson
61
Posted 04/11/2020 at 16:29:44
I think Woman's football is fine Ian, Sunday with the clash, I chose to watch the Everton v Newcastle game.
Woman's football is improving, but for me, if they clash with the first team, then it is the first team, everytime for me.
Ian Jones
62
Posted 04/11/2020 at 16:36:14
Brian, agree. If a clash, then yes, Everton's men is the preference for me..although at times..as someone said at the weekend, watching paint dry could be more rewarding.
Brian Wilkinson
63
Posted 04/11/2020 at 16:39:16
Anyway onward to Saturday, there is a chance Coleman might make it, god knows we have missed him at right back, Digne back as left back.
Surely now with Rodriguez back, we have to play Gordon on the left, he is the only one who will attack and try to get behind them, I might even be tempted to try Bernard in a more central role in place of Siggerson, or bring Gordon more in the middle and put Nkounkou further forward on the left.
Feel for Olsen if Pickford gets the nod, done all he could last week and deserves another run out.
Will Mabon
64
Posted 04/11/2020 at 16:51:39
I have to say the Pickford-come-what-may for Saturday was a very questionable statement, Brian, in any circumstance of form etc.
Kevin Dyer
65
Posted 04/11/2020 at 17:13:00
Going off Football Manager 2020 stats 🤕 Gordon can play across the front. Then again Bernard and Iwobi are apparently natural left wingers...I'll get me coat!
Christy Ring
66
Posted 04/11/2020 at 17:15:00
Carlo left Pickford out against Newcastle, whether it was to take him out of the firing line, or because maybe he wasn't right mentally because of the online abuse and threats. But what I can't get my head around, Olsen gave an assured and confident performance, for that reason alone, he should keep his place, also it's the last game before the International break, which would take the pressure off Pickford.
Rob Halligan
67
Posted 04/11/2020 at 18:45:31
If man Utd play and defend like they are tonight in Istanbul, then we won't need Richarlison and DCL will be on for hat trick number three! Their defending is absolutely woeful, and the space gifted to Demba Ba for the first goal was far worse than Sunday league defending. Apologies to anyone currently playing Sunday league.
Frank Sheppard
68
Posted 04/11/2020 at 18:45:52
He needs to win his place back, his recent performances have not been good enough, since he struggled against Liverpool.
Mike Gaynes
69
Posted 04/11/2020 at 19:15:04
Rob, I love seeing 35-year-old Demba Ba (in his wheelchair) just leaving the Utd backline in his dust!
Scored a goal sprinting away, drew a yellow on another run (which could have been red if the pass had been closer), and dummied elegantly for their second goal.
Gives all us old farts some hope.
Mike Gaynes
70
Posted 04/11/2020 at 19:20:58
Brian/Ian/John, I'm all for Bill's choice. It's right and proper that a top club official should be gender-blind and show up to support the women at Wembley. A Cup final is a Cup final.
Besides, the game was spectacular, lots of great plays and physical stuff. Thrill-a-minute at times. Unlike the mud pie the men served up.
Robert Tressell
71
Posted 04/11/2020 at 20:05:04
Ben Chambers, Bernard is a playmaker not a winger. But he has taken up a position on the left flank throughout his career – including as part of a very good Shaktar team with Brazilian Ismaely at left-back. He starts on the left flank as Pienaar did for us. It's where he can best influence a game as a playmaker. Centrally he's not good – largely because he is tiny for a footballer: 5ft-4in! The flanks give him a bit more space.
Kunal Desai
72
Posted 04/11/2020 at 20:46:27
You do have to wonder why Pochettino was in the Sky studios on Monday and Rodgers hinting that he needs to come back to management soon.
All planned and setup for him to takeover at Man Utd next week, I reckon. Lost tonight and Saturday will be the last straw.
He'll be in the hotseat soon enough.
Tommy Carter
73
Posted 04/11/2020 at 20:57:22
How's Sheedy getting on at Norwich? He was the answer this time last year wasn't he? And Cafu Kenny...
Dave Abrahams
74
Posted 04/11/2020 at 21:16:28
Tommy (73), Dowell got injured not long after he joined them. He'll be out for some time.
Dave Pritchard
75
Posted 04/11/2020 at 21:31:18
Main change for me is that Gordon starts in Richarlison position. If fit then James is a definite. Allan, Doucouré and Calvert-Lewin shoo-ins. Out of Iwobi, Sigurdsson, Davies, Bernard, Gomes, Delph – it rarely seems to matter as they all disappoint on a regular basis. Maybe when Holgate is fit, him and Allan can be the defensive mids with Doucouré allowed to get further forward.
Robert Tressell
76
Posted 04/11/2020 at 21:46:02
Kenny is no Cafu, Tommy, but he's still earned more of a chance than one crap game where we played about the strangest first 11 since Walter Smith was here.
Wouldn't write him off just yet. Probably not going to be our long term Coleman replacement but he's not terrible either. If we can get into a decent rhythm again then I'm sure he'd be okay.
Tom Bowers
77
Posted 04/11/2020 at 21:57:11
Can't see where Bernard's size determines if he is good or not.
I remember a certain Bobby Collins who was just terrific for Everton and Leeds and was small in stature.
Paul Birmingham
78
Posted 04/11/2020 at 22:24:34
Tom, @77, agreed, the Weebarra, on the park, was a giant amongst the players of his day.
The Holy Trinity, Golden Vision, Reidy, all not giants physically but were fine footballers, brains, heart, desire, courage and skill, in abundance
Maradona, Iniesta, Messi, etc., were arguably some of the best players of their eras in the world.
Everton have had plenty of such players over the years.
Brent Stephens
79
Posted 04/11/2020 at 22:37:58
Tom #77 wee Bobby was a short-arse like Bernard but you'd sooner have a fight with Barnard! Didn't Collins deck one of our own?
Robert Tressell
80
Posted 05/11/2020 at 07:26:39
Bernard's size doesn't determine whether he's good, but it does determine where he can best influence the game from.
Especially given the limitations of players around him
Nicholas Ryan
81
Posted 05/11/2020 at 10:14:32
Brent [77] Bobby Collins was a pocket battleship, whereas Bernard is a trouser pocket... very rarely sees the light of day, whilst holding most of your money!
John Hall
82
Posted 05/11/2020 at 10:22:20
Headlights Klipety across the park asking today in the Daily Mail why are we still talking about the Salah dying swan act after two days since the incident.
" Says the ballet dancer has a mark on his foot to prove it was a penalty.
What a gobshite - got a worse memory than Joe B
Brent Stephens
83
Posted 05/11/2020 at 10:46:54
Nicholas #81 "Bobby Collins was a pocket battleship, whereas Bernard is a trouser pocket".
That's good!
Sam Hoare
84
Posted 05/11/2020 at 11:43:17
I read somewhere that Andre Gomes has not had a shot on goal for a year and a half! He's also only managed only one goal and two assists in his whole time here which is not great for a midfielder who is certainly not here for his defensive prowess.
I've said for a while that I think many of our fans over-estimate him but it seems that is starting to turn. And I don't think the injury is wholly to blame as I had my doubts before it happened.
It's yet another problem for Brands/Ancelotti as his wages are among the largest at the club and no-one else will match them. We are suffering from overpaying players on large contracts and I expect Gomes will be here for the long term. He's definitely got talent and played alright in the first few games of this season (was still the weakest of the midfielders) but those who think he is capable of re-capturing his Benfica/Valencia form are going to be disappointed. He's just too slow for this league and his slowness is highlighted when played with other slow players (like Sigurdsson or Davies); it also accounts for him giving away so many costly free kicks (and recent penalty).
Mike Doyle
85
Posted 05/11/2020 at 11:49:07
Sam 84] I too had high hopes of Gomes but, like you, was having reservations about what he contributes. Plainly he'll be here for a while so I guess we'll have to hope he improves.
On an unrelated topic sorry to see you didn't feature in the recent Olivier Awards. Maybe next year ( if the theatres reopen).
Tony Everan
86
Posted 05/11/2020 at 12:07:51
Sam, I think we have to be more thorough in looking at the athleticism, mobility of our midfield recruitment. Sigurdsson, Delph, Gomes all fall into the category of being slow and static, as did Schneiderlin.
We need more dynamism, aggressive closing down willingness to drive forward, willingness to make explosive runs to get behind a defence.
With the these static midfielders we become one dimensional and entirely predictable for opposing managers. "Close down these slow midfielders and Everton's game falls apart".
It's a constant battle for Marcel Brands, but he has no alter to try at least to move on two out of Sigurdsson Gomes and Delph. Then bring in a midfielder with more energy, pace and desire. One who will play at a higher tempo. Davies is the obvious candidate already on our books but Carlo mustn't think he has the quality for the job.
We talked about Diatta, Sarr the other day as the type of pace and direct threat we are lacking when Richarlison is out, but this energy and dynamism in midfield is not far behind in terms of priorities.
Robert Tressell
87
Posted 05/11/2020 at 12:21:05
I could see Gomes leaving next summer. There's a chance like Coleman that it takes a goid while to rediscover pre injury form but not optimistic
David Connor
88
Posted 05/11/2020 at 12:38:13
I can't see Gomes being any great loss. The lad has been piss poor since returning from injury and is a dead weight every time he turns out for us. He is far too slow for the pace of the Premier League and needs to be moved on ASAP.
Christopher Timmins
89
Posted 05/11/2020 at 13:04:58
Gomes is not a player I expect to play a central part in our fortunes come the start of the 2021/22 season, he like Pickford and Mina are likely to be replaced in the summer transfer window.
Dave Abrahams
90
Posted 05/11/2020 at 13:15:30
Just read an article in Saturdays programme, for the United game, by Michael Keane,unbelievable,for me,really unbelievable, how players see themselves and how the team is performing, everything is fine and there are no faults. I wish it was so.
Sam Hoare
91
Posted 05/11/2020 at 14:23:21
Mike@85Thanks. Well I sort of did; my play won the best new play award so that was something! More to other people's credit than mine but a joint effort of sorts.
Sam Hoare
92
Posted 05/11/2020 at 14:32:09
Tony@86; yes; the signings of Doucore and Allan have certainly helped with dynamism in the middle but last Sunday with the likes of Gomes, Sigurdsson, Delph and Kenny all quite mediocre athletically you really felt the lack of energy and pace.
Davies certainly provides energy but he's not the quickest over the ground. I Still wonder whether you could try Iwobi in that central position, the most attacking of the three. He's not quick enough to be a winger but he's no slouch and is a good ball carrier on his day. Doesn't seem likely to happen and i'm not sure he's deserved more opportunities to be honest but I don't see any other dynamic midfield options unless we start looking at the kids and the likes of Onyango, who I don't think will be ready for another year or so.
I think Gomes will work better once we have the hard working Richarlison back to help provide the pace on the left side of the pitch. Another thought of course is Gbamin who should be back soon. Difficult to know what sort of condition he'll be in but pre injury he was very quick and athletic. If fit it will be interesting to see if Gbamin sits and Allan goes box to box or the other way around.
Dan Nulty
93
Posted 05/11/2020 at 14:36:22
I wouldn't trust Iwobi to run centre midfield for my lad's u10s team.
Robert Tressell
94
Posted 05/11/2020 at 14:37:27
Sam @ 91. Brilliant news! 👍 A man of both obscure football talents and culture too
Per Stumo
95
Posted 05/11/2020 at 15:19:03
I think Davies, Bernard and especially Sigurdsson are all much better suited at playing in an advanced central role.
Speaking of Davies, he wasn't even on the bench against Newcastle but he's not listed as injured. Anyone know what's going on there?
Gavin Johnson
96
Posted 05/11/2020 at 15:24:47
Sam #92 Yes, I'd also like to see Iwobi tried centrally with Allan and Doucoure. He has played in this position for Nigeria and for me he's never an out-and-out wide player. He certainly couldn't be any worse than Gomes or Sigurdsson.
Per Stumo
97
Posted 05/11/2020 at 15:32:24
We only have two proper wide players: Richarlison and Gordon. Bernard can do a shift there, but I don't see it as his best position. Iwobi is not great out wide and might do better as an AMC as well (I haven't watched Nigeria much).

Mike Gaynes
98
Posted 05/11/2020 at 15:39:03
Nicholas #81, good 'un!
It's not Bernard's size that keeps him out of the middle of the park, it's his instincts and lack of physical strength. He's the same size and weight as Xavi and Rui Barros, for example, but they could keep the ball in heavy traffic and Bernard can't. He naturally gravitates to the wide-open spaces -- doesn't like crowds.
Hugh Jenkins
99
Posted 05/11/2020 at 15:54:21
Sam (91) - Congratulations!
Phil Smith
100
Posted 05/11/2020 at 16:00:01
Please God, yes! He shouldn't even be in the squad after that last performance! Where are our young scousers? Liverpool has an injury crisis and they just bring one in from the U23s in the same position. Us? Square pegs in round holes all over again.
Per Stumo
101
Posted 05/11/2020 at 16:04:39
Mike @91, finding space is key for any good player though. Our players not being able to find or create space is one of our biggest problems up front.
Martin Mason
102
Posted 05/11/2020 at 16:43:08
Dave@90, I guess they see how it is all going in training and my guess again is that things have really improved under Carlo. The players are probably surprised at how it's taken a turn for the worse the last couple of games
Jay Harris
103
Posted 05/11/2020 at 16:53:23
The real problem we have had in the last couple of games is with only DCL forward there is nobody to pass forward to as nobody is making runs from MF so the guy on the ball has to go sideways or backwards.
As we saw in Istanbul pace will beat united so for me it is important that Gordon gets a game up front with DCL and Doucoure gets told to be more box to box rather than standing guard with Allan.
Hopefully Coleman and Digne are playing so that will give us pace and strength on the flanks.
So that leaves a space on the left side of MF. I know Carlo wont do it but I would play Nkoukou there.
We need more pace, power and goalscoring capabilities and not rely on DCL or MIchael Keane to get the goals.
Will Mabon
104
Posted 05/11/2020 at 17:10:15
Correct, Jay.
Good as it is that we have the best set piece success (still, I think?), there needs to be more from open play. It's a real miss that needs sorting, quickly.
Dave Abrahams
105
Posted 05/11/2020 at 17:46:23
Martin (102),No doubt the players were surprised how it took a turn for the worse in the last couple of games, plenty on here were not, once they saw the teams selected,most of us were surprised and disgusted with how poor, lifeless and pathetic we were, while Keane says how much they talk to each on the pitch, didn't see any evidence of that myself, just like lambs to the slaughter, except for the last ten minutes.
Bobby Mallon
106
Posted 05/11/2020 at 17:48:51
I guarantee you he will play Tosun and Calvert-Lewin against Man Utd and that will once again negate the pace we need.
Daniel Thomas
107
Posted 05/11/2020 at 18:34:15
Davies doesn't play for a few weeks and all of a sudden, bringing him back injects some pace into our midfield.
Haha.
Jim Burns
108
Posted 05/11/2020 at 19:10:54
I can't believe the number of posts on here who are recommending that Delph starts against Utd - did they really look at that performance against the Barcodes?
I admit he wasn't the only one - but with him especially his absolute gutless refusal to play balls forward or look to create anything was a disgrace. Constant safe sideways or back ward passes - even when he had clearly seen space and angles that were on infront of him - were a major reason for the utter static, mind numbing, boring shite that laughingly called itself a mid field. Again - he wasn't the only one but was definitely the chief crab.
He's a legend in his own head and like Kevin at 20 - I don't want to see him in a blue shirt again.
Whilst not the full answer - putting Bernard through the middle gives us half a chance of creating forward momentum and bad as Utd are at the moment, unless we take it to them - don't expect any improvement on last week.
Bobby Mallon
109
Posted 05/11/2020 at 19:22:07
We need fucking goals shots and forward passing. We also need pace and players to get done balls and take it to them.
Paul Birmingham
110
Posted 05/11/2020 at 19:56:29
Congratzioni Sam, great effort. Sam Hoare.
I've said on previous posts, that in my view, we invite massive trouble by playing, Siggy, Gomes and Delph, as they can't run at a jog, with a head wind behinds them.
United looked poor and a shambles for much of the game last night, but they'll be fighting for their pride and I hope Everton, go for the kill, early doors on Saturday.
If Hames if fully fit, then start him, with Gordon, starting on one side with Bernard or Iwobi on the other side, all fitness depending.
I'm not sure what's the sketch with Anthony Gordon and Tom Davies of late, but they'll give 100% effort, which you don't get from three aforementioned players, whom make Everton, perhaps, the slowest transitioning team, from attack to defence in the EPL.
Massive game, looking forward to it, and let's believe.
Surely, our cliche on TW, they can't be worse than last weekend?
Lets hope not.
Sukhdev Sohal
111
Posted 05/11/2020 at 19:57:03
Sigurdsson should play against Man Utd, with Gordon ahead of him. I know Sigurdsson looked bad against Newcastle but, when you have him and Gomes as your wide attacking midfielders, it's never going to end well. We cannot start with Iwobi as he is atrocious. Bernard doesn't want to take on any defender for some reason and always passes on responsibility to the left-back. He has the ability to... it's so frustrating.
Andrew Dempsey
112
Posted 05/11/2020 at 20:11:10
The real problem we have is that we don't win when Richarlison doesn't play.
I'll be shocked if Carlo manages to get us 3 points without Richarlison in the XI.
Shock me, please.
Robert Tressell
113
Posted 05/11/2020 at 21:39:09
Andrew, that is about the size of it yes. And there is every chance this is his last season with us.
John Davies
114
Posted 05/11/2020 at 21:48:05
This game will tell us everything about where our season is going. The Mancs are ripe for the taking. Time for the manager to step up first, with his team selection and tactics. Players to follow.
100% effort (which we didn't get last week) is the very minimum required.
Annika Herbert
115
Posted 06/11/2020 at 06:45:25
How on earth are people still selecting Sigurdsson in their line-up!!? If we play him against Man Utd, we will hand them the advantage before kick-off!
Both Sigurdsson and Gomes have been atrocious of late. I had hoped that Gomes would eventually show signs of his form prior to the injury but it's just not happening.
It's clear we have little quality to call upon once the first choice eleven is not available. Sigurdsson, Iwobi, Delph and Gomes, are hardly going to worry Man Utd, are they? Some quality in depth is urgently required over the next two or three transfer windows.
Nicholas Howard
116
Posted 06/11/2020 at 07:19:19
Bobby (109),
Agreed, very simple task: forward passing... running.
Guess what? Delph – advocate of backward passing, slows everything down;
Sigurdsson always disappears during the match – especially when he gets to start – and, needless to say, slow;
Iwobi – young but not fast... can pass but ball control is atrocious
What do we have left???
Bernard – good at playing central, shit at wings;
Gordon – fast and willing runner, not in favour.
Hopefully there would be good surprise against Man Utd.

Tim Kells
117
Posted 06/11/2020 at 07:39:43
Jim 108,
I totally agree. If I had my wish, I would never see him in an Everton shirt again.
Understand the alternatives are limited if James is still unfit but he is not the answer.
Eddie Dunn
118
Posted 06/11/2020 at 08:00:22
Annika, as much as I like Sigurdsson and as hard as he tried last week (he was running around trying to close down space) I think that he should be consigned to the bench on Saturday.
Imagine if two youngsters had been plucked out of the under 23's and performed as poorly as Gomes and Sigurdsson. We would simply say that neither of them has the speed to succeed in the modern game and that Gomes was dozing at the corner when he managed to miss a man jumping in front of him! The two clearly won't make the grade so perhaps a loan to a Championship side could be the answer.
As for Delph, Allan has taken his place. He is a handy squad member but nothing more. He can play in the league Cup and be Allan's understudy for the rest of the season. He then needs to be moved on to a provincial theatre to see out his playing days.
I hope that Seamus is back as he gives us a natural balance epecially with Digne returning on the left.
We can overcome the loss of Richarlison if we keep our shape and bring in Gordon to support DCL.
We need some pace to undo Maguire and Lindeloft and Gordon is about the only one with it is spades.
However, United will pick us off if we throw too many bodies at them and Rashford has been in good form.
The last game before more of these damned internationals.
Trevor Peers
119
Posted 06/11/2020 at 09:02:49
The key to Everton's early success, and the lack of it since, is down to one player: Richarlison. We will struggle against Mn Utd, whatever line up is put out, simply because we don't have enough quality and pace up front. Calvert-Lewin can't possibly do it all on his own.
When Richarlison comes back, I think we will see a return to the exciting form we showed before losing him. The midfield as a whole plays much better when there is a genuine chance of a scoring outlet; that's what Richarlison gives us. It's up to Carlo to find more fire power up front in upcoming transfer windows – that's the key to further success.
Andrew Lum
120
Posted 06/11/2020 at 09:08:45
Annika (115), totally agree with you. I don't want to see Sigurdsson start another match again. Davies and Gordon will give us the energy and movement we badly need.
Dave Abrahams
121
Posted 06/11/2020 at 09:52:04
A simple question, how many games would we have won this season if Calvert-Lewin hadn't have played?
Stan Schofield
122
Posted 06/11/2020 at 10:23:13
Dave, good question. Richarlison is very important to winning, but he's not the only one.
Mick Conalty
123
Posted 06/11/2020 at 11:10:32
Any chance we can swap Moshiri
For Donald Trump.
We would never lose another game with him in charge.
Also he would bring Law Suites
against the long list of gobshites stealing a living of us, for fraud.
Kenwright and Brands would be cited for Fake News.
Trevor Peers
124
Posted 06/11/2020 at 12:54:11
Dave and Stan,
My point is that we are woefully short up front. We don't know if we can't win without Calvert-Lewin, but we do know we can't win without Richarlison and that's a fact.
Dave Abrahams
125
Posted 06/11/2020 at 14:31:20
Trevor 124, it is a fact that we haven't won when Richarlison hasn't been playing, we have also lost and drew plenty of times when he has been in the team and he has contributed nothing in many of these games.
I have to admit we are obviously better with him in the team and that goes for Dominic whose work rate and goals are just as valuable, more so this season.
Karen Mason
126
Posted 06/11/2020 at 14:51:55
Martin #7.
Using your theory, Chelsea 'dumped' De Bruyne, Salah & Lukaku. Barce 'dumped' Neymar. Barce also 'dumped' Digne. I could go on, but you get my drift.
Can't argue that Gomes hasn't played well of late, but there's a class footballer in there. Seems as though you and some other posters on here are not prepared to let the guy play back into form & regain his confidence after his injury.
There were a few calling for Seamus's head not long ago, saying he wasn't half the player since his injury. All eating their words now.
Tommy Carter
127
Posted 06/11/2020 at 15:46:07
@126
I'm not sure there is a class footballer in there with Gomes.
Realistically his performances for us have been generally poor, give for I'd say half a dozen good performances. Including his loan spell.
This is a player who was on the receiving end of a chorus of boos from his own fans when playing for FC Barcelona.
Technically I think he's quite accomplished. If he was allowed to play the game at his own pace and under little pressure he'd probably be able to do some outstanding things.
But the reality is that he's faced with aggressive and energetic opposition in a high pressure environment. And he struggles, continually
Karen Mason
128
Posted 08/11/2020 at 16:34:07
Tommy@127.
It is worth mentioning that Barce fans have been watching Xavi, Inesta & Messi in their midfield for many years. Barce fans expectations are amongst the highest in the world. Gomez is not Xavi, Inesta or Messi but that's not to say he is not a footballista, as they say in Spain. Barce fans are very impatient & unforgiving as Gomez found to his cost. Many other excellent footballers will endure the disapproval of Barce fans as Gomez did, but have gone on to have great careers elsewhere. I would like to think that us Bluenoses have more patience than Barce fans.
---
Add Your Comments
In order to post a comment, you need to be logged in as a registered user of the site.
Or Sign up as a ToffeeWeb Member — it's free, takes just a few minutes and will allow you to post your comments on articles and Talking Points submissions across the site.