Everton vs Manchester United
Friday, 6 November, 2020
Match Preview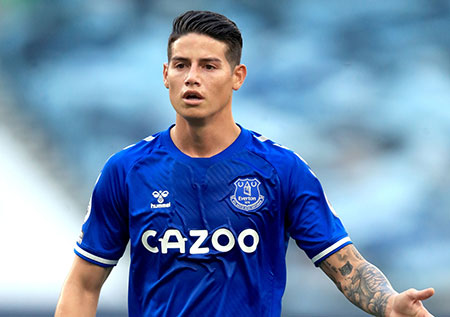 James Rodriguez is available again even if his manager isn't convinced he is 100% fit
Everton are back at Goodison Park after successive fixtures on the road as they host Manchester United in the early Saturday kick-off.
It's a game that has taken on huge importance for both sides — Everton's 100% start to 2020-21 has collapsed over the past three games, with a spirited derby draw giving way to two depressing results at Southampton and Newcastle.
United, meanwhile, have endured a wildly erratic start to the campaign, losing 6-1 at home to Tottenham, but then dismantling Newcastle in a way that the Blues didn't even attempt, beating both Paris Saint-Germain and RB Leipzig before losing back-to-back games to Arsenal and Istanbul Basaksehir in the Champions League.
The upshot is that Ole Gunnar Solskjaer comes to Goodison with his job apparently hanging by a thread; certainly, the media drumbeat has been getting louder with each setback and it is at the point now where it is expected that, with former Spurs boss Mauricio Pochettino still available, Ed Woodward will pull the proverbial trigger if his side loses this weekend and end the Norwegian's tenure.
If the talk around Everton has centred around squad depth over the past fortnight, there is good news for Carlo Ancelotti on that score with the news that James Rodriguez and Seamus Coleman are available again following injury and Mason Holgate has now recovered from the toe problem that has kept him out of all of the Toffees' games so far this season.
Lucas Digne returns from a one-game ban, of course, but Richarlison serves the final match of his suspension and Fabian Delph has a minor niggle that will sideline him this weekend. André Gomes, meanwhile, appears to have shaken off the knock he picked up at St James's Park and Ben Godfrey is over a slight hamstring strain.
"We have practically all the squad available apart from Richarlison, Gbamin and Fabian Delph, who had a little problem yesterday," Ancelotti said in his pre-match press conference. "He will be out for just a few days. All the others are available.
"James says he is 100 per cent. I have some doubts about this but physically he is okay. He has recovered from the little problem he had.
"If there was a chance of putting him in risk [of injury] by playing, we wouldn't play him. He is going to play tomorrow and he is going to do his best.
"It is important not only to have James, but to have Coleman, Digne and Holgate back.
"It is not easy to select the back four who are going to start tomorrow, but it is important to have these players — they are experienced players, quality players. We can have a better squad, a better team [with them available]."
The manager will, indeed, have some tough choices to make, particularly in defence where he will have to weigh the team's recent defensive frailties — and, in particular, Yerry Mina's form — against Holgate's lack of match fitness.
In midfield, with James fit — huge news to a side that has looked bereft of imagination in his absence — there is no chance of a repeat of the bizarre line-up the Italian selected last week against the Magpies but he still has to find a solution to Richarlison's absence on the opposite flank and he appears to have little faith in any of Alex Iwobi, Bernard or Anthony Gordon.
With Gylfi Sigurdsson being awarded the captain's armband in Coleman's absence and the manager generally singing the Icelander's praises despite his middling form, it's likely that he will get the nod for one of the places in midfield alongside Abdoulaye Doucouré and Allan and unless the final spot goes to one of the afore-mentioned un-fancied trio, it would place the onus for creativity squarely on the shoulders of Rodriguez whom Solskjaer will almost certainly target for special attention.
On their day, United, with the likes of Bruno Fernandes, Marcus Rashford and Paul Pogba, can be as good as anyone but their defensive vulnerabilities have been an Achilles heel so far this season, as has what the pundits perceive to be a lack of cohesion and direction in their ranks.
These two sides played out a controversial draw prior to lockdown, one which Everton thought they had won with a dramatic late goal, only for referee Chris Kavanagh and Video Assistant Referee Jon Moss to rule it out for offside against a prone Sigurdsson.
This one could be equally hard to call, with two teams lacking confidence meeting in a match both will feel they must win to help get their respective seasons back on an even keel.
Kick-off: 12:30pm, Saturday 7 November 2020
UK TV: BT Sport 1 from 11:30 am
Referee: Paul Tierney
VAR: Michael Oliver
Last Time: Everton 1 - 1 Manchester United
Predicted Line-up: Pickford, Coleman, Keane, Holgate, Digne, Allan, Doucouré, Sigurdsson, Rodriguez, Iwobi, Calvert-Lewin
---
Reader Comments (116)
Note: the following content is not moderated or vetted by the site owners at the time of submission. Comments are the responsibility of the poster. Disclaimer
Tony Everan
1
Posted 06/11/2020 at 11:57:58
It's all gone pear-shaped with Richarlison and Coleman out. James is fantastic when fully fit but we have missed Richarlison and Seamus more.
Doucouré and Allan have suffered for these injuries too; against Southampton, the constant tacks down the right against Godfrey destabilised us.
Against Newcastle, Carlo's knee-jerk midfield was nothing short of a joke. Full of slow and sideways from Sigurdsson, Gomes and Delph. Totally dysfunctional.
Against Man Utd, some balance to the team has to be restored along with some more attacking threat by playing Anthony Gordon on the left in Richarlison's role.
Olsen
Coleman/Kenny Keane Holgate¹ Digne
Doucouré Allan Nkounkou²
James Calvert-Lewin Gordon
¹ I would love to see Mason back if fully fit.
² Why not? He would probably do a better job than Gomes, Sigurdsson or Delph. Out of those three, Delph is marginally preferred for that midfield role.
To me, that team gives us balance and threat on both the right and the left and maintains a strong spine.
Rob Hooton
2
Posted 06/11/2020 at 13:33:43
As most have alluded to, we are severely lacking pace. I can't think of anyone but Gordon who can offer this while Richarlison is out?
I hate it when we expect a side that has played away in Europe to be tired – it always ends up looking the other way round!!
Tommy Carter
3
Posted 06/11/2020 at 13:56:08
So some promising news today. I don't believe Coleman will be 100% but, if he's at least 75%, then it's still a major boost and not an obvious weakness to be targeted as Jonjoe Kenny would be.
I'd like to see Godfrey given a start at centre-back, his natural position.
Digne back is obviously a huge boost, as is the return of James, providing he is anywhere near fit.
Richarlison still a huge miss. A player we will have a very difficult time keeping hold of if we don't get top 4 this season I think.
Bill Gall
4
Posted 06/11/2020 at 14:43:58
Once again we are facing a wounded animal that every pundit and hanger-on will be willing them to win. It is time for Everton to step up and show people what an ambitious club we are and bury one of the media darlings who are already making up headlines for SULK, Man Utd's manger to be fired.
Every team has injuries and we are gradually getting over ours. No matter what team Ancelotti puts out they have to have a desire to win and go at Utd right from the start. Playing for a draw with possession football will end in a loss and Man utd are there for the taking.
We are not inferior to any team and it is time for some of these players when given the opportunity, to show what they are being paid for. We have players who have the skills to win this game, but we need the team to show more desire to win to help them. Results matter but it is how you achieve these results that means more, We have failed in the last to games as a team tomorrow is the time to get back on track. Teams win who want to win not expect to win.
Brian Wilkinson
5
Posted 06/11/2020 at 14:50:57
Coleman, Holgate and Rodriguez, all passed fit to play tomorrow, Digne back in the team, only one missing is Delph who will miss the game.
Coleman, Holgate, Digne and Kean will do for me in the back line, with Delph out, I have a feeling we will be seeing Siggy starting, like others, I was hoping for Gordon to get a starting place.
Would even be tempted to give Davies a run out over Siggerson, but I think Siggerson will be nailed on to start.
I fancy Everton to get points on the board tomorrow, the return of Coleman and Holgate, will makes A huge difference tomorrow.
Nicolas Piñon
6
Posted 06/11/2020 at 15:03:34
I would go for:
Pickford (Carlo said he'll play him, if it was for me I'd pick Olsen); Coleman, Keane, Godfrey (eventually changed by Holgate, but we need a fast player at the back and this match against a tired United can be a good time to test Godfrey at his position) and Digne; Davies, Doucouré, Allan and Gordon; James and Calvert-Lewin.
I believe this team could cause trouble to the Mancs and favor James's creative spark and add balance on our right, where Rashford plays (their left)
Bench: Olsen, Holgate, Mina, Nkounkou, Gomes, Sigurdsson and Tosun.
Manchester United will be tired (they played many starters in the Champions League on Wednesday so having some balance, important players back at defense, and James in a free role would can put us in a very good position. If it's not Gordon, I'd go for Nkounkou up there; pace is key for James to deliver his magic passes.
COYB!!
Robert Tressell
7
Posted 06/11/2020 at 15:05:15
Thank goodness for that. Shame we can't also get Moise Kean back, who looked every inch a Champions League striker last night against Leipzig.
Ricky Oak
8
Posted 06/11/2020 at 15:05:30
Funny how the media have put the pressure on us,, its all ogs last chance saloon, how manure cannot be allowed to be in the position they're in etc,, clever,, it ramps it on us,, we are hinted to expect to win,, while the ref will be on there side again no doubt,, also we are desperate for the extra 'energy', that all the 'big', clubs seem to have,, I'm convinced that at least seven clubs have access to them special inhalers,, not wanting to cheat, however, its never a fair fight,, will happily eat my words, if, by some divine intervention, the usual frustrating, painfully obvious biased gets reversed, and we somehow show some passion n gumption and really take it to em and smash em out the park,, like 4 or 5 nil,, just to see how the media will portray afterwards.
Colin Battison
9
Posted 06/11/2020 at 15:11:13
This is going to be a tough one, although Man Utd should be fatigued after only playing in Turkey on Wednesday so we have to show our energy levels and get in their faces from the off with a high intense press, Ole is in the firing line so he will also make sure they are fired up for this one. Just glad we have some players back as we will need to be at our best, Richarlison would've been made for this game, shame. Anyway my pick is
Olsen,
Coleman, Holgate, Keane, Digne
Davies, Allan, Doucouré
James, Calvert-Lewin, Iwobi or Gordon

Nicolas Piñon
10
Posted 06/11/2020 at 15:12:00
I would go for:
Pickford (Carlo said he'll play him; if it was for me, I'd pick Olsen); Coleman, Keane, Godfrey (eventually changed by Holgate, but we need a fast player at the back and this match against a tired Man Utd can be a good time to test Godfrey at his position) and Digne; Davies, Doucouré, Allan and Gordon; James and Calvert-Lewin. I believe this team could cause trouble to the Mancs and favor James's creative spark and add balance on our right, where Rashford plays (their left).
Bench: Olsen, Holgate, Mina, Nkounkou, Gomes, Sigurdsson and Tosun.
Manchester United will be tired (they played many starters in the Champions League on Wednesday so having some balance, important players back at defense, and James in a free role will, would, can put us in a very good position. If it's not Gordon, I'd go for Nkounkou up there; pace is key for James to deliver his magic passes.
COYB!!
Ajay Gopal
11
Posted 06/11/2020 at 15:18:40
I don't know if we should risk so many players out on injuries to come back and play the full 90 mins. The last time Coleman came back from injury, he lasted 25 mins (against Liverpool). If Holgate has trained well, I would play him on the right, and bring on Coleman for the final 15-20 mins. But otherwise, I agree with Nicolas' team:
Pickford
Holgate Keane Godfrey Digne
Davies Doucouré Allan Gordon
James Calvert-Lewin
Subs: Olsen, Coleman, Branthwaite, Sigurdsson, Gomes, Iwobi, Tosun
Mike Doyle
12
Posted 06/11/2020 at 15:26:02
Carlo cleverly using the good news about Coleman, Holgate, Digne & Rodriguez returning to deflect attention from the devastating news that Delph is injured (again).
Brian Harrison
13
Posted 06/11/2020 at 15:29:34
Ajay
The only thing is if we didn't play Seamus against Utd, then he will still join up with the Irish team for the internationals next week. So if he is fit I would rather he plays on Saturday as we gain nothing by resting him, now if there weren't internationals next week then you might have a point.
Colin Battison
14
Posted 06/11/2020 at 15:31:47
#9 Ajay, To be fair, that also looks a good pick. Are you suggesting we have a tight midfield 4 and have James in the Number 10 role?
John Pierce
15
Posted 06/11/2020 at 15:35:00
This sounds very good news. A massive game to get back off the floor after two insipid performances and poor selections from the manager.
Carlo needs to get the balance back. That's certainly achievable with what we have available.
Olsen
Coleman Holgate Keane Digne
Allan Doucoure
James Iwobi Gordon
DCL
I reckon that side has balance across the entire team. The problem is United. They play their best when they sit and counter. They are terrible at solving a low block. With OGS's neck on the line I reckon he'll go back to what has gotten him results.
Will Carlo be passive and try and counter them? I hope not because that team above without Richarlison is not a counter attacking team.
Crosses need to be early tomorrow, Wan-Bissaka is superb one on one so don't engage him, Calvert-Lewin needs chances, let's take every advantage of a corner or set piece with James on the pitch.
Jay Harris
16
Posted 06/11/2020 at 15:46:42
I believe Carlos team will be 4-2-3-1
Pickford
Coleman Kean Holgate Digne
Doucoure Allan
JAmes Siggy Bernard
DCL
But against United we need pace and power so Gordon is a must start for me in place of Bernard and I would play 4-4-2 and have Nkoukou on the left of MF
Pickford
Coleman Kean Holgate Digne
JAmes Doucoure Allan Nkoukou
DCL Gordon

Olalekan Taofik
17
Posted 06/11/2020 at 15:46:50
@Bill #1, I quite agree with you that ManU is a wounded Lion but we are equally wounded too.
The last two games had a negative effect on my attitudes to football since then..
We have no excuse to have lost the last two games.
I hope the players will develop more winning attitudes and stop playing women who about to deliver in the the labor rooms.
By January, Bennard,Tpsun, Delph, Gyfil et all must be shown the exit door.
Is three points or nothing tomorrow.
We need to raise our game and compound the woes of United.
I sincerely hope that I will have a cause to smile tomorrow again after the game here in Lagos,Nigeria.
Hello guys am on twitter @abuzannirah.Let me follow you all and viceversa to discuss footballing/ sports related.
I love you all since 2002(smiles)
COYB !!!!!!!!!!!!!!
Bobby Mallon
18
Posted 06/11/2020 at 15:47:40
We need to start shooting and getting crosses into the box. We need pace and runners from midfield. But what we need more is our team defending from the front, from the f/ing front and those like James tracking back. We can't afford players not putting a bloody shift in
Rennie Smith
19
Posted 06/11/2020 at 15:57:45
Win tomorrow and we'd be 9 points clear of the mancs. Even with their game--in-hand and this crazy season that's a big statement we could be making.
When you have the likes of Southampton possibly top of the league, it shows we have a chance to make something happen this season.
Don't let us down COYB!!!
Christy Ring
20
Posted 06/11/2020 at 16:00:06
Midfield is going to be competitive tomorrow, so we want no passengers, exit Sigurdsson. Allan and Davies, with Docoure attacking midfielder, James on the right, and Gordon on the left. Coleman has to start, and Holgate beside Keane. I see Delph injured again.
Eddie Dunn
21
Posted 06/11/2020 at 16:18:34
Mina has made a few mistakes and I would be tempted to put Holgate in his place. We can't really afford for him(or Coleman) to break down though as subs prove to be so important these days.
Pickford will start in goal as the manager stated last week but all eyes will be on the midfield which will have to work hard to allow James to do his thing. The other question is will Gordon get a start or even a go off the bench?
Per Stumo
22
Posted 06/11/2020 at 16:23:42
Davies, Delph and Godfrey are all injured I believe. Ancelotti has already confirmed Pickford will start. Brainthwaite, Coleman, Digne and Holgate are all back so we've got more than enough cover defensively.
This is the team I think we'll start with (4-4-2-ish):
Pickford
Coleman - Mina - Keane - Digne
Rodriguez - Allan - Docucoure - Bernard
DCL - Tosun
This is the one I'd like to see (4-3-3 or 4-5-1-ish):
Pickford
Coleman - Holgate - Keane - Digne
Allan - Sigurdsson/Bernard - Doucoure
Rodriguez - DCL - Gordon
Brian Hennessy
23
Posted 06/11/2020 at 16:39:13
Good news on Coleman, Holgate, James and Delph.
Dan Nulty
24
Posted 06/11/2020 at 16:44:09
Get Holgate straight in for Mina.
Robert Williams
25
Posted 06/11/2020 at 16:54:42
Off Topic. Just a word to all ToffeeWebbers living in the Liverpool Covid catchment area. Get tested, keep safe and more importantly tell the youngsters to act sensibly as there is an awful lot at risk. The sooner we beat this virus the sooner we can all get back to watch the boys in blue again. Coybs
Richard Mason
26
Posted 06/11/2020 at 17:30:41
To be honest, the 433 was working great at start of season. Richarlson is only player missing. Gordon is his natural replacement really. So team that won 5 should play maybe Mason instead of Mina
Pickford
Coleman Keane Holgate Digne
Allan dacoure gomes
James DCL Gordon.
Jack Convery
27
Posted 06/11/2020 at 17:37:36
Its Friday has a RS player said anything about Pickford yet. Last 2 Fridays Allison and Adrian have called out Pickford, so who's next ?
My team for tomorrow if all fit are Pickford, Coleman, Keane, Godfrey, Digne, Allen, Doucoure, Davies, James, DCL, Gordon.
COYBs show no mercy and put a smile back on our blue nosed faces !!
Brian Wilkinson
28
Posted 06/11/2020 at 17:38:18
Robert@25, get tested and stay at home for 14 Days if positive, already in lockdown until December.
Getting tested will not make any difference, what we need is a vacine.
Dale Self
29
Posted 06/11/2020 at 17:41:38
Nice Mike, I'm always looking for the Carlo breakdown. Thanks to the forum for providing this distraction from the small mess being sorted out over here.
Pickford
Coleman Keane Holgate Digne (Godfrey, Nkou2 subs)
Allan Doucoure
James Gordon
DCL
Siggy perhaps at 70' preferably to get James off the field if we can afford it.

Ciarán McGlone
30
Posted 06/11/2020 at 17:50:38
Pretty pessimistic about this one. The Newcastle match was a proper come down...
Jim Bennings
31
Posted 06/11/2020 at 17:51:57
This is a game where either United turn up and absolutely cut us to pieces with their attacking threat (and out slipshod defence).
Or their players turn in a "we want this manager sacked" performance, think David Moyes April 2014 with the old Grim Reaper in the Family Enclosure.
My team would be uncomplicated, Carlo needs to just pick round pegs for round holes tomorrow.
Pickford
Digne
Keane
Godfrey (if fit)
Coleman
Allan
Doucoure
Rodriguez
Bernard (number 10)
Gordon
DCL
Simple team with straightforward balance, given with whats available, no more shoehorning players in positions they can't play in.
David Pearl
32
Posted 06/11/2020 at 17:55:53
Well the slide must be addressed now, enough already. Back four l would give Godfrey a go next to Keane (he cost 30m for the love of rod).
The rest? I would keep the shape that got us maximum points from the first 4 games and play Tosun up top, and tell him not to chase around and stick to the box. So l'd move DCL over to play the Richarlison role.
3 points is a must.
Michael Barrett
33
Posted 06/11/2020 at 18:07:40
For godsake Everton give us a performance that can make us proud this weekend.
Eddie Dunn
34
Posted 06/11/2020 at 18:12:11
On the Ole situation -it's utterly ridiculous how the media are rounding on the guy, the latest manager with the poison chalice. The media have an insatiable appetite to see Potchettino in that job, indeed Sky, BT et al will all want the showbiz element of the nearly man at Spurs making United great again!
Back on planet Earth, we should take all of this media nonesense and criticism of United with a pinch of salt. Rashford is on fire, Greenwood has been jettisoned by Southgate(has a point to prove ans scored a cracker against us last time), Martial got a wonderful header in midweek and the much-maligned Shaw has been getting to the bye-line and providing some excellent crosses of late.
Arsenal nicked it against them and the Turks were underestimated.
Forget all of that- we are now their competition and were top last week, they will be motivated to take our scalp, steady Ole's ship and climb the table.
This will be tough and their brilliant attack will score whatever defence we assemble.
We simply have to score two goals to get a draw, but need three to get a win.
We desperately need Seamus, Digne and James to put some quality crosses in and please God, put Gordon on at some point, oh and give Doucoure licence to go box-to-box.
Eddie Dunn
35
Posted 06/11/2020 at 18:13:05
David Pearl...are you a Faces fan?
Fran Mitchell
36
Posted 06/11/2020 at 18:23:47
Gordon should play, but feel he won't. Ancelotti clearly isn't trusting him, but I feel he should come in.
But having our right hand side is very important. We have been so central with Coleman out of the team, he gives us width and he deserves a lot of credit after many people (including myself) thinking he was past it. Getting his long term replacement needs to be top priority over the coming months, and won't be easy (yet hopefully we make easy work of it, as we did with Baines).
The key questions then are central midfield, and left wing/attack.
I'm guessing Iwobi, although Bissaka will have him in his pocket. And probably Siggy again. Neither inspire.
I'd like Davies to be given a shot. He hasnt had a chance this season, and the others have and have stunk.
Rob Dolby
37
Posted 06/11/2020 at 18:26:00
Key battles tomorrow will be Coleman against Martial, He always looks class against us.
Rodriguez against Shaw if fully fit I fancy our man to rip him apart.
At some point we have to show some balls without Richarleson in the team.
Dave Williams
38
Posted 06/11/2020 at 18:38:05
Tom in midfield and Gordon wide left. Holgate or Godfrey for Mina.
If we work hard and fight we should win. Anything less and they have players who can score goals. Blow them away from the start as they may be tired after Thursday.
Barry Rathbone
39
Posted 06/11/2020 at 18:43:00
If we can't beat Utd in their present state under the hapless Solsjkaer we really are returning to mediocre central
Steve Shave
40
Posted 06/11/2020 at 18:45:57
Richard 26 that would be my starting 11 too.
Robert Tressell
41
Posted 06/11/2020 at 18:54:21
Fran @36. I agree Tom Davies needs to be given his chance to stink too. Everyone else had had their turn.
David Pearl
42
Posted 06/11/2020 at 19:01:23
Eddie, 35. More of a Rutles fan.
Martin Berry
43
Posted 06/11/2020 at 19:04:04
Utd at their best can move the ball well in midfield, we need to tackle everything in that arena.
Additionally we need to take advantage of all the set pieces we get and rain in those crosses, I have a feeling Yeri Mina can do some damage tomorrow, and by that at mean at the oppositions end.
Ciarán McGlone
44
Posted 06/11/2020 at 19:05:26
Love the optimism lads..
But we were beaten by a truly average Newcastle side.
Start Sigurdsson, then it's a foregone conclusion.. I have zero evidence to conclude otherwise..
Ciarán McGlone
45
Posted 06/11/2020 at 19:06:09
In true Rutles fashion.. we might as well drink tea..
Per Stumo
46
Posted 06/11/2020 at 19:14:48
@41 Robert, Davies is likely injured and so is Godfrey. Both just pulled out of the England U21s.

Clive Rogers
47
Posted 06/11/2020 at 19:15:20
To beat Utd we need to attack their defence, something we didn't do at Newcastle for the whole 90 mins. It has to be Gordon on the left.
Brian Harrison
48
Posted 06/11/2020 at 19:19:57
Let's hope we don't live up to the stat that without Richalison we don't win. we will be much better with James, Coleman and Digne back in our ranks. I hope we start the game positively and are prepared to get men forward, they like us come into the game having lost the last 2 matches. Whatever happens we can't afford to lose this game, as a loss will see us slide back to mid table.
I hope Carlo encourages Doucoure to get forward more than he has in the last couple of games, having him sitting back we lose his biggest strength which is getting forward to help the attacks.
It will be interesting to see what side Carlo starts with, I think with the pace of Martial and Rashford, we cant afford to play both Mina and Keane. Seeing Keane has looked the more solid of the two then maybe Godfrey or Holgate start instead of Mina tomorrow.
Dan Nulty
49
Posted 06/11/2020 at 19:20:31
Eddie, of course the media want Ole gone as it gives them something to write about. They'd much rather fill the air time and paper columns with speculation so people will bet on his replacement than fill the columns and air time with insightful reports.
It is exactly why most of the media wanted Brexit, although Murdoch also wanted it because the EU were blocking his various business dealings.
Steve Carse
50
Posted 06/11/2020 at 19:43:46
Robert (25) can I suggest you keep your advice to yourself, 'off topic', indeed it is (oh, and widen your reading on the subject).
Will Mabon
51
Posted 06/11/2020 at 20:06:10
Brian @ 28, there'll be no winning either way. Soon enough the soldiers will be in to "Help people to access" testing.
Gonna be a lovely globalist Christmas.
Ricky Oak
52
Posted 06/11/2020 at 20:10:30
Couldn't make it up,, Walcott playing a blinder, set up goal inside 7mins,,wtf is wrong with our club,, we seem to hold every player back,, don't understand it,, Walcott playing like hames on speed...
Justin Doone
53
Posted 06/11/2020 at 20:13:09
Would love a win and a quick tempo start would be a welcome change from our recent losses.
What we must not do is concede first!
Do not give Utd an opportunity to simply sit back and counter attack having taken the lead. They could blow our slow and ponderous defence away with a long ball to their rapid forwards.
We need to keep possession to frustrate them in the middle of the park but always looking for the forward ball, delivering dangerous crosses.
Happy for Kenny to start, he can pass and cross unlike Seamus.
Danny Broderick
54
Posted 06/11/2020 at 20:15:12
I'm feeling confident thanks to the fitness news. Glad to have 3 of our 4 key players back. My team would be:
Pickford
Coleman Keane Holgate Digne
Davies Allan Doucoure
Rodriguez DCL Gordon
The only alternative should be Iwobi in for Gordon, as he did well when he came on last week. But the game is up for Sigurdsson and Bernard surely? Gordon offers us more than them, which is damning when you consider where he is in his career and where they are in theirs...
Everton 2-0 Man U.
George Cumiskey
55
Posted 06/11/2020 at 20:15:52
Dave Carse@ 50 who supplies your reading material David Icke ?
Ricky Oak
56
Posted 06/11/2020 at 20:16:29
Oh yeah and it's a police state BTW, has been for years now,, its now more acceptable,,, apparently...
Will Mabon
58
Posted 06/11/2020 at 20:19:06
See you haven't read much either, George.
Justin Doone
59
Posted 06/11/2020 at 20:22:44
They will not be tired, for heavens sake they are professional players only 10 games or so into a season after 3 months off not that long ago.
Also, please stop with the must win, now or never comments. Sadly Utd are a better side than us. They finished 3rd last season and have strengthened the squad.
Yes we have also improved our first team but they are a very good side in a bit of poor form. We can beat them, but we need a very good performance and maybe a bit of luck.
Per Stumo
60
Posted 06/11/2020 at 20:24:54
@52 Ricky, Walcott's playing as a striker in a 4-4-2 isn't he? He always said that was his best position but everyone kept playing him on the wing, including us.
Paul Birmingham
61
Posted 06/11/2020 at 20:33:39
Massive game, as every next game is, but the game must be won by Everton, one or another without our Talusman, Richarlison.
Bearing that the last x2 games have been very poorl6 player by Everton, tomorrow is chance to get back on par.
If Seamus and Mason are fully fit, it would be hard not to pick them.
I'd use Nkounkou, as an impact sub, and start Gordon and if fit Tom Davies.
Get the crosses in for DCL, Maguire turns like an oil tanker, so I hope Everton got the kill early and take their chances..
Hopefully tomorrow night will be a good one for Evertonians.
Ricky Oak
62
Posted 06/11/2020 at 20:37:38
He is Per @60, its just beyond a joke tho,, he's gone there and even the commentary is positive on him,, its all,, young theo this and the whole atmosphere seems more positive somehow,, I cannot really find the words to explain it,, it just feels like Everton have a hoodoo on them for some reason,, Its since the heysal disaster am sure of it,, for some reason we been associated with the blame for it,, in the media and in the general public,, might just be my mind tbf,, and its only my opinion,, just fishy,, has been for years
Sean McCarthy
63
Posted 06/11/2020 at 20:40:13
Seriously, anyone putting Iwobi in the side (or even on the bench) needs to have a word with themselves!! Hes absolutely useless and should not be anywhere near the side!! How many chances will he be given to show hes up to the required standard? Please No More!!!
Ricky Oak
64
Posted 06/11/2020 at 20:43:22
It's like iwobi, could almost guarantee when he goes elsewhere,, he'll suddenly become the player brands brought,, something seriously wrong at our club,, someone somewhere in power has our ballsack in a vice, just saying
Sean McCarthy
65
Posted 06/11/2020 at 20:48:14
Ricky - ask any Arsenal fan what they think of Iwobi. After they stop laughing at the thought that we gave them £35m for him, they tell you he hopeless for them too!! If you're waiting for him to come good, then I hope you're a patient man!!
Tony Twist
66
Posted 06/11/2020 at 20:50:32
Not confident, United have some really good players and I suspect that we will allow them far too much time and space to play. We shouldn't but we shouldn't be losing to the likes of Newcastle. This game is set up for one of two scenarios either they want their manager out so therefore don't turn up (please please please god) or they want their manager to stay and are pissed off with the loss in Europe and want to right some wrongs.
We need to attack them from the off and remove any glimmer of hope for them.
My team would be:-
Olsen (sorry but I think Pickford would just c*ck things up),
Coleman, Keane, Holgate (Mina would just c*ck things up), Digne,
Allan, Doucoure, Nkoukou,
James, DCL, Gordon.
Best of luck blues.

Ricky Oak
67
Posted 06/11/2020 at 20:56:37
Lol, okay Sean mate, I can't quite find words tbf, its just weird uno,, am watching scummers v magpies and can only wish to be given a fiver everytime Walcott had been spoken about in a positive way uno,, yet whilst at us he was dog shite on pitch and by all in commentary,, I hate it that Everton seem like a whipping boy club to everyone who doesn't support us,, even ex players have no real loyalty or take any chance to redress the biased bs that goes on,, it isn't just in my head is it...?, feels like that saying,, " just coz you're paranoid,, don't mean it ain't happening"
Ashley Roberts
68
Posted 06/11/2020 at 20:59:09
For me the line up has to be the same as the one that started the season so well. So that includes Mina in defence with Seamus Keane and Digne and Gomez in the middle with Allan James and Dacoure. We need pace up top and so it has to be Gordon for me taking Richy's place. The big issue for me was letting Moise go and Walcott, without replacing either. Without another recognized striker (Tosun doesn't cut it) we are certainly short in this area if we get any injuries. It is great to have Seamus and Mason back but I am thinking due to a lack of match fitness, Mason will start on the bench. It is going to be very interesting who will end up being the recognized central defenders. I would think Mason and Godfrey but who could drop Keane at this moment in time? I think The Manure will come all guns blazing and so I am not sure I can see past a draw without Richy playing.
Per Stumo
69
Posted 06/11/2020 at 21:01:40
@62 Ricky, yeah I know what you mean. It definitely feels like we're a bit cursed. Might be time to shed all the shit from the past and look forward.
Ricky Oak
70
Posted 06/11/2020 at 21:07:19
Also realise I will not be missed,, just don't think my heart can take watching or listening tomorrow,, can almost taste exactly how it's gunna go,, been so many times the 'rub of the green', goes against us uno,, colina, niassie, the goal last year where sig was classed as being in goalies eyeline, yet them calls never ever get called again on any other team in the world,, let alone prem,, its literally self abuse supporting Everton,, like peeling my own nails out fingers n feet,, can only be because we are God's club,, and this world is run by darkness,, or it could be that I've had no contact with anyone for weeks Lol
Will Mabon
71
Posted 06/11/2020 at 21:17:53
No contact is not good for you, Ricky - so you need to watch the game! Too much has been taken away already.
Tony Hill
72
Posted 06/11/2020 at 21:32:20
Ricky @70, I think the best post I've read on here, ever. You speak for me and most of us I suspect, from the depths.
I remember when young Rooney left and there was written on the back of some girl's Everton shirt: " We hate him so much because we loved him so much"; that's what it's about, the fucking awful entanglement.
We can't go on, we will go on; as the Irishman almost said.
Fran Mitchell
73
Posted 06/11/2020 at 21:37:17
There is a common trend with Utd - if they play attacking, open teams then they can rip them open with Rashford, Martial, Fernandes and others. With space, they can really do damage.
However, when the opposition sits back, then Utd really struggle. They can't find space, get frustrated and have no real plan b. This seems them lose to teams like Palace and Istanbul but beat Leipzig and PSG.
So we should not try and attack them, but we should sit back. So maybe playing more of a 5-3-1-1 could be best for a result. Coleman and Digne providing width, Allan, Doucoure and Whoever closing the midfield. James and DCL on the counter (James.with the passes.and finding the space, DCL running).
Tony Hill
74
Posted 06/11/2020 at 21:39:07
PS, Ricky, if you need to speak to people speak to us, as you are doing. Don't close in on yourself, mate.
Steavey Buckley
75
Posted 06/11/2020 at 21:46:58
Walcott who is keeping Redmond on the bench is playing with far more freedom and not restricted to any of the wings, so, is playing far better than with Everton.
Iwobi is another player who needs to have greater freedom than stuck on any of the wings, because he is not an out and winger and neither are Bernard or Gordon.
The last winger Everton had of any note was Steven Pienaar whose combination play down the left with Baines was outstanding.
But playing Sigurdsson and Gomes from the beginning of the match tomorrow will be a waste of time, because both players lack a half a yard of pace.
Tony Hill
76
Posted 06/11/2020 at 22:00:22
Win tomorrow and we go top. Will the dread of success once again destroy us? That, there, is the problem we must solve.
Will Mabon
77
Posted 06/11/2020 at 22:14:33
"The dread of success".

That's quite a concept, Tony.
Joe McMahon
78
Posted 06/11/2020 at 22:14:36
Ashley, fully agree Walcott scored several as a striker for Gunners, so he and Kean allowed to be loaned as we keep the absolute useless wooden potato Tosun.
Ernie Baywood
79
Posted 06/11/2020 at 22:16:16
A lot of doom and gloom about. If we win we will be momentarily top of the table having played half of the 'big 6' in our first 8 games without defeat. So a realistic, not fortunate position.
All it will take is a win against a very ordinary Man Utd team.
I just wish we had Richarlison. But surely we put Gordon on that flank to give James a willing runner out wide and to put a bit if pressure on that nervous Utd defence? It's a bit too obvious to not happen isn't it?
COYB! Let's hope we're all very upbeat after the game tomorrow.
Dave Lynch
80
Posted 06/11/2020 at 22:19:32
Still can't believe we got beat by the barcodes after watching them tonight.
But then again that's Everton in a nutshell, I've prepared myself for a top 10 place by Christmas, you just know it will happen.
That Derby debacle and hatched job by the press has taken the wind right out of our sails.
Bobby Mallon
81
Posted 06/11/2020 at 22:20:45
As always our players and managerial team will let us down as they have done on many occasions especially the last two games.
Joe McMahon
82
Posted 06/11/2020 at 22:26:46
Dave, it's also because we still have to play Mina, Sigurdsson and Iwobi. Pickford will also not feature for a top 4 team. Carlo will need I feel 2 more transfer windows. The recruitment for a while at Southampton, Leicester and Wolves has been a good model to follow.
Dave Lynch
83
Posted 06/11/2020 at 22:32:39
Agree Joe.
But surely they can play for the shirt and manager.
I'm sure he doesn't tell them to look uninterested and shit, in Carlo I trust, he's the best thing to happen to this club in decades.
I'm praying for 3 players in January and one of them is Isco.
Tony Hill
84
Posted 06/11/2020 at 22:37:50
A bit grand, Will, I acknowledge. We are frightened, though, and it keeps killing us.
Tom Bowers
85
Posted 06/11/2020 at 22:47:11
I am not so much worried about who is fit and who isn't.
The main thing is who is going to perform well and help get the team off and running again.
Manure are still full of dangerous players and they may want to show Ole that they want him around given the rumors about Poch.
It could be a treble for Manure managers to lose their jobs after an Everton game but I just want an Everton win no matter what.
Without a crowd behind them it could be yet another blah game especially without Richie still to help the offence but surely Carlo will have them up for this one. Won't he ??
Will Mabon
86
Posted 06/11/2020 at 22:49:57
Not too grand, I agree, Tony - you isolated it well. We've all seen it many times over the years; the "Small club" mentality in a big club wrapping.
John Pierce
87
Posted 06/11/2020 at 23:06:59
Fran 73. I posted a similar point. With the addendum that we can't sit and counter without Richarlison. Calvert-Lewis is a willing runner but not good enough in a counter attack scenario. He's neither accurate or clinical enough, James is no speedster either, who else provides the threat?
That team is built for playing on the opposing half. James, Allan and Digne all need lots of involvement, to set the tempo and get into the game. We still are pretty average without the ball.
I'd go for it in the first 30minutes, the aim to establish a lead which United will find fairly difficult to overturn. Remember defensively we have been poor. We've conceded 2 goals in 5 league games. I'm afraid our strategy must be to attack.
Sitting back although entirely logical, looks like folly to me.
Derek Thomas
88
Posted 07/11/2020 at 00:22:51
Ricky Oak @8; Re. your point on how the media see us and will see any result we get against Untd...It will be all about how bad Untd. were, just like it was all about how bad WBA, Brighton, Palace and Spurs etc were.
Stick with us mate, misery loves company, the more the (un)merrier on here.
Nicholas Howard
89
Posted 07/11/2020 at 01:54:39
Ricky(50), Per Stuma(69)
First Kean, then Wilcott. now we are not playing Gordan when likes of Iwobi, Sigurd & Gomes play like shxt.
Manager problem? Player problem? or Everton club cursed luck?
I hope we can buck up especially midfield, not allowing Manu midfield to roam at our final third easily. With Coleman & Digne, our right and left rear should be covered having say that, middle third Allan & Docoure...waki waki wake up please
Billy Dawber
90
Posted 07/11/2020 at 02:58:04
A few games ago we all would have been looking forward to playing Utd, but not so sure now. Can't think of a line up that will stifle them without Richie being there. I do think the only way to beat the so called big 6 is just to go out and attack like fk. No pissing around at the back or midfield, just get the ball up front and attack. Simple! NSNO.
Nicholas Howard
91
Posted 07/11/2020 at 03:50:00
Dave(80),
We just cannot have a midfield combination of Delph, Sigurd & Gomes . slow, uncreative, can't defend & most importantly other teams midfield can have a field day over them...
Ricky Oak
92
Posted 07/11/2020 at 06:33:33
Wow,, thank you, especially Tony,, you have relight why I love Everton so much, we are chosen, the team has the skill, the club is mahoosive, manager world class, even the board with all its human errors, has passion,, if anything just feel we need a stronger personality to run what gets spoken about in the media,, I expected to get ripped apart from texts last night,, really unbelievable that you've made me feel so much better than a cursed piece of shit,, its not just a game,, look at the difference in the media already now the scummers are top,, already,, its positive for them and general atmosphere is,, they worked hard for it,,, not sure how to beat the entire world,,but one game at a time at least gives us the opportunity to fight like fck for our voice,, I swear you could put the under 23 in against anyone, add one or to real class experienced players,, and be so much better than the dross of last two games,, maybe,, it is about inhalers, and we don't have same 'sports science', however, with heart n fight n a little class we can win this league, it's wide open,, starts 'again', today!!
Come on Everton!! Freedom demands it of ya!!!
Sam Hoare
93
Posted 07/11/2020 at 07:32:11
Having Digne and Coleman back will make a huge difference if they are fit and raring to go. I wonder how fit Coleman and Rodriguez will be.
United are beatable and low on confidence. Their performance may depend on how the players feel about OGS.
Left wing is crucial. And difficult. Iwobi was terrible in his start against Southampton but was useful when coming on against Brighton and Newcastle. I would suggest Gordon for his direct running but AWB is one of the hardest defenders to dribble past in the league and for that reason I'd be tempted to stick with Bernard or Iwobi whose passing is better, I know the latter gets a lot of stick but he's actually been involved in a few goals this year and his calamity performance came away against a team who increasingly look very impressive and sit top of the league.
Jonathan Tasker
94
Posted 07/11/2020 at 07:39:57
Massive mistake to bring back Pickford. It means it's going to be very hard to win the match.
Derek Knox
95
Posted 07/11/2020 at 07:42:16
Yes Sam, having those two back will make a significant difference, it is the extra midfielder, and the Left Wing/Forward that could be a conundrum. Gomes has been awful since his injury, and I can't see if he is included today that will buck that trend.
Likewise Bernard, who has undoubted skill and the odd trick in him, is too easily outmuscled and spends too much time on his derriere. I am in the Anthony Gordon Camp and believe that he would be chomping at the bit, in a game if picked today.
There has been no real hints coming from Everton's Official Channels, as to who will get the nod, and similarly who will be on the bench if things don't go to plan A.
Slightly off topic but I see Forest Trump has almost been Gumped and Dumped, and not before time either. Considering the population of the USA how the hell did he get in there in the first place?
Bill Fairfield
96
Posted 07/11/2020 at 07:54:01
Let's hope we set up in a more positive way and take the game to the opposition, unlike the last game, which only encouraged what was a poor opposition to become more confident.
Fran Mitchell
97
Posted 07/11/2020 at 07:54:59
It's a good point, John, but as you say, our defence is leaky and, if we give space, Rashford, Greenwood and Martial could score a couple of early goals which would probably rock our confidence, make us push further, and leave us vulnerable.
Not having Richarlison is a massive miss for us: his pace, running and general nuisanceness is a huge part of his game. Not to mention he was also the main target of James's wonderful passing.
But Calvert-Lewin has pace, and James doesn't need pace as his vision gives him a few seconds before anyone else.
But if we're solid, then all we need is one quality pass through an open Man Utd defence for Calvert-Lewin to finish. Then they may crumble.
We just can't underestimate Man Utd's attack, which is brilliant and is worth seeing the way they have lost most of their games this season.
Tony Everan
98
Posted 07/11/2020 at 08:03:01
I feel Carlo has a reluctance to use Gordon and is minded to play senior players ahead of him, the AWB factor you mention could sway things.
A strategy could be getting Digne to fire in crosses to Calvert-Lewin from deeper positions. Bernard, I am concerned about whether he is mentally still at the club. He will be deliberating moving in January, I don't know what to expect from him anymore.
Digne and Nkounkou seem to have an understanding together. Digne has taken him under his wing. With Digne being a mobile and quick left-back having Nkounkou play in front of him could guarantee crosses in from the left from one or the other. This could overcome AWB's defensive play.
Nobody guessed Carlo's team last week out of about a million attempts...but here goes. a fluid 4-4-2
Pickford
Coleman Keane Holgate Digne
James Allan Doucouré Nkounkou
Iwobi Calvert-Lewin
Iwobi in a fluid free role attacking the left-back and coming inside to an attacking No 10 position.
Tony Abrahams
99
Posted 07/11/2020 at 08:18:41
Good spot Tony H, but I much preferred Ricky's post this morning, which sums things up much better for me.
Doucouré or Davies and Allan in the centre, for me, with Rodríguez ahead and Bernard and Davies or Doucouré either side of hopefully the little magician.
Make it hard first, though: it's the first rule of football, to make it hard for your opponents.
Martin Mason
100
Posted 07/11/2020 at 08:23:58
The nightmare is Rashford and Greenwood running through Mina.
Martin Berry
101
Posted 07/11/2020 at 08:42:30
I wonder if Carlo will be tempted to offer Calvert-Lewin support in the way of Cenk Tosun at sometime during the game?
An interesting article in the Echo mentioned Carlo saying he was a very good finisher in the box; he obviously has been impressing in training and Carlo liked what he saw.
Maybe he still has an Everton future as Carlo has just "discovered" the player since him arriving and the player coming back from long-term injury.
Hugh Jenkins
102
Posted 07/11/2020 at 08:45:44
Nicholas (91) and others - I might have misheard but I thought Carlo said in his press conference yesterday that Delph had "picked up a knock" and was not in consideration for today's game?
Anthony Murphy
103
Posted 07/11/2020 at 08:49:44
A lot will depend on what Man Utd shows up. The difference today could rest on whether they are truly behind Ole and motivated to get a result to keep him in the job – or are aware he is a dead man walking and therefore what you get today is an end-of-reign type performance that we as Blues are all too familiar with...
Stan Schofield
104
Posted 07/11/2020 at 09:23:18
Anthony@103: That's true, but the biggest factor is how well we play. If we string it together, we can beat anyone. But if we don't, we'd struggle against anyone. That's the frustration.
Gary Carter
105
Posted 07/11/2020 at 09:24:42
Team should be
Pickford
Coleman Keane Holgate Digne
Allan Doucoure
James Sigurdsson Gordon
DCL
Danny Broderick
106
Posted 07/11/2020 at 09:27:10
I believe if we defend deep today we will nullify the pace of Martial and Rashford. Hopefully Allan will take care of Fernandez. And if we can do this, I honestly think we will win.
Rob Hooton
107
Posted 07/11/2020 at 09:28:37
I hope Carlo gets this one right, I think he erred in the last 2 matches and has hopefully learnt more about who he can and cannot trust - although to be fair we were missing our 4 best players against the barcodes.
We need to up the tempo and put a stop to the crab crap!
Gary Carter
108
Posted 07/11/2020 at 09:30:02
Tony Everan @ 98
I actually laughed out loud when I saw that lineup and comment, the only fluid thing about Iwobi is his bank balance. His a clumsy lumbering mess of a footballer 😂 And Nkounkou at left midfield, no thanks, he's a left back and also showed pretty much nothing against Newcastle, he was poor and needs time to get used to the English game
Bill Watson
109
Posted 07/11/2020 at 10:02:01
Delph is out injured? The first shock news of the weekend!
Vijay Badhan
110
Posted 07/11/2020 at 10:21:27
Olsen, Coleman, Godfrey, Holgate, Digne, Gordon, Allan, Doucouré, Rodriguez, Calvert-Lewin, Bernard.
Olsen for me did enough to keep his place against Man Utd as Pickford has been so erratic recently and needs a break from all the negative attention he has been getting. He is still a good goalkeeper in my eyes but he needs to mature a little which hopefully will come with age.
Coleman returning to his rightful position is a must. We have nobody better in his position in the current squad and he has been a top consistent performer for us since he came into the side under Moyesie.
Keane has played well so far this season but, for me, he does not have the all-round abilities to be a top-drawer centre-back. Mina has been inconsistent in the games he has played so far and has cost us a few goals already this season so, in the two centre-back positions, I would go with Godfrey who has pace and height which we severally lack in the defence alongside Holgate, whose passion, energy, ability and drive make him a future captain in my opinion. Left-back has to go to Digne who has fantastic crossing and attacking skills.
Midfield: Allan next to Doucouré clearly looks like a combination that going forward has a lot of potential and the third midfield position is a little harder to select. Iwobi and Gomes have both been poor so far this season as has Sigurdsson so Anthony Gordon although still very experienced could provide that missing link between midfield and attack that has been missing since Richarlison got banned.
Upfront, I would play Rodriguez alongside Calvert-Lewin and the final place upfront would go to Bernard who, I feel in the final third of the pitch, can make a difference with his quick feet and passing.

Len Hawkins
111
Posted 07/11/2020 at 10:33:22
If Iwobi plays then the only assumption that can be made is that Carlo thinks if I play him often enough the law of beverages says he must have a good game sometime.
£35 million I'm surprised the bobbies aren't investigating us for money laundering.
Si Cooper
112
Posted 07/11/2020 at 10:38:39
On the plus side, Utd are no bigger threat than Southampton on current form; but Southampton beat us pretty easily; but (presumably) we will be more pumped up just because it's Utd!?!?!
Attitude / application right and we can go back to top of table, play like we did against the Toon and we will get thumped.
Can't let them control the midfield and can't let them bottle us up hard against our own box.
Raymond Fox
113
Posted 07/11/2020 at 10:43:17
Lydon has pretty much summed the game up.
Why do we always drop on teams when they are desperate for a win.
We are still without Richarlison and that could be the difference.
If forced to bet I would have to back Utd with the draw a close second.
I'm a proverbial pessimist so that does tend to affect my judgement, so heres hoping we can get a result.
Laurie Hartley
114
Posted 07/11/2020 at 11:12:36
We need to give Wan Bassaka some defensive duties. I would play Bernard on the left wing in this one.
I think the starting line up will be :
Pickford
Coleman, Keane, Mina, Digne
Doucoure, Allan, Gomes
Rodrigues, DCL, Bernard
Up the Blues!!!
Dave Abrahams
115
Posted 07/11/2020 at 11:28:09
Martin (100), why do you worry about Rashford and Greenwood running through Mina, do you think Keane is any different ? Sorry, now you've got something else to worry about.
David Hayes
116
Posted 07/11/2020 at 11:32:36
As I have posted before, the Newcastle debacle , without Richarlison our game reverts to Three stage sideways and backwards, slow and predictable easy to defend against, DCL isolated and mostly apart from set pieces nullified. The only difference this time against Man Utd being they won't sit in two banks of five in front of us, but will over run and boss our midfield. So it all depends on how much fight and energy we have in the middle. The evidence of the last two encounters is that we have the slowest midfield and least combative reaction in that vital area of any team in the prem. Hitting on the counter without Richarlison is not a viable option. So the only resort is to soak up pressure and set piece attack. We all know we can't keep clean sheets, So Sadly unless they completely don't turn up or luck and the ref/ var is as generous as it was against the RS, can't realalistly see a win today. Hope for stand out performance and lot more fighting spirit and effort.
Dave Abrahams
117
Posted 07/11/2020 at 11:40:08
Ricky (92), sorry you were feeling so down over the Blues, you know sometime in the last week you did two quick posts about how the Everton board should get up and fight the media, the way they put us down, or words to that effect, I don't don't keep records, work off the cuff, but Ricky those two posts of yours really bucked me up, made me laugh, nod my head in agreement, mostly made me note your name, " He's definitely one of us" I thought. Glad to see you've perked up today, that's the spirit mate. Come on you Blues, up and at the bastards today.
---
Add Your Comments
In order to post a comment, you need to be logged in as a registered user of the site.
Or Sign up as a ToffeeWeb Member — it's free, takes just a few minutes and will allow you to post your comments on articles and Talking Points submissions across the site.