Iwobi on target while Mina sees red
Friday, 13 November, 2020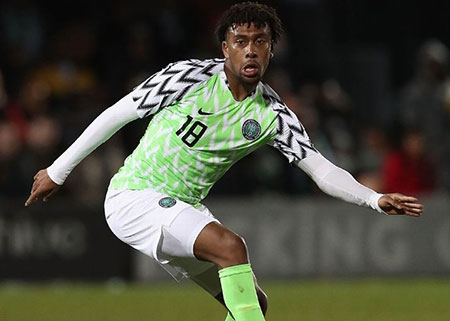 Alex Iwobi scored twice as Nigeria roared into a 4-0 lead against Sierra Leone but the Super Eagles gave it all back in the second half while Yerry Mina was sent off as Colombia lost to Uruguay.
Iwobi scored the opener after just five minutes and doubled his personal tally in the 27th minute to make it 3-0 while the Everton-linked Samuel Chukwueze added a fourth with just 29 minutes gone.
Sierra Leone pulled one back in the 41st minute to give themselves a chance going into the half-time interval and went on to score three times in the final 20 minutes to earn a 4-4 draw in Africa Cup of Nations qualifying.
Meanwhile, James Rodriguez and Yerry Mina both played the full 90 minutes of Colombia's CONMEBOL region World Cup qualifier against Uruguay who scored in the fifth minute through Edinson Cavani.
Mina collected a booking after 20 minutes and the hosts would fall further behind in the second half when Jeison Murillo fouled Rodrigo Bentancur in the box and Luis Suarez converted from the spot to make it 2-0.
Darwin Nuñez effectively put the contest beyond Los Cafeteros with 17 minutes to go when he fired in Uruguay's third and Mina picked up his second yellow in stoppage time.
Later, Richarlison played 75 minutes and Allan the whole game as Brazil edged Venezuela 1-0.
Elsewhere, Tom Davies was an unused substitute for England U21s' Euro qualifier against Andorra. Ben Godfrey was absent from the matchday squad.
---
Reader Comments (87)
Note: the following content is not moderated or vetted by the site owners at the time of submission. Comments are the responsibility of the poster. Disclaimer
Tony Abrahams
2
Posted 13/11/2020 at 19:52:48
Iwobi definitely has ability, but he hasn't done anything near enough to convince, since he signed for Everton. What makes it even more frustrating, is that it seems to be through a lack of desire, rather than a lack ability, so maybe the lad has a few confidence issues, and also probably doesn't feel comfortable playing out wide?
Dave Abrahams
3
Posted 13/11/2020 at 20:00:38
Tony (2), it's quite possible he is missing London. Not many cockney boys travel up north and do well, or maybe he was just as poor in his own backyard.
Eddie Dunn
4
Posted 13/11/2020 at 20:00:47
Tony, where did they play him tonight?
Will Mabon
5
Posted 13/11/2020 at 20:01:59
Highlights are on YouTube. Nice second by Iwobi.
Kase Chow
6
Posted 13/11/2020 at 20:07:44
He definitely has ability. Not sure what the problem is.
It's the same with Gomes and Sigurdsson to be fair. Even Kean.
Seems they can't handle the pressure of expectation to play for Everton.
Ray Roche
7
Posted 13/11/2020 at 20:17:51
Tony, Personally I don't think it's a lack of desire, I think his confidence has gone. I mentioned on TW recently that his face on one tv close up was that of a man who looked almost frightened. He is clearly talented as he has shown in his performances when he has come off the bench.
We overpaid for him (not his fault) but that price tag and the knowledge that he has to justify it may well be a reason for his below-par performances. Trying too hard.
Tony Abrahams
8
Posted 13/11/2020 at 20:18:03
I'm not sure, Eddie, but he definitely looks a more confident player when he isn't stuck on the wing.
I'd agree with that, Dave, because, off the top of my head, Graham Stuart and Kevin Campbell are the only two cockneys that I can remember settling at Everton.
Steve Mink
9
Posted 13/11/2020 at 20:27:52
Tony @8
Tony Cottee perhaps?
Tony Abrahams
10
Posted 13/11/2020 at 20:31:20
I wouldn't disagree with that Ray, because he always seems in a rush when he's got the ball, with my own opinion being that he probably hates playing out wide?
I remember when I used to play, I found it very easy to go past opposing players, but only if I played inside, because whenever I played out wide, I never had the same desire to beat players, and because I lacked pace, it used to make me want to come inside, and I do see something similar whenever I watch Iwobi play.
Tony Abrahams
11
Posted 13/11/2020 at 20:35:21
Cottee done alright, Steve, but I remember him saying that he couldn't get going in the FA Cup Final against Liverpool.
It was probably the biggest club match of his whole career and he couldn't get going? I could never understand that...
Chris Hockenhull
12
Posted 13/11/2020 at 20:44:49
Tony (8),

Andy King?
Will Mabon
13
Posted 13/11/2020 at 20:57:14
Never heard that one, Tony. Weird...
Darren Hind
14
Posted 13/11/2020 at 21:00:38
The lad's struggled. Maybe he can make mugs of us all.
I fucking hope so...
Alan McGuffog
15
Posted 13/11/2020 at 21:14:46
Psycho Pat?
Tony Abrahams
16
Posted 13/11/2020 at 21:18:02
Wasn't Andy King from Luton, Chris?
And Psycho Pat has always been one of us deep down, Alan!
Sukhdev Sohal
17
Posted 13/11/2020 at 21:25:49
Good for him. He'll still never be good enough for us and we should let him go for anything over £10 million. Also, bottling a lead to Sierra Leone requires a special level of incompetence.
I really hope Allan and Richarlison are available for Fulham.
Gavin Johnson
18
Posted 13/11/2020 at 21:25:57
I really don't understand why Carlo hasn't tried him instead of Sigurdsson and Gomes. He couldn't be worse defensively and he'll definitely offer more in the final third.
Peter Gorman
19
Posted 13/11/2020 at 21:43:50
Tony is right: only Stuart and Campbell settled. Cottee not bad in patches. Stephen Hughes anonymous, Lookman a disaster.
Jeff Armstrong
20
Posted 13/11/2020 at 22:55:47
Iwobi is shite, only shines in league cup against Level 2 & 3 opponents, and 10-minute cameos in the Premier League, absolute waste of £28 million... don't try to justify his place in the squad – he is useless.
John Raftery
21
Posted 13/11/2020 at 23:03:12
Although he will never make it as a winger or front runner, I think Iwobi has many of the attributes to be a good Premier League player. He has some pace, can dribble, pass the ball forward and make decent crosses. The key attribute which seems to be missing is self belief. That may explain why he has not scored anywhere near enough goals to justify the fee we paid.
Jeff Armstrong
22
Posted 13/11/2020 at 23:09:12
So he's not a winger, front runner, or goal scorer, then what the fuck is he? A centre-half? A wingback?
Non-attacking, non-goalscoring Number 10? Give us a clue.
He's a £28 million, £60,000 a week, 10-minute sub when we're getting beat – that's what he is.
Tony Everan
23
Posted 13/11/2020 at 23:17:20
John, I agree he needs much more self-confidence. These two goals will do him good.
To me, he seems to play much better on the right and either coming inside or more often attacking the full-back and whipping a cross in. He's been a bit better of late and maybe the message is getting through to him.
Against Southampton, I was swearing at the TV that he refused to back himself when going forward to get the final ball into the box. Always stalling and choosing the easy safe ball back to a midfielder. He was on the left that day and looked very poor. He seems way more confident on the right and I haven't totally given up hope on him.
Kase Chow
24
Posted 13/11/2020 at 23:22:04
Our recruitment has been so dire.
I understand that dithering Dave Moyes was such a ditherer because a big factor for him was a player's character. That was arguably more important to him than straight-out ability.
I know not all of his signings worked out (Shandy Andy, Per Krøldrup, Royston Drenthe for example) but you can see a clear identikit through:
Jagielka
Coleman
Baines
Cahill
Fellaini
Arteta
Pienaar
Distin
Yakubu
Proper self-belief, proper character, proper desire to be the best that they can be.
I'm not sure many of our current lot have that same feeling/mentality.
Brian Williams
25
Posted 13/11/2020 at 23:34:07
Well, he can only be a forward that has no defensive duties because he can't or won't tackle. I'm not sure if it's self confidence he lacks or courage.
The impression I get (and it's just my personal feeling) is that he seems to enjoy the "easier" side of the game but lacks that last x% that's required to be an effective player at or near the top.
Sam Hoare
26
Posted 13/11/2020 at 23:47:07
Not sure he's ever gonna make it as a wide player as he lacks the acceleration and directness.
I wish Carlo would try him as the most forward of the middle 3. He's our most progressive passer and is a much better ball carrier than Sigurdsson or Gomes. He may not offer a huge amount defensively but then neither do Gomes or Sigurdsson.
We overpaid for Iwobi without a doubt but I'm convinced there's a decent player in there, just lacks the confidence. And the chance to play more centrally.
Richard Mason
27
Posted 13/11/2020 at 23:55:46
I read a report saying he was playing I the Number 10 position. He seems better centrally in fairness.
I agree with a lot on here, he seems to panick a little and rush himself when playing for Everton.
Robert Tressell
28
Posted 13/11/2020 at 00:08:46
I just haven't seen Iwobi look like he's enjoying his football since he's been here. He has quality on the ball and a decent work ethic. But he was a weird signing and I've never pencilled him in to a first 11 and don't expect to. He looks like the sort of player who ends up at West Ham or Fulham after playing about 50 games for us, generally as a stand in or sub.
What a waste. At the time, we needed a left footed right winger with pace and end product. Could have picked up some excellent players for that £28m.
Dale Self
29
Posted 14/11/2020 at 00:31:45
Letting that ball bounce out of play against Newcastle showed me everything I needed to know. He looked more resigned than embarrassed. Deserved the hook at halftime and we should be wary of relying on him. Another player that will shine when the pressure is off and make us wonder why.
Derek Thomas
30
Posted 14/11/2020 at 00:45:38
Dale @29 (and Jeff @22),
I'm with you on that.
Don Alexander
31
Posted 14/11/2020 at 01:08:56
Iwobi, playing for us, is a very expensive version of the "legend" that so many Unsy fans expected Keiran Dowell to be.
Up to now, in both instances, they're prolific failures in the (un)real world of the Premier League.
I blame the players, not the management.
Andrew Keatley
32
Posted 14/11/2020 at 03:12:13
I think it was Iwobi who gave the ball away (badly) for the 4th Sierra Leone goal, and then showed no real desire to get it back. And there, in a nut-shell, is Alex Iwobi.
Gavin Johnson
33
Posted 14/11/2020 at 03:18:22
Don, I see the point you're making but Iwobi has done a lot more in his career than Kieran Dowell. Dowell didn't even play in the Premier League except for handful of appearances, mostly from the bench. whilst Iwobi established himself and became something of a regular under Wenger, and then Emery, winning a couple of FA Cup winners medals in the process. He's also a mainstay in his national side.
Yeah, we overpaid but I'd have him over the some of the other players we wasted money on like Bolasie, Schneiderlin, Walcott, Tosun and Sigurdsson. The lad can still improve and is also a victim of not having a fixed position. That probably lies more with managers as he has said before he sees himself more of a No 10 type player. He has shown in this game and other occasions for Nigeria that he can play centrally. He needs to be given the chance playing there with us until we can bring in a player like Isco, or another player who is an upgrade on what we currently have.
John Pierce
34
Posted 14/11/2020 at 03:41:21
Iwobi, involved in 8 goals and assists at least this season for club and country. Has coming on, in several substitute appearances brightened, the game up.
Gomes, Sigurdsson, Doucoure, Bernard, Davies nowhere near that. Balance his errors with his contributions and do the same to the rest. He's miles better and productive than that lot. Yet he gets slaughtered in comparison.
There's a clear bias for sure.
Ajay Gopal
35
Posted 14/11/2020 at 05:05:25
Iwobi has been very disappointing, but I would then expect him to go to a team like Southampton where his role would be defined precisely, and do quite well! The only times that he has been decent this season is when he has come off the bench.
Maybe therein lies the clue: the rest of the season he should be played as an impact substitute, when the opposition players have tired, giving him more time and room to play and slowly become a more useful player for us.
When Lukaku was on loan at West Brom, the season before he came to Everton, he scored a bulk of his goals from the bench, and that made him ready for us.
Having said that, I would ask Carlo to give Tom Davies more playing time. If Tom had been given as many chances as Iwobi has had this season, I am pretty sure the outcome would have been better.
Tony Abrahams
36
Posted 14/11/2020 at 06:50:35
Great points on both sides of the argument regarding Iwobi, and the clue I'd give Jeff @22, is that maybe playing further forward and inside, might be the only position which really suits Iwobi?
That's very interesting, JP, he's been involved in the making or scoring of 8 assists already this season, which is no mean feat, but I think a lot of the flack is because of how Brian W, describes Iwobi@25.
Does he have it in himself to roll up his sleeves and fight, or will he always lack confidence when the going gets tough? This is the conundrum because Iwobi has definitely got enough talent.
Eddie Dunn
37
Posted 14/11/2020 at 08:15:35
He simply is not a winger. Look how Godfrey struggled at right-back. the fact is that most players are specialists and only a few are able to play in different roles at the elite level.
Iwobi has all of the tools but leaves a couple of them in the van.
Trevor Peers
38
Posted 14/11/2020 at 08:35:47
The obsession with finding a No 10 should end. Barkley, Sigurdsson, Gomes and Iwobi have all played there and been disappointing most of the time – to say the least.
We should concentrate on finding wingers with pace who can add goals. The amount of money Everton have wasted on these players and their wages has been truely enormous.
Iwobi is just the latest import, he's not mentally tough enough to be a success, something you could say about all our Number 10s covering the last three managers. One player doesn't make a team, our failings are much deeper-rooted than just the No 10 position which seems to attract the most attention.
Paul Hewitt
39
Posted 14/11/2020 at 08:55:20
Makes me laugh when I hear people say what's Iwobi's position? Is he an 8 or a 10 – what's that all about? He is a footballer – he should be able to play anywhere. He can't even pass the ball to a teammate, never takes a man on and crosses. Complete waste of money.
Steve Shave
40
Posted 14/11/2020 at 09:02:46
Sigurdsson is a bigger problem than Iwobi. I want to see him gone and then we can spend money on a decent winger (Depay, Boga) and James can come inside, with Bernard and Iwobi coming off the bench.
I want him to succeed; I am in the "he's gash" camp currently, certainly not the player who I watched tear up a Europa League Final, albeit the only person in the Arsenal team who did on the night.
Robert Tressell
41
Posted 14/11/2020 at 09:17:06
Steve Shave,
Memphis Depay – now there's a player. Out of contract at the end of the season too. The player we should have bought the year we signed Bolasie...
Derek Thomas
42
Posted 14/11/2020 at 09:57:30
Memphis Depay; Man Utd, 2 years, 53 apps, starts and subs - 7 goals... and a worse dress sense than Tom Davies. Plus a 'music career' ffs and reported 'life style & anger' issues.
Yep, 5-year contract and £120 grand a week coming right up – Not!
Well, I hope not...
Steve Shave
43
Posted 14/11/2020 at 10:06:37
Derek @42,
He has matured as a player and person since then, he was too young when he went to Utd. He has been at Lyon a long time, the manager was quoted last season talking up his maturity and leadership qualities (which I admit surprised me at the time). His goal scoring record in France has been superb for a winger. Koeman loves him and it wouldn't surprise me to see him go to Barca.
Yes, Rob, he is out of contract soon and will likely be moving on in Jan, we will have to show real desire to get him as there will be lots of suitors as he is available for a knockdown fee.
Robert Tressell
44
Posted 14/11/2020 at 10:42:27
Unfortunately, Depay will get a move to a Champions League club – possibly Barca – although he may be a bit too similar to the resurgent Dembele.
End product and flair. Not many in his class.
Robert Williams
45
Posted 14/11/2020 at 10:55:53
I think that photo caption of him says all you need to know about Iwobi!!
Ed @4, where did they play him tonight?
Nigeria.
Steve Shave
46
Posted 14/11/2020 at 12:05:43
Robert 44 - yes sadly I think so, we would have to REALLY want it. Maybe if we had kept the early season form he would have thought about the "revolution", now almost certainly not.
Robert 45 - that made me spit my tea out ;)
Eddie Dunn
47
Posted 14/11/2020 at 12:33:22
Robert... :)
Ajay Gopal
48
Posted 14/11/2020 at 13:13:29
Ha... ha.. Robert.
On another note, just saw the highlights of the Brazil - Venezuela game. Both Richarlison and Allan were heavily involved. Allan was playing much further ahead than he does for Everton, but that must be because Brazil were quite dominant.
Jay Wood
[BRZ]
49
Posted 14/11/2020 at 13:37:10
Have to disagree with you on Richarlison's and Allan's performances for Brazil v Venezuela last night Ajay, having watched the entire game live.
In the absence of Neymar coach Tite did something he has never done before when playing Firmino and Richarlison in the same team: playing Richy rather than Firmino in the nominal #9 position. I say nominal because with Brazil it is a more roving role than a traditional British #9.
Now Richy scored a disallowed goal after about 10 minutes after Firmino had fluffed the chance to score, but it was ruled out for one of those VAR armpit offsides by the wide man who crossed the ball.
This was a pity on many levels. It would have given Richy a lift and an early goal would have forced Venezuela to abandon their borefest game-long tactic: sit deep with all eleven players between the ball and their goal.
Richy saw very little of the ball as a result and at half-time Tite switched back to the familiar. Firmino more central, Richy wide right. Still Richy was very peripheral. I would go as far as to say this was his poorest performance ever in a Brazilian shirt. He was unsurprisingly hooked for Pedro on 76 minutes.
Allan had a fine game, playing EXACTLY as he does for Everton, mostly in that band across the pitch just either side of the centre circle. Because of Venezuela's deep-defensive tactics, yes, he spent more time than normal in their half. As ever, he was tidy in all he did. Brazil's 'get out' ball transitioning from defence to attack.
Villa's Douglas - who I like a lot - was woeful and was hooked at half-time for Paqueta. Brazil eventually won with a tap-in for Firmino, but it was not an easy watch.
Brazil play Colombia's conquerers of last night, Uruguay, mid-week away. Uruguay will be more open than Venezuela, but it is going to be Brazil's hardest game of this World Cup qualifying campaign to date.
Based on last night's performance, I would not be surprised to see Richy cut from the starting XI.
Ajay Gopal
50
Posted 14/11/2020 at 14:14:22
Yes, Jay, I did watch only the highlights, and in that, Richarlison seemed to be involved in almost everything that Brazil did. Guess that is why highlights can be so misleading.
Sam Hoare
51
Posted 14/11/2020 at 14:20:47
Jay @49, have you watched much of the qualifying. Curious what you think of Darwin Nunez, new lad on the block for Uruguay. Benfica bought him for £20m this summer and have heard some very good things about him.
Sam Hoare
52
Posted 14/11/2020 at 14:23:43
As for Iwobi I think JP@34 is right. His output this season puts the likes of Bernard, Sigurdsson and Gomes to shame. And yet he seems to get more stick than anyone.
He's certainly not been good enough all round this season, or last, and I'm not sure there's room for him in the formation Carlo wants to play but there's worse culprits getting paid more money for sure.
Robert Tressell
53
Posted 14/11/2020 at 14:58:21
Sam, I kept looking at the many videos of Nunez from earlier in the year. Struck me that he had talent but also aggression / determination - a characteristic of Uruguayan players. Probs not in the same league as Cavani, Forlan and Suarez but still good.
Dave Abrahams
54
Posted 14/11/2020 at 16:11:24
Jay (49), nice to hear from you, I put a post on the Richarlison thread asking how you were because you hadn't posted for a while, glad you appear to be okay.
Derek Moore
55
Posted 14/11/2020 at 16:31:10
The Nigeria Sierra Leone game was absolutely wild entertainment by the way. Obviously the defending wasn't great in an eight goal thriller, but the sheer unlikeliness of it alone made for the best game I've seen since Villa Shite.
The Nigerians had umpteen chances to grab the killer fifth (!) goal as well but ultimately didn't. I honestly can't remember the last time I saw a team go down four goals and still come away with a point. Remarkable.

Tony Hill
56
Posted 14/11/2020 at 17:28:16
I think Iwobi has a very good football brain and his passing can be subtle and incisive. His concentration, though, is lamentable and like a lot of creative-minded players he often looks awful because he doesn't want to take the easy option. I'd stick with him; he's still youthful and, coming off the bench in particular, he could be a serious asset.
If we're moving Rodriguez inside, as we should, then it's between Gordon and Iwobi on the right (unless we swap Richarlison which I would not do). I'd go with Gordon first of all but, if he doesn't produce, I'd be happy to give Iwobi a proper run.
Colin Malone
57
Posted 14/11/2020 at 17:39:14
It's unfair to say Gomes is on par with Sigurdsson in performances. No fucking way.
Gomes was asked to play virtually on the wing in that stupid formation at Southampton. We've all seen him in his best position and, in my opinion, he's a class player.
Tony Hill
58
Posted 14/11/2020 at 17:44:55
ps: Isn't Iwobi the sort of player our manager should be looking to improve and hone? Or do we just say, oh well there goes Alex aged 24 and another of our mistakes?
Rob Dolby
59
Posted 14/11/2020 at 17:50:30
Iwobi has coasted on the back of successful Arsenal teams. He is a fringe player who got a move to us in the hope that he can step up into the first team and make a difference.
We have a few players that make a difference and want to win matches. Players that leave it all out on the pitch, players that want to win. Unfortunately Iwobi isn't one of them.
Watching Scotland and Northern Ireland the other night in must-win games was refreshing as players showed passion, desire and a pride playing for their country. If Nigeria had the same type of play-off game, would Iwobi be leading from the front? I very much doubt it from what I have seen a blue shirt.
Jason Li
60
Posted 14/11/2020 at 18:24:57
I'm not sure Iwobi is a huge problem, just has some bizarre off days. But then so did Walcott.
Carlo thinks Iwobi doesn't produce enough at No 10, so Iwobi has to adapt to another position and keep improving.
Main problems to solve in the summer transfer window are a top international right-back to challenge Seamus, and a Number 10 that is top notch. Not expecting the new Kaka or Messi, but someone decent.
I think Iwobi will stay for a while, as a top Number 10 makes every winger look better. A walking Number 10 makes every isolated winger look terrible.
We just need top 4 quality from now on, no more squad fillers.
Tom Bowers
61
Posted 14/11/2020 at 18:34:09
Iwobi has a lot of talent but just doesn't seem to have the concentration for 90 minutes or make the right decisions.
That's not unusual for many such players who come and go at Everton. Just seen a rerun of an old Everton-Arsenal game from way back when and Arsenal thrashed us. We had some underachievers in that line-up. Anyone remember Hutchinson or Madar?
Talking of failures, I see today Hallam Hope scored and also James Vaughan who, by the way, has been with 17 clubs up to now. I suppose they are both at the level they belong after being so promising in their younger days at Goodison.
Paul Tran
62
Posted 14/11/2020 at 19:04:10
Iwobi looks to me like he knows he's made a mistake coming here, he knows it isn't working and doesn't appear to know what to do about it.
I don't know why we bought him, what he offers, where he's supposed to play or what he can do.
Looks to me like he's on the list of players Carlo doesn't trust, but has to play at least some of the time.
Hope he comes good, but wouldn't put my hard-earned on it.
Derek Taylor
63
Posted 14/11/2020 at 19:10:53
Is it too much to expect an experienced manager such as Ancelotti to effect SOME improvement in players such as Iwobi? Or is it a case of waiting until the maestro has 'a team of his own' – just as we have expected of other managers?
The fate of an Evertonian is always having to look forward to the future and only rarely to be able to enjoy the present. I suspect we've had all the enjoyment we'll get this season!
Jay Wood
[BRZ]
64
Posted 14/11/2020 at 19:36:30
Dave @ 54. Just taken a nosey-beak at your post on the Richarlison thread. I hadn't seen it, so thanks for your concerns.
Absolutely nowt to worry about. All good here. All very mundane as to why I haven't posted much in recent days.
You know the back story of my missus and CV-19 in Brazil. She is now officially the only one in her hospital team of 28 NOT to get the virus. A measure of just how careful she is, given the environment she works in.
We promised ourselves months ago that once this is all over we are going out, socialising more. Theatre. Cinema. Live music. Exhibitions. Cultural events. Good eating. We're still waiting.
But a couple of days before the United game, we had one of those telephathic moments couples share. Whilst I was at home and she at work, independently on the same day the same thought came to us to talk to the other about that evening: let's go somewhere at the weekend.
And we did. The United game KO 9.30am my time Saturday morning, the same time she is scheduled to go to the gym. Her workout and our game finished around the same time and within a couple of hours we headed across the mighty Amazon River to a nearby island.
The wooden launch put-putted up a narrow creek with overhanging trees and in 20 minutes we had left behind the sight, sounds and smells of our city and its 4 million population.
In no time we were swinging in hammocks, surrounded only by the contrasting greens of the forest, the occassional flash of colour and birdsong of exotic feathered beasts. No wifi. No TV. All good therapy.
This, of course, was in the middle of the protracted US elections which, I admit, has been far more fascinating viewing and a much, MUCH bigger game than anything Everton has undertaken in recent weeks.
I've taken up my free time writing to family and friends all around the world on the US elections, leaving me little or no time for TW (which I've skimmed briefly, but not found too much of interest to engage in, to be frank).
I'll be back on TW more regularly to annoy people once things settle down again. But thanks again for asking Dave. Hope things are all good with you and yours, given what Liverpool has been living through in recent weeks.
Derek Taylor
65
Posted 14/11/2020 at 19:45:09
Most of us want Iwobi, Tuson, Walcott and Moise Kean to do well but so many of the big-money signings seem to switch off when they come here.
The same goes for coaches and managers – they can't possibly all be crap!
ps: Don't give me Chairman Kenwright – he needs it to come good as much as the rest of us!
Dave Abrahams
66
Posted 14/11/2020 at 19:52:32
Jay (64), we are all okay thank you, glad to hear that and your wife are fine, and the time the two of enjoyed over that weekend, I imagine, was better than most of us on ToffeeWeb enjoyed.
Thanks for replying and I you two get to have more weekends together, like that one, in the near future.
Mark Murphy
67
Posted 14/11/2020 at 23:34:35
Kin ell, Jay – living the dream mate!!
My birthday today – I'm 62, healthy and happy, loving life. Just had a great meal with the family with loads of good (Spanish) wine – waiting for the (much younger than me) missus to join me in bed...
Ffs, Blues make me delirious!
UTFT
Pekka Harvilahti
68
Posted 14/11/2020 at 23:49:27
The problem is that all those fancy guys that have played for top four teams and who are suddenly available, there is a reason why they are not wanted anymore.
Alex Iwobi is probably a nice decent guy but, when he played for Arsenal I always wanted him to come on (he was usually on the bench, no wonder) because, if he did, he messed their game and always missed even the easiest chances.
He does not know when to pass, how to move or when to shoot. He can't make correct decisions in the game. So, what's the use?
Sell him in January? No club will ever pay anything for him. He will be in the 23's for the rest of his miserable contract until some Turkish team wants to take him by paying half his wages.
Jeff Armstrong
69
Posted 14/11/2020 at 00:04:39
Derek Taylor #63,
Post of the day.

Derek Knox
70
Posted 15/11/2020 at 06:30:10
Jay @64, I assume the wooden launch steersman returned for you!
He obviously doesn't read TW. :-) Only joking mate, glad you enjoyed your 'soiree romantique' and a chance to appreciate the quieter side of life in these troubled Covid times.
Eddie Dunn
71
Posted 15/11/2020 at 08:35:58
Pekka, you sum up his problems. He must look good in training in small-sided kickabouts, bleep tests and little piggy-in-the-middles. He has some technique and is physically fit.
At times last game, he put in decent crosses and made some useful runs but start him in a game and you never get 90 minutes out of him and he will always either shit-out of a tackle or get caught on the ball giving possession away when everyone is up in their half.
It could be a lack of confidence but, if he comes back from international duty with a brace of goals, surely he will be feeling confident?
I think he has some potential but I really can't see him fulfilling it.
Trevor Peers
72
Posted 15/11/2020 at 10:25:09
Gbamin (football insider) now rumoured to lined up for a loan move in the January window, another Silva signing who has been a total failure.
Apart from Digne and Richarlison, Silva's other signings of Gomes, Bernard, Mina, Kean and Iwobi have been very poor value for the huge amounts paid out in fees and salaries, what an expensive mistake Silva's short career turned out to be.
Andrew Ellams
73
Posted 15/11/2020 at 12:05:27
Trevor, how can you consider Gbamin a total failure? His injuries are nobody's fault and part and parcel of football.
The loan deal may well be to give him half a season of football elsewhere to get him up and running for next season.
Andrew Keatley
74
Posted 15/11/2020 at 12:54:16
I've said this before, but for me the big problem with Iwobi is his lack of fighting spirit. He's a good footballer - good touch, can travel well with the ball, decent vision, decent athlete - but he seems to be content being something of a lightweight. He needs to develop an appetite for the hard work that pushes players into new areas of attainment, and the good news is that often that transition comes around the 23/24 year mark, so if it's ever going to happen for Iwobi I think the coaching staff need to be pushing him harder than ever right now.
Most of the very best attacking players are hugely committed when it comes to keeping the ball; the idea of someone taking it from them makes them grit their teeth and work hard to come out victorious. Raheem Sterling is always prepared to battle to retain possession of the ball. Iwobi must have 4 inches and at least a stone over Sterling, but if they were to tussle for a 50/50 then I have little doubt that Sterling would emerge with the ball more often than not. Until Iwobi starts to truly develop some of the less aesthetic parts of being a professional footballer then I'm afraid he'll always be a bit-part player at the top level.
Trevor Peers
75
Posted 15/11/2020 at 13:18:22
Easy Andrew #74. It may not be the players fault but his contribution has been zero. I'm not certain but didn't he have previous injury problems before Silva took a shine to him ?
Whatever, he has been a disastrous signing and those injuries he has sustained have virtually written him off being a premiership player barring, a miracle.
Andrew Keatley
76
Posted 15/11/2020 at 14:10:07
Trevor (75) - What injury problems? If you're talking about Iwobi then I think he's had a couple of minor injuries but nothing massively significant - certainly nothing that will have written him off being a premiership player (as you say).
Tony Hill
77
Posted 15/11/2020 at 15:18:01
Andrew @74, yes that's true of Iwobi. Alas, it's true of the team and has been for an awfully long time. We get knocked off it.
Dave Abrahams
78
Posted 15/11/2020 at 15:34:04
Trevor (75), the only injury I think Iwobi would suffer from would be a sprained wrist, doubt if he would get any on the field.
Eddie Dunn
79
Posted 15/11/2020 at 15:46:25
I think Trevor is replying to Andrew Ellams on the subject of Gbnabin and not the comments on Iwobi from Andrew Keatley.
Dave Abrahams
81
Posted 15/11/2020 at 16:20:38
Eddie (79), yes see that now, my mistake, apologies to Trevor.
Trevor Peers
82
Posted 15/11/2020 at 16:22:12
Cheers, Eddie. I did mean Andrew #73. Senior moment, I'm afraid.
Andrew Keatley
83
Posted 15/11/2020 at 16:37:01
Trevor (85) - Now it all makes total sense! Excellent detective work Eddie Dunn.
Justin Doone
85
Posted 16/11/2020 at 10:40:52
He's a decent player, like others have said, plays well against weaker opposition.
Not top quality nor good enough of a team player to warrant a start. He's got some talent but his reading of the situation and poor decision making left him down.
Kevin Dyer
86
Posted 16/11/2020 at 23:03:33
See Marca are blaming Ancelotti for Mina's poor game? As in dropping him for the Man Utd game destroyed his confidence. He was rotated out for one game, ffs. If he's that fragile, that's a story in itself!
James Head
87
Posted 17/11/2020 at 19:27:50
I think Mina is hopeless and an absolute liability, constantly fouling and shirt pulling even inside the box, needs moving on asap, could probably get a game for England he's that bad.
Darren Hind
88
Posted 17/11/2020 at 20:16:29
One thing I would not criticise Ancelotti for, is his handling of Mina.
He has tried everything to get the best out of him but ,like other managers before him, he can't seem to make the penny drop. Every good game is preceded by a Weston... Can't learn. Won't learn.
It would appear you can take Big Yerry to water, but you can't make him think.
Geoff Williams
89
Posted 22/11/2020 at 09:02:56
I have seen nothing in Iwobi to convince me that he is worth persevering with. His first touch isn't great, he is indecisive in possession of the ball, he doesn't seem to be able to beat a fullback and cross the ball, he's not much good in the air or particularly quick, he ball watches when defending and doesn't pick up runners but he does come across as a decent guy. I know we have seen flashes of skill but nothing more than one would expect from a professional footballer.
Derek Thomas
90
Posted 22/11/2020 at 09:10:36
As my arl Grandad used to say - He couldn't work in fits and I wouldn't pay him in washers.
---
Add Your Comments
In order to post a comment, you need to be logged in as a registered user of the site.
Or Sign up as a ToffeeWeb Member — it's free, takes just a few minutes and will allow you to post your comments on articles and Talking Points submissions across the site.