England find it hard going against Roberto's Belgium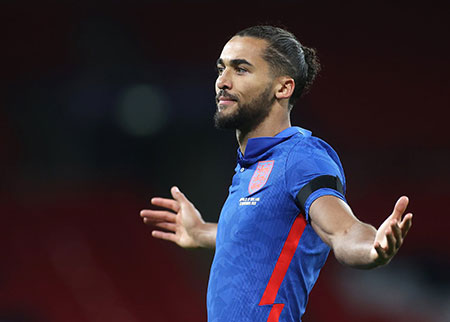 Dominic Calvert-Lewin was the last throw of the dice for Gareth Southgate but he could do nothing about England's 2-0 defeat to Belgium this evening.
The Everton striker came on along with Jadon Sancho as a substitute with 20 mins remaining but the Three Lions were beaten by the team coached by Roberto Martinez and it means England will not be at the Nations League finals next October.
Jordan Pickford was in goal for England with Michael Keane and Calvert-Lewin starting on the bench.
The keeper was beaten by a Youri Tielemans shot that deflected past him off Ings and Pickford had no chance when Dries Mertens curled a free-kick over the England wall and into the corner.
Meanwhile, in Nations League Group B3, Turkey edged Russia 3-2 with Cenk Tosun's 52nd-minute penalty proving to be the winner after Semenov was sent off in just the 24th minute.
---
Reader Comments (88)
Note: the following content is not moderated or vetted by the site owners at the time of submission. Comments are the responsibility of the poster. Disclaimer
Mike Doyle
1
Posted 15/11/2020 at 22:12:09
So England won't be at the Nations League finals. Somehow I suspect we'll all get over the disappointment. Meanwhile back to Ant & Dec in North Wales.
Tom Bowers
2
Posted 15/11/2020 at 22:16:35
Can't for the life of me understand why Southgate keeps picking Dier at Central defence. Gave away the ball to set Belgium up. Not for the first time he has cost England.
Tony Everan
3
Posted 15/11/2020 at 22:39:02
Thank god that rubbish is all over for a while, now we can get back to some proper football.
John Keating
4
Posted 15/11/2020 at 22:56:46
I was made up with Keane and Calvert-Lewin benched and hoped they'd still be there at the final whistle.
However, I was amazed with Southgate's obvious instructions to his team which must have been "We're bringing DCL on so, whatever you do, under no circumstance put crosses into the box."
I agree with Tom, Dier is absolutely dire. Fingers crossed neither of them play next game.
Charles Brewer
5
Posted 15/11/2020 at 23:02:08
Fantastic result! Totally brilliant! all we could have hoped for! Calvert-Lewin, Keane and Pickford not injured!
Who cares about the score?
Rob Halligan
6
Posted 15/11/2020 at 23:14:16
Tony # 3. You seem to be forgetting there is a full fixture list of internationals in midweek. You can bet both Keane and DCL will play in the final game against Iceland at Wembley.
Tom Dodds
7
Posted 15/11/2020 at 23:15:33

Agree with the above...1 whole month now out of 3 having to put up with missing the football we like the most.
All in all its just another version of It's a knockout.
Mike Price
8
Posted 15/11/2020 at 23:31:43
We should have kept Martinez, he would have learnt how to defend and we would have saved £50 million in payoffs and about £100 million not buying absolute dross like Tosun and Iwobi.
Patrick McFarlane
9
Posted 16/11/2020 at 00:22:43
Mike #8,
Had Roberto been given more time, Everton would have dropped down to the Championship before Martinez realised that a defence was a critical part of any team.
Most fans wanted him gone at the time of his departure and the correct call was made. The mistakes following his sacking, are shared equally between the board and its employees, and some of the fans are still unsure about our destiny.
Most fans actually had time for Roberto, even affection, but he was out of his depth at Everton.
Derek Thomas
10
Posted 16/11/2020 at 00:41:32
Mike Price @8;
He May have learned to defend - but not before he eventually took us down. 'That team'... and I use the term loosely, was only heading one way.
Martinez's cure/excuse for 'the philosophy' not working was... It is Not 'the philosophy's' fault, 'the philosophy' can't be wrong (as its my philosophy, QED, etc.) Therefore, add More Philosophy.
All Martinez had to do was add a minimalistic touch of Goldilocks: not too hot, not too cold, but just right adventure to Moyes's base. But no, he had to throw out the Moyes discipline and fitness baby with the bath water.
Though, to be honest, nor was the cure Koeman or Silva and – nods to Darren Hind – it is yet to be proved it's Ancelotti either.
Patrick @9;
True, it was all good until Boxing Day.
Eddie Dunn
11
Posted 16/11/2020 at 08:58:53
Mike- with that belgium team at his disposal, he has not done well enough. They should be World and European champions. Any one of us could manage them as well as Martinez. I'm with Patrick- the twit would have taken us down.
Jim Bennings
12
Posted 16/11/2020 at 09:04:39
You have to laugh sometimes.
How a thread of Belgium v England can go completely off topic and onto Roberto Martinez managerial skills at Everton lol.
For what it's worth it would have been nice to have seen Martinez given the year that Koeman had between 2016-2017 when Moshiri's millions started coming to the fore.
We can all have our opinions on Roberto's time at Everton but what I will say is in that 2013/14 season it was the most positive I've felt about Everton since the summer of 1996 under Big Joe.
It went downhill for Martinez afterwards of course but give him his due at least we were usually pretty good to watch going forwards, awful defensively at times in the last year fair enough.
Now though you feel that we are still awful defensively but going forward we don't have any kind of style of play other than cross the ball to Calvert-Lewin's head.
Let's just say in four years of monumental investment, it's still rather underwhelming watching Everton.
Jim Bennings
13
Posted 16/11/2020 at 09:09:04
I'm all for giving Carlo time but there needs to come a point over the next year when tangible progress is made.
It's all well and good trumpeting the fact we have him here but Sam Allardyce got a far worse Everton team to finish 8th, yet he was destroyed by every corner of our support.
Carlo couldnt mastermind a top half finish last season despite taking over in December, what is our opinion if we finish 10th or below this season?
Justin Doone
14
Posted 16/11/2020 at 09:56:01
Ha ha love the opinions.
Yes there's still time for our players to pick up injuries before our next game.
England remind me of Everton. Thanks in part to media hype, after a few wins fan's believe all of a sudden we become top tier contenders.
Reality check, we can be good but not that good due to a lack of quality and consistency.
As for Martinez, I would have backed him and given him longer. Defensively he needed to tell Stones to stop the risk taking or drop him.
Sadly for all of Stones' ability he's a defender but has never learnt how and when the appropriate time is to simply clear the lines. One player consistently cost us and at the time we had no other defensive options.
However, I didn't like how Martinez dropped Distin who I think was still a quality defender. But he had injury issues.
The worst part of Martinez' time with us was recruitment. Not all his fault but we did waste what little money we had on ex-Wigan dross and Niasse.
If we had a Brands type recruiter then and a bit of Moshiri money we could have had more 'success' and less shy-t than the following seasons produced.
Ultimately we now have one of the best and most successful managers in world football and still fans moan. Back the manager and blame past poor recruitment that we are dealing with. All things point upwards, all be it a little slowly.
Brian Harrison
15
Posted 16/11/2020 at 10:13:55
I only managed to watch the 2nd half, but for me Grealish was as good as anything on the pitch including De Bruyne. He is comfortable on the ball, he can go past people and he very rarely wastes a pass. I know he has signed a new contract with Villa, but I would be amazed if not of the top 3 in the Premier arent making moves for him come the summer.
Ricky Oak
16
Posted 16/11/2020 at 10:18:49
I find it disturbing when most of the media rags show pictures of our goalkeeper flat on his face with a miffed looked on his face,, all the focus and blame once more is on our players. The England team was very much playing like us, to be fair, but not a report about how shite 'Hendo' was, or the aptly named 'Dier'.
Also, on another subject, it's actually mind-blowing to still read ex-players lambasting our goalie. This time it's that 'great', goalie, Kirkland... who did he play for again?
Oh and that Dutch twat and his emotional tribute to Van Dijk last night. We are never gonna win weet fuck all without taking thsis media bias on, it's like subliminal messaging.
Now where's that burger... Burrp!
Sam Hoare
17
Posted 16/11/2020 at 10:31:58
Jim@13, I think if we finish 10th or below then it would place serious question marks over Ancelotti; unless there were perhaps extenuating circumstances such as long term injuries to Richarlison and another key players.
He's had some time now and was backed heavily by Moshiri this summer in bringing in 4 new first team players including two who he's worked with before.
If he can't improve us after 18 months with that that backing then it does not look good. But performance is a big part of it and maybe if we finish 10th but are playing great football in the second half of the season then you'd say give him more time. Stability often breeds better results and i'd be pretty surprised if Carlo is not still here next season.
Rob Dolby
18
Posted 16/11/2020 at 10:34:04
I know it's off topic a bit but how long do people realistically give managers these days.
Jim above wants tangible progress next season, does that mean a top 8 finish or just winning the odd game against a top 4 team and cup run?.
Some on tw have called out Ancelotti more or less as soon as he was appointed as too old or not suitable. I haven't seen too many posts suggesting managerial replacements.
Time is an important factor with any managerial appointment. In hindsight we gave Moyes too much of it and probably got it right with the subsequent managers.
In my opinion I would like to see Ancelotti given 5 years at the club before judging him. We have to give someone of his pedigree time to build a team.
The task ahead of him is daunting. The top 2 in the league are miles out in front. UTD, Spurs and Chelsea are behind them with much stronger squads than ours. How do we bridge that gap by chopping and changing managers?
Andy McNabb
19
Posted 16/11/2020 at 10:44:46
Can someone explain to me how Tosun cannot make it work in an Everton shirt and yet regularly scores in international games?
What are we missing?
Martin Reppion
20
Posted 16/11/2020 at 10:57:14
I have said this before. I saw Everton play at Fulham in the league cup in one of Martinez's first games. At 2-0 up, we looked good. Then that well known tactical genius Martin Jol instructed his players to press our defence when we were playing out from the back. Result: 3-2 to Fulham.
I said then that we would win nothing under that man and at Xmas I was being laughed out of court as we looked down from the top of the league. For the 2nd half of the season all the teams we'd done so well against played the return fixture having also worked us out. The following year we plummeted as they all put our pedestrian, tippy-tapping under pressure.
Football clubs/teams don't need a 'philosopher'. They need a manager. A philosopher has a belief and bends reality to suit. A manager looks at his assets and gets the best out of them.
Martinez wanted Jagielka to play like Beckenbauer. He wanted the rest of Everton's honest pros to perform like Barcelona's prima donnas. He can do this with the talent Belgium currently has. He was too stupid to realise that you can't do that if you don't have the players with that skill set.
How the hell we stuck with him for so long always defeated me.

Justin Doone
21
Posted 16/11/2020 at 10:57:38
Tosun is a finisher. But he's not suited to how we play.
International football, apart from the finals, is mostly a poor standard.
Think of it like the FA cup.
Lots of good team's but they don't meet until the later rounds.
There's always a few upsets and bigger team's experimenting with personal and tactics. There's a sense of lesser importance until the finals.
Dave Abrahams
22
Posted 16/11/2020 at 11:00:41
Brian (15), I agree with that about Grealish, Belgium were frightened by his ability and Kane was very good, surprising how good he is with his distribution, hardly wasted a ball, unlucky with his header, Belgium created hardly anything in the first half, England are only an average team but they were much better than Belgium and deserved more. I have no interest in in England to be honest but fairs fair they deserved more than they got out of this game. Grealish MOTM for me, when you look better than De Bruyne, one match only, which he did, it tells you how well he played.
Sam Hoare
23
Posted 16/11/2020 at 11:11:33
Rob @18; i'm not necessarily calling Ancelotti out, I wasn't sure he was the right pick but have been encouraged at times how he and his son have taken to the club. Our form post lockdown last season alarmed me and this season is a real mixed bag so far. Certainly he gets this season to see what he can do for me.
But in terms of alternatives; here are some younger managers I think look interesting and may or may not be available in 8 months time if Carlo does not improve us:
Flick (Bayern)
Marsch (Salzburg)
Nagelsmann (Leipzig)
Rose (Gladbach)
Wolf (Genk)
Gallardo (River Plate)
De Zerbi (Sassualo)
Stephan (Rennes)
Farke (Norwich)
Fonseca (Roma)
Slot (AZ)
Adi Hutter (Frankfurt)
Paunovic (Reading)
Justin Doone
24
Posted 16/11/2020 at 11:14:22
Grealish is what I wanted Barkley to be for Everton. He's always a threat, always wants the ball and can control games.
Creates and scores goals for himself and others. Doesn't lose the ball in dangerous areas and more often than not plays the right pass. Would love him at Everton.
It's interesting seeing them both in the same team for Villa. They can play together and probably should both be key England players.
It might be too exciting for Southgate to handle though..
Eddie Dunn
25
Posted 16/11/2020 at 11:34:34
Jim- now you want to go off topic yourself!
Steve Hogan
27
Posted 16/11/2020 at 11:39:25
Martin (20)
You've hit the nail on the head re Martinez. People soon forget just how dire the situation was before he got sacked. He totally misjudged the calibre of player he had at Everton.
His obsession with playing out from the back was fine, except he didn't have the player's to carry it out, they all looked distinctly uncomfortable doing it, in the end it was obvious to one and all, that the player's had long since lost faith with him.
That coupled with the bizarre post match comments after another inevitable defeat was the end for most fans.
At one stage my Everton mates used to bet on at what stage he would use the word 'phenomenal' in his presser to describe the player's performances.
After one good season, blue Bill dropped his pants again and offered him an extended improved contract!!!
He walked away with millions, you couldn't make it up.
Sam Hoare
28
Posted 16/11/2020 at 11:45:05
Everton have missed the Grealish boat now. If he moves he'll be going to a top CL team this summer.
Could have picked him up cheap in 2016 when Villa got relegated. But we spent almost £50 on Bolasie, Schneiderlin and Williams.
Reckon we could have definitely got him in 2017 summer when they finished 13th in their first season back in the Championship. No way he'd have cost more than £26m. Which is half what we spent on Sigurdsson that summer.
We could have got him the following summer 2018 when they failed in playoffs. Doubt he'd have cost more than £25m again. Though at least we were busy buying Richarlison.
In 2019 he might have cost a bit more having got Villa promoted. Certainly would not have cost more than £50m though. Which is what Iwobi and Gomes cost.
Good Lord our recruitment has been woeful this last 5 years!
Brian Murray
29
Posted 16/11/2020 at 12:09:33
Sam. All coulda, woulda, shouda (that should be our motto because the Latin phrase is and never has been strived for in decades.
The last four games have shown we are still nowhere near a mentally strong team or club. With just one player missing, the manager couldn't or wouldn't step up and be brave in his Plan B.
Hope I'm wrong and it sounds harsh but to be overwhelmed by the likes of Southampton says it all.
Jim Bennings
30
Posted 16/11/2020 at 12:21:11
The summer of 2017 was the year we got it badly wrong.
Koeman's first summer of being like a kid in a sweetshop with a £50 note.
Wasted a ton of money of Sigurdsson (£20 million overpriced), Klaassen risky and too expensive didn't need him if Sigurdsson was priority and Rooney.
When he sold Lukaku he should have made absolutely certain that he was replaced by Vardy, Giroud ect someone who could have made the dynamic different.
We are still paying the price from that summer, if we had got our spending right three years ago then just maybe we might have been in the Champions League by now.
For that I don't blame Martinez, he did relatively ok with signing Lukaku, McCarthy, Barry, Deulofeu, Lennon ect and got some wrong like all managers.
Koeman and Walsh wasted unbelievable amounts on bang average quality.
Hugh Jenkins
31
Posted 16/11/2020 at 13:44:28
The risk of injury to our players whilst on international duty might have far graver consequences for us (due to the thinness of our squad) than for our competitors.
The EPL is finally balanced at the moment and if we can recapture our early season form and maintain it, it could be a "Breakout" season for us.
Despite three consecutive losses, we remain 7th and two consecutive wins for us and a loss and a draw for any of the teams above us, would put us back in 2nd place at the moment.
Equally though, one further loss for us and a win for several of the teams currently below us, could see us 14th in the table after our next game.
This is a clear indicator that, as has often been said of the EPL, every team is capable, at some point of beating any other team.
Consistency is therefore the keyword here and if we can play our first choice XI consistently and add a bit more quality in January, I believe this can be the "Breakout" season we are all hoping for.
So here's hoping that DCL, Keane and Pickford either don't get picked, or if picked, don't get injured, on Wednesday.
Barry Rathbone
32
Posted 16/11/2020 at 14:10:21
Martinez was too brave for his own good the safety first route under Moyes brought us nothing but mid table obscurity we needed a bit of "sin miedo" and for a season it came. As a result we had an Everton to be proud of rather than endured.
The same trap about to capture Carlo caught Bobby ie the failure to completely rinse the deadwood from the squad. Eventually those players schooled a certain way killed him because you can't teach an old dog new tricks
In fairness Bobby appeared to recognise the fact by trying out kids in the first team but if you have to take on the likes of McCready as part of the answer you have no chance.
The other fact was he was absolutely despised by Moyes disciples for showing what this club might have been. I remember those damning him with faint praise after the win at OT and I stopped posting not long afterward because the neanderthal writing was already scrawled on the wall.
Never go back is a tried and tested truism and he shouldn't return not because of his ability but because some utter fuckwits in our fanbase wouldn't give him a chance.
Charles Brewer
33
Posted 16/11/2020 at 14:10:24
I didn't bother even trying to find a stream for the England match, but I had a look at the player ratings in a few papers.
According to the Telegraph, it would appear that DC-L managed to be worse than Dwaine Dibbley-lookalike Mings despite the latter having scored Belgium's first and failed to jump to head Belgium's second away from the goal.
So what did DC-L do that got him two fewer marks that DD?
Paul Richardson
34
Posted 16/11/2020 at 14:16:17
Who cares anyway about England? I'm afraid the organsiers of this have scored an own goal...England followers equals massive revenue and interest. Like the (Everton-excluded) Euro-league. It's the fans that make it. Or don't make it.
Let the folk across the park join a Euro-league. I'd rather see a genuine English league with Everton, Wolves, Forest, Derby etc (you know how they are) and, I suspect, so would most English footballer followers.
Tom Bowers
35
Posted 16/11/2020 at 14:23:37
Consistency is the key word to success both in players performances and the teams.
The managers can only do with what they have at their disposals and even if they are not familiar names, can, on rare occasions get lucky as at Leicester a few seasons back.
Sure a new manager can bring in several new players but they need to gel with the rest of the team and initially it may prove successful but other factors start to weigh in and the best laid plans go out the window as they say. Sound familiar ?
Kane has gone off somewhat and unable to call on Sterling and Rashford Southgate's offense was easily held by the ''old guard'' of Belgium. The mistakes in England's defence cost the game especially after Chilwell went off but no excuses, England should have had enough quality to get something from this game.
You cannot blame DCL nor Pickford for anything here.
Only Grealish really shone in the starting outfield players.
I think Southgate's days are numbered quite honsetly.
Tony Abrahams
36
Posted 16/11/2020 at 14:46:00
Martinez wasn't to brave, he was not for changing and naive. His first few signings were very good, then he signed Niasse, Mcgeady, and some Swiss kid, who has failed to make the grade anywhere.
I liked Roberto, some of the football we played during his first season was brilliant, but he went downhill very quickly because he was naive imo.
Only had one eye on England last night, but when my eye was on the telly, it looked like Grealish, had really grown into the game, so I watched with two eyes for the last 20 minutes, and the biggest compliment I could pay the young Brummie kid, was he reminded me of Gasgoine in his pomp at times!
Jay Harris
37
Posted 16/11/2020 at 15:51:38
People have short memories. The wheels were already coming off in Martinez's first season.
We were nailed on for 4th until we fell apart for the last 6 games and ended up 5th behind Arsenal. All because Martinez had insisted we don't do defensive drill and we don't need to practice corner kick and free kick routines.
Instead of building on the foundations Moyes had created he decided to throw everything out and do it the Wigan way.
He was the luckiest man in the world to win the FA Cup with Wigan and even luckier to get the best international players in the world to manage.
Brian Murray
38
Posted 16/11/2020 at 16:45:18
It's a strange industry that the likes of him, Moyes, Koeman, and Allardyce are rewarded or at least set up for life for failing miserably on what they set out to do.
On sort of the same example. Luke Garbutt recently married a scouse girl I know and says he also is comfortable despite over three years not kicking a ball for us.
Steve Ferns
39
Posted 16/11/2020 at 16:57:11
Jay, that's a matter of perspective. We only moved into 4th once, that being the victory over Sunderland. A poor defeat against Palace at home saw us drop back to 5th, before one of the best days of my life as we stuffed Man Utd 2-0 and it seemed like all of Goodison went into town to celebrate! Then a poor result against Saints away, and a successive defeat against Man City, before we beat Hull to secure a record Premier League points total. So yeah, we lost two games we expected to win. But we were never nailed on for 4th.
That was the best season of my adult life. The other contender, 4th under Moyes, was worse for me because we did not have the same swagger, we didn't batter teams, we didn't go toe-to-toe with the big guns. The record points total is only bettered by the Everton greats. It's not something to be sniffed at.
Darren Hind
40
Posted 16/11/2020 at 17:13:33
What this thread highlights is just how badly we have chosen managers. We really have had some shockers.
Moyes distorted the club's image when he invented the glass ceiling. Those saying Martinez should have been given more time need to revisit his final months in charge. He was an appalling manager. I still have clear memories of people wanting us to lose games (even a semi-final) just so he would be sacked.
Koeman was a complete disaster. However, like the clueless Martinez, he had the support of a huge section of our fan base. They loved that "He tells it like it is" ... sigh.
The appointment of the Night King will forever be a slur on this club. Total coward. Whatever Silva's message was, it clearly didn't get through to his players. They looked permanently confused.
Since Joe Royle left, every single one of our managers have been allowed to fail for too long. They were able to outstay their welcome because supporters apologised for their deficiencies.
"Give him more time!" That should be our motto. A huge section of our fan base seem to believe continued support for failure is a good thing... They think they are being "positive".
Carlo Ancelotti is being paid the serious bucks to turn this club around... "Give him five years" – ???
He has been given a very kind passage to the quarter-final of one cup. He has inherited two excellent full-backs, two world-renowned centre-backs and an even better younger one. He has also inherited two of Europe's most coveted young strikers.
If he does not get us challenging for top six and give us at least one Wembley appearance this season, he should be fired from the nearest canon.
Dale Self
41
Posted 16/11/2020 at 17:18:41
Yeah, well... with the first eleven available this weekend against Fulham, it is time to get positive then.
Joe McMahon
42
Posted 16/11/2020 at 17:36:30
We have been so starved for decades. The few memories for me, Semi Final v Spurs way back in 1995, The 1-2 at Anfield with Limpar and Kanchelskis, 3 Nil v Liverpool Moyes smiling and a rare victory of LFC and the 4 -1 v Arsenal when Rom lifted Martinez off his feet after scoring. Unfortunately not a massive list.
Robert Tressell
43
Posted 16/11/2020 at 17:52:16
Sam - bit early for replacement manager lists, but keep them ready if we finish outside of the top 8 this season.
Sam - agree the Grealish ship has sailed. The moment to buy him was when he was a wild(ish) youth with questionable attitude. Would have been a risk (like Ravel Morrison). As it happens he's probs the player he is now only because he stayed at Villa, worked his nuts of for a club he loves and took responsibility for dragging them up.
Steve F - that Martinez season 1 was the best of my adult life too. A brilliant swashbuckling team that played like a big club.
I don't think we'll be getting to those dizzy heights without a few more dynamic players to add to a (still!) plodding squad.
Ken Kneale
45
Posted 16/11/2020 at 17:59:53
Darren,
Your opening paragraph sums it up for me – what a poor choice of manager. One invented a new persona for the club – one completely out of his depth – two more arrogant men whose own worth of themselves is considerably more than my valuation of either, and another man like Martinez, a bizarre appointment out of his depth, and now Carlo.
On circa £11m per annum, a place in the top six and some decent football is a minimum for me and it should be a minimum for the club directorate – anything else is failure and should be looked on as that.
Moyes distorted that outlook on Everton by cleverly inventing his narrative and having a chairman too daft* / romantic* / self-serving* (*delete as appropriate to your take on Bill Kenwright). What a lucky man Moyes was to remain in place for so long without a sniff at real success – no previous manager ever had a run like it – terrible football for most part to boot.
I really want Carlo to be the man to press the re-set button and restore some much-needed pride and prestige to Goodison Park. But I have to say I think it has been slow progress for his 12 months in charge and some of his tactical decisions, team selections and captaincy appointments smack of a man who is being outwitted by players during training – not what I expect or hope.
Des Farren
46
Posted 16/11/2020 at 18:41:14
It was always going to be a roller-coast ride with Roberto. He did not receive support from Jags, Baines, or Howard, among others, when going got tough. He got the blame and paid the consequences.
When his team, Belgium, are No 1, we are told "Anyone could manage them." Poor old Roberto just can't win.
John Pierce
47
Posted 16/11/2020 at 18:52:45
Rob @18,
The typical Premier League appointment lasts around 18 months, or two transfer windows I guess. We have comfortably let managers have enough rope to hang themselves thrice over.
Moshiri has changed that for sure; whilst his choices have been erratic at best, he has shown a great willingness to get back a return on his investment. I'm expecting this one to stick.
I think also the climate for removing managers is markedly different because of Covid-19, there seems less desire or pressure to sack. Perhaps that's my take but usually by now this international break brings down the axe. I think the uncertainty is deffo playing a factor in owners minds.
To even moot the possibility of sacking Carlo based on his results is mad. Amassing points gives a manger time to sort things out, and that certainly won't generate a swell of opinion to move him on if he picks ups points as he has done. Compare that with his predecessors who never could arrest a slide until it was too late.
Whilst performances have been mixed, he has raised expectations amongst the fanbase, one which barely raises an eyebrow now as we are used to perennial mediocrity. He isn't here to be an also-ran, and transfers may be very short-term, so I do expect another increment of improvement as we go through the season and probably pick up another player or two in January.
This isn't a wholehearted backing of Carlo, he has gotten a fair bit wrong in my estimation in the last month. His loyalty to players he likes, picking unfit players and eschewing youth are not what I want to see. However, on balance, it's going in the right direction.

John Raftery
48
Posted 16/11/2020 at 19:00:53
Martin (20),
A point of accuracy.
I was also at the Fulham League Cup Tie in 2013. We were not 2-0 up, although we should have been. We led 1-0 at half-time, totally on top but conceded two in the second half to lose 2-1.
Robert Tressell
49
Posted 16/11/2020 at 19:02:57
Getting top 6 this season is a big ask for Carlo. He's a very good manager but there are 7 better teams, all with good managers (apart from Ole at Man Utd who is very hit & miss). Our first 11is very good, as we have seen. Our stand-ins are not. Getting above two clubs from this 'top 7' will be quite an achievement.
I did an analysis piece that roughly established we needed 20 more goals and a return to our recent defensive meanness (ie about 10 to 15 fewer conceded) to have much of a chance of top 6.
Finishing 8th (our best in recent years) would arguably be about where our squad is but disappointing. Finishing below 8th would be v disappointing.
I would also like to see a big push for the cups - since we're not going down and 7th, 8th or 9th - who really gives a shit?
I think then we really need to see where we are Christmas 2021 (after 2 proper transfer windows) before we judge Carlo from a big picture perspective.
Martin Berry
50
Posted 16/11/2020 at 19:06:47
Grealish and Kane were excellent and you can be sure Villa can name their price when the former leaves.
As for Martinez, a decent man but hopeless in setting up a defence. I also remember a lot of players being injured – mainly hamstrings, and I also remember some of his fitness coaches resigning due to not agreeing with his methods ( a lot of ball work but not enough fitness drills).
Belgium are a good side but we were better last night apart from the mistakes that we were punished for, the second goal should never have happened with a better ref. This England team is very young and will be a force to be reckoned with next summer.
Patrick McFarlane
51
Posted 16/11/2020 at 19:28:41
Is 28 league games really enough to begin to get the knife-sharperners at the ready?
Carlo has led Everton to twelve victories and nine defeats in those games with the remaining seven ending in draws. That works out at 43 points added to Everton's tally from a possible 84 available.
Obviously that points tally replicated over a complete season won't be enough to help Everton challenge for the top places in the league.
This season from the eight matches played so far, we have taken 13 points from a possible 24, which is about the same as Carlo's return from last season.
Personally, I think Carlo will hang on to his job barring a catastrophic run of form, for at least the rest of this season, due to a variety of reasons, most of which aren't connected to the playing side of the club.
I had been hoping that Carlo's Everton would gradually get towards taking an average of 2 points per game by this Christmas but unless we have a great run between now and then that seems unlikely and another mid table battle looks assured. In which case we need to see a more ambitious attack and a better organised defence, regardless of which players are available to Carlo.
Barry Rathbone
52
Posted 16/11/2020 at 19:45:12
Des @46,
The idea that good players make a good team and poor players not so much seems a logical chasm for some. As you point out, with good players, Martinez is blossoming – such a puzzle!!
Moshiri should have backed Martinez.
John Pierce
53
Posted 16/11/2020 at 19:46:00
Patrick & Rob. I dare say you are both right under regular circumstances. Those arguments are ones I would normally prescribe to. However I simply don't see that playing out in a season were attrition will play a significant factor, the manager willing to spread to load across his entire squad may just reap the biggest reward?
Perhaps some managers will ditch the cups and focus solely on selecting their best XI in league games? Does this give us a better chance on the cups, maybe?
Carlo will have to kick the habit of selecting half-fit players if he wants to make an impression. Or just focus on fitness and management of those key players.
I think this pattern will play out to a mad denouement!
Jason Li
54
Posted 16/11/2020 at 20:11:01
I think Martinez was lucky as we had a decent defence when he joined us with many of Moyes's steady players still in the first team, and yes he managed to get Lukaku.
No Lukaku though, and he would have got us relegated.
Look at Carlo's last transfer window compared to Martinez's last few transfer windows... no contest.
Tony Abrahams
55
Posted 16/11/2020 at 20:59:00
Darren H, I've read that post a few times just to see if you'd made a mistake.
Saying Ancelotti has inherited two world-renowned centre-backs has got to be a mistake... or are they renowned because it's impossible to play a high line with these two in the middle of our defence?
Tony Abrahams
56
Posted 16/11/2020 at 21:02:16
Do you really think Martinez is blossoming, Barry R?
Barry Rathbone
57
Posted 16/11/2020 at 21:17:02
Jason
The marvellous Moyes defence is a rewrite of history – they were an embarrassment under pressure time and time again.
Moyes played a defensive unit of 11, making us difficult to break down in non-event games but anyone going at us saw the proverbial collapse like a pack of cards. Wigan twatting us for 3 just before Moyes shipped out was not unexpected
We progressed under Martinez because the attacking flair he put in exposed the limitations of that defence.
He did well in spite of Moyes's defence, not because of it.
Barry Rathbone
58
Posted 16/11/2020 at 21:19:00
Tony,
How can you argue otherwise?
Robert Tressell
59
Posted 16/11/2020 at 21:20:26
Barry,
If we'd have stuck with Martinez until the Moshiri era, we would very probably have been relegated. Martinez was a shadow of himself by the time he left, as was the team.
If the Moshiri millions had turned up the Summer after his first season, then it's another matter. Stones, Baines, Coleman, Barkley, McCarthy, Deulofeu and Lukaku would have been supplemented with some real class. But we are where we are.
Barry Rathbone
60
Posted 16/11/2020 at 21:25:27
Robert
That's why I said he was too brave for his own good. He attempted the impossible without the requisite backing. The remarkable thing is he nearly pulled it off.
I will never jump on a man for being courageous.
Ian Horan
61
Posted 16/11/2020 at 21:35:06
Carlo's salary at £11mill is Moshiri's insurance policy!!! Dropping out of the Premier League costs circa £100 mill. Carlo will protect Moshiri's investment.
Alternative managers is wishful thinking, Carlo got James who has raised Everton's profile to unbelievable levels. In my opinion, Moshiri is too far in financially to risk relegation; his end game is a top 6 Premier League team and a shiny new stadium.
It will then be a billion-pound profit return as a lot of Moshiri's investment are interest-free loans to Everton FC.
Robert Tressell
62
Posted 16/11/2020 at 21:35:16
Quite right Barry. It was an educated risk that he nearly pulled off before it started to consume him.
I'd love to see Carlo show some bravery with the strange squad he still has at his disposal. A bit of freedom. More Gordon, some Nkounkou, a bit of Simms and the odd splash of Dobbin just to spice things up. Don't think he's that sort of manager.
Tony Abrahams
63
Posted 17/11/2020 at 08:20:33
Quite easily, Barry, although his record of third in a World Cup can never be taken away from him.
I didn't see anything courageous about Martinez, Barry: two goals up at home to Arsenal, and not keeping enough defenders back, whilst Arsenal kept three up front was idiotic in my opinion. As was bringing off a man who was doing the work of two men when Everton were down to 10 men (Lennon, playing midfield against West Ham) and bringing on a centre-forward?
His courage never paid dividends; his stupidity cost us five points. Remember the semi-final against Man Utd, and Everton had played like frightened little schoolboys at Wembley in the first half? "They're not having a go at you, Roscoe" shouted Jagielka going down the tunnel, and I can only imagine what was finally said at half-time because a courageous Everton were very unlucky after a very good second-half performance that day.
Remember the other semi-final that season? A pacy Gerard Deulofeu, was great that night for Everton until he tired. He kept Man City on the back foot with his drive and his pace, so who did Martinez replace him with, Kone or the like for like pacy Lennon?
Kone came on, Man City started getting loads of joy, overloading their left side, and constantly getting two-on-ones against the exposed John Stones, and if that's called courage, I'm glad I've never had any!
I thought Martinez, was great when he came, but constantly conserving energy every time Everton went a few goals in front became very boring to watch, and this is when the exasperated fans first started to lose patience with Roberto, who always seemed to be thinking ahead instead of concentrating on the game his team was playing in at the time.
Barry Rathbone
64
Posted 17/11/2020 at 10:16:56
Tony,
You contradict yourself several times.
His 3rd place in the World Cup is hardly evidence of anything but progress, ergo he has "blossomed" – surely you see that?
Your comment about not seeing anything courageous in an Arsenal game where he boldly continued to attack rather than shut up shop is equally contradictory. You might question the pragmatism but that is not courage.
You have not made a case at all.
Tony Abrahams
65
Posted 17/11/2020 at 10:35:48
Thanks, Barry, I'm still waiting for your own explanation for why he has blossomed, other than getting third in a World Cup, with the Number One ranked team.
Incidentally, the Arsenal game was when we let in two goals in the last 5 minutes, mate; second game of the season, we threw away a two-goal lead.
Barry Rathbone
66
Posted 17/11/2020 at 11:27:45
Tony,
I don't class rankings as any realistic gauge nor any guarantee of football results – if they were, why bother playing?
I would rather let facts speak for themselves and the fact is his Belgium side were unlucky to draw the eventual team of the tournament and eventual winners, France.
I believe third place is the highest finish of any Belgian side in any tournament despite having better teams in the past. Surely that is an achievement justifying the transition of a sacked manager as having succeeded or blossomed?
But if you disagree, may I use the rankings you hang your hat on? As of 22 October 2020, Belgium were top of the charts!!
Fascinating how using your metrics you will not see his success at Belgium after the Goodison ignominy as not blossoming.
Tony Abrahams
67
Posted 17/11/2020 at 11:57:48
Not fascinating to me, Barry, I'm not really into these charts that much either, mate. At the end of the day, they don't win you anything, do they? That's why they are not something I will ever hang my hat on.
He's inherited Belgium's golden generation, he's taken a very good group of players to third in the World Cup, but he hasn't overachieved and they haven't won nothing yet, so I honestly don't think Martinez has really blossomed.
He might do in the future; I personally don't think he will... that's something only time will tell us.
If Martinez was pragmatic, he would have found a way to lose to England in the group stages of the World Cup, to give his team a much easier passage to the final. But not Roberto – he's got too much courage for that maybe?
In other words, Barry, can you tell us in detail why Roberto Martinez has blossomed? What do his teams do differently now that make you feel this way? And also, when have Belgium had a better team?
Barry Rathbone
68
Posted 17/11/2020 at 12:09:01
Tony,
Belgium's golden generation was the one before. This one isn't a patch on it. If you don't like the charts, why bring them up as a central premise to infer Martinez has not succeeded?
It is unassailable he has done a great job. Why?? Because he hasn't been sacked.
It's slightly apples and oranges but how many managers have we had in the same period?
Tony Abrahams
69
Posted 17/11/2020 at 13:22:32
I brought them up, Barry, because they are a gauge to show in what level his squad is operating. If your team is ranked Number One and you come third, you haven't done a bad job, but it definitely doesn't mean you have succeeded.
I haven't contradicted myself over Martinez, I just said something you called being too brave, was something I would call being naive, and I gave my examples why.
He hasn't had the sack means he's blossomed? What great logic, it makes me understand how Moyes got the Man Utd job now!
Barry Rathbone
70
Posted 17/11/2020 at 14:04:02
Tony,
Moyes took on the Champions and was found out in 5 mins flat.
Martinez has been Belgium manager since 2016 and is still progressing. Your metric to "show what level his squad is operating" shows an improvement from a 3rd to 1st ranking leaving me utterly bemused as to why you don't see this as progress – or, in my vernacular – "blossoming"?
Ian Horan
71
Posted 17/11/2020 at 14:47:37
Martinez won't be sacked by Belgium anytime soon. I remember when he was appointed in 2016, a Belgium journalist who was very close to the Belgium FA said he was the cheapest option at only €1.5M a year.
I think he is using this role as a means to rebuild his reputation, obviously it's easier to do at that wage when you had just taken Everton for £10M in compensation.
Tony Abrahams
72
Posted 17/11/2020 at 14:59:29
Can't you see the irony that I'm utterly bemusing the man who says my post was full of contradictions, Barry!

Tony Abrahams
73
Posted 17/11/2020 at 15:00:07
Can't you see the irony that I'm utterly bemusing the man who says my post was full of contradictions Barry!

John Pierce
74
Posted 17/11/2020 at 15:11:54
Martinez hadn't improved one iota. He was going to play the way he did whether we had the players or not. He's a cheerleader for players with little tactical acumen at the top level. He's a beeter version of Keegan. Brave? Ah bravery is the same as stupidity divide by the thinnest of lines.
He's played the same way with every team he's had. Belgium don't need him to manage them, they need him to drive the bus. I've taken time to read the Belgian press and most are utterly bemused at his hiring.
Once they have a last crack at the Euros and World Cup with a squad which is ripe, he'll disappear into the ether to return as a TV genie, smiling and bluffing his way along.
I'd put him comfortably below any of the incumbents since Royle, even Silva. A true grifter of a manager.
Barry Rathbone
75
Posted 17/11/2020 at 15:29:00
John,
Brave? Ah, bravery is the same as stupidity divided by the thinnest of lines.
So they're not the same thing then.
Why do people contradict themselves with their own musings?
Jay Harris
76
Posted 17/11/2020 at 16:18:07
Evertonians are the most patient supporters in the world but the vast majority turned on Martinez like no other manager before him leaving Teary Bill having to dismiss his "Golden Boy".
The vast majority of Blues can't be wrong, Barry. I am afraid you are in a small minority if you rate Martinez as a manager. Even Lukaku couldn't help but laugh when he heard of Martinez's appointment to Belgium, where he has continued to underwhelm, despite having what many define as the best squad in the world.
Jay Harris
77
Posted 17/11/2020 at 16:18:45
And for "Brave" substitute "Reckless".
John Pierce
78
Posted 17/11/2020 at 16:24:32
Barry, inherently they share the same characteristics, it's not a contradiction at all. It's better to challenge the post rather than the poster, the writing style I employ is there to be polite rather than confrontational. Quoting me feels like you just want to challenge me rather than lay an argument for why you think Martinez was brave? That's seems to be a deflection.
Where's the evidence of Everton improving under him? We went backwards. Our league positions flush that out, despite having the most lethal striker in the league. His efforts in both semi-finals against Man City and Man Utd are great examples of dreadful game management. The list is long, where's the list of great tactical innovations aside from playing Lukaku on the right v Arsenal in 2014 and reprised v Brazil in 2018. Show me the bravery you talk of!
Where's the argument to show Belgium are a better team under him? They failed at a World Cup (which they were amongst the favorites for) which was dominated by slow, plodding football. Their performance in their only real test against France was meek and they went out like lambs. In the subsequent 18 months, they've been tested by no-one. They've gone from a team of superb players with inexperience and massive potential to a team that's 3 or 4 years older and face the pressure of the last chance saloon.
To be more plain, what some saw as bravery in Martinez is in fact stupidity.
His record is a clear indication of a coach who couldn't hack it at the top level and still cannot. You cite him as brave and something you admire yet cannot bring any tangible evidence to the table to show how he is a good manager. Tactics? Player development? Innovation?
There was zero substance to his tactics, he repeated the same errors for time immemorial. He lent on players; once the thin veneer of his cheerleading waned away, they saw a man with no plan. The dog days of his reign were some of the most acrimonious I've seen at Everton. It was horrible.
I'm always willing to listen to all sides and actually concede where I'm wrong. I'd love for anyone to land some line of argument to change my mind.
Tony Abrahams
79
Posted 17/11/2020 at 16:53:57
That's why I come on ToffeeWeb, Barry, to debate and to maybe learn from people who I might disagree with. I obviously agree with what JP, more than I agree with you about Martinez. More importantly, John gives proper straightforward examples, but maybe that's just because we see things the same way regarding Martinez?
Barry Rathbone
80
Posted 17/11/2020 at 17:12:10
Jay,
The vast majority of Blues can't be wrong, Barry.
This was used against Kendall pre the 80s glory team. So much for mob rule.
Brendan McLaughlin
81
Posted 17/11/2020 at 17:40:44
To be fair to Martinez, I think he was realistic enough to accept his limitations after he was sacked by Everton and consequently, at a relatively young age, opted for the easy option of partial retirement that is international football management.
I'd be very surprised if his reign as manager of Belgium, whenever it eventually comes to an end, provides a vehicle for him to return to full-time management at least with a top tier club.
Darren Hind
82
Posted 17/11/2020 at 18:00:14
Just because somebody printed leaflets claiming 40,000 stay away fans can't be wrong, that doesn't mean it was the opinion of 40,000 people. In my experience, Kendall always enjoyed the support of the majority.
It was difficult to follow Everton at the time. Unemployment was rampant in this city and people had to choose carefully what they did with what little money they had. It was easier for the Red Shite to attract bigger crowds. They had already started to attract support from outside the city because they came down Scottie as often as the 44D and they always had a trophy to show off.
As soon as the team started to get results, the rent man and the insurance man stopped getting paid and Evertonians flooded to the match.
A load of leaflets distributed by a handful of people at one match may have made headlines but did they represent the majority? Not from where I stood.
Barry Rathbone
83
Posted 17/11/2020 at 18:01:55
John,
It's better to challenge the post rather than the poster.
Which is exactly what I did. If you are on the left side of the dividing line in the road (UK), you live; if you cross the dividing line into oncoming traffic, you die. A dividing line separates 2 conclusions; therefore, your assertion contradicts itself.
 Why you think Martinez was brave? 
Because he wanted to transform this club from the moribund entity it had become under Moyes without the resources of those he challenged. It was destined to fail but, by God, he had Goodison roaring in accord when his courage paid off.
Where's the evidence of Everton improving under him?
We didn't long term but the first season showed what he could achieve with a handful of decent players. The issue was he needed more and didn't have the dough. He has since reinforced his credentials with good players at Belgium.
 His efforts in both semi-finals against Man City and Msn Utd are great examples of dreadful game management.
Compared to all those semi-finals we've been in since? Not a well thought-out point – particularly when the opposition were money-laden Mancs. Although he did twat us and Man City to win the FA Cup with Wigan... but let's just ignore that game management and concentrate on Whelan selling off the silverware and shutting the cheque book to create a controlled descent into the lower divisions.
Where's the argument to show Belgium are a better team under him?
See John above and his world rankings faux par illustrating the ranking improvement. Also why on earth did thousands turn out to welcome the returning team in Belgium if your assertion he failed in the tournament were true?? Utter folly.
The rest of your stuff was emotive ranting but the key points above I have demolished.
Barry Rathbone
84
Posted 17/11/2020 at 18:46:21
Darren,
Anyone claiming to have the authority of masses based on anything but a democratic vote is delusional. Nonetheless, whenever it gets trotted out, the Kendall protest will rightly be cited as the antidote.
John Pierce
85
Posted 17/11/2020 at 19:06:01
Barry, I can happily drive on the right side of the road as long as it's reasonable and safe to do so! ☺️
The point is these things are never binary and neither is my argument. Your approach is about a strap line and doing nothing but dismiss those who seek to challenge it. Your desire to rattle through my points rather than consider your own position might be erroneous is were we differ. It's 'I'm right, you're wrong'. I've asked you for examples of positive things about Martinez, to help convince me to reconsider; instead you've ignored that and gone headlong for the win.
There's nothing persuasive in your post to build a picture to support your headline. How does bulldozing your way through my points, even if they are wrong, coax anyone to your way of thinking when there's nothing positive to gather around.
You may have a point about the semifinals but Moyes did get us to the to three between 2008-2012. So we're we really as starved as you make out?
I'd argue the semi-finals were the most important games we'd had for years, and yet were was the bravery you speak of? If you believe both Manchester clubs were superior because of the money, rewatch the games, we were comfortably better in both and it was his game management which influenced the result.
Fair does to Martinez his FA Cup. It's his and credit must be given to him. To reflect can you call that performance brave? Maybe, a rearguard or stoic one, but he certainly didn't set out to go toe to toe in the way you suggest.
Belgium, well you may again have a point, 3rd may have been a success for a country with such small resources. I can't speak to that I'm not Belgian. But let's be straight, any international tournament is the business end of things, qualifying is not arduous so not winning is failure, especially with the resources he had.
All three semi-finals his teams were beaten not by impressive performances but by a lack of spine and his poor game management. Does that not strike you as odd? Did he learn anything from each experience? Did he show any improvement next time? No, all three are almost exact replicas of each other. Have you reviewed the match or even looked at how Belgian press reacted to the loss? The rankings mean little, you'd be hard-pressed to find anybody who thinks they're a good representation of who's the best.
There is nothing emotional or ranting about my post. No inflammatory language, insults nor anger, just a desire to tease out the meat behind your position. So why bring that sort of comment to a debate? It's unnecesary and cheap. Please don't.
Come on Barry give us something to bite on. I know Martinez wasn't all bad, so tell me why!

Paul Tran
86
Posted 17/11/2020 at 19:30:40
Martinez was bold in his first season. Bought the striker it was 'impossible' to buy. Bought the canny centre-midfielder it was 'impossible' to buy. Just not quite good enough to get top four.
Then he went reckless. Told everyone he needed 7 players, tried to bounce Kenwright into getting them. As a result, he pissed off the players and ended up with Lukaku and, ahem, Besic. And then he fell between two stools. He talked bold, but played lumpen, dull football.
What got me was that when we we're 1-0 up and went to City for the second leg, then going 2 up, he tried to out-football them and lost. Not long before or after, we went to City, shut up shop and got a goalless draw. Why didn't he do that in the semi-final?
Like all of us, Martinez has strengths. He overdid them and his misplaced boldness became a shapeless weakness. That's why he had to go, though I often wonder what might have happened if we had a buyer after that first season of his.
Tony Abrahams
87
Posted 17/11/2020 at 19:41:27
I'm surprised you came back after being demolished, John, but I asked Barry, a similar question, and I'm still waiting for his examples.
I remember Martinez being under pressure at Everton, and he went and got a couple of nil-nil draws against the bigger teams. I'm sure he also lost a controversial game at Chelsea, around this time, so it's not as if he couldn't set his team up to defend.
He couldn't combine these two ingredients imo though, and until he does, I could never use words like "blossomed" to describe Martinez, although my favourite match of the last World Cup, was when his, "outplayed at times" Belgium, came from two goals down against Japan, using common-sense and Fellaini's height, to claw themselves back into the game.
Martinez, had a great first season, but he took over a team that came 5th, and if the season before he arrived had finished the day after New Year's Day, he would have been taking over a Champions League team.
Hyperthetical I know, and although I definitely preferred Roberto's style of football compared with David Moyes, neither of them was good enough for Everton imo, and neither of them has blossomed since they left us.
Coming 3rd in the world is a great thing to have on your CV, but nothing hits me in the face when I watch Belgium, to convince me Roberto Martinez, has succeeded or blossomed, and that's why I asked you the question last night Barry, because I was hoping you were going to enlighten me mate, and give me something to study next time I watch his team play.
Barry Rathbone
89
Posted 17/11/2020 at 20:58:44
Tony and John
Chaps, I hear you.
You have looked at it fairly and dispassionately and come up with some reasoned conclusions, like:–
Bobby's drive to semi-finals and a Premier League record points total in 3 years via a few better players deserves vilification by all fair-minded Evertonians. His failure to pick up loanees like Rom and Del every window nor sign top quality from the bottom of the transfer barrel is a scandal when you consider this is the blueprint of all top clubs. Just look at... oh!!
Imagine what a cock-up this hound would make if someone give him control of a complete squad of good players... Oh!!
Tony Abrahams
91
Posted 17/11/2020 at 22:01:10
I have to agree with you, Barry, because, after all those examples, I now realise I'd forgotten how good Roberto was!
Michael Williams
92
Posted 18/11/2020 at 12:11:07
"Evertonians are the most patient supporters in the world..."
Unless you are a young player who doesn't show it in the first three games.
---
Add Your Comments
In order to post a comment, you need to be logged in as a registered user of the site.
Or Sign up as a ToffeeWeb Member — it's free, takes just a few minutes and will allow you to post your comments on articles and Talking Points submissions across the site.