Mixed fortunes for South American contingent
Tuesday, 17 November, 2020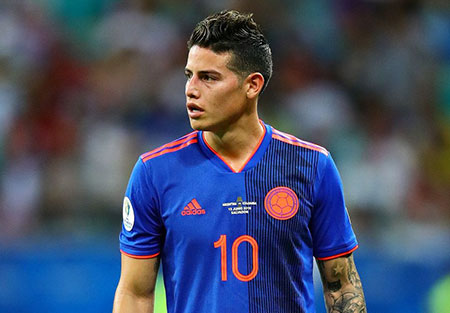 James Rodriguez scored from the spot for Colombia but Los Cafeteros suffered a 6-1 drubbing in World Cup qualifying while a Richarlison strike helped Brazil beat Uruguay.
Hoping to make amends for a comprehensive 3-0 defeat by Uruguay last Friday, Colombia, playing without the suspended Yerry Mina, were 2-0 down to Ecuador inside 10 minutes as Robert Arboleda and Ángel Mena netted for the hosts.
Michael Estrada and Xavier Arreaga made it 4-0 with 39 minutes played before James converted a penalty in first-half stoppage time.
Gonzalo Plata added a fifth for Ecuador with 12 minutes to go but was promptly shown his second yellow card of the match for what the referee deemed to be an excessive celebration.
Even down a man, the Ecuadorians weren't finished and Pervis Estupiñán fired home in stoppage time to round off a miserable afternoon for the Colombians. It was the first time Colombia had conceded six goals in a World Cup qualifier for 43 years.
In Uruguay, as Brazil looked to extend their 100% record in the CONMEBOL region so far, Richarlison was named in the starting XI but Allan missed out through injury.
The visitors drew first blood 11 minutes before half-time when Gabriel Jesus set up Arthur to drive home the opening goal for Brazil.
Richarlison then doubled Brazil's advantage on the stroke of half-time, heading home Renan Lodi's cross following a short corner, before eventually making way for Everton Soares with 20 minutes to go after being fouled by Edinson Cavani.
The Toffees' star wasn't injured but Cavani had a yellow card upgraded to a straight red for the challenge.
Meanwhile, in the Uefa Nations League, Lucas Digne came on as a 19th-minute substitute as France beat Sweden 4-2.
The Swedes, who were relegated by the defeat, had Digne's Everton team-mate Robin Olsen in goal and they took an early lead through Viktor Claesson. But a double from Olivier Giroud, a goal from Benjamin Pavard and a late strike from Kingsley Coman on the counter set up by Digne after Olsen had left his goal empty trying to equalise sealed it.
In Africa Cup of Nations qualifying, after the 4-4 goalfest between the two sides a few days ago, Sierra Leone and Alex Iwobi's Nigeria played out a goalless stalemate.
In U21 European Championship qualifying, Tom Davies and Ben Godfrey played in England's 5-0 win over Albania.
---
Reader Comments (36)
Note: the following content is not moderated or vetted by the site owners at the time of submission. Comments are the responsibility of the poster. Disclaimer
John Keating
1
Posted 17/11/2020 at 23:00:01
Looks like he played the full game, unfortunately.
Fingers crossed Richarlison doesn't.
As regards the waste of time tomorrow, I just hope Calvert-Lewin and Keane are lucky enough to be dropped!
Mike Gaynes
2
Posted 17/11/2020 at 23:12:45
Stunning outcome. Colombia's next export will be to send Carlos Queiroz home to Portugal with a footprint on his ass. They're gonna need a new manager pronto or they will find themselves out of the World Cup.
Jay Wood
[BRZ]
3
Posted 17/11/2020 at 00:01:48
That is a shocking scoreline for Colombia, but Ecuador are having a very good South American World Cup campaign. They lost their opening game, away to Argentina, 1-0 to a Messi penalty. Since then, they beat the always strong Uruguay 4-2, won 3-2 away in Bolivia and then the 6-1 dismantling of Colombia tonight.
Half-time in the Uruguay - Brazil game, the away team 2-0 up with a deflected goal from Allan's replacement, Artur, and a very nice headed goal from our Richarlison, playing much better tonight than he did vs Venezuela on Friday.
Initially, he looked well off the pace as, with every Brazilian attack, he was back on the half-way line with Brazil approaching the Uruguayan penalty area. But then it became obvious the coach Tite has deliberately withdrawn him to play deeper in a tighter 4-4-2 than their usual 4-3-3 or 4-3-1-2.
Astonishingly, given Uruguay's strength down the years, you have to go back to 2001 when Uruguay last beat Brazil, home or away. Indeed, since 1995, the head-to-head record in Brazil's favour reads:
P 15 W 9 D 3 L 2
Very much on course to become 10 wins out of 16 at the moment.
Jay Wood
[BRZ]
4
Posted 18/11/2020 at 00:32:16
Good! Richarlison subbed off for Everton Soares on 70 minutes. Brazil's one and only sub of the night so far.
Less good is his last action was getting his shin and ankle raked by Cavani who got yellow-carded for it.
Barry McNally
5
Posted 18/11/2020 at 00:42:36
Everton replaced Richie - quite apt that!
Jay Wood
[BRZ]
6
Posted 18/11/2020 at 02:54:44
Richarlison (not for the first time) pressing all the right buttons with the Brazilian public.
He has dedicated his goal tonight to the state of Amapá which sits close to the equator where it is permanently hot and steamy.
Why the dedication? Because Amapá – the entire state – has been without electricity for 2 weeks following a fire at its primary power plant.
Richarlison called on the authorities to do more to alleviate the suffering of so many.
Richarlison's Tweet has drawn tens of thousands of loving and admiring comments, further cementing his popularity with his fellow Brazilians.
Ajay Gopal
7
Posted 18/11/2020 at 09:06:42
In the bad old days, that kind of result might have resulted in violent repercussions for the Columbian team. Hopefully, James and Mina can overcome this traumatic result (and the previous one) and focus on getting Everton back up the table.
Assuming that the South American contingent get back to England late Wednesday night, that would give them barely enough time to recoup and train with their team mates. In that sense, moving the Fulham game to Sunday is actually helping Everton.
Alex Gray
8
Posted 18/11/2020 at 09:45:33
Echo now reporting Richarlison may miss next match thanks to the Cavani challenge. Got to love international games. So potentially no Richy, Allan and Coleman with a tired James playing two full 90 minutes. Utterly ridiculous.
Brian Murray
9
Posted 18/11/2020 at 09:56:07
Alex.
If true and Carlo reverts to type with his usual failures – Sigurdsson, Gomes, Tosun, Davies etc – then he deserves all he gets. The counter-argument I know is "Well, he has no-one else."
The likes of Gordon, Nkounkou, Simms and Onyango are more than enough to beat Fulham with the right system and bravery in selection. This is the real reason we went the extra mile and got a so-called world class manager instead of the usual idiots.
Prove it, Carlo, because no-one is interested in your CV here.
Jim Bennings
10
Posted 18/11/2020 at 10:04:03
If we have no Richarlison, Allan or Coleman then we'll get twa#ted on Sunday.
Sick of these international matches bang in the middle of the beginning of the busiest time of the football season.
They constantly complain about too many games yet these matches go ahead, shit for brains comes to mind.
Robert Tressell
11
Posted 18/11/2020 at 10:39:13
If we want to be a big club then we need to build a squad that can cope. The only position we have depth and quality is centre back. Other than that we've just got numbers (esp midfield) or more worryingly, no numbers (esp wings and up front).
Quite how we've ended up here is hard to fathom given the money spent.
It all points to us having an up and down time of it for another year or two.
Hopefully Allan and James are still in good nick by then.
Rennie Smith
12
Posted 18/11/2020 at 10:56:26
Just seen Cavani's "tackle" on Richarlison. Can't see him playing at the weekend I'm afraid.
https://twitter.com/i/status/1328860788719833088
Sam Hoare
13
Posted 18/11/2020 at 10:57:05
Allan was on the bench I think last night. Reckon he'll be avaialble for Sunday. Richarlison too as it sounds like it's just bruising hopefully. Not sure on Coleman.
I wonder if Godfrey might get his debut at CB with Holgate at RB? Holgate played a whole season there for West Brom and sadly I suspect may be a better option (even out of position) than Kenny.
Jim Bennings
14
Posted 18/11/2020 at 11:39:41
Sam
I watched Holgate at times play right back at West Brom, complete fish out of water much like when Godfrey played there.
A right back needs the ability to get up and down the pitch and know when to overlap ect, for me Holgate can only play centre half or maybe defensive midfield like at Old Trafford last December.
The money we've had yet we haven't looked at a right back knowing full well Coleman's lack of fitness over the last year or so and the age factor.
Kenny not up to the Premier League either but the only option.
Jay Wood
[BRZ]
15
Posted 18/11/2020 at 12:08:44
No need to presume the worst for the weekend already.
Allan's 'injury' was widely reported as a 'tweak'.
The Carvani tackle that caught Richarlison was a bad one, but Tite was already preparing to make the substitution with Richy coming off and Everton Soares coming on. It was a tactical change, not one enforced by injury.
The tackle happened on the opposite side to the dugout, so Richy walked off the pitch at the nearest point and then walked all the way around the pitch back to the dressing rooms unaided.
Dave Abrahams
16
Posted 18/11/2020 at 12:46:38
Jay (15), thanks for your posts Jay, much appreciated.
Jay Wood
[BRZ]
17
Posted 18/11/2020 at 12:58:40
Just seen the morning news reporting that Brazil's European base players flew out of Uruguay directly to Europe immediately after the match. No flying or stopover in Brazil en route. Madrid the destination, from where they will all continue on to their respective destinations today.
Showed Richy walking out of the team hotel and boarding the bus just fine. No hint of a limp at all.
Sam Hoare
18
Posted 18/11/2020 at 13:28:47
Jim@14 I watched Holgate play a fair amount for West Brom and whilst positionally suspect on occassion at times he was actually quite decent.
It'd definitely not his best position but he is way better and way more experienced there than Godfrey. In fact at West Brom he got 4 assists there in 21 games which is not too shabby for a full back.
He's certainly an option to rival the somewhat limited Kenny, though I agree we really should have secured another option; think that has to do with no-one wanting to pay the asking price for Jonjoe.
Danny Broderick
19
Posted 18/11/2020 at 13:43:14
Let's hope Siggi has a blinder tonight and someone gives us £20 million for him in January!
Ajay Gopal
20
Posted 18/11/2020 at 13:59:04
Jay (15): "The tackle happened on the opposite side to the dugout, so Richy walked off the pitch at the nearest point and then walked all the way around the pitch back to the dressing rooms unaided."
While that is encouraging, it doesn't mean much. That is exactly what VVD did after getting injured! Also, I remember that Bolasie continued to play for a few minutes after getting injured which ultimately kept him out for more than a season.
Anyway, I don't want to sound pessimistic - hopefully he is fit and fine. Also good to know that the players will be coming back home today. So, hopefully they recover tomorrow and start training from Friday.
Brian Cleveland
21
Posted 18/11/2020 at 14:10:04
Jay, appreciate all the updates. As a blue in Colombia, I'm keeping my head well and truly down.
Last two performances have been beyond woeful. No motivation, no shape, no energy, nothing. Peckerman must have a wry smile on his face after this debacle.
Christy Ring
22
Posted 18/11/2020 at 14:14:20
Ajay#20 Richarlison told reporters after the game, he was fine, as for Allan he wasn't even on the bench, keeping my fingers crossed.
Jay Wood
[BRZ]
23
Posted 18/11/2020 at 14:59:58
Brian @ 21.
What the hell has happened with Colombia? Last year in the Copa America they were looking as good as anyone in the tournament until their surprise elimination on penalties to Chile.
They started this year's WC qualifiers well. But the last two matches in this international break... Carlos Queiroz must be feeling the heat.
I correspond with a Colombian nurse I met when working in Angola, now back home. She is a devout Blue (as long as James is at Everton!) and she is seething this morning. I guess she represents the national mood.
Is the Colombian media as fierce as the UK and Brazilian media can be in relation to their national footy team?
Jim Bennings
24
Posted 18/11/2020 at 15:07:12
Sam
Maybe it's just me, I'm just never comfortable watching square pegs in round holes and after many years of watching Everton manager's do this it's become a real bugbear.
If Mason Holgate or Ben Godfrey start on Sunday then it pretty much tells us everything we need to know about Kenny's remaining months at Everton, a player that broke through under Sam Allardyce three years ago but has never kicked on at this level and if he can't stake a claim now then he never will.
Dave Abrahams
25
Posted 18/11/2020 at 15:47:05
Danny (19), I think Father Christmas knocks off in December!!
Tony Abrahams
26
Posted 18/11/2020 at 16:12:11
It looks like Jonjoe Kenny, is one of those kids who has got worse by not playing much?
He's the only natural fullback, he done okay against Fleetwood was doing very well until he got injured against West Ham, and the only other time he's played, I'm not sure what our system was that day against Newcastle, so let's see if he's selected on Sunday. If Coleman is injured then surely Kenny must start?
Charles Brewer
27
Posted 18/11/2020 at 16:27:48
Having just watched the Richarlison clip, I think we could guarantee that, if that had been in the Premier League, Richarlison would definitely have been sent off.
Sam Hoare
28
Posted 18/11/2020 at 16:30:00
Jim@24, I know what you mean but not sure you can compare Godfrey (who's only played 1 senior game at RB that I know of) to Holgate (who's played around 40 senior games in that position).
I suspect Kenny will start if Coleman is out. Good luck to him but I don't think he'll be here next season.
Jay Harris
29
Posted 18/11/2020 at 16:32:36
I would back Kenny against Lookman and would go with Keane and Holgate as Mina seems shot now. Digne picks himself and hopefully James, Richy and Allan are fit to play.
That leaves the enigma of Whether to play Gomes(too slow), Siggy (too slow and used to have goals in him), Delph (too defensive and injury prone) or Iwobi ( not particularly good at anything especially defending) or bring Tom Davies back from the wilderness (Anyone know how he did for the U21 team).
Minik Hansen
30
Posted 18/11/2020 at 17:12:45
Since Mina didn't play the last Colombia game due to suspension, I can only see him play on Sunday, having fresh legs and pretty much picked by Carlo in PL games. Who knows what's gonna happen with that RB situation.
The lack of RB cover, it's the same with Leighton Baines until finally there was acquisition in the form of Lucas Digne. I think the club didn't prioritize the RB position this summer, the same way they did with the LB position down the years. I reckon we'll get a quality RB when Seamus is ready to be on the bench, same as Leighton Baines did.
John Raftery
31
Posted 18/11/2020 at 17:43:08
Jim (24) A mate of mine, an Albion season ticket holder, told me they were pleased with Holgate who performed well for them at right back. They also liked the fact that he was the fittest player in the squad and a bit of a nark with the opposition. They would have been happy to have signed him on a permanent deal.
While Mason could do a half decent job in that position, the modern full back operating in a 4-3-3 or 4-4-2 requires attacking qualities to be effective at the highest level. With the best will in the world Mason is not that player. From what I have read of his interviews I think the player himself would agree with that.
Jack Convery
32
Posted 18/11/2020 at 17:45:08
Cavani did to Richy what Robertson tried to do to Allan in the derby.
The World Health Organisation should instruct FIFA to stop these ridiculous competitions during a world pandemic. Absolutely pathetic.
Bobby Mallon
33
Posted 19/11/2020 at 16:31:15
What's happened to all the comments on all the threads
Eddie Dunn
34
Posted 19/11/2020 at 18:41:09
Rennie @12 -I have seen Richarlison pole-axed and substituted, seemingly badly injured only miraculously able to play a few days later. It's hard to tell when he has just taken a knock or been destroyed.
Patrick McFarlane
35
Posted 19/11/2020 at 22:18:51
Brian #21
I'm hearing that there has been some allegations of fighting between Colombia players at some time either before, during or after the heavy defeat this week, apparently James Rodriquez has been the centre of attention either because he was directly involved or that two of his team-mates squared up to each other one of whom was defending James from derogatory remarks made by another player.
On twitter there is allegedly a letter from James denying any involvement or indeed not recognising the event as reported by the media/social media.
It's hard to tell if any of this is merely michevious people creating issues that don't exist or indeed if the letter by James is at all genuine. Can you shed any light on the subject Brian?

Derek Thomas
36
Posted 20/11/2020 at 01:09:56
2020 has been a 1 off year and '19 '18 and '17 have been total cock-ups, recruitment wise, so its much to early, by 15mths or more for any Taxi! talk, only to say - CV gets you the job, but performance keeps you the job.
---
Add Your Comments
In order to post a comment, you need to be logged in as a registered user of the site.
Or Sign up as a ToffeeWeb Member — it's free, takes just a few minutes and will allow you to post your comments on articles and Talking Points submissions across the site.