Fulham vs Everton
Saturday, 21 November, 2020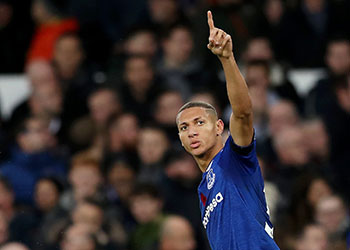 Richarlison is back in contention after missing three games through suspension
With the final international break out the way, Everton are back in action hoping to get their Premier League campaign back on the rails following three straight defeats that wrecked their 100% start to the season.
The Blues travel to Fulham on Sunday to begin another three-match stretch that could define their season — with eminently winnable games against Leeds and Burnley to follow, Carlo Ancelotti's side could either reassert their European qualification credentials or find themselves still beleaguered by questions and uncertainty over the best formation and personnel.
Everton went into this latest pause for internationals with fitness concerns over Seamus Coleman (and had those concerns fully realised when he was forced to withdraw from the Ireland squad because of his troublesome hamstring; he is ruled out of the trip to Craven Cottage), a patently unfit James Rodriguez, a midfield selection dilemma, and a deepening issue over how to win without Richarlison in the line-up.
The Brazilian is finally eligible again after serving a three-game suspension and escaping injury when he was caught by an ugly, late tackle by Edinson Cavani in a World Cup qualifier against Uruguay and his presence and the extra problems he poses for opposition teams who have only had to worry about keeping James quiet will be a welcome sight.
Although he largely ignored his team's attacking limitations in recent games, Ancelotti refused to blame his team's run of losses on Richarlison's absence, saying in his pre-match press conference yesterday:
"We didn't lose because Richarlison was not there. If he was a defender I can say 'Okay, we lost power there' but he is a striker and we didn't defend properly in the last three games. But he is a really important player for us."
Rodriguez, meanwhile, is unlikely to be at full capacity, however, after playing two 90-minute games for Colombia and that will be a concern for Ancelotti and it might force a rethink on how he deploys the former Real Madrid midfielder. The Italian addressed James's best position but didn't appear to concede that he might need to relieve him of his defensive responsibilities and move him into a more central role.
"His position is as a No 10. It doesn't matter if he's on the right or in the centre. His position is in front," Ancelotti said, intimating that he is comfortable with James nominally playing right midfield but with a license to roam. Of course, that has led to a lack of cover down the right flank and a continuation of that won't help Jonjoe Kenny who is likely to be handed right-back duties in Coleman's absence.
Then there is central midfield where Gylfi Sigurdsson's performance against Manchester United in place of the below-par André Gomes left plenty to be desired and, with Jean-Philippe Gbamin the presumptive solution as a holding midfielder should he be able to regain and retain full fitness but still three weeks away, it means that Ancelotti will need to maintain his quest for balance and reliable cover for the defence from his existing personnel.
Fabian Delph is fit again after missing the United clash with another niggle but it remains to be seen if he will be given a starting berth. Yerry Mina is also in contention again after sitting out the last game to accommodate Mason Holgate's return to the starting XI.
Though condemned by pundits as being doomed for the drop back to the Championship this season, Fulham come into this game sitting above the relegation zone having picked up their first victory recently, a 2-0 home win over West Bromwich Albion.
They might have earned a draw at West Ham in their last outing as well had former Blue, Ademola Lookman, not been made to look a fool by Lukasz Fabianski who easily saved his last-minute attempted "Panenka" penalty that allowed West Ham to hold on for a 1-0 victory.
With Lookman providing plenty of thrust from attacking midfield and more consistency than he showed during his time with the Blues, Scot Parker's side have been showing signs of growing into their task of trying to remain in the top flight. With Everton's recent struggles, this won't be an easy fixture by any means at a stadium that hasn't been a happy hunting ground for them.
A win, though, could put Everton back into the top-four mix and re-inject some confidence into a team that has visibly lost its mojo lately.
Kick-off: 12pm, Sunday 22 November 2020 on BBC One & BBC iPlayer
Referee: Andy Madley
VAR: Lee Mason
Last Time: Fulham 2 - 0 Everton (April 2019)
Predicted Line-up: Pickford, Kenny, Mina, Holgate, Digne, Allan, Doucouré, Gomes, Rodriguez, Richarlison, Calvert-Lewin
---
Reader Comments (131)
Note: the following content is not moderated or vetted by the site owners at the time of submission. Comments are the responsibility of the poster. Disclaimer
Kunal Desai
1
Posted 21/11/2020 at 07:40:10
Expect Lookman to have the game of his life only for this one.
Bobby Mallon
2
Posted 21/11/2020 at 08:03:47
I hate craven Cottage we always do badly there
Eddie Dunn
3
Posted 21/11/2020 at 08:05:42
Well lyndon, I see you don't think Keane will start. He has been very consistent this season and I am sure he will keep his place. I expect to see Holgate partner him, and continue his return, with the tired Mina on the bench.
Or I suppose Carlo could surprise us with a back three/five allowing the full backs to provide some much needed width, in which case Mina could also get a berth..
Sam Hoare
4
Posted 21/11/2020 at 08:25:42
I wish we'd kept Lookman and played him more instead of Walcott. Was always clear he had some talent and just needed backing and confidence. Another Fulham player I like is Anguissa, we need a central midfield who can carry and this las could be it. Great dribbler and a pretty decent all round midfielder.
Keane will surely start. Presumably alongside Holgate who Carlo loves. Though I wonder when Godfrey will get to play in his normal position.
Right back is a concern but Kenny will have to try and get up and down as much as possible. The other issue is the third midfield spot. As I said we need a ball carrier there and I'd love for Carlo to try Iwobi but it won't happen. I'd also like Davies or Bernard to get a go over the underperforming Gomes and Sigurdsson but I doubt it.
This would be my team but it won't be Carlo's.
Olsen
Kenny Holgate Keane Digne
Allan Doucore
Iwobi
Rodriguez Calvert-Lewin Richarlison
Frank Sheppard
5
Posted 21/11/2020 at 08:36:04
I would expect Keane in the back 4 rather than Mina.Perhaps start Iwobi to give Rodriguez a break.Important game for us, anything other than a straightforward-ish win, would make the alarm bells deafening. Nervous, but hopeful.
Neil Lawson
6
Posted 21/11/2020 at 08:59:26
I think Lyndon has been on the sauce choosing Mina over Keane. I wonder whether James may start on the bench with Bernard taking his place. I too, would put Davies on in place of Sigurdsson/Gomes. You will get 100% effort and commitment. The only sauce I have had is HP on my black pud but I I somehow doubt that Carlo eats black pud !!
Derek Knox
7
Posted 21/11/2020 at 09:12:42
Eddie @ 3, I am with you there on Keane who has almost been a revelation this season, and a reliably consistent performer.
In all fairness to Lyndon, it is a predicted team not a definite one.
Sam @ 4, I think both Lookman and Walcott were 'mistakes in the Transfer Market for us' because apart from the odd goal here or there. Generally their attitudes were like they didn't want to be over-involved, and were happy just to pick up exorbitant wages each week, with the minimum of effort.
As for tomorrow, I am hopeful that they will perform better than they they have been doing. Especially now Richie is back. He does make a significant difference when he plays, and that is reflected in results, with, or without him in the side.
John Keating
8
Posted 21/11/2020 at 09:12:46
Pickford
JJK Holgate Keane Digne
Allan Doucoure
James
Richie DCL Gordon
Andrew Clare
9
Posted 21/11/2020 at 09:16:54
This is a clash between a team struggling to establish themselves in the Premier league and a perennial mid table outfit (us). I hate to say it but that's what we have become.
Fulham will be looking at this game as an opportunity to gain three points especially as over the years we have an embarrassingly bad record at Craven Cottage.
We will have a full strength team apart from Coleman but as someone said the other day just like jenga with one piece removed we will probably collapse.
With the money we have spent and the players and manager we have you would expect a comfortable win but the reality is we just don't do comfortable wins.
Expect a really tight struggle that could go either way.
I hope I am wrong and we do win comfortably and convincingly. COYB's.
Ajay Gopal
10
Posted 21/11/2020 at 09:22:54
Since the last game, Carlo has repeatedly emphasised that defence remains our weak spot, and I expect him to shore it up. So, don't be surprised to see Keane and Holgate as CBs, and either Godfrey/Holgate playing centre-half to screen the back 4. Or he may go 3-4-3.
My prediction for a 4-3-3:
Pickford
Kenny Holgate Keane Digne
Doucoure Godfrey Allan
Rodrigues DCL Richarlison
For a 3-4-3, I would like Carlo to try Davies on the right side as a wide midfielder.
Pickford
Holgate Keane Godfrey
Davies Doucoure Allan Digne
Rodrigues
DCL Richarlison
Derek Knox
11
Posted 21/11/2020 at 09:48:18
Ajay @ 10, I like both of those formations to be honest, it looks like a good balance to the side. Whether the actual ones or formation is a matter for conjecture, and remains to be seen.
At long last a domestic game to look for ward to, I know the Club V Country argument has been around for years but I can never remember so many disruptions in a season.
Clive Rogers
12
Posted 21/11/2020 at 09:53:50
I believe Carlo has been picking both Siggy and Tosun to keep them on view for possible January sales, but the results have suffered as a result and it is time he picks his strongest team regardless.
Paul Smith
13
Posted 21/11/2020 at 10:00:48
I don't believe for one minute that Carlo picks players for the shop window, risking a defeat in the Premier League in the process – what manager would. We really could do with a win tomorrow and Carlo needs to step up as much as the players with his selection and tactics.
We look so slow and play in front of the opposition with few runners and nothing through the middle. Having Richarlison back will be a blessing and a win will go some way to repairing the last 3 games.
Si Cooper
14
Posted 21/11/2020 at 10:11:07
Clive, do you actually believe that in this agent dominated industry it is at all necessary to keep players "in the shop window"?
Raymond Fox
15
Posted 21/11/2020 at 10:24:12
We are favourites and have the best team, at least on paper that is.
We don't travel well though do we, so anything can happen!
The South American players especially travelling for Internationals cant help their form when they arrive back.
Most likely result - Draw.
Next likely result - Win for us.
Least likely result- Win for them.

Dave Williams
16
Posted 21/11/2020 at 10:34:17
There's a great article in a Cumbrian paper about Branthwaite on Newsnow this morning and it wouldn't surprise me to see him play.
I like Sams team as Iwobi looks most likely to create and has been showing signs of it in recent games. Siggy and Gomes are too slow and Gomes gives away too many dangerous free kicks. Tom is an option to give more workrate and cover down our right.

As others have said we always seem to struggle at Craven Cottage and if we don't play at pace they will do us.
Three at the back may be an option so we spread five across midfield to cover the right flank.
Olsen
Holgate Kean Branthwaite
Richi Davies Allan Doucoure Digne
James
DCL
Kim Vivian
17
Posted 21/11/2020 at 10:38:51
At last a weekend with a fixture to anticipate. However, after the last few games the swagger has gone from the players and I am hoping this game can bring it back. But I worry another potential banana skin awaits us. Playing away from Merseyside, no travelling support, Fulham looking for straws to clutch at - I just hope we don't offer one. I'd like to see Holgate featured so we have some nark in the side, James only off the bench unless he's properly fit and I'd pick Davies before Gomes (no Siggy please) for this match.
Looking forward to it as usual, good that it's on terrestrial and following also on the forum although I'm sure I'm not alone in missing the comments from the ground.
Let's predict 2-0, don't care where the goals come from tomorrow.
Derek Taylor
18
Posted 21/11/2020 at 10:42:34
From the limited times we have seen him, Godfrey looks to be another Brands mistake. He has seemed to offer nothing above Championship level and as a 'utility' defender offers no improvement on what we already had on the books. No doubt there will be a lobby for granting him time to settle him which, in my view, will cause his team mates many problems in so doing.
Gary Willock
19
Posted 21/11/2020 at 11:13:22
I'd like to see
Olsen
Kenny Keane Godfrey Digne
Doucoure Allan Gomes
James DCL Ritchie
Bringing Iwobi, Gordon and Bernard on later in the game.
I'd expect Carlo will play Pickford and Mina ahead of Olsen and Godfrey, with Tosun and Sigurdsson preferred off the bench.
Craig James
20
Posted 21/11/2020 at 11:25:31
Derek 18, football is about views and opinions and where I respect yours I feel you feel are being a bit harsh towards Godfrey.
Time may prove that your right but every player should be afforded that time and chance playing in their strongest position, how many chances and how much time have we given other players I.e. siggy.
From what I have seen and I have watched every game this season Godfrey held his own against Liverpool when coming on as a sub and then was bang average the following game but both being at rb, let's try him at cb with Keane or both Keane and Holgate in a back 3?!
Digressing a bit, but the issue we have which has been mentioned on numerous threads is how slow and ponderous we have looked both last season and the majority of time during the last 4 games as we allow the opposition to get back behind the ball, playing in front of teams which is so easy to defend against and teams know they will get 3 or 4 chances to either counter attack us or pick up chances from our mistakes. When we play at pace 1 or 2 touch footy we look totally different and it's No surprise that both Everton and dcl have looked bang average since Ricky has not been playing and for the love of me do not understand why carlo persists with siggy in cm and not picking Gordon ou5 wide but hey what do I know.
All I hope is that we get 3 points tomorrow regroup and start enjoying our season again as how good was the 1st 5 games!
On a small narrow pitch I would go with 3-5-2:
Pickford
Holgate Keane Godfrey or Branthwaite
Allan
Kenny Davies docoure Digne

Dcl Ricky
James and Gordon to come on in 2nd half
COYB
Tony Everan
21
Posted 21/11/2020 at 11:47:22
I think with Richie back it's a 4-3-3
I am a bit more confident than usual that this will be the line up.
Pickford
Kenny Keane Holgate Digne
Doucoure Allan Gomes
Rodriguez DCL Richarlison
A lot of focus will be on Kenny tomorrow, it's a make or break game for him. If he has got any chance of an Everton future he has to be right on the money and put in a solid performance.
Holgate has had two weeks to get much sharper, he may need more matches but he needs to be focused.
Gomes is running out of lives with the fans. He needs to be fighting fit and get his A game together consistently, starting tomorrow.
Rodriguez needs to be 100% fit and mentally ready. If not don't play him half fit. Iwobi has looked the best of the fringe players lately and deserves a shot If James is struggling. Prediction;
Fulham 0 Everton 2
Marc Hints
22
Posted 21/11/2020 at 11:49:12
Personally I would like to see pace in the back four now, Keane is a good defender but to slow. I would like to see Godfrey and Holgate in now
Steve Shave
23
Posted 21/11/2020 at 11:54:42
Yes Tony that would be my line up as well, or we try Godfrey next to Keane and play Holgate at RB. that won't happen of course and would almost certainly put a nail in Kenny's Everton career.
Brent Stephens
24
Posted 21/11/2020 at 11:55:41
For the first time in my life, when I watched the build-up to our last game I had little enthusiasm for the game. The feeling remained as the game started and went on, and I just lost all interest. First time ever in my life. And gave TW a bit of a wide berth.
I don't know why. In part, maybe the negativity that bursts out on TW as soon as things go "breasts into the air" - but nothing new there. Allied to the unrealistic expectations, after a really good start to the season, about finishing in the top four - something new there in recent years. That knife that is sheathed but just waiting to be drawn against the manager when things go wrong - nothing new there. I'm really missing going to Goodison and the away games - the sooner we're back in the ground the better. I miss the friendly banter at the game; deplore the way some of the TW threads descend into personal insults again.
Come on, Everton, lift my spirits tomorrow. Give this depressed, miserable bastard something to get excited by!

Steve Shave
25
Posted 21/11/2020 at 11:57:33
Marc I too would like to see Godfrey and Holgate together at some point, this would be a pacy, ball playing pairing albeit a very vertically challenged one (for PL CB's anyway)! Keane doesn't deserve to be dropped though so we could be waiting a while for that. The curious case of Ben Godfrey and what to do with him. If we aren't going to play him then why buy him? I like him a lot I should say, had a baptism of fire at RB, not his fault by any means. If we aren't going to play him that money would have been better spent at RB and attack and we could have got a CB on loan!

Fran Mitchell
26
Posted 21/11/2020 at 12:00:02
Hopefully James will be fit. T think he should play more centrally, and put Iwobi on the right. This way the back 4 should at least be more protected. Kenny at right back should be sufficient, hopefully he can improve. Holgate should be fitter than he was, and needs games to get his match fitness. Pickford will play, and hopefully will be improved after a rather positive international break in that he was in no way a point of conversation. A clean sheet is much needed.
Also hope to see Gordon off the bench as 90 mins for Richarlison will be pushing it after his return from South America.
Pickford
Kenny Holgate Keane Digne
Doucoure Allan
Iwobi James Richarlison
DCL
3-0 win and a return to some positivity
Dave Lynch
27
Posted 21/11/2020 at 12:09:24
No excuses for this one.
Fulham are rank shite, only a win and a decent one at that will do.
Paul Birmingham
28
Posted 21/11/2020 at 12:18:56
Let's hope tomorrow's a starting point to galvanise the squad and start playing flowing football.
I'll take a win by any means, but no doubt Fulham will be focused in their plight to stay up plus with x2 ex Everton squad players likely to start.
Hopefully by mid afternoon tomorrow, Evertonians, can have some thing to be happy about.
The old cliche, alas is true, "it's the hope, that kills, you".
Martin Berry
29
Posted 21/11/2020 at 12:21:31
Surely we must win this one and be far too good for Fulham with respect.
Lets hope for a good lunchtime showing that doesn't give indigestion !
Eddie Dunn
30
Posted 21/11/2020 at 12:28:39
As for this talk about Craven Cottage always being a bad ground for us, in this season of empty stadia home advantage counts for little. I think that if you look at the record books over the last 5 years, you would find that generally we have poor away form. Indeed, our form in London as a whole has been bad for yonks.
Fulham have probably been underestimated over the years too. Remember how under Moyes we would go the distance on week with Man Utd or Chelsea only to fall flat on our faces at the likes of Fulham a week later.
In conclusion critics could slate our form at almost all away grounds.
This Fulham side have had a tough start, but I have watched them a couple of times, and they can play a bit, they also have Mitrovic and Lookman who will be desperate to get one over on us and make amends for his awful pen last time out.
Expect a good game but a game we should and will win. Domenic to score a brace with his guns loaded with ammo once more.
Steavey Buckley
32
Posted 21/11/2020 at 13:23:26
Unfortunately, having Everton players who play for their countries in South America or Africa don't usually do as well in the next league game, probably suffering the effects of jet lag with the added problems of stress of having to take greater care avoiding covid-19 while traveling and training with others who maybe infected with covid, as the footballing authorities of FIFA are showing a lack of responsibility and care towards players who are having to fulfill international duties during the pandemic when these extra international matches should have been cancelled until the vaccine is readily available to players.
Dave Abrahams
33
Posted 21/11/2020 at 13:29:33
Brent (24), to be honest Brent, the birth of the negativity began with the very poor performance of the team, the selection, tactics and substitutions were all very questionable, after a few minutes of this match you could see the direction we were going in and not much changed on and off the field.
It has to be very different tomorrow, just playing like they wanted to be there would be a start.
Danny Broderick
34
Posted 21/11/2020 at 13:30:12
Derek (18),
How can you write off a young player before he has had a chance to play in his natural position?!
Beggars belief!! He's only just arrived at the club! Ridiculous post. Some of the best defenders I have seen at Everton have taken a while to settle. Give him a chance ffs.
Robert Tressell
35
Posted 21/11/2020 at 13:34:42
Is everyone elae now seeing this in ridiculously small font size?
That aside, as long as we have Gordon, Iwobi and Richarlison involved we should win. Without them, Richarlison in particular obviously, we just don't have enough pace or movement to trouble even poor sides
Dave Abrahams
36
Posted 21/11/2020 at 13:38:39
Derek (18), I bet you 10p. that you will be singing the praises of Godfrey before the season is out, you can even make it 20p. if you want!!
John Raftery
37
Posted 21/11/2020 at 13:42:49
Our recent record at Fulham compares favourably with our general record away from home. In our last seven league visits to the Cottage we have lost two, drawn two and won three. While nobody would pretend that record is great, it is some way from being 'embarrassingly bad'.
Brent Stephens
38
Posted 21/11/2020 at 13:53:11
Dave #33 yes it was disappointing all round. I live in hope.
Andrew Clare
39
Posted 21/11/2020 at 13:55:04
John #37,
Historically for a club of our stature our away results against Fulham have been embarrassingly bad. Maybe in recent years not so bad.
Clive Rogers
40
Posted 21/11/2020 at 14:07:09
Paul, Si, why does he keep picking Siggy and hooking him every game sometimes at half time. There was no way Tosun was match fit for the last game. He never even touched the ball in his brief appearance.
Mike Owen
41
Posted 21/11/2020 at 14:13:53
Greetings to all on this sun-kissed day in Merseyside.
If we have four players just back from South America and one from West Africa, I am not expecting a great performance.
However I am hopeful we can score at least one more goal than the opposition.
Am grateful the game has been moved from Sat 3pm to Sunday noon.
But I think team selection will have to be done with a view to what subs can be brought into play.
Time to bring Gordon out of detention.
I'd like to see Davies get a runout at some point - because he runs, forwards.
I like the look of Godfrey and view him as similar to Holgate in that a better centre-back than right back, and would be interested to see playing as a defensive mid.
As for Gomez, not long ago a ToffeeWeb blue-eyed boy, I think he would be doing a lot better if he'd had a conventional close season and pre-season. He needs three weeks with the sun on his back, as I do...
UTFT
Tony Abrahams
42
Posted 21/11/2020 at 14:17:55
Keep living in hope Brent, because I have had the same feelings as you mate, and I'm sure a large part of how you're feeling, is because you just love going to the match.
Reading this thread and everyone's preferred team, it's clear to see that we have got some much better players now, so hopefully tomorrow, we can put ourselves back on the right track, and with a vaccine around the corner, the things we took for granted, might soon become our biggest wish! 🤞
Marc Hints
43
Posted 21/11/2020 at 14:20:33
Steve #25 yes agree, I do like Keane but think he gets turned far to much, also he seems to take an age to play the ball out the back. Like you said too why pay all that money if your not going to play them, and sorry Mina doesn't cut it for me either to error prone and doesn't seem to learn from those mistakes
Trevor Peers
44
Posted 21/11/2020 at 14:21:37
We should see a better performance from the blues tomorrow, we will have most of the team that started the season so well and created lots of chances, mainly because we had Richarlison and Dominic who have pace and movement up top to give James and whoever else is picked something to aim at.
Theoretically we should play them off the park, if we struggle to do so, something has gone badly wrong and the inquest will be long and brutal. Rumours of us being linked with Daniel James the United winger in the January window seems like a step in the right direction, if they are willing to do a deal.
Brent Stephens
45
Posted 21/11/2020 at 14:30:25
Tony #42 tomorrow will be the first day on my road to renewed enthusiasm!
Si Cooper
46
Posted 21/11/2020 at 14:32:57
Clive, I don't know why he picked them, I just don't think rival managers will be unaware of the stalling careers of those two, that we'd be open to offers for them in January, or exactly what they are capable of.
What I've long suspected, however, is that our training games and exercises are so rarely at anything like full match intensity that canny professionals can appear to be absolute Trojans at Finch Farm, only to wilt come matchday when they are incapable of producing the extra 10 - 20 percent that is necessary.
Mike Corcoran
47
Posted 21/11/2020 at 14:44:04
It's time to let James roam and play someone with energy out right like Gordon or Bernard. I'd stick Holgate at RB and go with Keane and GodFrey CB. This will give us a proper shape.
Eddie Dunn
48
Posted 21/11/2020 at 14:44:30
Marc @43, the criticisms of our defenders are fair enough but what can the coach do? He has to play some of them, Keane has been the pick of them, but lots of defenders who like to play deeper look decent heading crosses out but are buggered caught upfield. Mina does some good things and just looks ungainly. He is though, tall and clears balls that Holgate would get caught under. Godfrey would be a risk, Branthwaite is still coming back to fitness.
Carlo has few options and it is the same right through the team. I would imagine that the only players he would definitely keep would be Calvert-Lewin, Richarlison, Digne, James, Allan and Doucouré. That means he has to bide his time, keep players interested and rotate what he has until several more windows.

Dan Nulty
49
Posted 21/11/2020 at 14:53:16
Must win
Mike Keating
50
Posted 21/11/2020 at 14:59:28
Trevor @ 44 - why sign Daniel James when we already have Anthony Gordon, neither of whom are getting a game at the moment?
Mike Gaynes
51
Posted 21/11/2020 at 15:19:16
Sam #4, I really liked Lookman's talent too, and I called for him off the bench in almost every game, but the succession of our managers who wouldn't play him spoke volumes to me about his attitude. The same thing happened at Leipzig after we sold him. And I think a handful of games at Fulham is way too soon to describe him as "more consistent" as Lyndon did. Agree with you on Keane, however.
Derek #18, I'll join the chorus and bet you even more than Dave A would. I see explosive talent in Godfrey -- he's not a utility defender, he's a CB who was stuck in at RB out of necessity -- and I think he will start for us next season.
Fran #26, it doesn't matter where we "start" James. He will just naturally drift outside, his normal venue, to do his #10 thing. It's who he is.
Finally, I share the general call for Gordon off the bench and remain totally nonplussed as to why Carlo won't give him minutes. Obviously he's seeing something he doesn't like on the training ground when Gordon continues to sit while even Tosun gets a chance.
We will right the ship tomorrow. 1-3 is my prediction.
Tony Hill
52
Posted 21/11/2020 at 15:43:11
If we play as we have done in the last 3 games then we will lose. We need a properly functioning midfield because without one we will lose most matches.
Fulham are appalling defensively, however, so if we concentrate and play with some confidence then we should win.
Geoff Williams
53
Posted 21/11/2020 at 15:55:43
And some still include Iwobi in their team selection.

Brian Williams
54
Posted 21/11/2020 at 16:12:16
https://www.youtube.com/watch?v=p9qjQO41VwU
Well worth a watch!
Joe McMahon
55
Posted 21/11/2020 at 16:14:53
Sam, I got slated on here for saying I I thought we should have kept Lookman, and indeed Moise Kean. I can't help thinking the last 3 games have underlined why.
Dave Abrahams
56
Posted 21/11/2020 at 16:18:57
If James plays tomorrow then movement from the wide players and stiker(s) is essential, the lack of it nullifies everything else.
Trevor Peers
57
Posted 21/11/2020 at 16:18:59
Mike #50.
For some reason Carlo doesn't rate or like Duncan and we are a team short of two forwards having loaned out Kean and Walcott.
We've already seen how impotent we are in attack when one of our forwards is missing. If we don't buy forwards we will be lucky to finish in the top ten, it's as simple as that.
Clive Rogers
58
Posted 21/11/2020 at 16:46:36
Joe, 55, Lookman made it quite clear he wanted to leave and didn't try in his last few games, while Kean is still an Everton player and needed a loan as he clearly wasn't ready.
Jeff Armstrong
59
Posted 21/11/2020 at 16:52:07
Joe agreed,
I'd have Lookman before Iwobi, Bernard and Walcott as a wide player here but I felt he got a raw deal from successive managers well before the sulking started, think his size and age went against him really, cos he's got plenty of ability.
Mark Murphy
60
Posted 21/11/2020 at 16:55:27
Trevor do you mean Gordon or are you getting Carlo mixed up with Gordon Lee?
Jeff Armstrong
61
Posted 21/11/2020 at 17:03:24
Clive 58, I do not think Kean will be seen in an Everton shirt ever again, he obviously hated it here.
It didn't help being sub-subbed after 15 minutes at Old Trafford. I don't care what anybody says – that was rank bad management on the day. Peacock posturing at its worst.
Steavey Buckley
62
Posted 21/11/2020 at 17:29:22
EFC: "Carlo Ancelotti has revealed Richarlison is available to make his first Everton appearance since October's 2-2 draw with Liverpool when the Blues take on Fulham at Craven Cottage on Sunday (12pm GMT).
Richarlison was substituted 20 minutes from time in Brazil's 2-0 win over Uruguay on Tuesday following a heavy challenge by Edinson Cavani, but Ancelotti says the forward does not face an injury layoff. Richarlison has missed the Blues' past three Premier League games through suspension.
Seamus Coleman is out of Sunday's game, however, having sustained an injury in training with the Republic of Ireland.
Ancelotti says all of Everton's other players who were on international duty - including Allan and James Rodriguez - have returned to the Club unscathed."

Phil Smith
63
Posted 21/11/2020 at 17:45:25
Not sure why people are putting Yerry in. He's got no chance of playing over Keane. Lookman will be so up for this one.
I would like to see Olsen in goal. Sigurdsson and Gomes should be nowhere near this team.

Jeff Armstrong
64
Posted 21/11/2020 at 17:55:26
It just goes to prove the refs do not know the rules either or they use the rules to suit themselves.
Is the "follow through contact" a legitimate rule/foul? Or just something the refs made up for themselves when it suits them?
Tonight's decision just shows how poor and inconsistent the referees are, and this guy is considered to be the best!
Trevor Peers
65
Posted 21/11/2020 at 18:01:41
Mark #60,
No idea... you tell me.
Jack Convery
66
Posted 21/11/2020 at 18:02:20
No excuses tomorrow. Full throttle and plenty of passion and commitment. Anything less is a betrayal of the shirt.
Pickford Holgate Keane Mina Digne Allan Doucouré Davies James Calvert-Lewin Richarlison.
FFS, EFC, win this one and get back in the groove.
Neil Lawson
67
Posted 21/11/2020 at 18:03:01
Going off piste again. Now on Pointless Celebrities. Apparently Rotterdam and Reykjavik are both in Denmark and Scotland is a city in Europe. Ideal platform maybe for Keown. He would probably argue that, technically, all those answers are correct.
Trevor Peers
68
Posted 21/11/2020 at 18:07:41
Mark #60,
I get it, haha. Duncan McKenzie. I meant Gordon obviously.
Bobby Mallon
69
Posted 21/11/2020 at 18:18:51
Derek Taylor 18. Godfrey has played a very good half-game against Liverpool and had a poor game, as did everyone else, especially golden boy, Rodriguez, who let Godfrey down shockingly. Shall we sell him in a January, Derek, for fuck's sake?
Bobby Mallon
70
Posted 21/11/2020 at 18:20:32
He'd 74 Allan, end of got me
Gavin Johnson
71
Posted 21/11/2020 at 18:29:28
I'd love Ancelotti to start Iwobi centrally instead of the woeful Gomes or Sigurdsson, but don't see it happening. In which case, he might play Delph.
Pat Kelly
72
Posted 21/11/2020 at 18:37:33
A chance to pick up three points against a poor side. Fulham must be looking forward to it.
Dale Self
73
Posted 21/11/2020 at 18:44:44
Carlo definitely calling out the defense but I think Keane and Holgate are his preferred duo in a 4-3-3. I would think Keane switching place caused some breakdown their first game together in a while. Gomes in the Sigomnard rotation. I hope Lookman and Moise Kean are very happy in London and Paris respectively. Get off Godfrey and run riot Blues!
Jason Li
74
Posted 21/11/2020 at 19:04:20
As long as Richarlison is fully on it... think that decides if we win it.
At least defensively, the midfield doesn't have to drift to the left too much now Richarlison is back.
Worth this game trying Holgate at right-back with Mina and Keane central, Digne usual left? Someone's got to cover Coleman against some opposition like Chelsea later in the season if he can't play every game.
Why not try Holgate against Fulham now Richarlison is back? We can't play Kenny against teams that will double up on their left with pace.
Christy Ring
75
Posted 21/11/2020 at 19:07:21
Fulham will be up for this tomorrow, they were very unlucky not to get a point at West Ham, after Lookman's shocking penalty miss in injury time.
I don't know why Lyndon dropped Keane in his team selection, he's been our best centre-back this season. The extra day will make a huge difference to our South American contingent. I hope Carlo starts Gomes or Davies tomorrow, and definitely no Sigurdsson.
Patrick McFarlane
76
Posted 21/11/2020 at 19:17:10
Every match that Everton FC has taken part in during its entire history, the opposition has 'been up for it' – why would it ever be the case that they wouldn't be?
To me, it's almost an admission that Everton will not win or possibly not compete in tomorrow's game. Of course, should Everton triumph tomorrow, it will be a case of "Well, Everton should beat lowly Fulham, shouldn't they?"
It's a tricky game for sure, and a bit of a bogey ground too, but if Everton lose and, even worse, don't compete there will be much gnashing of teeth and angry posts tomorrow afternoon.
Jeff Armstrong
77
Posted 21/11/2020 at 19:24:49
Carlo will be his usual conservative self tomorrow. Bernard will play somewhere, probably in the middle, cos Richarlison is back.
A back 4 of Holgate, Mina, Keane, and Digne
Middle 5 of James, Allan, Doucouré, Bernard, and Richarlison,
Calvert-Lewin up front on his own.
Holgate will be exposed as a right-back just like Godfrey was. Bernard subbed at 55 minutes by Sigurdsson. 2-0 Fulham.
Tony Abrahams
78
Posted 21/11/2020 at 19:36:48
I wouldn't mind seeing that middle five, Jeff, and if the players you mention all play tomorrow. Then I definitely wouldn't be calling it conservative, mate.
Joe McMahon
79
Posted 21/11/2020 at 19:39:37
Jeff, scraping the barrel a bit I'm afraid, even if that happened, they would have still won it about 7 times vs our 1.
Makes me realise we have always been The People's Club. We can talk about VAR, but Everton missed the chances in the late '80s and early '90s when others didn't.
Christy Ring
80
Posted 21/11/2020 at 19:43:21
Jeff,
Love your optimism.
Jeff Armstrong
81
Posted 21/11/2020 at 19:47:39
Christy,
Hope I'm completely wrong.
I've become a "glass half-full" Evertonian lately.
Keith Dempsey
82
Posted 21/11/2020 at 20:05:49
A bit off topic, but has anybody seen Howards Way on Sky Documentarys? Worth the subscription on its own. Even though we all know the games and the team of them years, it was 2 hours of pure joy. I'm mean Nev was born to be on widescreen TV. Oh and that tackle by Brian Marwood on Inchie, never seen footage of that before.
Jay Harris
83
Posted 21/11/2020 at 20:20:00
Does anyone recall if Jonjoe Kenny played against Lookman in Germany? I think he will be the most suitable against Lookman as long as he has some back-up.
Jeff Armstrong
84
Posted 21/11/2020 at 20:28:45
Good shout that Jay, wonder if Carlo has done his homework on that, doubt it, though, do you? what do you get for 9 million a season.. not much really.
Tony Marsh
85
Posted 21/11/2020 at 21:09:10
If we lose tomorrow at Fulham, I think Carlo has to go. In reality, it should be 4 losses on the spin now. We got lucky against Liverpool with VAR rescuing us. If Fulham win tomorrow, it's relegation form and no difference from the dross served up last season.
I didn't want Ancelloti in the first place – his best years are well behind him. I would ask the question: Which top clubs in Europe who are looking to win things would have a 63-year-old manager in charge? Not many, I would assume.
The appointment of Carlo Ancelloti was a typical Everton box-ticking exercise. We are getting Carlo 2020 – not Carlo the 2010 version. Sorry, simply not good enough. We look as bad as we did under Koeman and Silva which is hard to take seeing as we are supposed to have a genius as a manager.

Neil Cremin
86
Posted 21/11/2020 at 21:24:08
Haven't read all the threads, but we would not have conceded Fernandes goal if Mina had been playing. If Carlo wants to accommodate Holgate to get match practice, I would play him at right-back instead of Kenny.
I would also play Olsen instead of Pickford. This is a must-win game and I believe it will be tight and we cannot take a risk with Jordan, who has once clanger in every game.
Otherwise, I would agree with Lyndon.
Brian Murray
87
Posted 21/11/2020 at 21:41:36
Neil, all very well saying If Mina was playing v Man Utd we wouldn't've conceded the Fernandes goal. All guesswork after he just gift-wrapped a goal vs Liverpool and he's not the long-term answer by any stretch.
Bobby Mallon
88
Posted 21/11/2020 at 22:02:20
Here's my team:
Lössl
Branthwaite
Keane
Holgate
Kenny
Digne
Allan
Davies
Doucouré
Rodriguez
Richarlison
Calvert-Lewin

Bobby Mallon
89
Posted 21/11/2020 at 22:05:21
I missed out Pickford in goal and Bernard in the No 10 position and Godfrey at right-back... (Phew!)
Mike Gaynes
90
Posted 21/11/2020 at 22:24:00
Jay... unlikely. When Lookman played at Leipzig, he was generally on the right side of midfield.
Bobby... Lössl?? Really?
Rob Halligan
91
Posted 21/11/2020 at 22:33:46
Bobby #88, I don't think we will get away with playing twelve players.
Ian Riley
92
Posted 21/11/2020 at 22:44:14
Let's all imagine we are 3 up at half-time. We put another 2 past them in the second half. It's going to happen. Back to winning ways tomorrow. However, I can't remember the last time we won at fulham?
All I want is a win. Recovering from covid with mild symptoms. Those suffering from the virus get well soon. Those who don't have it. Do as your TOLD! It not nice!!!
Up the toffees!!!
Stephen Brown
93
Posted 21/11/2020 at 22:44:14
Some very extreme opinions in this thread!
However, this game is definitely a huge game! Win convincingly and we're back in the game! Do our normal thing and lose and it's another "Where do we go from here?"
I can't say I'm looking forward to it!
John Dooley
94
Posted 21/11/2020 at 22:46:40
Personally, I'd be pushing Holgate to right-back, Godfrey and Keane at centre-back, Digne at left-back. Pace in the back 4 is what we have missed.
Allan and Doucouré box to box with Allan covering Doucouré's runs, James and Godfrey wings, Richarlison running off Calvert-Lewin. I would have Pickford on the bench in all honesty too.
Everton win 3-0, clean sheet. Calvert-Lewin x 2 and James gets one too. COYB!!

Paul Hewitt
95
Posted 21/11/2020 at 22:47:56
Tony @85. You really want to sack Carlo if we lose tomorrow? He's probably one of the best managers in the history of football. For Everton to have a manager like him is unbelievable. Who would you have instead? I'm really interested to know.
Rob Halligan
96
Posted 21/11/2020 at 22:53:34
Ian #92. The last time we won at Fulham was march 2014, by 3-1. They were relegated that year.
The season they came back up, and went back down again, 2018-19, we lost there 2-0, the game when Andre Gomes was sent off. In fact, since the start of the premier league, we have beaten Fulham eighteen times, lost seven and drawn three. So overall, not a bad record against them.
3-0 tomorrow. Richarlison two and DCL.
COYB FTRS.
Ian Riley
97
Posted 21/11/2020 at 23:00:46
Thanks Rob #96, I feel much better now.
Michael Kenrick
98
Posted 21/11/2020 at 23:17:39
Paul @95,
There is one worrying thing I came across, and it's making me wonder if Tony Marsh (and Darren Hind before him) don't have a valid point about Carlo possibly being over the hill.
It's his win percentage as a manager. It clearly peaked at Real Madrid, was lower but very good still at Bayern Munich, but dropped a lot at Napoli.
At Everton? Well, it's almost back to the lowest levels he achieved right back at the start of his managerial career.
Have to admit it – that's been gnawing at me since I saw it. I thought he'd turned a corner with us after the great start to this season but it's looking now just a little bit like the cruellest of false dawns.
Laurie Hartley
99
Posted 21/11/2020 at 23:28:43
A win tomorrow would cheer me up no end.
Olsen
Kenny, Keane, Mina, Digne
Doucouré, Allan, Gomes
Rodriguez, Richarlison
Calvert-Lewin.
Paul Hewitt
100
Posted 21/11/2020 at 23:49:01
Michael @98. I really think managers like Klopp and Pep would struggle to get a tune out of this squad. It's going to take a few years to turn this ship around. If you think Carlo isn't the manager to do it, I really struggle to see who can.

Patrick McFarlane
101
Posted 21/11/2020 at 23:57:04
It's okay, people, panic ye not – Ronald Koeman will be available soon.
I am of the opinion that the appointment of Ancellotti wasn't down to purely footballing reasons, more to do with lifting the profile of the club as we head to a new ground (hopefully). Whether that is true or not, the club still needs to focus on getting as many positive results on the pitch as possible, else the fans won't stay onside for long.

Paul Birmingham
102
Posted 21/11/2020 at 00:07:03
Realism is an infinite piece of string but Rome was not built in 7 days.
Everton won't be rebuilt to any semblance of a past zenith for a long time.
Time, money, form and consistency. That's part of the quest now for Everton to try and master.
But let's see what the result tomorrow does for Everton's fortunes this season. Earn the right to play and win the game, and prepare for the next game.
The manager has a good career record. For me, I'm hoping we turn over Man Utd next month and with some luck progress on the Carabao, as I see this as our best chance of a trophy aside from some luck in the FA Cup.
Each to their own view, as is respectfully right, but tomorrow, let's see if Everton can deliver and stop the recent bad form and defeats.
Hopefully it's gonna be a turning point, for the start of a long good run of form.
Hope eternal.
David Pearl
103
Posted 21/11/2020 at 00:11:20
I expect Kenny, Keane, Holgate and Digne in front of Pickford.
Midfield of Allan, Doucouré and Bernard (who ran his heart out last game). Then James, Calvert-Lewin and a brace from Richarlison to make up for killing our mojo.
I will be very surprised if we don't win this game. We spent enough to improve this season. But giving Walcott and Kean away to buy a defender for £30mil to sit on the bench? What the fuck was that?!
Danny Broderick
104
Posted 22/11/2020 at 01:31:45
Oh dear, that Everton disease of calling for the manager's head is rearing its head again. It was nowhere to be seen when we won 7 games on the spin. But now, we have drawn a game against Liverpool, the Champions, and lost 3 games where we were poor, and some people are calling for the manager's head! After a poor run of 4 games!!! Fickle beyond belief!!
Mike Gaynes
105
Posted 22/11/2020 at 01:40:48
Michael #98 and others, just a quick reminder... Carlo was named manager last December 21.
Eleven months ago.
I think we can all agree that he took over an absolutely crap team. And I think we can all agree that it's a better team now.
And I hope that most of us could agree that less than one calendar year -- and a wildly chaotic year it has been -- is a little too soon to worry about whether he's past it.
This is a rebuild, not a remodel. It is well underway. But it will take a long time to complete. And setbacks like we've recently experienced are to be expected.
In the first eleven months.
Nicholas Howard
106
Posted 22/11/2020 at 02:18:42
Just a quick question for those calling for Carlo's head??
Who, which football manager can a have smooth run all the way to the Premier League title?? Name one.
Oh... how many years before Liverpool won the league??
Grab a reality stick. Carlo is what we have got and we will stick with for coming seasons... live with it!
Brian Murray
107
Posted 22/11/2020 at 03:24:05
Not sure who if any are actually calling for Carlo to be sacked. Me personally, I still maintain with a bit of vision and bravery this slump could easily have been avoided instead of giving the usual failures the nod.
We have at least two Under-23s who would and still could make a difference if this supposed one-man team collapses again.
Kieran Kinsella
108
Posted 22/11/2020 at 04:04:07
The only point Darren Hind has is in his surname. Tony Marsh, God bless him, says no over 60s win anything, yet the Juve Championship-winning manager last year was of that age group.
If we are under-performing right now, it's because the likes of Palace are alongside us, managed by a >70-year-old. Carlo has hardly had time to get going here.
Old people can win if they're quality: Rinus Michels, Fergie, Trappatoni etc. Carlo is of that calibre and beyond. Let's not freak out here and let Tony Marsh, who has a long record of making terrible suggestions, pressure us into firing Carlo and what? Getting some loser like Eddie Howe or 12-point Arteta...
Darren Hind
109
Posted 22/11/2020 at 05:43:21
Oh there is a point. But, like all points, those who don't understand it, won't see it.
Old managers do not build new teams. The Everton job is a job for a builder. Carlo wasn't even that in his prime.
There can't be a manager in the history of the game who has inherited more truly world-class players. I'm not knocking him for that. Managing the very best is a skill in itself. Few have it; Carlo clearly does.
What the blinded-by-the-light fans don't seem to understand is we are not merely asking this old dog to turn back the clock. We are asking him to learn new tricks... Ain't gonna happen. This is not the man to build our dream team. One which challenges for titles.
Carlo Ancelotti will not be sacked tomorrow. He will not be sacked in the foreseeable. We shouldn't even be talking about it before a match. Whether we believe in him or not, we have to support him on match day because, when he's doing good, we are all doing good. Besides, we have the rest of the week to scrutinize his performance.
Of course, there may be an upside to having this particular old dog on board. He may not turn us into a genuine force but, if we can somehow drag ourselves to a final of a cup, I would back his big game experience against any manager in the world.
I can't call today's game. Fulham are a poor, poor side. You would expect us to sweep them aside if our players turn up. So why am I still nervous?
Phil Wood
110
Posted 22/11/2020 at 06:12:53
I do not expect anything new in the selection policy for today's game; I will be watching the game from behind the sofa. If we do not take our chances, we will lose as we simply cannot keep goals out.
If James is played on the right again, we will be open to sucker punches down that side which every team will exploit in this division. Gylfi if played must turn up. Disappointing to see his lack of contribution so far this season. Anthony Gordon must play somewhere from the start.
Big game for us today and we cannot afford to rely on the usual selected 11 to put in a performance. Over to you, Carlo. This is what you are paid for,

Derek Knox
111
Posted 22/11/2020 at 07:57:59
Mike @ 105, You must have heard of the old adage 'Build It and They Will Come'.
Well on TW, it is 'Build it, and be seen to be Building It, and they will Still Moan'. :-)
Eddie Dunn
112
Posted 22/11/2020 at 08:18:23
The age of the man is irrelevant. The point that is worth mentioning is whether he can manage a group of players that are not as good as his squads at Milan, Madrid, Munich, Chelsea or even Napoli.
To be critical, I would say he has been too conservative in his selections and too loyal to some of the senior players. However, he has been robbed of his two most creative players at times and has a squad where the cover for some positions is of a lower quality.
The club, though, is at fault for not getting another striker to help Calvert-Lewin and hoping that we get enough possession and create enough chances for Tosun to bag a goal or two is very hopeful.
Today's game really is a watershed one: win it and we (and Carlo) look proper top six candidates; lose it and we rejoin the midtable no-marks.
We really have to get some points over the kind set of fixtures coming-up as, after that, we will be in for some tough games again.
Mind you, our win at Spurs and the win against Brighton both now look rather good results.

Andrew Clare
113
Posted 22/11/2020 at 08:21:51
Darren #109,
You are nervous because I am sure you felt the same way before the Newcastle game, who are another poor side. I feel the same way. We are experts at making a mediocre team look better than they really are.
With regards to your comments about Ancelotti, maybe Napoli came to the same conclusion?
Rob Halligan
114
Posted 22/11/2020 at 08:34:39
Phil # 110.
"If we do not take our chances, we will lose as we simply cannot keep goals out"
Well, going by the stats, which a lot of people on here seem to thrive on, we only need to score one to guarantee not losing today. Score two and it's done and dusted. Fulham are averaging scoring less than one per game so far,while averaging just under two conceded per game. We are averaging exactly scoring two per game.
So Fulham fans must be wondering where their next goal is coming from, and I bet they are dreading today's game. These things work both ways. Every club must have their serial moaners, with their fans thinking "go a goal behind and we're doomed"
So the stats say we are going to win 2-1 today!!

Steve Shave
115
Posted 22/11/2020 at 09:11:57
As I stated earlier in the thread I think we should pretty much go with the side who started the season so well, 4-3-3. However, with the personal at hand and our struggle with width this season I wouldn't mind also seeing some experimentation with a 3-5-2 wingback system.
Kenny and Seamus aren't really up to the task on the right but we could address that in January? This system could utilise what we have well otherwise. Godfrey could play alongside Keane and Holgate (that has great potential with a fully fit Mason) ball-playing ability and pace, it would also be a way of keeping the centre-backs all happy with some rotation.
Digne can get further forward, our central midfield would receive re-enforcement, James, Allan and Doucouré for me, with James slightly further forward. Richarlison up top with Calvert-Lewin.
Hugh Jenkins
116
Posted 22/11/2020 at 09:23:52
I see that on the BBC "Gossip" site Isco has told RM he wants to leave. They are looking for £45m and Arsenal and Man Utd are the sides being linked. No mention of us.
Mark Boullé
117
Posted 22/11/2020 at 09:25:56
Going back a bit in this thread...
Brian #54, the you tube link of the various international training camps and the Everton training was really good.
No wonder Sigurdsson plays as often as he does, his finishing was streets ahead of the rest in training...!!
Brian Williams
118
Posted 22/11/2020 at 09:29:05
Darren#109.
Darren you're still nervous probably for the same reason me and loads of others are this morning.
Because in game after game where we should sweep teams aside we always somehow seem to fuck it up and give that team the leg up they need to climb out of their personal doldrum.
Striker not scored in seven and a half seasons? He'll open his account against us.
Team not had a penalty since WW2?
VAR will stop the game 10 minutes after the ball brushed the hairs on Digne's arm and award them one.
No home win since Dave Abrahams was a lad?
You get the gist.
I just hope for once we can start confidently, aggressively, score early and score plenty and get back to winning ways.
I can't face yet another post match three hour walk on my own waiting for the anger to subside!
Least the sun's out today!
Derek Taylor
119
Posted 22/11/2020 at 09:53:50
Most of those calling for Carlo's removal should lower their expectation level. I read recently that Everton's average Premier finish was 9th. I haven't checked that but I'm sure a TW stato will have it down to eight decimal places.
I mention this because so many expect Ancelotti to make top five merely because he has won a shedload of trophies over the past two decades. In reality, any advance on half-way will be a triumph and an indication Everton are making progress - if only slowly.
That will do for me because since the days of Moyes, we've generally gone backwards in spite of all the money thrown at 'the project' ! A win today will at least steady the ship !
Dale Rose
120
Posted 22/11/2020 at 09:57:37
Calling for Carlo' s head only does one thing. Makes us look more stupid than we have done during the last few years. Let's just get behind the boys and go for what we can.
Paul Tran
121
Posted 22/11/2020 at 10:11:25
If our midfield turns up and presses with energy like the first four games we'll win. If it doesn't, it'll be about whether Richarlison's pace causes enough problems for us to shade the game.
I expect us to win this and if we're serious about achieving anything, we should win.
People are nervous because of their own mindset and possibly because this season has had so many 'surprise' results.
Regarding Carlo, it might be worth considering why he got all those 'big' jobs in the first place.
Frank Sheppard
122
Posted 22/11/2020 at 10:12:59
Disappointing how quickly ToffeeWeb changes to Negativeweb.
Darren Hind
123
Posted 22/11/2020 at 10:23:31
PT
Congrats on GT.
I spotted it this time and got on
Brian Murray
124
Posted 22/11/2020 at 10:28:55
Olsen, Holgate, Digne, Godfrey, Keane, Gordon, Onyango,
Simms, James, Allan... sooner or later, them players will force Carlo's hand when we start dropping like a stone.
Si Cooper
125
Posted 22/11/2020 at 10:31:39
Perfect day for footie (unless the sun is in the goalies eyes!) in the South East so I'm feeling the positive vibes as our playmakers should love it.
3 - 1 away win (we are bound to conceded one when cruising at 2 nil up).
Derek (111) - old adage??? It's the tag line from an eighties baseball (fantasy) movie isn't it? I'm pretty sure Mike will be aware of it, but it's hardly ancient wisdom is it?
Derek Knox
126
Posted 22/11/2020 at 10:33:03
Darren @123, Watch you don't fall off! :-)
Robert Tressell
127
Posted 22/11/2020 at 10:36:55
Derek @119. I agree it's silly to call for Carlo to be sacked. Obviously judge game by game and the last few have been very poor. But you can't really judge his achievement until the end of next season. It takes a while to turn a club around. It did for Pochettino and it did for Klopp. You need to overhaul the playing staff and change the club mindset.
As for today's game, the returning cavalry should mean we win. Would like to see some real bite, hunger and aggression too.
Paul Tran
128
Posted 22/11/2020 at 10:37:53
Cheers Darren. It was wonderful as the arseholes on Sky Sports Racing were giving him unfair stick. He's only ever been beaten in a finish by Champ. He's had breathing issues, needs a flatter track and a longer trip.
Great to see him battle and beat the odds-on fav. Made my week.
Hope your bet was best odds guaranteed.
Brian Harrison
129
Posted 22/11/2020 at 10:38:00
As Jimmy Greaves used to say footballs a funny game, who would have thought that Carlo would be under pressure after 8 games, and still ahead of Man City in the league. I see another old dog has his team top of the league, and could possibly lose that top spot to another in Brendan Rodgers who has been round the block a few times.
Look supporters quite rightly wont be happy if you lose 3 on the bounce as we have, but for some to talk about Ancelotti losing his job is madness. He has signed a four and a half year contract and I hope he sees that out. The problem is we have changed managers to often to build the stability a club needs. I now Moyes wasn't everybody's cup of tea but by and large under his 11 years we finished on average about 7th. This was done on a shoestring budget, hence why Ferguson thought he was the man to replace him at Man Utd. Managers need time and money and what no Everton manager who has been here since Moshiri took over can complain of lack of funds.
A win today will hopefully lift the gloom and get us back on track, there is still much for Ancelotti to do to make us a force again. But unlike virtually every manager this club has appointed, they had done and won virtually nothing before they were appointed as our manager at least this man has proved he can do it. And I believe given time he will win trophies with us.
Bob Parrington
130
Posted 22/11/2020 at 10:54:15
I'm late on to this stream. But I think Mike at 51 has the right thoughts in general. IMO we need to start to control games rather than defend against the opposition's tactics. Go at them with our own will to win rather than try to avoid defeat.
We ned to be be positive, not negative. Personally, I've disliked our approach to the last 3 games. C'mon Carlo - attack, attack, attack. Are we winners or are we losers? i'm for the winners side. I hope you can be, too!
Mike Kehoe
131
Posted 22/11/2020 at 11:17:50
I will never cease to be amazed at the opinions of some: calling to sack Ancelotti after a few shit performances from the extraordinarily shit players assembled by Koeman, Allardyce, Silva and Martinez.
Incredible.
Ancelotti may not be an established 'builder' and he may well be past his best days. But what he definitely isn't is an idiot chancer like those whose mess he is now dealing with.
Does anyone think any manager could get more from this squad?
Takes all sorts.
Brian Williams
132
Posted 22/11/2020 at 11:25:42
Mike it's maybe the shit performances from the same squad that managed 7 wins on the bounce before the wheels started to fall off and we lost games against a decent Soton side, a completely crap Newcastle side and a dysfunctional Utd side that were there for the taking.
I'm not calling for his head, far from it, but my fingers are full of splinters from the incessant head scratching when trying to work out how we go from the sublime to the ridiculous, in terms of performance, in a matter of a couple of games.
It's almost as if we shit ourselves when we start to do well and panic!
---
Add Your Comments
In order to post a comment, you need to be logged in as a registered user of the site.
Or Sign up as a ToffeeWeb Member — it's free, takes just a few minutes and will allow you to post your comments on articles and Talking Points submissions across the site.