Everton vs Leeds United
Friday, 27 November, 2020
Match Preview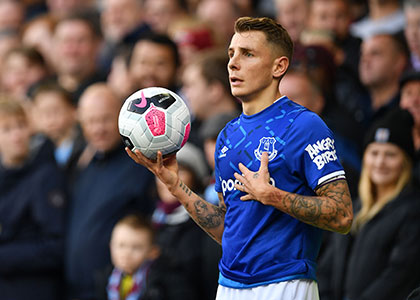 Lucas Digne's loss for two the three months is a massive blow to Everton's prospects this season
Everton take on Leeds United in the Premier League for the first time at Goodison Park since Steve Watson's famous hat-trick in 2003 as Carlo Ancelotti has to address the loss of another player key to his team's prospects this season.
Forced to try and adapt without Richarlison for three games before he made a typically productive return from suspension last week against Fulham, the Blues have been rocked by an even bigger blow with the news that Lucas Digne will be out for at least two months with an ankle injury.
The Frenchman had been solidifying his reputation as, in Ancelotti's words, a "fantastic left-back, one of the best left-backs in Europe at the moment," and was an integral piece of Everton's attacking arsenal, particularly when James Rodriguez is on song. His absence hands his manager a significant headache as the club heads into a hectic part of the fixture schedule.
With Seamus Coleman's injury problems on the other side of defence — the Irishman is ruled out again this weekend as he continues rehabilitation from a hamstring injury — and Ancelotti needing to address his porous defence, the Italian might already have the formation in place best suited to compensating for the loss of Digne. The three-man central defence he implemented at Craven Cottage is perhaps the best way to incorporate the exciting but raw talent that is Niels Nkounkou.
After making three scintillating — and very wingback-like — appearances in the Carabao Cup, one of them against top-flight opposition in the form of West Ham, the 20-year-old made his Premier League bow at Newcastle at the start of the month but his attacking exploits were limited by what was a poor overall team display.
A 5-3-2 line-up against Marcelo Bielsa's Lilywhites might provide Nkounkou with the ideal platform to grow into the side and show he can be Digne's replacement but Ancelotti also has the option of using Fabian Delph as an emergency left-back. The veteran played in that role for Manchester City and was deployed as a rotating full-back with Nkounkou at St James's Park but it wasn't a successful experiment in an attacking sense.
Alex Iwobi's impressive outing as right-wingback at Fulham means that he could well have convinced Ancelotti that 5-3-2 is the way to go for now but Ben Godfrey's somewhat unsteady performance could provide Mason Holgate a route back into the line-up after an unconvincing performance of his own against Manchester United before the international break.
Jonjoe Kenny is available and could fill the right-wingback role with Iwobi switching to the left but, according to his manager, the former isn't yet at 100% following his ankle injury.
Ancelotti will need to get the back line right because Leeds under Bielsa are a side built better than any to exploit the gaps that Everton have been leaving in front of their defence in recent weeks. Indeed, for many Evertonians, this is the fixture that they have regarded with a healthy dose of trepidation given how quickly and effectively Leeds move the ball between the lines and swarm opposition back lines.
They arrived back in the Premier League amid a flurry of goals and looked like they could have been this season's Sheffield United, stumbled to a degree in October but appeared to have re-found their mojo when they destroyed Aston Villa 3-0 behind a Patrick Bamford hat-trick. Since then, however, they've suffered back-to-back 4-1 defeats and then been held by Arsenal to a goalless draw, results that have dropped them to 14th in the table.
Again, though, they remain a dangerous attacking side even while their setup and attacking bent makes them vulnerable defensively. The two sides have a few similarities and, with Everton incapable of keeping clean sheets, it could be an open, high-scoring affair.
Kick-off: 5:30 pm, Saturday 28 November 2020
Referee: Chris Kavanagh
VAR: André Marriner
Last Time: Everton 4 - 0 Leeds United (2003-04)
Predicted Line-up: Pickford, Keane, Mina, Holgate, Iwobi, Nkounkou, Allan, Docuouré, Rodriguez, Richarlison, Calvert-Lewin
---
Reader Comments (69)
Note: the following content is not moderated or vetted by the site owners at the time of submission. Comments are the responsibility of the poster. Disclaimer
Darren Hind
1
Posted 27/11/2020 at 18:28:11
Was just going to post that I expect to see a cracker but, as I got to the end of Lyndon's piece, I noticed who was in charge.
Jay Harris
2
Posted 27/11/2020 at 18:38:54
I posted this at the end of the Digne thread but feel it is more relevant here:
I got the impression listening to Carlos press brief that he is considering switching Iwobi to LWB and bringing JJK in on the right. I was also looking at the squad and with Godfrey, Brandthwaite and Holgate waiting in the wings we are looking strong at CB. Midfield unfortunately does not look as well served with Gbamin yet to recover fully from injury and with an uncertain ability to come to terms with the prem. Davies, Siggy, Bernard and Delph all with just not quite enough for the Prem for different reasons and with Tosun the only viable sub for DCL we are also limited up front.
My preferred team for tomorrow would be :
Pickford
JJK Keane Holgate Nkoukou
Allan Doucoure Iwobi
James DCL Richy
But I have a feeling Carlo will go 3 at the back to include Godfrey at Nkoukou's expense.
Leeds break a lot down their left with pace so It will be important for JJK and Allan to be aware of that.
Bamford for me wastes a lot of chances but also scores a lot which is a testimony to how many chances Leeds create.
That of course leaves them open and I fully expect DCL and Richy to exploit them at the back.
They have conceded more than us this season so expect a goalfest i.e. a 0-0 draw.
Derek Knox
3
Posted 27/11/2020 at 18:40:50
Darren, I never expect any favours from any of the men in charge, but easier said than done I know, but try not to give them any excuses to award free-kicks, penalties, yellows and reds.
This won't be an easy fixture, because they (Leeds) have impressed me in most of the games I have seen with them. I think they have been really unlucky with a lot of decisions that have gone against them.
Let's hope tomorrow is not when they start turning things around. Team selection will be interesting but I expect pretty close to Lyndon's predicted line-up. Although I feel Godfrey may come in to a back 3. That way, it takes a bit of the pressure of whoever plays at wingback in their defensive duties.
COYB
Christy Ring
4
Posted 27/11/2020 at 19:10:58
Lyndon, a bit hard on Godfrey, considering Mina was very poor. Digne is a huge loss.
I don't know if wingbacks will work against a hard-pressing team like Leeds. I'd start Holgate instead of Mina, and Davies in midfield.
Henrik Lyngsie
5
Posted 27/11/2020 at 19:11:25
I would be very surprised to see Iwobi as wingback against Leeds. Admittedly he played a good first half offensively against Fulham. But he is not good enough defensively to play wingback. As my son pointed out, he was not covering. He does not see danger. He can't tackle.
Leeds is a very good side offensively and in particular their left side. I think they will target Iwobi big time if he is wingback.
Carlo is Italian and he would know about defensive tactics. He will know that you can play Iwobi as a wingback against Fulham because his role will be mainly attacking. Against Leeds, Iwobi would need to defend a lot as well and he has not got the skills.

Tony Everan
6
Posted 27/11/2020 at 19:19:59
Pickford
Holgate Keane Godfrey
Iwobi James Allan Doucouré Nkounkou
Calvert-Lewin Richarlison

We have to take the game to Leeds like the first half last week. Then:
Plan A: Keep up the sterling work in the second half.
Plan B: Make proactive second half substitutions to keep us strong and in control.
John Pendleton
7
Posted 27/11/2020 at 19:26:34
Living next to Leeds' training ground for 14 years I'm surrounded by LUFC's finest - decent fans who've been through a lot of mismanagement and false dawns before Bielsa's arrival and subsequent change of fortune.
Avoided them in the league till now so finally got skin in the game as it were. Consensus round here is that quality will eventually overcome speed and they've been found out a little in recent weeks.
Given our personnel and gift-wrapped gaps in our shape this could be over in 5 supercharged minutes if they turn up. Given every man and his dog knows we'll concede at least two we need 4 in each half to avoid the second half Fulham nerves.
Thankfully, we might just have the attacking force to keep one ahead at the final whistle. It won't be last on MOTD is my guess.
David Hayes
8
Posted 27/11/2020 at 19:32:05
All games are won and lost in midfield, so let's hope we don't get over run. The ability to switch quickly from a three to a five at the back, as in the first half at Fulham, is crucial. If it comes down to outscoring them, which I think it will, we will get a result.
This is not a game for Mina: too slow to react and ball-watches instead of sensing danger. Holgate is still rusty but may wake up but it's a risk.
Take the game to them and hope fitness holds out. We are not fit enough, full stop. Which is a long-standing problem. COYB.
Fran Mitchell
9
Posted 27/11/2020 at 19:35:02
We need to make sure we don't give Phillips space in midfield, so I am not so sure we will go with the same formation as against Fulham.
Maybe a midfield 3 with Davies who did a good job against Fulham.
If, same as before just with Nkounkou for Digne. A week's rest for James and Richarlison should be able to expose Leeds' backline.
But we can't underestimate them, they are a good team and can be a nightmare to play against, every player runs marathons every game and they are like the Duracell bunnies.
This could be a real test to our fitness and we will need energetic substitutes - so no Siggy, Gomes, Tosun - this game would just pass them over - Gordon, Davies and Bernard - Kenny will probably offer more from the bench from what we have.
Jack Convery
10
Posted 27/11/2020 at 19:44:46
Could be the highest amount of goals scored in an EPL game since the RS VVD marshalled defence conceded 7 - how I enjoy bringing that back up. 5 - 3, 4 - 4 etc. It won't be dull that's for sure. So COYBs 2 wins on the spin is required and a nice relaxing, peaceful weekend for us Evertonians.
Pickford, Holgate, Keane, Godfrey, Iwobi, Allan, Doucoure, Nkounkou, James, DCL and Richarlson.

Kieran Kinsella
11
Posted 27/11/2020 at 21:14:23
Interesting stat for Leeds is they average the same amount of shots as their opponents. They had a couple of games where they were far out shot and one game where they had way more shots than their opponents. But against Palace and Leicester, they were thrashed despite having equal shots on goal.
They also allowed humble Sheff Utd to get 14 shots on goal against them. On balance, their strikers aren't as ruthless as their opponent's. In that respect hopefully that continues tomorrow for Calvert-Lewin and Bamford.
John Pierce
12
Posted 27/11/2020 at 22:40:59
Leeds have for me been over egged. They are on a terrible run of form, got tonked at Palace. Do they create loads of opportunities? Yea, they sure do, but they are very often profligate.
They also leave themselves wide open. I don't expect either side to have any control in this game. It's up to us to do the damage on transition when they break down.
As usual, I favour playing them high and squeezing the play, much harder for them to break 70 yards from goal. It's much better for us as a team to get our attacking players close to the final third.
Carlo shouldn't rock the boat for this game, apart from the goalkeeper, who still deserves to be dropped.
Olsen
Godfrey Holgate Keane
Iwobi Nkounkou
Allan Doucouré
James Calvert-Lewin Richarlison
Tom Bowers
13
Posted 27/11/2020 at 22:58:10
Like all Premier League teams, Leeds can play a bit. Just ask Klopp.
However they haven't been so hot lately but neither have Everton despite some good stuff at piss-poor Fulham with their awful defence.
These days, we don't know which Everton will show up but, even without Digne, they should be able to win.
On paper there are some tougher games coming up so they may need the three points here. COYB.
Neil Cremin
14
Posted 27/11/2020 at 22:59:25
I'm going to draw a lot of wrath by stating I can't see us winning this game tomorrow. I really really hope I am wrong but who have we beaten this season?
West Brom vs 10 men (conceded 2 goals)
Crystal Palace (thanks to a dodgy penalty)
Brighton (conceded 2 goals)
Fulham (conceded 2 goals)
In any normal season, these are games we would be expected to win and, if not, TW would be alight.
The only exception is the win over Spurs first day out and we always take at least one scalp from the top 6 in any season. Point is, this season is no different to any other unless we can make a statement tomorrow. I dream in hope but live in fear.
Fran Mitchell
15
Posted 27/11/2020 at 23:10:18
Leeds were excellent against Arsenal and how they didn't win I don't know.
They play an intense game; when they're on, they're on. But they will not play to their best every week and, if Bamford doesn't score, it doesn't look like they have anyone who can guarantee goal – Rodrigo is still adapting.
But they will look at us and think they can get something, our defence is far too porous.
I think a clean sheet tomorrow is just as important as the win. We need to gain confidence in our defence before we start our December run of playing Chelsea, Man City, Man Utd and others in quick succession.

Jerome Shields
16
Posted 27/11/2020 at 23:10:38
It very much depends who which Everton turns up, and how Everton's midfield plays. Should play okay first half, and maybe the players have been recoached how to close the game down in the second, not that they have not been told before by Ancelotti.
The players selected should know that they are going to have to put in a committed shift.
Tony Hill
17
Posted 27/11/2020 at 23:13:27
As so often, I compare us to Villa. Fragile and ponderous, occasionally lethal. Leeds twatted them.
And yet, I am optimistic. 3-2 to us.
Derek Thomas
18
Posted 28/11/2020 at 00:06:11
Fran @ 15; When they're on, they're on, is true. It all depends which Leeds team turns up – and which Everton... which is always the case with The Walton Wanderers.
Ian Riley
19
Posted 28/11/2020 at 00:20:59
Energy levels need to be 100%. I fear they could run us in midfield. Take 5-4 now!!
Phil Smith
20
Posted 28/11/2020 at 05:37:38
Jesus, if Godfrey's performance wasnt good, how shit was Mina's last weekend? I blame him (partially) for both goals. I'd like to see an all-English back 3 with Nkounkou and Iwobi, who was brilliant last week, as wingbacks.
Olalekan Taofik
21
Posted 28/11/2020 at 07:24:36
I am just devastated with the news of Digne, wish him a speedy recovery.
Irrespective of injury, this is a must-win for us. Let the players raise their game and make use of their chances, an early goal will be a good boost for us.
Good luck to the boys and I hope 2,000 fans will be available for this game?
Jonathan Tasker
22
Posted 28/11/2020 at 07:30:57
I love the fact that many posters above simply accept the fact that we will concede at least two goals.
Short term solution is don't select Pickford. Longer term solution is buy Dean Henderson.
Hard to fathom how the greatest manager in the world hasn't worked out how much of a liability Pickford is. I am going for 4-3 to us.
Neil Lawson
23
Posted 28/11/2020 at 08:34:05
The debate around Digne is interesting. When Leighton Baines retired, we knew we had to have a back-up left-back. Absolute priority. It is Nkounkou. So he should play. No, he is not as good as Digne or Baines, but it is a specialist position.
We have never, to the best of my recollection played without a recognised left-back, so why experiment now? There is no logic playing someone out of position. No-one is suggesting Godfrey should play in goal!
Upon reflection... maybe not such a bad idea!!
Kevin Prytherch
24
Posted 28/11/2020 at 08:41:08
If we are expecting Leeds to try to control the midfield, then it will be suicide going with a 5-2-3 again. Allan and Doucouré were struggling to contain an ordinary Fulham midfield on their own.
I would revert back to the 4-3-3 we had at the start of the season, but play Davies in the middle to support Allan and Doucouré.
In possession, Davies would cover the right flank if Kenny were to go forward, freeing up Doucouré to be more of a box-to-box midfielder. Similarly, he would be the extra box-to-box midfielder if Kenny stays.
In defence, Richarlison would slot into the left of midfield and, if Rodriguez isn't tracking back, we would have either Doucouré or Davies to help out on the right without leaving Allan isolated in the centre.
Holgate would also be a must alongside either Keane or Godfrey. Nkounkou will surely start at left-back.
Steve Shave
25
Posted 28/11/2020 at 08:43:51
Phil Smith @20,
Yes, mate, I would also drop Mina and try out the English centre-back backline. I strongly suspect this is in part why we bought Godfrey. I'm hoping to see Holgate return to somewhere near his best, those three could gel. Nkounkou and Iwobi as wingbacks for me.
Jonathan @22,
I would love Henderson, we would all love a new goalie but the problem is and will continue to be that we wouldn't even consider replacing Pickford unless we had a buyer for him. Nobody is mad enough to offer even what we paid so how can we replace him?? It's a lovely thought, though... lots of good keepers about, especially in the Bundesliga.
Allan Board
26
Posted 28/11/2020 at 08:52:00
Too negative! Should beat these easily!
If we don't, it will be player's letting us down again. Our front 3 will run riot.
Eddie Dunn
27
Posted 28/11/2020 at 08:57:27
We will be too strong and, as someone else said, Leeds are too profligate. 3-0.
Dave Lynch
28
Posted 28/11/2020 at 09:14:06
I just have no faith in us at present and can't for the life of me see us winning this.
If we perform the way we did second half at Fulham, we will get twatted big time.
Will the real Everton please turn up.
Jerome Shields
29
Posted 28/11/2020 at 09:14:07
I thought that performances by Godfrey, Davies and Iowbi showed good awareness and play in the last game.
Nkounkou to replace Digne is a given.
Duncan McDine
30
Posted 28/11/2020 at 09:15:45
Olalekan (21), I think the 2,000 fans will be for the game after this. We're currently in lockdown for another few days. I have no idea how those 2,000 will be chosen, but I'm sure a fair few blue-noses will be put out of joint.
Sam Hoare
31
Posted 28/11/2020 at 09:35:17
If we play 5-3-2, there will be gaps in the middle where Allan and Doucouré will be outnumbered. If we play 4-3-3, we will be targeted on our right flank (as vs Southampton and Man Utd) where whoever plays right-back is exposed by Rodriguez wandering.
Whatever we do, there will be gaps, mainly because Rodriguez offers little protection and stability to the shape.
I'm expecting a 4-2 victory. To which team... I couldn't say!
Paul Hewitt
32
Posted 28/11/2020 at 09:48:19
If we play the same formation as last weekend, then I wouldn't play Rodriguez. Leeds are a very good team at pressing. This isn't the sort of games for James. I would play Davies instead.
Tony Abrahams
33
Posted 28/11/2020 at 10:29:05
Fair point, Paul, I understand your sentiments, but if we don't play Rodriguez in a game that could be wide open, then I honestly don't see the point in having him at the club.
Martin Berry
34
Posted 28/11/2020 at 10:32:00
I have no doubt we have the better players to win this. However, they are a high energy team and if we run out of gas we could be in big trouble.
These high energy teams always run out of gas in time as all eleven players are only human. I hope we keep Iwobi on the flank to stretch the play and play counter when required.
An Everton win and Richarlison to get on the scoresheet.
Frank Sheppard
35
Posted 28/11/2020 at 10:39:06
Nkounkou and Holgate in for Digne and Mina for me. The other 9 the same as at Fulham.
Paul Tran
36
Posted 28/11/2020 at 10:43:33
Looking forward to this one. Poor odds, but if you want to buy money, lash onto the both teams to score market.
Ignore the daft hype around Bielsa, this Leeds team can punch but has a glass jaw.
We need to hit them harder and more often. We should win.
Brian Harrison
37
Posted 28/11/2020 at 10:50:43
Paul 36
Digne being out will be a big miss but injuries are part and parcel of the game. We should have more than enough to beat Leeds, but their style is to throw plenty of players forward when attacking, which should create acres of space for Richarlison, James and Iwobi if he plays to exploit.
Dave Williams
38
Posted 28/11/2020 at 10:55:20
Quite simply our attack looks good but defence looks poor so we have to score more goals than them. I wouldn't be surprised at something like 4-3 but to which team is anyone's guess.
I'd play the same team as last week but Holgate and Nkounkou for Mina and Digne with Tom ready to come on after an hour to bolster the midfield.
Sigurdsson can't go near this game as he will be overrun. Gordon would be another good sub as he has pace and energy and plays well with Nkounkou.
It should be very entertaining to watch, as long as we win!!
Robert Tressell
39
Posted 28/11/2020 at 10:58:10
We have a truly excellent trio in Rodriguez, Richarlison and Calvert-Lewin. Technique, pace and power. You cannot leave Rodriguez out when he asks so many questions of the opposition – and hugely enhances the output from our pace and power.
It's a bit like France saying, Zidane doesn't get about the pitch so much, so let's go with Deschamps, Petit and Vieira for the tricky games.
Without Rodriguez, we hand the initiative and control of the game to Leeds. With Rodriguez, we play with the ball and ask the questions. It's what big clubs do.
Minik Hansen
40
Posted 28/11/2020 at 11:01:32
Jay (2), it's a good lineup, though if it's to be, it'd be best to switch Allan and Doucouré. Doucouré is faster than Allan and will be a better cover for Kenny.
George McKane
41
Posted 28/11/2020 at 11:07:34
Sitting in my writing room early Saturday morning
Music swirling around my postcards and pictures
Past my window,The Buddha sitting on the 'sill in contemplation
I see the Dome of St Peter and Paul
Round and proud against the greyness
I walk into the front reading room
The Tablet of Gilgamesh, The Labyrinth of Chartres and Four Boys Who Shook The World
On the white walls around me
Looking through the window
Across The Water
The City
All Grey but for the odd white of a seagull looking for morning shells
To break open on the Prom
My eye wanders to The River with the City, colourless
Its Majesty still on show in the early morning grey
The Two Birds Mighty against the sky
One looking out to our brothers in The New Worlds
Asking if you are safe
The Other looking across The City waiting for the all clear
I follow The River South East where it widens
no slivers of gold or silver touched up by Monet, Sisley, Turner or Tintoretto today
Even here the grey clouds look down to the grey waters
The Silver Winter Sun hasn't manged to break through yet
Only the odd factory light shines and breaks the greyness
Leafless trees wave at me
I turn and walk back to my writing room
Stopping at the window at the top of the stairs
I look down past grey roof tops, back alleys with grey bins
My eye wonders down and I see The River
And the old roads that on normal days I would be travelling
The Dockie, Vauxhall and Scottie
And there it is breaking the greyness
The White Roof and above the sky now beginning to take off its morning grey suit allowing some colour into the world
My memory takes me back to that day of more than half a century ago
Walking towards The Hallowed Ground with Brian Brady
Smith Street, Whittle Street, Wessie Road Baths, Fountains Road and The Barlow Arms
Too young to know it as The Dark House
Would we beat Leeds today we asked each other
Yes
We beat them last year in The Cup
Entering The Colosseum our eyes hit by floodlights like stars in the afternoon light
The grass, greener, stood to attention
The sounds even this early excited us and drew us into "our spec"
The first tackle set the tone
Derek Temple, now a good friend of mine, poleaxed.
The Romans screamed for revenge
It came, a man called Sandy did what we all hoped and wished we could do
He felled one of The Barbarians
We roared
The Caesar in Black took everyone into his room for tea and calmcakes
And so Dirty Leeds were born
Revie and his followers heralded the beginning of the end of football as I knew and liked it.
And so today.
I will not walk along those sacred Streets to The Holy Ground
I will like you sit comfortably
Feet up, warm and safe and watch
Ohhh wait
Those invisible Nero's have told us that some of us may be able to "attend" in the near future
If I am chosen I will refuse
I will not go Blue Brothers without You
Or You
Or You
Or You.
We Are Blues Together.
I now recall some of our Mr. Lennons Lyrics to make us smile and contemplate - - for those who live here - - for visitors and for those wishing to come.
There are places I'll remember
All my life, though some have changed
Some forever, not for better
Some have gone, and some remain
All these places had their moments
With lovers and friends, I still can recall
Some are dead, and some are living
In my life, I've loved them all
But of all these friends and lovers
There is no one compares with you
And these memories lose their meaning
When I think of love as something new
Though I know I'll never lose affection
For people and things that went before
I know I'll often stop and think about them
In my life, I'll love you more
Though I know I'll never lose affection
For people and things that went before
I know I'll often stop and think about them
In my life I'll love you more
In my life I'll love you more
With cosmic Bluetiful grooves and good wishes sent to you all from New Brighton - - your friend - - George
Jim Bennings
42
Posted 28/11/2020 at 11:08:26
Such a shame really that fans can't be at this game and I mean normal circumstances of a full house but it is what it is.
I can't see us keeping a clean sheet because we are likely to have at least one square peg in a round hole in defence again, and in general we just don't really look like a team that will ever be watertight.
I expect goals and basic mistakes in defence from both sides and it would shock me if this was a tight game with few chances.
Just on the left-back crisis, as Digne is likely out now until late February or early March, I wonder if Leighton Baines has been sounded out over coming out of retirement for a while?
Fran Mitchell
43
Posted 28/11/2020 at 11:16:07
Agreed Robert. Those that suggest replacing James for Davies – my mind can only wonder.
Again, for years, we have always struggled with 'creativity'. It was miserable. From the long balls of Moyes, the sideways passing of Martinez, the nothingness of what followed. Never having players who could 'get the ball in dangerous areas'.
James, every time he gets the ball turns forward, diagonal pass into the corner of the box, and chances are created. Every time he gets the ball, we have the possibility of creating a goalscoring opportunity. This is unique for Everton in the Premier League era.
We need to ensure the midfield doesn't get over run and, when James tires, yes, change the system.
But James' vision will be giving the Leeds backline nightmares.
So long as Allan does a job on Phillips, we should be good.
Geoff Williams
44
Posted 28/11/2020 at 11:17:35
I am going against the general acceptance of a 3-4-3 formation which will, against a very hardworking Leeds, end up as 5-4-1.
I thought Iwobi had a very good first half against Fulham but I think he might be found out in this match – particularly if he is used as the left-sided wingback. I also worry that Everton's fitness will be tested to the full and I wouldn't be surprised to hear we've conceded a couple of late goals.
Darren Hind
45
Posted 28/11/2020 at 11:22:15
Wonderful read, George.
You have a rare ability to brighten a day, my friend.
John Cook
46
Posted 28/11/2020 at 11:27:20
Great words, George. The sentences flow from your pen like molten gold.
Like you, I won't be going in any ballot. To paraphrase "One in, all in".
Stay safe, lad.
George McKane
47
Posted 28/11/2020 at 11:28:30
Wow, thank you, Darren. Like Cool Hand Luke: "Ain't never planned nothing in my life" – just let it flow... never edit myself.
Darren, you are an old Cardinal Godfrey man aren't you?

Darren Hind
48
Posted 28/11/2020 at 11:50:14
Yes, George.
I'm proud to say I am a Cardinal Godfrey boy.
I remember they used to make us write with the pen. I can only guess that you were born with the ability to write with the soul.
Anthony Jones
49
Posted 28/11/2020 at 12:11:12
The 5-2-3 only works if Allan and Doucouré are all over the place. They aren't as mobile as I expected. We need 3 in the middle. Spurs really shafted us nicking Højbjerg.
Bobby Mallon
50
Posted 28/11/2020 at 12:37:04
Kevin @24, I agree totally with all that.
Bobby Mallon
51
Posted 28/11/2020 at 12:44:19
But Kevin,
If I was picking the team for this game, Calvert-Lewin would be played on the right of the front 3 with James central. He can score goals as well and that lets the fitter Calvert-Lewin help out down the right.
Derek Moore
52
Posted 28/11/2020 at 13:10:13
Leeds can give anyone a game, and they are the sort of team that are going to try and play the way they want to regardless of whether you're Man Utd or Morecambe.
These sorts of sides have turned us over repeatedly in recent decades by playing this way. Essentially they are going to play their way and challenge us to outplay them.
I'm actually tipping a draw, because whilst we are somewhat more cogent with the ball depending on personnel, we have many flaws. Leeds are going to bring the fire and many in this group don't believe in meeting fire with fire. I'd be delighted with three points today.
Tony Twist
53
Posted 28/11/2020 at 13:47:34
I think Leeds are a really good side and I am surprised that they are below us.
I think Leeds will tank us, they have everything needed to beat us, speed, heart, skilful players and a very clever manager and system. I expect Everton to be like a rabbit in front of the headlights, a team that looks like they have only just met.
Good luck, Blues! (ps: I would be extremely pleased to be proven wrong!)
Bobby Mallon
54
Posted 28/11/2020 at 13:56:57
Live Forum, please!
Derek Knox
55
Posted 28/11/2020 at 14:03:07
Bobby @58, eager beaver there mate! Kick-off today is at 17:30, Live Forum normally available half to one hour before, normally after the official team sheets have been handed in. :-)
Dave Abrahams
56
Posted 28/11/2020 at 14:25:45
George (41), lovely to hear from you, as usual, a tonic. Like you, I won't be going back until it's safe to do so. More for the safety of my wife, going to the game but bringing something very nasty back.
Like you, I'll miss a lifetime's habit but pick up on it when it's safe. Sad to say, George, but I was never much of a Beatles fan but glad you enjoy them and I hope we are both smiling tonight. Best wishes, George.
Gary Carter
57
Posted 28/11/2020 at 14:33:27
I'd like to see Pickford, Iwobi and Nkounkou at wingback, Godfrey, Keane and Holgate at centre-back, Allan, Doucouré, Richarlison, Calvert-Lewin and James.
Mina has been garbage in the last 5 games.
Fran Mitchell
58
Posted 28/11/2020 at 14:46:37
Gary, 3 wingbacks, and one of them being Pickford... that is out-of-the-box thinking.
Jay Harris
59
Posted 28/11/2020 at 14:50:07
First of all, compliments to you, George, for easing the nervousness and quoting my favourite Beatles song. Your way with words reigns supreme.
Despite some of the concerns about how Leeds play, let them worry about how we play. We have been creating and scoring and I expect a tightening at the back today and a clean sheet would be nice.
Having said that, I will go for a 3-1 to us. Here is hoping.
Alan McGuffog
61
Posted 28/11/2020 at 15:07:50
Presumably it was all Pickford's fault?
Tony Heron
62
Posted 28/11/2020 at 15:12:07
George, as usual your words are just so uplifting and a thing of beauty.
I well remember that Leeds game. The Ordnance Survey people should mark Goodison on their maps as "Scene of Battle".
When Temple went down I half expected the undertakers to arrive, it was a shocker. Never been as surprised as when I saw him come back on after the "time out" called by the ref.
Mike Dolan
63
Posted 28/11/2020 at 15:24:00
We should win this one going away. We can beat them on the break all day. They are refreshing but actually not that good.
I am happy with whoever Carlo puts out there but would like to see Davies for at least half the game for Coleman.
Mark Taylor
64
Posted 28/11/2020 at 15:27:30
I would expect the same line up that started against Fulham with Niels in for Digne. You could make a case for Holgate replacing Mina but I doubt that will happen.
Last week's line up was the response to the ever clearer intent by our opposition to target our right side, given James doesn't track back or tackle much. In essence, we are trying to find a formation that enables him to be in the team, preferbaly in a floating role, but that offers a modicum of protection, especially given right-back is a weak position for us.
Arguably Arsenal have had a similar problem accommodating Ozil. Some question whether that is worth it. Personally I think it is, creative genius is a rare quality. But it does end up shifting the problem around the park, and this set up can and probably will leave us outnumbered in midfield.
I'll leave it to Carlo to figure that one out. But I don't want to see a defence that has Kenny and Niels in traditional full-back positions in a traditional back 4. I don't think they are good enough full-backs to pull that off.
Everyone expects lots of goals because Leeds have their own defensive challenges. So 0-0 it is, or maybe a sneaky 1-0 win.
Brian Murray
65
Posted 28/11/2020 at 15:30:16
In the 3 recent games, Carlo failed miserably to find a way, so let's hope he learned his lesson... which sounds ridiculous considering his age and apparent ability as a manager.
Kevin Prytherch
66
Posted 28/11/2020 at 15:49:14
Gary, I like the optimism, but I just don't think Pickford at wing-back will work.
Mike Gaynes
67
Posted 28/11/2020 at 16:15:46
What a treat to pop out of bed at 8 in the morning -- still 90 minutes to kickoff, no rush, plenty of time for coffee and watching the ocean waves.
And then to discover that the Poet Laureate of ToffeeWeb, George McKane, has produced one of his lyrical wanderings to set the day up just right.
Thanks, George, for the "cosmic Bluetiful grooves" -- a lovely divergence from the pedestrian speculation about who's gonna play left back today.
Robert Tressell
68
Posted 28/11/2020 at 16:18:56
We should really ease up on how amazing Leeds are. They approach each game in admirable fashion but their team is patchy and tactics often flawed.
Set up as 3-4-3, especially with a mobile Holgate instead of an immobile Mina, we can be very good.
Pete Gunby
69
Posted 28/11/2020 at 16:23:21
Tears to the eye, George. Slightly better than the "roses are red, violets are blue..." embarrassment I was contemplating.
Tony Hill
70
Posted 28/11/2020 at 16:30:53
Ocean waves, Mike. You lucky bastard. Here, it's like Satan's special dungeon.
---
Add Your Comments
In order to post a comment, you need to be logged in as a registered user of the site.
Or Sign up as a ToffeeWeb Member — it's free, takes just a few minutes and will allow you to post your comments on articles and Talking Points submissions across the site.