Everton to face Rotherham in the FA Cup
Monday, 30 November, 2020
The draw for the 3rd Round of the FA Cup took place tonight and Everton were drawn against Rotherham at home.
Third round is set to take place on or around Saturday 9 January 2021. This season, lowly Marine have made their way into the bag after a very late 120th minute goal last night and they were rewarded with a home tie against current Premier League leaders, Tottenham
---
Reader Comments (92)
Note: the following content is not moderated or vetted by the site owners at the time of submission. Comments are the responsibility of the poster. Disclaimer
Gerry Quinn
1
Posted 29/11/2020 at 17:29:02
If Mike Gaynes is online, news on Marine a few minutes ago:
Niall Cummins's 120th-minute goal puts Marine through to the 3rd Round of the FA Cup for just the second time in their history.
The eighth-tier part-timers dump 10-man Havant & Waterlooville of National League South out of the Cup.
Gerry Quinn
2
Posted 29/11/2020 at 17:55:17
The draw for Round 3 of the FA Cup with big teams joining will be
live from Marine
at 7pm – hope we get them in the Cup – Semi-Final, that is...
Niall Cummins's 120th-minute goal put Marine through to the 3rd Round of the FA Cup for just the second time in their history.

The eighth-tier part-timers dumped 10-man Havant & Waterlooville of National League South out of the Cup.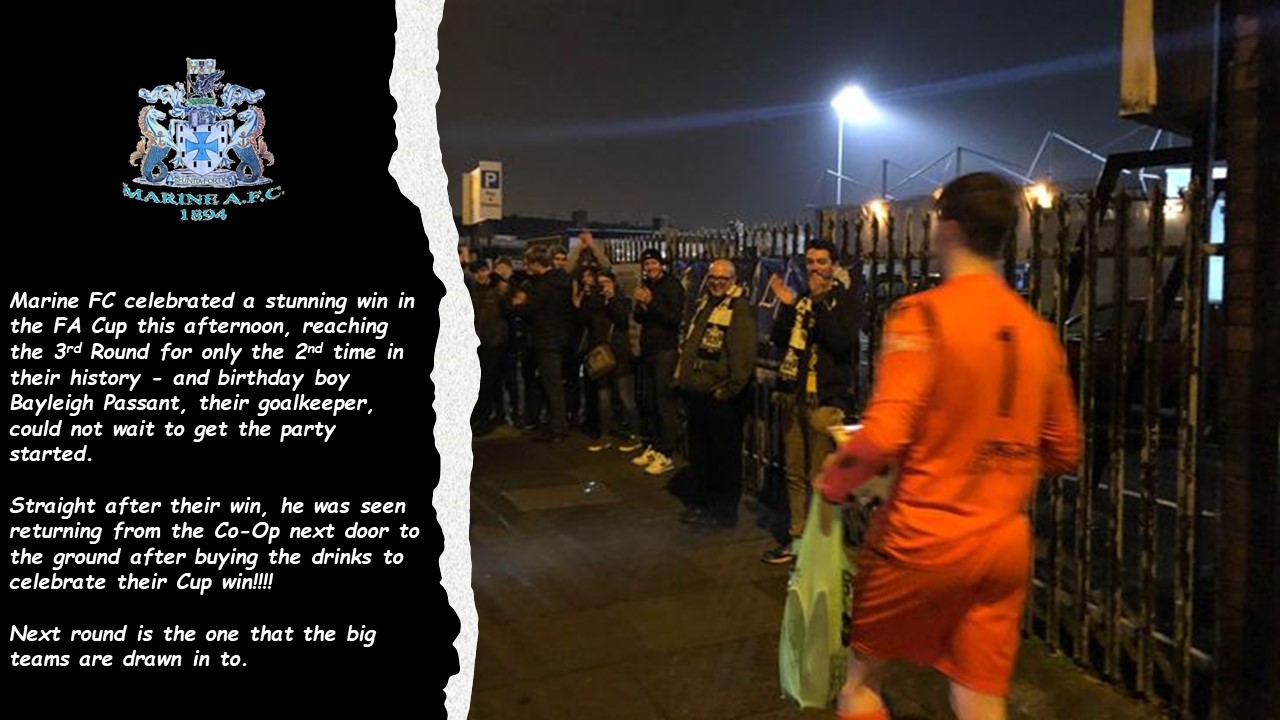 Peter Mills
3
Posted 29/11/2020 at 18:38:44
It looks like we won't win the League, so will need to concentrate on the Cups. But a word of warning, we will need to avoid a menacing team which today has progressed into the 3rd round of the FA Cup, winning their 7th game in the tournament so far this season. They showed quite a bit of skill, but they also displayed a staggering degree of tenacity, determination, grit and willpower.
The 120th minute winner brought a tear to my eyes.
Patrick McFarlane
4
Posted 29/11/2020 at 18:42:23
Peter,
If Everton wins just one less, ie, six FA Cup ties, than your other team, we'll be celebrating in May.
If Everton happen to beat Marine on the way to Wembley in front of fans, that'll be a bonus for your second club.
Peter Mills
5
Posted 29/11/2020 at 18:49:36
Absolutely brilliant images on Twitter of Marine's goalie, still in his kit, coming back from the Co-op at the end of College Road with plastic bags full of drinks to fuel the celebrations.
Gutted that the ground was closed today, the clubhouse would be bouncing and I suspect things might have moved on to The Bug next door.
What a day. Watch out, Blues!
Tony Everan
6
Posted 29/11/2020 at 18:53:14
Peter, As they are now a possible opponent in the 3rd Round, there are reasonable grounds for limited discussion!
The BBC website has a link on their footy page where the winning goal and celebration can be seen. Absolutely delighted for them, hopefully they can get a maximum windfall too.

Danny O'Neill
7
Posted 29/11/2020 at 18:59:56
Is McAteer still linked or involved with Marine?
Sorry, love to see local clubs do well so I guess that's the bitter coming out in me as I seem to recall he invested in them.
Tony Abrahams
8
Posted 29/11/2020 at 20:17:23
Peter, I love that football can still bring a tear to your eye, and I'm glad that the greatest competition in the world (imo) still possesses the romance that can help make an older man rejoice!
Brilliant that, the goalie going the offie to get the ale in! A picture of thousands of Evertonians doing the same at Wembley in May, springs into this eternal optimists brain.
Brian Wilkinson
9
Posted 30/11/2020 at 15:58:13
Just for a bit of fun, while we wait for the draw, let's have a prediction on who we will draw, with a virtual beer for the winner.
I will start the ball rolling with picking Sheffield Weds.
Tony Everan
10
Posted 30/11/2020 at 15:59:42
Tottenham away.
And I want 2 virtual pints and an obligatory Scotch Egg if I win, to keep it virtually legal.
Andrew Ellams
11
Posted 30/11/2020 at 16:14:26
As an Evertonian who grew up in Chorley, I'm hoping for us to come against Number 53.
I've been waiting over 40 years for them both to be in the hat together.
Will Mabon
12
Posted 30/11/2020 at 16:17:00
I'll settle for half a pint and have two guesses – Exeter or Nottm Forest.
Derek Cowell
13
Posted 30/11/2020 at 16:19:04
Liverpool away!!
Jim Bennings
14
Posted 30/11/2020 at 16:20:13
I have it on good info that it's Liverpool away again, there's a sticky red ball in there that will be attached to ball Number 16.
Alan McGuffog
15
Posted 30/11/2020 at 16:22:29
Does it make any difference who we get?
Anthony Murphy
16
Posted 30/11/2020 at 16:23:26
Derby away...
Brian Wilkinson
17
Posted 30/11/2020 at 16:35:14
I have a feeling Peter will be hoping for Marine.
Gerry Quinn
18
Posted 30/11/2020 at 16:37:17
Arsenal home...
Brian Wilkinson
19
Posted 30/11/2020 at 16:41:58
Be good if our neighbours draw Spurs or Chelsea away, Klopp is already whinging about amount of games and no 5 subs and struggling to rotate, be comedy gold.
Andrew Ellams
20
Posted 30/11/2020 at 16:55:19
Don't be surprised if they draw Marine. It ticks everybody's box, including the TV people, who could sell it like mad.
Paul Hewitt
21
Posted 30/11/2020 at 17:47:40
Tranmere at home. We need revenge.
Derek Knox
22
Posted 30/11/2020 at 18:36:25
Whoever we get, we will have to start playing together as a team.
The last few outings have been a stark reminder of how poor the squad is overall. I know we have made mistakes in the Transfer Market, but just stringing a few passes together is surely not too much to ask???
Mike Gaynes
23
Posted 30/11/2020 at 18:51:10
Brian #17,
Peter won't be the only one.
GO MARINE!
Dave Abrahams
24
Posted 30/11/2020 at 18:55:36
Brian (19), going by the last three seasons, I don't think "Cry me a river" is interested in the FA Cup.
Kieran Kinsella
25
Posted 30/11/2020 at 19:06:57
Marine reminds me of when my home town Bishop's Stortford got into the FA Cup proper.
What a day. The sun was shining, generations of locals gathered cheerfully to enjoy the once in a lifetime occasion.
Then, 3,000 Colchester United fans arrived and decided to smash up the whole town.
Colin Glassar
26
Posted 30/11/2020 at 19:13:55
Liverpool away. You saw it here first.
Brian Williams
27
Posted 30/11/2020 at 19:14:09
Come on, Everton v Marine... orrrrrr Rotherham.
Peter Mills
28
Posted 30/11/2020 at 19:17:15
Marine v Spurs. Get in.
Colin Glassar
29
Posted 30/11/2020 at 19:18:17
Rotherham not bad
Will Mabon
30
Posted 30/11/2020 at 19:25:45
RS going out 2-7 to Villa.
Darren Hind
31
Posted 30/11/2020 at 19:36:46
Rotherham will do nicely.
Peter @28,
Made up for you, mate. a dream tie. Made up for Paul Tran and Paul Ferry and anyone else from that area too.
Enjoy it, guys. Then come back and join the Blue Boys on the march to Wembley.
Paul Ferry
32
Posted 30/11/2020 at 19:36:57
Alright, Peter, mate. Hope you're doing well.
Rotherham, no problem! 4-1.
I bet Crosby is rocking! Would love to be there and part of it but enjoying it from over here. Barnsley flooding my mind at the moment.
Spurs! The good folk of Jubilee Road will be selling their windows and trees for a small fortune. I might try and get back and catch you in Stamps.
Home to us in the 4th round would be just right!
Pat Kelly
33
Posted 30/11/2020 at 19:41:34
Rotherham. You'd like to think Ancelotti might be able to get a win. You'd like to think it.
Peter Mills
34
Posted 30/11/2020 at 19:43:15
Cheers, Darren. Tickets are going to be like hen's teeth, what a day it will be.
Mike Gaynes
35
Posted 30/11/2020 at 19:45:47
Pete, please share my congratulations and warmest wishes to the whole Marine gang (especially your brother and Joe). I would give several lightly used parts of my anatomy to be able to join you in the stand for that game. Give Spurs all they can handle.
GET IN MARINE!!!!!!
Rob Halligan
36
Posted 30/11/2020 at 19:56:06
Anyone whose house is adjacent to the College Road ground can make an absolute fortune by letting people into their back garden to watch the Marine v Spurs match. BBQs all around the ground on 3rd Round day when Spurs come to town!
Great draw for Marine, though I doubt many of the Spurs regular first team will be on view.
Mike Gaynes
37
Posted 30/11/2020 at 20:00:13
Rob... at least until Kane and Son have to come off the bench in the second half to bring Spurs back from a goal down.
I can dream, can't I?
Peter Mills
38
Posted 30/11/2020 at 20:05:33
I'm so pleased for everyone at Marine. It's a great set-up, and those who run it work very hard to keep it all going. It's a very friendly place, but it will be intimidating on the day and Spurs will never have encountered anything like it.
Eddie Dunn
39
Posted 30/11/2020 at 20:10:16
As Spurs have won sweet Fuck-All for years, I wouldn't be surprised to see them play a strong side like they did at Tranmere 2 years ago.
A great draw for Marine – I hope it's televised.
Eddie Dunn
40
Posted 30/11/2020 at 20:10:16
As Spurs have won sweet FA for years I wouldn't be surprised to see them play a strong side like they did at Tranmere 2 years ago. A great draw for Marine - I hope it's televised.
Dave Abrahams
41
Posted 30/11/2020 at 20:18:58
Peter (34),
It will be a great day for the people of Crosby but the whole of Merseyside and the rest of the country will be behind Marine that day. I hope you are one of the lucky ones who get in to see this historic, and – I hope at the end – hysterical, day
Peter Mills
42
Posted 30/11/2020 at 20:25:24
Thank you, Dave. It's going to be tough getting a ticket but I'll be calling in any favours I can.
Alan McGuffog
43
Posted 30/11/2020 at 20:32:22
Will there be attendance?
Jon Harding
44
Posted 30/11/2020 at 20:35:40
Welcome to MarineWeb!
I remember a fairly easy League Cup win v Rotherham a couple of years back.
My memory told me it was the first time I'd seen Digne start and I thought "We've got a player here."
And Niasse was laugh-out-loud bad. Just did not look like he'd ever played before despite running about all over the place.
Just looked it up and indeed it was 3-1. Strangely Calvert-Lewin's double had slipped from my mind.
A repeat in January will do nicely... then Marine in Round 4.
Danny O'Neill
45
Posted 30/11/2020 at 20:50:10
Colin you naysayer!! The wife is cursing. She's from the West Midlands and follows Villa.
Decent draw for us. I do actually fancy us for a trophy this season. We are well set.
7th in the league and 2 cup final appearances with a trophy to show for it and European qualification thrown in.
Now I'm just getting nostalgic and wanting history to repeat itself!
Jason Wilkinson
46
Posted 30/11/2020 at 21:02:10
Great draw for Marine. We have a great chance to progress to Round 4. Villa at Goodison please.
We can get back to beating some plucky underdogs in Round 5.🤣
Jack Convery
47
Posted 30/11/2020 at 21:11:08
Good draw – hopefully. Cracker for Marine... and Come on, Villa.
Team to play Rotherham:
Olsen
Kenny
Godfrey
Branthwaite
Nkounkou
Davies
Gomes
Delph
Sigurdsson
Tosun
Simms.
Joe McMahon
48
Posted 30/11/2020 at 21:26:02
Jack, steady on – it's weeks away.
I'm personally not in to picking teams anyway as I'm not the manager, but that has to be a record dude, approx 6 weeks before kick-off.
Billy Roberts
49
Posted 30/11/2020 at 22:04:46
My close friend's son, James Devine, plays for Marine so I said to my mate Joe: "The draw will be exciting, won't it?"
Haha — Tottenham!! What a great reward for them.
Good draw for us (Everton) as well, we really really can't cock that up.
Mike Gaynes
50
Posted 30/11/2020 at 22:21:43
Agreed, Joe, some of those names might not even be Everton players by then... the transfer window opens five days earlier.
Peter Mills
51
Posted 30/11/2020 at 22:21:53
Michael K, thanks for being a good sport, by creating this thread and allowing it to be a little Marine-centric.
Darren Hind
52
Posted 30/11/2020 at 22:28:00
Is right, Joe. A week's a long time in football... Six is an eternity.
Don Alexander
53
Posted 30/11/2020 at 22:32:09
Jeez, can any of our city-based fans get to see if Dazza's OK?! He seems lost for words. What the Fuck!!!
Sean O´Hanlon
54
Posted 30/11/2020 at 22:37:07
Great draw for Rotherham!
Jack Convery
55
Posted 30/11/2020 at 23:03:05
Joe, I'm bored... humour me.
Be interesting to see how right I am though!
Brian Wilkinson
56
Posted 01/12/2020 at 00:02:20
Just out of interest, Peter, any idea how many fans will be allowed to attend the game, if Marine are still in Tier 2?
Alan J Thompson
57
Posted 01/12/2020 at 03:25:20
Brian (#56); Two up a cul-de-sac.
Tamhas Woods
58
Posted 01/12/2020 at 04:56:45
Jack @47 - No. We can't fook-fart around like that. Remember Oldham in 2008? Nobody was arsed that year, hence Pompey and Cardiff in the final. What an opportunity missed that was.
Full strength, get it done, no dramas. I'd like us to survive beyond January for once.
Derek Knox
59
Posted 01/12/2020 at 07:53:44
Alan J, Keep it clean! :-)
Hopefully a decent Cup run this year, just hope we can field a full-strength team, but Digne and Coleman will probably miss out in the early rounds.
Tony Abrahams
60
Posted 01/12/2020 at 08:06:52
I didn't know Joe Devine, was your good mate Billy. I remember James, from the kids footy, he went to Tranmere, with his mate and namesake Ethan Devine, and I was hoping these two were going to push on, so hopefully this game puts young James, in the spotlight, and he has a great game🙏
Ask Joe if there's any spares, can he save one for our good friend, Peter Mills, who's going to put loads of hen's teeth all over the pitch, anything that might disrupt the cockerels!
Lenny Kingman
61
Posted 01/12/2020 at 09:11:18
If timings clash, expect to see Ferguson managing the blues that day.
Ancelotti will be supporting his beloved Crosby's very own as Guest of Honour.
Peter Mills
62
Posted 01/12/2020 at 09:17:40
The last game I went to at Rossett Park was immediately before the current lockdown, when capacity was restricted to 400. It was all well managed, with footprints having been painted on the ground where people should stand. Every alternate row of seats in the stand was cordoned off, and in the rows that were accessible, a couple of seats were free, then a couple taped off, then 2 or 3 free to sit in.
Marine's manager spoke in the immediate aftermath of the draw of 1,600 supporters being allowed in, that would be pretty packed. All being well, Sefton will still be in the new Tier 2 around January 10th, but I can't quite understand how Marine could be allowed 1,600 and Everton only 2,000.
Marine have issued a statement that they will be liaising with the FA, Sefton MBC, Spurs and the various safety authorities. I would imagine discussions will not just be around capacity but logistics. Supporters are only able to access 3 sides of the ground, and entry into the stadium is from one side (College Road) only, so that presents some challenges.
Also, on Sunday, the teams used the 2 lounge bars as changing rooms, something the Spurs lads may not be used to.
Whatever the capacity, and whether I can get in, I desperately hope the game is played at Marine's ground. At one time I guess it would have been transferred to Anfield (in which case, I doubt I would go), but the restrictions on supporter numbers may make that less likely.
Without wanting to go into hyperbole, if the game goes ahead at College Road, it could be one of the greatest occasions the FA Cup has ever seen. It's unknown in the history of this old competition that a team from the eighth tier is playing a team at the top of "the elite", it's a story the whole world will want to watch. The FA Cup has lost much of its magic, here is a chance to regain it.
If I was an enterprising Mariner official, I'd be contacting the TV companies, seeing if they want to do a fly-on-the-wall documentary of the club over the next 6 weeks until match day. And to follow them into the next round!
Neil Lawson
63
Posted 01/12/2020 at 09:19:10
Jack 47. Pick that team and 4th round draw will be Marine v Rotherham.
Sigurdsson, Delph, and Tosun? They could make the bench for Marine perhaps.
The team has to be a sensible mix of experience and youth with some true leaders on the field. Perfect opportunity for Kenny and Nkounkou but with Keane or Holgate.
Gordon must be given his chance but with either Richarlison or Calvert-Lewin onboard too and Allan as well. No deadwood required.
Will be an interesting weekend. Thrilled to bits for Marine. As a Crosby boy who escaped to Devon, I can relentlessly rib my friends and colleagues who are champagne Spurs supporters.
I do hope they don't have to move the fixture away from College Road. One circumstance where Covid restrictions may actually help.
Ralph Basnett
64
Posted 01/12/2020 at 12:27:07
Maybe nice of Everton to approach Marine about them using Goodison Park if they are not allowed 2,000 fans?
David Peate
65
Posted 01/12/2020 at 14:03:43
I recall that match in Autumn 1951 when Everton entertained Rotherham in the second division.
Everton had the match won and the players kept on passing the ball back to Ted Sagar. It did not take long for Rotherham to up their game so much so that the result was 3–3.
Beware of rampant Rotherham!
Mike Gaynes
66
Posted 01/12/2020 at 15:10:49
Pete #62, in my sports "journo" days, I'd have been all over that story.
Peter Mills
67
Posted 01/12/2020 at 17:59:35
Mike, why don't you dust off your typewriter and don your journo's hat one more time? There's a story to be told here, you've been to the ground, have a feel for the place, understand the tale, I'm sure your fellow 'Mericans would be interested.
Andy Crooks
68
Posted 01/12/2020 at 18:54:23
Go for it, Mike. There's a Bill Bryson like book here. You could guarantee yourself a ticket and insist that you need someone Irish to carry your pen.
Brilliant stuff, Pete. I echo your thanks to Michael K. Nice touch too, Pete, when you "doubt" you would go to Anfield. I suspect your arm might be twisted!!
Peter Mills
69
Posted 01/12/2020 at 19:06:40
Andy, I vowed never to go there again after the Pickford farce a couple of years ago. I was nearly trampled to death trying to get out of the Kemlyn Road at the end by the hundreds trying to get back in after they had been slagging off Klopp throughout the match.
Dave Abrahams
70
Posted 01/12/2020 at 19:20:50
David (65), I remember that 3-3 draw with Rotherham in 1951.
A nice sunny day, I'd say it was Davie Hickson's first season in the first team. I think he got one of the goals. Tony McNamara also played, might have been his first season in the Blues team.
Coasting along, as you say, 2-0 up and it finished as a draw, our first season in the second division after being relegated the year before.
Hope that's not an omen, relegated in 1951 and next year is 2021, 70 years apart – doesn't time fly when you are enjoying yourself!!!
Mike Gaynes
71
Posted 01/12/2020 at 19:23:22
Pete, I would love to! Believe me, if it weren't for this damned virus, I'd be there. Just to stand outside the ground and enjoy, even if I couldn't get a press pass.
I don't think I ever knew you'd been stampeded at the gate at the end of that derby. All I remember is Dave Abrahams and myself scooting out and running for my train to Heathrow.
Andy, great idea mate, but Bryson should write that himself, as a sequel to Notes From a Small Island. He could call it Notes From a Really, Really Small Footy Ground.
Jack Convery
72
Posted 01/12/2020 at 19:54:06
Neil – yes, I know. Given the fixture pile-up over Xmas, it's a team I wouldn't put it past Carlo to pick. Especially as we will have a League Cup semi-final to look forward to as well. Resting his stars seems to be the way to go when playing lower league opposition, as in Fleetwood and Salford.
Billy Roberts
73
Posted 01/12/2020 at 22:15:16
Tony @60,
Just spotted your post. Yes, I've been mates with Joe since I was 16 through my schoolmates Alan Jones, and other Sparra Hall inmates!! All reds unfortunately, but proper football fans all the same.
James got on second half last game so I just hope he gets a chance to play against Kane, Son, and Dele Alli?? One of many top players that I'm sure will be on the pitch at some point.
I'm having a drink with them all tomorrow, Tony, I will ask!!
I will spike his drink for you, Peter!!
Dick Fearon
74
Posted 01/12/2020 at 23:28:18
My only recollection of an Everton vs Rotherham game was in the opening minute the Millers' huge centre half who I recall was named Noble dropping Dave Hickson with a mighty punch. Dave was carried off but as subs were not allowed in those days he returned later.
Upon his return, Dave made a beeline to Noble and dropped the big man with his own roundhouse punch.
The referee, who missed the first incident, had a full view of the second and sent Dave off to a mighty roar from the faithful.

Tony Abrahams
75
Posted 02/12/2020 at 07:41:37
I was only messin, Billy, and knowing Joe, he would probably go out of his way to try and get you one mate!
More importantly, where are you having a bevy? We've got a night out next Friday, and nobody is willing to accept us because of this rule of six. So if youse find a couple of decent boozers, that information would be valuable mate, and pass on my regards to Joe, because it might be "very rough in Sparra" but it doesn't mean it hasn't created loads of genuine people.
You've picked your friends well, Billy, pass on my regards to Joe, tell him abba was asking about him. 👍
Tony Waring
76
Posted 02/12/2020 at 16:50:30
Great stuff by the Mariners. I used to live in College Road North back in the day and watched a few games as a teenager from a back garden in Rossett Road – I think it was Pete Evans house.
Would it not be fantastic if they beat Spurs? I can just see Jose legging it to the Co-Op to buy a few bevvies for his squad! Mind you The Bug is closer!
Neil (63) I'm now in Devon, South Hams in fact. What part were you permitted to settle in?
Gerry Quinn
77
Posted 02/12/2020 at 18:01:10
Absolutely thrilled by Marine's Cup efforts this season. I lived at 60 Victoria Road (yep, the posh slums as they were affectionately called in those days). I used to go to Rossett Park back in the early to mid-'60s – favourite players were centre-forward Ben Forster and centre-half Alan Favanger.
Can't remember who else played, but used to go with my mates, Barry Lenton, Pete Connaughton and Robbie Parker. The Co-Op used to be a chippy, I think (really hazy memory), had the best chips and gravy ever.
Would love to go back to bang the boards at the College Road end again
Tony Everan
78
Posted 02/12/2020 at 18:42:10
Hi Gerry, My uncle, Joe Crawford, played for Marine in the late '60s. My auntie made him a compilation scrapbook for his 70th birthday a couple of years ago, after going through old newspapers.
Looked like he had some great games for the Mariners. Have you any recollection of him?
Paul Turner
79
Posted 02/12/2020 at 18:43:56
Gerry - Alan Favager, Paul O'Donnell on the wing. A little later on - Jimmy Keeling. I think Barry and Jim Voiels (RIP) were instrumental in setting up the Rossett Park Mariners Association - supporters club - I even got a game for the RPMA team once - they must have been desperate!
It seems Mourinho is talking about sending at least some of the big guns (Kane, Bale, Alli, Son) up to Crosby. I can't wait for some scally in the Jubilee Road terrace/lean-to to trip Son as he goes up the wing...
Gerry Quinn
80
Posted 02/12/2020 at 19:44:16
Tony, 78 – I have trouble remembering that I wrote this on TW less than 1 hour ago – I am now almost 70!!!!! Would love to see that scrapbook though – I may recognise a few on there...
Paul, 79 – if you Google Barry Lenton, it comes up with a few photos when he won the William Hill Fan of the Year award in 2013. Fantastic that after half a century that he is still there supporting his local club – brilliant
Dave Abrahams
81
Posted 02/12/2020 at 19:59:15
Gerry (77), I think Marine had a player called Iverson who played with Ben Forster and Alan Favanger, I worked in Threlfalls Brewery with a cracking fella, Graham Trowler, a right back who played for a few years with Marine, this was around 1960, and right now I can't think of the long standing manager of Marine, he was Kenny Dagliesh's window cleaner!!!
Peter Mills
82
Posted 02/12/2020 at 20:17:48
Paul, I seem to remember Ned Kelly was also instrumental with Barry and Jim in establishing the RPMA. I think my membership number was 7. Barry is still very evident at the games.
Dave, you are right about the player named Iverson, think his first name may have been Gordon. The manager you are thinking of is Roly Howard.
Tony Everan
83
Posted 02/12/2020 at 20:53:25
Dave, it was Roly Howard, manager for 33 seasons 1972-2005. He was Dalgleish's window cleaner. He won 15 cups and 5 league titles.
Gerry Quinn
84
Posted 03/12/2020 at 07:01:53
Roly Howard did hold the record for being longest serving Team Manager in Britain (33 years), but that has been beaten by another local Waterloo Dock FC Manager (45 years) who started at the age of 21 in 1963!!!!!
Quiz questions:
1. Who has been Everton's longest serving Manager?
2. Who has been Everton's shortest serving Manager?
Dave Abrahams
85
Posted 04/12/2020 at 20:14:38
Gerry (84), that manager was Jimmy Davis and I think he made it to fifty years, there was a special game to mark the occasion at Goodison Park, Jimmy was accompanied onto the pitch with his assistant La Dowling, who played for Waterloo for many years.
Guessing the longest serving manager was Harry Catterick and Mike Walker for the shortest, mind you the three month summer break might have saved Walker from the wooden spoon, but I wouldn't be surprised if I was wrong on both of them.
Dave Abrahams
86
Posted 04/12/2020 at 20:20:30
Changing Harry Catterick to Theo Kelly, but expect to be wrong again to some manager from long ago.!!
Gerry Quinn
87
Posted 05/12/2020 at 07:26:02
Catterick is longest, Jimmy Gabriel and Unsworth shortest (1 game each) - pity the latter wasn't Allardyce :)
Darren Hind
88
Posted 05/12/2020 at 07:33:17
You learn something every day on this site.
I don't remember Jimmy Gabriel being in charge for a game.
Who was that against and How did it come about ?
Gerry Quinn
89
Posted 05/12/2020 at 07:52:42
https://en.wikipedia.org/wiki/List_of_Everton_F.C._managers
Apologies - Unsworth wins as Gabriel then had 7 more games as Manager later...drawn 1 lost 6!
Dave Abrahams
90
Posted 05/12/2020 at 09:13:48
Gerry(87), I honestly thought of Jimmy Gabriel and Unsworth along with one of Catterick's trainers, Egglestone? but dismissed them as caretaker managers as well as Dave Watson who took over from Joe Royle, and their is a classic tale with that appointment.
Billy Roberts
91
Posted 05/12/2020 at 11:04:07
Tony @75
Sorry for the late reply, I had a " lost weekend" wed/thurs !!
Either that or Joe spiked me,
If you would like to recreate a Get Carter / Kes boozer scene may I reccomend the Shakespeare,
To watch the footy I went the Beer engine Hardman st it was superb ( last tier2 in October) and for a great cozy pub for any important business meetings I'd recommend the Cambridge by Abercrombie square.
You might want to call ahead at the Cambridge where the landlady Joanne Devine will advise on social distancing etc!!
Joe speaks highly of you also.
Good look with your get together next week Tony I will leave you with a funny football related story.
James was warming up on the touchline last week for Marine when he heard a voice from somewhere " James!, James"
Looking around to see where this voice is coming from there is a fella up a tree!!
" Alright James I used to play footy with ye arl fella Joey !! Tell him I was asking.
Tony Abrahams
92
Posted 05/12/2020 at 14:40:02
Good story Billy, nice one mate!
---
Add Your Comments
In order to post a comment, you need to be logged in as a registered user of the site.
Or Sign up as a ToffeeWeb Member — it's free, takes just a few minutes and will allow you to post your comments on articles and Talking Points submissions across the site.