Burnley vs Everton
Friday, 4 December, 2020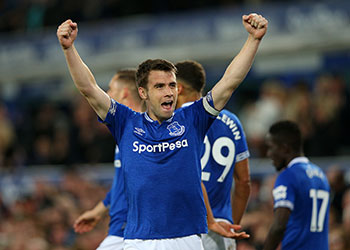 Seamus Coleman remains sidelined by his troublesome hamstring problem and will play no part in tomorrow's trip to Burnley in the Premier League.
Everton travel up the road to Burnley this weekend looking to rebound from the defeat to Leeds last time out and keep pace with the pack of clubs above them in the Premier League table.
Just one win in six has seen Carlo Ancelotti's side fall off the top of the pile to their current berth in eighth place and a visit to Turf Moor has seldom been productive for Blues sides in recent years.
When they have beat the Clarets on their ground as they did under Roberto Martinez in September 2014 and on Boxing Day 2018 under Marco Silva, they have done so handsomely, but Turf Moor has also been the scene of some pretty miserable displays, not least with Ronald Koeman at the helm in 2016, Sam Allardyce the following season and then finally in October last year as Silva's tenure began to spiral out of his control.
This time around, the Toffees will travel with more attacking potency but with fragile confidence owing to a leaky defence. Teams able to move the ball quickly through the lines have been their undoing in recent weeks so it's possible that a more old-fashioned, straight-forward style will be more to Everton's liking but they will certainly have to be up for the battle.
While Burnley surprised a three seasons ago and eventually beat Everton out for a European spot and finished above the Blues the following year when they came 10th, this season they have been mired at the bottom the table with just one win from nine games.
That came against Crystal Palace two weeks ago after a goalless draw at Brighton but was followed by a 5-0 trouncing at the hands of Manchester City at the Etihad Stadium. If Everton can replicate any of what Pep Guardiola's side managed then it should make for a decent afternoon but Blues fans would take three points however they come.
Ancelotti was asked for this thoughts on his team's recent form during his pre-match press conference from Finch Farm this morning.
"I think the performances were good; different from the game we played before," Ancelotti said of the matches against Fulham and Leeds which featured a different defensive approach. "I think, of course, the result was not good against Leeds but I think it was an open game.
"But now it will be important tomorrow against Burnley… we want to stay [in touch] with the top of the table so it will be important to get a result tomorrow."
The Clarets were the opponents on Boxing Day last year for Ancelotti's first match in charge of Everton, a 1-0 victory at Goodison Park, and he said that he knows what to expect from Sean Dyche's team this time around.
"I think it will be the same [kind of] game," Ancelotti said. "They haven't changed what is a strong identity with strong organisation. It will be a tough game because they are better in this moment compared to the start of the season but we know what type of game to expect."
Ancelotti will have the same squad at his disposal as he did last week, with Seamus Coleman still sidelined by his troublesome hamstring problem and he will play no part in tomorrow's trip to Burnley in the Premier League. The Irishman, who is still training individually away from the first team for now, joins Lucas Digne and Jean-Philippe Gbamin on the injured list.
It means that the manager will have the same conundrum over whether to deploy a flat back four or wingbacks and, in either case, who fills the wider positions. Alex Iwobi was preferred to Jonjoe Kenny on the right at Fulham and performed admirably but struggled against Leeds on the opposite flank. Tom Davies was fine playing right wingback last week but his lack of pace meant that he was never going to be a success in the role from an attacking perspective.
All the while, Niels Nkounkou, a player with pace and demonstrated raw talent, had to watch from the stands after not being selected in the matchday squad at all. Ancelotti was asked about the 20-year-old's absence against Leeds but indicated that the upcoming glut of games means he will likely get his chance.
"Nkounkou was not in the squad because I have 11 players," the Italian said. "I decided to put Iwobi on the left. The squad is really big.
"He's still young, he needs more experience, he needs to work more. But I am honestly satisfied for what he is doing. He will have time in the next game because we have a lot of games.
"The fact we played with two midfielders [as wing backs], I think we have good cover because usually the two midfielders have the help of one of the centre-backs to cover the position behind them."
Whether Nkounkou, who shone in the first two Carabao Cup ties against Salford City and Fleetwood Town and played really well against Premier League opposition in the form of West Ham in the fifth round, gets the nod this weekend remains to be seen but there is no question that his pace would be a tremendous asset.
There's also the question of whether Ancelotti feels Yerry Mina's height might make him a good candidate to come back in to go head-to-head with the likes of Chris Wood in the Burnley side. The Colombian was named among the substitutes against Leeds while Mason Holgate came back into the side.
As Ancelotti acknowledged to the media, Everton will know exactly what kind of game awaits them at Turf Moor and it is up to them to make their quality count against a side that is struggling for goals even, the City game aside and their 3-0 defeat to Chelsea aside, they have been defending quite well in recent weeks.
Kick off: 12:30pm, Saturday 5 December, 2020
Referee: Anthony Taylor
VAR: Mike Dean
Last Time: Burnley 1 - 0 Everton
Predicted Line-up: Pickford, Iwobi, Keane, Mina, Holgate, Nkounkou, Allan, Doucouré, Rodriguez, Richarlison, Calvert-Lewin
---
Reader Comments (81)
Note: the following content is not moderated or vetted by the site owners at the time of submission. Comments are the responsibility of the poster. Disclaimer
John Kavanagh
1
Posted 04/12/2020 at 16:17:14
And how is Nkounkou to get more experience if he can't even make the bench? Playing Iwobi on the left has been completely unproductive so moving him from the right, where he has performed better, hardly seemed logical.
I'm not at all convinced that having three centre backs is proving a useful strategy, even with both Digne and Coleman out.
Was there anything said about Gordon not even getting on the bench, despite the 'really big' (but mostly useless) squad?
Burnley will be licking their chops tomorrow when the biggest charity in football rolls into town.
Paul Richards
2
Posted 04/12/2020 at 16:17:21
Words of infinite wisdom from the old bloke in charge.
"Nkounkou was not in the squad because I have 11 players... The squad is really big."
That explains everything. He'd already picked Iwobi and that's the 11, so why pick Nkounkou??? Makes complete sense.
And helps explain why he gets so confused about having to pick substitutes that take the number beyond 11. Poor old bloke... he really has seen better days.
Barry Rathbone
3
Posted 04/12/2020 at 16:58:46
The first part of his answer smacks of being irked about the Iwobi decision which has been questioned from Bootle to Birkenhead – bit naff really.
He needed to stick with his "young and developing" answer on the basis that none of us see the kid in training even though we saw him have a blinder for the first team.
Tony Everan
4
Posted 04/12/2020 at 17:04:28
It translates as, "we will play Nkounkou tomorrow because playing Iwobi on the left last week didn't really work at all".
He's right about Niels needing experience though, and this is the perfect opportunity with Digne out. He's a kid, he's going to make mistakes, but he is talented and will improve. We need to get behind him and support him through the next two months.
We will line up as we should have done last week against Leeds. No changes from Fulham apart from Nkounkou covering for Digne. I just hope Iwobi can get back into the form he was showing on the right. It was starting to look promising from him.
If we get the Fulham first-half performance, Burnley won't be able to live with us. Carlo just has to find a way of getting that for 90 minutes!
Mike Gaynes
5
Posted 04/12/2020 at 17:06:01
"He will have time in the next game because we have a lot of games."
That seems to imply that the lad will start this weekend, and there's only one position at which he can do that -- left wingback. That puts Iwobi back in his preferred right-wing position in the 3-4-3, which Carlo will assuredly stick with.
Come on, kid, be fabulous. Earn those minutes. We love watching ya.
Darren Hind
6
Posted 04/12/2020 at 17:07:52
That would be a perfectly logical explanation to offer a 5-year-old... or somebody who was introduced to the game 20 minutes ago.
Carlo Ithinkyouwereallbornyesterdayio
Justin Doone
7
Posted 04/12/2020 at 17:23:02
Strange answer. Nkounkou should also expect to get help and support from other players too surely? It is a team game...
A big squad isn't the same as a lot of quality players. I think we performed better than I was expecting against Leeds. Sadly it still resulted in defeat.
I see merit in playing 3 at the back and also being flexible in formation and roles. But we need to quickly sort out and find a winning combination.
We keep conceding too many opportunities and goals. The balance between defence and attack isn't right.
Why we don't keep the ball or play more possession football, like against Tottenham, I can't understand. We now actually have players that could play that style.
Rob Dolby
8
Posted 04/12/2020 at 17:50:07
A shrug of the shoulders and raise of the eyebrow before saying that he didn't fancy picking him for the game, is probably the truthful answer, rather than trying to colour things.
Kevin Prytherch
9
Posted 04/12/2020 at 17:54:55
If it's that important to get a result, please can we play players in their proper positions?
Forget about the 3 centre backs - we're playing Burnley, we don't need them.
Get 2 natural full backs, 3 midfielders to control the game and our regular front 3.
If it works for the first 8 games, surely it can work again. We've been shite ever since he started tampering with a winning formula.
Kenny, Nkounkou and Gomes in please.
Andy Peers
10
Posted 04/12/2020 at 18:06:57
Burnley have scored 4 goals in 9 games. I bet they score 2 against us.
This would be a good game for Nkounkou to start. Play Holgate at right-back with Keane and Godfrey as centre-backs.
Please, also take Pickford out for at least a month.
Joe Corgan
11
Posted 04/12/2020 at 18:28:29
"I think, of course, the result was not good against Leeds but I think it was an open game."
Ooh, Mr Ancelotti, don't go all Roberto Martinez on us. I don't know if it's a Scouse thing, a Northern thing, or if it's Universal amongst football fans but nothing winds up Evertonians more than bullshit. The system we used against Leeds didn't work and we were shocking. Yes, we created some chances but Leeds could have been 3-0 up after 20 minutes.
I'd rather Carlo came out and admitted it was an experiment that didn't work.
Derek Knox
12
Posted 04/12/2020 at 18:31:32
Kevin, while I agree wholeheartedly about not using players out of position, with Digne and Seamus out we don't really have any reliable like for likes (or close to) replacements. Not sure whether Johnjoe Kenny, is really good enough, long-term or even short-term. The one popular though inexperienced choice for Lucas Digne's absence last game (Nkounkou) wasn't even on the bench.
I have welcomed and generally supported Carlo since he arrived, but some of his team selections and substitutions recently have left me bewildered. I also appreciate he has inherited a large squad of misfits in the main, but surely he could choose a better combination from what we have available.
Jim Bennings
13
Posted 04/12/2020 at 19:12:43
I love Seamus, he's been a super consistent player for the best part of a decade but the truth is we need to start looking in January, certainly next summer for a full time quality replacement right back.
The same thing happened with Bainesey, sometimes you just have to accept that the player that was there 8 years ago is no longer there now.
Seamus' days of running up and down the flank doing doggies are sadly a thing of the past and as time goes by its going to become less and less.
Jim Bennings
14
Posted 04/12/2020 at 19:17:36
Fair enough Carlo, but please don't go down that same route of so many other Everton manager's of shoehorning right footed players in specialist left footed positions.
If there is one pet hate of mine in football it's that square pegs in round holes lark.
Robert Williams
15
Posted 04/12/2020 at 19:35:18
AW 4,
I know just what you mean Andy, me too. That would be typical Everton if
Jerome Shields
16
Posted 04/12/2020 at 19:35:20
Andy#4
Relates to building contracts. Everton are not that far ahead yet and did not really respond to Anderson's assertions regarding funding.
Seamus is missed, but he will be more prone to injury and the clock is ticking.
Dale Self
17
Posted 04/12/2020 at 19:37:13
Carlo answered the question with about as much care as required. Both Nkounkou and Gordon would be better off brought into a settled system which we've not been able to get set for various reasons other than Carlo's capability. Yes he probably gambled there thinking he could get a result without pulling Nkounkou in early and it didn't come off.
No doubt Carlo is getting surprised by the Premier league to some extent. However it is a much different experience bringing a kid into a side that struggles for confidence than to run them out with a solid side that can nurture him.
Martin Berry
18
Posted 04/12/2020 at 19:38:32
Kevin 1#
Spot on, far to much messing about and confusing the players with strange formations.
442 With Kenny and Nkounkou playing at fullback, these lads have energy and talent, if Carlo does not play them now when will he ?
Neil Lawson
19
Posted 04/12/2020 at 20:18:30
Kevin. Absolutely spot on but it won't happen.. Carlo is too clever to accept the blindingly obvious.
Billy Dawber
20
Posted 04/12/2020 at 20:31:42
Carlos is just an old man with a reputation. He seems to think we Evertonians are blind, truth is Carlos we are far from it but we don't all have the pleasure of picking the right team for the right reasons. Please someone give him a copy of the comments some of us make on here and he may then realise he ain't fooling anybody. Just pick the right players in their right positions and stop pissing everybody off. If he fks around with the team and loses against Burnley then he needs to go I'm afraid. I'd rather have Dunc back in and playing as if we mean business instead of dilly dallying around at the back passing to the opposition then scurrying back like a gang of schoolkids with no clue as to why this is happening. God only knows what the next trick is going to be with Carlos but he has got alot of us guessing his next move. Hope he gets it right, had enough of shit weekends now.
Andy Walker
21
Posted 04/12/2020 at 20:34:45
Thanks Jerome. Good to know.
Kevin Prytherch
22
Posted 04/12/2020 at 21:04:50
Derek 3 - if the back up players are not good enough, then why name them in a squad? Why not bring in a couple of loan players or experienced Free's like Cuco Martina?
Personally I don't believe that Kenny can play a whole season in Germany, be nominated for the best newcomer and then not be good enough to play against Fulham, Leeds or Burnley.
If we'd have signed a 23 year old German right back who had played a whole season there and been nominated for the same award, and spent money on them, you can guarantee they would play. Unfortunately Ancelotti seems to be following the Allardyce mantra of playing players based on cost and reputation. Remember the Bolasie quote? "How can I justify playing Lookman when Bolasie cost £27million". At least Allardyce was truthful.
Incidentally, another nominee who didn't win the award was Haaland, so he was in good company.
Mike Gaynes
23
Posted 04/12/2020 at 21:33:03
It's hell getting old, ain't it, Seamus?
Kev #1, you got a couple of upvotes on that one, but not from me. I think Carlo should put his 11 best players on the pitch, and neither Gomes nor JJK are amongst 'em.
Back 3 for me, with Nkounkou wide left and Iwobi on the right. Yes, that backline leaked a lot of chances against Leeds, but (to paraphrase an old Texas expression) Burnley couldn't score in a five-dollar whorehouse. Save the back 4 alignment for an opponent that can actually attack.
Kenn Crawford
24
Posted 04/12/2020 at 21:40:02
Jim#10,
I agree to some extent with you but I believe that the modern-day footballer should be able to use both feet competently. Then they should be able to play any side and not be uncomfortable. But I would like to see Neils get more playing time.
Kieran Kinsella
25
Posted 04/12/2020 at 21:45:37
Kevin 12,
Your point about back ups misses the fact we didn't play with full backs last week we played with wing backs. It's a different role that hasn't been widely used since the 90s when the likes of Ziege, and Le Saux mastered it. Neither of our young fullbacks seem to have mastered there actual roles yet so it's a stretch to assume they'd be any good in a different role.
Kieran Kinsella
26
Posted 04/12/2020 at 21:52:38
Kevin 12, also to your question "if the back up players are not good enough, then why name them in a squad? Why not bring in a couple of loan players or experienced Free's like Cuco Martina?"
Money would be the issue. Presumably they think Nkounkou MAY become a good player in a year or two so hey signed him on the cheap now hoping he saves us millions later. JJK, was new to Carlo and probably billed as "good enough" by Marcel/Unsie etc after his German stint. But firstly, he didn't play that well when given the chance and then got injured. He may or not even back back to form/fitness yet in training post injury. Plus, he may have some work to do to prove to Carlo that he deserves another shot. If money was no object we probably would bring in a few cheap vets, just as we tried to do by retaining Baines. But with an inflated wage bill, another Cuco would be tough to sell to the money men
Dale Self
27
Posted 04/12/2020 at 21:54:19
Being an Okie I like the Texas take on that Mike!
Agreed, Nkounkou and Iwobi as wingers and hit the pitch flying! Seamus is still the heart of the club and we need to honor those that have served the club so respectably by giving them their proper sunset time.
Jack Ledwidge
28
Posted 04/12/2020 at 22:04:47
Agree Mike(13) with that back 3 plus Iwobi and Nkounkou as wing backs. A good starting point. I don't think Kenny is good enough and tinkering with putting Iwobi on the left beggars belief.
The worry I have with Carlo is this. He was an accomplished player and managed at the top with players lining up to sign on the dotted line - but tip this on its head and now he's with us tempting big names to come and join us. We need players performing and wanting to ultimately play for the likes of Real, Barca etc. not coming the other way. We were clearly losing the midfield battle against Fulham but Carlo being Carlo left James on the pitch far too long before he hooked him. He let his heart rule his head. The thoughts of us signing the likes of Isco in the January window is crazy. Again a player who wouldn't have the same ambition on Merseyside. Looking back at the Leeds game with the exception of Bamford how many of their players could we remember who they were or where they played 2 years ago.
They have a collective effort and the sum of their parts is the quality Bielsa has ingrained into them. Similarly clubs like RB Salzburg with an American manager and RB Leipzig have a philosophy in selecting a particular type of player who will succeed and prosper. I.E players in the ascendancy
. I hope Carlo succeeds, but preferably promoting youth in a system that suits.
Bobby Mallon
29
Posted 04/12/2020 at 22:20:16
I think a few supporters on here and out there would have us change managers every six months. Billy Dawber is a prime example.
There are loads of ToffeeWebbers who are now talking up Cuco Martina, for fuck's sake!
Stop with your "Carlo hasn't got a clue" shit – because he has. You have all said every other manager didn't have a clue. Kenny and Nkounkou obviously need to work harder to get in.
Carlo will get us in the top 6 come the end of the season – I'm convinced.
Bobby Mallon
30
Posted 04/12/2020 at 22:23:58
Oh, and once again – Cuco fucking Martina!
Really, stop for fuck's sake – he wasn't good enough the last time he was here and he's not fucking good enough now.
Kevin Prytherch
31
Posted 04/12/2020 at 22:25:25
Jack 29 - you agree with wingbacks, but then say our midfield is overrun.
Kieron 26/27 - I was being ironic with the suggestion of a Martina type player. Kenny at right back has never done any worse than Iwobi at left back. Even if he doesn't get forward as much, he can still defend.
Mike 24 - Against Burnley I think Gomes is our best 3rd midfield option. I dread to think that Sigurdsson would play there, and I think that Davies is better suited against teams that are likely to push us back. As for Kenny, we have 2 natural full backs, and 2 centre backs who can play there if needed. If Kenny had of cost us millions and was South American, he would be playing.
Our wing back formation had us outnumbered in midfield. The wing backs were in no mans land for most of the game, not supporting either attack or defence efficiently enough.
No matter what you think of them, Kenny and Nkounkou are natural full backs and should play. They will give us the opportunity to play 3 in midfield and control the game. Going with wing-backs soon turns into a poor 5-2-3 formation and gives the initiative to the opposition in the middle of the park. The result then is that the 3 up front are isolated and our attacking threat is quickly nullified. Effectively playing 5 at the back against Burnley will give them one hell of a confidence boost.
Ian Edwards
32
Posted 04/12/2020 at 22:36:43
Ancelotti has completed the draw and following on from last week's Iwobi at LWB and Davies at RWB, the two players who's names came out of the hat and will play at wing back are: Lossl and Mina.
Kieran Kinsella
33
Posted 04/12/2020 at 22:40:22
On the wingback point, too bad Hinchcliffe's no longer around. He would have loaded Calvert-Lewin up with ammo!
Brian Wilkinson
34
Posted 04/12/2020 at 22:43:12
Bobby @30,
You say Nkounkou and Kenny need to work harder to get in.
Now I know why Sigurdsson is pants for the first team: he runs his knackers off in training and too knackered when matchday comes along. So we should excuse the absolute garbage he has been, week-in & week-out, because he has done well in training.
Andrew Dempsey
35
Posted 04/12/2020 at 23:04:47
I don't trust Professor Ancelotti to pick a starting XI that doesn't kneecap us from the first whistle.
Ian Edwards
36
Posted 04/12/2020 at 23:09:38
The Iwobi/Davies cock up from last week makes me really worry about Ancelotti. He's either mad or didn't give a toss.
Tom Bowers
37
Posted 04/12/2020 at 23:11:24
Everton need to work hard to get the result at Turf Moor. Burnley will be out to bounce back after the hammering at Man City, so Everton – playing somewhat lousy at the moment – better beware.
If we can get 100% from the off, then we should win but the scary thing is that Everton, since Carlo's appointment, have had some very surprising defeats and that trend is continuing despite the new signings.
Who can forget that FA Cup defeat against Liverpool reserves and the woeful last game against Bournemouth?
Kevin Dyer
38
Posted 04/12/2020 at 23:20:23
Of the several right backs we were linked with for loan deals in the summer the one that interested me most was Florenzi, from Roma. Really rated him a few years back. Watched most of PSG's Champions League matches and he's been excellent. Think we missed a trick not moving for him.
Paul Jones
39
Posted 04/12/2020 at 23:30:10
I have consistently found that when managers over complicate a simple game that teams normally get beat. The tactics at the beginning of the season obviously suited best. So therefore two like for like replacements for Coleman and Digne would be the best option.
Fran Mitchell
40
Posted 04/12/2020 at 23:31:45
I am cautiously optimistic that 3-4-3/3-4-2-1 could be our ideal formation long term.
4-4-2 is just too easy for opposition, it's not flexible enough for the modern game.
And 4-3-3 requires 3 too class midfielders, and we just don't have them, and it requires a right back that we currently lack. If we get another midfielder and right back, then 4-3-3 can become an option.
3-4-3 for now gives us James in a position where he doesn't leave the defence totally exposed, makes use of our extra men at centre half - and can utilise Holgates ability to play with the ball.
It takes time.for a team to take to a new system, but this could well be the best option for now. It also allows for attacking football - which we all want to see.
Nkounkou has to play. And Iwobi on the right. The rest of the team picks itself apart from Mina.
Should Mina play? I've always been a fan, ever since seeing him for his short spell in Brazil. But he's been a bit off this season, poor positioning and always about 1 second behind his opponent.
Godfrey is still adapting, he hasn't lit the world alight, but I he was kind of thrown in the deep end. Also,.I remember a certain Phil Jagielka starting his career with Everton and looking every bit a Championship player. So Godfrey can still prove to be a great player. And he's got pace, which is a bonus.
Is Holgate fit? I feel we need him. His pace and skill offers something different. Mina and Keane together can be a bit cumbersome, and bit to easy for opponents to run between. Both Keane and Mina have had their best spells when playing alongside Holgate. So ideally Holgate will play on the right, Godfrey on the left and one of Keane or Mina in the middle.
Also hope Gordon gets on the bench, but I expect Delph, Siggy, Bernard, Tosun, and co shame.
Justin Doone
41
Posted 04/12/2020 at 23:43:10
Keep the back 3 to handle Burnleys 2 forwards with the spare defender stepping forward to close down and pick up runners.
Wing backs attack putting in plenty of quick crosses / passes to the forwards.
Doucoure and Allan to control midfield spraying balls around and keeping disciplined.
Rest Pickford for a bigger, more physically stronger keeper.
Anthony Murphy
42
Posted 04/12/2020 at 23:50:41
Our away form this season has been great, and Burnley are stinking the place out, but they're coming off the back of a battering so Dyche will have them fired up - and who better to play? I'll reluctantly go 0-0
Jerome Shields
43
Posted 04/12/2020 at 23:51:36
Ancelotti against Leeds thought that Iowbi and Davis playing deeper was better tactics. In the first half performance Everton did produce a lot of chances. Both Delph and Gomes weren't up to it In the second half.
Burnley play a more traditional set up so it is better with a more traditional full back like Nkounkou. It will be interesting to see who he plays as the other full back position.
This game will suit Mina better. Most likely Godfrey on the other full back position.
I expect Everton to win this game.
Brian Murray
44
Posted 04/12/2020 at 23:59:01
Surely Delph siggy tosun won't get near the bench again. We ( Carlo ) really do make things more difficult. He's an experienced manager so surely knows an effective plan b by now. Is that once again too much to ask ? Coyb this floozy ( false dawn has to be real sooner or later.
Dan Murphy
45
Posted 05/12/2020 at 01:11:36
The selection and tactics against Leeds weren't as bereft as most on here would have it.
It was set up to counter Leeds attacking style and particularly after some tweaking at half time it did this. They went out of the game.
Unfortunately, without Digne and Coleman to supply and with Richarlison off it we didn't score when we were on top. If we had have, we'd have gone on to win it.
Then against the run of play their guy hits a long shot he gets on target one out of 20 and scores off one out of 50.
It was painful how it played out but it wasn't a tactical blunder. I'd blame the players who underperformed more - Richarlison, James, Doucoure - but as they are usually good performers I'll give them leeway.
Steve Brown
46
Posted 05/12/2020 at 01:58:31
Simplify Carlo. Return to a back four and pick full backs.
Obviously he hasn't been impressed by Gordon, Kenny and Nkonkou in training so they need to improve there. But, many fans have been even less impressed by Sigurdsson, Delph, Mina and Gomes in matches.
Also, pick Davies alongside Allan and push Doucoure further forward.
Derek Knox
47
Posted 05/12/2020 at 02:24:13
Dale @ 27, ' Okie ' don't tell me you're from ' Muskogee ' too. Merle Haggard would be made up he has had a mention on ToffeeWeb. At least your not smoking Jamaican Woodbines, and imbibing hallucinatory substances. :-)
Seriously here's hoping for a turn around both in performances and results, although having said that I never regard any game in the Premiership as being easy, and this one should be no different.
Okay, Burnley have had a poor start this campaign, but they have historically pulled off some results in the recent past against the Form Book, just got to make sure we 're not another of those caught with their shorts down.
Andrew Dempsey
48
Posted 05/12/2020 at 02:49:06
#Dan 45
The point is if he'd picked proper wing backs, maybe we'd have created more chances, and put some of them away.
Therefore, it was a tactical blunder.
If you could go back in time and pick the side, would you keep it the same, with Davies and Iwobi?
And would you also leave it like that for 60 mins?
Kieran Kinsella
49
Posted 05/12/2020 at 03:11:07
Ian 36
I maybe losing my marbles but honestly I thought Davies played pretty well v Leeds and I say that as someone who has been quite critical of him. To me, we lost because Docoure was terrible, our attackers profligate and our back three shakey. Considering they came off early I'm baffled that Iwobi and Tom have copped so much flak.
Mike Gaynes
50
Posted 05/12/2020 at 03:24:33
DK, how the heck did you ever hear of "Okie from Muskogee"??
Nicolas Piñon
51
Posted 05/12/2020 at 03:56:53
My team
Pick; Iwobi, Keane, Godfrey Nkounkou; Doucoure Gomes Allan Richarlison; JR: DCL.
COYB!!!
Derek Thomas
52
Posted 05/12/2020 at 05:06:59
Mike @50; how could you think he wouldn't? We're not all insular and isolationist like you septics. You export (the good, the bad and the ugly...see! even that's an export) of your culture outwards whether we like it or not.
So you mustn't be surprised if some, however obscure, sticks...especially on the music front.
After all the Beatles started off doing obscure (to some) US covers
Edit: Nicolas @ 51; I can live with that team...will it do any good is another question. In fact I wanted it last week, so maybe we'll see this week.
Not holding my breath though.
Bill Gienapp
53
Posted 05/12/2020 at 06:04:28
Billy (20) - Who is this "Carlos?"
Bob Parrington
54
Posted 05/12/2020 at 06:05:47
Bobby #29 and 30 I like that. Go tell it how you feel it. We need some winning emotion in this side and so well done!
IMO we need to go out to WIN games not go out and NOT LOSE games. get the winning attitude FFS. Is somebody pissing in Carlo's ear, saying "don't pee off this player and don't upset that player". If so, Carlo, tell him/her to go to blazes.

Dan Murphy
55
Posted 05/12/2020 at 06:09:22
Andrew, 48, I think Davies was picked at right back and told to stay home because Leeds' left is their go-to attack. They knocked a lot of diagonal balls out there. It pretty much worked. If you change the personnel or push the wing back up the park you probably concede down that flank. I don't see why Nkonkou couldn't have played on the left though.

You have to bear in mind that through Carlo's career he's always had individuals who would get or create a goal in that sort of game. Wasn't the most attacking formation but he probably thought James/Richarlison/Dominic would come up with something between them.
Jonathan Tasker
56
Posted 05/12/2020 at 06:22:26
Wheels have completely fallen off the bus lately.
I'm not expecting it to get any better today.
Last week's team selection shows the Italian Walter Smith has lost the plot even earlier than expected.
Billy Dawber
57
Posted 05/12/2020 at 06:29:30
Sorry peeps I meant to say Carlo. And as for me wanting to change managers every 6 months I think that is a bit harsh. I do want Carlo to do well but am sick of so called top managers coming in and playing players out of position and not giving the young players any game time. Having watched Everton from the late 60's I think I have a right to say what is good and not so good in my opinion. I am not a lover and never will be of foreign managers as I think there are enough British managers to do a job but again that is my opinion. Sorry if this upsets some of you but there it is now get over it.
Ajay Gopal
58
Posted 05/12/2020 at 07:00:56
People here criticising a Back 3 formation as if it is the most outrageous thing in football need to get a grip on themselves. I remember the season that Conte won the title for Chelsea, he almost exclusively used a Back 3 and 2 Wingbacks formation. They started slowly but then went on an amazing run for 14-15 game winning streak that took them comfortably to the title. Now, I am not saying that this will happen with Everton, but I can see why Carlo is trying it at this point of time, and I believe that with a bit of tinkering and the players getting comfortable with the system, we have the squad to make it happen. We are heavy on CBs (5 of them) and light on quality full backs, and we have players who could perform as wingbacks - Nkounkou, Iwobi, Digne, Coleman, even Kenny perhaps. I also disagree that Davies was terrible at RWB - he was pretty decent, only that Iwobi would possibly have been better there, and also at LWB we have a potentially better option in Nkounkou. Having said that, I would make only 1 change from last weeks starting XI (as many others have also suggested) - switch Iwobi back to RWB and play Nkounkou instead of Davies at LWB:
Pickford
Holgate Keane Godfrey
Iwobi Doucoure Allan Nkounkou
James
DCL Richarlison
This is a pretty attacking line-up and should be able to overcome Burnley, although as I always remind myself, there are no easy games in the Premier League.
SUBS: Olsen, Branthwaite, Siggy, Gomes, Davies, Gordon, Tosun
PS: Did anyone else see the Training video on the official site? Coleman was pretty impressive with his ball-skills, and looks close to being ready to play.
Frank Fearns
59
Posted 05/12/2020 at 07:41:16
Evertonians have suffered over the years with the odd blip of hope only to be knocked back and left wading in the mire. I have been through the ups and downs for 65 years and watching Everton play in recent times does not inspire any more hope. Sure individuals can be picked out for their good or poor performance but it's the teams working together that makes progress and win. I don't need to say those teams. Most of the premier teams work together and for one another and they play with pace. Leeds last week are a prime example. It's not to do with fitness it's about pace and making space --- that is how modern premier teams play.
Sadly we do not seem to have the players with pace and unfortunately our style of play is outdated in playing the ball sideways and backwards. A couple of games ago we won a free kick near the half way line. A great position to attack with a class full back with a sweet left boot and and an inform DCL- what happened the ball went backwards 40 yards. I hit the ceiling the cat legged it and the team we were playing thought it was Xmas.
Why is this. Management, players, style of play???
My conclusion is that Carlo's style of play is outdated. The players are not being managed to play in 2020/21 premier era. When they receive a ball they often turn sideways or backwards so inevitably the ball goes in that direction. Is that coaching, lacking in confidence (they don't have the crowd getting on their backs now) or positional movement.
Loads of negavitism from me but I desperately hang onto hope and would love to see my team be up there with the best. Can start by beating Burnley later -- please.
Colin Metcalfe
60
Posted 05/12/2020 at 08:01:47
I will be working today so can't get to watch it but my gut feeling is that it will be a tight game and unfortunately I think Burnley will come out on top 1-0.
Annika Herbert
61
Posted 05/12/2020 at 08:17:17
Brian @ 34. Careful what you say about Sigurdsson because certain people are very offended if you criticise him in any way!
But I do agree with your comments
Neil Lawson
62
Posted 05/12/2020 at 08:36:28
Carlo will not play 2 recognised fullbacks because that would be to admit he got it wrong previously. His get out is to play Nkonkou, Keane and Mina and employ Holgate on the right claiming it is a back 3 when, of course, Holgate has significant experience as a right back. Or is even that too bloody simple and obvious ?
Mark Murphy
63
Posted 05/12/2020 at 08:37:01
Ajay I think that's the team you, me and others on here picked last week and I still cant understand why Carlo picked the team he did! Hopefully he learned from last week and we'll see that line up today. On saying that I can't believe I know more than Carlo Ancelloti so I trust he had his reasons!
Frank Sheppard
64
Posted 05/12/2020 at 08:49:54
I like the look of Lyndons team. Although I would like to see JJK given a run out. Hoping for a clean sheet today and an away day win.
Ajay Gopal
65
Posted 05/12/2020 at 08:54:51
Mark, Carlo has played and managed some of the game's best players (Maradona, Ronaldo, etc ) and has won tonnes of stuff during his career as a player and manager. He doesn't come across as arrogant ('I am too good to fail' attitude), he works hands-on with the team - so definitely not lazy or 'past it', and has brought into the club and city (Last week's presser when asked "What has surprised you the most since your arrival at EFC?", he replied "I didn't realise that Liverpool is such a beautiful city"!!). So, I think we should give him time and allow him to work his methods with the team. I am 100% confident that he will take us to a much better place - there will be puzzling decisions along the way, there will be bumps and setbacks, but given time and understanding by the fans, he will give us what we all crave. The journey is very frustrating, but we must trust him, and happily based on the responses to the thread this week on TW with the provocative title "Carlo's Time to go?", more than 90% of the responses seemed to agree with that sentiment.
Hugh Jenkins
66
Posted 05/12/2020 at 09:03:42
Ajay(65) - Well said!
Mark Murphy
67
Posted 05/12/2020 at 09:20:31
Totally agree Ajay.
My point, not well made I admit, is whilst I was surprised he put Iwobi and Davies in the side last week he is a thousand times more qualified than I, or anyone on here, to make that choice. I still don't understand it though but personally I think we need to give Carlo at least 2 seasons, barring the threat of relegation, to get the team he wants up and ticking. My personal theory is he is still looking at players, line ups and formations to judge who to keep further up the line when he has recruited his first eleven.
Brian Harrison
68
Posted 05/12/2020 at 09:30:51
I think Carlo will definitely play Mina and Keane to combat Burnleys 2 big lads up front. Everyone knows exactly how Burnley will play, plenty of high balls into the box. Its always a physical encounter when you play them so we have to match their physicality and then hope we have enough quality to beat them. They will obviously be smarting after yet another 5-0 drubbing at the hands of Man City, so I would imagine we will see a different burnley from their last game. They are never easy to play against unless you are Man City, but its a game we should win.
Christy Ring
69
Posted 05/12/2020 at 09:30:59
Carlo has to know his decision to play 3 at the back with 2 midfielders as wing backs against Leeds totally back fired, especially playing Iwobi on the left. He has to play a back four today, and a left back who can tackle, because Iwobi definetly can't, whether he plays Nkounkou or Delph is his choice, but you can't put square pegs in round holes, and a left footed defender is a must. I'd also like to see Carlo give Davies a chance in midfield, beside Allan and Docoure, as Sigurdsson is not the answer.
Eddie Dunn
70
Posted 05/12/2020 at 09:54:33
Annika -Siggy is just what this team need right now and I fully expect him to start today's game at the expence of Doucore.
Derek Taylor
71
Posted 05/12/2020 at 10:13:22
Expect Mina, Bernard and Siggy to start with Tosun a surprise inclusion. Carlo rates Iwobi and he will be back on the right. We should be good for a draw at least !
Bob Parrington
72
Posted 05/12/2020 at 10:18:37
Who will cancel out Barnes?
Derek, stop pulling our puds, mate! If we start with those 3 we might just as well not turn up. No balls or braces!
Bob Parrington
73
Posted 05/12/2020 at 10:24:01
Ajay, just checking on one point as I thought your post was v good. However,
"
The journey is very frustrating, but we must trust him, and happily based on the responses to the thread this week on TW with the provocative title "Carlo's Time to go?", more than 90% of the responses seemed to agree with that sentiment."
seems to state that you think Carlo should should go> But I think you don't mean this.
Please clarify?

Brian Murray
74
Posted 05/12/2020 at 10:35:02
Last time I looked Branthwaite has height and speed unlike Mina and doesn't gift wrap clearances to forwards. Not yet anyway. Or is Carlo somehow obliged to find him a place at least on the bench because he's a bigger name. Same goes with Siggy Bernard and Tosum. I and many others are sick of stating the obvious but none of these warrant to even be in the squad. We need innovation and bravery. Time for Simms Gordon and Onyango to start least have a chance to be game changers. How many points are we throwing away because of this ridiculous toothless plan b. Cmon Carlo you are better than this. ( So we keep getting told ) coyb lets have these no nay nevers
Andrew McLawrence
75
Posted 05/12/2020 at 10:49:48
Had this awful nightmare last night that I turned on TV to find we had conceded an absolute shit load of goals to Burnley. 6-1. You heard it here first! In saying that the last time I had a similar dream we beat Man City.
Mal van Schaick
76
Posted 05/12/2020 at 10:59:50
This game will be won or lost on the managers team selection, formation and tactics. Against Leeds he played players out of position and we paid for that with a loss.
I hope that Ancelotti doesn't become a tinker man. He should play Nkounkou as a natural left back, put Iwobi on the right of midfield. Surprise us Ancelotti. I'm hoping for an Everton convincing win.
Tony Everan
77
Posted 05/12/2020 at 11:01:24
Ajay, Mark. That is the team that a good few of us picked for last week, but we often get surprised by the actual team selection. You just can't rule anything out can you?
Hopefully this week we will see that team start, any deviation I think will involve Mina coming back in.
Jim Bennings
79
Posted 05/12/2020 at 11:17:17
Won't be easy, no game is for us and this will be no different.
After last Saturday's shelling at City you can bet your life that Dyche will have been right into Burnley all week and working on our weaknesses.
Whilst they got tonked at City, it's fair to say not many teams thrash Burnley especially at Turf Moor and expect another dogfight today, we won't get the same amount of chances that we got at Fulham or even last week against Leeds so we need to be clinical.
Defensively I think we already know that we will give up the usual amount of sloppy errors we just have to hope Burnley are profligate and we score more than them.
George McKane
80
Posted 05/12/2020 at 11:22:48
"I've been a long time that I'm waiting
Been a long that I'm blown
I've been a long time that I've wandered
Through the people I have known
Oh, if you would and you could
Straighten my new mind's eye."
Come On Everton - - we already love you - - but show us that you love US - - please - - show us what you've got - - you show me yours and I'll show you mine.
"It's getting to the point where I'm no fun anymore
I am sorry
Sometimes it hurts so badly I must cry out loud
I am lonely
I am yours, you are mine, you are what you are
You make it hard
Remember what we've said and done and felt about each other
Oh, babe have mercy
Don't let the past remind us of what we are not now
I am not dreaming
I am yours, you are mine, you are what you are
You make it hard"
Come On - - Come On - - Give Us Something.
Dom Kearney
81
Posted 05/12/2020 at 18:12:01
Mike G, maybe DK, same initials as me, heard 'Okie from Muskogee' on the 'Platoon' film. That's where I know it from!

Colin Glassar
82
Posted 05/12/2020 at 19:45:01
Everyone knows 'Okie from Muskogee' is a Merle Haggard classic, right? Or am I missing something?
---
Add Your Comments
In order to post a comment, you need to be logged in as a registered user of the site.
Or Sign up as a ToffeeWeb Member — it's free, takes just a few minutes and will allow you to post your comments on articles and Talking Points submissions across the site.