Everton to offer Digne new terms
Tuesday, 22 December, 2020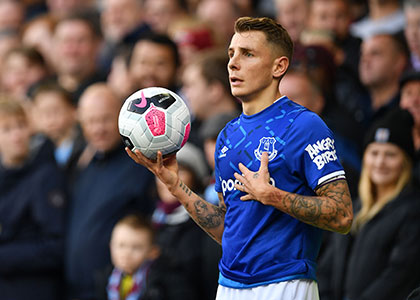 Everton are lining up an improved contract offer for Lucas Digne in a bid to keep the defender at the club beyond the term of his current deal.
The French international has been one of Everton's most consistent performers since joining from Barcelona in 2018 but has really emerged as arguably the best left-back in the Premier League this season.
That has led to rumoured interest from rival clubs, most notably Manchester City, but the Blues are keen to ward off any advances by securing Digne with an extended contract, according to Carlo Ancelotti.
Digne is currently sidelined following ankle surgery but he has been posting videos to social media of the progress he has been making with his rehabilitation, suggesting he could be back sooner than was initially feared.
---
Reader Comments (42)
Note: the following content is not moderated or vetted by the site owners at the time of submission. Comments are the responsibility of the poster. Disclaimer
Ian Horan
1
Posted 22/12/2020 at 20:16:11
This lad needs to be one of our top earners, 7/10 every week. 27 years old got to be a 5-year contract... really prohibitive buyout fee as well needed..
Jeff Armstrong
2
Posted 22/12/2020 at 20:17:50
Difficult one this, would we take say £45 million off City and rely on Nkounkou and Godfrey at left back?
I've sometimes found Digne to be a frustrating player at times with silly fouls in dangerous positions, defensively suspect on stopping crosses too, but brilliant going forward with his crossing ability. Richarlison seems to play a lot better too with Digne on the pitch.
On reflection, I'd say keep him if possible, and let him continue to build the understanding with Richarlison as a potent force on the left.
Once Man City come calling, we might not have a choice; Stones and Lescott basically downed tools once City came calling... Still, different times now, though.
Dale Self
3
Posted 22/12/2020 at 20:25:37
He is an absolute football gentleman and deserves an improved contract. Calvert-Lewin benefits greatly from his delivery and, to me, his heart really seems to be in this club.
I'll dig around in the couch a bit if that is what is needed. Treat him well and we'll be in a position to help him and our budget 3 or so years into that 5-year contract.
Seb Niemand
4
Posted 22/12/2020 at 20:35:19
I agree very much with Dale @3 – Digne is everything we want at this club both on and off the pitch. We'd be mental not to go all out to extend him – and moving early on it is a significant show of good faith.
Minik Hansen
5
Posted 22/12/2020 at 20:39:44
Keep him, improve other areas, no-brainer. Blue at heart, will help Ancelotti, while he's building the squad.
Derek Knox
6
Posted 22/12/2020 at 20:42:05
Jeff/Ian, as you say difficult one this, do you stick with the Devil you know. As Ian said, he is generally consistent, but as Jeff said, he can also be frustrating at times. I think with his age we are probably better sticking than twisting.
Many have called for more game time from Nkounkou but, although he has done well in the Cup games thus far, his offensive game is much better than his defensive one, so therefore he is a bit of a risk till he gains more experience.
Remembering too, that he has only been with us a matter of weeks, and came basically free, or for a nominal £250k. He does get you off your seat, and shows bags of promise and should be kept for the future, which shouldn't be too far down the line.
As for Ben Godfrey who has also been very good as a deputy in Digne's absence through injury, it must be noted that he is playing out of his natural position, but nevertheless it is very reassuring that he can be called upon with confidence, that he will put a decent shift in when called on.
Being the Devil's Advocate, it is a business and money does dictate decisions at the end of the day, so if those that make these decisions, deem it to benefit us, then it will go ahead.
Having said that, I don't believe apart from the ridiculous sums that have been squandered already, the Club are in a position where they have to recoup their losses by cashing in on one of our best players.
Mike Gaynes
7
Posted 22/12/2020 at 20:44:44
Excellent decision by the club. Digne is what investors would call a "core holding" -- a girder on which our future Champions League campaigns will be constructed. He's talented, committed, consistent and makes the players around him better.
Jeff #2, Godfrey and Nkounkou are both brilliant young prospects, but the former is a true center back, and the latter has played only one top-level league game in his entire life. If they both prove out, they will only make us better, but I don't think either should be figured in at all on Digne's contract decision. And if you're right about somebody like City coming in big for Lucas later, we'll still benefit.
Stephen Brown
8
Posted 22/12/2020 at 20:45:37
We have to start keeping our best players. Otherwise, it's a constant rebuild or start again! We never get anywhere!!
He deserves a new contract. A no-brainier for me!
I'm sure our resolve will be tested for Richarlison and Calvert-Lewin in the summer and this will also be a test of our status as a team going places?!
Tony Abrahams
9
Posted 22/12/2020 at 20:53:48
Lucas Digne is definitely one of the best players we have at the club. Godfrey is filling in great, but he's a centre-half, whereas Digne is a full-back with great quality, and definitely not the type of player we should be looking to offload, unless someone comes in with a crazy bid.
Tony Everan
10
Posted 22/12/2020 at 21:01:50
Minik and Stephen have the terminology right, it's a no brainer.
Digne is consistently one of our best players, he may have some flaws defensively but he is still very good . Offensively he has got to be one of the best crossers of the ball from the left and gets regular assists. His crosses into Calvert-Lewin will be a threat for years to come.
Also, if we can convince Digne to sign, Richarlison may sign an extension too.
Brian Murray
11
Posted 22/12/2020 at 21:03:42
We have to do the un-Everton way and make inroads now on possible class replacements for him, Calvert-Lewin and Riharlison or anyone else who wants to listen to their respective leeches – otherwise known as agents. It's a no-lose if we tie them down. It's what big clubs do.
Ricky Oak
12
Posted 22/12/2020 at 21:07:06
What's that old adage??
Never sell to your closest rivals... 🤔🙃
Jack Convery
13
Posted 22/12/2020 at 21:08:43
Good. Just get on with it.
Paul Birmingham
14
Posted 22/12/2020 at 21:58:51
It's a no brainier, well it should be, to offer Digne, an improved contract, as many on this thread have stated.
His quality of delivery from static and moving positions on the park, is an asset to the Everton team when he's playing.
DCL, Richarlison, and the rest of the team need his crosses.
Now for a massive game tomorrow.
Tony Hill
15
Posted 22/12/2020 at 22:50:13
Does he want to stay? If he does, we should keep him.
Tony Hill
17
Posted 22/12/2020 at 23:46:13
I'm going to nail my colours to the mast and say that we will get top 4 this season and that we will get a cup. Pure speculative bollocks, of course, but I can sense it.
We must start to think the best of ourselves. That's a part of our motto.
Derek Thomas
18
Posted 22/12/2020 at 00:00:05
Tony; I can live with that.
Which formation does Ancelotti want to play? The present KITAP1 (that he lucked on to) or the more expansive, Digne, Coleman, attacking wingback one he more or less inherited?
What if his aim is a hybrid of the two... hopefully a flexible hybrid... but, with Coleman on his last legs and no obvious replacement (although this might be where Brands comes in), the question might be: What's the point of Digne on his own?
A solution might be to sell Digne and Richarlison while their stock is relatively high – and, with the £100M, well who knows.
Or... we may progress in little steps away from the current 4 centre-halves to a newer 3.5-ish. For any 4 from Hibbert, Neville, Jagielka, Lescott, Distin and Baines, read any 4 from Holgate, Keane, Mina, Branthwaite, Godfrey and Digne. With one expansive side and one more defensive side.
Which then offers the question: Will there be a modern-day Pienaar?. And who, if anyone, will it be?
All depends what is in Ancelotti mind? I think he may tend to the slightly more expansive (not 1-0 vs Chelsea, nor 5-2 vs W Brom) but still tightish, Goldilocks-esque, compromise... KITAP 2 or 3 just to be on the safe side.
Tony Hill
19
Posted 23/12/2020 at 00:26:32
Derek, I think we have some very talented and promising defensive players. We all know who they are (I very much include Gibson). Build from the back, as the song says.
I have decided to trust Brands, and I am sure he is very grateful. I have had my doubts, but any scouting department that signs Godfrey deserves full praise and I like the fella's calmness and long-term focus. We need to retain him, he's an Everton man.
The way I look at it, against my impatient instincts, is that Ancelotti & Brands are proper strategists. In the words of that old Guinness advert "They wait". I think they'll hoover up some stuff this season but they're thinking – and are funded – over a longer timescale. Russians keep going.
Ian Horan
20
Posted 23/12/2020 at 01:49:29
No way should we sell Digne or Richarlison (if possible) – we need them to be the bedrock of our team. DT@18 I would be expecting £100M just for Richarlison.
Ajay Gopal
21
Posted 23/12/2020 at 03:43:25
Offering Digne is such a 'no-brainer' that I am not even going to comment on it. The key question is can we find a Digne on the right side? Or can Iwobi continue his development into that role? If we can do that, then with the personnel we have, a 3-4-3 may work brilliantly for us.
Holgate Keane Godfrey
Iwobi Doucouré Allan Digne
James or Sigurdsson or Gomes
Calvert-Lewin Richarlison
We also need some striking back-up. Hoping that Kean can fetch us a good wad in the summer...
Karl Masters
22
Posted 23/12/2020 at 06:16:36
We have a promising team for the first time in about 7 years. Should keep.
Steve Brown
23
Posted 23/12/2020 at 07:17:57
Ajay, a lot of well-informed TWers point to Max Aarons as another great potential acquisition from Norwich.
I think our next signings - right back, defensive midfielder and forward - must bring athleticism and pace to the squad. Having rightly signed more senior players in Allan, Doucouré and James during the summer, it would be good now to buy for potential, as we did with young Godfrey.
We have a tall team – Keane, Mina, Godfrey, Doucouré, Calvert-Lewin, Richarlison – but we are still slow generally.
Steve Shave
24
Posted 23/12/2020 at 07:57:17
Steve Brown 23 absolutely, I would go all out next month for Aarons and Buendia from Norwich, Kenny going the other way as part of the deal. Both are already excellent players, know each other's game, paced, work hard and would fit the Everton ethos.
The deal would set us back £45M, I'd imagine, and Norwich are pushing for promotion so it would have to really tempt them. Maehle from Genk (or Gent - can't remember) would also be a good right-back option.
Mal van Schaick
25
Posted 23/12/2020 at 08:14:16
The last thing we want is unsettled players when we are in the midst of building a good team, in a good position in the league, and having a committed owner.
Give him his new deal, and add another quality midfielder and a quality striker with a good ratio of goals per game. Get rid of some lesser quality from the squad, and for me that will give us a chance of at least top six, barring injuries to key players.
Martin Berry
26
Posted 23/12/2020 at 08:27:15
I get the impression Digne loves it at Everton. I can see the progress and then there is the Carlo influence.
I can't see him going anywhere other than into the first team when fit.
Tony Everan
27
Posted 23/12/2020 at 08:31:43
Steve 23 and Steve 24, 100% my thinking too, right back defensive midfielder and forward. All mobile, athletic and full of energy. Steve, I think Aarons 21 and Buendia 24 would give us that and Diatta 21 would supplement our forward line. Brands will have irons in the fire , Tony H; I trust him too, especially working in tandem with Ancelotti.
Walcott, Tosun, Bolaise, Besic, likely Bernard and possibly one or two more will be gone and their wages (£500k pw) will be off the books so we may have a bit of headroom to start reinvigorating the team with two or three <24-year-old top quality players.
Andrew Ellams
28
Posted 23/12/2020 at 08:35:38
Godfrey has been top drawer filling in but Calvert-Lewin has definitely missed Digne's delivery into the box both from open play and set-pieces.
Any chance we could clone the two and have a left-back with Godfrey's defensive ability and athleticism and Digne's ability going forward? Imagine what that man would be worth on today's market.
Robert Tressell
29
Posted 23/12/2020 at 08:51:07
Digne has been at Barca and PSG and never quite made the left-back position his own. He's back in the very competitive French squad through regular football at Everton. Hopefully he'll be content with that and sign on. He's a Champions League quality player.
And to make the Champions League, you need a team full of Champions League quality players.
Aarons, Buendia and Diatta would all be fine additions, I expect. But almost certainly not for January.
We may get a forward in to compensate for the possibly unplanned exit of Kean – and anything we can get for Bernard. In January, I could see a loan for Lemar or purchase of Bouanga.
In terms of the right-back slot, there are lots of good options in this position. Maehle is one of them. I did wonder whether PSG might offer Dagba as part of the Kean deal. He's a bit like Digne was at PSG – not quite first-team material despite being excellent. Would be cheaper than Aarons. One to sort out in summer.
Kim Vivian
30
Posted 23/12/2020 at 09:18:13
Tony – that'll be Branding irons, then.

Tony Everan
31
Posted 23/12/2020 at 09:29:45
Kim! You are red hot with the puns this morning!
Derek Knox
32
Posted 23/12/2020 at 12:37:05
Tony, he's probably good at Poker. :-)
Jamie Crowley
33
Posted 23/12/2020 at 12:59:49
I think this is excellent news. This kid is a fantastic footballer.
So now for Devil's Advocate: Could Digne's style of play actually hurt this team?
He bombs forward and creates so many chances, but he leaves a gaping hole behind him causing either Allan to cover or the remaining back three to shift. Since Digne has been out, we look more balanced and more solid at the back. It's not as spectacular a brand of football, but is it more effective? Have we been better without him?
I genuinely ask this, it's not a shit-pot stir. And again, for the record, this kid's gold and I'm thrilled we will lock him down.
Tony Abrahams
34
Posted 23/12/2020 at 13:21:51
Definitely not a shitpot stir, Jamie, because it's a very logical question mate.
Every team needs pace at the back, especially a team whose full-backs are always looking to attack, so I'd expect Godfrey to move inside, but at least it's a good problem to have moving forward?
Ian Horan
35
Posted 23/12/2020 at 13:24:30
Jamie, I agree.
Defensively, we are more solid since Digne's been injured but Calvert-Lewin is living off scraps and we are grinding out results.
We could play Digne further forward on the left wing and Richarlison up top in a two.
But, in all fairness, we need more than one system to be competitive; the Holgate, Keane, Mina and Godfrey against the top teams and flexible against the lesser teams.
Jim Burns
36
Posted 23/12/2020 at 13:27:49
Mike Gaynes at 7 – you've said it all mate, spot on.
He's 27 - his next 5 year deal will be his last probably - we have to keep him.
We are building here – not partially dismantling and never getting beyond the first storey.
Anyone that's as old as I am and can remember a private eye drama from the States called Petrocelli (from the '70s I think) – will recognise what I mean.
Nail him down!

Derek Taylor
37
Posted 23/12/2020 at 13:41:40
I imagine that nothing has changed. They are all for sale. At the right price. Full-backs don't usually fetch big money so £50M should be enough if the Mancs call!
Alan McGuffog
38
Posted 23/12/2020 at 13:53:01
Derek,
I agree with most of what you say. Everyone is for sale – an Egyptian centre-forward may possibly be moving to Spain?
I don't buy into this thing about goalies commanding such and such a fee, full-backs such and such and so on.
I note that our neighbours have now received the full £142 m for Coutinho according to BBC. Is he £100 m more valuable than Digne? If he wants to go then we should accommodate his wish and demand £80 in return. Why not... it's business!
Sam Hoare
39
Posted 23/12/2020 at 15:58:29
I love Digne. He's really about as close a replacement for Baines as we could have hoped for. Prodigious left foot, topping the assists charts frequently and even a sporadic thunderbolt goal.
Personally my feeling is that we need to get in the habit of selling the occasional player at his prime rather than letting them run down their contract with increasing sluggishness. This will go against the grain for many but it is the sort of good business I feel we have to aim at if we are to be sustainable. Sell a few players approaching or almost past their prime and replace with hungry new versions.
Leicester have done this admirably; pocketing huge fees for the likes of Mahrez, Maguire, Drinkwater, Kante, Chilwell and replacing with the likes of Maddison, Tielemans, Fofana, Justin and Ndidi.
If we could sell Digne in another year or two for £45m plus then that could be great business. Of course there are some professionals you want to keep around as long as possible because they keep producing and are great influences (like Vardy at Leicester) but there are a few decent young left backs around out there and if we could get a top fee for Lucas before he hits his 30's it would make sense to me.
Mike Gaynes
40
Posted 23/12/2020 at 16:12:33
Sam #39, I don't necessarily disagree, and I think the development of Nkounkou over the next two years will determine how realistic that scenario might be.
Jamie #33, perfectly valid question, and Ian #35, excellent and concise response.
Phil (Kelsall) Roberts
41
Posted 23/12/2020 at 17:16:07
Reading through this and the thought came - is Ben Godfrey, Joleon Lescott MkII?
Centre half who made an emergency left back. He was there for many a game until City came looking for a new centre half.
But yes, Digne should be kept. He is worthy of a new deal - and that is pun for anyone who knows French. Kim#30 will get it instantly.
Justin Doone
42
Posted 26/12/2020 at 13:02:52
Generally one of our best and most consistent players. We should be keeping players of this calibre.
However, £60M he'll be gone to a champions league team and as sad as that would be it would be understandable from both club and player perspective.
Other questions remain of what the manager wants his full-backs to be. Defensive or Attacking. We have stumbled into form by keeping clean sheets and winning a few games playing 2 defensive fullbacks.
The play has been more simple and direct, our centre backs lack of pace and quality less exposed because of it.
Compared to the galloping Seamus and Lucas that are constantly exposed by long diagonal balls. Until the whole defensive unit is more solid, I wouldn't rush to play 2 attacking fullbacks.
Paul Birmingham
43
Posted 06/01/2021 at 16:37:30
For me Digne, is a deffo must keep as he's improved and is an asset to the team, when he plays, in terms of his crossing and deadball delivery.
Is it coincidence that DCLs opportunities have all, but dried up, since his injury ?
I think there is some foundation, but the teams played differently and adapted with the players available, but in my view we've made less chances, but lets see factually, what the stato's can find.
---
Add Your Comments
In order to post a comment, you need to be logged in as a registered user of the site.
Or Sign up as a ToffeeWeb Member — it's free, takes just a few minutes and will allow you to post your comments on articles and Talking Points submissions across the site.